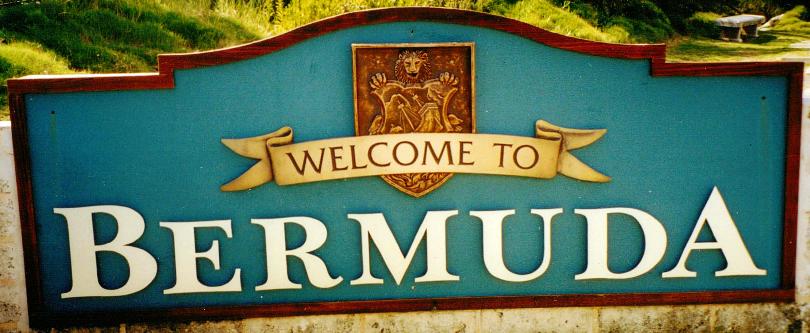 Click on graphic above to navigate the 165+ web files on this website, a regularly updated Gazetteer, an in-depth description of our island's internally self-governing British Overseas Territory 900 miles north of the Caribbean, 600 miles east of North Carolina, USA. With accommodation options, airlines, airport, actors, actresses, aviation, banks, beaches, Bermuda Dollar, Bermuda Government, Bermuda-incorporated businesses and companies including insurers and reinsurers, Bermudians, books and publications, bridges and causeway, charities, churches, citizenship by Status, City of Hamilton, commerce, communities, credit cards, cruise ships, cuisine, currency, disability accessibility, Devonshire Parish, districts, Dockyard, economy, education, employers, employment, environment, executorships, fauna, ferries, flora, former military bases, forts, gardens, geography, getting around, golf, guest houses, highways, history, historic properties, Hamilton, House of Assembly, housing, hotels, immigration, import duties, internet access, islands, laws, legal system and legislators, main roads, marriages, media, members of parliament, money, motor vehicles, municipalities, music and musicians, newcomers, newspaper, media, organizations, parks, parishes, Paget, Pembroke, performing artists, residents, pensions, political parties, postage stamps, public holidays, public transportation, railway trail, real estate, registries of aircraft and ships, religions, Royal Naval Dockyard, Sandys, senior citizens, Smith's, Somerset Village, Southampton, St. David's Island, St George's, Spanish Point, Spittal Pond, sports, taxes, telecommunications, time zone, traditions, tourism, Town of St. George, Tucker's Town, utilities, water sports, Warwick, weather, wildlife, work permits.

Bermuda's 2016 August History and News
Events that made the newspaper headlines in the eighth month of this calendar year
By Keith Archibald Forbes (see About Us)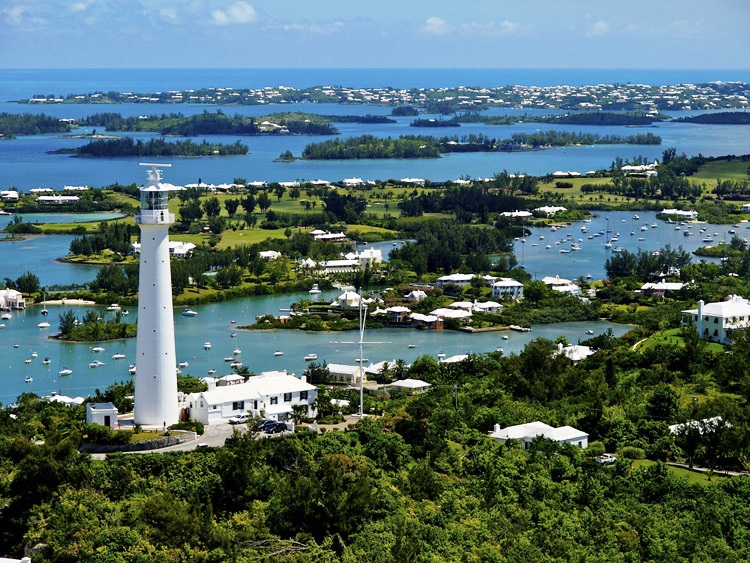 Gibb's Hill Lighthouse, Southampton Parish
See end of this file for all of our many History files
Bermuda's Royal Gazette newspaper is not published on Sundays or Public Holidays.
August 31. The European Union has demanded Ireland claw back up to $14.5 billion in back taxes from tech giant Apple — a move that could impact on Bermuda. Yesterday an expert said that the ruling — the biggest ever under the EU's state aid rules — may be part of a renewed drive to target jurisdictions branded tax havens. Nathan Kowalski, chief financial officer of Anchor Investment Management and a columnist for The Royal Gazette, said: "The EU's huge tax assault on Apple comes at a time when governments everywhere are trying to up taxes to tackle ever-growing entitlements, debt and other fiscal liabilities. "The whole global tax system appears to be going through a period of upheaval and transfer pricing schemes are being questioned it seems daily. How this ultimately plays out is impossible to determine at this stage and I'm sure we will see appeals. As for offshore jurisdictions some would argue that they may become more attractive if other countries become aggressive on tax collections. The other side of this, however, is that any jurisdiction that may offer some form of advantageous tax situation could become a focal point for disruption. If the ultimate aim of the OECD — and countries desperate for tax revenue — is to force taxes to be paid where goods are sold then shifting profits and/or costs from one jurisdiction to another to minimize taxes will likely become less effective — thus limiting the benefit of offshore strategies in some cases." Mr Kowalski was speaking after the EU ruled that Ireland should collect taxes going back a decade from the Silicon Valley giant after it decided legal tax breaks amounted to state aid. EU regulations forbid companies from gaining advantages over competitors because of help from governments. The European Commission said tax arrangements offered by Ireland to Apple in 1991 and 2007 allowed the firm to pay annual tax rates of between 0.005 and 1 per cent on its European profits for more than a decade up to 2014, by designating a tiny proportion of its profits as taxable in Ireland. Both Apple and the Irish government said they planned to appeal against the decision. Tim Cook, Apple chief executive, said: "Apple follows the law and we pay any taxes we owe. The European Commission has launched an effort to rewrite Apple's history in Europe, ignore Ireland's tax laws and upend the international tax system in the process." And Michael Noonan, the Irish finance minister, said: "I disagree profoundly with the Commission's decision." And he said Ireland would lodge an appeal in the European courts to "defend the integrity of our tax system". The EU move has also angered the US Treasury, which has argued that the EU unfairly targets US companies and acts outside international tax convention. A Treasury Department spokesman said: "Retroactive tax assessments by the Commission are unfair, contrary to well-established legal principles and call into question the tax rules of individual member states."
August 31. RG Editorial. "Too many of us still seem to labour under the delusion that Bermuda has unlimited financial resources at its disposal. It's almost as if we have embraced the comforting deception Bermuda can draw on a miraculously self-replenishing treasure trove left over from our buccaneering past, one secreted away in a crystal grotto somewhere beneath Hamilton which will pay our way for ever. That we only had such a bottomless pirate chest at our disposal because the reality is our economic situation remains fragile. Bermuda's economy will require careful attention, thoughtful management and responsible behavior on all of our parts if it is to recover over the long term — and the first, indispensable step towards recovery is accepting the reality of the new post-recessionary status quo. But that's a lot easier said than done. After almost a decade of economic contraction, social dislocation and the emergence of a whole array of what might best be described, for want of a better term, as free-floating anxieties about Bermuda's unsettled present and uncertain future, some retreats into magical thinking should probably be expected. Many of the island's old social certainties have been all but obliterated in recent times: Bermuda's longstanding state of "overemployment" has been replaced by stubbornly entrenched pockets of unemployment and underemployment; a generally placid and law-abiding community has been shaken by historically unprecedented outbreaks of lethal violence; and, of course, both our private and public sectors are attempting to retrench and adjust to new local and international conditions. The more a society drifts from its traditional cultural moorings, the more you will see overwrought attempts to deny or ignore some of the unhappier new realities we must face up to and, ultimately, contend with. It's an entirely characteristic reaction in any society, no matter how large or small, which has experienced so much wholesale change in so relatively short a time. There will be attempts to cling to vanished truths or even widely held half-truths, sometimes to the point of outright self-deception. This is certainly the case as far as the economy is concerned. Too many people in Bermuda still believe the old myth that government creates wealth rather than simply creating conditions which allows for wealth to be generated by private industry. Too many people believe government can still afford to underwrite a jobs-for-life public sector and hugely generous civil service entitlements. And far too many people steadfastly refuse to believe the simple truth that renewing confidence in Bermuda as a fiscally and politically stable jurisdiction is essential to maintaining our economic attractiveness and drawing new investments and businesses here in both the offshore and tourism-related sectors. Eliminating this arrested and self-defeating way of thinking should be a priority. Shoring up, and eventually growing, our diminished economic infrastructure should, in fact, be the overriding imperative for all of our political figures, regardless of party affiliation or ideology. For all of the other benefits we enjoy or can ever hope to enjoy as a community stem, in one way or another, from ensuring the economic security of Bermuda's people. Yet, too often in recent times we have seen politicians cavalierly work against these long-term interests of Bermuda and Bermudians. They have done so by encouraging the type of destabilizing conditions which may provide them with short-term partisan advantage on the electoral chessboard but which actively diminish the prospects of the rest of us. Much of this near-chaos was triggered by provocative political messaging expressly intended to bypass the critical faculties and instead inflame passions, incite tensions and exacerbate cultural divisions. Moving forward, it would be encouraging to think alarms sounded by the international business sector last week about the possibly very damaging consequences of such actions might have a sobering effect on those concerned: because we literally cannot afford a loss of international investor confidence in Bermuda at this delicate juncture. Our politicians are obligated to heal, not further divide, our community when it comes to our common economic future. What the marketing people call "community buy-in" is called for — ensuring every man, woman and child in Bermuda is made aware of our shared economic destiny and understands his and her role in seeing it is fulfilled. For the reality is, the essential clockwork of the post-recessionary Bermuda economy clearly remains a mystery to many. And too often Bermudians are either uninformed — or sometimes deliberately misinformed — about how they directly benefit from an economic model increasingly based around a seemingly remote and obscure global financial services sector. Contrary to what you might be tempted to believe, people can indeed still be persuaded by logic, evidence and reasoning rather than just purposefully inflammatory communications techniques. Indeed, there's a useful Bermudian precedent we should look to. Eighty years ago, the old Trade Development Board oversaw Bermuda's transformation from a failing agricultural economy into the model for modern resort tourism. Its mandate involved drawing international partners in the shipping, hotel and nascent airline industries to the island. But equally important was its effort to focus public attention on, and raise public awareness of, Bermuda's wholesale shift of economic activity away from growing and exporting lilies and onions and towards tourism. To that end, the board pursued what would now be called "community buy-in" by launching a combination of public education and public information campaigns to underscore to Bermudians as a whole that their rational self-interest as well as the public interest would be served in ensuring the new tourism venture succeeded. In other words, everyone was encouraged to view themselves as stakeholders in the tourism industry; everyone had a role to play. These marketing stratagems were maintained and adapted to changing times and circumstances for many years. And the formula worked well for the best part of three generations as Bermudians grew up recognizing tourism was an intrinsic part of the fabric of this community, not just a splendid hotel façade. For several years now, former Premier Sir John Swan and economic and community commentator Larry Burchall have barnstormed the island and addressed any gathering which invites them on the subject of Bermuda's parlous economic circumstances. They have also used traditional and new media strategies to effectively bang the drum on the need for Bermudians to present a united front on the question of economic development and growth. Perhaps the time has come to formalize their informal roles by inviting them to head the sort of nonpartisan advisory panel this newspaper has more than once suggested should be convened to promote economic stability, reduce our vulnerability to internal disruptions and to encourage sustained growth by way of public education and information campaigns. For unless locals come to understand we are all in the business of international business these days, the enduring delusion that Bermuda has unlimited financial resources at its disposal may eventually prove fatal to all of us. Frankly, without increased "community buy-in" on the economy there might not be a Bermudian community at all."
August 31. Independent tests carried out on water samples from Grape Bay and Hungry Bay at the weekend showed that both beaches were safe for recreational use. The Royal Gazette commissioned Shervon De Leon, of Bermuda Environmental Laboratories, to collect the samples on Friday and Saturday and test them for enterococci, a group of bacteria used as an indicator of pollution or faecal contaminants. The results for both sites showed amounts of enterococcus far below the maximum accepted levels recommended by the Environmental Protection Agency in the United States, which is the measure by which the Bermuda Government determines the safety of bathing water. This newspaper also commissioned testing at Hungry Bay in June, after we revealed that there were problems with the state-of-the-art sewage treatment plant at the new acute care wing at King Edward VII Memorial Hospital. Those tests, carried out by Mr De Leon over the course of seven days beginning on June 1, also showed levels of enterococcus well below the EPA's recommended maximum levels. Sewage from KEMH is treated at the hospital's sewage treatment plant on site before it goes into the main Corporation of Hamilton sewage line. Sewage from the main line is dumped offshore, via the Seabright outfall, just west of Hungry Bay. Government promised in April 2014 to tell the public if sewage pollution levels off Bermuda's beaches hit danger levels, after the United States Consulate warned US residents and tourists that the island's waters could be unsafe at times, depending on wind and weather conditions. The first test results to be made public in 2014 included Hungry Bay, after fears were raised that sewage was ending up there from the Seabright outfall in certain weather conditions. But though Government regularly tests the water during the summer at 14 separate bathing sites and publishes the results online, it no longer takes samples at Hungry Bay, because it is not considered to be a "bathing beach". A Government spokeswoman said yesterday that Hungry Bay would be reconsidered for weekly sampling if it "is more frequently used for recreation by the public". Asked why testing was stopped at Hungry Bay, when the highest levels of sewage were detected there in 2014, she replied: "Historical evidence tells us that it is Grape Bay that is most susceptible to grease ball pollution events, not Hungry Bay. The Department of Health is focusing the recreational water monitoring programme on popular bathing beaches, in accordance with advice from the Caribbean Public Health Agency, and [has] increased the number of sampling sites on those beaches." The spokeswoman confirmed there were still "issues" with the hospital sewage plant but ruled them out as the "source of the grease balls at Grape Bay". She said KEMH's wastewater treatment plant was "currently operating well". "The Department [of Environment and Natural Resources] can confirm that there has not been a risk to the public and the quality of the treated effluent is being closely monitored," she said. The spokeswoman added that the Department and the Environmental Authority were working with BHB, the acute care wing building contractors and the sewage plant equipment manufacturer to ensure the quality of the water "by setting a manageable timeline to rectify the issues". A hospital spokeswoman said on Friday that "good progress" had been made on the sewage treatment plant operations and an inspection by the Department of Environment last week confirmed the plant was "not generating any greases and ... the effluent water quality was good". The EPA's maximum acceptable level of enterococcus per 100 millilitres of water is 130 cfu for a single sample and 35 cfu as a 30-day average. It suggests beaches should be retested the next day when levels hit 70 cfu. At Hungry Bay on Friday, the count was 12 cfu per 100ml of water; the next day it was 7 cfu. At Grape Bay, the count was 6 cfu per 100ml on Friday and 9 cfu per 100ml on Saturday.
August 31. Primary and preschools are ready for the 2016/17 school year to commence next week, according to the Ministry of Education and Public Works. In a press conference held at Elliot Primary this morning, the minister of education Wayne Scott along with Craig Cannonier, Minister of Public Works, discussed projects that were completed over the summer in preparation for the first day of school on September 8. Mr Scott said: "First of all, during the summer months our technical officers in both the Ministry of Education and the Ministry of Public Works strategically worked together to undertake a series of maintenance and capital projects that will improve our school facilities in preparation for the start of school each year. We recognise the importance of having a safe, clean and healthy learning environment for our students, our principals, teaching staff and administrative staff. Just last week I visited some of our schools along with the acting Commissioner of Education and our facilities manager. We were pleased to see that the maintenance and repair work is progressing well. This summer, the facilities section and the Department of Education has completed a total of 75 school improvement deliverables with 25 of those being capital development projects for the improvement of our school buildings. Following a successful bidding process, work contracts were awarded to a number of local contractors to execute on the repair, maintenance and improvement projects slated for the summer." The Elliot Primary School was one of the major improvement projects with renovations of the upper restrooms, interior and exterior painting, tent fumigation of the entire school, flooring projects in the assembly hall and library as well as extensive plumbing works in the courtyard to "address age old drainage issues". The projects are now in the final phase of completion. Other works that have been carried out thus far include:
the renovation of all student and staff restrooms at Northlands Primary School
renovations of upper restrooms at Victor Scott Primary School
the purchase of three playgrounds for Gilbert Institute, Harrington Sound and West Pembroke Primary Schools
netball court resurfacing projects at West End, Prospect and East End Primary Schools
tent fumigation at West Pembroke and Elliot Primary Schools
hallway and classroom floor resurfacing projects at Southampton and Prospect Preschools and at Port Royal, Purvis and Victor Scott Primary Schools
safety perimeter fencing at St George's Preschool and East End Primary
Additional maintenance tasks that were scheduled included pest control assessments, fire alarm inspection testing and water fountain maintenance as well as the cleaning and power washing of walkways at various schools. "At this point I would like to thank the team and the Ministry of Public Works for engaging in a collaborative partnership with the facilities team and the Department of Education," he added. "Both teams remain diligent in the execution of the projects. Job well done to everyone. Every year this is a time of the year that has a bit of anxiety in the air, some anticipation, even some excitement as we get our schools together," said Mr Cannonier. "To our team that is standing around us, I just want to first say to them thank you very much for the wonderful work that you have been doing. This year over $2 million was spent on school maintenance — $600,000 was spent on painting alone to private contractors. I am excited to know that school will be starting and our kids will be ready to come into a wonderful school. So I'm glad to see that we have a maintenance programme together that addresses the issues that have gone back decades. What we must understand is that many of our schools are very old and they require maintenance but with this programme that we do have we can address these issues in a scheduled way, a methodical way and ensure that we are getting the schools to where they need to be so that our students and teachers can be happy. It is a priority." Elliot principal, Kimberly Creighton, said: "I'd like to add my thanks to the Ministry of Education and the Ministry of Public Works and all the private contractors that came to Elliot and worked the entire summer to ready our school for the return of our students and our staff. It has been wonderful to come back to a building that is bright, it's clean, it's fresh and I'm sure that when the staff and the students return they will also appreciate all the work that has been done to make our school building a pleasant environment to be in."
August 31. A gay Bermudian and his fiancé have been granted leave to argue in the Supreme Court that they should be allowed to wed on the island. Winston Godwin and Greg DeRoche, who live in Toronto, had their application to marry rejected by the Registrar-General last month and their lawyer Mark Pettingill sought leave to apply for a judicial review of the decision. Mr Pettingill told The Royal Gazette yesterday: "We are pleased but not surprised that the court has granted leave and look forward to the full hearing of this important human rights issue. I think the entire gay community and all right-thinking people generally will be supportive of it and want to see it pursued." The Government backbencher, who is providing his services pro bono to the couple, said the couple's application would be an important test case for the island and he was now preparing his case for when the hearing takes place. The former Attorney-General filed a writ on behalf of the couple with the Supreme Court in July, backed up by affidavits from Mr Godwin and Mr De Roche. The action seeks to have a judge overturn the refusal of the Registrar-General to process the marriage application, in accordance with the Marriage Act 1944, and issue an order requiring him to do so. The couple claim the Registrar has failed in his duties and should be made to act in accordance with the Marriage Act, on the grounds that it is discriminatory under the Human Rights Act for him to refuse to process the application based on their sexual orientation. In his refusal letter, the Registrar cited the Matrimonial Causes Act, section 15 of which says a marriage is void if the parties are not male and female.
August 31. Tenants due to be evicted today by the Bermuda Housing Corporation for unpaid rent have been given a last-minute reprieve. Locks were due to be changed today at the Gulfstream transitional living complex (until closure of the USNAS in 1995 the Single or Bachelor Officers quarters) for residents owing at least $10,000 each for their rooms in the former United States military barracks at Southside. Residents estimated that up to 20 families had been ordered out. However, responding yesterday to a query from this newspaper, Craig Cannonier, the Minister of Public Works, said he had not been informed of the decision, and would have it halted. "Having only been made aware of this in the past 24 hours, I am now seeking an immediate review of the matter before moving ahead with action of any kind," Mr Cannonier told The Royal Gazette. The minister said he would ensure no evictions took place and would "seek solutions as to how we can move forward, bearing in mind that there are families involved". The minister added that BHC, to his understanding, had been "extremely diligent in seeking opportunities to relieve the situation". The August 22 letter giving final notice took tenants by surprise, causing a scramble for alternative housing and leaving some with nowhere to go — just before the start of the school year. "You don't know what to think about it," a mother-of-one said. "You've just got to figure out where your family's going to live." Families feared being split up, with the Department of Child and Family Services offering to help tenants with children and no accommodation. The move drew swift condemnation from Sheelagh Cooper of the Coalition for the Protection of Children, who called it "beyond barbaric. The mandate of the BHC is to provide affordable housing for those who lack the resources to compete in the open market for housing. Most, if not all of them, are either without work or have meager part-time jobs — and yes, they do fall into arrears. So what then? Do they live on the street with their children? Believe me, that place is no luxury location to begin with. It's miles from anywhere with limited bus access, and there are no laundry facilities. Surely we can treat our struggling families better?" Gulfstream, which overlooks an airport runway along Southside Road in St David's, had 83 rooms when the Bermuda Government repurposed it in 2008. Tenants who spoke with this newspaper asked not to be identified. "I have my grandparents' house to go to," the mother said. "There's just me and my daughter. A lot of the people getting evicted are families that are going to be split up. There are others with up to three teenage children, families with babies, families that have suffered the loss of a baby." She was frank about her arrears — roughly $13,000 built up over about two years' stay — but said that with a lack of steady work, plus a bill of about $14,000 after giving birth uninsured at the hospital, she was incapable of covering it. "Financial Assistance said I was ineligible because I have my name on my sister's inheritance money." Others were allowed to stay after they came up with payment plans, which for one woman meant dipping into her pension. "That's the money that I'm supposed to live off when I retire," she said. Rooms go for $550 a month, she said, with rents as high as $700 in the summer when air conditioning is activated. A third resident said her complaints about mould, leaking windows and cockroaches in the facility had not been addressed — but the recent presence of repairmen working on vacant rooms was fuelling rumours that the complex would be emptied to make way for the America's Cup next year. She had contacted her case worker at BHC only to be told "there's nothing they can do". Former minister Quinton Edness also criticised the decision, saying the consequences for children would be "terrible. The housing corporation must not just kick out people with children who have nowhere else to go," Mr Edness said. "Even if they owe $10,000, obviously they have not been able to find work. If a family is not co-operating that's one thing, but they must work out accommodation of some kind."
August 31. A Jamaican man accused of trying to smuggle more than $90,000 worth of cocaine into Bermuda has chosen not to give evidence in his trial. Tyrone Brown informed the Supreme Court jury yesterday morning that he would not be taking the stand. Mr Brown is alleged to have imported 894.6 grams of the drug on to the island on April 18, this year. He denies the charge. Jurors have been told that the 31-year-old electrician arrived in Bermuda on April 17 on the American Airlines flight from Miami. Earlier the same day he had started his journey in Jamaica. However his luggage did not arrive until the next day when customs officers searched it and discovered two packages of cocaine.
August 30. The America's Cup could inspire international investment in more than just the tourism sector, according to Grant Gibbons. The Minister of Economic Development said the ACBDA was working on finding and encouraging investment in the island. "One of the things that we have done at all the World Series events in the UK, Chicago and New York is both the BDA and the BTA have organized smaller events with potential investors and those interested in doing business in Bermuda," he said. "It's a nice way to get people together. There's a degree of excitement during a World Series event. It's a nice way to talk about Bermuda and talk about the sorts of investment possibilities that exist here. One of the things the Legacy Committee is working on is a pitch book, providing a publication of opportunities for investment in Bermuda, which can be shared with the people who are now interested in investing in Bermuda." He said investment in the tourism sector was just one of the options being promoted, along with the opportunities to invest in the financial services industry or even local charities. Dr Gibbons later added: "We will try to get things to a more advanced state before we start to talk about the specifics, but we have already been approached by large international organisations that would like to do other sport-related events here." The comments came after reports that a Hong Kong investment firm, the Fosun Group, had been in talks with the Portsmouth City Council about investing in the British city after their hosting of an America's Cup World Series event. The website portsmouth.co.uk recently reported: "Bosses from the international conglomerate, spearheaded by billionaire founder Guo Guangchangin, came to Portsmouth during the World Series regatta at the weekend to talk more about their intentions. Chinese leaders say they are interested in the opportunity to bolster the seafront, showcased to millions around the world as they roared on sailing's elite competitors. And the Chinese Embassy has declared the attention placed on Portsmouth has inspired them to begin lobbying major private companies in Asia to part ways with their money and spark an economic boom in the city." Dr Gibbons said this week that the Bermuda Government was looking to ensure the event brought long term benefits to the island, studying areas that have successfully leveraged the event for lasting gains, such as Auckland. "They were able to rejuvenate their waterfront and a lot of related things from sailing tech to small service businesses benefited," he said. "We have been looking at the experiences and the lessons learnt from others as well." He noted that the event had already helped to inspire investment in the tourism sector, saying: "The hotel investment has been pretty successful when you look at the last couple of years compared to the period before that. Hosting an event of this nature can certainly be helpful in terms of rejuvenating a tourism product. The hotel properties, and those who are talking about investing in hotel properties, are going to be much more optimistic." He added that one particular area he was excited about was the possible surge in superyacht visits to the island. While he said the ACBDA had established a superyacht programme, offering the vessels a number of spectating positions around the course, he said: "That is already oversubscribed, and we're still nine months out. If we can get superyachts here and they can experience Bermuda and we do a good job in terms of providing them the amenities they need, which I'm sure we will, we would expect to get them back for repeat business. It's no secret that they spend a great deal of money while in port." In addition to the various marina projects around the island, he said that Government was working on a superyacht programme, rethinking how they are handled and the fees that apply for them.
August 30. Hotels and guest houses are filling up fast ahead of next year's America's Cup. Four guest houses told The Royal Gazette they are either already fully booked or nearly close to capacity. Hoteliers say they are "ramping up staff" in preparation for the mega sailing event that starts next May. Yesterday, Bermuda Tourism Authority urged visitors to make plans as soon as possible to avoid disappointment. Bill Hanbury, the BTA's CEO, said: "Anyone who needs hotels, restaurants and event space during the America's Cup should be bringing their plans together right now. We expect high demand during the five-week race calendar and we don't want local stakeholders to be disappointed." The Rosemont, Coral Beach & Tennis Club, Oxford House and Royal Palms all told The Royal Gazette they were preparing for the showpiece, which has long been billed as a major boost for Bermuda's tourism industry. Nik Bhola, general manager at Coral Beach, believes that the America's Cup is a "unique opportunity" for the industry and is hoping his hotel will leave an impression on visitors. "We have been maintaining a database of our members who have expressed interest in the America's Cup period," he said. "We announced our booking policy to our members this month, and have received plenty of positive feedback, and have started to make reservations. At this point we are still accepting reservation requests, but inquiries are very strong and filling up fast. "Coral Beach & Tennis Club has 57 units. We have been working on physical improvements throughout the club, including our food and beverage outlets, the beach and tennis experience and now our guest room renovations. We are ramping up our staffing and training in order to deliver a member experience commensurate with this world-class event. We will also be developing customized on-water experiences for our members, and making our venue available to members for entertainment. This is a very positive impact to tourism and the island as a whole. We are presented with a unique opportunity and I am confident that all service providers will rise to the occasion, work together and put their best foot forward. We must deliver during this event, so that visitors are encouraged to return many times over and continue to experience all Bermuda has to offer." Neal Stephens, owner and manager of the Rosemont, said: "Right now we are almost close to being sold out. We have been booked by the organisation so the TV crews and events staff will be staying here. We have around five rooms left out of a total of 48. We haven't really been doing anything out of the ordinary to prepare for guests, but I believe that the event will benefit the island as a whole as the island will be full just like the Newport to Bermuda race — but for five weeks instead of one." A spokeswoman for the Royal Palms Hotel, added: "We are currently sold out during the time of the America's Cup. As soon as the dates were confirmed bookings were made. We have quite a few people on the waitlist so we are hoping to be able to slip them in if we can, as we only have 32 rooms available in total." Oxford House has been booked out following the Louis Vuitton World Series last October, said owner Ann Smith. "We have been doing very, very well and have been sold out over the months. However, it is early yet, and we do keep rooms open for our regular businessmen as we only have 12 rooms available in total. We only just started taking bookings for the America's Cup as we didn't want to book so far ahead in case of cancellations. There is also a lot going on around that time so we are trying to be very careful." Mr Hanbury added: "If you haven't nailed down your America's Cup hospitality by the end of the year, you've waited too long. It will be a high-demand period for hotels and vacation rentals. No doubt about it. However, today there is inventory available and that's why we're encouraging people to act now because availability will become more and more scarce from this point forward. We are continuously communicating with the Ministry, the Department of Airport Operations and the airlines about capacity. As a result of those conversations the airlines certainly have America's Cup on their radar and I expect they will address any capacity challenges since it means additional revenue for their bottom lines."
August 30. Bermuda-headquartered Qatar Re is reaping the benefits of investing last year to grow its business. During the first six months of 2016 it achieved a string of improved results, including a 79 per cent jump in half-year profit to $23.9 million. The reinsurer opened a branch office in Bermuda in 2013 and completed its redomiciling to the island from Doha in 2015. It has its offices on Pitts Bay Road and will soon occupy a penthouse office in the new Belvedere Apartments complex, also on Pitts Bay Road. In a half-year report, the reinsurer said gross written premiums were $654 million, a rise of 41 per cent year-on-year. The company's combined ratio has fallen to 95.8 per cent, two percentage points lower than the corresponding period in 2015. However, Qatar Re acknowledged in a statement that its underwriting performance "is not immune to fierce and increasingly irresponsible price competition in global reinsurance markets". It also saw its net loss ratio rise from 63.3 per cent to 71.7 per cent, in part due to above-average global catastrophe activity in the second quarter. The company said it more than offset the jump in the net loss ratio increase by halving its administrative expense ratio, based on net premiums earned, to 15.9 per cent. This reflected the positive impact of "some exceptional investment cost" made in the first half of 2015 that enabled the business to grow. The reinsurer saw its net investment income rise to $17 million from $11.5 million, driven mainly by fixed-income securities and short-term deposits. Gunther Saacke, chief executive officer, said: "Our 2016 half-year financial results testify to Qatar Re's robust positioning in an environment of continued economic volatility and reinsurance market softness, exacerbated by above-average global catastrophe losses in the second quarter. "Qatar Re's relative resilience reflects the increasing depth and diversification of our portfolio, with earnings from past years now coming through. Our franchise continues to grow on the back of our status as a Bermuda Class 4 re/insurer and distinct strengths such as a class intimacy, proximity to our business partners and risk management excellence. These capabilities enable us to expand our book of business without tracking the market. In addition, we have benefited from economies of scale, yielding a significant reduction of our administrative expense ratio." The company cedes 70 per cent of its business via a quota share agreement to its parent Qatar Insurance Company. In a statement, Qatar Re said it had established new major client relationships, and in the European Union "Qatar Re benefited from specific project-based opportunities with clients seeking capital relief in order to comply with Solvency II requirements". At the end of June, Qatar Re's shareholders' equity was $560.9 million, almost double the amount from the corresponding period in 2015. The company's capital base is supported by QIC's shareholders' equity of $2.2 billion, and its market capitalization of $5.4 billion. Presenting an outlook for the remainder of the year, Qatar Re said it would continue to deepen its book of business and also intends to open a branch in Singapore. Qatar Re has branch offices in Zurich and the Dubai International Financial Centre. Mr Saacke said: "We have every reason to believe that Qatar Re's franchise, supported by its clients and in house talent, will continue to grow. Our increasingly robust global operating platform will enable a further organic portfolio expansion. Having said this, despite signs of a certain bottoming out of global reinsurance markets, trading conditions will remain challenging. Niches of profitable growth continue to exist, but are harder to come by. Therefore, we anticipate and indeed will proactively ensure that the pace of Qatar Re's expansion will moderate going forward."
August 30. Competitive tendering would not work in the bid to build a new airport, Bob Richards said yesterday. Mr Richards, the Minister of Finance, said that putting out a tender to design and build the new airport would mean an estimated $575 million in extra debt — and hit the island's credit rating. And he added that a competitive tender to design, build, finance, operate and maintain a new airport would lead to substantial government investment to back the project as well as guarantees. Mr Richards was speaking as the Government prepared to release documents which will form part of the submission to the UK government on the proposed tie-up with the Canadian Government, its Crown Commercial Corporation and construction firm Aecon to develop a replacement for the airport. The papers — expected to be available on the government website last night — said that a simple design and build tender for a new airport, estimated to cost $514 million in 2008, would raise government debt. It added: "With inflation adjustments and engineering refinements we assume that the Government of Bermuda would need to borrow $575 million to finance the construction of the new terminal." The report said that would weaken the island's credit profile, which could trigger a ratings downgrade, which would increase the cost of Bermuda's borrowing, which already stands at $2.4 billion. Mr Richards added that the DBFOM (design, build, finance, operate and maintain) option — which would require a tender — would, like the preferred government-to-government deal with CCC, be an off-balance sheet option which would not impact government debt. But he said it would not be "a made-to-measure solution" and would probably be based on previous studies that forecast a $0.5 billion cost, with bids of around $460 million to $489 million likely. He explained: "Therefore, the Bermuda Government would have likely had to chip in with extra money to make up the difference. We don't have the passenger traffic to support that price. Air traffic has been declining for 30 years, although we're trying to reverse that trend. This was a problem with that particular option." The report said: "This option was not considered to be viable as the Government of Bermuda would likely need to provide capital in the form of a substantial completion payment to ensure a financially viable project and successful competitive tender. This, combined with onerous guarantees, would also likely impair the Government of Bermuda's sovereign credit rating and therefore its cost of borrowing." And the report pointed out: "Internationally, over the last 30 years, there has not been any successful DBFOM tenders for airports with traffic less than one million passengers — like Bermuda's." Mr Richards said the preferred CCC route was similar to the DBFOM model — but with crucial differences. He added: "First of all, it's a bespoke solution, a made-to-measure solution. We have CCC who are guaranteeing delivery on time, on budget and on specification, which is a large risk reduction." Mr Richards said that could come with the DBFOM option. But he added: "We would never get the guarantee of quality we do with the Canadian government. It's a much less expensive product and also reduces the construction risk and we get something we can afford. And Mr Richards said: "We've heard a lot of complaints about this entity running our airport for 30 years. When you have a situation where it's completely off balance sheet, where somebody else other than the Government is responsible for paying back that loan, that somebody is going to want to some control over how the operation goes. Our detractors will say we have a public/private partnership at the hospital, where the hospitals board is still operating the facility. The difference between the hospital and the airport is the Bermuda Government is responsible for the debt of the hospital. That debt is on our books. With the airport, that would not be. That's why we have to have the operate and maintain part." He added that a request for proposal in the normal tender style would cost "tens of millions" to prepare, but with the risk that either there were no qualified bids or no one would bid at all. Mr Richards said: "This is why we have gone the route we have gone. The airport will continue to belong to Bermuda. The new terminal that will be built will belong to Bermuda. The asset will belong to the people of Bermuda, but there are some people who are not the people of Bermuda who will operate it." Mr Richards said that a quango would be formed to police the management of the new terminal and have final say on any proposed increases in fees. Aecon would be unable to sell its interest in the management company without the quango's permission. The Bermuda Government will manage the manager. Continuing to patch up the existing terminal was not a realistic option." The report said that 2013 estimates said that near-term repairs would amount to $62.3 million, with a further $104.8 million needed for improvements, as well as ongoing maintenance costs. Mr Richards said: "It will cost us a fortune and expose Bermuda to risks that are not acceptable. On top of that we will run the risk of having the airport be offline for significant periods. The combination of costs and that risk means that it was an unacceptable option. Whether it's a hurricane, flooding or the roof falling in because of termites, it's just not acceptable."
August 30. Opinion, Wayne Scott, Wayne Scott, Minister of Education and a One Bermuda Alliance MP. "Here's something about the deal to build a new airport you may not have noticed before: if the Combined Opposition get an answer they can't deny to one issue, they move on to another. Take the question of whether Bermuda needs a new airport. The Progressive Labour Party never really got into that, because they knew they themselves wanted to replace the airport, spending some $3 million on plans to do so. But Opposition supporters, like the People's Campaign, and columnists like Christopher Famous, questioned the need for an airport in a big way. They were stopped in their tracks by the CITV television programme in which problems with the terminal were graphically and powerfully explained. The opposition's claim was proved wrong. Oh, OK. On to the next issue. In 2014, when finance minister Richards announced the new airport, the Opposition's focus was on whether the Canadian Commercial Corporation was legitimate or not. Progressive Labour Party MP Lawrence Scott spoke about a story published, in Trinidad and Tobago's Guardian newspaper. "It seems as though we just had a Government official sign an untendered, secret contract with this same company that is being charged with and has a reputation of corruption, bribery," he said in the House of Assembly, "and I do not want to go any further than just the fact that it has been reported that they bribed government officials." He didn't seem to know much about CCC, which is a Canadian Government agency that simply matches buyer with seller. When he was told that the newspaper was referring to one of the thousands of companies that CCC had dealt with, not CCC itself, that seam of objection was quickly abandoned. The opposition's claim was proved wrong. Oh, Ok. On to the next issue. Mr Scott is apparently not one to stop flogging until he is certain the horse is dead, because with nearly his next breath, he said: "Given that the courts in half a dozen countries have convicted politicians who have recently received bribes for receiving funds from a Canadian company, is the Dunkley Administration concerned about offering contracts to Canadian companies operating in Bermuda?" The finance minister, ET Bob Richards, set him straight: "What are we going to do, say that the whole of Canada is corrupt because they saw an article in a newspaper?" Oh, Ok. On to the next issue. Mr David Burt, the shadow finance minister, focused on the loss of Government revenue he said the deal represented, saying we were giving away a billion dollars. Mr Richards explained that: "We certainly will be earmarking revenues of the Government to pay for the airport. There is no question about that … If you buy a car, are you giving away your money to the car dealer? No! You are paying for something and you are getting the car in return … Mr Speaker, this thing about a billion dollars is sheer nonsense!" That exchange was in the House of Assembly in 2014. The oft-derided billion-dollar figure is still used by various Combined Opposition figures, presumably because until the deal is finalized, exactly how much it will cost is not known. Meantime, on to the next issue. Then there's the question of whether the deal with CCC/Aecon amounts to privatizing the airport. This is the way Mr Burt introduced that idea in the House: "It is an attitude that will see our number one, prime asset — the Bermuda Airport — privatized and gone for at least 30 years from the ownership and control of the people of Bermuda and then, maybe, Mr Speaker, maybe it is gone for ever." That "maybe" disappeared from the assessments of the People's Campaign and Mr Famous, who still assert that Bermuda is giving the airport away to a bunch of Canadians. Over and over again, it has been explained that privatization isn't in this deal — that the airport, its land, its buildings and, in 30 years' time, its operation, remain in Bermuda's hands — but it's a spin that keeps getting repeated. The Finance Minister reacts this way: "We hear all this stuff about privatization. They are just throwing that word around because they feel that word is an emotive word out there in the public. It is red meat for their supporters … They will find fault with this no matter what I do." Ain't that the truth? In fact, this redevelopment plan creates jobs, frees up Government resources and money to be directed to other vital areas, like improving education, lowering taxes and protecting pensions, all without driving Bermuda deeper into debt. With it in place, Bermuda can move on to addressing the issues that will improve the lives of Bermuda's families."
August 30. Philip Guishard, a leader in Bermudian sports and the secretary general of the Bermuda Olympic Association, has died at the age of 74. Judy Simons, president of the association, hailed him as "an amazing man and a great mentor" who was known to sporting communities across the world. "I will miss him tremendously, as will his colleagues around the island," she said: A keen road runner who took part in virtually all the island's races in the 1980s, Mr Guishard maintained a close involvement with sports for much of his life. As well as directing the International Race Weekend throughout the 1990s, Mr Guishard was a sports development officer for the Ministry of Youth, Sport and Recreation. He had served on the National Junior Athlete sponsorship committee, along with presiding over the Bermuda Track and Field Association. He helped administrate the Island Games when they were hosted by the island. Popular with local athletes and administrators, Mr Guishard was internationally respected, having served as chef de mission for the Bermuda team at the Pan-Am Games and Commonwealth Games as well as the Olympics. He was also a former president of the St George's Rotary Club. This morning Sylvan Richards, the Minister of Sport, extended his condolences to the family of Mr Guishard on behalf of Michael Dunkley, the Premier, the Government and his colleagues. "I wish to extend sincerest sympathies to the family of the late Phillip Guishard, one of the great champions of organized sports in Bermuda," Mr Richards said. "Known to sporting communities across the world, Mr Guishard was involved with sports both personally and professionally — as a prominent road runner in the 1980s and throughout his career as sports development officer for the Government of Bermuda and secretary general of the Bermuda Olympic Association. He loved sports and wanted to nurture that passion in others; especially our island's young people, serving on the National Junior Athlete sponsorship committee as well as other sporting committees and clubs. He saw sports as a way to bring people together and regarded it as a tool to teach important life skills such as team building and perseverance. He was a great athlete and sporting mentor. May he rest in peace."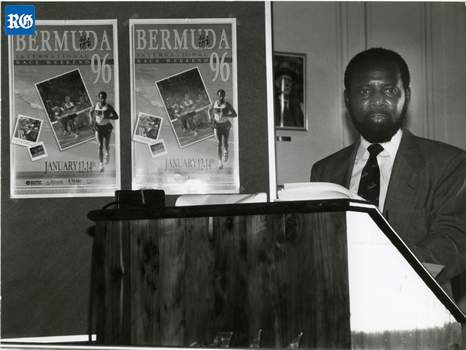 August 29. "Sewage balls" plaguing South Shore beaches must be tackled "completely" to protect the island's most important tourism asset, according to the Bermuda Tourism Authority. Greenrock and the Bermuda Environmental Sustainability Taskforce echoed the call after "grease balls" were found on Grape Bay Beach last Wednesday, three years after a study showed that sewage outfall on South Shore had created a public health hazard. However, BEST spokesman Stuart Hayward cautioned that Bermuda does not have the money or space for a treatment system that would fix the problem, which has been reported for more than a decade and has been a major source of concern over the past two years. [See timeline below for more details]. Glenn Jones, director of public and stakeholder relations at the BTA, said: "Grease balls are still an issue in Bermuda. As a result of what happened two or three years ago we have better dialogue and monitoring. But we have to solve this problem completely." Chief executive Bill Hanbury added: "We are very supportive of the additional provisions that Government has brought in to tackle the problem of grease balls in Bermuda. But the problem needs to be completely solved. Bermuda's most important tourism asset is its beaches and they need to be secured and maintained and protected." This newspaper first reported on the "grease balls" washing up on South Shore beaches in 2002. They hit the headlines again when a 2013 water quality study conducted by the University of Laval, Bermuda Institute of Ocean Sciences and a Government scientist showed that human bacteria levels in the waters off South Shore beaches reached up to four times the acceptable US standard during strong easterly winds, tide and swell. This led to a Bermuda Government assurance that the water quality would be monitored on a daily basis and measures taken to rid the island of potential pollution. However, the balls reappeared on Wednesday, with Grape Bay Beach area resident Debra Norman calling it one of the "worst days I have ever seen". Greenrock executive director Jonathan Starling said this was "disappointing", adding: "The fact that they are still a problem would indicate that we still have some way to go in addressing the issue. It indicates that there's no easy fix, but we need to start addressing our environmental problems sustainably. It's really a matter of whether we as a people are willing to invest in this, or if we're happy to keep dumping sewage off our coast and risking undermining our beach tourism in the process with negative news stories like this. We cannot just keep dumping our environmental problems and think they won't come back to haunt us — in this case very visually in the form of grease balls." Mr Starling also questioned if pumping sewage "off the coast of our key beaches and southern reef systems is a good idea" in this day and age, and whether there are alternatives. He drew on Singapore's sewage treatment model, which reuses sewage effluent as potable water, as an example. "I can envision a system where we're at least producing grey water that can be used for flushing at least the hospital toilets and for watering public parks, and even using the resulting sewage sludge as fertilizer, either for public parks, farms or just as part of a composting plan to convert Pembroke Dump into Pembroke Park." But he added that the measures such as mandatory grease traps for all commercial kitchens, which have been in effect in the City of Hamilton since 2014 and will be enforced island-wide in 2017, the introduction of a Hamilton sewerage tax to provide a revenue base for upgrades to the system and the water sampling testing routine, had been "the right steps within the existing sewerage system we have." However, he questioned whether they had been "executed to a satisfactory level" and stressed that more needed to be done. Mr Hayward was also optimistic that the regulations mandating grease traps to prevent fats, oils and grease entering the sewage system, would help, although he said an upgrade in monitoring would also assist. "Aesthetically they [the grease balls] are great concern. Even though, to the best of our knowledge there have been no recent ill health effects, this isn't going to benefit and could actually harm Bermuda's image as a tourist destination." But he added that "given the island's budgetary and space restraints", the measures implemented so far "have helped inhibit grease ball formation. We just don't have the money or space just now for the ideal of full tertiary treatment of the city's sewage and wastewater. It will help to remember that this kind of waste is human generated — that's us. More people means more waste; more affluence means more waste per capita. Ultimately, this is a carrying-capacity issue." Mr Starling also pointed to the new sewage treatment plant at the hospital, suggesting that the problems, which concerned the organic content of the wastewater being more variable than expected as well as levels of fats, oils and grease, reported by this newspaper in May could still be ongoing. However, a Bermuda Hospitals Board spokeswoman said last week that "good progress" had been made on our Sewage Treatment Plant operations. "An inspection this week by the Department of Environment and Natural Resources confirmed that the plant was not generating any greases, and that the effluent water quality was good." After the most recent reports of grease balls, a Government spokeswoman said last week that bypasses had been checked and an expedited outfall dive was requested. She added that the area would be subject to increased testing and that another clean-up of the beach — the last having been undertaken on August 17 — would be done in the next "24 hours". Subsequent visits by this newspaper confirmed that it had been cleared by Thursday and no evidence of grease balls was found at Grape Bay, Hungry Bay, Devonshire Bay and John Smith's Bay on Friday. Meanwhile, questions to BIOS about the monitoring of the issue went unanswered, with a spokeswoman saying they were no longer involved and claiming no knowledge of the 2013 report. And further questions to the Government about how many reports there had been, the nature of the sampling process and updates to proposed solutions have yet to yield responses.
How our grease ball problem has gathered pace
October 10, 2002: The Royal Gazette reports "unsightly and potentially disease-carrying balls of sewage" have been washing up on South Shore beaches. Environmental Health Officer George Simons says Corporation of Hamilton engineers are trying to figure out how remove grease from the outfall system.
March 18, 2003: Opposition Senator Kim Swan raises concerns about the impact sewage treatment is having on the island's waters. He also claims that sewage being pumped from Hamilton cruise ships in the summer has contributed to the appearance of "grease balls" in Tucker's Town.
July 6, 2013: Government and the Corporation of Hamilton are working to tackle the island's sewage issues after reports of "grease balls" on the island's South Shore. The Bermuda Institute of Ocean Sciences says the "grease balls" are presumed to be caused by the Seabright outfall used to dispose of municipal sewage.
December 12, 2013: The Bermuda Chamber of Commerce announces that restaurants in Hamilton must equip their kitchens with grease traps by January 1.
March 18, 2014: A 2013 water quality study raises concerns about "intermittent contamination" at South Shore beaches. The Department of Health responds that "small-scale specific microbiology studies" have been added to the regular monitoring of the Seabright outflow and adjacent beaches and that it is seeking "approval for a feasibility study for infrastructure improvements," and that "investment in a new [treatment] plant is being made" to improve the handling of waste at the Tynes Bay Septage Facility.
March 31, 2014: The US Consulate warns swimmers to take infection risks into account, prompting health concerns.
April 1, 2014: Environment minister Trevor Moniz says "grease balls" and heightened levels of bacteria in the South Shore waters are short-lived and unusual phenomena.
April 4, 2014: A high-tech sewage plant at the new hospital wing comes on line. It is expected to be fully operational and improve the quality of discharge from the controversial Seabright sewage pipe off the south shore by at least 17 per cent once the new wing is completed.
April 23, 2014: Environmental charity Greenrock calls for an end to the "phoney political finger pointing" over the "grease balls" controversy, labelling the report findings and related local and international media coverage "painful and embarrassing".
April 24, 2014: The Bermuda Government announces it would look into boosting the treatment procedures at the Tynes Bay Septage Facility, as well as "investigating" the extension of the pipe at Seabright.
April 29, 2014: The Corporation of Hamilton says the Seabright outfall on South Shore appears to be leak-free and that plans to improve the outfall are being "actively discussed with our consultants and stakeholders".
July 3, 2014: "Grease balls" are found on Grape Bay Beach, as well as the eastern section of Elbow Beach, for the second time in less than three months. An environment ministry spokeswoman says beaches are being checked daily. Shadow environment minister Glenn Blakeney calls the situation "challenging".
July 14, 2014: Government announces measures to tackle sewage on South Shore beaches including "significant improvements" to the Tynes Bay septage facility, which are being planned and implemented, and that "visiting engineers" will be weighing in on the feasibility of current proposals for a wastewater treatment facility.
October 24, 2014: The newly formed Bermuda Seawater Quality Scientific, Technical and Advisory Committee say they are co-ordinating measures to improve the wastewater quality. The Ministry of Public Works says it is "actively improving" the operations at the Tynes Bay Septage Facility with more control on the types of wastes being received.
May 7, 2016: Problems with the sewage plant at King Edward VII Memorial Hospital have not resulted in any risk to public health, according to a Department of Environment and Natural Resources spokeswoman, who confirmed there were "issues" with the plant relating to the organic content of the wastewater and levels of fats, oils and grease. The problems were expected to be "fully resolved in the coming months".
May 20, 2016: The seawater at Bermuda's top tourist beaches gets a clean bill of health.
June 28, 2016: The Ministry of Health and Seniors announces that all commercial kitchens must be fitted with approved grease traps by September 2017.
June 16, 2016: A Bill that could see "modest" taxes on the City of Hamilton's sewerage system bring in $400,000 annually passes in the senate. Economic development minister Grant Gibbons had previously told the House of Assembly that the tax would provide revenue to update the sewerage system.
July 25, 2016: The Public Health Amendment (No 2) Act 2016 passes in the Senate, requiring food establishments to fit grease traps.
August 25, 2016: "Grease balls" are again reported on Grape Bay Beach. Government says the beach will be subjected to increased testing although tests at related beaches since the last report on August 16 had confirmed "good seawater quality".
August 27, 2016: The Bermuda Tourism Authority, the Bermuda Environmental Sustainability Taskforce and Greenrock warn of the detrimental effect "grease balls" could have on the island's tourism product.
August 29. The second half of 2016 is expected to be even brighter than the first six months of the year, according to Bermuda Tourism chief executive Bill Hanbury. Arrival figures for the first two quarters of the year have been well up on previous years and Mr Hanbury says he expects the turnaround to continue. Mr Hanbury, who has just four months left on his contract, told The Royal Gazette he hopes the BTA will be able to make further announcements about international sporting events coming to Bermuda before he leaves at the end of the year. "I have known since day one that we would turn it around," Mr Hanbury said. "Maybe we disappointed some people because they thought we would do it sooner. But I am not surprised one bit we have been able to make this very dramatic turnaround. Unless there is some kind of catastrophic economic event, that turnaround will continue. We are optimistic about the second half of 2016. Our predictor indicates that the second half of the year will be even better than the first half. We believe it will get better. We are feeling good about the America's Cup which will continue to be a priority in the coming months. There is also a lot more work looking beyond the America's Cup. There are some major international sporting events in sailing and triathlon that we hope to bring to Bermuda in the next three or four years. We will be able to announce more details about them shortly." The BTA has been operating in tough economic times since its inception in 2013 and has faced successive budget reductions. In 1980 there were 112 licensed hotel properties, while at the end of 2015 that number was just 43. In 1990 visitor air arrivals were 435,000, while last year the were slashed were about 220,000. The BTA's 2016 Government budget of $22.45 million was down 43 per cent from 2008. Mr Hanbury told The Royal Gazette that he remained focused on doing his job to the best of his abilities in the coming four months, and said that the search for a new CEO remained on track. "We received over 200 applications for the role of CEO," he said. "That process has now been completed and some interviews have already been conducted. The goal is to get the interviews completed by early September and announce my successor in October. It is still the plan for me to work alongside side the new CEO and facilitate the transition. I do feel slightly melancholy about leaving. We are making unbelievable progress now and I feel very honored to have worked alongside such a dedicated and bright team. It's been energizing working alongside people who care so much about Bermuda. It has not been easy and I would not describe it as fun, but I would not change a second. There has been some criticism that has been politically motivated and that has damaged our ability to be affective. We spent a lot of time responding and refuting misinformation about the BTA, but I believe we kept our composure and grace."
August 29. A twin to a new multimillion dollar block of apartments is set to rise on Pitts Bay Road in Pembroke. Harrichand Sukdeo, chief financial officer for property investment firm West Hamilton Holdings, said that the success of the new Belvedere Apartments, due to have a roof-wetting ceremony this week, had convinced the firm to develop another of its sites, currently operated as a car park. Mr Sukdeo said: "Most of the commercial/residential development in the last few years has been in this area. "Because of the success of this project we have plans — and already have planning approval — to construct a sister building right next door." He added: "The demand for parking has been very, very strong and we have applied and been given permission to construct two additional levels of parking on the site." The luxury apartment block features a gym, including a squash court, and a penthouse office space that will be occupied by Qatar Re. The reinsurer is an existing tenant of West Hamilton Holdings in its Belvedere Building. The Belvedere Apartments block is already 80 per cent occupied. Mr Sukdeo said: "There has been very strong interest expressed in the remaining 20 per cent. It's a high-end development and has internal features that aren't average. The entire design, the fittings and furnishings and appliances, they are all very high-quality products. The building represented a vote of confidence in Bermuda and the Pitts Bay Road area, which has been transformed by major developments in recent years. A year-and-a-half ago, when we decided to move forward with this project, the real estate market was in a downturn or almost flattened out. It was not as robust — but there were indications that the market would recover or has potential to recover. We also took advantage of the fact that many contractors needed work at the time." The Belvedere Apartments complex features eight two-bedroom apartments and a spacious penthouse area. It will get the traditional roof-wetting on Wednesday. All the apartments feature floor to ceiling windows, extensive balcony space and views across Bacardi, Hamilton Harbour and the Great Sound. Michael Dunkley, the Premier, and Bob Richards, the Finance Minister, will be in attendance at the roof-wetting, as well as representatives of the international business sector and those involved in the construction project. Its sister building will be a near copy, although it will not feature commercial space on the ground floor as tenants and owners there will be able to use the facilities in the Belvedere Apartments next door. Mr Sukdeo said: "We are very proud of this development — it's something that has been planned for very many years and it has been completed within budget and on time."
August 29. Golfers from Bermuda and the United States assembled in Ohio this month to celebrate the unique shared history of their two clubs. A 12-strong team from Ocean View Golf Club traveled to Clearview Golf Course in Ohio for a two day tournament between August 20 and 21. The event was organized by LPGA golfer Renee Powell and President of the Ocean View Golf Club, Cheryl-Lynne Thompson, to recognise the parallel histories of the two clubs. "Both clubs were founded in the early 1940's during a time of deep segregation which created many challenges that were overcome," Ms Thompson said. "It was a time of hostility when civil rights tensions were rising and coming to a head. Discrimination and violence was spread to all facets of life including sports. 2016 marked the 70th anniversary of the Clearview golf course and was very fitting that Bermuda would have a group travel to the course to commemorate the occasion." Clearview Golf Course was founded in 1946 by Ms Powell's father Dr William Powell and is the only golf course in the United States designed, built, owned and managed by an African American. The first nine holes opened in 1948 were built on an old dairy farm. Meanwhile, Erskine Simons, Bill Pitt Sr, and George Lowe overcame significant adversity and challenges to open Ocean View Golf Club as a course for everyone to play on. Ocean View was called a cow pasture and members would work the course with their hand tools and very limited funds and resources. Both courses were established after the Second World War and the motto of both was to have a golf course where "all people" could play. The Ocean View team consisting of Larry Brangman, Kenneth Ford, Kavon Trott, Fred Stovell, Glen Baisden, David Patterson, Bill Pitt, Frank Morgan, Patricia Morgan, Veronica Hines, Louise Payne and Ann Symonds won the two-day competition. Ms Thompson added: "A welcoming reception and dinner were held the night before the competition at the Embassy Suites. A brief history and introductory meet and greet took place. On the final day of the competition, a barbeque and prize presentation took place at the Clearview golf course. Every participant received a medal and a memorable plaque was given for the Ocean View team to bring home. The entire event was nothing short of impressive and unforgettable with acquaintances being made, friendships being established and bonding being recognized." The Clearview team will travel to Bermuda in 2017 to take on the Ocean View golfers again.
August 29. Bermuda firm Barrington Investments has been slapped with a $50,000 fine by the Bermuda Monetary Authority for regulatory breaches. And the financial services regulator has restricted the company from taking on additional business until it gets its house in order. The fine came after a February routine probe into the business, based in Hamilton's Queen Street, under the Investment Business Act 2003. A spokesman for the BMA said: "Exercising its powers under the Act, the authority found that Barrington was in breach of the minimum criteria for licensing under the act in three key areas — corporate governance, conducting business in a prudent manner and risk management. "The breaches included a failure to have in place governance and management structures appropriate to the business, a failure to have proper operational policies and procedures in place, a lack of a formalized internal control network and a failure to have a proper risk management function." The restrictions on accepting new business, or publicly advertising for new business, will remain in place until Barrington, headed by David Pugh, interim managing director and former Argus chief financial officer, who stepped down from that post last September, but remained with the firm until June, is "fully compliant with all its obligations under the Investment Business Act 2003". David Cooper, director of Barrington, said: "We understand that this has arisen from their determination that there has been a failure by Barrington to comply with all of the obligations imposed by the Investment Business Act — much of which concerns corporate governance and the appropriate number of directors required to conduct investment business. We wish to stress that no client assets are affected. Barrington Investments upholds strict policies regarding the segregation of client assets; all clients' accounts are registered in their own name and held directly with our clearing agent. As many of our clients are aware, Curtis Begg, Barrington's managing director for many years, fell ill some months ago and, as a result, was increasingly unable to provide the day-to-day leadership and senior management oversight required under the Investment Business Act. To assist in this area, we have recently appointed David Pugh as managing director. David has well over 30 years of senior management experience in financial services and is working closely with management and staff on a daily basis. The entire Barrington team has worked diligently in recent months to update and document policies and procedures to improve corporate governance, operational compliance and risk management. We hired Oyster Consulting, a regulatory and compliance consulting firm, to assist us in this matter. We believe that all required documents have now been submitted to the Authority. While we are disappointed to note the restrictions imposed upon our licence, we look forward to working with the Authority to satisfy them that Barrington is fully compliant with its obligations under the Act." Mr Pugh, who took over at the firm in July, said that it would take four to six weeks before the firm was happy it would pass a follow-up inspection from the BMA. He added: "It's a bump in the road now, because we have done an enormous amount of work, both the Barrington team and myself complementing that and using Oyster Consulting. We think we have done everything possible we can to remediate and work with the BMA to have the restrictions lifted as soon as possible." Mr Cooper said: "We advised the Authority before their visit there were things that weren't up to where they should be — we couldn't get them in soon enough as far as I am concerned." Mr Pugh added that — while clients of the firm had been "very supportive and expressed confidence in the corporation", the temporary ban on new clients would affect the business. He said: "We will feel the pinch there. That's why we're anxious to get this cleared up as soon as we can." The BMA announced earlier this year that the Authority would start to publish the use of its enforcement power after the expiry of the 28-day appeal window. Barrington did not appeal the decision. Previously, the BMA only published brief details in its annual report.
August 29. Louis "Red" DeSilva, a former Deputy Mayor of St George's, has died. A veteran St George's cricketer and former president of the St George's Cricket Club, Mr DeSilva was elected as a councilor for the Corporation in 1991 before winning a post as alderman in 1997. He later assumed the position of Deputy Mayor in 2003, but stepped down in 2005 to serve as Town Manager — a position he held until 2008. Mayor Quinell Francis said: "We are deeply saddened by the news of the passing of Mr DeSilva. On behalf of the councillors and staff of the Corporation, I extend my heartfelt sympathies to his family and friends." Neil Paynter, president of the St George's Cricket Club, described Mr DeSilva as a "true St Georgian. I served under him on his management team while he was president of the club," he said. "I have nothing but fond memories of Red, both as a youth growing up and as an adult working with him." This morning Michael Dunkley joined the tributes to Mr DeSilva. "Red DeSilva was truly a larger than life fixture of the East End community," the Premier said. "Whenever you encountered him, he always greeted you with a welcoming word. Through his service at the Corporation of St George's and his leadership and participation at the St George's Cricket Club, 'Red' demonstrated his commitment and love for the people of the East End. On behalf of the Government, I wish to extend my heartfelt condolences to the family and friends of Louis DeSilva. He made such an impact in so many lives and he will truly be missed." Meanwhile Marc Bean, the leader of the opposition, hailed Mr DeSilva a man of high moral character. "Mr DeSilva was a staunch PLP supporter and member, and throughout his life was very active in the St George's branch. Mr DeSilva was a community organizer, trailblazer, and a proud St. Georgian, and this only begins to describe a man that made a profound impact on the people he came in contact with. Mr DeSilva has always been one to be forthright, and of high moral character, which is something many of us came to value and appreciate alongside his many contributions to the community. From Mr DeSilva we could each learn lessons in character, fortitude and wisdom, and our thoughts and prayers remain with his friends and family as they reflect upon the meaningful life he led." Lovitta Foggo, MP for St David's, said Mr DeSilva was someone who made important contributions to the St George's community in his roles with the St George's Cricket Club and the Corporation of St George's. "His work contributions ensured that the traditions held dear were passed along to the next generation. Red DeSilva was well liked and respected, and his departure from us will be a miss. It is not often in this life that one gets to share time with someone as sincere and direct as Red. He has left an indelible imprint in the hearts and minds of those who were fortunate to know him. His memories will be cherished." And Renee Ming, a PLP senator and St George's resident, said: "Louis 'Red' DeSilva was a proud Bermudian a man who was not afraid to tell you what he was thinking. Forthright, kind, generous and fair are attributes I would use to describe Uncle Red. St George's mourns yet again as another soldier has fallen. Uncle Red, you have fought a good fight, you have finished the race, you have kept the faith. Aunt Sandra, Chelito, Chaka and the entire DeSilva family please accept my heartfelt condolence and sympathy on behalf myself, my family and the Bermuda Progressive Labour Party."
August 29. The offices of the Speaker of the House, the Clerk of the House and legislative staff have moved to the ground floor of the John Swan Building in preparation for renovations to the House of Assembly. The House of Assembly sittings will continue to take place at 10am on Fridays at Sessions House. The John Swan Building is located at 26 Victoria Street, Hamilton. The telephone number remains the same — 292-7408.
August 29. A Smith's man was this morning charged with possessing more than 900g of cannabis. Manai Roberts, 25, appeared in Magistrates' Court to face charges of possessing cannabis with intent to supply and possessing $23,885 in cash representing the proceeds of criminal activity. Both charges relate to an incident in Paget on August 26, and were said to involve 902.7g of the controlled substance. According to prosecutors, that quantity of drugs could fetch between $12,350 and $15,200 if sold on the streets of Bermuda. He was not required to enter a plea as the matter must be heard by the Supreme Court. Magistrate Khamisi Tokunbo released Mr Roberts on $20,000 bail with a like surety, ordering that he surrender his travel documents and report to the Hamilton Police Station twice a week. The matter is expected to appear before the Supreme Court in November.
August 27. RG columnist Ira Philip. "We are awaiting the announcement from the Secretary of State for Foreign and Commonwealth Affairs in London as to who will be appointed the next Governor of Bermuda. The new appointee shall be the 142nd Governor to serve in that capacity. Richard Moore was appointed the first Governor of Bermuda 404 years ago in 1612 and served in that capacity for four years. The Governor of Bermuda is appointed by the reigning British monarch at the advice of the British Government. The role of the Governor is to act as the de facto head of state and as Commander-in-Chief, at the will and pleasure of the Queen. The special responsibilities under taken by the Governor are outlined in accordance with the provisions of the Bermuda Constitutional Order 1968, in which the Governor shall be responsible for the conduct and business relating to the Government specifically in the matters relating to the external affairs; defence including armed forces; internal security, and the police, and to any further instruction of which the British monarch or the British Government may from time to time see fit to give him under her Signed Manual and Signet or through the Secretary of State. During the heyday of British colonialism, of which the sun never set on the British Empire, the function and role of the Governor prior to the formation of the Bermuda House of Assembly in 1620, was sacrosanct, unimpeachable and supreme. The Governor, as of right, had absolute command and authority to have any member of the colony to be whipped, hanged and expelled and banished from the colony. Subsequent thereto, and for over a period of three-and-a-half centuries, the Governor played a pivotal role in the conduct of all affairs touching and concerning matters political, legal and economic, of which he initially administered power and authority through a Privy Council comprising of himself, the Chief Justice, and several civil servants, which was the forerunner of the Legislative Council and now regarded today formally as the Cabinet. Since the formation of settlement in Bermuda, the power and auspices of the Governor has changed significantly. Some of the former Governors who did not adhere to the idiosyncratic demands of the local landed gentry that dominated and controlled the House of Assembly were admonished by the denial of payment of funds allocated for public projects overseen by the Governor, or for his personal upkeep and enjoyment. One particular circumstance arose in 1939 when the Governor, Sir Richard Hildyard resigned his post when the Bermuda Government refused to purchase a motor car to assist in the conduct of his official affairs. Throughout British colonial history the status and function of office of the Governor as the official representative of the British Crown was accompanied with an elevated degree of pomp, circumstance and grandeur. In every colonial territory which they administered, of which Bermuda is no exception, they lived in the most grandiose lifestyle in their official residence at Government House, with all expense of their upkeep paid out of the Consolidated Fund of the local government. A great majority of these gentlemen that had been elevated to the status of high office as Governor came from a host of varied social and political backgrounds with one common dominator, their sworn allegiance to the British Crown. In delving into some of the biographical sketches of previous Governors, some interesting factors have been revealed. The first Governor of Bermuda, Thomas Moore, appointed in 1609, was a carpenter by trade. Governor Nathaniel Butler, who prior to his appointment was a privateer by profession who engaged in maritime warfare under a commission of war in the early 17th century, was instrumental in building many structures during his tenure including the State House in St George's, which housed Bermuda's first Parliament. Another interesting note in mention is George James Bruere who was the longest-serving of all Bermudian Governors for a period of 16 years from 1764-1780. Upon his arrival as Governor in Bermuda, Sir Bruere was aghast at the way in which slaves were treated in Bermuda. He expressed his displeasure via a rather scolding speech he delivered before Members of the House of Assembly in which he proposed (by paraphrasing) to white slave owners the imposition of greater control over their slaves. As he was familiar with the control of slaves in other colonies, he suggested that "white Bermudians should bring the Negroes to a better regularity and obedience and to prevent their unlawful assemblies, thefts and pernicious practices of leaving their masters houses and going to meetings by night". Within one year of his appointment as Governor, Members of the House of Assembly resolved to appoint a Committee headed by the Speaker to address all relevant matters to his Majesty the King on the "tyranny and oppression of the Governor". Ironically, George James Bruere died in office as Governor in 1780 and Thomas Jones was appointed as Governor for a rather brief period and by a twist of fate, George James Bruere, the younger, was appointed Governor of Bermuda from 1780-1781. The first time in history a father and son had served as Governor. Since the early part of the 20th century the social pedigree as to the appointment of persons as Governor of Bermuda has changed significantly with the majority of whom have included members of the British aristocracy and former and retired members of the British House of Commons and of the House of Lords. During my tenure as a journalist, I do recall the appointment of David George Brownlow Cecil, 6th Marquis of Exeter, formally styled as Lord Burghley. He served as Governor of Bermuda from 1943-1945. He was a former Conservative Member of Parliament and a former British Olympian who competed in the 1924, 1928 and the 1932 Olympics where he won a silver medal in the 4x400 metre relay. His life story as an athlete was depicted in the epic 1981 film, Chariots of Fire, which won four Academy Awards, in which the character Lord Andrew Lindsay was based on the life of Lord Burghley. Another Governor, who in recent times I can recall, that was amiable in character and very popular with the people of Bermuda was Lord Martonmere who served from 1964-1972. Upon his retirement he resided in Bermuda until his death in 1989. As we await the appointment and arrival of the new Governor, and upon my recent inquiries with both Government House and the Cabinet Office earlier this week, neither one would confirm or deny that either a male or female shall be appointed as the next Governor."
August 27. One of the greats of Bermuda's music scene, Cyril Richardson, has died at the age 78. Mr Richardson was well on his way to being inducted into the Bermuda Music Hall of Fame for his long career dedicated to entertaining as a pianist and organist. Family and friends say there wasn't a major Bermuda venue he hadn't played at and he had performed with all of the best musicians the island had produced. Aside from his music he was a loving family man — father of nine children, one of whom, Ralph — passed away last year. His son Cyril Jr said: "He was a devoted father. He raised and took care of nine children and managed to keep us all fed, clothed and schooled and he was a real strict disciplinarian. He was loving and supportive of whatever endeavors we pursued. He would always help if someone wanted to take up music and would send us to music lessons. He has always had his own band and if you can name all the greats that played on the island he definitely played with them. He had the Richardson Quartet — he always had his own thing going. He toured Europe and did some stints in the US and all around playing his music. Music was his life but he didn't start up with music, he started in construction and in the stone quarry. He was an outstanding person and a role model. He is going to be one of those greats of Bermuda who will be missed greatly." Throughout the years Mr Richardson played at countless venues including the Jungle Room, the Musicians Club, Sea View, Clayhouse Inn and Swizzle Inn. He was known in recent years for performing in the Doc Simons Trio with Edwin 'Doc' Simons on saxophone and Clarence 'Tootsie' Bean on drums. Mr Bean recalled: "I met Cyril years ago. I went abroad to play music and came back about nine years ago. When I came back Doc Simons came and got me and said him and Cyril wanted to form as trio — the Doc Simons Trio — so we did some rehearsing and we went to work down at Swizzle Inn. We used to play down the Jungle Room. We played together about three years, then Doc Simons got sick. Cyril and I played with Max Maybury for a while. Cyril was a very good musician — any tune you called he knew and he was good at learning new tunes. He had a drive on the organ bass that I don't think anyone else in Bermuda ever had. We played a little jazz, a little rock and calypso and blues because Doc liked to sing blues. Cyril was a good guy, easy going, never complained about anything — we were always joking. He was well versed in all the happenings in Bermuda and about the world. He took some trips too, I believe. When I came back from abroad Cyril had retired and when he heard that I was joining the band he said "well, if Tootsie is going to play, I'll come back out". Publisher and author of Music on the Rock, Dale Butler, said he was planning to enter Mr Richardson into the Bermuda Hall of Fame, which can still be done posthumously, and was saddened that he didn't get to interview him on video before his passing. Mr Butler said: "He was about to be inducted. Had we not lost the facility it was my intention to induct him given his outstanding service which meant we would have had an opportunity to interview him on video but I never got the chance. He was an organist — one of the best ever produced. In his last combo he was playing with Clarence 'Tootsie' Bean and Edwin 'Doc' Simons. They played for a number of shows including at the Swizzle Inn. He was known as a jazz performer — piano but mainly organ. I would say he played in every single hotel and nightclub in Bermuda. He was a very likeable and quiet sort of guy. He took his music very, very seriously. It is a great loss to Bermuda because he gave first class service in everything he did. He played a number of years ago at the Showcase for local talent over at Elbow Beach and he was really able to captivate the audience's attention. He did a first class job." Mr Richardson leaves behind Marlene Scraders, Cyril Jr, Dianne, Michelle Lewis, Neville, Jean Ann Edwards, Rachael Robinson, Leon, Leo and the mother of his children Phyllis Gayle.
August 27. A row has erupted over access to one of Bermuda's most pristine and historical beauty spots. Last week the owner of Tom Moore's Tavern, Bruno Fiocca, was given permission to erect two entry gates; one at the main entrance to the property off Walsingham Lane and one on its northern boundary. Mr Fiocca told The Royal Gazette he was pleased the Development Applications Board had agreed to his proposal, which he said was motivated by security reasons and protecting the property that has been repeatedly targeted by burglars. But the decision has angered the Walsingham Trust, which has vowed to appeal the DAB's decision to the Minister of Planning, as well as operators of the Hidden Gems of Bermuda tour, which claims the gate at the main entrance will significantly impact its business. Mr Fiocca revealed that the gates would be locked when the restaurant was locked, but that the Walsingham Trust, which has a right of way through the jungle, would be given a key. "People have to understand that this is private property," he said. "I have put the gates there for security reasons. I have been broken into several times over the last few years and people come wandering through the property at all times of the day and night. Bermuda is not what it used to be. Times have changed and I want to protect the property. It's as simple as that. The Walsingham Trust has a right to pass through the property which will not be denied and the public can use the entrance at the Blue Hole end." Mr Fiocca's planning application sparked opposition from both the Walsingham Trust and Hidden Gems of Bermuda when it went before the DAB and both submitted letters opposing the installation of two entry gates. However the DAB granted Mr Fiocca permission to install the two gates last Wednesday. Rebecca Brady, secretary of the Walsingham Trust, said that trustees were very disappointed by the decision and planned to appeal to the Minister of Planning. "As trustees we believe the public has a right to enjoy an area like the jungle around Tom Moore's Tavern," she said. "This is an area that has been accessible to the public for more than half-a-century and this should continue." Ashley Harris, who runs the Hidden Gems of Bermuda tour, told The Royal Gazette she was "appalled" by the DAB's decision. "The greatest issue for us is that we start our tour at Tom Moore's jungle and have done for a long time now. These gates effectively stop us gaining access to the most beautiful and lush part of the jungle and that significantly changes the tour we can offer. I find it mind boggling that this has been allowed. This is the main entrance to Tom Moore's jungle and they have allowed the owner of the restaurant to put up a gate. We believe this will have a significant impact on our business."
August 27. A man charged with importing cocaine allegedly told police he owned a bag similar to one found to contain the controlled drug. And when questioned by police about his address in Jamaica, he gave two slightly different addresses in different interviews. Tyrone Brown, a Jamaican national, has denied charges of importing 894.6 grams of cocaine worth more than $90,000 on to the island on April 18 this year. Earlier in the trial, the court heard that he had arrived in Bermuda on April 17, appearing nervous, but his checked suitcase did not arrive until the following day. While nothing of interest was found on Mr Brown when he arrived, a search of his suitcase revealed two packages of cocaine stashed in a black bag. As the trial continued, Detective Constable Khalid Pitcher took the stand, saying that on April 18 he attended the L.F. Wade International Airport and was directed to a green suitcase by customs officer. Inside the suitcase, he noticed a quantity of clothing along with a black, single-strapped leather bag. The customs officers then made him aware of a suspicious package inside. Looking at the bag, he noticed that a section appeared to be split open near the stitching. "As I looked in the stitching I saw what appeared to be a rectangular package," he said. "It was about 10in by 6in and wrapped in black tape." He said he later made an incision in the package and found it contained a white powdery substance. DC Pitcher continued to search the bag and felt what appeared to be another rectangular object near a back pocket, which was later confirmed to be a similarly wrapped package. The bag also contained a toothbrush, hair brush, deodorant and several bottles of cologne. The following day, Detective Constable Pitcher said he and other officers attended the Clear View holiday suites in Hamilton Parish, where Mr Brown was staying. He told the court that when questioned at the hotel, Mr Brown said he had come to the island from Jamaica to "relax and chill my mind on the beach". He also confirmed to officers that a phone found in the room was his, explaining that he had purchased it while on the island. Asked if he had a black leather bag in his suitcase, he allegedly responded: "Yes. I have had it for about one year. I keep my perfume and toothbrush in it." Detective Constable Pitcher said he was also present during two police interviews with Mr Brown. He said that in both interviews Mr Brown was asked his address. While in both interviews Mr Brown said he lived on West Road in Kingston, he gave slightly different house numbers in each interview. The trial is set to continue next week.
August 26. The Bermuda Government incurred a $65.9 million deficit in its budget for the first three months of the financial year. Financial figures released by the Cabinet Office show the Government is slightly astray of its projected full-year targets for revenues and expenditures However, quarterly fluctuations on both parts of the balance sheet can give a distorted picture, and the figures may eventually end up on track over the course of a full year. In the three months to the end of June, Government collected revenue of $233.2 million, up $10 million on the same period a year ago. The main reason for the increase in revenue was an increase in payroll taxes of about $7.3 million, higher collections of customs duty to the tune of $1.3 million, and aircraft register fees coming in $1.3 million higher year-on-year. These increases were offset by a more than $2 million drop in stamp duty. When compared to the National Budget estimate of $996.9 million for the full 2016-17 financial year, the total revenue for the first quarter is tracking slightly lower. On the expenditure side of the government's balance sheet, the total was $299.1 million for the quarter. This was about $15.5 million higher than the same period in 2015. Current account expenditures, excluding debt service was $237.6 million, up $5.7 million compared with the corresponding period last year. Government said this was due mainly to increases in various operational grants, increased overheads "due primarily to health insurance premiums", the expiry of the partial suspension of matching contribution to the Public Service Superannuation Fund, and payment of insurance premiums. Capital account expenditures were higher at $14.7 million, due to capital grant amounts particularly to Bermuda Housing Corporation in regard of Grand Atlantic, America's Cup, and Wedco's South Basin project. Debt service costs for the three months were $46.8 million, representing $32.2 million in interest payments and $14.6 million to the Sinking Fund. Higher debt levels have resulted in the debt service cost rising $4.4 million year-on-year. In a statement, Government said: "In general, current expenditures are presently tracking slightly above budget estimates. It should be noted that in certain instances expenditures are not made evenly over the year, which may distort actual figures when compared to budget." Government financed its deficit for the quarter by drawing funds from the Butterfield Loan Facility and with working capital. During May, $30 million of private placement notes matured, which Government paid off by drawing money from the Sinking Fund. The expiration of the notes reduced interest expense by $2.09 million. Government's estimated full year current expenditure target is $1.19 billion, which includes debt service. Its projected deficit for the financial year is $199.4 million. At the end of June, Government's gross debt stood at $2.34 billion.
August 26. After a rough few months for Bermuda's political parties, JOHNATHAN BELL spoke to observers who assessed the state of play as the clock ticks towards the next General Election. Plagued by infighting and in the midst of an uphill battle to maintain public confidence, some believe the One Bermuda Alliance needs a miracle to win the next General Election. The problem for the Progressive Labour Party, others would argue, is that it needs one too — and for exactly the same reasons. Certainly, neither party is going to have it easy as they approach the final round of a parliamentary term which must end, at the latest, by May 2018. In the red corner, the OBA has been rocked by the resignation of former tourism minister Shawn Crockwell, with Mark Pettingill threatening to quit and a string of other MPs said to have major issues with the direction of the party. In the green corner, PLP leader Marc Bean has seen his authority severely undermined by colleagues, with seven members of his Shadow Cabinet resigning over his leadership style and rumours of a takeover bid never far from the surface during the past few months. According to four commentators who shared their thoughts on Bermuda's political landscape with The Royal Gazette and generally pitched the PLP as favorites to return to power, the similarities do not end there. The OBA has a trust deficit, our observers said, after so far failing to come good on its promise to yield 2,000 jobs, producing immigration policies that have infuriated many, and failing to shake off its reputation as a rebirth of the supposedly elitist United Bermuda Party. Yet, neither the PLP's much-criticised record on the economy, nor the accusations it faced over good governance during its 14 years in power, have exactly been forgotten by the voting public. Charles Jeffers, the former National Liberal Party leader, was heavily critical of both. "Both parties are taking a bath of some sort right now," he said. Sharing his thoughts on how the months ahead may pan out, Mr Jeffers said that regardless of potentially game-changing economic projects such as the construction of hotels, the airport redevelopment and the America's Cup, one of the OBA's most pressing tasks is to keep its own MPs happy. He said the party is poised on disaster, adding: "Leah Scott has not been a happy camper. Nor has Sylvan Richards, who disagreed with his party on same-sex issues. How many will stay around for another election?" But he noted Mr Bean faces a similar problem within the PLP, saying some members "feel that they can't go the election under the present leader". Phil Perinchief, a former PLP Attorney-General who ran as an Independent MP in the last election, said that while the Opposition's public leadership struggles had been hugely damaging, the party had no choice at such a late stage but to stick with Mr Bean, in spite of his "reputational and present health frailties". He said a PLP victory remained a foregone conclusion among black voters, as the priority for Opposition supporters would be to get the party back into the Government, then set to cleaning out the dead wood. "A show of unity, strength, maturity, experience and sustained vision will be enough to see the PLP successfully through the next election," Mr Perinchief said. "The real work begins thereafter. The present perception of a bickering, backstabbing, self-interested, insular and egocentric group of immature individuals is making an otherwise fairly easy job of 'seeing the OBA off' more difficult than it need be." Mr Perinchief warned that "knives will be out" for Mr Bean once the election dust settles, adding: "Brutus will have his day." Khalid Wasi, a frequent political contributor to this newspaper, said that Mr Bean, with his "Donald Trump style of telling it like he sees it", was honest to a flaw. But Mr Wasi argued the embattled leader could improve the PLP's chances by orchestrating his own departure. "They may have to do as the OBA did, by bringing in new leadership via a safe seat," he said. Either way, Mr Wasi questioned whether the PLP could win back a support base that, in the last election, had lost confidence over debt, corruption allegations and a sense that Paula Cox, the former premier, had lost control. He said the PLP must clear the atmosphere about its former record, and assure voters there would be no going back, possibly by getting rid of former ministers linked to accusations of corruption — whether or not proof existed. Guilden Gilbert, another political observer, said that David Burt, the Shadow Minister of Finance who has been acting leader since Mr Bean was taken ill in March, has done a good job of focusing on the numbers rather than "simply throwing out party rhetoric". But he said of the leadership issue: "It cannot allow this to drag on for too much longer otherwise there could be an irreversible split in the party. Maybe not a physical split, but it will definitely be difficult to create a sense of comfort for voters that the PLP is ready to take the seat of Government. "The party appears to be in disarray and I think many currently have very little comfort in the PLP." According to Mr Perinchief, such problems are minor compared with those faced by the OBA; when asked what the party needed to retain the Government, he replied: "A miracle." He said the alliance faces an uphill battle in overcoming a "trust deficit" reputation made worse by "the immigration debacle and the fracas on the Hill". Mr Perinchief said the America's Cup, and what blacks see as "the seeming success of white business island-wide", contrasts to the receding fortunes of blacks. He said this "only strengthens the perception in black people's minds that the OBA is truly a metamorphosis and successor of the United Bermuda Party. A year may not be enough to cast off that negative perception. It takes a swing of about 12 per cent to 14 per cent of the black vote to determine which party wins the next election." Mr Wasi said the OBA had failed in its promise to be something new — and while it halted the sliding economy, he said its own actions have stopped it from moving ahead. He pointed to the Government being "embroiled in litigation" and perceived as running counter to the economic aims of the "beleaguered black population. They have been rebranded as the UBP, as many of the centrist or left-leaning members have been totally marginalized, such as Thad Hollis, the former chairman," Mr Wasi said. Mr Jeffers said the 2,000 jobs' promise could come back to haunt the OBA. A government doesn't create jobs, they create the climate for jobs. They have to make good on their promises. If not, give the reasons why not. The OBA must at least ensure genuine progress on the new hotel in St George's and the airport. I don't know what more they can do for the America's Cup at this stage," he said. "The Opposition is saying very little about it. It looks like it's going to be a success." Mr Gilbert said the OBA had failed on its economic pledges. "Not only have they been unable to meet these promises, they have never presented a blueprint as to how they will fulfil the promises," Mr Gilbert said. He said the OBA was pinning its hopes on too many ideas that do not guarantee success. While he said the America's Cup may be good for Bermuda, Mr Gilbert argued there will be no economic trickle down. He said that people may find work building the St George's and Morgan's Point hotels, but that constructions jobs are essentially temporary, and that after completion "the guys will again be out of work". He also questioned whether jobs in hotels would be so attractive to Bermudians because the island is still struggling to attract large numbers of tourists. Further, Mr Gilbert described the airport as a very unpopular development, explaining: "The argument is in the secrecy behind this development and the numbers, in my view, do not add up." He said the 250,000-square feet design represents a "huge overbuild" for the 750,000 passengers that pass through the airport every year. Asking whether the size of the project was simply based on a minimum investment threshold involving the overseas investors, Mr Gilbert said: "This is a question that has been asked, but there has been no response to it." For all the OBA's shortcomings, however, he warned the PLP must do more than just present itself as an alternative. "This election, the electorate will not accept fluff," he said. "They want to know specifics of what a PLP government will do and how it will accomplish promises made. I do believe many within the electorate feel some voters' remorse and they feel they were hoodwinked by the unfulfilled OBA promises. However, this will not give the PLP the seat of Government."
August 26. Opinion. By Scott Stewart who ran as a parliamentary candidate in Pembroke East (Constituency 15) for the One Bermuda Alliance in the 2012 General Election. "At the turn of the 20th century, tourism in Bermuda was becoming established. The Princess Hotel had been built and named after Queen Victoria's granddaughter, Princess Louise, who put the island on the map by spending her winters here with her entourage. She was married to the governor-general of Canada and she found the Canadian winters unbearable. In those days, our visitors arrived by steamship. However, Bermuda became a premier tourism destination really with the construction of the airport. This was a huge infrastructure development that today would be not only unaffordable but also environmentally not permissible. But the impetus was the necessity of a mid-Atlantic fortification during the Second World War. Although the cost was borne by the United States Government, Bermuda paid a price as well — 10 per cent of the island was leased for 99 years to the US military. Out of this development grew great abundance. Hotels and other tourism infrastructure were built. Land prices skyrocketed and labour burgeoned. At the conclusion of the war, the Americans exerted their hegemony over Europe and the Pacific by rebuilding Germany and Japan. Today, both nations are major economic powers with stable, democratic governments. Much of this development was facilitated by the European Recovery Plan — the Marshall Plan — by the US and the Canadian Commercial Corporation, established in 1946. Hegemony as a political tool is alive and well in the 21st century, as it was in the past. There are some new players, most notably China. China built the national football stadium in San José, Costa Rica, and is in the process of building a railway in Kenya. The modus operandi is to import all labour and materials required for the project. In exchange for infrastructure development, these nations are expected to be sympathetic to China's interests in the world forum — the United Nations general assembly. China also completed airports in Antigua and St Vincent and the Grenadines in exchange for beachfront property there. All of which brings us to today in Bermuda. A new airport terminal, which is undoubtedly needed to replace the existing one, dating from the last century, is to be facilitated under a government-to-government agreement between Bermuda and the Government of Canada, represented by the CCC.Bermuda's existing "financial instructions" do not contemplate this type of arrangement and that such developments be put to "tender" to other governments. In any event, common sense would indicate that the island's interests are most closely aligned with those of Canada. With respect to cost, the finance minister has stated that the island will not pay for more terminal than it can afford and only the persons using it will do the paying. The revenue stream to finance the new airport depends on visitor arrivals. If the numbers increase, the Bermuda Government will receive 50 per cent of the profit in excess of the maximum equity returns stipulated in the agreement. Canada will provide its expertise and largesse. The fates have conspired to drive down oil prices. Airline transportation has therefore never been cheaper, thus reducing the impact of additional airport taxes. As we celebrate Labour Day in ten days' time, let us advocate for those jobs provided by the construction of the airport terminal and put in place the needed infrastructure, perhaps, for the rest of this century. Morgans's Cloud, which gathers over the island on summer days looking for buried treasure, reminds us that sometimes our treasure is right in front of our eyes and all we need to do is grab it."
August 26. RG Editorial. "There is an increasing sense of exasperation evident among the captains of Bermuda's offshore industry. The same irritation is also being expressed by employees of the sector's local satellite businesses as well as by a growing number of professionally unaffiliated observers. Simply put, it comes to a feeling that too many Bermudians routinely undervalue the industry's significance and continuing contributions to Bermuda. It is indisputable that since the creation of Bermuda's modern international business model in the late 1980s, a truly global industry has taken root and flourished here. The direct, indirect and induced economic and social benefits are enjoyed by all. Overall living standards for Bermudians have been significantly lifted along with per capita income levels. And a new tax base not dependent on the vagaries of a seasonal tourist trade, one with a multibillion-dollar turnover and an international reach, has been established. So what the hell do Bermudians have to complain about, ask genuinely perplexed industry boosters? Why would they do anything potentially to sabotage their own economic self-interest along with the broader interests of their community? From the industry's vantage point, this is exactly what some Bermudians have been doing in recent months: engaging in potentially destabilizing behavior while seemingly laboring under the illusion that they exist apart from the whole and would miraculously escape unscathed in the event their actions contributed to a loss of confidence in the island among outside investors. How else to explain the large-scale demonstrations against immigration reform, which paralyzed the island and stalled, at least for the time being, long-promised changes, some of which would clearly benefit our primary industry and its employees? Or similar protests against reining in unsustainable levels of public-sector spending draining government funds and jeopardizing the entire economy? There is now an almost palpable frustration in some industry quarters with the parliamentarians and activists who choreographed these exercises in political street theatre. Indeed, in a rare foray into local affairs, the offshore industry's largest lobbying group said last week that it considered "government fiscal challenges and potential civil unrest tied to local political battles over immigration policy and spending priorities" to be immediate and pressing obstacles to short-term growth in the sector. There is more than a little merit to their arguments. Certainly, Bermuda boasts a fair few political figures of all ideological stripes who are too often guided by impulse and short-term expediency rather than by any longer-term considerations. Such opportunists and provocateurs were in evidence during the rallies and marches that punctuated Bermuda's winter and spring. In some instances, their objectives were clearly borne of partisan self-interest, not principle. These instigators were entirely more focused on undermining or perhaps even toppling a numerically weak government that was vulnerable to public pressure rather than offering any pragmatic course corrections to the proposed immigration and budgetary plans. The blunt-force methods they employed in pursuit of a laughably transparent and entirely self-serving agenda were almost recklessly irresponsible at times. Shamelessly stoking the fires of resentment and suspicion, appealing to economic, racial and cultural anxieties, could not help but put some dents in Bermuda's well-deserved reputation for stability and dependability. The immediate goal of unseating and replacing the existing government was allowed to eclipse the long-term economic security of Bermuda and all Bermudians. As the financial services sector's lobbyists pointedly noted, it is all too easy for local political leaders to forget that even short-lived events can have far-reaching consequences in this increasingly interconnected world, affecting Bermuda's global standing and ability to draw business. But the reality is many thousands of Bermudians, most of them not particularly politically minded or ordinarily given to participating in public demonstrations, joined these rallies. The advertising industry likes to say the consumer isn't an idiot — he or she is your spouse. Or your brother. Or your cousin. Or your best friend. And this applies as much to "consumers" targeted by political messaging as any other kind. Those who marched, and marched repeatedly, on Parliament Hill and through the streets of Hamilton were not all responding to the fiery oratory or deliberately stirred-up emotions of the moment. They weren't even necessarily responding to the issues that nominally prompted the demonstrations. For these protests became umbrella events, encompassing all manner of widespread concerns and grievances. The people taking part were reacting to deeper and more fundamental issues, among them: sharpened economic insecurity and a growing sense of social inequality resulting from Bermuda's large and rapid fiscal contraction throughout the recession; a continuing sense of estrangement from a primary industry that they neither fully understand nor feel themselves qualified to directly participate in — something especially true of older Bermudians; and, perhaps, a more generalized sense of dislocation and uncertainty about what the future holds for this community. There can be no doubt the challenging economic circumstances that have prevailed in Bermuda for almost a decade now have aggravated and widened some of the fissures running through our society. We are, in certain ways, a more fractious community than we once were. And this is precisely why good judgment and shrewd common sense are called for at this time to narrow these chasms of mutual misunderstanding as best we can. All of our livelihoods, in one way or another, now owe in some measure to Bermuda's financial services sector. But the fact is, a not insignificant proportion of the population believes itself to be detached from that industry and largely untouched by its contributions to the economic well-being of Bermuda. And that should be cause for genuine concern among leaders in all areas of our public life. Perhaps we need to consider embodying a public relations answer to the nonpartisan Spending and Government Efficiency commission to underscore how very interconnected and interdependent we all are within Bermuda's fragile economic system. A blue-riband body comprised of political, corporate, labour and community leaders with a mandate to explain and to promote economic stability, reduce our vulnerability to internal disruptions and to encourage sustained growth and living standards by way of public hearings, televised and online sessions, and other traditional and social-media initiatives may be the most effective way to go. For if we are ever going to successfully appeal to those considered to be inadvertently sabotaging their own economic self-interest and the community's broader interests, we first need to make them aware of just what those interests are.
August 26. Bermudians travelling to Canada will soon need an Electronic Travel Authorization to enter the country, according to the Consulate General of Canada. As of September 30, eTAs will be required by citizens of several countries that had not previously required an entry visa. According to the Government of Canada website, eTAs will cost $7 CAD, and can be approved within minutes of application, but the Canadian Government advises that travelers apply before they book their flights as some applications may take a matter of days to process. A statement said: "Persons who require eTA should apply now at Canada.ca/eTA in order to avoid any delays. As of September 30 all air travelers will need to have appropriate documents to travel to Canada before they can board their flight. The eTA is valid for five years or until the passport expires, whichever comes first." Canadian dual citizens will not be eligible to apply for an eTA and will instead need to show proof that they are Canadian citizens as of September 30. "Acceptable proof of Canadian citizenship to fly to Canada is a valid Canadian passport, a temporary passport or an emergency travel document," the statement said. It continued: "However, as both temporary passports and emergency travel documents are only issued under strict conditions and on a case-by-case basis. Canadian citizens are strongly encouraged to renew or obtain a Canadian passport as soon as they can and before the transition period ends."
August 26. The Bermuda Underwater Exploration Institute is offering train tours to the museum from Hamilton city centre. Visitors can visit BUEI following a 35-minute narrated tour which includes discounts and free offerings at some of Hamilton's shops. Director of BUEI Mel Ferson said: "Guests can now experience 'the coolest little museum in the world' along with the sights and history of Hamilton and a chance to shop in our Hamilton stores with discounts and special coupons. "BUEI has the perfect location just outside of Hamilton but on some days it is just too hot for visitors to walk from town and they don't always want to take a taxi with it being so close. Having the train has helped to solve some of these challenges and allows an expanded product offering to our visitors and residents — who doesn't love riding a train?" The train and museum package is $39 for adults, $35 for seniors and $25 for children, with no charge for children younger than 6. Guests can also enjoy just the narrated Hamilton tour without the museum. For BUEI members, the cost is $15 for adults, $12 for seniors and $10 for children older than 6. For non-members the price is $24 for adults, $20 for seniors and $15 for children older than 6. The train departs the Hamilton ferry terminal Monday to Friday, every hour from 10am to 3pm. The train also departs BUEI, starting at 10.25am and runs every hour. BUEI will also be using the train during the winter months to take students to the museum to experience the America's Cup exhibit and Living with the Ocean exhibit, for free, along with other education classes and programmes. For more information on BUEI's school tours call 294-0221 or e-mail education@buei.bm The train can also be booked for private events and birthday parties. For more information call 294-0204 or e-mail giftshop@buei.bm.
August 26. Executive director for Greenrock, Jonathan Starling, has called for a bottle deposit system in Bermuda which will see returned glass exchanged for cash. Mr Starling was speaking in light of the glass that was littered over Horseshoe Bay after the Cup Match holiday, as reported in this newspaper. He believes such a move would help to make recycling more efficient, reduce the amount of litter on the island and help raise awareness about "the true value of the product". He told The Royal Gazette: "Right now the true cost of bottles isn't reflected in the price at the cash register. You need to add in the cost of picking up litter, sorting out trash streams, inefficiencies at the incinerator if glass or cans go there instead of the recycling plant, the cost to public health from cuts and mosquitoes, etc. All of that is being borne by the taxpayer. Having a deposit system should reduce the burden on public finances while also improving the quality of life for all Bermudians." Mr Starling pointed to a number of different models that could be developed in Bermuda including the government enforcement and redemption of deposits from government-run collection centres. It's important to remember that the concept isn't new to Bermuda. Older generations will remember mineral bottles and returning them for a deposit. Also, wherever bottle Bills have been introduced they've been proven to work to reduce the amount of litter (and public expenses), increase rates of recycling overall and to make economic sense. I am not aware of any polls here in Bermuda on the issue, but there are polls showing solid public support for bottle bills in the USA — I've seen polls indicating 70 to 75 per cent support for a national deposit Bill for example. The arguments in favour of a bottle Bill are clear, and people will support them as a result. In the USA there are ten States plus the territory of Guam that have some form of a bottle bill in place, and there's campaigns to introduce them in new States and expand them where they do exist." Keep Bermuda Beautiful's 2009 Bermuda Roadside Litter Survey revealed that glass beer bottles is the second most littered item in Bermuda (by count) and the most littered item in Bermuda by volume, comprising just over 12 per cent in the survey. Anne Hyde, KBB's executive director agreed a bottle deposit would be a potential alternative for Bermuda, saying: "Any bottle deposit model that Bermuda may adopt needs to be appropriate for Bermuda, and perhaps take into consideration that we don't need to capture plastics in a bottle return programme because we are already achieving a good zero-waste goal by "recycling" plastics at the incinerator, burning them and creating value for our trash. The Tynes Bay Waste-to-Energy can safely burn plastics and generate electricity. In Canada or the States, people are taught to recycle plastics because they are diverting them from a landfill. Bermuda is different. We don't need to divert plastics. We don't put them in a landfill. In Bermuda, we take our useless garbage and burn it to create value — electricity. So we can't think like a Canadian or American who are being coached to "recycle" plastics as the optimum solution? It is not the case for Bermuda. With this in mind, any bottle deposit system for Bermuda should focus on recapturing glass beverage containers."
August 26. The Bermuda Health Council has dismissed claims that new healthcare legislation designed to ensure all service providers on the island are properly licensed is targeted against private physicians. Ricky Brathwaite, the council's programme manager, maintained that the Bermuda Health Council Amendment Act 2016 was designed to establish a set of standards for healthcare providers to boost public trust in the system. Mr Brathwaite told The Royal Gazette that all service providers would have to be licensed under the new Act, including the hospital. His comments came after a public meeting earlier this week in which some physicians criticised the proposed Act for creating an uneven playing field for private GPs. "There is no targeting in this legislation," said Mr Brathwaite. "We do not target anyone; we advocate for everyone whether it be patients, physicians or insurers. Some of the criticism deflects from the ideals we are putting forward in this legislation. This is about public feedback and acting on what the public has been asking for a long time. This has been years in the making, it is not something that has come up overnight." The proposed Act enables the Health Council to grant permission to health service providers to make financially vested referrals, to license health service providers and to grant permission for entry of high-risk medical technology. "Our goal is to increase trust in the system by having standards," said Mr Brathwaite. "The legislation is designed to provide information to everyone and hopefully part of the $100 million that is sent abroad every year on healthcare costs can be brought back home. The concept of change can be hard, but we are trying to establish a comprehensive system that everyone can trust. This Bill has never just been a doctor's Bill about local GPs and their facilities, it runs the gamut of healthcare providers from pharmacists to the hospital. No one is exempted. The Act says if you have a financially vested interest in part of your business, you should tell your patient so they can make an informed decision. It has been said that we are taking away the choice from the patient, but we see it as the other way around. People have complained to us about a "Wild, Wild West" system operating in Bermuda. Regulation so far has been voluntary. The Act requires the regulation and licensing of all healthcare providers and there are fees for this." At Monday's Health Council forum former Premier, Ewart Brown, executive chairman of Bermuda Healthcare Services, questioned provisions in the legislation that he said imposed an annual fee of 2.5 per cent of the cost of imported equipment on healthcare providers. Mr Brathwaite said: "This has been proposed as a one-off payment. I'm not sure where the idea has come from that this is an annual fee. The purpose of the fee is to ensure that there is the proper standard of expertise in place to fit and then maintain this machinery. No one is trying to make money from this, it's about patient safety." Mr Brathwaite told The Royal Gazette that many of the proposed changes enjoyed widespread support in the community. "Many people have been fighting them for a long time," he said. "But it is not surprising that people have voiced concerns; people should be shouting about this. It is very important. We are talking about healthcare and people's lives. It is also worth remembering that this is not the biggest part of the work we do. We are working on so many other areas too with the same ultimate goal: a healthy Bermuda. We should not be scared of change that will lead to a more effective and progressive healthcare system."
August 26. From humble beginnings at Somerset Trojans to one of English football's first black heroes, Clyde Best has shared his inspirational story in his long-awaited autobiography. Best's book The Acid Test charts his groundbreaking journey and tackles the discrimination he overcame because of the colour of his skin in an era when racism was rife on the terraces. The Acid Test has been more than a decade in the making, with the former West Ham United favourite now set to travel to London to promote its release by publishers deCourbertin Books. Best hopes the book will not only be a trip down memory lane for those who remember his exploits, but also enthrall a younger generation of supporters unaware of the intolerance he encountered. "It's been good getting down on paper some of the things you had to go through that people may not know about," said the 65-year-old. "Some of it wasn't easy and it's nice for people to hear first-hand from me because a lot of people have done the talking over the years. I've always thought, 'Let them go ahead and say what they want', but I feel as though it's my turn now." Best was a trailblazer for black players in England during the 1960s and Seventies and helped smash the glass ceiling which for so long had hindered players from minority backgrounds. His 58 goals in 218 games for West Ham etched his name in the club's folklore, but the forward suffered some extreme abuse from fans, mirroring the strong resistance to immigrants landing on Britain's shores back then. "I talk all about [the racism] and I talk about everything," Best said. "If me putting up with that kind of stuff helped the guys of colour playing today then that's what life's all about. We're always looking for improvement and if I'm able to do that then, hey, all power to it. There are a lot of players appreciative, like Micah Richards, Ian Wright, Cyrille Regis and Viv Anderson, tons of them, and I'm glad if I was able to be an inspiration." Best particularly enjoyed recounting his days at West Ham where he shared a special bond with the fans over an eight-year love affair, and played alongside England World Cup winners Bobby Moore, Geoff Hurst and Martin Peters. He also described the culture shock of swapping island life for West London and how Ron Greenwood, who later managed England, took him under his wing. "That's where it all started for me and without West Ham, where would I be," Best said. "I owe them a lot for giving me an opportunity and they were great people who I will never forget. Hopefully the fans enjoy it and as many people as possible read it; I hope it can go around the world. I'm sure there's a lot of people who don't know my story who may take something from it." The Acid Test also chronicles Best's time in Holland with Dutch giants Feyenoord, as well as his spell in the United States where he joined the likes of Pelé, Franz Beckenbauer and Johan Cruyff in helping grow the game. The idea for the book was first broached by Jonathan Kent, the Assistant Editor of The Royal Gazette, while Derek Tully, a former deputy principle at Clearwater Middle School, was also involved in its research. Best was later put in touch with sports journalist Andrew Warshaw, the book's ghostwriter, by Harry Redknapp, the former Tottenham Hotspur manager who played alongside the Bermudian at West Ham. "Jonathan and then Derek were the ones who first put me up to it," Best said. "It was on and off for a while, but then Andrew went with it and has done a great job, and I'm happy with it. It's funny because he's a Spurs fan, but we got on great! The book's just come off the press and we're hoping to get a bundle in Bermuda where people can buy it. I'll also be setting up something in London to do a book signing at the new stadium. Hopefully that will be soon, though, before it gets too cold!" The Acid Test is available online from the publishers and costs £20.
August 25. "Sewage balls", also known as "grease balls", have again been found on at least one of the South Shore beaches — three years after a study showed that sewage outfall had created a "public health hazard". The resulting outrage led to a Bermuda Government assurance that the water quality would be monitored on a daily basis and measures taken to rid the island of potential pollution. However, yesterday the balls — once described as "human waste wrapped in a grease raincoat" — reappeared at Grape Bay Beach. Resident Debra Norman discovered a line of the sewage balls when she went for a morning walk on the beach yesterday. "Most of these grease balls are made up of faecal matter", she told The Royal Gazette. "What happens in the sewage pipes is that anything that floats gets collected in the grease. If you walk along the beach, they actually get bigger and there are more bits. Dogs and birds do tend to come along and gobble up all the sewage, which is not nice. You can actually see the grey lines going up and down the beach. The Government said that they have done something to deal with it but this is one of the worst days I have ever seen." Last night the Ministry of Health and Seniors released a statement promising a "clean-up within the next 24 hours. Today's report is being investigated," added the statement. "The water quality in this area will be subject to increased testing as we look to solve the source of the grease balls. Since the last recreational water testing measures of August 15, 17 and 22, there have been no issues with the seawater quality at Grape Bay. The results are available at https://www.gov.bm/seawater-monitoring-programme-bathing-beaches. Since the last report was brought to the Department's attention on August 16, the water was re-tested at related beaches confirming good seawater quality, a clean-up of Grape Bay was undertaken on August 17, bypasses were checked by engineers confirming no failures, and an expedited outfall dive was requested. The public is asked to report concerns to Environmental Health on 278-5333." Since the outcry in 2013, following a study by the Bermuda Institute of Ocean Sciences, the Government put in place a number of measures to reduce the amount of harmful fats, oils and grease (FOG) in the island's sewage waste stream. The Control Policy requires all food establishments to remove all FOG from their wastewater prior to disposing it in the City sewer system. As recently as last Monday, the health ministry issued a statement explaining that routine seawater samples that were taken had been clear.
August 25. Italians in Bermuda were yesterday reaching out to their families in the wake of a devastating earthquake, which killed more than 120 people. Nicola Russo of La Trattoria Restaurant said: "By the grace of God no one has lost any family members and some of our Bermudian friends living in the area are OK, only some small damage to their houses. My family contacted me early this morning to assure me that everything was OK and that they had spent the night in the car since they were too afraid to go back in the house. They do not live in the area directly affected by the quake, but they felt it. Those 30 seconds were a strong reminder of the strong one that hit their area a few years ago causing major destruction and leaving almost 400 dead," she added, referring to a 2009 tremor in L'Aquila, about 70 miles from Rome. The magnitude 6.2 quake struck early Wednesday — Tuesday night local time — around 65 miles north-east of Rome, not far from Perugia. According to early reports many of the dead were in historic town of Accumoli, located close to the epicentre, or a short distance away in Amatrice, where three-quarters of homes were destroyed. As of yesterday afternoon some people were still believed to be buried under the rubble and the death toll was expected to rise. Gioacchino DiMeglio, Bermuda's honorary Italian consul, said he had been contacted by many in the local Italian community asking what they could do to help. "The problem everybody is experiencing at the moment is trying to contact family and friends in the area. The reality is the number of fatalities is going to be higher than it usually would because this time of year there are a lot of tourists who visit the area. The city that has been hit was more than 1,000 years old. A lot of the buildings crumbled down because they were built so long ago and it struck during the night while people were sleeping." He said that the Bermuda Red Cross was already beginning fundraising efforts to help those affected and that donation boxes are being placed in all of the MEF restaurants, of which Mr DiMeglio is a director. "We would like to thank everybody for the support that we are getting," he said. "We have already had a lot of e-mails asking how people can help. Italy is not a country where they need donations of clothes or anything like that, but any monetary help will support those who were affected." Meanwhile, Ann Spencer-Arscott, executive director of the Bermuda Red Cross, said that while the Italian Government and Italian Red Cross had not yet formally requested international assistance, they were able to accept donations on behalf of the victims of the earthquake. "All funds raised will be forwarded to Italian Red Cross," she said. "Bermuda has a large Italian population, so it is only fitting that we do something to support their country." In addition to the donation boxes at MEF Restaurants, Ms Spencer-Ascott said that Donald Richardson would be at Lindo's in Warwick starting later this week collecting funds. The Bermuda Red Cross is also accepting donations through online transfer to Butterfield Bank a/c 20 006 060 663859 200 in the name of Bermuda Red Cross, Disaster Appeal 2. Donations can also be made by phone at 236-8253 or at their offices on Berry Hill Road.
August 25. A multimillion dollar investment in two catamarans by Norwegian Cruise Line will create up to ten jobs in Bermuda. Bill Hanbury, CEO of the Bermuda Tourism Authority said the catamarans, with a 250-passenger capacity each, would be used to transport Norwegian cruise ship passengers from Dockyard to St George. Mr Hanbury added: "As part of the negotiations with NCL and as part of their new five-year agreement, which is now in place, they will provide Bermuda with additional lift between St George's and Dockyard, which is sorely needed." He was speaking after NCL advertised for a Bermudian operator with "in-depth knowledge of the marine industry" to run the ferries on behalf of the cruise line. Mr Hanbury said: "They will augment our public ferry system, not supplant it any way whatsoever. "We have a brilliant ferry system which is a huge asset and we put a lot of value on it, but this will accommodate Norwegian's passengers specifically between two destinations which are a very big part of the Bermuda tourist product." NCL declined to comment on the move, which will see the ferries run on island until 2022, and referred all questions to the BTA. It is thought the new ferries will cost between $3 million and $4 million each. Mr Hanbury said: "This is a positive thing. This is an investment we could not make on our own. They may help us, particularly when they have very high demand periods, with some lifts which will accommodate other visitors, but this is predominantly for NCL passengers, who sometimes struggle between Dockyard and St George's. It also frees space on the public ferries, which also accommodates our visitors." Michael Fahy, the Minister for Tourism, Transport and Municipalities, said: "The ministry welcomes this exciting new partnership ... NCL have agreed to procure the tenders and bring them to Bermuda, where they will be maintained by NCL. While it is expected to provide between six and ten new jobs for Bermudians to operate the tender service, it may also breathe new life into the town of St George. Increased vibrancy for the Olde Towne should create jobs in restaurants, retail stores, at the beaches and at various east end attractions. We also expect an increased number of fares for taxis and minibuses as a result."
August 25. SoftBank Team Japan announced today that they cracked the foiling tack this year while training with their AC45 Sport test boat in Bermuda. Long regarded as the holy grail of the America's Cup, the maneuver has been the last significant barrier preventing America's Cup teams from hypothetically foiling around an entire racecourse — a feat that if proven could potentially define the outcome of the 2017 series. "We know now that it's achievable and it's a real game changer," Dean Barker, the skipper and chief executive officer, said. "Most of the teams know we did it, so the race is on now. The trick with the foil gybe was learning the different settings and techniques for different wind conditions, and that's going to be the same with the tacking." The maneuver has the potential to reshape the upwind strategy of the next America's Cup, as it reduces the deficit incurred by slowing down to cross the wind, resulting in gains of possibly hundreds of metres compared with the 2013 event. The boat needs to be doing a certain speed to stay on foils — typically in the 16-18 knot region — as when you're going into a tack, the bottom speed is usually around 13-14 knots," Barker said. "So what you end up doing is using the speed you have going into the tack to make sure you don't drop below. You typically would lose a lot in the tack, up to four boat lengths even, but if you can stay on the foils the losses are heavily reduced." The first foiling tack maneuver was developed by the team on April 19, alongside their training partner, Oracle Team USA. "We were out there, nice breeze, put the boat into a tack and stayed up on the foils," Barker added. "Then we pulled off another one the same day just to make sure it wasn't chance. In the months since then, we've been growing in our consistency to perform the maneuver." The breakthrough of the foiling tack marks one of the final pieces in the accelerating development of the new wing-sailed, foiling catamarans that have come to define the America's Cup. In preparation for the 2013 event, it was Barker and his team who first foiled their AC72 class yacht and then proceeded to develop the breakthrough technique for gybing the boat downwind while staying on foils. Now at it again, Barker is pushing his team even farther to use the new tacking technique to try to achieve a perfect flight around the racecourse without getting the hulls wet. "The absolute holy grail would be to pop up on foils at the start and then keep the hulls dry all around the racecourse. It's certainly not inconceivable. It would be quite the achievement to pull it off." Calling it a "game changer", tactician Chris Draper was confident that the new technique, once mastered, has the potential to change the entire playbook of the America's Cup. "If it's anything like Moth sailing, this starts to open up the racecourse a lot more, your options are a lot wider," he said. "It's not about sailing boundary to boundary any more; you can tack on the shifts a lot more on demand. It will make the racing a lot more exciting for the public as well." Barker is cautious that all teams will likely be able to perform tacks while foiling during the America's Cup in 2017. Still, now that SoftBank Team Japan have cracked the code, the sailing and performance teams are devoting significant resources towards mastering the maneuver. "It's no secret it's what teams see as the future," Barker said. "You have to believe everyone will be able to do it, but it's nice to be getting there early to try to learn what the key parts are. I'm sure over the next few months we'll see more teams perfect the tack."
August 25. MUNICH (Bloomberg) — It won't take another Hurricane Katrina for Bermuda-based reinsurers to face losses from covering the cost of storms and earthquakes. Competitors such as hedge funds have eroded prices so much that a typical year of claims could move the industry into losses. Property and casualty reinsurance is "getting very close to combined ratios of 100 per cent," Manfred Seitz, managing director of international reinsurance at Warren Buffett's Berkshire Hathaway Inc, said at a roundtable of industry executives on Monday. "Even if we see normal catastrophe claims in 2016, you could see a number of companies" reach the threshold. A ratio above 100 per cent means claims and expenses exceed premium income. Prices for reinsurance, which primary insurers buy to help them shoulder risks, have fallen in eight of the past 10 years, according to a property-catastrophe index compiled by Guy Carpenter. The industry has been releasing reserves for past claims, which has helped cushion against both the impact of the price declines and falling investment income from ultra-low yields. "What we've experienced is kind of the opposite of a perfect storm," Matthias Weber, chief underwriting officer at Zurich-based Swiss Re, said, referring to the industry in general. "Everybody enjoyed reserve releases. However, if we adjust results for this and the 'good luck' due to the absence of large natural catastrophe losses, they are not that fantastic anymore." The combined ratio for property and casualty at Swiss Re AG, the world's biggest reinsurer, worsened to 101 per cent in the second quarter from 92.9 per cent a year ago after catastrophe claims including earthquakes in Japan and wildfires in Canada. It would have been 5.5 percentage points higher without prior-year releases. Munich Re's ratio in the same segment rose to 99.8 per cent from 93.3 per cent, even after releases improved the measure by 5.1 percentage points. "If you look at the combined ratios before reserve releases, then you can clearly see an impact every year from the softening in the market," Ludger Arnoldussen, a Munich Re management board member, said at the roundtable organized by Bloomberg News. "The underlying deterioration is there." The ratios are rising despite losses from natural disasters for the first six months of the year only being in line with the 10-year average, according to Munich Re estimates. Reinsurers are also running out of claims reserves that they can release as profits fall, Allianz Re chief executive officer Amer Ahmed said in February. Competition is rising as central banks' quantitative easing programmes pushed down yields for traditional investments, luring new participants to the market. Investors from hedge funds to pension managers hope to boost their returns by putting up capital to back risks through insurance-linked securities such as catastrophe bonds. Alternative capacity from capital-market offerings such as catastrophe bonds and collateralised reinsurance rose to a record $73 billion in the first quarter, according to Aon Plc. Reinsurers had a further $580 billion available to back risk in the first quarter, matching the high reached a year earlier, the broker said. That meant continued price falls when contracts were renewed in July, albeit at a slower pace than previously, both Munich Re and Swiss Re said when reporting figures for the second quarter. Munich Re saw a 0.4 per cent decline in prices in July compared with a 2.1 per cent drop a year ago, the firm said. "We clearly have a situation of oversupply," said Juan Beer, who buys coverage as head of group reinsurance at Zurich Insurance Group AG. "It takes a lot to reverse the cycle such as a financial-market shock or a massive natural catastrophe." Markets are already punishing the industry for the rising ratios and falling profits. Swiss Re, Munich Re and Hannover Re, three of the world's four biggest reinsurers, reported a decline in quarterly earnings in the second quarter. Munich Re shares have fallen 13 per cent this year, with Swiss Re down 17 per cent and Hannover Re losing 14 per cent. "On the surface, reinsurer results may still look good, but if you look at the underlying health they don't," Ahmed at Allianz Re, the reinsurance arm of Europe's biggest insurer Allianz SE, said on Monday. "The benign catastrophe environment of the last few years led to good results." The favorable level of claims in recent years may be threatened by the US hurricane season. The Atlantic basin will see the most named storms since the 2012 season, the year Sandy caused as much as $50 billion in property damage in the US, with as many as four of those strengthening into major hurricanes by November 30, the National Oceanic and Atmospheric Administration said on August 11. "Analysts and investors absolutely know that good luck will not be the new normal" when it comes to claims, Swiss Re's Weber said. "It is just a matter of time until the big hammer comes down and then, resilience, size and capital on the balance sheet will make the difference."
August 25. The Bermuda Telephone Company had failed to give "clear and transparent terms and conditions" for its broadband services, according to the Regulatory Authority. A statement by the RA said yesterday they had reviewed and investigated BTC's new Fair Usage Policy relating to its internet services. "The RA informed BTC that its new Fair Usage Policy was in breach of various licence conditions, regulations and determinations," the statement said. "As such, BTC was directed by the RA to withdraw its new Fair Usage Policy, revert to its previous policy and to notify all of its customers of this change through its website, customer bills and notice in the local paper no later than 30 August, 2016. BTC have informed the RA that the new Fair Usage Policy has been withdrawn." An RA spokeswoman explained the issue, saying: "It was determined by the RA that BTC failed to act in accordance with its duties and obligations of its Integrated Communications Operating Licence and other relevant regulations and administrative determinations by not giving clear and transparent terms and conditions that apply to its broadband services." She said the changes affected customers by failing to give them proper notice of the changes, and not allowing the customers to opt out of the service without penalty if the changes were adverse to them. "BTC additionally failed to seek prior RA approval for any additional fees for service which it intended to charge for reconnection, after a customer has been disconnected," she said. Matthew Copeland, chief executive of the RA, added: "The RA has a remit to protect the interests of consumers and ensure that providers of internet and broadband services comply with relevant regulation. When BTC introduced its new Fair Usage Policy we had immediate related concerns which led to the RA investigating the matter. "Following a letter to BTC specifying various areas of regulatory non-compliance and planned RA actions, BTC agreed to withdraw the new Fair Usage Policy." As of yesterday afternoon, the "Fair Use Policy" listed in the Internet Terms and Conditions on the BTC website states in part: "If your usage of a particular Service materially exceeds estimated use patterns over any month or is inconsistent with normal usage patterns, then your usage will be excessive and/or unreasonable. If your usage is excessive and/or unreasonable we may contact you to advise you that your usage is in breach of our Fair Use Policy. We may then request that you stop or alter your usage to come within our Fair Use Policy. If your excessive or unreasonable usage continues after we ask you to stop or alter the nature of such usage, we may without further notice, suspend, modify or restrict your use of the Service(s) or cancel your access to the Service(s)." The previous BTC policy stated: "If a customer is deemed by the service provider to make excessive use of his service, the service may be (i) restricted, either in terms of general access or the download speeds at which the customer is permitted to access the service. The customer may, at his option and at the discretion of the service provider opt to have his download speeds restored upon the payment of a fee. Unless the customer opts to subscribe to an alternative service package as per item (ii), there will be no changes in the price or the terms of the Customer's Service; or (ii) the customer may be asked to subscribe to an alternative Service package more suitable to his usage. The service provider, at its sole discretion, will determine from time to time what constitutes excessive use of the service. In the event that the customer refuses to comply or neglects the service provider's Fair Usage Policy, the service provider has the right to unilaterally terminate or modify the service to the customer."
August 25. Shares of Bermuda Press (Holdings) Ltd, the parent company of The Royal Gazette, went up $1.70, or 32.07 per cent, on The Royal Gazette/BSX Index. The move came after 33,066 shares sold, moving the stock price to $7. Utilities firm Ascendant stayed at $5.60 after 19,400 shares changed hands. The Royal Gazette/BSX Index ended the day up 2.21 points, or 0.17 per cent, at 1,276.3. The BSX Insurance Index ended the day up 8.62 points, or 0.52 per cent, at 1,664.52.
August 25. Airport customs officers have told how they discovered two packages of cocaine concealed in a black handbag. Christopher Pitcher and Matthew Fullerton were on duty when they were alerted to a suitcase belonging to Tyrone Brown, who had arrived from Jamaica via Miami a day earlier. It is alleged that Mr Brown, a Jamaican national, imported 894.6 grams of cocaine worth more than $90,000 on to the island on April 18 this year. On the second day of his Supreme Court trial, the jury heard that Mr Fullerton and Mr Pitcher were working in the baggage hall on the day in question. Mr Fullerton said it was part of their job to look out for bags that had arrived late, adding that "it was brought to our attention that a bag needed to be looked at". He said they were presented with a green suitcase, which had Mr Brown's name on the labels, by an American Airlines agent. "The suitcase was not locked when officer Pitcher and I received it," he said, explaining that his colleague searched the bag while he took notes. The black handbag was found in the suitcase and Mr Fullerton said it contained personal toiletries. But he said Mr Pitcher noted some inconsistencies in its weight and an X-ray showed up two "rectangular shapes", one to the front and the other at the back of the bag. Mr Fullerton said his colleague probed through the stitching on the front flap of the bag, and conducted a field test of the package that was revealed. "That tested positive for cocaine," Mr Fullerton said. "We informed our supervisor of the results of the field test and that we had a positive result for cocaine." The police were called and the officers guarded the bag until their arrival, at which point the officers took the items into their custody. Detective Sergeant David Bhagwan was one of three officers who transported the items to the forensic support unit at Southside Police Station in St David's. He told the court the rectangular packages, which were of a similar size and material, were removed in the sterile control processing room, swabbed for forensic examination and secured as evidence. The next morning, he attended the Clear View holiday suites in Hamilton Parish with his two colleagues. On the first day of the trial, the jury heard that Mr Brown was arrested at the holiday suites on April 19, having arrived in Bermuda the day before. As he made his way through L.F. Wade International Airport, customs officers noticed that he appeared "nervous and fidgety". He was subjected to a personal search, as well as a shoe X-ray by customs staff, but nothing of interest was found. Mr Brown denies importing cocaine to Bermuda. The trial continues.
August 25. A Southampton woman appeared in Magistrates' Court yesterday charged with managing and having a financial interest in a senior care institution despite being on the Seniors Abuse Register. Forty-seven year-old Barbara Tannock pleaded not guilty to the offence and will stand trial on November 2 with a mention date on September 13. Ms Tannock was placed on the Seniors Abuse Register by court order and handed a six month prison sentence in 2012 after pleading guilty to stealing $76,500 from an elderly couple. She is now accused of contravening the Seniors Abuse Register Act. Magistrate Khamisi Tokunbo said that between December 1 and December 31, 2015 "in the islands of Bermuda, being a person whose name appears on the Senior Abuse Register, was concerned in the management of an institution that cares for seniors or had financial interest in the said institution". The Act stipulates: "A person whose name appears in the register shall not carry on, or be otherwise concerned in the management of, or have any financial interest in, a home or other institution that cares for seniors." She was granted $3,000 bail.
August 25. The Bermuda Sanshou Association (BSA) was this afternoon awarded $10,000 from the Cash Back for Communities programme. Senator Jeff Baron, the Minister of National Security, said the self-defence group has proudly represented the island internationally for years and is more than deserving of the funds. "It's critical that we begin to not just look at what is happening, but why it is happening when it comes to our public safety issues," he said. Garon Wilkinson of the BSA thanked the minister and the government for the donation, saying that the funds would help the group continue its work teaching Bermudians and helping them compete internationally. "I have a full-time job, but the thing that keeps me up at night is how are we going to fund our athletes," he said.
August 25. A new performing arts group is set to entertain Bermuda after its hopes of taking part in the Labour Day celebrations in Brooklyn were scuppered. The Bermuda Triangle AllStars brings together top band musicians, majorettes, dancers and Gombeys, who will showcase their talents during the Bermuda Labour Day Parade. "We are looking to incorporate each part of our group for the parade," co-director Tawana Fox told The Royal Gazette. "We will be doing the march along Front Street and once we arrive at Union Square we will be the first performers to go on." Ms Fox said about 30 members of the group had hoped to represent Bermuda in a three-day drum line competition in Brooklyn Commons as part of the Caribbean Fashion, Food, Art and Music Fair. They were also looking to take part in the West Indian American Day Carnival Association celebrations on September 5. However, the funding for the trip fell through. "They were disappointed," Ms Fox said. "But we did express to them that this group isn't a one time thing. It's long-term." She said the group was now "pretty excited" about taking part in the local Labour Day celebrations, despite many of the group members having performed in the parade before. "They are enthusiastic about it. As a new group it's a little bit different." Ms Fox, who is also the director of the Pembroke Hamilton Club Majorettes and Drum Corp, teamed up with fellow performing arts group leaders Dennis Parsons and Cher-Ann Brangman to form the group in July. They wanted to create a national performing arts group consisting of a full band, majorettes, dancers and Gombeys that can represent Bermuda locally and at international events. "We're selecting people who are in the performing arts who are doing really well," Ms Fox explained. She added that this gives other local groups a chance to attract more performers while giving those who want to be at the top of their game something to work towards. Ms Fox said the Bermuda Tri-AllStars also hope to be able to provide their group members more opportunities to perform overseas and increase their exposure. The group had its debut performance at the A.F. Smith back-to-school fair two weeks ago, and it is now inviting performing arts groups in Bermuda to suggest some of their top performers who would be good candidates to join. While no age limit has been set, Ms Fox said they are particularly seeking to attract performers who are of high school age. "We're looking to become a charity and move forward as a national performing arts group representing Bermuda," Ms Fox said, adding that they are also looking for more sponsors.
August 25. The second case of imported Zika virus has been reported by the Department of Health. The announcement comes almost a week after the ministry confirmed the first case of a person being infected with the virus after travelling to a Zika affected country. Jeanne Atherden, the Minister of Health, maintained there had been no local spread of the virus. "There has been no local spread of Zika virus reported in Bermuda, and the absence of any outbreaks of mosquito-transmitted diseases in several decades makes Bermuda a low risk location for local transmission," she said. A Government statement released this evening urged the public to guard against mosquito bites and sexual transmission both away and at home in order to keep Bermuda's risk as low as possible. "The Department of Health continues to work with healthcare providers, and local and regional public health partners to monitor possible imported cases," a spokeswoman said. "The department will continue to test those suspected of having Zika virus. When a suspected case is identified, the Epidemiology and Surveillance Unit advises the person how to protect the community at the time of testing and Vector Control steps up routine surveillance in a three-mile radius of the home of their home. If travelers to Zika-affected areas experience fever with joint pains, rash or conjunctivitis, they should seek medical attention and inform the healthcare provider of their recent travel history." The public is advised to use an EPA-approved insect repellent every time you go outside, drain standing water where mosquitoes can breed around homes and offices on a weekly basis and wear long sleeves and pants when outside. After travel in a Zika area men and women should protect their sexual partner by using condoms correctly and consistently for six months.
August 24. A Russian aircraft diverted into Bermuda this afternoon after a medical emergency on board. Fire crews were on standby when the Boeing 767 touched down at LF Wade International at 6.10pm. "At 5.04pm this afternoon 911 emergency dispatch centre received a call regarding a flight diversion due to a medical emergency," Sergeant Russann Francis said. "Airport Duty Officer, Ms. Charlotte Bosch De-Noya, stated the Russian Airline Boeing 767 which was en route from Dominican Republic to Moscow was due to land around 6.10pm." Emergency medical technicians from the Bermuda Fire and Rescue Service carried out an assessment on the passenger before the patient was taken to King Edward VII Memorial Hospital. The flight will be refueled before continuing on its journey.
August 24. A trip to Bermuda by executives from Las Vegas casino giant Caesars cost the island's gaming regulator $2,000, according to records released under the Public Access to Information Act. The visit by Caesars representatives Greg Miller and Jan Jones-Blackhurst took place last December after they were invited here by Bermuda Casino Gaming Commission chairman Alan Dunch and executive director Richard Schuetz. The commission released an expense report and credit card statement, in response to a Pati request from The Royal Gazette, showing the commission picked up a $2,097 tab for taxis, gifts and meals during the three-day trip. The payments included a $685 dinner at Ascots restaurant attended by Shawn Crockwell, Minister of Tourism at the time, along with Mr Miller, Ms Jones-Blackhurst, Mr Schuetz, lawyer Rhys Williams and Bermuda Tourism Authority chief investment officer Andy Burrows. Mr Dunch said in a statement last month that the Caesars executives were invited by himself and Mr Schuetz to "visit the island to explore the possibility of investing in Bermuda and its people". The invitation was extended while Mr Dunch and Mr Schuetz were in Las Vegas in September last year for meetings with large gaming operators, including Caesars. Both trips prompted MPs to ask questions in the House of Assembly in June, with Opposition member Zane DeSilva asking why Caesars was invited here "to set up business" at a time when it was involved in highly public bankruptcy struggles. His Progressive Labour Party colleague Derrick Burgess noted that Ms Jones-Blackhurst, a former mayor of Las Vegas and now executive vice-president of government relations and corporate responsibility for Caesars, was once married to Mr Schuetz. Mr Dunch's statement last month said the pair remained friends, having been divorced for more than a decade, and any suggestion of a conflict of interest was bewildering and without basis. This newspaper's June 29 Pati request was for all records held by the Bermuda Casino Gaming Commission concerning the visit to Bermuda by the Caesars executives, including details of who came, who paid for the trip, who instigated it and any cost incurred by the publicly funded regulator. We asked for correspondence between Mr Schuetz and Caesars executives, as well as when the trip happened, what it entailed and who met with the Caesars representatives. Deborah Blakeney, the commission's information officer, responded on August 9 to say: "The documentation held by the commission as regards the preparation and discussions arranging the Caesars trip to Bermuda is minimal, as the commission was, at that point in time, in an embryonic stage and had just recently secured office space and was operating without a computer system/server. Therefore, much of the communication between the parties was made via telephone and, as you will see from the documentation, through the use of personal e-mails." Her letter stated that Caesars Entertainment paid for Mr Miller, its executive vice-president of domestic development, and Ms Jones-Blackhurst to visit Bermuda, including their airfare, hotel accommodation and "all incidentals". Ms Blakeney added: "The trip entailed a tour of the commission offices, meetings over lunch and dinner, together with tours of the island to look at potential designated [gaming] sites and/or possible locations for casinos." The e-mail correspondence shared under Pati includes an October 16 message from Mr Schuetz to Ms Jones-Blackhurst in which he wrote: "Hate to be such a nag but wondered if you had come closer to determining a date for Bermuda." Once a date was agreed, he recommended the two executives stay at the Hamilton Princess. Mr Dunch said last month he feared the questions in Parliament about Caesars may have convinced the company it was not welcome on the island.
August 24. Wayne Scott, the Minister of Education, has hinted that Gilbert Institute would be spared closure as his ministry invests in a new playground at the school. Gilbert, the island's only primary level school for the deaf and hard of hearing, was one of four schools earmarked for possible closure under the Bermuda Government's school reorganization (Score) plan. However, the old playground has been torn down and work has begun on the installation of a new one, raising hopes of a long-term future for the school. Answering questions from this newspaper about whether the move indicated Gilbert was in the clear, Mr Scott said: "I am very aware that Gilbert has the only deaf and hard-of-hearing primary programme and that is something that needs to continue. "The fact that we are investing in a playground at Gilbert should give some indication — people can draw their own conclusions into that. However, I am a technical person and you can never say never. There are a lot more things that need to be considered if we were ever to go down the road of school consolidation." PTA secretary at the Gilbert Institute Suzanne DeCouto said she was heartened by the fact that the Government appeared to be reconsidering the viability of closing the school. "When I first saw that they were tearing down the playground I thought, oh no. I remember vaguely when they gave us a sheet to tell us what maintenance they were doing in the schools over the summer, one of the lines was a new playground but it was saying 'pending'. Now they have announced a new playground. It has been something that we have needed for so long because it has been falling apart. so it is very exciting that we are getting it. It is a lot of money for that playground so I wouldn't think they would want to put in a brand new one and then close the school down. It seems like a big investment. It is a positive outlook for us that is for sure. Gilbert is an important school in the community and as the only primary school for the deaf and hard of hearing. It is important to the neighborhood, and goes back for so many years — there are so many people who have been there and know what good it has done for them." Asked whether he could provide any update with regards to the closure of the other schools — Heron Bay Primary School, Prospect Primary School and St David's Primary School — or consolidation of numerous others, Mr Scott said: "Right now our focus is on getting the maintenance sorted out. We are looking at strategic planning and alignment so that we are in a position to provide a better service to our children. I believe we can do a better job for our children." Maintenance work is also being carried out at Harrington Sound Primary and Victor Scott Primary, two of the lowest-rated schools in terms of health and safety, according to the Score report, which was published last February. The document, commissioned by the Ministry of Education, highlighted a health and safety crisis across primary schools, with problems including rat and termite infestations, faulty bathroom facilities and unstable play structures.
August 24. A monument to the island's Olympic athletes could be erected in Hamilton this autumn, according to a planning application. The "Wall of Fame", proposed by the Bermuda Olympic Association, would be placed west of the front entrance to City Hall. According to the application, the curved "wall" would consist of six stone tablets of increasing height, each adorned with the names of the athletes who represented Bermuda in the Summer and Winter Olympics, along with the year of their participation and their specific discipline. The smallest of the pillars would stand 3ft 6in while the tallest would reach 6ft 4in, with a base raising the total height of the tallest pillar to 6ft 10in above the ground. The application also notes that the Olympic Association hopes the monument will be ready for dedication by mid-October. Plans for the proposed monument are available for viewing at the Department of Planning offices in the Dame Lois Browne-Evans building.
August 24. Fears that the funding crisis engulfing next month's Paralympics in Rio would prevent Bermuda's athletes from attending have proved unfounded, but they could leave some officials significantly out of pocket. The Bermuda Paralympic Association is waiting for a reimbursement of nearly $9,000 from organizers, which Ann Lindroth, the association's president, hopes arrives before the team departs for South America. Some $7 million in grants that Rio Olympic organizers were due to make to the 165 participating countries in the Paralympics are more than a month overdue, and as of yesterday had still not arrived, according to Lindroth. "They are still saying they will be sending out the money," said Lindroth. "Hopefully it comes before we leave, but I was on the account yesterday [Monday] and it wasn't here yet." Overall, the Games are facing a shortfall of tens of millions of dollars, despite the International Paralympic Committee getting an additional $47m from Eduardo Paes, the Rio mayor, and another $31m in state funding. That gap has forced officials to reduce the workforce at the Games, while transport services are to be cut and media centres closed. The wheelchair fencing competition, meanwhile, has been moved to a different venue, allowing the Deodoro Olympic Park to be dismantled. Poor ticket sales have also been a problem, and some venues, such as the Carioca Arena where Yushae DeSilva-Andrade will compete in boccia, will be partially closed due to a lack of interest. As it stands, the Bermuda squad have all had to pay their own way to Rio for the Games, with seven members each owed $1,227.67 for economy flights. At least the members of the Bermuda team will not go hungry, all have been credentialed with the "knife and fork", meaning they will have meals provided for them throughout the duration of the Games. Most of the squad will also be able to stay in the athletes village. "We will be struggling without the money," Lindtroth said. "But it will be each one of us struggling as opposed to the alternative. All our tickets are already bought and charged to our individual credit cards, with the expectation that we would be getting that money back." Not that paying their own way is an alien concept to members of the BPA. Aside from the ParaPan American Games, and the Paralympics, where organizers contribute towards the cost of sending athletes to compete, the BPA are an almost entirely self-funded organisation. "We pay all the expenses for attending world championships and other events, and since we started this organisation in 1994 we've managed to honour our intention to have our athletes that reach an elite level make it to wherever that may be, and fully funded by us. We've had a very active fundraising campaign this year to help us get to Rio, and if we calculated it right, and don't get this money, we are at least $8,500 out of pocket. The sooner it comes the better." While the nearly $9,000 that is owed by the IPC may not seem like a lot, the total grant that the association received from the Bermuda Government this year was just $10,000. That was to fund two athletes, Jessica Lewis, a serious medal contender in the T53 wheelchair sprint after winning bronze at the world championships, and DeSilva-Andrade, who is ranked 33rd in the world, for the year. In contrast, the Bermuda Olympic Association was given $150,000 in the most recent Budget, while the BPA had asked Government for a grant of $62,000 in its application forms. Still Bermuda are better off than some other nations, whose participation is still in doubt. "Never before in the 56-year history of the Paralympic Games have we faced circumstances like this," Sir Philip Craven, the IPC president, said. "Since becoming aware of the full scale of the problem, we have focused all of our efforts on finding solutions to the problems. Currently, we have around ten countries who, even if the grants are paid, may struggle to cover the cost of their travel to the games. The IPC is working with them to find solutions and ensure their participation."
August 24. The Zika virus is unlikely to spread locally, despite the first reported "imported" case on the island. The Bermuda Government last week revealed that a person in Bermuda had been diagnosed with the virus after travelling to an area with an outbreak of Zika, which has made headlines as it spread throughout South America and the Caribbean. Noting the recent case, nurse epidemiologist Jennifer Wilson told the Hamilton Rotary Club yesterday there had still not been any recorded local transmission of the Zika virus. And while she said it was possible for the virus to spread locally, she said conditions on the island make widespread transmission "unlikely. Bermuda does not have the Aedes aegypti mosquito, the mosquito most capable of spreading the virus. The Zika virus has not been contracted in Bermuda and Bermuda's vector programme is among the best in the world, as it relates to mosquito control. Perhaps the key word there is 'unlikely'. We cannot say that there is 'zero' chance that the virus will be transmitted locally. Protecting yourself, your family, your friends and your community is key to preventing the spread of this virus." While many who contract the virus experience no symptoms, common symptoms include fever, rash, red eyes and joint pain. Ms Wilson said the most serious consequence of Zika is the transmission of the virus from a pregnant mother to her unborn baby, which can cause birth defects. As a result, pregnant women are advised to avoid travelling to countries with an ongoing outbreak. "The greatest risk for acquiring Zika by Bermuda residents at this time is travel to a Zika-affected country," she said. "It is important to stay up-to-date with which countries are affected, as this list is increasing. If they do travel to such an area, they are advised to take measures to avoid catching the virus through mosquito bites or sexual activity. If a pregnant woman's partner has been exposed to Zika, they are advised to abstain from sexual contact or use condoms consistently. Zika can be spread through any form of sexual contact with a person who has Zika," she added. "Even if the infected person does not have symptoms at the time, safer sexual practices and prevention of pregnancy, including the consistent and correct use of barriers such as condoms, is necessary to prevent sexual transmission from a partner who has been exposed to Zika. Keep in mind that most people who have Zika infection have no symptoms and might not realize that they have been infected, therefore precautions after exposure, must be taken even if you feel well." Other strategies to combat the spread of the virus include addressing the breeding sites of mosquitoes. Armell Thomas, programme manager of Port Health and Vector Control, highlighted the fact that while Bermuda does not have the Aedes aegyti mosquito, it does have a "sort of cousin" which is not as efficient a carrier. "This mosquito is small, with striped legs and body, and is mostly a daytime biter. It is not the only species of mosquito in Bermuda and so not every bite will be from a capable carrier...or vector as we call them. The Zika virus has not been contracted in Bermuda. This is partly due to the ongoing Vector Control effort to monitor breeding sites and curb breeding. This is also due to the public's heightened awareness. I want to thank the public for tipping standing water, even small amounts, especially after storms. We are in a dry period right now. Unlike most of Bermuda, Vector Control actually likes a good dry spell. It dries up breeding grounds. Our team is assigned by district, and is constantly monitoring for breeding sites. Anyone who sees a breeding site or is being bitten should call us 278-5397." Mr Thomas said Bermuda has 600 ovi traps or egg traps, all around the island, that are monitored very regularly while 100 new traps have been purchased specifically designed to lure Aedes albopictus with a scent. "These traps have a substance in them that is lethal to the female mosquito and her larvae." He reminded members of the public to monitor their health after travel. "If you feel ill, see a doctor and say where you have been. If you have been to a Zika-affected area and you have symptoms, see a doctor. These steps will help keep the risk of local transmission of Zika as low as we can make it."
August 24. Bermuda tourism may have had a small boost this year as a result of the outbreak of the Zika virus. Speaking yesterday, Glenn Jones of the Bermuda Tourism Authority said that there had been a "noticeable spike" in business interest this summer as travelers looked for destinations without the virus. "Over just the past few days I was introduced to Ingrid Kessler and nine members of her family who moved their family reunion from Mexico to Bermuda because of Zika fears. Our proximity and scuba and beach activities helped Bermuda come out as the top choice on their alternatives list. We don't proactively seek to capitalize on any of this, but when travelers reach out for Zika facts we provide them with the latest information we have as a result of working with the Bermuda Department of Health. The facts are very much in our favour because Bermuda doesn't have the mosquito known for transmitting Zika and the virus has not been contracted in Bermuda." He said that as long as Bermuda continues to avoid the outbreak, the island will remain in a good position in the minds of potential visitors. The BTA announced that visitor arrivals were up during the first half of the year with more tourists visiting the island by cruise ship and plane than during the same period in 2015.
August 23. Vodka tsar Roustam Tariko has based his $100 million private jet in Bermuda, The Royal Gazette can reveal. The massive Boeing 737 — a passenger jet converted to VIP standard — will be operated by the island's Longtail Aviation. John Amick, CEO of Longtail Aviation, declined to discuss the jet's ownership, but aviation websites listed the registered owner. Mr Tariko is the billionaire founder and owner of the Russian Standard vodka brand and the Russian Standard Bank. The new Boeing is the second in the Longtail fleet. Mr Amick said: "We are very proud and pleased the owners have chosen us and we hope there will be others like them who see we are doing well. I am sure there will be other aeroplanes. As is the case with any other air carrier, you grow in size, you, the staff needed to service the aircraft you have. The limit is more likely imposed by the size of the field — this is a top of the line, high-end type of aircraft and there are very few people who can afford or have the capacity to run them." Mr Amick said that Bermuda management and registration offered special advantages to owners. He explained that Longtail Aviation was the only company in the world that has a Bermuda air carrier certificate — which means aircraft run from the island can be hired out for charters. He added that other countries offered the same type of service — but that the process was "more difficult and time-consuming" than in Bermuda. Mr Amick said: "Bermuda has a very efficient regulatory authority, the Bermuda Civil Aviation Authority is very efficient and run by very competent people, particularly when they are working with a known operating company like Longtail Aviation. The Bermuda aircraft registry is very popular around the world — there are more than 700 aircraft and of this only about 150 of them are private jets. The rest of them are airliners. Few of the planes operated from the island spent time here. This latest one could come here, but it will not spend a significant amount of time in Bermuda." The aircraft, based on the successful civilian airliner, is configured to carry just 18 VIPs and includes two private staterooms with baths and showers, a galley, private office space and luxurious seating. Mr Amick said: "In 1998, the Boeing Aircraft Company re-engineered and successfully introduced the 737 Boeing business jet, nicknamed the BBJ, as a VIP private jet. Immediately upon its introduction, into corporate service, the BBJ became the gold standard for the entire private jet travel industry. The BBJ offers the best of commercial aviation safety and reliability in the private air travel sector." In addition to two Boeing 737 VIP jets, Longtail operates a large MD-87 private jet, a stretched version of the DC-9 airliner, and a smaller Dassault Falcon 900.
August 23. Physicians have criticised proposed healthcare legislation for unfairly targeting the private sector. The Bermuda Health Council Amendment Act 2016, which is due to be debated in the House of Assembly later this year, came under fire during a public meeting held by the council last night in Hamilton. But Bermuda Health Council CEO Tawanna Wedderburn told the audience that the council was continuing to meet with stakeholders and working groups to discuss the proposed reforms. "We have been pouring over the legislation and one thing under review is likely to change," she said. "Many other things are likely to change. We have not finished the work" More than 60 people attended the meeting at the Wesley Methodist Church on Church Street including Jeanne Atherden, the Minister of Health, Michael Weeks, the Shadow Minister of Health and former Premier, Ewart Brown, executive chairman of Bermuda Healthcare Services. Three members of the council provided a broad outline of the role played by the quango before questions from the audience began to focus on the proposed legislation. In July Ms Atherden deferred the Bermuda Health Council Amendment Act "to clarify several detailed and specific aspects". The proposed Act enables the Health Council to grant permission to health service providers to make financially vested referrals, to license health service providers and to grant permission for entry of high-risk medical technology. "The proposed amendments unfairly target the private sector," Dr Jay Soares said. "We feel it is skewed against the private enterprise. We see the hospital having everything waived through. At the hospital a blood count test costs twice as much as it does in the private sector, sometimes even more, and that is not right. It is not a level playing field. This legislation, while in theory it applies to the hospital, it will not." Several physicians claimed that the focus of the legislation should not be on private practice, which represents 6 per cent of healthcare costs, but the hospital, which represents 40 per cent. Dr Brown said: "I believe to a certain extent the focus is misdirected. Your real focus should be on the largest area of wastage at the hospital and not the 6 per cent You have incurred the wrath of people who believe this is a targeted exercise. If you want to regulate, you can regulate, but it has to make sense otherwise it will suffer the same consequences as the first two attempts of this oppressive legislation." Ms Wedderburn insisted the reforms were a response to concerns raised by the public and said there would be further meetings where residents would be able to have their say on the amendment legislation. Meanwhile, Ms Atherden added: "This is not targeted towards any individual. We are pleased to have this conversation. As we go forward there will be more opportunities to talk about the healthcare system."
August 23. The Bermuda Health Council has invited members of the public to submit questions to help them better understand the island's healthcare system. The council held a town hall information event this week but said it realized the opportunity for questions was limited. A spokesperson said: "We appreciate the acknowledgement from the physicians who brought their questions and comments to the town hall. More opportunity must be given to the public to hear their concerns and provide them with the information they need to better understand Bermuda's healthcare system. The Health Council would like to invite people to share their questions, comments and concerns with us at any time, as the public's input is integral in strengthening our health system." The Health Council can be reached by phone on 292-6420 or by e-mailing healthcouncil@bhec.bm. Their office is based at Sterling House, 3rd Floor, 16 Wesley Street, Hamilton.
August 23. Work on the island's first crematorium in St David's has got under way with developers hoping the facility will be open in five months. Heavy machinery descended on the vacant land on Wallers Point Road, near the TCD centre, yesterday to begin landscaping and clearance work. The ground breaking is the end of a long campaign by Amis Memorial Chapel that dates back to 1984 to enable residents to have relatives cremated on island. "It felt very good to see the work begin," Leon Amis said. "This project goes all the way back to 1984 so it is also a big relief to get things started. The lease with the Bermuda Land Development Corporation has been signed and we hope that it will take between four and five months before the facility is fully operational. It will be open to other funeral homes to use, but we will operate it. The structure and equipment for Bermuda's first crematorium has been specially constructed in the United States and will be shipped to the island later in the year. The retort, which is the machine that does the cremation, will be coming from Florida, while the structure itself is being made in Colorado. All the machinery is state-of-the art and it will satisfy a large gap in the market. Just last week we had three requests from cremations, but at present all we can do is send the bodies to the United States by air." The project will involve the construction of the crematorium itself, an above-ground liquid petroleum gas tank and an 8ft security fence on the land, which is owned by the Bermuda Land Development Company (BLDC). The most recent planning application to build the crematorium was submitted in May last year and was the fourth time that Amis had tried to get permission to build such a facility in Bermuda. Previously, the funeral home proposed building a crematorium at Well Bottom in Warwick, next to its funeral home in Warwick, and most recently at Industrial Road in Southampton. However, all three proposals were rejected by the Development Applications Board. Mr Amis told The Royal Gazette: "We will be taking one day at a time. We want to make sure we get it right the first time. It has been a long haul but it is good to reach this point."
August 23. A Bermuda bus driver has called for better security on the buses after being punched repeatedly in the head by a passenger refusing to pay his full fare. The driver, who wished not to be named, said while this was the first time he had been physically attacked in the nine years he had been driving buses, he said he often had to deal with unruly passengers while his colleagues had also been the victims of verbal and physical abuse. The transport ministry last week put out a statement saying there were "raised concerns of physical attacks on bus operators within the past two weeks", after an increase of such attacks. The driver recalled how on Saturday, August 13 he picked up the attacker on Cavendish Road along with two tourists and headed along the number 3 route to Grotto Bay. He noticed that the man had only given him a zone three ticket yet did not get off the bus when he reached the end of the three zone near Devil's Hole on Harrington Sound Road. He described the man as black, about 6ft, of slim build, about 150lb, with a tattoo running from his shoulder to his hands and wearing a blue short-sleeved top with black pants. He asked the man where he intended to get off and when he told him Grotto Bay the driver said he would need to pay the rest of his fare. That is when the altercation ensued. The driver told The Royal Gazette: "He said 'just go ahead and drive the bus' and that when we got to Grotto Bay he would put in the rest of the money. I said he needed to pay the money now. He got angry with me and said 'you better drive the bus before I come up and punch you in the face'. I said I would not move the bus until he put the money. He had a child — about three or four years old — with him so he put the child down and came up to me and punched me twice in the back of my head and once in my face. The tourist was shouting to him 'what are you doing?' Then the man picked up his child got off the bus and ran off with the child." The driver did not go to hospital but took a couple of days off work to recover, saying he had a stiff jaw. He did, however, go straight to Hamilton Police Station to file a report and he is still awaiting a response. The driver said he believed there should be better security for bus drivers given the number of attacks that take place. He continued: "We always have unruly people on the bus and I try to stop and tell them they have to get off or I will call the police to deal with them but not this bad. I think there needs to be better security for drivers and they really need to punish these people really severely when they get caught. They think they can come on the bus and do what they like and that they don't have to pay but we have tickets, tokens everything in place to allow people to pay the fare. It is not free." Transport minister Michael Fahy said: "Whenever there is a verbal threat or physical attack on a bus operator and it is reported to us, we ensure that it is reported to the police to seek their involvement. Discussions with the stakeholders will assist in determining what needs to be done further to protect operators and passengers. Cameras have been installed on some of the newer buses and all future buses will have this feature with a 'panic' button direct to authorities. There have been calls over the years which have been partially addressed with new buses having cameras. However, we may explore other methods such as security screens if this is called for. On our newer buses, the 14 series, are equipped with cameras which has helped in ensuring that offenders are prosecuted by law." Mr Fahy said in a statement issued last week: "The Department of Public Transportation has reported such behavior is increasing. Steps will have to be taken to protect bus operators from such attacks. We will prosecute those responsible to the fullest extent of the law. I should remind the public that those found guilty could face penalties under the Omnibus (Conduct) Regulations 2012."
August 23. Smoke billowed from the top floor of a Hamilton Princess building tonight after the wood burning stove in Marcus' caught fire. A Bermuda Fire and Rescue Service spokesman said: "They shut down the exhaust chimney and the hotel staff managed to contain it," adding that no one was hurt. Allan Federer, general manager at the Hamilton Princess, said: "At approximately 8:15pm this evening, the chimney over the wood burning stove in Marcus' caught fire. The safety of our guests and employees is our number one priority and we immediately implemented our fire protocols. The hotel was evacuated while the Fire Department contained the fire. Guests have now returned to the hotel building; however, Marcus' will remain closed until the fire department gives us the all-clear, which we hope will be tomorrow. Thankfully no one was injured and there was no damage to the hotel. We would like to thank the Bermuda Fire and Rescue Service for coming to our aid so quickly and extinguishing the fire."
August 22. Attorney-General and Minister of Legal Affairs Trevor Moniz has issued an advisory about the risks arising from inadequate systems and controls to combat money laundering and terrorist financing. The Financial Action Task Force and the Caribbean Financial Action Task Force issued details on these risks in statements which were released following their respective Plenaries held in June. Mr Moniz noted that the advice is particularly relevant to those entities that have or are considering any business relationships with the specified jurisdictions or individuals or corporate entities in such jurisdictions. The Proceeds of Crime (Anti-Money Laundering and Anti-Terrorist Financing) Regulations 2008 require AML/ATF regulated financial institutions and other relevant persons to have policies, procedures or systems in place to prevent money laundering or terrorist financing. Under the regulations, relevant individuals are also required to apply enhanced customer due diligence measures and/or ongoing monitoring on a risk-sensitive basis.
August 22. Flora Duffy might have fallen short of a spot on the Olympic podium, but a crowd of supporters at Docksiders cheered as though she had taken the gold. "It's incredible for someone from an island this small to make it to the Olympics, much less finish in the top ten. We all hoped she would win a medal, but it is amazing to see what she did accomplish," said Richard Douglas, who was among those celebrating Ms Duffy's eighth-place finish. "She's a national hero," Sarah Lopes added. "She might not have won, but she was right up there with the best in the world. We couldn't be prouder of her." More than 100 people crowded into the back room at Docksiders to watch the event, many wearing "Go Flora Go" shirts or carrying Bermuda flags. From the very start of the coverage, the crowd was enraptured, cheering every time Ms Duffy was mentioned by the commentators or seen on the screen. While she faded from visibility during the starting swim, she was greeted with applause when she emerged from the water near the front of the pack. The cheers only became louder as she rushed to the lead in the 40km cycling segment of the race, her bright green helmet standing out as she jockeyed for position. Even as she slipped slightly further in the pack, people remained on the edge of their seats. When the screen flashed to another event, or to black owing to the sometimes-faltering reception, many people produced their phones and iPads, watching the race via the Bermuda Broadcasting Company's Rio 2016 app. While the crowd became quiet as hopes of a place on the Olympic podium faded during the running segment of the race as eventual winner Gwen Jorgensen and silver medallist Nicola Spirig-Hug pulled further ahead, cheers erupted again as Ms Duffy approached the finish line in eighth place, just two minutes behind the front-runners. The finish was the closest Bermuda has come to winning a second Olympic medal since the 2000 Games in Sydney, when sailors Peter Bromby and Lee White narrowly missed a spot on the podium. Even without a medal, her supporters applauded Ms Duffy's remarkable performance. Aesher Smith said: "She did the island proud. Flora was right at the front of the pack right up until the run started. I had hoped she would bring home a medal, and it looked like she would for a while, but finishing eighth is just amazing. She beat a lot of people who had a lot more money to put into training and had a lot more support than she did." Meanwhile, Thomas Flood said: "Just seeing a Bermudian in the lead was enough for me. It shows just what we can accomplish if we put our mind to something. Seeing a Bermudian do that, going toe-to-toe with that kind of competition, it's inspirational." Last night former parliamentarian Quinton Edness called for Ms Duffy to be formally honored for her achievements, saying: "I think Flora Duffy should be given a damehood. At least she should receive a CBE for all that she has done and all she is achieving for herself and her country. She has brought herself and the island glory with her accomplishments. She has told the world what a wonderful country Bermuda is and she represents it well, and she achieved what most people would never do by finishing in the top ten at the Olympics."
August 22. Flora Duffy said she was proud of her top-ten finish despite having "an off day" in the women's triathlon at the Olympic Games. Duffy was a genuine medal contender but had to settle for eighth, finishing some two minutes behind Gwen Jorgensen, who won the United States' first gold in triathlon. Not bad for an off day, especially considering the heartache and misfortune Duffy endured at her previous two Olympics. She suffered the biggest disappointment of her career when she failed to finish in Beijing in 2008 and crashed in London four years later while leading the chase group to place 45th. Although Duffy was far from her best on Saturday — she headed into Rio in fine form after winning the ITU World Triathlon Series in Stockholm and World Cup in Montreal — she still produced one of the top Olympic finishes by a Bermudian. "Coming into the Olympics I thought, 'If this and that happens I'm running for a medal', Duffy said. "I knew there was a lot of opportunity if I played my cards right, but it just didn't work out like that. I was eighth on an off day and I'm very happy with that. It's the Olympics and if you don't get in the top three no one cares. I'm really proud, though, and I hope everyone in Bermuda is." Duffy said she was almost relieved to come through her third Olympics unscathed and believes she laid down an important marker for the Tokyo Games in 2020. By then she will be 32, still two years younger than Switzerland's Nicola Spirig who became the first woman to win two Olympic medals after adding silver to the gold she won in London. "In London I crashed and in Beijing I didn't finish, so I don't have the greatest track record at the Olympics," Duffy said. "I think this is a big breakthrough for me. Nicola is 34 and was second today, so I think I can keep going for another four years." Duffy admits her elevation from rank outsider to medal hopeful after her scintillating displays over the past two years took her by surprise. Aside from her victories in Stockholm and Montreal, she came fourth in Abu Dhabi and in the Gold Coast, as well as third in Cape Town this season. "At the start of the year I thought if I had a great day at the Olympics then sixth to tenth was where I was at," she said. "But because I've raced so well this year I got placed in that medal category without me even processing it. That took me a little bit of time to comprehend. I had to work with what I had today, which wasn't quite much, but even in this situation I knew I could run for bronze. If I'd had a great day then maybe it would have been different." Duffy has no time to dwell on her Olympic showing. She returns to action on September 3 in the WTS in Edmonton, where she came second last year, looking to preserve her lead at the top the world rankings. With two races to go, Duffy, who has 3491 points, leads Jodie Stimpson, of Britain, in second on 3146, and Jorgensen, the two-times defending champion, in third on 3025. There are 800 points available for finishing first in a WTS race, 740 for second, 685 for third and 633 for coming fourth. "I still have a chance to win three world titles this year," said Duffy, the defending Xterra Series and ITU Cross Triathlon world champion. I'm not sure what Gwen is doing. She just won the Olympics so hopefully she won't care about the series. Hopefully we can trade things a little here."
August 22. Bermuda's 40-year wait for an Olympic Games medal will continue for at least another four years after Flora Duffy was unable to force her way onto the podium in Rio on Saturday. Duffy emerged as a "dark horse" for a medal with a slew of superb performances this season catapulting her to the top of the world rankings. She admits it would have been "really cool" to win a medal and although the race did not unfold the way she envisaged, Duffy should be mightily proud of her eighth-place finish at the scenic Copacabana Beach. The 28-year-old finished in 1hr 58min 25sec, some two minutes behind Gwen Jorgensen, the pre-race favourite from the United States, who claimed gold in 1:56:16. Nicola Spirig-Hug, the defending champion from Switzerland, came second in 1:56:56, while Vicky Holland outsprinted Non Stanford, her Great Britain team-mate, to finish third in 1:57:01. "I know everyone was hoping I'd get a medal but there are only three of them and it doesn't work out like that sometimes," Duffy said. "A lot of people were throwing my name out there as a dark horse and I just tried to stay out of the limelight. I've had a great season so far and I'm not upset with eighth. That's just all I had today." Duffy knew she would have to execute a strong swim and bike to be in striking distance of challenging for the island's first medal since Clarence Hill won bronze in boxing at the Montreal Olympics in 1976. Sitting pretty in eleventh position after the 1.5 kilometers swim, Duffy would have felt confident the hilly 40km bike would play to her advantage as one of the sport's standout cyclists. Although she led for the first two of eight laps, Duffy was never able to put any significant daylight between herself and the leading runners such as Jorgensen, who usually wins her races by chasing down the stronger cyclists. On the fourth lap a desperate Duffy mounted another breakaway but could not find the assistance she needed and was once again hauled back into a bunched-up pack. "It was kind of a weird race and it turned out a little different to how I thought it would," said Duffy, who finished the swim in 19:08, the bike in 1:21:29 and the run in 36:15. "It was one of those days when some of the not-so-good swimmers had great swims and were in the lead group. We were all together in the bike and I tried to get away but it just didn't work out. I felt like I had the handbrake on all of the way." Duffy found herself in ninth at the start of the 10km run with her medal chances subsiding quicker than the midday sun. Still, she dug deep despite "not having her best day" and successfully chased down Claudia Rivas, of Mexico, towards the end of the final lap. "I've had races like this before when you're not feeling good and don't think you're where you should be," she said. "In the past I've broken down and I'm pretty happy that I stayed strong and fought for every position. I was running in ninth until the last 600 metres and I went for eighth, which is kind of trivial at that point. But it's good I had that urge to keep going. To stay mentally tough was great for me today." Jorgensen, who has been the dominant force in triathlon for the past two years, eventually broke Spirig-Hug's resolve on the bell lap. She embraced Duffy shortly after the Bermudian crossed the finish line and offered a few words of comfort for her ITU World Triathlon Series rival. "Gwen and I are pretty good friends," Duffy said. "I respect her a lot for what she's done. I think she knew I was a little off today. If I'm on the bike and not drilling it, or off the front causing some sort of chaos, everyone's like, 'OK, Flora's sitting in, there's something going on not quite right there'. "Gwen just gave me a big hug and said, 'I'm sorry Flora, I knew it wasn't your day'."
August 21. Bermudian Vicki Abraham has been appointed director of communications and marketing for America's Cup Bermuda. Ms Abraham will start work in a full-time role for ACBDA and America's Cup Event Authority in September, responsible for communicating what the event means to Bermuda and Bermudians. Ms Abraham has been a television news reporter in Bermuda and worked in communications at the City of Hamilton, as well as holding senior management positions in marketing and communications in the non-profit sector and in telecommunications. She said in a press release: "There's so much about America's Cup that as Bermudians we can be proud of. I look forward to bringing the event to our whole community and making it relevant to everyone. This is as much about the inspiration for Bermuda to be even better at what we do and to believe even more in the place we call home as it is about the excitement of America's Cup racing. As Bermudians we have a uniquely strong and proud culture where we come together when it matters. It's our intent to give our whole community a reason to be proud." Mike Winfield, CEO of ACBDA, stated: "As the AC35 approaches and the excitement increases, ACBDA needed a dedicated in-house resource to distribute information and strengthen relationships deep within the community. We welcome Vicki to the team to help us achieve this goal. One of the most important things to ACBDA is that the people of Bermuda know all about the event, understand the significant benefits it is bringing to Bermuda and that those who want to participate, can do so easily." Ms Abraham will work alongside Mikaela Pearman, marketing and communications executive for ACBDA.
August 21. A 70-year-old tourist was rescued after nearly drowning at Clearwater Bay last night. According to police, the male victim got into difficulty swimming to fetch a ball shortly after 8pm, and was helped by three bystanders. He is said to have later declined medical assistance. Bermuda Police Service spokesman Dwayne Caines said in a statement: "It appears that a 70-year-old male visitor to the island swam a distance from shore to retrieve a ball and subsequently found himself in difficulty in the water. "Three males swam out to the distressed man and assisted him to shore where he later appeared to in satisfactory condition. The 70-year-old man refused further medical assistance. Police would like to thank the three men who came to the aid of the tourist."
August 21. A 45-year-old American has died on a cruise ship berthed at Dockyard. The victim was found dead in his cabin on the Royal Caribbean Grandeur of the Seas at 1.40pm yesterday, according to the Bermuda Police Service, who said foul play is not suspected. Police are liaising with the ship authorities, a spokesman said.
August 21. New improvements to Horseshoe Bay have been hailed a success by Cole Simons, the Minister of the Environment. Umbrellas, lounge chairs and extra garbage and recycling bins have been installed at the popular South Shore beach, while better maintained restrooms and a new concession have added to the Horseshoe experience. The additions are part of Bermuda's new Beach Vision project designed to enhance Horseshoe, John Smith's Bay, Clearwater, Horseshoe Bay, Shelly Bay and Tobacco Bay. "I went to see for myself how locals and visitors were enjoying these improvements to one of our most treasured attractions," Mr Simons said. "I found that everyone is working together and taking pride in what we provide to the public. In just a few months, I am proud to say we have accomplished quite a bit. We have more work to do to ensure the best possible experience for beachgoers, but feedback so far has been positive." The improvements to Horseshoe Bay were achieved through the collaboration of various Government ministries and departments, the Bermuda Tourism Authority, Parks Commission, Sustainable Development, and Keep Bermuda Beautiful. Further enhancements are planned at Horseshoe Bay in the off-season including restroom renovations, additional landscaping and a review of traffic flow. Beach Vision was launched in May 2016. Feedback on the project can be sent to: beaches@gov.bm.
August 20. Sports minister Sylvan Richards has extended his congratulations to Flora Duffy for her performance today in the Olympics. In a statement, Mr Richards said Duffy had been "magnificent" to finish in the top ten in the women's triathlon in Rio de Janeiro. "I am incredibly proud of Flora," he stated. "I watched on the edge of my seat as she swam, cycled and ran her way around the course showing incredible endurance and spirit and finishing eighth overall. Flora is an example to all of our aspiring young athletes that despite coming from a small island in the middle of the Atlantic; we can compete on the world stage against the best of the best. Indeed, Flora has competed all over the world and made her mark on this sport long before Rio, competing in Sweden, Canada, USA, Australia, England, Italy, South Africa and Hawaii, to name a few of the places her career as an athlete has taken her. Her performance has been truly superb, with her love of sport and her passion for triathlon in particular propelling her to many great achievements. Flora has made us all proud and I am very much looking forward to congratulating her in person upon her return." Mr Richards extended congratulations to all Bermuda's athletes who competed in the Games. "I had the pleasure of cheering on many of them in person and I couldn't have been more proud of them. A huge congratulations to long jumper Tyrone Smith, sailors Cameron Pimentel and Ceci Wollmann, swimmers Julian Fletcher and Rebecca Heyliger, rower Michelle Pearson and sprinter Tre Houston."
August 20. Flora Duffy produced her best Olympic race yet to finish eighth in the women's triathlon in Rio today. Duffy finished in 1hr 58 min 25 sec, some two minutes behind Gwen Jorgensen, the American pre-race favourite who took gold in 1:56:16. It was a vast improvement on the Bermuda triathlete's previous Olympic results, where she failed to finish in Beijing in 2008, and came 45th after bike trouble in London four years ago. Nicola Spirig-Hug, the Swiss defending champion, won silver, finishing 40 seconds behind Jorgensen. Briton Vicky Holland took bronze in 1:57:01, beating Non Stanford, her British team-mate, in a desperate dash for the line. Any hopes Duffy had of winning Bermuda's first medal at the Games in 40 years slowly evaporated over the course of a brutal 40-kilometre ride during which she was never able to escape from the clutches of Spirig, Jorgensen and the British duo. Duffy was only able to briefly separate herself from the pack, but with no one willing to go with her, she was inevitably hauled back every time. In the top ten at the start of the 10km run, Duffy was unable to stay in touch with Jorgensen and Spirig, who set off at a blistering pace, and slowly dropped away from Stanford and Holland, who battled each other, and Barbara Riveros Diaz, of Chile, all the way to the finish.
August 20. Flora Duffy has changed the "dynamics of racing" in women's triathlon, according to rival Non Stanford, and it may be enough to earn her an Olympic medal. The Bermuda triathlete's dominating performances on the bike this season have catapulted her to the top of the ITU World Triathlon Series and have made her a serious contender today in Rio de Janeiro. Duffy's hard-charging approach underlined her first series win in Stockholm last month, and Stanford is expecting a tough race. "Flora Duffy isn't going to be waiting around for anybody on the bike," Stanford said. "She's massively upped her game and it's definitely changed the dynamics of racing. That's quite exciting and it's nice to see something different." Instrumental in Duffy's impressive season, the dominance on the bike could be the difference between a podium or top-five finish, not only for the Bermudian, but the athletes she takes along for the ride. That change in dynamics has been forced to a certain extent by the dominance of Gwen Jorgensen, the race favourite from the United States, when it comes to the run — and Duffy's own perceived weakness in that discipline. Jorgensen chased down Duffy on the Gold Coast at the start of the year, despite the Bermuda triathlete having a minute's head start after another blistering performance on the bike. "It was a similar story in Leeds, where Jorgensen again overhauled Duffy, this time making up a 1min 40sec deficit. In Leeds, though, Duffy did enough to take silver, and the expectation is that the rest are battling it out to finish behind Jorgensen. Stanford and her British team-mates, Helen Jenkins and Vicky Holland, will fancy their chances of a podium finish, and Jenkins won the race in Australia after taking advantage of Duffy's hard work. It all gives the British women's team, who have never won a medal at the Olympics, a formidable look. Allowing Duffy to set the tempo is something that Stanford is more than willing to do. "It's a really strong field and I'm sure it will be a hard race from start to finish, but that should play to our strengths," she said. Duffy is also in something of a unique position in that she will be racing alone, and team tactics could make a difference when the racing starts at 11am. According to Dave Morrison, a former president of the Bermuda Triathlon Association and the founder of the first junior programme in Bermuda, which Duffy joined as a seven-year-old in the mid-1990s, Duffy's race will hinge on the swim and the bike. "The problem for Flora may be that unlike in the men's field, there are not as many strong swim/bikers than can share the workload and open up a gap on the likes of Gwen Jorgensen and Non Stanford, assuming they can exit the swim with a ten to 20-second lead on these runners," Morrison said. "Andrea Hewitt and Helen Jenkins, and possibly Nicola Spirig or Erin Densham, are some of the athletes who could help Flora, but if they are unwilling to match Flora's pace on the tough, hilly and technical course, then Flora, as she did in Stockholm, will have to make a tough decision as to whether she is willing to risk it all by just going off the front." However, in Rio, Morrison doubts if this approach will give Duffy the kind of lead she needs to hold off the likes of Jorgensen, Stanford and Emma Moffatt, from Australia, who won the bronze medal in Beijing. "If a pack comes in together at the front and it includes Jorgensen and Stanford, then gold and silver may be out of Flora's reach, but, assuming she is in that pack, don't rule out that bronze medal. If, however, she comes in with the likes of Jenkins and Hewitt, then silver or gold is possible, depending on how far behind Jorgensen is and how she has handled the heat and hills. How much of a gap will the group need on Jorgensen? Some would say at least 1min 30sec. At the Olympics that one minute may, just may, be enough."
August 20. Festooned across a wall inside one of Bermuda's three suites on the seventeenth floor of their apartment block in the Athletes' Village is a Somerset Cricket Club flag. Much to the chagrin of chef de mission Carlos Lee, a St George's supporter, it has been roughly taped above the plasma television by swimmer Julian Fletcher, who arrived in Rio almost three weeks ago still celebrating his team retaining the Cup Match trophy. "I keep threatening to take that thing down," says Lee. Fletcher has joined fellow swimmer Rebecca Heyliger and sailor Cecilia Wollmann in watching the morning's athletics session being beamed into their living room from the Olympic Stadium. All three are lounging on colorful Rio 2016 bean bags. All three along with the rest of the team will be present when Flora Duffy goes in hot pursuit of Bermuda's first Olympic medal in 40 years in today's women's triathlon. Bermuda's seven athletes – Duffy is staying in an apartment with her family in Copacabana – have been housed in the first of the 31 buildings in the village, which is one of the biggest in the history of the Olympics. The sprawling complex, costing about $1.5 billion, is located in Barra da Tijuca in the West Zone of Rio and hosts 17,950 athletes and technical staff in 3,604 flats. Complete with football pitches, tennis courts and seven swimming pools, as well as a large recreation area with video games and tables for pool and table tennis, the village looks mightily impressive. Controversy has plagued the site, however, particularly during the run-up to the Games, with Australia's team refusing to move in because of exposed wiring, leaking pipes, blocked toilets, unlighted stairwells and other problems. Lee is the first to admit Bermuda's party have experienced some minor issues and construction hiccups, which have slowly been ironed out. "There were clearly problems with the apartment buildings at the start of the Games," says Lee, who represented Bermuda in field hockey at the 1987 Pan Am Games in Indianapolis. "The air conditioning isn't completely installed in all of the units and we've had to use portable ones, things like that. Water pressure in Central and South America is never great and there's a sign in the elevator saying, 'Don't put paper in the toilet'. There's a guy wandering around every morning with a plunger!" It's been a hectic few weeks for Lee, who will be the last of Bermuda's contingent to leave the village next week. He doesn't have his own printer let alone an office, although he finally has a desk from where to conduct his duties as the island's cheerleader, counselor and fixer of all problems. "I was a little bit disappointed with the structure we found when we first got here," says Lee, who has attended every one of the events involving Bermuda athletes, usually armed with an impressive-looking camera. "We don't have any medical space for our physios to do their work, so we've basically had to convert one of the bedrooms." It's fair to say Bermuda's four bedrooms and three bathrooms are basic at best, although they are more spacious than the cramped living spaces at last summer's Pan Am Games village in Toronto, where Lee also served as chef de mission. It's certainly not the type of accommodation you would expect multi-millionaire players from any top football team or basketball franchise to check into when they're on the road. "The rooms are tiny but the athletes have come to expect that at any major games," says Lee. "It's comfortable and the lounge area is pleasant enough. In most cases we're one to a room so it's worked out quite well for the athletes." Unsurprisingly, the United States men's basketball team including Kevin Durant, Carmelo Anthony and Kyrie Irving have chartered a luxury cruise liner, complete with armed guards and seven-foot beds, moored on the Port of Rio. There is no such special treatment for Usain Bolt, however. The most famous athlete at the Olympics is staying at the village, although his "superstar" status has afforded him his own room, unlike his Jamaican team-mates who have to share with a colleague. Bolt is in high demand for selfies wherever he goes in the village and in Rio for that matter. Tre Houston, the Bermuda sprinter, was quick on his feet to snatch a photograph with his idol after they competed in the 200 metres heats on Tuesday. Plenty of other household names from the world of sport can be spotted at the village. Novak Djokovic, the Serbian tennis player, has treated Bermuda's athletes to a training session from the court directly under their balcony, while Sergio García, the Spanish golfer, kindly posed for a picture with Heyliger after she eventually plucked up the courage to ask him. Among the local delicacies being served up at the village's dining hall are farofa, tapioca and acai, as well as more common cuisine such as black beans, steak and coconut water. With a floor space of 24,700 metres squared and ten serving "islands" separated by themes, the dishes on offer are more functional than at previous Games but no one seems to be complaining. "The quality of the food and diversity hasn't been as good as people expected," Lee adds. "The fruit and vegetables have been lacking, but it's edible and it's providing the athletes with the sustenance they need to perform." In just a few days the Somerset Cricket Club flag will be removed from its wall and packed away in Fletcher's luggage. Duffy and the rest of Bermuda's contingent are desperately hoping a shiny piece of metal will also be making the journey home.
August 20. Tropical Storm Fiona is forecast to come within about 260 nautical miles of Bermuda on Wednesday. As of 6pm today, the Bermuda Weather Service continued to classify the storm as a potential threat to the island, reporting that its closest point of approach to the island within the next 72 hours would be 6pm on Wednesday, when it will pass 233 nautical miles to the south-southwest. However the US-based National Hurricane Center has forecast that the storm will weaken to a tropical depression by tomorrow afternoon and into a post-tropical system before passing the island. This afternoon Fiona was 748 nautical miles southeast of Bermuda, with maximum sustained winds of 39mph and higher gusts. It was moving in a west-northwest direction at 17mph, with tropical storm force winds extending outward up to 60 miles from its centre.
August 19. Premier Michael Dunkley has praised the hard work of Bermuda's Olympic team in Rio and called on the island to show its support for Flora Duffy. Ms Duffy, considered a potential front-runner in the women's triathlon, is set to compete for a spot on the winners' podium at 11am local time today. Should she achieve that goal, it would the first time a Bermudian female has ever won an Olympic medal, and only the second medal won by Bermuda in the history of the Games, boxer Clarence Hill having grabbed the bronze at the Montreal Olympics in 1976. Today's event will be broadcast live on ZBM and on the Bermuda Broadcasting Company's Rio 2016 app. With the 2016 Olympics drawing to a close, the Premier said: "Prior to the start of the Rio Games, on behalf of the Government and the people of Bermuda, I extended well wishes and support to Tre Houston, Tyrone Smith, Rebecca Heyliger, Julian Fletcher, Ceci Wollmann, Cameron Pimentel, Shelley Pearson and Flora Duffy. I shared with them that they are all an inspiration and congratulated them on their achievement of making it to the Olympics. Over the last two weeks, I've managed to follow each of their performances and I've been so impressed and inspired by their poise and competitive spirit. I'm sure like me, the entire island has felt an immense sense of pride as they represented Bermuda on the world stage. I can't help but believe that each of our athletes will learn and grow from their time spent in Rio and I am very much looking forward to hearing about their experiences. For so many countries the 2016 Rio Olympics have been a unifying event, and it's my hope that Bermuda will also reflect on the symbolism of these Games, the unifying power of sports and how we ourselves can build upon these sentiments of support and camaraderie. This weekend will be a bittersweet one, as the excitement of the 2016 Rio Olympics comes to an end. However, we still have one Bermudian Olympian yet to compete as triathlete Flora Duffy takes the world stage on Saturday morning. It's my hope that all residents tune in and show their support for Flora and her Olympic bid, and in the days and weeks ahead I hope Bermuda joins me in expressing our national pride and celebrating the amazing achievement of all of our 2016 Olympians."
August 19. When Flora Duffy takes to the starting line at Fort Copacabana in the Rio Olympic Games tomorrow morning for the women's triathlon, Bermuda will be watching. Dozens of her fans are expected to be wearing specially-made T-shirts sporting the words "Go Flora Go" and waving Bermuda flags when they watch the event in local bars. The T-shirts were designed by Flora's father, Charlie Duffy, and are being sold at the International Sports Shop. Tina Brangman, supervisor at the shop, said: "On Monday, my boss told me that 20 people may come in for some Flora Duffy T-shirts. People have been coming in after we made Flora's father six shirts to take to Rio for the race and after her friend, Louise, sent out an e-mail. So far we've sold more than 30 of them, and we're waiting for a few pick-ups. I think she will do really well on Saturday, we're rooting for her." Duffy, the current ITU World Triathlon Series point leader, is in the running to become the island's second medal winner, following in the footsteps of boxer Clarence Hill who won bronze at the 1976 Games in Montreal. The race, which begins at 11am Bermuda time and is expected to last around two hours, will be broadcast locally on ZBM channel 7 and on the Bermuda Broadcasting Company's Rio 2016 app. Docksiders pub will be showing the race on their big screen, offering patrons a $20 English buffet breakfast complete with a Bloody Mary, plus a $12 children's buffet for those under 12. And they are urging supporters to wear the T-shirts and bring their flags. The race will also be screened at Robin Hood and Outback Sports Bar and other venues.
August 19. Flora Duffy will look to become Bermuda's "Superwoman" when she chases a podium finish at the Olympic Games in tomorrow's women's triathlon. She is ranked No 1 in the International Triathlon Union world rankings and is among the medal favorites along with faster-than-a-speeding-bullet Gwen Jorgensen of the United States. Duffy arrived in Rio in top form after winning both the ITU World Triathlon Series in Stockholm in July and this month's World Cup in Montreal — and admits she hopes she has "not hit her rise too early". The 28-year-old could be forgiven for feeling slightly apprehensive ahead of her event. After all, the Olympics have so far been like kryptonite to the island's sporting superhero. She suffered the lowest point of her career in Beijing in 2008 when she failed to finish and took two years off from competing to rebuild her shattered confidence. Duffy returned to "the greatest show on earth" in a far better place both mentally and physically in London in 2012, but crashed her bike in front of Buckingham Palace while leading the chase group, finishing a less than regal 45th. A debilitating combination of chronic loss of form, ill health and horrendous misfortune has beset Duffy at the worst possible times. Just as the Caped Crusader becomes immobilized when exposed to the deadly green radiation, it seems Duffy also has her once infallible powers neutered when she competes at the Olympics. Perhaps not wishing to tempt fate, she has kept a low profile since arriving in Copacabana with her family on Monday. And who could blame her. She knows she may never get a better chance to win an Olympic medal and a first for Bermuda in 40 years. Duffy has ruthlessly cut out all distractions in the past few years and it has certainly paid off. She started last season with a victory in the Cape Town ATU Sprint Triathlon Cup and achieved a milestone less than a month later when she came third in Abu Dhabi — her first WTS podium place. Adding three more top-five WTS finishes, including second in Edmonton, Duffy came an impressive seventh in the Columbia Threadneedle rankings as well as claiming bronze at last summer's Pan Am Games in Toronto and winning the Sardegna Cross Triathlon World Championships. Duffy, who splits her time between Boulder, Colorado, and Stellenbosch, South Africa, has emerged as a genuine force this season. Aside from her victories in Stockholm and Montreal, she came fourth in Abu Dhabi and in the Gold Coast, and third in Cape Town. Those results certainly make for pleasant reading, with Duffy firmly in the medal mix along with Nicola Spirig of Switzerland, Andrea Hewitt of New Zealand, and Non Stanford and Helen Jenkins of Britain. Although the hilly course at Fort Copacabana could favour Duffy, she maintains she is a "dark horse" to finish on the podium and will be delighted with a top-five position. Judy Simons, the Bermuda Olympic Association president, has no doubt that Duffy at her best can achieve medal glory. "I'm not going to put any pressure on Flora," she said. "We know what she's capable of. Let's hope she feels great and gets the job done." Carlos Lee, Bermuda's chef de mission, said the island's entire Olympic team will attend Duffy's competition to cheer her on. "Flora is in the best form of her life," he said. "She's proven at the top level, No 1 in the rankings and Sports Illustrated has projected her as a medal favourite. We'll all be out there cheering for her." Duffy will be hoping third time's a charm in Rio. A medal of any colour would be out of this world for Bermuda's "Woman of Steel"
August 19. Bermuda's Olympic rower Shelley Pearson, who studies at the Saïd Business School at Oxford University, believes her own sporting exploits could inspire others who want to pursue a business career. A sporting background can be advantageous for prospective employees, maintains Ms Pearson. "We have always been told employers like hiring rowers," she said. "In rowing the harder you work, the more you get out of it, so the employer gets someone who knows how to work hard. I am rowing in singles this year, but in a team boat the sum of the parts is greater than the individual. That's really valuable for learning how to work together as a team. I am a huge believer in being able to get back up from failure. My dissertation last year was on grit, or resilience. Essentially, it means passion and perseverance for a long-term goal. Athletes are a quintessential example of someone with one specific goal that they focus on." The 25-year-old athlete progressed from the heats of the women's single sculls at the Rio Games last week before being eliminated in the quarter-finals after rowing "the best race of my life". Interviewed by the university's PR coordinator Tom Pilsworth, the Bermudian told of the sporting passion that drove her to the Games, and the illness obstacles which she had to overcome. Her inspiration came from her father, Kevin Pearson, a former long distance runner who won the May 24 Marathon at his first attempt. "I was horrible at anything involving a ball but soon found a talent for endurance," she recalled. Encountering rowing for the first time after moving to a boarding school, "my dad suggested I try it, and the rest is history". However, the road to Rio was anything but straightforward. "I was diagnosed with an aneurysmal bone cyst in 2012, a condition in which the cyst eats away at the bone from the inside out. I've had nine surgeries for it since then, and four of those were in my senior year of college." After a brief period of remission, the condition returned shortly before she went to Oxford, and her doctor told her to refrain from rowing. Another surgery followed, which resulted in complications including a fracture to her pelvis. Despite six months away from rowing, including two spent on crutches, she said she never lost sight of her goal of being in the first women's boat race on the Tideway in 2015 — an historic event that saw the women's races held on the same course as the men's for the first time. After recovering, she began training to make the Oxford team in the Boat Race. "I hadn't trained for six months," she recalled. "I was so out of shape, I hadn't done anything in so long, and I had four months to get myself into that boat." She made it through the race successfully, and follow-up MRI scans showed that the cyst was now under control. It was then that her Olympic dream became a reality, qualifying at an event in Chile in March this year. Throughout her trials and tribulations, the Bermudian said she maintained her passion for social finance and behavioural economics that she had built upon at Saïd. She says she's excited to join the world of business, but that she does not want to close the door on the 2020 Olympics. "I hope to keep fit for the next two years, and then I'll make a decision about whether to go for 2020 or not."
August 19. Financial services firm Sun Life Financial International has indicated it plans to boost the size of its Bermuda workforce. Dan Fishbein, president of Sun Life Financial International US, said the new offices in Washington Mall had space for more than 100 employees. "We wouldn't have taken this space unless we planned on growing. We can fit at least 100 people in here — ultimately, we can't say we have a specific time frame, but we would like to grow our employment here over the next couple of years," he told The Royal Gazette. Mr Fishbein was speaking as the new 16,000 square feet office above the Church Street entrance to the mall was officially opened yesterday by Michael Dunkley, the Premier, and Bob Richards, the Finance Minister. Mr Fishbein, who traveled to the island to attend the opening ceremony, said that the company now had 55 people in the island, up ten on two years ago. "The business we are in is a growing business all over the world. As we expand the business, we will add staff here in Bermuda to support that," he said. The firm moved to its new premises from offices in nearby Victoria Street. Niall O'Hare, vice-president and chief financial officer of the company, said: "There are several people on our team who have been with us for years, even decades. They have seen our office grow from a small group to 55 people in this great new space. This ribbon-cutting represents our commitment to continuing to grow our presence in Bermuda. It's an exciting moment for all of us and we look forward to more success from our new home here in Church Street." Mr O'Hare said the new offices incorporated green strategies, including high-efficiency climate control, LED lightning and recycled material, like soundproofing in walls made from recycled denim jeans. Mr Fishbein added: "We know our people are our biggest asset and it's with them in mind that we moved to this newer, more modern, larger, headquarters. Being centrally located, having access to natural light, large windows, communal spaces and modern technology helps to create a positive and productive workplace for our team — and there's no more loyal or hardworking team than ours." Mr Fishbein added that the new office pioneered Sun Life Financial International's "BrightWork" philosophy, aimed at fostering collaboration and allowing employees flexibility to alter their work stations to suit their working style. He explained: "While some people like peace and quiet, others feed off the energy of a busy workplace. The same is true for sitting or standing, laptop or desktop and other options. Everybody is different. We understand that and we designed this office space with that in mind and this kind of office setting gives everybody the opportunity to work in an environment that's best for them. Furthermore, Bermuda is regarded as a leading international financial centre with a long history of stability. Bermuda as a jurisdiction leads the world in the adoption of financial transparency. Sun Life Financial International is very proud to be headquartered here."
August 19. Inflation in Bermuda fell in June to 0.8 per cent, down from 1.1 per cent the previous month. Between May and June, the average cost of goods and services in the Consumer Price Index increased by 0.5 per cent. The all-items index rose to 101.5 in June. This means that the basket of goods and services that cost $100 in April 2015 now costs $101.50. The fuel and power sector continued trending downwards, falling 3.1 per cent year-over-year. However, the decrease was softened by a 21.1 per cent increase in the facilities charge. In addition, the transport and foreign travel sector also had a big impact in the lower inflation rate, as it decreased 7.1 per cent year-over-year. The figures were released by the Bermuda Government's Department of Statistics.
August 19. A Bermudian institution in both cricket and politics, C.V. "Jim" Woolridge has looked back on his "wonderful" life as he turns 90 today. Known as the "Voice of Summer", Mr Woolridge's first Cup Match as a radio commentator came in 1965. The former Flatts wicketkeeper-batsman's deep tones became a regular fixture in homes across the island during the cricket season, continuing right up until last year. He also spent 33 years in Parliament, which included 14 years as the Minister of Tourism and a stint as Deputy Premier. "I've had one of the most wonderful lives in one of the most beautiful little countries in the world. I'm a very fortunate person," Mr Woolridge said yesterday from his Flatts Hill home. Although he did not attend this year's Cup Match due to health reasons, Mr Woolridge followed all the action via the radio and the television. "Once a sportsman, always a sportsman," said the one-time Elliot School student, born one of ten children, who played his first match for the Eastern Counties aged 15. "I remember [former Governor] Lord Martonmere once saying that cricket is the greatest character-building sport there is, and he was so correct," he added. "If you can abide by the rules of this great game, you're ready for life — and you get out of it what you put in." Mr Woolridge recalled an occasion when he helped an elderly blind man across the street, and learnt the unexpected impact his commentary had on a certain section of the island's community. "The man said to me, 'Jim Woolridge, the Voice of Summer, what a pleasure to meet you. On behalf of Beacon Society for the Blind, I want to thank you for bringing this sport into our lives'," he said. "I've never forgotten that." Mr Woolridge also looked back fondly on his political career with the United Bermuda Party, from 1968 to 2001. "I greatly appreciate the support that was given to me by the people of [his constituency] Smith's South. I topped the polls at every election, which was a wonderful feeling. I also had the pleasure of travelling around the world, going everywhere from Australia to Hong Kong." The father-of-two and grandfather-of-four recalled receiving his CBE (Commander of the Most Excellent Order of the British Empire) in 2000 at Buckingham Palace — six years after receiving the award in the Queen's Birthday honours. "I took my three granddaughters with me and I met so many outstanding people. Richard Branson and I became pen pals during that period," he said. However, he was less enthused about some of the changes to Bermudian society since his idyllic childhood days. "We've lost a lot of the warmth and the friendliness that we used to have, and I think we need to get that back," Mr Woolridge said. "We didn't have anything like television when I was young. Now people try to emulate what they see on telly, without recognizing the consequences." While anticipating a "very quiet" birthday today with his family, Mr Woolridge dropped into conversation that he was marking another major milestone in his life. Yesterday, he and wife Roslyn celebrated their 65th wedding anniversary together. When asked the secret to a long and happy marriage, Mr Woolridge laughed and offered a succinct response: "Pay attention."
August 19. Royal Gazette Editorial. Jean Howes tribute. Mark Twain recommended we strive to live our lives so that when we die even the undertaker will be sorry. As was so often the case, the advice offered by one of Bermuda's favourite adopted sons was spot on. We live in a decidedly schizophrenic world, one that delights in sending us mixed messages. On the one hand it seems to tell us to value the externals, to embrace the superficial and the frivolous, and the gilded and the temporary. If we only ever marched to the insistent beat of that drum you would think we really did worship money, power and fame like so many golden idols — and to the complete exclusion of everything else. But that's not the whole story, not by far. For what the world genuinely admires and never wants to lose is goodness, the simple goodness of spirit and heart. So we reserve our highest respect for those among us who embody virtue in its various forms: courage, honesty, mercy, generosity and kindness. Those we grieve the most for, those whose lives and deeds and characters we as a community celebrate, are those who leave our island home a better place than they found it. Jean Howes was one such individual. She was so universally loved and respected that when she died this week at the age of 90, almost everyone in Bermuda felt they had lost a dear friend whether or not they knew her personally. Jean Howes lost her sight in childhood as a result of being struck in the eye with a stone. However, she came to believe that those who suffered from willful blindness were far more handicapped going through life than she ever was. She was fond of citing the blind and deaf humanitarian Helen Keller's maxim that people are actually born with an incurable capacity for making the best of things, but sometimes need to be pointedly reminded of that. For Mrs Howes there really were none so blind as those who chose not to see all of the options and possibilities available to them. And she took every opportunity to demonstrate that there were no limitations except those we impose on ourselves. Bermuda Society for the Blind president Amanda Marshall has said of Mrs Howes: "She was the most famous blind person in Bermuda and was therefore an advocate, mentor and spokesperson. Jean really believed that being blind didn't matter and that you should live life to the fullest — she showed everyone how to do that." This really was the case. She served as an enduring and beloved inspiration, not just to Bermuda's blind but to those with 20/20 sight who, metaphorically speaking, might have allowed their fields of vision to narrow — a category most all of us fall into from time to time. For more than 60 years, she made countless TV and radio appearances, and sat down for numerous newspaper interviews to champion the cause of the blind in Bermuda. She also engaged in hands-on charitable and community work involving everything from teaching Braille to politely but persuasively lobbying politicians and the private sector for greater recognition for the needs of the blind. Mrs Howes was, of course, equally well known for her delightful forays into the worlds of music and entertainment. A country and western devotee, for many years she performed with her band at the hospital and at homes for the elderly, and co-hosted a series of TV Christmas specials with Bermudian showroom fixture Gene Steede. All the while this resourceful, good-natured and tireless woman held down full-time jobs, raised a son, was an adoring and doting grandmother and even became a published poet. She has left as her legacy an example of what we should all strive for in life. A woman of principles and conviction, a voice for the voiceless, the embodiment of compassion, selflessness and determination, Jean Howes enriched and enhanced the life of the entire Bermudian community, as well as the lives of her family members and friends. Over the course of her long and productive life, she came to personify what we really do value the most: goodness, the simple goodness of spirit and heart.
August 19. A Warwick man was yesterday morning accused of conspiring to import more than 3kg of cocaine to the island. Curtis Swan, 54, was charged in Magistrates' Court with conspiring with Aaron Johnston and others to import the controlled drug to the island between an unknown date and May 27 last year. The court heard that the case involved 2,716g of cocaine, which had been soaked in packing paper. Mr Johnston was also listed to appear before the courts for the matter, but a warrant was issued after he failed to appear. Mr Swan was also charged with moving an unspecified quantity of money, representing the proceeds of criminal activity, out of the country to avoid prosecution. He was not required to enter a plea to either charge as the matter must be heard by the Supreme Court. Magistrate Khamisi Tokunbo released Mr Swan on $100,000 bail with a like surety on the condition that he surrender his travel documents and report to the Hamilton Police Station three times a week. The matter is expected to appear before the Supreme Court during the November arraignments session.
August 19. When Milos Damjanovic took over the Tavern by the Sea in St George's, he thought it would take a month or two to turn around. But when he opened the place up he found the plumbing was dying, the kitchen wasn't functional and the furnishings hadn't been changed in years. "The place looked like it was caught in a time warp," he said. Five months and $700,000 later, the Somers Wharf restaurant reopened on Wednesday, reborn as The Wharf Restaurant and Bar. "What I'm really proud of is that despite all the renovations we didn't lose the character of the place," said Mr Damjanovic. "It is now quite modern, but I don't think anyone would be afraid to come here in flip-flops. The place is still very charming and very bright." It cost just under a million dollars to completely renovate the place and hire new staff. "Everything was purchased in Florida," said Mr Damjanovic who is a partner in the restaurant with the Meyer Group of Companies. "We hired a design company and took several photos and sent them to them. We explained that we didn't want anything super-fancy that would cause us to lose the feel of the place, but we wanted something modern and clean." The only thing left of the original furnishings is the now- refurbished bar and the flooring. "We were going to completely replace the flooring," he said. "But when we took the first layer off, the floor was in immaculate condition. We couldn't have bought floors like that. So we left it." The restaurant now offers an extensive menu with 14 different appetizers alone. "Ronald Williams, who was a chef at Black Horse for 15 years, is our sous chef," said Mr Damjanovic. "He has a very good reputation as a seafood chef. He'll be doing things like traditional Bermudian fish chowder." The menu is heavily oriented towards fresh seafood, but also has pasta and dishes such as chicken tikka masala. "Having a broader experience, I know what this market needs," said Mr Damjanovic. "Other than fresh fish whenever it is available, people like quality meat as well. I myself like a little bit of everything, but I am a meat lover. I love New Zealand rack of lamb, Angus fillet and T-bone steak, and those things are on the menu." Mr Damjanovic is originally from Belgrade, Serbia. He first came to Bermuda in the late 1990s while working on the Zenith and Horizon cruise ships. His cruise ship often docked near to Tavern by the Sea, so he often went in for a bite to eat or a late-night espresso with friends. He met the former owner Herman Basden on his many visits and they became friends. Mr Damjanovic was first offered a job at the restaurant in 2001 but didn't take it because he had plans to move to New York. In New York, he ran an upscale French restaurant for two years. "It was a much bigger place than Tavern by the Sea" he said. "The cruise ship was a great school to learn about service and dealing with guests, but New York and that French place was a great school in terms of business. I learnt a lot." But he said Tavern by the Sea kept calling asking him to come and work for them. He finally took up their invitation in 2003. "Very soon I was growing in the company and became general manager," he said. "I made this restaurant very successful. There were little challenges but I managed." He was disappointed in 2011 to get a letter saying his work permit wouldn't be renewed. "I felt bad about that because I had intended to stay for a couple more years," he said. "I went back home to Serbia and spent some time there. I realized really fast that I didn't want to invest too much there. After so many years living abroad I couldn't see myself living there other than spending time with family and friends. I love my country, but not business-wise. I moved to Grand Cayman and I started as an assistant food and beverage manager for a family-owned resort called The Reef. " He said he had a good life in the Cayman Islands, but it wasn't as charming as Bermuda. When he got a call from the Meyer Group of Companies to talk about him coming back to Bermuda to take over Tavern by the Sea, he didn't hesitate to say yes. The Wharf is now open for lunch and dinner. For more information call 297-3305.
August 19. An open call has been issued to pre-qualify companies seeking to participate in the tender process to build a solar power facility on land adjacent to L.F. Wade International Airport. The Bermuda Government is seeking a six megawatt AC solar power photovoltaic plant on the peninsula known as the "Finger." The land is owned by the government. In a statement, the government said: "Solar photovoltaic technology is an important component in the future development of Bermuda's electricity sector. The technical criteria that must be met for companies to be eligible to participate in the tender process include a track record in successful solar project development of at least 10MW of cumulative capacity, with at least one successful installation of 3MW or more on a single site anywhere in the world. The financial qualification criteria include the submission of three years of audited financial statements showing positive net worth and profits for each of the three years." The tender process, which is scheduled to commence during the autumn, is expected to establish the optimal price of solar power for this project through competitive bidding. Additional details about the project and the RFQ documents themselves can be found on the project website: https://www.gov.bm/procurement/development-utility-scale-solar-pv-bermuda.
August 18. Flora Duffy goes in hot pursuit of an Olympic Games medal in the women's triathlon this weekend and believes the hilly course at Fort Copacabana perfectly suits her strengths. Duffy, who would become Bermuda's first medal-winner since Clarence Hill won bronze in boxing in Montreal in 1976, has peaked at just the right time after winning both the ITU World Triathlon Series in Stockholm in July and this month's World Cup stop in Montreal. The 28-year-old is already familiar with the course — a 1.5 kilometers swim, 40km cycle and 10km run — having finished eleventh at the Olympic test event in Rio last summer. "The course is great and really suits me," Duffy told LAVA magazine. "That hill is going to be really challenging. If it doesn't play a huge role in the bike, it'll play a huge role in the run. You can't go up it spinning. You've got to go up it eight times, so it will fatigue you. [The test event] really wasn't a race; it was a weird race. Gwen [Jorgensen] needed to win as the United States had qualification there, the British had qualification there. For some girls like me, it didn't matter." Duffy gathered some potentially important snippets of information about her rivals during that race that she intends to use to her advantage on Saturday morning. "Some girls are weaker the first few laps if they suffer in the swim, then they start to come into their own," she said. "It's good to know that if you punch it straight away early, you can get rid of ten people immediately. The few you would want to hang around will be able to hang around, and off you go." Ranked No 1 in the ITU World Series rankings, Duffy was unsurprisingly named as a podium favourite in this month's Sports Illustrated, but still insists she is a "dark horse" for a medal. "Going into the Olympics as the standout ultimate favourite, I wouldn't like that," said Duffy, who arrived in Rio with her family on Monday. "I'm starting to feel the pressure and I'm still an underdog. It would be a hell of a thing to get on that podium. At first I thought I was a long shot. I mean, going into this year, I thought that if I could finish top eight at the Olympics, I'd be 'wow'. But as my season has progressed, my expectations have come up. If this works out the way I think it can work out, maybe I can get on the podium." One of the strongest swimmers in the sport and arguably the standout cyclist, Duffy knows she will have to "nail" those two disciplines if she is to keep Jorgensen, the gold-medal favourite, at bay. The two-times reigning world champion had an intriguing tussle with Duffy at the WTS race in Leeds in June, with the Bermudian being chased down by Jorgensen during the run and having to settle for second. "I think being more confident in my racing and my abilities, realizing that if I want to do anything in these races, I have to nail the bike," Duffy said. "My running's improved to where I'm confident I can run pretty well off a hard bike. Some days it works, some days it doesn't. Stockholm it worked great, Leeds I blew up a little. But I'm also learning how hard I can ride. I can go a little crazy. No one has outrun Gwen starting the run with her. So if you want to win the gold or give yourself a good chance of being on the podium, you have to come off the bike at least a minute ahead of her." Duffy said there has been no magic wand involved in her scintillating form over the past few years. She attributes her success to good old-fashioned hard work and the support of Neal Henderson, her coach at Apex Coaching, and her boyfriend Dan Hugo, a former South African triathlete. "I'm spending six months of the year in South Africa, actually training and living like a professional," Duffy added. "Triathlon is first while socializing and everything else is second. We're shutting all that out and focusing on triathlon. "I guess Dan helps too. He's really supportive in this lifestyle of swim, bike and run. I have a great support network behind the scenes, but when I go to the races I'm by myself."
August 18. Bermuda-based international reinsurers face being hit by a double whammy of a decline in profits and exposure to high-frequency risks. A report from ratings agency Standard & Poor's said that the global industry may reassess their exposure if annual loses from catastrophes rise to normal levels. The report said that the sector's "extremely strong" capital position made it better able to weather a storm of extreme events. But it added that demand for cover against high-probability exposure has fallen and most reinsurers have taken defensive actions, retro ceding more high-frequency risk. But the S&P report said: "However, some reinsurers' relative exposure to these one-in-ten-year events has increased. On a normalized basis, technical profitability is deteriorating to such a degree that reinsurers are now twice as likely to fail to break even in a calendar year as they were in 2012, due to their exposure to catastrophe risk." And the report warned: "In our view, if reinsurers faced a series of midsize catastrophe events resulting in a slightly above-average catastrophe year, the sector could move into unprofitable underwriting territories. The big winners would be those that have taken action earlier to improve their profitability outside the catastrophe space and reduce their exposure to the sort of high-frequency, high-probability events that recur every 10 years or so — one-in-ten-year risks. If pricing continues to deteriorate across all lines and loss experiences revert to a more normal level, players that have mainly addressed the risk from a solvency perspective and are overexposing their earnings could see their competitive position deteriorate." The report found that, of the 21 global players under review, 15 were likely to maintain a capital adequacy of at least BBB in the wake of a 1-in-250-year aggregate loss from natural disasters.
August 18. The Ministry of Health has confirmed a report of grease balls on Grape Bay Beach. However, according to the ministry, routine seawater samples, as of Monday this week, have been clear. A spokeswoman said: "The seawater quality is being retested and a beach sweep is being prepared. The Department of Health reminds the public to report concerns by calling Environmental Health on 278-5333. The Ministry will advise the public if seawater quality becomes an issue at any location. Currently, there is no seawater quality concern at Grape Bay or any other location." In 2014, Government put in place a number of measures to reduce the amount of harmful fats, oils and grease in the island's sewage waste stream. The City of Hamilton established a FOG Control Policy which defines the requirements of all food service establishments to remove FOG from their wastewater prior to disposing it in the City sewer system. To see published results of seawater samples visit www.gov.bm/seawater-monitoring-programme-bathing-beaches).
August 18. Former Bermuda nurse Pauline Cafferkey could face disciplinary action over claims she concealed her temperature at an Ebola screening on her return to Britain. Ms Cafferkey, who worked as a nurse in King Edward VII Memorial Hospital's Cooper Ward from September 2005 to February 2007, was infected with the deadly virus while working in Sierra Leone in 2014. The BBC reported that the medical worker is alleged to have given dishonest answers to medical staff when she returned to Heathrow airport. The Nursing and Midwifery Council has been investigating Ms Cafferkey's conduct. According to the BBC report, the council alleges that she "allowed an incorrect temperature to be recorded" on December 29, 2014 and intended to conceal from Public Health England staff that she had a temperature higher than 38C. Registered NHS nurse Ms Cafferkey traveled to the West African country at the height of the Ebola crisis to help the sick. She returned to London and then traveled to Scotland before being diagnosed, and spent almost a month being treated in an isolation unit at London's Royal Free Hospital. Ms Cafferkey recovered but was readmitted to hospital on two separate occasions after suffering complications linked to the disease, and at one stage fell critically ill. The NMC alleges she did not tell Public Health England screening staff who took her temperature at the airport that she had recently taken Paracetamol and that she left the area without reporting her true temperature. A hearing on Ms Cafferkey's fitness to practise is set to take place in Edinburgh next month. The NMC has the power to strike workers off the professional register.
August 18. Retirement contracts could help Bermuda find a "happy place" where businesses can be successful without overlooking older workers, according to the director of charity Age Concern. Claudette Fleming said younger workers are often preferred because they provide cheaper labour and can undertake more physically demanding tasks, resulting in older workers frequently losing out. She suggested introducing retirement contracts, where employees do not necessarily have to retire at 65, but could take on reduced hours or a reduced workload. "I think this is a brilliant way to negotiate how older people can remain in the workplace without being let go before they are mentally and physically ready," she said, adding that some companies already offer these contracts. Dr Fleming spoke to The Royal Gazette after a grandmother who is in her early sixties, detailed her battle for financial survival. "It's very challenging for older workers to find work," Dr Fleming said. "The way the economy is structured at the moment, doesn't lend itself to hiring older people." She said this is because it is cheaper to hire less experienced workers, even though older workers may at times bring more consistency, experience and dedication. But Dr Fleming noted that it is not just workers over the age of 65 who struggle to find work, with even those in their forties experiencing difficulties. We are going to have to find a happy place in order to move past this place where we are. There is no redress for older people to challenge why you are not being considered. There would need to be some give and take on behalf of the employer, as well as older people to adapt to the likes of technological advances and make way for the younger generations. It really is an exercise in compromise. Older people want to work but they may not be willing to face the demands of the market. We've got to have them adjust a bit." The grandmother who spoke to this newspaper is desperately seeking work after running out of funds since using her pension to help cover her critically ill daughter's medical costs and pay her mortgage. "It can be expensive, as this lady is finding, to retire in Bermuda and if through an emergency or lack of planning one finds that they do not have access to the income they once had, one can become destitute in their old age," Dr Fleming said. "It is difficult in these scenarios to determine just how much discretion an individual has if an illness consumes our financial resources." Not being 65 and without getting her contributory pension, Dr Fleming said "it would almost be impossible to make ends meet". In terms of finding work, Dr Fleming suggested Mrs A use "an array of strategies" including her independent job search, considering companies more likely to hire older workers, and to seek out the assistance of the Department of Workforce Development. A temp agency could also help her get a foot in the door to a more permanent position, she added. Dr Fleming also recommended she pursue opportunities to get her out of debt in the long-term by re-evaluating selling her assets, reducing her expenses further, or exhausting everything until she can actually qualify for Financial Assistance. However, Dr Fleming also noted that "there are people who are in a worse situation", who have no assets at all. "We come across cases like this who are not quite there yet — they are the poor among us. Because you're not yet 65, you don't even qualify for services like Ageing and Disability Services. Age Concern could provide immediate support, but as a charity cannot sustain ongoing support." Dr Fleming encouraged Mrs A not to give up hope and to reach out to the charity, which she said would be happy to sit down with her and discuss her options.
August 18. An unemployed grandmother faces a battle for financial survival after being told she does not qualify for Financial Assistance. The former Bermuda government employee took out her pension in a lump sum when her daughter became critically ill in September last year, using it to cover medical costs and mortgage payments. Now her daughter has died and the money has run out and, while her search for a job continues in vain, she fears that everything she has worked for her whole life will "go down the tube". "I've tried everything," she told The Royal Gazette. "The best thing for me to do is get a job. I don't want people to feel sorry for me. I've worked since I was 16. I'm not a lazy person. I believe in paying my bills. I would like to go to work, pay more mortgage and just resume my life. There is a vast amount of satisfaction that you get from a job well done." Mrs A, who did not want to be identified out of fear it would make finding work even harder, spoke out in the hope that "the powers that be may fine-tune their programmes and somebody else may benefit from it". And Age Concern director Claudette Fleming said some people are even worse off and stressed the need for a compromise that would ensure businesses can be successful without overlooking older workers. Mrs A, who is in her early sixties, started looking for work right after her daughter's funeral, scouring the newspaper for positions and also applying online through the Bermuda Job Board. "I haven't had luck with that," she said, adding that she has not received a single response to her online applications. It just seems like there's nothing moving. It doesn't seem like a success story. I think the way the old Government Employment Office worked was much better." Although Mrs A is convinced her age is a factor, she said the Government does not do enough to help people in this type of situation. "If a homeowner finds themselves without a job and they're not 65, you have to be a praying person because you can't get any help." Mrs A approached Financial Assistance for help, but said she was told that she did not qualify. "Because I was given my pension in September last year, they told me that I should still have money on that despite having to use it for living on in this expensive country. They don't count that you have to pay your mortgage. And then I had to assist my daughter, who was being treated overseas." She has also approached her church, which has helped cover some of the travel expenses previously, but has not heard back. "And even if family helps you, they can only help you so much. I don't know what you are supposed to do." Had she done something illegal then she said she would understand it, but she said the bank had records of all her expenses. "I could have got a tent and joined the girl up on the hill because I have a real case. Everyone knows my daughter passed — she was sick for three years. You can't just do nothing. We have to look after our children. I had to help her. That's what God would expect you to do. Even if you don't have God in your life, that's just the right thing to do." She also helped support her daughter's family because her son-in-law was unemployed and had to care for his sick wife. "Out of that pension I helped my family — me giving to my daughter is a good thing. Nobody can take away the happiness I saw on her face. In the midst of all that pain, she was happy for a short while. I used that money, as far as I'm concerned, intelligently. I handled it, I felt, the best I could. It's just the curve life took." Mrs A is now faced with bills she cannot pay, including her mortgage payments. "The payments only just fell behind because the money ran out. There's nothing to survive on. Monthly from the pension they send me a small portion." She receives just under $400. "You have to buy gas for the car once a month, pay your phone bill, you have to buy some food and Belco. I have decided that I have to buy less food so I can keep Belco on." And Mrs A, who has stress-induced asthma and high blood pressure, said the stress of the situation is "severely" impacting her health and she spent the weekend in the hospital. Struggling to even afford her medication, she will now have to give up her health insurance. But without this she could end up facing steep hospital bills. "It's a catch-22 type of situation," she said. She added that if she can find work, she would be able to afford the medication she needed and her health should improve. If she can not, she said everything she had spent her life working towards "will go down the tube". In response to queries from this newspaper, a Government spokeswoman encouraged Mrs A to get in touch with Financial Assistance again. And a spokeswoman from the Department of Workforce Development added: "The Department would like to take this opportunity to encourage all job seekers to register with the Department to discover the opportunities that are available for training and retraining." She added that while it offered assistance with job retraining, résumé writing and technical and vocational training programmes, it was not an employment placement agency "although they have several opportunities for connecting job seekers with local employees. We can assist individuals throughout the job search process from intake to job readiness to referrals to potential employers."
August 18. The Department of Health has reported the first confirmed case of imported Zika virus in Bermuda. The announcement yesterday comes a little more than a week since the ministry revealed that three people suspected of having Zika after returning from overseas were being tested for the virus. A government statement said that the person was known to the Epidemiology and Surveillance Unit and Vector Control as a suspected case. "As with all suspected cases of Zika and other diseases spread by mosquitoes, control measures are put in place at the time of initial testing," a government spokeswoman said. "The Department of Health does not wait until lab test results confirming Zika are received; the department acts immediately. The Vector Control team increases its routine efforts to reduce mosquito-breeding sites within a three-mile radius of the home." Jeanne Atherden, the health minister, said there has been no local spread of Zika virus reported in Bermuda. Director of the Department of Health David Kendell added: "Bermuda is not isolated from international outbreaks of disease and we all have a part to play in keeping Bermuda healthy. Unlike other jurisdictions, our Vector Control team has been controlling our mosquito population for decades. That said, the public's assistance is very helpful in lowering the risk of transmission." The Royal Gazette asked the Bermuda Government whether the person with the Zika virus was male or female, and what country the individual had traveled to Bermuda from. However we were told: "The Department of Health is committed to informing Bermuda's public about any further confirmed Zika cases in Bermuda. However, the Department will not give further details about the identity, location, health status or travel history of an individual patient in order to protect the individual's privacy." The public is advised to use an EPA-approved insect repellent every time you go outside, drain standing water where mosquitoes can breed, wear long sleeves and pants when outside. The ministry urged residents to protect their sexual partner for six months after travel in a Zika area by using condoms correctly and consistently. Pregnant women should also avoid unnecessary travel to areas with known Zika virus, and if travel is necessary, take careful precautions against mosquito bites and sexual transmission. The public can report mosquito-breeding sites as well as tip standing water around homes and offices on a weekly basis. If bitten, call Vector Control on 278-5397.
August 18. A rise in physical attacks on bus operators over the last two weeks has raised concern from the transport minister, Michael Fahy. "Steps will have to be taken" to protect drivers, Senator Fahy said, adding: "We will prosecute those responsible to the fullest extent of the law." Penalties on conviction include fines as high as $2,200. Counterfeit bus passes have recently been confiscated from passengers, he said, with the police now investigating. "Anyone found guilty of forging Government media will be brought before the courts and prosecuted." Fines for faking passes can run as high as $1,500.
August 18. Turkish author Orhan Kural is hoping to open his fellow countrymen's eyes to what Bermuda has to offer as part of his latest travel book. Mr Kural has traveled the world writing about the culture and attractions of each place he visits and Bermuda will feature as a section in his 17th book on travel. According to Mr Kural, Turkish people are not particularly familiar with Bermuda and have a misconception that it is not a modern society. The author, who is also the head of the Mining Engineering Department at the Istanbul Technical University as well as president of the Turkish Travellers Club, said the high profile he enjoys in his native land will help to change that misconception. He told The Royal Gazette: "Most people I talk to in Turkey only know about the Bermuda triangle — that is all they know, unfortunately. As travelers they don't come to Bermuda, maybe they came for business. I am here as a traveller and journalist and I want to promote Bermuda in Turkey. There is no article in Turkish about Bermuda. It is a mysterious island and Turkey is a big economy now with close to 80 million people and they want to go to different places. They want to search for new things and there are rich people in Turkey. There are Turkish people living in America and I will tell them also to come here. I will write about my impressions and what I have seen for Turkish people because Turkish and Americans don't have the same taste in travelling. There is golf here for the rich people and they never imagined Bermuda like this in Turkey — we were expecting a poor country with not many people living here and not much to see. It is not like that. I am a very popular person in Turkey and I am going to prove that there is more to Bermuda." Mr Kural was appointed as honorary consul of Benin in Istanbul in 2003, he has written numerous books including one about protecting the environment, and he has appeared on multiple television programmes in Turkey and abroad. He believes in a strong relationship between tourism and the environment and advocates that the more a country loses its environmental resources, traditions and biological richness, the more it loses its tourism potential. Mr Kural arrived on the island this week and is staying with a Bermudian who has helped him come up with an itinerary. He has already begun researching the island and plans to visit Fort Hamilton, Gibbs Hill Lighthouse, St George's, Blue Hole Park, Harbour Nights and Dockyard. "The first article will be written in five days and the book will be published in Turkish in three weeks," he says. The book will be published by Han Yayinlari.
August 18. One Bermuda Alliance MP Leah Scott has been given an absolute discharge by the Magistrates' Court after admitting a charge of trespassing. The court heard the incident on January 29 came as a result of a long-lasting love triangle involving the MP, the complainant Sonia Williams and a man romantically involved with them both. Prosecutor Loxly Ricketts said that at around 11.20pm that day, the complainant and the man were at her Warwick home when Scott entered the house, approached the complainant and began to speak with her. Scott was then asked to leave and did so. Scott subsequently sent the complainant an e-mail stating that she was no longer pursuing a relationship with the man. Ms Williams issued a police complaint the following day, stating that Scott had been warned by letter not to come on to her property, but Mr Ricketts said it had not been a registered letter and the police had not received a copy. Defence lawyer Mark Pettingill told the court that while Scott, a backbencher MP for Southampton East, had "crossed the threshold" of the complainant's home without invitation, he noted that she left when told to. He told the court that the offence was at the lowest possible end of the spectrum with none of the offensive language or threats that are often associated with this type of offence, and cited a number of character witnesses presenting Scott as an upstanding member of society. "She is an honest, hardworking, trustworthy and upstanding member of our community," he said. "I would say with the greatest of respect that no one would be in a position to refute that statement." Scott apologized to the court for her actions. Noting her clean record, her guilty plea and the relative low severity of the case, Magistrate Khamisi Tokunbo said an absolute discharge would be appropriate.
August 17. NEW YORK (Bloomberg) — Like an archer at the Olympics, Arch Capital has landed its target: AIG's mortgage insurance business. The Bermuda-based insurer said late on Monday that it would buy United Guaranty for $3.4 billion in cash and stock. The deal is set to be more than 35 per cent accretive to both its earnings per share on a run-rate basis and will also immediately lift the company's book value per share. Investors applauded Arch's biggest deal on record — the shares climbed as much as 5 per cent yesterday to the highest level since its initial public offering some 21 years ago. The transaction isn't a complete surprise. Arch has been scaling back its property-and-casualty operations and recently made a notable stride in mortgage insurance. In the second quarter, that culminated in the latter posting an 81 per cent jump in new premiums written, a figure that was driven by its reinsurance of Australian mortgages. For AIG, the price tag is lower than the $4 billion United Guaranty was said to be valued at in a planned IPO, but the sale allows for a cleaner exit. The insurance giant will receive at least $2.2 billion up front, and can begin selling its Arch Capital shares after an initial six-month lock-up. The proceeds will come in handy for AIG, considering it hopes to return $25 billion to shareholders by the end of next year through dividends and buy-backs.
August 17. Of particular relevance to Bermuda-based insurers, re-insurance capital hit $580 billion at the end of the first quarter of the year — equaling the previous peak supply reached in the same quarter last year. The latest figure was up 3 per cent on the end of 2015. Alternative market capacity, however, rose 1.4 per cent to $73 billion. The figures were contained in the Aon Benfield reinsurance market outlook update, which said: "In the aggregate, insurers continue to benefit from high supply in reinsurance capacity and relatively low catastrophe losses in most regions, with abundant capacity to fund insurer growth aspirations." The report said that catastrophe loss activity in the first half of this year was "slightly higher" than the median 10-year result, ending the period at an estimated total of $28 billion. It added that severe storms accounted for 40 per cent of the total insured losses and a major fire in Canada's Fort McMurray has been estimated at costing insurers $3.5 billion — the most expensive disaster in Canadian history. The report added: "Looking to the remainder of 2016, historical loss trends resulting from the expected transition to La Nina by the later half of 2016 suggest that global catastrophe losses could increase." And it said the expected transition to the La Nina weather cycle — a cooling of the water in the equatorial Pacific that occurs at irregular intervals and is associated with widespread changes in weather patterns — suggested that global catastrophe losses could increase. La Nina conditions often make it more likely tropical cyclones will develop and threaten landfall in the areas of the Caribbean, Gulf of Mexico and the east coast of the US and Canada. The report said: "Preliminary insured catastrophe losses were elevated during the first half of 2016 as an above average number of events — 150 plus — caused significant damage across each major continent. "Through the first six months of the year, the public and private insurance industry has sustained estimated losses of $28 billion. While it is 9 per cent below the recent 10-year average of roughly $31 billion, 2016 losses are 11 per cent higher than the median result." A total of five individual events in the first six months of the year amounted to more than $1 billion each in insurable losses, with the top three all outside the US. The most expensive disaster was April's Kumamoto earthquake, which caused an estimated $4.5 billion of damage. The Fort McMurray fire was the most expensive weather disaster. Other major events included flooding and storms in Europe in late May and early June and several earlier major storms in the US.
August 17. Following confusion surrounding the pay-to-park operation at the new City Hall car park, an in-depth demonstration was given yesterday on how the system will work. The system will come into effect on Monday. City of Hamilton officials Ian Hind and Ed Benevides, along with Mayor Charles Gosling, walked through the paid barrier, describing step-by-step how the machines will help to reduce long-term parking and encourage short-term shopping. In a four-point flyer that will be handed out by employees, the City shows motorists how to park and pay effectively, using entry and exit tickets to calculate the time spent in the car park. Mr Gosling said: "Regretfully, even after all of the press that the system has had over the last week, a survey yesterday revealed that 40 per cent of those who are parking within City Hall car park are not paying any parking fee. This has been a three-hour parking lot since 2002. If you park for longer than three hours you should expect to get a parking ticket. The parking tickets right now are $75." With the new system in place, drivers will be paying $2 an hour for a maximum of 3 hours — a total of $6. If the decision is made to stay a fourth hour, an extra $10 will be required. Previously anybody staying over three hours was liable to face a parking ticket. "If you decide to extend your stay for longer you will see it increase dramatically and the final fee will come to a total of $81," Mr Gosling added. "This is done to entice you to park somewhere else. If you wish to park all day rather than parking here for three hours, moving and coming back for another three hours why don't you go down to Bull's Head where it would only cost you $5 for that one particular day. We have large signs here in place making you fully aware of what the rates are and if you wish to go further than the three hours' stay then I'm afraid you are going to have to be paying for that additional time stay." The rates caused quite a stir on social media after the sign was placed last week Thursday, with many people putting their heads together in an attempt to "beat the system" and avoid paying $81. Others agreed with the change, believing that it would make dropping in and out of Hamilton more convenient. Added security will be in place at City Hall, as the cameras now have a clear line of sight due to the removal of trees in the area. The car park could also be used for public functions. Mr Hind, CoH senior engineer, said: "Payment will be taken by cash or card and we do hope to integrate EasyPark in the near future. The integration between EasyPark and the electronic barrier system is still being worked on. It is likely that the EasyPark app device will be ready first but we hope some time in September we can announce that it is ready and you will be able to use cash, card and EasyPark. I would just like to thank the public for their patience. There has been a couple of months of disruption to them. We've kept the car park open while we've been doing all this work. I'd also like to thank all the contractors involved, who contributed and also many of my colleagues who have helped."
August 17. For David Harries, breaking the difficult news that someone has dementia is a harder job than telling someone they have cancer. Nonetheless, an important service for an ageing community just got easier. Dr Harries's practice, which allows seniors and their families to meet him in their homes, is now covered by government insurance. The former chief of geriatrics for the Bermuda Hospitals Board estimates there are around 2,000 residents with some degree of dementia. "There's an unmet need out there," Dr Harries told The Royal Gazette. "My practice has been very well received; people don't often get the chance for home visits." Calling on peoples' homes on weekends or holidays makes it easier for family members to take part. It also helps Dr Harries to observe a patient's surroundings, thus obtaining a better idea of their condition. The causes of dementia are not yet understood by science. "The biggest risk factor is just getting older," he said. "People are living longer. So it's becoming more common." His service enables those who feel they might be developing the condition to get assessed. Patients and their families can also learn about managing symptoms or, on a practical level, Dr Harries can advise them on taking care of a will or power of attorney. Such details are often overlooked until dementia gets so advanced that the courts are necessary. During his ten years as head of geriatrics, Dr Harries ran the hospital's mood and memory clinic, which was key to differentiating between dementia and depression. "Depression can mimic dementia. It can cause people to lose concentration, and forget things, and their social circle contracts. A lot of people who have dementia are also depressed and might benefit from antidepressants." After leaving BHB last year, Dr Harries started his practice as a means of taking the same clinical resources into people's homes. It has been by far the most popular choice. Only three have felt the need to avail themselves of his office in Hamilton. Since October, he had been meeting clients after they or their relatives obtain a referral from their doctor. The assessments take roughly an hour, with no co-pay — many seniors already have enough trouble meeting their insurance payments, he said. With Bermuda's senior population growing, care homes are feeling the strain and while Dr Harries called care at home "the gold standard", advanced dementia requires full-time care, and the island has no such dedicated facility. "That is another unmet need. But things have improved over the years. The charity Action on Alzheimer's & Dementia has done a fantastic job, and now benefits from FutureCare can go to part-time caregivers at home." With Dr Harries's business now also covered by FutureCare and government health insurance, the service network continues to catch up. "We are all talking to each other, which is important," he said. "It's moving in the right direction." To reach Dr Harries, call 707-3168 or e-mail djh@ihs.bm.
August 17. Television personality and musician Jean Howes is being remembered as a dedicated, charitable, loving woman who lived her life to the fullest, despite being blind for most of her life. Mrs Howes, who celebrated her 90th birthday this year, passed away on Monday evening. Renowned for her entertainment and educational shows, she was determined not to be hindered by her blindness caused when she was struck in the eye with a stone at the age of just 9. She championed local musical talent and co-hosted the popular TV Christmas show with legendary Bermuda musician Gene Steede for some 20 years following her retirement. She was also a founding member of the Beacon Club in 1954 which was later to become the Bermuda Society for the Blind and traveled the island educating children about the danger of throwing stones. Her only son Terry Southern said his mother, who died just a few hours before the birth of her fifth great-grandchild Kenji, was a strong yet giving person. "She was a lovely mother — strict but patient. "She wrote a book of poems. I had a son named Aaron — he died about 40 years ago from cystic fibrosis. One of the poems is called A Letter To Aaron because they loved each other so much. She made about $8,000 from the sales but gave every single dollar away to charity. She was a very giving person. She would go to the hospital to sing until she was getting so old I had to tell her to slow down. She had to be independent being blind. She would learn things by the hard knocks and would always have to know how to do something herself." Michael Dunkley, the Premier, also paid tribute yesterday, saying: "She dedicated a great deal of her time to charitable work and despite being blind she had an independent spirit, led a full life and was an inspiration to us all." The Progressive Labour Party added: "We thank Ms Howes for her dedication to our community, and we extend our deepest condolences to her family and friends during this most difficult time." Mrs Howes moved from Nova Scotia to Bermuda at the age of two with her parents and four siblings but temporarily studied in Canada at a special school for children with sight loss. Returning to Bermuda, she took up a full-time job in the pricing department at Medical Hall where she remained for 35 years. She went on to become a talented musician, playing the piano, the accordion, the mouth organ and guitar. Along with her band she played at venues across Bermuda and also played at residential care homes and the hospital. In December 1993, she was awarded the Queen's Certificate in the New Year's honours list for her contribution to the island's charities and the community. She later worked for Fernance Perry, former owner of the Bermuda Broadcasting Corporation, answering the phones at Mayfair Limited until her retirement when she took up his offer to start a music show. It was there that Ms Howes's iconic holiday television show Jean and Gene's Christmas was born. Her co-star Gene Steede described her as one of his best friends. "She is a big, big miss," he said. "She was a wonderful, charitable person. She loved everybody and she never turned anybody down. It breaks me up just to think about it. It was easy to work with her because she was very talented. It was her show but she just made me feel a part of it. I liked to keep her laughing. She loved to laugh. She was one of my best friends. Musically you could do anything you liked — her favourite was country music. She was Bermuda's Gene Autry," he laughed. Mrs Howes's love for country music was such that she would often call up radio personality David Lopes, who plays the genre often on his morning show. He recalled: "She would call me on the David Lopes Morning Show on Inspire FM and she sure was an inspiration! She did a Bermuda version of This Land is Your Land and she did a song called If You Could See the World Through The Eyes of a Child. She was always up — there was never a time that I ever spoke to her despite her being blind and her setbacks that she wasn't positive." Darlene Ming was the producer for her TV Christmas special and described Mrs Howes as being "in touch with the community. She had a real skill when it came to keeping her finger on the pulse of any type of new, unknown talent. Come October, when we were ready for production, she would come with a group signed, sealed and delivered. She was a wonderful person. She always tells the story about her mother who insisted that she should never pity herself because of her blindness. Her other senses were sharper; she was very intuitive and her memorisation was extraordinary — she didn't use a telephone directory. It was all in her head." Mrs Howes was the first blind resident to have a guide dog and taught Braille to people with visual impairments. She was a great advocate for the blind in Bermuda and in 2012 author Ellen Kelly wrote a book called Through My Eyes inspired by her life. President of the board of the Bermuda Society for the Blind, Amanda Marshall said: "She was the most famous blind person in Bermuda and was therefore an advocate, mentor and spokesperson. Jean really believed that being blind didn't matter and that you should live life to the fullest — she showed everyone how to do that. From our point of view she was the spirit that we hope everyone with vision loss in the community would embody." Her friend Ronnie Lopes described her as "a wonderful, giving person". "She would call me up out of the blue and say 'hey bie, I need you to play the drums for me on such-and-such a day — I'll see you when you get there — it was not 'can you do it?' [Laughs]. And when I got there she was so gracious and nice — so thrilled and happy. You couldn't tell her 'no' when she asked you something and you know why? Because she would never refuse anyone. She made you feel so important, like you were larger than life. She was the one who was my hero, she just didn't know it." Mrs Howes lived at Westmeath residential home for 13 months and in the last month her health started to deteriorate. She was married twice, first to Lorraine George Southern and then to George Howes. She leaves behind her son Terry, three grandchildren — Julie, Kelly and Cecilia — and five great-grandchildren, Jamie, Aaron, Charlie, Kayla and Kenji. Her funeral will be held at the Cathedral of The Most Holy Trinity and will be open to all.
August 16. Dozens of long-term residents requesting Bermudian citizenship have been left flummoxed by ongoing and unexplained processing delays. Last month, lawyer Peter Sanderson wrote to his 20-plus clients who are seeking status, advising that those kept waiting should contact the Ombudsman "who can be quite helpful in resolving delays". All of the applicants have lived on the island for at least 27 years, some much longer, and most hold the Permanent Resident's Certificate. Douglas Docherty, who applied in September 2014, claimed that the Government's plodding, apathetic approach to the matter was "ridiculous". Keith Musson said he was "curious" as to the status of his own application. He has also waited for almost two years, while his repeated requests for updates have been ignored. Permanent Resident's Certificate holder Mr Docherty immigrated to Bermuda from Scotland in 1977 to join the police service, and has worked in the island's pharmaceutical industry for the past 25 years. "My application is lying at the bottom of somebody's tray somewhere with cobwebs on it — as are a lot of other people's," he said. "I think the Government doesn't care. They're waiting for us to drop dead." Mr Docherty suggested that, although the "vast majority" of Bermudians did not want expatriates to acquire citizenship, he had the right to apply. "I've been here for 39 years, all of which time I've been renting, and I'm never in Britain anymore," said the Glasgow native, who has a Bermudian ex-wife and no children. Mr Docherty said he was not considering taking legal action to force through his application, and that he refused to deal with immigration services as it would be a "waste of time. All I can do is wait and see. If I get it then I get it, if I don't then I don't," he added. Mr Musson moved to Bermuda from England in 1979 and works in the printing industry. He holds PRC status, while his son was born on the island in 1988 and is a citizen. "I would like to become Bermudian as well. I feel Bermudian and I think I'm entitled to citizenship," he said. "I'd like to vote and I may think about buying property." After applying in October 2014, Mr Musson has found himself frozen out of proceedings. "In the past year, I've heard nothing at all from the immigration department," he said. "I've sent various e-mails asking if they can update me, and whether there's a problem. I've had no reply whatsoever." Mr Musson said he was more surprised than frustrated by the laborious and opaque nature of the process. "I'm just curious why my application hasn't come through yet, where it stands and why I haven't been receiving updates," he said. A Ministry of Home Affairs spokeswoman said that the concerns of residents awaiting citizenship approval had been noted. "The Ministry is committed to ensuring that applications of all kinds relating to personal services will be processed within a reasonable time without compromising quality, integrity and, most importantly, accuracy," she added.
August 16. Reuben "Chico" Williams started his career making music in Bermuda but his "passion for music" led him to Canada where he ended up living for 45 years. At 77 years old, the popular Sixties musician died on August 5 after a long battle with cancer. He was born in Bermuda in 1939 and as a teenager he formed a group called the Bermuda Merrymakers, a calypso steel band that wrote an album titled At Horseshoe Bay under the Bermuda-based label Edmar Records, founded by well-known promoter Eddy DeMello. In 1969, a 30-year-old Mr Williams traveled to Newfoundland on a two-week booking with his band — and he didn't return. There he formed a new band called Chico and Bermuda Life, playing the piano, guitar and singing island music to hundreds around the country. He also met his wife and best friend of 35 years, Betty, and became a blended family with five stepchildren and six of his own. Once Chico and Bermuda Life split up, Mr Williams continued to play his piano as a solo act, performing shows in several hotels before he retired in the late 1980s. He then went on to gospel music and played the organ for his local church choir, Cowan Heights United Church in St John's for more than 20 years. In 2003, Mr and Mrs Williams moved home from St John's to Bellevue. There he joined three different choirs — the Faith United Church, where he was a soloist, Norman's Cove Pastoral Charge Choir and the community choir which performed and hosted benefits in the Trinity Bay area. Mrs Williams said: "Chico was extremely well known and well loved. He had a beautiful voice and his talents will be missed by many people." Mr Williams is the brother of singer, body builder and martial artist Sensei Burnell Williams. "Chico was always a very passionate, talented and humorous person. He could make you laugh in two minutes. When he went to Canada with Lloyd Simmons and his band and did not come back, everyone told him, you must be crazy. But he loved it there."
August 16. Infighting within the Progressive Labour Party shows its members are more focused on leadership than policies to improve the welfare of the black community, according to race activist Eva Hodgson. She added that Opposition leader Marc Bean has failed to come up with any policies that would uplift blacks from their inferior positions socially, politically or economically. She was responding to recent articles in The Royal Gazette, which reported how three PLP MPs turned on their leader over comments he made during an interview with Ayo Johnson's Politica website. In that interview, Mr Bean urged politicians of all persuasions to put an end to the "politics of plunder" and using the political process to enhance their personal positions, while suggesting that businesses could hire who they liked, "something that black Bermudians have to understand". In a resulting exchange of e-mails, Mr Bean — who has been on medical leave since a stroke in March — was branded "wild, psychotic and disrespectful" by Zane DeSilva while Derrick Burgess accused him of being divisive and a bully and Wayne Furbert said his remarks were "deeply concerning". Dr Hodgson, a longstanding critic of Bermuda's political system, said she believes the whole discourse was misguided, telling this newspaper yesterday: "This is what I mean when I talk about the political process being undemocratic. Any time anything comes up it is always about the leadership or maybe about the caucus. You never hear anything about what ought to be done to address the economic disparity between the black and white communities. Marc Bean said something to his members about coming up with three proposals to uplift the black community but I have never heard him make a proposal about the uplift of the black community except to say they need to pull up their socks and compete. Every time he says it, it fills me with rage because why do we have this disparity? Some people go back to slavery — I go back to 1834 at the point in which slavery stopped. At that point the government introduced policies which were intended to keep the black community in an inferior position socially, politically and economically. The reality is that there was some progress before we had political parties, under the Progressive Group who were concerned about the issues and not about leadership. "It addressed the social issue of segregation and we successfully got public desegregation. Then you had collective leadership that addressed the issue of universal franchise. Once that happened we started party politics. The black community has made no progress since because we stopped worrying about the black community and started concerning ourselves with the party or the leadership. These articles underscored it for me." Dr Hodgson said when she read the interview with Mr Bean she found herself agreeing with his accusations against the party but could not understand why he did not also apply them to himself. She continued: "The irony is when I read the piece he did with Ayo Johnson, everything that Marc Bean said about his party and his colleagues — all of it applies to him. Being concerned about their own egos? All of the things he was saying, while I was reading it, I agreed with it, because they all applied to him. But if he can see this applying to everyone else but not himself then it is significant. "He says he is stressed out about his leadership role. Why isn't he stressed out about the economic disparity between the black and white communities?" During his interview, Mr Bean suggested that Bermuda was a welfare state, but Dr Hodgson argued private organisations like Family Centre exist because the government does not have a welfare state. "He says the government doesn't have a role to play where blacks are concerned, they need to just compete," Dr Hodgson said. "Everything has been established to disadvantage the black community in the first instance with government legislation and policies and he says they don't have a role to play? I am all for black entrepreneurship but when someone like him says the government shouldn't be involved when it is the government that has established the disparity, it infuriates me." Mr Bean has told The Royal Gazette he stands by his criticism delivered on the Politica website.
August 16. Bermuda-based investment holdings company Ocean Wilsons logged profits of more than $57 million for the six months to the end of June. Profits for the company, which operates a Brazilian maritime services firm through a subsidiary, were up 43 per cent on the $39.9 million posted for the same period last year. Ocean Wilsons' chairman Gouvêa Vieira said: "The group delivered a solid result for the first half of 2016 in a challenging economic environment." Investment revenues at the firm were $2 million lower at $5.9 million in the same period last year due to lower average cash balances and the currency mix of investments made. The firm's figures were helped by the Brazilian real appreciating 18 per cent against the US dollar during the reporting period. In the same period last year, the real depreciated 17 per cent against the dollar.
August 16. A statue of Sir George Somers has been unveiled in his British hometown of Lyme Regis to celebrate the anniversary of the town's twinning with St George. The bronze statue, donated by the twinning association chairman Bob McHardy along with other members and individual contributors, stands overlooking Cobb Harbour in the Langmoor Gardens area. Quinell Francis, the mayor of St George, led a Bermudian delegation to the event scheduled to mark the 20th anniversary of the twinning of the two towns and the day before Somers Day, which was celebrated with a march through the town and a commemorative service to celebrate the life of Sir George. The Bermuda delegation was joined by Owen Lovell, the mayor of Lyme Regis, along with invited guests, Lyme Regis residents and visitors. Sir George was born in Lyme Regis in 1554 and served as the town's mayor before setting off for Jamestown, Virginia on board the Sea Venture in 1609. After being struck by a hurricane, the ship was steered onto a reef in Bermuda, leading to the British colonization of the island. While Sir George and his crew did reach Jamestown after building two ships on the island, he subsequently returned to Bermuda for supplies and died. St George and Lyme Regis were formally twinned in 1996, while last year Jamestown was joined with both through a "tripling". At that time, Ms Francis said the move highlights the historical connection between the three communities and expressed hope it would lead to more people visiting St George. "Sir George Somers has played a significant part in the history to what we now know as the Historic Atlantic Triangle," she said. "We in the town of St George are quite happy to be a part of this connection with Lyme Regis and Jamestown, Virginia and look forward to many visiting the home of Sir George Somers' heart, which is buried at Somers Gardens."
August 16. Newcastle United, the English Football League Sky Bet Championship promotion favorites who were relegated from the Premier League last season, have joined the growing list of clubs linked with a potential swoop for Huddersfield Town's Bermudian ace, Nahki Wells. According to English media reports, Newcastle are keen to pay Huddersfield as much as £8 million for the striker, who scored the opening goal in his team's 2-1 upset away to Rafael Benítez's side at St James' Park at the weekend. It was Wells's first goal of the season and arrived on his league season debut after missing a considerable amount of Huddersfield's preseason preparations as well as the opening two fixtures of the 2016-17 campaign through knee injury. "I couldn't ask for anymore, to be able to score in a match like that was fantastic," said Wells, following his team's first win at Newcastle in 63 years. The Yorkshire Post reported that Newcastle are keen on bolstering their attacking options after scoring just one goal in their opening two matches, with Wells and Fernando Forestieri, of Sheffield Wednesday, among those on their radar. Newcastle are believed to be ready to ramp up their reported interest in the Bermuda international, who has bagged 40 goals since joining Huddersfield from Bradford City for £1.3m in January 2014. Norwich City, Fulham and Derby County are among the other clubs reported to be interested in signing the 26-year old Wells before the transfer deadline expires on August 31. On the eve of his team's Championship clash today away to Aston Villa, David Wagner, the Huddersfield head coach, shrugged off the latest transfer speculation over Wells, choosing instead to reflect on the striker's goal-scoring return from injury at the weekend. "We were all happy to see Nahki back in action," Wagner said. "He was always in line for some minutes at Newcastle, but the decision to start with him developed the day before the game. He has missed some of preseason because of his [knee] injury, so we all know he has still to get back some fitness, but I could see from his body language in training that he was keen to get back. It was great that he was able to work within our system and great that he got his goal, and this lifted him at a stage when he was starting to look a little bit tired, something which was totally normally given the lack of minutes in his legs beforehand." Wells, who scored against Villa during his stint with Bradford City in the first leg of the 2012-13 League Cup semi-final, has been included in Wagner's squad for today's match. "While Nahki needs to get fitter, he looks strong, confident and focused, so we must decide for how many minutes he can help us against Aston Villa, which will be another testing game for us," Wagner said. Elsewhere today, Reggie Lambe's Carlisle United are at home to Cheltenham in League Two, while Rai Simons's Chesterfield are also at home to Walsall, in League One. Lambe scored his second goal of the league campaign in Carlisle's 1-0 home win over Plymouth Argyle at the weekend, while Simons was an unused sub in his side's 3-1 home victory over Swindon Town.
August 16. Women who have traveled to Zika affected areas have been urged to delay getting pregnant amid concerns about the effects of the virus on unborn babies. Laura Riley, the director of obstetrics and gynecology infectious disease at Massachusetts General Hospital, spoke to The Royal Gazette after the Ministry of Health stated it was testing three people who had returned from overseas and were suspected of having the virus. "Now is not the time for the unplanned pregnancy," Dr Riley said. "People really need to think about it beforehand, as they should in general. And unless they absolutely must get pregnant right now, I think a number of people are going to end up waiting as they try to figure out 'have I been infected?'." She added that the US Centres for Disease Control and Prevention is advising women who have been to high-risk areas and want to get pregnant to wait eight weeks after leaving the area, whereas partners should wait six months because the virus has been shown to persist in semen for "a lot longer. What I've told my patients is if you're going to the Olympics, you're not pregnant yet and you're planning it, don't plan to get pregnant right when you come back," Dr Riley said. "At least wait some period of time. And if you have symptoms, you should wait even longer." Bermuda is still deemed to be Zika free. However, no update from the Department of Health regarding the suspected cases was available by press time last night. But Dr Riley said it was "important information" that the suspected cases are thought to be imported, adding: "There should be far less hysteria if it's imported than if it occurs in Bermuda, which would suggest that there are infected mosquitoes in Bermuda." The virus, which was declared a public health emergency by the World Health Organisation in January, has been linked to Guillain-Barré syndrome and microcephaly. A range of other neurological complications are also being investigated and Dr Riley cautioned that some of these may not be evident until later in life. And while it "looks preliminarily like it affects between 1 and 30 per cent of pregnancies. it's a moving target. We don't know so much about this disease that we can say the person who gets it at 32 weeks is not at risk but the person who gets it at 12 weeks is really in trouble. We're still in learn mode. There's a lot going on but there's a lot still to be learnt. Treatment for these diseases is going to come after we figure out what exactly the disease is doing. It is everybody's concern that the people coming back from the Olympics are going to bring it with them. That is possible but hopefully the people who are going to the Olympics are taking as many precautions as they possibly can to avoid getting bitten so that they are not bringing disease back. And then once they get back, hopefully they're continuing to be diligent about not getting bitten once they get home because that's not going to do us any good either." Should Zika become established in Bermuda, Dr Riley's said pregnant women would need to "take as much precaution as they possibly can". This includes wearing insect repellent that contains DEET "even during the day", as well as long sleeves, spraying clothes, and minimizing the mosquito population "within their own area". And if pregnant women present with Zika symptoms, Dr Riley said they should talk to their obstetrician, "so that they can test you if that is what's deemed necessary". While Zika is most commonly spread by mosquitoes in the Aedes genus, Dr Riley stressed that sexual transmission is also possible. "Transmission occurs mosquito to person, transmission occurs mother to baby, transmission occurs between sexually active couples. If your partner develops the infection or goes to an area of high risk and could be infected, then you should either refrain from intercourse for the rest of pregnancy or should wear condoms so that he doesn't infect you while pregnant. The other preventive strategy is to avoid travelling to places where Zika is widespread."
August 15. NEW YORK (Bloomberg) — In laying out his case last week for a lower corporate income tax, Donald Trump renewed his criticism of the financial maneuvers known as "inversions" that allow US companies to lower their tax bills by shifting their legal addresses abroad. Hillary Clinton condemns the practice, too. In fact, virtually everyone in US politics decries inversions, and president Barack Obama has urged Congress to overhaul the tax code to stop them. Yet, his administration isn't answering questions from members of his own party about whether existing laws meant to punish such companies are being enforced. More than a year ago, seven congressional Democrats including senator Elizabeth Warren urged the administration to investigate how one of the biggest inverted companies, the Bermuda-registered manufacturer Ingersoll-Rand, is able to score government contracts worth millions of dollars despite a 2002 federal prohibition targeting it and similar companies. "We are concerned that Ingersoll-Rand is not being held accountable under our existing laws," lawmakers led by Representative Rosa DeLauro of Connecticut wrote in July of last year. They asked for the inspectors general of the Army and the Department of Homeland Security to investigate. Neither did. Homeland Security plans to address the matter but hasn't gotten around to it yet, Erica Paulson, a spokeswoman for the department's inspector general, said this month in an e-mail. She cited "staffing requirements." The office of the Army inspector general didn't act because contracting issues aren't part of its mandate, according to an Army spokeswoman, Lieutenant-Colonel Jennifer Johnson. She said she didn't have information on whether the inquiry was referred to another office. A spokeswoman for Ingersoll-Rand, Misty Zelent, referred to previous statements saying the company has always complied with the law and acted with "care and transparency" in government contracting. DeLauro said in a statement this week that "many in Congress and elsewhere are too beholden to corporations that take all of the benefits the US has to offer and then do everything they can to avoid our tax system. This is wrong." The lawmakers' inquiry sprang from Bloomberg News reports in 2014 and 2015 about Ingersoll-Rand's quest to get around the ban. The manufacturer, which traces its roots in the US to 1871, shifted its legal address from New Jersey to the low-tax island of Bermuda in 2001, cutting its tax bill roughly in half in following years. Its senior executives remained in the US, and they currently run the company from a suburb of Charlotte, North Carolina. Products include Trane air-conditioners and Club Car golf carts. Reacting to the tax maneuvers by Ingersoll-Rand and a handful of other US companies, Congress in 2002 prohibited such firms from doing business with the new Department of Homeland Security. Later, it expanded the ban to apply to most government spending. But in 2013, Ingersoll-Rand prepared a legal memorandum that argued, in part, that the ban is invalid because it conflicts with trade treaties — an argument that the Obama administration had previously dismissed. The manufacturer submitted the memo to Homeland Security and asked whether the company is prohibited from doing business with the department. A Homeland Security lawyer, Joseph Maher, responded in 2014 by writing that "we do not have reason to disagree" with the company's argument. Apparently taking Maher's letter as a green light, Ingersoll-Rand went on to win new contracts, including a major one last year with the Army Corps of Engineers to install energy-saving equipment on military bases. Ingersoll-Rand's victory at Homeland Security came with the help of the law firm Latham & Watkins LLP, according to e-mails provided to Bloomberg News by the department last month in response to a May 2015 public-records request. Latham's partners in Washington include Philip Perry, a son-in-law of former Vice-president Dick Cheney. For almost two years during the Bush administration, he served as general counsel at Homeland Security, overseeing Maher and the rest of the department's 1,500 lawyers. The names of the Ingersoll-Rand representatives who sought the opinion from Homeland Security are mostly redacted from the e-mails provided to Bloomberg News. At one point they refer to the company's 2013 memo as originating from a "Mr Perry." Philip Perry didn't respond to a call and e-mails seeking comment. "We engage multiple consultants and advisers, and we are always in full compliance with applicable laws," Ingersoll-Rand's Zelent said.
August 15. A 55-year-old Warwick woman has been charged with conspiring to import $250,000 worth of heroin into Bermuda. Denise Morris appeared in Magistrates' Court accused of committing the offence on January 22, and possessing $15,210 believed to be the proceeds of criminal conduct. She was not required to enter a plea as the matter is to be dealt with in Supreme Court. She was released on bail and ordered to surrender her travel documents. She will appear during arraignments on September 1. Meanwhile, also in court, a 66-year-old Pembroke man arrested on suspicion of drink-driving has been banned from the roads for 12 months after failing to give a breath sample. Marvin Paynter, who pleaded not guilty to driving while impaired, did admit not having his bike licensed or insured. Magistrates' Court heard Paynter was riding a black Schwinn motorcycle along Palmetto Road on August 12 when he crashed into a traffic island resulting in several injuries. While medics were attending to him, officers said they could smell liquor on his breath, that his eyes were glazed and his speech was slurred. Paynter was fined $800 for refusing to give a breath sample and banned from driving any vehicle for 12 months. He was also fined $1,000 for having no insurance and $250 for having no registration.
August 15. Bermuda is unprepared to deal with recent levels of unemployment, the head of a family charity has claimed. Martha Dismont, executive director of community charity Family Centre said there was "very little recourse" for those who have been made redundant. "They can either rely on savings — which are spent quickly in this high-cost economy — seek support from family members or friends, or apply for Financial Assistance, which itself is struggling to support the needs of the able-bodied unemployed." Ms Dismont criticised the use of debt court to openly heap shame upon those who have fallen on hard times. "It has to be extremely humiliating to be on public display for not being able to pay your bills," she said. "Our concern is for the lack of dignity that individuals are beginning to feel, as a result of what they have to do to survive in this difficult economy. Many families are still just barely hanging on for survival. For some, their dignity is all that they have left to keep them motivated to work through their challenges." Ms Dismont spoke of the mounting frustration for those struggling to make ends meet — with increases in domestic violence, substance abuse and the neglect of children, and a desperate few resorting to theft and robbery. And this already precarious situation can become a full-blown nightmare should someone without health insurance become ill — forcing them to choose between avoiding treatment and paying off a potentially expensive medical bill. Ms Dismont proposed a range of solutions to battle these systemic problems. Her fixes included additional investment in job skills training and requesting trades people to mentor and train young Bermudians, with possible Government subsidies to assist. She also called for a conversation on a "living wage" for Bermuda ("it will determine how much we value human dignity for all citizens") and a comprehensive review of the island's continued high cost of living. And Ms Dismont appealed to the wider community to display "less judgment and harsh criticism, and greater empathy. We need people to feel a sense of hope and not judgment. If we give individuals the supportive tools, they will find a way to lift themselves up. The most important message is that human dignity must be preserved to ensure that people retain hope. A hopeless society becomes a very, very dangerous place."
August 15. Progressive Labour Party leader Marc Bean will face no challenges at the Opposition's delegates' conference, according to a senior party source, who said a string of leaked e-mails criticizing his performance had sounded harsher than the reality. Without a substantial move to unseat him, Mr Bean remains set under the party's constitution to lead the PLP into the next election, which has to come by December 2017. "That's just the nature of debate, when you know you're having a confidential discussion," the source said of last week's testy exchange between MPs Wayne Furbert, Zane DeSilva and Derrick Burgess, and Mr Bean. Leaked to The Royal Gazette, the messages were published in full in Saturday's edition. Mr Bean, meanwhile, has said the party is not seriously divided — a sentiment backed up by the source that spoke with us yesterday. "How you handle division is what's critical. Those viewpoints do not inherently mean a fundamental division within the party." Adding that the Opposition looked well-placed to retake the Government at the upcoming General Election, the source said the party's top priority was to pull together, and focus on unity. "E-mails within caucus are meant to be as frank as possible. People express themselves in a variety of ways when they believe they are speaking in private. The point is to get contentious issues resolved." However, the source added that the ball was very much in Mr Bean's court to ensure that the Opposition ranks pulled together, after many months of discontent expressed by several of his MPs over his leadership style. "We have a window of only one year or so to win the election — and a year goes by very quickly." The heated e-mails emerged after some of Mr Bean's colleagues voiced concern at Mr Bean's language in a candid interview with journalist Ayo Johnson, where the leader — who has been on medical leave since a stroke in March — alleged that MPs within both parties subscribed to a self-interested "politics of plunder". Mr Furbert's warning e-mail prompted a sharp rebuke from Mr Bean, accusing him of playing a role in an "illegal and disrespectful" attempt to oust him in the caucus. While Mr Bean's four-year position as leader is technically assured until 2018, a subsequent e-mail from Zane DeSilva made reference to cases in which leaders have been knocked off their pedestal. Mr DeSilva's e-mail, which accused Mr Bean of giving "wild, psychotic and disrespectful statements", noted the case of former Premier Dame Jennifer Smith, unseated in 2003 by pressure from her own MPs, as well as Patrice Minors, who declined to serve as a minister under former Premier Ewart Brown. If sufficient dissatisfaction existed, 12 of the party branches could call for a special delegates' conference to challenge a party leader — as Opposition sources claimed was in the works in December after the resignations from the Shadow Cabinet of Walton Brown, Derrick Burgess, Zane DeSilva, Rolfe Commissiong, Wayne Furbert, Kim Wilson and Glenn Blakeney, who retired as an MP. With the governing One Bermuda Alliance seen as weakened by gaffes that have painted the party as disconnected from ordinary Bermudians, all eyes will be on Mr Bean's return to the PLP leadership, said to be coming soon. The Opposition's annual delegates' conference, meanwhile, is scheduled for October.
August 15. Fifty years ago this month, the record-breaking Beatles song Yellow Submarine hit the airwaves. Broadcasting the deepest underwater live radio show in history last week therefore seemed fitting to American comedian John Fugelsang. The host of Sirius XM's Tell Me Everything teamed up with scientific research foundation Nekton to set the record off the coast of Bermuda and to highlight the need to protect the oceans. "I'm bragging to my friends that I had the deepest conversation in radio history," he joked. "My friends all thought I couldn't sink any lower. This proves how far some people will go to get away from Donald Trump coverage. We tried to go somewhere where we wouldn't have to hear about Donald Trump for a few hours!" Mr Fugelsang and Oliver Steede, Nekton's mission director and founder, hatched the idea in New York last January, although they "never thought we'd be able to make it happen". But on Tuesday, they were able to descend more than 1,000ft in a pair of two-man yellow submersibles to host the "deepest radio show in history". "I'm still trying to find the right words to describe the experience, things like 'historic' or 'moving' don't really do it justice," Mr Fugelsang told The Royal Gazette. "The idea was to have this record-setting event to draw attention to some of the perils facing our ocean, from acidification to the effects of trawling, to the effects of climate change and to make it a world record." They also wanted to come up with an entertaining and out of the ordinary way of raising awareness for Nekton's mission to bring the health of the deep ocean to the world's attention through exploration and science. "We went down the side of the mountain called the Spittal," Mr Fugelsang explained. "It was really like what I would describe a holy moment. When you're down at a 1,000ft it is pitch-black, there is no blue in the water above us or below us. One gets a sense of timelessness, one gets a sense of prehistory to be in a place where humans have never set foot and to be doing a goofy radio show amid all the jocularity, it was a very moving and formidable experience for me. What struck me the most was the beauty of the colour blue, the darkness and the silence down at 1,000ft below. I asked them what was below a 1,000ft and they said 'we don't know, no one has gone down that deep off the side of the Spittal'. I was also just really surprised by how moving the experience was. It gave me both a sense of the relative insignificance of humans and the yet the incredible potential of humans at the same time." Mr Fugelsang ended up rewriting his introduction in the hour he was given to prepare for the broadcast. "It was so quiet — I felt like it was a great place to gather one's thoughts and I realized that the tone of the show was going to be dictated by how it felt down there." The show was part of Mr Fugelsang's daily three-hour segment and aired live on SiriusXM Insight channel 121. Celebrity callers included actor Mark Hamill, American political comedian Lewis Black and two-time Rock n Roll Hall of Fame inductee David Crosby. With Rod Roddenberry, son of Star Trek creator Gene Roddenberry, radioing down from the Baseline Explorer, and Frank Conniff, of Mystery Science Theatre 3000 fame, also making an appearance, the show proved a treat for science fiction fans. "We were able to say we were representing Star Wars, Star Trek and Mystery Science Theatre 3000," Mr Fugelsang said, adding that the show was "very well received. We thought we'd use the celebrities as bait to get people to tune in and in the process let them learn a lot about our oceans, science and the mission of Nekton submarines. Hopefully it was informative but also really entertaining." And while they are already hoping to break the record, Mr Fugelsang, who spent three days on the island, said he was also looking forward to returning to Bermuda. "I loved Bermuda. It's such a beautiful place and the people are so wonderful. We were lucky enough to be able to see a good bit of Hamilton and I met up with some friends who were vacationing. We tried to go off the beaten path a bit and see some of the sides to Bermuda that the tourists don't normally see. It was beautiful. I look forward to returning."
August 15. Motorists are being reminded that the one-way system on King Street has been implemented by the City of Hamilton this morning. Barricades are in place and the road markings are complete, directing traffic to not turn down King Street from the Reid Street junction. However, according to a Corporation of Hamilton spokeswoman, the city works superintendent has witnessed several motorists ignoring the barricades and turning down King Street. "This is a traffic violation and the City is reminding drivers that they can be stopped by police and fined for such violations. The City of Hamilton is introducing this one-way system for safety reasons, as turning onto Front Street can be hazardous. We caution motorists who do not obey road traffic signs that they are putting themselves and others at risk and we encourage responsible driving."
August 14. The Bermuda Government's sole-source deal for a new airport terminal has been defended as the only way to avoid extra debt, according to Bob Richards, the Minister of Finance. Mr Richards was responding to the latest critique of the proposal by the Progressive Labour Party — which came in a hard-hitting joint statement by Acting Leader of the Opposition David Burt with shadow transport minister Lawrence Scott. The Opposition on Thursday maintained that the island could not afford the proposal with the Canadian contractor, Aecon, and again charged Mr Richards with misleading the public and dismissing concerns. In a statement earlier today, Mr Richards took on the PLP's contention that a significant amount of funding would be required of the Government. "That is not true," the minister responded, saying the public "should not be deceived by innuendo, false allegations and political rhetoric". Mr Richards maintained that the Government had shown greater transparency on the project than it had for "any other development in Bermuda's history", and defended the deal, backed financially by the Canadian Government through the Canadian Commercial Corporation, as the best way of avoiding financial risk. According to Mr Richards, the only expenditure would be about $6 million raised by the Airport Improvement Fee, approved by legislators in August 2015. He noted that the Bermuda Chamber of Commerce had approved of the selection of Aecon and CCC, although the statement earlier this week by chamber president John Wight also questioned the Government's rationale in not putting the project out to tender. "The reasons we didn't put this out to tender — as we have discussed in the past — is because we would have then had to add to the national debt to pay for it, which we are in no position to do," Mr Richards said. "We would have never been able to control cost overruns for the project and the tax payer would again be on the hook for it all. Our plan transfers such risks away from the taxpayer." Although he said some $13 million had been budgeted for the project while it was under negotiation, that spending was "now not necessary". Mr Richards insisted that renovating the existing terminal, borrowing to rebuild, or putting the project out to tender for building, operating and maintenance, would ultimately impair the island's credit and increase the cost of its debt. He said the agreement with the Canadian Government shifted construction risks onto the other partner, and had been chosen as the affordable strategy. With the present structure deteriorating, Mr Richards said it would burden the Government with millions of spending in the near to long-term future, and cost about $400 million to refurbish in its entirety. In Thursday's statement, Mr Burt decried the terms of the project as "a sole-source contract valued at over $1 billion to a Canadian company that will get free electricity" as well as "a taxpayer guaranteed return of 16 per cent". While Mr Richards conceded that a profit would be made by Aecon and the Projectco entity created for the new terminal, he defended the 16 per cent margin as "market standard. The Project Agreement also specifies that any profit greater than that will be split 50-50 with the Government of Bermuda," he added, saying the Government would effectively stand as a partner with Aecon. The two parties have sparred over the project's necessity since the initial proposal was signed in November 2014, with the Opposition repeatedly attacking its lack of tender and financing terms.
August 13. The Bermuda Government and the Bermuda Tourism Authority have lamented the suspension of the United Airlines service to Newark this autumn. While the airline cut winter service to the city in 2014, it last year elected to offer three weekly flights to Newark after discussions with the Government. However, this year it has emerged that service between the city and Bermuda will be suspended for the autumn and winter seasons on September 7. Aaron Adderley, general manager at the L.F. Wade International Airport, said yesterday: "We are disappointed in United's decision not to continue with service out of Newark during the fall and winter, after we worked hard with them to have the service reinstated last year. "While we recognise there was some unused seat capacity, there were encouraging signs that demand was increasing and there is further evidence from the Bermuda Tourism Authority that demand is on the rise for the coming fall and winter months." Mr Adderley noted that the flight was popular among locals and strategically important as in addition to serving the New York/New Jersey area, it creates opportunities with connecting markets. "We feel that between our existing airline partners operating from JFK, there should be adequate capacity to fill the void out of New York," he said. "However, our concern is to ensure that for those originating out of other connecting cities, especially those in the Mid-Atlantic and Mid-West regions, we are able to secure an alternative. To that end, we've been pursuing other options and hopefully we can get a positive outcome." Meanwhile, a BTA spokesman said the suspension was disappointing given the increase in visitors from New York and New Jersey in the first two quarters of the year, but added: "We don't believe this is unsolvable. We are working with our colleagues in the industry and government to find ways to offset this seat capacity loss. "It's also important to mention that with a 43 per cent year-over-year increase in airlift from the New York area in the first six months of this year, some kind of market correction may have been inevitable as four airlines competed year-round for Bermuda business in the same geographic area. This initially disappointing development perhaps gives us a golden opportunity to look elsewhere for year-round service." The suspension of service has frustrated some would-be travelers. Rosemarie Kley, a New Jersey resident and a frequent visitor to the island since 1978, said she would not be able to return to the island next month as she had hoped due to the suspension. "The Bermuda Tourism Authority has to do something about this situation," she said. "The airlines should have at least a couple of flights each week. Tourism will definitely suffer from this."
August 13. St George's MP Kenneth Bascome has reiterated his support for the proposed St Regis hotel in St George's, calling on the public to embrace the initiative. And while the redevelopment of the St George's golf course may not be a part of the project's first phase, Mr Bascome expressed hope that interim measures could be taken to prevent the unused course from being an eyesore. "It's something that will be discussed along the way. I will be speaking with the developer and others in the government to see if something can be done. It doesn't have to be pristine, but at least to clean the area. It's really unsightly now. It's really unsightly. My hope is that in the process, before we get to the fully fledged redevelopment, something is done to clean the area up." The MP noted that he had been given some assistance from the government to help clean the course property, hiring several people for the project. However, he said after two-and-a-half months of work their tools were removed. "They took my bucket, my two weed eaters, my three wheelbarrows, my three pitch forks and my three shovels," he said. "They didn't steal them, they took them because they were out in the open. I was trying to get nine holes playable. It wouldn't have been pristine, but it would have helped the St George's Club because a lot of their guests were irritated when the golf course was closed." Plans for the St Regis hotel project, submitted to planning on August 1 and available for viewing both at the Department of Planning website and offices, feature a 122-key hotel, a casino building and other amenities as part of the first phase of development, expected to take three years. The main buildings are set to be located to the southwest of Barry Road, but the road itself would be moved further to the southwest so the hotel would stand between the beach and the diverted road. Renovations to the St George's golf course would be part of the second phase of development, while later phases would include the construction of several residential condominium units. Asked about the project, Mr Bascome said: "I have been very supportive all along. I understand there has been concern about reasonable access to the beach. I believe that we have crossed that hurdle. I believe that the opportunity is there, not only for St George's but for Bermuda." While some have expressed scepticism about the project, citing past promises of a hotel in the area that never came to fruition, Mr Bascome expressed confidence that this project would move forward. "I believe that this particular developer is the real thing," he said. "I have had the opportunity to meet and talk with him. I also had the opportunity under the former minister Shawn Crockwell, of whom I must give much praise to, and the team he was working with at the time. I think this is the real thing. I don't believe it will happen this year as they first must get planning permission. Understanding there is probably going to be some dissension, hopefully they will have their concerns addressed and early next year we will see something concrete taking place." The MP also said that he believed the America's Cup would provide the East End with an economic boost, and said that he was still fighting to reopen the St George's police station. "I believe that with the added activity we are going to have in the next 16 months, we need a fully functioning police station in the town," he said. "They can never convince me otherwise. It brings a sense of security to the community. The activity is over in St George's, not St David's. They talk about seven minutes, but with the bridge down to one lane ... that's a scenario I laid out before it happened. I'm not being an alarmist, I'm being a realist."
August 13. Motorists have expressed their surprise at the news a fee of $81 will be charged for those who leave their vehicles at the new City Hall car park for more than four hours. A sign at the location outlining the various charges has prompted a stir on social media. The rates range from $2 per hour for three hours, a total of $16 for a four-hour stay, and $81 for any longer than that. Yesterday, the City released a statement advising that the fee was an incentive for motorists to keep their stays short when the paid barrier system becomes fully operational from Monday, August 22. "Extra tariff charges apply after the three-hour maximum limit, to discourage motorists from overstaying the limit," it stated. City Hall car park has long been a short-stay parking lot, with a maximum stay of three hours. That remains the case. "The rate is $2 per hour. Therefore, the first three hours is a total of $6. If a motorist exceeds the three-hour limit, ordinarily they would receive a parking ticket. In this case as the car park barrier system does not require ticketing for overstays, the motorist is charged an additional $10, taking the total to $16 for up to four hours. Keeping in mind this is a maximum stay three-hour car park, this can be considered lenient. However, upon reaching and overstaying four hours, the motorist is charged an additional $65 tariff, taking the total fee for four or more hours to $81. It is the City's hope that this car park be used as intended, for stays up to three hours and that the higher tariffs will serve as an incentive to do so. Motorists who stay within the three-hour limit are not impacted in any way by the higher tariffs." Yesterday, The Royal Gazette took to the streets of Hamilton to ask motorists if they thought the late fee of $81 was reasonable. Opinions about the tariff ranged from "simply ridiculous" to others believing that the change would be more convenient for short-term shoppers. The tariffs were approved in a council meeting on May 4, according to the statement, approved by the minister a week later. Maria McLeod-Smith said: "I first heard about it yesterday and people thought it was a mistake. They were thinking that surely they must mean $18. I know that they don't want people to park in town for more than four hours. It's convenient for me because I have staff parking but for some other people it's not convenient at all. It seems a bit harsh, $81, and they are trying to get more people to park at Bullshead." Justin Simmons, 25, said: "To be honest, I think it is a real nice car park, it looks like there's more spaces which is convenient for people. But no, I don't agree with the $81 charge because there are some people that spend a lot of time in Hamilton and there are some people that would spend more than four hours to shop so I think that it should be increased to at least eight hours. I could understand $50 or something but $81 is too much." Francis Cassidy, 76, said: "I think that the $81 charge is ridiculous but I think they've done a good job on the car park. The amount after four hours seems a little out of wack. I don't agree with that pay scale." Koeshon Smith, 25 said: "I say don't stay there for four hours, if you do, pay the $81. If you're coming to town to shop for four hours something is wrong anyway. It's more convenient for those popping in and out of town. But if you work in town or use City Hall or Par-la-Ville or whatever parking lot on a regular we should have some kind of toll booth with passes so that it's a different fee for you. If you're just wandering in town and go over that time you should have to pay the $81." Lornette Simons said: "It seems a little bit over the top. Business will probably benefit from it but if you are a short-term shopper like me you probably won't want to pay the $81. Sometimes you forget, you get in the shops and you look around and look at your watch and the time is up. I think that I browse more than I spend, especially Christmas time. It's back-to-school now and people may have their kids with them, may stop to get lunch. So yeah, I will park at Bullshead."
August 13. Marc Bean, the Leader of the Opposition, has stated that attempts to depose him were a significant factor behind his recent serious illness. In his first interview with this newspaper since he went on medical leave in March, Mr Bean said of the attempted coup: "It almost killed me." Mr Bean suffered a stroke at the height of anti-immigration demonstrations, with David Burt subsequently stepping in as acting leader. It comes amid fresh anger over Mr Bean from his Progressive Labour Party colleagues about an interview with journalist Ayo Johnson on August 5, in which he decried a "politics of plunder" within both the island's political parties. Following up with an interview with this newspaper yesterday, Mr Bean said: "It's a special diet that politicians have been feeding off for decades." Clarifying further, he singled out "over-government, bureaucracy and special interests". Asked if he was leveling an accusation of corruption, Mr Bean said: "No, it's an attitude of looking to enrich yourself off the Government, I didn't accuse anyone in that interview of corruption. It's an overriding quest to get into power. Some things might be illegal or unethical, but I was speaking of an attitude of people living high off the hog, and we should not accept it." Repeating his remarks on Mr Johnson's site Politica, in which Mr Bean declared himself a "classical liberal" in his political sensibilities, the PLP leader affirmed his support for "smaller government, less taxation and shifting the burden of power from government — giving the people more freedom". Mr Bean spoke of Bermuda as a "monopolistic, oligarchical society" in which competition was key for those at the bottom to advance. He also criticised the "mindset of dependency" that undermined blacks, in particular, with the expectation of welfare from the Government. While Mr Bean said some may accuse him of right-wing leanings, he was committed to economic diversification and black entrepreneurship as a means of self-empowerment. Mr Bean also stood by his criticism delivered against some of the MPs in his own party. In those remarks, Mr Bean alleged that while the One Bermuda Alliance had been "bumbling" as a government, some of his colleagues had been unable to respond to a request for "three things that we will do to uplift our people". He said that "stumbling blocks to Bermuda's progress" were not exclusive to the OBA, with the "attitude of plunder" also present in the Opposition. Yesterday, he restated his contention that some within the Opposition were "working on behalf of someone who wants to control the leadership, but can't". Mr Bean declined to specifically name the rebels within PLP ranks, but told this newspaper there was no split over leadership and characterized it as machinations from outside. Divisions became highly public last December when seven MPs left Mr Bean's Shadow Cabinet: Walton Brown, Derrick Burgess, Zane DeSilva, Rolfe Commissiong, Wayne Furbert, Kim Wilson and Glenn Blakeney, who retired from politics altogether. Mr Bean's interview with Politica was poorly received by three of the rebel MPs, as evidenced by the chain of e-mails sent to this newspaper. However, Mr Bean confirmed earlier remarks to Mr Johnson that he expected to return soon to his role as leader, describing his health levels as up to "95 per cent". Asked if returning to the political fray may endanger his recovery, Mr Bean said: "Time will tell. It has been very stressful. My health was negatively affected. But the fact is that there are people who have to be held to account."
August 13. Marc Bean has come under fire from his party colleagues for his "wild, psychotic and disrespectful" comments since returning to the political fold after his health scare. A chain of e-mails leaked to The Royal Gazette shows how MPs Zane DeSilva, Derrick Burgess and Wayne Furbert rounded on the Progressive Labour Party leader after his interview with Ayo Johnson on the Politica website on August 5. Mr DeSilva claimed that Mr Bean must not have liked the harmony that had been restored since he went on sick leave after suffering a stroke in March, saying he had returned "looking to pick up where he left off" in a bullying and divisive manner. Mr Furbert noted he was deeply concerned at Mr Bean's comments in the Politica interview, while Mr Burgess accused the Opposition leader of bragging that he "has the bomb" and that he has made irresponsible allegations about fellow PLP MPs over the past 18 months. They argued Mr Bean's actions were destabilizing the party when it should be preparing to oust the One Bermuda Alliance from power. Mr Bean hit back by rebuking Mr Furbert for taking part in an "illegal and disrespectful attempt" to remove him as party leader, and by reminding him that he sits in caucus "at my will and pleasure". The e-mail chain — reported verbatim in this article — began at 7.57am on Thursday, with a message from Mr Furbert to colleagues that contained a link to the Politica article. "Many of you were not aware that our Leader Marc Bean had an Interview with Ayo Johnson," Mr Furbert wrote. "As I mentioned yesterday I was deeply concern by some of his comments. I am not able to send you the recording, as AYO has now put security on it." Mr Bean responded: "Wayne, let me make myself clear. I will not be entertaining any questions re my interview with Ayo. As a person who participated in an illegal and disrespectful attempt to remove me as Leader in Caucus, you would want to catch yourself, and do it quickly. I will not be dragged into any discussion with you or others. I know your intent, so let me know if you intend to disrespect me in the future as you sit in caucus at my will and pleasure." Mr DeSilva weighed in by defending Mr Furbert at 6.43am yesterday: "Bro Wayne, I see nothing wrong with the questions you posed and I support them — especially when wild, psychotic and disrespectful statements are directed at not only you but EVERY MP and the Party. RESPECT IS EARNED! And Wayne, remember, the only people that serve at a Leaders pleasure are Senators and Shadow Ministers. All other MP's serve in Caucus at the pleasure of the people that elected them — their constituents! MP's serve under a Leader at OUR pleasure! Ask Dame Jennifer and Patrice Minors — they didn't and wouldn't under Dr Brown." Mr DeSilva made an apparent reference to Mr Bean's long-running row with party colleagues, which resulted in seven MPs quitting his Shadow Cabinet last December. He said Mr Bean was disrespecting the decision of the party's central committee that had run the rule over events from November 2015, "and will have to answer them". He said: "The attempt by MB to bully you (as he has tried to do to Caucus and CC over the past couple of years) should be defended rigorously. It's clear his doesn't like the harmony that has been restored in Caucus during his absence and is looking to pick up where he left off — dividing Caucus and the Party at a time when we should be working to dismantle the OBA Government that is there for the taking. Keep your head up and keep working hard for our people and our Party." Mr Burgess e-mailed at 8.24am: "Marc Bean, you have made some serious indictments on members of the PLP in an interview with Ayo Johnson recently." Mr Burgess said that, in his Politica article, Mr Bean had:
Urged colleagues not to practise "plunder and cookie jar politics"
Claimed a group within the party had used the political process to enhance their personal positions and "to the art of plunder"
Pointed to "political parasites" within the party
Said businesses could hire "whoever they like, something black Bermudians have to understand".
Mr Burgess continued: "Mr Bean, your response to MP Wayne Furbert, indicates that you can say what ever you like and will not accept being question on it. The issue of leadership was dealt with by the PLP's disciplinary committee and you need to get over it. For the well-being of the party you must stop making these irresponsible statements/allegations. Remember you alone are not the PLP — we need to prepare the party to win the next general election, with you or without you. Let me remind you that over the last 18 months you have made some very serious allegations against members of parliament without any evidence despite you stating that you Marc Bean has the bomb, your words. My advice to you is to cease and desist with your irresponsible statements — I repeat, you alone are not the PLP. Derrick." The Royal Gazette contacted Mr Bean over the e-mail chain, as well as Mr DeSilva, Mr Burgess and Mr Furbert, but all declined to comment, with Mr Bean saying that it would not be appropriate to comment on caucus matters.
August 12. A new business relationship with Britain in the wake of its vote to leave the EU is "critical", an island business leader said yesterday. Bradley Kading, president and executive director of the Association of Bermuda Insurers and Reinsurers, said the island needed a twin pillar approach to Britain and the EU to ensure business did not suffer as a result of Brexit. Mr Kading said that the EU was the second most important insurance market for ABIR members after North America. He added: "Because Europe is such an important market to us, Bermuda has acted to win Solvency II equivalence, engage with critical International Association of Insurance Supervisors regulatory work streams, enact Organisation for Economic Cooperation and Development tax transparency, co-operation and enforcement rules and build relationships with key EU officials and key jurisdictional insurance supervisors. Now, with the reality of Brexit, we need to ensure Bermuda has a twin pillar approach with regard to our European markets, addressing not only the EU 27, but also the critical UK market." Mr Kading said that Bermuda would need new Britain-specific regulatory and trading agreements with EU equivalency with Britain to provide cross-border reinsurance market access and recognition of the Bermuda Monetary Authority as a group supervisor. Quoted by Insurance Day, he added: "Bermuda will need to replicate this relationship with the UK by further strengthening regulatory relationships and interactions. Bermuda will seek to ensure the UK's Prudential Regulatory Authority recognizes the BMA as a group supervisor and Bermuda reinsurers can continue to engage in free market reinsurance trade with the UK. The UK has a long tradition of free trade in reinsurance that precedes Solvency II. That early leadership from Britain in Bermuda's successful bid to compete on equal terms in the EU could help Britain's PRA in its own negotiations to continue free trade in Europe. Winning equivalence from the EU for the UK under Solvency II and other financial regulation markets will be critical. The IAIS forum would become even more important to the UK as it would no longer have the same clout in the EU corridors of power to influence global standards through the EU and the Occupational Pensions Authority. Bermuda would also need to continue its engagement with the IAIS since the adoption of the common framework for the supervision of internationally active insurance groups was on the horizon, while the International Capital Standards project would lead jurisdictions closer to a global standard for regulation. The UK is a powerful member of the OECD and G20, but post-Brexit the UK and the EU positions may diverge. The opportunity the UK has is to build more alliances outside the EU bloc to achieve its goals. The UK's departure from the EU will be notable on tax policy — a pro-market competition voice will be lost in the EU. With the UK goal of moving to a 15 per cent corporate tax rate attracting attention, UK multinationals will be envied but may also face a negative attitudinal shift. ABIR members had nearly 10,000 employees in Europe, with 6,000 in Britain alone, while Bermuda's commercial insurers accounted for nearly 25 per cent of the capital and capacity at Lloyd's of London. These statistics mean Bermuda and the UK will be travelling companions along the post-Brexit road."
August 12. On August 20, triathlete Flora Duffy will aim to bring Bermuda its first Olympic medal in 40 years. And watching anxiously from the Rio de Janeiro grandstand, while sporting specially made "Go Flora Go" shirts, will be father Charlie Duffy, mother Maria and brothers Joel and Campbell. This will be Flora's third Olympic Games, after failing to finish in Beijing in 2008 and enduring a bike crash in London in 2012. However, this time the 28-year-old has a viable shot at a podium finish, given her number one status in the World Triathlon Series after a spectacular season. "Hopefully, it'll be third time lucky," Charlie said. "Flora's had ups and downs, and as a parent you suffer along with her. It's painful at times, most notably at the two previous Olympics, which were both pretty devastating" The family will fly to Brazil on Sunday to watch the Colorado-based triathlete attempt to claim glory for Bermuda on the international stage. "A lot of people are expecting her to medal as though it's a given, which is definitely not the case," said Joel, 34. "I certainly think that she's capable, but she needs to be at the top of her game and the race needs to play out to her strengths." Campbell, 26, added: "I'm really excited to see how Flora's going to do. A lot depends on the day. If she gets in the top five or ten we'll be really happy. If she does better than that, it'll just be amazing. Flora's destiny as a world-class athlete was evident from a young age. I remember watching her first sports day when she was 5 years old, and she won the distance race," Joel said. Two years later, the precocious youngster competed in her first Iron Kids Triathlon in Bermuda and again placed first — posting a time so quick that organizers questioned if it was an error — before entering her first international triathlon in Chicago aged 8. "It just seemed to snowball from there — she got better and better," Charlie said. Despite her exceptional talent, Flora's under whelming performance in the 2008 Beijing Olympics led to her giving up her triathlon dreams temporarily. It was only after she began studying at the University of Colorado in Boulder that she returned to the fold — albeit tentatively. "She started swimming again for fun, then she joined the cycling team and started winning races, and her love for the sport returned," Charlie said. "Getting into Colorado saved her career." In Rio, the weight of expectation has shifted dramatically on to Flora's shoulders, turning her from outsider to one of the favorites — especially after she claimed victory at the Montreal ITU Triathlon World Cup last week, a sprint event at half the Olympic distance. "It's pretty amazing; I never get used to it," Joel said of his younger sister's success. "It doesn't surprise me but it makes me very proud, just the number of sacrifices she's made. It's such a grueling sport, and to reach the heights that she's reached on a world stage is pretty remarkable. Flora's had a great season, so hopefully things will go a lot better. This time, she's established as the world number one and she's got a great reputation throughout the triathlon world. She has already proved herself and I'm not sure we could get much prouder, whether she wins a medal or not."
August 12. St George's MP Kenneth Bascome has called for a push towards "nostalgia tourism" targeting potential visitors who served on the island's former base lands. "This week alone I have encountered numerous people who were stationed on the base here with their children who were born here," he said. "I have had at least 15 or 20 people see me and recognise me from when I used to be at Tobacco Bay. The same way we used to do College Weeks, I believe we should do nostalgia weeks. We get people who used to live here like former police officers and all the people that were stationed on the base and their families. Thousands of people were born here. We need to create a marketing tool that calls on people to come back and relive their memories of when they lived in Bermuda. We are still here; the water is still pristine. I believe Bermuda has so much to offer, but we are not tapping into all of the resources that are out there for us to get us back where we were as the premier destination for tourism." He said such a proposal would be ideal for the shoulder season, suggesting that events be held in November or March when the weather is cooler. "We can put on special activities to encourage people to come here," he said. "Using the base as an example, we could do things at Clearwater Beach because that was specifically owned by the American government. We might think it's too cold for swimming, but many of them don't." Mr Bascome noted that some of the visitors he has spoken to had remained in contact through Facebook groups, and so it should be feasible to spread the message, adding that the US consulate could also play a role in helping to promote the island and events to those who have served in Bermuda. "I believe they could play a major part. I have had a conversation with one visitor who suggested I go to the Pentagon, but they might not be willing to disclose that sort of information, but I believe with the modern technology we have today, we should be able to create a programme that targets all the people that once worked here, particularly the young people who were born here." Mr Bascome added that he has already spoken to the Bermuda Tourism Authority about the potential initiative.
August 12. Butterfield Bank's filing for a proposed initial public offering in the US is the latest milestone on the bank's recovery from the global financial crisis. At a meeting later this month shareholders will hear details and vote on a reverse share split and amendments to the bank's bylaws. The shareholders will not vote on the IPO itself.. The total size of the proposed IPO has not been revealed, however a guideline number in the filing document with the US Securities and Exchanges Commission indicates a maximum aggregate offering price of $100 million. The momentum to steer the bank towards an international stock market listing can be traced back to the turmoil of the financial crisis of 2008-09. At that time the bank had to write-off hundreds of millions of dollars of soured investments linked to US residential mortgages. In 2009, Butterfield managed to stabilize its business with a $200 million preference share issuance, which was guaranteed by the Bermuda Government. As the bank restructured and "de-risked" its balance sheet, there was a further cash injection from investors in 2010, led by the Carlyle Group and the Canadian Imperial Bank of Commerce. A total of $550 million of common equity was raised. A rights offering of $130 million allowed pre-transaction shareholders to help recapitulate the company, reducing the outside investors' total investment to $420 million. The arrival of the Carlyle Group was significant in moving the bank onto the path towards an IPO. Carlyle has taken many of its portfolio companies public since its founding in 1987. And in a statement last week, when it announced the proposal to list its shares on the New York Stock Exchange, Butterfield Bank said: "Under the terms of the Investment Agreement dated 2 March 2010 and entered into between affiliates of the Carlyle Group and the bank, the bank agreed to use commercially reasonable efforts to list the bank's ordinary shares on an international stock exchange within a specified time period." In an interview with The Royal Gazette in February, Michael Collins, Butterfield's chief executive officer, spoke about the bank exploring the possibility of a New York Stock Exchange listing. "It's one way to get greater liquidity for our shareholders," he said. Butterfield Bank's shares trade on The Royal Gazette/BSX Index. The bank intends to maintain that listing alongside any secondary overseas listing. While the global financial crisis brought the bank to its knees, the injection of liquidity from investors, together with subsequent restructuring, have helped Butterfield navigate its way to recovery. In 2010, the bank sold $820 million of asset-backed securities to cleanse its investment portfolio. Its operations in Hong Kong and Malta were sold, followed in 2012 by its Barbados operations. Two years ago, the bank bought the Legis Group Holdings' Guernsey-based trust and corporate services business, and a "significant portion" of HSBC's corporate and retail banking business in the Cayman Islands. This year, Butterfield started to wind down its British operations. It intends to exit private banking and asset management operations in Britain, while retaining its high net worth mortgage lending business. In April, the bank completed the acquisition of HSBC Bermuda's trust business and private banking investment management operations, which added $1.6 billion of deposits to the bank's balance sheet. Butterfield now has a 39 per cent market share of Bermuda dollar deposits and a 36 per cent market share of island loans. Last year, just over half of its net revenue was attributable to its Bermuda operations, with Caymans accounting for 28 per cent, Guernsey bringing in 11 per cent, and the rest coming from other jurisdictions. As of June 30, Butterfield's balance sheet featured $11.6 billion of total assets, $10.1 billion in customer deposits, $3.9 billion in loans, and shareholders' equity of $815.9 million. Its total capital ratio was 18.9 per cent, well above the regulatory requirement of 14.4 per cent. The combination of cutbacks, restructuring, recapitalizing, and strategic sales and acquisitions, have lifted Butterfield clear of the troubles it encountered in 2008-09. Now it is a few steps away from a possible NYSE listing, a similar path taken by its younger competitor, the former Bank of Bermuda, in 2002. Bank of Bermuda traded on the Nasdaq for 18 months before it was snapped up by global banking giant HSBC. At the time the Bermudian bank controlled almost $12 billion in assets. For Butterfield, listing its stock on the NYSE would make it easier for shareholders to enter and exit positions. Last year, Canadian Imperial Bank of Commerce, one of the major investors of 2010, exited its 19 per cent stake. Butterfield paid $120 million to buy back 80 million shares for cancellation. The Canadian bank's remaining 23 million shares were taken by the Carlyle Group and subsequently sold to exiting shareholders. Carlyle's involvement in the bank was originally expected to last between five and seven years, however its investment is now held in a fund featuring a ten-year investment. Butterfield currently has six primary shareholders. Entities affiliated with the Carlyle Group hold 22.7 per cent of the bank's common shares, with the majority of these owned by Caryle Global Financial Services Partners. The other primary shareholders, each holding between 5 and 8 per cent of the common shares, are Ithan Creek Master Investors (Cayman), Rosebowl Western, Nicholas Roditi, the Government of Bermuda Contributory Pension Plans, and Wyndham Holdings. The bank's shares have climbed 27 cents, or 16 per cent, since news of the proposed IPO was announced on August 4. Yesterday, the shares closed at $1.95 on the local exchange. To meet the New York Stock Exchange's requirement that IPO shares must have a minimum initial trading price of $4. Butterfield is proposing a ten-for-one reverse share split. Shareholders will receive one share for every ten they currently hold. A special general meeting of shareholders will take place on August 30 at the Hamilton Princess. The meeting will present shareholders with two proposals being put forward by the bank "in contemplation of a New York Stock Exchange listing of the banks voting ordinary shares". Both proposals will be voted on. The first is for the ten-for-one reverse share split, while the second calls for amendments to the bank's by-laws that will, among other things, address changes in the Companies Act 1981. In a statement last week, the bank said: "The proposed offering will be made only by means of a prospectus filed with the SEC. This announcement does not constitute a prospectus and is not an offer to buy any securities of Butterfield nor shall there be any sale of these securities in any state or jurisdiction in which such offer, solicitation or sale would be unlawful prior to registration or qualification under the securities laws of any such state or jurisdiction." The bank said a registration statement, including a prospectus, relating the ordinary voting shares has been filed with the SEC, but has not yet become effective. The Royal Gazette was unable to obtain further comment on the proposed IPO as the bank, having filed its F-1 document with the US Securities and Exchange Commission, is now following SEC protocols and operating under "quiet period" requirements.
August 12. Britain was recently targeted in an advertising campaign aimed at promoting the island before the 2017 America's Cup. Several major cities including London, Liverpool, Leeds, Edinburgh and Birmingham were given a glimpse of Bermuda's blue waters with a series of 24 roadside digital screens as part of a campaign by the Bermuda Tourism Authority and the Media Agency Group (MAG). Meanwhile, the Mail Online featured a digital display highlighting the island last month, with billboard ads and scroll skins showing Bermuda and encouraging viewers to visit Bermuda. And advertisements were placed in several key rail stations in London and around Portsmouth. A MAG spokesman explained: "The placement of these ads was meticulously planned, and was run to tie in with the recent America's Cup World Series event in Portsmouth. Bermuda is set to host the 35th America's Cup in 2017, so these ads gave the Tourism Authority the chance to showcase the Bermuda brand in front of a relevant audience of sailing fans." John Kehoe, MAG's managing director, said the company was pleased to continue its work with the BTA, saying the effort was a "strong-performing campaign. By opting for online and digital out-of-home advertising, Bermuda has been able to reach a large and diverse audience, with ads in some of the busiest areas and key media locations that the UK has to offer." While statistics recently released by the BTA revealed increased visitor arrivals during the first six months of the year, the growth was attributed chiefly to a boost in visitors from the United States — particularly New York and New Jersey. The number of visitors flying from the UK declined slightly in the period between January and June, with air arrivals falling by 3.3 per cent compared to the same period last year — a difference of 147 visitors. However, the number of cruise ship arrivals from the UK increased by 84.4 per cent year-on-year, representing an additional 3,200 people.
August 12. The peak of meteor season rewarded stargazers last night as the annual Perseid meteor shower yielded a particularly fine showing. August is traditionally the shooting star month, as the Earth intersects a stream of debris left in the wake of comet Swift-Tuttle. It was the most prolific Perseid meteor shower in seven years, and locals took advantage of the relatively clear skies to lie out for a view. The Perseids came in at double their usual rate, and the show was helped by Bermuda's remote location — far from the light pollution of extensive urban areas. The particles of comet matter are surprisingly small — about the dimensions of seeds — but they hit the atmosphere at tremendous speed, at about 25,000mph, which generates the burning trail. Of course, last night's display got going too late for many of us — the best crop of meteors came in after midnight, culminating at about 3am. But if you missed the show, the Perseid season will continue for the next couple of weeks. This year's display was especially good thanks to the planet Jupiter, whose gravitational pull happened to draw close to double the usual number of meteors into our planet's path. The meteors are composed of dust and ice, and vaporize high above Earth in the intense heat of their descent.
August 12. Residents may have to brace themselves for another mighty storm after US forecasters predicted that this year could be the busiest Atlantic hurricane season since 2012. According to the Associated Press, the National Oceanic and Atmospheric Administration's updated outlook indicated 12 to 17 named storms, including five to eight hurricanes — two to four of which could be "major". On average, the US gets 12 named Atlantic storms a season, including six hurricanes, three of them major. The El Niño effect in the Pacific that tends to reduce Atlantic hurricane activity is now dissipating. Gerry Bell, of NOAA's Climate Prediction Centre, said the opposite phenomenon, La Niña, may form as the six-month season peaks, but should not have a significant impact.
August 12. The Ministry of Public Works has reminded owners of roadside properties that they are responsible for trimming back overhanging trees and hedges. A spokeswoman said that cleaning teams had been working additional hours to help cut back vegetation which had encroached onto public roads. "Overhanging vegetation can cause safety hazards to road users including obstructed visibility, damage to bus and truck windscreens, and injury to pedestrians, cycle riders and waste collection personnel," she added. The spokeswoman said that vegetation needs to be kept clear at least 4.9 metres (16ft 1in) above the road surface, or 3 metres (9ft 10in) above the surface of a pedestrian walkway or verge. If property owners do not heed requests to trim back their vegetation in reported problem areas, she added that the Ministry can serve a statutory nuisance abatement notice.
August 12. A Jamaican visitor has denied trying to leave Bermuda with $10,671 in undeclared cash. Dean Fagon, 44, was arrested at L.F. Wade International Airport on Wednesday as he allegedly tried to fly out with the mixture of Bermudian and American currency. This morning, Magistrate Khamisi Tokunbo released the Florida-based defendant on $15,000 bail, awaiting his return to court for mention on September 2. He ordered Mr Fagon to only reside at the Clear View Suites & Cottages in Hamilton in the meantime, to surrender all travel documents and to report to Hamilton Police Station every day.
August 12. The City of Hamilton has offered an explanation for its new $81 fee at the City Hall car park. A sign at the location has prompted a stir on social media, with the rates set to range from $2 per hour for three hours, a total of $16 for a four-hour stay, and $81 for any longer than that. Today, the City released a statement advising that the fee is an incentive for motorists to keep their stays short when the paid barrier system becomes fully operational from Monday, August 22. "Extra tariff charges apply after the three-hour maximum limit, to discourage motorists from overstaying the limit. City Hall car park has long been a short-stay parking lot, with a maximum stay of three hours. That remains the case. The rate is $2 per hour. Therefore the first three hours is a total of $6. If a motorist exceeds the three-hour limit, ordinarily they would receive a parking ticket. In this case as the car park barrier system does not require ticketing for overstays, the motorist is charged an additional $10, taking the total to $16 for up to four hours. Keeping in mind this is a maximum stay three-hour car park, this can be considered lenient. However, upon reaching and overstaying four hours, the motorist is charged an additional $65 tariff, taking the total fee for four or more hours to $81. It is the City's hope that this car park be used as intended, for stays up to three hours and that the higher tariffs will serve as an incentive to do so. Motorists who stay within the three-hour limit are not impacted in any way by the higher tariffs." The tariffs were approved in a council meeting on May 4, according to the statement, approved by the minister a week later.
August 11. Hollywood actor Michael Douglas is on the hunt for a new developer for his Ariel Sands hotel project after New York-based Olympic Property Partners "left abruptly". Mr Douglas has been "taking the bull by the horns" in order to find a new partner as quickly as possible in the hope that at least one phase of the hotel will be complete in time for the America's Cup next summer. Speaking to The Royal Gazette yesterday, Mr Douglas also urged the island to avoid being divisive and "show its best colours" as the eyes of the world focus on the sailing event. Regarding the Ariel Sands proposal, he said his business partner Seth Weinstein left in early December, though the project will remain largely as it was when he left. Mr Douglas said: "Seth left abruptly — I imagine he had a number of different ventures going on or had other issues. Since that time we have slightly adjusted the project. We have refined it into something much more like what Ariel Sands used to look like in its original form. There are not any major changes, it is just the issue of how much building there was on the site and the size of the main hotel building at the top of the property, which will be scaled down." Back in 2014 when ground was being broken, the project was billed to be an $85 million luxury resort consisting of 85 hotel keys located in 33 cottages and six suites. A scaled-down version was presented to the Department of Planning in April 2015. They were for 26 villas rather than the 33 previously announced, with 20 rooms in the main hotel building. The villas will be a mix of two- and three-bedroom, self-contained apartments with facilities such as washer dryers, bathrooms for each bed, and kitchens. An article that was published on worldguide.eu said: "When the new luxury beach resort officially opens, between next winter and spring, it will consist of 26 two- and three-bedroom cottages and 28 luxury suites. Michael Douglas and his wife will sell the cottages and suites to handpicked buyers, who will be able to rent out their properties to the public through the hotel management company." Plans also included a new arrival building and clubhouse, a fine dining restaurant, spa, salon and gym. It is hoped that a new developer will be secured within a month at which stage, Mr Douglas said, "the project will move ahead expeditiously. This is certainly not my day job, though it looks like it has become that way," he laughs. "The history of building hotels in Bermuda is tough, but we feel very good about this. Our dates have obviously changed from what we had originally hoped in terms of it being completed in time for the America's Cup, but certainly a phase should be done by then. We are in discussions with a number of different people right now and because so many of our plans are in shape, once we finalise our partnership the project will move ahead expeditiously. We will know our ongoing partner within about a month — it looks imminent and we are excited." He said the Bermudian team he brought on board remains intact. The team pulled together for the redevelopment stage includes Somers Management, responsible for co-ordinating the project, Onsite Engineering Services and Quarterly Architects, creating plans designed to have a low environmental impact. Asked whether he still had confidence in Bermuda's economy going forward, Mr Douglas, whose mother was Bermudian, added: "I am not a close follower of Bermuda's economy but I love Bermuda — it is an integral part of my life. This project clearly goes beyond any financial investment rewards. Hopefully that will happen, but this is much more about my family's legacy and trying to give something back to Bermuda. I have always been very positive about the island. People got a taste of the rewards of the America's Cup last October with the Louis Vuitton [America's Cup] World Series. I spoke to a lot of my Bermudian friends and they couldn't remember any time in their lifetime that there was more celebration and joy in Bermuda. This is not a time to be divisive, this is a time for the island to unify and show its best colours."
August 11. Plans for the proposed St Regis Hotel in St George's have been made available online at the Department of Planning website. The plans, submitted to the department on August 1, detail the 122-key hotel which will overlook Gates Bay, along with proposed amenities including a casino, restaurant, back of house facilities and several residential condominium buildings. The main hotel building would stand to the southwest of where Barry Road currently lies. However, the road itself would be moved further to the southwest so the hotel would stand between the beach and the road. Public access to the beach — a point of concern for some in the St George's community — is included in the plan. If approved, the first phase of the development including the hotel itself would take three years to build. Later phases would include renovations of the St George's golf course and the erection of the majority of the condominium units.
August 11. British Airways is preparing to celebrate 80 years of service to the island next year. No airline has linked Bermuda to the outside world for longer and according to a senior manager at BA the relationship is only getting stronger. Colm Lacey, BA's head of commercial, Gatwick, told The Royal Gazette that passengers on BA's Bermuda service will disembark at London Gatwick Airport's South Terminal from January next year, rather than the North Terminal. And he added that the airline was working with the Bermuda Tourism Authority to serve their mutual interest of boosting visitor numbers to the island. "From January 4, 2017, the Bermuda service will be flying to and from the South Terminal," Mr Lacey said. "We will have a new area there and new lounge with a great view of the open runway. It will also be more convenient for many of our customers who use public transport as the train station is at the South Terminal. The 80th anniversary, coming in the same year as the island hosts the America's Cup finals, presents great opportunities to attract more visitors from the UK. Bermuda is a very important route for Gatwick and for the airline," Mr Lacey said. "We're always looking for ways to bring more people in and we're working closely with the BTA." BA and the island's tourism body looked for joint marketing opportunities, he added. Asked about cancelled and delayed flights, he said BA had cancelled three flights last year and another one so far in 2016 because of technical faults. He added that there was "no difference between Bermuda and other routes" in terms of BA's efforts to maintain a punctual and reliable service, but the airline had worked hard to improve these aspects of the Bermuda service over the past year. Last November, Shawn Crockwell, who was then the Minister of Tourism, told the House of Assembly that BA had assured the Government it would use a dedicated, modern aircraft for the Bermuda route and since then reliability had improved. Mr Crockwell also said the Government had spoken with other airlines, including Virgin and Thomas Cook, who had expressed interest in establishing another service from Europe. BA has not had competition from the UK since Zoom folded in 2008, just a year after establishing its London-Bermuda service. Asked about the prospect of competition, Mr Lacey said: "Competition is good for consumers and good for us, so we would welcome competition. We're used to competition on our routes and we will continue to innovate and compete by looking to provide the best service for our customers." BA invited The Royal Gazette to visit its Speedbird Centre Heritage Collection based at the company's corporate offices in Harmondsworth just outside London's Heathrow Airport. The centre, staffed by retired BA employees, who have seen much of the airline's storied history, contains models, photographs and documents which take the visitor right from the world's first scheduled international service in 1919 — on a single-engine De Havilland DH4A from London to Paris — through to supersonic air travel on Concorde and the ultra-modern lightweight aircraft of today. One of the enthusiasts who shows visitors around is Keith Hayward, an 87-year-old who has worked with BA in various capacities for more than seven decades and who oozes knowledge and passion for aviation history. The 80-year association with Bermuda has thrown up a few of the stories featured in the fascinating centre. For example, Imperial Airlines, one of the predecessor companies that evolved into the modern BA, started off the Bermuda service in 1937, with a flying boat called Cavalier — but the route was not to London, rather to New York. London was considered too far from Bermuda for the Cavalier to fly. For that reason, the aircraft was sent to Bermuda in pieces, on board a ship from England, and assembled on the island. The Imperial Airlines flight cut the journey time from Bermuda to New York from 40 hours to five hours and first flew on June 12, 1937. In 1939, Imperial merged with British Overseas Airways Corporation, and three years later, as the Second World War raged, came one of the most famous episodes in BA's Bermuda history, involving Britain's Prime Minister of the time, Winston Churchill. In January 1942, Mr Churchill had visited the US and was on his way back to Britain. He took the BOAC Boeing 314 flying boat Berwick as far as Bermuda and the plan was for him to complete his Atlantic crossing aboard a British ship, which would take about another week. Mr Hayward takes up the story: "The captain of the Berwick was a man named Kelly Rogers and Churchill asked him why he couldn't fly from Bermuda to England on the flying boat. It was not considered safe to fly that distance over the Atlantic in a flying boat, but Churchill was anxious to get back quickly and he could be very persuasive. He was a difficult man to refuse." The Speedbird Centre keeps two remarkable photographs taken that day — one of Mr Churchill at the controls of the aircraft in Bermuda, with trademark fat cigar in mouth. The other shows the celebrated wartime leader in conversation with someone, presumably Captain Rogers. After the Berwick took off and headed for England, Mr Churchill told Captain Rogers he wanted to send a radio message to England to inform the British people that he would be back in London shortly. This was where Captain Rogers overruled his ultimate boss on the grounds that German ears would inevitably be listening in. "Your voice is far too recognizable, sir," he told the Prime Minister. "It would not be safe." The details are in Captain Rogers' log of this, the first transatlantic flight made by a British Prime Minister, stored in a glass case at the museum. BA also showed The Royal Gazette around the place where its modern-day pilots and cabin crew are trained, the BA Global Learning Academy at Vanguard House, near Hatton Cross, just outside Heathrow. Inside are cabins where crew are schooled and tested on matters of safety and service, and huge chutes that would be the escape route from a stricken aircraft in the case of an emergency. There is also an impressive array of flight simulators, 16 of them worth about £10 million ($13 million) apiece, where pilots are rigorously trained and put through all sorts of scenarios, including lost engines, wild weather and extraordinarily difficult places to land, before they are cleared to take the controls of an aircraft full of passengers. Andy Clubb, corporate and media manager for British Airways Flight Training, invited this journalist to take the controls of a Boeing 747 jumbo jet simulator. The experience of flying over London, with landmarks like Wembley Stadium clearly visible, is astonishingly realistic. Taking off is relatively easy, landing a much more complicated affair. The graphics and hydraulics on the simulator combine to make the experience so true to life that the heart of a first-time "pilot" is sure to be racing as the runway gets closer. One can feel the sheer size of the aircraft and the experience inspires admiration for the professional pilots who deal with the responsibility of landing an aircraft packed with hundreds of passengers and crew, day in, day out. These days, BA does not only sell flight tickets. Customers buying online are increasingly booking a hotel, hiring a car, or even buying tickets to tourist destinations at the same time. For example, a visitor booking a flight to Bermuda with BA can also book one of ten available hotels through the website: the Fairmont Southampton, the Hamilton Princess, Grotto Bay, Cambridge Beaches, The Reefs, the Rosedon, Newstead, Elbow Beach, Coco Reef or Tucker's Point. The airline also sells tickets for the Crystal Caves, the Bermuda Aquarium, Museum and Zoo and City of Hamilton tours. BA's most popular worldwide destination is London and one of the hotels that visitors from Bermuda can book through the website is The Athenaeum, a five-star, independently run hotel in Mayfair. The historic property has been renovated this year and Jeremy Hopkins, the hotel's general manager for the past three-and-a-half years, has a refreshingly straightforward approach to hospitality management that would make sense anywhere. The amiable Welshman says his priorities are his employees, his customers and the business — in that order. Basically, he believes that if the employees are happy, well trained and motivated, then they will look after the guests, and the bottom line will take care of itself. He starts by leading by example. "When I first came here the staff would hide from me," said Mr Hopkins, who previously worked at hotels including The Savoy and The Grove. "I made a point of saying 'good morning' every time I passed anyone. Then they started saying 'good morning' to everyone. I did not have to ask them to do it they just did it. Hotels are commercial properties and I think sometimes general managers get mixed up with looking at website distribution and business matters and forgetting that it's all about the guest you have in front of you. That guest can tell hundreds of people about their experience through social media." Mr Hopkins said what guests want has not changed much over the years except for a growing emphasis on security. "Everyone wants a nice bed and a great breakfast," he said. "They always have done. All hotels should be able to provide those things. Where you can differentiate yourself is in the detail. If you know a guest likes to read a certain newspaper then once they have told you, you never need to ask them again. If they don't like bananas you don't put bananas in the fruit bowl. Our staff talk to our guests and every preference they discover is recorded on the guest's profile. Children are very important too. When we hired some nannies we had a panel of six children to interview them, aged between five and 14. We try to give our guests individual experience. So everything is tailored to the guest as much as possible." The Athenaeum, which was once owned by the Rank Organisation, has a long history of accommodating entertainment industry stars. Marlon Brando, Marlena Dietrich, Harrison Ford and Steven Spielberg are among those who have been guests. Mr Spielberg edited the movie ET in his suite during a six-month stay. "We do not treat celebrities any differently from any other guest," Mr Hopkins said. "The only time we might do that is if an autograph hunter moves in and we would step in."
August 11. International hacking group Anonymous threatened an attack on Bermuda and other offshore centres, it was revealed yesterday. And Colin van den Bosch, senior vice-president and head of IT at Clarien Bank, told a conference on cyber security that Bermuda could be seen as a juicy target for hackers. Mr Van den Bosch, part of a panel discussion on cyber security, said afterwards that Clarien's virus protection and malware protection supplier had last year sent out a bulletin warning that Anonymous had threatened to target offshore banking centres around the world. He added: "We saw some attempts, but it didn't feel like an Anonymous attack and nobody broke the perimeter." Mr Van den Bosch added that the bank, as part of its own security system, regularly paid to have its system attacked by an outside source to check how staff responded. He said: "Once a year, we actually have a third party come in and test us. Only two people in the organisation, me and the chief operating officer, know when that's going to happen." The "hacker" uses phone phishing, e-mail phishing in a bid to extract information from the firm. But Mr Van den Bosch said that heightened awareness — especially after well-publicized major attacks on major corporations — meant that staff were far more aware of potential threats than they used to be. "Last year, they launched the phishing attack and within 15 minutes, I had three e-mails and two phone calls." Mr Van den Bosch sat on a panel including Lloyd Holder, vice-president of IT services at the Bermuda Hospitals Board, and Janet Wilth, information security manager at US legal firm Dorsey & Whitney in Minnesota to discuss cyber security in healthcare, banking and finance, education and retail. Mr Van den Bosch told the Hamilton Princess conference: "Having that defence in depth is vital. We have to detect it, we to contain it and we have to control it. If we don't, we will find people running rampant on our networks and we don't need that." He added that security had to be seen as a company wide responsibility with every staff member playing a part. Information security is not an IT problem and everybody has to realize that. Yes, I work in IT, but it's everybody's problem. Keeping sensitive information held as part of medical records safe was a unique challenge in Bermuda due to the island's small size and the fact there was only one hospital, so staff were retained longer than would the case elsewhere and often became used to particular working procedures. Mr Holder added: "People tend to get comfortable doing things the way they have always done. From a security perspective, we have to do a lot more work to raise the profile of the type of risk we are susceptible to. For us, on a global scale, health records are a key area of focus. As well as medical information, records contained other personal data which could be used for fraud. People could use the healthcare space to get into someone's pockets, essentially. Information is moving faster than ever before, with the transfer of information using mobile devices increasingly common, while individual doctors may not have the high levels of security the hospital has. We are looking very closely at trying to fill that gap right now."
August 11. A Progressive Labour Party government would not pull the plug on the proposal for a new airport terminal, according to David Burt, the Acting Leader of the Opposition. "A lot of times in the community, it's said that if the PLP return to the Government, we will cancel it — we've already seen the repercussions on the public when the Government cancels," Mr Burt said, referencing the controversial decision in March 2014 to scrap plans for the redevelopment of the Hamilton waterfront. It would not be responsible for a PLP government to say that we would be able to cancel the deal." In the hypothetical event that the Opposition were to "become Government tomorrow", Mr Burt said the key step would be to put the project out to bid so that the contractor, Aecon, would have to compete. Mr Burt was joined by Lawrence Scott, the Shadow Minister of Transport, who said the PLP's priority would have been to create an independent Airport Authority first, to hold operational control of LF Wade International Airport and vet potential bidders. Both said the proposal could yet be turned away by legislators. Mr Burt took a tough line against Minister of Finance Bob Richards, accusing him of engaging in 20 months of "misleading statements, fabrications, half-truths and lies" about the project — although he said that the need for something to be done to the existing airport had never been in doubt. Bermuda would inevitably have to put up "a significant amount of funding", he said, possibly through raising taxes, which the Shadow Minister of Finance said had been a source of private concern for international business. The lack of open tendering, criticised earlier in the week by the Chamber of Commerce, once again stood out as a top concern. Mr Burt said he awaited the release of a letter of entrustment, required by the UK Government, which would offer a comprehensive assessment of the project. The island's business community needed to examine the numbers, he added. Mr Scott has called for the creation of an Airport Authority since March 2014, and yesterday he accused the minister of pushing the airport redevelopment to the detriment of more worthy causes. Mr Richards has repeatedly described the ageing facility as rundown and prohibitively expensive to maintain in its current form. Mr Scott said the project was "not something that we can afford", and accused Mr Richards of "constant dismissal" of the peoples' concerns. "If you are against this deal, like the majority of this population, I am here to tell you what is coming down the pipeline. This is nowhere near a done deal." With further legislation to go through Parliament, Mr Scott said there was still a last chance to stop it. "If we do not, we will find ourselves with Aecon giving and setting revenue guarantees for airlines."
August 11. Risks to Bermuda's banking sector have stabilized thanks to a gradually strengthening economy helped by the island's hosting of the America's Cup. That is the view of analysts from Standard & Poor's Rating Services, who believe Bermuda is in the latter stages of a decade-long "correction phase" of economic imbalances in the form of real-estate valuations that soared in the pre-recession boom years. The report, authored by Nikola Swann, primary credit analyst, leaves Bermuda with an unchanged rating of 5 under S&P's Banking Industry Country Risk Assessment methodology, on a scale in which 1 represents the least risk and 10 the most. The report found that soured-loan write-offs had been less severe than the ratings agency had expected and it expects total credit losses at Bermudian banks during the 2008-2018 period to total between $600 million and $800 million. S&P estimates that island banks have already charged off more than $500 million in credit losses, net of recoveries. It expects additional credit losses of between $100 million and $300 million in the 2016 to 2018 period, some of which may result from some "overreaching" America's Cup-related investments. "The Bermudian banking sector remains in a correction phase, in our view, following the real-estate and stock-market boom in the last decade that peaked in 2007 to 2008," the report states. "Although spread over several years, the magnitude of this peak-to-trough correction has been severe." House prices fell by 26 per cent between 2008 and 2015, S&P estimated, while gross domestic product slumped by 18 per cent during the same period. "In our opinion, the valuation boom was spurred by the large and extended (over more than a decade) growth of high-value-added, internationally focused insurance and reinsurance companies, accompanied by a large influx of non-Bermudian staff," S&P stated. "We believe financial market dislocations since 2008, particularly in the US, flowed through to Bermudian profits, salaries, and employment, with extended knock-on effects on Bermudian valuations. The severity of Bermuda's correction highlights the risks to its extremely concentrated economic model, in our opinion." The analysts added that Bermuda's economy is experiencing a "substantial, multiyear boost" from hosting the America's Cup. "Taking into account the race's positive influence on borrowers' corporate, employment, and rental income, we expect the event will prove a substantial mitigant to the bank credit losses we had previously expected in the 2015 to 2018 period," the report added. "On the other hand, we are not sure that the event will significantly benefit the island's economy beyond 2017." S&P expects continued job losses from consolidation in the insurance industry, possibly mitigated by the competitive advantage the sector enjoys from the European Union's granting of equivalence with its Solvency II regulatory regime. The analysts believe that upside potential for the banking sector outweighs downside risk, mainly because of the One Bermuda Alliance government's rule changes to encourage inward investment, the likelihood of an outsize boost for investment flows from the America's Cup main event next year and the economy's return to growth in 2015.
August 11. Dog owners have been urged to stay vigilant in the wake of a recent case of a potentially dangerous rodent-borne disease in a local pet. The warning came from veterinarian Andrew Madeiros, the practice manager at Ettrick Animal Hospital, who said there had been a confirmed case of leptospirosis earlier in the summer. The bacterial disease, commonly spread by rats, can be transmitted to humans — but is easily preventable by vaccinating pets. "We have had suspicious cases as well, where we have not been able to establish whether it was leptospirosis," Dr Madeiros told The Royal Gazette. "Samples have to be sent overseas for testing — a cost that owners are not always willing to pay. We don't want to alarm people. It's a sporadic disease. But because it can be passed to humans, it's an educational message for dog owners." Nick Glynn of Endsmeet Animal Hospital said the animal had fallen sick around three weeks after playing with a rat. "It was a classic case; three or four days later it presented as very sick," Dr Glynn said. "It causes severe kidney and liver damage." The dog recovered after a dose of antibiotics, but veterinarians had to handle it with care. The bacteria are carried in urine, transmissible through cuts or accidental ingestion. Leptospirosis can be spread through contact with contaminated water such as a puddle tainted by rats. Symptoms include fever, headache and aching muscles, which in a minority of cases can turn into severe, even fatal illness. "If anyone does get a bite or a scratch from a rat, they should see their GP and get treated," Dr Glynn said. Leptospirosis can be tough to diagnose: like many illnesses, it starts with a fever. "A lot of the time it is flu like; they don't always get sick, and the moment you give antibiotics you can't test for it," Dr Glynn said. "You could get a dog with a fever and not know that it's leptospirosis." Only mammals are able to pass the disease on to man. Cats are usually resistant to leptospirosis, and it is not known to pass between humans.
August 11. CHICAGO (Bloomberg) — Bermuda-incorporated American International Group chief executive officer Peter Hancock said he's more focused on boosting returns than worrying about the government's classification of his company as too big to fail. "Of all of the strategic issues that we face as a leadership team, this doesn't even make the top ten," Hancock said at a conference, when asked about the company's status as a non-bank systemically important financial institution, a tag that can bring tighter capital rules. Seeking to reverse that label would be "hugely distracting to management and is based on a flawed premise that the binding constraint holding us back from returning more capital to shareholders is the regulatory framework that we have from the Federal Reserve". Hancock's view differs with the approach of MetLife CEO Steve Kandarian who won a court battle in March to overturn the SIFI designation. MetLife has dropped 15 per cent since December 31 in New York trading, with the slump worsening after the company reported second-quarter results last week. AIG rallied after posting earnings last week. "Without naming names, the most recent court challenges and events have demonstrated staying focused on the fundamentals is perhaps the right thing to do," Hancock said on Tuesday at the conference, which was held by UBS Group AG in Chicago. "So we're going to stick to our guns." Carl Icahn, the activist investor, challenged Hancock's leadership in October and said that enhanced US regulation is a "tax on size" that was draining value from the company. The CEO has cut jobs and sold assets to simplify operations, and AIG agreed in February to add a representative from Icahn's firm to the insurer's board. Hancock did say Tuesday that he'd be willing to reassess his position once capital rules are finalized. While equity investors may prefer that Hancock fights the SIFI label, his remarks are "really reassuring for bondholders", Rob Haines, an analyst at CreditSights, said by e-mail. General Electric Co managed to exit SIFI status by selling assets such as finance operations and returning to its roots as an industrial company. Hancock said that with insurance operations around the world, his New York-based firm will inevitably be closely monitored by a large group of government watchdogs. "It's not like you remove this label and suddenly you're an unregulated company," he said of the SIFI tag. "We're constantly navigating these multiple constraints in a way that keeps us focused on our true north, which is being really well capitalized to serve our customers."
August 11. The skies over Bermuda are expected to burn brightly tonight: the annual Perseid meteor shower should yield a richer than usual showing of shooting stars. The island enjoys good visibility courtesy of its distance from big cities, which obscure the heavens with light pollution. The present fair weather, from a body of high pressure to the island's north, will help with the fireworks. August is always a good month for celestial pyrotechnics, courtesy of the Perseid "cloud" of debris left by the Swift-Tuttle comet. However, this year's pyrotechnics got an extra boost from the planet Jupiter, whose powerful gravitational pull has drawn more meteors into Earth's path. Most of the particles streaking through the atmosphere will be speck-sized, but larger pieces can generate spectacular fireballs. The fragments are chips of dusty ice discarded by the comet, which passes the sun every 133 years. The earlier meteors coming in at a low angle will leave bright trails. However, the best displays generally come late — from midnight until predawn, particularly once the moon has set. Bermuda's last bumper crop of Perseids came in 2009. At their peak rate, the shooting stars come in at about one a minute. Photographer and amateur astronomer Chris Burville, who expects to be out doing some shooting of his own, said stargazers should expect to put in some time watching. "It's an unpredictable phenomenon; it's not something where you can expect to go out and get something spectacular in 20 minutes. If you're outdoors viewing the sky, you might see a good one every five to ten minutes." The meteor shower will continue for another couple of weeks, he added, giving people plenty of opportunity to get out.
August 11. A boost in the number of young visitors to Bermuda fuelled increased arrival rates for the first half of the year. The Bermuda Tourism Authority said the growth was the result of targeted marketing at younger demographics and families, which could bring the island long-term gains. BTA chairman David Dodwell said: "The really encouraging thing we are seeing is the younger demographics. We have more seats, and that combined with marketing is getting people out of these areas to Bermuda, and these are the adventure seekers. These are the people cliff jumping and all the things in our promotions now; they are geared towards the younger customer, but the interesting thing is the statistics show that the older customer is not going away either. The increase is mostly coming from the younger customer, who perhaps doesn't spend quite as much money and spends it differently, but they are spending on island — and the best thing is that we are building for the future. These are customers who, as they do better financially, will come back because they have good memories of Bermuda." According to figures released by the BTA, the number of visitors aged between 25 and 34 increased by 23.3 per cent year-on-year, while the number of visitors in the 18-to-24 age bracket rose by 21 per cent. Victoria Isley, sales chief and marketing officer, noted a series of promotional efforts in New York, including the #BermudaSummerFridays campaign, the sponsorship of Daybreaker Dance Parties and a promotion with Uber. "Increased air lift, a fresh, more youthful brand, targeted marketing and new experiences such as the Bermuda Carnival have all worked together to appeal to younger travelers. And the increased volume — the best since 2008 — has had a positive impact on the wider economy, especially the young demos, which are more likely to explore the entire island, far beyond their hotel." Speaking to The Royal Gazette, she explained that the BTA had focused its attention on reaching younger travelers who are looking for experiences more than sun and sand. "The adventure-seekers that we are talking about, they are looking for new experiences to tell their friends about rather than the same old same. Bermuda certainly delivers if you want your bum on the beach, but there's also this idea that the new definition of luxury is experience, and it really delivers that in a way that is real and authentic, different from other places and many other island destinations. The alternative in some places is going to a walled-in resort and not leaving until it's time to depart. Bermuda provides an open-air kind of resort destination where people can explore. It means a different way of spending, but what we are aiming for is to distribute where the visitors spend around the island so more areas are benefiting from the visitor market." She particularly noted promotions in the New York area, including a campaign in which they partnered with Uber, offering some lucky Uber passengers a free trip to Bermuda — provided they fly the following day. Ms Isley said the promotion not only targeted 50,000 Uber customers but highlighted how easy it was to take a weekend trip to the island through live updates. "We had branded cars and Uber cars with Bermuda ambassadors in them. We were able to be in the app and work through that," she said. "It was such a popular thing that Bermuda Fridays was actually trending in New York City on Twitter. We had people who won a trip on Thursday and they were on a trip to Bermuda on Friday. Part of that was to have real-time exposure to how easy it is to escape to Bermuda and what a different experience it is for those travelers." Moving forward, Ms Isley said the BTA was working on a retail promotion for Labour Day and promoting the island as more than just a beach destination to help encourage travel during the cooler months. "A lot of the imaging we have been using has not been just people on the beach. I think that people who live in Bermuda certainly know that it's more than that, but we have been working on differentiating Bermuda from other island experiences so the competitive research isn't just what the temperature is, but what the experience is. That's what we are looking at going into the fall." Meanwhile, Mr Dodwell said the BTA would continue to use analytics to take a "rifle approach" to targeting potential visitors instead of a "shotgun approach", marketing the island to those most likely to come and remaining financially efficient in the process. "People ask me why they don't see things on TV. Why they don't see full-page ads in magazines," Mr Dodwell said. "Those are too scattershot. It's too difficult to measure the kind of response you get, and now with Netflix and all those things you don't know when they are watching or what they are watching. When we are targeting, we are doing it in a very specific way. Our approach is very targeted, and when we are on TV it is in a very targeted way."
August 11. The Bermuda Government let its airport development proposal fall into controversy because of its "communications issues", the Chamber of Commerce has claimed. However, the Chamber gave its backing to the Government to proceed with a new terminal, which it says Bermuda needs. The proposal has been challenged by the Progressive Labour Party since the initial deal with Canadian Commercial Corporation was announced in November 2014. In particular, the Government's decision not to put the project out to tender has been unpopular with grass roots movements such as the People's Campaign, which likened it to "economic slavery" in an announcement last week. "One of the objectives of the Chamber of Commerce is to take leadership positions on issues that are of interest and importance to our members," said John Wight, president of the organisation. "The proposed airport development meets the criteria for a project that is of significance to Bermuda and the members of the chamber. The executive thus felt we should opine on it." The Opposition renewed its attack on Monday, accusing the Government of giving a deal to the contractor, Aecon, at the island's expense, but Mr Wight said the timing of the chamber's release was unrelated. "Summer vacation schedules had more to do with the timing of the release than anything else," he said. The chamber's main concern over the $250 million proposal for L.F. Wade International Airport related to transparency over choosing a vendor, Mr Wight said in a statement issued yesterday — even though the party selected was "a well-considered choice. They, through their primary contractor, have successfully built many large infrastructure projects, including airports. Collectively, they have a proven track record. And they have the financial backing of the Canadian Government. What is not as clear is whether a formal request for proposal process should have been conducted in order to enhance transparency for the benefit of Bermudian taxpayers to provide comfort and confidence that the vendor selected and procurement strategy was optimal for Bermuda." A competitive RFP would ensure value for money, the statement continued — encouraging the Government to benchmark Bermuda's deal with comparable proposals. Mr Wight said the Chamber's board, along with many of its members, felt "strongly" that the new airport terminal was needed, citing "very high maintenance costs" along with the present terminal's vulnerability to hurricanes. As the island's primary link to the outside world, it would show that the island was "serious about tourism and international business". With three or four years before the completion of a new terminal, the chamber said that its necessity would not be in doubt by the time of completion. Noting the transfer of risks off the "overburdened" public purse, the chamber pointed out the payment model's similarity to the arrangement that brought the hospital's new acute care wing to fruition. "The decision to contract with a reputable third party to build a new terminal and maintain it into the future for Bermuda is a reasonable one in the chamber's opinion.
August 10. Rosewood Tucker's Point has again been certified as a "world leader of sustainable travel and tourism businesses." The recognition comes from Green Globe, which has 147 members in the Caribbean, North, Central and South America. The accolade puts the hotel in the top ten of those areas. Rosewood Tucker's Point first obtained the award in 2012, three years after it opened, and is the only member in Bermuda. According to a hotel press release, the certification process requires properties to follow a rigorous collection of 337 compliance indicators applied to 41 individual criteria in areas of sustainable management, social/economic, cultural heritage and environmental. Standards range from conserving resources to the incorporation of local culture to employee training regarding their role in environmental, socio-cultural, health and safety practices. "We are extremely honored to have been awarded the Green Globe re-certification yet again this year," said Paul Telford, the hotel's managing director. "The Facilities Management Team, spearheaded by Daniel Moore, Director of Engineering and Property Management, has been extremely diligent and I would like to thank them for all of their efforts in order to meet the rigorous assessment." To complete the certification process, members undergo an independent on-site audit to ensure that their sustainability efforts have been thoroughly inspected, explained Mr Telford. Obtaining the Green Globe certification is the culmination of more than $1 million in green capital investments at the resort. The hotel's green initiatives have included a wastewater treatment plant, solar hot water plant, seawater reverse osmosis plant producing up to 50,000 gallons a day and a thermal solar hot water system. "The majority of water throughout the property is produced by the Reverse Osmosis plant processing abstracted seawater and topped up by rainwater caught on our roofs," said Mr Moore. "When discharged throughout the drainage system, including over 60 estate homes, wastewater is pumped to the wastewater treatment plant, is reclaimed and diverted to a two-million gallon pond that is used to irrigate the golf course and croquet lawn. Additionally, Rosewood Tucker's Point hotel, private residence clubs and wastewater treatment plant have the capability to be powered 100 per cent independently during power outages from internal generation plants. Guests can take advantage of experiencing the hotel's ecological tours, cave exploration, guided kayaking tours and swimming in Bermuda's largest underground lake, named Church Cave. There are also active nesting areas throughout the property for the indigenous Bermuda bluebird. The hotel's "coffee chine" is thought to have the only three remaining Bermuda Coffee Trees on the island. Also, the kitchen utilizes herbs from the various gardens and all kitchen oil is collected and refined for alternative fuel around the property. It shares the 8th position across the Americas, including the Caribbean, and also shares the 6th position among the Caribbean members. The recent rise to the Top Ten is something I am very proud of," explained Moore. As a Green Globe certified member, Rosewood Tucker's Point is included on the association's sustainable travel website greenhlobe.travel. Businesses are displayed in alphabetical order with description, pictures, location and map, contact information and links to booking.
August 10. Visitor air arrivals increased by more than 10 per cent in the first half of the year, according to the Bermuda Tourism Authority. Figures released yesterday show a total of 201,084 visitors came to the island between April and June this year, compared to 192,699 during the same period last year. Both air arrivals and cruise ship arrivals went up year-on-year during the quarter, with the BTA reporting an 8.8 per cent increase in air visitor arrivals and a 2.9 per cent increase in cruise visitors. Combined with positive figures in the first quarter of the year, the island has recorded a 10 per cent increase in air visitor arrivals in the period since January along with a 5 per cent increase in cruise ship visitor arrivals. In total, 68,462 visitors flew to the island in the first half of the year for vacation — the most since 2008. In addition to increased arrivals, the new statistics showed a 2.2 per cent increase in per-person visitor spending in the first half of the year and a 4.4 per cent rise in hotel occupancy rates. While hotels were charging a slightly lower-than-average rate, the BTA reported that the increase of occupancy resulted in higher overall revenue for the hotels. Vacationers put more than $90 million into the local economy between January and June — 12.4 per cent more than the same period last year. And with increased air lift to the island, total air arrivals for the quarter rose from 71,972 to 75,730, despite a decrease in business travelers. David Dodwell, the chairman of the BTA, said: "It's the first time in eight years we have seen numbers like this in the first half of the year. I think the hard work is paying off. The BTA was essentially in the formation process in 2013, so it really didn't get up and running in its current form until 2014, and even 2014 was a beginning year. Some members of the team didn't come on board until later. We are really in our second year of operation, and we have seen growth since then. We are trying to be optimistic as we can be, but we don't want to be looking over our shoulders. We want to look ahead." Meanwhile, BTA board member Jessica Mello said that there was a natural lag in tourism between when the work was done and when the results can be seen, particularly when it comes to group business. "Groups book in advance, a year or several years in advance, and they are very important in filling that base hotel inventory," she said. "It's not until now that we are seeing the results of the work that has been going on for the last couple of years." While the number of visitors from Canada and the United Kingdom have both fallen, Ms Mello said the decrease was more than made up by an increase in visitors from the United States, particularly New York and New Jersey. "The Canadian dollar is having a big impact. The UK is not doing well right now and that's having an impact but, on the other hand, we have put a huge amount of effort in the New York area, and it is really making up for those down markets. What we really get excited about is bigger picture trends, longer term. We have had six months of positive results and we are really excited, but we are not going to sit and celebrate yet. We want to make sure it continues." Bill Hanbury, BTA CEO, said: "The second quarter data shows a solid recovery under way within Bermuda's tourism industry. Every key indicator is trending in a positive direction. In no uncertain terms, these two quarters of results are a reinforcement of the BTA's marketing and management approach. When you combine excellent business intelligence, strong marketing execution and a dedicated team of Bermudians working overtime to turn the economy around, this is the result. Stellar performance."
August 10. The public is invited to share comments, concerns and questions about the island's health system at a town hall meeting. The event is being organized by the Bermuda Health Council, which will also answer questions and clarify misconceptions. The meeting will be held at the Wesley Methodist Church Hall, Pembroke, from 5.30pm to 7.30pm on August 22.
August 10. A general consent form has been introduced for Bermuda Hospitals Board patients receiving routine medical care and non-invasive procedures. The form is an addition to the list of required consents presently in place for patients and will become mandatory for all patients "over time", according to a BHB statement. "In our mission to provide exceptional care and a healthy community, we want to ensure that you are informed about your needs and that we have your permission to provide the best options available for healthcare diagnostics and intervention at the earliest possible opportunity," BHB CEO Venetta Symonds said. "In fulfilling this mission we also need to know that every person that has been afforded our medical services or treatment, has given their permission to receive it and been apprised of their right to refuse it. We understand that no one wants to feel forced into healthcare decisions especially as these are often needed at times when we are most fragile and vulnerable." The statement added that while it had traditionally been "assumed that anyone attending the hospital wanted treatment", the form now formalizes this relationship. The general consent form covers routine medical care and non-invasive procedures. Simply put it is your consent to care." BHB has always required consent forms for invasive procedures such as surgery and blood transfusions, and use of these will continue. At present, patients of the Diabetes Respiratory Endocrine and Metabolism Centre, Fracture Clinic and Allied Health Services are asked to complete it if they want treatment or services. Members of the public do not have to sign the form but failure to sign it means no treatment or services will be given. Processes are in place for those who are vulnerable and unable to sign on their own behalf. These will be extended and used with this additional consent form.
August 10. Salt Rock, the historic home of the former Salt Rock Grill in Somerset is up for sale with a price tag of $1.1 million. And Watford Real Estate, which is handling the sale, said interest had already been expressed in the listed building, which has operated as a pub or restaurant for more than 100 years. Isabella Hall, owner and president of Watford Real Estate, said the upcoming America's Cup, which will be based in the West End, was an ideal opportunity for an entrepreneur to breathe new life into the old building — or for redevelopment into a family home. She added: "It's zoned residential 1, with commercial use. There is change of use permitted. Because of the America's Cup, it would be great if new owners could keep the restaurant and perhaps build a little bed and breakfast to the side." The site, formerly the Loyalty Inn, which closed and put up for sale 1997, sits on a 0.62 acre site with views over the waters of Mangrove Bay. Ms Hall said, although Salt Rock shut two years ago, her firm had only had the property listed for around six weeks. She added: "There is a lot of interest, but it does require a substantial investment in upgrading it. The America's Cup would be a great opportunity to kick-start a business, but locals would always use it as it was always a go-to for local people. The locals would very much like a restaurant in there, perhaps a simpler style of restaurant — maybe barbecue because there is a fantastic terrace with a view. It's a great property and it's sad to see it unused. A new lease of life is what it requires." The Royal Gazette reported in 2005 that Salt Rock Grill had been given planning permission to build seven new tourist units, a reception area, conference room and pool next to the existing property. The property, owned by a family trust, can be viewed at watfordrealestate.bm. For more information, or to view the property, phone 234-0020.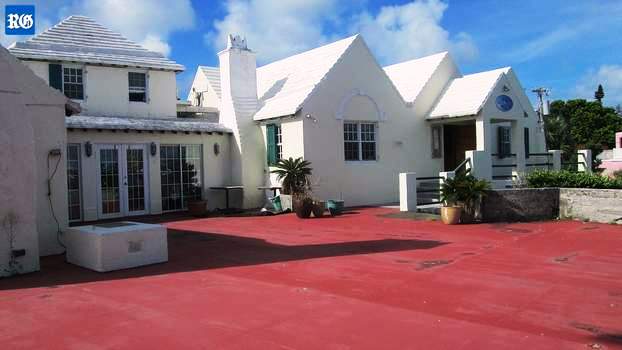 Salt Rock
August 9. Death of 6th Duke of Westminster, one of the world's richest men, whose assets included all the hundreds of Bermuda-registered Grosvenor companies. They control £12.5bn of property around the world, with assets including its historic estate in Mayfair and Belgravia, as well as the Liverpool One shopping complex. With Brexit, there were some losses. Hugh Grosvenor, a godfather of a son of the Duke (a future King) and Duchess of Cambridge, became the 7th Duke of Westminster as the youngest child but only son of the late 6th Duke, 64, who was a close friend of Prince Charles and his family.
August 9. As Bermuda weighs the pros and cons of advancing plans for a new airport terminal, one of the airlines that flies to and from the island is in no doubt that improved facilities make a difference for travelers. JetBlue, which serves the island from New York and Boston, has upgraded its home terminal at JFK International Airport with a variety of technologies, including self-service check-in terminals, weigh scale tables where customers can quickly repack their luggage, and self-drop bag facilities. The new-look lobby area at JetBlue's T5 terminal was officially opened last month. In a statement, the company said: "Our view is that the airport experience is just as important as the on-board experience." The Bermuda Government is in the process of securing a deal to build a new terminal at LF Wade International Airport. When asked if new airport construction and refurbished facilities tend to boost visitor numbers, a spokesperson for JetBlue, which is not involved in the Bermuda project, said: "Airports that offer an excellent experience and amenities can help give a destination great word of mouth and complement the experience the destination has to offer. The travelling public expects a top-notch experience during their check-in and during the wait for their flights — it should be a stress-free process to get their seats or check a bag, and there should be comfortable seating at the gates and great restaurants and shops to visit. A great experience benefits the traveller, but it also benefits the airport with higher revenues." JetBlue was formed in 2000 and now has 925 daily flights across the US, Caribbean, Central America and South America. Its inaugural flight between New York and Bermuda was in May 2006. For the past ten years the company has flown regular services between the island and New York and Boston. Robin Hayes, JetBlue's chief executive officer, speaking at the Caribbean Tourism Organization's state of the industry conference in Curaçao last October, highlighted the impact that high airport taxes and charges can have in dissuading passengers and airlines from flying to certain destinations. "Regulation factors into our route planning decisions, and so does the tax burden our customers face when buying aeroplane tickets. There is a wide range of passenger tax regimes across the region. I would encourage those of you who have influence in this sphere to carefully consider how taxes are levied and to use this option sparingly. At JetBlue we are very much thinking about the relative tax burden on our customers as we allocate capacity. Between US and foreign taxes and fees, travelers can easily be hit with an extra $150 on top of their airfare — that could be an entire extra hotel night. Contrast that to the average JetBlue airfare for the first six months of this year which was just $171. We would rather customers have more money in their pocket to spend when they arrive in your communities." His comments to tourism leaders were pertinent for Bermuda, where airport departure tax was increased in March 2015 from $35 to $50, followed last August by a further hike that took the maximum total departure tax to $78. JetBlue maintains its view on the possible impact of additional taxes and charges. A company spokesperson told The Royal Gazette: "JetBlue considers a high tax burden on customers detrimental to the demand for travel." With Bermuda hosting the 35th America's Cup next year, JetBlue is keeping an eye on demand from customers seeking to fly to the island, but said it was not in a position to say whether it is considering increasing its airlift to Bermuda for the event in May and June. A spokesperson said: "While we can't share our future capacity plans for competitive reasons, we do continually monitor the different markets we serve and look for ways to meet that demand by offering the right capacity in any given season. It's exciting that the America's Cup will be in Bermuda, and we will be keeping an eye on demand on our routes from Bermuda to New York and Boston as the event approaches. We look forward to flying sports fans in for the big event."
August 9. Bermuda's economy cooled slightly in the first quarter of this year, despite a pick-up in household consumption and construction activity. The Department of Statistics today released figures which showed that the island's gross domestic product contracted 0.6 per cent in real terms — that is, after inflation was taken into account. The setback comes after five successive quarters of real GDP growth that lifted the island out of a six-year recession. GDP, a measure of the island's economic activity, totaled $1.643 billion for the first three months of the year, up from $1.634 billion in the same period of 2015. Household consumption rose by $29.2 million from the first quarter of 2015, or 2.4 per cent in real terms, as consumers spent more on food in stores and restaurants. Construction industry activity grew by $21.6 million, boosted by higher spending on residential construction and the refurbishment of commercial space. Overall, investment in fixed assets increased by 4.2 per cent after being adjusted for inflation. However, a growth in the amount the island paid for imported goods and services weighed on GDP. The net trade surplus fell by $31.9 million, due mostly to higher payments for imports of goods and services. Imports of services increased $11.4 million reflecting higher payments for telecommunications services and reinsurance. Imports of goods rose by $10.2 million as more iron and steel was brought in. Exports of services fell by $9.1 million as fewer fees and commissions were received by financial institutions from non-residents. In real terms, the net surplus on trade in goods and services decreased 8.7 per cent.
August 9. Bermuda's current-account surplus narrowed in the first quarter mainly due to a slump in investment income. The island recorded a surplus of $121 million in the January-through-March period, down by $99 million from the same period last year. The investment income recorded by residents and companies based in Bermuda fell by $66 million and was the main reason for the shrinkage of the surplus. Services transactions realized a $33 million surplus, while the deficit of the goods account widened by $6 million to $219 million. In its commentary on the Balance of Payments figures, the Department of Statistics said increased payments and lower receipts relating to business services contributed to the fall in the current-account surplus. Year over year, the value of imported goods rose 2.8 per cent to $223 million. This increase was due mostly to a $12 million increase in imported goods from Bermuda's largest trading partner, the US. In contrast, imports from Canada fell by $6 million while imports of goods from the Caribbean region fell by $3 million. Among the commodity groups, the increase was reflected primarily in the imports of basic materials, and food, beverages and tobacco, which rose $5 million and $4 million, respectively. In contrast, imports of finished equipment contracted by $5 million during the period.
August 9. The PGA Club Professional Championship of Canada will be played at Port Royal Golf Course in November. The tournament will form part of a nearly three-week festival of golf that runs into December and also includes the Gosling's Invitational and the Bermuda Goodwill. Sponsored by Titleist and FootJoy, the PGA event will take place from November 21 to 24. The Gosling's, which this year will be split between Belmont Hills Golf Club and Port Royal, runs from November 27 to December 1, with the Goodwill wrapping things up from December 5 to 9. "We're delighted to add this prestigious tournament to Bermuda's golf calendar for 2016," Pat Phillip-Fairn, of the Bermuda Tourism Authority, said. "The event will bring more than 100 golf professionals and valuable room nights in November, the start of Bermuda's peak season for golfing and sports experiences generally." The introduction of the club professionals' event means that the PGA of Canada will be visiting the island twice in a matter of weeks. The PGA of Canada Team Golf Championship will return to Mid Ocean Club for a second year in October, with that event due to run from the 24 to 27. "We couldn't be more pleased to take the PGA Club Professional Championship of Canada to Bermuda and the wonderful venue of Port Royal Golf Course," Steve Wood, the PGA of Canada president, said. "The PGA of Canada and Bermuda have a tremendous working relationship and this latest partnership further cements that fact." Phillip-Fairn added: "Bermuda has developed a very positive relationship with the PGA of Canada. To have them bring another event here less than a year after the inaugural Nike Golf PGA Team Championship of Canada reflects that bond, and is verification of Bermuda's quality golf product. We're proud the BTA's golf strategy and the work of our partners within the golf industry here on-island are delivering such great results." In addition to the PGA of Canada events, the Pro Sports World Championship of Golf will also take place for the first time next month, with famous ex-players from the worlds of baseball, basketball, American football and ice hockey competing at Port Royal from September 8 to 10.
August 9. Shelley Pearson missed out on qualifying for the singles sculls A/B semi-final after placing fourth in her quarter-final heat at the Olympic Games today. She needed a top-three finish to achieve her goal of a berth in the B final, finishing four tenths of a second behind third-placed Carling Leema of Canada. Pearson will now have to settle for a place in tomorrow's C/D semi-final at Lagoa Rodrigo de Freita. The 25-year-old finished the 2,000 metres race in a time of 7min 34.90sec. Fie Udby Erichsen of Denmark, a silver-medal winner at the London Olympics in 2012, won the race in 7:33.24. Micheen Thorncroft of Zimbabwe came second in 7:34.38. "Those were athletes I have a lot of respect for and I was super excited to be as close to them as I was," Pearson said. "I'm bummed I didn't get through and it wasn't quite enough but it was one hell of a race. The conditions were a much better than Saturday [in the heats]. It was still quite choppy but everyone handled them quite well."
August 9. Three people suspected of having Zika after returning from overseas are being tested for the virus. According to a spokeswoman for the Ministry of Health and Seniors, results are "pending" and when information arrives it will be shared. The spokeswoman noted that four other suspected cases reported to the Epidemiology and Surveillance Unit in the past three months had come back negative. "The Department of Health is most concerned about the possibility of Zika being imported to Bermuda from an area where individuals have traveled. It is of special importance that pregnant women are protected from the virus. Generally, we should all make every effort to avoid mosquito bites abroad, and wear repellent for three weeks after return to protect the community, even if feeling well. This is because four out of five people who carry the virus have no symptoms. When travelling generally, everyone should protect against mosquito bites, especially pregnant women, and report any illness to a doctor." She added that women who are trying to get pregnant or are pregnant should avoid affected areas, if possible. But she stressed that prevention of bites is key to preventing onward transmission. "People should call Vector Control at 278-5397 if they are being bitten or if they see a potential breeding area. Vector Control's team is always checking properties to control mosquitoes to reduce the risk of onward transmission through mosquito bites. When there are suspected cases of Zika, the Department of Health contacts those persons and gives them advice on preventing mosquito bites and other precautions. Vector Control focuses extra attention on a three-mile radius of the area in which the person lives." According to the spokeswoman, the island's "robust" Vector Control programme aims to reduce mosquito breeding sites all over the island. The public can assist by tipping out any amount of standing water, even very small amounts, from flower pots, buckets, tires and other debris. In addition, the public are asked to wear mosquito repellent, both at home and abroad, choosing EPA-registered repellents with DEET, Picardin (also known as KBR 3023, Bayrepel, and icaridin), oil of eucalyptus, or IR3535; wear light-colored clothing that covers the arms and legs in order to protect against mosquito bites; use screens on doors and windows; travelers visiting a place where Zika is known to circulate are advised to wear mosquito repellent during their trip and for three weeks after returning home; in addition to using repellent, travelers visiting a place where Zika is known to circulate are advised to take precautions against sexual transmission for six months, even if asymptomatic; women who have traveled in a Zika area or whose sexual partner has traveled in a Zika area should seek medical advice before becoming pregnant." For more information, visit www.youtube.com/watch?v=770E9t5fQmY, live stream CITV on your computer at www.gov.bm/whats-on-citv or watch CITV from 8am to 9am, 4pm to 5pm, 8.30pm to 9.30pm and 4am to 5am, or visit www.gov.bm/zika-virus. The travel clinic operates by appointment only and can be reached at 278-6460.
August 9. David Burt, the Acting Leader of the Opposition, last night chastised the ruling party for failing to concentrate on policies for the people over bettering its communications. Mr Burt's address was billed as responding to a July 25 national address by Michael Dunkley, the Premier, shortly before Cup Match. Mr Burt said that the Progressive Labour Party had learnt from its mistakes since losing the Government — and would deliver an administration that listened to the concerns of the people if successful in the next General Election. The statement focused on the ills of ordinary Bermudian families, who Mr Burt said had been left out in the One Bermuda Alliance promise of an economic turnaround. The Shadow Minister of Finance said that stagnant wages, seniors left with a choice between medicine and food, and a scarcity of jobs had become "the reality of life for hardworking Bermudian families", causing many to emigrate in search of opportunities. It was a chance for Mr Burt to take a shot at the OBA's concessions to business, with another charge that the plan for a new terminal at L.F. Wade International Airport would benefit the Canadian contractor, Aecon, at the island's expense. "Meanwhile, our children attend crumbling public schools and Bermudians struggle to pay their monthly power bills while earning less than 1 per cent interest at local banks," Mr Burt continued. While Mr Dunkley had commended the Government's record on senior citizens, Mr Burt said the elderly were paying more even as their first pension increase in five years fell short of inflation. Touching on recent concerns within the OBA over the party's image and connection with ordinary Bermudians, Mr Burt said the ruling party "might" have a communications problem. "But more importantly, they have a policy problem," he said. With an election approaching, Mr Burt said the Opposition had spent the last four years "learning from our mistakes in Government". The PLP, he said, had been receptive to the public and vigilant in holding the Government accountable. "We have a plan, Vision 2025, to position Bermuda and Bermudians to meet the challenges of the rapidly changing global economy. As a people, we can work together to reform our education system, empower Bermudian entrepreneurs, and to build a diversified 21st-century economy that works for all."
August 9. For this Bermudian-owned restaurant, winning the Bermuda Tourism Authority's Best Fish Sandwich competition has bought nothing but success. One year later and Rosa's, located on Front Street, is still serving its popular sandwich daily, keeping up with demand. Lindsay Durham, the manager at Rosa's, told The Royal Gazette: "The Bermuda's Best Fish Sandwich competition was an amazing experience and I was really blessed that my family's recipe was able to beat 44 other restaurants. "We don't have an exact number of how many fish sandwiches we've sold over the year, but what I do know is that Pamela Quarterly, the owner, made a report and we found out that the fish sandwich from August to December sold the most out of any item between Chopsticks and Rosa's, and it is still the most popular item we have on both menus." The restaurant even took their famous fish sandwich to Cup Match this year, setting up a stall on the Somerset Cricket Club grounds on both Thursday and Friday. "The first day was slow so we were a little worried, but the second day proved much better. We had a lot of people visiting and we sold a lot of fish sandwiches." The restaurant participated in the America's Cup event held on Front Street last year and, according to Ms Durham, it was the most-visited stand, selling a record amount of the giant sandwiches, which are stacked between two slices of homemade raisin bread, tartare sauce spread, topped with fresh local snapper, cheddar cheese, coleslaw, lettuce, tomato and onion. Asked whether people were sceptical about a Mexican restaurant winning the competition, Ms Durham said "you would simply have to try it out for yourself. It is a Mexican restaurant, but I'm Bermudian and I created it, not our chefs," she explained. "It does have that Bermudian flare to it — we went to Zaki's Bakery and got homemade bread from there, used snapper and were able to create an awesome fish sandwich." A customer, Paul York, was trying out the sandwich for the first time and gave us his first impressions. "This is definitely the best fish sandwich I've ever had. I am thoroughly enjoying this meal with my co-workers. I will definitely be coming back to Rosa's. I have to say I may not be able to finish the whole thing but I will take what's left over back home with me and enjoy it there. A great fish sandwich; thank you Rosa's."
August 8. Time will be restored at the Royal Naval Dockyard as part of a $200,000 restoration project for one of the most recognizable landmarks in Bermuda. It will mean a new lease of life for the electrical mechanisms of the clocks at the Clocktower, which were put in 30 years ago to show the time and the high tide time but have now worn out. Andrew Dias, general manager of the West End Development Corporation, said: "The motors of that period 30 years ago have to be replaced and the hands and dials also need to be replaced. "The northern tower contained a single dial and one hand to show the time of High Tide but these also have to be replaced and an automatic clock controller will operate the settings of the hand," Mr Dias said in a press release. According to Mr Dias, it is the latest in a long list of investments Wedco is making in the Royal Naval Dockyard, including a $900,000 renovation of the Glassworks building, a $500,000 makeover of the Sail Loft and $1 million on the North Basin building. "A professional horologist from Great Britain assisted with information on the clock mechanisms, but it is intended that the replacement work will be done by the Electric Time Company of Massachusetts, who made the most modern tower clock in Bermuda at the headquarters of Chubb Insurance on Pitts Bay Road," added Mr Dias "The Dockyard clocks are a major feature of the Great Eastern Storehouse and need to be see in a working condition." The original clock and one of the original dials are now on exhibit at the National Museum.
August 8. A Bermuda delegation will tomorrow attend a major conference on captive insurance in the US. The VCIA 2016 Annual Conference is being held in Vermont. Grainne Richmond, president of the Bermuda Insurance Management Association and vice-president at insurance management firm Dyna, said that Bermuda and Vermont. the third largest captive domicile in the world, have close ties through the industry. She added: "Bermuda should be represented prominently because of that business relationship on the captive side. Also, Vermont is a very large lobbying group on legislation that might be coming out of the US and which could impact the captive space in Bermuda. They are still our competitors, there is no way of getting away from that, but it's important we work together." The Vermont Captive Insurance Association conference, which starts tomorrow in Burlington and runs until Thursday, will also be attended by the Bermuda Business Development Association, which will run a booth at the event. Ms Richmond said: "It's a worthwhile exercise even just for the whole networking and engaging opportunities. There are a lot of decision makers at the conference and it's good to get in front of them. And it does seem to get a larger contingent of professionals that work in the captive space." Ms Richmond added that the event could also lead to more business for Bermuda — although that was not the main reason for attending. She said: "If opportunities come Bermuda's way we won't say no, but we don't like to go into someone else's house and steal their dinner." Bermuda companies who will be represented at the event include Aon, Kirkway International, Liberty Mutual, R & Q Quest Management, Randall & Quill and Willis Towers Watson.
August 8. A newly released United Nations-funded report has looked into the possibility of naming high seas locations — including the Sargasso Sea — as new World Heritage sites. The report, titled World Heritage in the High Seas: An Idea Whose Time has Come, looks into the possibility of selecting oceanic areas in international waters as heritage sites. A total of 47 marine sites are protected under the World Heritage Convention, such as Australia's Great Barrier Reef, and each reside within the jurisdiction of at least one nation. While the report stops short of officially proposing a list of potential sites, the report notes five areas including the Sargasso Sea as "illustrating the need for, and urgency of, the identification and protection of World Heritage Sites in the high seas", highlighting how each could earn the criteria of a World Heritage Site by having outstanding universal value. It lists possible ways in which Unesco could potentially list high seas locations as World Heritage sites through amendments or a "bold interpretation" of the 1972 World Heritage Convention.
August 8. A power outage in Atlanta has led to the cancellation or delay of numerous Delta flights worldwide, including three serving Bermuda today. Delta flight 437 from New York JFK, which was scheduled to land at LF Wade International Airport at noon, is now said to be landing at 2.36pm. Flight 561 from Boston will land at 4.20pm instead of 1.22pm, and flight 656 from Atlanta is coming in at 5.06pm instead of 1.22pm. These were the times posted on Delta's website as of 1.20pm, and those awaiting flights are advised to keep watch online, as the schedule may continue to change
August 8. Ewart Brown, the former Premier, has welcomed the lawsuit filed against the Bermuda Police Service by Mahesh Reddy. Stating he would continue to "fully support" his colleague at Bermuda Healthcare Services, Dr Brown said he was confident the Supreme Court would rule that the police's actions were "both arbitrary and illegal. I welcome Dr Reddy's legal action against the BPS, not only because he deserves to be vindicated and compensated for his wrongful arrest and the distress that has been caused to himself and to his family, but also because the action seeks to uphold the most basic liberties of all Bermudians," Dr Brown said in a statement tonight. The Royal Gazette reported last month that a lawsuit had been filed against the BPS on behalf of Dr Reddy, who was arrested and questioned in May, and his home searched, as part of what police described as a financial investigation. "As I have made clear, I regard the harassment of Dr Reddy as an affront to the rule of law," Dr Brown continued. "His summary arrest and the warrantless raid of his home were unnecessary, unfair and unjust. I am confident that the Supreme Court will find the police's action to have been both arbitrary and illegal. There is no doubt in my mind that he has been so callously targeted by the police because of his association with me. Dr Reddy's arrest is part of a long pattern of harassment directed at those around me, and it is yet another example of the lengths to which my opponents will go in their effort to justify the waste of millions in taxpayer money in a misguided 'investigation' that has failed to identify any wrongdoing. I have supported and will continue to fully support Dr Reddy in this action, as I would any colleague placed in unjustified jeopardy because of her or his association with me or my activities on behalf of the residents of Bermuda. I was pleased but not surprised to learn that Chief Justice [Ian] Kawaley has ordered that Dr Reddy's claim against the BPS should proceed. Dr Brown added that because of the "serious concerns" underlying the lawsuit and "the significant issues it presents", Dr Reddy's legal team was being advised by Lord Goldsmith, QC, a partner at the law firm Debevoise & Plimpton and a former UK Attorney-General.
August 8. Flora Duffy warmed up for the Rio Olympics in the best possible way with victory at yesterday's Montreal ITU Triathlon World Cup. The Bermuda triathlete, who presently tops the world rankings, covered the sprint distance course in 1hr 3min to pip nearest rival Ashleigh Gentle, of Australia, for the $7,500 winner's purse. Taylor Knibb, of the United States, rounded off the podium in third. "It kind of came as a bit of a surprise," said Duffy on her first World Cup triumph of the season and first since 2012. "I came in here pretty tired from a big block of training for Rio. "It definitely hurt out there, but I am glad with how it went. It just did not feel too pretty." Duffy led wire-to-wire, only throttling back as she neared the finish line to savor yet another victory in what has truly been a remarkable season for the two-times Xterra World Champion. She completed the 750 metre swim in 10:10 and exited the water just behind Summer Cook, of the United States. Duffy got out of transition first and never looked back. Duffy built up a healthy lead on the bike, slowed to allow Knibb to join her for a while, and then powered away again towards the end, finishing the four-lap 20km course in 33:25. This gave the world No 1 a commanding minute lead going into the 5km run which she completed in 17:43 to clinch the gold medal and, more importantly, boost her confidence heading into Rio where she is among the medal contenders. This marks the multiple Bermuda Female Athlete of the Year award winner's third straight Olympic appearance. Duffy was among an elite group of Olympic-bound athletes that used yesterday's event as a final dress rehearsal for the Rio Olympics, which officially got under way on Friday with the opening ceremony. Meanwhile, also flying Bermuda's banner in Montreal were promising juniors Tyler Smith and Erica Hawley. Smith finished 31st in a formidable field of 48 starters in 1:03:41. Hawley was eighth among the 41 finishers in 1:13:06.
August 8. Services offered to seniors have seen "significant improvements" over the past year, according to the manager of the Ageing and Disability Services. Keeona Belboda told The Royal Gazette that while the service still received complaints about rest and nursing homes, "it was not to the degree it was a year ago. We have seen improvements. The complaints we get the most now is that there is inadequate food being prepared or how a particular family will feel that certain staff are not attentive to providing the care that they should be." However, she said food complaints had decreased overall in the past year because all rest and nursing homes "should keep a two-week supply of food in stock and our nutritionist has been working with some of the homes and assisting with their menus and what they should be preparing". The team has also seen "significant improvements" when it followed up on last year's August residential care home inspections in March, Ms Belboda said. "That is due to the huge groundwork we've been doing. We've been getting out there. When abuse complaints get called in, we go out right away." The ADS, formerly known as the National Office of Seniors and Physically Challenged, came under fire last year after an investigation by this newspaper exposed senior abuse cases that had slipped under its radar. When the office was renamed in September, Ms Belboda pledged to get tougher on seniors abuse with harsher penalties and stricter admission laws for carers among the proposed legislative and regulatory amendments. Although legislative amendments are still "a work in progress", Ms Belboda said the team now had a policy analyst on staff. "There has been a consultation process. The Senior Law Reform Committee did significant work on the senior abuse register act and we're building upon that." Ms Belboda, who is also the registrar for seniors abuse, added: "Our big thing is the improvements to residential care homes, us liaising with the administrators to get more buy-in for improving their services, as well as the current amendments to the legislation that are under way." According to Ms Belboda, ADS has been enforcing monthly meetings with all the residential care home administrators. Topics covered include nutrition, environmental health, nursing and proper record-keeping and have been well received, she said. "We find that the administrator meetings are really beneficial in terms of just informing them of the standard they should be operating at." Ms Belboda said the registration of homes with the ADS has also progressed, details of which can be found on the Bermuda Health Council website. "We really needed to have some clarity and the public needed to have some confidence in what currently exists," Ms Belboda said. "We wanted to be able to publish in a place where we can inform the public what's out there based on who meets conditional criteria versus who meets full registration." Ms Belboda said 11 of the island's 22 homes were conditionally registered and one was not registered in September last year. Now, only five homes are conditionally registered, "meaning they have to meet certain requirements to be fully registered". Ms Belboda explained that the homes had been given a year to get up to standard and added: "Right now the homes are meeting minimum standards but we are looking to enforce best practice standards as of April 1, 2017." Improvements had also been made to ADS's internal policies, she said. "We've been doing a much better job in terms of getting back to the public and addressing the concerns in a timely manner." However, Ms Belboda said some people still had misconceptions about ADS's role regarding placement. "We do not have a placement component," she said. "We advise families on the needs of their loved ones, on the facilities that will best facilitate that care and we make recommendations but it is the family's responsibility to place and if a family wants a client to move from one residential care home to another, again, that is on the family to orchestrate that move." For more information, call ADS on 292-7802 or the Ministry of Health on 278-4900.
August 8. An angry British Airways customer has urged the Bermuda Government to consider replacing the "dreadful" airline for direct flights between Bermuda and London. Annie Sousa condemned BA's service after enduring a compensation battle with the company over a cancelled flight from Gatwick to L.F. Wade International Airport. After visiting Britain on a business trip, the insurance broker was scheduled to take the 3.05pm flight on Wednesday, April 27. However, after reaching the airport and checking in at BA's business lounge, she was informed that the flight had been delayed. In the coming hours, she claimed that BA staff gave contradictory accounts when asked by different passengers about the delay. "I was told that the engine had been fitted with a new part, while a friend was told that our plane was being used by another flight," she said. Eventually, at 4.45pm, the flight was cancelled without explanation and the carrier booked its passengers into a nearby hotel. Upon arriving at her hotel room, Ms Sousa checked her e-mails and discovered that BA had sent her a message at 11.40am informing her that the flight had been cancelled. After waiting for 24 hours, she took the 3.05pm flight back to Bermuda, where Ms Sousa had to deal with the knock-on effects of returning to the island a day late. "In addition to the inconvenience and aggravation of not getting home as planned, I had to pay a $100 ticket because I was a day late in picking up my car from the long-term parking, had to pay an extra day's boarding for my dog, inconvenienced my employer and missed a very important meeting," she said. When she contacted British Airways after the ordeal, the carrier refused Ms Sousa's request for €600 (about $665) in restitution. In a letter, it said: "[The flight] was cancelled because of aircraft damage which wasn't caused by us and prevented the aircraft operating as scheduled. Under European Union legislation, I'm afraid we're not liable for a compensation payment in this situation." Ms Sousa pointed out that, according to EU regulations, air passengers must be financially compensated if their flight is cancelled or overbooked, unless the cancellation is because of extraordinary circumstances beyond the airline's control. However, she said her repeated requests for BA to prove either extraordinary circumstances or damage caused by another party had fallen on deaf ears. "I have received a couple of e-mails with condescending platitudes, but denying my request for compensation and ignoring my request for proof," Ms Sousa added. The Devonshire resident pursued the matter through the online legal service EU claim, and will receive $460. "BA have deceived me by accepting fault and agreeing to compensation through this channel but not doing so directly. "That's the way I see it," Ms Sousa said. "This is neither fair nor just and is an appalling way to treat their customers." Ms Sousa e-mailed tourism authorities this week to share her frustrations over British Airways, the only airline that offers direct flights between Bermuda and Britain, as well as contacting The Royal Gazette. "The whole of Bermuda needs to know what service British Airways gives to its customers," she said. A spokesman for the tourism ministry did not offer a response to the matter. A BA spokeswoman said: "British Airways has contacted the customer relations team at its corporate headquarters overseas for review."
August 8. An electrical fault in the air conditioning at The Royal Gazette brought operations to a halt this afternoon. Employees evacuated the premises after the fire alarm went off at about 4pm. "It was a fault in the air conditioning," a senior fire officer at the scene said. "We have used a thermal imaging camera and there is no sign of fire. We have shut down the air conditioning system and it appears that the smoke is dissipating." He added that the problem was confined to the basement area of the office. Staff were evacuated as a precaution. Dexter Smith, the Editor, said: "The safety of our employees must come first and foremost. After confirming that everyone was accounted for, and given the timing of the incident, it was determined that non-essential staff should make their way home. While there was a short interruption to our normal working day, we can assure our readers that the newspaper will be available as normal on Tuesday." Mr Smith added: "We would also like to thank the Bermuda Fire & Rescue Service for their fast and efficient response to our fire alarm. It was a minor issue, but it is reassuring to know that our firefighters are always there to help if needed."
August 8. An American citizen has been remanded into custody after being charged in Magistrates' Court with money laundering. Zoe Bennett, 24, from New York, faces a single charge of possessing $40,870 American and $100 Canadian representing the proceeds of criminal activity on August 4. She was not required to enter a plea as the matter has been sent to the Supreme Court. No bail application was made. Magistrate Khamisi Tokunbo remanded Ms Bennett into custody until September 1, when she will appear before the higher court.
August 6. Shelley Pearson opened Bermuda's contribution to the 2016 Olympic Games in Rio de Janeiro with a sterling third-place finish in the women's single sculls this morning. The 25-year-old battled through the choppy waters of Lagoa Rodrigo de Freita in the final heat to complete the 2,000 metres race in 8min 22.15sec. Although good enough for only third, which carries qualification to the quarter-finals on Tuesday, Pearson's time was the sixth fastest of the 32 scullers in the competition and might have won all but two of the six heats. The Bermudian, who sprang to local notoriety last year by appearing for Oxford in the first Women's Boat Race to be contested on the Thames, was last of five after the opening 500 metres. But she battled backed past the fast-starting rower from Trinidad & Tobago, Felice Chow, and into second place before losing an exciting tussle with Ekaterina Karsten, of Belarus, who clocked 8:21.21. Emma Twigg, a medal favourite from New Zealand, won the heat in an impressive 8:17.02, but the fastest of the lot was Kenia Lechuga Alanis, of Mexico, who cut through the Lagao waters in 8:11.44 in heat one.
August 6. Long jumper Tyrone Smith carried the Bermuda flag as he led the island's athletes during the opening ceremony for the Olympic Games in Rio de Janeiro last night. Our hopefuls wore red Bermuda shorts as they waved to the crowds, with commentators mentioning our only medallist, Clarence Hill. Shelley Pearson and Julian Fletcher will be the first members of Team Bermuda to compete against the world's best, competing in the rowing and 100m breaststroke respectively.
Bermuda team at 2016 Olympics in Rio de Janeiro
August 6. Designs for the highly anticipated St Regis hotel in the East End are now before the Department of Planning. Building the 122-key St George's resort is expected to take three years, as part of the development's first phase. Assuming that a licence is granted, it will include a casino — along with a restaurant, back-of-house facilities, and two residential buildings containing a total of 28 condominiums. Meanwhile, a redevelopment of St George's golf course, which has been closed for years, is listed as phase two. The third phase includes five residential buildings, bringing the seven residential complexes to a total of 98 apartments with a range of two, three and four-bedroom units. The application, which can be viewed at the department's offices in the Dame Lois Browne-Evans building, states that the proposed hotel will front directly on to the south and west sides of Barry Road, near St Catherine Beach in Gates Bay. Guest rooms will range from 600 square feet up to 3,000sq ft. A reception area will stand in the centre of the complex, while bars, restaurants, function rooms and back of house facilities will occupy the south. Hotel rooms will be placed at the development's north end. Amenity buildings will be two to four storeys high, while hotel accommodation will be arrayed across a four or five-storey building. Plans include a three-meal restaurant, seating 75 customers, as well as a bar with a further 32 seats, and a poolside grill on a terrace overlooking the beach and guest pool. Spa facilities will be incorporated into the Fort Albert site. The hotel's main buildings are set to be erected to the southwestern side of Barry Road. However, the plans show the road itself being realigned to the rear of the hotel. The documents note that an earlier draft had the hotel closer to the beach, but the development was moved back. An Environmental Impact Report included in the application states: "With regard to the potential impact of the hotel on St Catherine Beach, its historical connotations mean that encroachments on to it are undesirable." In particular, the hotel's deck would have encroached, according to the original proposal. The development got moved farther west and south, beyond the existing road, in response to comments received during the scoping exercise. The move back from the beach will "significantly reduce the overbearing effect on the beach that they may have had". Public access to the beach — an area of concern for residents — will be maintained, with the public able to walk to the beach using a path on the northern side of the hotel, near the base of Fort St Catherine hill. Noting the stipulation included in contracts between the Bermuda Government and the hotel developer requiring public access to the beach, the EIR states: "The developer has provided public parking and a beach access walkway to the north of the hotel. The parking area will provide 13 motorcycle spaces with car spaces available in the hotel parking areas. There are no indications that access to any part of the beach will be prevented. The formalizing of beach access arrangements will provide reassurance that public access is available." The Desarrollos Group, the developer behind the $150 million project, was formally granted a 262-year lease for the St George's property earlier this year after more than two years of discussions. However the Opposition have questioned the level of public consultation. Planning documents were submitted on Monday, and advertised yesterday.
August 6. The investigation into last month's fire on Front Street has entered its second phase, with the Bermuda Fire and Rescue Service beginning to analyze materials recovered from the scene. A service spokesman said phase two was under way last week with site visits to collect samples. Witnesses to the blaze are also now being interviewed. John Wight, the president of the Bermuda Chamber of Commerce, said the fire should prompt business owners to question whether their disaster recovery plans were in order. He told The Royal Gazette: "The fire highlighted for many businesses, whether retail or not, how important it is to plan for an event such as this, however unlikely they are. "Owners of businesses in Bermuda should be asking themselves, what would happen to my business if a similar tragedy struck? While fires are rare in Bermuda, principally due to the construction materials used to build our homes and commercial buildings, the fact remains that they do occur and can cause tremendous and sometimes fatal consequences to a business. In addition, over the past 15 years in Bermuda there have been similar events such as hurricanes and prolonged power outages that had similar but less severe consequences to a business." Speaking on how businesses were affected in the aftermath of the fire, Mr Wight added: "Businesses on Front and Reid Streets were affected differently following the Hamilton fire. For some businesses, access to their offices was restricted on the day of the fire while the fire service did its job putting the fire out, and they were back in business the following morning. For certain other businesses that had fire and smoke damage, it may be several weeks before they can return to their premises and for others the damage was catastrophic and their futures uncertain."
August 6. Environment minister Cole Simons says the Bermuda Government will consider legislation banning glass bottles on beaches if the problem of broken glass persists. He spoke after several people were reportedly cut by discarded glass on Bermuda's most popular beach, Horseshoe Bay, after the Cup Match weekend. The minister reminded the public to dispose of glass responsibly, adding: "The Department of Parks, using a BeachTech groomer, groomed Horseshoe Beach before Cup Match, every day during Cup Match and subsequently twice since that time. The appeal for the public's help in maintaining our public beaches is an important one, and the department is grateful for the role the media plays in publicizing this." However, no answers were provided when The Royal Gazette asked whether the Department of Parks, under his ministry, would be making immediate efforts to ensure the beach was safe, whether they were considering closing it temporarily, and whether extra trash cans were needed on the beaches. Mr Simons told us: "The Ministry of the Environment encourages those who enjoy Bermuda's beaches to use them responsibly and to dispose of glass carefully. If the problem of broken glass persists, it may be necessary to consider legislation that will prohibit glass bottles on our beaches. We should all treat our beaches as we would treat our own homes and gardens and keep them free of dangerous debris". The Bermuda Volleyball Association contacted this newspaper on Thursday to report that their members had found glass littered all over the beach, resulting in two players being injured. One of the injured said he had since heard of further reports of people being cut in the days after Cup Match. The BVA's vice-president, David LaHuta, took his two young sons — Tyler, 2, and Jackson, 5 — to Horseshoe Bay yesterday and said glass shards could still be found along the beach. "Quite frankly, I am disappointed and surprised that the Department of Parks has not yet tried to clean up the beach properly," he said. "I took my sons there, we were building sand castles, enjoying a beautiful day and not two foot from us I saw more glass. You don't have to walk far to find it. We stayed closer to the surf rather than going to the main portion of the beach — most of the glass is closer to the dunes. If Horseshoe is to be promoted as Bermuda's premier beach then it needs to be treated with the utmost respect. Bermuda is known for its pink sand — what good is it if it is covered in glass?" In May, the Bermuda Tourism Authority and the Ministry of Public Works produced a "Beach Vision" for the island, charting the direction for development with a focus on five public beaches, including Horseshoe Bay. The BTA's website describes Horseshoe Bay Beach as "Bermuda's premier beach", saying it offers "literally everything you need to make your beach outing fun, exciting and safe".
August 6. Mounds of building debris, furniture and appliances illegally dumped near the entrance of Fort Hamilton have been described "an extreme case of irresponsible contracting". Steven DeSilva, Superintendent of Parks with the Corporation of Hamilton, told The Royal Gazette that the dumping was "soul-destroying" and lashed out the perpetrators. "The person or persons that did this need counsel because you can't do this with a conscience," he said. "They are missing a vital part of their judgment. This is a crime against our country. It is highly antisocial and very damaging to the environment. It's also highly unsightly and very costly to clean up." Pointing to heaps of drywall, paint, tiles, packs of tiles adhesive, furniture, printers, buckets and wood flooring, he said it looked like someone had renovated a private home or homes. "It's an absolute mess," he said. "Clearly someone has taken the opportunity to ask their trucker, or the contractor, to take it away. "This is a very extreme case of irresponsible contracting." Although the dumping happened on Fort Hamilton Drive, a private road adjacent to Fort Hamilton, Mr DeSilva said it was a Corporation park staff member who alerted him on Wednesday. He said the dumping must have taken place over two days because the same employee told him on Thursday that more rubbish had appeared. "It's soul-destroying," Mr DeSilva said. "It speaks to a level of workmanship that is below standard. A responsible outfit will know that you have to separate items. This is a rogue who doesn't know what he is doing and he is prepared to damage the environment very badly to earn a dollar." Mr DeSilva added that Corporation staff worked very hard to keep the area they were responsible for clean, and were proud of their work. "No doubt the individual or individuals who did this, know this," he said. He has high hopes the culprit will be caught, adding: "We have a responsibility to find out who is doing things like this and make a case — this is a prosecutable crime. We've found things that can possibly be proved to be evidence but again, there is an expense there. We now have to find time to try and find out who did this, and then there's the clean-up." In expressing his disgust, area resident William John Preece said he also hoped that the perpetrators would be apprehended and punished. "They want to do it to the fullest extent," he said. "It's disgusting. It's not Bermudian really, is it? Dump it in your own garden!" Mr Preece said his wife told him about the dumping on Thursday morning, leading him to conclude that it was "dumped sometime the night before". He spoke to other residents on Thursday evening, who agreed that "it's just not on". Mr Preece pointed out that the area was normally kept clean, although litter sometimes piled up in the car park. But he added: "Not to this degree — it's crazy. I hope they find them." Meanwhile, the Bermuda Environmental Sustainability Taskforce said illegal dumping was "indicative of both a public mindset that needs to be influenced and of the need for changes in policies and processes related to waste management. It is too easy for illegal dumping to be done and the dumpers to escape detection and sanction. This incident at Fort Hamilton, and others like it, remind us of the real meaning of community. People who observe or know about this kind of antisocial behavior should feel bound to bring it to the attention of an appropriate government agency, BEST or other watchdog NGOs." The group added that there was a guide to help the public to deal with environmental problems in the resources section of its website, best.org.bm. A police spokesman said yesterday that the Community Action Team would be assisting Vanese Gordon, the waste-management education and enforcement officer with the Ministry of Public Works, who is addressing the matter. A spokeswoman for the Ministry of Public Works confirmed it was working with the police. "Ministry staff were at the Fort Hamilton Drive site this morning and have developed a plan for removal of the waste alongside staff from the Corporation of Hamilton," she added. She also noted that a large portion of the dumped waste was "bulky, non-burnable items. Therefore, the dumper avoided a mere $20 tipping fee at the airport waste-management facility, while the taxpayer must now pay a considerable amount to have the waste removed and disposed of properly."
August 5. Tyrone Smith was named as the flag-bearer who will lead Bermuda into the opening ceremony of the Olympic Games tonight. The 31-year-old will carry his country's flag at the Olympic curtain-raiser in front of 50,000 spectators at the iconic Maracanã Stadium, starting at 8pm Bermuda time. Smith, who was chosen for the honour by Carlos Lee, the Bermuda chef de mission, will march along with rower Shelley Pearson, sprinter Tre Houston, swimmers Rebecca Heyliger and Julian Fletcher, and sailors Cameron Pimentel and Cecilia Wollmann. Flora Duffy, the island's medal hopeful in triathlon, will not join the parade because she does not arrive in Rio until next week, as her competition is held on August 20. Lee said that Smith, a three-times Olympian, had earned the right to carry the island's flag as the most senior member of the squad. "At 31, the elder statesman of our team, this is the third successive Olympic Games that Tyrone has competed in and he's earned the right to carry the flag and proudly lead our team into the Rio Olympic Games." Smith, who caused a storm on Twitter with his "dancing man" routine at London 2012, has already promised to unveil a new look for tonight's ceremony. "Did something a little radical with my hair by my standards for the ?#?Olympics ?#?BER ?#?ExpressYourself!." the long jumper wrote on his Facebook page yesterday. Pearson, making her Olympic debut, will leave the ceremony soon after the Parade of Nations, as she competes tomorrow morning in the single sculls. Also competing tomorrow is Fletcher in the 100 metres breaststroke at the Olympic Aquatics Centre. An estimated three billion people will watch the opening ceremony, which has taken five years to produce and includes 300 dancers, 5,000 volunteers and 12,000 costumes. Brazilian supermodel Gisele Bundchen and Dame Judi Dench, of Britain, are confirmed to have roles in the production before the 207 competing countries take part in the parade.
August 5. From departure lounge nap stations to a post-security rooftop garden area, and even a produce-growing farm, innovations abound at JetBlue's home terminal in New York. The airline made Bermuda one of its early overseas destination choices 10 years ago, and it is continuing to evolve its offerings and services as it competes for the loyalty of travelers flying from Bermuda to New York, Boston and beyond. Last month the airline opened its new look lobby at JFK International Airport's terminal five, featuring self-service check-in terminals, weigh scale tables where customers can quickly repack their luggage to meet flight regulations, and self-drop bag facilities. The lobby innovations are designed to reduce queues and make the passage through the terminal as seamless as possible, something that Bermuda-bound travelers can now experience for themselves. The airline has direct flights connecting Bermuda to New York and Boston. JetBlue's innovations and forward-thinking approach go beyond the reworked lobby. Travellers from Bermuda passing through the terminal either to visit New York, catch a connecting flight or making a return flight to the island, will also benefit from a variety of airside enhancements. Opened in 2008 and known as T5, it is JetBlue's home-town base and in many ways reflects the airline's values, outlook, and its "inspiring humanity" mission. It does this in often surprising ways, for example with its farm. Yes, you read that right. JetBlue has a real farm, albeit on a small scale, outside the entrance to the departures terminal. It is 24,000 square feet and consists of between 2,000 and 3,000 crates in which a large variety of vegetables and herbs are grown, including blue potatoes. "We wanted to do something with this area rather than have a concrete space," Sophia Mendelsohn, head of sustainability at JetBlue, explained to The Royal Gazette. She said many people find plants and green spaces relaxing. Employees of the company helped drive the creation of the mini-farm. "We decided to have a green space and we wanted to put something here that people would like. It's the world's first airport potato farm and it has an official farmer." Produce grown will help the airline and its partners within T5, particularly restaurants and eateries, become more self-sufficient. Some produce is given to food banks around New York, while JetBlue staff can also enjoy the harvest. Food scraps from select restaurants in the terminal are turned into compost to create rich, organic soil that is used to grow the plants. As for the aforementioned blue potatoes, they are the signature ingredient of the Terra Blues potato chips that are distributed for free on JetBlue flights. While only 1,000 pounds of the potatoes grow at the farm, it is hoped some will eventually end up as snack chips. The farm is not the only green space at the terminal. There is the newly opened T5 Rooftop, which is the only post-security outdoor space at the airport open to the public. It is a shaded, roof top-style garden area, with gentle slopes covered in soft, artificial grass where travelers can sit or recline while enjoying fresh air. There are also seats and tables and a fenced off dog-walk area — called the T5 Wooftop. Back inside the terminal is a central hub featuring restaurants and eateries. This area has two elevated seating platforms, with steps that also double as extra seating. And that's no accident — the design was inspired by the steps of the New York Public Library, a popular spot where people readily use the steps as makeshift seats. Directly above the seating is a circular information display that is suspended by a lattice work of cables. Again, the elaborate design evokes a New York landmark, in this case the sweeping cabling patterns of Brooklyn Bridge. New to the terminal are a number of Metronap stations where tired travelers can recline on a seat, which elevates their legs to a horizontal position, and enjoy a power nap with a large dome above their head to shield them from noise, light and the general bustle of the terminal. The airline's link to Bermuda goes back to May 2006 when its inaugural flight to the island landed at L.F. Wade International Airport. That was a culmination of discussions between the company and the Bermuda Government that started in the early 2000s, shortly after the airline was formed. JetBlue has since become one of the best-rated airlines in the US. It is regularly placed in the top three of the annual US airline quality rating list. This year it is second, as it was in 2012 and 2013. During the past eight years its lowest ranking was fourth in 2015. JetBlue has a total of 219 aircraft, with 925 flights daily and connects to 96 destinations across the US, Caribbean and Latin America. On its longer flights it is expanding its premium service, known as Mint which, among other benefits, offers fully lie-flat seats that can be booked in two-seat or single seat configurations and a 15-inch in-flight entertainment screen. From New York and Boston the Mint service is available on flights to a number of west coast destinations, and also to Barbados and Aruba. And this year, from New York, Mint is being rolled out on flights connecting with St Lucia and St Maarten. Joanna Geraghty, executive vice-president, customer experience, speaking at last month's opening of the enhanced T5 lobby, said the majority of JetBlue's customers were happy with the new technology and self-service aspects that have helped speed up the checking-in process. "One customer said it was just like being in an Apple store," she said, adding that the system was working as it has reduced queues and given passengers more time to enjoy the facilities within T5. Directly outside the terminal is an iconic structure from another era, the head house of the former TWA Flight Center designed by Eero Saarinen and opened in 1962. Although the landmark building has been out of use for 14 years it will soon be incorporated into a boutique hotel and conference centre. Ms Geraghty said the sight of the stylish building on the doorstep of T5 acted as daily inspiration for JetBlue to continue to be on the lookout for innovations and innovative ways to do things. "You look at it and say phenomenal brand, phenomenal icon — we need to be smart about our decisions, be thoughtful and careful about cost implications, and remember our people matter and our customers are important, because we want to be here 50 years from now. TWA was a powerful brand. We've got a great partner hotel company that is going to be building it out and that will open in a couple of years. And what better place to have a New York icon like TWA than in front of our terminal." The airline intends to put its new self-service terminals and other enhancements into other airports that it services. Although there is no word on whether Bermuda will be in line for the new technologies, Ms Geraghty said JetBlue will be looking at other airports where it can install service improvements. "It's about creating an experience that customers want to come back to time and time again, and these investments are something that JetBlue has always done."
August 5. Members of the public have been injured by broken glass left strewn across Bermuda's most popular beach, Horseshoe Bay, over the Cup Match holiday weekend. The Bermuda Volleyball Association contacted this newspaper to highlight large amounts of glass — everything from tiny shards to half-smashed bottles and full bottles buried in the sand — that their members found littered on the beach resulting in two of them being injured. One of the injured, Adam Birch, said he had since heard of further reports of people getting cut in the days after Cup Match. The Green Cooperative Bermuda, made up of BEST, Greenrock, Keep Bermuda Beautiful, Government's Waste Management, XL Caitlin End-to-End and Chewstick, has questioned whether the Bermuda Government should consider banning glass from the island's beaches altogether after "countless appeals" to improve health and safety following large-scale public events. The Bermuda Tourism Authority's website describes Horseshoe Bay Beach as "Bermuda's premier beach", saying it offers "literally everything you need to make your beach outing fun, exciting and safe". While members of the public are encouraged and expected to clean up after themselves, the Parks Department is ultimately responsible for cleaning the public beaches. Bermuda Volleyball Association president Sophia Sontag told The Royal Gazette: "Our members have been finding lots of broken glass on the beach — it is quite bad. There have been a few players this week that have been cut. I went on Saturday to play — we were there for about two and a half hours but we only got to play two games because we were going around picking up broken glass and that was just on the 16m by 8m court we were playing on. When we first got there we walked around and picked up as much as we could, then in the middle of play we were still bringing up more. It was frustrating and very time-consuming and we certainly didn't get to enjoy our day as much as we had wanted to. Every single court has been littered with it — it is not just small bits there are large pieces. I don't understand why people are breaking bottles like that that we have these tiny shards. Ultimately we want a solution to it. The grater on Saturday mornings that cleans the beach on the weekends — I don't know if it does anything to clean the beach or just rakes it. It's not easy to try and ban glass, but at least we can discourage the public from bringing it on to the beach." Mr Birch, a BVA member, went to play volleyball this Tuesday and despite cleaning the court before the game he was cut when diving for the ball. He told The Royal Gazette: "On Tuesday we start at 6.15pm but we spent over half an hour sifting through the sand getting chunks of glass off the court. It was even worse for the Monday crowd. I dove for a ball, I didn't realize but someone said there was blood on my shorts — it was just a small nick but there was blood all over my shorts. We were talking about not playing any more — it's the same every year at this time but this year was particularly bad. We were waiting for someone to get seriously injured — we heard that four or five got cut on the beach on Tuesday." The Green Cooperative Bermuda called on the Government to ensure the glass was cleared up immediately and even suggested the beach be closed until it is deemed safe. A spokeswoman told us: "Litter on public beaches following public holiday celebrations is not a new problem in Bermuda. For years both the Bermuda Government and various non-profit environmental groups have appealed to the public for more responsible management of their trash. Despite these countless appeals, the problem persists and now poses a serious health and safety risk to all beachgoers. It leaves us wondering what more can be done. Have we reached the point where we need to ban glass from Bermuda's beaches as has been done elsewhere? Surely we have as much pride and resolve as they do. If holiday beachgoers are not willing to respect our beaches and clear up after themselves, then perhaps that is exactly what we need to do. Perhaps the beach should be closed to the public until the broken glass has been removed. As Bermuda's number one beach for visitors, keeping it safe and clean is certainly in the best interest of our Bermuda Tourism Authority. As the managers of this public beach it is also in the Parks Departments interest to resolve this issue. Most importantly, as a favourite spot for us to come together and celebrate everything that make us Bermudian, it is in our collective best interest to protect and respect all of our beaches." In May, the BTA and the Ministry of Public Works produced a "Beach Vision" for the island, charting the direction for development with a focus on five public beaches including Horseshoe Bay. A BTA spokeswoman told us: "The extensive collaboration undertaken by the BTA, in conjunction with numerous government, private and public sector stakeholders, resulted in a vision for Bermuda's beaches that has been positively received by the public at large. The vision states: 'The Bermuda pink sand beach experience must be iconic, memorable for its natural beauty complemented by cleanliness and casual amenities that are culturally authentic — true to the island's attitude of unpretentious relaxation and warm hospitality. We believe the entire community has a role to play in realizing this vision through the safeguarding and maintenance of our island's beaches, both for our own use and for the use of our visitors." At press time last night, the Department of Parks had not responded to questions posed by The Royal Gazette.
August 5. Bermuda has been earmarked as a site for a major motion film, according to the Bermuda Tourism Authority (BTA). However, the cost of filming on the island could be a stumbling block, according to a producer from Shoebox Films, the company who have expressed interest in the project. "We're obviously looking at other places, but we're hoping we can make it work on this amazing island," said Guy Heeley. During Mr Heeley's visit he scouted locations in St. George's, St. David's, Dockyard and several other places around the island. He added: "What you've got here are all the things a film needs: high quality transport, high quality hotels, high quality food and a safe, secure and comfortable, lovely place to be. That's essential. But the reason why Bermuda hasn't attracted movies is because it's expensive. There needs to be something to offset the expensive cost." As the certified film commission for Bermuda, the BTA has already met and assisted Mr Heeley with location scouting and helped facilitate discussions with local hotels. Since August of 2014 when the BTA joined the Association of Film Commissioners International, it has been working to grow Bermuda's attractiveness to filmmakers. "Increasingly we talk with film and television crews about shooting their productions in Bermuda because they know our picturesque landscape and geographic location sets us apart from other destinations," said Tiffani Cailor, the BTA's director of public relations and content management. "Film productions generate direct on-island spending in hotels, with ground transportation operators and creates work for local production companies, carpenters, caterers and others. It also generates marketing exposure for the destination. The BTA is working with the Ministry of Tourism, Transport & Municipalities and other government agencies to determine strategies that may ease the cost burden for filmmakers while at the same time bring a healthy economic return for the local economy. "Some productions can spend as much as seven figures in a jurisdiction, which can represent a major impact for Bermuda's economy as a result of a relatively modest incentive package." In other jurisdictions competing for film productions an incentive package can include waived government fees, tax concessions or rebates.
August 5. Retailers and wholesalers yesterday expressed their frustration at newly implemented cigarette regulations, complaining of a lack of consultation. Along with banning the sale of flavoured tobacco products and introducing new rules about how tobacco products can be displayed, the rules require new warning labels on cigarette packages. During a meeting organized by the Chamber of Commerce, more than 30 representatives from wholesalers and retailers voiced their frustrations with the new rules, with a representative from Pitt & Co saying that they have five employees working eight-hour shifts placing warning labels on cigarette packages imported before the regulations came into effect on Monday. The retailers questioned David Kendell, the Director of Health, about the lack of consultation or a grandfather clause for products already imported to the island, saying that the Bermuda Government was preventing the sale of products after collecting duty on their importation. The banning of designations such as "light" or "mild" have meant that retailers have to plaster as many as six stickers over single packs of cigarettes. And the need to place the stickers on each package of cigarettes introduced a challenge to any retailer attempting to sell cartons of cigarettes as the cartons would have to be opened, stickers applied to the packages, and the carton resealed. "They just fall apart," one retailer said. Another questioned why the warning labels were required but single cigarettes — which contain no warning labels — could still be sold. Mr Kendell told the group that the World Health Organisation does not recommend consultation on the issue of tobacco sales, but told attendees that he would seek consultation on similar health matters regarding sugar or alcohol. And asked about a phased approach to the regulations, he said: "In hindsight that probably would have been a lot simpler to do." However he said that the legislation passed in the House of Assembly set an implementation date of July 31, and the department was working with that. He said the department intends to work with the wholesalers and retailers as they adopt the new rules. "We are not going to hit everybody over the head with a stick, but work with you," he said. While he said the ban on flavoured tobacco products was intended to make tobacco less attractive to young people, one retailer asked why that ban extended to alcohol-based flavors like rum. Another questioned if mint cigarettes would be allowed as the legislation does permit menthol-flavoured products. Rules regarding display cases were also heavily discussed, with attendees hearing that tobacco products cannot be displayed within 3m of candy, toys or other products attractive to children. Mr Kendell explained that given the size limitations of most retailers, the easiest solution would be to cover any tobacco displays with a curtain so the products are not visible. However, one retailer said they had already had customers walk in, see the covered display and leave believing that cigarettes were no longer for sale. For Michael Heslop, proprietor of the Smoke Shop, the stickers are laborious and costly. Speaking before the meeting yesterday, he said: "We're ordering in stickers by the thousands — they could at least allow the stickers to be duty-free. It's also very time-consuming." Even with seven months passing since the legislation came into effect, Mr Heslop estimated he would have to toss out $18,000 in merchandise. "All of it was legally imported; I paid a tax on it — and now I'm throwing it away." Long an opponent of the restriction, Mr Heslop maintained that in its entirety, including the e-cigarette limits, the Act made Bermuda's tobacco rules the strictest in the world. "If the health department can find one place stricter, can they let me know?" However, Mr Heslop was ready to concede defeat. "It's too late; it's gone through. We lost the chance to fight it."
August 5. Rampant illegal fishing, including the poaching of protected species along with lobster out of season, has been exposed by concerned residents at the West End. Alleging that sea creatures are being hauled ashore and eaten by staff disembarking from Dockyard cruise ships, the residents spoke out after repeatedly attempting to contact authorities. Remains of parrot fish and West Indian Tops, both of which are protected, are left on the shore with the shells of spiny lobster, which at present are out of season. So frustrated are locals at the state of the fishing hole, marred by cooking fires and litter, that the words "keep clean" have been scratched into the rocks. The site lies near a jutting formation known as Pulpit Rock, on the ocean-facing shore just outside the entrance to Dockyard. On a visit four days ago by The Royal Gazette, the freshly cooked leavings of poached marine life lay with bottle caps and cigarette butts around a cooking fire. Photographs provided by the diving aficionados show that the shoreline gatherings are not a one-off event. The group, asking not to be identified, said they had initially contacted the Port Authority, and were referred to government fishing wardens — but their calls were seldom answered, and a complaint given a month ago did not appear to have deterred continued poaching. However, the group reported getting a response last Thursday — and were hopeful it would get traction. "It kills me to see stuff like this," said one man. "When I first came down here two years ago to clean up, we took away 22 trash bags, but now it's all being undone." Asked if cruise ship crews from other countries might not understand Bermuda's fishing rules, he replied: "My friend asked them what they were bringing in, and he was told 'just snapper'. It's almost like they know."
August 5. Kenza Wilks has much to celebrate during his holidays back home in Bermuda from studies in Britain. The former Somersfield student, now 18, captained the England debate team to victory at this year's World Schools Debating Competition. In a twist, taking the trophy required Kenza and his four team-mates to outdo Bermuda's team at the showdown in Stuttgart, Germany. "They spotted me — one of their team had bumped into my dad, Glen, a few weeks before; I remembered how small Bermuda is." Kenza's team came up against Bermuda in a motion on whether criminal court cases should be televised. In the grand final against Canada, the England team had to debate the question of states paying other states to resettle refugees. "Under the lights, the cameras of news broadcasters, on the stage of the Stuttgart opera house, we managed to convince six of the nine judges that we were the winning team, and with that won the world championships." Kenza, who now attends Dulwich College in the UK, credited the talents of team-mates Archie Hall, Rosa Thomas, Edward Bracey and Ife Grillo for bringing them to triumph through two "gruelling" weeks. "They're the reason we won, with the fantastic work that they did."
August 4. Butterfield Bank has filed for a proposed initial public offering of up to $100 million to place its ordinary voting shares on the New York Stock Exchange. It is to ask shareholders to vote on the proposal, which calls for a ten-for-one reverse share split, whereby existing shareholders will receive one share for every ten they currently hold. The reverse share split is necessary for the bank to meet the NYSE listing rules that require securities to have an initial trading price of at least $4 per share. The total size of the IPO is not known, however the proposed maximum aggregate offering price is $100 million, according to a form filed with the Securities and Exchanges Commission. Butterfield's ordinary shares currently trade on The Royal Gazette/BSX Index, and improved by three cents to $1.68 today before news of the proposed IPO was released. The bank said it intends to keep its shares listed on the local exchange in addition to the proposed New York listing. Butterfield Bank is to hold a special general meeting of shareholders on August 30. The meeting will present shareholders with the two proposals being put forward by the bank "in contemplation of a New York Stock Exchange listing of the bank's voting ordinary shares". Both proposals will be voted on. The first is for the ten-for-one reverse share split, while the second calls for amendments to the bank's by-laws that will, among other things, address changes in the Companies Act 1981. The meeting will be held at the Hamilton Princess. In a statement, the bank said: "Under the terms of the Investment Agreement dated 2 March 2010 and entered into between affiliates of The Carlyle Group and the bank, the bank agreed to use commercially reasonable efforts to list the bank's ordinary shares on an international stock exchange within a specified time period. The board of directors proposes to pursue the potential offering pursuant to the provisions of the bank's by-laws and the general mandate approved by the bank's shareholders at the Bank's 2016 general meeting, which authorize the board to issue all of the authorised but unissued ordinary share capital of the bank to such persons at such times, and upon such conditions as the board of directors may determine. The proposed offering will be made only by means of a prospectus filed with the SEC. This announcement does not constitute a prospectus and is not an offer to buy any securities of Butterfield nor shall there be any sale of these securities in any state or jurisdiction in which such offer, solicitation or sale would be unlawful prior to registration or qualification under the securities laws of any such state or jurisdiction." The bank said a registration statement, including a prospectus, relating the ordinary voting shares has been filed with the SEC, but has not yet become effective.
August 4. Insurance and reinsurance giant XL Catlin has joined forces with international academics and computer experts to better track hurricane forecasts and the evolution of major storms. A new website, set up with the Barcelona Supercomputing Centre and Colorado State University, brings together forecasts from specialists in Atlantic hurricanes to boost knowledge of the factors that contribute to storm formation and to explain how different forecast models produce different predictions. The seasonal hurricane predictions website pools predictions by university, government and private entities that carry out forecasting for the hurricane season and makes them available to the public. Bermudian-based XL Catlin said: "Using these predictions, the website shows the average number of hurricanes that are expected to affect the North Atlantic and those that have already occurred in the current season and the previous ones since 1966. A colour code indicates the degree of activity forecast for the upcoming hurricane season. The website offers areas for non-specialists as well as more detailed information on each of the available forecasts. The site also provides and explanation for the general public on several climatic factors that influence hurricane activity in the Atlantic, as well as the aspects assigned greater importance by different predictions for the current hurricane season. The objective of this section is to help people understand hurricane variability and why there could be divergent predictions for the upcoming season." The site, sponsored by XL Catlin, was developed by the Barcelona centre, and Colorado State, who jointly carried out the scientific work and graphic designer Isklam Jara, who was responsible for the site's design and implementation. And it hosts a total of 16 forecasting centres, including the US, Caribbean and Europe, as well as Mexico. Forecasters featured include America's AccuWeather, the National Oceanic and Atmospheric Administration, and several US universities. It also includes the UK Met Office, Mexico's national meteorology centre, the Cuban institute for meteorology and StormGeo, based in Norway. This year's Atlantic hurricane season has seen only one hurricane to date, although forecasters are predicting a total of eight. Hurricane Earl, which is headed for Belize, yesterday became the second hurricane of the season with a prediction that it would weaken when it reaches the coast and moves inland. The Barcelona Supercomputing Centre is the Spanish national supercomputing centre. It was set up to create infrastructure and supercomputing services to European scientists and to transfer knowledge and technology to business and society. Colorado State University pioneered seasonal hurricane predictions for the Atlantic basin and has issued its annual predictions for more than 30 years. The Seasonal Hurricane Predictions website can be found at http://www.bsc.es/ESS/seasonalhurricanepredictions/.
August 4. Profits at Bermuda-based Assured Guaranty plummeted by more than $150 million in the second quarter compared to the same period last year. The firm yesterday posted net income of $146 million, down $151 million year-on-year. The latest profit figure is equivalent to $1.09 per share, compared with $1.96 per share in the corresponding period of last year. Net earned premiums for the period totaled $214 million, down $5 million compared with the second quarter of 2015. Net investment income remained steady at $98 million, the same as a year ago, while operating income fell from $278 million to $139 million. Dominic Frederico, the company's chief executive officer, said: "Assured Guaranty had a solid second quarter. We continued to build our financial strength and furthered our strategic objectives on July 1 when we completed our acquisition of CIFG. Standard & Poor's global ratings took note of our positive risk-adjusted pricing trend in its July 27 report affirming our AA financial strength ratings. In the report, S&P said that none of the severe stress scenarios it applied to our Puerto Rico exposure reduced our 'very strong' capital adequacy score." The Assured Guaranty report said that net income was higher in the same quarter last year, in comparison to this year, "due primarily to the gains recognized upon the acquisition of Radian Asset Assurance in the second quarter 2015. This was offset in part by lower loss and loss adjustment expenses in second quarter 2016 compared with second quarter 2015." During the second quarter of this year, the company repurchased 2.3 million shares worth a total of $60 million.
August 4. Fresh historical research has revealed that one of Bermuda's prominent journalists was also a direct descendant of ex-slaves. Samuel Seward "S.S." Toddings, publisher and editor of the Colonist newspaper from 1869 to 1911, and founder of the Mid-Ocean News in 1911, had both a mother and grandmother who were once enslaved. The details was uncovered by Meredith Ebbin, the founder of the site bermudabiographies.bm, with research by LeYoni Junos. Ms Ebbin has posted the full story online. Born in St David's, Mr Toddings was of mixed race, being the son of a white Bermudian, Thomas Toddings, and Charlotte Outerbridge Musson. Both Charlotte and her mother, Rebecca Outerbridge, had been slaves who were freed prior to emancipation in 1834. Mr Toddings went on to serve as a Member of Parliament and a church organist — first at St Peter's, then at St Theresa's. He was also an Overseer of the Poor in St George's and chairman of the St John Ambulance. He published and edited the paper up until his death in 1935 at the age of 88. Although he did not speak of his black ancestry, Ms Ebbin said the paper under his stewardship showed an interest in black affairs, and the black-owned Bermuda Recorder referred to him as "our newspaperman" in his obituary. "He was an exceptionally talented man," Ms Ebbin added. "He had a bachelor's degree from Mount Allison University and his first wife was the niece of the university's founder. He was socially progressive and was an advocate for the Town of St George. Given the racial restrictions of the time, Toddings would have had to downplay his black ancestry in order to become a successful publisher of two newspapers. He made an outstanding contribution to Bermuda on many fronts and the discovery of his family history makes his life story more compelling." There are no direct descendants of Mr Toddings living in Bermuda, but a retired policeman, St Clair "Brinky" Tucker, is a blood relative. "I knew of it but you didn't talk much about it," Mr Tucker said, who touched on the story in his own history of St David's. "The atmosphere with regard to racism in Bermuda was a bit tense. Certain things were discussed at the kitchen table, not openly." Mr Toddings's elder son, Samuel Toddings Jr, succeeded him as editor of the Mid-Ocean News, and was also an MP. Mr Tucker recalled seeing him at his grandfather's funeral in 1956, and was told by his mother that they had been cousins and very close. "I thought, 'Yeah, right'," he recalled — but later, in researching his genealogy, it was confirmed. Mr Tucker, who once sold copies of the newspaper, recalled seeing the junior Toddings from time to time. "Back then, those who could pass, did," Mr Tucker said. "Meredith has dug deeper than I did, and found out more."
August 4. Major maintenance works are under way to deal with neglected preschool and primary school infrastructure in preparation for the start of the academic year next month. Wayne Scott, the Minister of Education, and Craig Cannonier, the Minister of Public Works, yesterday invited The Royal Gazette to observe work being carried out at Harrington Sound Primary and Victor Scott Primary, two of the lowest-rated schools in terms of health and safety according to the damning School Re-organization (Score) Report published last February. The document, commissioned by the Ministry of Education, highlighted a health and safety crisis across Bermuda's primary schools, with problems including rat and termite infestations, faulty bathroom facilities and unstable play structures. Work is being carried out at most primary schools, including large-scale internal and external paint jobs. Shovels were in the ground yesterday at Harrington Sound Primary, where a new playground was being created. At Victor Scott Primary, the boys' and girls' bathrooms were being gutted and given new fittings. Comments about Harrington Sound in the Score report included: "Play structures in terrible condition. Swings are broken. Triangle is an accident waiting to happen. Some windows are very low; lots of rodents get into the building." Mr Scott told The Royal Gazette: "It is important that the public know that we have identified the issues and are addressing them. These are not things that happen in a six-month period. This playground is falling to pieces, it is a very old structure and these things need to be done. Myself and Minister Cannonier have been working to ensure we have a collaborative effort between our teams so that we can actually see things done that support our children and our communities. The Score report was a very positive thing — there is always a lot of talk and innuendo about what is going on in the schools so it was important to have a good starting point and to put something out there that the public can see. We enhanced that with a full maintenance list which is online on the ministry website — it sets out what we are working on, what we are going to do, and if something new arises it can be added to the list." At Victor Scott Primary, The Royal Gazette was shown a clean, bright yellow, external paint job. Inside, work on the boy's toilets included the replacement of all urinals. Mr Cannonier said: "Our schools are old, there's no question about it, and they require quite a bit of maintenance, so this is all part of us ensuring the schools are ready, that our students can come into schools that are functional and the facilities are working. When it comes to painting we are following a rotation but as far as the bathrooms are concerned, that is being done on a most needed basis. We recognized those schools that were very much in need of their bathrooms being revamped, including Elliott, Victor Scott and Northlands. Work has been going on for some time now. You will see a whole lot of work going on." Schools listed by Score as being in need of "immediate attention" were Victor Scott Primary, Harrington Sound Primary, Northlands Primary, Paget Primary, Prospect Primary, West Pembroke Primary, Elliot Primary, and St David's Primary. Most of the completed jobs include work on CCTV cameras, repairs to windows and doors and the servicing of water fountains. Work that has been prioritized going forward includes an electrical upgrade and leaky roofs at East End Primary, the new playground and fire alarm system problems at Harrington Sound, rodents and mould issues and the need for a new playground at West Pembroke Primary, and termite and rodent issues at Paget Primary School. Elliot Primary was one of the schools with the most priority listings, including fumigation of the school, paint work, leaky windows, restroom upgrades, replacement of upper school rafters and repairs to the "questionable" gym floor. Victor Scott needed termite eradication, restroom renovations, paint work, assembly hall leaks and ceiling tile replacement. The full schedule of work that has been completed, work under way and priority jobs have been listed on the Ministry of Education's website, www.moed.bm
August 4. A concerned citizens group known as MOVE (mobilize, organise, visualize, execute), aligned with the People's Campaign, will voice their opposition of the planned redevelopment of the L.F. Wade International Airport by Canadian company Aecon/CCC at a meeting at BIU headquarters this evening. Starting at 6.00pm, the meeting will see People's Campaign representatives present a special report concerning the airport project. Titled "A Bad Deal for Bermuda", the report aims to raise awareness about the redevelopment. According to a MOVE statement released this morning, discussion will centre on a number of topics including:
Aecon's "road to riches";
Conflicting statements from the Minister of Finance;
Cost implications for Bermuda;
Lack of transparency;
Notable deficiencies;
And other facts pertaining to the project.
Hard copies of the special report are available at the BIU.
August 4. The public are being urged to adhere to safety advice at all times by the Bermuda Water Safety Council after marine incidents over the holiday weekend. Their reminder comes after four people were taken to hospital as part of seven marine incidents on Sunday — four of which were in the area of the Non-Mariners Race in Mangrove Bay. "We want to remind people at all times — the summer is not over yet — to adhere to safety advice," Ralph Richardson, chairman of the BWSC, told The Royal Gazette. He stressed that this was particularly important for captains and boat operators, who were responsible for the safety of their passengers. Meanwhile, Lisa Siese, the non-secretary of the Society of Non-Mariners, said they were "very pleased" to have had a "very incident-free event". She stressed that the society only organized the race, adding that the raft-up "is really quite separate", with the society having no control over "what goes on in the water". She added that many of the participants in the annual raft-up did not come into the Sandys Boat Club or even knew the race was taking place. According to the Maritime Operations Centre, the RCC (Rescue Co-ordination Centre) Bermuda was contacted at 4.20pm by the Bermuda Fire and Rescue Service about an unconscious man being recovered from the water in the Mangrove Bay area and needing to be transferred to shore by Marine Police. The unit was dispatched and the man was taken to Watford Bridge for transfer to King Edward VII Memorial Hospital. In a separate incident at 5.12pm, "unruly behavior on board a local tour boat in the Mangrove Bay area resulted in the stabbing of one individual and the need for urgent police assistance in restoring order and transfer of the injured party to Watford Bridge Ferry Dock". At 8.25pm, BMOC received an emergency call from "a frustrated boater" on board Twist of Faith, reporting that a male passenger had not been seen since 2pm and that the vessel had since departed the Mangrove Bay area without the missing man. Police reported that the man, who had suffered a head injury and was in urgent need of medical attention, had been located at a King's Point residence. He was taken to hospital by ambulance. Meanwhile, at 12.45pm a member of the public reported that a 19ft boat, Xipper Tomcat, was disabled between Hawkins Island and Watford Bridge. None of the boats in the area responded to calls for assistance. The vessel was later spotted under tow to Mangrove Bay. The 34ft Lap Dance also requested assistance after breaking down in the Great Sound shortly after 6pm. A tow was arranged but the engine was restarted and the boat continued "under own steam to St George's Harbour". A 31-year-old woman suffering "sunstroke and possible alcohol consumption" had to be taken to hospital, with tour boat Brightstar II contacting Bermuda Radio at 5.45pm to arrange her transfer to shore and requesting an ambulance from the Royal Bermuda Yacht Club. And at 8.02pm, Bermuda Radio received a call from Shernelle Marie, reporting that one of its two engines had failed. The 32ft vessel with 15 people on board was able to make its way back from North Shore to St David's, arriving safely just after 11pm.
August 4. One Bermuda Alliance MP Leah Scott denied unlawfully entering a Warwick home during her appearance at Magistrates' Court yesterday. Ms Scott, a Government backbencher, is accused of entering the dwelling of Sonia Williams without lawful excuse on January 29. After she pleaded not guilty, magistrate Khamisi Tokunbo released the defendant on $1,000 bail and ordered her to have no contact with Ms Williams until she returns to court for mention on August 17. Reacting in a statement yesterday afternoon, an OBA spokesman said: "MP Leah Scott has kept the party leader informed about this matter. It is a private concern before the courts and thus we have no further comment."
August 3. The Governor, George Fergusson, formally bade farewell to the island yesterday after a ceremony in Dockyard. Mr Fergusson, who has served as Governor since 2012, told a crowd of MPs, senior civil servants, Royal Bermuda Regiment soldiers and visitors: "When I arrived 4½ years ago, I spoke of hopes of a community that would increasingly come together, that would achieve an economic recovery and see a reduction in gang violence through the working together across agencies. There has indeed been progress in all of these areas. In each of them, less progress than we all would have wished, but still progress." He said the America's Cup would provide an opportunity to further advance these areas both in 2017 and beyond. Mr Fergusson thanked Bermuda and its people for their kindness before boarding the Norwegian Dawn. He and his wife are set to travel on the cruise ship to Boston before returning to Britain. Deputy Governor Ginny Ferson will serve as acting governor until a permanent replacement is announced. Bob Richards, the Acting Premier, thanked Mr Fergusson for his years spent assisting the island. "Although Bermuda is one of the smallest of diplomatic postings, it is a complex and beautiful place and it is a complex and beautiful task that you have had, but it has not always been an easy one," he said. He thanked the Governor and his wife, Margaret, for their community work outside of Government House, saying they would be remembered fondly by many Bermudians and Bermuda residents. Earlier, Lynn Woolridge, chairwoman of the OBA, formally thanked Mr Fergusson and his wife, saying: "Together they epitomized dedication, service and civility. We wish them all the best."
August 2. Bermuda bids farewell today to George Fergusson, the Governor, who will be sent off in style with a handover ceremony and parade at 4pm in Dockyard. Mr Fergusson and his wife, Margaret, will then head off from the island on the Norwegian Dawn. The public are also invited to wish them well at 3.45pm, when they set off for King's Wharf on a police launch from Barr's Bay Park in Hamilton. Ginny Ferson, the Deputy Governor, is to assume office as Acting Governor until a successor for Mr Fergusson is appointed. Today concludes a tour of duty that started in May 2012, when Mr Fergusson replaced Sir Richard Gozney. The Fergussons' ultimate destination is London, where Mrs Fergusson works for the British Council. According to Government House, Mr Fergusson's last day on the job was "a relatively normal business day in the office". It included lunching with Larry Mussenden, the Director of Public Prosecutions, as well as Lieutenant-Colonel David Curley, the Commanding Officer of the Royal Bermuda Regiment, and Paul Wright, the Acting Police Commissioner. The Governor also held his regular weekly meeting with police. Mr Fergusson closed the day with an informal barbecue with Government House staff.
August 2. RIO DE JANEIRO — Just days ahead of the Olympic Games the waterways of Rio de Janeiro are as filthy as ever, contaminated with raw human sewage teeming with dangerous viruses and bacteria, according to a 16-month-long study commissioned by The Associated Press. Not only are some 1,400 athletes at risk of getting violently ill in water competitions, but the AP's tests indicate that tourists also face potentially serious health risks on the golden beaches of Ipanema and Copacabana. The AP's survey of the aquatic Olympic and Paralympic venues has revealed consistent and dangerously high levels of viruses from the pollution, a major black eye on Rio's Olympic project that has set off alarm bells among sailors, rowers and open-water swimmers. In light of the findings, biomedical expert Valerie Harwood had one piece of advice for travelers to Rio: "Don't put your head under water." The most contaminated points are the Rodrigo de Freitas Lagoon, where Olympic rowing will take place, and the Gloria Marina, the starting point for the sailing races. Sampling at the Lagoon in March 2015 revealed an astounding 1.73 billion adenoviruses per litre. By this June, adenovirus readings were lower but still hair-raising at 248 million adenoviruses per litre. By comparison, in California, viral readings in the thousands per litre set off alarm bells. Despite a project aimed at preventing raw sewage from flowing into the Gloria Marina through storm drains, the waters remain just as contaminated. The first sampling there, in March 2015, showed more than 26 million adenoviruses per litre. This June, that figure topped 37 million adenoviruses per litre were detected. The first results of the AP study published more than a year ago showed viral levels at up to 1.7 million times what would be considered worrisome in the United States or Europe. At those concentrations, swimmers and athletes who ingest just three teaspoons of water are almost certain to be infected with viruses that can cause stomach and respiratory illnesses and more rarely heart and brain inflammation — although whether they actually fall ill depends on a series of factors including the strength of the individual's immune system. Since the AP released the initial results last July, athletes have been taking elaborate precautions to prevent illnesses that could potentially knock them out of the competition, including preventively taking antibiotics, bleaching oars and donning plastic suits and gloves in a bid to limit contact with the water. But antibiotics combat bacterial infections, not viruses. And the AP investigation found that infectious adenovirus readings — tested with cell cultures and verified with molecular biology protocols — turned up at nearly 90 per cent of the test sites over 16 months of testing. "That's a very, very, very high percentage," said Dr Harwood, chairman of the Department of Integrative Biology at the University of South Florida. "Seeing that level of human pathogenic virus is pretty much unheard of in surface waters in the United States. You would never, ever see these levels because we treat our waste water. You just would not see this." While athletes take precautions, what about the 300,000-500,000 foreigners expected to descend on Rio for the Olympics? Testing at several of the city's world-famous beaches has shown that in addition to persistently high viral loads, the beaches often have levels of bacterial markers for sewage pollution that would be cause for concern abroad — and sometimes even exceed Rio state's lax water-safety standards. Swimmers who ingest water through their mouths and noses therefore risk "getting violently ill," Harwood said. Danger is lurking even in the sand. Samples from the beaches at Copacabana and Ipanema revealed high levels of viruses, which recent studies have suggested can pose a health risk — particularly to babies and small children. "Both of them have pretty high levels of infectious adenovirus," said Harwood, adding that the virus could be particularly hazardous to babies and toddlers who play in the sand. "You know how quickly an infant can get dehydrated and have to go to the hospital," she added. "That's the scariest point to me." Dr Fernando Spilki, the virologist and coordinator of the molecular microbiology laboratory at Feevale University in southern Brazil whom AP commissioned to conduct the water tests, says the survey revealed no appreciable improvement in Rio's blighted waters — despite cleanup promises stretching back decades. "Unfortunately, what we've seen throughout all this time is that there is a variation in the levels of contamination, but it fluctuates much more as a result of climactic conditions than due to any measures that may have been taken to try to remove this contamination," said Spilki, one of Brazil's most respected virologists. While local authorities including Rio Mayor Eduardo Paes have acknowledged the failure of the city's water cleanup efforts, calling it a "lost chance" and a "shame," Olympic officials continue to insist Rio's waterways will be safe for athletes and visitors. The local organising committee did not respond to multiple requests for comment, though it has previously said bacterial testing conducted by Rio state authorities has shown the aquatic venues to be within state guidelines. The crux of the issue lies in the different types of testing used to determine the health and safety of recreational waters. Bacterial tests measure levels of coliforms — different types of bacteria that tend not to cause illnesses themselves but are indicators of the presence of other, potentially harmful sewage-borne pathogens such as other bacteria, viruses and protozoa that can cause cholera, dysentery, hepatitis A and typhoid, among other diseases. Bacterial tests are the worldwide standard because they're cheap and easy. But there's a growing consensus that they're not ideal for all climates, as bacteria break down quickly in tropical weather and salty marine waters. In contrast, viruses have been shown to survive for weeks, months or even years — meaning that in tropical Rio low bacterial markers can be completely out of step with high virus levels. That disparity was borne out in the AP's testing. For instance, in June 2016, the levels of fecal coliforms in water samples from Copacabana and Ipanema Beaches were extremely low, with just 31 and 85 fecal coliforms per 100 millilitres, respectively. But still, both had alarming readings for rotavirus, the main cause of gastroenteritis globally, with 7.22 million rotaviruses per litre detected in the waters of Copacabana, while 32.7 million rotaviruses per litre were found in the waters of Ipanema Beach. The testing also revealed alarming spikes in fecal coliform levels — the very measure the state government uses to determine the safety of Rio's recreational waters. "If these were the reported values in the United States, let's say in California, there is definitely an indication of a problem," said Dr Kristina Mena, a waterborne virus expert at The University of Texas Health Science Centre at Houston. According to California's bacterial tests standards, 400 fecal coliforms per 100 millilitres is the upper limit for a beach to be considered safe for swimming. AP's tests revealed that Copacabana Beach, where the marathon and triathlon swimming are to be held and thousands of tourists are likely to take a dip, exceeded California's limit five times over 13 months of testing. Nearby Ipanema Beach, which is not playing host to any Olympic sports but is among the city's most popular tourist spots, exceeded California standards five times over 12 months, once spiking to nearly 50 times what would be permitted in California. One of two testing spots along the beach in the Olympic hub neighborhood of Barra da Tijuca once hit more than 60 times that limit over the five months testing was conducted there. "If we had exceedances that consistently were in the thousands like I'm seeing here, there would be a high likelihood that that beach would be put on our list of impaired water bodies," said Rik Rasmussen, manager of surface water quality standards at California's State Water Board. That would lead to water quality warnings posted on the beach, possible beach closure, and the development of a programme to root out the source of the contamination, he said. The beaches even violate Rio state's own standards, which are much less stringent than those in California, many other US states and beach-loving countries such as Australia and New Zealand. In Rio, beaches are considered unfit if bacterial tests turn up more than 2,500 fecal coliforms per 100 millilitres — more than six times higher than the upper limit in California. But Copacabana and Ipanema even violated those much higher limits on three separate occasions. The state environmental agency, INEA, did not respond to repeated requests for comment. Rasmussen acknowledged that the higher thresholds might make sense in Rio, where sewage pollution has been a perennial problem, meaning that locals are regularly exposed to the pathogens lurking in raw waste from an early age and therefore build up immunities. But visitors are unlikely to have such immunities, putting them at risk for illnesses. After the AP's initial report on the findings of the study in July of last year, the Olympics' adviser on health matters, the World Health Organisation, said it would carry out its own viral testing in Rio's Olympic waterways. The agency later flip-flopped, finally concluding that bacterial tests alone would suffice. Athletes who have trained years for a chance at Olympic glory have resigned themselves to competing in the filth. "There's been a lot of talk about how dirty the water is and all the viruses," said Finnish team sailor Noora Ruskola. "I'm mentally prepared for this. Some days the water is totally OK, and some days there are bad days." However, tourists are unlikely to realize the dangers: Water quality warning signs used to dot showcase beaches, but they're no longer there. Now, a brief item on the weather page of the local paper lists which beaches the state environmental agency has deemed safe for swimming. Most beach-going visitors are likely in the same situation as Raul Onetto, a 52-year-old bank executive from Uruguay recently soaking up the sun on Copacabana Beach. When asked whether he knew that the bacterial levels sometimes exceeded the norms in other countries and could indicate problems, he expressed disbelief. "The water looks beautiful. I didn't know it was dirty," said Onetto. "If it's dirty, the public should know it. I came 2,000 kilometers to be on a beach." In Rio, the main tourist gateway to the country, a centuries-long sewage problem that was part of Brazil's colonial legacy has spiked in recent decades in tandem with the rural exodus that saw the metropolitan area nearly double in size since 1970. Even in the city's wealthy areas, sewage treatment has lagged dramatically behind, with so-called "black tongues" of fetid, sewage-filled water common even on the tony Ipanema and Leblon Beaches. The lagoons in the fast-growing Barra da Tijuca region have been filled with so much sewage dumped by nearby glass-and-steel residential towers that vast islands of sludge emerge from the filthy waters during low tide. That lagoon system, which hugs the Olympic Park and Athletes' Village, regularly sees massive pollution-related fish die-offs and emits an eye-watering sulphuric stench. Promises to clean up Rio's waterways stretch back decades, with a succession of governors setting dates for a cleanup and repeatedly pushing them back. In the city's 2009 Olympic bid document, authorities pledged the games would "regenerate Rio's magnificent waterways." A promised billion-dollar investment in cleanup programmes was meant to be among the games' most important legacies. Once more, the lofty promises have ended in failure. Just over a month before the games, biologist Mario Moscatelli spent more than two hours flying over Rio in a helicopter, as he's done on a monthly basis for the past 20 years. Viewed from above, Rio's sewage problem is as starkly visible as on the spreadsheets of the AP analysis: Rivers are tar-black; the lagoons near the Olympic Park bloom with fluorescent green algae that thrives amid sewage; fishermen's wooden boats sink into thick sludge in the Guanabara Bay; surfers paddle amid a giant brown stain that contrasts with the azure of the surrounding waters. "It's been decades and I see no improvement," laments Moscatelli, an activist who's the most visible face of the fight to clean up Rio's waterways. "The Guanabara Bay has been transformed into a latrine ... and unfortunately Rio de Janeiro missed the opportunity, maybe the last big opportunity" to clean it up.
August 2. Blue Capital Reinsurance Holdings has posted profits of $2 million, or 22 cents per share, for the second quarter of the year, compared with $5.5 million during the same period in 2015. Blue Capital's earnings beat analysts' estimates, as collated on Yahoo Finance, by one cent per share. Reinsurance premiums written for the quarter were $9.3 million, up $1.7 million on the same quarter last year. The second quarter's premiums written benefited from $0.7 million of reinstatement premiums, compared to no reinstatement premiums in the second quarter of last year. Loss and loss adjustment expenses for the period were $6 million, compared to $0.1 million for the second quarter in 2015. Blue Capital said that was driven by a higher frequency of global catastrophe events, which included the Fort McMurray wildfires in Canada, storms in Texas and Europe and the Kumamoto earthquake in Japan. Adam Szakmary, CEO of Blue Capital, said: "The second quarter included a greater frequency of global catastrophe events and Blue Capital's ability to generate a profit reflects our strong risk management and the benefits of maintaining a portfolio of diverse catastrophe risks. "During midyear renewals, our portfolio's average price decline of approximately three per cent moderated compared to the five per cent decline experienced a year ago. Through our advantageous partnership with Endurance and the leveraging of our experienced underwriters, we were able to assemble an attractive portfolio during the midyear renewals." General and administrative expenses for the quarter amounted to $1.2 million — $0.7 million less than the same period last year. That was attributed to lower performance fees based on reduced profitability.
August 2. Jimmy Spithill, the Oracle Team USA skipper, is battling to regain fitness after having elbow surgery immediately after last month's Louis Vuitton America's Cup World Series in Portsmouth. Spithill tore a tendon in his left elbow and flew straight to California for treatment at the end of the fleet regatta. Last year the multiple America's Cup winner, ISAF Rolex World Sailor of the Year and past King Edward VII Gold Cup winner underwent an operation for an injury on his right elbow that flared in the build-up to Oracle's successful defence of the America's Cup in 2013. "Unfortunately I tore a tendon in my left elbow," Spithill said. "The initial injury I did was on my right elbow during the 2013 America's Cup, this was a torn tendon, but on the inside of the arm-commonly referred to as Golfers Elbow. I had this operated on by the DISC medical group after the 2013 America's Cup. This injury I did was on the outside of my left elbow, commonly referred to as Tennis Elbow. Like the previous injury we tried physio, cortisone, etc but after six months it had gotten worse and we decided to do it straight after Portsmouth. I injured the left elbow from overloading my arm training due to the original injury and long recovery of my right elbow. When they opened the arm up they discovered that the tear had become much worse and was almost off the bone, likely from pushing it in Portsmouth, so [it was] important we did it when we did." Despite the injury Spithill expects to be fit enough to compete at the next month's World Series regatta in Toulon. "The recovery on this surgery is much quicker as the operation was much less complicated than the first operation. I should be good for Toulon." While Spithill recovers from surgery and prepares for the competition in France in September several of his America's Cup rivals will be heading to Rio for the Olympics. Nathan Outteridge, the Artemis Racing skipper, and Iain Jensen, the Artemis tactician, are defending champions in the 49er class, where Peter Burling and Blair Tuke, of Emirates Team New Zealand, will look to go one better than the silver they picked up at the London Games in 2012. The New Zealand pair go into the competition as favorites this time around, however, after going largely undefeated since then. "We don't feel like we're going there to defend the gold because since then, we haven't really posted a win at any major event. We're going there to try and win the gold. Last time around our sole focus was the Olympics, but it's pretty obvious that in the lead up to Rio, we're not focused anywhere near as hard as we were in the past. Now, we have the America's Cup, which means World Series events and developing a boat for 2017." Elsewhere, Giles Scott, of Land Rover BAR, will compete in the Finn class where the world champion will finally be able to step out of Sir Ben Ainslie's shadow. Giles was arguably the best, or second best, Finn sailor in the world heading into the last Olympic Games. But the Finn class was also Ainslie's class, and with only one sailor per country allowed at the Games, Scott was relegated to a coaching and supporting role. Now, it's his time. "Every single time I speak to anybody in the media, I am compared to Ben," Scott said. "I'm not Ben Ainslie, I just happen to be the guy that tried to beat him and failed. I'm not really sure I'll ever step out of his shadow because of everything he's done. It's not the reason why I'm trying to win the Olympics — it's more personal than that."
August 2. The Ministry of National Security and the Bermuda Police Service will be discussing safety at large-scale events in the light of violence that marred the Cup Match holiday. Senator Jeff Baron, the national security minister, said its Group Violence Intervention Strategy would consider the events that led to four people being injured on Friday and Sunday evenings. "Violence in any context is upsetting — it is shocking and it is something that we should not tolerate in Bermuda," Mr Baron told The Royal Gazette. "It makes it that much more of an affront when it happens at a Cup Match event or in the water where there are thousands of people there to enjoy a fun event. Regardless of where it happens the Ministry of National Security will continue its Group Violence Intervention Strategy and to look at best practices on how we are policing and managing large-scale public events whether it be at Heroes weekend, be it at Cup Match. We will continue to look at how we are dealing with that." One man has been arrested in connection with a mêlée at Mangrove Bay at about 5.20pm on Sunday, when men in the water after the Non-Mariners Day celebrations became combative towards each other, throwing bottles and other projectiles. An 18-year-old man needed hospital treatment for a stab wound to his shoulder and an 18-year-old woman was hit in the head by a flying object. Two days earlier, two men were to hospital after being stabbed in the men's bathrooms of Somerset Cricket Club, between 7.30pm and 9.45pm. On Bermuda's previous holiday weekend, National Heroes Day in June, cricketer Fiqre Crockwell was shot dead after a function at the BAA car park. Mr Baron continued: "While they are unfortunate and there are elements in our society who are disregarding the safety of many others, we mustn't allow that behavior to make any impact on the meaning on why we celebrate Emancipation Day, why we celebrate Somers Day and why we gather together as a community to celebrate what we have here in Bermuda. We believe the community tensions as a result may be affected. This will certainly be something that we discuss. We have oversight of disaster management and we are more than happy to work with all event planners in making those steps well before." Mr Baron said he was on site during Non-Mariners Day to gain insight into the challenges faced by the police. "It was not just an opportunity to interact with the community but also to see in rich details the challenges are of the officers and event co-ordinators." Anyone with information about the incidents should telephone Clifford Roberts Jr on 295-0011.
August 2. Relieved students who were in France at the time of the Nice terror attack have returned home to Bermuda and declared: "It could have been us." Giovanni Hollis, Corrie Cross, Shane Krueger and Yusef Bushara are happily reunited with their families after being only a matter of miles away from the Bastille Day horror which left 84 people dead. One mother, Gillian Cross, spoke of her dread as the news unfolded when she received photographs from her daughter, 17-year-old Corrie, enjoying a fireworks display. Warwick Academy student Corrie was actually in the neighboring city of Cannes when the attack took place — but Gillian was unaware of her location. Gillian told The Royal Gazette: "Corrie was sending us pictures of the fireworks when we were watching the news on the TV and we found out after the fact that she was elsewhere. "She posted pictures of the fireworks just five minutes after I saw it on the BBC news and I panicked. I started calling her; she wasn't answering. Her daddy texted her and eventually she responded and we knew she was safe. Nice is the next town from Cannes so they were close by. It was a scary." The students were visiting France as part of an exchange trip sponsored by l'Alliance Française des Bermudes. They all made a safe return to L.F. Wade International Airport last Wednesday, when their relieved parents awaited them. They had been in Nice just days before July 14, when a terrorist ploughed a truck into the crowd, and were later held in lockdown in Cannes's Lycée Carnot school for three days following the attack to ensure their safety. Corrie told this newspaper: "We watched the fireworks display and everything was great but I got home and my dad messaged me to ask if I was OK. I was confused as to why then he told me what had happened. I was really shocked and disappointed. It was scary because at least two days before I had been on the same boulevard as the attack happened so it could have been us — it was so surreal. We had to stay in the school, and that was not the best experience, but I got to stay with my host family at the weekend. I didn't feel like I was too constrained. I felt that right after an attack would be safest because people would be on high alert but I'm very happy to be home." Giovanni, 14, said he never really felt in danger as he too was in Cannes when the attack happened, but described the atmosphere in the country as "intimidating. We were in Nice a few days before but I was out and about in Cannes at the time of the attack watching fireworks and then got home and saw the news. I felt intimidated by the way the country went into a state of emergency and there were guards walking around with actual guns and stuff. The school went on lockdown for two days and on Sunday I stayed in my host family's house all day. They were disappointed and sad and shocked. The teachers were supportive. We felt free to ask questions and the host family were really helpful." Kelly Exell was waiting for her son Shane at the airport, telling us: "I had been communicating with Shane via the internet when the attack was happening — we pieced together the times and I realized he was in Cannes. His family chose to celebrate in Cannes but they had been there three days earlier walking up and down the Promenade des Anglaise. He was fine; the school did a lot to protect them and kept them in the school campus. I'm very excited to see him."
August 2. Brenda Dale has stepped down as Bermuda's chef de mission for the Olympic Games in Rio because of family reasons. Dale, who is also the Bermuda Olympic Association vice-president, will be replaced by Carlos Lee, a long-serving BOA official who performed the chef de mission's duties at last summer's Pan Am Games in Toronto. Bermuda's other BOA officials travelling to Rio this week are president Judy Simons and Stan Douglas, who is the temporary secretary general in the absence of Phillip Guishard because of ill health. "Although I won't be there physically, I will be with you in spirit!," Dale wrote in an e-mail to the BOA. "I congratulate all of our athletes and their coaches for working so hard to get here. I wish each and every one of you success in your competition, and a safe and enjoyable Olympic experience." In an interview with The Royal Gazette prior to her decision, Dale said she was optimistic the Olympics would run smoothly despite the concerns surrounding the first Games to be held in South America. She felt there was some legitimacy to the big issues facing Rio, which have included poor infrastructure, the polluted Guanabara Bay and the Zika virus, but suspected a fair portion of the negative stories simply come with the territory for any city hosting a major sporting event. "A lot of the controversy relates to the politics, the recession and safety and I think some of it is regular hype before any Olympics and some of it is legitimate," said Dale, who is assistant vice-president for Wellness at BF&M. There will be a few hiccups, but there are hiccups before almost every major competition. I know they will want to make it the best experience for the athletes, officials and visitors that arrive." Having already visited Rio to inspect the competition's facilities along with other delegates, Dale said she was encouraged by the air of positivity and impressed with the work being done to make the event a success. "I certainly had a positive sense from the Rio organising committee who are working 24 hours a day and I believe the majority of people [in Rio] really want to make it work. There are a number of young vibrant Brazilians involved and their heart and soul is in it. I really think it will be a good Games and the only thing we will do is ask for our athletes to be smart and safe."
August 2. An unpopular ban on Bermuda driver's licences by the state of Massachusetts is being addressed as "a matter of urgency". The step, which surprised local travelers attempting to rent cars, was made because the island was not signatory to international treaties. The exclusion goes beyond inconvenience for one woman who contacted us, saying she would have to spend two months in the state later this year for continued knee surgery — with the denial of a rental car effectively leave her immobile. Asking to remain anonymous to protect her privacy, she pointed out that Bermudian patients attend the Dana-Farber Cancer Institute in Boston for radiation treatment. "Those patients need people to go with them and help get them around; they can't be expected to get taxis all over the place." Meanwhile, her grandchildren would be returning to university in Massachusetts in a matter of weeks — and usually got driven by their parents. A spokesman said last night that the Ministry of Tourism, Transport and Municipalities was aware of the steps taken by the Massachusetts Motor Vehicle Agency. "The minister and ministry technical officers are currently working with Government House and the US Consul General on this issue as a matter of urgency, and collectively they are committed to working towards an expeditious solution."
August 2. Repairs to the St George's swing bridge are under way, the Ministry of Public Works has said. Last week, materials for a Bailey bridge which had sat in Kindley Field Park since January — gathering rust from the elements and criticism from the Progressive Labour Party — was removed in time for Cup Match festivities. A Ministry spokeswoman did not answer a request on what had happened to the Bailey bridge, which had initially been intended to allow vehicles access across Ferry Reach while the damaged swing bridge was fixed. "The repair contract is now under way. The Ministry will provide an update in the near future," she said.
August 2. After several days of exploring the waters off Bermuda, the Canadian Coast Guard ship Hudson heads back north this week, leaving a trove of information with local scientists. "We think it's our fourth visit over the 53 years we've been sailing," Captain Rick Cotie told The Royal Gazette ­— and with the ageing vessel set for replacement, the trip will be her last to Bermuda. The ship has spent several days studying Bermuda's waters, mainly the depths, with its remotely operated vehicle and sounding equipment — a fine break for a crew more accustomed to sailing the Arctic. Captain Cotie called the Hudson "the best boat in the coast guard, by far" when it came to heavy seas. "These seas have been very moderate, compared to what we're used to, going above Newfoundland." The ship arrived last week after a mission down the Eastern Seaboard, from Halifax to Bermuda — sharing its detailed scanning of the seas with the Bermuda Institute of Ocean Sciences. The scan, stretching from the Scotian Slope to just off Bermuda, is "the longest oceanographic transect that's been done from a Canadian vessel", according to chief scientist Ellen Kenchington. The vessel's deep sea cameras will hopefully give local scientists a detailed glimpse of seamounts such as the Challenger Banks, 12 miles offshore. Hudson scientists are also partnered with the Nekton Foundation, another scientific venture that has deployed two deep water submarines into the seas off Bermuda. It recently discovered an algal forest on the Argus seamount, 30 miles southwest of Bermuda. Visiting Bermuda also affords the ship a chance to examine the Gulf Stream and the Sargasso Sea. The trip down gave the on-board ornithologist an unusual sighting of the brown booby, a large seabird and an unusual sight. A tour of the ship with chief officer Catherine Lacombe shows the marks of various missions left in the decks, as equipment has been repurposed over the years. Various laboratories are housed in shipping containers. Cranes and winches equipped with thousands of metres of cable allow the Hudson to bring up samples from the bottom of the sea, while its sounding equipment shows the ocean floor in detail. Its latest transect studied water chemistry, conductivity and density as well as temperature. The old officers' lounge, now open to all, offers a step into the past, its wood-paneled walls lined with pictures. The unique hull design makes the ship "extremely good for heavy seas", Ms Lacombe said. "We're trying to extend the life of the vessel, but she is going to have to be replaced eventually. She needs a lot of care from the crew, but the crew are proud of her — and it shows." The ship departs local waters tomorrow.
August 1. NEW YORK (Bloomberg) — Evan Greenberg, the chief executive officer of Chubb Ltd, mocked "wannabes" at smaller insurers who are seeking to expand by guarding commercial clients against trade disruption or political instability in international markets. "They're scratching for business, they don't want to shrink," Greenberg said of rivals in a conference call, without naming individual companies. "They think growth and just the top line equal strength." Greenberg formed one of the world's largest insurers by combining his Ace Ltd this year with Chubb Corp. He joins Warren Buffett, the CEO of Berkshire Hathaway, in warning that upstarts eager for business may be taking on unsustainable risks. Both executives have been willing to lose market share rather than sell insurance for what they consider to be too low a price. Coverage for trade credit and political risk can be particularly dangerous, given that the global economy faces growing protectionism "and geopolitical risk everywhere", Greenberg said. The policies can protect against confiscation of property and include so-called contract-frustration insurance. "Sounds like a brilliant time to get into that business," he said sarcastically of rivals. "I wish them a lot of luck because that's all they got going for them." Second-quarter policy sales were $7.64 billion, or 5.8 per cent less than the combined figure for Ace and the old Chubb in the year-earlier period, the Zurich-based company said in a statement after markets closed on Tuesday, citing competitive market conditions and currency fluctuations. Greenberg also warned that protectionism will limit economic growth. UK voters supported a plan last month to exit the European Union. In the US, Republican presidential nominee Donald Trump and Democrat Hillary Clinton have criticised the Trans-Pacific Partnership, the trade deal favored by her political ally, President Barack Obama. The characterization that global commerce has "been evil and has damaged our country and has damaged the world is just so misguided", Greenberg said. Also, the idea that immigration "is somehow our enemy is again misguided populism and feeding on the suffering of those who may vote", he said. Trump has vowed to build a wall along the US border with Mexico, a plan opposed by Clinton.
August 1. Aspen Insurance Holdings Ltd reported second-quarter net income of $64.9 million. On a per-share basis, the Bermudian-based insurer and reinsurer said it had net income of 89 cents, up from 62 cents per share in corresponding quarter of 2015. Operating earnings, adjusted for investment gains, came to 40 cents per share. That fell well short of the 69 cents per share estimate of analysts tracked by Yahoo Finance. Chris O'Kane, Aspen's chief executive officer, said: "Aspen achieved 7.7 per cent growth in diluted book value per share and annualized operating return on equity of 7 per cent in the first half of 2016. We delivered this in the face of an eventful second quarter impacted by higher losses from natural catastrophes and other events. "However, on an accident year ex-catastrophe basis, the performance of both our insurance and reinsurance segments improved considerably. Our new leadership teams at Aspen Re and Aspen Insurance remain focused on disciplined underwriting, identifying and capturing attractive opportunities for profitable growth in our diversified businesses around the globe which, we believe, will create long-term value for our shareholders." Gross written premiums increased by 10.9 per cent to $801.7 million in the second quarter, compared to $722.8 million in the second quarter of 2015. Aspen's combined ratio — the proportion of premium dollars spent on claims and expenses — was 100.7 per cent for the second quarter of 2016 compared with 93.6 per cent for the second quarter of 2015. Pre-tax catastrophe losses, net of reinsurance recoveries and $3.1 million of reinstatement premiums, totaled $65.1 million, or 10.1 combined ratio points, during the quarter, compared with $11.9 million in the corresponding period of 2015.
August 1. Four people were injured in two incidents as holiday celebrations turned violent over the weekend. Two men suffered wounds that were said not to be life-threatening when they were stabbed in the men's bathrooms of Somerset Cricket Club on Friday, between 7.30pm and 9.45pm. The victims, one from Southampton and the other from Smith's, were taken to King Edward VII Memorial Hospital for treatment. Yesterday evening, a man was stabbed and a woman hit by a projectile in a waterside mêlée at Mangrove Bay, a few hours after the annual Non-Mariners Race. During that incident, at 5.20pm, a group of men threw bottles and other objects at each other, according to police. Bermuda Police Service spokesman Dwayne Caines said an 18-year-old man was stabbed in the shoulder and taken via a marine vessel to Watford Bridge, where he was later transported to hospital. An 18-year-old woman was hit in the head by a projectile while she was in the water and was also taken to hospital. Neither of the teenagers were said to have life-threatening injuries. A man was arrested in connection with the incident. Witnesses to either incident should call Sergeant Clifford Roberts Jr on 247-1376 or the independent Crime Stoppers hotline on 800-8477.
August 1. A colorful band of revelers armed with satire and swizzle took to the waters at Mangrove Bay, bidding farewell to Cup Match with the traditional Non-Mariners Race. Among those hammering and spray-painting makeshift entries on the beach yesterday morning was a contrite Matt Parker, the Australian visitor who landed in hot water after streaking across the pitch at Somerset Cricket Club on the second day of Cup Match. "Yeah, I got arrested for it," Mr Parker told The Royal Gazette, saying his semi-naked sprint had been the result of losing a bet. Building the Offshore Same-sex Marriage Temple with friends, the visitor from Melbourne, Australia, was also documenting the 44th annual non-race as part of a crew filming "exotic festivals of the world". Starting with the hoisting of the non-colours just before noon, the Non-Mariners Race did not disappoint. While Mr Parker's team were taking a genuine stand in support of same-sex marriage, the social commentary came with the offbeat humour customary of the event. "While we can't do it here in Bermuda [or in Australia], we may be able to do it in international waters," he said. "Hopefully, we will non-win this non-race." Others had the same idea: a team near by was assembling a "three-tier wedding cake with rainbow icing", according to Johnny, a preparing non-mariner. "Let everyone eat cake," he said, as a spoof reverend got ready to perform the non-marriage — while a third team chose the title of Mangrove Gay Chapel. Another visitor, Marco, declared himself "a Brexit refugee looking for asylum in Bermuda" and willing to work for rum. The Bermuda Discount Airport team, meanwhile, said that they hoped their craft would "stay above sea-level better than the actual airport". The Fat Tyre Massive built their non-boat in a nod to Bermudian driver's licences getting banned in Massachusetts. Trophies for the race ranged from a mutant ninja turtle to a ceremonial egg whisk, according to Lisa Siese, one of the organizers at Sandys Boat Club. Ms Siese, who has helped put on the non-race for many years, was taking part for the first time, as the Brexit-themed dancing group All Dressed Up With No Place To Go. "We'll all be dancing with the non-calypso pipe band," she added. Several new features were introduced this year: paper aircraft featuring defunct airlines were launched from the club's windows, bearing tickets for prizes. Ms Siese said there will be a competition brought in to design the colours to be hoisted at the next non-race. The festivities were joined by a flotilla of guests at sea, as boats descended on the West End and moored up for the light-hearted end to the holiday. While Cathy Bromby, of Sandys Boat Club, said the Society of Non-Mariners welcomed guests, she said she wished more people would contribute to what was ultimately a charitable event. "There are people who make a lot of money out of bringing people to Non-Mariners and don't donate," she said. Eight official entries, which included the Duchess of Mangrove Bay, each nominated a charity for its non-cause.
August 1. Many people believe that insurers impacted by the Front Street fire will automatically raise their premiums to recoup their losses — but that is not the case, according to the head of the company that covered the gutted building. Fire ripped through 77 Front Street, the home of retailer Onion Jack's and several other businesses, in the early hours of July 21 and later that day BF&M revealed to this newspaper that it was on the hook for the damage. Other insurers may also face claims from neighboring businesses whose premises suffered fire or smoke damage, or business interruption. The likely cost of the claims has not been revealed, but Onion Jack's has said that about $300,000 worth of goods alone may have gone up in flames. Since then, some have raised concerns on social media that the cost of insurance would now inevitably go up, as a consequence of the claims. But John Wight, chief executive officer of BF&M, said this was an inaccurate assumption and explained how his business manages its risks. "BF&M has well over 100 years of experience of planning for events such as this one, and we expect to have losses. As part of our continually monitored risk-management process, we assess how much capital the company needs, in respect of major events such as these or paying out a claim on a life insurance policy years from now. We have risk managers and actuarial experts assisting our team in quantifying how much money to put aside, or reserve for, so that we are confident in our ability to pay a customer who has a policy with us in times of crisis." On the issue of how losses may impact what BF&M's clients pay for insurance in the aftermath, he said: "Regarding the rise or fall of premiums, property premiums are based on a pool of risks and are not specifically tied to an individual property. Certainly, we make every effort to evaluate individual risks based on their specifications such as type of construction, age of building, and type of protection. However, the very nature of insurance is that it protects property owners from unpredictable losses and events, and BF&M has demonstrated historically that it does not arbitrarily seek to recoup its claims expense via an increase in individual premiums. These increases in premiums can occur after a major catastrophic event impacting a great number of policyholders, once research and learnings from that event refine the industry's understanding of the risk. That said, there were no discernible increases in premiums after Hurricanes Fay and Gonzalo and BF&M, as well as the other local insurers, paid out a significant amount in claims costs. The driver that impacts premium price is evaluating a risk properly before it happens. If an insurance company is to be trusted, it must charge enough to be able to cover the risk it is insuring." Mr Wight added that on learning of the blaze, BF&M's first concern was about the safety of people and that the firm was "extremely relieved" to hear that there were no casualties. "We were also extremely impressed and grateful for the work of the fire and rescue services. Once we ascertain the safety of people, we set about doing what we are in business to do — support our customers when they need us most and begin the process of helping them to rebuild. The firm's staff had responded with calm, purposeful action, mobilizing a team to assess and quantify the damage. This is a process that takes time," Mr Wight said. "A fire as devastating as the one on Front Street can evolve over several days, but it's important not to waste time and to be at the customer's side at the earliest opportunity."
August 1. Dr Ewart Brown, the former Premier, has attempted to re-ignite his plan for a stem cell clinic in Bermuda, according to e-mails between Dr Brown and Michael Dunkley. However, the correspondence shows the Premier and health minister Jeanne Atherden rejected Dr Brown's proposal, which was first aired amid a storm of controversy nine years ago. Dr Brown's e-mails, shared with The Royal Gazette by both himself and Mr Dunkley, say that he and San Diego-based stem cell company Stemedica had made a presentation to Cabinet last year. However, Ms Atherden apparently said no to the idea some six months later. Last Wednesday, Dr Brown e-mailed Mr Dunkley and Ms Atherden, sharing with them a press release announcing Stemedica is due to begin clinical trials in the United States, using adult allogeneic stem cells to treat Alzheimer's disease. "Hello: Stemedica is the company who made the presentation to Cabinet with our team last year," Dr Brown wrote. "It is shameful that a political rationale is being used to block Stemedica and Brown-Darrell clinic from opening their Stem Cell Project in Bermuda. EB." Mr Dunkley replied: "Good Afternoon Sir. Thank you for forwarding to our attention the news from Stemedica. We disagree with your assertion and believe you are aware of what is required to move the application forward. I hope you and Wanda have an enjoyable Cup Match holiday. Premier." The stem cell project first came to light in Bermuda in July 2007, when Dr Brown and Mrs Brown struck a partnership with Stemedica. They promised "no-option patients" could be brought to the Brown-Darrell Clinic in Winterhaven, Smith's, for stem cell work from early 2008. International Society for Stem Cell Research president George Daley reacted by claiming he was sceptical of any group running experimental treatment in jurisdictions without regulatory oversight. Dr Daley warned desperately sick patients not to be misled into thinking stem cells were a miracle cure; the former United Bermuda Party, which was the Opposition at that time, called for the project to be shelved until proper regulations were in place. In 2009, the late Nelson Bascome promised in his capacity as health minister at the time that policy guidelines would be drawn up, followed by official regulations. Shortly before stepping down as premier in 2010, Dr Brown said in a public speech: "The clinic is still operating; the research side is coming." However, since then, few updates have been provided on the project. On its website yesterday, Stemedica describes its stem cell manufacturing capacity as "among the finest in the world. Stemedica has established partnerships for the distribution of our stem cell-related products with numerous world-class organisations and hospitals around the world." It points to links with Kazakhstan's national research facility, where a series of government-approved clinical trials are already under way. Meanwhile, Novastem, Stemedica's distributor of stem cell products in Mexico, conducts research at Clinica Santa Clarita, "a fully licensed, state-of-the-art clinic located in Tiajuana". Stemedica further says it operates a United States FDA-compliant Current Good Manufacturing Practices facility in San Diego, licensed by the Food and Drug Branch of the State of California Department of Health and Human Services. It also has manufacturing facilities and master banks in Lausanne, Switzerland.
August 1. Activist group the People's Campaign has published a comprehensive special report detailing its objections to the airport redevelopment. Titled A Bad Deal for Bermuda, the 69-page document is be available electronically and in hard copy from the Bermuda Industrial Union. At a press conference yesterday, church leader the Reverend Nicholas Tweed condemned the Bermuda Government's deal with Canadian construction firm Aecon to redevelop L.F. Wade International Airport, at an approximate cost of $250 million. "One-hundred and eighty-two years after the abolition of slavery in Bermuda, we are now faced with sentencing the island to economic slavery. By this report, we are making a clarion call for us to emancipate ourselves from this bad deal for Bermuda." Jason Hayward, president of the Bermuda Public Service Union, promised that the report would highlight how the Government was "seduced" into a deal by Aecon, as well as delving into cost implications, transparency problems, documentation deficiencies and conflicting statements from Bob Richards, the Minister of Finance. Bermuda Industrial Union president Chris Furbert criticised the "outrageous" price of the planned airport. "You're talking about $1,000 per square foot," he said. "How could that be good value for money? Most of it's open space." The report, which Mr Furbert confirmed was written and compiled by the People's Campaign team, accuses the Government of dismissing the people's concerns and snubbing "demands for answers to basic questions relating to how the deal is structured. In spite of public opposition from across the spectrum, the Government has doggedly continued to ignore the people it was elected to serve, as it sells off the birthright of future generations of Bermudians. The purpose of this report is to keep the critical, unanswered questions concerning this deal in the public domain, and to query a process that is shrouded in secrecy. It appears that every effort is being made to keep the Bermudian people in the dark, until reaching a point of no return, and ultimately resulting in the people resigning themselves to the inevitability of a project."
August 1. Vaccines are a first line of defence against disease, and with many travelling this summer the Hamilton Health Clinic has issued a reminder that vaccines are not just for children. Basic vaccines such as tetanus or measles, mumps and rubella (MMR) need to be kept up to date — and a personal record of immunizations should be kept up to date and safeguarded alongside travel documents. Persons immunized at the Department of Health should take the yellow booklet certifying vaccination to their doctors to keep their records updated. The clinic also has the resources of the Centres for Disease Control in Atlanta at its disposal to recommend the right vaccines according to a travel itinerary. Anyone needing immunizations for travel can make an appointment by e-mailing childhealth@gov.bm or calling 278-6460. Travel Clinic hours are Tuesdays and Thursdays, 2pm to 4pm by appointment only, at the Hamilton Health Centre at 67 Victoria Street.

History & daily newspaper reports
Authored, researched, compiled and website-managed by Keith A. Forbes.
Multi-national © 2020. All Rights Reserved