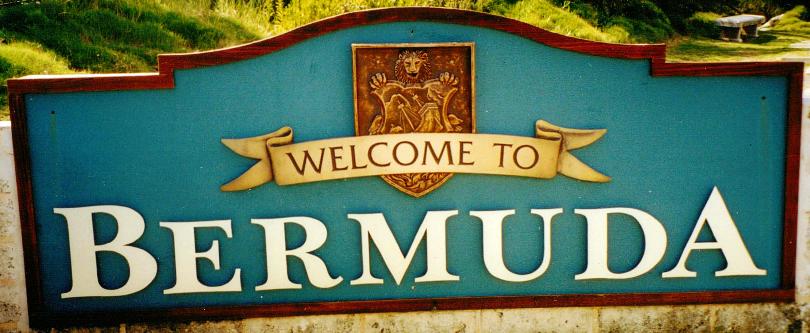 Click on graphic above to navigate the 165+ web files on this website, a regularly updated Gazetteer, an in-depth description of our island's internally self-governing British Overseas Territory 900 miles north of the Caribbean, 600 miles east of North Carolina, USA. With accommodation options, airlines, airport, actors, actresses, aviation, banks, beaches, Bermuda Dollar, Bermuda Government, Bermuda-incorporated businesses and companies including insurers and reinsurers, Bermudians, books and publications, bridges and causeway, charities, churches, citizenship by Status, City of Hamilton, commerce, communities, credit cards, cruise ships, cuisine, currency, disability accessibility, Devonshire Parish, districts, Dockyard, economy, education, employers, employment, environment, executorships, fauna, ferries, flora, former military bases, forts, gardens, geography, getting around, golf, guest houses, highways, history, historic properties, Hamilton, House of Assembly, housing, hotels, immigration, import duties, internet access, islands, laws, legal system and legislators, main roads, marriages, media, members of parliament, money, motor vehicles, municipalities, music and musicians, newcomers, newspaper, media, organizations, parks, parishes, Paget, Pembroke, performing artists, residents, pensions, political parties, postage stamps, public holidays, public transportation, railway trail, real estate, registries of aircraft and ships, religions, Royal Naval Dockyard, Sandys, senior citizens, Smith's, Somerset Village, Southampton, St. David's Island, St George's, Spanish Point, Spittal Pond, sports, taxes, telecommunications, time zone, traditions, tourism, Town of St. George, Tucker's Town, utilities, water sports, Warwick, weather, wildlife, work permits.

Bermuda's 2017 October History and Newspaper Reports
Events that made headlines in the tenth month of this calendar year
By Keith Archibald Forbes (see About Us).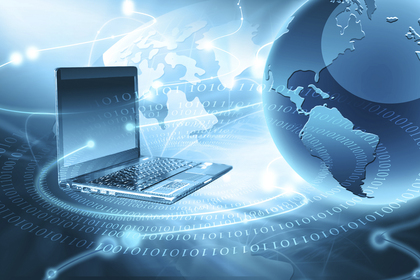 Benefits of website linkage to Bermuda Online
See at end of this file all our many History files
Bermuda's Royal Gazette newspaper is not published on Sundays or Public Holidays
October 31. The new government's travel expenses bill for its first three months in office is just over $27,000, according to data released on its new expenses website today. Ministers made eight overseas trips between August 16 and October 14 to the US, Europe and the Caribbean. Details of the various ministerial trips since the Progressive Labour Party came to power on July 18 were released this afternoon on the Government's new travel expenses site. The site showed that Minister of Social Development and Sport Zane DeSilva's four-day trip to support Bermudian participants at Caribbean culture celebration Carifesta XIII in Barbados cost $4,818. The bill included $1,852 for flights and $2,215 for accommodation. A recent trip to London, Paris and Brussels between October 7 and 14 by David Burt, the Premier, to speak to British and European officials about "the pending Blacklist threat to Bermuda" cost just over $6,000. The overall cost included $2,285 on air travel, $918 on ground transportation, $2,589 on accommodation and $236 on meals. The Premier was accompanied on the trip by a Ministry of Finance official and the director of the London UK office was also involved. In September Mr Burt joined Jamahl Simmons, the Minister of Tourism, to travel to the US Congressional Black Caucus Foundation's annual legislative conference in Washington DC. The two ministers also traveled to New York to meet leaders of fund management, private-equity and venture-capital companies to "build business relationships and attract new investment". According to the information on the Government's website the two trips cost just over $3,500 in total. A further trip by the Premier and a Bermuda Development Agency official to New York between September 19 and 21 cost a further $4,738 which included $3,130 in air travel and $1,589 in accommodation. The expenses website said the trip was to "meet and participate in various high level meetings with current and prospective international business clients". Two overseas trips taken by Wayne Caines, the Minister of National Security, in September totaled just over $2,000. The first trip to Miami involved attendance at a meeting of the Caribbean Action Task Force Steering Group and the annual Council of Ministers meeting. On the second trip Mr Caines met Dr David Kennedy and his team at John Jay College of Criminal Justice in New York to learn about gang reduction strategies. And Walter Roban, the Minister of Transport, visited London last month to attend London International Shipping Week 2017 and Capital Link Forum. Mr Roban was accompanied by acting permanent secretary Aideen Ratteray Pryse on the trip, which cost a total of $6,149 including $2,661 in air travel, $550 on ground transportation and $2,854 on accommodation. Lovitta Foggo, the Government Reform Minister, said the page contained current and historic information and would be updated as ministers travel overseas. She added: "I am pleased to reintroduce the ministers travel expenses page on the government website. I am committed to full transparency and this page will detail the location and reason for a minister's international travel together with how much they spent while traveling." The page can be found at www.gov.bm/travel-calendar.
October 31. Fuel company Rubis will not be fined for a failure to report a gasoline spill at its St George's gas storage plant inside the legal deadline. A government spokeswoman said yesterday that under the Clean Air Act 1991, failure to report a spill within one hour can only lead to the polluter being hit with an "emission control order". She added: "A licensee can only be found guilty of an offence upon a subsequent failure of this condition, in which case the maximum fine would be $5,000." As it was Rubis's first offence of this type, the company will not face a fine. The Department of Environment and Natural Resources said in April that notification of the leak at the Ferry Reach "was late by approximately 24 hours". The news came after confirmation last week that traces of the 17,200-US gallon leak had spread outside the site where the accident happened in March. A Rubis spokesman said it was difficult to predict when all the leaked gas would be recovered. Specialist US firm Arcadis was drafted in after the leak to help with clean-up efforts. The spokesman added: "From Rubis's perspective, the important factors are ensuring the focus remains on ensuring that potential risks to human health and the environment have been and continue to be properly addressed using industry-leading best practices. The important fact is that no off-site receptors or on-site workers are at risk from this event, whether by groundwater or vapor pathways." The spokesman was unable to comment on the cost of the clean-up effort to date because of an insurance claim. But he added: "There has been no expense spared in the remediation efforts. "Rubis and Arcadis's top priority is protecting the environment and the surrounding community through the best technology and approaches available. We appreciate the co-operation and patience of all the agencies and people involved as we work to complete the remediation process." Jonathan Starling, executive director at Greenrock still has questions about the cause of the leak. He said: "I understand from previous press releases that there was a faulty valve. However, I don't think it's been made clear what caused that valve to fail in the first place, or what steps they have taken to prevent future spills, or improving their handling of such." Mr Starling said that reducing reliance on fossil fuels though the use of electric vehicles and renewable power sources was the best way to avoid future spills. The Government said last Friday that only a quarter of the gasoline spilt seven months ago had been recovered. A spokeswoman added that traces of the spill were now visible outside the Rubis site. The Government said in May that John Rankin, a US expert, had been brought in to consult on cleanup efforts. Dr Rankin's contract will include consultation on data submitted until March 2018.
October 31. A fuel spill at the Rubis gas station in Flatts Village poses a negligible risk to the environment, according to experts. Geoff Smith, environmental engineer at the Department of Environment and Natural Resources, told The Royal Gazette that much of the gasoline that spilt on to the road and into the sea would have evaporated. The exact amount of gasoline that escaped while a supply truck filled the fuel storage tank has not been confirmed, although it is believed to be only about ten gallons. "There are always concerns with any fuel getting into the water," Dr Smith said. "Gasoline is a very volatile liquid so the primary concern was health and public safety and then the environment. Absorbent pads and booms were deployed into the water by the gas station as well as by BAMZ staff at the T-dock across from the aquarium where fuel was also seen. In this case there is a negligible risk to the environment because of the volume of the spill but also the fact it was gasoline that escaped and not a heavy fuel oil or diesel which can stick to things. Gasoline evaporates extremely quickly." The fuel spill happened just before 9.30am yesterday. The driver of the Rubis truck needed hospital treatment for minor burns he suffered to his eyes and body. Staff from the Department of Environment and Natural Resources were on site within 20 minutes to help with the clean up. Police, fire and Rubis personnel also attended. "Much of the spill, provisionally estimated at less than ten to 20 gallons, would have evaporated," the spokeswoman said. "Minimal patches of sheen" were said to remain on the surface of the water. Staff from local businesses also leant a hand as police directed motorists away from the area. Management at the Tool Shed Rentals put out cones to help with traffic calming measures and also provided a hose to help wash down the area. One manager, who asked not to be named, said: "There was an overwhelming smell of gasoline, and what appeared to be a stream running down the road at one point. The driver of the truck was drenched in gasoline and being treated at the scene and obviously the major concern of everyone was the gasoline catching fire. Once the police closed down the area, the road just went ghost while all the different authorities did their work." The Bermuda Fire and Rescue Service estimated that ten gallons of fuel had been spilt from the Rubis fuel supply truck. People were evacuated from the immediate area and traffic was diverted as the fire service used liquid-absorbing material to deal with the spillage. The road was reopened again at 1pm. At noon yesterday Graham Redford, managing director at Rubis, said: "The driver was transported to hospital with what appeared to be minor injuries consistent with fuel contact. He has been seen by the ER Department and is expected to be released shortly."
October 31. A report assessing how well the America's Cup delivered on its investment was due to be handed in this month. But as of last night, there was no word on the independent appraisal commissioned back in July from the firm PricewaterhouseCoopers. The accountants were taken on by the ACBDA just over two weeks before the July 18 General Election brought in a change of government. At the time, Grant Gibbons, then the Minister of Economic Development, welcomed the report after "much speculation about the economic impact of AC35". The economic impact study, which would examine the event's social and economic effects, had been expected to be completed this month, with today marking the final day. No response had been received from the ministry by press time after The Royal Gazette inquired on the status of the report. The global regatta's benefits to the island were disputed when the Progressive Labour Party was in Opposition, and sparring has continued with its return to power. David Burt, the Premier and Minister of Finance, last month accused the One Bermuda Alliance of a neglecting to budget for a $4.3 overspend on sponsorship for the America's Cup. Later in September, Walter Roban, the Deputy Premier and transport minister, told the House of Assembly that more than $1.6 million was required at the Department of Marine and Ports because of America's Cup overruns. An OBA spokesperson said: "We have been wondering what has become of the report. The PLP spent an inordinate amount of energy in Opposition trying to discredit the value of the America's Cup. Why are they now delaying the economic impact report's release?"
October 31. The first Bermudian soldier to join the British Army after the end of the Second World War has died aged 87. Arthur Tatem enlisted with the Royal Welch Fusiliers at the age of 18 and traveled the world before returning home to Bermuda in 1953. Mr Tatem, who died last Wednesday, was also a familiar face at the Bermuda Historical Society's museum in Hamilton where he had volunteered for more than a decade. His son George Tatem told The Royal Gazette that his father always wanted to make a difference in the community. Mr Tatem said: "He gave us a much better life than he had. He had a hard upbringing and was bounced around from pillar to post. His family have a lot of respect for what he ended up being. The Army was a big part of him and he lived a very disciplined life. Everything had to be a certain way — he was very meticulous. My father was very personable. He was very giving and always wanted to be helpful and make a difference in the community." Mr Tatem was born in 1930, the oldest of eight children and lived mostly with his great-grandmother, Clara Tatem, in Hamilton until he was about nine. After that he lived with his mother, Dulcie Tucker, at a variety of homes on the island's North Shore from Government House Gate to Dock Hill to Friswells Hill. In August 1948 he joined the British Army and went on to become a corporal in The Royal Welch Fusiliers and the Wiltshire Regiment. He obtained his Army 2nd class and 1st class certificates of education and later a City & Guilds qualification in telecommunications. Mr Tatem returned to Bermuda in 1953, and two years later married his wife, Dorothy. The couple went on have two sons, George and Michael. At the age of 28 he was hired by the National Cash Register company of Bermuda and remained there until he retired aged 65. Andy Bermingham, president of the Bermuda Historical Society, said Mr Tatem was "one of the society's most dedicated and devoted volunteers. In 2007 the museum needed urgent renovation and upgrade, which required professional help, but more importantly it required someone to do the hard work of painting and restoration of artifacts. Arthur became that help at the age of 77. He worked tirelessly for four months, and due to his keen interest in Bermuda and its history, he subsequently volunteered for museum duty every Wednesday. He did this for a period of ten years, while juggling his museum work with caring for his wife Dorothy, who had faced many years of poor health." Mr Tatem was also an accomplished watch repairer and took great pride in looking after the Society's own collection, especially the historic 1787 Blatchley clock. Mr Bermingham said: "Countless visitors and residents have passed through the museum doors to be greeted by Arthur's warm welcome and anecdotes of faces and places long gone. He was immensely proud of the fact he had made his way in life having left school at 14 to help his family financially. He was also very proud to be the first Bermudian since the end of the Second World War to join the British Army, an adventure that took him around the world. Arthur had his own set of rules and was a very precise person. He liked to entertain children and he kept hidden away in the museum a hoard of British copper pennies. Each child received his special gift. Arthur cared deeply about Bermuda and he played a wonderful part in its life, right to the very end. He will be greatly missed by us all and at the Bermuda Historical Society. Wednesday will continue to be Arthur's day."
October 31. Artex Risk Solutions has acquired Cayman Islands-based Chandler Insurance Management. In a statement, Artex said Chandler brings to the company more than 20 years of captive insurance management experience in the Cayman Islands. Nick Heys, CEO of Artex's International operations, said: "Chandler has earned a strong reputation in the Cayman insurance marketplace as a captive manager, with solid client relationships across a variety of industries covering multiple business lines. We are pleased to welcome Steven Butler and Beverly Hodkin to our existing Artex captive and insurance management team in Grand Cayman. David McManus, president and CEO of Artex Risk Solutions, which has offices in Bermuda, said: "Steve brings us a wealth of experience and is highly regarded by his peers. He's also well-recognized, having served in a variety of leadership roles with the Cayman Insurance Managers Association over the past two decades, including as chairman. Steve, Beverly and their associates will be wonderful additions to our growing Artex family." Artex is a wholly owned, autonomous subsidiary of Arthur J Gallagher & Co — one of the world's largest insurance brokerage and risk management services firms.
October 31. An operating loss of $546.9 million, or $13.81 per share, for the third quarter has been reported by RenaissanceRe Holdings Ltd. The Bermuda-based company's net loss was $504.8 million, or $12.75 per share, which compares to a profit of $146 million for the same period in 2016. Before the earnings were announced, a consensus of Wall Street analysts had estimated losses to come in at $12.11 per share. In line with other insurers and reinsurers, the impact of hurricanes Harvey, Irma and Maria, and the Mexico City earthquake, had a major impact on revenue. Losses from the hurricanes and earthquake, together with aggregated loss contracts, were $615.1 million. The company made an underwriting loss of $793.2 million, and had a combined ratio of 244.8 per cent for the quarter. Gross premiums written were up $210 million, or 48.8 per cent, to $640.3 million. Kevin O'Donnell, CEO, said: "This was a quarter that reminded the market of the volatility inherent in our business. We were once again able to demonstrate the benefit of being a long-term, dependable partner to our customers, paying claims rapidly and providing value beyond price. We executed well on our strategy, protected our capital, and our results were within expectations. I am proud of our team, which worked hard assessing losses, paying claims and writing new business against a background of multiple complex events. Looking forward, I am excited about the future. Our balance sheets, and those we manage, are fully capitalized and we are prepared for the opportunities we anticipate at the January 1 renewal." RenRe has sold $49.7 million of its shares in DaVinciRe to third-party shareholders, resulting in its non-controlling economic ownership of DaVinciRe falling to 22.1 per cent as of October 1. During the third quarter, RenRe bought back 270,000 of its common shares, at an aggregate cost of $38.9 million.
October 31. Bermuda-based Sompo International Holdings Ltd, a specialty provider of property and casualty insurance and reinsurance, is creating an integrated platform to provide agriculture insurance and reinsurance solutions across the globe. The new global platform, AgriSompo, will deliver a common underwriting approach with shared expertise and technology across a range of products to farmers, agricultural insurers and a wide variety of other agribusinesses. AgriSompo will be governed by a small group of functional experts and executive leadership from Sompo International and will be co-led by Avery Cook, senior vice-president of Global Agriculture, and Kristopher Lynn, senior vice-president Global Agriculture. SIH is a wholly owned subsidiary of Sompo Holdings (Sompo Group), which is a leading global provider of agriculture insurance and reinsurance through the company's operating subsidiaries. In a statement the company said that by leveraging the licenses, distribution networks, client relationships, market leading technology and specialty capabilities of the Sompo Group, AgriSompo will offer the company's clients and cedants innovative agricultural risk management solutions tailored to local market needs. Sompo currently provides agriculture insurance products to clients in a number of countries globally, however it said this new initiative will significantly expand its geographic footprint. The initiative will be branded globally as AgriSompo, however we will continue to operate in the US as ARMtech Insurance Services, a wholly owned subsidiary of SIH and the fifth largest direct underwriter of US federally sponsored crop insurance. The company said the new initiative will "capitalise on Sompo International's technology platform as well as its loss adjusting and pricing expertise to offer a flexible suite of products selected to best meet client needs, including protection against yield and revenue shortfalls from single or multiple perils on a global basis. Drawing on the specialty expertise and innovative pricing system provided by Sompo Global Weather, a leading underwriter of tailored weather-driven risk management solutions, AgriSompo will offer additional products indexed to weather variables". John Charman, chairman and CEO of Sompo International, said: "AgriSompo is one of many major initiatives that we are undertaking as we fulfill our vision to build the first truly global integrated insurance and reinsurance business. By leveraging our extensive specialty agriculture resources across our overseas operating subsidiaries, we will deliver the best-in-class underwriting, risk management and technical solutions. Over time, it is our intention to extend this 'centre of excellence' model to additional niche markets where our exceptional knowledge of these specialty risks will be a key differentiator to our clients and trading partners."
October 31. E-sports company Unikrn Bermuda Ltd has made the island's first cryptocurrency launch. Unikrn describes itself as a "regulated e-sports betting platform" and its freshly launched cryptocurrency is known as UnikoinGold. Bermudian law firm Conyers was involved in the launch and Unikrn raised roughly $31 million in its digital token sale. The e-sports start-up was founded in 2014 with backing from investors like Elisabeth Murdoch, daughter of media baron Rupert Murdoch, and actor Ashton Kutcher. In 2015, Unikrn also received financial backing from Mark Cuban, an American venture capitalist and owner of NBA franchise, the Dallas Mavericks. Conyers said UnikoinGold's launch had surpassed every other e-sports and gaming token sale to date. For the sale, Unikrn used smart contracts deployed via Ethereum to trade Ether, the cryptocurrency used on the Ethereum blockchain platform. Conyers director, Chris Garrod and associate, Jacqueline King worked on the matter. Rahul Sood, CEO of Unikrn, said: "We see a future where UnikoinGold is in the hands of millions gamers and e-sports fans, ushering in incredible opportunities to use UnikoinGold inside and outside of Unikrn's own properties." Commenting on the deal, Chris Garrod said: "We were delighted to work with Unikrn on their launch. As technology and platforms advance within the crypto-sector, we can expect to see more of these transactions. This is especially true as innovations in blockchain continue to evolve". Bermuda has made important strides to support the technology sector, not only providing an ideal base for these companies to establish, but also acting as a forum for innovation, such as it relates to insurtech. On November 6, Bermuda will host the inaugural GR Innovation & Insurtech conference, where thought leaders from the insurance sector will come together with influencers, entrepreneurs and scientists from the technology sector to discuss innovation and disruption in reinsurance. The crypto-sector is growing at rapid pace and Conyers said: "It is expected that more technology-focused deals will take place on the island in the near-term, especially as the business capabilities made possible by blockchain technology become more commonly understood."
October 30. LONDON —By Peter Grauer, chairman of Bloomberg LP, a senior independent non-executive director at Glencore. "Glencore Plc could face renewed scrutiny of its business in the Democratic Republic of Congo after confidential information was released in the data breach of a Bermuda-based law firm, according to people familiar with the matter. The documents relate to Glencore's acquisition of Katanga Mining Ltd, which runs copper and cobalt mines in Congo, and dealings with Israeli billionaire Dan Gertler, said the people, asking not to be identified because the records haven't been made public. Appleby, a major offshore law firm, said last week it suffered a "data security incident" last year and reporters from the International Consortium of Investigative Journalists and other media groups had recently been asking questions about leaked information. "Appleby has thoroughly and vigorously investigated the allegations and we are satisfied that there is no evidence of any wrongdoing," the firm said in a statement posted on its website. Appleby was told by the ICIJ that the journalists are investigating documents that detail Appleby's business with a wide range of clients, the law firm said in the statement. Appleby has both corporate and high-net-worth individuals as clients, according to its website. The journalist group is known for publishing the Panama Papers, a trove of files from law firm Mossack Fonseca made public in 2016 that exposed offshore companies and hidden financial dealings. While Bloomberg News hasn't seen the confidential Appleby documents, public records show Appleby lawyers advised Katanga on various transactions. Those include the merger with Gertler's Nikanor Plc in 2007, and rights offers and loan agreements with Glencore between 2007 and 2009. Spokesmen for Glencore, Gertler and the ICIJ declined to comment. Appleby did not respond to a voice message seeking comment. Glencore, the world's biggest commodities trader, is a major investor in Congo and has created thousands of jobs, helping the nation become Africa's top copper producer. However, its business with Gertler, a friend of Congo President Joseph Kabila, has been contentious. Last year, hedge fund manager Och-Ziff Capital Management agreed to pay US authorities $412 million to settle charges that it participated in a bribery scheme involving Congolese officials. As part of the settlement, Och-Ziff acknowledged that it made a loan in 2010 to its partner in Congo to buy Katanga shares. That partner was Gertler, according to a person familiar with the matter. Glencore wasn't accused of any wrongdoing. Glencore's work with Gertler on the takeover of Katanga has been questioned by Global Witness, a London-based advocacy group. In 2014, it released a report saying Glencore may have channeled funds to Gertler at the expense of other Katanga shareholders. Glencore denied those allegations. In February, Glencore cut ties with Gertler in a $960 million deal to acquire his stakes in Katanga and Mutanda Mining. Gertler's company has said it still receives royalties from both projects."
October 30. Blue Capital Reinsurance Holdings Ltd said its book value fell 28 per cent during the third quarter. The plunge was driven by a $51.9 million net loss for the collateralized reinsurer, driven by hefty catastrophe losses. The reinsurer is managed by Blue Capital Management Ltd, a subsidiary of Bermudian-based Sompo International Holdings Ltd, which is in turn a subsidiary of Japanese insurance giant Sompo Holdings. Blue Capital said its combined ratio for the third quarter — reflecting the proportion of premium dollars spent on claims and expenses — was 455 per cent. Earlier this month the company had estimated catastrophe losses of $57.5 million for the quarter. The $51.9 million net loss broke down to $5.93 per share. Blue Capital's book value was $14.48 per share at September 30. During regular trading in New York yesterday, before the results were announced, Blue Capital fell 15 cents, or 1.14 per cent, to close on $13.Michael McGuire, chairman and CEO, commented: "The financial impact to the insurance industry from the third-quarter catastrophe events is estimated to collectively be above $100 billion and these catastrophe events had a meaningful impact on our results. Due to our strong risk management practices, active portfolio management and the leveraging of our partnership with Sompo International our losses from these catastrophe events were within our risk thresholds and our overall portfolio performed as expected given the magnitude of these events. Looking forward, we expect market pricing to improve during upcoming renewals and we have positioned the company appropriately in recognition of the changed market conditions."
October 30. Bermuda-based Markel CatCo Investment Management Ltd has raised more than $1.8 billion for its private fund from existing and new investors — and next month it intends to raise more new capital. The company with a focus on collateralized reinsurance products was hit hard by catastrophes in the third quarter. Earlier this month, the company announced that its CatCo Reinsurance Opportunities Fund had implemented loss reserves for hurricanes Harvey, Maria and Irma amounting to 20 per cent of the fund's net asset value. On October 2, CatCo said the hurricanes had "resulted in increased pricing within the retrocessional reinsurance market and, in addition, a requirement by the company for new capital". And after its successful first wave of raising capital, it intends to publish a prospectus in early November with the aim of closing the fundraise, through a placing of new C shares, by the end of the month. "With over $1.8 billion already raised, this ensures that Markel CatCo can fund all of its January 1, 2018 reinsurance contract renewals as well as a portion of the increased buyer demand from its reinsurance clients," the company said in a statement today. "The proceeds from the C shares will enable the fund to satisfy the additional buyer demand from existing and new reinsurance clients." Tony Belisle, chief executive officer of Markel CatCo Investment Management Ltd, said: "The Markel CatCo team is extremely grateful for the tremendous support demonstrated by our investors and, equally importantly, by the buyers of our reinsurance protections and the loyalty they have shown towards our unique product offering. The ability to raise and deploy this significant amount of additional capital is testament to the Markel CatCo team focus on providing both exceptional, long term returns to our investors and, also, the highest levels of service to our reinsurance clients."
October 30. Catastrophe losses from hurricanes Harvey, Irma and Maria, and the Mexico City earthquake, weighed on Everest Re Group's third-quarter earnings. The company reported a pretax loss of $904 million. While the net loss after tax was $639.4 million, or $15.73 per common share for the third quarter, a consensus of Wall Street analysts had expected losses of $15.99 per share. For the same period in 2016, Everest Re made a profit of $295.4 million, or $7.06 per share. After-tax operating loss in the third quarter, excluding realized capital gains and losses, was $667.6 million compared to after-tax operating income of $273.2 million, a year ago. Everest Re had previously announced that its third-quarter results included net catastrophe losses of $1.2 billion for Harvey, Irma, Maria and the Mexico City earthquake. The net after-tax impact on earnings from these events was $897.7 million or $22.09 per common share for the quarter. Dominic Addesso, president and CEO, said: "This series of natural catastrophes highlights the nature of our business model. We have consistently generated strong margins which gives us the financial ability to respond to these events, without impairment. We are proud to be part of an industry that provides financial security to its customers in times of need. "Looking forward, market conditions are expected to be more favorable allowing the industry to continue on a sound footing. We should benefit to a greater degree given the strong underwriting fundamentals of our portfolio." Everest's gross written premiums for the quarter were $2 billion, up 15 per cent year-on-year. Net investment income was $137 million, up 12 per cent for the quarter. The company's combined ratio — the portion of premium dollars spent on claims and expenses — was 163.6 per cent compared to 85.6 per cent a year ago. For the nine months ended September 30, the net loss was $102.1 million, or $2.51 per share. The after-tax operating loss, excluding realized capital gains and losses was $180.6 million, or $4.45 per common share.
October 28. The $38 million luxury Tucker's Town estate of media tycoon Reg Grundy is at the centre of a court battle in Australia. Mr Grundy's daughter from his first marriage, Viola La Valette, has launched an inheritance claim in the New South Wales Supreme Court in Sydney. Details of the case are private under suppression orders. The case was adjourned earlier this week and a hearing date is to be set. Mr Grundy died last year aged 92 after making his home in Bermuda for nearly 35 years with second wife Joy Chambers-Grundy. The couple's Idolwood Lagoon, one of the most expensive homes ever listed in Bermuda at $38.2 million in 2012, sits in 4.5 acres with a waterfront and has a 10,000 square foot main house, three cottages, its own beach, dock, tennis court and four garages. The main house was completely rebuilt in 1997 with five bedrooms with en suite bathrooms and a study with half bathroom. Two guest bedrooms have their own living rooms, dining area and kitchens. The house also has a two-storey library and a huge dining room. Mr Grundy was a keen photographer, producing a book on wildlife in 2010 and his images of Bermuda longtails appeared in art galleries and were also displayed at LF Wade International Airport. Longtails, which Mr Grundy called his "glorious" favorite, also took pride of place in his 2015 nature book Mother and Child. Mr Grundy made his fortune through Grundy Worldwide, an international TV production and distribution company which was the largest independent production company in the world in the 1980s and 1990s. His programmes, including game show Sale of the Century and soap opera Neighbours, which catapulted singer Kylie Minogue to international stardom, were broadcast in nearly 80 countries. Mrs Chambers-Grundy told The Royal Gazette after Mr Grundy's death: "Reg was unpretentious, an honorable man whose handshake was his bond and he treated all people equally. Beautiful Bermuda was his fortress."
October 28. Countless hours of hard work and commitment paid off for three young Bermudian women yesterday as they were Called to the Bermuda Bar before Chief Justice Ian Kawaley. Sisters Laura and Amanda Burns, along with Jennifer Woods, were joined by scores of friends and family yesterday at Supreme Court 1 in Session's House to mark the occasion. The three new Appleby attorneys, dressed in wig and gown for the first time, all gave emotional speeches to thank their family, friends and mentors for their support. Mrs Woods, 26, spoke of the trials and tribulations she faced as she pushed forward with her legal studies in Bermuda and England despite major financial problems and working two jobs. She also described overcoming bullying at school, two chronic illnesses and the personal tragedy of losing her brother, Mark, in May 2011 to achieve her ultimate ambition. Mrs Woods said: "Determination, faith, discipline, perseverance and focus best describe my journey to accomplishing my dream of becoming a qualified barrister and attorney. I encourage those who are struggling to continue with your journey to persevere on. Everyone can rise above their circumstances and achieve success. Standing here today symbolizes the fruition of one of the biggest accomplishments that I have attained thus far in my short 26 years. I promise to exceed this court's expectation and to leave a meaningful, positive mark on the community in Bermuda. Today is the beginning of a new journey and I am privileged that I stand before you, deemed worthy and fit to be called and admitted as a barrister and attorney of law." For the Burns sisters the proceedings represented a unique achievement — two siblings being Called to the Bermuda Bar at the same time. They were also following in the footsteps of their father, Michael Burns, a former corporate lawyer and Appleby senior partner. Both thanked their father and mother, Kim, for their support and guidance as they recounted stories of visiting their father's law offices after church on a Sunday as youngsters. The young women, along with sister Jessica, embarked on a round-the-world trip before Amanda and Laura started the final stage of their legal studies together at BPP University Law School in Leeds, England. Amanda, 28, said: "My life has come full circle; my first memory of Appleby was through the eyes of a five-year-old me." Laura, 25, added: "This is a significant milestone in my life, and I feel very honored to be here. I think my legal journey started before I even knew it when my dad stopped in at the Appleby offices on the way to hospital after my mum went into labor." Mr Burns described his great pride at seeing his two daughters Called to the Bermuda Bar, and spoke of his "privileged existence as a father". He said: "If they have half the fun and exciting and interesting work I had, then they will enjoy one of the most professionally rewarding careers possible. For our daughters, this is the end of a long journey — educationally, emotionally and financially. But even more importantly, today marks the beginning of an exciting journey that will last a lifetime and will see them stand at the foothills of our profession through pastures as yet unknown helping to move our beloved Bermuda forward."
October 28. A prestigious art award has gone to a new winner after the previous holder was disqualified following claims of plagiarism. Antoine Hunt was given the $2,000 third Judge's Choice spot in the Charman Prize awards for his work Thirty Two Sixty Four after Scott Stallard's multimedia Wasted Time was ruled ineligible. Linda Wilde, art lecturer and historian, said Mr Hunt's work was a "unique and interesting combination of classical materials". She added: "Antoine's work is an exciting reflection of the spirit of the people of the island — so full of life, love and creativity." Mr Stallard's piece was disqualified because it was not created in the previous two years as outlined in the competition's rules. But there was also controversy about who created his entry. James Collieson contacted competition organizers to claim the artwork was an altered version of a piece created by his father, Will Collieson, several years earlier. The artist confirmed to The Royal Gazette that he sold his piece, Night Shift, to Mr Stallard about nine years ago. It was exhibited at the Bermuda National Gallery as part of the Bermuda Biennial in 2008. Mr Stallard handed back the cash prize after the controversy surfaced. Tom Butterfield, founder of Masterworks Museum of Bermuda Art, said: "The important part is the prize opens up a dialogue in the community and gets away from the diatribe and vitriol by understanding what the Charman Prize has set out to do." He added: "By and large, the response to the Charman Prize in the community is overwhelmingly positive and that's exactly how it should be. We are delighted of the quality of work this year. The idea is that artists submit fresh work from one prize year to the next." Mr Butterfield said the competition brought the community together through art. He said: "On opening night we welcomed 500 people from all walks of life, all hues and colors, and economic backgrounds, and I think this is a really good thing." The Charman Prize was established by island businessman John Charman. Nearly 120 works were entered in this year's competition, which is held every two years. The competition is open to artists based in Bermuda and Bermudians living overseas.
October 28. Black and white people share "one area where we dance together" — a deep unease over the discussion of race, a top US academic said this week. Kenneth Hardy, professor of family therapy at Drexel University in Philadelphia, returned to Bermuda to help lift the lid on racial problems. Dr Hardy told a forum organized by Family Centre: "We collude in not talking about it. We cannot advocate for our young people of colour until we engage in this conversation." He added that many problems dealt with at Family Centre started with unaddressed racial trauma and both white and black people were programmed to dodge painful questions. Dr Hardy told the meeting at the Anglican Cathedral Hall in Hamilton: "Many white people believe that unless there is a person of colour there, race is not present. Wrong." He said that white people have been "racially socialized to have black people take care of them emotionally, and black people are socialized to take care of white people". Dr Hardy added: "That's one place we dance quite well together, and it's one of the major impediments to meaningful discussions about race." He said his view was "exceedingly inflammatory". But Dr Hardy added: "Let's keep going." He told black audience members that many reactions were programmed by "trauma responses — emotional memories of horrific things that have happened when white people are upset". Dr Hardy said: "Resign as the mammy. You can't be the butler." He added that buried reflexes ranged from "learnt voicelessness" to panic when another black person "says something that gets a white person upset". Dr Hardy said: "Before you know it, you have this eruption — two black people fighting a battle that's not even theirs." And he called on white people to tackle buried assumptions about superiority and inferiority and examine their privilege. He added: "The task for white people is to avoid the use of what I call 'privempathy' — which is when a person of colour tells their story of racism in Bermuda, and you respond with 'I know exactly what you mean — I was once the only white person on the subway in Japan'." Martha Dismont, executive director of Family Centre, highlighted that white people had discussed "feeling safe talking about very touchy subjects". She told The Royal Gazette: "He is not pointing a finger, or trying to make black or white people feel guilty. People have really appreciated the open dialogue." Ms Dismont added: "It's about getting to what's beneath the surface. As Bermuda struggles to understand why we are still having challenges, with so many people pouring in resources, we discover we are working within this frame, almost like a dream world. Dr Hardy is very concerned about this frame that he believes people are not aware of it. He is trying to move this frame." The therapist and clinician's second visit to Bermuda included workshops with Department of Education staff and a third trip is planned for next year.
October 28. Being told you have cancer is never easy to digest — even as a strong believer in Christ. Such was the case for Valerie Smith in late 2013. Because breast cancer ran in her family, she had been faithful in having her mammograms. "I believe that most women when they go for their mammogram have that little touch of anxiety, so when they called me back in for another test I knew something must have been detected," she said. "After the biopsy, I was more or less mentally prepared when they delivered the news that I had stage 1 breast cancer. There was a little bit of fear, but I think that's normal. My faith was definitely something that saw me through and my trust in God also increased at this time during my journey." Ms Smith's church, Mt Zion AME, will tomorrow host "Praise In Pink", a service in celebration of cancer survivors like herself. Organizers Alberta Dyer-Tucker, Annette Simmons and Sasha Zuill-Lambert came up with the idea for the annual event a few years ago. Mrs Dyer-Tucker had a close friend who succumbed to breast cancer in her early 30s and her mother battled with two bouts of the disease in her 70s. "When you are going through cancer yourself, or watching someone else close to you go through it, there can be a lot of 'why' moments," she said. "With my mom's illness, we asked all types of questions like, 'Why God are you doing this to her at this age and stage of her life when she should be enjoying herself? However, my mother is a woman of faith herself and we became more focused on praying as a family." She and Mrs Simmons and Mrs Zuill-Lambert decided to form a support group, Girls of Pearls, to help meet cancer sufferers' spiritual and practical needs. They rally to raise cash whenever they're made aware of anyone dealing with cancer, often paying their bills if they are too sick to work or are struggling with high medical costs. Rev Dr Jahkimmo Smith, the pastor at Mt Zion AME Church, came on board to get the wider church community involved. The congregation comes dressed in pink to celebrate the lives of survivors one Sunday each October, in honor of Breast Cancer Awareness Month. "We recognize the journey with cancer isn't an easy one. Our aim is to get all the survivors together. We have between eight and ten people who have survived cancer at our church at the moment, and we present them with gift bags. The whole service is meant to be a celebration of life because we realize how fragile life can be. All of us know someone or are related to someone that has been affected by cancer, so we just want to celebrate them and make them feel special. We recognize it's a hard thing and, if your faith pulls you through, that it's a major blessing." Following the message and worship, there is a time of fellowship with themed refreshments like pink lemonade and pink cookies. An offering during the service goes to organisations and individuals fighting cancer. Ms Smith encourages people to come out to tomorrow's service at 10am. "It's a time where we place emphasis on the survivors to encourage them and pray for them. It's a time of thanksgiving and to remember everything that God has brought us through. It's a very joyful and upbeat celebration. Mt Zion is a church where the Holy Spirit reigns so we always come away feeling uplifted. I've attended there for the last 12 years and just to know my pastor and church have been holding me up in prayer while I went through chemotherapy was very positive and a good feeling knowing I had that support. It's a very powerful thing."
October 28. Motorists are urged to drive carefully as a Bermuda Bicycle Association road race takes place tomorrow. Roads in Pembroke, Hamilton, Smith's and St George's will be affected between 7.30am and 10am, according to the Ministry of Public Works. The route is:
Start/finish at the bus stop on the east bound lane close to the Pembroke Community Club North Shore, continue heading east until the reaching the roundabout at the junction of Kindley Field and St David's Road.
Cyclists navigate the roundabout heading west back along North Shore, turning left on to St John's Road, then make the right turn onto Pitts Bay Road back to the start/finish.
On the race route only, between 7.30am and 10am, the speed limit will be raised to 75km/hr to accommodate the speeds of the cyclists.
October 27. On day 100 of its term yesterday, eight of the Government's 21 pledges had been completed, ten were in progress and the status of three were unknown. David Burt, the Premier, told a press conference he would deliver news on the "success" of the promises next Friday. But independent political observer Denis Pitcher said the lack of clarity so far suggested the PLP had failed in one of the areas it often criticized the One Bermuda Alliance Government — communication skills. He said: "The PLP are following a very traditional approach to communication in having pledged to provide a report on their first 100 days in the next session of Parliament on November 3. In the modern age of the internet and social media, with so much of the world's information at people's fingertips, much of the populace have become accustomed and expectant of brief, regular, real-time updates. The failure to keep the people regularly informed on their progress was one of the key challenges the OBA faced. By following a traditional communications method, the PLP makes their progress harder to digest. It risks allowing speculation and fake news to fester, costing them the trust of people who are wary after successive governments which have not delivered on their promises. In order to build trust with the people that they are delivering, it would be invaluable to put out brief updates as frequently and as transparently as possible." Mr Pitcher said that the OBA's biggest mistakes of its tenure were a focus on spending cuts while not ensuring accountability, a failure to communicate well enough and not doing enough to cut expensive bureaucracy. He added: "So far we have seen the PLP focus on increasing spending but there are limited hints on accountability, communications are lacking and we're still waiting for signs of progress in government reform. We need to ensure that, as an island, we are held accountable to deliver enough value to justify our high costs while reducing costs and complexity wherever we are able. The PLP have not set a great example by having a large and expensive Cabinet that rivals the OBA's oversized one. And Mr Pitcher questioned how Bermudians could be "encouraged to do more with less" when Government failed to lead by example. "We are one of the most expensive places in the world to live and do business and we need to accept that we can't grow our way out of our problems as easily as we can learn to do more with less. All Bermudians need to focus on this so we can be more competitive on a global scale. Just a few generations ago we were a resourceful, innovative and efficient people who made the most of every resource we had. It feels like as a people we've forgotten how to do that."
October 27. The Progressive Labour Party's "great rush" to deliver change has been blighted by mixed messages and disorganization, political observer Denis Pitcher said. Mr Pitcher praised David Burt, the Premier, for his efforts to sell Bermuda to the international business community during the 100 days since the PLP's landslide General Election victory on July 18. However, he said PLP Cabinet ministers had undermined that work with rhetoric that could be negatively received by potential investors. Mr Pitcher called for government MPs to get on the "same page of the same plan" and avoid getting caught up with short-term populist notions that could cause damage in the long run. He said the One Bermuda Alliance had made a poor opposition so far and that its approach of leading from an "ivory tower" was unlikely to restore its political fortunes. Mr Pitcher, who has never been affiliated to any political party, spoke to The Royal Gazette to evaluate the PLP's progress on the 21 promises it pledged to carry out in its first 100 days in government. If Day 1 is considered to be July 19, yesterday was Day 100. The PLP has not provided an overview of its record but, based on announcements so far, eight of the pledges appear to have been completed, ten are in progress and three are unknown. Mr Burt said yesterday an update on "the success of the 21 initiatives" would be delivered in the House of Assembly next Friday. Mr Pitcher, who has published a live progress report on the pledges on his blog 21 Square, argued most of them have rarely been mentioned over the past 100 days. He questioned the PLP's skills in communicating its message, which he said was also a serious failing of the previous OBA government. Mr Pitcher picked out the creation of a tech hub — for which a Request For Information has been issued — as one idea that could reap benefits for the island. He said re-establishing the Bermuda First advisory group, which was confirmed yesterday, was a vitally important step towards the island's long-term economic and social future. But he was less complimentary on the party's overall performance. Mr Pitcher said: "The PLP seem to be in a great rush to deliver change, while at the same time being very disorganized. The first 100-day pledges have been mostly forgotten, having rarely been mentioned in press releases, with the majority of them remaining incomplete or delayed. On one hand, our Premier is doing an admirable job of selling Bermuda as a welcoming place to do business. On the other, comments made by some ministers could be negatively perceived by people considering an investment in Bermuda." Some have expressed concern over comments in recent weeks about international business from home affairs minister Walton Brown and social development minister Zane DeSilva. Mr Pitcher said: "What perception do we create when a minister proclaims 'There are elements in international business who just whine when you talk about a fair taxation system' or 'corporate Bermuda is going to help us pay for it' when referring to our financial assistance challenges? What impressions do we create for people considering our island as a place of investment if this is how we frame the relationship with our existing partners? We need to address our many challenges and deliver a better future for all Bermudians, although at the same time we also need to create an environment where our partners and potential partners can thrive so they want to invest in our future. While there has been some progress, it doesn't feel like the PLP have yet organized to all work from the same page of the same plan. We need to strike a balance to ensure that Bermudian interests are put first in the long term and not get caught up with short-term populist notions that damage us in the long term. It is still early and the new government is still finding its footing so it is more of a wait and see whether or not they can deliver." Mr Pitcher said the PLP plan to create a tech hub was a potential winner. He added: "The enthusiasm and support towards improving Bermuda's tech position is welcome and encouraged because technology is the future. As a Bermudian tech entrepreneur I am very concerned that we are very far behind and unprepared for that future." Mr Pitcher said the Bermuda First pledge could also provide a boost for the island. "We will not strike a reasonable path forwards if we cannot bring together our local, international business and community leaders to develop a long-term economic and social vision for Bermuda." Mr Pitcher said the OBA needed to rethink its game plan and work harder to connect with voters. He added: "I would rate the OBA's performance as Opposition poorly. The OBA seem far too focused on what they think led to the PLP's election win and not nearly focused enough on what led to their own loss. The party they campaigned to be before the 2012 election and the party they became were incredibly different. At their founding, they were to be a party of the people, collaborative and inclusive. Instead they became the opposite. Far too much emphasis is being placed on trying to emulate the PLP's political style and not nearly enough is being placed on emulating the PLP's ability to connect and be a voice for the people. "It is highly unlikely that leading from an ivory tower will ever result in the kind of outcomes they wish to achieve."
The 21 pledges are:
COMPLETED
Re-establish the Bermuda First advisory group
Appoint a gang violence reduction co-ordinator
Provide financial support for Bermuda College students
Double the guarantee of the Bermuda Economic Development Corporation
Establish a bipartisan committee on immigration reform
Issue a Request For Information for a tech hub
Start the installation of wi-fi in public schools
Establish a tax reform commission
WORK IN PROGRESS
Review health and safety in schools
Provide access to funding for community clubs through loan guarantees
Appoint a director of co-operative economics at the BEDC
Conclude negotiations with public sector unions
Reverse OBA policy on overseas entertainers appearing without Bermudians on the bill.
Review the airport contract between Aecon and Government
Establish three parliamentary Oversight Committees
Update the Ministerial Code of Conduct
Implement a Code of Practice for Project Management and Procurement
Increase job training for Bermudians to fill jobs held by guest workers
UNKNOWN
Increase the power of the Price Control Commission
Install fitness equipment in public parks
Implement a Code of Conduct for MPs
October 27. The Bermuda First advisory group has been reformed, the government has announced. Philip Butterfield, former CEO of HSBC Bermuda, will chair the group tasked with developing a long-term economic and social vision for the island. The re-establishment of Bermuda First was one of the 21 steps the Progressive Labour Party had pledged to execute during its first 100 days in power. Today is the 100th day — and David Burt, the Premier, said that Parliament would hear on November 3 on the progress of the 21 initiatives that were laid out in the party's 2017 platform. No sitting of Parliament is scheduled tomorrow in the House of Assembly. The Bermuda First group has 13 members so far, comprising local and international business, charities, unions and other groups, with others to be announced in due course. No politicians will serve on the committee. Members include Sir John Swan, the former Premier; John Wight, head of the Bermuda Chamber of Commerce; Duranda Greene, president of the Bermuda College, and Chris Furbert, president of the Bermuda Industrial Union. With a final tally of 16 to 20 members envisaged, the committee would be slimmer than its predecessor, created by the Progressive Labour Party in 2009 in response to the global financial crisis, which had 69 members. Mr Burt said: "The committee will look for new opportunities for Bermuda to strengthen its economic base, identify new and emerging technologies and assist in developing balanced, long term economic growth." Mr Butterfield said that he and his colleagues viewed their appointment "as an opportunity to give back and provide a plan that is not only broad in its vision, but also practical". The group will be "inclusive and collaborative, and will welcome input from all sectors of the community". The Bermuda First group will devote the next six to eight weeks to getting organized, and researching its role, Mr Butterfield said. Mr Burt said the committee "will begin working immediately to develop a mandate, and will be given an operating budget together with office space". There was no early figure for the cost entailed, but the committee will not direct investments of its own, according to Mr Burt, and its chairman has indicated "that he is going to reach out to members of the private sector as well". The Premier said he expected to have the committee's initial report "by the middle of next year" Members announced today were: Sir John Swan; John Wight; Gil Tucker; Duranda Greene; Chris Furbert; Darren Johnston; Patrick Tannock; Gita Blakeney-Saltus; Michael Collins; Andy Burrows; Wendy Mcleod; Scott Pearman; Michael Branco.
October 27. Registration fees for national certification will be waived until the end of the year, according to Diallo Rabain. Mr Rabain, the Minister of Education and Workforce Development, had announced that all people working in certain occupations would need to register with the Department of Workforce Development and pay a $265 fee. Among the designated occupations are welders, automotive service technicians, electricians and landscape gardeners. Mr Rabain said today: "I am pleased to announce that we are waiving that fee until December 31, 2017. "This applies to both Bermudians and non-Bermudians currently working Bermuda only. Anyone previously registered in the March 2016 registration period and paid the $265 registration fee, will have their customer and safety training courses cost credited $265." Mr Rabain said that those working in the designated occupations must registered at the Department of Workforce Development by November 3. The national certification programme is set to come into effect on December 4. Mr Rabain said: "This means all registered individuals will be expected to complete the requirements to achieve national certification. Individuals should expect to participate in some form of training and/or assessment process that will allow evaluators to determine ones level of competency and skill. Local tradesman not having any formal training or documentation of courses taken, will be assessed by a panel made up of local industry professionals known as the Industry Assessment Panel." Bermudians will have up to 12 months from December 4 to fulfill the certification process and current non-Bermudians on work permits will have up to three months to do the same. Anyone employed in a designated job is urged to visit the Department of Workforce Development website or offices for more information.
2017. October 27. Bermuda's gross domestic product — a measure of economic activity — climbed above $6 billion last year for the first time since 2008. While nominal GDP rose by 3.4 per cent, figures released by the Department of Statistics today showed that after economy-wide inflation was stripped out, real GDP fell 0.1 per cent. The construction industry recorded the largest gain in value added of $13.2 million. Sectors that saw the largest declines in real terms were financial intermediation — mainly banking — and international business industries which decreased by $35.1 million and $28.6 million, respectively. International business activity, which represented 26.3 per cent of the economy, remained by far the largest contributor to GDP, despite its value added falling by 2.3 per cent to $1.68 billion. The statement said the decrease was mainly due to a decline in output in insurance underwriting and reinsurance services. But firms offering insurance management, actuarial services and pension consultancy recorded higher output. The construction and quarrying sector delivered an 8.3 per cent increase in output to $211 million, its largest contribution to the economy in dollar terms since 2011. The report attributed the increase in construction activity to work associated with the America's Cup and renovations at the Hamilton Princess. The real estate and renting industry made up 17.5 per cent of the economy and was the second largest contributor to GDP, with activity valued at just over $1 billion. Financial intermediation generated $733.5 million of GDP, as the third biggest sector, while business activities, with $563.4 million and education, health and social work, with $505 million, followed. Public administration's contribution fell to $319 million, its lowest level in dollar terms since 2008, thanks to a decline in government spending. Hotels saw an $11.1 million, or 10.5 per cent, improvement over 2015, as room and food sales rose, but restaurants saw their GDP contribution fall by nearly 4 per cent. The island's total GDP was $6.13 billion, up from $5.92 billion in 2015.
October 27. A conference focused on offshore financial centers is planning an extra session on the hacking of law firm Appleby and its consequences. Meanwhile fallout from the breach surfaced in the Isle of Man, a UK Crown dependency, where journalists have been investigating alleged avoidance of British value-added tax on private jets. Organizers of the OffshoreAlert Europe Conference, to be held in London next month, yesterday announced the addition of a session entitled: "Inside the 'Appleby Leak': What does it reveal?" Bermuda-based Appleby admitted this week that some of its data was "compromised" last year. And consequently the firm said it had faced questions from the International Consortium of Investigative Journalists and partner media organisations that "involve allegations made against our business and the business conducted by some of our clients". Appleby, which has offices in multiple offshore locations, including the British Virgin Islands, Cayman Islands, Hong Kong, Isle of Man, Guernsey, Mauritius, the Seychelles and Shanghai, denied any wrongdoing. Earlier this week Howard Quayle, chief minister of the Isle of Man, held a press conference, which indicated that journalists from the ICIJ had been asking his government questions concerning allegations of VAT avoidance on private and corporate jets. The ICIJ is understood to be working with the UK's Guardian newspaper, Le Monde in France, as well as Japanese television, German media and the BBC's Panorama programme. In what appeared to be a pre-emptive strike against the imminent allegations, Mr Quayle said: "Like all responsible members of the global community, we take allegations of this nature extremely seriously. The ICIJ has so far rejected our repeated requests to provide written evidence to support their claims. During the course of our own ongoing review, we have found no evidence of wrongdoing or reason to believe that our Customs and Excise has been involved in the mistaken refunding of VAT." He added that in light of the journalists' questions, his government has asked the UK Treasury "to look at all elements involved in the process of the importation of business jets via the Isle of Man into the EU". Meanwhile, OffshoreAlert, an online newsletter about the offshore financial world, will stage the extra session on the "Appleby leak". OffshoreAlert's owner and editor, David Marchant, a former business reporter at The Royal Gazette, said: "I've extended invitations to both Appleby and the ICIJ to participate in the session. This is a significant event in the world of high-value international finances and raises important questions such as 'privacy versus public interest', the use of 'stolen' data, how to protect data in the era of leaks, and the type of business that was being transacted." The OffshoreAlert conference will be held at The Grange St Paul's Hotel in London on November 13 and 14. For more information, see the website www.offshorealert.com/conference/london
October 27. Only a quarter of a gasoline spill at a fuel depot in St George's has been recovered seven months after the incident, government environmental watchdogs said today. And traces of the leak have spread outside the Rubis site where the accident happened in March. A government spokeswoman said: "Some of the more water-soluble components of the gasoline — that is dissolved plume — that have leached into the groundwater and are now dissolved within the groundwater show a slightly larger spread to just outside of the Rubis site area." But the Department of Environment and Natural Resources said the concentrations were "well within Bermuda's standards and are generally demonstrating a downward change in concentration over time as the cleanup continues". One home nearest to the fuel depot has been provided with clean water for its swimming pool and toilets. The department also downsized the extent of the spill. It was feared 19,300 US gallons had leaked, but government today said the figure was 17,200 US gallons. Experts said that bacteria in the ground and groundwater was expected to break down components of the gas and reduce the volume of contaminants further. Rubis and Arcadis — brought in to help with cleanup efforts — have been "closely following" government guidelines on pollution clean-ups. The department added: "These guidelines address the recovery of the spilt gasoline from the ground, monitoring the extent and level of pollution and reporting the information to the department at the level of detail and frequency that is stated in the guidelines. A vapor extraction system is also working around the clock to clear away gas vapors using six monitoring wells. The vapor plume monitoring continues with twice daily measurements from 12 on-site wells and daily measurements from two off-site monitoring wells. The groundwater plume is also monitored monthly." The department said in April that notification of the leak "was late by approximately 24 hours according to the conditions of the operating licence under the Clean Air Act 1991". A spokeswoman said: "The department will address this reporting non-compliance in due course."
October 27. The Bermuda International Film Festival is to join forces with the City of Hamilton to hold the event at the Earl Cameron Theatre next March. Organizers say the partnership with the city will allow them to improve and enhance the festival experience. The event will take place from March 17 to 25 at City Hall - a venue used by BIFF over the last two festivals. Hamilton mayor Charles Gosling said: "The City is delighted to support the 2018 Bermuda International Film Festival. City Hall is an arts center and anything we can do to contribute to the arts in Bermuda will always be considered a win for us. Our City vision is to be a vibrant one and events like the Film Festival serve to fulfill that, whilst at the same time, providing our residents and visitors alike with the chance to experience an event of international standards." The partnership will allow BIFF to work more closely with Bermudian-based Ad-hoc Service on digital projection and audio at the theatre. BIFF has had problems in the past with the cost and logistics of importing digital projection technology and projectionists. The Bermuda Tourism Authority, the government's Department of Community and Cultural Affairs, and Bermuda College have been added to the board to reflect the community ownership of the festival and to help work on broadening its appeal. BIFF is hosting a volunteer soirée on Wednesday, November 15, from 5.30pm to 7pm. For more details, e-mail volunteer@biff.bm or call 293-3456.
October 27. Everyone within a company has a role to play in helping to keep their organization secure from cyber attacks. And blockchain technology could play a key role in cybersecurity in the future, but today we have as much inkling for its possibilities as early internet users had of that technology as they gazed at block lettering on their green screen monitors. Those were views expressed by a panel of executives who discussed the risks and opportunities of cybersecurity at InsuranceERM's Insurance Risk & Capital conference at the Hamilton Princess. In the wake of the security incident at island law firm Appleby, which has featured in international media this week, the topic has gained added pertinence since it was featured at the one-day event last week. Employees should view themselves as individual risk managers, regardless of whether that is cyber or physical security. If they see a secure door open in their building they should find out why and potentially close it, that was advice from David Friston, head of AIG cat excess liability, who was on the panel. Likewise, in the realm of cyber, companies should ensure they provide staff with some training so there is self-awareness about what people do. Everyone should be a risk manager. And delegates heard that such security awareness and proactivity is something that companies need to instil from the top down; that it should be a case of "if you see something, say something". Noel Pearman, cyber product lead at XL Catlin, said the issue was less about security itself than security plus operational efficiency and speed. "The crux is how can I be super secure and still transact at lightning speed? What used to be an IT concern is now a concern for the entire organisation, going right up to the chief executive officer and the C-suite. It's about how we manage our supply chain, customer databases, and how we interact internally." Mr Pearman said previously the message clients wanted to tell insurers was that they could not be penetrated by hackers."Now, the discussion is very much not if, but when.. It's a broader discussion. Yes, we are talking about what is happening on the perimeter, but also about how quickly can you identify someone that is in your system, where they have been and what they have taken." The third member of the panel, Rick Welsh, CEO of Sciemus Ltd, said there was once a belief, particularly among those in the security and nuclear industries, that they were safe because they had an "air gap" — that is, their command network and sensitive operations were isolated from outside networks. Mr Welsh mentioned a book entitled Air Gaps and Unicorns, adding: "ie, they don't exist. The security industry is moving to the point where they accept it does happen." Mr Welsh mentioned small USB thumb drives that have been be plugged into isolated systems to compromise sealed networks. And some of the best attacks today are achieved through social engineering techniques, such as targeted e-mails that trick recipients into activating malware. He said companies should train employees how to handle such ploys. Many companies no longer feel that damaging cyber attacks are unlikely to hit them. As attacks on companies have got "closer and closer to home" the seriousness of the risk has been amplified. "A lot of organisations think why would I be a target; why would anyone else be interested in what goes on in my network?" said Mr Pearman. "You are not always aware what they [the hackers] are looking for. Sometimes they are stairstepping their way to bigger targets." He said real collaboration was the key to managing cyber-risk. At an organizational level that requires legal, IT, security, including physical security, being managed in unison. "On the insurance side, we need all the different lines to be talking with other lines," said Mr Pearman. Blockchain technology is being viewed as an emerging technology that could play a significant role in the insurance industry, and for cybersecurity. Mr Welsh expressed hope that it will help achieve faster claim payouts in the aftermath of natural catastrophes. "If you look at the hurricane season, you need to get the money to the people who most need it, quickly. There has to be a better way of unlocking some of the claims. On the question of trapped capital, there's a lot that can be made there in terms of unlocking. Blockchain has great precept for unlocking all of that." Mr Pearman agreed that blockchain was exciting for the future, but said he liked to parallel it to when the internet first started. When the internet developed it had green screens with light green writing in blocks. People were looking at it and they were saying 'we know this is going to be big, but we can't figure out what it is going to look like'. They couldn't see smartphones and Facebook apps, Uber. But they knew something big was here. This is exactly where we are with blockchain. It is going to change everything, all of the pontification right now is like us looking at green screens trying to figure out what an Uber app is going to look like in ten, 15, 20 years' time." He added: "Keep your ear to the ground, get ahead of understanding what it is. It is going to change how we do business in a dramatic way. In the way we have risks that are being solved by insurance around transactional risk, that is going to change dramatically. Where we are using intermediaries to manage the flow of information between parties in transactions, that is going to change dramatically. But still, it is a green screen with light green writing for us now."
October 27. Three more businesses have successfully demonstrated full adherence to Bermuda's new National Service Standards. Fun Golf, Lili Bermuda and Tobacco Bay/Beach Boys join seven other businesses officially certified in the National Service Standards Programme. Karla Lacey, chief operating officer for the programme, said: "This certification was created by the local industry for the local industry for the sector. It's reflective of best practices in the industry globally and something all recipients are proud to have earned." Each of the three businesses will be marked on the gotobermuda.com website with a star, making their certification clear to site visitors. They are also pinned to the top of the list in their respective sectors when a user launches a search on gotobermuda.com. Fun Golf and Tobacco Bay/Beach Boys are in the Recreation and Entertainment sector. Lili Bermuda is in the Retail and Shopping sector. Bermuda Tourism Authority standards and training manager Rasheeda Burgess said: "These latest certifications are milestones for the programme. Fun Golf and Tobacco Bay/Beach Boys are the first businesses to complete the programme in the Recreation and Entertainment Category. And we're pleased the management at Lili Bermuda has now been through the process twice — initially for staff in St George's at the Bermuda Perfumery and now the team at the Lili Bermuda Boutique in Hamilton have also been certified. This tells us Bermudian businesses recognize the value of National Service Standards and understand that superior customer service gives them an edge, while helping to set Bermuda apart from its competitors." Belcario Thomas of Beach Boys said: "We are grateful for having had the opportunity to participate and encourage other local service providers to sign up. There's solid value in the NSSP's process, preparing Bermuda's tourism industry as an attractive destination to the next generation of guests who seek value for money and local engagement." Lili Bermuda store manager Marie-France Thompson said: "We are thrilled and honored to have been recognized by the Bermuda Tourism Authority and the local business leaders. This programme allowed us to assess and reinforce our policies and customer service standards. "We strongly encourage all organisations dealing with the public to join the programme as it will also motivate your staff — not to mention the benefits of the marketing and the promotional value." In order to gain certification, participating businesses must demonstrate mastery of five principles of service on a consistent basis and have at least 70 per cent of customer-facing staff complete the Certified Tourism Ambassador Programme. Mystery shoppers visited the businesses more than once to ensure standards were being met and now those businesses can place an NSSP seal of approval in their storefronts and on their websites. The following businesses earned their NSSP certification this summer: 27th Century Boutique, Alexandra Mosher Studio Jewellery, The Bermuda Perfumery, Bermuda Transit Services, Chopstix Fusion, Dolphin Quest, Flanagan's Irish Pub. Businesses that would like to start the process of certification can apply online at service.bm.
October 26. The company building the island's new airport terminal has agreed to be taken over by a Chinese firm. But Aecon emphasized that it will be "business as usual" with the airport redevelopment project. CCCC International Holding, a subsidiary of China Communications Construction Co, will buy Aecon for $1.5 billion, or $20.37 per share, in an all-cash deal. Aecon is the prime contractor on the airport project, under a public-private partnership involving the Bermuda Government and the Canadian Commercial Corporation. The Canadian construction firm said in August this year that it had hired advisers to help it find a buyer. Steve Nackan, president of Aecon Concessions and chairman of Skyport, the company overseeing operations at LF Wade International Airport, said nothing would change in Bermuda after the takeover. "We wish to confirm our steadfast commitment to Bermuda and the airport redevelopment project," Mr Nackan said. "It is business as usual at Aecon and on the Bermuda airport terminal construction project. This agreement will create value for our shareholders and enhance Aecon's capabilities and growth potential, something that we're very excited about. By joining the third-largest construction company in the world, Aecon and Skyport will ultimately benefit from enhanced capabilities and financial resources. However, Aecon will remain a Canadian company. This sale will have no impact on the day-to-day construction of the new airport terminal or Skyport. The Aecon management team and friendly Bermudian Skyport employees will remain in place and the new airport will be completed on time and on budget with the guarantee of the Canadian Commercial Corporation. We look forward to delivering a state-of-the-art terminal in 2020." Lu Jianzhong, the president of CCCCI, said: "This is an excellent fit for both of our companies. Aecon has a strong management team and a very impressive track record that have made it a leading construction company in Canada and a pioneer in public-private partnerships and concession operations. It will now gain access to significant capital, complementary infrastructure expertise and an international network to support its growth ambitions."
October 26. Police have yet to be called in over a data breach at Bermudian-based international law firm Appleby. A police spokesman confirmed yesterday that the service had not received a complaint about a cyber attack at the firm. The spokesman said: "Following recent local media reports the Bermuda Police Service is aware of this matter, which apparently happened a year ago, but has not received any criminal complaint to date." The statement came after Appleby admitted on Tuesday that a "data-security incident" last year involved company data being "compromised". Appleby did not respond to questions from The Royal Gazette yesterday. A spokeswoman referred to the statement posted on its website on Tuesday. She added: "We have no further comment to make." The leak is believed to have happened in May 2016. It is understood that information obtained from the hacking was later passed to international news organisations and that stories involving the leak are expected to be published in the near future. Appleby, which has offices on Victoria Street, confirmed on Tuesday it had been contacted by "a number of media organisations", including the International Consortium of Investigative Journalists. The firm said the inquiries related to documents journalists claimed to have seen that involved "allegations made against our business and the business conducted by some of our clients". Appleby added: "Appleby has thoroughly and vigorously investigated the allegations and we are satisfied that there is no evidence of any wrongdoing, either on the part of ourselves or our clients. We refute any allegations which may suggest otherwise." The ICIJ did not respond to questions about its investigations by press time. British newspaper The Daily Telegraph said the leak involved some of Britain's wealthiest people. Appleby's website said the firm advised "global public and private companies, financial institutions, and high net worth individuals, working with them and their advisers to achieve practical solutions, whether in a single location or across multiple jurisdictions". The law firm employs around 470 people, including 60 partners, in ten offices. Bases include the Cayman Islands, the British Virgin Islands and Guernsey. David Burt, the Premier and Minister of Finance, has yet to speak on the leaks. But in a statement this morning, Government said: "The Government of Bermuda notes reports concerning aspects of the operations of Appleby Global, in various jurisdictions including Bermuda. Bermuda is a recognized leader in international tax compliance and tax transparency. In keeping with our international obligations, relevant authorities in Bermuda will review any new matters raised." The 2015 release of confidential information from a law firm in Panama — dubbed the Panama Papers — caused huge controversy and put offshore jurisdictions and their business practices in the spotlight. Around 150 Bermuda entities were named in the massive leak, made up of 11.5 million records dating back to the 1970s, from Panama law firm Mossack Fonseca. Appleby was among those named in the documents, as were Codan Trust, part of law firm Conyers Dill and Pearman, HSBC and its predecessor the Bank of Bermuda, and LOM Nominees Ltd.
October 26. Butterfield Bank will have a presence in two new jurisdictions next year when it completes its planned acquisition of Deutsche Bank's Global Trust Solutions business. Of particular note is the expansion opportunity into Singapore. Asia is viewed as a growth market for the bank. "Having a platform in Singapore will allow us to grow," said Michael Collins, the bank's chairman and CEO. During an earnings conference call only hours after the planned acquisition was announced yesterday, he said: "Singapore is obviously a market we have wanted to get into for a long time. And it goes back historically to our trust business from a lot of the Hong Kong families. So having a presence there is really important." Butterfield has entered into an agreement to acquire GTS, excluding its US operations, from Deutsche Bank, presently in the process of being merged with a Cologne-based entity. Upon completion of the transaction, which is subject to regulatory approvals, Butterfield will take over the ongoing management and administration of the GTS portfolio, comprising of approximately 1,000 trust structures for some 900 private clients. The bank is offering positions to about 90 employees who are fully dedicated to GTS in the Cayman Islands, Guernsey, Switzerland, Singapore and Mauritius. While the terms of the agreement have not been disclosed, there are some clues about the scale of the deal. Mr Collins said the purchase price is under $50 million, and the new trust business was about 20 to 25 per cent the size of the bank's existing trust business. At the end of September, Butterfield Trust had assets under management of approximately $95.2 billion. The Singapore platform that Butterfield will acquire is understood to have about 15 staff, and will generate about 20 per cent of the additional trust business revenue. Butterfield will partner with Deutsche Bank to provide trust solutions to German bank's clients on an ongoing basis. In a statement, Mr Collins, said: "Trust is a core business for us, and the acquisition of the Deutsche Bank Global Trust Solutions business enables us to add scale and professional bench strength to our trust operations in Switzerland, Guernsey and Cayman. It also provides us with a physical presence in Asia, which we view as a growth market for Butterfield. We look forward to welcoming GTS clients and staff to Butterfield and to the development of new business from an ongoing partnership with Deutsche Bank's wealth management team." Deutsche Bank, which is headquartered in Frankfurt, is one of the world's largest banks by total assets. Its wealth management business is also one of the largest in the world, with client assets of around €299 billion. Referring to the announced acquisition, Fabrizio Campelli, Deutsche Bank's global head of wealth management, said: "Butterfield is a well-known leader in the trust industry and we look forward to working with them to provide our clients with a broader product offering. The divestiture represents an important step in our strategy of simplifying our business and positioning wealth management for growth in our core markets." Outside Bermuda, Butterfield has operations in Cayman Islands, The Bahamas, Britain, Guernsey and Switzerland. Mr Collins said the acquisition of GTS ticked a number of boxes for the bank, such as being at least two-thirds private trust business. "We are less interested in, or not interested in, fund administration and company secretarial works and that sort of stuff. This is obviously 100-per cent private trust," he explained during a question and answer portion of yesterday's conference call. "It was important for the locations to be in the bank's existing jurisdictions where it has scale — which is the case with GTS, with the exception of Singapore and Mauritius. We expect it to generate stable trust fee income for the bank and be accretive once integrated." It is the fourth significant acquisition for the bank since 2014. The transaction is expected to close in the first half of 2018, subject to customary closing conditions.
October 26. The popular Lion Rock landmark was destroyed by excavations by the owner of the property, it was revealed yesterday. Readers sent The Royal Gazette photographs that showed Lion Rock being demolished when a barge equipped with a crane excavated the coastline at Harrington Sound. Wendell Hollis, a former resident who grew up on the property, said: "It's not a loss to my family, it's a loss to Bermuda, and it all seems totally unnecessary." The destruction of the waterside feature was spotted by Mr Hollis and his friends on Sunday. He said: "We were in tears when we saw what had happened." The property, on former farmland once owned by Mr Hollis's grandfather, is now owned by architects David and Georgia Benevides, with the excavation work believed to have taken place last month. Mr Benevides could not be contacted for comment yesterday and it remained unclear if planning permission, which is required for foreshore work, had been granted to remove Lion Rock. Mr Hollis said: "It appears in all the 19th and early 20th-century guidebooks of Bermuda and in some of the sought-after collectible coffee table pictorial books of Bermuda's treasured spots. For this to be destroyed without public outcry would paint Bermuda and Bermudians as heartless souls who care little about the image that we project and the values that we are supposed to hold sacred." Members of the public who contacted The Royal Gazette said other areas of the coast had been blighted by development. Mr Hollis, who claimed he knew Harrington Sound's shores well enough to draw a map from memory, said he could see areas where "people have probably pushed the envelope farther than they should have". He added: "I wouldn't say there's anything really offensive. They are all pretty much in scale with the properties, and even this, if not for the value of Lion Rock, is not bad, but why destroy it? There is surely a difference between a legal entitlement and a moral duty. Some would say it's just a rock. It is now, but prior to September 13, it was so much more." Former government conservation officer David Wingate said he was familiar with Lion Rock. He added that planning permission would "absolutely" be required for excavation to the shoreline and promised to alert environmental watchdog Bermuda Environment Sustainability Taskforce. BEST said yesterday that it was investigating. Dr Wingate added: "Our big problem today is that we have such powerful machinery that things can be carried out in a matter of minutes and nothing can be done. We are victims of our own massive machines." Local residents who contacted the property owners said they had been met with a wall of silence. Lion Rock was well known to older Bermudians and even featured on postcards. William E.S. Zuill, in his book Bermuda Journey, called it "a curious formation which bears a resemblance the king of beasts". The 1946 publication continued: "All carriage drivers appreciate this freak of nature and never fail to point it out to tourists." Mr Hollis said: "People who don't know about it might not understand, but it is blatant, callous destruction of something maybe not so known in recent years, but that historically was something of significant importance."
October 26. A businessman who ploughed $200,000 into renovations at a beach building later demolished by the Government is still in the dark over compensation. Tom Steinhoff planned to transform the rundown concessions building at Shelly Bay at a cost of around $1 million, but work on the building halted after structural problems were found before the building was demolished in August. Mr Steinhoff said he had supplied the present government with details of his expenditure on the building. He added: "I haven't heard back from them yet. I sent them some information after they had asked me for a summary of costs. I sent that information to them about a month ago. It was about $200,000 and I am hoping to recoup it." Mr Steinhoff said the building was demolished after negotiations stalled with Government on changes to the terms of the lease to reflect the unexpected extra costs. The businessman, who also owns Dockyard's Snorkel Park, had planned to open a restaurant on the site with watersports facilities. The remains of the building are still taped off and a digger used for the demolition work is still on site. Lieutenant-Colonel David Burch, Minister of Public Works, said: "The equipment will be used for the landscape finishing, which will commence soon." Colonel Burch declined to comment on whether taxpayers will have to foot the bill for Mr Steinhoff's costs. Area resident Wayne Furbert, a Progressive Labour Party MP, said local people would be updated on options for the site when demolition work started. He said at the time: "Colonel Burch will beautify this area and make it more of a park for people to camp at with a picnic area. We would like to have bathroom facilities in the beach area. We would like entrepreneurs in the summertime to have some hot dog stands or snowball stands, or even jerk chicken."
October 26. Rego Sotheby's International Realty has been "flat out" over the past three weeks dealing with a sudden pick-up in high-end property market activity. The firm has built up its sales team in recent months, mainly because of its role in selling new developments, and now has 31 employees. Principals at the firm could only speculate on the reasons behind the recent uptick in business. Buddy Rego, Rego SIR's president, said there appeared to be some pent-up demand. "I've had two clients who have been looking at property in Bermuda for close to three years and, for whatever reason, have now decided to commit," he said in an interview. Penny MacIntyre, partner at the firm, said July's election may have influenced the market. "With any election, there's uncertainty beforehand and afterwards and people hold off on making decisions," she said. "Now people are making decisions." This week the firm was visited at its new Front Street offices by executives from Sotheby's International Realty, the global firm with which Rego SIR is affiliated. Julie Leonhardt LaTorre, who became SIR's new chief operating officer five weeks ago, made Bermuda her first affiliate office call and has been meeting staff and clients during her three-day stay, along with Michael Valdes, SIR's global vice-president of international servicing. Ms MacIntyre said: "We've had to add people onto our team, particularly licensed agents, because we've got these exclusive arrangements with St Regis, Tucker's Point and we're the listing agents on The Loren." Such branded developments with amenities were increasing around the world, Ms LaTorre said, and were popular with a the growing cohort of younger buyers. "We've got a number of big development properties across the globe and we're able to work really closely with the local affiliates, to use local expertise but also to bring our global network and marketing power together to really best assist developers," Ms LaTorre said. "In the next 30 to 40 years, there's going to be a transfer of wealth from boomers to millennials of something in the ballpark of $30 trillion. When you think about that and you think about their desire for branded residences and amenities, the developers are probably responding to that demand that they know will come from the generation inheriting this wealth and making purchasing decisions." Ms MacIntyre said she was noticing that some younger people were buying higher up the property ladder than had previously been the case. "We're seeing younger purchasers — some in their early 30s — who've decided to make Bermuda their home base and who have asked to be introduced to philanthropic contacts so they can give back," Ms MacIntyre said. "This is the ripple effect you see when people come in. They come in with skill sets, capital and the wherewithal to be able to contribute to the community." She added that the hotel-condo development The Loren, at the site of the former Pink Beach, was attracting a lot of interest, some from people seeking an investment property. Mr Rego said, going by the past two years of data, about 50 per cent of buyers in Bermuda's luxury property market were from overseas — mostly buyers from the UK, the US and Canada. But the market could broaden in the coming years, according to Mr Valdes. "There are migratory patterns of wealth on a global scale," Mr Valdes said. "Two years ago we were talking about the Russians and the Brazilians and today we're talking about the Indians and Chinese, who are buying on a global scale. We had a goal to increase our international sales by 20 per cent — and we're on track to do that this year. Sotheby's was growing fast in Asia, particularly mainland China and India." Asked about the impact of the America's Cup, Mr Rego said the after-effects were "yet to come. I guess most people spent their time in restaurants or on the water, watching the event, instead of shopping for houses. But there's no question that many people came her for the first time. And the fact that the luxury market seems to be well up this year — that story is still to be told." Reform of the tax system has been promised by the new Progressive Labour Party administration, with the wealthy a likely target. Mr Rego said representatives of the real estate industry had met with government officials and made clear their view that increases in licence fees for overseas property buyers would be counterproductive and could hurt investment in new development, as well as property sales. "The kind of buyers we're talking about are shopping around the world," Mr Rego said. "They'll look at licence fees and compare those costs with other jurisdictions. The Government gets more revenue when there are more transactions." He also opposed further land tax hikes. We had huge increases in land tax with the prior government — exponential increases — so I hope they will look at other avenues of taxation."
October 26. Validus Holdings Ltd posted a third-quarter net loss of more than a quarter of a billion dollars, driven by heavy catastrophe losses. However, chairman and chief executive officer Ed Noonan said the hit could have been worse, but for the high quality of underwriting at the Bermudian insurer and reinsurer. And with heavy losses sweeping the industry, Mr Noonan believes Validus is now in a stronger competitive position. Validus said its net loss totaled $250.4 million, or $3.17 per share, for the three months ended September 30. Net catastrophe losses across its insurance and reinsurance businesses, together with its share of losses at AlphaCat, the firm's alternative capital arm, amounted to $400.8 million. However, total notable losses — including the AlphaCat segment — were $962.2 million, suggesting that AlphaCat's third-party investors took a significant hit. Natural disasters that incurred claims included hurricanes Harvey, Irma and Maria. Validus recorded an operating loss of $254.5 million, or $3.22 per share, just bettering the consensus forecast of a $3.30 per share loss of analysts tracked by Yahoo Finance. "While results of operations were negative, I am gratified with this outcome which is the result of world-class underwriting, risk, financial and operational management throughout our global businesses," Mr Noonan said. "Despite significant natural catastrophes we close the quarter with a very strong balance sheet and a belief that the quarter's results across the industry have enhanced our competitive position." Book value per diluted share fell 6.3 per cent, inclusive of dividends, to $43.13 at September 30 from $46.45 at June 30. The combined ratio — the proportion of premium dollars spent on claims and expenses — was 138.8 per cent, when only Validus's share of losses from AlphaCat are included.
October 26. A Bermuda-born musician is to return to the island next week to perform with the Bermuda Philharmonic Society. Mairéad Hickey, an award-winning violinist said: "I am delighted to be returning to Bermuda to participate in Autumn Classics. I can't wait to see my first violin teacher, Jyrki Pietila, and all my Bermuda friends again. I am really looking forward to performing some beautiful music with Bermuda's musicians." Autumn Classics will feature a range of local and international musicians performing pieces by Mozart, Haydn and Handel. The concert will be led by Alison Black, a Bermudian-based violinist and president of the society. Ms Black said: "The works we will be playing embody the very best of the classical period, full of rich colors, poise and beauty and evocative of the European style of the day. Having a Mozart concerto played by such a fine young artist will be a highlight." The concert will be held at St John's Church, Pembroke, on Sunday, November 5, starting at 7pm. Tickets cost $30 or $15 for students and seniors with $60 front-row seats for patrons.
October 25. Workers at Hamilton docks downed tools last week after an employee who had worked there for 27 years was fired. Chris Furbert, the president of the Bermuda Industrial Union, said that Stevedoring Services staff thought the sacking was "grossly unfair". He added: "Workers became very concerned that one of their colleagues all of a sudden found himself out of the job." Mr Furbert said the worker, who has not been named, had worked on the docks since 1990 and held a management position since 2015. "The industrial action, where dockworkers unloaded essential items from ships but left non-essential cargo on board, was "very unfortunate. " Mr Furbert estimated the sacking would go to arbitration in four to six weeks. The terminated employee remains unemployed but had been paid for outstanding vacation time. Walton Brown, the Minister of Home Affairs, described the action as a "strike" in his statement to the media, but Mr Furbert said he was unaware of the reference and defended the rights of workers to protest. He added: "We try the best we can to honor that." Asked if disgruntled staff had made their intentions known to the union before proceeding with the action, Mr Furbert replied: "They are the union — membership comes first." Mr Furbert said that the employee at the center of the row was fired last Wednesday. After a "conversation with management" workers downed tools on Thursday. Mr Furbert went to the docks to speak to workers and management and another meeting was held on Friday morning. The union leader said he was also contacted by the Department of Workforce Development. Staff and management were unable to break the deadlock by Friday afternoon. But Stevedoring Services' chief executive Warren Jones on Friday evening signaled that the company was prepared to help the dismissed manager find another job. Mr Furbert said he was contacted on Monday by Mr Brown with an offer to get the matter settled. He added legal action by Stevedoring Services was averted after the two sides negotiated "what we thought the workers might accept". The BIU head also criticized Opposition MP Michael Dunkley, who "last night took the minister to task for not getting the matter resolved sooner". Mr Furbert said: "If Mr Dunkley wanted to know the facts, he could have called me." And he accused the former OBA Premier of "trying to throw the minister under the bus". Mr Furbert said: "The BIU understands management's right to hire and fire, and their right to choose their management team. We never insisted that he be given back his management job." Mr Furbert added he was "not at liberty" to discuss what post was offered to the sacked worker.
October 26. What mysteries are buried in the belly of a museum? That's the question that Zoë Lepiano is constantly interested in. The new collections intern at Masterworks Museum of Bermuda Art is diving straight into the island's culture, managing and cataloguing all the gallery has on offer. Ms Lepiano, who has a master's degree in photographic preservation and collections management from Ryerson University in Canada, says the job satisfies one of her great interests. "I love learning about places and I love to travel and explore other cultures," said the 33-year-old Canadian. "Bermuda has a great mix of British, European, American and Caribbean culture and also its own unique culture, so I am learning those histories through the objects in this collection." The Masterworks collection differs from those she's worked on in larger museums. According to Ms Lepiano, the diversity is intriguing and adds a challenging element to her job. At Ryerson, she worked at the Wendy Snyder MacNeil Archive; she also worked with the American photographer Sally Mann, on her collection in Virginia. "Coming here, it has been a great experience because I'm dealing with a much different scale of things. It's not only one artist's career in its entirety but it is many different types of materials, many types of things within the collection and all of them have been collected differently. It's a really diverse and rich collection. What I'm here to do is bring access equally to all of the things in this collection. A postcard could have as much significance to somebody as a painting simply because what it might mean historically in a personal way or [it could be] something that has to do with somebody's research. I'm really here to get an idea of what the belly of this museum is, and then figure out a way to make that visible to everyone working here and for curation, for education and for the general public." Part of her challenge is that while much of what a museum holds isn't always visible to visitors, it's important to continue to bring people in. "What I will be working on is creating an internal structure so that it can give an example of the types of collections that are here," she said. "There will be the ability to at least see some of the items from a collection online but if you had an interest to see more there would be the ability to come into the museum in person. Because really, a lot of the learning and the detail and power of things is in seeing them in person." Her hope is to assist in getting the new system in place "as best I can" before she leaves the island in December. "My particular focus during this time is to assist in organising the digital database," she said. "This will probably take years, as it has already taken years to get the objects semi-organized. It's an ongoing effort that various people have had their hands in helping to shape. The going live part is complicated. In terms of the actual staff having access, some elements of that are already accessible. In terms of having a website with a function that allows the public to search our collections, that is but a dream for the future." Her efforts should provide greater insight to Bermuda's past as well as the direction the collection should take. "I think objects and art ground you in the past and present," she said. "I'm very grateful to be learning about Bermuda through the objects created by both Bermudians as well as others who were expressing something that Bermuda had given them." When examined closely, the history of tourism, politics and architecture can often be seen in one piece and connect to a time period, she said. "Being able to bring the collection into education, and people being able to experience the collection and experience different types of materials — that happens through curation and through making that visible to Bermudians and accessible to them. If I can use some of my knowledge in collections to do that, then down the road, as we move further into the 21st century, it will become more available and palpable. Once you have an idea of what's been collected over the years it's a great chance to take stock and look back and figure out what would we like to have more of, which voices aren't as represented, and where we can flesh that out a bit more."
October 25. A senator today called on organisations to step up and tackle the problem of sexual abuse and harassment. Opposition senator Andrew Simons urged those in a position of power in any organization to speak up when they see abuse. He told the upper house: "Sexual assault, rape, bullying in the workplace and harassment happens here in Bermuda. It happens in all manner of organisations, in accounting firms, in law firms, in the civil service, in healthcare. So often, there's a message that the victims should speak up. There's such a tendency over the years to blame victims that we don't do enough to remind bystanders that there is a bigger responsibility for anyone in positions of power to intervene and to step up." Mr Simons spoke out after dozens of women in recent weeks accused Hollywood tycoon Harvey Weinstein of sexual harassment and assault. Mr Simons said the case had encouraged other women to reveal their experiences of harassment. He added: "I'm hoping to acknowledge that spirit in Bermuda and encourage other people locally to do the same. I am going to encourage anyone who is in a position of power in any organization to speak up if they see this type of abuse. The Weinstein case had also demonstrated the power of the press and its ability to make things happen faster than other mechanisms can. I would encourage the press to take any reports of abuse seriously. Both Government and the public should throw their weight behind the work of the Human Rights Commission. There are protections under the law for discrimination against women and sexual violence and harassment can fall into that category — but we always need those organisations to have teeth. Bermuda had signed up to a United Nations' Convention designed to end discrimination against women. I hope we take the responsibilities under that convention seriously because there are still gaps, there a still loopholes where behavior is abusive. It's directed at women and sometimes at men, but for whatever reason, we haven't closed those loopholes so action can be taken. It's very much a call to action for our whole community to step up and address this issue of assault and I hope we, as an island, can make real progress there."
October 25. Butterfield Bank has reported a profit of $41.1 million for the third quarter, up $5 million on the previous three months. The results were released this morning, along with news that the bank is to acquire Global Trust Solutions from Deutsche Bank. While Butterfield's net income for the quarter was $41.1 million, core net income was $40.7 million, or 73 cents per share, up $3.2 million on the previous quarter. In the same quarter last year, Butterfield's core net income was $33.4 million, or 60 cents per share. Michael Collins, chairman and CEO of Butterfield Bank, said: "Butterfield delivered solid results this quarter as lending margins improved and expenses began to return to a more normal level. We are also pleased to announce an agreement to acquire the Global Trust Solutions business from Deutsche Bank. This acquisition will add scale and talent to our existing trust operations in Switzerland, Guernsey and Cayman and add a profitable and strategically important private trust platform in Singapore. We expect it to generate stable trust fee income for the Bank and be accretive once integrated." The agreement to acquire Deutsche Bank's Global Trust Solutions business, excludes its US operations. Terms of the agreement have not been disclosed. Upon completion of the transaction, which is subject to regulatory approvals, Butterfield will take over the ongoing management and administration of the GTS portfolio, comprising approximately 1,000 trust structures for some 900 private clients. With client assets of around 299 billion euros, Deutsche Bank's wealth management business is one of the largest wealth managers worldwide. Butterfield is offering positions to all employees who are "fully dedicated to GTS in the Cayman Islands, Guernsey, Switzerland, Singapore and Mauritius". And in a statement, Butterfield said it will partner with Deutsche Bank to provide trust solutions to Deutsche Bank's clients on an ongoing basis. The acquisition is expected to close in the first half of 2018. Mr Collins said it was the fourth significant acquisition for the bank since 2014 and was consistent with the strategy to grow by acquiring complementary businesses in select jurisdictions. Announcing its third quarter results, the bank has declared an interim dividend of 32 cents per share to be paid on November 27. Butterfield's improved profit was attributed to a number of factors, including a $2.8 million increase in net interest income before provision for credit losses, principally from interest earned on loans from slightly increased volumes and a full quarter's impact of repricing. There was a $1.2 million decrease in provisions for credit losses, and a $500,000 decrease in non-interest income. Marketing costs fell by $1.5 million, due principally to a decrease in America's Cup-related marketing initiatives. There was also a $1 million decrease in the remaining non-interest expense items, due to lower America's Cup-related premises improvement costs, a decrease in restructuring costs and lower board of directors-related expenses. The bank reported a $800,000 increase in professional and outside services costs, due principally to $1.1 million of noncore expenses associated with potential acquisitions. Butterfield's total assets were $10.6 billion at the end of September 2017, down $500 million from December 31, 2016. The loan portfolio totaled $3.7 billion at the end of the quarter, approximately flat from year-end 2016. The bank said paydowns in commercial lending were offset by new residential mortgages loans. Allowance for credit losses at totaled $42 million, a decrease of $2.3 million from the end of 2016. Butterfield's return on average assets for the third quarter was 1.5 per cent, up from 1.3 per cent in the second quarter and 0.9 per cent in the third quarter of 2016. The core return on average tangible common equity was 22.2 per cent, up from 21.6 per cent in the previous quarter and 19 per cent a year ago. in the third quarter of 2016. Meanwhile, the core efficiency ratio for the third quarter of was 62.8 per cent compared with 66.1 per cent in the previous quarter and 65.3 per cent in the third quarter of 2016. Net interest income for the third quarter was $74.3 million, up $2.8 million on the previous three months, and $9.3 million higher, year-on-year. The bank said improvements were driven by higher yields on the investment portfolio and on the adjustable-rate loan portfolio. Net interest margin was 2.81 per cent, up 15 basis points from 2.66 per cent in the previous quarter and 42 basis points higher than the 2.39 per cent in the third quarter of 2016. Improvements were said to have been driven by increases in net interest income and deposit costs which decreased slightly to 10 basis points from 11 basis points in the previous quarter. Results for the third quarter included a release of provision for credit losses of $0.7 million compared with a provision for credit losses of $0.5 million in the previous quarter and a provision for credit losses of $0.3 million a year ago. Non-interest income was $38.2 million, compared with $38.7 million in the previous quarter and $36.3 million in the third quarter of 2016. Non-interest expenses were $73.6 million, compared with $75.3 million in the previous quarter and $77.3 million in the third quarter of 2016. The bank stated that non-interest expenses are expected to continue to normalize over the next quarter as various temporary expenses abate. Butterfield's total capital ratio as at 30 September was 19.9 per cent as calculated under Basel III. This compares with 17.6 per cent as of December 31. Both of these ratios are significantly above regulatory requirements.
October 25. It is feared that a data breach at law firm Appleby could result in confidential details of wealthy clients being made public. The company, which has offices on Victoria Street, has confirmed that a data-security incident resulted in some information being "compromised". An article today on the front page of Britain's The Telegraph, headlined "Super-rich hacked in Bermuda data leak" claimed the firm was warning some clients that sensitive information may have been accessed in the security breach. Appleby said it had received inquiries from the International Consortium of Investigative Journalists and other media organisations. "These inquiries have arisen from documents that journalists claim to have seen and involve allegations made against our business and the business conducted by some of our clients," Appleby said in a statement. "We take any allegation of wrongdoing, implicit or otherwise, extremely seriously." Appleby said it was unequivocally committed to the highest standards of client service and confidentiality. "Appleby has thoroughly and vigorously investigated the allegations and we are satisfied that there is no evidence of any wrongdoing, either on the part of ourselves or our clients. We refute any allegations which may suggest otherwise. We are a law firm which advises clients on legitimate and lawful ways to conduct their business. We do not tolerate illegal behavior." Appleby said it had researched the allegations and believed they were "unfounded and based on a lack of understanding of the legitimate and lawful structures used in the offshore sector". Regarding the data breach, Appleby stated: "We have reviewed our cybersecurity and data-access arrangements following a data-security incident last year, which involved some of our data being compromised. These arrangements were reviewed and tested by a leading IT forensics team, and we are confident that our data integrity is secure." Appleby has ten offices around the world, advises clients and provides legal advice in a number of offshore jurisdictions.
October 25. Butterfield Bank has entered into an agreement to acquire Deutsche Bank's Global Trust Solutions business, excluding its US operations, it announced this morning. Terms of the agreement have not been disclosed. Upon completion of the transaction, which is subject to regulatory approvals, Butterfield will take over the ongoing management and administration of the GTS portfolio, comprising of approximately 1,000 trust structures for some 900 private clients. Butterfield is also offering positions to all employees who are fully dedicated to GTS in the Cayman Islands, Guernsey, Switzerland, Singapore and Mauritius. This will ensure continuity of service for clients. Butterfield will partner with Deutsche Bank to provide trust solutions to Deutsche Bank's clients on an ongoing basis. Michael Collins, Butterfield's chairman and chief executive officer said: "Trust is a core business for us, and the acquisition of the Deutsche Bank Global Trust Solutions business enables us to add scale and professional bench strength to our trust operations in Switzerland, Guernsey and Cayman. "It also provides us with a physical presence in Asia, which we view as a growth market for Butterfield. We look forward to welcoming GTS clients and staff to Butterfield and to the development of new business from an ongoing partnership with Deutsche Bank's wealth management team." With client assets of around 299 billion euros, Deutsche Bank's wealth management business is one of the largest wealth managers worldwide. Fabrizio Campelli, Deutsche Bank's global head of wealth management, said: "Butterfield is a well-known leader in the trust industry and we look forward to working with them to provide our clients with a broader product offering. The divestiture represents an important step in our strategy of simplifying our business and positioning wealth management for growth in our core markets." Butterfield has been providing trust and fiduciary services to international clients for more than 80 years. Its award-winning trust business comprises more than 200 professionals based in the Bahamas, Bermuda, Cayman Islands, Guernsey and Switzerland, who provide estate and succession planning services, efficient co-ordination of family affairs, and administration of complex holding structures for a wide variety of financial and non-financial assets. As of 30 September, 2017, Butterfield Trust had Assets Under Administration of approximately $95.2 billion. The transaction is expected to close in the first half of 2018, subject to customary closing conditions.
October 25. Hottie Louw and Gerhard Vosloo are among the top names looking to ensure the Classic Springboks retain their World Rugby Classic title next month. The Springboks defeated the Classic Pumas 14-0 at North Field, National Sports Centre, last year to claim their sixth title and first since 2013. With lock Louw, 41, who played three Tests for South Africa, and 38-year-old flanker Vosloo, a former Top 14 player for Clermont Auvergne and Brive, named in their traveling party, the Springboks are sure to be title contenders. Perennial favorites Classic Lions, who were beaten 14-7 by the Springboks in the semi-finals last year, have included Sean Lamont, Mike Ross and Marcus Horan in their 23-man squad. Lamont, only the second Scotland player to win 100 caps for his country, retired from professional rugby last season while playing for Glasgow Warriors. The center scored 70 points for Scotland from 2004 to 2017, and 320 points during his club career, which included two spells at the Warriors. Lamont is a Scottish Rugby Academy coach at present. Ross, who also retired last season, made 61 appearances for Ireland, playing in two World Cups, as well as winning a pair of Six Nations titles. He also won two Heineken Cups, a Challenge Cup and two Pro12 titles with Leinster. Meanwhile, Horan was capped 67 times by Ireland and was part of the side that won the Grand Slam in 2009. The prop, who retired in 2013, also represented Ireland at the 2007 World Cup and won a pair of Heineken Cup crowns and a Pro12 with Munster. Also named in the 24-man squad are Tomás O'Leary, a former Ireland scrum half, Gavin Kerr, who won 50 caps as a prop for Scotland, and returning players Chris Wyatt, Ceri Sweeney, David Corkery, Ritchie Rees and Neil Best. The Classic All Blacks complete the "Big Three" and will likely turn to Kane Thompson, Tom Donnelly and Corey Flynn for inspiration as they hunt for a first title since 2014. Thompson won 33 caps for Samoa and spent two seasons at Newcastle Falcons in the Aviva Premiership, fellow lock Donnelly was capped 15 times for the All Blacks and also played for Montpellier in the Top 14, while hooker Flynn won 15 caps for his country. The World Rugby Classic runs from November 5 to 11, with the opening game between Classic Pumas and Rugby Canada at North Field at 2.30pm.
October 25. One of Bermuda's most prestigious art competitions became embroiled in controversy after a prize winner was accused of submitting a modified version of another artist's work. Scott Stallard won a Judge's Choice award worth $2,000 this month with his multimedia piece Wasted Time at the Charman Prize, which was run by Masterworks Museum of Bermuda Art. However, Mr Stallard handed back the cash after James Collieson contacted the organizers to claim the artwork was an augmented version of a piece created by his father, Will Collieson, several years earlier. Mr Stallard told The Royal Gazette of his controversial submission: "This was the first material assemblage I have produced. It is the last. Art requires passion and passion can be neutralized, even by a simple e-mail." The official reason given for the removal of Mr Stallard's work from the exhibition relates to when it was made: according to contest rules, all entries must have been created within 24 months of June 23, 2017. Masterworks founder Tom Butterfield said: "The issue is that it was not created within the last two years." Mr Butterfield added that he did not think that Will Collieson's integrity was "fully honored", as Mr Stallard's entry was not a collaborative work. He said: "What we've got is a piece of artwork which has just simply been added on to with other bits and bobs, the substructure being that of Will Collieson. It presented a big, big problem." Mr Collieson said he sold his piece, Night Shift, to Mr Stallard about nine years ago. It was exhibited at the Bermuda National Gallery as part of the Bermuda Biennial in 2008. Mr Stallard said that he had asked Mr Collieson if he could use the work as a base to build a new piece. He added: "Will was agreeable. I showed him a progression about a year later; there seemed to be no issues." Mr Stallard said that he spent two years attaching hundreds of items to Mr Collieson's work. He added: "I contend that they materially and significantly alter the base to the degree it would be seen as a new piece." Mr Collieson said Mr Stallard's work was plagiarism. He added: "Even if I am part of it, it's still plagiarism. Obviously he moved and added, but the format is the same. Ninety-nine per cent of the pieces on that are the same. And it was my piece." The piece was priced for sale at $10,000. Mr Butterfield said he did not believe there was any malice or deceit involved. He added: "I don't think there was, in this case, the realization of the full scope of another's intellectual property." In the e-mail sent to contest organizers, James Collieson said Mr Stallard's submission was unethical and undermined the entire competition. Mr Butterfield said he had been in touch with people overseas about what constituted an original artwork. He added: "In contemporary art, the boundaries are being pushed all the time. It seems to me there are some lingering issues that remain very important." Mr Butterfield said Mr Stallard had returned the prize. He added: "That was not at our request but was rather of Scott's own volition." Mr Stallard said he had apologized to competition founder John Charman and spoken with Mr Collieson at length. He added: "I hold the highest regard for both Will Collieson and John Charman, and absolve all of any responsibility save myself." Mr Stallard, a self-taught photographer, has worked in regions including the Arctic, Mongolia and Kenya. He described his background in art as "trial and error". Mr Butterfield said: "With the integrity of the Charman Prize, we had to the right thing." And he added that other submitted entries not created within the two-year window were also disqualified. The Charman Prize was established by island businessman John Charman. Nearly 120 works were entered into this year's competition, which runs biannually. The competition is open to artists based in Bermuda and Bermudians living overseas.
October 25. Winter ferry schedule services will begin on Monday next week. The Department of Marine and Ports Services advises commuters to check the schedule at www.marineandports.com or at the Ferry Terminal from this Friday. The Department also announced the Orange route, to St George's, has been suspended this afternoon until conditions have improved.
October 25. Lion Rock, one of Bermuda's famous natural monuments and a noted tourist attraction appears to have been destroyed. "It's a great loss for Bermuda, and a personal loss," said Wendell Hollis, who spent his early years at the property by Harrington Sound, where the rock formerly stood by the shoreline. Mr Hollis said he was "shocked" during a weekend excursion to find the sphinx-like landmark missing its head. "It has definitely been cut off by somebody," he said. "It has also had a piece chiseled off its hindquarters." For Mr Hollis, the loss was "Bermuda's version of Cecil the lion, in that it was destroyed unnecessarily and is something that can't be replaced". Cecil was a popular inhabitant of a Zimbabwe national park, whose killing in 2015 by an American big game hunter made worldwide headlines. But Bermuda's resident lion was a far older specimen that, like Cathedral Rocks in Elys Harbour or the now fallen Natural Arches, acquired its name from naturally occurring features. Mr Hollis said: "Some of the pictures go back more than 100 years. It was on vintage postcards and it featured in all the old photographic books. Lion Rock, when people lived a more quiet lifestyle, was a place where people would stop and take pictures when the horse and buggies were coming along Harrington Sound Road." For more than 90 years, the property was in the Hollis name, and the rock's waterside perch near Patton's Point was a family swimming hole. The destruction of the rock was spotted by Mr Hollis on Sunday, and marks the end of "one of Bermuda's natural geographic landmarks". He added: "This was not done by wave action or attrition — that's hard Walsingham rock." Expressing surprise at the news, former government conservation officer David Wingate said: "That's very bad if it was deliberately done — it shows a lack of passing on of tradition. At one time, everyone would have known about Lion Rock. I don't think anybody would have dreamt of harming it, but the way it is broken would tell that. Another possibility is if a boat broke loose and banged up against it but the boat would come off worse."
October 25. World-renowned sailor Jimmy Spithill is selling his house in Bermuda, with an asking price of $8.5 million. The skipper of Oracle Team USA in June's America's Cup had bought the house at 62 Harbour Road, Warwick, after the team based itself on the island in 2015 ahead of the most prestigious event in sailing. The 9,863 square-foot house is known as Coral Harbour and is on the market with Rego Sotheby's International Realty. It comes complete with five en suite bedrooms, a swimming pool, a boatable dock and an acre of mature gardens. Penny MacIntyre, the selling agent, said yesterday that Mr Spithill and his family had originally rented a home when they first settled in Bermuda. But he decided it made more sense financially to buy a place. And with the real estate market depressed at the time, prices were attractive and the purchase presented an investment opportunity. "Mr Spithill decided to make best use of his money as an investor and a businessman and on our advice acquired property here," Ms MacIntyre said. "He viewed several properties. We sold him Coral Harbour, which had been on the market for about ten years and was the longest listing we had. He was able to make a homestead there. His children integrated into the community and it offered him and his spouse a great platform to entertain during the America's Cup campaign. They don't need such a substantial residence now, as they will be traveling extensively. But they do feel the need to continue to be connected to Bermuda and will continue to look at opportunities to be here. So we've brought this house to market this week. It has five en suite bedrooms, a cottage, pool and a dock you couldn't build today. The beauty of the dock, if you're a sailing or boating aficionado, is that Jimmy took the great effort to ensure it was set up for the conveniences of a pro athlete. It's a house that is in even better condition than when he acquired it. He has ensured everything in there is state of the art and working. It's been lived in, loved and is ready for the next owner." She added that the Spithill family had got to know their neighbors and loved living there. And they intended to return to Bermuda when they had the chance. Mr Spithill was an America's Cup winner with Oracle twice, in 2010 and 2013, but Emirates Team New Zealand got the better of his crew to triumph in this year's event, contested on the Great Sound.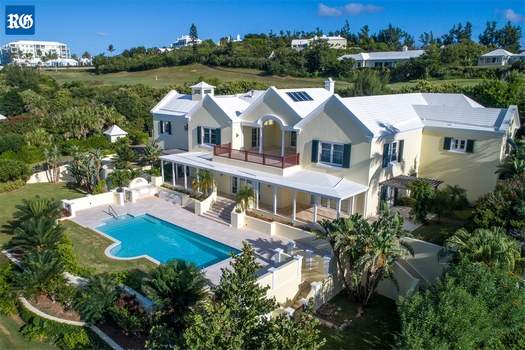 Coral Harbour, see above story
October 24. Bermuda's "artistic giants" were celebrated at the Arts Council's Annual Awards Ceremony on Sunday. The Lifetime Achievement Award was presented to six artists who created an original body of art that represented the "Bermudian spirit". And the Founders Award was presented to three artists who have been mentors and role models for their fellow artists and the generations to follow. Zane DeSilva, the Minister of Social Development and Sport, said: "Their works have not only left indelible markings on Bermuda's artistic and cultural landscape, but such contributions have literally transformed the arts in our island home. Our lives have been enriched and for that we are most grateful." Mr DeSilva said the ceremony paid homage to "these artistic giants" and "each of the honorees has infused 'life' and 'vibrancy' for all to enjoy, be inspired by, and uplifted". He added: "The recipients of the Lifetime Achievement Award and the Founders Award have caused the arts to flourish in Bermuda. Their passion for the arts, and their unfailing commitment to the development of the arts has been monumental; at times involving much sacrifice and always requiring dedication and unwavering determination. The Lifetime Achievement Award is presented to those persons who are considered pioneers in their respective art form and because they would have created significant bodies of original work that is representative of the Bermudian spirit." The award went to author Angela Barry, dance teacher Linda Manders, visual artists Vaughn and Amy Evans, art educator Olga Simons, and Jean Hannant, who received the award posthumously for theatre. Mr DeSilva added that the Founder's Award was created by the Bermuda Arts Council "to be bestowed upon Bermudians considered to be the "cornerstones" upon which the arts in this community have been built". The award was presented posthumously to Terry Brannon for his work in the music industry, as well as Anne Maule and Peter Nash, of the Somerset Lot, for "their impressive contributions to the world of theatre".
October 24. Royal Gazette Editorial. "By the mid-1970s, neglect, time and the elements had inflicted more punishment on the massive ramparts and buildings of the Keep at Bermuda's old Royal Naval Dockyard than any of the potential military enemies it had been built to guard against. The Keep forms the spear point-tip at the westernmost end of Ireland Island. A ten-acre expanse of fortifications, bastions and gun emplacements, it had been constructed to protect what had been the principal Royal Navy base in the Atlantic from the post-American Revolutionary War period until the Cold War against attacks by either land or sea. This once-formidable citadel had been mothballed along with most of the rest of Dockyard in the late 1950s when the British reduced their naval presence here to a token force. The Keep quickly fell into disrepair. The historically significant Commissioner's House, for instance — The Keep's physical and visual centerpiece and the first building in the world built around a prefabricated cast-iron frame — was literally rusting away. Once the scene of glittering receptions and sumptuous dinners, this grandest of 19th-century grand Bermuda houses was completely open to the elements. Torrents of water cascaded down its sweeping main staircase every time it rained and the wind gusted through its shattered windows. Slowly but inexorably the one-time home of Dockyard's resident commissioner — the British Admiralty representative in Bermuda — came to be viewed as more of a hazard than a historic landmark. And for many years the looming hilltop hulk of Commissioner's House was the most prominent and conspicuous symbol of the sprawling dilapidation which so characterized the old Royal Navy lands at the West End by the 1970s. Certainly by the time what was originally called the Bermuda Maritime Museum was established as an adjunct of the preservationist Bermuda National Trust in 1974, it seemed wishful thinking and good intentions had entirely trumped reason and budgetary considerations. For the museum was established with the ridiculously ambitious goal of salvaging the derelict Keep and transforming it into a heritage attraction centered around the island's long history with the sea. The property was in such an advanced state of disrepair that only the passion, vision and drive of such founding figures as Jack Arnell and Andrew Trimingham, along with copious amounts of volunteers' elbow-grease, got it through its early years when its exhibit space and offices were confined to a single rehabilitated building on the Keep grounds. Having survived its shakedown trials, the museum's mandate was formalized in 1978 by a Parliamentary Act charging it with promoting, collecting, preserving, researching and exhibiting Bermuda's maritime history as well as restoring the buildings of the Keep. And so the museum embarked on a protracted new period of expansion, transition and accomplishment: it is a period which began with the hiring of the institution's first professional executive director Edward Harris in 1980 — and which is only ending now, some 37 years later, with his retirement next month. An extravagantly gifted young Bermudian archaeologist, when he took up his position at the museum Dr Harris was already internationally known for developing the namesake "Harris Matrix" in 1973 — what has since become the standard tool in his field for charting archaeological layers and buried structures on excavation sites. He was almost certainly assured of a relentlessly upward career trajectory in academia if he had left the island. But the lure of his native Bermuda proved to be irresistible, as did an unparalleled opportunity to create something new and audaciously ambitious by attempting to translate the dreams of the museum's founding lights into tangible reality. And this is exactly what he did. Taking the earlier visions of museum's founders and adding more than a few ideas and tweaks of his own, Edward Harris proved himself to be as adept at museum management and curatorship, architectural conservation and restoration, business development, cultural tourism, advocacy on behalf of heritage-related issues, fundraising and marketing as he was at archaeological excavation work and pure research. Under his stewardship the museum substantially broadened its remit to cover all aspects of Bermuda's history, not just those associated with our maritime heritage. The institution's name was changed to the National Museum of Bermuda in 2013 to better reflect this wider focus, one which mirrored Dr Harris's own all-embracing definition of the island's cultural legacy. He is a man, after all, who can speak just as learnedly — and excitedly — on the island's moped-obsessed youth culture of the 1950s and 1960s, a period when he was known as "Sprocket" Harris and sped around on a gooseneck-handled Zundapp, as he can on, say, the British fleet which assembled in Bermuda during the War of 1812 to put Washington DC to the torch. And he is also nothing if not a relentless evangelizer and popularize of Bermudian history, a man who loves to share his encyclopedic knowledge of the subject by way of newspaper columns, TV appearances, books and, increasingly, social media. For like all good archeologists and historians, Dr Harris takes the view that an understanding of our past is not simply a sterile intellectual undertaking but a path to better understanding our own times and ourselves. Not only did the scope of the museum's mission and holdings expand under Dr Harris's leadership, so did its physical size and range of activities. The National Museum extends over 16 acres now, incorporating the old Casemates Barracks and adjacent buildings and fortifications in 2009, and the institution is involved in a head-spinning variety of projects ranging from publishing heritage-themed books and scholarly journals to collaborating with leading international universities by hosting land and underwater archaeology field schools in Bermuda. Its core mission, of course, remains unchanged: preserving and celebrating Bermuda's past for future generations by creating exhibits and programmes which spark curiosity and a sense of engagement and pride in that rich history. An increasing number of the 75,000 artifacts in the museum's permanent collection are now displayed in various galleries covering more than 30,000 square feet of exhibition space. Encompassing everything from slavery to shipwrecks, from the arrival of the first Portuguese migrants in the 1840s to Bermuda's role in the two great 20th-century world wars, the museum's standing exhibits are equal parts time-capsules and time machines: they touch visitors with an immediacy, power and poignancy which belies the age and sometimes remote origins of the pieces on display. And increasingly in recent years the museum has been working diligently to ensure there will always be reminders of the past still left to celebrate in Bermuda. Lobbying both local decision-makers as well as global bodies into taking the type of actions required to better safeguard our cultural heritage, Dr Harris has advocated for stronger Bermuda laws to conserve both artifacts and historic sites while also winning protected status for some unique features of the collective Bermudian birthright under international treaties. Most notably in this regard the museum was in the forefront of the drive which assured prestigious World Heritage Site status for the town of St George and its neighboring fortifications from the United Nations Education, Scientific and Cultural Organization in 2000. And in 2001, Bermuda's Historic Wrecks Act, intended to protect our underwater heritage from the casual depredations of treasure hunters, became an international model of its kind, arguably the strongest such national legislation in the world. Dr Harris's advocacy work has sometimes brought him into conflict with adversaries who have included sit-on-their-hands bureaucrats, developers and even, on one memorable occasion, an internationally renowned best-selling writer. Jaws author Peter Benchley, a longtime friend of Bermuda, was also an intimate of the island's treasure-hunting fraternity, heirs to our long freebooting tradition. And he mercilessly caricatured Dr Harris as Bermuda's officious cultural overseer, Dr Liam St John, in his 1991 bestseller Beast for his then-nascent efforts to preserve our shipwreck heritage by way of new rules and regulations. In the novel, the stand-in for Dr Harris ends up as bait for the monster of the title, a giant squid terrorizing Bermuda's waters. Dr Harris was more amused than irritated by his thinly camouflaged appearance in the maritime thriller, saying he'd ordered calamari so many times at restaurants there was something altogether fitting about him being served up as an hors d'oeuvre for a squid. Dr Harris's bemused reaction to the somewhat sophomoric cartoon Benchley painted of him was typical of his approach to those he found himself on opposing sides with on matters of cultural heritage preservation. He brought focus, intelligence and unflagging energy to bear on these issues, never personal enmity. Frankly, he sometimes saw his role as acting as that intrusive grain of sand which could occasionally irritate Bermuda and international officialdom into making pearls. So he never hesitated or apologized for buttonholing, petitioning and sometimes outright cajoling politicians, bureaucrats, interest groups and other actors in the field to do what he believed was necessary to protect and preserve our heritage. Nor did he ever take personal affront to the pushback his advocacy — persistent but never overly zealous — at times provoked. For Dr Harris the effort was always worth the ultimate reward — a reward which now takes many forms: a restored and renewed Keep, the nucleus around which the West End Development Corporation's later revitalization of the rest of Dockyard grew; a world-class museum and research facility; tightened heritage legislation along with international recognition and protection for important aspects of our cultural patrimony; and, perhaps most satisfying of all for him, a Bermudian people who are now better acquainted with their history and heritage than at any other time in the 400-odd years since this island was permanently settled. And if you were to seek his monument once he steps down as executive director in November, look no further than Commissioner's House. The once decaying ruin, fully rehabilitated since 2000, is now the headquarters of the Bermuda National Museum. The restoration of this genuinely iconic structure became something of a personal obsession for Dr Harris and he spent more than 20 years raising funds, consulting with an array of specialists versed in repairing historic buildings and mobilizing public support to realize his seemingly impossible dream. Today, Commissioner's House is the most prominent and conspicuous symbol of the museum's growth and development under the leadership of Dr Harris. And there are many who would argue there could be no more appropriate memorial for, in metaphorical terms at least, Dr Harris shares with that building a core of cast iron."
October 24. Natural catastrophe losses of $1.48 billion took a toll on XL Group's third quarter performance, with the company reporting an operating net loss of $1.03 billion. Hurricanes Harvey, Irma and Maria accounted for the bulk of the catastrophe losses. XL's operating net loss was $4 per share, compared to a profit of 44 cents per share in the same quarter last year. A Wall Street consensus had forecast a loss of $3.84 per share for the company in the quarter. XL's property and casualty combined ratio — the portion of premium dollars spent on claims and expenses — was 146.9 per cent compared to 93.1 per cent a year ago. "The natural catastrophes that mark the third quarter bring a unique devastation to those impacted and we continue the important work of helping our clients rebuild in these times of need," said Mike McGavick, XL's chief executive officer. "The financial impact of these events was, of course, significant to our financial results in the quarter. At the same time, excluding these events, our underlying results show continued progress as demonstrated by improvement in the ex-cat P&C combined ratio, insurance combined ratio and insurance loss ratio versus the prior year quarter. As we look at the global re/insurance markets today, with a view that we will see new levels of appropriate sustainable pricing, we believe we are well positioned by virtue of our diverse portfolio, global relevance and disciplined underwriting." Annualized operating return on average common shareholders' equity on a year-to-date basis, excluding unrealized gains and losses on investments, was 8.9 per cent, compared to 4.2 per cent in the third quarter of 2016. XL said it spent $120.9 million buying back approximately 2.7 million shares during the quarter. As of the end of September, $529.1 million of common shares remained available for purchase under XL's buyback programme.
October 24. Insurance prices "have to improve" in the wake of expected $100 billion of insurance industry losses from hurricanes Harvey, Irma and Maria, and earthquakes in Mexico. And according to industry executive Jonathan Reiss, January renewals "are going to be different". He also believes insurance-linked securities and special-purpose entities will turn out to be the favored route for much of the fresh capital entering the insurance space. He said those entities had worked after the major insured losses caused by hurricanes Katrina, Rita and Wilma in 2005, adding: "Investors always return to what worked best last time." Mr Reiss, group chief financial officer at Hamilton Insurance Group, was speaking at InsuranceERM's Insurance Risk & Capital conference in Hamilton on Friday. He said: "There's no question that rates are going to harden in some lines of business. Terms and conditions are going to tighten. You can call it what you will — a market turn, a hardening." Margins in most lines of business had become wafer thin or non-existent after a prolonged soft market, according to Mr Reiss. "There's no mystery to how we got to where we are today: a prolonged period of low-to-no interest rates, a lack of catastrophes, reserve releases and the influx of alternative capital. At the same time, we are facing a potentially explosive increase in new risks such as cybersecurity and climate change. This market cycle is forcing our industry to face some inconvenient truths," he said. Mr Reiss warned that the industry needs to embrace digital technology to a greater degree and jettison old inefficiencies that have been masked by the lack of catastrophes in recent years. "Disruption in other industries has created an expectation of what the customer experience should be like in the 21st century. The cumbersome, costly and time-consuming processes that have hindered our progress won't be tolerated by today's or tomorrow's clients," he said. Companies now need to be nimble and responsive, and the industry as a whole must embrace the digital age, Mr Reiss explained. "For some, the road to salvation is paved with partnerships between insurance and technology. In other words, insurtech." He mentioned the inaugural Bermuda insurtech conference, Global Reinsurance's Innovation & Insurtech event, to be held on November 6. Mr Reiss highlighted Hamilton as an example of a business using technology and data science "to create a nimble, responsive, client-centric company that can succeed in any market". Hamilton owns one-third of Attune, which uses proprietary and publicly available data to "reinvent" how business owners policies are priced, written, issued and bound. "Inside Hamilton, we're making sure the right IT foundation is in place to streamline our processes and strip out inefficiency," said Mr Reiss. How to attract more young people into the industry is also a concern. "Our former CEO Brian Duperreault once said insurance should be catnip to the millennial generation, who care so much about having a job that makes a difference. But in most of the world, our image is woeful. In the US and the UK, less than 5 per cent of high school and college undergrads even consider a career in insurance. In the US, there's a looming talent crisis as more than 300,000 managers approach retirement in the next three years. No one is clamoring to take their place." The industry was now looking for employees with technology skills, such as software engineers, system developers and data scientists. And Mr Reiss also spoke about the "protection gap". A recent industry statistic indicated a 68 per cent gap between insured losses and economic losses from catastrophic events. The gap between insured and uninsured is as prevalent in the US as it is in Asia. "The threats the protection gap represents to the developed and developing world are indeed perilous," said Mr Reiss. "The silver lining in storms like Harvey is the chance to begin a dialogue about how the private and public sector can work together to build resilience in unprotected communities." He mentioned Blue Marble, the consortium of insurers and reinsurers that Hamilton helped form in 2014 to provide micro insurance in developing regions. Two pilot projects are under way. Giving his outlook for insurance in 2018, Mr Reiss said: "I see leaner, more efficient companies. I see greater diversity in our workforce. I believe that we're going to see some genuine breakthroughs as a result of investments in technology and in new partnerships. There is no room for luddites — 2018 might very well be the tipping point, where our industry leaves the analogue behind and takes that final step into the digital age."
October 24. There was a party atmosphere at LF Wade International Airport last night as Bermuda's players returned from the Concacaf Caribbean Women's Under-17 qualifying tournament in Haiti. A crowd of more than 200 people turned up to show their appreciation for the team's qualification to the tournament finals in Nicaragua early next year. Bermuda clinched one of two automatic qualifying spots after winning their group before losing 4-1 against the host nation in the final of the qualifying tournament at the Stade Sylvio Cator in Port-au-Prince on Sunday night. Bermuda Football Association officials handed bouquets of flowers to the players as they filed out of the airport to be greeted by loud cheers from a patriotic crowd waving flags and blowing air horns. Among the dignitaries attending the brief ceremony were David Burt, the Premier, and ministers Zane DeSilva, himself a former Somerset Eagles goalkeeper, and Lovitta Foggo along with Mark Wade, the BFA president. Danni Watson, the Bermuda captain, was overwhelmed by "all this love" shown by the large crowd swarming outside the arrivals terminal. "I am in shock at how many people are here," she said. "I am really happy with all the support that we've got from the whole island. I wish our overseas players could be here to get all this love and support that we hear from everybody. Our girls worked really, really hard for this opportunity that we've earned by working our tails off six days a week. We trained, we worked and put in the extra time and energy training on our own and I really want to thank everybody for supporting us. This is really overwhelming and I know my team say the same. We love you so much and thank you!" Aaron Denkins, the interim Bermuda coach, said his players were deserving of such a warm reception. "It is a bit overwhelming for me but well deserved by the girls," he said. "We were the youngest team in the tournament, we had the youngest captain and the leading goalscorer [LeiLanni Nesbeth]. We were the only team to score on Haiti, we maintained our unbeaten streak against Trinidad, so well done guys! The important thing is this support by everybody here. That's what got them through. We spent a lot of time talking about what it means to be Bermudian, what it means to be resilient and I think they proved that. But what I am challenging the players to do now is be humble, stay focused because the job is not done."
October 24. Tougher ownership rules would help make sure the island's horses and ponies are properly cared for, the Bermuda Society for the Prevention of Cruelty to Animals said yesterday. Sarah Haycock, president of the SPCA, renewed the charity's call for a register that would require owners to license their horses and ponies and provide proof of adequate accommodation. The move came after the SPCA appealed for help to fund the retirement of Arthur and Charlie, a pair of malnourished former carriage horses rescued after an anonymous tip-off. Inspector Chris Coleman, who found the horses, said: "When I first saw Arthur and Charlie, I was shocked at how skinny and frail they were — they had clearly been without food for days, if not weeks. We are glad that this story for Arthur and Charlie had a happy ending, but this is not always the case." Ms Haycock added: "The SPCA would like to see a horse and pony register that requires owners to license their horses annually and register that pony has a stall or shelter or some adequate protection. If we could have something like that, we would be in so much better shape. The welfare of the animals would at least be on the radar and we could follow up and do our job." The SPCA said it is estimated there are about 2,500 horses on the island and Ms Haycock said after-career care is a "big issue" in Bermuda. Ms Haycock added: "I think the issue is that racing ponies have a much shorter life in terms of their career, so we have to address what happens to these ponies. We don't know where half these ponies are because these ponies that are used and then discarded go into somebody's backyard and we will never see them again. It is impossible to keep tabs on them." Ms Haycock said that unless the charity received a call about an animal that is being neglected or abused, "we don't have the right to go and look on our own to just keep tabs on things". And she stressed that horses and ponies are not disposable and need care throughout their lives, including into their retirement. The SPCA revealed yesterday that it had rescued Arthur and Charlie, who were found in "very poor condition" last month. The horses, who are about 20 years old, were being kept in a cramped stall and were discovered in a malnourished state with skin and dental problems. The SPCA said Arthur and Charlie dropped out of sight after they were retired from the carriage business and sold on to a new owner, although the SPCA tried to find out where they were. SPCA staff visited them on-site after they were found and provided food for two weeks. The horses were later signed over to the charity by the owner. They have since been fostered with access to food, water, fields and fresh air. They have also had veterinary and dental care. Ms Haycock said they are "remarkably affectionate and well-mannered" despite the conditions they endured. Stabling costs and daily care for the horses have been donated by the SPCA and Ms Haycock appealed for donations to help keep them comfortable. The SPCA said expenses for each horse per month will total $400 for hay, $20 for shavings for stabling, $20 for worming treatment and $80 for hoof care bills. Other expenses will include veterinary and dental bills, as well as a one-off cost of $100 per horse for the rescue trailer. Ms Haycock added that the police were not involved at this stage but she said the case was under investigation by their inspector and the charity would explore all options. She said she could not provide further details to avoid prejudicing the inquiry.
October 24. Tougher ownership rules would help make sure the island's horses and ponies are properly cared for, the Bermuda Society for the Prevention of Cruelty to Animals said yesterday. Sarah Haycock, president of the SPCA, renewed the charity's call for a register that would require owners to license their horses and ponies and provide proof of adequate accommodation. The move came after the SPCA appealed for help to fund the retirement of Arthur and Charlie, a pair of malnourished former carriage horses rescued after an anonymous tip-off. Inspector Chris Coleman, who found the horses, said: "When I first saw Arthur and Charlie, I was shocked at how skinny and frail they were — they had clearly been without food for days, if not weeks. We are glad that this story for Arthur and Charlie had a happy ending, but this is not always the case." Ms Haycock added: "The SPCA would like to see a horse and pony register that requires owners to license their horses annually and register that pony has a stall or shelter or some adequate protection. If we could have something like that, we would be in so much better shape. The welfare of the animals would at least be on the radar and we could follow up and do our job." The SPCA said it is estimated there are about 2,500 horses on the island and Ms Haycock said after-career care is a "big issue" in Bermuda. Ms Haycock added: "I think the issue is that racing ponies have a much shorter life in terms of their career, so we have to address what happens to these ponies. We don't know where half these ponies are because these ponies that are used and then discarded go into somebody's backyard and we will never see them again. It is impossible to keep tabs on them." Ms Haycock said that unless the charity received a call about an animal that is being neglected or abused, "we don't have the right to go and look on our own to just keep tabs on things". And she stressed that horses and ponies are not disposable and need care throughout their lives, including into their retirement. The SPCA revealed yesterday that it had rescued Arthur and Charlie, who were found in "very poor condition" last month. The horses, who are about 20 years old, were being kept in a cramped stall and were discovered in a malnourished state with skin and dental problems. The SPCA said Arthur and Charlie dropped out of sight after they were retired from the carriage business and sold on to a new owner, although the SPCA tried to find out where they were. SPCA staff visited them on-site after they were found and provided food for two weeks. The horses were later signed over to the charity by the owner. They have since been fostered with access to food, water, fields and fresh air. They have also had veterinary and dental care. Ms Haycock said they are "remarkably affectionate and well-mannered" despite the conditions they endured. Stabling costs and daily care for the horses have been donated by the SPCA and Ms Haycock appealed for donations to help keep them comfortable. The SPCA said expenses for each horse per month will total $400 for hay, $20 for shavings for stabling, $20 for worming treatment and $80 for hoof care bills. Other expenses will include veterinary and dental bills, as well as a one-off cost of $100 per horse for the rescue trailer. Ms Haycock added that the police were not involved at this stage but she said the case was under investigation by their inspector and the charity would explore all options. She said she could not provide further details to avoid prejudicing the inquiry.
Members of the public can make a donation at the SPCA offices at 32 Valley Road, Paget, or online at www.spca.bm by selecting "General Donation" under the "Donate" tab. Recurring monthly donations can also be set up. Donations can be made specially for Arthur and Charlie's retirement by putting "Arthur and Charlie" in the acknowledgement name field along with any further requests for how the money should be used.
October 23. A Bill creating a commission to look at changing Bermuda's tax structure was approved by the House of Assembly last Friday. David Burt, the Premier, said the Tax Reform Commission Act would help create a fairer system for the island. He said: "This Bill is the first step to build that better and fairer Bermuda that this Government promised voters at the last General Election. We must fully review our system to ensure that it's the right platform to power economic growth into the future." The seven-member, bipartisan commission will be given a broad scope to look at ways to create an equitable tax structure that keeps the island competitive internationally. Michael Dunkley, the former premier, described the piece of legislation before the house as having "honourable and noble intent" but said it was imperative to ensure that taxes would be collected. He also said it was important to ensure that the tax collected, which goes to the Government, is used in the correct way and a high level of accountability would be needed. Mr Dunkley also claimed that the legislation being debated did not deal with the wealth gap and the assertion that tax reform would "rise our people up" would give Bermudians "false hope". In response to the former premier's comments, Mr Burt said: "I am fascinated that the OBA hasn't learnt the lessons of the election defeat. He doesn't recognize that it is fundamentally unfair that the only income that is taxed is income from labor. Those who have more will always have more. Our system promotes the growing divide in Bermuda." Jeanne Atherden, the shadow finance minister, said that the commission should consider the ability to collect tax revenue. She said: "It makes no sense to change your tax base if, at the end of the day, you can't collect it." Ms Atherden also said the One Bermuda Alliance had placed the island on track to have a balanced budget and the island must be careful about changing tack. Meanwhile Patricia Gordon-Pamplin said the OBA had made difficult choices to keep the island from falling "over the precipice" of debt. Wayne Furbert, the Junior Minister of Finance, said that the tax structure should have been looked at long ago. He said: "Not one of us could stand and say the tax system in equitable. At the end of the day this is the right thing to do and I'm hoping the opposition will get on board." Meanwhile Rolfe Commissiong said the island's tax structure had long benefited a "very privileged minority" and that a few "tweaks" over the decades had done little to address the imbalance. Mr Commissiong also said that the ability to collect the taxes was vital, saying that in 2014-15 more than $197 million was owed to Government. Walton Brown, Minister for Home Affairs, said the international business community was "one of the impediments" to a fair tax system in Bermuda. He added: "There are elements in international business who just whine when you talk about a fair taxation system. Our system means that the wealthier segments get a tax break. This is a bizarre case of corporate greed when a single individual can earn a salary of $30 million per year."
October 23. Tourism minister Jamahl Simmons called on Alan Dunch to quit his gaming commission role immediately after Mr Dunch publicly questioned a firm controversially bidding for a multimillion-dollar government contract. Mr Simmons has tried to oust Mr Dunch as chairman of the Bermuda Casino Gaming Commission three times in the past three months, according to letters and e-mails obtained by The Royal Gazette yesterday. The latest came on Friday, after Mr Dunch poured scorn over MM&I Holdings' claim that it planned to give away the vast majority of its casino profits to good causes. Mr Simmons told Mr Dunch his conduct was "in breach of international standards" and his comments were "not in the best interests of the Government". He warned him the invitation to resign was made as an alternative to revoking his chairmanship. Mr Dunch's contract expires in May 2019, and he has told Mr Simmons he does not believe there is any statutory basis upon which he can be removed. After the first correspondence in August, Mr Dunch expressed his surprise that Mr Simmons requested his resignation "out of the blue", a few weeks after declaring his "unequivocal confidence, support and enthusiasm" for the chairman and his team. Last night, Mr Dunch told this newspaper he has no intention of resigning and that the gaming commission is set up to be free from political interference. He added that Mr Simmons had been unable to explain to him why his removal as chairman would be in the best interests of Bermuda. In a special report last Wednesday, this newspaper reported how MM&I stands to net tens of millions of dollars a year if it is given the contract to provide a cashless gaming network management system for any casinos that open on the island. The gaming commission has warned the deal could damage Bermuda's financial reputation, noting that individuals associated with its partner firm, Banyan Gaming, have surrendered their gaming licences in major gambling jurisdictions in the United States. We reported how MM&I had reached an agreement with the One Bermuda Alliance government while Mark Pettingill, who represents MM&I, and Mr Pettingill's business partner, the late Shawn Crockwell, were both in the OBA Cabinet. The memorandum of understanding was terminated by OBA tourism minister Michael Fahy in July 2016 after he received advice from the gaming commission. In the following months, Mr Dunch publicly locked horns over the matter with Mr Pettingill and Mr Crockwell. Mr Simmons has refused to say whether the Progressive Labour Party government is in talks with MM&I or Banyan. Five months ago, Zane DeSilva, now a PLP Cabinet minister, helped organize a public gaming forum in which Banyan representatives were introduced as experts. Correspondence shared with The Royal Gazette yesterday shows that three weeks after the PLP's landslide General Election victory, newly appointed Mr Simmons e-mailed Mr Dunch. He wrote on August 8: "After careful consideration, I write to formally invite you to give consideration to tendering your resignation as chairman of the Bermuda Casino Gaming Commission." Mr Dunch responded that it would be inappropriate for him to resign while crucial talks were ongoing over casino banking issues and the search for a new executive director. He wrote in an e-mail on August 11: "I have to say that, in light of the cordiality of our conversation late last month (in which you expressed unequivocal confidence, support and enthusiasm for me and my team) and our scheduled call on Tuesday next, I am both surprised and disappointed that you should, out of the blue, now invite me to consider resigning my position as chairman of the BCGC. As you will no doubt have been advised, my appointment is a statutory one and (as I recall in the absence of having my appointment letter with me) it does not expire until May 2019. I do not believe there is any current statutory basis upon which I can be removed." On September 27, Mr Simmons wrote: "After much consideration and the passing of the public form on September 22, I have decided that your term will conclude effective September 29, 2017. Thank you for your service to the Bermuda Casino Gaming Commission and the people of Bermuda." However, as of this weekend, Mr Dunch remained in his post. After this newspaper's article about the gaming commission's concerns over MM&I last Wednesday, Mr Pettingill released a statement claiming that the company would retain only a "very small profit margin" from the tens of millions of dollars it stands to make. He said 95 per cent of all profits would go to "churches, community clubs, vulnerable citizens' programmes, etc". Mr Dunch replied with a statement expressing "interest, intrigue and a degree of incredulity" at the claim. He said in this newspaper on Friday: "Until we read it in the paper yesterday, at no time was the commission ever made aware of the purported philanthropic objectives of MM&I and certainly no representations of the sort made in their response will be found in any of the written or verbal communications that the commission has had with the principals of MM&I — nor are they in any of the documents to which the commission has been made privy." Later on Friday, Mr Simmons wrote to Mr Dunch: "I write to invite you to resign from your position as chairman. Please be advised that this invitation is made as an alternative to revoking your chairmanship as a result of your conduct which has been considered to be in breach of international standards, as they relate to members of a gaming commission. Further, it is our view that your recent public statements are not in the best interests of the Government." Responding when contacted by this newspaper last night, Mr Dunch said: "I am surprised that you have been made aware of the communications between myself and the Minister, but so be it. Following upon a request for my resignation in mid-August, at a meeting with the minister on September 6 he reiterated that request on the sole basis that he had been given a mandate to make changes at every level. He was unable to articulate to me and my deputy as to why such a change would be in the best interests of Bermuda now or in the future and nor has he since. There are a number of unfinished initiatives being worked on by the commission at this stage and, in my humble but considered opinion, as well as that of my fellow commissioners, it would be counterproductive to the mandate of the commission and the completion of those initiatives if the commission's work were to be disrupted now by a change in leadership, particularly given that the executive director [Richard Schuetz] will be leaving us in mid-December. Bermuda's best interests would not be best served by such an occurrence at this point in time. Like my fellow commissioners, I have a statutory appointment and my term of office does not run out until May, 2019. There is no provision in our Act that provides for the Minister to seek my resignation nor to remove me from office. That is intentional, in that the commission was set up to be independent and free from political influence or interference. Accordingly, I have no current intention of resigning as chairman. I look forward to working with the Minister as we move forward together to see the gaming initiative become a reality." Mr Simmons released a statement last night, which read: "The Government does not disclose internal matters to the media and is committed to delivering on our mandate to execute change."
October 23. Bermuda law firm Sedgwick Chudleigh Ltd is to become Kennedys Chudleigh Ltd after it joined London-based Kennedys' global network. Partner Mark Chudleigh, who is a dispute resolution specialist with a strong emphasis on insurance matters, will lead the operation, supported by partners Alex Potts and Nick Miles, who both have commercial litigation, advocacy and corporate expertise. The team is completed by associates Caitlin Conyers and Neil Thomson and will provide a wide range of claims and litigation, arbitration and mediation services, as well as corporate, commercial and regulatory advice to insurers, reinsurers and other organisations across a range of industries. The Bermuda office, located at 20 Brunswick Street, Hamilton, will operate as an independent law firm, known as Kennedys Chudleigh Ltd, which will be regulated under the Bermuda Bar Act 1974. "This is a major development for our global expansion as it establishes a local presence in one of the world's most important insurance markets and a leading financial center," Kennedys said in a statement on its website. Kennedys has more than 1,800 staff worldwide with 36 offices across the UK and Europe, the Americas, Asia Pacific and the Middle East. "The firm has a very similar culture and values to our firm's culture in Bermuda," Mr Chudleigh said. "The global reach of Kennedys is unsurpassed for an insurance and litigation firm, and the available expertise and resources over the Kennedys network places us in a unique position in Bermuda as we continue to service our valued clients. Kennedys' interest in Bermuda as an international financial center is also a very welcome development for the country as a whole, as the jurisdiction looks to attract new business and investment opportunities involving many of the countries in which Kennedys operates." The deal adds to significant growth for Kennedys this year, during which the firm has announced office openings in Bangkok, Melbourne, Mexico City and Paris. In June, the firm also announced a merger with US law firm Carroll McNulty & Kull. Nick Thomas, senior partner of Kennedys, said the Bermuda office "significantly augments our global insurance practice and puts us in a class of one among insurance law firms".
October 23. The garbage truck fleet regularly has more than half its vehicles off the road due to maintenance problems, the Minister of Public Works told MPs last week. Lieutenant-Colonel David Burch, Minister of Public Works, said it is not uncommon to have just eight of the 19 trucks on the road. Colonel Burch said: "A study is progressing on reviewing zones, a possible transfer station, the number and types of trucks and appropriate levels of staffing." He added a bid to recruit five more laborers was under way. Colonel Burch said: "The overtime budget has been exhausted and we will look elsewhere within the ministry to supplement this in order to keep on top of collection schedules." He added the section's budget was "arbitrarily reduced" from the requested amount in the last financial cycle and that "no consideration of the reality of the situation was planned for". Colonel Burch said: "Limited trucks and personnel combine to create the need for ongoing overtime. Adding new staff, new trucks to the fleet and enhanced operating procedures will eventually lead to a significant reduction in the amount of overtime." Colonel Burch added a management review, which could include combining the section with the Tynes Bay Incinerator, was being explored. He said: "There is a need for more environmental and safety oversight plus an operational manager to oversee superintendents and allow the solid-waste manager to focus on strategy rather than day-to-day operations." Colonel Burch said: "The first step is to action the recommendation for a staff appointment to begin this process. Of course, all these options are geared towards improved efficiency and reduced costs. It was hoped to reintroduce the bulk waste collection service for large household items and ways to do it in a cost-effective way were being looked at."
October 23. Christopher Famous brought the house down with his maiden speech to Parliamentarians on Friday night about the meaning of true leadership. Members on both side applauded, cheered and stomped their feet when the Progressive Labour Party backbencher concluded. Mr Famous opened his speech by quoting former First Lady Michelle Obama when he said: "Every day I wake up in a house built by slaves. Every day we are in this house, we are in a house built by slaves. Brick by brick our enslaved ancestors built this house nearly 200 years ago." Imagining the old "colonial masters" might not have envisioned the descendants of those same slaves would one day be in control of the house and the country, Mr Famous added: "Today is the day that we remind some of them and their descendants that there are no more boys to order around. There will be no more bowing down to anyone, anymore. Simply put, today we are here as the descendants of those great tradesmen that built this house, not as enslaved persons but as free men and women to remind every man and woman that there are no slaves in this honorable house, there are only leaders." He honored the people who have mentored him, when he said: "True leadership does not seek to hold power to itself but to groom the next generation of leaders — just like cousin Derrick [Burgess] does. I would not be in this seat if it were not for the leaders in this country who then and now have deeply influenced my upbringing and continue to shape me even today." Mr Famous paid tribute to those who made their way here from the West Indies as indentured servants or slaves. He said: "Post 1834, others left the brutal plantations of the Caribbean to start life here in Bermuda, not to bow down to colonial masters but to determine our own destiny just as we did on July 18, 2017. He spoke of when the black community were denied places of worship, education, sports, union representation, restaurants and political representation, they built for themselves many building still standing today, including the Devonshire Recreational Club, the Bermuda Union of Teachers and the PLP itself. "We did not cry or go around begging colonial masters for their scraps or trickledown economics. We did what we do best — we led." He praised communities that had become known as "the back of town" who had "mistakenly" been looked down on by many but he said he was proud to be from the area and "proud to be a pond dog". He encouraged Bermuda's workforce to excel and to take academic and technical courses to better their companies and Bermuda as a whole. Finally, he said the voters of Bermuda deserved to have their concerns addressed with "dignity and a sense of maturity" by political representatives. He said: "Bermudian voters do not vote for us to come here and repeat our opinions for 20 minutes at a time — they voted for us to do the necessary research, present facts and alternative opinions. They voted for us to discuss what we said when we canvassed them. They did not vote for us to make the rich richer, they voted for us to empower those who need to be uplifted. They didn't vote for us to come in this house and bicker like children — they voted for us to lead".
October 23. More than $50,000 of funding has been assigned to an organization fighting gang violence and antisocial behavior. Kimberly Jackson, managing director of Team Street Safe, said of the grant: "As we understand, it represents continuing funding for the programme." Ms Jackson said the lump sum would be put towards staffing and general operating costs. Team Street Safe, she said, "has been the lead agency supporting with outreach and a pathway out of antisocial behaviors and gangs". To date, Ms Jackson said that 30 individuals had benefited from being provided with services through the organization, including help with job preparedness and placement, emotional support, and developing exit strategies and planning — including relocation. Wayne Caines, Minister of National Security, announced the funding at a press conference this month. Mr Caines said that Team Street Safe had been "stabilised" with "much needed financial support".
October 23. CedarBridge Academy celebrated its 20th anniversary with a banquet this weekend. More than 300 people attended the festivities, which featured a range of live entertainment from CedarBridge alumni. Among those at the event were Colette Codrington-Ford, Phyllis Harshaw, Alfreida Dill, Devina Butterfield, Victoria Outerbridge, Karen Simons, Robert Steede and Kalmar Richards, who have worked at CedarBridge since its inception. Gina Davis, who hosted the event with student and musician Jonathan Simons, said: "We had students from the first class in the school, along with former teachers and staff." Guests were entertained by the Simons Brothers Band, the Onion Pack, the Bodhi Dance Company, and the Noire Theatre Company, all made up of former students and staff. Brothers in Music, a brass band with current students, had the audience dancing and S4 student Chenin Waldron wowed the audience with gospel songs. Those attending were invited to share their memories. Ms Davis said: "Students recalled trips they had taken with Ms Matthews, who took them to Europe and Africa. Some recalled teachers who pushed them to apply for scholarships and, had they not, their role in society would not have been possible."
October 23. A Bermudian businessman has lost a bid to have a $3.4 million judgment against him thrown out. Ralph DeSilva had been ordered to pay the sum to Lorenzo Caletti, but he argued in Supreme Court that the judgment was based on an illegal promissory note and that he was unaware it meant he could lose his home. Puisne Judge Stephen Hellman, in a written judgment, ruled that a denial of the claim would not be proportionate. The judge wrote: "The illegality relates not to the terms of the promissory note, none of which are illegal on their face, but the manner in which it was sought to enforce them. Even if the term requiring Mr DeSilva to execute a valid legal mortgage over his properties was illegal, which it was not, it was severable from the obligation to repay the loan monies." Mr DeSilva borrowed $3 million from Mr Caletti in 2006 to buy a house and signed a promissory note. He made monthly interest payments until early 2012, when he hit financial problems. The court heard he sold a motorboat and a separate property and paid the cash to Mr Caletti. Mr DeSilva signed a consent judgment in 2013, which said he owed Mr Caletti $3,372,396. Mr Caletti died the following year and left his wife, Lydia, in charge of his estate. She filed a writ last year to call in the debt. Mr DeSilva was contacted by a bailiff in January to arrange access to his home for valuation. He said it was only then that he realized he could lose the house. Mr DeSilva's lawyer Michael Scott argued the promissory note he signed was not legal because it meant that, in default, he could lose his two properties to Mr Caletti. He also argued Mr Caletti was a Canadian national and anti-fronting legislation passed in 2007 would prevent him from taking the property without the approval of Government. The court accepted an application by Mr Caletti's widow to cut the sum owed by Mr DeSilva. Ben Adamson, representing Mrs Caletti, explained Mr Caletti received a payment of more than $1 million from the sale of one of Mr DeSilva's properties. Mr Justice Hellman reduced the amount owed under the consent judgment to $2,352,127.
October 23. Bermuda's art community is mourning the loss of veteran artist Molly Godet Thomas. Ms Godet, who won the Charman Prize in 2012 and had her art featured across the island, was 68. Friend Rhona Emmerson last night described Ms Godet as being a devoted mother, a generous friend and a uniquely talented artist. "We all loved her dearly," Ms Emmerson said. "Her watercolor paintings were one-of-a-kind, filled with colour and balanced design. A Charman winner and a creative force all her life. A devoted mother and creative director for many years in London agencies. She loved her garden and flowers, with a chic flare for fashion. She was a gracious hostess and fabulous cook. She will be greatly missed by many in Bermuda as well as London." Tom Butterfield, founder and creative director at Masterworks, said: "A light has gone out on a brilliant, brave and talented star. Her approach to painting was never rapid; rather studied and very intentional. We thank her for participating and shall miss her talent, wisdom and good humour. Molly was a Charman Prize winner four years ago and we are therefore delighted that the museum has her winning piece in the permanent collection. Her entry this year has been a very popular piece. It came to our attention that the piece entered in this year's Charman Prize was to be her last for reasons given to cancer, through which she bravely fought and continued to create." Nzingha Ming, gallery director for the Bermuda Society of the Arts, said the organization was deeply saddened to hear of Ms Godet's passing. "She exhibited her beautiful watercolors in some of BSoA's members shows. Molly was very supportive of all the galleries on island. She had a sharp wit and was a wonderful person to know. Our thoughts are with her family and close friends during this difficult time." In Friday's House of Assembly, opposition MP Trevor Moniz recalled Ms Godet as a "very powerful, creative and wonderful personality". Ms Godet studied graphic design at Hornsey College of Art in London before finding work with several international agencies. During her career, she worked in film, television, print and radio, and only turned her attention to painting in 2005 when she returned to the island. She was a regular member of the Bermuda Plein Air Group and some of her watercolors have been accepted into the permanent collections at the Bermuda National Gallery and the Masterworks Museum of Bermuda Art. Her painting Green Man Gombey, depicting a palm tree interpreted as a gombey, was awarded the Charman Prize in 2012. The judges described the work as a "mature, confident watercolor", praising Ms Godet's mastery of the medium. Services for Ms Godet will be held in London and in Bermuda, and her family have asked for donations to be made to St John's Hospice in London in lieu of flowers. She is survived by her children, Charlie and Eve.
October 22. Bermuda has been highlighted as a destination for super yachts in a magazine appearing in high-end hotels. An article in the Autumn edition of JamaqueParadis magazine details the surge of super yacht visits during the America's Cup — and the efforts to make the island an ideal port for the luxury vessels. The story says that the Bermuda Tourism Authority had received "overwhelmingly positive feedback" from super yacht owners and captains. The article states: "The marina facilities were reported as well equipped with knowledgeable staff, the Hamilton Princess Marina had resoundingly high reviews and a temporary dock space during the staging of the America's Cup at Hamilton Harbour on Front Street was also popular. Owners were particularly appreciative of the privacy that Bermuda offers, a lifestyle of understated luxury where residents respect the privacy of high net worth individuals. Captains say they discovered the ease of moving around the island and they were pleasantly surprised by the distinctively different experiences available in the ports of Dockyard, Hamilton, and St George's." Kevin Dallas, the BTA CEO, was quoted as saying: "We're very pleased with the way the island responded to the largest number of super yachts ever to gather at one event. Bermuda was well organized and well prepared. That's only half the goal though. Our true aim is to make sure super yachts visit Bermuda again and again. While we came through with high marks during the America's Cup we want to come in with high marks year-round." The story also quoted an unnamed "high net worth individual" who said: "I've traveled to the Caribbean hundreds of times but I'd never really thought of Bermuda before now. I look forward to returning". The magazine is now in hotel rooms throughout the Caribbean, including St Regis, Four Seasons and Rosewood resorts. Glenn Jones, director of public and stakeholder relations with the BTA, said the article will help to spread the word about Bermuda as a sailing destination. Mr Jones said: "The 35th America's Cup undoubtedly put Bermuda on the map of the super yacht community. About 100 super yachts made the trip, spending money on products and services delivered expertly by Bermudian businesses. Thanks to niche publications like JamaqueParadis many more super yacht owners and captains will read about what they're missing out here in Bermuda. While we plan to continue targeting titles that speak to the super yacht audience, media exposure isn't enough. There are a few things Bermuda needs to do in the regulatory and legislative spaces to be more attractive to super yachts. That's why this issue was one of five post-election priorities for the Bermuda Tourism Authority. We're working with the government, and other agencies like BDA, to capitalize on this positive super yacht momentum in the immediate wake of America's Cup. Slowly progress is being made, and as long as we get things right, small businesses across the island stand to benefit the most."
October 21. Immigration legislation to "protect Bermuda for Bermudians" was passed in the House of Assembly last night despite vocal opposition. The new laws give the Bermuda Immigration and Protection Act priority over the Human Rights Act. Walton Brown, the Minister of Home Affairs, said the Bill would protect Bermuda for Bermudians but the Opposition expressed concerns about the lack of consultation. The Bill was introduced after a May 2014 Supreme Court ruling that enabled certain holders of a permanent resident's certificate to apply for status. Mr Brown said the intention of the Bill was to "restore the primacy the [Bermuda Immigration and Protection] Act once enjoyed" and ensure that "Bermudians come first". He told the House that Bermudians continued to be the most economically disadvantaged in terms of unemployment, salary, and total jobs filled, according to statistics in the Labour Force Survey 2015. "If the court ruling prevails, hundreds could work here without the minister's permission," he said. "It is for governments to pass laws not the courts. The court's job is to interpret law. Only a weak government lets the courts decide." On a point of order, Trevor Moniz took issue with Mr Brown's assertion that other countries operated with the same restrictions as the Bermuda Immigration and Protection Act. "The European Convention gives rights through citizenship — it is standard practice," he said. But Mr Brown highlighted that there were special considerations for smaller countries and that Britain was currently trying to decide its position on immigration control as part of the Brexit process. Mr Moniz accused Mr Brown of lack of "broad consultation" over the Bill, which Mr Brown has consistently said was imperative for comprehensive immigration reform. He said he believed that the court ruling had prompted a "panicked" tabling of the Bill and that if he truly wanted broad consultation he should wait for the Immigration Working Group, which Mr Brown had originally been a part of, to deliver its findings on October 31. Mr Brown said he had consulted with the Human Rights Commission but Mr Moniz maintained that was not considered "broad consultation". Mr Brown told the House that he had been an advocate for human rights for more than 30 years and defended his party's stance on human rights, making the point that it was the Progressive Labour Party that had extended rights to permanent residents in the first place. Mr Moniz joked that Mr Brown "deserved a little statue" for his show of "self righteousness. We are talking about people who were born here, we're not talking about strangers," Mr Moniz said. Mr Brown estimated that it might take a year for full reform to take place but due to "harrowing stories of people marginalized and people in limbo" he would deal with the issue of PRC holders and status as a matter of urgency, while the reforms would come later. Mr Brown also said it was important to distinguish between human rights and privilege. During the debate Michael Scott, PLP backbencher, said the move was of public importance, calling it a response to "judicial activism". He said: "It's a matter of public importance. It's a matter that's essential." Meanwhile, Walter Roban, Deputy Premier, said that legal actions had "pulled the rug" out from under laws protecting Bermudians. "The protections that underpin the law have been weakened and the sense of stability and security is at risk," Mr Roban said. "We have to bring stability to the current situation so we can bring about the rational change. However, Patricia Gordon-Pamplin, Opposition Leader, said that the Government's handling of the Bill had caused public anxiety. She called on the Government to hold the Bill until the end of the month so consultation could take place. Ms Gordon-Pamplin said: "I think there's nothing wrong with ensuring that you are not using a sledgehammer to crack a nut." Grant Gibbons supported the intention of the Bill. He said: "There probably is mischief that needs to be addressed but there may be a more targeted approach rather than sweeping aside the Human Rights Act." However, David Burt, the Premier, said the OBA objected to the Bill because it was the death of Pathways to Status. "What this Bill represents to them is the end of their dream of Pathways to Status through the back door," Mr Burt said. "That's what they are trying to do."
October 21. Junior Minister of Finance Wayne Furbert has refused to say when he will retable his Parliamentary Bill to outlaw same-sex marriage. It is the second time Mr Furbert has dodged questions on the status of his Private Member's Bill. Mr Furbert said shortly after the Progressive Labour Party election win in July that he planned to retable the Bill in September — and expected it to pass. But the proposed legislation, which Mr Furbert said was a contributing factor in the PLP election landslide, has still to be tabled in the House of Assembly. The same Bill was passed by MPs last year, but blocked in Senate. If it passed in its current form, it would not need the approval of the upper house to become law. But The Royal Gazette reported in September that due to a constitutional technicality, senators might be able to again turn down the bill in the Senate. Section 38 (2) of the Bermuda Constitution allows Bills passed by the House of Assembly in "two successive sessions" to be presented to the Governor for assent, even if rejected by the Senate in each of those sessions. But lawyer and former Attorney-General Mark Pettingill said at the time: "The Constitution refers to two successive sessions of the House. I think on any reading of it, it is arguable that this is the third successive session." Mr Furbert was given the position of Junior Minister of Finance earlier this month — replacing Vance Campbell. Mr Furbert had no portfolio until David Burt, the Premier, made the switch.
October 21. Bermuda ranks 13th for cocaine consumption out of 115 countries, according to a survey. The statistics showed that 1.3 per cent of Bermuda residents used the drug — more than anywhere in the Caribbean region except the Dutch territory of Aruba, which was 12th in the table. Truell Landy, director of youth drug prevention charity Pride, said the results underlined the need to prevent people falling victim to gateway drugs as they entered adulthood. She added: "It is just an indicator that we need to be more vigilant with our young people here in Bermuda. Gateway drugs are an opening to the harder drugs — we know that if you have the tendency or predisposition to get involved in drugs or hard drugs, starting with tobacco, marijuana and alcohol, it can open the door and expose our young people." Albania, where 2.5 per cent of people use cocaine, came top of the list, compiled by British newspaper The Daily Telegraph. Scotland came second, on 2.34 per cent, followed by the US, where 2.3 per cent of the population use the drug and England and Wales on 2.25 per cent. The small European duchy of Luxembourg anchored the top 20 with cocaine used by 1.04 per cent of the population. Ms Landy said that cocaine use did not appear to be a major problem among the under-18 age group in Bermuda, with an average of 1.9 per cent using the drug. She added that more could be done to deal with drug abuse on the island. Ms Landy explained: "There are gaps in services among all of the substance abuse agencies whether it be prevention or treatment. We encourage people to get involved in providing effective services in prevention, treatment and even intervention — making sure that we have all of the resources on the island." The Daily Telegraph survey was based on the most recent statistics from the UN Office of Drugs and Crime and national reports. The newspaper report said: "The data corresponds to a variety of reporting years so does not offer a perfect comparison, but gives a good indication of the nations that have the biggest appetite for cocaine." Ms Landy added that the survey showed the need to nip drug use in the bud. She said: "It is just an indicator that we need to be more vigilant with our young people here in Bermuda. Gateway drugs are an opening to the harder drugs — we know that if you have the tendency or predisposition to get involved in drugs or hard drugs, starting with tobacco, marijuana and alcohol, it can open the door and expose our young people. I would encourage our parents and adults caring for young people to be very vigilant. We are looking at what's the current use of all substances among our young people now — some, such as alcohol, are really wreaking havoc even though it is a legal drug. There are many of our young people who are engaging with alcohol and marijuana use and it is causing problems. We can see it in the news over the last several years. It is something that we really want to focus on as a concern." This year's National Household Survey report on drug use and health in the adult population found that two per cent of respondents admitted to a lifetime prevalence of cocaine use and 0.4 per cent said they were current users. The Daily Telegraph article can be found at telegraph.co.uk/travel/maps-and-graphics/cocaine-consumption.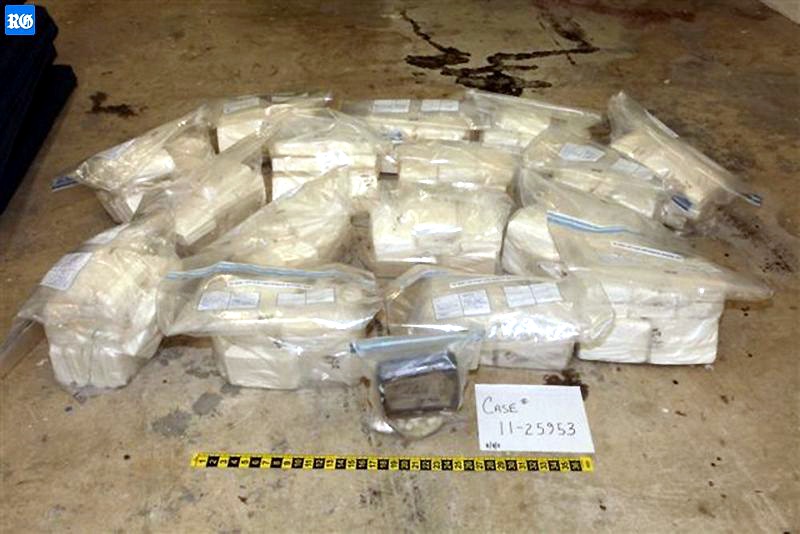 Cocaine intercepted, see above story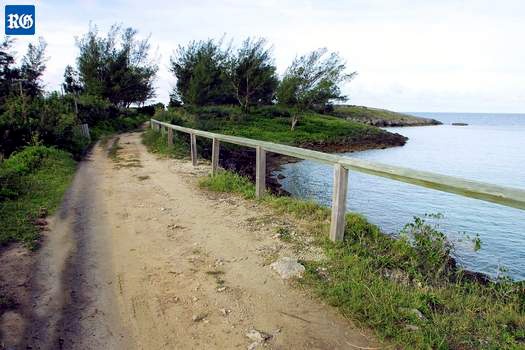 October 21. Plans to use quad bikes in Bermuda's parks and on the Railway Trail need an impact assessment, environmental watchdogs said yesterday. The Bermuda Environmental Sustainability Task Force warned that environmental, economic and social factors had to be examined to avoid "unintended consequences" of allowing commercial operators to use all- terrain vehicles in these areas. The call from the charity came after West End residents and environmentalists questioned plans, approved by former OBA environment minister Sylvan Richards, to introduce ATV tours to the Railway Trail in Somerset. BEST said the proposal "raises troublesome issues" and called for the scheme to be "thought through thoroughly". The group added: "Consultation with the public and railway right of way defenders is a must so that we don't find down the road that we have taken another step harming Bermudians, offending and turning off bread-and-butter tourists and furthering injury and death. BEST calls for an environmental, economic, and social impact assessment so that we are truly informed and know what we are doing, thus avoiding unintended consequences." BEST's chief advocacy officer Stuart Hayward added: "With so few open spaces available in Bermuda, all of which are desperately needed for the health and well-being of Bermudians, it is disturbing that this plan appears to have been approved without the appropriate assessments, public consultations and, we understand, against the recommendations of the Parks Commission." The group added that the island had already experienced problems due to previous changes in transport policy. It said: "An example is the change in law about ten years ago allowing increased motorcycle size and power. Whatever the arguments for this — which might have seemed quite valid at the time — there have been and continue to be 'unintended consequences'." BEST said more powerful bikes had led to more frequent and serious accidents, made enforcement more difficult for police, and may have encouraged people already illegally racing bikes in Hog Bay Park. The group added: "Further, enabling this ATV plan will completely lose the original intention for including our railway trail in the parks system, preserving it as quiet, linear open space. Laws and regulations will need to be changed, paving the way for greater erosion of our parks as areas of safe, quiet, family friendly venues for walkers, joggers, children, dogs, horses, tourists and those simply wishing to enjoy time in nature." Mr Richards said in an online statement last month that the idea was for "low-powered silenced ATV's along part of the railway trail in Somerset only". He added that tours would not operate on Sunday and parts of the trail would be off-limits to ATVs. The plan sparked opposition on social media and Greenrock's director Jonathan Starling highlighted a lack of consultation. Neither the Ministry of Public Works nor the Ministry of Environment and Natural Resources replied to requests for comment yesterday.
October 21. A fresh bid to tackle gangs and antisocial behavior in an island parish is to take place tonight. The launch of Peace in Hamilton Parish comes after a wave of murders and attempted murders in the area. Desmond Crockwell, of Youthvision Promotions, said: "With there having been murders and attempted murders at both Hamilton Parish Workman's Club and Bailey's Bay Cricket Club, we found it to be a worthy effort to bring the idea of the Anti-Violence Network to the parish." Mr Crockwell said the idea to hold the event in the parish came through conversations with a concerned local resident. He added: "The verbal support we received has been overwhelming, as many people recognize our purpose." Mr Crockwell said family members of young men — including those of victims of violence and those convicted of offences — had signed up for the Anti-Violence Network. He would like to see attendance continue to grow at the events as more people understand the goal. He said: "I think their courage is commendable and should be supported." The event, part of series across the island, will feature a number of speakers including Pastor Leroy Bean, the new gang violence reduction co-ordinator. Other presenters include Nicky Furbert, mother of murder victim Rico Furbert, Tyrone McHardy, counselor at the Berkeley Institute, and boxing coach Robert Somner. The event will also include music from Corvin Melody, J-Silva and Amori "Marvo" Browne. Mr Crockwell said that two anonymous donors had helped to finance the event. He added, however, that more financial support would help "so we can become more consistent in our presence throughout our island. We must continue our efforts, because we believe we are helping to make a difference." Peace in Hamilton Parish will take place at Crawl Gospel Hall at 7pm. For more information, contact 297-2018 or e-mail youthvisionsports@yahoo.com.
October 20. The need to educate other countries about Bermuda's business reputation is intensified because of uncertainty in Europe, according to Premier David Burt. The Premier gave MPs a report on his recent trip to Brussels, Paris and London, in which he met with European Union Cabinet of Commissioner Pierre Moscovici. He told the House of Assembly: "I outlined the challenges within Europe to highlight the current uncertainty of politics in Brussels and across Europe. This uncertainty means that Bermuda will, now more than ever, need to continue to educate others about our business model and reputation. During my visit I had the opportunity to meet with the head of staff in the Cabinet of Commissioner Moscovici to begin this process of greater understanding. Our message is that Bermuda adheres to all international standards of tax transparency."
He said these include:
Bermuda complies with all OECD criteria of transparency and exchange of information for tax purposes;
Bermuda has been recently rated "largely compliant", on exchange of information upon request;
Bermuda is the only UK Overseas Territory to have put into practice the OECD Country by Country reporting regime. As a result, the French Government has placed Bermuda on its CBC Reporting White List, the only UK Overseas Territory to have received this designation;
Bermuda was the first UK Overseas Territory to join the Base Erosion and Profit Shifting inclusive framework, by joining effective January 1.
Mr Burt continued: "Bermuda shares data upon request and through automatic exchange through our tax information exchange reporting portal. This portal has received Common Reporting Standards information from industry and has delivered it automatically to OECD members including EU member states via the OECD's reporting portal. Bermuda's portal is also now live for receiving CBC information from the applicable large multinationals headquartered in Bermuda. It will be able to upload this CBC information to the OECD portal by the middle of 2018." He said during his discussion with OECD Secretary General Angel Gurria, Mr Gurria had praised Bermuda's recent OECD rating of "largely compliant". Mr Gurria also applauded Bermuda's placement on France's CBC reporting White List, and the measures taken on levels of transparency, Mr Burt said.
October 20. New legislation giving the Bermuda Immigration and Protection Act priority over the Human Rights Act will be debated in the House of Assembly today. Walton Brown, the Minister of Home Affairs, has said the move "will not take away from anyone's fundamental human rights". Mr Brown also told The Royal Gazette that the Bill was not aimed at eliminating the May 2014 Supreme Court ruling that enabled certain holders of a permanent resident's certificate to apply for status. The remarks came as the minister delivered an "impromptu" press conference in the wake of what Mr Brown described as a "litany of comments" about the intent of the legislation. Mr Brown further stated that the legislation was separate from the business of the immigration working group, which will end its deliberations this month. He added the proposed legislation, which drew criticism from the Human Rights Commission, among others, was designed to "bring back into law processes and practices that go back more than 40 years". Brown mentioned the Paula Tavares case, in which a woman born in Bermuda to non-Bermudian parents won a judicial review over a rejected application to work on the island without restriction. Mr Brown said that recent decisions by the courts had combined the questions of "what is a function of government and what is a service"? He added: "It opens the door for literally thousands of people to make that claim to a backdrop of high unemployment." Mr Brown said that The Human Rights Commission will be a member of a bipartisan immigration reform group due to start work next month.
New legislation to be debated. In addition to immigration amendments, three extra items are up for deliberation today in the House of Assembly. The Tax Reform Commission Act 2017 will set up the commission on a short-term basis and provide for its functions, a spokesman said. He added: "The TRC will review the system of revenue collection and taxation and recommend reforms to make the tax system fairer and enhance Bermuda's international competitiveness, in order to attract more business and increase the number of jobs based in Bermuda." MPs will also consider the Appeal Tribunals (Miscellaneous) Act 2017, which amends regulations in an effort to increase fees paid to Government appeal tribunal members. The spokesman said that matters appearing before the various appeal tribunals were growing "increasingly complex" and the ministry had "difficulties appointing suitable persons" to serve on tribunals at the current rates. And The Electricity Amendment Act 2017 will eliminate a duplication of efforts on the form and content of electricity sector licences. The Regulatory Authority will manage licensing under its own Act, while the minister is to retain oversight of additional licensing considerations "as are considered necessary", the spokesman said.
October 20. Michael Dunkley, the former premier, has said his Government terminated a multimillion- dollar casinos agreement with a local company because it served "no purpose". Mr Dunkley, who was a member of Cabinet when the deal with MM&I Holdings was signed, said he was not involved in the drafting of the memorandum of understanding under the One Bermuda Alliance administration and did not see the document until he became leader of the country in May 2014. He told The Royal Gazette: "When I became premier, I just decided it wasn't the direction to go. Obviously, when we were looking into gaming we were making sure that we put the best model into place. Thus, I talked to my colleagues and said it's our responsibility as a government to put that model into place, but we let the Bermuda Casino Gaming Commission give us advice. I said: 'I just think the MOU has no purpose now'." As revealed by The Royal Gazette in a special report published on Wednesday, the agreement for MM&I to provide a centralized gaming system for Bermuda's casinos was signed on 3 December 2013 by the late Shawn Crockwell when he was tourism minister and was witnessed by then attorney-general Mark Pettingill. Mr Crockwell and Mr Pettingill introduced MM&I to the Cabinet and, after he quit his position, Mr Pettingill's law firm represented the company, which stood to make tens of millions of dollars a year from the deal. Mr Dunkley said he saw a presentation that MM&I made to the Cabinet in 2013. He added: "We were impressed by the system. I thought it was interesting. But remember, I was looking at it as a system. I still don't think any government should mandate what systems are put in." MM&I is owned by Bermudians John Tartaglia and Michael Moniz. The company's proposal was that it would invest the "upfront capital costs" to install a centralized gaming system for all casinos in Bermuda and then be paid a management fee of 40 per cent of the island's gross gaming revenue for electronic gaming. According to a Cabinet memo from Mr Crockwell, this was a higher management fee than the 30 per cent industry norm, but was appropriate because MM&I would be taking on "all the capital and ongoing risks and providing the electronic gaming machines". Mr Dunkley said the 2015 formation of the Bermuda Casino Gaming Commission, an independent regulatory body, meant Government did not need to deal directly with gaming operators. He added: "I had the greatest respect for Mr Tartaglia and Mr Moniz, but I didn't want Government to get involved in what systems were to be used. I am not casting aspersions in any way. I just didn't want to get bogged down in that which should be the responsibility of another body." The MOU was terminated in July 2016 by Michael Fahy, Mr Crockwell's successor as tourism minister, who acted on the advice of Richard Schuetz, executive director of the gaming commission. Mr Fahy, who was also in Cabinet when the MOU was signed, said: "The reason I felt that termination was appropriate was because the terms of that MOU didn't seem to make any sense to the future of gaming in Bermuda. It would be too restrictive on operators to be tied to one system and the numbers envisaged in terms of revenues that would go to MM&I per the MOU were very high indeed." Mr Dunkley said he and Mr Fahy met with Mr Tartaglia after the agreement was terminated. He added: "We suggested they talk to the gaming commission. I said 'I don't want the Cabinet or Government to be involved.' For me, it was finished and the gaming commission could do what it had to do." Mr Dunkley said after the Jetgate scandal, which involved Mr Crockwell and Mr Pettingill and led to the resignation of Premier Craig Cannonier, he was keen to make sure everything done within Government was "open and transparent. On gaming, there was no way I was going to have people come in and make allegations about inappropriate dealings. We didn't need to have any MOU. I believed that the gaming commission should be making those decisions. I believe operators should be allowed to decide what system they should use, if it fits into the model under law and approved by the commission. I don't think that one shoe fits all." MM&I's partner firm is Florida-based Banyan Gaming, which developed the cashless gaming technology. Banyan representatives appeared as "experts" at a Progressive Labour Party forum on safe and responsible gaming in May this year, which was streamed online. Mr Dunkley, who did not attend the meeting in person, said: "It seemed like at that meeting, especially the Banyan people, just hawked what they were selling. It seems like they were allowing people to hawk their systems. As politicians, we shouldn't be getting involved in that." He said Mr Schuetz, who has resigned from the gaming commission, was a "respected man" who was "castigated in the House of Assembly" by Mr Pettingill, Mr Crockwell and PLP MP Zane DeSilva. He added: "Gaming can help tourism if we can get politics out of the way."
October 20. A claim by a firm bidding for a multimillion-dollar government gaming contract that it would give away the vast majority of its profits was called into question yesterday. Alan Dunch, chairman of the Bermuda Casino Gaming Commission, said MM&I's statement that it would donate "95 per cent of all profits" to good causes if it landed the hugely lucrative deal was met by the commission with "interest, intrigue and a degree of incredulity". MM&I made the claim on Wednesday after a special report in The Royal Gazette revealed that the company made an agreement with the One Bermuda Alliance government for an exclusive deal to provide a networked gaming system for casinos on the island. Records released under the Public Access to Information Act show the gaming commission feared the deal could still be under consideration by the Progressive Labour Party administration, even though it has flagged up concerns about the licensing history of people associated with MM&I's Florida-based partner, Banyan Gaming. Mr Dunch said: "The commission has read with interest, intrigue and a degree of incredulity the statement issued by MM&I in response to The Royal Gazette articles published yesterday. Given the assertion that MM&I is seeking legal advice 'to claim significant damages' against the commission, prudence dictates that the commission should be cautious in providing any comment upon MM&I's alleged position. However, the commission can say that until we read it in the paper yesterday, at no time was the commission ever made aware of the purported philanthropic objectives of MM&I and certainly no representations of the sort made in their response will be found in any of the written or verbal communications that the commission has had with the principals of MM&I — nor are they in any of the documents to which the commission has been made privy." MM&I said after it got back its investment in the networked gaming system and reached the "profit stage" it would donate 95 per cent of all profits to a "government-appointed Gaming Proceeds for Charity Committee" and the money would be distributed to "churches, community clubs, vulnerable citizens' programmes, etc". Mr Dunch said: "The commission has no knowledge of and indeed has never heard of any referenced Gaming Proceeds for Charity Committee and there is no reference to such a committee in the Casino Gaming Act or in any documentation to date other than in The Royal Gazette. The creation of such a committee has never been the subject of any discussion with the commission by anyone." The Ministry of Economic Development and Tourism was asked if such a committee existed or was under discussion — but no response was received by press time. The gaming commission released 59 pages of records about the MM&I deal under Pati, including the agreement itself and e-mail correspondence. No mention of the charity element of MM&I's plan is made in the documents. Two other documents obtained separately, a Cabinet memo by the late Shawn Crockwell who was tourism minister, and a 15-page joint submission that MM&I and Banyan made in response to a government request for qualifications advert in 2015, also make no mention of charity donations. All the documents can be viewed on The Royal Gazette's website. Page 12 of the RFQ submission shows the list of seven references that MM&I and Banyan provided to the Government, including billionaire casino owner Steve Wynn. The records released by the commission revealed that the regulatory body's executive director Richard Schuetz knew many of the referees and made inquiries which resulted in "less than glowing" written and verbal responses. MM&I claimed in its statement: "Our MM&I references were never contacted by the Bermuda Gaming Commission." But Mr Dunch said: "As is made clear in the correspondence that is referenced in The Royal Gazette articles, and contrary to what MM&I says in its response, the commission did contact and make inquiry of the references put forward by MM&I and, as a result, it raised the concerns that it did, concerns which to date have not been responded to. Beyond that, the commission has nothing more to add at this stage."
October 20. Government ministers will be required to disclose any hospitality they receive which could influence them, under new amendments to their code of conduct. Government reform minister Lovitta Foggo said the move comes in the light of the Jetgate affair under the One Bermuda Alliance administration. She told MPs the amended ministerial code of conduct would require a minister to disclose all gifts to the permanent secretary as soon as possible after their receipt. Ms Foggo said: "Further, a minister will also be required to disclose all hospitality from any source which might reasonably be thought to influence ministerial action in any manner. For example, honorable members will recall instances where private air transportation and complimentary high-end dinners to discuss potential business, such as casinos or gaming, were accepted by a previous administration. The amended code requires that a minister must immediately disclose such hospitality. An official disclosure form will be created and distributed electronically to each minister and ministry to ensure that this mandate is operationalized. Transparency and integrity in office are at the heart of this endeavor." The amendments are expected to be tabled in the House of Assembly in the coming weeks, Ms Foggo said. The minister also said she had been a fierce advocate for establishing parliamentary oversight committees which would improve governance, reduce waste and increase efficiency, and is working with the legislature to ensure they are formed. Other planned moves include making Cabinet accountable for its own decisions, instead of senior civil servants. She said: "The supremacy of Cabinet in Bermuda's system of government is a long settled position. In recent years there has been a very public attempt to enjoin senior civil servants with Cabinet and to make them responsible for the decisions of Cabinet. This is fundamentally wrong and contrary to a core tenet of our style of government. Therefore, the code contains a provision that recognizes the authority of the Cabinet and seeks to make Cabinet accountable for its decisions subject to documenting the rationale. This provision is intended to relieve senior civil servants of the obligation to justify decisions of Cabinet."
October 20. Obesity and diabetes could cost Bermuda $26 million in health insurance claims over the next decade, Kim Wilson warned today. The Minister of Health told the House of Assembly that this figure does not include indirect costs, such as the impact on other conditions, out of pocket payments, wages and work hours lost. She said: "Obesity, and the lifestyle choices that cause it, also lead to the early onset of preventable diseases like diabetes, kidney disease and heart disease. These conditions bear a terrible burden on those afflicted, on their families, and they are expensive to treat. Estimates by the Bermuda Health Council indicate that, based in health insurance claims alone, obesity and diabetes will add over $26 million to our Island's health costs over the next ten years. This is just the direct cost of medical care and does not include indirect costs, like the impact on other conditions, out of pocket payments, subsidies, wages and work hours lost. Those indirect costs are part of the larger health economic impact. Bermuda just can't afford this." Ms Wilson repeated that three in four island residents are overweight and obese — among the highest in the world. "Look in the mirror. Are you a woman with a waist measuring more than 35 inches or a man with a waist larger than 40 inches? If the answer is 'yes', then include yourself in the statistic. Bermuda today is suffering from epidemic levels of obesity and chronic non-communicable diseases like diabetes and kidney disease." Ms Wilson highlighted initiatives to tackle the problem, including the community health drive Taking it to the Streets. She said the Department of Health screened 350 people and referred 126 for extra medial assessment because they had high blood sugar and blood pressure readings. "This means one in three persons screened were at risk and in need of medical attention. How many other people are walking among us today in a similar state?" Ms Wilson said that last month's Celebrating Wellness event provided a supportive forum and targeted information to help get the word out and make health the easier choice. Meanwhile, the 50 Million Steps Challenge aimed to get people moving. Bermuda's walkers showed that what they are made of, and more than doubled the original goal to 100 million steps taken." She added that the Enhanced Care Pilot targeting underinsured and uninsured persons with chronic non-communicable diseases also showed encouraging initial feedback. "In addition, we are hard at work to develop proposals for Bermuda's Sugar Tax, which we intend to begin consultation on in the coming months. And I am personally committed to reintroducing the Vending Machine Policy in Government Buildings to ensure healthier options are available on Government properties. We must not continue to promote the very choices that make us sick and cost us so dearly." And she revealed that work was under way to establish a National Register of Chronic Diseases, which she said should help the country manage chronic diseases better. "Accurate national health statistics are a basic requirement to address the chronic disease problem in Bermuda. We must be able to know the population's health status and accurately track our progress following interventions."
October 20. The International Business community will help middle school students with social studies and business studies as part of a new partnership. Education minister Diallo Rabain told the House of Assembly a new public-private partnership with the Association of Bermuda International Companies would support teachers and give students a better understanding of the economy. Mr Rabain pointed to the importance of IB to Bermuda's economy, telling the House: "The ABIC team, curriculum officers and teachers commenced discussions on promoting the opportunities available to Bermudians in the IB sector to middle school students. Our teachers will expose M2 and M3 students to the world of International Business in Bermuda through the use of resource material and lesson plans. Students will learn about the island's economy and careers related to IB using PowerPoint presentations, videos, infographics and animated graphics telling the story of Bermuda's economic history, how regulation works, and current global business sectors. Students will understand the Bermuda market's contribution to economies worldwide, inclusive of practical tips to help middle school students investigate careers in reinsurance, captive insurance, other financial services, and support industries such as accountancy and compliance, where qualified personnel are in high demand." He said exposing students to career opportunities at an early age would help prepare them for a place in the job market. "This is our intent as we introduce our middle school students to understanding the origins, opportunities and structures of IB in Bermuda. The basic business concepts understood from the operations of IB in the local economy will allow our students to build on and conceptually link to the global perspective, as they progress to the senior and tertiary school levels."
October 20. The island's incinerator will have to recruit four engineers from overseas to fill gaps in the workforce, the Minister of Public Works told MPs today. And Lieutenant-Colonel David Burch warned that the Tynes Bay plant would either need expanded or major work done on the existing waste to power plant within the next three years to remain reliable. Colonel Burch also raised the possibility of Tynes Bay becoming a quango — a quasi-autonomous non-governmental organization — outside of direct government control. He said: "We are commissioning a study to do an analysis of timelines, options and of course cost to explore which is more beneficial in the long term. The costs are significant for either option along with the likely requirement for extensive space for baled garbage for an extended period during construction." Colonel Burch told the House of Assembly that Tynes Bay was down four operators due to staff leaving — often for better money at Belco and elsewhere. But he said it was planned to launch a recruitment drive for trainees next year. He said: "We lose staff to Belco more and more as our compensation mechanisms fail to keep up with the competition. Gaining more flexibility by becoming a quango may be a solution as current government compensation grading does not take into account risk management, which is a high contributing factor to persons not wanting to stay and progress through the ranks. All options are on the table to secure and retain qualified Bermudian talent and we shall aggressively explore these options without apology." Colonel Burch said that the weekday drop-off times at Tynes Bay would be extended from the start of next month. He explained the hours for the bulky and special waste drop-off section were cut as a cost-saving measure in 2013. But he said that "through collaborative efforts with the operating contractor and ministry staff" a deal was worked out to change the 9am to 6pm hours to 7am to 6pm to let people drop off items on their way to work. Colonel Burch added that "through the application of monies already owed to government" the extended hours would not involve extra expenditure.
October 20. The old police station building in St George's is neither habitable nor large enough to serve for policing the Olde Towne, according to Wayne Caines, the Minister of National Security. While there has been "much discussion around the relocation of the eastern police station from Southside to the town", Mr Caines said there was no need to operate from Southside and within the town at the same time. He told the House of Assembly: "Only one location, or the other, should be considered." Police have a long-term rental agreement with the Bermuda Land Development Corporation for Southside, which also houses the forensic crime unit, but other police units could be relocated there with savings made, Mr Caines said. "This ministry will continue to work with the commissioner to determine the best policing plan in support of St George's, providing a solution that inspires confidence, serves the growing town well, and is economically viable for the long term," he said.
October 20. Stevedoring Services workers at Hamilton Docks have downed tools in a dispute with management. Warren Jones, Stevedoring Services chief executive, confirmed yesterday afternoon that the firm had received notice of industrial action and was working to resolve the situation. Mr Jones said: "Stevedoring Services Limited can confirm that we have received formal notice of industrial action from the Port Workers' Division of the Bermuda Industrial Union. The stevedores have unloaded and delivered refrigerated containers. We are working to resolve this action."
October 20. Sexual assault is "pervasive" in Bermuda, according to one leading island social worker. Laurie Shiell-Smith, executive director of the Centre Against Abuse, said that the organization began using the #MeToo campaign to "let other survivors know that they are not alone". The movement went viral on social media earlier this week and allowed victims to share their stories to draw attention to the widespread issue of sexual assault and harassment. The move followed a string of allegations of sexual abuse by Hollywood producer and former studio executive Harvey Weinstein. Ms Shiell-Smith said CAA encouraged survivors to share "what they can when they are ready. I know of several individuals who have spoken about some of their story on social media about their sexual assault, and had several people reveal to them privately that the same thing happened to them. They feel relaxed to come out to people whom they see understand where they are, and can empathize with them. They no longer feel all alone." Ms Shiell-Smith said the number of people using the hashtag was uplifting and unsettling at the same time. She explained: "It is heartbreaking to see so many people have had to endure this atrocity, but it is empowering because they are using their voice to say that this is not my shame to bear any longer. Sex assault and harassment were all too common on the island. Sexual assault is pervasive in Bermuda. It happens in the home, workplace, on the street and in various public arenas. Sexual assault was any non-consensual sexual act. Sexual assault may refer to rape, attempted rape, incest, molestation or other acts of sexual intrusion, including non-physical or verbal acts of violence." Numbers provided by police in April showed an increase in sexual assault reports in recent years. Police said that 40 sexual assaults were reported in 2016, up from 35 in 2015, and 30 in 2014. The crime statistics report for last year recorded twenty-three arrests for sex assault. But Ms Shiell-Smith said that official statistics were just the tip of the iceberg. She explained: "Often assaults happen in the workplace that may not even get to human resources and if they do, human resources do not have a central place to report statistics. Assaults happen on the street just in passing, and you don't know who that person is that assaulted you, and you don't know how to report it, while some people are very fearful to report. Shame, fear of reprisal, or feelings of responsibility for being victimized were all reasons for under-reporting of sex offences. Then there are others who don't realize that they've been raped, as they don't understand that their 'yes' should not be forced or coerced in any manner. The way sexual assaults are often discussed — with the responsibility on possible victims to behave differently, rather than on the perpetrator — is part of the problem. Often times we are taught early in life to stay away from the dirty old man' or that fresh person. This type of talk instills in us from young that the onus is on the potential victim, that the responsibility is theirs to avoid being victimized. The sexual predator needs to be held accountable. Victims had to have their stories believed and supported to recover from their ordeals. We need to allow the survivor to decide their course of action, and also provide education, direction and guidance to support them through their entire process. We need to support survivors when they use their voice to tell their story." Ms Shiell-Smith added the CAA offered help for victims irrespective of when an assault happened. She said: "CAA provides services for survivors who were assaulted yesterday and for those who were assaulted as children and are now adults and wish to receive support. Your voice does matter." And Ms Shiell-Smith said the #MeToo campaign "is about solidarity, it is about removing a mask, it is about encouragement, it is about starting a conversation that has been hidden for far too long".
October 20. Bermudian acting legend Earl Cameron was back in the limelight in his homeland last night. Mr Cameron, who turned 100 in August, was the star of Our Earl is 100 Years Young at the City Hall in Hamilton. About 300 fans and supporters crowded into the Earl Cameron Theatre, which is named in his honor, to hear him tell his story. Mr Cameron told The Royal Gazette: "I seem to have a fair amount of energy. They seem to be very proud of me here; named a theatre after me. It's very kind of them." Mr Cameron made a name for himself in London theatre before becoming the first black star to play a leading role in a British film. But he said his first acting role came about almost by accident. Mr Cameron added: "When I arrived in London, I had no qualifications for anything. It was a period when it was almost impossible for a black person to get any kind of job." Mr Cameron went to see a friend in a show and, after noticing a number of black actors, asked him if he could have a part. Mr Cameron said: "He said no way. The show was cast, but strangely enough three weeks later he came by late one afternoon and said my big chance had come. He said a guy on the show hadn't shown up, it was the third time he had missed a matinee so the director said to get someone else." Mr Cameron made his debut in the chorus that night. Mr Cameron was still able to sing some of his lines this week, more than 60 years later, but he was less lucky on his debut on the boards. "I knew none of the words. All I could see were faces of people in the packed Palace Theatre. I was sweating, my knees were trembling, but I was thinking to myself it's better than washing dishes. From that night forward, I was bitten by the theatre bug. I never looked back." Mr Cameron returned to Bermuda after the Second World War, but just five months later he was back on a ship, heading to New York and then to London, where he won a role as an understudy in Deep are the Roots. He said: "That play did me a lot of good. When the show closed, the guy who played the lead went off to live in Paris and I became a package deal with the show for the repertory theatres across England. I owe an awful lot to that play. It was the best part I had up to that period." Mr Cameron later made the move to the silver screen with a starring role in Pool of London, which made him one of the first black stars in the UK. He went on to earn roles in Simba, Sapphire, the James Bond movie Thunderball, The Queen and The Interpreter. Mr Cameron was appointed Commander of the Order of the British Empire for his contributions to drama in 2009. The University of Warwick awarded Mr Cameron an honorary doctorate in 2013. Mr Cameron also had some advice for young and aspiring actors. He said: "To be honest, I spent the best part of my life in show business, but I am reluctant to recommend that to young people. It's a hell of a life. I got the best part of it." Mr Cameron added he was thrilled to be back on the island where he was born. He said: "It feels wonderful to be here as there's no place in the world like Bermuda. It's a delightful place."
October 20. A Bermuda-born actress has claimed Hollywood tycoon Harvey Weinstein sexually harassed her. Lena Headey, best known as Cersei Lannister on Game of Thrones, alleged Mr Weinstein, co-founder of Miramax, subjected her to sexual harassment on two occasions several years apart. Ms Headey said the first incident happened at the Venice Film Festival in 2005 when she was in her 30s. The Brothers Grimm, a film she appeared in along with Matt Damon and the late Heath Ledger and in which a Weinstein company was involved on the production side, had its premiere at the festival. Ms Headey wrote on Twitter: "At one point Harvey asked me to take a walk down to the water. I walked down with him and he stopped and made some suggestive comment, a gesture, I just laughed it off. I was shocked." She added: "I was never in any other Miramax film." Ms Headey said she next saw Mr Weinstein in Los Angeles several years later. She said: "I had always carried the thought that he'd never try anything with me again, not after I'd laughed and said never in a million years. I believed that he respected my boundary and maybe he wanted to talk about potential work." Ms Headey said she accepted an invitation to breakfast. After the two talked about film-making, she said Mr Weinstein asked her personal questions "about the state of my love life". A short time later, Ms Headey said he invited her upstairs to get a script. Ms Headey added: "We walked to the lift and the energy shifted, my whole body went into high alert. "I said to Harvey 'I'm not interested in anything other than work; please don't think I got in here with you for any other reason; nothing is going to happen'." Ms Headey said Mr Weinstein was silent after she spoke. She described feeling "completely powerless" as he was "marching me forward" with "his hand on my back" towards his room. Ms Headey said Mr Weinstein became angry at the room door after his key card failed to work. She added she was walked back through the hotel by Weinstein "grabbing and tightly holding to the back of my arm". Ms Headey said: "He paid for my car and whispered in my ear 'Don't tell anyone about this, not your manager, not your agent. I got into my car and I cried." Ms Headey, 44, has also appeared in movies 300 and The Purge. The daughter of John Headey, an island policeman, and his wife Susan, she was born in 1973 and lived on the island for five years. Ms Headey is one of dozens of women who alleged Mr Weinstein subjected them to sexual harassment and assault. These include actors Kate Beckinsale, Cara Delevingne, Angelina Jolie, Rose McGowan and Gwyneth Paltrow. Mr Weinstein was fired this month by the board of his company, The Weinstein Company, after the allegations came to light. Mr Weinstein, along with his brother Bob, founded Miramax in the 1970s.
October 20. Transitions, a practice offering psychology and psychotherapeutic services, has been through its own transition since last year's major fire on Front Street destroyed its former home. Employees of Transitions, a company that has been in business for almost 30 years now, described losing their former base at 79 Front Street as traumatic. But they believe the experience will allow them to relate better to some of their clients. Jeremy Lodge, clinical psychologist at Transitions told The Royal Gazette that he lost all client records, which he describes as a minor setback. "I had to call clients that I remembered off of the top of my head, and meet at their homes and other locations temporarily. I lost all upcoming appointments and records in the fire." All of the counselors had similar experiences, but all were impacted in a different ways. Sarah White, a psychotherapist, described the experience as a feeling of grief, as if she lost her home. "I have been there so long," she said. "For me it was a second home — we try to make our offices an extension of our own personalities and comfort zones. I didn't realize at the time how devastating it really was, it felt like I had no where to go any more." However, the group believed there had been advantages from going through the experience, as Debbie Jackson, a psychotherapist, mentioned. "We work with people who undergo trauma and difficult times," she said. "It has certainly deepened my understanding and empathy having gone through this myself. And through resilience, to understand it's possible to rebuild and refresh. We are happy in a new space which we did not anticipate a year ago." Brian Rosorea, a psychotherapist, added: "It highlighted how people react to loss in different ways. Life throws situations at you so I knew it would be fine, but it wasn't until six to nine months later when I started to feel the tug of it all." During the struggle, their friends from the corporate community assisted by lending out office conference rooms to hold meetings. Ms White said: "The community really pulled together to help us and we are grateful." The Transitions team has moved into a new home in Wessex House at 45 Reid Street. They want clients to know that they are back at full strength and ready to help people in their time of need. "It is ironic that our name is Transitions, as this was a very transitional experience," Ms Jackson said. They offer diverse services including for children, adults and the elderly, and for issues such as chemical dependency, anxiety, depression, grief and loss, and marriage, as well as facilitating seminars and workshops. Mr Rosorea said: "We help people with relationships, whether it's with other people or with themselves." For more information, contact any of the counselors on transitionsbermuda.com or on 295-2665.
October 20. Opinion. By Christopher Famous, government MP for Devonshire East (Constituency 11). "And Nathanael said to him: can there any good thing come out of Nazareth? Philip said to him: Come and see."— John 1:46. Last week I had the privilege of being invited to speak with some young Bermudian men. Young men who, not unlike any of us, found themselves facing a few life challenges during their high school years. In getting to listen to their stories, I found that I was almost listening to the story of my own teenage life. During my high school years, it sometimes seemed I spent more time in the office of Mr Horton than I spent in my homeroom. Additionally, I found myself with failing grades owing to my own lack of attention to study. When I asked the young men where on the island they live, many spoke of living in the town area. Again, I recalled a time that many persons tended to looked down on young men from "back of town" areas, as if we were "less than". Some may ask: where is "back of town"? For clarity, one would have to envision some of the following locations:
Angle Street
Princess Street
Middletown
Court Street
Curving Avenue
St Augustine's Hill (Smith's Hill)
Parsons Road
Marsh Folly
St Monica's Road (42nd Street)
Government Gate
Glebe Road
Roberts Avenue
Friswells Hill
Collectively, these areas form what is now affectionately called "Back of Town". There was a time that many in this country mistakenly looked down on those of us from "back of town". They said that we were no good or nothing to be proud of. We were considered nothing more than a bunch of "Gombeys". They also labelled us as "pond dogs", notably because of the proximity of the perennial eyesore that has been the Pembroke Dump. Let me tell you something about "pond dogs". To survive in the back of town, you had to be able to think on your feet and think two steps ahead of the next person. In other words, you had to be a leader. A leader like:
Ottiwell Simmons
Dame Lois Browne-Evans
Kingsley Tweed PhD
Artie Black
Austin Thomas
Freddie Thomas
Robert Wilson
Wycliffe Stovell
Aurelia Burch
Maria Benn
Brangman sisters
These are but some of the people who have instilled the qualities of leadership, not through lip service but through the sweat of their brows and by the impeccable examples they set. These are persons who created legacies and institutions that still stand to this day, despite a multitude of challenges. These are people who many looked down on because they came from "back of town". Many of these persons took their time to pull myself and others aside in our challenging years to teach us various life principles: community building, business ownership, workers rights, spiritual grounding. Essentially, they helped to mentor and to set the foundation for the next generation of Bermudian leadership. Last week, in speaking to those young men, it reaffirmed to me that within each of them there lies a future leader. They need to know that coming from "back of town" endows them with a heritage filled with pride and progress. Tomorrow, the Dancing in the Street festival takes place on Angle Street from 3pm to 9pm, hosted by The Centre, formerly known as PYC, which spawned the likes of Olympic bronze medal-winning boxer Clarence Hill, Troy Darrell and the Editor of The Royal Gazette. It will be a celebration of our "back of town" heritage. It is incumbent on those of us who have moved forward in life to help to nurture these young men to reach their full potential. This truly is the "back of town" way.
October 19. Bermuda can further improve its world leading position in the insurance linked securities sector, according to David Burt, the Premier. And his view was supported by Ross Webber, chief executive officer of the Bermuda Business Development Agency, who said the island's message to the rest of the world is that it is the place to seek and find new ideas and creative solutions. He also said technologies such as fintech and insurtech find a natural test bed environment in Bermuda. The two men were addressing a room of delegates at the two-day ILS Bermuda Convergence 2017 event this morning. Mr Burt spoke of the catastrophes resulting from hurricanes Irma, Harvey and Maria, the earthquakes in Mexico, and the wildfires in northern California. "The importance of the Insurance Linked Securities business in Bermuda and our catastrophe reinsurance platform has truly been affirmed by these devastating events, and I am pleased that the growth in this annual ILS meeting, mirrors the growth in Bermuda's ILS industry," he said. "The significance of industries like yours, at the cutting edge of risk financing for some of the most destructive events, cannot be understated." The insurance industry is expected to pay out $100 billion in claims resulting from losses caused by Irma, Harvey, and Maria. Those payments will support the recovery and rebuilding process of affected individuals, businesses and communities. Mr Burt, who is also the Minister of Finance, noted that the Bermuda market is expected to pay about 25 per cent of the losses from those catastrophes. "These events can accelerate a capital market's incursion into insurance market share held by traditional insurers and reinsurers, especially with regard to the catastrophe business, as ILS increasingly appears to provide capital efficiencies. With these changes, the role of the capital markets in the future of insurance and reinsurance will grow in significance. Reinsurers may improve their own capital structures, by embracing alternative capital models and making them part of their own business plans." ILS Convergence 2017 was held at the Hamilton Princess. The event is now in its fifth year. The Premier spoke of Bermuda-based companies at the front of the pack using new and innovative structures as the ILS sector grows globally. And he said there is "a promise of further progress in these products for insurance and reinsurance lines, well beyond catastrophe reinsurance". Last year the Bermuda Stock Exchange had a record 61 new ILS listings. That had increased to 218 by June, with a value of $24.5 billion. "As the island remains the leading jurisdiction for the issuance of catastrophe bonds, the Bermuda Monetary Authority reports that ILS issued from Bermuda represents nearly 74 per cent of total outstanding capacity at the end of the first quarter," said Mr Burt. "With the backing of industry and Government, the Bermuda Monetary Authority, has always sought effective supervision, combined with coordination among their global regulatory peers, with strong and useful regulation being critical to today's financial markets." Mr Burt, who became Premier following the General Election in July, added: "This new Government believes the Bermuda market can go even further to serve the needs of the corporate world. However, it will take the continued efforts of working together with industry stakeholders, for all of us to reap the rewards and find mutual benefit. My message today is the same as it has been over the last few months, Bermuda is an excellent place to do business, and provides an excellent and well regarded platform to — putting it simply — make money. I look forward to supporting the growth of this segment and rest assured that my government will do all it can to ensure that Bermuda is not only a great place to live and work, but an even better place to make money." The BDA is lead sponsor of the event, which it helped launch in 2013. Mr Ross said: "Our island is unrivalled in the scope and speed of ILS development and we work hard to keep it that way. Technology can forge a path of disruption. Talented minds in this market are looking at distributed ledgers, blockchain and other technologies that can continue that can continue to build on Bermuda's dynamic reputation and set us apart. Our message to the rest of the world is that Bermuda is different, exciting things happen here, new ideas, creative solutions and fresh ways of looking at things." The ILS Bermuda Convergence 2017 event concludes today.
October 19. The firm bidding to provide a cashless gaming network for casinos in Bermuda claims it would retain only a "very small profit margin" from the tens of millions of dollars it stands to make. Responding to a special report by The Royal Gazette yesterday, MM&I Holdings said it would give the vast majority of profits to "churches, community clubs, vulnerable citizens' programmes, etc". In MM&I's signed agreement with the Government — disclosed under public access to information and published by this newspaper yesterday — no reference was made to profits being given to churches, charities or programmes helping vulnerable people. Yesterday, MM&I said the agreement was deemed null and void once the referendum on gaming was withdrawn by the One Bermuda Alliance government. The Royal Gazette reported how gaming regulators fear a multimillion-dollar casinos deal involving the Government and MM&I remains on the table despite concerns it could damage the island's financial reputation. Our report revealed individuals associated with the company's partner firm, Florida-based Banyan Gaming, previously surrendered their gaming licences in two gaming jurisdictions in the United States, which the Bermuda Casino Gaming Commission believes could create problems if they were licensed on the island. Mark Pettingill, the former Attorney-General, whose law firm represents MM&I, and who was in Cabinet along with his business partner, Shawn Crockwell, when the deal was agreed with the Government, released a statement on behalf of MM&I Holdings Limited and its partners yesterday. "It is true that MM&I would seek to earn a profit as a service provider to the gaming market in Bermuda. That is the nature of any good business," the statement said. "But it is also true that once MM&I reached the profit stage of its investment plan, 95 per cent of all profits would be donated to a government appointed Gaming Proceeds for Charity Committee to distribute the profits to churches, community clubs, vulnerable citizens' programmes, etc. MM&I would have no say in who the money would go to. We would only serve to perform our services and collect the funds to make them available to the committee for disbursement. In fact, MM&I would retain a very small profit margin in reflection of our multimillion-dollar, upfront investment and necessary operating expenses for jobs, etc. Without hesitation, MM&I remains 100 per cent committed to ensuring that no overseas operator can enter the local gaming market and siphon off tens of millions of dollars out of our local economy and systemically erode our currency. We are also 100 per cent committed to establishing a legacy for Bermuda in that we implement a safe, responsible and controlled environment for gaming, including stringent anti-money laundering and vulnerable player controls." On the fact that MM&I provided a $30,000 donation towards a pro-gaming marketing campaign, at the request of Mr Crockwell, Mr Pettingill's statement said: "It is true that MM&I donated $30,000 towards the 'Yes' for gaming and 'Jobs Bermuda' campaigns. We fully believe that the Bermuda public should be educated on gaming prior to the referendum and that there should have been a referendum on gaming." He said that MM&I and its partners were now seeking legal advice to claim significant damages because "the disclosure of confidential information" and comments made by the Bermuda Casino Gaming Commission "in a public forum" had severely impacted their ability to enter the gaming market in Bermuda. This newspaper reported how Mr Crockwell had told his Cabinet colleagues it was imperative to proceed with MM&I because "no other local entity" could provide the same networking system. Responding, Mr Pettingill said: "It was always the understanding that any decision to have a central/cashless system in place would result in a proper public tendering process. This was made clear by the former entire Cabinet. MM&I followed the RFQ [request for qualifications] process and we are positioned to bid based on a tender request. To date it has not gotten to the stage of being tendered, as no decision has been reached by the new administration." The statement noted that MM&I is a "100 per cent owned and staffed Bermudian company" and said its MM&I references were never contacted by the Bermuda Casino Gaming Commission. Our report revealed that the gaming commission was unimpressed after speaking to referees included in a joint RFQ submission by MM&I and Banyan. Mr Pettingill's statement continued: "So please ask yourself, is this a good deal for Bermuda? And why would anyone try and impact such a philanthropic and sensible approach to ensuring Bermuda's future economic stability? We are asking for nothing up front and we are giving the vast majority of profits back to Bermuda and Bermudians." He said the group had tried to "educate the OBA government" by hosting them overseas for an in-depth system and casino operation information session, and the public at large via the Progressive Labour Party's forum on responsible gaming on May 3 this year. It said: "We have also strived to do the right thing for Bermuda, as this is our home. We are not an overseas entity trying to enter the market and extract tens of millions of dollars from Bermuda to fund offshore interests. We are here to stay and make sure that Bermuda is not adversely impacted by the gaming industry. Our philanthropic vision is that the disposable income that players spend on gaming is used to fund charities and community programmes in Bermuda for those who are struggling and/or in need of support. And we challenge the hotels who stand to make hundreds of millions of dollars from gaming to either match our vision or to make a significant contribution to Bermuda's charities and community programmes from the proceeds of gaming. MM&I will be holding a public forum on its philanthropic-based gaming solution for Bermuda. This is an opportunity for Bermudians to help to form their own opinion on the best plan for Bermuda." Dates for the open forums are to be announced shortly. The gaming commission disclosed records about the MM&I deal, including the agreement itself and e-mail correspondence, in response to a Pati request.
October 19. The Human Rights Commission has been invited to make submissions over controversial amendments to immigration legislation. The HRC and home affairs minister Walton Brown released a joint statement yesterday, in which they said they had held "candid and constructive" talks over Mr Brown's plan to make immigration regulations lawful even if they contradict the Human Rights Act. Mr Brown said he is committed to accepting submissions on future amendments to the Bermuda Immigration and Protection Act, while the HRC welcomed an invitation for one of its commissioners to join the Immigration Reform Committee. The minister has previously said the amendments are designed to protect Bermudians and to block court challenges over Bermuda status from non-Bermudians who can argue that immigration law has discriminated against them based on their country of origin. The HRC had argued it was "reckless" to undermine the Human Rights Act, or have it portrayed as a tool for manipulation. Mr Brown and the HRC said of their meeting: "The discussion was candid and constructive. The minister acknowledged the HRC's fundamental concern at undermining the primacy of the Human Rights Act 1981 as a means of addressing immediate and necessary immigration reform. The minister, a human rights advocate, recognizes the Human Rights Act 1981 is not a tool to be manipulated, nor weakened, and laws should only be exempted from its primacy in a reasonable and balanced way. Equally, the HRC recognizes that Bermuda must have control over its immigration. However, that regulation should be exercised in a reasonable manner that upholds the principles afforded under national human rights legislation. In the interest of collaboration on human rights and immigration issues in the long term, the minister has invited a commissioner of the HRC to join the Immigration Reform Committee and the HRC has accepted this invitation. The minister is also committed to accepting submissions from the HRC and other interested parties on future amendments to the bill, or related recommendations. Both the HRC and the minister will seek to educate the public further on this very important issue and will be providing further information in the near future."
October 19. Despite uncertainty created for Bermuda's insurance and reinsurance market by Brexit and the election of Donald Trump as US president, there are still opportunities on the island for the life insurance market. That view will be expressed by Chantal Cardinez, chief executive officer of Hannover Life Reinsurance Bermuda, when she speaks at InsuranceERM Insurance Risk and Capital, Bermuda event tomorrow. "Bermuda is one of the world's leading insurance centers and has a strong reputation of being both entrepreneurial and at the forefront of advancements in insurance risk. Bermuda has successfully built an enhanced regulatory framework for commercial insurers and reinsurers, including Solvency II equivalence status by the EU Commission.," said Ms Cardinez. "However, with the change in the US administration and the outcome of the EU referendum in the UK, concerns have been raised about the possible repercussions on the Bermuda market. Despite the uncertain geopolitical climate, growth in the life insurance sector continues. We believe there is still a lot of opportunity in Bermuda for the life insurance market and during the panel discussion we will discuss why this is the case." Ms Cardinez is a member of the board of directors of Bermuda International Long Term Insurers and Reinsurers. She will be on the panel of a conference session entitled "Innovation and Change in the Re/Insurance Industry", and she will examine the growth of the life insurance sector in Bermuda, as well as discuss the most pertinent issues facing risk professionals and the outlook for the life insurance and reinsurance industry in 2018. Others on the panel are Manu Sheen, head of reinsurance and co-CEO of Biltir member company Global Atlantic Re Limited, and Dan Malloy, chief underwriting officer at Third Point Re. Meanwhile, Sylvia Oliveira, CEO at Wilton Re Bermuda and member of the Biltir board of directors, will sit on a panel discussing risk culture and the changing role of the CRO. The event, which attracts CROs, chief actuaries and regulators, is being held at the Hamilton Princess & Beach Club.
October 19. An international travel conference is set to be held on the island in what the Bermuda Tourism Authority described as a "double win". The 32nd Educational Travel Consortium Signature Conference, February 5-8, 2018, is expected to bring more than 400 travel planners and tour operators to the Bermuda in February. The conference is expected to pump an estimated $830,000 into the local economy while highlighting the island as a destination. Christi Tucker, business development manager for the BTA, secured the ETC group with assistance from Fairmont Southampton — the event's host hotel. Ms Tucker said: "This conference is a double win. Not only is the ETC coming to a destination outside the United States for the first time, it's bringing very influential travel planners out here. These decision-makers are in critical positions to bring more conferences and group travel to Bermuda in the future." ETC members represent higher education alumni groups, museums, zoos and conservation and cultural organisations, focusing on "experiential travel". While on the island, attendees will experience Bermuda's culture first hand, allowing them to better promote Bermuda as a destination. The visit will also result in at least 2,000 room nights for local hotels during the slower shoulder season. This month, Ms Tucker hosted key officials from ETC on a site visit that included time at Carter House with Heritage Bermuda, a collection of historical and cultural organisations in Bermuda. Rick Spurling, chairman of Heritage Bermuda, said: "This extremely important conference will be a major catalyst for tourism in Bermuda. All heritage experience providers in Bermuda from the Gombeys to the museums are dedicated to Bermuda's fascinating culture and history and can't wait to tell it and show it — not only next February — but for many years to come."
October 19. The Governor urged everyone to help eliminate child sexual abuse by taking the training programme run by Saving Children and Revealing Secrets yesterday. John Rankin, who became certified on Tuesday, along with nine members of Government House staff, also commended the child sex abuse prevention charity for the work it does to protect children. Mr Rankin said: "I would encourage everyone, whether they work with children on a regular basis or not, to undertake the training. It is the responsibility of all of us to protect Bermuda's children and hopefully with the training provided by Scars, Bermuda can continue to move forward in eliminating child sexual abuse. Scars and its staff should be very proud of the work they have done to date; they have trained 12 per cent of Bermuda's adult population, something which has not been accomplished in larger jurisdictions such as the United Kingdom or the United States. This figure shows the importance placed by the community as a whole on this very difficult topic." The Governor said he had heard much about the "essential" work done by Scars to increase the awareness of the devastation caused by child sexual abuse and to provide a voice for victims and their families. He added: "Although Government House does not have daily interaction with children, I felt it was right and important that we undertake the Darkness to Light's Stewards of Children training to better equip ourselves in recognizing and dealing with such a sensitive matter." Trained facilitators Debi Ray-Rivers and Glenda Edwards, delivered the three-hour programme designed to educate adults on how to recognize, prevent and react responsibly to child sexual abuse. Ms Ray-Rivers, founder and executive director of Scars, said the programme is the only prevention course in Bermuda that is scientifically proven to increase knowledge, improve attitudes and change child-protective behaviors. She added: "We have now trained 6,096 adults in our community and we are seeing the impact this training has had in our community in the past six years. "We at Scars are truly grateful to the Governor and his wonderful team of staff for choosing to take part in this training. This highlights the importance that he places in protecting the children of Bermuda." Ms Ray-Rivers said sexual abuse can affect entire communities in terms of relationships, health costs and crime. "It is important to learn everything we can about this issue because it is preventable." Any adult or organization entrusted with a child or interested in the subject is encouraged to take the programme, become certified and put into practice what they learn. Ms Ray-Rivers added: "Although there is a cost to Scars, we will continue to raise funds so that no adult has to pay to learn how to protect children from sexual abuse. We are grateful to all of the foundations, corporations, and individual donors who believe in our mission and continue to support our cause."
October 19. Gary Simons, the deputy chairman of Preserve Marriage Bermuda, has resigned from his position at the group that has campaigned against same-sex marriage for the past two years. Prominent in the group since December 2015, Mr Simons declared a month later that the group's "twofold purpose is to ensure that marriage remains between a man and a woman for the betterment of society, and ensure that the few do not decide for the many to redefine marriage in Bermuda". Mr Simons also opposed the granting of civil unions as "the answer to alleged discrimination", saying they "inevitably" led to the redefinition of marriage. Preserve Marriage released a statement yesterday that confirmed the church pastor had quit. The group said: "The executive committee of Preserve Marriage would like to advise its supporters that it has received and accepted the resignation of its deputy chair/spokesperson Gary Simons. "The board will continue its relentless efforts to reverse the recent court decision that allows for same-sex marriages to be performed in Bermuda and plans to keep its many thousands of supporters informed of the progress of its efforts. "Moving forward, Dr Melvyn Bassett will continue to chair the Preserve Marriage board and speak on its behalf."
October 19. After decades away, former Sonesta Beach Hotel worker Paul Vlachos's return to the island he loves provided a joyful reunion for colleagues from the iconic hotel. "Bermuda is the best place in the world for me," Mr Vlachos told The Royal Gazette as he gathered with friends at the Bermuda Connections guesthouse. Mr Vlachos spent 14 years at the Sonesta, from 1977 to 1991, when Bermuda tourism was in top gear. Sabrina Kirby, who manages the visitor apartments just off Pompano Lane, was only too happy to reconnect him with his co-workers. "I knew at least 95 per cent of the people he was talking about," Ms Kirby said. "He has been like a kid in a candy shop — it gave me chills to hear his elation talking to them. He has not had to identify himself. Everybody remembers Paul." Originally from the Greek city of Thessaloniki, Mr Vlachos got into hospitality and travelled to Canada in 1972. Five years later, he took a job as a waiter at the Sonesta. "I loved Bermuda right away," Mr Vlachos said. "It was one month for one season, but I stayed here 14 seasons. If you don't go to Bermuda before you go from this life, you are going to miss something." Everywhere has sun, he said, but Bermuda's people make the ultimate difference. "After a few years at Sonesta, I had customers calling asking if Paul was still there," Mr Vlachos recalled. "And I had a good relationship with the people here. I learnt culturally here and was very proud for Bermuda." Coming back more than 25 years later, he was accompanied by his daughter, Constantina Vlachos — a swimming teacher who works at Toronto's Granite Club, who took her first Bermuda trip as a chance to dive in for the Round the Sound race. The Sonesta Beach Hotel is no more: it was replaced by the Wyndham, which was knocked down in 2009. But Mr Vlachos said the Green family, who own the site, gave permission for him to take a stroll on the property — where a security guard told him that nostalgic visitors regularly drop by. Colleagues who came for a get-together at Bermuda Connections included Dennis Tucker, a former vice-president and managing director of Sonesta Beach. "Paul was there during the heyday; it was a great time," Mr Tucker said. "My term of endearment for Paul was that he was one of the good guys. He was incredible with everyone he worked with, and certainly with the guests." When the Sonesta was in its prime, there could be 600 to 800 guests and up to 400 staff. Mr Tucker remembered it as "like a little city to itself". Among friends was former senator Georgia Marshall, another proud Greek who made Mr Vlachos's acquaintance and was promptly invited to dinner at his staff quarters. "He's a lovely, affable gentleman who loves people," Ms Marshall said. "Over the years we've just kept in touch. Now I see him all this time later with his beautiful grown-up daughter. He is truly one of the good guys, and an ambassador for Bermuda. He is what we ought to return to." Other Sonesta stalwarts included Michael Steede, who recalled Mr Vlachos's nomination as employee of the month; assistant maître d'hôtel William Masters; director of personnel Keith Adams; barbecue maître d' Donald Furbert, and former MP Kenneth Bascome, who called the night "a perfect example of nostalgia tourism". Mr Vlachos, who returned home last Friday, said he looked forward to returning, hopefully with his wife, Maria.
October 18. Powerful winds and rain from Storm Ophelia have caused damage in Ireland that has been estimated at up to $1.8 billion. However, another estimate suggests the range of losses is likely to be lower at between $580 million and $940 million. The Enki Research Centre, in Savannah, Georgia, has put the estimated losses for Ireland at $1.8 billion, split between physical damage and economic disruptions, reports Artemis.bm. Elsewhere, an initial estimated range reported by broadcaster RTE in Ireland, cited the lower range of figures. It also quoted Kevin Thompson, CEO of Insurance Ireland, who said it was too early to say whether insurance premiums will rise as a result of claims linked to Ophelia. He also said it would be a few weeks before the extent of insurance claims are known. Almost half-a-million homes and businesses across Ireland lost power as a result of the storm, which was downgraded from a hurricane as it hit Ireland on Monday. Wind gusts of 80 miles per hour were reported on the country's south coast. A few days before it reached Ireland, Ophelia was briefly a Category 3 hurricane as it passed south of the Azores in the mid-Atlantic Ocean. In Northern Ireland, 200,000 customers had their electricity supply disrupted. The storm also caused damage in parts of Scotland, England and Wales. The Enki Research Centre expects the damage caused in the UK to be around $298 million.
October 18. THE ROYAL GAZETTE investigates how a potential multimillion-dollar deal for a cashless gaming system could prove "problematic" for the Bermuda Government Gaming regulators fear that a multimillion-dollar casinos deal involving the Government is still on the table, despite concerns that it could damage the island's financial reputation. Local company MM&I Holdings stands to potentially net tens of millions of dollars a year if it is given the contract to provide a cashless gaming network management system for any casinos that open on the island. But the Bermuda Casino Gaming Commission has warned that individuals associated with the company's partner firm, Florida-based Banyan Gaming, have previously surrendered their gaming licences in two major gambling jurisdictions in the United States and this could be "problematic" in relation to them being licensed in the Bermuda market. In addition, after checking references provided by the two companies, the commission questioned why those referees seemed "unwilling to endorse" them. Disclosures made under the Public Access to Information Act reveal that Deborah Blakeney, the commission's lawyer, raised the issues in an e-mail to MM&I earlier this year. She wrote: "It is the commission's goal to ensure that the highest standards of suitability will be employed in allowing operators to enter the Bermuda integrated resort market. To do anything less not only jeopardizes the ability of the industry to secure a correspondent banking relationship, but can also damage the reputational brand of the island." MM&I is owned by Bermudians John Tartaglia and Michael Moniz. As of July 2016, MM&I was represented by Mark Pettingill's law firm and the company reached its agreement with the Government when Mr Pettingill and his business partner, the late Shawn Crockwell, were in Cabinet. Mr Crockwell, in a Cabinet memorandum seen by The Royal Gazette, told his colleagues it was "imperative" to proceed with the agreement with MM&I since "no other local entity" could provide the same networking system. The agreement itself, obtained through public access to information, was non-binding, conditional upon the legalisation of casino-style gaming and was signed by Mr Crockwell as tourism minister and witnessed by Mr Pettingill, then the Attorney-General, on December 3, 2013, a year before casino gaming was given the green light by Parliament. It proposed a ten-year contract for MM&I, with the option to renew for another ten years, giving the company 40 per cent of Bermuda's gross gaming revenue from electronic gaming devices — slot machines and electronic table games — and an 8 per cent transaction fee on the purchase of chips for use at dealer-operated tables. With Bermuda's annual revenue from casinos projected to be between $84 million and $146 million, according a 2010 government-commissioned report, and electronic gaming probably accounting for about three quarters of that, the rewards for MM&I and Banyan were likely to be substantial. At about the time the agreement was signed, at the request of Mr Crockwell, MM&I gave a $30,000 donation towards a marketing campaign aimed at persuading Bermudians to vote in favour of casino gaming in a planned referendum on the issue. The One Bermuda Alliance government decided to break its promise to hold that referendum just ten days after the MM&I agreement was signed. Mr Crockwell later tabled the Casino Gaming Act, which passed in Parliament in December 2014, paving the way for a casino industry in Bermuda. Mr Crockwell said the introduction of casinos would significantly enhance Bermuda's tourism product and the referendum was ditched "for the better good". Although MM&I's agreement with the OBA government was terminated by Michael Fahy, who replaced Mr Crockwell as tourism minister after the latter quit Cabinet, gaming commission executives are querying whether it is still under consideration by the new Progressive Labour Party administration. The PLP, when in Opposition, invited two representatives of Banyan to sit as panellists at a forum it held on "safe and responsible" gambling on May 3 this year. At that meeting at Elbow Beach Bermuda Resort & Spa, Banyan president Jason Seelig outlined the benefits of a cashless gaming system and suggested that it be mandated by law. He was backed by Australian attorney Tibor Vertes, another panelist and client of Mr Crockwell and Mr Pettingill's law firm. Just the day before, according to the records disclosed under Pati, the gaming commission's lawyer had written to MM&I with questions about a firm that Mr Seelig previously ran with his father, Mac Seelig, and its "history of regulatory difficulties in markets" in which it was licensed. That history was a concern, according to the commission's lawyer, Deborah Blakeney, because any sound anti-money laundering regime requires thorough background checks on operators, and banks could be deterred from dealing with the proceeds of the island's casinos. Ms Blakeney wrote on May 2: "I raise these two issues because in the commission's dealing with the correspondent banks for the island, and in dealing with the mandates of the Financial Action Task Force, a keystone condition concerns the suitability of the operator and all associates thereof. "The fact that it appears that this operator is considered unsuitable for licensing in at least two major US jurisdictions appears problematic. If I am missing something here, I would appreciate your guidance." Public records show that the predecessor company, AC Coin & Slot, voluntarily surrendered its licence in New Jersey after the company was wound down in July 2013. In doing so, it became ineligible to apply again for a licence for five years. In the same month in Pennsylvania, AC Coin & Slot withdrew "with prejudice" its application for a licence. Such withdrawals can result in a five-year period of ineligibility to apply for a licence, in certain circumstances. Ms Blakeney referred to a list of references provided to the Government by MM&I and Banyan. "You are obviously not aware that my executive director, Richard Schuetz, knows many of these individuals and he was able to make inquiries," she wrote. "The written and verbal responses from these individuals was generally less than glowing and the commission is puzzled as to why such individuals would be included as references for your company." Ms Blakeney added: "We would ... appreciate your explanations as to why your listed references seem unwilling to endorse you." Commission executive director Mr Schuetz reiterated the commission's concerns in an e-mail to Ms Blakeney on August 2, pointing out that MM&I had not responded to her questions. He said since her letter was sent, Banyan had removed the names of Jason Seelig and Mac Seelig from its website. "This may all result from the fact that Jason and Mac are no longer associated with Banyan," he wrote. "That would be a most interesting coincidence." Mr Schuetz also considered the possibility that Banyan was distancing itself from those two individuals in order to pursue a licence in Bermuda without any legacy licensing issues or to position itself to argue that past concerns were no longer relevant. "This is particularly disconcerting if their plan of entry is by way of legislative mandate," wrote Mr Schuetz. "I believe that certain people on this island believe that legislative mandate is worth $40 million per year for ten years. If, in fact, Mac and Jason are no longer listed on the Banyan website to create the impression that our past licensing concerns are no longer relevant, then I believe it is safe to conclude that the legislative mandate option is still being considered..." Mr Schuetz, who resigned from the commission on the day of the General Election and is serving out his notice period, has been criticized by Mr Crockwell and Mr Pettingill, as well as by Mr Vertes and social development and sports minister Zane DeSilva, a friend and sometime legal client of Mr Pettingill. Mr Vertes is being sued by Mr Schuetz for defamation. The Royal Gazette asked new tourism minister Jamahl Simmons if he was aware of the December 3, 2013 agreement with MM&I and whether the Government was still in talks with MM&I/Banyan or any other company about a casino gaming system for Bermuda. Mr Simmons replied: "As the ministry responsible for gaming, the main priority is ensuring that our gaming regulations are in place to assist with passing the current global review process, protecting our reputation as a jurisdiction and ensuring a clean gaming industry that benefits Bermudians first. Matters related to gaming systems should be addressed by the gaming commission." There was no response by press time to a request for the minister to clarify what he meant by the "current global review process". Digital Gaming Corporation USA acquired Jason Seelig's 50 per cent share in Banyan in July. Jason Seelig now lists himself on LinkedIn as an executive vice-president at DGC. Mac Seelig's profile on LinkedIn refers to him as a senior business analyst at Banyan. Keith Furlong, from DGC, told this newspaper: "Banyan Gaming LLC was established in January 2015 with Jason Seelig as a 50 per cent owner of the entity. "On or around July 2017, Seelig's interest in Banyan Gaming was acquired by Digital Gaming Corporation USA. Seelig is no longer a shareholder of Banyan Gaming or Digital Gaming Corporation USA. The company does not wish to comment further." Company filings in Florida from August show that Mr Furlong replaced Mr Seelig as Banyan's manager. Mr Pettingill, the lone respondent to The Royal Gazette's request for comment yesterday, has promised to speak today after consulting his clients.
October 18. Timeline of Casino Gambling events.
2013
June 14: MM&I presents its cashless gaming product to Mark Pettingill, who at the time was Attorney-General
July 3: MM&I presents its product to Mr Pettingill and tourism minister Shawn Crockwell at the latter's home
July 8: John Tartaglia and Michael Moniz of MM&I make a presentation to Craig Cannonier, the Premier, and members of the Government's gaming committee
Sept 30: Mr Pettingill asks for a memorandum of understanding to be drawn up between MM&I and the Government
Oct 22: MM&I makes a presentation to the full Cabinet
Oct-Dec: MM&I donates $30,000 to a "yes" marketing campaign for the gaming referendum, at Mr Crockwell's request
Nov 10: Mr Crockwell goes to Mexico with MM&I to see the cashless system in a casino.
Dec 3: Mr Crockwell signs an agreement with MM&I on behalf of the Government, witnessed by Mr Pettingill
Dec 13: The Government announces it will break its promise and not hold a referendum on gaming
2014
May 19: Mr Cannonier resigns as Premier after the Jetgate scandal
May 22: Mr Pettingill, who was involved in the Jetgate scandal, along with Mr Crockwell, resigns from Cabinet to take a job as chief legal officer for Clarien Bank
Aug 7: Mr Pettingill resigns from Clarien
Dec 12: The Casino Gaming Act 2014 passes in the House of Assembly
2015
Mar 13: MM&I makes a presentation to members of the newly formed independent regulatory body, the Bermuda Casino Gaming Commission, with Mr Crockwell present
Apr: Mr Pettingill sets up Pettingill & Co law firm (name later changed to Chancery Legal), which advertises itself as having expertise in gaming law
May 4: The Government advertises for a qualified company to implement and operate a gaming network management system. MM&I and Banyan jointly respond to the advertisement but the process goes no farther
May 11: Unaware of the advert, commission chairman Alan Dunch visits a casino in Florida with Mr Crockwell and MM&I to see Banyan's system. According to a gaming commission timeline released under public access to information, they run into Progressive Labour Party MP Zane DeSilva in the casino
Oct 16: MM&I has a meeting with Richard Schuetz, executive director of the commission
2016
Mar 16: Mr Crockwell resigns from Cabinet
June 12: Mr Tartaglia presses the commission to make MM&I the "service provider for Bermuda" and to have this "reflected in the legislation/regulations"
June 13: Mr Dunch says the commission has "no intention of including anything to that effect in the regulatory package"
July 2: Mr Crockwell resigns from the One Bermuda Alliance
July 18: New tourism minister Michael Fahy, below, terminates the agreement with MM&I, on Mr Schuetz's recommendation
Nov 21: Anti-corruption and anti-bribery measures are passed by Parliament, preventing Cabinet ministers from involvement in the gaming industry for two years after leaving office. The legislation originally proposed by the commission sought to ban all politicians from involvement in the gaming industry for two years after leaving office
2017
Mar 16: Mr Pettingill resigns from the OBA
May 2: The commission tells MM&I that the history of Banyan's predecessor company is "problematic" and says MM&I and Banyan's references do not endorse them
May 3: Banyan representatives appear as "expert" panelists at a PLP forum, which Mr DeSilva assisted in organizing, with Banyan's Jason Seelig telling the audience that a cashless system for casinos should be mandated by law
June 8: Michael Dunkley, the Premier, calls an election, heading off a parliamentary vote of no confidence expected to result in Mr Crockwell voting against the OBA and Mr Pettingill potentially casting the deciding vote
July 18: Mr Schuetz resigns from the commission. Later the same day, the PLP wins the General Election with a huge majority
Timeline based on Pati disclosures and newspaper reports
October 18. Bermuda-based Axis Capital Holdings Ltd has completed its acquisition of Lloyd's insurer Novae Group after the takeover received clearance from regulators including the European Commission. The acquisition creates a $2 billion insurer in London and a top ten re/insurer at Lloyd's, with total global gross written premiums of $6 billion, based on 2016 actual results. Novae originally agreed in July to be bought by Axis for $604 million. But a shareholder revolt halted that deal, with many saying the price undervalued Novae. The deal was struck after Axis increased its offer to $611.4 million. Matthew Fosh, Novae's chief executive officer, will become Axis Capital's executive chairman, Europe, and will report to Albert Benchimol, the CEO of Axis. Novae will adopt the Axis brand and its insurance business will be merged into Axis's international insurance division, led by its CEO, Mark Gregory, who reports to Pete Wilson, CEO of Axis Insurance. Alistair Robson, chief underwriting officer at Axis Insurance International, will become CUO, property and casualty, in the combined organization, and Robert Forster, CUO at Novae, will be CUO, specialty lines. Novae's reinsurance business will be merged into Axis Re and will form the core of the firm's London reinsurance business, led by Richard Milner, CUO of AXIS Re London and APAC. Mr Benchimol said: "Acquiring Novae greatly adds to the scale and breadth of our international business and also underscores our commitment to London and to Lloyd's, which continues to be the pre-eminent market for specialty risks. Novae is known for its market-leading underwriting talent, which we expect will thrive at Axis. Our goal is to bring out the best in both firms as we become one organization that is even stronger together." Mr Fosh said: "Both companies share similar values and priorities — we are specialty businesses that place a high priority on our clients and employees. Our culture fosters innovation and entrepreneurial, and I expect that to continue as we bring together the best of our two companies."
October 18. A weakness in a security protocol that Wi-Fi devices rely on has put wireless-enabled devices at risk of attack, Government's Cybersecurity Working Group warned today. According to national security minister Wayne Caines, the Key Reinstallation Attack, or "KRACK", can allow an attacker within range of a Wi-Fi network to gain access to unencrypted traffic sent over the internet. The Government's Cybersecurity Working Group is advising the community to take the following precautions:
For the public:
Ensure all your devices remain up to date. It may take some months for fixes to be available so turn on automatic updates for best protection.
Where possible plug devices into a network rather than using Wi-Fi.
When sending information online such as personal or credit cards information check to make sure the website address starts with 'https' or the lock symbol is on in the corner.
When possible turn Wi-Fi off when not using it. This includes appliances, web cams TVs and baby monitors.
For corporate users:
Follow best industry practice and guidelines. Double check intrusion routes to ensure Wi-Fi does not leave core networks vulnerable.
Update all machines, servers, devices and Wi-Fi routers when advised to do so by manufacturers.
Minimize public Wi-Fi use. Avoid core IT systems using Wi-Fi if possible.
Mandate Virtual Private Networks (VPNs) for corporate Wi-Fi users and ensure VPN software is updated too.
Monitor networks for intrusion. If possible authorize access by Media Access Control (MAC) address.
Once all the fixes have been delivered, switch off the old insecure Wi-Fi modes and replace devices that are no longer supported.
October 18. A "World Series of Sailing", showcasing the same foiling catamarans used in the 35th America's Cup, could be heading to Bermuda. The Royal Gazette revealed this month that plans were in the works for the island to host a regatta to be contested in the AC50 catamarans. And speculation over the proposal has heightened after various reports surfaced suggesting that Larry Ellison, the Oracle Team USA owner, "is believed to be close to announcing the series", with Bermuda being considered as a host venue. A report from Rob Mundle, the Australian sailing writer who co-authored Oracle skipper Jimmy Spithill's recent book Chasing the Cup: My America's Cup Journey, said that "reliable sources" suggest that the proposed series will be contested at a number of venues around the world. It could also be launched in Bermuda, given that many of the racing syndicates from AC35 have retained facilities here. The report adds that teams from the United States, Sweden, Japan and France are already on board and it is expected that they will be joined by other racing syndicates, including one possibly led by Ernesto Bertarelli, a two-times America's Cup winner. The World Series will be based on the same concept that software billionaire Ellison used to change the face of America's Cup racing, with the introduction of the high-speed hydrofoiling catamarans and spectator-friendly courses for the 34th and 35th editions of the America's Cup, held in San Francisco and Bermuda. The AC50 is the smallest class raced in the America's Cup and capable of speeds approaching 60mph. The future of the multihull racing yacht remains uncertain after Emirates Team New Zealand, the 36th America's Cup defender, and Luna Rossa, the Challenger of Record, confirmed that the next installment of the "Auld Mug" will be contested in 75ft monohulls by a crew of ten to 12. Bermuda could still play a part in the next America's Cup after it emerged that five overseas pre-regattas will take place over a two-year period in the build-up to the event, to be held in Auckland in 2021. Luna Rossa will organize the pre-regattas, which are planned for 2019 and 2020. The other choices include unnamed venues in Italy, the Mediterranean and the Caribbean, as well as Newport, Rhode Island, home port of New York Yacht Club, a challenger for the next Cup.
October 18. Bitcoin has become an investable asset class rather than a digital currency — and it's a bubble all set to burst. And while the initial coin offerings (ICOs) that launch new cryptocurrencies can potentially be vehicles for fraud, the blockchain technology behind them has a bright future in the financial-services industry and beyond. Those were some of the views expressed at a panel on blockchain technology at the World Alternative Investment Summit last week. Stafford Lowe, chief administrative officer of Bermudian-based DrumG Financial Technologies, said this year's more than sixfold increase in the dollar value of a bitcoin — yesterday it was trading at above $5,600 — suggested it was an investable asset class as opposed to a currency. "Bitcoin is not a currency any more," Mr Lowe told delegates at the Fairmont Southampton. "Cryptocurrencies are inherently deflationary, because there's a finite amount and if you can't find a way of chopping it up into smaller and smaller pieces to allow normal people to get hold of it, then you're going to get the situation you have with bitcoin. And then you wonder — is 90 per cent of the value of bitcoin owned by about ten people? It's entirely possible and that's a fairly common conspiracy theory about it. So that just screams bubble." Michael Murphy, the founder and chief executive officer of Rosecliffe Ventures was also dubious about bitcoin's real value. "There's a lot of money to be made by trading bitcoin. But I feel that it's a mania that's going to end poorly — maybe I side with Jamie Dimon on this." Mr Dimon, CEO of JP Morgan Chase, has described bitcoin as a "fraud" and people who invest in it as "stupid". Mr Murphy added: "I think that the rise and the press coverage of bitcoin recently and a few get-rich-quick stories that are out there are hurting the overall usefulness of the platform. People will work out a way to use blockchain to make things better, whether it's just in financial institutions or whether there's a broader base there." Kirill Gourov, portfolio manager for Full Node Capital, a New York-based hedge fund investing in the digital currency space, was more positive about cryptocurrencies. "You're looking at entirely new business models designed around digitized transfer of value," Mr Gourov said. "It's changing the way that consumers interact with each other and how they do commerce with one other." He conceded that there are issues with the initial coin offerings that were launching a host of new cryptocurrencies. "There's definitely a lot of noise out there and I think that most ICOs are absolute garbage," Mr Gourov said. "ICOs have more of a crowd funding methodology than a unique crypto focus. It definitely has its problems from a regulatory standpoint. You have the issuers not being fiduciaries to their token holders. You have the issue of people without a product raising millions of dollars." Steven Rees Davies, a partner with law firm Appleby Bermuda, was concerned by the lack of regulation of ICOs and the lack of tangible value of bitcoins. "ICOs are really just unregulated ways to raise funds, but because of the buzz around cryptocurrency and everybody thinking, 'it's the next big thing, I must get into it', it's an easy way to raise money that could be fraudulent," Mr Rees Davies said. In the conventional world, an investor buys into something with tangible value, he added, but not in an ICO. "Not many countries have identified what cryptocurrency is," Mr Rees Davies said. "Is it a security? Is it something that is covered by the Investment Act in Bermuda? In most cases, it isn't. So in effect, you're buying into something and not getting an interest in the company, not getting a note with a promise of a return, you're buying a new token that's been created out of software. Over time we'll understand the technology and get some regulation around it." Blockchain is technology based on a decentralized and shared database. No centralized version of this information exists for a hacker to corrupt. Hosted by millions of computers simultaneously, its data is accessible to anyone on the internet. Mr Lowe said it was important to decouple blockchain from cryptocurrencies to understand the value of the technology for financial services and other industries. He said that big banks spent enormous amounts on running their technology — and that blockchain could help them slash such expenses. "Wall Street identified that the ability to create a shared database was a very obvious way of stripping out tens of billions of dollars of costs," Mr Lowe said. Blockchain is like an engine. But it's up to somebody to build the car. That's what we at DrumG are trying to do, to take that next step to create real-world applications for actually doing stuff."
October 18. Conyers Dill & Pearman has maintained its Tier 1 position in corporate and finance, in the updated IFLR1000 guide to the world's leading financial and corporate law firms. The firm has also experienced a 60 per cent increase in the number of ranked lawyers, which puts it ahead of other Island firms in terms of the number of ranked corporate lawyers. IFLR1000 cited Conyer's work on a number of capital markets transactions, including Myovant Sciences' $218 million IPO, as well as its strengths in M&A, aircraft securitisations, insurance and shipping. Narinder Hargun, director & co-chairman, Bermuda office, said: "We are delighted to receive these accolades. Our results in Bermuda and around the globe demonstrate the depth of talent we have at the firm and are testament to the client-first experience our teams provide every day". Globally, Conyers has maintained top-tier rankings across several practice categories. Researchers for the IFLR1000 guide commented on the firm's strengths in investment funds and M&A, noting its involvement in the $4.4 billion privatization of Dalian Wanda Commercial Properties, which was the largest privatization for a Hong Kong group. David Lamb, Partner & co-chairman, Hong Kong office, said: "This year's rankings further define our position as a leading international law firm. We congratulate all of our practice groups and lawyers on their recognition."
October 18. Employees of administration services company Estera have raised more than $10,000 to donate to colleagues in its British Virgin Islands (BVI) office following the devastation of hurricanes Maria and Irma. Staff from Estera's in offices in different countries, including Bermuda, came together with events such as raffles, dress down days and bake sales to raise the money to help their storm-stricken colleagues rebuild their lives. In addition to these funds, Estera has provided close to $40,000 for tarpaulin, electrical generators, evacuation costs, daily supplies, showers and washing machines in the office, as well as cash in hand for daily living requirements. Farah Ballands, chief executive officer of Estera, said "This is a fantastic result and I am very proud of the generous spirit of the Estera global team. Our team in the BVI, and the jurisdiction as a whole, has shown incredible resilience throughout this difficult time." Estera's BVI office resumed normal operating hours for clients on October 5.
October 18. The Mayor of Hamilton has called for a police presence at the city's bus terminal to tackle antisocial behavior and violence. Charles Gosling's plea comes after a vicious brawl involving several young male students erupted on Church Street outside the terminal on Monday afternoon. Graphic footage that shows young men kicking and punching each other before members of the public intervene has been shared on social media across the island. Mr Gosling told The Royal Gazette the city needed more officers on foot patrol, but acknowledged that a police presence at the bus terminal as children waited to catch buses home from school was important. He said: "I would like to see a police presence around the bus terminal when children are going home after school to prevent these incidents of violence and antisocial behavior. But there is another issue here: how can we expect the children to behave in an appropriate respectful manner when we have people just 50 yards away defecating and urinating on the City Hall front lawn in the middle of the day with no repercussions. The message right now that is being sent out is appalling. I would just like to see more of a police presence on the streets of Hamilton. I feel that police walking around has an immediate impact to the community and shows that there will be repercussions to antisocial or violent behavior." Yesterday police confirmed that they were investigating a disturbance that took place at 4.55pm on Monday close to the bus terminal. A spokesman said: "The Bermuda Police Service is aware of historical concerns stemming from large numbers of school students congregating in the City of Hamilton after school hours, thus officers are deployed in an effort to reduce opportunities for antisocial behavior to occur. The BPS recognizes that there are issues affecting public transportation as well as other contributing factors that may sometimes necessitate students visiting the Hamilton area. However, we advise that parents and administrators of both public and private schools recommend that students, as much as practical, travel home directly from school or the surrounding environs and avoid traveling into Hamilton unless absolutely necessary." The spokesman said the brawl on Monday was broken up by two plainclothes police officers who were on patrol. "CCTV footage of the incident is being reviewed and the Bermuda Police Service is aware of mobile phone video footage of those involved circulating via social media," he added. Anyone with any information regarding the circumstances that led to this disturbance is asked to contact the main police telephone number 295-0011.
October 18. Archaeologist Dr. Edward Harris will retire as executive director of the National Museum of Bermuda after 37 years of service. The museum's board of trustees said Dr Harris, 70, will continue as a special adviser to the museum, as well as pursuing his writing and research. He will be succeeded by the museum's deputy director and curator, Elena Strong. "Edward's major achievements through his work at the museum have been magnificent but, underpinning the work, he also laid an extraordinarily rich foundation of relationships with academics, donors, members and friends across the globe," said James Hallett, chairman of the NMB board of trustees. "We look forward to his continued counsel and support in retirement and we are delighted with his contribution in preparing Elena Strong to be his successor. Elena will bring new skills and a different perspective, placing the museum in good hands for its future strategic development." Dr Harris joined then Bermuda Maritime Museum in 1980 as its first director and oversaw the institution's evolution from a derelict fortress into an award-winning heritage center. The former Mount St. Agnes student graduated from Columbia University, New York, in 1971, and earned a PhD at University College London in 1979. He gained worldwide recognition in 1973 for inventing the Harris Matrix, by which stratigraphic sequences of archaeological sites could be viewed in diagram form for the first time. The technique became the industry standard and his book, Principles of Archaeological Stratigraphy, has been published in seven languages, with four more translations in the offing. Dr Harris said: "As a Bermudian, it has been an honor to serve the country in the role of director of the museum and I thank all of those from government and private life who made the advance of the museum possible by their many contributions to the cause". Dr Harris was awarded an MBE by the Queen in 2000 in recognition of his services to Bermuda's cultural heritage. He championed legislation to preserve Bermuda's early shipwreck sites and played a leading role in the successful campaign to get St George's Unesco World Heritage Site status in 2010. Over the next few months, a series of events will be held to mark Dr Harris's contributions. The first will be the "Out with a Bang" celebration on November 18, to which all museum members and the general public are invited. The party will mark his retirement and help raise funds for the museum to continue its work in heritage preservation and research. Tickets go on sale at the end of the week. For more information contact info@nmb.bm.
October 17. Private-equity firm Apollo Global Management is to increase its interests in the Bermuda insurance market by buying a majority stake in run-off specialist Catalina Holdings (Bermuda) Ltd. Apollo made an initial investment in Catalina in December 2013 and, as a result of the deal announced today, the New York-based firm and affiliated investors will have a controlling interest in the business. Apollo is also a major shareholder of island-based Athene Holdings Ltd, a life reinsurer that went public with an initial public offering last December. Catalina has doubled in size over the past three years, since Apollo became involved with the company. The group has completed 23 deals, acquiring $4.7 billion of non-life insurance and reinsurance liabilities and, as at June 30 of this year, had total assets of $3.6 billion and shareholders' equity of $700 million. Catalina's headquarters are in Cumberland House, on Victoria Street, Hamilton and the firm also has offices in the US, Ireland and Switzerland. The company specializes in buying up companies or insurance portfolios that have ceased writing new business and managing their exiting assets and continuing liabilities. In a statement released today, Catalina said the existing management team, led by founders Chris Fagan and Dean Dwonczyk, will continue to run the business and maintain a significant shareholding. Mr Fagan, Catalina's chairman and chief executive, said: "We're delighted that Apollo, and the long-term institutional shareholders supporting it, are increasing their shareholding in Catalina. They are doing so at a time of significant change in the non-life insurance legacy sector which is developing faster now than at any point over the last 15 years. Catalina is one of the leading consolidators in the non-life run-off sector and together with our new shareholders, we believe the company is ideally positioned to continue our strong growth and development. I would like to thank our exiting investors Caisse de depot et placement du Quebec and Ontario Teachers' Pension Plan for their consistent support over the last ten years and the role they have played in helping us to build Catalina." Gernot Lohr, Senior Partner at Apollo Global Management added: "We fully support the outstanding management team at Catalina and are excited about the opportunity to deepen our relationship with the business. Whilst already significant, the market for non-life legacy acquisitions continues to grow, and we believe Catalina is well positioned to capitalize on these opportunities due to its deep industry expertise as evidenced by its successful track record. We look forward to working with Catalina during the next phase of its growth and development." Catalina was advised by Barclays, JP Morgan and Allen & Overy. Apollo was advised by Sidley Austin.
October 17. A Massachusetts couple's visit to the island marked a milestone in more ways than one. Polly and Arthur Logan have now notched up 25 visits since their first trip in the 1970s. And the pair's most recent trip was their first for 17 years, and was planned and paid for by their ten children plus grandchildren to mark the couple's 60th wedding anniversary. According to Ms Logan, the choice of Bermuda — in the beginning — was about proximity. Ms Logan explained: "If anything happened to them while I was away, I could get home quickly. It was close." The couple live in Longmeadow, about 95 miles from Boston. On their first trip to the island they stayed at Elbow Beach, touring the island by bus and spending time on the beach. Ms Logan said she was in "her late 30s" then. She added the couple had seen a lot of changes over the roughly four decades, but that some things never changed. Ms Logan said: "The people are still the same. They've always been very friendly and kind and warm. Bermudians are still wonderful people."
October 17. Ask Miriam Callabras how she spends her time, and you're likely to get a lively response. The 71-year-old keeps busy knitting prosthetics, or as she describes them to anyone with even a passing interest, "knockers! You know, boobies?" She's donated 15 to Pals in the last year, each knitted in a different size to fit women who have had mastectomies. "It takes me an evening," said the retired nurse. "I do it for the love of it. A manufactured prosthetic is made out of silicon. It is hot, heavy and sticky. When a woman has just recently had a mastectomy, she has scarring on the chest wall. Scar tissue can be itchy and sore. The benefit of a knitted prosthetic is that it is made out of cotton and is absorbent. It doesn't weigh very much, and you can throw it in the wash." Her mother, Margaret Owen, taught her how to knit and sew at age 6, in Harrowgate, Yorkshire. "She was a schoolteacher and head teacher who specialized in the arts and crafts," said Mrs Callabras. She became a midwife because she thought she'd be able to travel: "'Every country needs a midwife,' they said. It didn't quite work out that way." In 1972 she moved to Bermuda to work at King Edward VII Memorial Hospital. She later joined the staff at Lefroy House and then was a Sandys district nurse for many years. Life was one big party. "A lot of nurses dated police, because they were on the same shift schedule," she said. "There were always parties at police headquarters. It was an amazing time. It was a case of party, work and sleep." She met architect Sinclair Callabras in Casey's bar on Queen Street. "Hell yes, he was a good-looking guy," she laughed. "And he would give you the shirt off his back." They married on July 10, 1979. She still has the blue wedding dress she made for the ceremony. "I keep it as a reminder of the days when I was 95lbs, soaking wet," she said. Her husband died in 2008; Mrs Callabras retired from nursing three years later. Ham radio, orchids and her beloved bichon frise Lucky Licky Louis all keep her busy but her main focus is knitting — any and everything. A room in her Sandys home is stocked full of yarns and knitting needles. "I can't resist a yarn shop," she said. "I was on holiday in New Orleans recently and was on an evening walking tour of the city. I looked up and saw this big basket full of luscious yarn in a store window. The next day, I had to get a taxi and go back. In the store, I was just walking around picking up yarn after yarn. I said, 'Someone slap my hand'." She and a friend knitted a dozen blankets for patients at Agape House four years ago. Once that was finished, Mrs Callabras started "looking to see what else I could do". An online forum for knitters alerted her to her most recent cause. "Knitted knockers is a worldwide movement," she said. "There are even women who will stuff them for you, if you don't have the money for that." Part of the draw came from the challenge. Patterns are a little more complicated because they use four needles rather than the standard two. She proposed the prosthetics as a project for her knitting group at St Andrew's Church in 2014. There was little interest from the other members or from Pals. "I imagine the knockers just got put away in a corner," she said. "No one asked for any the first year." Then she ran into a former colleague, Kathy Fox, who'd become a Pals nurse. "She was really interested when I told her about it," said Mrs Callabras. The requests trickled in; three for the entire year. "This year demand has really picked up," said Mrs Callabras. "I've done 15 already. I said to Kathy, 'There must be a breast cancer epidemic', but I think really, the nurses at Pals have finally gotten to know about them and are suggesting them to more people. Now we're looking for more people to knit the knockers. If they don't know how to knit, I'll teach them."
October 16. Proposed changes to give immigration law priority over human rights legislation is a "blunderbuss" approach, Shadow Attorney-General Trevor Moniz said yesterday. Mr Moniz said: "It potentially has very broad consequences — it's a danger to go into it. When you suspend the Human Rights Act, there are all sorts of people who could be affected. It's not a closed list. It could affect all sorts of people in all sorts of situations." He was speaking after Walton Brown, the Minister of Home Affairs, said the proposed changes were designed to protect Bermudians and block court challenges over Bermuda status from non-Bermudians who can argue that immigration law has discriminated against them based on their country of origin. Mr Moniz said the United Kingdom did exempt some immigration legislation from its human rights obligations, but that there were "no blanket exemptions". He added: "The way the minister is doing it is not the way to do it; he's doing a blanket exemption, which could affect a lot of people." The Human Rights Commission last week called on Mr Brown to withdraw the amendments for more consultation. Mr Moniz said: "I know there are other groups that have been looking at making statements. It's very dangerous what he's doing. It's a blunderbuss approach and needs to be fine-tuned." Meanwhile in a YouTube video published online today, One Bermuda Alliance senator said the bill's broad approach was "clumsy" and "poorly conceived". Mr Simons said: "It's not clear to me what problem the minister is trying to solve that is not already addressed by the constitution. It's also clear that the bill in its current form, if passed, would do immediate harm to people working and living in Bermuda." Mr Simons suggested that the bill be withdrawn and that meaningful consultation be done. He added: "If we are going to move forward with immigration changes, lets get this right." Similar videos were posted featuring Susan Jackson, OBA MP, and Nick Kempe, OBA senator, calling for the amendments to be withdrawn, The Government has published details of the proposed changes to both the Bermuda Immigration and Protection Act and the Human Rights Act on the parliamentary website. Mr Brown tabled amendments in the House of Assembly on October 6 to alter the immigration act so it would be applied "notwithstanding" the Human Rights Act. That would mean immigration regulations would be lawful even if they contradicted the Human Rights Act. Mr Brown said that the proposed amendments did not weaken human rights legislation, but clarified what has been law and policy "for decades". Mark Pettingill, a former Attorney-General, said he did not believe the amendments would open the door to discrimination on the grounds of sexual orientation. He said: "Immigration is one of those areas that has to have a different kind of approach when it comes to human rights. You can't have people just roll up on Elbow Beach and say they are Bermudians because they are here. I see this as something that brings us in line with other jurisdictions. I spoke to the minister about it on Friday, and he is not going to be putting something out there that is going to impact people based on sexual orientation." Mr Pettingill added that the amendment would not affect past court rulings that found same-sex couples should receive the same rights as heterosexual couples. Mr Brown told MPs when he tabled the changes in the House of Assembly that human rights would still be protected and that the Constitution and the European Convention on Human Rights would still provide protection from discrimination. The minister said: "We are not undermining human rights, we are strengthening the rights of Bermudians, while at the same time recognizing that the human rights of people remain important. We have to recognize that Bermudians have fundamental rights in their country and these rights are in part protected by the Immigration and Protection Act." The Constitution, which is superior to all other laws, prohibits discrimination on several grounds. These include discrimination based on race, political opinions, color, creed and place of origin, although a section allows certain restrictions to be placed on persons who do not "belong to Bermuda". But the Constitution does not offer protection on the grounds of sexual orientation, family status or disability, which are covered by the Human Rights Act. The European Convention on Human Rights, which covers Bermuda through the UK, prohibits discrimination on the grounds of sex, race, color, language, religion, political opinions, national or social origin, association with a national minority, property, birth or "other status". Mr Brown's Bill was criticized by the Human Rights Commission. A spokeswoman for the HRA said: "Our view is that the HRA should be strengthened and protected, not weakened or mineralized." The organization yesterday declined to comment on the amendments. Mr Moniz said: "The danger with something like this is we have had a Minister who has trumpeted how much he will collaborate and consult with everyone. He said that when he came in. Now he drops this bombshell and gives no particular explanation why he's doing it."
October 16. QuoVadis has been accredited in the Netherlands under the Qualified Trust Service Provider (TSP) regulations under eIDAS, the regulation which establishes updated electronic identification and trust services for electronic transactions in the European Union. Founded in Bermuda, QuoVadis is a leading global Certification Authority (CA) providing cloud-based Trust/Link Managed PKI (Public Key Infrastructure) services, including TLS/SSL digital certificates for web security as well as eID for authentication, encryption, and electronic signature. QuoVadis also provides electronic signature platforms including mass signature and trusted time-stamping solutions for e-invoicing, as well as cloud-based signing platforms for individuals. QuoVadis electronic signatures are used on more than 60 million electronic transactions annually. QuoVadis was first accredited as a Bermuda Authorized Certification Services Provider in 2002 under the island's Electronic Transactions Act. The company later established operations in Switzerland, the Netherlands, Germany, Belgium, and the United Kingdom with close to 70 employees. QuoVadisalso has a cloud hosting and co-location hosting subsidiary located in Bermuda. Roman Brunner, managing director of QuoVadis, said, "QuoVadis has been a Qualified issuer in Europe for close to a decade, and is pleased to step up to the new eIDAS standard. Through its accreditation of TSPs, eIDAS seeks to increase interoperability and legal certainty in cross-border online transactions, fostering a 'digital single market' in the EU. Perhaps the biggest shift in the new standards is the creation of Qualified Seals for corporate entities/legal persons versus Qualified Signatures for natural persons, allowing more flexibility in electronic transactions such as e-invoicing." In addition to acting as an EU Qualified TSP, QuoVadis is also an issuer under the Netherlands Government PKIoverheid programme. QuoVadis is also accredited as a ZertES Qualified and SuisseID issuer in Switzerland. Following a transaction in early 2017, QuoVadis is now the Managed PKI brand of WISeKey, a leading Swiss cybersecurity and IoT (Internet of Things) company, listed on the Swiss SIX Exchange.
October 16. MediaAlpha, a company owned by Bermuda-based White Mountains Insurance Group Ltd has acquired parts of Healthplans.com's health and life insurance business. Terms of the transaction were not disclosed. MediaAlpha is an advertising technology company. It operates exchange platforms that facilitate real-time transactions between advertisers and publishers of performance media (i.e., clicks, calls and leads). MediaAlpha has developed distinctive platform solutions for a range of insurance verticals, including auto, motorcycle, home, renter, health and life, and non-insurance verticals, including travel, education, personal finance and home services. It powers over 25 million transactions annually, representing more than $250 million in aggregate media spend. In a statement, White Mountains said the acquisition will expand MediaAlpha's footprint in the health insurance and life insurance verticals and increase the company's scale and profitability. "We are pleased to support MediaAlpha in its acquisition," commented Chris Delehanty, Managing Director of White Mountains. "The deal supplements MediaAlpha's strong organic growth and further establishes MediaAlpha as the leader in its marketplace." The acquisition was financed with debt from MediaAlpha's existing lender, Bridge Bank, and equity funded by MediaAlpha's existing unit holders. As a result of the transaction, White Mountains' ownership in MediaAlpha increased to approximately 59 per cent on a fully-diluted basis.
October 16. The Bermuda Stock Exchange will move to a T +2 (trade date plus two days) settlement cycle, effective Monday, October 23. This follows an announcement last month by both the US Depository Trust Companies and Canada's Central Securities Depositories (CSDs) that they were joining many European Union member states, Hong Kong, Australia and New Zealand in migrating to the shorter settlement period. BSX operations manager Neville Caines said: "The BSX's move to a T+2 settlement cycle is in keeping with the long-term goal of global harmonization of exchange settlement and further aligning Bermuda with much larger CSDs seeking to reduce settlement risk and improve capital efficiency." After the 2008 global financial crisis, the industry increased its focus on reducing risk, achieving greater transparency and improving efficiency in order to establish a safer market environment. As a result, markets across the globe are transitioning to a T+2 settlement cycle. Mr Caines said: "Central securities depositories such as the Bermuda Securities Depository, better known as the BSD, are systemically important infrastructures in modern securities markets. They perform crucial services to support the registration, safekeeping and ultimately the safe and efficient transfer of securities. Shortening the settlement cycle will reduce both credit and counterparty risk and further align our operating processes, increasing market efficiency in keeping with global standards." The BSX implementation of T+2 comes after approval from the Bermuda Monetary Authority (BMA), which regulates the Exchange, and consultation with the market. "Consultation has been key," Mr Caines said. "It was very important that the market be aware and supportive of the move. Collectively it is acknowledged that the move to T+2 is a positive step for Bermuda, as the BSX's continues to drive standards forward in line with international market practices." Mr Caines added that while minor operational and technology changes were required, the move had not come at any great cost or inconvenience to the Exchange.
October 16. Executives from four Bermuda life reinsurance companies will talk about their growing industry at the prestigious Society of Actuaries (SOA) Annual Meeting in Boston this week. On today's panel discussion entitled "Life Reinsurance in Bermuda", are Manfred Maske, chief executive officer at Monument Re Group; Sylvia Oliveira, CEO at Wilton Re Bermuda and member of the Bermuda International Long Term Insurers and Reinsurers (Biltir) board of directors; and Scott Selkirk, managing director at Somerset Re. The session will be moderated by Gokul Sudarsana, senior manager at Deloitte in Bermuda. At the end of the session, the aim was for attendees to be able to understand and describe popular business models in the Bermuda long-term insurance market; interpret emerging regulatory deliverables to support Bermuda's Solvency II equivalence; as well as evaluate how Bermuda's growing long-term insurance market can create opportunities for existing reinsurance programmes. Mr Maske, one of the panel speakers, said: "Bermuda is already a well-known and well-respected global hub for insurance capacity, and although the Bermuda insurance market has traditionally focused on general insurance risks, life insurance has been one of the fastest growing sectors in recent years. "A diverse range of business models have emerged in this sector, providing new options and opportunities to manage long-term insurance risk. A key driver of growing and sustaining this thriving long-term insurance sector is Bermuda's increasingly robust and transparent regulatory landscape, notably its recognition as a Solvency II equivalent jurisdiction. Over the coming years, we can expect the Bermuda market to become increasingly important for life-focused actuaries. The presentation is designed to introduce the audience to pertinent business models and regulations in Bermuda life insurance. It is intended to meet the needs of actuaries focused on risk management, capital planning and reinsurance." More than 2,000 decision makers in the actuarial profession from around the world are attending the 2017 SOA Annual Meeting.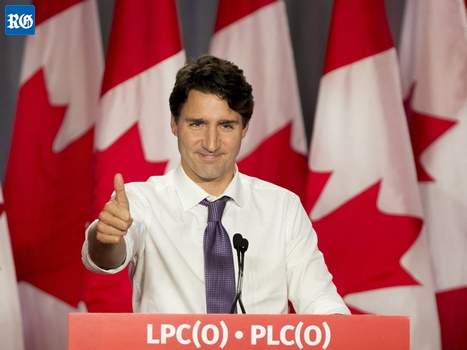 October 16. Opinion, by J .J. McCullough, a political commentator and cartoonist from Vancouver, a columnist at Loonie Politics. "Canadians like to brag about the shortness of their prime ministerial elections in contrast to the agonizingly long presidential contests of the United States — a bit of self-flattery that is true only in the narrowest sense. According to campaign law, Canada's 2015 national election lasted a mere 11 weeks, but if we want to get technical, a close reading of the Federal Election Commission rulebook says the 2016 contest between Donald Trump and Hillary Clinton comprised a brisk 13-week period between the party conventions in the summer and voting day in early November. In reality, of course, both countries consider their elections to have de facto started the second it becomes obvious who will be leading the major parties into battle. With Andrew Scheer having already been appointed leader of the Conservative Party of Canada in May, the selection this month of Jagmeet Singh as head of the New Democratic Party means Canada has now officially passed that mark — a full two years before the October 21, 2019 General Election. While a lot can and will happen in Canadian politics before then, the world nevertheless enjoys a pretty clear view of the shape of debate that will consume the country as Prime Minister Justin Trudeau fends off two competent rivals to seek a second term. While the three would-be PMs represent distinct ideological traditions — Trudeau and Singh on the Left, with Scheer on the Right — their similarities are substantial. All men were born in the 1970s, for one, making this Canada's youngest prime ministerial contest in history. As a consequence of their youth, all have résumés dominated by politics at the expense of much else — Trudeau was an infamous dilettante before getting elected to Parliament at age 36; Singh joined the Ontario legislature at age 32 after working briefly as a lawyer; Scheer had not even completed his bachelor's degree when he became an MP in 2004 at age 25. Although none can be fairly described as "millennial", all personify youthful incarnations of their political movements. Trudeau, as much of the world already knows, has achieved great success marketing himself as a sort of post-Obama Obama, thoroughly literate in the vocabulary of tolerance and sensitivity that has come to define modern progressivism. The woke and winsome Singh offers similar appeal, and as the first non-white, non-Christian to lead a major Canadian party, he boasts an authenticity advantage. However, the pitch is more than a tad ironic, given that progressive NDP voters tend to bash Trudeau precisely for using style to conceal a lack of skill. How exactly doubling down on charisma will make any easier the impossible tasks the Canadian Left has assigned itself — appeasing aboriginal people, achieving a perfect balance between environmental and economic anxiety — remains cryptic. Conservative leader Scheer, meanwhile, while far from the alt-right, does embody a certain other stereotype of conservative youth — as The Onion put it, "young voters who dress and act like they're already 50 years old". A former party staffer who venerates Ronald Reagan and Margaret Thatcher, strenuously opposes tax hikes and was, until recently, a reliable foe of abortion, his squeaker election to the Tory leadership was a victory for consensus conservatism in the face of wilder alternatives. Yet establishment orthodoxy also brings the nervousness of young conservatives who feel chronically misunderstood, and with it, a desire to be liked by being "uncontroversial", particularly on polarizing social issues. Scheer has thus spent the first few months of his low-profile leadership wishing immigrant communities a happy this-or-that, and trying to distance himself from the politically incorrect outbursts of some of the less disciplined members of his caucus. Yet he never goes quite as far in that direction as some may like, either, highlighting the difficult dance of a conservative politician in an era when so many on the Right believe the primary purpose of center-right politics is resisting the censorial power of the Left. The first election after the ascension of a new Canadian prime minister is rarely that interesting or consequential. Often the results differ little from the previous outcome, and with three candidates who do not seem particularly disposed to expand their party's base, 2019 could be little different. A mild decrease in his present popularity could result in Trudeau's Liberal Party losing a few seats to the Conservatives or NDP in swing districts. Singh could perhaps make inroads in immigrant-heavy suburbs but lose seats in Quebec on account of what we are supposed to euphemistically call his "outward religiosity" alienating many "secular" French-Canadian voters. His obsession with beating Trudeau at the social justice game could similarly turn off some voters in rural NDP areas who traditionally expect the party to feign some blue-collar bona fides — although only if Scheer can market himself as a conservative with vaguely Donald Trump-like counter-appeal. A tall order. Even a mildly weakened re-election for Trudeau would give the two opposition leaders enough victory to save face, and given their age, both could easily justify hanging around for a rematch in 2023, when Trudeau would presumably seek a fairly precedented third term. How's that for a long election?"
October 16. The big-hearted owner of a children's clothing store has donated tens of thousands of dollars of unsold stock to an aid campaign for Caribbean islands devastated by hurricane strikes. Francesca Cacace, who owns Blukids store in Hamilton's Washington Mall, said the new summer-season clothes would be shipped to Antigua in partnership with cruise organizers Ubersoca and the promoters of Bermuda Heroes Weekend, and then on to islands hammered by the storms. Ms Cacace, 27, who gave birth to son Luca only a month ago, explained: "After the hurricane, we decided that instead of holding back unsold merchandise, we would donate anything left over. We watched week after week another storm going through. We were very fortunate that we weren't hit and that Bermuda's homes are so well-built." The clothes — more than 4,000 separate items — include outwear for babies up to teenagers, as well as underwear. Ms Cacace said: "It's a great thing that the island has come together; everyone has been asking how they can donate. It's wonderful how our island has supported the other islands." Sandra Richards-Vance, director of Bermuda Heroes Weekend, said her organization had already teamed up with Ubersoca, a Bermuda-based organizer of annual soca cruises, to ship non-perishable relief supplies to the Caribbean when Ms Cacace's mother Yvonne, who owns clothes store Stefanel on Reid Street, told her about Francesa's plan. Francesca said: "It was our idea to send the merchandise and my mom was working with Bermuda Heroes Weekend, so it was a good way to send things down there." Ms Richards-Vance said: "We are very pleased Blukids has decided to assist us in our efforts by donating brand-new clothes." She added that a shipment of brand new clothes would bring some happiness to children who may have lost everything in the storms. Ms Richards-Vance said: "I'm sure the kids will have a really great time picking clothes — it's really nice stuff."
October 14. Premier David Burt fought Bermuda's corner on tax in an interview on Britain's BBC World News. The Premier, also Minister of Finance, appeared on the channel's Talking Business yesterday and emphasized that Bermuda complied with international tax standards. Interviewer Aaron Heslehurst quizzed Mr Burt on the charity Oxfam's claim last December that Bermuda was the worst corporate tax haven in the world. But Mr Burt, who has spent the past week visiting officials in the UK and Europe, hit back that the island was a leader in tax compliance and transparency. Mr Burt said: "Bermuda's ratings from the Organization for Economic Co-operation and Development on transparency are equivalent to the United Kingdom and Germany and in many instances, in many international ratings, we are ahead of the United States. We believe we are a leader in this space, and we will continue to exert our leadership position to ensure that Bermuda is on the latest standards." Mr Burt also told Heslehurst: "I think that we certainly have a different taxation system — but different does not necessarily mean that it's bad."
October 14. The Bermuda Economic Development Corporation used just a third of its guarantee capacity to support businesses last year. The Bermuda Government has announced plans to double the corporation's $1 million of capital — used to guarantee loans for small businesses — but the amount of capital used for loans has fallen steadily. Senator Crystal Caesar, the Junior Minister of Economic Development and Tourism, blamed the falling use of the guarantee capacity on banks making loans harder to secure. However, she said increasing capital could allow the BEDC to potentially offer larger guarantees, enabling it to support loans that it otherwise would not. Ms Caesar wrote in a response to questions in Senate: "Due to the challenged economy, banks have become more risk adverse, requiring significantly more collateral to gain loan approvals than in the past. As a result, the ability for the BEDC to provide guarantee approval has been impacted. Although it is improving since the island's recession, banks are still slow to lend to local small and medium-sized businesses if bank loans are not 100 per cent collateralized." Ms Caesar added that even though not all of the loan capacity is being used, making the pot bigger would give the BEDC other ways to support businesses. Increasing BEDC's capitalization does allow it to provide more loan guarantees, but it also allows it to provide other direct lending or supported products. It also allows it to consider increasing its guarantee percentage, allowing it to be closer to what its international counterparts offer their small and medium-sized businesses." While the BEDC can guarantee up to 50 per cent of a loan, comparable bodies in Barbados and Jamaica can guarantee up to 80 per cent of a loan. Even more can be guaranteed by bodies in the US, Canada and the Bahamas. Senate heard the BEDC used 71 per cent of its $6 million loan capacity in financial year 2011-12 and offered loan guarantees for 67 businesses. But the BEDC used only 34 per cent of its loan capacity in 2016-17 — less than half of what it had five years earlier. Loan guarantees for 32 businesses were provided last year and cash was used to give micro loans to 13 businesses and to give one client an HM Customs letter of credit. Ms Caesar also confirmed that no new loan guarantee applications have been approved since the General Election as a new board had not been appointed. But she said new board members would be announced this month which will enable a new board to meet. Ms Caesar added that a total of four loan guarantee applications made since July are being processed. The BEDC has $1 million in capital, which gives it capacity for a maximum of $6 million in loan guarantees at any one time. Government has said it will double that figure next year — giving the corporation enough capital to provide $12 million in loan guarantees.
October 14. Winning the America's Cup appears to have been more straightforward for New Zealand than developing the infrastructure to host the next event in Auckland in 2021. The Kiwis have stumbled upon various logistical challenges in developing the main hub for the next installment of the 'Auld Mug', which Bermuda overcame in its successful hosting of sailing's holy grail this summer. According to a report in Sail-World, an inspection of four of the options shows that none are ideal, with the Auckland Council unwilling to splash $150 million on what it perceives to be a White Elephant should there be no legacy use in place after the 36th America's Cup. Three of the four options involve either wharf extension or reclamation — none of which are palatable options for the Auckland Council, and without the assistance of an America's Cup Empowering Act would surely be held up by prolonged planning action and litigation by groups opposed to further encroachment in the harbour. The best option, an extension to Halsey Street, was almost taken off the list of options to be passed to the Council CEO for further analysis and report back during a Council meeting last month. While several of the Council were opposed, they voted in favor only to see an unrestricted slate of options considered. The West haven marina site is suitable for the Royal New Zealand Yacht Squadron, under whose banner Emirates Team New Zealand race, but has difficult and narrow street access and requires the development of a new road based on the current breakwater to reach the end of the new reclamation. The 30,000sq meters of hard stand which will accommodate 8-10 teams depending on the required footprint, which was 3,500sq meters per team in Bermuda, has no allowance for an America's Cup Village which would be required to be based away in the Viaduct area, but with no visibility of the team bases which were vital part of the America's Cup in Bermuda. The media center would also need to be allocated in the Viaduct Events Centre or a special temporary facility constructed. At the 34th America's Cup in the San Francisco, the bases were remote from the America's Cup Village with the boats being required to be brought to the America's Cup for a Dockout ceremony. However it was a poor substitute for being in the same place as happened in Bermuda, and there was no return to the America's Cup Village after racing which was a big part of the fan experience in Bermuda. The Wynyard Point area, where various tanks, silos and an oil discharge facility are presently situated, does have the required land for bases at around 85,000sq metres, and could also take an America's Cup Village if required. The area is reasonably handy to ferries, public and rail transport and the cafés and bar on North Wharf and the Viaduct Harbour. If the area were used for the America's Cup Village as well as team bases, then the Bermuda experience would be recaptured. However, leases are believed to extend into 2025 or later — and the America's Cup will have been sailed by that time. The option is to bring forward the lease termination date by two or three years. However there is the vexed issued of contamination rectification, which is believed to be the responsibility of the current lessees, that would be a negotiating point and trade-off if there were early termination of the leases — with unknown cost. The fourth area is the extension of Captain Cook Wharf. Like the extension of Halsey Street, the Council claims to be philosophically opposed to further encroachment on the Harbour of wharves and reclamations. Next step is expected to be the drafting of a Host City Agreement by Emirates Team New Zealand and then negotiating with the Auckland Council. But who pays the bill is another question, with the debt-strapped Council involved in several high costs infrastructure projects, and knowing that if they invest the $150 million required to secure the Cup then the NZ Government reaps the well documented reward in terms of GST and Tax spend by teams and visitors for no outlay. For its part the previous Government [NZ is currently in an electoral impasse] was unwilling to invest in a facility only to hand it over to be owned by the Auckland Council. Bermuda's spend of $77 million pales in comparison with Auckland — that comprised a USD15million event fee, a USD25million underwrite on any sponsorship shortfall and the balance of $35million to create Cross Island within the Royal Naval Dockyard. Under the Protocol governing the 36th America's Cup, certainty on the facilities is required by August 2018 or earlier, otherwise, the Cup may relocate to Italy, venue of Challenger of Record Luna Rossa. It emerged this week that Bermuda is being considered as an option to host a pre-regatta in the lead up to the next America's Cup.
October 14. Baseball superstar Darryl Strawberry won four World Series titles with the New York Mets and New York Yankees, amassing no small amount of fortune along the way. But the former slugger told an audience of schoolboys at the Berkeley Institute last night that a "path of destruction" led him to drug addiction, health problems and prison time. He told the pupils that it was never too early to make changes so they can keep out of trouble and lead a fulfilled life. Mr Strawberry said: "I almost lost my life to drug addiction. I was in prison. I had everything but I had nothing because I was broken inside. "I was rich and famous but I was lost. You have to deal with it now while you are in school or you will end up running with fools. Pain is real, guys, and if you never deal with your pain you are empty inside and your destructive behavior is going to come out. I lost it in drugs. I should be dead but I am a living miracle. There are heavy hearts and broken hearts in here, but I am here to tell you your true destiny is up to you if you make the right decisions." Mr Strawberry was in Bermuda after an invite from the Bermuda Business Development Agency to speak at the World Alternative Investment Summit, held this week at the Fairmont Southampton. Mr Strawberry has also met male pupils at CedarBridge Academy as well as baseball players and fans on the island. He told the Berkeley pupils that he was one of five children brought up by a single mother and that his father took no interest in him until he started to find success with baseball. But he said, even then, his father predicted he would never become a professional player. Mr Strawberry said: "I was determined I was going to be the best I could be. Go for it — don't let anyone tell you, you can't do it." When he asked the pupils how many of them had problems or felt rejected, most of the hands in the room went up. He told them: "Everyone of you in here needs to know this — you are not a mistake. Failure is part of succeeding. We all have made mistakes and we all will fall short, and all the ones who think they are better than the next one, you are not better than the next one because their situation is tough. We've all got some issues. Be your brother's keeper and love him no matter what, uplift him when he is down and bring wisdom and knowledge into his life. You guys have got to know how to communicate. You've got to learn how to talk about your problems. You know you — and that you are here for a reason and a purpose. You are here to make things better." Mr Strawberry asked the pupils who liked to break the rules and a few hands went up. He said: "I liked doing that too. It didn't get me anywhere. I was rejected and I was in pain and it led me to greatness but greatness led me to destructive behavior. If you don't feel good inside, you will fall into some really destructive behavior. It's about the way you think of yourself. If you walk around with your pants falling off your butt, you are a fool following a fool. You have to think 'how am I going to be where I want to get?' The whole society that we live in is broken. The only way we fix what is on the inside is getting healed. What makes us weak is when we say we don't have problems and struggles — everyone of us has. Life is short. I have decided I am going to finish it right and empower people." Mr Strawberry, co-founder of the Darryl Strawberry Treatment Centre for alcohol and drug problems in Florida, ended his playing career in 1999 after a bout with colon cancer. He has now dedicated his life to "spreading the word of gospel" and also discussed how faith can help people find their way in life. Pastor Leroy Bean, Bermuda's new gang violence reduction co-ordinator, also talked to the students and shared some of his own experiences of finding his way in life. Mr Bean listed serious crime statistics — including 52 murders. But he told the audience: "Despite all these facts, we still don't have to be a statistic." Mr Bean said he had also gone down the wrong path earlier in life, but had achieved his GED exam and gained two master's degrees. He added: "I didn't have my father around me but I had neighbors. I had someone there to direct me to the path I wanted to take. My school told my mama I wouldn't make it. Put your mind to it and it will happen for you." Minister for Government Reform Lovitta Foggo discussed the importance of positive role models and described one troubled pupil who, after meeting a pilot, was inspired to earn his own wings.
October 14. Professional advice. By Martha Harris Myron CPA JSM: Masters of Law — International Tax and Financial Services. Pondstraddler, life financial perspectives for Bermuda islanders with multinational families and international connections on the Great Atlantic Pond. Contact: martha.myron@gmail.com. A Bermudian (and his foreign-born spouse) come home for permanent residence in Bermuda. A reader FAQ featured on September 16, 2017 asked the following: "A Bermudian friend of ours is returning to Bermuda with his foreign spouse after two decades living in the United States. What are the ramifications of his US connections? Does he have to do anything? (goo.gl/N8EK9s). My disclosure: the following discussion is general in nature and cannot be considered in any way whatsoever as specific tax, investment, immigration, estate, legal, or any other financial planning advice for anyone referencing this article. Tax, financial, legal, immigration legislation and regulations are subject to change without notice. I make no representation as to the current accuracy or representation of hypothetical facts. Readers, if you, or anyone you know has similar questions, you must seek advice specific to your personal situation from qualified US tax professionals (in Bermuda) experienced in both domestic and international tax and finance relevant to the jurisdictions connected, both United States and Bermuda.
Returning Bermudian fact pattern:
Owns US property with rental income.
Has a US 401k individual pension account.
May be eligible for US social security on retirement.
Wants to start a new Bermuda business.
May have US life insurance, US wills, US bank and investment accounts.
What we don't know is even more critical. How long did he really live and work in the United States? Is he a US citizen, a US green card holder, or just a foreign person who was a tax resident in the United States. We also do not know whether he may have become a simultaneous dual-citizen of Bermuda and the United States at birth, a distinction we will discuss in part 3, October 21, 2017. We assume that it is highly unlikely that he would have resided in the US for so many years without being a US citizen or a US green card holder. The US taxing authorities position relative to US persons, according to US Internal Revenue Service. (goo.gl/3XhBQp ) If you are a US citizen or resident alien, the rules for filing income, estate, and gift tax returns and paying estimated tax are generally the same whether you are in the US or abroad. Your worldwide income is subject to US income tax, regardless of where you reside. This US tax responsibility requirement continues to apply whether our Bermudian/US person is just returning home, or, critically, to US connected persons who may not have lived in the US. A composite story. "I'm a US citizen on paper, but emotionally I have always been a Bermudian. So, I declined to renew my passport, it is sitting in a drawer. I've cut all ties to the US, and as far as I am concerned — this stuff is a dead issue. I am free of the US." However, when I inquired whether he/she used the US passport when traveling? The sheepish answer was: "Well, not always, but I've had to use it a few times because some countries have rejected a Bermuda passport." So much for cutting ties and leaving vital documents in a drawer. Question, readers. Do you think that the US might be tracking this passport use? What are the consequences of being out-of-compliance?
US federal income, gift, estate tax position
Possible significant cost for catch-up US tax preparation and advice.
Penalties for non-willful non-compliance; claiming that one did not understand or know about one's US tax compliance responsibilities is wearing extremely thin these days.
Severe penalties if a taxpayer is deemed to have deliberately willfully avoided US tax compliance.
Interest and penalties for non-payment of tax liabilities, if any.
Additional financial penalties for non-filing and non-disclosure of foreign bank accounts and financial interests (FBARS) with US Treasury Financial Crimes Enforcement Network BSA E-filing System (https://bsaefiling.fincen.treas.gov/NoRegFBARFiler.html)
Possible forfeiture of US passport and denial of entry into the United States, but you will still have to settle up with your US tax responsibilities, this also applies generally to US green card holders.
US state tax positions
California, New York, Virginia (and other US states) are rigorously determined to collect all tax due from their residents. You are a considered a resident in a state in the United States — until you notify formally, say on final tax return or notification — that you have permanently given up US residency and have moved abroad.
For example:
An individual left California, moves back to Bermuda, never notifies California Revenue of his change in permanent resident status.
Still owns rental property in California.
New York and Virginia insist that if you own property in their state, it is your permanent place of abode. See two court cases: https://goo.gl/BK47cB and Virginia Tax Commissioner ruling, 11-116.
You will continue to receive a tax bill that, if ignored, will eventually result in said state taking legal steps for collection, such as attaching a lien or levying your US bank accounts and your property.
Well, how will they know? Readers, believe it or not, from time to time, there is that thought is out there. "How will any of these tax authorities know? Why are they bothering me? I am a Bermudian, my allegiance and my permanent home is here in Bermuda now." Under the mandatory Bermuda/US International Governmental Agreement Model 2 promulgated December 19, 2013, foreign financial institutions (local banks, etc) must provide full disclosure of US-connected persons in Bermuda to the US Internal Revenue Service (goo.gl/ZwUCh1). Needless to say, for our composite individual emotional disconnect is not an excuse; if caught, he/she may be assessed significant tax and filing penalties for non-compliance, possibly under the more punitive wilful tax avoidance category. A US citizen's (and US green card holder) taxation and reporting responsibilities never go away. There is no escape if an individual wants to maintain that US status connectivity. And many do. Know what your tax status is and get with the programme. Do not put your US passport or your US green card in a drawer — as if it did not exist. Next week: why it matters, and what decisions does our reader's friend have to make?"
October 13. The value of catastrophe bonds and ILS issued this year stood at a record $10.64 billion up to the end of last month.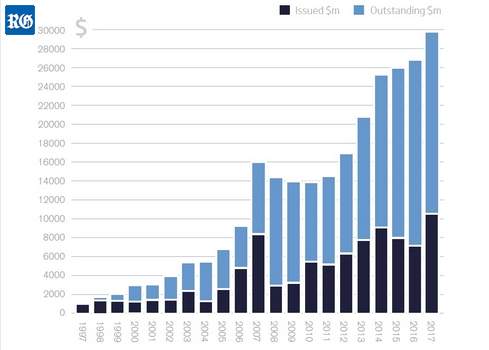 While the third quarter failed to reach $1 billion of issued cat bonds and ILS for only the second time in five years, the addition of $873.7 million of risk capital was almost $108 million above the ten-year average for the quarter. The figures are included in the latest catastrophe bond and ILS market report by alternative risk transfer website Artemis.bm. The outstanding market of cat bonds and ILS issuance hit a new end-of-quarter high of $29.87 billion. There were six deals in the third quarter, and the World Bank featured in a $320 million deal that is the first to benefit the Pandemic Emergency Financing Facility. This is a parametric deal that is triggered by World Health Organization reported deaths and cases of pandemic flu.
October 13. Valerie Robinson-James, the Permanent Secretary to the Ministry of Education, should be fired or moved to another role over a bungled bid to fire Commissioner of Education Freddie Evans, his lawyers said yesterday. Mark Diel of law firm Marshall Diel & Myers made the demand as one of four conditions for Dr Evans waiving legal action against the Governor, the Public Service Commission and the Ministry of Education in connection with an attempt to dump him from his job. A letter from Mr Diel on Wednesday to lawyers acting for the PSC said education authorities could avoid potentially expensive damages claims if Dr Evans continued in his post. Mr Diel also asked for a public retraction and apology from the PSC, the education ministry and Ms Robinson-James. The letter added that Ms Robinson-James, "given her obvious and improper conduct", should be moved to another ministry or fired. And it asked for Dr Evans's legal fees "be paid in full". The legal moves come less than two weeks after an e-mail from Ms Robinson-James to public school principals and teachers said that Dr Evans "has been relieved of his responsibilities as Commissioner of Education". Education bureaucrats, however, were forced into an about-turn just days later and said "an administrative error" in correspondence to Dr Evans meant he had not been fired at all. But the letter to Mr Diel from the PSC added "nor has he been confirmed in his post". It said: "The parties should govern themselves accordingly." The move came after Mr Diel pointed out that Dr Evans could not be fired after his six-month probationary period, which finished at the end of September, had expired and that it was "crystal clear" he could only be removed by Governor John Rankin. The letter to the PSC's lawyers said: "The result is that our client, through no fault of his own has had his reputation smeared through a series of acts that were either negligent or malicious. By way of example only, the permanent secretary, knowing that she had not received any communication from the Governor or any representative, took it upon herself to hold staff meetings and to publish to his colleagues and the press that our client had been relieved of his duties when that was obviously not the case. Finally, and perhaps even more egregiously, when the PSC finally stated that our client had not been terminated, she and the Ministry, despite urging from us, did not post any such retraction and have yet to do so." Mr Diel added: "Given the permanent secretary was the cause of this entire mess, it in fact should be she who ought to be terminated as opposed to our client." And he warned: "Further, at the risk of stating the obvious, the longer this matter continues without a retraction and apology, the greater the damages in defamation." Mr Diel added: "We should point out that any attempt to try and terminate our client now will be seen for the fiction that it is. For the last three-and-a-half years our client has performed his job and done it well. Any attempt to further tarnish our client's excellent reputation as an educator will be met with further claims for damages." A spokeswoman for the Ministry of Education declined to comment yesterday. A government spokeswoman added: "The Government doesn't comment on internal personnel matters."
October 13. Royal Gazette Editorial. "It is not uncommon these days to hear Bermudian politicians on the campaign trail pledge to introduce policy regimes based around "consultation", "collaboration" and "transparency" if their party is elected to power. Sadly, experience would suggest they are only talking about the very loosest of guidelines rather than any hard-and-fast rules. Heightened expectations about incoming Bermuda governments of all stripes being prepared to openly engage with the public, interest groups and individuals on major policy fronts have been dashed against the rocks of experience all too many times in recent years. Too often their actions once in office give the lie to all of those grandiose campaign promises we have heard about administrations operating in "the sunshine of public scrutiny", as well as being open to differing points of view when it comes to the crafting of policy frameworks on a whole range of issues. Unfortunately for some at either end of the ideological spectrum in Bermuda, "consensus" and "inclusiveness" clearly remain dirty words. Bermuda witnessed another such case in point just this week. With no forewarning or advance publicity, Minister of Home Affairs Walton Brown announced plans in Parliament last Friday to introduce legislation giving Bermuda's immigration laws primacy over the Human Rights Act. The draft legislation has yet to be released publicly. Nor was it even shared in advance with interested parties, most notably Bermuda's Human Rights Commission, which reacted to news of the pending change with unvarnished concern. That body has since described government plans as "reckless". The commission argues that for the government of the day to selectively tamper with the supremacy of human rights legislation could threaten the "shield" that protects internationally recognized freedoms and standards in Bermuda. Brown quickly attempted to quell both the HRC's fears as well as others arising in the broader community. He said the new legislation would simply formalize and add clarity to "what has been law and policy for decades", the primary objective being to prevent court challenges to immigration law by non-Bermudians claiming discrimination on the grounds of place of origin. Brown said: "The Bill makes clear what has been the law and policy for decades: that those who hold Bermuda status or a Permanent Resident's Certificate have different rights [than] those who do not have Bermuda status or PRC." And the minister does have a point, as far as it goes. The Progressive Labour Party was, after all, elected to office in July on a populist platform centered around the campaign slogan "Putting Bermudians First". So exempting sections of the Bermuda Immigration & Protection Act from the Human Rights Act to legally codify what has been customary here for many, many years might, at first blush, seem to be a largely non-contentious move, as well as one fully in keeping with the new government's commitment to reinforce the rights of Bermudians in their own country. But neither the Human Rights Commission nor a growing number of other interested observers see things quite that way. To distil the matter to a simple case of political housekeeping, one that will allow the Government to deliver, in part, on a campaign promise, seems to be very much at odds with both the letter and the spirit of Bermuda's human rights obligations. "Tabling a Bill of this nature, one that will have human rights implications without consultation is entirely inconsistent with [the] purpose of the Human Rights Act, particularly as the topic of immigration has necessarily been highly emotive and divisive," the HRC told The Royal Gazette this week. The commission added that it has informed the Government "that it is imperative to undertake an inclusive process of consultation that reflects the gravity of the proposed amendments, and the significance of this national issue". And while the minister has denied that this is the first step in a promised comprehensive overhaul of Bermuda's antiquated immigration regulations, the commission seems to take the view that his proposed reforms amount to just that. The commission pointed out that it advocated for comprehensive immigration reform under the previous administration in the face of the ill-considered and ultimately stillborn Pathways to Status initiative. And it has reinforced this need with the new government, adding tellingly that "ensuring an inclusive consultation process is essential". Brown, of course, helped to stage a number of large-scale exercises in political street theatre in recent years predicated around a lack of just such inclusive consultative processes on immigration-related matters under the former One Bermuda Alliance government. For a man so well-versed in the optics of political perception and the sometimes damaging unintended consequences of political tone-deafness, the best that can said about his handling of the present matter is that the choreography and presentation involved were conspicuous by their almost complete absence. With critics contending this could be the thin edge of a highly significant wedge when it comes both to immigration restructuring and Bermuda's human rights obligations, the onus is clearly on the Government to further amplify and explain the purpose of these changes and to release the draft legislation. Then it would surely make sense not to fast-track the legislation, as has been suggested will happen, but to include it in the promised public discussions on overall immigration reform, given the Human Rights Commission's publicly stated concerns about "the gravity of the proposed amendments". Simply steamrollering these changes through Parliament now in the wake of such damning condemnation would likely only sow the seeds for unnecessary discord, division and legal wrangling in the future. Everett Dirksen, a long-time United States senator from Illinois, once famously said: "I live by my principles, and one of my principles is flexibility." For some, Dirksen's folksy Midwestern wisdom might seem a cynical contradiction in terms. But on any number of issues, his flexibility enabled him to put aside narrow questions of party advantage and political one-upmanship when overarching matters affecting the common good were at stake. Surely, when it comes to immigration reform and human rights, that type of flexibility on the Government's part — flexibility that would allow for genuine consultation, collaboration and transparency — is both necessary and indispensable."
October 13. Reinsurers' earnings for the year have probably already been wiped out by industry catastrophe losses of more than $100 billion — and their capital could also be hit. That is the view of analysts at S&P Global Ratings, who believe that an improvement in reinsurance rates may follow in the upcoming January renewals. "As reinsurers are coping with their third-quarter catastrophe-related losses, their capital could take a hit," S&P stated in its report, released today, entitled Third-quarter catastrophe losses are becoming a capital event for reinsurers. Although our ratings are supported by robust capital adequacy levels, we would consider a reinsurer that incurs large losses that translate into capital erosion as an outlier that could be subject to a negative rating action." Several Bermuda reinsurers have announced their preliminary loss estimates for the third quarter. Among the more notable are XL Group ($1.48 billion), Everest Re ($1.2 billion), RenaissanceRe ($625 million) and Axis Capital ($617 million). The Association of Bermuda Insurers and Reinsurers has estimated that Bermuda entities will cover at least a quarter of the estimated $100 billion in insured losses from hurricanes Harvey, Irma and Maria. S&P said global reinsurers would foot the bulk of the bill. And with capital of $605 billion, including $89 billion of alternative capital as of June 30,2017, they were well prepared to take the strain. The report described the third-quarter catastrophes as "just a speed bump" for the thriving catastrophe bond market, which is predominantly based in Bermuda. S&P has downgraded only one cat bond — the Everest Re-sponsored Kilimanjaro Re 2014-I Class B. S&P said the main reason for the lack of impact on cat bonds it rates, despite the massive economic losses caused by the string of disasters, a large proportion of the impact was not covered by private insurers. This included most of the flood damage and much of the devastation in the Caribbean. S&P saw this protection gap as an opportunity for the industry. "We think that the insurance industry and the natural catastrophe investor base have an opportunity to expand into these hitherto non-insured exposures and regions, and given the appropriate returns, can provide a new source of earnings for themselves and protection for many currently uninsured people and regions," S&P stated. The rating agency said that "without a doubt, reinsurance pricing will increase for the affected regions and business lines", while US national pricing was likely to move higher too. Increases in global reinsurance prices are less certain. S&P expects global prices to increase by zero to 5 per cent at January 1 renewals. "Given the magnitude of the losses, we expect reinsurers to hold flat on pricing at the very least, but most will likely demand higher risk premiums at this time," S&P said.
October 13. Centaur Fund Services (Bermuda) Ltd has appointed IC Condat as its head of insurance-linked securities. Speaking about his appointment with the independent fund administrator, Mr Condat said: "The ever growing interest and appetite in the ILS asset class provides us with great business opportunities as clients really value Centaur's professional and client first approach. "I am excited to be part of a great team, and I am focused on building and growing Centaur's ILS service offering." Mr Condat has previously held senior positions at SS&C Fund Services (Bermuda) Ltd and PwC Bermuda. He will be based at Centaur's office in Bermuda. Marc Weaver, chief operating officer, Centaur Fund Services (Bermuda) Limited, said: "Centaur services a strong group of hedge funds, private equity and family office clients based in the US, Europe and Asia and we see tremendous opportunities for further growth, including growth in the ILS sector. We launched our Bermuda office in 2016 and it has quickly become an important servicing center for us."
October 13. It was human brain power that was tested in a debate on the future of artificial intelligence in the investment world. At the second World Alternative Investment Summit Bermuda, trading exports Michael Murphy and Jon Najarian took opposing sides on the motion: "Artificial Intelligence will replace stock picking portfolio managers sooner than you think." Mr Murphy, founder of Rosecliff Ventures, pointed out that a graph of the US stock market, when viewed over a century, shows a steadily continuing rise with a few "blips" when market crashes occurred. He said the blips, where people have lost money, can be eradicated by taking human emotion out of the equation through AI stock-picking. Mr Murphy, who appears on FoxBusiness, said technology is already helping to eliminate human error from portfolio and investment management. He mentioned the growing popularity of passive investment strategies such as index-based ETFs, where investors are less likely to jump in and out of positions based on short-term news and fears. "People recognize that humans make mistakes. Algorithms can make investments based on the facts that are there," he said. In the future, Mr Murphy believes people will set a plan for their retirement with goal investment return figures, and then sit back while an AI program controls their portfolio. He also said that most people can't predict the tops and bottoms of markets, and so by using AI the "human emotion" is taken out of investment decisions, such as any potentially unwise moves sparked by sudden and major market shifts. Presenting the case against the motion, Mr Najarian suggested that an AI program running during the past two years would likely have made missteps in the face of unpredictable factors, such as the near record-breaking length of the current bull market, reactions to Fed rate decisions, and geopolitical matters. He drove home the point, stating that "black swan" events — occurrences that deviate from the normal and are extremely hard to predict — should happen once in a lifetime. I've been trading for 36 years and I've seen three 'black swans' in that time," he said, adding that AI would have to get very intelligent to successfully deal with such unpredictability. He said most AI would have thought the US dollar would have risen in response to recent Federal Reserve rate hikes, yet that had not happened. "The market frustrates you. And when there is a hiccup, maybe some of the [AI] funds get flushed." He also challenged the "buy-the-dip" strategy that is being played out daily in US markets. He warned: "When it does not work it might break in a big way." Mr Najarian is an options trading expert and co-founder of Najarian Family Office. He also appears on CNBC's Halftime Report and Fast Money. During the debate at the conference, which is being held at the Fairmont Southampton, he noted there have been examples of algorithm programs trying to spoof other algorithms in order to create a stock market movement. This type of spoofing is now illegal in the US. He said that if the majority of people opt for passive investing then there will likely be much bigger out performance by those who remain outsiders and active traders. Mr Najarian said people tend to panic, and when volatility rockets there would be people bailing out of AI investment programs, saying things like: "I'm cutting this one off and moving onto the next." He accepted Mr Murphy's assertion that over the long-term markets have always recovered from crashes and gone on to greater heights. In turn, Mr Murphy agreed with Mr Najarian's point that "if you have a six-month timeframe, it's dangerous to be in AI". The debate was lightheartedly styled on the British House of Commons, with Mr Murphy filling the role of Prime Minister to Mr Najarian's Leader of the Opposition. Maintaining order was "Speaker of the House" Zac Schwartz, complete with gown and wig. Mr Schwartz is president of ZSC Inc. A vote before the debate showed a 19-17 split against the motion. A vote after the debate came out at 24-19 against the motion. Mr Schwartz deftly skated over the voting irregularity that revealed more people had voted at the end. He declared the motion lost. The Wais conference, organized by Radius Financial Education, continues today.
October 13. A Bermudian doctor described the devastation in the Caribbean island of Dominica yesterday after it was hammered by Hurricane Maria. Roslyn Bascombe-Adams, sent to the island as part of a Pan American Health Organization aid mission, said: "Every Dominican that I came in contact with had been impacted by the storm. Those who had not lost their roofs had been flooded." Dr Bascombe-Adams, deputy chief of the emergency department and hyperbaric services at Bermuda Hospitals Board, was called up for aid duty last month and at first thought she was headed for the British Virgin Islands badly damaged by Hurricane Irma. She and the PAHO team were in Barbados when Category 5 Maria hit Dominica and they were taken by Barbados Coast Guard boat in a 14-hour journey to the stricken island instead. Dr Bascombe-Adams said: "We had no information coming out — there were no communications. We didn't know what the ports were like, we didn't know what the airports were like, and therefore going in by plane was not even an option. But the devastation of the storm was immediately evident. As we approached the island, we could see the immense impact on the roofs of the buildings as we looked ashore." Dr Bascombe-Adams added: "We realized, from the time we got on the ground, that the impact was likely to be catastrophic." She said the island was without power or a phone service and almost all the roads were blocked by debris. Dr Bascombe-Adams added that in the capital Roseau 90 per cent of utility poles were "bent across the roads like toothpicks". She explained that problems were worsened by the Roseau river, which runs through part of the capital and had been rerouted years ago. Dr Bascombe-Adams said: "It literally reclaimed its old path, flew through the town and gutted buildings in a most formidable way." She said one of the critical medical problems was the island's inability to provide kidney dialysis due to lack of power and water. The team also had to get the hospital's emergency department up and running again. It had lost part of its roof, but the staff were still able to function to some extent." They had flooding in the diagnostic imaging department, so they couldn't use their X-rays and they couldn't use their CT scan. Both the blood bank and the mortuary were also out of commission due to the lack of power. It became very trying for the staff who were present to manage people who had injuries who were able to be brought in. Around three times as many people as normal showed up to the emergency department in the first days after the storm. This doesn't mirror all persons who were injured, because there are injured persons who cannot get to the hospital because roads are blocked, because of landslides and disruption." The situation was still "very chaotic" when she left a week later. "There is no quick fix for Dominica. The infrastructure is so severely damaged, and the impact so severe, it's going to be months for them to build a semblance of normality. When I left, about 60 per cent of the doctors had reported for duty and about 50 per cent of the nursing staff. Largely that's because they couldn't get in.. The hardest thing for her was to stop myself pitching in to help the injured because her role was strategic not hands-on. It is difficult — but I understand that there is a bigger picture. It's the last thing that the director of PAHO reminded me — 'Rosalyn, you are going in to provide strategic guidance. I kept hearing those words in my head when I got there."
October 13. The man jailed for his role in the brutal murder and rape of teenage tourist Rebecca Middleton has been deported from Bermuda. Sources said Kirk Mundy was flown by private jet to his homeland Jamaica last week after more than two decades in Bermuda's prison. Carol Shuman, who founded the Rebecca Middleton Foundation to fight for a retrial for Mundy and co-accused Justis Smith, said: "Bermuda does well to see the last of Kirk Mundy." Dr Shuman, who wrote extensively on the case, added: "However, his exit neither removes the island's shame regarding its judicial handling of the murder of Rebecca Middleton. Nor, of course, does it bring Becky back or erase the international shock that for many is not forgotten." Mundy is understood to have been deported on Wednesday of last week. He was sentenced to five years behind bars in 1996 after he pleaded guilty to a charge of being an accessory to the murder of Ms Middleton. Murder-accused Smith walked free from court after then Justice Vincent Meerabux threw out the case against him. A later bid to try both Mundy and Smith for the murder of the Canadian 17-year-old, after new forensic evidence, failed because the UK's Privy council in 1998 ruled that the case could not go ahead. The Privy Council also ruled that Mr Justice Meerabux's decision on Smith could not be overturned. Mundy was on bail at the time of Ms Middleton's murder and was sentenced in 1997 to 16 years in prison for the armed robbery of a Bank of Butterfield security van two years earlier. His sentence was increased in 2009, when cannabis was found in his cell at Westgate. A spokeswoman for the Ministry of Home Affairs said: "The deportee was transported via private jet due to associated security risks for transit via the UK, US or Canada." Mundy was 21 when he and then 17-year-old Smith were arrested in connection with Ms Middleton's murder — which drew international attention. Ms Middleton's body was found by the roadside at Ferry Reach in the early hours of July 3, 1996. The 17-year-old had been sexually assaulted and stabbed multiple times. The handling of the case, particularly the failure to reopen proceedings against the two suspects, caused outrage in Bermuda and overseas. Human rights lawyer Cherie Booth, the wife of former British prime minister Tony Blair, called the case "a terrible, terrible story — one that no family should have to endure".
October 12. The Minister of Home Affairs has dismissed calls for withdrawing a new Bill giving priority to the Immigration and Protection Act over the Human Rights Act. The Human Rights Commission has branded government plans "reckless" and warned that watering down the supremacy of human rights legislation threatens the "shield" that protects international human rights standards and freedoms on the island. But Walton Brown told The Royal Gazette the Bermuda Immigration (No 2) Act did nothing to undermine the HRA and simply provided clarity to "what has been law and policy for decades". He also revealed the Government would meet representatives from the HRC today after the adverse reaction to the Bill that was tabled in Parliament last Friday. "There is no compelling reason why the Bill should be withdrawn," Mr Brown said. "Nothing we are doing is weakening the Human Rights Act. It has been clearly thought through and has passed through the various stages before it is presented to the House. We will debate it and I am confident it will pass." Asked if he was surprised by the reaction to the legislation, Mr Brown replied: "I am used to it in political discourse; I look at laws that will make Bermuda a better place. I do not personalize issues. This is not about personalities." The Government's move is designed to prevent court challenges to immigration law by non-Bermudians claiming discrimination on the grounds of place of origin over rights of residence and Bermuda status. Mr Brown said: "The Bill makes clear what has been the law and policy for decades: that those who hold Bermuda status or a PRC have different rights in terms of employment to those who do not have Bermuda status or PRC. As someone who has been an advocate for human rights for 30 years, my track record should speak for itself. I am a strong proponent of rights in the HRA and believe they need to be broadened. We don't have age discrimination and our Constitution is silent on the issue of gender discrimination. We have fundamental discrimination in Bermuda that needs to be addressed." The HRC has condemned the Government for pushing ahead with the legislation without "proper consultation", while warning that the HRA should not be portrayed as "either a tool to be manipulated, or for manipulation". But Mr Brown countered the assertion saying: "We are not undermining human rights, we are strengthening the rights of Bermudians, while at the same time recognizing the human rights of people remain important. We have to recognize that Bermudians have fundamental rights in their country and these rights are in part protected by the Immigration and Protection Act. This country does not allow anyone to come in and buy land with no constraints, nor does it allow anyone to come in and work without a work permit; there are constraints on that. This is about the issues relating to immigration status, not the rights of women or a gay person, which are protected by the Human Rights Act. This is not immigration reform; this is bringing clarity to a specific area. There was consultation with the HRC and extensive dialogue but we disagreed on the way forward."
October 12. Walton Brown, the Minister of Home Affairs, said yesterday he hoped that Bermuda passports will be printed on the island again within a year. The UK Government took over responsibility for printing passports for British Overseas Territories Citizens in June 2016 because of security concerns. But Mr Brown said there was no reason why Bermuda passports should be printed in the UK rather than in Bermuda. He added: "We are in the process of identifying what the costs would be of bringing the process back to Bermuda. The Request for Information is just about to go out. The challenging part of us is to persuade the UK Government to relinquish their control of the printing of our passports. We were doing it for an extended period of time and we never lost a passport. We have the technical ability on island and there is no defensible reason why the UK should hold on to the printing of our passports." Mr Brown said that he would have to travel to the UK and meet British government representatives to bring the process back to Bermuda. He added: "My goal is to have it done within the year. I have one passport — I don't want to get another, and when I get that passport renewed I want to get it printed here." The relocation of the printing process to the UK has led to delays in passport issuing and complications with the coding, which now read GBR rather than BMU. This has created problems for people with a Bermuda passport entering the US from outside Bermuda, as some have been told they are required to have a US Electronic System for Travel waiver because they have the GBR code. But Bermudian status holders do not require an ESTA and it is technically illegal for Bermuda status holders to even apply for one.
October 12. The Bermuda Government needs to do a better job of collecting unpaid taxes due before it starts looking for new ways to tax the public. That is one of the views expressed by the Bermuda Chamber of Commerce, reacting to the release of the independent Caribbean Regional Technical Assistance Centre (Cartac) report on tax reform in Bermuda. John Wight, president of the Chamber, said the organization backed progressive tax reform and initiatives that would bring more people to live and work in Bermuda, thus expanding the tax base. The Cartac report, which was submitted to the previous One Bermuda Alliance administration in 2015, but was made public only last week by the new Progressive Labour Party government, highlighted the scale of taxes in arrears. A statement from the Chamber's executive was very supportive of strengthening enforcement of tax collection. "Before we look at creating new ways to tax our residents, a better job needs to be done to collect existing arrears," the Chamber said. "The report states that at the end of the 2014-15 year, arrears totaled $197 million, of which $146 million represented payroll tax alone. More than 90 per cent of this balance is older than 12 months. Collection has to improve." The Chamber praised the government's move in releasing the report, saying it would promote a fact-based discussion on a critical issue. "Discussion, collaboration, and action around tax reform are critical for Bermuda," the Chamber stated. "Tax reform should be viewed alongside Bermuda's declining birth rate, immigration reform, and other important issues that impact Bermuda's financial objectives of balancing the country's budget and repaying its debt. Fiscal responsibility is paramount." The Chamber said it supported transparency, fairness and simplicity in tax reform and added that the Cartac report should be just one of many tools that government should be using in making tax policy decisions. And the business organization also backs the government's stated desire, expressed in the Throne Speech, to achieve economic growth by creating new jobs for more people to work and live in Bermuda. "Progressive taxation, as evidenced by the change in payroll tax rates that came into effect on April 1, 2017, is supported by the Chamber," the statement added. "With socioeconomic disparity becoming an increasing problem across the western world, the Chamber believes that a model promoting higher tax rates for those earning higher salaries is fair and equitable."
October 12. The Ministry of Health is offering the community both an electronic and printed version of the new Directory of Helping Services. This is the first time a searchable, online version of the directory has been available. It can be found at www.helpingservices.bm. The Health Promotion Office of the Department of Health produces the printed directory, which lists non-profit organisations, registered charities, and Government agencies in Bermuda that offer support services to families and children, seniors and persons with disabilities. The online directory will provide an expanded version of the print directory and will include private businesses that assist families and children, seniors and persons with disabilities. The electronic directory can be searched in three ways:
search by a key term — enter a word or phrase that is of interest to you and press enter to produce a list of organisations related to your search;
filter by population and/or category — the filters will apply immediately and show you the list on the right side of the screen;
browse the directory — scroll through the alphabetical listing of featured organisations.
The online directory is part of the Ministry of Health's Long-term Care Action Plan, which committed to increasing community and professional's knowledge of available resources to assist persons with long term care needs. This resource will make it easier to find the help needed by seniors, persons with disabilities and families. Minister of Health Kim Wilson said: "I hope the public will find the directory helpful in identifying appropriate services and support programmes. The searchable database should make it easy and convenient to find multiple organisations that can offer the support needed." Previous recipients of the printed directory will receive those in the mail in the next week or they are available for collection at the Ministry of Health, Ground Floor, Continental House, corner of Church Street and Cedar Avenue. To be included in the online directory or to update information, use the online submission form which is available here: http://helpingservices.bm/submissions/ or contact the Health Promotion Office on 278-4900.
October 12. Devonshire Recreation Club marked a milestone with a final mortgage payment. The achievement has been held up as an example to other community clubs across the island. Now the parish fixture, known as Devonshire Rec, are to celebrate the 17th day of each month for a year after the ceremonial burning of their mortgage on September 17. Club president Nadine Henry told The Royal Gazette: "Everyone sacrificed and gave what they could — it was a real struggle. We had to remember how the club was first built. We went back to the grass roots of our operation." She added Devonshire Recreation Club have enjoyed a proud history but "wanted to be able to achieve owning our property". Ms Henry said: "When I became president, we had tens of thousands of dollars to pay. Then we experienced the recession, and many times we had the bank calling when we were unable to meet the payments. We never wanted to stop our community outreach. We were trying to manage and still meet our commitments, but there were some dark hours when we didn't know where the payments would come from." Potluck fundraisers were used to raise cash and members pitched in to help the club cover their last deposit with the Bank of Butterfield. The occasion was marked with a Thanksgiving service at Christ Church in Devonshire, followed by the burning of mortgage documents outside the club. Ms Henry said: "It was extremely big for us — this club comes from a proud group of community men." She added that longstanding member and former president Ellsworth Christopher urged her: "Don't let this moment pass without recognizing its significance." Ms Henry, the club's first woman president, follows the legacy of her mother, the late Dame Lois Browne Evans, who in 1963 became Devonshire Rec's first woman member. Membership has flourished in recent years and now stands at 82. Ms Henry said the club wanted people to know that "if they come here they will see a community environment". She added: "We're trying to give everybody a safe place to relax, and to empower them to take part in our celebrations. People are feeling good about it. Now we await out annual general meeting on October 30. At that time we will have a big conversation on our way forward. We want to make sure everyone is involved." Devonshire Rec set the former Pond Hill Workmen's Club on the way to becoming a major venue for sports as well as politics when they secured the premises on the parish's Frog Lane. The club became popular for political meetings, especially for the Progressive Labour Party, and guests at the mortgage burning included Walter Roban, the Deputy Premier, who called it "a great achievement". Mr Roban said: "Community clubs were created to make a difference. We have them across the island. They are part of an effort that came out of slavery and segregation. People knew they had to help themselves and their communities. Many clubs emerged, big and small — all indicative of the same spirit and determination." The original founders of Devonshire Recreation Club were David Augustus, Samuel De Graff, Wilfred Furbert, Wilkie Furbert, Matthew James, Herbert Stirling and Charles Thompson. Mr Roban added: "The founders clearly had a vision and that achievement continues. It's the heart of its community, and we hope other clubs will be in the same position in the future. We like to see the continuance of the club tradition. More young people are getting involved and new generations are running these organisations and continuing their traditions and that needs to be supported by the community, despite the challenges they face."
October 12. Hiscox plans to ramp up capacity in anticipation of a pick-up in insurance prices. The company, which is based in Bermuda, said today it plans to increase the 2018 capacity for its Syndicate 33 at Lloyd's by £450 million ($594.5 million) to £1.6 billion, driven by improving market conditions. The move is subject to Lloyd's approval. "The increase in capacity is driven by an anticipated improvement in market conditions and a desire to have sufficient capacity available to participate in a widespread market turn," Hiscox said in its Syndicate business forecast today. "This follows a period of significant catastrophe activity in 2017 in which more than $100 billion of industry capital is estimated to have been destroyed." Last week, Hiscox announced a preliminary estimate of $225 million for net losses from hurricanes Harvey and Irma. At the same time, Bronek Masojada, chief executive officer of Hiscox, said: "These events are already having an impact on rates in the global insurance market, particularly in affected areas and specific sectors. After a number of years of rate reductions, we are starting to see price corrections, most acutely in affected lines such as large property insurance and catastrophe reinsurance, which we expect to spread to non-affected lines."
October 12. Bermuda's global industry groups are joining forces with middle-school teachers to help boost awareness about the island's economy and careers in international business. Led by the Association of Bermuda International Companies (Abic), the initiative has won support from the Association of Bermuda Insurers & Reinsurers (Abir), the Bermuda Insurance Institute (BII), the Bermuda Insurance Management Association (Bima), the Bermuda Monetary Authority (BMA), and the Bermuda Business Development Agency (BDA). The organisations have teamed with the Ministry of Education and public-school teachers to help develop the middle-school social studies curriculum to give students aged from eleven to thirteen a better understanding of how Bermuda's economy works, and the different industry sectors — and job types — within the all-important IB market. "Abic has been in the business of educating Bermudians for careers in international business for over 40 years," Patrick Tannock, Abic's chairman, said. "Our industry depends on qualified Bermudians, and by developing curriculum for schools, we hope to increase awareness of career opportunities in the island's international business sector." A working group met with Ministry of Education teachers earlier this year to discuss innovative resource material and lesson plans to incorporate it. This included PowerPoint presentations, videos, infographics and animated graphics telling the story of Bermuda's economic history, how regulation works, and current global business sectors. Teachers and industry representatives also talked about the Bermuda market's contribution to economies worldwide, plus practical tips to help middle-school students investigate careers in re/insurance, captive insurance, other financial services, and support industries such as accountancy and compliance, where qualified personnel are in high and growing demand. The enhanced curriculum has now been successfully delivered at five of the island's middle schools. "Our aim was to ensure students were exposed to information about international business in Bermuda that included an historical perspective, as well as the modern-day realities of IB's importance to Bermuda's economy," said Lisa Marshall, education officer for social studies. Once the curriculum content was decided, selected teachers were tasked with creating the lesson plans and lesson activities for their colleagues. I am thankful for the phenomenal job done in creating lessons and activities by social studies teacher Nicole Grant and business studies teacher Dean Foggo," she said. "Their task was to ensure our students' exposure at the middle-school level included relevant and easy-to-understand information, both in its content delivery and use of resources. The curriculum was piloted at the M3 year level from March — May this year, and the feedback from students and teachers has been positive. We're excited with the support from our IB partners and look forward to our continued collaboration with them." New resources supplied by industry partners included:
An Abir initiative to raise awareness of myriad job types and related skills students can use to access jobs in global businesses. The project comprises hard-copy and digital card sets available for download, connecting subjects with job fields — for example, literacy and arts with communications and marketing, or information technology (IT) with data science and cyber underwriting.
BMA presentations about the role of the regulator, as well as its currency operations, highlighting how Bermuda money is produced with sophisticated security elements.
BDA materials detailing the evolution of Bermuda's economy over the centuries and how global business developed on the island in more recent decades.
Organizers hope the programme can be augmented via future initiatives such as on-site visits by students to international companies' Bermuda offices and interactive sessions such as roundtables allowing students to chat with Bermudian industry professionals. The middle-school project is one of numerous Abic-led education initiatives. Through its annual Abic Education Awards programme, Abic has supported more than 600 students in overseas post-secondary education. More than 60 per cent of recipients now work in IB and support services. "Our thanks go to the Ministry of Education curriculum team and the middle-school teachers for embracing this initiative and developing lesson plans to deliver the curriculum," Mr Tannock said. "Thanks also to all our industry partners for contributing content and participating."
October 12. Seeing a big name performer live in concert is only a plane ride away for Bermuda residents — literally, because no ground transportation is needed to reach the venue once you land at New York's JFK International Airport. Among the artists who have previously held intimate shows in the middle of JetBlue Airway's T5 terminal are Taylor Swift, Boyz II Men, The Wanted, Emeli Sandé, Ellie Golding and Jason Derulo. It is an unusual business concept, but one that has proved popular since it was introduced in 2009. The shows take place in the post-security side of the terminal, at the central area normally used to provide seating for customers of the surrounding food concessions. "Performances are available exclusively to ticketed customers as an additional way the airline further enhances the travel experience," said Tamara Young, corporate communications manager at JetBlue. "Since 2009, these surprise and delight pop-up shows have featured performances by an array of artists across various musical genres." JetBlue flies a daily service between Bermuda and JFK all-year round, and this year introduced a second seasonal daily flight on the route from May to October. There is no schedule for the "Live from T5" concerts, Ms Young said: "It's more about when there is an artist that is a good fit. "The concerts also serve as a promotional vehicle for artists; not only as a performance for their fans, they also receive exposure on our seat back TVs on-board reaching millions of customers each month." Ms Young said the concerts give fans a chance to meet and see their favorite musicians, while offering an opportunity for artists to reach an audience of millions. "Live From T5 is promoted across JetBlue's powerful social channels and through a series of wide-reaching media partnerships tailored uniquely to each artist's fan base." When asked why JetBlue came up with the idea for airport terminal concerts, Ms Young said: "Music is something that is near and dear to our hearts at JetBlue. Music is a connector and a unifier and crosses all demographics — age, gender, ethnicities, etc. And fun is one of JetBlue's core values. What's more fun than music?"
October 12. America's Cup racing could return to Bermuda as early as 2019 after all. Russell Green, the Emirates Team New Zealand rules expert, revealed in an interview with Sailing Illustrated that five overseas pre-regattas will take place over a two-year period in the build-up to the 36th America's Cup, to be held in Auckland in 2021, with Bermuda among the options being considered. The other choices include unnamed venues in Italy, the Mediterranean and the Caribbean, as well as Newport and Rhode Island. Bermuda hosted the 35th America's Cup, won by Team New Zealand, on the Great Sound in June. Luna Rossa, the Challenger of Record will organize the pre-regattas, which are planned for 2019 and 2020. The Italian syndicate, backed and run by Prada chief executive Patrizio Bertelli, issued its challenge shortly after Team New Zealand dethroned Oracle Team USA in a lopsided final. Team New Zealand and Luna Rossa worked together to establish the protocol for the next edition, which will be contested in 75ft monohulls. Green also revealed that there was a desire to take the pre-regattas to "traditional venues with good wind and good viewing". He suggested Newport, the home port of challenger New York Yacht Club, as a good fit as it is widely regarded as the traditional home of the America's Cup, which the club held for 132 years from 1851 to 1983. Green said Bertelli would also find other areas of the Mediterranean appealing and also mentioned the Caribbean or a return to Bermuda. The format of the pre-regattas — match-racing or fleet racing — would depend on the number of teams involved and the time available, Green added. Team New Zealand will be involved in all of the pre-regattas but will break away from the challengers until facing the top team from the challenger series in the America's Cup Match. It emerged last week that Bermuda could host a regatta featuring the AC50 foiling catamaran that were seen this summer on the Great Sound. It is understood that the teams involved in the previous America's Cup are keen on the idea, with Sir Russell Coutts, who served as the chief executive of the America's Cup Event Authority, among those being linked to the project. Powered by a rigid wing-sail, the AC50 is the smallest class raced in the America's Cup and is capable of speeds reaching 60mph. However, the future of the multihull racing yacht remains uncertain after the return of monohulls. The last time the "Auld Mug" was contested in monohulls was in 2007 in Valencia, Spain, where Swiss defender Alinghi retained their title with a 5-2 triumph over Team New Zealand.
October 11. Wayne Furbert remains tight-lipped over the shake-up that led to him being named the new Junior Minister of Finance last week. Members of the Opposition, however, have been vocal in criticizing the move. A media release on Sunday evening advised that Mr Furbert, MP for Hamilton West, had been sworn in by John Rankin, the Governor, on Friday. Senator Vance Campbell who also has responsibilities for public works and government reform, was previously unveiled as the junior minister for finance as well at a ceremony held in early August. Asked yesterday about the circumstances behind the change, Mr Furbert said: "I can't answer that one." Mr Furbert said he was also the "wrong person" to ask about why the shuffle was not announced at a press conference. "I was just appointed," Mr Furbert said. "I can't answer that question." Asked about what skills and qualifications he would bring to the position, Mr Furbert pointed to his publicly accessible biography on both the Progressive Labour Party and Parliament websites. He added: "My qualifications are very clear." Asked to comment on speculation that the change was made because he had been upset about being left out of the original cabinet, Mr Furbert said: "I'm not going to even answer that. That's dumb." Mr Furbert added: "I'm the Junior Minister of Finance and I'll govern myself accordingly working with the minister." David Burt, the Premier, said that Mr Furbert would earn $11,387 a year in the position. The appointment, the Premier said, would allow him to focus on two current undertakings "vital to Bermuda's economy" — Bermuda's FATF evaluation and the ongoing work of the EU's Code of Conduct Group. "The Constitution allows the Premier to appoint junior ministers to assist with duties in the Legislature and MP Wayne Furbert will handle most finance-related legislation in the House," Mr Burt said. "I am pleased he has agreed to assist me in my parliamentary duties related to finance. It is my determination that this will assist the Government in better executing its mandate." Mr Burt said Mr Campbell would continue to handle finance matters in the Upper House. Asked about the shuffle, Mr Campbell said that there would be no change in his responsibilities. "I will still handle matters relating to finance in the Senate and continue to serve as Junior Minister for Public Works and Government Reform," Mr Campbell said. Pressed on how his responsibilities would not change despite no longer being Junior Minister of Finance, Mr Campbell said: "As it relates to the Senate, there will be no change in my responsibilities." Michael Dunkley, the former premier, questioned both the cost associated with the switch, as well as the timing. He said in a social media post on Monday: "In Opposition, the current Premier questioned the size of the Cabinet, which was less of a burden on the taxpayer than the current one. Why the double-speak?" Mr Dunkley added: "A Junior Minister for Finance was appointed in the Senate less than three months ago. Why the change so quickly?" The Smith's North MP also questioned Mr Furbert's qualifications. "Although MP Furbert is an accountant, his experience and actual track record recently raises serious questions about the financial advice he can provide," Mr Dunkley said. Senator Nick Kempe, who had previously voiced concern over the salary bill of Cabinet, said he remained "hopeful that spending across the rest of Government does not follow the example being set at the top. Otherwise, the PLP will struggle to maintain their campaign promise of a balanced budget by 2019. Despite increased spending being a news item last week, the Premier has decided to add yet another junior minister to the payroll further widening the spending gap with the last OBA cabinet. I hope that the 24-seat majority does not require too many concessions to keep the backbenchers content."
October 11. Freddie Evans is said to be "confused, upset and angry" at having received no confirmation as to whether he can return to work as Commissioner of Education. This is according to his lawyer Mark Diel of Marshall Diel & Myers, who told The Royal Gazette the Ministry of Education had still not been in touch to clarify its position. Dr Evans was informed by the ministry last week that he had been removed from the job. However, after a backlash from Dr Evans over procedure, the Public Service Commission sent a letter to Mr Diel and Ministry of Education permanent secretary Valerie Robinson-James to say "an administrative error" in correspondence to Dr Evans meant he had not been fired. However, the letter added "nor has he been confirmed in his post". Mr Diel told The Royal Gazette: "Has Dr Evans been approached by the ministry as to him going back to work? We can say no." Asked how his client was feeling with regard to the whole situation, Mr Diel responded: "Confused, upset and angry." Dr Evans could now be eligible for a payout in damages from the Government. Mr Diel has been instructed to issue proceedings against the ministry and Governor John Rankin for declarations that Dr Evans had not been "relieved of his responsibilities". Dr Evans has not returned to work since the initial announcement was made last Monday. Mr Diel claims that Dr Evans's contract makes clear that the only person who can remove him is the Governor and that it must be done during his probationary period. Mr Diel said that period ended on September 30. Mr Diel has also been instructed to issue proceedings for libel against the ministry and the permanent secretary. Government House has so far also failed to respond to questions surrounding who had the power to fire Dr Evans, whether a letter of termination had been sent to him and when his probation period expired. The Ministry of Education said it would not comment on the matter at present. Richard Horseman has been retained by the PSC to provide legal assistance. Meanwhile, shadow education minister Cole Simons issued a lengthy statement yesterday evening describing the course of events as "very disheartening and unfortunate". Mr Simons criticized the lack of response from the ministry asking: "What have they done to remediate this matter and bring it to a conclusion? It appears they would rather sit back and watch the very unfortunate matter unfold to the detriment of our students and the delivery of education services." Mr Simons also questioned the performance report written up for Dr Evans adding: "Was the commissioner positioned to succeed? When the commissioner took on the role, why was he not provided with a proper professional development plan? In addition, why during the probationary period was he given positive interim performance reports, which were presented to the Public Service Commission, but when it came to the final assessment, he was deemed to be woefully lacking? What event or events took place that led to this unfavorable appraisal?"
October 11. Bermuda's civil liberties watchdog called on the Government to ditch "reckless" plans to undermine human rights laws yesterday. A spokeswoman for the Human Rights Commission warned that watering down the supremacy of human rights legislation over immigration law threatened the "shield" that protected international human rights standards and freedoms on the island. The government move is designed to block court challenges to immigration law by non-Bermudians claiming discrimination on the grounds of place of origin over rights of residence and Bermuda status. The spokeswoman said: "The strength of this shield is made stronger by the HRA's primacy over all other laws, except the Constitution; that is that all other laws must be read to be compliant with the Act. The stronger the shield, the stronger the protection for us all." The spokeswoman added: "It is therefore reckless to undermine the Human Rights Act or have it portrayed as either a tool to be manipulated, or for manipulation. Steps to reduce the effectiveness of the Act should invoke thorough examination before being enacted and should only be taken in rare cases. This is clearly the position in most democratic societies where exemptions from human rights legislation are carefully considered in support of balancing rights and associated implications for all stakeholders. For example, the entirety of the UK immigration legislation is not exempt from their Human Rights Act." The HRC spoke out after Walton Brown, the Minister of Home Affairs, tabled a Bill of amendments in the House of Assembly last Friday. Mr Brown told MPs the amendments would give the Bermuda Immigration and Protection Act primacy over the Human Rights Act. When asked by The Royal Gazette why further consultation was not done on the piece of legislation, the ministry responded: "It should be remembered that a major tenet of this government's platform promise was to put Bermudians first. However, we must also clarify that there was consultation with the HRC on the matter of exempting sections of the Bermuda Immigration & Protection Act 1956 from the Human Rights Act 1981. While the minister was apprised of their concerns, he took a different position." The HRC spokeswoman said: "The HRC has not yet seen the draft Bill, and therefore cannot effectively address specific questions on the potential implications of the Bill." But she added: "Tabling a Bill of this nature, one that will have human rights implications without consultation is entirely inconsistent with the spirit and purpose of the HRA, particularly as the topic of immigration has necessarily been highly emotive and divisive. The HRC has already communicated with the Government that it is imperative to undertake an inclusive process of consultation that reflects the gravity of the proposed amendments, and the significance of this national issue. The HRC advocated for comprehensive immigration reform under the previous administration, and has reinforced this need with the government; however, ensuring an inclusive consultation process is essential." The spokeswoman said the HRC was committed to engagement with the Government and had expressed its "urgent concern" over the proposals. She added: "There is too much at stake for media sparring and speculation at this stage. We are determined to steer the course towards less polarizing and divisive engagement to address these challenging issues. We urge Government to withdraw the tabled Bill to allow for proper consultation as advised. Our view is that the HRA should be strengthened and protected, not weakened or mineralized. The HRC will continue to communicate our concerns to the Government and advocate for the upholding, advancement and protection of human rights in Bermuda."
October 10. Diversifying Bermuda's economy through the space industry is one of the routes being explored by the Government of Bermuda. It is a sector that has been pursued for a number of years, and the impetus will continue, according to Walter Roban, Minister of Transport and Regulatory Affairs. "Bermuda is seeking to expand and diversify its economy, and next steps with respect to the satellite and space industry are of critical importance," he told MPs in Parliament on Friday. Now that Bermuda has secured its orbital slots and the Space Industry Bill is presently before the UK Parliament — the next step in regulating space flight activities — Bermuda must consider its options and what it has to offer." Mr Roban was speaking about his visit to London in September, where he attended London International Shipping Week conferences and took part in meetings relating to shipping, investment, and transport. Beyond the shipping conference, the space industry was a topic of conversation with consultants, and the Deputy Premier said he had "fruitful discussions" that continued in Bermuda after he returned from Britain. He added: "I will have more to report on this in due course." Bermuda has four orbital slots for satellites, one is occupied by the EchoStar VI satellite operated by the company Satellite Ventures (Bermuda) Ltd, which is a joint venture of SES Satellites (Bermuda) Ltd, and EchoStar Ltd. The satellite operates on the BermudaSat-1 network at 96.2°WL, and its potential markets include commercial, leisure and government consumers. However, a US-imposed moratorium that has been in place since 2005 has prevented access to the highly valued US market by all new licensed satellite networks, including Bermuda's. The EchoStar VI satellite was launched in 2000 and brought into service on the BermudaSat-1 network in 2013. In March of last year, in a report to Parliament, it was stated that no commercial agreements had yet been made for the satellite, although SES continued to be "optimistic about the commercial prospects of BermudaSat-1". In December, Grant Gibbons, who at the time was the Minister of Economic Development, spoke about meetings he had with Nasa officials in Washington DC. The discussions included the issue of the moratorium and suggestions on how Bermuda might proceed. Afterwards, Dr Gibbons said work was bring done with consultants "to consider various options and provide me with a recommendation as to the best course of action to put us into a position to finally maximize the commercial potential of our premier satellite orbital resource". Bermuda's involvement with the space industry stretches back to some the earliest days of Nasa's space programme, with the agency operating a tracking station at Cooper's Island from 1960 until 1997. This year, the island has hosted portable satellite tracking facilities operated by Nasa, the European Space Agency, and SpaceX. In London last month, Mr Roban was part of a Bermuda delegation that included representatives from the Bermuda Shipping and Maritime Authority, the Bermuda Business Development Agency, and a number of Bermudian-based companies. He said the group had promoted "Bermuda's 'blue-chip' advantages to the international shipping sector". Mr Roban also met with Transport for London to talk about technology and travel products. He said: "These included, for example, 'pay as you go' or pre-loaded cards such as the Oyster card, contactless payment — which requires a chip and PIN technology not yet widely available in Bermuda, ticket vending machines, biodegradable smart cards and travel apps."
October 10. Fewer than half of Bermuda residents see the island as "inclusive" and 31 per cent feel uncomfortable because of their skin color a new report has revealed. The news comes in the Bermuda Vital Signs study for 2017, carried out by the Bermuda Community Foundation. The survey showed housing ranks as the top concern, with only 38 per cent happy with their living conditions, even though 60 per cent of people own their own home. A total of 38 per cent believe healthcare is affordable and 60 per cent hold a favorable view of healthcare on the island. Myra Virgil, executive director of the Bermuda Community Foundation, said the study was designed to give a "snapshot" of Bermuda across a range of areas. Dr Virgil said some of the seven categories that were looked at provided surprises. She explained the island's score on diversity and inclusion, where feelings of exclusion are determined by skin color or race, "implies that we are not attending to this issue enough". The report is to be followed next year by a series of "community conversations" including charities and government agencies to help co-ordinate resources. Dr Virgil, who has headed BCF since its foundation in 2013, said: "This is our baseline report," The group started with a $6 million grant from Atlantic Philanthropies, boosted by large donations from Bermuda's international business sector. Lisa Kolody, executive director of Canada's Windsor Essex Community Foundation, said the study, released today, was carried out with Vital Signs, a global programme for community foundations co-ordinated by Community Foundations of Canada, where there are 191 similar groups. She added: "Vital Signs started in Toronto in 2001. We have standardized it, but also created a sense where people can keep it unique to their community." Ms Kolody is on the island with Tamara Gathright Fritz, the project's research co-ordinator, to launch the first report — the culmination of two years' work at BCF. Dr Gathright Fritz said the initiative's "first swipe" had been adding questions to the Bermuda Omnibus Survey, in which 400 people were surveyed by telephone. The quality of life indicators that emerged were health and personal well-being, economy and work, housing, education, safety and security, community well-being, and diversity and inclusion. Information was collated on each priority area, and a public perception survey was developed to explore the island's performance in each category. Dr Gathright Fitz said: "What you see is what people said." Each respondent's assessments came with a one to ten ranking of "poor" to "excellent". Most Bermuda residents rate their quality of life around seven out of ten. The summary is taken from a full White Paper report by BCF that will be used to help potential donors and policymakers. The surveys will continue to be refreshed, to improve the group's understanding of local quality of life. Dr Virgil said: "This is about people's experiences, and their expectations. All of this is really about generating and facilitating conversations." On housing, residents assess availability at 44 per cent, and the cost at 31 per cent. Dr Virgil said regional factors, such as the island's small size, would influence residents' views. She added: "That's where we need to dig deeper. It appears we are not doing very well — so what's underneath that?" The White Paper will be updated next year once 2016 census data is available. A comprehensive Vital Signs update will be carried out in 2020 or 2021. Dr Virgil said: "Over the next 18 months, starting in January, we will host Vital Signs conversations." The talks will bring together charities and government agencies in a bid to better distribute the island's limited pool of charitable donations.
October 10. A five-kilometer walk and run in memory of former premier David Saul will take place next month, with funds raised going to Family Centre. Dr Saul's family, including his widow, Christine, the couple's two children and two of their grandchildren, will take part in the event on November 5, beginning at Fidelity International in Hamilton. The keen athlete and businessman, who led the country between 1995 and 1997, died in May at the age of 77. His daughter, Robin, told The Royal Gazette the event was organized by Fidelity, the investment company where her father served as Bermuda president from 1984 to 1995 and remained as a director until his death. She said Fidelity employee Rose Powell, who knew Dr Saul well, had asked the Saul family whether the Fidelity Couples Race could be renamed the David Saul Memorial 5K. Ms Saul said: "It didn't take long for the family to decide this was a wonderful idea. We all agreed that it was fitting to remember the man who ran all his life, with a running race. David was inducted in to the Sports Hall of Fame in recognition of his running success so this really is a perfect fit. I think David would love the idea of a running race held in his memory. All his family plan to participate. David's two youngest grandchildren, Keane and Dash, will run the kids' race. My husband, Will, and I also plan to run. And it is pretty unbelievable that my mother, Christine, 74, who just had a total hip replacement in July, plans to run. My brother Jonathan is going to fly home from Canada to also participate. We will all be there, and I am sure David will also, in our hearts, memories and stories. The family is grateful to Fidelity for organizing this event and remembering David in such a fitting way." Martha Dismont, executive director of Family Centre, said: "We are incredibly grateful for being chosen as the recipient of the funds raised for this memorial 5K walk. It is particularly gratifying for the Family Centre because of our immense respect for David Saul and his support of Family Centre during his previous role with government. He was one of Bermuda's finest and most thoughtful citizens. We are very grateful to Fidelity International for choosing Family Centre. Funding will go to our counselling services, which is experiencing a significant shortfall this year." Allan Pelvang, head of Fidelity's Bermuda office, described Dr Saul as a personal friend to many at the company. He said: "He is greatly missed and it was obvious to rename the race in his honor. We are hopeful that a lot of people will participate and help make it a great occasion in memory of a great Bermudian — and of course in support of the Family Centre." The children's 1K race starts at 8.30am and the 5K run and walk starts at 9am. Registration for the event is at www.racedayworld.com.
October 10. Global warming is not to blame for recent flooding and high tides in Bermuda, an oceanographer said yesterday. Ruth Curry, physical oceanographer at the Bermuda Institute of Ocean Sciences, said that two factors were responsible for the high water that submerged low-lying portions of the island over the weekend, including King's Square in St George. Ms Curry said the recent full moon, coupled with a warm ocean eddy passing Bermuda, was to blame. She added: "This is no a consequence of global warming, but is a very unusual phenomenon." James Dodgson, director of the Bermuda Weather Service, agreed. He said: "There is no current evidence that this is driven by global warming or climate change." Because of the full moon, the tide over the past couple of days was predicted to be slightly higher. Ms Curry explained the phenomenon is called a king tide. She said that Bermuda was also experiencing the effects of higher sea levels associated with a warm eddy. Mr Dodgson said: "Predicted high tides have been nearly 1ft higher than they naturally can be at other times of the year, and the sea height anomaly is hovering around 1ft."This equates to a water level perhaps 2ft higher at high tide than at other times of the year." Ms Curry said eddies are "ubiquitous ocean features that have circular structure and trap and transport waters coherently around the ocean over long distances". Depending on where an eddy forms, the water in it can be either warmer or colder than the water outside it and regularly pass Bermuda. She added: "The volume of water expands when it is warmed and shrinks when it is cooled. The sea surface will exhibit a slight bulge where the underlying waters are warm, or a depression if the waters are cold." The Gulf Stream is a major source of cold eddies, while the warm eddies that flow past Bermuda often originate to the south and east of the island. Ms Curry said Bermuda is on the western edge of a warm eddy. She added that "several very strong cyclonic eddies" are sitting east of the island and poised to head towards the island. "Bermudians can expect the effects of this warm eddy to persist for another few weeks, followed by very strong currents and a lowering of the water level as the cold eddy approaches. Water levels will be higher than average, but the tidal effects will subside shortly. Hopefully, the flooding will cease as well." Mr Dodgson added: "General water recession at high tide can be expected in the coming days as the predicted high-tide levels gradually fall."
October 10. Architects in Bermuda are looking for ways to make more businesses accessible to the physically challenged and visually impaired. The Institute of Bermuda Architects (IBA) hosted an architectural tour last week in Hamilton for members and invited industry associates to experience what the visually impaired go through on a daily basis in navigating the streets. The Government of Bermuda has been doing its part in making sure the public is educated on the physically and visually challenged community. They have teamed up with IBA's inaugural Architecture Week. This is the first year that the IBA had a week dedicated to the visually impaired. Keith Simmons, accessibility officer at the Ministry of Health, Ageing and Disability Services, said: "This year they are celebrating architectural week. We have had walks for the physically challenged before but now we wanted to enlighten people on what the visually impaired experience everyday walking the streets; things most people take for granted like cutting corners, sidewalks, navigating around signage and more." Visual impairments come in many forms and can make navigating the urban environment daunting. That is why Mr Simmons and the IBA want people to have a clearer understanding. "The walk was an hour long in the city. There was someone who was visually impaired showing how to navigate around," Mr Simmons said. This tour will gave participants an interactive experience, with materials, surfaces, time-of-day perspectives, and aspects of limited visibility. Mr Simmons mentioned that last year's walk for the physically challenged made businesses more aware, and many have since built wheelchair-accessible ramps and elevators. The Bermuda Society for the Blind has also been raising awareness. It is dedicated to empowering people who are blind or impaired to learn how to live well with vision loss. The Society has programmes such as The Vision Rehabilitation Therapy Programme, which enables those who are blind or vision-impaired to complete everyday tasks that formerly depended on vision, by using special techniques, strategies, and adapted equipment and technology. This leads to increased confidence and independence, and enhances the quality of life of those affected. For individuals with low vision, the programme focuses on using any remaining vision as effectively as possible. The programme covers topics such as, independent living, orientation and mobility and assistive technology.
October 10. Hotelier and retailer Robin Gilbert, who in 1967 became one of the first graduates of the Bermuda Hotel School, has died at the age of 68. Along with his wife, Susan, Mr Gilbert became a familiar face to many through the family business for more than 40 years, the clothes store Pirates Port. But he was famed for his 50-year hospitality career, starting out in the Bermudiana Hotel in the 1960s. Mr Gilbert was just 26 when he became general manager of the Jadini Beach Hotel on the south coast of Kenya after two years on a management development programme in three major London hotels. He later returned home to work at Cambridge Beaches and subsequently bought the Palmetto Bay Hotel on Harrington Sound. After the birth of their children Jessica and Alexander, the couple focused on their retail business. Mr Gilbert returned to the hospitality industry in 2004, becoming the general manager at Coco Reef the following year. He also worked at 9 Beaches and The Reefs. Jessica Cassidy recalled her father as a dedicated "people person" who dived into hotel work at the age of 16. "That was his life — he just made everyone feel good, and he loved being around people, especially tourists. He was a huge family guy who did absolutely everything for me, my brother and our mother." Even as tourism declined from its heyday as the mainstay of the Bermudian economy, Mr Gilbert remained confident in the island as a destination. "There is no question that Bermuda is a beautiful product," he told this newspaper in 2005 — but added that local hotels needed to focus on "fantastic service that exceeds the expectations of our guests". Mr Gilbert later took the helm as general manager at 9 Beaches before returning to his retail roots. Ms Cassidy described him as "hardly ever in a bad mood and he treated people with respect. We have lived a very loved life because of him."
October 9. Premier David Burt says he held a positive meeting with OECD Secretary General Ángel Gurría today. The Premier is in Europe this week to discuss financial issues with key policymakers in London, Paris and Brussels. He tweeted this afternoon: "Productive meeting today with #OECD Secretary General @A_Gurria and @BermudaPremier in #Paris. Recognizing #Bermuda 's high standard." Mr Burt has said he will use the trip to reinforce Bermuda's "recognised leadership position in transparency and compliance" with leading representatives from the OECD, the European Union, and the British Government. He said in a press release yesterday: "Our objective is simple, to prevent any negative impact to Bermuda from the ongoing work of the EU Code of Conduct Group." The Premier is joined on the trip by assistant financial secretary of the Treaty Unit Wayne Brown and British representative for the Government of Bermuda, Kimberley Durrant.
October 9. Government officials hosted the Canadian Consul General to New York, Phyllis Yaffe, who completed a round of courtesy talks and acquainted herself with Bermuda. The Consul General's area of responsibility includes the states of New York, New Jersey, Connecticut, Pennsylvania and Delaware as well as Bermuda. David Burt, the Premier, met Ms Yaffe at the Cabinet Office and transport minister Walter Roban met her separately at the Ministry of Transport headquarters. She was joined in the meetings last week by senior officials from the Consulate General of Canada in New York, including Canadian Consul and head of investment Nathalie Niedoba, and head of advocacy and communications Juan-Pablo Valdes.
October 9. Wayne Furbert has replaced Senator Vance Campbell as the Junior Minister of Finance. Mr Furbert, MP for Hamilton West, was sworn in by Governor John Rankin during a ceremony at Government House on Friday. Mr Campbell was unveiled as the Junior Minister of Finance at a ceremony in early August, but will now serve as the Junior Minister of Public Works and Government Reform. Mr Campbell will continue to speak on financial matters in the Upper House. David Burt, the Premier, said: "I am pleased to welcome the knowledge and insight that Wayne Furbert will bring to the Ministry of Finance. Additionally, he will be assisting me with Parliamentary duties in the House of Assembly related to finance." Mr Burt said: "Senator Vance Campbell will continue to speak on financial matters in the Senate and will serve as Junior Minister of Public Works and Government Reform."
October 9. The loudest phase of the construction for the airport redevelopment project has been completed ahead of schedule. All 719 piles have been driven beneath the surface to create the foundation for the new terminal at the L.F. Wade International Airport, according to a press release from Skyport. Pile driving ­— the process of hammering steel piles into the ground — began on May 28 and work took place seven days a week. Frank Ross, executive director of infrastructure at Aecon Construction, stated: "The pile driving was the noisiest phase of the project and we would like to thank our stakeholders and neighbors for being patience for the past couple of months. We are pleased to have completed it months ahead of schedule. Also, so far, 34 per cent of the pile caps have been completed and we are well on our way to finishing the project on time." The work was scheduled between 7am and 10pm every Monday through Saturday, and between 7am and 6pm on Sundays. It finished on September 22, four months ahead of the schedule. Work was carried out by Aecon Foundations and Correia Construction and involved 28 Bermudians. The construction of the new airport terminal is expected to take 40 months and will be finished in 2020.
October 9. A number of Bermuda-based insurers and reinsurers have released estimates of losses they expect to book from three hurricanes and earthquakes in the third quarter. Lancashire Holdings Ltd has estimated losses of between $106 million and $212 million. The losses apply to hurricanes Harvey, Irma and Maria, which between them wreaked havoc in the Caribbean and the US, as well as two earthquakes in Mexico. The loss exposures are through its Bermuda and Lloyd's operations, as well as its involvement with the Kinesis third party capital facility, in which Lancashire has a 10 per cent stake. The estimate falls well within Lancashire's modeled loss ranges for these types of catastrophe events, the firm stressed. Meanwhile, American International Group expects to report pre-tax catastrophe losses net of reinsurance of $2.9 billion to $3.1 billion. In a statement, AIG said pre-tax losses from Harvey are estimated at between $1.1 billion and $1.2 billion, with those from Irma in the region of $1 billion to $1.1 billion, and losses from Maria likely to be between $600 million and $700 million. AIG also estimated that pre-tax losses from the Mexico earthquakes and other catastrophes will be approximately $150 million. Validus Holdings estimates that its net losses in the third quarter due to the hurricanes and earthquakes, net of reinsurance and a number of other factors, will be $378.9 million. The companies cautioned that actual losses may vary materially from the preliminary estimates.
October 9. (Bloomberg) — The US solar industry is about to airlift rooftop panels and batteries to Puerto Rico, where more than 90 per cent of homes and businesses remain without electricity after Hurricane Maria destroyed the grid. The first plane of supplies is set to leave this week. It is primarily a humanitarian effort, according to the Solar Energy Industries Association. But it is also a chance for the industry to showcase what it can offer that conventional power plants and grids cannot: an energy source capable of weathering natural disasters. And Puerto Rico Governor Ricardo Rossello, leader of an island wrecked by back-to-back storms, is all ears. After Elon Musk suggested on Twitter on Thursday that Tesla Inc could rebuild Puerto Rico's electricity system with solar panels and batteries, Rossello responded: "Let's talk." Renewable-energy advocates have wasted no time in promoting solar and batteries as a solution for regions wrecked by Hurricanes Irma and Maria. Tesla Inc said it would send hundreds of battery systems to Puerto Rico that could be paired with rooftop panels. Edward Fenster, chairman of solar-panel provider Sunrun Inc, said it is also looking to help in restoration efforts. The storms knocked out power to millions of utility customers who depend largely on fossil-fuel plants and long-distance transmission lines for service. Some in Puerto Rico may be in the dark for as long as a year as the grid's repaired. "We build solar panels to withstand 150-mile-an-hour winds — if the roof stays on your house, the solar panels stay on your roof," Sunrun's Fenster said in an interview at Bloomberg's San Francisco office last week. "And batteries are real-life safety equipment. From a broad perspective, solar and storage can strengthen grids everywhere." Solar's proposition is proving an attractive choice for an island facing the daunting task of rebuilding a system from the ground up. It could take six months to a year before power is restored across the entire island, the US Army Corps of Engineers in Puerto Rico said, citing initial forecasts. "What's the smartest way to rebuild?" asked Abigail Ross Hopper, president of the Solar Energy Industries Association. "Do you recreate the infrastructure that existed and could be devastated in a storm, or do you balance a resilient system like solar plus storage that can better weather storms?" The supplies US solar companies are sending to help with the hurricane response is a testament to how crucial energy storage has become to their business. Solar customers are looking for affordable ways to keep the lights on even when the sun is not shining — and lithium-ion battery pack prices fell 73 per cent from 2010 to 2016, based on Bloomberg New Energy Finance estimates. While such a combination may look increasingly appealing for regions like the Caribbean islands hit hard by the hurricanes, "the question is whether you can do it affordably," said Ethan Zindler, an analyst with Bloomberg New Energy Finance in Washington. According to the Rocky Mountain Institute, a non-profit group that promotes clean energy, it would cost roughly $250 million to build about 90 megawatts of solar and storage across a chain of Caribbean islands. That is enough to power an estimated 15,000 US homes. While it may be sufficient for islands like the Turks and Caicos, more than a million households live in storm-battered and debt-ridden Puerto Rico alone. "Certainly there's an opportunity here, with the potential for positive in Puerto Rico probably much larger than the potential total revenue," Zindler said. "There are sales potentially to be had," he said, but that assumes Puerto Rico gets the aid it needs to rebuild. Meanwhile, the solar association has packed more than $1 million of donated gear onto aeroplanes. It is working with disaster-relief groups and other trade organisations to get the equipment where it is needed and to help raise money for the recovery efforts. "We're trying to connect people with each other," said Hopper, the trade group's president. "Our customers have products that can make a huge difference in people's lives."
October 9. Further rounds of "community conversations" exploring race have been launched by the group Citizens Uprooting Racism in Bermuda. The first series of truth and reconciliation talks proved "extremely successful" this spring, according to Curb president Lynne Winfield — met with "enthusiasm, thankfulness and appreciation". Returning later this month, the talks will bring participants together each week with the same trained facilitators and group members. Aimed at fostering relationships and the sharing of stories, the talks are ultimately intended to bring about "societal change", Ms Winfield said. After four groups met and talked island-wide for the spring sessions, Curb coached extra volunteer facilitators through the International Institute of Restorative Practices. The group thanked the Association of Bermuda International Companies and the Association for Bermuda Insurers and Reinsurers for their financial support, as well as the Bermuda Community Foundation. Curb is collaborating with the Human Rights Commission as the location of one round of talks, and is now linked with the Bermuda National Library where a second group will gather. A third location will be arranged should the need arise. Starting on October 18 and 19, the sessions will be held from 6pm to 8.30pm on Wednesdays and Thursdays, for seven consecutive weeks. Ms Winfield said Curb was "committed to continuing the community conversations for the next few years, allowing the people of Bermuda a space to listen and be heard, whilst working together to find concrete ways to heal and repair the damage of the past and ensure a healthy future". To get involved, e-mail admin@uprootingracism.org or call 337-2688.
October 9. People wasted time arguing about Pastor Leroy Bean when they should have been tackling the real issue behind the gun violence epidemic, according to shadow national security minister Jeff Baron. Mr Baron highlighted the plight of young black men as he reflected on the latest shooting, outside Southampton Rangers Sports Club on Friday night, in which a man and woman were injured. Reacting to Mr Bean's appointment as gang violence reduction co-ordinator last Wednesday, Mr Baron had claimed there was "eye-rolling" among the anti-violence community, and questioned what had happened to the One Bermuda Alliance's selection for the role, Chae Powell. But on Saturday, Mr Baron said in a statement: "We made this issue about a name — a person. We lost the chance to talk about the real issues. I regret that. What we should be talking about are these raw, undeniable facts." Police said a man on a motorcycle fired into the parking area of the club shortly after 8.30pm. Both victims were taken to the hospital where they were treated for injuries. Mr Baron stated: "The indiscriminate shooting into a crowd at Rangers club is horrifying. The toll each incident like this takes on our community is significant and long-lasting." The former national security minister pointed to the following statistics:
black Bermudian males make up 27 per cent of Bermuda's population, but make up 98 per cent of all homicides over the past decade, and 100 per cent of firearms homicides;
this June, there were a total of 191 inmates in all corrections facilities, including just three white Bermudians;
51 young black males have been convicted in the past few years and will serve significant time behind bars; 25 young black males are now serving life sentences, compared with six in 1986;
about 220 Bermudians have relocated to Britain, including many young black males to avoid violence and gang tensions over the last ten years;
130 people have been injured by hot bullets entering their bodies.
He continued: "Our reality? We are losing a demographic of our society. We've lost too many already. Instead of being a source for leadership and transformation politics has been roadblock. It's wrong to make gang violence about one person or one agency. It's right to talk about the reality of the raw data together. Ignoring it or not knowing it is not good enough. It's wrong to engage in sustained political feuds over government's appointment when blood splashes our pavement. It's right to question, hold to account, and quickly move forward by supporting whoever serves this critical role. Gang violence reduction is not about a name or person — it's not about Leroy, Chae, Wayne or Jeff. If we want to make violence about names consider these: Haile, Lorenzo, Prince, Rickai, Jahni, Fiqre, Joshua, Stefan, Kumi, Randy — and this heartbreaking list goes on. Whose names will be on the list next week, month or year? That, not anything else, deserves our collective, total focus from the body politic and from the community." Witnesses should call police on 295-0011 or the confidential Crimestoppers hotline on 800-8477.
October 9. The mother of one of the victims of the Belvin's double murder has reached out a hand of forgiveness and support to the men convicted of her son's killing. Nicole Fox told The Royal Gazette that she wants to help the four men serving time for the fatal shooting of her son, Ricco Furbert, and his friend, Haile Outerbridge. "I have love in my heart for these young men and a lot of sadness," she said. "I would love to be a part of their rehabilitation if they would let me help them." Her comments came after Gariko Benjamin was jailed for life at Supreme Court for the murders of Mr Furbert and Mr Outerbridge. Last Wednesday, Benjamin was told he would have to serve a minimum of 25 years behind bars before he could even be considered for release for his role in the double shooting. The 25-year-old, who was at the murder scene and helped in the escape of the shooter, LeVeck Roberts, had previously admitted his involvement in the crime and pleaded guilty to murder. Roberts, 21, and Romano Mills, 30, were also jailed for life for their roles in the shooting that took place at the Belvin's Variety store on Happy Valley Road on January 23, 2013. Both were found guilty of premeditated murder after separate trials. A fourth man, Christoph Duerr, is serving a ten-year prison sentence for looking after the gun that was used in the Belvin's double murder. Ms Fox, who has attended all the trials and sentencing hearings connected with the murder of her son, said that she will get total closure only by helping "these young men turn their life around". She added: "I don't know what form that will take, or exactly how it would work, but they will have to accept my offer and take me as I am. I know from my experience in life that hurt people, hurt people. If God's good grace has helped me to get through addiction and come out of the darkness, then I have to be part of that process for someone else. I want to be able to help these boys become productive members of society again so they can mentor and help the next generation, to prevent them doing the same thing. If these young men can change then there can be a ripple effect and that can have a positive impact on Bermuda as a whole. If I can help in any way with that process and show these young men that there is light in the darkness then I would love it."
October 9. Children used King's Square as a makeshift pool and some people questioned whether the Olde Towne was sinking — "ridiculously high tides" certainly created a splash over the weekend. Six inches of seawater accumulated in the square on Saturday morning, partly as a result of the full moon but, according to St George's mayor Quinell Francis, locals took the unusual phenomenon in their stride. Ms Francis told The Royal Gazette last night: "I got it more from the rest of the island, in reference to seeing the pictures and thinking St George's was sinking. "It wasn't as big a concern to the St Georgians as it was probably to everyone else. I think everyone was just sort of enjoying the seawater in the square. We did have some children actually wading in it. It was not a normal occurrence, but it has occurred before." As of last night, however, the excess water had drained away and no damage had been reported. The mayor added: "As far as I'm aware, it didn't make it inside the town hall." Multiple photographs and videos submitted to this newspaper and posted on social media showed flooding and high water in low-lying areas across the island. Samantha Swainson, of St David's, submitted a number of photographs of flooding in her neighborhood. Ms Swainson, who has lived in the area for 15 years, said: "I have never seen flooding like that." Her photographs showed water encroaching towards Kindley Field Road. "I was shocked because the ocean was right there. On Stone Crusher Corner, where the memorial is, the water was up to the bench." Smith's resident Trish Alexander submitted a photograph of high water in Flatts. The photo was shot from the Aquarium parking lot on Saturday morning and showed water nearly at the top of a dock in the inlet. Ms Alexander said: "I noticed as soon as I drove into the parking lot that I'd never seen the water so high." Parking at the airport was also affected. A spokeswoman with Bermuda Skyport said yesterday: "The long-term parking lot at the LF Wade International Airport is closed until further notice due to flooding." Those with vehicles parked in the lot were advised to remove them as soon as possible to avoid water damage. By Sunday afternoon, however, only a few puddles were left in the lot. Mark Guishard, meteorologist and programme manager for Bermuda's Risk Prevention Initiative, said that the "ridiculously high tides" were the result of a full moon and a "warm core eddy" around the island. He added in an online post on Saturday: "Usually at high tide the water is about 12in to 18in below the dock. Today there are waves lapping over the top! Imagine if there was a hurricane around, too (don't worry, there isn't) — storm surge would be even worse."
October 9. Retirees and those preparing for retirement are increasingly looking to the sky for a way to bring a degree of certainty about some of their future household expenses. Many are installing solar panels at their properties to generate electricity that they can use in their home, and sell any excess to the Bermuda Electric Light Company. It is a trend that has been noticed by Nick Duffy, divisional manager at Bermuda Alternative Energy, which is part of the BAC group. He explained how households can reduce their monthly energy bill by generating some their electricity needs through solar panels. He said the attraction is even greater for those who are retired or soon to retire. Being at home during the daytime means a retiree can make full use of the energy being produced by a solar energy system in the peak daytime hours. Appliances such as air conditioning units, washing machines and cookers can be used, making the most use of the solar-produced electricity. Because storage battery technology has not reached a price point where electricity produced by solar panels can be easily and economically saved for use during the hours of darkness, most residents put any excess electricity from their panels into the Bermuda energy grid at a set price that is below what they pay to use Belco's electricity. However, retirees and those who are home during daytime hours can make better use of solar energy their panels are capturing. Mr Duffy said: "Having solar makes sense for those who are entering retirement or setting things up for retirement." He said most people in that position are looking for ways to stabilize and fix their future household costs and expenses. "In Bermuda one of the big unknowns is the Belco bill. It's not something that's easy to manage as it fluctuates." Energy rates can change and the fuel adjustment regularly fluctuates due to the impact of factors beyond Bermuda's shores. Mr Duffy said: "The key to solar energy is that peak solar production comes during the main daylight hours. The panels are producing the most during the hours when many people are not at home as they are out working. But for a retiree, they are going to be in their domicile during the day and when the solar system is going to be producing the most electricity." He said the issue was not so much how much energy they are using, but when they use it. Being at home when solar panels are working at their peak means a retiree can gently cool or warm their home so that it is already near or at their requirements when the evening arrives and they have to switch to using electricity from the grid. As storage battery technology evolves it will increasingly possible for excess electricity from solar panels to be cleanly and efficiently stored for later use when the sun goes down. "Storage is imminent. Once the price is at the right level that will be a game changer," said Mr Duffy. "In terms of the retiree, the really great thing is if you buy solar it is not like you are buying a product. You are investing. It's a long-term investment. The nice thing about solar for a retiree is the relatively good payback. After it has been set up it will pay for itself within seven or eight years. You could start at 58 and then when you reach 65 it [the solar energy system] has paid for itself. Then you have an asset that can last for 25 years or longer." Mr Duffy said some customers were adding solar panels incrementally as they see the benefits and want to make more use of renewable energy. He added: "It's attractive to someone who is retiring. It is something that you can manage in the run-up to retirement "We have people saying they are doing it as they prepare for retirement. It stabilizes one of the big unknown costs. And it adds to the value of your home. You can show your Belco bills that are all zeros to a potential buyer — that's attractive." BAE has a website at www.bae.bm.
October 9. Flora Duffy will be the favorite at the Commonwealth Games on the Gold Coast, Australia, next year, according to the only woman to beat her this season. Ashleigh Gentle has cranked up the pressure on Duffy, insisting the Bermudian is the one to beat on the Gold Coast "whether she likes it or not". Duffy came about as close to perfection as possible in retaining her ITU World Triathlon Series title, winning six of seven races and finishing second in the other in Montreal, where she was beaten by Gentle. "[Duffy] pretty much had a perfect season ... the pressure is on her and that's definitely fine with me," Gentle told the Gold Coast Bulletin. "She has been racing really well and deserves that, too. Whether she likes that or not, she is the favorite and I just hope that there will be ten times more people cheering for me rather than her." With her home crowd cheering her on, it will be hard to discount Gentle, a Gold Coast native, who will be looking to upset Duffy after enjoying a breakthrough year. "Racing at home is definitely underestimated and makes a big difference," said the 26-year-old, who finished runner-up in the WTS. "When you're hurting in triathlon and you have people screaming your name, you find another gear." Gentle, who finished ninth at the 2014 Commonwealth Games in Glasgow, one place behind Duffy, believes she has become a more dynamic competitor since teaming up with Jamie Tucker, who trained Olympic champion Gwen Jorgensen. "There have been so many things I have learnt this year," Gentle said. "I'm a bit more of a dynamic racer and ready for whatever course there is." The men's and women's individual triathlons will be on April 4, with the course similar to the one used in the Gold Coast leg of the WTS. The northern end of Southport's Broadwater Parklands will host the start, finish and transitions, with the bike and run legs to head north along a flat, technical route. Gentle said it will give spectators the chance to watch triathletes produce some fast racing in what will be the first sprint-distance run at a major games. "You always want to keep progressing," she added. "If I keep focusing on the things that I worked on this year and if I can improve on them in training then, yeah, I hope to keep producing the results on the course." Duffy has two races left this season — the Xterra World Championship in Kapalua, Maui, on October 29 and the Island House Triathlon in Bahamas on November 17 and 18.
October 7. MPs clashed in a race row in the House of Assembly yesterday. The controversy broke out after One Bermuda Alliance MP Trevor Moniz, the Shadow Attorney-General, clashed with Diallo Rabain, education minister for the ruling Progressive Labour Party. Mr Moniz said: "He's on the front bench over there, so he thinks he's a wonderful boy." The remark sparked groans from MPs. Mr Rabain hit back: "If that man calls me boy again, I won't be sitting here — I'll be right over there." Mr Moniz withdrew the remarks after he was pulled up by Dennis Lister, Speaker of the House. Mr Lister said: "Mr Moniz, I was slow reacting on that. I'm going to ask you to withdraw the comment." He added: "Let's not go to that level again." Patricia Gordon-Pamplin, Leader of the Opposition, said she did not make any excuses for anybody. "When barbs are thrown at me, I have to take it. Let us not be so thin-skinned that every word that everybody says somehow creates this great big offence." Jamahl Simmons, the tourism minister, told the House: "My grandparents had to put up with racists — I do not. Let us rid ourselves of the mindset where it is acceptable to call a black man a boy." Shadow tourism minister Leah Scott said: "I do not commend the language that was used in this House. Anybody who knows me knows there are some things that go on that I do not agree with. This debate was extended far longer than it needed to be, and I apologize for the time that was wasted." The row flared up again during the motion to adjourn. Mr Rabain described Mr Moniz's comments as "sad language", and said that the incident "speaks volumes to any person of color in Bermuda. If a white member has the audacity to speak to a black member in this House in that tone, we can only imagine how he speaks about us and of black people in Bermuda in the comforts of his personal spaces." Mr Rabain said the comment was then defended by Ms Gordon-Pamplin. The statement drew a point of order from Ms Gordon-Pamplin, who said that she did not defend the comment. Mr Rabain added: "If that's what she feels is necessary to gain acceptance by the white members of that side, then so be it. But this side will not bow our heads, avert our eyes, or shuck and jive to get acceptance by any white member of this society." Ms Gordon-Pamplin said: "Let me say, without fear of contradiction, I don't need to be accepted by anybody on my party."
October 7. Civil Service bureaucrats have made an about-turn over the "firing" of the island's Commissioner of Education. Now Freddie Evans, who was told on Monday he was dumped from the job, could be in for a payout in damages from the Government. A letter from the Public Service Commission to Dr Evans's lawyer, Mark Diel, and Ministry of Education permanent secretary Valerie Robinson-James said "an administrative error" in correspondence to Dr Evans meant he had not been fired after all. But the letter, signed by PSC secretary Carlita O'Brien, added "nor has he been confirmed in his post". It said: "The parties should govern themselves accordingly." Dr Evans said last night: "As surprising as it is and as disappointing as it is, I can't comment. I don't know what's going on. Because it's so extremely weird, I will leave comments to my lawyer." The shock move from the PSC came after a letter to media this week appeared to confirm that Dr Evans had been removed as commissioner. That followed an e-mail with the same message from Ms Robinson-James to school principals and teachers. The announcement came less than seven months after Dr Evans was appointed to the top job. The PSC letter backtracking on the sacking also invited Dr Evans and his legal team, as well as ministry officials, to a meeting next Monday to "discuss the recommendation of the commission". Mr Diel fired back at the education ministry and Ms Robinson-James in a letter yesterday and pointed out that it was clear that Dr Evans could be fired only during his probation period, which ended last Saturday — before he was told he was out of a job. He repeated that only the Governor, John Rankin, could fire Dr Evans — not bureaucrats — and the Governor could do so only after "a properly and fairly arrived at" recommendation from the PSC inside the probation period. Mr Diel added: "We call upon the ministry to confirm by return that it will cause a retraction of its statements made on Monday, October 2, to be sent to the same individuals that it so rashly contacted earlier in the week." He warned: "You will, of course, note that it cannot now be in issue that your statements were wrong and defamatory — the only issue will be the amount of damages our client is to recover." In a separate letter to the PSC yesterday, Mr Diel said: "We note your comment that 'the parties should govern themselves accordingly. Again, we can only assume this 'directive' has come from the Governor as our client's employer, but again respectfully, we have no idea what this means." He also asked if Dr Evans should show up for work today — despite the education ministry's statement to teaching professionals and the media that he had been removed. Mr Diel said last night: "I query what the 'administrative error' is because they don't tell us what it is. There is so much wrong with the letter — they say he hadn't been terminated — that's not their job, that's the Governor's job. Their job is to make recommendations to the Governor whether the probationary period should be extended, whether he should be confirmed in his position or terminated. The Governor acts on their recommendations." Mr Diel added that it was still not clear if the PSC had been in touch with the Governor before the body said Dr Evans had been fired. He said: "It's quite remarkable that the ministry thinks it's OK at the last minute to send out a notice to everybody to say he has been terminated and it's taken five days to confirm he hasn't been. I can only assume there has been some horrendous communications breakdown somewhere along the line in all of this." The Ministry of Education was yesterday asked what the "administrative error" was — and if any bureaucrats would be disciplined or fired for the major confusion surrounding Dr Evans's job. The ministry did not respond.
October 7. A former top executive of the US Central Intelligence Agency has joined the board of Butterfield Bank. Meroe Park has been appointed as a non-executive director. She was most recently the executive director of the CIA, serving as the agency's chief operating officer in its most senior career post. Prior to her retirement from the CIA in June, Ms Park was a 27-year career intelligence officer and one of the US Government's leading professionals. She held increasingly senior positions at the CIA, including chief of human resources and a senior mission support officer for locations in Eurasia and Western Europe. Ms Park successfully led key strategic initiatives, including the modernization of the CIA's technology systems and organizational structure, and the implementation of talent initiatives focused on workforce development and inclusion. Ms Park earned a number of awards during her career, and has twice been the recipient of the Presidential Rank Award, the Executive Branch's highest honor for Government career professionals. She holds a Bachelor of Science degree from Georgetown University. Michael Collins, Butterfield's chief executive officer, said: "On behalf of my fellow directors, I am excited to welcome Meroe to the Butterfield board. Meroe's leadership skills and unique geopolitical perspective, developed over nearly three decades of domestic and international experience with the CIA, will help support our growth in high quality international financial centers. I look forward to working closely with Meroe and our other directors as we continue to build shareholder value."
October 7. A woman jailed for importing cannabis has had sentence reduced by eight months — but the court refused a request to increase the sentence of a second woman for drugs offences. Valisa Holder appealed against a 2½-year sentence imposed in Magistrates' Court, while the Crown asked to have the 2½-year sentence given to Amanda Henry-Huggins increased. Chief Justice Ian Kawaley found that Holder's sentence was harsh and excessive and reduced it to 22 months in a judgment issued earlier this month. But he quashed the Crown's appeal against the sentence of Henry-Huggins and said it was in the range proposed by defence counsel and "tacitly conceded" by prosecutors at the time. Henry-Huggins and Holder were arrested in separate incidents at LF Wade International Airport. Holder was found with 1,101g of cannabis in September 2014. Henry-Huggins was caught with 10,896g of the same drug last December. Both pleaded not guilty but were convicted after trials and received the same sentence. During an appearance before the Supreme Court last month, lawyer Auralee Cassidy argued that Holder's sentence should have been between a year and 18 months. He added that in his notes on sentencing, the magistrate singled out the extended trial as an aggravating factor. Ms Cassidy said: "In this case, there were no aggravating factors. It gives an impression that she was punished for going to trial, but that's wrong." She added that the Crown's comments on sentencing mentioned an "uncertainty" about the value of the seized drugs and argued that the lowest value should be taken into account. But Crown counsel Alan Richards said that the only "uncertainty" he could see in the court records was the usual difference between the estimated street value of the drugs and the wholesale value. Mr Richards accepted that the magistrate would have been wrong if he had used Holder's trial as an aggravating factor, but he said that the sentence was in the appropriate range. In the case of Henry-Huggins, Mr Richards called for a higher sentence, arguing that the 2½-year sentence imposed was inadequate. Supreme Court heard that during sentencing, defence lawyer Vaughn Caines had called for a sentence of three years, while the prosecution did not suggest a sentence length or oppose the one proposed by Mr Caines. Mr Richards accepted that the submissions by the Crown were "not particularly detailed", but said that Mr Caines's suggestion would have been at the lower end of the sentencing scale. Mr Caines said that the legal system in Bermuda was adversarial and questioned if it was right for the Crown to complain about a sentence after it failed to make a submission on the subject at the sentence stage. Mr Justice Kawaley wrote in his rulings that the sentence of Holder was excessive when compared to that of Huggins and that the magistrate had failed to provide sufficient reasons to give her a sentence at the higher end of the proposed sentencing range. He allowed the appeal and reduced her sentence by eight months. However, the judge dismissed the Crown appeal in the case of Henry-Huggins. He said: "The Crown has demonstrated that the sentence imposed was manifestly inadequate in the sense that it was both unduly lenient and wrong in principle. However, because the sentence imposed was within a range which was proposed by defence counsel and tacitly conceded as appropriate by prosecution counsel at the sentencing hearing, a case for allowing the appeal and quashing the sentence imposed has not been made out."
October 7. It's a wet weekend at the East End as exceptionally high tides lap against the Old Towne. But the phenomenon was noticed all over the island on Saturday, with the seas noticeably high at Crow Lane, and water rising on low-lying ground inland. The high water is driven in part by the full moon, which exerts an extra gravitational pull on the ocean. However, according to the Bermuda Institute of Ocean Sciences, a warm core eddy around the island is contributing to the high seas. Ordinarily at high tide, water stands 12in to 18in below the BIOS dock, but as of Saturday there were "waves lapping over the top", according to the BIOS site. Mark Guishard, meteorologist and programme manager for Bermuda's Risk Prevention Initiative, posted: "Imagine if there was a hurricane around, too (don't worry, there isn't) — storm surge would be even worse." Flooding caused the closure of the long-term parking lot at L.F. Wade International Airport. A spokeswoman for Bermuda Skyport said this morning: "If you have parked in the long-term parking lot, please arrange to have your vehicle removed as soon as possible to avoid water damage."
October 7. Bermudian hotel worker Sidney Mello was hailed a hero after he dived into a dangerous rip tide to rescue a drowning woman. Mr Mello, a beach supervisor, swam 50 meters to pull the guest to safety and he carried her back to shore above his head as waves crashed in. The 22-year-old, who has worked at the Rosewood Tucker's Point Beach Club for five years, jumped into action when he heard the woman screaming for help. He said: "At first I thought I was hearing things. But then as I looked out to sea I could see there was someone in real trouble. Another guy was running into the water and trying to help a child back to shore, and I could see there was an older woman around 50 meters offshore in difficulty. The water was rough and there was a real rip that had dragged her all the way along the beach. By the time I reached her she was pretty fatigued, so I tried to get under her and lift her head above the water so she could breathe. The waves were still coming down hard, but when we got to a level where I could stand I just held her above my head and tried to walk against the current. It was hard work — I would say we were in the water battling the waves for two or three minutes, so by the time we reached the beach she was absolutely exhausted." The drama happened on September 16 off the Rosewood Tucker's Point. Details of the rescue became public only this week as modest hotel worker did not want a fuss. It is not the first time that Mr Mello has come to the aid of a guest. He has been involved in two other rescues on the South Shore beach and is known by staff at the hotel for his professionalism. Management at the hotel praised Mr Mello's life-saving actions. Guido Brambilla, the hotel's food and beverage executive manager, said: "What he did was incredible, but he does so much around the place. "We have a disabled member that Sidney has become good friends with and he personally takes him out swimming when it's safe to do so. The job that the guys on the beach do is one of the most tiring. They work long days in the sun and still have to remember to put a smile on the guests' faces." Gioacchino Di Meglio, director at the resort, added: "This is a special guy; he's very sincere and works hard. He sets a great example for everyone else to follow." But Mr Mello said: "I just try to help out as best I can."
October 6. Premier David Burt this morning tabled a previously unreleased 2015 report on reforming Bermuda's tax structure. The Premier said the report by the Caribbean Regional Technical Assistance Centre had been commissioned and received by the One Bermuda Alliance administration but never publicly released. He said the report, entitled "Reforming the Tax System and its Administration for Fiscal Consolidation", looked at ways to increase tax revenue. Numerous interviews were conducted by Cartac in 2015, and the report suggested ways to increase tax revenue by 0.5 per cent of GDP annually for three years. However, Mr Burt said the proposed changes would have left the bulk of the burden on the poor.
October 6. Transport minister Walter Roban said a delegation to London helped show Bermuda is "a safe harbour and open for business". Mr Roban joined the Bermuda Business Development Agency, the Bermuda Shipping and Maritime Authority and local law firms on the trip to the London International Shipping Week 2017 Conference. The delegation was also at the annual Capital Link Shipping, Marine Services and Offshore Forum during the trip to Britain from September 11 to 14. At the House of Assembly today, Mr Roban told MPs: "The delegation, promoting our small island's significant Ship Registry and ship services, demonstrated that Bermuda is a safe harbour and open for business."
October 6. Two town hall meetings will address dog legislation next week. Speaking in the House of Assembly, Walton Brown, Minister of Home Affairs, said that the ministry has been consulting with stakeholders on updating the Dogs Act, which has been criticized for its handling of restricted breeds. Mr Brown said: "The issues of how to best care for, manage and control dogs has been raised in this House on numerous occasions. Issues debated have included how to manage illegal breeding, animal abuse and neglect, and more effective methods of enforcement. The focus for much of this debate, however, has been on how to best manage problematic breeds, such as the pit bull, and associated controversial breed-specific policies. The challenge continues to be in finding the right balance between the desire to have one's dog of choice and ensuring public safety." As part of the consultation process, Mr Brown announced that public meetings will be held on the topic on Tuesday and Wednesday next week, at the Anglican Church Hall and the Bermuda Aquarium Museum and Zoo respectively. Both meetings will begin at 6pm. "Our aim must be to develop a sustainable approach to canine management," he said. "I encourage members of the public to attend these meetings and share their concerns and proposals. Their input will conclude the public consultative process, and allow the government to shape the new legislative framework."
October 6. The Bermuda Tourism Authority wants to turn the America's Cup Team Artemis guest pavilion into a Hamilton visitor information center. It has applied for planning permission to move the building to a site on Front Street near the junction with Queen Street. "We will engage industry stakeholders to explain how this new project will showcase Bermuda's unique way of life and indelible charms, the hallmarks of what sets our country apart from other destinations," the BTA said. As always, our visitor services goal is to provide travelers with the information they're looking for — and this project will accomplish that. But we also want to surprise and delight them with discoveries they never could have imagined. That's where we're headed with this new project and we're proud to be doing it with the help of our friends at the Corporation of Hamilton." The building is three-storeys tall with a roof-deck and is decorated with images of Bermuda's coastline. Plans for the building include restrooms, an office, storage areas and a balcony overlooking Hamilton Harbour. The building is designed to easily connect to utilities like electricity and water and its modular design means that it could be easily removed if necessary. Asked about the cost to purchase the structure and what the new building would mean for the visitor center in Hamilton's ferry terminal, a spokesman reiterated that more information about the project would be released in the coming weeks.
October 6. This year's Gombey Festival pays special tribute to a trailblazer and keeper of Gombey traditions: the late Terry "Termite" Simmons. Mr Simmons, who died in January, aged 62, personified Bermuda's unique art form — not only dancing, but creating the elaborate Gombey regalia. His handiwork still proudly adorns the St Monica's Road residence of daughters Dawnae and Terrieka, and their mother, Dawnette Simmons. Mr Simmons grew up near by at the family homestead in Government Gate, where he first heard the distinctive drumming of the Gombeys and joined at an early age. He joined his godfather Charles Norford's troupe as a child and performed with other groups, devoting himself to the Gombeys for the rest of his life. "Termite" was also a footballer and played for Centaurs, North Village and Young Men's Social Club in his early days — and worked for more than 30 years at the Bermuda Telephone Company. Mr Simmons was also a sous chef at the Fairmont Southampton, additionally working for MarketPlace's produce section, and Redeem Construction as a mason. Former MP Dale Butler, a Gombey scholar and cousin of Mr Simmons, recalled him as "a personable, well-known, extremely friendly young man. He had passion for Gombey dancing, its history, and for remembering the older performers. It ran in his veins. He was talented, gifted, and had the greatest respect for the tradition." Deeply committed to the culture, Mr Simmons passed on Gombey traditions to his family — most recently to his grandson, Ricaija. Bermuda's fraternity of Gombeys unites tomorrow at the main show ring of the Botanical Gardens, from 5pm to 9pm, for the International Gombey Festival Showcase, which is open to everyone.
October 6. The dangers of social media will be among the topics up for discussion at a parent expo planned for January. The event, featuring workshops and presentations by principals from public and private schools, was initially scheduled for this weekend but has been postponed for three months to give organizers more time to prepare. In a joint press release, Kalmar Richards of CedarBridge Academy, Linda Parker of Bermuda High School for Girls, David Horan of Warwick Academy and Duranda Greene of Bermuda College said they hoped the event would galvanize a "spirit of collaboration" across the community. Mr Horan pointed to the implications of social media and the internet for students. He said: "In an age in which technological enchantment has taken hold of many of our children, what are the dangers that we need to be aware of in order to protect them? The parent expo session will look to workshop this conversation, offering some insights into its impact on young people that researchers have uncovered. In addition, we will share some proactive steps that parents can use." Mr Horan said participants would discuss the pros and cons of social media, how to speak with children about appropriate social media and internet usage and practical strategies to put in place at home. Other workshops will include the vital role of parents in a child's education, suggestions for helping children with their study skills and preparing students for life beyond high school. The date and time of the parent expo are to be confirmed.
October 6. A leading community activist has urged the man heading Bermuda's anti-gang efforts to unite all groups tackling the problem. Gina Spence said yesterday that it was vital that Pastor Leroy Bean brought together the groups and organizations "who have been on the front lines and in the trenches". She was speaking a day after Mr Bean was appointed as Bermuda's gang violence reduction co-coordinator. Ms Spence, whose son-in-law James Laws was shot dead on Court Street seven years ago, said Mr Bean was "more than qualified to do the job". She added: "He is highly respected, a great man of faith, and he has a great relationship with the young men caught up in the gang-culture behaviors. I believe he has had success in running his own programme and is respected throughout the community as an honest, humble and genuine pastor who has a heart for both the people and for those who find themselves involved in gangs and antisocial behavior." Ms Spence said Mr Bean had been a prominent figure after incidents of violence — including in hospital and at funerals — and had worked with both the family and friends of victims and young men in the community. She added that Mr Bean was also involved in earlier efforts to bring gang members together for peace talks. Mr Bean said after he was given the job by Wayne Caines, the Minister for National Security, that he hoped to see a more "comprehensive and holistic approach" to tackle the problem that "has plagued our country". Ms Spence said Mr Bean's first move should be to meet people already tackling the issue "to have a clear understanding of the work that is already being done and having success. I believe he needs to empower these groups and organizations with support and resources to continue the work that they do. Too often we appoint people to leadership positions who are not connected at the grassroots level and those who have been doing the work in the trenches are not acknowledged, appreciated, or invited to be part of the national plan." Ms Spence said the time had come to put people first. She added: "I believe Pastor Bean has the heart and compassion to do just that. He is going to need help and support from the entire community. I look forward to working with him and all who are really serious about making a change." Ms Spence said she had seen many people come and go since she started "on this long and difficult journey" working as a community activist ten years ago. "I look forward to a leader who is in it for the long haul and totally committed to doing the work required to break this cycle of gun violence and antisocial behavior in Bermuda."
October 6. Just weeks before he was battered to death by his partner, Edmund John Flood told a friend: "I might not be alive much longer." The chilling comment in September last year came only a day before Keivon Scott viciously attacked Mr Flood and put him in hospital. But Mr Flood, 55, later withdrew an assault complaint and explained he did not want to get Scott in any more trouble. But less than a month later the well-known equestrian and harness pony racing driver was dead — the victim of another brutal beating at the hands of Scott. Yesterday, Scott, 35, was jailed for life for murdering Mr Flood, who was also known as Johnny Five, and told he would spend a minimum of 18 years behind bars before he could be considered for parole. Mr Flood was found dead in his Paget home on October 2 last year after his landlord became concerned about his welfare. Supreme Court heard that Scott and Mr Flood had been involved in a romantic relationship. Prosecutor Javone Rogers described the relationship as "strained and tumultuous" and one that was "fuelled by physical abuse, emotional abuse and fear". He described the murder as a "heinous crime. Mr Flood was beaten with an unknown object and repeatedly punched. We know with certainty that Mr Flood was bludgeoned, tied up and left for dead. The deceased's ankles were tied to the leg of the bed, his arms across his chest and there was masking tape around his neck. The post mortem shows that he suffered repeated high-impact injuries to his head, face and neck, but his death was not instantaneous." Scott was arrested on October 8 last year and was found to have injuries to his hands and knuckles consistent with the attack on Mr Flood. Scott pleaded guilty to Mr Flood's murder in May. Yesterday, he apologized for his actions to Mr Flood's family, who were in the public gallery. Scott said: "First and foremost I would like to say I offer no excuses for my actions. I accept what happened to John is wrong. My only wish now is to do the right thing. It is with great remorse that I am trying to do the right thing." Scott's lawyer Mark Pettingill said that the attack had taken place while his client was in a "complete drugs haze. His problem has been drugs and dishonesty. The problem has been there for many years but he is not a violent man when drug free." Puisne Judge Carlisle Greaves said that Scott had assaulted Mr Flood before. He added: "There are some aggravating factors in this case — this was not the first beating you imposed on the victim. The defendant delivered a beating on Mr Flood previously for which he was hospitalized. However, the victim later withdrew that complaint. Secondly, the defendant not only beat the victim but he left him tied up in the bedroom unable to secure help for himself and, in effect, he suffered to death." Police welcomed the sentence as a fair reflection of the crime. Detective Sergeant Jason Smith said: "Unfortunately, this case speaks to the trend in our community of people resorting to beatings. We would urge the community to resolve conflict peacefully rather than resorting to violence that ultimately leads to tragedy. There are no winners in a case like this — this is a real tragedy and everyone loses."
October 6. A spirit of support and solidarity has been shown in the wake of the fire that gutted a large section of Robertson's Drug Store in St George last month. Another business in the town opened its doors to allow the pharmacy owners to hold a two-week "fire sale" that attracted long lines of customers. And the pharmacy store is on the way back — it reopened its lower floor the week after the blaze, and it is preparing to reopen the main shop floor. Joy Rothwell, a co-owner and manager at Robertson's, has praised the support of the community, including businesses in the town that rallied around to offer support. One of those was Kelly Diel, of Seaglass Studio, on Water Street, who made available the vacant section of her new premises for Robertson's to hold its fire sale. "She has done us a big favor," said Ms Rothwell. "Other people have offered to help us. All the business people in the town have a relationship. This was the best property [for the fire sale]." There were lines of people streaming into the fire sale during its first few days, and the demand was so great that on a few occasions the sale had to be restocked. "It went well. We still have some things left," said Ms Rothwell on Wednesday. Among items included in the sale were toys, luggage items, stationary, hair care, and books. Explaining the reason for the sale, Ms Rothwell said: "It was a way of trying not to waste stuff." She praised Robertson's staff for the work they have done helping with the clean-up of the fire-damaged premises and getting the store back in business, albeit in a limited capacity at present. She added: "People have been really supportive. Everything is ready for the opening of upstairs. There are a few things that need to be done. We will open it as soon as we can." Further community support has come from the Bermuda Pilot Gig Rowing Club, which intends to undertake a rowing challenge to raise money for a local charity in honor of Robertson's Drug Store. The fire sale has been held in part of the former CV café, halfway along Water Street. The premises are now occupied by Seaglass Studio, which early last month relocated from the opposite side of Water Street. One side of the new location is now home to the Seaglass Studio, while the adjoining vacant half of the premises will eventually be transformed into a café. Ms Diel, who owns Seaglass Studio, was in the process of moving her business into the new space on September 2 when she heard that the pharmacy on York Street was on fire. She said: "The day I moved Seaglass in here, someone came up and said Robertson's was on fire. I ran down the street and it was heartbreaking seeing the family there watching as their building burnt down. I felt so bad after that I could not focus." Later that week she saw members of the Rothwell family walking along Water Street looking for a suitable place to hold a fire sale. "I said to them that if they needed a space they could take the empty café. It was important that they had a place with air conditioning." The turnout for the sale, particularly in the first few days, was extremely high. Ms Diel said: "They opened the sale on a Thursday morning and there was a line of people outside waiting for them to open. The next day was busy too, and then on Saturday it was worse; it seemed like the whole of the island came down for the sale." The fire sale was winding down this week with a few items still on offer.
October 6. The Fairmont Southampton has opened the doors of its new restaurant Mediterra. The new restaurant will aim to bring Mediterranean dining culture and diverse old-world cuisine to diners, offering tapas and shared dishes on the menu. To mark the occasion, the hotel has launched a promotion called the 3-3-1 challenge — offering a free one-night stay at the Fairmont Southampton to guests who dine three times at any one of the hotels restaurants and eat three courses on each occasion. The restaurants include the Jasmine Cocktail Bar & Lounge, the Waterlot Inn, the new Mediterra, or the new sports bar, Boundary Sports Bar and Grille. The 3-3-1 challenge is cumulative, so the more guests dine, the more free nights they can earn. Guest can dine from October 4 until December 23, 2017, while free nights earned can be redeemed from January 2 until March 31, 2018. Boundary Sports Bar and Grille will be opening on November 1. For more information contact the hotel on 238-8000
October 5. The Government will conduct an assessment of the tourism industry to help unemployed Bermudians into jobs held by non-Bermudians, according to Jamahl Simmons. Speaking at a press conference this morning, the Minister of Economic Development and Tourism said that a "new approach" is needed to make sure that Bermudians come first. He said: "The Government, working in tandem with the Department of Immigration, the Department of Workforce Development and stakeholders, will conduct an industry-wide skills and needs assessment of the tourism industry to identify areas where unemployed or underemployed Bermudians can be trained to fill or be promoted into jobs currently held by non-Bermudians. For Bermuda to realize its fullest potential we must have a well-trained, highly-qualified Bermudian work force where the only limit to growth and advancement is the ones that individuals put on themselves. To achieve this goal, we must ensure full alignment between the worker skill sets, industry demands, and the education and training being offered." Mr Simmons also said the ministry will work with the Ministry of Education and Workforce Development to revitalize the Bermuda Hospitality Institute, enabling it to better help Bermudians get into the industry. "The training and designations that the BHI offers will be enhanced to certify Bermudians so they can become stakeholders in the tourism industry," he said. He also reiterated that the ACBDA will be changed into the Bermuda Event Authority, saying the body would adopt a "more diverse and inclusive" approach to finding events for the island that will benefit a wider segment of the community. "Bermuda is more than golf, rugby and sailing, and there exists the capacity to grow events relating to sports, arts and culture that will attract younger, more cosmopolitan and more diverse visitors to our shores," Mr Simmons said. "Also we must end the periodic over reliance on the local market to bring energy and volume spending to support some events. Working alongside the Bermuda Tourism Authority, the BEA will increase engagement with institutions and industries and seek out strategic partnerships aligned with our objectives." Mr Simmons also said consultation about how to improve the island's nightlife and entertainment options would be conducted to both attract young, cosmopolitan visitors. A better, fairer Bermuda is one that not only insures that there are more seats at the economic table, but is also one that invests in Bermudians and provides opportunities not just to be hired, trained and promoted, but to also own and run businesses of our own. In the months ahead, I will provide updates on these and other initiatives designed to do just that."
October 5. Legislation designed to introduce a more flexible and responsive approach to global communicable disease was today passed in the Senate yesterday. The Quarantine Amendment Act 2017 and Quarantine (Maritime and Air) Regulations 2017 were supported by Government, Opposition and independent senators. Senator Crystal Caesar, the Junior Minister of Home Affairs, said the amendment and regulations would "provide the guidance for enforcement of the security structure and ensure our ports and airports create the first line of defence from global public health threats. "As a whole the Act and Regulations will modernize and strengthen our response to international public health threats." She added that the amendment would also change the Public Health Act 1949 to allow the health minister to establish temporary isolation hospitals or clinics for persons with a communicable disease and will not require proof of an epidemic. The new regulations will streamline the procedures required at both the airport and ports, provide the key structure to the security, ensure the roles of health officers are outlined and the rights and responsibilities of travelers are enshrined in law. They will allow health officers to stop the disembarking of passengers and crew from a ship or aircraft as did the 1946 Regulations. However, in the new regulations health officers will only have this ability where a public health threat has been reported on board, a death was reported or the conveyance is coming from an affected country." Opposition senator Andrew Simons said he supported the legislation, pointing to the spread of the Zika virus in South America. He added that it is important to "quarantine legislation right and it's good to see we are following best practice". Independent senator James Jardine said the "regulations are extremely important". He said he did not realize how widespread the Zika virus was and added that protecting Bermuda's borders is "extremely important because a mosquito could come in a ship's hold, in a container, it could come in on an aircraft as long as it is not subjected to the cold in the hold." Mr Jardine also questioned if specific areas had been set aside at the airport or other ports in case someone needs to be quarantined. Ms Caesar responded that there will be a quarantine area at the new airport and space had also been identified in the hospital. Four further Acts that updated and made changes to existing legislation were also passed today. These included the Companies Amendment (No 2) 2017; Payroll Tax Amendment (No 3) Act; USA Bermuda Tax Convention (No 3) Amendment Act 2017; and Proceeds of Crime Amendment (No 2) Act 2017.
October 5. Lieutenant-Colonel David Burch gained "some useful insight" on a tour of Hamilton docks. The public works minister was given an overview of the dock's daily operations as part of a series of visits to assess lands, infrastructure and buildings across the island. He was accompanied by permanent secretary Francis Richardson on the tour which was conducted by Stevedoring Services CEO Warren Jones. Colonel Burch said in a press release: "As 98 per cent of all of Bermuda's goods are imported into our island by container ships, the tour provided us with an opportunity to see first-hand how the port operates. We gained some useful insight on this very important service, which was in full action during our visit. It was quite impressive to witness the professionalism and expertise of this all Bermudian operation."
October 5. PartnerRe Ltd has estimated combined catastrophe losses of approximately $475 million from its exposure to hurricanes Harvey, Irma and Maria for the third quarter. The company, which is owned by Italian investment firm Exor, stressed there was significant uncertainty over the estimates, which was based on a preliminary analysis of the company's exposures, the current assumption of total insured industry losses and the early information from cedants. PartnerRe's announcement comes after fellow Bermudian reinsurer RenaissanceRe yesterday estimated catastrophe losses of about $625 million for the third quarter, related to the three hurricanes and the Mexico City earthquake.
October 5. A man banned from teaching in Britain because of serious misconduct with a 16-year-old schoolgirl applied for a job at Saltus Grammar School this year. Matthew McGowan approached Saltus after complaints were raised about his relationship with a pupil at Wycombe Abbey School. But McGowan, 38, a former Warwick Academy teacher, withdrew his application before a panel in the UK ruled on his case. McGowan instead applied for a job with the Bermuda Police Service and joined a recruitment class last month. He was removed from his duties after the results of a disciplinary hearing in the UK were revealed. McGowan was struck off the UK teachers' register for life after the National College for Teaching and Leadership found he had developed an inappropriate relationship with the girl, a pupil at the fee-paying girls' boarding school, where he taught drama. A complaint about McGowan was made by the girl's mother in July 2016, and he resigned from the school in September 2016. Deryn Lavell, head of school at Saltus, confirmed that Mr McGowan had applied for a position at the school after leaving Wycombe Abbey. She told The Royal Gazette: "He applied for a post at Saltus this spring and we had no knowledge then of any investigation. We went through our normal interview process, which always includes a rigorous reference check, but he withdrew his application before that process could be completed." Mr McGowan taught drama at Warwick Academy for three years before leaving the island in 2010. He took a job at Wycombe Abbey school in Buckinghamshire in 2011. The Bermuda Police Service last week confirmed that Mr McGowan joined its recruit foundation course last month. A spokesman said that information on the disciplinary hearing was not available at the time and that McGowan had failed to mention it. Acting Deputy Commissioner Antione Daniels said on Friday that Mr McGowan had been removed from active duty. Mr Daniels added that the public would be updated on Mr McGowan's employment status once legal advice had been taken.
October 5. Ten kayakers braved a 40-mile journey this weekend to raise almost $30,000 for child sex abuse prevention charity Saving Children and Revealing Secrets. Scars co-founder and executive director Debi Ray-Rivers said: "Scars truly appreciates all the hard work, valuable time and the campaigning for donations that the participants put towards our cause. "Scars's vision is to have a community without child sexual abuse and we are doing everything we can to end the shame and pain associated with this issue. It is through the generous financial support from the kayakers, their friends, families and colleagues, corporations and the community that we can continue to make great strides in educating adults in sexual abuse prevention and ultimately preserve the innocence of children. Thank you ever so much." Ms Ray-Rivers said the group, who are still collecting donations, had ideal weather conditions on both Saturday and Sunday as they paddled from Somerset Long Bay to Clearwater Beach and back, Mike Krefta, Simon Kimberley, Alex Winfield, Simon Arnott, Jerry Rivers, Erik Soria, Chris Conway, Matt Pifer, Bror Muller and David Stubbs left Somerset Long Bay at sunrise on Saturday and arrived at Clearwater Beach at 3.30pm. They left on the return leg at sunrise on Sunday and finished up at Somerset Long Bay at 1.30pm — although one kayaker had to pull out because of injury. Organizer Jerry Rivers said that nine out of the ten kayakers who took part worked in the insurance and reinsurance industry. The group hoped that more donations after the event would mean they would beat last year's total and reach $40,000 this year. Scars's child sexual abuse prevention training is free for adults and the funds raised will help cover the cost of purchasing and publishing the material and equipment used. The money will also go towards the general operating expenses to organize, host and generate awareness. Scars has trained more than 6,000 people who work with children in a bid to prevent, recognize and react responsibly to child sex abuse. For more information, visit kayak4kids.bm or scars.bm.
October 5. Two young men who were part of an armed raid where a homeowner was held up at gunpoint have been jailed. Wakeem Philpott, Detre Ford and a third man targeted the Barrack Close residence in St George's on July 1, last year. Ford stood guard outside the property while Philpott and the third man, who has never been caught, went inside the property and threatened the occupants with a gun. Prosecutors maintained that the third man wielded the firearm during the home invasion and also tried to fire the gun at one of the occupants but it jammed. Yesterday at Supreme Court, Philpott, 22, was jailed for ten years, while Ford, 24, was sentenced to 12 years imprisonment. Philpott had previously pleaded guilty to his involvement in the crime. He admitted aggravated burglary as well as possessing a firearm and unlawfully attempting to discharge a firearm. Ford had denied any involvement in the crime, but after a trial a jury convicted him unanimously of aggravated burglary and possession of a prohibited weapon. Yesterday, prosecutor Javone Rogers described how Philpott had grabbed a wallet belonging to one of the occupants, which contained a small quantity of cash, during the home invasion. Both Ford and Philpott were arrested later the same day in a car being driven by Ford through the Mullet Bay area of St George's. They were detained and when searched police officers found a firearm wrapped in a scarf in Philpott's trousers.
October 4. Freddie Evans is taking legal action against the Ministry of Education after being "relieved of his responsibilities" as education commissioner. There is also confusion about whether Dr Evans had been properly dismissed from his job. Mark Diel, of the lawyers Marshall Diel & Myers, confirmed yesterday that the firm had been instructed to issue proceedings against the Ministry of Education and John Rankin, the Governor, "for declarations that our client's employment has not been terminated in accordance with his contract or at all". Mr Diel added: "We are further instructed to issue proceedings for libel against the ministry and the permanent secretary." The letter, sent to multiple island media organizations yesterday, followed an e-mail from Permanent Secretary of Education Valerie Robinson-James to principals and teachers on Monday. Ms Robinson-James said in the e-mail, seen by The Royal Gazette: "This is to confirm that Freddie Evans has been relieved of his responsibilities as Commissioner of Education." The permanent secretary added: "The post of Commissioner of Education is under consideration and you will be advised of the way forward in due time. Any critical issues can be forwarded to the administrative assistant in the Office of the Commissioner of Education who will forward them to the permanent secretary." A statement on Dr Evans was also issued by the Ministry of Education on Monday night. A spokeswoman said: "The Ministry of Education can confirm that Dr Freddie Evans has been relieved of his duties as Commissioner of Education. However, the ministry would like to assure the public that an interim plan is being put in place until the Board of Education commences a recruitment process." But Mr Diel said yesterday: "Reports have been made that he was 'dismissed' and 'ousted'. Regardless of which wording has been used by the ministry and variously by the media outlets, the statement issued by the ministry is wrong and the statements are libelous. To date, our client has not received any letter of termination/dismissal etc." Mr Diel claimed Dr Evans's contract made it "crystal clear" that the only person who can remove him is the Governor. "And this can only be done during his period of probation," he added. Mr Diel said Dr Evans's probationary period ended on September 30. He added: "We can further confirm that our client has not received any communication from the Governor, whether written or oral, nor any individual acting on his behalf." According to an October 2 letter from the Public Service Commission to Dr Evans, and provided to this newspaper, the appointing authority confirmed it had reviewed a 15-page rebuttal provided by Dr Evans in response to a final probation report submitted by Ms Robinson-James. The commission agreed, in line with its probationary regulations, that it would recommend that Dr Evans go back to his former position as Assistant Director of Education. The statement from Mr Diel also warned media outlets that they would face legal action unless a retraction written by the legal firm was published. Mr Diel said: "If you publish the said retraction we are instructed that our client will waive any claim for damages against you." But Diallo Rabain, the Minister of Education, said on Monday night: "I am aware that the position of the Commissioner of Education is now vacant." Further details of the circumstances surrounding the matter were not immediately provided by the minister. Mr Rabain added: "It is important to note that myself as Minister of Education has no responsibility for operations, human resources or hiring at the ministry or Department of Education." Curtis Dickinson, chairman of the Board of Education, did not respond to a series of questions about Dr Evans by press time. Government House and the Ministry of Education also failed to respond to questions on who had the power to fire Dr Evans, whether a letter of termination had been sent to him and when his probation period expired. Dr Evans, who took over as Commissioner of Education in March, served as acting commissioner for three years in a rotation that included Lou Matthews, who has since resigned, and Llewellyn Simmons. Dr Evans told The Royal Gazette when appointed that he was "absolutely dedicated" and looked forward to a decade or more in the job. A 33-year veteran of the public education system, he was described by a source as popular with many teachers and parents. But the department source added that Dr Evans had only reluctantly been given the role, with leadership believed to be more in favor of a foreign candidate. The source said Dr Evans's work had been hampered from the start by conditions imposed from above. The previous commissioner, Edmond Heatley, was recruited from the United States in 2013 but resigned eight months later.
October 4. Breast cancer is the leading cause of death by cancer for women in Bermuda, according to health minister Kim Wilson. As she proclaimed Breast Cancer Awareness Month, Ms Wilson urged everyone to protect their health by talking about their risk factors with their doctor and having mammograms as recommended. Ms Wilson said: "Breast cancer is the second most common cause of death from cancer in women worldwide after lung cancer and, in Bermuda, it is the women's leading cause of death by cancer. With one in eight women being told in their lifetime that they have breast cancer, regular screenings and quality care are vital to improving outcomes and we are making strides and improving treatment options with the addition of Bermuda Cancer and Health Canter's radiation therapy unit." Ms Wilson said some women were more likely to get breast cancer than others and understanding risks, such as family history, is important because early detection can save lives. She added: "As we observe Breast Cancer Awareness Month, I urge everyone to protect their health by having a mammogram as recommended by your physician. Digital mammography is the best available method of detecting breast cancers, long before physical symptoms can be seen or felt." She added that BCHC provides free mammograms to women without insurance throughout the year. Ms Wilson said women and men should also talk to their doctor about how to lower their risk factors and learn what tests are right for them. She also revealed that HIP and FutureCare patients would now have access to radiation therapy and BCHC executive director Tara Curtis said she was thrilled by this. Ms Curtis added that those who do not have health insurance would also have complete access to care. She said BCHC conducts 12,000 screening and diagnostic appointments every year and since the radiation facility opened in May, it has treated 54 patients — 13 of which had breast cancer diagnosed. "We are certainly experiencing, as a center, as a community, the benefits of having radiation therapy available locally. This would not have been possible without the continued and ongoing support of BF&M and our Government." Kristin Burt, wife of the Premier and this year's Breast Cancer Awareness Month patron, said she was "thrilled and honored" to take on the role. Mrs Burt said she was looking forward to helping raise awareness in the community and supporting all of the events this month. John Wight, the president and CEO of BF&M, said the insurance firm hoped to outdo last year's record-breaking annual Breast Cancer Awareness Walk. He said: "Initiatives like this and the walk help us all in our fight to prevent, detect and treat cancer." The event will be held at Barr's Bay Park along with the 21st annual BF&M preventive health fair on October 18. Mr Wight is also looking forward to the BF&M School Spirit Award and the top two schools that raise the most funds for the walk will win a monetary prize. In addition to the BF&M events, AS Cooper is offering shoppers who donate a minimum of $5, 15 per cent off this week and Gorham's will be hosting a Think Pink Ladies Night Out today. This Friday is Wear It Pink Denim Day and Girls Night In events will be held throughout the month. The BF&M health fair will start at 4.30pm and the walk at 6pm. Registration is available at BF&M, BCHC, Sportsellar and www.RaceDayWorld.com.
October 4. A new Salvation Army shelter could offer community-wide programmes as well as a halfway house for the homeless. Divisional commander Major Frank Pittman said renovations to the Bishop Spencer Building would help to deal with the island's homeless problem and offer a "pathway of hope". He said: "Right now the dilapidated building we have is strictly a shelter only — you can come in at night, you depart in the morning and come back again in the evening. We don't have the facility for adequate programming, so we need a place like Bishop Spencer to be able to offer programming." Major Pittman said this would include community-wide programmes "that enhance the body, mind and soul" that would not be restricted to the shelter's residents. He said it could offer basic exercise programmes, chaplaincy services and emotional support through counselling and guidance, "hence taking the holistic approach". The renovation of the Bishop Spencer Building, on The Glebe Road, has been talked about for more than three years but work has yet to start. Major Pittman said the rebuild would cost about $4 million on top of the organization's $2 million annual operating budget. He said: "A little over two years ago when we did an assessment, we were at $3.5 million." Major Pittman added that would likely be higher now because costs would have gone up and the building has deteriorated. He added: "When we are ready to move, we will update that study." But Major Pittman said the Salvation Army also needs the Government's help to get the project up and running and that he had contacted Ministers to set up a meeting. He added: "I'm 100 per cent confident that this is the year that we are going to make this work. From everything that I've seen in the PLP's platform and their social conscience, I don't see anything to suggest that they won't support me. What we have to remember is that the homeless population is a Bermuda issue — it's not the Salvation Army's issue. The Bermuda Government needs to own this situation - but the Salvation Army can be the vehicle whereby we can serve these people." Major Pittman said that the new shelter would require partnerships to take on a "life of its own" and would include basic amenities such as a foot clinic. The Salvation Army also wants to recruit hairdressers and barbers prepared to donate a few hours a week to give shelter residents haircuts. Major Pittman said: "It's about anything that will make these people feel respected and help them get a sense of dignity and self-worth." He explained a new shelter was expected to house the same amount of people as the current one, which has continued to deteriorate, but that the amenities would be "250 per cent better than what we have today". Major Pittman said it could also have transitional housing units that would be self-contained one-room, single occupant apartments. He added: "The idea of the transition is that it would be affordable and supportive, supportive meaning that they are living in a private apartment but all the supports of the Bishop Spencer are available to them." Major Pittman added that the focus of the new shelter would be a route out of homelessness. "Many people today feel hopeless and sometimes society looks at a lot of people as hopeless but we just look at people with respect and realize that every individual is created for a purpose and they just need to find that purpose and that pathway. And that would be the aim of the Salvation Army, to take people on a pathway to hope so that they can be an effective or a contributing member of society." A spokeswoman for the Ministry of Public Works said: "The planned Bishop Spencer Shelter is still under consideration, and a meeting is planned to further discuss this initiative."
October 4. Police Week is set to take to the steps of City Hall this evening with an hour of music and dance. The Halton Regional Police Pipes and Drums from Ontario, Canada, are set to join with the Bermuda Islands Pipe Band and Highland Dancers for a performance starting at 6.30pm. The Canadian band, who are celebrating their 30th anniversary this year, have come to the island as part of Police Week 2017. A police spokesman said: "Both bands are grateful to the Corporation of Hamilton for the use of their venue. Please come and enjoy the display of piping, drumming and Highland dancing." While Police Week will bring music to Hamilton, the Bermuda Police Service warned that another event today may cause loud noises in the Prospect area. Between 10am and 3pm, the BPS are hosting Display Day for schoolchildren and other members of the public at Police Field. The spokesman said: "Police vehicles are on display and as part of a series of live demonstrations, loud noises will be heard at times. We appreciate the understanding of the public as well as area residents and apologize for any inconvenience caused."
October 4. For Seán O'Connell getting his epic two-day swim around Bermuda into print had always been a dream, but much like the 43-hour feat itself, it turned into something of a marathon. After setting the record for the first known circumnavigation of the island, he interviewed everyone who had been involved in the attempt and even got 40 pages into a full version of events before "it fizzled out". But now, 41 years after he battled Bermuda's grueling currents and completed the 38-mile swim while also raising $11,000 for charity, the dream has become a reality with the publishing of Shark Bait. "Back in 1976 I just got involved with other things and I had no idea how to get a book published," Mr O'Connell said. "I just ran out of steam with the idea. Then recently I saw how Jonathan Smith's book Island Flames was published by Brimstone Media and spoke with him about what a great job they had done. I started to go back to my old notes and tried to come up with something that incorporated the whole narrative. It refreshed my memory and I spent months and months putting the story together. I worked on the text with Rosemary Jones and then graphics with Paul Shapiro." The 116-page autobiographical account details Mr O'Connell's months of preparation, a failed attempt, and his ultimately successful swim, which raised $11,000 for the Bermuda Physically Handicapped Association charity and landed him in Sports Illustrated and the Guinness Book of Records. Produced by Brimstone Media, Shark Bait: How I Battled Tides, Fins and Fatigue to Complete the First Non-stop Swim Around Bermuda also reveals how Mr O'Connell's feat at the age of 33 was triggered by a $1,000 bet wagered by a friend at the Robin Hood Pub one Friday evening. "It's fantastic to see the finished product; it's been a long time coming in so many ways," Mr O'Connell said. "It's been almost as much of a marathon as the swim. It's my baby and it sends a very positive and inspiring message about overcoming challenges. That swim changed my life for ever; it gave me more self-confidence and is one of the achievements in my life that I am most proud of." The former Bermuda College mathematics professor, now 75, moved to the island in 1974 and spent 29 years teaching at the college. Born in Brooklyn, New York, to a family of Irish heritage, Mr O'Connell, now Bermudian, trained to become a Jesuit priest after high school until he chose teaching as a career instead. But he thinks his upbringing as the son of a high-ranking New York City police officer, plus the years of discipline he practiced in the religious order, prepared him well for his long-distance effort years later. Mr O'Connell's seven months of training in the ocean around Bermuda in 1976 saw him battle weight loss, vomiting and psychological challenges, as well as endure combative tides and close encounters with barracuda, sharks, jellyfish, and even a freighter. A team of volunteers and vessels was organized to support him through two attempts, including the final successful clockwise swim around the island between August 21 and 23, in a time of 43 hours, 27 minutes. The book, which includes contemporary photographs and newspaper clippings, looks at other round-the-island attempts after his achievement, including one by American open-water swimmer Lori King who succeeded in breaking his record in 2016, the 40th anniversary of his swim, just as he finished writing his narrative. Shark Bait is on sale at Bookmart for $19.95. All proceeds go to the BPHA, the charity that benefited from his swim.
October 3. A Cabinet of full-time ministers is needed to deliver promises made by the Progressive Labour Party, the Premier has said. David Burt's PLP team has 11 full-time ministers, compared to seven full-time and five part-time under the previous government — a change One Bermuda Alliance senator Nick Kempe said would cost taxpayers an extra $150,000 per year. Mr Burt told The Royal Gazette: "The former government had 12 ministers, this government has reduced the size of Cabinet to 11." But Mr Burt avoided the question of costs for the reduced number of ministers. He said: "The new government reduced the size of Cabinet, and our ministers are focused on delivering the election mandate of the Bermudian voters. The work to deliver on this mandate requires full-time attention and I am pleased that all of our ministers are working in a full-time capacity for Bermudians." Mr Burt claimed the new numbers were a reflection of his party's commitment to fiscal responsibility when he announced his ministers in July. Mr Burt said at the time: "We have reduced the size of Cabinet to 11. I recognize that fiscal responsibility must start at the top." But Mr Kempe said: "The inference in those comments is that a smaller Cabinet is less expensive and that a less expensive Cabinet proves fiscal responsibility starting at the top. I think it is important that the public record shows that this 11-person Cabinet, in fact, costs more than the 12-person Cabinet it replaced." Mr Kempe said his calculation was based on the number of full and part-time ministers in the current government compared with the last. He said: "Basically, full-time ministers receive $100,000 and part-time receive $50,000 on top of MP or senator pay." He said the OBA's 12-minister Cabinet, made up of seven full-time ministers and five part-time ministers, cost $950,000 a year. Mr Kempe added that the wage bill for the PLP's 11 full-time ministers would mean an annual total $1.1 million. Mr Kempe said there might be a 5 to 10 per cent variance if the exact figure was to be calculated. Attorney-General Kathy Simmons last week confirmed all current ministers were full-time employees. Ms Simmons, in reply to questions from Mr Kempe, also revealed that Corey Butterfield was an adviser to Jamahl Simmons, the Minister of Economic Development and Tourism. The OBA was criticized by Mr Burt when it hired Mr Butterfield just after its 2012 election victory. Mr Burt said at the time the new government had made a "terrible start" to its commitment to cut government spending. Asked why the PLP had hired Mr Butterfield, Mr Burt said: "Mr Butterfield has been retained to conduct work that is integral to executing the new government's agenda of economic empowerment. I look forward to his work producing dividends for the people of Bermuda."
October 3. Education commissioner Freddie Evans last night described himself as "dumbfounded" after being dismissed from the post. The shock move came less than seven months after Dr Evans was appointed to the top job. Dr Evans said he was stunned that "any talk of dismissal, termination or reassignment is happening when I have not heard anything from his Excellency the Governor, or Government House. I only want what is best for the students of Bermuda public schools," Dr Evans said. "My legal representatives will be responding on my behalf from this point forward." Principals and teachers were notified of the termination in an e-mail from the Department of Education. Diallo Rabain, the Minister of Education, issued a statement pointing out that he held no responsibility for "operations, human resources or hiring at the Ministry or Department of Education. This Government is serious about progressing public education in Bermuda and, as such, supports the Board of Education and the Public Service Commission in their efforts to employ the most suitable people to lead our public schools. All public servants should be commended for their dedication to supporting our students and we thank Dr Evans for his work." Mr Rabain congratulated staff and encouraged the community to support them. Dr Evans, who took over as Commissioner of Education in March, had previously served as Acting Commissioner for three years. He told The Royal Gazette when appointed that he was "absolutely dedicated", and looked forward to a decade or more in the job. According to the e-mail to public education staff, the post of commissioner is now "under consideration". A 33-year veteran of the public education system, Dr Evans was described by a source in the department as popular with many teachers and parents. But the source added that Dr Evans had only reluctantly been given the role, with leadership believed to be more in favor of a foreign candidate. The source said Dr Evans's work had been hampered from the start by conditions imposed from above. The previous commissioner, Edmond Heatley, was recruited from the United States in 2013 but resigned eight months later. His time in the role was plagued by complaints about the post going to an overseas expert and Dr Evans took over the role on an interim basis after Mr Heatley's departure. Teachers were told that "critical issues" should be forwarded to the administrative assistant at the commissioner's office, who would pass them on to the Permanent Secretary. Last night a spokeswoman said the ministry "would like to assure the public that an interim plan is being put in place until the Board of Education commences a recruitment process".
October 3. Bermudian long jumper Tyrone Smith relived the terror of a murderous gun attack on a concert in Las Vegas yesterday. Mr Smith was at a show just across the road from the Mandalay Bay hotel, where gunman Stephen Paddock holed up before he fired hundreds of shots at a packed country and western show in the streets below, killing at least 58 people. Mr Smith, on a visit to the gambling mecca with US Olympic pole vault silver medal-winning girlfriend Sandi Morris, said the two were at the Blue Man Group show at the Luxor Hotel and Casino on Sunday night when they were ordered to remain in their seats about 11pm because of an emergency. He said: "At first we thought it was part of the show — like there was something else they were going to do. Once I realized that it wasn't part of the show, and then I found out that there was the active shooter, my brain just went to kind of a defence mode, and I just started spotting where all the exits were." A check online revealed the terror unfolding only a few hundred yards away. Mr Smith, who lives in Houston, Texas, said: "At this point, the people at the venue had not told us anything." He added audience members were locked down in the Luxor until almost 5am, when the couple were allowed out and had to walk a mile to their own hotel. Mr Smith said: "There we no taxis, there were no Ubers, it was a ghost town. There were police, some in tactical gear, lining the road. For 80 per cent of the walk, there was just police and police vehicles out." Mr Smith was just 14 miles away in Monaco when an Islamic fundamentalist drove a truck into crowds packed into the center of Nice, France, killing 86 and injuring hundreds in July last year. As well as the dead, more than 500 people were injured when Paddock, 64, from Nevada, opened fire on the 22,000 people at the Route 91 Harvest Festival in the worst mass shooting in modern US history. Paddock shot himself dead before police stormed his hotel room on the 32nd floor of the Mandalay Bay. The motive for the attack is still unknown. Stuart Lacey, founder and CEO of Bermuda-based technology company Trunomi, was also caught up in the terror as he arrived in the city for a technology conference. He was in an Uber taxi around 9.30pm on his way to the Caesar's Palace Hotel when the car stopped in heavy traffic and he could hear gunshots in the distance. Mr Lacey said: "I could hear the shooting from the Uber. We were maybe a half mile away from it. There were police everywhere, trying to get around the traffic, driving over the embankment. The gunfire didn't stop for some time. It took quite a while. You think these things would be over quickly, but we were hearing them for 20 minutes. The amount of shots we could hear, there was no doubt that this was not a simple rifle and a lot of people were at risk." Mr Lacey added: "The route the Ubers usually take goes right down the strip. If we were traveling five minutes earlier, we would have been passing right between the hotel where the shooter was and the concert." Mr Lacey said he and his driver discussed what to do and decided to stay in the car. He added: "There's a fight or flee urge that goes through everyone's mind, but in these kind of incidents the advice is to run. You don't stick around, but it's difficult when you're stuck in traffic. Eventually other cars started going over the embankment and driving the wrong way down the one way, and we followed them. Police were saying there was an active shooter and we didn't want to be anywhere near it." Mr Lacey arrived at his hotel at around midnight but terrified people crowded the hotel and everyone was forced to wait outside until around 3.30am. He said: "The whole hotel went into lock down — from what I understand they locked down the whole strip." Mr Lacey added that he was grateful he survived unscathed but that friends of people connected to Trunomi were in hospital after the incident. He said: "I'm one of the lucky people." Bermudian Jaidah Bailey, a student at the University of Nevada, Las Vegas, said she was at home when the firing broke out. She added she had noticed a friend mention a shooting before she went to sleep but was not aware of the seriousness of the incident — until she was bombarded by messages to check she was unharmed. Ms Bailey said: "I was awoken by a phone call by mother. She was very concerned because she had heard what happened and many people were reaching out to her to make sure I was OK. I wasn't aware of much but once I checked my phone I had many messages from friends and family back home to see if I was safe." She added a friend who worked at the Mandalay Bay said it was "madness" at the hotel and that she had been trampled by terrified people fleeing the shooting. Ms Bailey said: "Her and her coworkers had to hop over fences and run for their lives. They ran all the way to the University of Nevada where they knew it was safe." She added classes at the university were yesterday suspended. Ms Bailey explained: "Many people have not left home because they are frightened or were affected. Some classmates came to class crying and many had to leave because they didn't have the strength to be around others at this moment. This has been a huge tragedy in another place I call 'home'. Richard Schuetz, executive director of the Bermuda Casino Gaming Commission and in the city to deliver a lecture, said the holiday city was in shock. He added: "I have lived in and been involved with Las Vegas for many years, and there is a part of me that says that this was almost inevitable, and another that is just in shock that it did happen. "Walking around Las Vegas one finds a city in a surreal haze, and no one understands it. The city is simply in shock." Mary Ellen Koenig, United States Consul General in Bermuda, said: "It's a heartbreaking day for those affected by this senseless tragedy. Right now, our thoughts are centered on the victims and the devastated families and friends who have been impacted."
October 3. Former Bermuda College mathematics professor Seán O'Connell has written a book about his record-setting two-day swim around Bermuda in 1976. The 116-page autobiographical account details the Mr O'Connell's months of preparation, a failed attempt, and his grueling but ultimately successful 38-mile swim that raised $11,000 for charity and landed O'Connell in Sports Illustrated and the Guinness Book of Records. Produced by Brimstone Media, Shark Bait: How I Battled Tides, Fins and Fatigue to Complete the First Non-stop Swim Around Bermuda also reveals how Mr O'Connell's 43-plus-hour feat at the age of 33 — the first known circumnutation of the island — was triggered by a $1,000 bet wagered by a friend at the Robin Hood Pub one Friday evening. "It only happened because of a happy-hour boast that turned into a serious proposition — and it changed my life for ever," said Mr O'Connell, now 75, who moved to the island in 1974 and spent 29 years teaching at the college. Born in Brooklyn, New York, to a family of Irish heritage, Mr O'Connell, now Bermudian, trained to become a Jesuit priest after high school until he chose teaching as a career instead. But he says his upbringing as the son of a high-ranking New York City police officer, plus the years of discipline he practiced in the religious order, prepared him well for his long-distance effort years later. Mr O'Connell's seven months of training in the ocean around Bermuda in 1976 saw him battle weight loss, vomiting and psychological challenges, as well as endure combative tides and close encounters with barracuda, sharks, jellyfish, even a freighter. Through it, he learnt the necessities of marathon swimming — how to fuel his body with high-energy supplements and protect against hours in salt water by coating himself with thick grease and wearing a face mask. A team of volunteers and vessels was organized to support him through two attempts, including the final successful clockwise swim around the island August 21 to 23, in a time of 43 hours, 27 minutes. He donated a total of $11,000 raised by his swim to the Bermuda Physically Handicapped Association. The book, which includes contemporary photographs and newspaper clippings, looks at other round-the-island attempts after his achievement, including one by American open-water swimmer Lori King who succeeded in breaking his record in 2016, the 40th anniversary of his swim, just as he finished writing his narrative. Shark Bait is on sale at Bookmart for $19.95. All proceeds go to the BPHA, the charity that benefited from his swim.
October 3. Sompo International Holdings Ltd has launched a new insurance platform and global clearance system, as it aims to offer clients options across insurance and reinsurance markets to help them manage their risks. SIH, which is based in Bermuda, was established after Japanese insurance giant Sompo Holdings acquired island-based Endurance Specialty Holdings Ltd in March this year in a $6.3 billion deal. SIH, which is led by chairman and chief executive officer John Charman, is aiming to set "a new global standard" for the industry, by offering customers a wide array of products on one web-based platform. Mr Charman said: "I am delighted with the substantial progress that we have made to date in integrating the various operating entities that comprise Sompo International. Of course, complete integration will take time and we are committed to accomplishing this in a thoughtful and deliberate manner while keeping the best interests of our clients, trading partners and employees at the forefront. The launch of our new global clearance system is just the first step as we continue to modernize and transform our technology platform across all lines of business and geographies. In keeping with Sakurada-san's vision, we remain steadfastly focused on creating and growing a highly profitable, globally integrated business that is unique in the history of our industry." All the former Endurance companies were transferred to SIH on September 27 in the first step to create the global clearance system. The company intends to transfer the Sompo America companies and Sompo Japan Nipponkoa Insurance Company of Europe Ltd to SIH in the near future. The intention is to bring all other Sompo worldwide subsidiaries under the ownership and control of SIH. Kengo Sakurada, CEO of Sompo Holdings, said: "Starting with the solid oversight for all commercial lines of products, this reorganization and the alignment of our global platform under John Charman's leadership is the next logical step in our journey to fulfill our vision to build the first truly global integrated insurance and reinsurance business."
October 3. Former Hamilton alderman Carlton Simmons denied a charge of attempted murder in Supreme Court yesterday. The 40-year-old was accused of the attempted murder of Jahkeil Samuels on August 12, in Ambiance Lounge, owned by Mr Simmons, on Angle Street, Hamilton. At the monthly Supreme Court arraignments session yesterday, Puisne Judge Charles-Etta Simmons set a trial date of February 26 next year. Mr Simmons was released on bail until that date. Also yesterday, Dion Cholmondeley, 33, of St George's, admitted possessing a firearm and ammunition. Cholmondeley pleaded guilty to one count of possessing a Glock 9mm handgun and a second of having four rounds of 9mm ammunition on August 15 in Warwick. Mrs Justice Simmons ordered that a Social Inquiry Report must be carried out. Cholmondeley was remanded in custody pending sentencing next month. In addition, Jahmico Trott and Troy Burgess, both 29, denied charges of attempted murder and using a firearm to commit an indictable offence. Mr Trott also denied carrying a firearm with criminal intent and handling a firearm. The offences are alleged to have taken place on May 14 in Pembroke. The two were remanded in custody for trial next February. Later in the session Charmari Burns admitted a charge of importing cocaine to the island last October, but denied possessing the drug with intent to supply. Crown counsel Carrington Mahoney accepted the plea. A Social Inquiry Report was ordered on Burns and he will return to Supreme Court next month for a sentencing date to be set. In a separate incident, Dwayne George Watson pleaded not guilty to conspiring to import cocaine to the island and possessing cocaine with intent to supply on September 1. The case is expected to return to the courts on October 18 for mention.
October 3. The only enlisted Bermudian woman to march in the Second World War victory parade in London has died aged 93.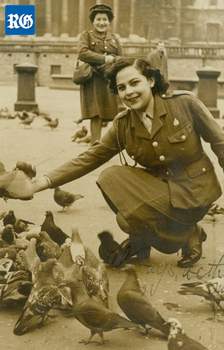 Lobelia "Bella" Bubenzer was just 19 when she traveled to England in 1943 and crossed the U-boat-infested Atlantic in a convoy to enlist in the Auxiliary Territorial Service. She went on to marry a German prisoner of war she met while serving in Oxfordshire before returning home to Bermuda in 1959 with her two sons, Peter and Axel. Son Peter Bubenzer said: "She talked a lot about the victory parade to us as children. She talked about the pride and the camaraderie of all the young women together. She made many friends during the war years that she kept for life." Mrs Bubenzer was born in July 1924 to James Howard and Doris May Curtis at their home on Middle Road, Paget. One of six children, she attended Paget Glebe School and then Berkeley Institute before pursuing secretarial qualifications. Mrs Bubenzer signed up as a member of the Bermuda Volunteer Rifle Corps and left the island for the first time on December 20, 1943. She paid her own way from Darrell's Island by flying boat to Baltimore, where she took a train to Halifax before boarding the Pacific Exporter. The old banana boat traveled in a 93 vessel convoy that left on January 23, 1944 and arrived safely in Avonmouth in early February. Mr Bubenzer said: "When she arrived in London she found herself in the middle of an air raid, although to her great surprise everyone was walking around on the street as if nothing was out of the ordinary. She was then assigned to a unit at Bicester in Oxfordshire and served there as a secretary until she was demobbed in 1947. The women slept in huts that could hold 12 and my mother never forgot the spartan accommodation. While she was in Bicester she was joined by her great friend, Eva Robinson, in the spring of 1944. During periods of leave they decided that they should travel as far away inside the British Isles as they could. They went to Dublin twice, Aberdeen in Scotland and St Ives in Cornwall." Mrs Bubenzer met August-Wilhelm Bubenzer, a German prisoner of war while stationed in Oxfordshire. The pair struck a friendship and in 1948 they married and moved to Manchester. The couple later settled to London where they had two sons and Mrs Bubenzer got a job working for future newspaper tycoon Robert Maxwell, who had just started a publishing business. But her marriage broke down and Mrs Bubenzer returned to Bermuda with her two sons in 1959. Mr Bubenzer said: "When we first came home we stayed with my mother's aunt and uncle on Angle Street in Hamilton. I was five and my brother was three and she worked tirelessly to provide for us. Her first concerns were not just providing adequate food and clothing for her sons, but also giving us a good education." Mrs Bubenzer became the first black woman to serve as secretary to the island's Magistrates, where she recorded court proceedings. She got a job at American International in 1967 and worked there until she retired in 1989. Mrs Bubenzer continued to travel with Mrs Robinson during her later years and enjoyed an active social life. She decided to move to nursing home Westmeath in 2011, where she remained until her death on Monday, September 25. Mr Bubenzer said: "She was very loving; very protective and wanted to make the best possible life for her children. Above all, my mother loved people, and had friends of all ages and backgrounds over the many years of her life in England and Bermuda, including old Bermuda friends, such as Eva Robinson. We are extremely proud of what she did and the difference she made and also how she struggled when she came back to Bermuda. What she was able to achieve was a minor miracle. She accomplished a huge amount — we were always close and so saying goodbye has been very hard."
October 3. Sean Lamont, Mike Ross and Marcus Horan will be among the heavy hitters looking to help the Classic Lions reclaim the World Rugby Classic title next month. Lions, who previously claimed the title in 2015 with a win over the Classic All Blacks, open their campaign against France Classic Rugby in a group B match on Sunday, November 5. Lamont, only the second Scottish player to win 100 caps for his country, retired from professional rugby last season while playing for Glasgow Warriors. The 36-year-old center scored 70 points for Scotland from 2004 to 2017, and 320 points during his club career, which included two spells at the Warriors. He is presently a Scottish Rugby Academy coach. Ross, who also retired last season, made 61 appearances for Ireland, playing in two World Cups, as well as winning a pair of Six Nations titles. The 37 year-old also won two Heineken Cups, a Challenge Cup and two Pro12 titles with Leinster. Meanwhile, Horan was capped 67 times by Ireland and was part of the side that won the Grand Slam in 2009. The 40-year-old, who retired in 2013, also represented Ireland at the 2007 World Cup and won a pair of Heineken Cup and a Magners League with Munster. Also named in the 24-man squad are Tomás O'Leary, a former Ireland scrum half, Gavin Kerr, who won 50 caps as a prop for Scotland, and returning players Chris Wyatt, Ceri Sweeney, David Corkery, Ritchie Rees and Neil Best. The Lions, who were beaten 14-7 by the Classic Springboks in the semi-finals last year, will be coached by Derek McAleese, a former Ireland fly half, and managed by former Wales lock Allan Martin. The World Rugby Classic runs from November 5 to 11, with the opening game between Classic Pumas and Rugby Canada at North Field at 2.30pm.
October 2. A new, Bermuda-focused geography textbook will be in the hands of primary school students, according to Diallo Rabain. Speaking in the House of Assembly on Friday, the Minister of Education and Workforce Development, said the new Young Geographers textbooks are the result of a collaboration between Panatel VDS Ltd, a local video and film production house, and the Department of Education aimed at teaching them about the local environment. "Geography is the study of specific places on Earth and the relationships between people and their environments. Geography helps to develop key skills as it relates to understanding where places are found, why they are there and how geographical areas develop and change over time. Our teachers will expose our P1 to P6 students to the world of geography in the Bermuda context through this text book. In addition to learning about the size and structure of the island, the book helps to teach lessons on Bermuda's land formations, caves and vegetation. We all understand the importance of planting seed when the soil is fertile so it guarantees fruit," Mr Rabain said. "This is our intent as we expose the fertile minds of our primary school students to understanding the origins and features of the Bermuda environment. The basic geographical concepts understood from the local environment will form the foundation for our students to build on and conceptually link to the global perspective."
October 2. Bermuda's youngest Member of Parliament has urged the Government to push ahead with changes to the education system. In his first speech in the House of Assembly, Progressive Labour Party backbencher Dennis Lister III said revamping the middle school system and introducing a Steam academy in primary schools would provide more opportunities for young people to find their purpose in life and keep them away from negative influences. "I want to encourage our government to continue going forth with their Throne Speech promises of introducing the Steam academy and also to go through with revamping the middle school system because that is where the majority of our young and especially black men fall through the cracks. They get lost because they are not as academic as 'that person', so they feel like they are a failure. We have to do all that we can to make a positive environment for the young people coming up: to enforce to them and reinforce and reiterate to them that you can be whatever it is you want to be; give them all the opportunities education-wise, training-wise so that they can be exposed to anything so that they can see their opportunities." During Friday's motion to adjourn, Mr Lister, 32, said not everyone wanted to work in law, medicine, accounting or insurance. And with schools focused on academics, he said the challenge lay with those who were not academically inclined. "And that challenge has a knock-on effect in society and what we see today with a lot of antisocial behavior, a lot of negative that young people get caught up in," he said. But he added that being able to pursue other career paths "will keep them away from any negative influences in life. If they know that they can be successful in that and make their living, that will give them a focus in life, a purpose and keep them from getting distracted in negative things that as an idle mind, with no purpose, it is much easier to get caught up in." Mr Lister said the PLP's pledges in the Throne Speech to fix the education system and to provide better opportunities and training for Bermudians should also include providing opportunities for young people to reach their purpose. He said the story of Bermudian boxer Nikki Bascome resonated with a lot of young people. "School wasn't his forte. He got caught up in some negative vibes in life but he got the exposure to something good that he used to his benefit. If we can do that with all the young people coming up, you can imagine the positive effect this is going to have for Bermuda." He also spoke about his own experience, telling the House that although he was not sure about what he wanted to be growing up, he knew he wanted to sit in the House of Assembly as an MP. And after working with his uncle, former MP Terry Lister, in 2010, he felt it was his time to stand up and make a difference. He said he was here today because he had found his purpose and stuck with it. Mr Lister added that he received supportive messages from many young people, who now want to follow his lead "all because one person took a stand, followed their purpose and used it to make a difference". He concluded by urging the island's youth to "do all you can to pursue your purpose, do what you can to make it your goal in life to use your purpose to affect those around you positively".
October 2. Mahesh Madhavan has taken over from Michael Dolan as chief executive officer of Bacardi. The spirits giant, which has headquarters on Pitts Bay Road, had first announced the planned transition in March. Mr Dolan has retired after holding the CEO's role since 2014. "With more than 20 years at Bacardi, in different roles in different geographies, Mahesh has a tremendous track record of success," Facundo Bacardi, chairman of the family-owned business said today. "He inherits a business that is in great shape, with a healthy balance sheet, revitalized brands, and an engaged team of employees. Mike and Mahesh have worked closely to carry out the succession smoothly, and the board is delighted with the progress they achieved." In his career with Bacardi, Mr Madhavan has led the company's Europe, Asia, Middle East and Africa operations. He has also held leading roles in various fast-growing emerging markets including managing director of India, managing director for Thailand and the Philippines, and managing director of South Asia and Southeast Asia. He has also led the company's Emerging Market Council. As part of this leadership succession plan, Mr Madhavan announces the internal appointments of two senior leaders. Effective immediately, John Burke, 51, becomes global chief marketing officer of Bacardi and president of Bacardi Global Brands Ltd, while Ignacio del Valle, 47, leads commercial operations for the Latin America and Caribbean region as its regional president. Mr Burke and Mr del Valle serve as members of the Bacardi Global Leadership Team and report directly to Mr Madhavan. Mr Burke will be based between the Bacardi global headquarters in Bermuda, subject to Bermuda immigration approval, and Bacardi Global Brands Ltd's London office. "These internal appointments showcase our deep bench of seasoned talent and leadership within Bacardi and further demonstrates the company's dedication to nurturing and growing our talented leaders," Mr Madhavan said.
October 2. A same-sex couple who recently married on the island have expressed their joy, thanking Bermuda for giving them a positive experience. In a social media post, Bryce Whayman and Roland Maertens wrote that they were warmly welcomed, despite the often heated debate about marriage equality on the island. Mr Whayman wrote: "Roland and I had an amazing time in Bermuda, we felt the love from everyone, complete strangers were approaching us in the grocery stores, restaurants, shops, and tourist attractions offering their congratulations. "It was amazing to see and feel! We were presented with gifts (blows my mind!) from anonymous shopkeepers and I recall each and every one of these special moments and the people. My father was amazed too, he was pulled aside by restaurateurs who wanted to tell him how good this is for business and Bermuda as a whole. Humanity coming together giving support. Beautiful!" The couple particularly praised Wahoo's Bistro, Ascots, Café Acoreano, the Village Pantry, Rock Island Coffee, Island Life, the Bermuda National Museum and Fort St Catherine's for their kindness and generosity. Based on their experience, he wrote that it appeared that those speaking out against same-sex marriage appeared to be the vocal minority. "Bermuda can really turn it on when it needs to but in our case, it was more heartfelt and genuine," he wrote. "The politicians need to drop the marriage equality showdown and focus on building Bermuda. It's in dire need of some love right now." Kevin Dallas, the CEO of the BTA, commented on the post, writing: "That's great to hear! It speaks to Bermuda's legendary spirit of hospitality — we welcome all visitors — and to some of our service providers' desire to serve a lucrative market segment."
October 2. West End residents and environmentalists have queried plans to introduce quad bike tours to the Railway Trail in Somerset. Members of the public issued a statement earlier today describing their qualms. The proposal was approved by former Minister of the Environment Sylvan Richards, although it would have to pass other legislative hurdles before the bikes could operate. The excursions would use all-terrain vehicles, or ATVs, for visitors to embark on guided tours along the trail. According to Mr Richards's statement online, the idea was for "low-powered silenced ATV's along part of the railway trail in Somerset only". No tours would operate on Sundays, and portions of the trail would be off-limits. The Royal Gazette was unable to get a response on Friday regarding the status of the plan, which has drawn opposition on social media. The environmental group Greenrock is also seeking details. Executive director Jonathan Starling lamented the lack of consultation. Mr Starling said: "Members of the public have been in touch and voiced their opposition to the proposal." Area residents were concerned over rumors that the motorized tours would include access to Hog Bay Park. Mr Starling said Greenrock had "some reservations. While we can appreciate visitors getting to know our beautiful nature reserves, the use of ATVs doesn't seem the right way to do so," he said. Mr Starling accepted its use for those with mobility issues but remained "concerned about the precedent it would set. The Railway Trail and nature reserves are supposed to be areas of active commuting — walking, jogging and cycling — and generally areas for peaceful contemplation of our island's nature and beauty," he said. "This proposal would seem to run counter to that, and there's the added concern of damage to the trails." The group was consulting with other organizations, and Mr Starling called it "disappointing" that none had been approached. "Through consultation, things like this could be troubleshooted early on, and win-wins identified. Sometimes that's not possible, but more often than not, it is. We would hope that the new Government makes public consultation on policies central to their decision-making process — and it would be fantastic if entrepreneurs also engaged the relevant organizations early on too so that we could avoid problems or misunderstandings."
October 2. Increasing fuel costs were the largest driver of inflation in July, as the cost of living rose 1.7 per cent from a year earlier. Inflation, as recorded by the Consumer Price Index, published today by the Department of Statistics, edged lower to 1.7 per cent from 1.8 per cent in June. The fuel and power sector rose 9.7 per cent year over year and it was up 3 per cent from June. A significant factor was a 9.5 per cent increase in the fuel adjustment rate on Belco bills in July. Higher prices for premium fuels also drove 3 per cent annual inflation in the transport and foreign travel sector. It was also up by 2.4 per cent month to month. The average cost of airfares and overseas hotels increased 8.3 per cent and 5.6 per cent, respectively, from June. Food prices rose 2.6 per cent from July 2016 and 0.2 per cent for the month. Fuelling the increase was a 4.5 per cent rise in the cost of flour, while rice prices were up 2.3 per cent and fresh tenderloin was up 2 per cent. The CPI data showed that the basket of goods and services that cost $100 in April 2015 now costs $103.90.
October 2. A successful pilot recycling programme in Dockyard could become permanent. Blue recycling bins were installed in May after the West End Development Corporation and the Department of Public Works agreed to split the costs of the initiative. Wedco's Business Development Manager Joanna Cranfield said: "We have thousands of people using Dockyard every day during peak periods and our motivation was simply to reduce the volume of general waste and, also, because it is the right thing to do." Ms Cranfield said they had tried to start a recycling programme in Dockyard for many years without success because of the cost of taking the recycled items to the depot. She added: "We finally agreed that with the assistance of Public Works we could share some of the expense. The AC35 was also instrumental in making this happen as they had a strict recycle programme and we were able to piggy back off them as well as being able to use some of the recycle equipment that was already in place after the event." Wedco placed blue TAG bins, with all the internationally recognized recycling symbols, next to black general waste bins in the hope that people will separate their trash. The trash contractor then collects the separated trash and delivers it to the relevant dumpsters in the Sallyport waste area. The Department of Public Works provided the recycle dumpsters and compactor and removes the recycled trash as needed. Ms Cranfield added: "The programme started in May and is due to run for six months. It has been very successful and we will talk to the department about how we can ensure it continues on a permanent basis." Don Baisdon, of ES Enterprise who is contracted to deal with all Wedco trash, said since the start of the pilot programme about ten tonnes of recycled materials have been collected from Dockyard. He added: "This initiative is very important and I can see it growing and becoming the norm for everyone."
October 2. Buses and ferries will not be running tomorrow morning because of a meeting with the Bermuda Industrial Union, the Ministry of Transport and Regulatory Affairs has advised. Services are expected to be down between 9.45am and 12.30pm. A ministry spokesman apologized for the inconvenience to the public. According to the BIU, the meeting was scheduled by the Government's negotiating team in conjunction with the BIU. The team has met for several weeks to ratify the current collective bargaining agreement between the Government and the union.
Sunday, October 1. A shipping container of drinking water is on its way from Bermuda to the Caribbean, with another container of supplies to follow for hurricane relief. The aid was mustered by the Kiwanis Club of St George, in a break from its usual activities, in response to devastation left by storms. Club director Buddy Fleming, who spearheaded the collection, said his heart had gone out to "our neighbors to the south" when he heard of the catastrophe. Mr Fleming linked through the club to one of the chapters in Antigua, which agreed "instantly" to help with the distribution of aid. The container of roughly 27,000 bottles of water is now en route to Antigua, with another being packed with necessities such as clothing, bedding and household items. Gary Kent-Smith, the president of Kiwanis St George, said that "many residents in Antigua and Barbuda lost their houses — in fact, they lost everything — in the hurricane. As a result it was determined that anything we can send from Bermuda would be of use to the victims." Various companies assisted, including Lindo's, AS Cooper & Sons, Fast Forward Freight, Meyer Shipping, the Fairmont Southampton, St George's Club, Golf Villas Ltd, and Rosewood Tucker's Point. While the main thrust of Kiwanis clubs is to serve children, Mr Kent-Smith said that "if we help adults in need, they in turn will be better placed to take care of their children — as a result, Kiwanis St George is indeed helping children". Both Kiwanians, on behalf of their club, thanked all who contributed. Kiwanis is a global organization of volunteers dedicated to improving the world, one child and one community at a time.

History & daily newspaper reports

Authored, researched, compiled and website-managed by Keith A. Forbes.
Multi-national © 2020. All Rights Reserved