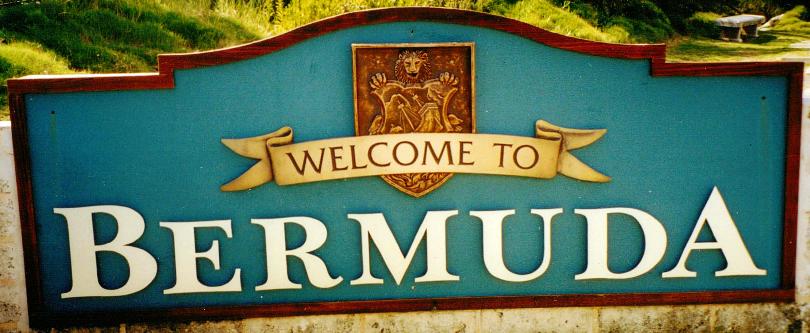 Click on graphic above to navigate the 165+ web files on this website, a regularly updated Gazetteer, an in-depth description of our island's internally self-governing British Overseas Territory 900 miles north of the Caribbean, 600 miles east of North Carolina, USA. With accommodation options, airlines, airport, actors, actresses, aviation, banks, beaches, Bermuda Dollar, Bermuda Government, Bermuda-incorporated businesses and companies including insurers and reinsurers, Bermudians, books and publications, bridges and causeway, charities, churches, citizenship by Status, City of Hamilton, commerce, communities, credit cards, cruise ships, cuisine, currency, disability accessibility, Devonshire Parish, districts, Dockyard, economy, education, employers, employment, environment, executorships, fauna, ferries, flora, former military bases, forts, gardens, geography, getting around, golf, guest houses, highways, history, historic properties, Hamilton, House of Assembly, housing, hotels, immigration, import duties, internet access, islands, laws, legal system and legislators, main roads, marriages, media, members of parliament, money, motor vehicles, municipalities, music and musicians, newcomers, newspaper, media, organizations, parks, parishes, Paget, Pembroke, performing artists, residents, pensions, political parties, postage stamps, public holidays, public transportation, railway trail, real estate, registries of aircraft and ships, religions, Royal Naval Dockyard, Sandys, senior citizens, Smith's, Somerset Village, Southampton, St. David's Island, St George's, Spanish Point, Spittal Pond, sports, taxes, telecommunications, time zone, traditions, tourism, Town of St. George, Tucker's Town, utilities, water sports, Warwick, weather, wildlife, work permits.

Bermuda's 2015 February History and News
Events that made newspaper headlines in the second month of this calendar year
By Keith Archibald Forbes (see About Us).

See end of this file for all of our many History files
2015. February 2. A $250 million payoff is on the table if the proposed $11 billion merger between Axis and PartnerRe fails to go ahead. Each firm will be liable to pay a break fee to the other if the deal — which would create the fifth-biggest reinsurance company in the world — gets called off. The figure is one of the biggest termination fees in recent history in the Bermudian market. The deal is described as "a merger of equals", but Morgan Stanley analysts estimated the proposed transaction valued Axis shares at 1.03 times and PartnerRe at 0.90 times their projected 2014 year-end value. On that measure, the $250 million break fee represents between 4.5 per cent and 4.8 per cent of the total value of the transaction. The break fee is second only to the $50 million fee set during IPC Re's aborted $912 million merger with Max Capital in 2009, which was the equivalent of 5.5 per cent of the total deal. Investors are known to dislike break fees as they are a barrier to competing bids and can prevent shareholders cashing in on a better offer. During the successful hostile takeover of IPC by Validus in 2009, Validus took legal action over the merger agreement between the firm and Max Capital, which in part challenged the termination fee. It is understood, however, that the case never made it to court and the fee was paid. Validus argued the fee was "excessive" and amounted to an unlawful penalty under Bermuda law. Merger and acquisition fees in Bermuda generally range between three to four per cent of the deal total. Platinum Re and Renaissance Re, who announced a merger last year, agreed a $60 million fee of the $1.9 million deal does not go ahead, amounting to around 3.2 per cent of the value. And the unsuccessful Allied World and Transatlantic Re merger of 2011 was subject to a $115 million penalty — 3.6 per cent of the deal. But the other large merger announced in recent weeks, XL and Catlin, has no break fee if either decides to pull out of the $4.2 billion deal, due to UK laws on takeovers.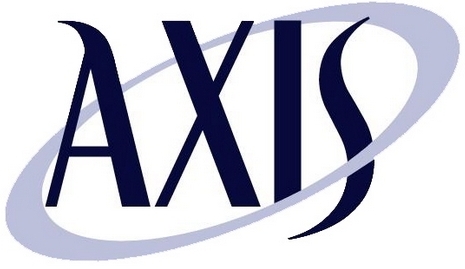 See story above
February 2. An attempt to save this year's Agricultural Exhibition has received a phenomenal response, according to the man behind the bid. Jeff Sousa, One Bermuda Alliance MP for Warwick West, reached out on social media on Friday to urge the community to come together and help to hold the event as planned in April. "My inbox is just lit up from every spectrum of society that wants to help," Mr Sousa said yesterday. "I truly believe that our people would make it happen. There is no event on the Bermuda calendar that brings the community together like the Ag Show." Mr Sousa said various organizations run the different events, while schools and registered charities take care of the concessions. "The catalogue has gone out already and everything is in place," said Mr Sousa, who believes there is no reason why the show cannot go ahead as planned from April 16 to 18. Mr Sousa said he understood that overtime pay was the main reason why this year's show was cancelled. "The exhibition takes place every year in April," he said. "This is no surprise and we should be more prepared. We need to be more productive and accountable." Mr Sousa said he was encouraged by members of the community's response to a call to try to save the event. He is calling on volunteers to help with the parking, ticketing and clean-up, and hopes to rely on donations and fundraising to cover any aspect that has not been organized already. "The Agricultural Show is a big part of our community and culture and we need that," Mr Sousa said. "We as Bermudians are a community that receives most of its income through international business and tourism, but agriculture was something that really put us on the map and started tourism. We were the East Coast's vegetable garden." Mr Sousa said it was early days and that he had to discuss the plans with his colleagues before any further decisions could be made. The cancellation of the 77th Agricultural Exhibition was announced on Friday as a cost-cutting measure agreed upon by the Bermuda Trade Union Congress and Government after three days of industrial action. Premier Michael Dunkley said canceling the event would result in savings of $400,000. "It's a painful decision and personally I am very supportive of the Ag Show," Mr Dunkley said. "But it involves a lot of overtime and we need to look at ways of saving. "We looked at whether we could do it over one or two days, but in the end decided that we would suspend it for this year with a view to bringing it back next year."
February 2. The Ministry of Home Affairs has made the following release regarding a recent release from some council members of the Corporation of Hamilton. Senator Michael Fahy, the Minister of Home Affairs, said: "This matter is before the Supreme Court of Bermuda, and it would be highly inappropriate to comment on this statement by some of the council in any substantive form since, much of it is sub judice. However, I remind the public that there is a temporary stewardship order in place pursuant to Section 7(B)6 of the Municipalities Act 1923 in respect of the governance of the Corporation of Hamilton (CoH). In practice this means that the council is unable to pass any resolutions or ordinances, and official council meetings are suspended until further notice. The CoH chief operating officer (COO), Ed Benevides, will continue to exercise his authority in respect of the standing financial instructions with the oversight of the Ministry of Home Affairs. It is vital the community understands that all communication relating to the CoH is in the first instance sent to the COO, who will forward as necessary correspondence to me. I shall in due course advise the council of their role moving forward, which shall be in an advisory capacity only. I should be clear that any correspondence purporting to emanate from the CoH is not representative of the corporation unless it has been signed by the COO or me. In that regard, I must stress the press release from certain council members was not authorized by me or the COO and, as such, is not an official release by the CoH, despite the official letterhead on the release. If council members wish to make releases to the press in their own names, that is their prerogative, but given the numerous allegations by council members made against each other, it is ridiculous indeed for anyone to be speaking to the press about anything to do with internal governance issues. That said, I strongly urge all of the council to refrain from making comments to the press. It does nothing but further damage the reputation of the City and the existing council." Within the hour, City Hall reiterated Sen Fahy's comments, with Graeme Outerbridge, the Mayor of Hamilton, saying: "Unfortunately, this has been an ongoing challenge for this council. While I would like to give my side of the events, this matter is before the courts and I am bound to make no comment out of respect to Chief Justice Ian Kawaley and the legal due process."
February 3. WASHINGTON (Bloomberg) — President Barack Obama's latest budget plan narrows the gap between the two parties on US business taxes, offering the glimmer of a potential agreement. His proposal would require US companies to pay taxes on foreign income, though lower than what they pay at home, and give them the freedom to bring profits home whenever they want. It would also aim to create simpler accounting rules for small businesses. Obama's moves to tax US companies' offshore profits aren't as aggressive as his campaign promises and reduce the number of disputed areas with Republicans. The parties are still divided on which business tax breaks should be curtailed, how much revenue should come from corporate taxes, and the treatment of businesses that pay taxes through their owners' individual tax returns." Republicans won't embrace Obama's proposals, which amount to an opening bid in an effort to reach a deal on business taxes," said Rohit Kumar, co-leader of the US Tax Policy Services practice at PricewaterhouseCoopers LLP in Washington. 2A bipartisan deal is possible to lower corporate tax rates with international rules more favorable to companies than the ones Obama proposed. The president put out what I consider to be the left goalpost of tax reform," said Kumar, a former aide to Senate Majority Leader Mitch McConnell, a Kentucky Republican. "You can see the contours of where they might land." Companies including Alcoa, Caterpillar, Cisco Systems and Bank of America have been urging Congress to lower tax rates on foreign profits and let them bring money home without an extra layer of US taxes. Groups representing US-based multinationals criticized Obama's plans yesterday. "Unfortunately, the administration has proposed steep tax increases on businesses that will negatively impact their competitiveness — especially those businesses that compete in the global marketplace," said John Engler, president of the Business Roundtable. The association of large companies' chief executives includes Michael Corbat of Citigroup and AG Lafley of Procter & Gamble Co. Obama is pushing the parties further apart on taxation of individuals. His budget plan layers new taxes — higher levies on capital gains and people who die with appreciated assets — on top of previous ideas that Congress has repeatedly ignored. Administration officials have been emphasizing the potential overlap between the parties on business taxation, because lawmakers in both parties favor cutting the 35 per cent top corporate rate — the industrialized world's highest — and curbing business breaks. "The president's budget proposal takes direct aim at two of the nation's most pressing challenges," taxation of US companies' overseas profits and providing money to repair the nation's infrastructure, Representative Sander Levin of Michigan, the top Democrat on the House Ways and Means Committee, said in a statement. Obama's latest international tax plan represents a departure from his campaign rhetoric — and yet it's not exactly what major corporations had in mind. The proposal would impose a 19 per cent minimum tax on US companies' foreign earnings, which would mean a tax increase for technology and pharmaceutical companies that have been booking profits in low-tax and no-tax jurisdictions such as Bermuda for years. The 19 per cent rate would be a discount from the new rate on domestic profits under Obama's plan — 28 per cent for most companies and 25 per cent for US manufacturers. And it is different from Obama's early budget proposals, which would have retained the tax upon repatriation and made it tougher for US companies to defer taxes on foreign profits. The latest Obama plan would include new rules to prevent companies from shifting domestic profits outside the US and limits to keep them from changing their addresses for tax purposes through transactions known as inversions. The minimum tax applies only to profits above what is considered an ordinary return to capital. "The minimum tax thus is a high rate, but one applied only to super sized returns," said Ed Kleinbard, a tax law professor at the University of Southern California. Companies would face a 14 per cent one-time tax on about $2 trillion they have stockpiled overseas under the current system, which provides incentives to shift profits overseas and leave them there to avoid a US tax upon repatriation. Companies with profits parked overseas include Apple, Google and Microsoft, which holds $92.9 billion in profits outside the US. If that money were brought home, the company would owe $29.6 billion in US taxes — or a 31.9 per cent rate. The revenue from the one-time tax — $248 billion over five years — would be used for an infrastructure programme. "It's really an attempt to balance the need to make sure we're not eroding our tax base, but also to make sure our companies are competitive as they operate around the world," Jason Furman, chairman of Obama's Council of Economic Advisers, said Monday on CNBC. Last year, House Ways and Means Committee Chairman Dave Camp, who retired in January, offered a similar proposal that also included a one-time tax on stockpiled profits and rules to prevent US companies from shifting future profits overseas. His proposed tax rates were more favorable to companies. Timothy Karpoff, a former US Treasury official and now a partner at Jenner & Block LLP, said in an e-mail that Obama's proposed one-time tax is similar to Camp's plan although they had different rates. Because the president's plan would continue to treat profits earned overseas differently from those earned in the US, there would be incentives for "complex tax structuring transactions" to reduce companies' tax bills, Karpoff said. The Alliance for Competitive Taxation is pleased with Obama's willingness to revisit past proposals on taxing overseas profits, said Douglas Holtz-Eakin, an adviser to the group and former director of the Congressional Budget Office. "At the same time, the proposals in the budget would harm international competitiveness, hurt jobs and economic growth," Holtz-Eakin said in a telephone interview. "Not every opening bid is created equal." The two parties are still divided on the taxation of businesses known as pass-throughs, those that pay taxes through their owners' individual returns. That includes small businesses including corner stores and dry cleaners and large global businesses such as Ernst & Young LLP. The administration has focused on offering benefits to small businesses, such as faster write-offs of capital expenses. The budget plan released Monday would let businesses with receipts of up to $25 million use cash accounting, up from the $10 million threshold Obama proposed in 2012. Republicans in Congress would rather cut both the individual and corporate tax rates so businesses pay the same top rate regardless of how they're organized. They haven't yet proposed a plan that would address the issue if Congress only focuses on business taxation. Obama also hasn't described exactly which tax benefits would be curbed to offset his proposed rate cut. The budget sets aside $141 billion over a decade to pay for the rate cut. A reduction to 34 per cent from 35 per cent costs about $110 billion. Obama's budget repeats many of the tax proposals he has offered before, including higher taxes on fund managers' carried interest, the repeal of breaks for oil companies and the end of last-in, first-out accounting rules. This year's plan has some new corporate proposals, including a requirement that master limited partnerships for fossil fuels, such as Enterprise Products Partners LP, be treated as corporations for tax purposes.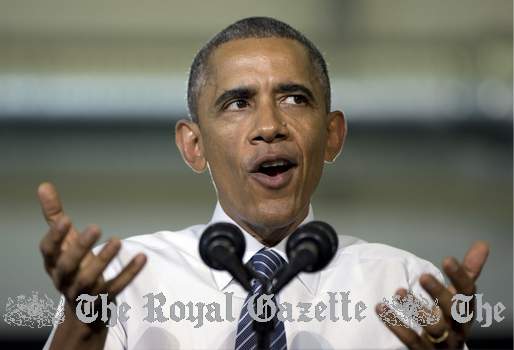 February 3. Yo-Yo Ma has been described by Washington Post art and architecture critic Philip Kennicott as arguably the best cellist ever, known for his fresh, richly interpretative approach. The audience at the Bermuda Festival's Founders' Recital, performed in honor of its conceivers — violinist extraordinaire Yehudi Menuhin, later Lord Menuhin; Bermuda's then Governor, Sir Edwin Leather, and the Festival's first chairman, John Ellison — certainly anticipated a particularly special performance, and were left in sheer wonder at the brilliance of this extraordinary musician. On Sunday evening, Mr Ma could have been performing at the Kennedy Centre rather than our own Earl Cameron Theatre. The sense of excitement and expectancy was palpable, even as gathering audience members collected at the venue. The auditorium was filled, the doors closed and the audience sat, hushed, for several minutes before the cellist walked on to the stage. Mr Ma seemed sincerely delighted by the warmth of his reception — it is a wonderful aspect of his concerts that he is extraordinarily generous to both his audience and fellow musicians. This crowd was fortunate to have the great man to themselves — and performing three of Johann Sebastian Bach's unaccompanied cello dance suites — but in other performances where he has shared the stage, his warmth towards, and appreciation of, his fellow performers is clear. In the same way, with a warm smile and uplifted arms, he has a knack of making the audience feel that he is delighted they are there to hear him play. In this programme, Mr Ma took us to the beginnings of music for the cello. JS Bach invented a specific style for the solo instrument, and in the Six Suites fully explores the technical possibilities. Mr Ma's musicianship and interpretation seem, at once, effortless and extraordinary. Musicians in the audience were as mesmerized as everyone else — perhaps more so. "It's like breathing," one said during the intermission. "The colors flow from his fingers." The prelude to Suite No 1 in G Major has been described as "possibly one of the most immediately recognizable solo works for the instrument", and its opening arpeggiated figure and crystal-clear clarity was a wonderful introduction to the purity of tone and beauty of expression that Mr Ma draws from his cello. From the even pace of the allemande, to the lively courante and the gigue, to the elegance of the first minuet, the cellist encouraged the audience to listen for nature's infinite variety. Bach is often deceptively complex. In this suite the music has a translucent quality, yet its texture was rich and evolving — no mean feat for a melodic instrument. The courante's form and structure is neatly balanced, yet Mr Ma's interpretation made it mesmerizing; the sarabande has a clear rhythm, however the performance was a lyrical, quieter one. The two minuets were surprisingly gentle movements, while the gigue completes the suite in a lively fashion, yet with truly lyrical moments. As Mr Ma had encouraged the audience to listen for the insights into nature in Suite No 1, he encouraged us to see Suite No 5 in C Minor as a reflection of human nature. Grand and slow, this grouping, for the most part, is a serious and complex series of movements. Certainly its prelude, in the hands of Mr Ma, moves adroitly between the emotional drama elicited by the phrasing in the lower, darker range and which he then brings together with those in the mid-range to make perfect sense, while the allemande's weight and intensity spoke to the complexities of the soul. The dance rhythms were even and clear, but imposed on that were sentiments of various sorts: serious and resigned, angst and a sort of peace. Bach's Suite No 3 in C Major brings nature together with human nature, Mr Ma suggested. The prelude breathes rhythmically and steadily, building to a crescendo, while in the gigue, he produced the purest tone I have ever heard, with ethos pouring from every note. His performance of the familiar Bouree was an entirely fresh interpretation. A brilliant final section is described in the programme notes as a "non-stop tour-de-force", and I can do no better than that — brilliant and with a depth of intensity of which it seems only Yo-Yo Ma is capable, bringing the audience to their feet in its entirety and all at once. Mr Ma performed two encores: one, a piece from the fiddling tradition which has crossed the Atlantic and found a home in the Appalachians. "No more Bach," he said to laughter. When the audience again got to their feet, he performed a Catalonian folk song Song of the Birds, a favorite of the great Catalonian cellist Pablo Casals, which gorgeously evokes bird song and soaring flight. As Mr Ma is quoted as saying: "I think of a piece of music as something that comes alive when it is being performed, and I feel that my role in the transmission of music is to be its best advocate at that moment." That he does, brilliantly.
February 4. The first J Class sloop ever built for Sir Thomas Lipton's fifth and final America's Cup challenge could potentially grace Bermuda's waters when the Island hosts a J Class regatta in 2017. Shamrock V, the only remaining wooden J Class sloop, lost against American defender Enterprise in the fourteenth America's Cup Match held in 1930 and is one of only seven J Class sloops in existence today. The J Class Association (JCA) and the America's Cup Event Authority have agreed to stage a J Class regatta in Bermuda in June 2017 between the conclusion of the America's Cup Challenger Play-offs and the America's Cup Match. The occasion will mark the J Class's first appearance in the America's Cup in 80 years. The J Class was the design sailed in the America's Cup between 1930 and 1937 before the 12-metre class yacht was introduced in 1958 in what was the first America's Cup Match held in just over two decades. "The J Class era of the America's Cup is widely recognized as being among the high points in Cup history," said Sir Russell Coutts, director of the America's Cup Event Authority (ACEA). When racing for the America's Cup in the 1930s, the J Class boats embodied grace and power with cutting-edge design and engineering. Having the J Class join us in Bermuda will create a spectacular blend between the old and new." The J Class boats will be moored in the America's Cup Village in Dockyard, providing as elegant a sight at rest. Louise Morton from the J Class Association (JCA), said: "The America's Cup organizers have offered the J Class a unique opportunity to be part of the America's Cup for the first time in 80 years. On behalf of the owners, captains and crew, we are delighted to be part of this spectacular event." Racing in the J Class regatta will be organized by the America's Cup race management team with the final two days of racing expected to straddle the opening weekend of the America's Cup Match. Shamrock V is the only J Class sloop to have been in continuous commission since her launch in 1930. Since her refit in 2000, Shamrock V has sailed across the Pacific and attended the America's Cup in New Zealand. Irish/Scottish tea Baron Lipton and the Royal Ulster Yacht Club challenged five times for the America's Cup between 1899 and 1930. While Lipton did not win the America's Cup, he became one of the first to introduce the idea of sports sponsorship, and he realized a financial windfall from it. Lipton's final challenge in 1930 was the first in the new J-Class boats. This was a period of magnificent beauty afloat, as the towering masts carrying an improbable amount of sail powered through the chop off Newport, Rhode Island. Harold Vanderbilt was selected to defend for the New York Yacht Club that year and did so with ease, winning the best-of-seven series 4-0. Lipton's challenges became famously known as the Lipton era of the America's Cup. Despite failing to win the Cup he became a folk hero for his good-natured approach to the obstacles stacked against him.
February 4. Scores of American visitors are expected to descend on St George's to mark the 240th anniversary of the Bermuda Gunpowder Plot this year. Members of Sons and Daughters of the American Revolution have held talks with people on the Island and have confirmed plans to travel here in August. Members from the two patriotic organizations, who are descendants of people who helped America to achieve independence, will attend a series of events during their stay in Bermuda, including a historic re-enactment of the gunpowder barrels being rolled down to Tobacco Bay and taken out to waiting American ships. Mayor Garth Rothwell described the group's visit as "a great example of cultural tourism" and he said he hoped that the Gunpowder re-enactment could become a permanent fixture on the St George's calendar. "This is great news for the town," said Mr Rothwell. "The re-enactment will take place on August 15 down at Tobacco Bay and we have high hopes that this will be a very well attended event. "As well as the families from the Sons and Daughters of the American Revolution, we hope that locals will also come down and mark this very significant event in our history. The more we can develop our historic links with the US, the more people we can attract to Bermuda and St George's. This event has great potential and we would very much like to make it an annual event." Bermuda's so called "Gunpowder Plot" involved a group of residents defying British rule and providing Americans with more than 100 barrels of gunpowder to fight the British. On August 14, 1775, a party of armed Bermudians led by Colonel Henry Tucker overpowered a single militia guard and scaled the high walls of the Powder Magazine in St George's. They then proceeded to steal the British Army's entire supply of 100 barrels of gunpowder from Powder Magazine. They rolled the gunpowder down the hill to the shores of Tobacco Bay, where a pre-arranged group of locally made cedar dinghies took the precious cargo out beyond the reef to waiting American sloops. The American ships, led by the Lady Catherine, reached Charleston safely and deposited the powder with Captain John Cowper of North Carolina, Colonel Henry Tucker's agent in Charleston. The powder was reportedly later used to good effect at Fort Moultrie. Rick Spurling, president of the St David's Island Historical Society, has been tasked with helping to organize the re-enactment. Mr Spurling told The Royal Gazette: "This will be the first time to my knowledge that a re-enactment of the events of 240 years ago will take place in Bermuda. We are still in the very early stages but we hope to enlist around 20 actors to take part in the re-enactment at Tobacco Bay. It obviously will not be anything like the scale of the original event as we are not going to be able to get 100 barrels of gunpowder. But the purpose will be to create a picture or a snapshot of the events that transpired on August 14, 1775. We also hope that one of the actors will provide a running commentary of what is going on to provide an insight into this event for the people that attend."
February 4. A state-backed Florida property insurance firm is set to place a new $500 million catastrophe bond in Bermuda. Citizens Property Insurance Corporation's chief financial officer last week sent a team, headed by chief financial officer Jennifer Montero, to Bermuda to discuss its proposals with underwriters. The move came after it was revealed the firm aimed to increase its risk transfer to the private reinsurance market from $3.27 billion to $4.05 billion for 2015. The transfer would end the need for policyholder assessments following a 1-in-100 year storm. Citizens completed the largest catastrophe bond transaction in history last May when it was admitted for listing on the Bermuda Stock Exchange. The $1.5 billion issuance through Bermuda special purpose insurer Everglades Re Ltd, was set up to provide reinsurance coverage for the firm. The 2014 transaction was the third transaction with Everglades Re in the past three years, including an outstanding $250 million catastrophe bond issued in 2013. The historic deal marks another milestone for the Island's insurance industry and cements Bermuda's place as the world leader in the insurance-linked securities market.
February 4. The Bermuda Festival has come under fire from the Bermuda Entertainment Union (BEU) for falling short on including local talent — despite the charity's protest that its focus is on bringing international acts to the Island. The BEU acknowledged receiving a direct deposit payment from the Bermuda Festival in December, containing proceeds from the processing of work permits. The union also received a line-up of artists scheduled to perform: 92 foreign acts and four local entertainers for the prime-time stages. A BEU statement yesterday said that fees would only be accepted once criteria had been met, such as checking that artists had been vetted by the American Federation of Musicians. "Also, a suitable amount of local talent must be engaged to perform with an acceptable performance time whenever an international act is performing locally," the BEU added, pointing to existing immigration policy. Those rules are set to become more flexible next month, when a policy switch comes into effect. Under existing policy, hours worked by non-Bermudian entertainers should not exceed those allocated to locals, and those hours should be agreed in advance, the BEU said. The union pointed out that general practice by immigration has been to ensure that requirements were met before issuing a work permit. "To engage 92 foreign entertainers and four locals for major performances is a travesty and an insult to Bermudians and our talented entertainment industry," the statement continued. The union acknowledged receiving a statement from the Bermuda Festival in December 2012 that pointed out its not-for-profit status and limited budget, and saying its contracts with visiting groups precluded them from showcasing local entertainers at the contracted events. Organizers said their focus was on "presenting world class groups of international acclaim, generally representing the classical performing arts", and said there was already an extensive annual calendar of talented local artists. The union nevertheless maintained that the line-up for the latest Bermuda Festival had been "unacceptable", and questioned how permits for outside acts had been obtained without the documentation from the union. "We respect the Festival's concerns regarding the public statements of non-payment," the statement closed. "However, it is necessary for us to outline how payments are evaluated and equally important to address our concerns relative to Bermudian entertainers and work permits. Perhaps the new policy scheduled to be in effect on March 1, 2015, has already been implemented unbeknown to BEU and the people of Bermuda. "In any case, we are still prepared to work with the Festival to ensure a satisfactory resolution for all concerned."
February 4. In a first for the Island's new administration, Premier Michael Dunkley is in Washington DC with Grant Gibbons, Minister of Economic Development. Meetings are due to begin on Wednesday with Congressional Members in the Senate and the House of Representatives, and the pair are to return to the Island on Friday. Mr Dunkley said his time in the United States capital would afford "a unique opportunity to continue to strengthen the relationship we have with the United States. As this will be this Government's first official visit to Washington, we are looking forward to meeting some key decision-makers on Capitol Hill," he added. "We look forward to a very busy schedule of meetings and the opportunity to discuss initiatives and programmes that are mutually beneficial to both our jurisdictions." Meetings have been arranged with key figures on Capitol Hill, as well as the Treasury Department. Mr Dunkley and Dr Gibbons are also expected to meet with the UK's ambassador in Washington. A Government spokeswoman said the trip would update the Island's "long-standing friends" on matters of mutual interest, as well as allowing for introductions with Members of Congress where there is "an interest in current Bermuda issues." This will be the first official trip to Washington by a Premier in almost a year.
February 4. The requirement to have invoices for incoming packages has proven onerous for some local customers, who complain of long waits to get their deliveries from overseas. Delays since December have ignited an online furore — however, according to the Bermuda Government, blame for the holdup does not lie with HM Customs. Asked if customs officials had placed extra conditions on incoming deliveries, a spokesman for the Collector of Customs said the procedure remained the same as ever. It came as frustrated residents told The Royal Gazette about exceptional delays in having their shipments released, even though the goods had already been sent. While last week's industrial action appears to have affected the release of packages, the issue goes back into last year. One customer said he had been told by his courier that a Government agency has placed several shipments on hold. Posts online by irate customers questioned whether customs had amended their policy on incoming packages, requiring that buyers supply courier companies with invoices to pass on to customs. But one local company said the invoice requirements were "really not new at all", saying their firm had implemented a system years ago in which no package would ever be shipped to the Island without an accompanying invoice. The courier said they had not experienced any delays. Meanwhile, via Facebook, more than a dozen people decried weeks of waiting time. Some said they had sent off their orders before Christmas. "Customs policy has not changed," a spokesman said last night. "If an invoice is with the package, it is acceptable, and a Bermuda Customs Declaration for duty collection should be submitted by the courier agency. Apparently this issue is with one agency (IBC) who are sending packages without any invoices." Some disheartened customers said they showed their receipts or credit card payments to customs but this did not suffice. Others claimed they had submitted their invoices repeatedly to their courier company without seeing any results. The Royal Gazette left a message for International Bonded Couriers (IBC) but had received no response by press time last night.
February 4. Cyber security should be top of the shopping list for retailers, a specialist group set up to beat computer crime said yesterday. The Bermuda Cyber Threat Intelligence Group said that hacking risks were real — and could hit firms' reputations and profitability. The group, made up of professionals drawn from business and IT, was speaking after supermarket chain Arnold's was last week hacked — leading to customer card details being compromised by crooks. Cyber-security group member and KPMG send stored. "This is not a 'tool' discussion, but rather it's about people, processes and technology coming together to address risk. As the techniques available to cyber-criminals evolve, so too must the counter manager in the firm's IT advisory team, Chris Eaton said: "Bermuda consumers have a valid expectation that any personal data they share with a local retailer will be securely managed." Fred Oberholtzer, a group member and KPMG IT advisory cyber security chief, said that efficient information-sharing by IT professionals was key to tackling the problem. The Bermuda Cyber Threat Intelligence Group was set up for this purpose and it our hope that today's advisory will help to signify that change is coming. As a group we are committed to helping to address the cyber security issues faced by Bermuda. We are fortunate that we have a well-qualified community of local specialists who are willing to assist." Gibbons Group CEO and chairman of the Chamber of Commerce retail division Paula Clarke said: "Bermuda may seen an unlikely target for cyber-crime, however, this type of activity can and does happen here. The fact is that all retailers, regardless of size or geography, are at risk and retailers in Bermuda are not immune." Group member Ronnie Viera, the chief operating officer of First Atlantic Commerce, said that — in the wake of the Arnold's attack — the group had issued and advisory highlighting steps businesses should take to boost data protection and cyber-security.
These include:
• Not using vendor-supplied default passwords.
• Keeping software security up to date.
• Ensuring a good firewall is in place and maintained.
• Restricting access to business networks.
• Training staff in security measures like not opening suspicious e-mails and being alert to fraudulent attempts to obtain passwords or confidential details.
• Ensuring wireless technology is secure and encrypted.
The group also suggested that sensitive data should be encrypted when sending it over the internet and when it is saved to USB sticks, disks or tapes and that businesses consider insurance to cover fraud losses.
Mr Viera said: "By issuing this advisory, we hope to support our retail community by highlighting some the real-world concerns facing Bermuda's retailers and their customers."
February 5. A fresh attack on a mainstay of Bermuda business in US President Barack Obama's budget proposals has been brushed aside by Government. The President's proposals include denial of tax deductions for reinsurance premiums paid to foreign affiliates and taxes on foreign income for US businesses — although the rate would still be lower than they pay in America. A Government spokesman said: "The Government has been monitoring this matter for the last few years and note that the reinsurance provision is the same provision that has been included in all the Obama budgets and has never been seriously considered by Congress. Now with Republicans in control of Congress, it is even more unlikely to be considered by Congress. Despite this position the Government will continue to monitor this matter and take the required actions in order to protect our economic interest." President Obama's budget also proposes a one-off 14 per cent tax on an estimated $2 trillion parked overseas in a bid to encourage major US corporations like Google and Microsoft to bring the cash home. The Government spokesman said that both Senate and the House of Representatives were controlled by Republicans — who are less likely to agree to Democratic proposals. "As for the increase in corporate taxes overseas, it is noted that this proposal has little support from the Republicans. In addition, many Democrats in Congress also oppose these proposals." The White House move to change the tax system for reinsurance sparked a letter of protest to senior members of the US Senate finance committee signed by a string of companies with Bermuda bases and the Association of Bermuda Insurers and Reinsurers (ABIR). The group — under the banner of the Coalition for Competitive Insurance Rates — asked the Senators to reject the presidential proposals. The group warned that — if approved — it would limit US insurance capacity and drive up the cost of insurance. The letter said: "In effect, this is designed to punish international insurers by imposing additional taxes on their US operations. It essentially imposes and isolationist tariff in international insurance companies conducting business in the US, ultimately denying them a key risk-management tool everyone else uses. They would have to either replace affiliate reinsurance with non-affiliate reinsurance with non-affiliate reinsurance or raise more capital." And the letter warned that the proposals could spur "retaliatory actions" by other countries and damage relationships with important US trading partners, as well as breach World Trade Organization (WTO) commitments. The letter added: "The European Union and individual countries like the United Kingdom, Switzerland and Germany have asserted that this tax would violate WTO commitments and tax treaties."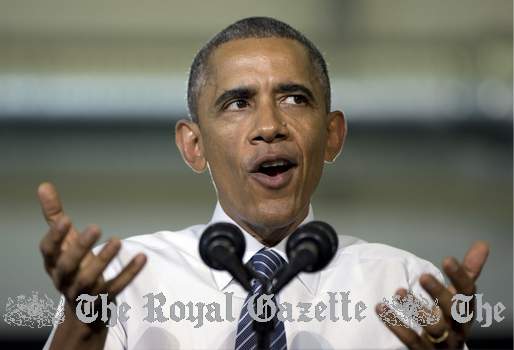 February 5. RG Editorial. Those who don't know history are doomed to repeatedly miss its opportunities. In Bermuda's case, our general lack of familiarity with our Island's long story has repeatedly undercut efforts to put the Island on the map as a cultural tourism destination. A hundred years ago, William Howard Taft, the only man to ever serve as both President and Chief Justice of the United States, said of Bermuda that never in history had a country so small played such a disproportionately large role in world affairs. And he was only exaggerating the case very slightly. A natural mid-Atlantic crossroads and what Winston Churchill once called a vital pillar in the bridge linking the Old World to the New, from the earliest days of settlement Bermudas history has always overlapped with events and developments taking place far from our shores. Thanks to geography and the pioneering efforts of Bermudian shipbuilders and sailors who helped to knit the various Atlantic maritime communities together with their fleet of sloops, the Island was perfectly positioned to play pivotal roles in everything from Americas effort to win Independence from Britain to its much later quest to land a man on the Moon. The 400-year Bermuda odyssey has been occasionally punctuated by periods which have been quite as picaresque and preposterous as others have been safely predictable. For instance during the so-called Golden Age of Piracy, Bermudian buccaneers from across the Islands racial and cultural spectrum stalked the seas. The 1693 capture of a treasure ship belonging to the Great Moghul of India's fleet in the Red Sea by a vessel manned by Bermudians remains one of the richest prizes ever to fall victim to the sharp-end of a freebooters sword. And Blackbeard, by far the most notorious cut-throat of that era, captained a classic Bermuda sloop during his final exploits and counted Bermudians among his crew. But Bermuda's role in that colorful epoch of swashbucklers and sea-dogs goes largely unmarked locally except for some displays at the National Museum, the name of an East End restaurant and as the theme for a recently opened floating bar. And it rarely features in the tourism industry's promotional and marketing efforts at all. So this week's announcement that St Georges will play host to members of the Sons & Daughters of the American Revolution in August for events marking the 140th anniversary of Bermuda's Gun Powder Plot marks a welcome departure from our customary indifference. Celebrating and actively championing Bermudas historical and cultural ties with its large neighbor (and chief tourism catchment area) holds major potential for a still-struggling hospitality sector. A new marketing strategy which includes some focus on these facets of Bermudas past could open us up to a fast-growing and much coveted niche market of traveler. For to a certain traveling demographic, the upcoming Bermuda Gunpowder Plot event is the very stuff of vacation dreams. Even one whiff of the newly-opened-time-capsule aroma which clings to this type of activity can be sufficient to set the well-heeled American history buffs glands tingling and their hands reaching for their wallets. And this is a demographic Bermuda is desperate to attract. Younger, wealthier and more educated than most travelers, the audience for cultural heritage tourism generates millions of dollars for destination communities in spending on shopping, food, lodging and other expenses. This is attributable, in part, to the fact that cultural/heritage trips are significantly longer than most vacations, likely to last seven nights or more. According to the Travel Industry Association of America, more than half of the US adult population now says it is interested in including at least one arts, humanities, historic or heritage activity or event on their vacation itineraries. One quarter of these cultural travelers, representing the high income end of the market, take three or more of these trips per year. Historic/cultural travel volume has continued to grow significantly over the past decade and its benefits for a destination like Bermuda, including the possibility for economic diversification and the preservation of our unique characteristics and customs, are self-evident. Bermuda's well maintained fortifications represent a treasure trove for students of military history in general and those with specialized interests in conflicts ranging from the Anglo-American War of 1812 to the Second World War. The Town of St George, declared a World Heritage Site by UNESCO but never properly positioned as a potential world-class attraction like Dockyard, is a pristine living outdoor history and cultural museum, encompassing the whole sweep of both our development as well as that of the Atlantic maritime world. And the Island and its charms have been celebrated in verse by Shakespeare and Tom Moore, inspired prose by the likes of Mark Twain, Eugene O'Neill and Ian Fleming and been depicted in widely admired canvases by artists including Winslow Homer, Georgia O'Keefe and Andrew Wyeth. So there's certainly no shortage of arts, humanities, historic or heritage-related activities we could develop to target the cultural tourism market. Nor are there any excuses any more for not doing so. Hopefully, the commemoration of the audacious 1775 theft of the entire British supply of black powder on the Island to replenish the Continental Army's depleted stocks will be used as a test case for future efforts in this field. For our diminished hospitality sector has reached the point where we can no longer afford not to know our history and the attendant possibilities it might hold for Bermuda tourism.
February 6. Bermuda needs an influx of thousands of people to boost its flagging population — or strong economic growth will not happen. This is the view of Don Mills, chief executive officer of a Canadian market research company involved in a pioneering Bermuda business confidence survey, who argues that the Island needs a national dialogue on population issues, based on the facts. The declining population was the second most important business issue flagged by corporate decision makers in the survey. Thousands of expatriate workers have left the Island in recent years in a period that has seen the Bermuda economy shrink by about ten per cent. Speaking to an audience of business leaders in Hamilton yesterday, Mr Mills said the population was growing slowly in most western economies, helping to fuel demand for goods and services, so aiding growth. "If you have a static or declining population, it creates havoc in an economy," Mr Mills said. "There are more people dying than being born in Bermuda and there is no stopping that trend. Unless there is some other way of filling in the population, then the decline will continue. There has to be a national dialogue on population. You can't just wait another ten years — it will be too late." The 2010 Census found that the Island's population was 64,237. Economy commentator Larry Burchall has used a number of sources to estimate the population declined by about 7,000 between 2008 and 2013 to a level of approximately 61,000. Population shrinkage limited the prospects for economic growth, Mr Mills said, and the impact would be exacerbated by baby boomers leaving the workforce amid an ageing population. "There is very modest potential for growth with the population that you have right now. You have to find another 3,000 people to have any reasonable growth expectations. I would estimate Bermuda's growth rate will be hampered by at least one per cent per year unless the population issue is addressed." Halifax-based Mr Mills said his home province of Nova Scotia was facing a similar challenge. There, net immigration of 7,000 people a year is required to replenish the population, he added. After the presentation, Mr Mills told The Royal Gazette that the impact of the thousands of departing guest workers was being felt throughout the community. He said 3,000 housing units emptied was "going to hurt. People probably recognize now the impact that the loss of these expats has had on the average Bermudian." He realized that immigration was a sensitive issue and the search for a solution should involve the entire community, not politicians alone. He threw out one suggestion, economic immigration — the selling of citizenship to a limited number of individuals willing to make a $5 million investment in economic activity to create jobs — as a move Bermuda could make. "With only 100 of those people, you would get a $500 million investment in the country, and when you add personal spending that could become $1 billion," Mr Mills said. "If that happened, how many people would get jobs? A lot more than 2,000. There are many people in the Middle East, for example, who might be interested. It could create new sectors such as software developing. What better place than Bermuda to do that kind of work?" By 2020, there will be about 50 per cent more people aged 65 and older in Bermuda. This presents two challenges for Bermuda, Mr Mills said — replacing them in the workforce and dealing with higher healthcare costs. Mr Mills worked with local firm Total Research Associates on the business confidence survey, which was backed by HSBC Bermuda.
February 6. Senator Michael Fahy, the Minister for Home Affairs, has defended Bermuda Festival organizers after the event came under attack this week from the union representing entertainers. The Bermuda Entertainment Union branded the festival's decision to use 92 foreign entertainers and four locals for big performances as "a travesty and an insult" to the Island's entertainment industry. But Sen Fahy rejected the claim, adding that the Bermuda Tourism Authority arranged for local entertainers to play on visiting cruise ships last year. "There is nothing wrong with what the Bermuda Festival has done," Sen Fahy said. "In my view, there are many existing opportunities for local entertainment and, indeed, there is nothing preventing the BEU from staging their own festival comprising strictly of local acts." Sen Fahy maintained that the BEU had been consulted while new immigration rules were formulated and that local entertainers had "nothing to fear" from the policy, which comes into effect on March 1. He also defended a decision that means the Department of Immigration will no longer assist in collecting "travellers dues" for the BEU. "It remains unclear what the 'travellers' dues are used for since the BEU constitution says that their scholarship fund shall not exceed 10 per cent of the BEU budget without a general membership vote," he said. "Those paying have raised numerous queries about what the fees are in fact used for. Good local entertainers are often busy and booked. As such when, for example, a wedding party wishes to stay in Bermuda and bring their favorite entertainer and have booked half a hotel, the answer is obvious. In my dozens and dozens of discussions with restaurateurs, hoteliers, bar owners and entertainment venues, there is a clear desire to hire good Bermudian entertainers at a reasonable rate. It is very apparent indeed that good Bermudian entertainers get hired. Employers don't like having to go through advertising and work permit processes; it costs them money. If the BEU wishes to collect traveler's dues from visiting entertainers, they are welcome to do so." Under existing policy, entertainers could be granted a seasonal permit of nine months. Under the new policy, this has been reduced to eight months. Under existing policy, local entertainers should, if available, get equal time to perform as that of a work permit-holder. "The BEU has admitted that this rarely happens, since, in the vast majority of cases, local entertainers are not available and/or don't play the genre of music being requested by the local establishment," Sen Fahy said. "Surely, if you go to hear Irish jig music on St Patrick's Day at a local pub, you are not there to listen to a jazz saxophonist. The new policy corrects this anomaly. If there is a qualified available Bermudian entertainer that plays Irish jig music, then a work permit would not be issued. The new policy is clear that such positions must be advertised in the usual way. However, for large commercial entertainment venues, it is expected that qualified local entertainment should feature if available. If not, no work permit shall be issued."
February 6. The Grammy award-winning Los Angeles Guitar Quartet workshop designed for Bermuda's advanced guitarists, a part of the Bermuda Festival outreach programme, is already a sell-out. However, the guitar master class given by the quartet known for their inventive approach to music, is also open to observers. Those not advanced enough to take part in the workshop, or who simply have an interest in the guitar can purchase observer tickets, and watch the participating musicians in action. Performing in the master class will be a guitar trio and three soloists, including teacher and performer, Steve Crawford. The workshop, which will be on Saturday morning at the Fairmont Southampton, will give guitarists the chance to work with, and learn from, members of the Grammy award winning Quartet, according to a Festival press release. Nancy Smith, the Festival's outreach coordinator, said: "The members of the Los Angeles Guitar Quartet are not only accomplished musicians, but also renowned teachers, dedicated to sharing their knowledge and skills with students. To give local guitarists the opportunity to work alongside and learn from their expertise is something we are very happy to be able to provide." Observer tickets are $25 for adults and $5 for students and can be purchased at bdatix.bm.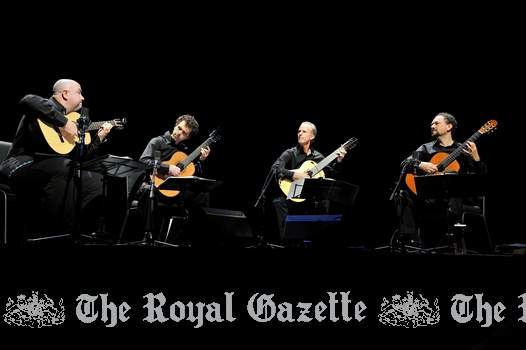 February 6. Most businesses leaders believe Bermuda's economy is improving — but their confidence in longer-term economic prospects remains fragile and more businesses are still cutting staff than hiring. Those were some of the findings of a survey for the inaugural Bermuda Business Confidence Report, conducted by Bermuda's Total Research Associates Ltd (TRA), partnering with Canadian market research firm Corporate Research Associates (CRA) and HSBC Bank Bermuda. The survey results were revealed yesterday in a presentation by CRA chief executive officer Don Mills before an audience of business leaders in HSBC's Harbourview building on Front Street. Mr Mills said the Island's economy had shrunk by about ten per cent, in real terms, since 2009, and that the decline may have bottomed. "I see signs that we may have turned a corner here," he said. "The 'new normal' is a smaller economy and people appear to be adapting to it. The only way to get back to 2008 is if something different happens — you can't keep doing the same thing and expect different results. The economy is built around international business, which is going through a period of consolidation, and tourism, which is still struggling. Diversifying the economy is the key to future growth." Of the 84 respondents, comprising both local and international business decision makers, 62 per cent believed the Bermuda economy would improve over the next 12 months, while 4 per cent felt it would worsen. Fifty per cent believed the economy was better than last year and 39 per cent about the same, while 11 per cent thought it was worse. The survey was carried out before the announcement that Bermuda would host the 2017 America's Cup. The survey found moderate confidence in the Island's economic future. On a scale from one (not at all confident) to ten (completely confident), the mean rating was 5.7. The cost of doing business topped the list of issues facing business today. That was followed by the declining population, the lack of qualified workers, Government/politics, and the poor economy. Asked to suggest changes that would positively impact the Bermuda business climate, 39 per cent of answers fell into the business development/growth/increased foreign investment category. Better government leadership/political stability tied with Immigration and improving the work permit process got the second-most mentions. Then came population increase, better/more education and training for Bermudians, and more acceptance of foreign workers. Twice as many leaders (36 per cent) said their organization's economic well-being had improved in the past year, as said it had worsened (18 per cent), while 46 per cent said it was about the same. The results do not suggest a strong rebound in the jobs market any time soon. While a quarter of respondents said they had added staff in the past year, one third said they had reduced the number of employees, while 43 per cent said their staffing was unchanged. In the next 12 months, 18 per cent expect to hire more staff, while 19 per cent plan to cut headcount. Nearly half of respondents said their organization had frozen salaries or wages in response to economic conditions. Other defensive actions included leaving vacant positions unfilled (42 per cent), internal restructuring or transfers (39 per cent), made positions redundant (31 per cent), reduced standard weekly work hours (23 per cent), cut back on employee benefits (20 per cent) and put a freeze on hiring (18 per cent). The business confidence survey has been four years in the making, TRA managing director Graham Redford said, and it became reality with the support of HSBC Bermuda. Richard Moseley, chief executive officer of HSBC Bank Bermuda, said: "Understanding what's happening in the economy is crucial to our customers and to HSBC. In my position, I get a lot of anecdotal information, but to get this information in a structured and comprehensive form is very valuable. "This type of information can help Bermuda do well and if Bermuda does well, HSBC Bermuda does well." The results of the 2014 survey will be used as the benchmark for comparison with future surveys. The intention is to undertake the survey twice a year. Three hundred business leaders were approached for the survey and 84 participated. Mr Mills was hopeful that more would take part in future surveys, as they became familiar with the project.
February 6. For the first time in the history of King Edward VII Memorial Hospital, the maternity ward is now equipped with two modern operating rooms, Bermuda Hospitals Board has announced. Dale Wilmot, BHB's chief of obstetrics, hailed the completion of the two ORs as a great step forward in improving the safety and comfort of mothers, along with their newborn children. One room will function solely as a state-of-the-art OR for both planned and emergency Caesarean sections, with the second room retained for routine deliveries but fully equipped as a backup OR. Both rooms are next to the birthing rooms, making it easier for mothers in need of emergency interventions. Previously, when mothers required emergency C-sections, they had to be transported to a level above the delivery rooms.
February 7. The Bermuda Government has moved to quell concerns that repairs to the Dockyard wharves and their surrounding infrastructure will not be completed by the start of the cruise season. Both Heritage Wharf and King's Wharf sustained significant damage during last October's hurricanes, while parts of the cruise terminals and roads around the wharves were demolished. That the significant repair work has not been started yet, only seven weeks before the beginning of the cruise season, has prompted concern from some quarters of the Island's shipping industry. But a spokesman for the Department of Works and Engineering told The Royal Gazette that construction would start in the "coming weeks". The spokesman said: "While the cruise ships' schedules arrivals in little over seven weeks, it is not necessary to have both wharves occupied at that time," said the spokesman. "We are working closely with the Habour Master to schedule the berthing in order to accommodate the necessary repairs which will keep King's Wharf clear until the end of April. The works are scheduled to be completed prior to the arrival of the cruise ships, however this is weather-dependent. In the next few weeks, we will be in a position to evaluate how much spare time we have for completion of the works. At present we are confident that we have sufficient time to undertake the necessary repairs so as not to affect cruise ship arrivals." The 2015 cruise schedule indicates that the first liner to arrive in Dockyard will be the Riviera, which is due to berth at King's Wharf on April 4. A further six cruise calls are scheduled in the West End for April. According to the Bermuda Government, repairs are still required to the breakwater, above and below water, the North Arm pavement, utilities, fendering equipment, and the arrivals and departures buildings. The reattachment of cruise ship fenders to both wharves also needs to take place. "The fenders have been recovered and will be replaced in due course," the spokesman said. "It is more cost-effective to have a contractor working on the site for the main repair works undertake this task rather than mobilizing for the works separately at additional cost. While repairs to the terminal building are not the responsibility of Ministry of Public Works, we are aware of the need for this work to be completed. This is subject to an insurance claim and the insurers are assisting Government in ensuring that all works are completed without unnecessary delays and importantly completed before the cruise ship arrival. These buildings are not in use and hurricane repair works must be prioritized accordingly." The extensive damage to the North Arm has been caused by wave action and erosion of the breakwater, according to the Bermuda Government. "To repair this correctly, a detailed investigation and marine engineering solution has been undertaken," the spokesman added. "Construction drawings and specifications are with this ministry for approval and works will commence shortly. It has been only three months since the damage occurred, the timescale available for repairs is short, but this is no reason not to undertake them correctly and ensure that the repairs will withstand a future storm event. It is the responsibility of Government to ensure that works undertaken are both effective and cost-efficient; this is also a requirement of the insurers. Inadequately designed and uncertified repairs would potentially invalidate future claims. Far from there being no work done, the Government last year procured and completed investigation and inspection works, including bathymetric surveys and dive inspections in accordance with Financial Instructions and to the satisfaction of the insurers. To date, this essential information has been used to enable the design of the remedial works which have been translated to construction drawings and specifications."
February 7. A small Royal Air Force Tornado squadron and a support aircraft are due to make a flying visit to Bermuda this weekend as they head to the United States to conduct training exercises. Three jets and a 330-200 aircraft are scheduled to arrive at LF Wade International Airport tomorrow for refueling and a rest on their transatlantic voyage. The aircraft originated in Lajes Air Base in the Azores and are bound for Eglin Air Force Base in Florida. The six jet pilots and 37 support crew are expected to stay in Bermuda for one night before heading off to the US.
February 9. Premier Michael Dunkley has fired back at Ed Miliband in the wake of the British Opposition leader's threat to target Bermuda in a tax avoidance clampdown. Mr Miliband said over the weekend that a Labour Government would give overseas territories such as Bermuda six months to compile a public register of beneficial owners of offshore firms or face being put on an Organization for Economic Co-operation and Development list of "tax havens", thus incurring sanctions. With Labour running the Conservatives close in recent polls — Prime Minister David Cameron now heads a coalition government — Mr Miliband has written to the overseas territories outlining his plans should Labour become the next Government after May's General Election. As well as Bermuda, letters went to Anguilla, British Virgin Islands, Cayman Islands, Turks and Caicos Islands, Gibraltar, Montserrat and the crown dependencies of Jersey, Guernsey and the Isle of Man. But Mr Dunkley took exception to this and he was not alone, as Jersey and Guernsey voiced their disapproval, while the Chief Minister of Gibraltar, Fabian Picardo, was most vociferous of all, rebuking Mr Miliband for putting his letter into the public domain before it had reached its destinations. Mr Dunkley, who spent last week on the One Bermuda Alliance Government's first official visit to Washington, said that he is "surprised and disappointed" for Bermuda to be included on a list of places that Labour would target, especially since the Island has operated a central registry of companies since the 1940s and views itself as an international leader in this area. The Government of Bermuda remains open to continuing dialogue with the UK Government, the UK Opposition, and all other interested parties, in sharing best practice across borders in areas of corporate transparency, and the fight against fraud and crime. We would also remind Mr Miliband of Bermuda's strategic economic contribution to the UK, which includes direct and indirect employment in the UK of 100,000 people, as well as our role as a global hub for the reinsurance and insurance industries, providing the critical underwriting required for damage arising from natural disasters and terrorist events." British Chancellor George Osborne dismissed the Labour leader's plans, saying that he was "unfit to be Prime Minister" because he did not understand the present system. "If you actually look at what he's saying, he wants to blacklist every country of the OECD that doesn't have these central registers," Mr Osborne said. "Britain is leading by example: it is having new central registers, it is insisting that its overseas territories transparently share information with us. But the Labour leader is simply not fit for office because he does not think through the consequences of his anti-business, anti-enterprise and anti-our partners abroad policies." At the G8 summit in June 2013, the Prime Minister announced plans to tackle tax avoidance and has encouraged the UK's Overseas Territories and Crown Dependencies to implement their own public central register. The overseas territories last met as a group in December at the Joint Ministerial Council (JMC) in London, where Bermuda was represented by Bob Richards, in his capacity as Deputy Premier, while Mr Dunkley was in New York overseeing the securing of the America's Cup bid. Mr Richards noted that 10 Downing Street was "apparently comfortable" with Bermuda's position on beneficial ownership. "The defining issue for most of us, particularly those with economies anchored in financial services, was beneficial ownership," Mr Richards said. "I must commend my fellow OT leaders for their resolve to not agree even in the face of concerted UK pressure. This issue is so critical, leaders were prepared to leave without agreement rather than concede to the position of the UK." Certainly not one for conceding ground was Mr Picardo, whose response to Mr Miliband was picked up on social media. "Please forgive me for writing to you at the weekend but you will be disappointed as I am that I have had to read in the newspapers about a letter you have purportedly sent to me (and other Overseas Territories leaders) in relation to the above-captioned issue," Mr Picardo wrote. "I have no doubt that you will not have wanted the discourtesy of seeing the said letter published before OT leaders have received it, as I certainly have not." Mr Picardo added that the Overseas Territories' leaders had attempted to meet Mr Miliband on the very same issue while in London for the JMC meetings, but "we are unfortunately still awaiting a response".
Labour policy detail
1. A publicly accessible central register of beneficial ownership is a register you can go to which tells you who is the actual owner of a company — in the sense of who benefits financially when that company makes money. Such a registry is already being set up in mainland UK.
2. Registers in Overseas Territories and Crown Dependencies would help stop or stem tax avoidance by showing the tax authorities who is diverting money into companies in these havens and where the money of UK taxpayers is going. At the moment, they can't even check whether someone has set up a company in the tax havens, let alone whether any money is being diverted into that company.
3. The OECD is the guardian body for international tax rules. It has a list of uncooperative tax havens which low tax jurisdictions can be placed on depending on the transparency of their tax affairs. Rather than protecting UK Overseas Territories and Crown Dependencies as we do now, we would act as whistle-blowers, making a formal request to the OECD that they should be added to the blacklist.
4. The UK tax gap — the difference between what HMRC thinks it should collect and what it gets — has risen under David Cameron to £34 billion.
5. Overseas Territories and Crown Dependencies are under the jurisdiction and sovereignty of the UK, but are largely autonomous. The G20 has produced a list of potential measures that could be taken against blacklisted countries which could include reviewing tax treaties with them, increasing disclosure, and even withholding taxes on finance flowing there.
February 9. Bermuda is "at the edge of a cliff, about to fall over and still trying to decide if we're going to call for help" when it comes to reviving its economy, according to former Premier John Swan. "We've left everything too late — we're a dollar too poor and a day too late," Sir John told The Royal Gazette after calls by an outside marketing expert for a national dialogue on bolstering the Island's population. "We're the biggest procrastinators I have ever seen." Taking a skeptical line on signs of recovery, or the 2017 America's Cup as an economic elixir, the business leader said Bermuda urgently had to get real about its "perilous" situation. "This is the first time in history that we have not followed America, whose economy was tied to ours — they're out of recession and we are not," he said. "Our product has not lived up to what Americans expect. It's as simple as that." Declaring himself "distraught" by the notion of the America's Cup as a panacea, he insisted that the Island had to show sufficient viable activity to justify outside investment. "There are structural changes that we need to make. Number one, we need to do away with the 60-40 rule, except for in real estate," said Sir John, reiterating his dislike of the protectionist local ownership law. "We need to keep the capital for real estate in the country, while capital for goods and services flows in." In the aftermath of widespread industrial action over furlough days for civil service workers, Sir John said unions should be open to some form of trade-off with Government — such as accepting them for some staff, but sparing low-earning public workers. "There could be some type of compromise between people who have basic salaries versus people who are on much more. Whatever action we take should be considerate and on an equitable basis, as opposed to a strictly across the board basis. These are the types of dialogue that, to me, are important, because something has got to be done. Even so, I don't think a half-day or one-day furlough is the solution. It's just one step in a series." His remarks came after Canadian market research CEO Don Mills told an audience of local business leaders that population decline and a loss of foreign workers was sapping Bermuda's hopes of an economic comeback. Sir John called it "an endorsement of what Larry Burchall and I have been saying — a wake-up call that has come from a foreign entity, since people weren't listening to us". This was in reference to Mr Burchall's economic analysis pointing to a population decline on the order of 7,000 people between 2008 and 2013. "The surveys that Larry and myself promoted over the last four or five years showed that the population shrinking as a result of the birth rate dropping and the loss of the foreign population would eventually get to a stage where the job providers that contributed to so many areas will have been diminished considerably. The $64 question is what the fundamental changes should be, recognizing that we are not a resources country in terms of raw materials or agriculture, but that we are a service economy. In other words, it's what individuals do to provide an income for the country and the people living here. We need to recognize that, as the survey said, we succeeded when we had that level of economic activity as a result of services provided. That enhanced our economy for both the private and public sector. To do that now, we need, as the speaker said, an influx of people. But more importantly, we need an influx of products and an influx of capital. It's taken us years to put in casinos. It's almost irrelevant today. We're doing the same with the protection of local business. It's a virtual world with the internet, which allows people to shop overseas. We need to bring in companies and start to reduce the cost of goods in Bermuda, since it seems much harder to reduce the cost of labour. This is the only thing we can do now if we want to get Bermudians back in employment again. That's going to start reducing our debt and pay for the services that the public has become accustomed to." Sir John said Bermuda's difficulties were compounded by the stresses borne by local businesses — some of which shirked paying their commitments for employees, or in some cases were not paying rents. "They are staying open on the basis that their position is being almost catered to by Government and some local landlords. If we put more pressure on them, chances are that more will simply go out of business. Our options have been reduced because we waited so long. When we tried to increase the payroll tax in international business, we know now what their reaction was — we had to roll that back. And events like the America's Cup are being treated like a structural change for Bermuda. This event will come and go, but it won't change the structure of the business of Bermuda." Sir John said the Island had to incentivise its system of trade to bring in goods that were "current, of high quality and reasonably priced" — but added that it was "almost too late to have a national dialogue. You can march and demonstrate all you want, but at the end of the day you still have to pay your bills and educate your children. I feel sorry for people who are in a predicament, but I am quite happy to be vilified and criticized by the people who make noise and disagree. We're looking at the world backwards, in the fact that what we should be doing, we are not doing — and what we are doing has got a lot of hype, but I just hope it has results that are going to sustain us. I don't see the bottom yet. I see the consolidation of international business and the continued demise of our local business. I don't see any trade businesses opening up; I see them closing. I see service providers like air conditioning companies and plumbing businesses shrinking. Bob Richards, our Finance Minister, has a monumental task. Everybody is saying they need money, and he has to say no. Anybody in that position would have to say the same thing. If you want it, you have got to help us get it first. That help can only come about by change. We need to have a product that doesn't just get people coming here but gets them spending. Otherwise, we will have lost out."
February 9. Leaked files analyzed by reporters from the International Consortium of Investigative Journalists (ICIJ) showed that British banking giant HSBC helped current Paraguayan President Horacio Cartes and five times Ecuadorean presidential candidate Alvaro Noboa avoid taxes and hide millions of dollars. Two months before serving jail time after accusations of currency fraud, Cartes opened two Swiss bank accounts with HSBC registered under his father and eldest daughter's name. Cartes is one of 82 Paraguayan HSBC clients with deposits totaling US$46 million in HSBC Swiss bank accounts. Noboa, the richest man in Ecuador, was a profitable owner of an HSBC client account established in 2006, under the name Fruit Shippers Limited, which listed postal addresses in Bermuda and the United States. Fruit Shippers Limited is the name of a company in which Noboa is the controlling shareholder. The maximum amount in the account in 2006-2007 was US$92.1 million. The Ecuadorean Internal Revenue Services (SRI) opened an investigation into him in 2009 and focused on US$100 million owed in back taxes related from the 2005 fiscal year. According to the Ecuadorean Internal Revenue Service (SRI), Noboa still owes US$6.6 million in back taxes; altogether the government seized about US$145 million in assets (then sold them for less than face value), which amounts to around 10 to 15 percent of Noboa´s wealth. The Swiss leaks matter is raising serious questions about the responsibilities of HSBC headquarters, based in London, as well as the nature and the extent of judicial actions launched by the governments that have had access to the files since 2010. HSBC has already faced accusations of dubious practices in Latin America. In 2013 it reached a US$1.9 billion deferred deal with the U.S. Justice Department over allegations that it had enabled Latin American drug cartels to launder money. According to Oxfam, Latin America has high levels of tax evasion, especially with taxes on personal and corporate income. A 2014 report found that Latin American and Caribbean companies have levels of tax evasion that range from 46 percent in Mexico to 70 percent in Guatemala, without adequate sanctions for tax evaders.
February 9. The facts would suggest that UK Opposition leader Ed Miliband's threat to "blacklist" Bermuda appears to be designed more to win votes in the General Election in May than as a serious policy proposal. Among the multiple ironies surrounding his proposal is that Bermuda and Britain share the same rating on tax transparency from the Organization for Economic Cooperation and Development (OECD) — the very body that Mr Miliband would ask to blacklist the Island. The ratings are available to all on the OECD's website and they show that Bermuda — like the United States and Germany, as well as the UK — has been found to be "largely compliant" with international standards of tax transparency after a thorough assessment, including peer reviews. Bermuda's high rating owes much to its network of tax information exchange agreements (TIEAs) with some 39 jurisdictions, including the UK. This already allows the UK Government to request and obtain information relevant to taxation matters on its own citizens with interests in Bermuda. And Bermuda really is able to help — the authorities on the Island have been collecting information on beneficial ownership for more than 70 years — unlike the UK, for example. Bermuda has in fact gone farther than that in relations with the UK, having agreed to automatic exchange of tax-related information. The reality behind the grandly titled UK FATCA Intergovernmental Model 2 Agreement is that "all Bermuda's financial institutions must identify all UK residents with interests in Bermuda and automatically report them to Her Majesty's Treasury on an annual basis". Another irony is the issue of who else the UK would have to blacklist under Mr Miliband, if Labour's policy was applied fairly, meaning it demanded the same standards of other countries as it would of its own territories. The US and Canada, for example, have no public register of beneficial interests, along with most leading economies in the world. In choosing to create its own public register of beneficial ownership, Britain has effectively chosen to go it alone. The move goes a step farther than what the leaders of the world's most powerful economies agreed in the G8's set of principles on beneficial ownership transparency in June 2013. These stated that ownership information should be maintained by companies and made available to law enforcement and other competent authorities when requested. The same applies to trust information. Shortly after that meeting, the UK began the process to establish a central register of such information — the information that authorities in Bermuda have been collecting for more than seven decades. The UK's encouragement of its overseas territories to do the same thing and make it public predictably met with resistance. Losing business is seen as an inevitable consequence of adopting a measure that goes far beyond international standards for transparency. Then there is a question mark over what Mr Miliband's policy would actually gain. The largest-scale tax avoidance is undertaken by corporate giants such as Microsoft, Pfizer and Google, who use subsidiaries in low-tax jurisdictions, such as Bermuda, to trim their tax bills in the countries where they do most business, such as Britain. The major beneficial owners of such publicly listed companies are registered shareholders and are not difficult to find. If the Treasury believes it should be receiving more tax from them, it can change its own tax rules to make it so. Britain's own track record in transparency suggests that it should not be pointing the finger at others. This a country in which "bearer shares" allow people to completely hide their beneficial ownership in companies. The UK is planning to ban bearer shares in a new law expected to be passed in this spring. The words of politicians often do not convey the reality of how the system works. This was nicely illustrated in a 2009 paper by Jason Sharman, a political scientist at Australia's Griffith University. Working with a small budget, he set out to find where he could open secret bank accounts and anonymous shell companies. In Bermuda, he was asked for personal ID information, including a notarized copy of his birth certificate. In Britain, as The Economist reported, "in 45 minutes on the internet he formed a company without providing identification, was issued with bearer shares (which have been almost universally outlawed because they confer completely anonymous ownership) as well as nominee directors and a secretary. All was achieved at a cost of $753". It seems that Britain itself has some catching up to do before it points the finger at others.
February 10. Bermuda's tourism industry remained stagnant in 2014 with a nominal 0.8 per cent increase in total visitors to the Island. However, the Bermuda Tourism Authority (BAT) has vowed that 2015 will be the decisive year in building air arrivals, which tumbled by 5.1 per cent last year. Although the year-end visitor arrival statistics released yesterday showed visitor spending down by 11.3 per cent to $280.2 million, and individual tourist spending down 6.6 per cent, the BAT remains "upbeat" about growth this year, according to Bill Hanbury, the chief executive officer. For every dollar spent by a cruise visitor, an air visitor spends $11 on the Island — and boosting those numbers depends on "targeting the right people with the right message at the right time", said Victoria Isley, the BTA's chief sales marketing officer. Arrivals by sea increased with cruise ship passengers up 4.7 per cent and yacht arrivals up 24.6 per cent. The hike in yacht arrivals can be largely attributed to the biennial Newport to Bermuda Yacht Race. A 6.9 per cent decrease in American tourists who make up the majority of our visitor base made a dent in the air arrivals, although visitors from Canada increased by 5.5 per cent. The BTA, launched in April 2014 to help to boost the industry, predicts growth in the year ahead. A new marketing strategy focusing on "experiential travel" as well as working with media and travel partners, the BTA says, is "starting to take root". Mr Hanbury said: "Last year was a year of transition for the Tourism Authority. We worked very hard to produce positive results in 2014, but we had less control over the outcome than we would have liked. In 2015, the BTA team started executing the plan we presented to stakeholders at the Bermuda Tourism Summit. Many of those stakeholders have told us they're upbeat about the prospects of that plan and internally we're upbeat on the strategy as well." He said the organization had "totally embraced the big challenge of reversing 30 years of tourism decline — the leadership and whole team are really determined that 2015 will be the year the downturn is reversed". Mr Hanbury said the BTA was adapting to a small tourism budget, using its resources to woo specific target groups. Experiential travel focuses on combining authentic stories from Bermuda with targeted retail promotions. One such promotion is the Pink Sale featuring up to 50 per cent room rate discounts at participating hotels. In the first quarter, the sale showed a rise for this year, the organization reported: reservations were up 45 per cent while room nights rose by 24 per cent — generating a modest increase in takings of $813,000 over last year's figures. The organization plans to highlight the Island's vacation rental market, as well as cultural tourism for the East End. The BTA also mentioned it will be working with a new advertising agency partner in the United States and Canada markets, and has taken on new social media and public relations firms. Ms Isley said the BTA's Instagram campaign in tandem with Travel and Leisure had proven the most successful of its kind that the magazine had ever done with a partner. Emphasizing the Island's proximity to New York markets and its separateness from the Caribbean helped sell the Island as a unique destination, closer to the US than would-be travelers might know. With Bermuda just a 90-minute flight from New York, she said the Island competed more with a seaside resort like the Hamptons at the end of Long Island, rather than Caribbean destinations. "The real strategy is to get into the hearts and minds of the right travelers," she said — adding that the BTA was adapting its marketing messages to individual airlines. Other measures designed to enhance the product include a review of the Bermuda vacation rental market, the growth of the Island's ambassador programme and proposed improvements to the visitor experience in St George's. "With the right, properly researched experiences in 2015 we can impact the visitor spend number in a positive way," Mr Hanbury added. Although the primary focus is on air arrivals, the BTA also aims to get cruise visitors spending more on the Island by connecting them with "the kind of only-in-Bermuda experiences they can't get anywhere else". A complete performance review of the BTA's activities in 2014 will be presented to the public in the BTA's annual report due this spring. Whatever the outcome, the Island is unlikely to see a return to the spring break throngs that used to descend during College Weeks — but Bermuda's climate could potentially be a sell for college sports teams to train during the winter months. "Dartmouth College in New Hampshire right now has two feet of snow on its lacrosse field," Mr Hanbury said.
February 10. Blue Capital Reinsurance Holdings Ltd yesterday declared its first special dividend after its first full year of operations. The firm — part of Montpelier Re — will pay out a 66 cent dividend per common share for the last quarter of 2014 next month. Blue Capital chief executive officer William Pollett said: "We are pleased to have successfully concluded our first full year of operations generating a total return for our shareholders, as measured in growth in book value per share plus dividends of 8.7 per cent." The move takes the total dividend, including regular dividends paid across the year, to $1.56 per share, a dividend yield of 7.8 per cent on the original initial public offering of $20 per share. Net income for the last quarter of 2014 was $. 6 million, taking the total for the year to $15.1 million. Blue Capital is a subsidiary of Montpelier Re Holdings, a global provider of property catastrophe and short tail reinsurance with more than $3.6 billion in assets. Blue Capital was formed in June 2013 and began trading on the US Stock Exchange in November that year.
February 10. Bermuda-based Catalina Holdings Ltd has completed a deal to acquire a $77 million portfolio of residential construction liabilities from NationsBuilders Insurance Company. The run-off specialist announced yesterday that it had received regulatory approvals from the Bermuda Monetary Authority and the District of Columbia Department of Insurance, Securities and Banking, allowing the deal first announced last June to go through. The portfolio was transferred via a novation to Catalina's wholly owned Bermuda subsidiary, Catalina General Insurance Ltd.
February 10. There was no word last night from the Bermuda Trade Union Congress on the viability of a graduated system of furlough days that would spare low-earning Government workers from losing out. However, two proponents of reserving furloughs for more salaried civil servants voiced their agreement for a sliding scale, in the wake of remarks by Sir John Swan, the former Premier, suggesting a compromise on the issue, which proved a flashpoint for last month's industrial action. Economic analyst Larry Burchall told The Royal Gazette he stood by his comments, in which across-the-board furloughs were mathematically and economically "neither fair nor reasonable". Mr Burchall, who has often collaborated with Sir John in sounding the alarm over the Island's rising debt and declining population, pointed to a benchmark figure of $400 a week to cover groceries for a family of four. Civil servants saddled with one unpaid day every month were effectively taking a 4.6 per cent reduction, he said. For a low-earning civil service worker taking $50,000 a year, or $962 a week, the furloughs equated to a drop down to $918 a week, leaving only $518 left over after shopping for a week's supply of groceries. Former Government consultant Magnus Henagulph provoked controversy in 2013 when he won a prize from the Spending and Government Efficiency (SAGE) Commission for a 20-page report on inefficiency within the civil service. An Opposition statement one year later accused him of "throwing his Government colleagues under the bus" when he took a post as a private consultant for the governing One Bermuda Alliance. However, Mr Henagulph last night stuck to his guns, saying he was speaking his own opinion that low-earning civil servants ought to be exempted from cuts. "I and others I have discussed this issue and we agree with Sir John Swan that furlough days should be graduated," he said. "Those on the lower end of the pay scale should not take any cuts, while those on the higher end can afford to take more substantial cuts, perhaps 10 or 15 per cent." Government salaries in the administrative, professional technical and clerical grades are broken down on a 1 to 51 scale, running from the bottom number of $34,349 a year to $213,941 at the top end. A five per cent cut for workers in the bracket of $35,000 to $50,000 annually would have a "very real and very tangible impact". "An employee on $40,000 likely spends every penny they earn in a year," the former Department of Communications and Information employee said. "To take away five per cent, or $2,000 of their pay, will be a very painful cut. Add to this the recent Bermuda Industrial Union dues increase of 14 per cent — an increase of $104 per year — as well as increasing healthcare and other costs, and they are likely living paycheck to paycheck, struggling to pay bills and provide an acceptable standard of living for themselves and their families. "However, those civil servants on PS 40 ($132,249) to PS 51 ($213,941) can afford to take a cut in pay without impacting their living standard as much as the lower paid workers. A civil servant making $200,000 can likely afford to take a 10 per cent cut ($20,000) as their salary would still be $180,000. They will still be able to pay their bills and enjoy their current standard of living." Those in the middle pay scales could likely shoulder a salary reduction of between two and five per cent. "By graduating the pay cuts, the majority of workers, who are mostly blue collar and who can least afford it, would sacrifice the least — with the burden shifted to those few on the higher end of the pay scale, mostly white collar, who can afford the cut," Mr Henagulph said. "I understand the Bermuda Trade Union Congress have said this is not an option as it may be divisive, but I think they should reconsider. The furlough days implemented during the last two years resulted in not a single Government employee being laid off. If furlough days are off the table going forward then it is more likely that civil servants will have to be made redundant." Imposing furloughs in areas such as Public Transportation, he pointed out, result in no cost savings. A bus driver on furlough must be replaced by another driver to maintain their scheduled route. "The Bermuda Industrial Union worked with Government and agreed that the drivers coming in on their day off would be paid straight time rather than time and a half, but there are no cost savings from bus drivers taking a furlough day." Mr Henagulph suggested that union staff publicize the salaries of their staff, paid for by the membership, to show if they had taken pay cuts in solidarity with other workers. With the 2014/15 Budget now less than two weeks away, finding cost reductions remains a work in progress — and with the resumption of Parliament, Government is likely to face renewed calls from the Opposition to reveal details on salaries and spending in independent bodies such as the Bermuda Tourism Authority, which has faced repeated criticism from the Progressive Labour Party over its accounts.
February 10. "Bermuda's well-documented financial services regulation, international partnership treaties, and lack of bank secrecy legislation ought to be recognized by the UK Labour Party," the Bermuda Business Development Agency (BDA) said today. The BDA echoed the Bermuda Government's weekend response to UK Opposition Leader Ed Miliband following a warning letter issued to British Overseas Territories, including Bermuda, along with Anguilla, the British Virgin Islands, Cayman Islands, Turks and Caicos Islands, Gibraltar, Montserrat and the crown dependencies of Jersey, Guernsey and the Isle of Man. Miliband said that under a Labour Government, if those jurisdictions refused to cooperate with anti-tax avoidance measures, they would be placed on an international blacklist of tax havens. Specifically, Miliband said he would impose a six-month deadline for the establishment of public registers of offshore companies listing beneficial ownership. BDA chief executive officer Ross Webber said Miliband's comments ignore the facts about Bermuda's financial history and fail to differentiate the Island from jurisdictions that might be less rigorous and transparent on tax-avoidance matters than Bermuda has long proven to be. "The approach is both broad-brush and yet discriminatory in that it groups together the UK OTs and CDs and excludes the larger G8 countries that also do no not have public registries of beneficial ownership, "Mr Webber said. "In fact, some of the latter don't have any type of meaningful register, let alone a public one. Bermuda, by contrast, has had its own register of beneficial owners for 70-plus years, since the 1940s. We did this without being coerced or asked by any other countries, organizations or governments in the world," said Webber. "This was something Bermuda chose to do pro-actively because we have always been very conscious to safeguard the reputation of our jurisdiction. We have never been in the business of banking secrecy, we don't have bank secrecy laws. We also do not differentiate between local companies and exempted companies. Bermuda has been recognized as a leader on global transparency issues.. The Island has more than 80 treaty partners around the world, including 41 bilateral Tax Information Exchange Agreements (TIEAs) and 76 co-signatories of the Council of Europe's Multilateral Convention on Mutual Administrative Assistance in Tax Matters. The Island was the first offshore jurisdiction elevated to the OECD's white list for jurisdictions that have substantially implemented internationally agreed tax standards. Bermuda has also signed Model 2 intergovernmental agreements (IGAs) with the US and UK under the Foreign Account Tax Compliance Act (FATCA), along with Chile, Hong Kong, Japan and Switzerland and is considered a leader on tax-transparency issues by the US Departments of Justice, State, the US Treasury, the Financial Action Task Force (FATF), and G20 nations. Bermuda's beneficial ownership registry, held by its regulator, the Bermuda Monetary Authority (BMA), shares information under certain criteria with onshore law enforcement, tax administrations and other relevant authorities. In 2013, G7 nations agreed to the Beneficial Ownership Action Plan, a set of common principles aimed at preventing misuse of companies and legal arrangements. To avoid putting themselves at a competitive disadvantage, British territories have withheld implementation until the new model is adopted by the US, Canada and the UK." The BDA said it was supportive of the approach taken by Bermuda Finance Minister Bob Richards in last year's dialogue with the UK Government on this matter, in which he said Bermuda would like to see how the UK creates its own public disclosure regime. The new UK law puts the onus on British-based companies to file information on their ownership to a publicly-accessible register by April 2016. "We'd be very interested to see the mechanism by which this works," Mr Webber said. "Bermuda would need to study it and see if it's a feasible system. Until we actually see it in operation, its going to be difficult for us to assess whether its a system worth adopting and whether it would be appropriate for our jurisdiction. We have always been cooperative, transparent and collegial on these issues. We are undoubtedly a very well regulated international financial centre. For anyone to suggest otherwise is simply not true."
February 11. The Bermuda Tourism Authority has rolled out a new "Advocacy" section on its website designed to empower the public with more information about the Island's tourism economy. Web visitors will find historical performance data, economic impact figures, information on hospitality jobs and a retrospective on the hotel industry. There is also forward-looking information on the Tourism Ambassador Programme and a snapshot of the Tourism Appreciation Programme. "This rollout is consistent with the kind of information destination marketing organizations around the world provide to the public," Karla Lacey, the BTA's chief operations officer, said. "The objective of an advocacy section is to provide reliable data to a variety of constituencies, including tourism industry stakeholders, those considering a move to the tourism industry and the general public who we hope to meaningfully engage in public discourse about tourism." The data is not intended for the Bermuda travel consumer, but instead industry stakeholders, so the information will sit on the BTA corporate website at gotobermuda.com/bermudatourism under the "Advocacy" tab. There are eight section pages under the tab: economic impact, hotels, industry jobs, visitor arrivals, tourism budgets, tourism appreciation, tourism ambassadors and frequently asked questions (FAQ). The FAQ section is not new to the website, but has been updated given the new programmes and strategies devised by the BTA over the past ten months. "Much of the information in our 'Advocacy' section existed in the public domain in one way or another," Ms Lacy said. "Gathering it in one place allows all interested parties easier access to what they may need to make decisions or to be fully engaged. Our plan is to consistently grow and update this section with the most relevant information we have so that the public is empowered to help us grow the industry."
February 11. Would-be British Prime Minister Ed Miliband has sparked a storm of protest after he declared war on Bermuda and other Overseas Territories he branded tax havens. And yesterday the Bermuda Business Development Agency (BDA) added its voice to the chorus of condemnation of the UK Labour leaders pledge to petition the Organization for Economic Cooperation and Development (OECD) to put the Island and other Overseas Territories on an international blacklist of tax havens if they failed to comply with the UK's own new beneficial ownership transparency measures. But the BDA said that Mr Miliband's warning letter to the territories which gave a six-month deadline for the establishment of public registers of ownership if Labour wins the next general election, scheduled for later this year ignored Bermudas strict regulation of financial services. And it added that Mr Miliband should be aware of the Islands dozens of international tax treaties and its lack of banking secrecy as well as major differences between the Overseas Territories themselves and the Crown Dependencies. BDA chief executive officer Ross Webber said: "The approach is both broad-brush and yet discriminatory in that it groups together the UK OTs and CDs and excludes the larger G8 countries that also do no not have public registries of beneficial ownership. In fact, some of the latter don't have any type of meaningful register, let alone a public one. Bermuda had operated a register of beneficial owners for more than 70 years. We did this without being coerced or asked by any other countries, organizations or governments in the world. This was something Bermuda chose to do proactively because we have always been very conscious to safeguard the reputation of our jurisdiction. We have never been in the business of banking secrecy we don't have bank secrecy laws. We also do not differentiate between local companies and exempted companies." Mr Miliband's letter want to Anguilla, the British Virgin Islands, Cayman Islands, Turks & Caicos, Gibraltar, Montserrat and the Crown Dependencies of Jersey, Guernsey and the Isle of Man, as well as Bermuda. Bermuda Premier Michael Dunkley was first out of the blocks to counter Mr Miliband's letter. The current UK Conservative-led coalition government has already passed a law requiring a public disclosure regime, where companies will have to file ownership information by April next year. Mr Webber said: "We'd be very interested to see the mechanism by which this works. Bermuda would need to study it and see if its a feasible system. Until we actually see it in operation, it's going to be difficult for us to assess whether its a system worth adopting and whether it would be appropriate for our jurisdiction." Other territories have also weighed in to criticize Mr Miliband for his stance. Chairman of the Cayman Islands Stock Exchange Anthony Travers said Mr Miliband was hopelessly out of touch on international tax avoidance. Mr Travers added: "In fact, the Overseas Territories have maintained complete records on overseas beneficial ownership to the international gold standard set by the OECD for over two decades. What quite the OECD would make of Mr Miliband's threatened report given the OECDs own verification on the subject and the Overseas Territories commitment to the OECD automatic reporting standard is a matter for conjecture and possible further embarrassment. Mr Travers said that the UK's Her Majesty's Revenue & Customs (HMRC) and the US Internal Revenue Service (IRS) already had unlimited powers granted by treaty with Overseas Territories to investigate beneficial owners. He added that OECD General Secretary Angel Gurria had already said that companies could not be blamed for taking advantage of lawful tax avoidance and that individual countries should amend their own tax laws if they felt there was a problem. Mr Travers said: "An informed politician, genuinely concerned about tax evasion and tax avoidance, as opposed to making popular sound bites, should be lauding the standards of transparency set by Overseas Territories as the example to which other jurisdictions, notably the wholly opaque US corporate centres of Delaware, Wyoming and Nevada, should now be held and making more detailed enquiry of the double tax treaty abuses that are routinely adopted in European countries." Gibraltar's chief minister Fabian Picardo said the territory was not a tax haven and had a tax information exchange agreement with the UK. Mr Picardo added: "There is a balance to be struck between inappropriate secrecy and the right to protect privacy and indeed confidentiality." The Guernsey Minister of Treasury and Resources Gavin St Pier said the Crown Dependencies parliament, the States of Guernsey, had yet to receive Mr Miliband's letter. But he added: "Guernsey is also one of the very few jurisdictions in the world that regulates trusts and corporate service providers in order to provide timely and robust beneficial ownership information. We would of course be pleased to share our extensive experience with the UK to enable it improve its own standards in this area. We will be very interested to hear how Labour plans to compel other countries to meet the same standards that Guernsey meets."
February 11. America's Cup chiefs will work with the Corporation of St George ensure the Olde Towne does not miss out on the opportunities provided by the 2017 sailing spectacle. Event organizers, who met this week in Bermuda, are looking at the possibility of holding a race for the predicted influx of visiting yachts in the East End. They will also explore the potential of basing a cruise ship in St George's for the event and hosting the tall ships during the sports extravaganza, according to Mike Winfield, chief executive of America's Cup Bermuda (ACBDA). Yesterday at a question-and-answer session at the Fairmont Hamilton Princess Mr Winfield was joined by Sir Russell Coutts, director of the America's Cup Event Authority (ACEA) to provide an update on progress. Asked what could be done in order to ensure St George's gets a slice of the action, Sir Russell said: "As an organization we have discussed this. "One of the best features of the America's Cup in 2017 will be the huge number of boats that will come to the Island to be a part of the occasion. Maybe we will organise a race for some of these boats that goes to other parts of the Island and that is one of the reasons I have visited St George's on this trip. I can imagine doing stuff like that and opening up the event. We could plan things like this with the support of local communities and make it happen and make it fun." Mr Winfield said that St George's was a "natural place" for spectators to gather when racing was not taking place. "We have also been in talks with the Corporation of St George and we will be meeting in the near future. We are looking at the possibility of the tall ships being in Bermuda for the America's Cup and we need to consider how does this impact St George's. There is also the possibility of a cruise ship being based in St George's." Meanwhile, Sir Russell said he was greatly impressed by the progress that had already been made at the other end of the Island, where the teams will be based for the America's Cup. "There has been more progress than what I expected, which is a good thing," said the New Zealander, who has won the America's Cup five times. "I certainly have no doubt that the Island will get the facilities ready on time, and even over-deliver in terms of having these facilities available at an early stage. I have been impressed with the work that has been done, but it's the start of the process. Artemis should be here by the end of May, which will mean that there will be two full teams operating out of Bermuda." Sir Russell said that the decision to give NBC the television rights for the event was good news for the America's Cup as well as Bermuda. He also revealed that a decision over British and European television rights was being considered and would be made in the coming weeks. He maintained that the event could be a "real stimulus for youth sailing programmes in Bermuda", adding: "Our big ambition is to develop that programme throughout the community, exposing the opportunities to young people. "We hope to get that started in the middle of this year and expand it over the next two-and-a-half years." Sir Russell confirmed that some of the teams have already started to relocate and find accommodation in Bermuda, and he revealed that Oracle Team USA would be sailing in Bermuda by the end of April or the beginning of May. He added: "Artemis Racing will be following sometime after, so pretty soon we will see the foiling catamarans on the Great Sound. "Preparations for the World Series in October are also already well under way. The event organization people are in the process of relocating. I lead that organization and we hope to be operational by early March. The bulk of the staff will relocate here in March. Exciting times are ahead. It will soon be pretty obvious for everyone to see what they can expect in 2017."
February 11. The Land Valuation Department has confirmed the next revaluation is due on December 31 this year. As part of the revaluation process, the department must collect information about properties, including data on rents with a view to preparing the 2015 Valuation List. During this month, the department will be sending out both the residential and commercial rental survey forms to all land taxpayers on the Island and included with the forms is a prepaid return envelope. The forms should be completed and returned to the department within 21 days from the date of receipt. It is important that everyone who receives a form completes and returns it to the Land Valuation Department, as this is a legal requirement and there are penalties for not doing so. The information collected will be confidential and will be used only for the purpose of the revaluation. Anyone requiring assistance with the forms can either call the helpline on 297 7966 for the residential rental survey forms or 295 5151 ext 1452 for the commercial survey forms. You can also take the form to the Land Valuation Department, which is located on the second floor of Global House, 43 Church Street, Hamilton, where a member of staff will be happy to assist.
February 11. Retail sales in Bermuda have recorded their biggest year-on-year jump since the start of the economic downturn in 2008, jumping to $107.7 million in December. That represents a 6.3 per cent increase in the total retail sales index compared to December 2013. After inflation the increase was 5.2 per cent. It is five years since Bermuda has recorded a month with a higher total of retail sales. In December 2009 the figure was $110.1 million. There were improved figures in all other sectors, except for service stations. Motor vehicle sales jumped the most, up 59.2 per cent. The numbers have been cautiously welcomed by the Bermuda Chamber of Commerce. The announcement in early December that the 2017 America's Cup was coming to Bermuda is seen as one of the factors that lifted consumer confidence in the run-up to Christmas. Factors that appear to have added extra luster to the month's retail sales index totals were extended sales, the delayed purchasing of items to repair hurricane damage and the addition of one extra shopping day in December. "It is encouraging that some of the numbers are bumping up. But we are still hurting," said Kristi Grayson, president of the Chamber of Commerce. "The rise in building materials is still being credited to hurricane repairs two months after the storms." Ms Grayson believes this may have been a result of people waiting until they received their Christmas bonuses to pay for storm repairs. Apparel stores recorded a 3.9 per cent year-on-year increase for December. Ms Grayson pointed out that many retailers had extended sales and discounting during the month, so the increase was achieved "the hard way." An additional shopping day in December, compared to 2013, was an added help, particularly for food and liquor stores as there were also two additional discount shopping days during the month. Despite the sizeable jump in motor vehicle sales, the total is still less than 60 per cent of what it was nine years ago. Ms Grayson said: "We have to look at how far we have come down." Paula Clarke, the Chamber of Commerce's retail division chief, said: "Consumer confidence was certainly buoyed by the news of the America's Cup coming to Bermuda. In addition spending increased with payouts from insurance claims from the two hurricanes that occurred in October as homeowners and business's completed repairs to properties. Vehicle sales have shown consistent growth throughout the year due to the increase of the average age of motor vehicles." Ms Clarke, who is also CEO of Gibbons Company, said: "There was a lot of promotional activity in the month of December, which negatively affects margins. The retail sector continues to be challenged by the shrinking population." Looking ahead to the coming year, Chamber president Ms Grayson said: "As entrepreneurs we are always hopeful. Retailers are being creative and we are going to see a lot of creative retailing with the America's Cup coming." Returning residents declared overseas purchases of $7.5 million in December, bringing the combined total of on-Island and overseas spending to $115.2 million.
February 11. Long serving staff from White's supermarkets, which closed in 2012, remain unpaid — including seniors who worked decades for the company and say they can't get any answers. One caller told The Royal Gazette that his mother, who is in her early 70s and worked close to 40 years at White's, had been forced to seek work as a cleaning lady, frustrated to the point of despondency having not seen the money she is owed. Others have died since White's closed shop, he said, without ever getting payments. "Apparently the place was sold, but staff have not received any money," said former employee Reginald Pearman who was manager at the Warwick store. "I am personally owed money, like the rest of them, but we feel like we are just kept in the dark," added Mr Pearman, a former president of the Bermuda Cricket Board. "I don't know what the law states but I am pretty sure staff should be the first ones paid. To my knowledge, none of the staff have received any benefits from the sale of the company." With a new business now under construction at the Middle Road, Warwick site that once housed the supermarket, former staff contacted this newspaper with their complaints. The Middle Road establishment, White and Sons Limited, closed shop in August, 2012, with all staff forfeiting their jobs. The Southside store followed suit, as did the outlet Hayward's Supermarket. Bermuda Industrial Union, which has also been approached by ex-workers, was directed to KPMG, the firm that handled the liquidation of White's. The company declined to comment. However, The Royal Gazette understands that the liquidation yielded insufficient funds to pay costs in full. They were also insufficient to pay employees or outstanding amounts owed to suppliers. Wholesalers Pitt & Co, along with the BGA Group of Companies, were both successful in March of last year with a lawsuit against White's owners Gary and Michael White over $1.8 million owed to them. The chain was not itself a limited liability company, resulting in months of legal disputes that ended with a ruling by Puisne Judge Stephen Hellman in favor of the major creditors. "There are several people with a lot of years in White's, and I feel sorry for them," Mr Pearman said. "They call me every now and then asking me what can be done, but I can't shed any light." Another man who spoke with this newspaper asked not to be named, as his mother wanted to protect her privacy. He said the liquidators had informed them that no one had been paid, whether staff or businesses. "It's sickening for them to run these people around. A senior citizen on their pension gets very little. They are owed money and nobody has been talking to them to let them know what's what. It's been that way ever since the place closed." He said his mother had been reduced to "doing anything she can to survive" and had given up hope of ever being paid. "The other sad thing about it is a few staff members have passed away," he added. "Nobody can get any kind of a decent answer."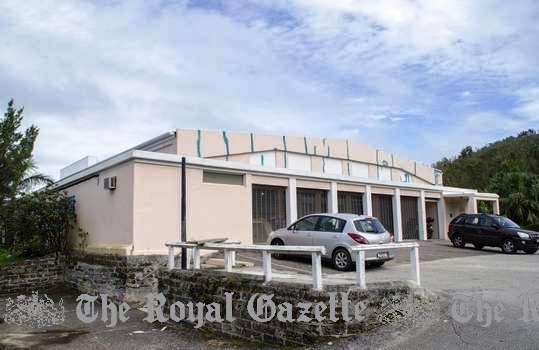 Old White's Supermarket, Warwick. See above story.
February 12. Bill Hanbury has disclosed his salary package to prevent it from continuing to detract from the positive work of the Bermuda Tourism Authority. By revealing that he earns $295,000 per year and receives a $75,000 annual housing allowance, the BTA chief executive officer said he hoped that he and his team would be left to focus on rejuvenating the tourism industry and creating jobs for Bermudians. The CEO's salary was not made public when he was appointed in January 2014, which prompted Opposition criticism and condemnation in the House of Assembly from MP Wayne Furbert, who said: "Not only salary, does he get free housing? Does he get travel? Is it first class, business or economy? Does he get a phone? Does he get a car? I do not know. But the board should have a responsibility to tell me." But Mr Hanbury branded the continuing clamor around his salary as a "huge distraction" from the job that he and the BTA had been tasked with. Speaking to The Royal Gazette, Mr Hanbury also revealed the salary range of his four-strong senior team as further evidence of a desire to provide transparency and accountability. Mr Hanbury said he had previously been prevented from releasing his salary under a confidential agreement with the BTA board, but had approached the board to ask for permission to release the figure. "I had nothing to do with the salary level," he said. "It was decided by the search consultant and the board of directors. I am qualified to do the job and I am being paid commensurate with my experience and qualifications, and I am not apologizing for that. I do not have time for this continuing conversation about my salary; I am totally focused on creating jobs for Bermudians. I want to take the air out of the balloon so that the conversation is not around my salary, but about the national crisis we face and the need to create jobs." Asked why he had not released his salary figure before, Mr Hanbury said: "I had a confidentiality agreement with the board that prevented me from releasing the figure and I did not want to breach that agreement. That was not my idea, but I honored their wishes. "I have gone to the board now to get their approval to break that agreement because my salary has become a distraction. We have to stop politicizing the tourism marketing. This one organization has the opportunity to create jobs. People should stop thinking about all the other atmospheric interference and think about the BTA and the jobs it can create. I am not asking people to blindly support us. We believe we have a solution, give us a chance to fix it instead of speaking all the time on the other ancillary issues." Mr Hanbury revealed that the BTA's senior executive team of Pat Phillip-Fairn, Karla Lacey, Victoria Isley and Roland Andy Burrows received annual salaries of between $175,000 and $275,000. The CEO, together with Ms Phillip-Fairn, the chief product and experiences officer, Ms Lacey, the chief operations officer, Mr Burrows, the chief investments officer and Ms Isley, the chief sales and marketing officer, all have the potential to earn a 30 per cent bonus based on "strict performance parameters." Mr Hanbury said: "We want to be accountable and transparent about what we are doing; and there is a huge national interest in us improving the tourism economy. In many respects, we are the only option in the immediate future. As we go off into 2015, I don't want there to be a big cloud over the CEO's salary. It should not be an issue; we have much bigger issues. But I want to clear the air so we can get to the real issues — the national crisis around jobs. The BTA is part of that solution. I don't want it to be politicized. Everyone needs to buy into this whether they like my salary or not; we are trying to solve a serious problem." Mr Hanbury's salary was set by one of the world's most pre-eminent recruitment firms, Korn Ferry, which based the figure on what was commensurate with what other executives in the job received. According to US tax forms posted on the website of his previous employer, the United Way of the National Capital Area, Mr Hanbury made more than $358,000 in direct compensation, in addition to another $58,000, which is listed as the "estimated amount of other compensation from the organization and related organizations." The same data reveals that for 2012, Mr Hanbury received $392,128 in reportable compensation and $60,849 in "other compensation". Mr Hanbury said: "My salary now is in the middle of the road for destination marketing organizations relative to other CEOs. The annual survey conducted by the Destination Marketing Association International shows that 58 per cent of CEOs earn more than me, while 42 per cent earn less. If I don't perform, I am not going to be here. It is as simple as that. We own 2015 and have set aggressive objectives. I have to perform or I will not be here. We have not been at this long enough yet to reverse the decline for 30 years. The complexity and depth of the problem was significantly more than I thought it was. I'm not discouraged by the scope of the problem, but I am more practical now that, in fact, the solutions are complex."
February 12. A pilot health benefit has provided medical care for patients in their homes, while saving the Island's health system an estimated $100,000. The Home Medical Services (HMS) pilot benefit was launched by the Bermuda Health Council in collaboration with stakeholders in October 2013. According to a statement issued by the BHeC, feedback on the pilot benefit from patients has been positive and an evaluation of the services provided during this period found "significant savings" to the health system. As a result, the benefit will be available on a permanent basis. The HMS benefit allows patients to receive specific medical procedures in their home as part of their insurance policy. It was introduced under the Health Insurance (Standard Hospital Benefit) Regulations and the covered procedures and their fees are set and regulated by the BHeC. In order to qualify for the benefit, a patient must be referred by a physician to a BHeC-approved HMS agency, for an approved medical treatment. The care must be provided by a registered nurse, and it must be needed for a limited period of time. Claims for HMS benefits are covered by all health insurers, including the Government's plans HIP and FutureCare, without additional charges to the patient. Some of the services and procedures that are offered include: IV antibiotic therapy, pain management, wound care, catheter changes, infusion therapy, nutrition therapy and patient education and training. The full list of benefits are found on the HMS Fee Schedule, which is available on the BHeC website: www.bhec.bm/for-professionals/fee-schedules/ The HMS benefit does not include services performed by a non-medical person, such as home support for daily activities, meal preparation, personal care services and home maker services. Tawanna Wedderburn, the BHeC director of health regulation, thanked participating physicians and the Bermuda Hospitals Board for their collaboration. Jennifer Attride-Stirling, CEO of the BHeC, said: "The HMS benefit has been an important addition to the Standard Benefit mandated in all insurance policies. We are pleased that it realized cost savings as anticipated, and are confident that continued appropriate use will generate more material benefits in terms of costs and patient experience" Simone Barton, chairman of the BHeC, added: "I am extremely pleased that this service is now available for patients and covered by insurance. We need to see more changes in local healthcare delivery that truly drive care to the most appropriate setting to derive the best outcomes for patients and the health system. The Health Council is here to ensure this for Bermuda's public."
February 12. The Bermuda Government announced the first three members of the Casino Gaming Commission, who will be tasked with regulating the industry. The five-member commission will be led by Alan Dunch, who was named chairman. Garry Madeiros was named deputy chairman while Dennis Tucker will also serve on the commission. Mr Dunch, an experienced lawyer, is the director responsible for the litigation practice group of MJM Ltd, while Mr Madeiros, a chartered accountant, is the former president and CEO of Belco and a director of BF&M Life Insurance Company. Mr Tucker, meanwhile, is a former director of the Bank of Bermuda, the CEO of the Hotel Pension Trust Fund and a director of the Bank of Bermuda Foundation. Tourism Minister Shawn Crockwell said the two remaining appointments have yet to be made, but one of the posts will be a former gaming commissioner from another jurisdiction with experience dealing with money laundering. "Advice was given and received that we should have someone with gaming commission experience sitting on this," Mr Crockwell said. "As you know, we have not done this before. The reason why I want to start now is that there are training opportunities in the very near future and I wanted to have, particularly the chairman and deputy chairman exposed to them, so we are getting the ball rolling. I don't know how long it will take to identify the overseas member, but a list is being compiled now so we don't expect it to be too long. The commission will be tasked with regulating the casino gaming industry on the Island when it is introduced, and will be the only entity which will determine who receives a casino licence. Legislation passed last December allows only three casino licenses to be in effect at any given time. The transfer of a casino licence without a fresh application to the commission will be prohibited, and licence-holders will be required to report any material changes in their circumstances. The commission will also have the power to approve the layout of a casino, gaming equipment and hand out licenses for key casino employees. I remain confident that resort casino gaming is right for Bermuda and that most Bermudians supported the legalization of gaming in Bermuda. It is now imperative that we put the regulatory structure in place to ensure that we create a responsible and highly respected gaming industry in Bermuda." Mr Dunch said he was honored by the appointment, noting that the real work has yet to begin. "The role of all of us will be to learn what gaming commissions are all about, and how to import a model that fits Bermuda into Bermuda, and then having established the necessary regulations, go about the process of vetting applications and hopefully finding the best applicants for the job, assuming that they exist. I think that one of the things that is challenging about this is its all so new. None of us have done it before. None of us have any real idea as to what we are getting into and we are all looking forward to the educational process that has to take place in order for us to then sit down and create the vision." Both Mr Crockwell and Mr Dunch said that the commission's decision as to who should be awarded casino licenses will not be impacted by Government, with Mr Dunch stressing that no decisions have been made. "When the minister first approached me to ask me whether I would take on this position, I think the first question I asked him was if the Government has made any commitments to anybody in relation to the granting of a licence.. I asked that question because had the answer been yes, I suspect I would have declined the invitation. I have been assured that no commitments have been given, and that we as a commission have been given a clean slate, so we will be looking at all applicants subjectively, without political influence and we will make decisions objectively without political influence, and that I can assure you." Gaming has been a controversial issue for the One Bermuda Alliance, who had promised before their election in 2012 to hold a referendum on the topic. The Government scrapped the referendum plans in 2013 a decision which drew harsh criticism from opponents but were able to pass the Casino Gaming Act 2014 in both the House of Assembly and the Senate. Further gaming regulations are expected to come before Parliament later this year.
February 13. The Tucker's Point Hotel and Resort is up for sale. After being in receivership for some 16 months, the East End property is being marketed to potential buyers by international agency Jones Lang LaSalle and by Rego Sotheby's International Realty in Bermuda. The resort employs between 200 and 300 people — depending on the season — and receivers Ernst & Young (EY) Bermuda say they are "seeking suitable investors to ensure the long-term success and sustainability" of the property. EY partner Roy Bailey, who is overseeing the receivership, said the decision to actively market the property was due to the business being in better shape and prevailing market conditions. He told The Royal Gazette that the claims against resort owners Bermuda Properties Ltd (BPL) by the secured creditors — HSBC, Argus and BF&M — totaled around $150 million, plus interest on the loans for the receivership period. Only sale proceeds over and above their claims will be available for unsecured creditors. The property comprises the 88-room hotel with golf course, 50 unsold fractional ownership units — seven of those units are contracted but sales not completed — and undeveloped land, which has potential for building more units, planners permitting. The receivers have not attached an asking price to the property but expect "a competitive, open-market process". Mr Bailey said it was in the interest of all interested parties — creditors, employees, Government and the people of Bermuda — that the hotel was "sustainable and successful in future years". This partly depended on the buyer understanding Bermuda and its tourism being more seasonal than that of Caribbean islands, Mr Bailey said. "We wanted this to be a resort that pays its own way," Mr Bailey said. "It's been a 16-month period of receivership and we believe we have improved the resort. The membership numbers have increased 15 per cent in that time." Without providing figures, he said the performance of the resort had been flat last year compared to the year before. But he added that this was viewed as positive, given the unusually wet August and two hurricanes in October, which had caused bookings to be cancelled and stays to be cut short. Mr Bailey added that the decision to sell now was also driven by improving market conditions for resort investment, particularly with last December's announcement that Bermuda will host the 2017 America's Cup. "We do recognize that an investor coming in will want the resort to leverage the opportunity of this major event," Mr Bailey said. Delaying the sale until 2016 would have cut across the period of opportunity with America's Cup-related activities starting this year in the run-up to the big event. "Decisions are being taken now and requests for block bookings for two years' time are already being made," he added. The resort, managed by Rosewood, opened in 2009, just as the Island and its main tourist market, the US, lurched into an economic slump. This newspaper revealed that BPL lost more than $1 million per month from the start of 2009 through the end of August 2010. In 2011, the company fought a heated public battle for a special development order (SDO) to expand and build dozens more luxury homes on the property that it said would be sold to help repay its debts. Mr Bailey said the actual number of units that a new owner could build on the undeveloped area of the property depended partly on the result of environmental impact surveys and then the plans would have to go through the normal planning process. Jones Lang LaSalle is marketing Tucker's Point globally and the receivers expect no shortage of bidders. Mr Bailey said the buyer was likely to fit one of four descriptions: financial, private equity, brand hotel name or wealthy individual. "Because it's Bermuda and it's a unique resort and a unique opportunity, I think there's a fair chance that it could be a high net worth individual buyer," Mr Bailey said. Mr Bailey expected the sale would take about nine months to realize, unless an appropriate buyer emerges quickly with an attractive offer and a shorter timeline.
February 13. Bermuda's modernization of its air traffic management will allow the Island to become a certified air navigation service provider, Transport Minister Shawn Crockwell told Members of Parliament this morning upon resumption at the House of Assembly. "Significant costs" involved in the process will be recouped in user charges, Mr Crockwell added. The Island's certification as a provider would allow Bermuda to expand its area of airspace for air traffic management from the existing five-mile radius, out to as much as 50 miles — and potentially farther "at a much later stage", Mr Crockwell said. Expanded operations should be in place to support "the anticipated increase in flight operations surrounding the upcoming America's Cup". The updates came as the Transport Minister rose to inform the House of his London visit in December, accompanied by local aviation officials, to present the findings of the Bermuda Approach Control and Airspace Modernization Feasibility Survey.
February 13. NEW YORK (Bloomberg). Third Point Reinsurance Ltd, the Bermuda-based company co-founded by hedge-fund manager Dan Loeb, said buying a competitor in the US or Europe could clash with its business model. "One of our strengths is we can tell people that our money is managed by Loebs Third Point LLC," said John Berger, the reinsurers chief executive officer, at a conference in New York on Wednesday. For European and US-based companies, there are usually restrictions on how you can invest the money. When Third Point Re went public in 2013, it highlighted how Mr Loeb's hedge-fund firm would be overseeing its investment portfolio, potentially helping the company achieve higher returns. "That model means the company takes on more risk on the asset side of its balance sheet than some of its competitors," Mr Berger said. "If you have to deviate from that, then that changes the story. We don't expect any mergers to make sense in the near term." Reinsurers, which help insurance companies shoulder risk, have been consolidating to gain scale as a glut of capital pushes down prices for coverage. Last month, XL Group Plc agreed to buy Catlin Group Ltd for about $4 billion, and Axis Capital Holdings Ltd and PartnerRe Ltd announced plans to combine, creating a firm worth about $11 billion.
February 13. Bermuda-based insurer Ironshore has closed a deal that will make Chinese investment firm Fosun International Ltd the firm's biggest shareholder. Hong Kong-listed Fosun completed its purchase of 20 per cent of Ironshore's outstanding shares, the companies announced last night. Ironshore said it will use all of the proceeds from the share issuance to fund repurchases of outstanding equity from existing equity holders, including existing long-term, private equity shareholders. The impact of these transactions is that Fosun will become the largest shareholder of Ironshore. "Ironshore is pleased to announce the completion of the equity transaction with Fosun, which has an established investment management approach grounded in the Asian market," said Ironshore chief executive officer Kevin Kelley. "Our relationship with Fosun will further strengthen Ironshores ability to realize strategic growth opportunities throughout our global insurance platform." Fosun Chairman Guo Guangchang said his firm had established a comprehensive insurance platform covering property & casualty insurance, life insurance, reinsurance and speciality insurance. "Ironshore's excellent team has outstanding managing and underwriting insurance capabilities, which are widely recognized in the insurance industry. Ironshore has capability to provide its clients with comprehensive and quality speciality insurance products. As a long-term strategic investor, Fosun will support the stable and long-term development of Ironshore." Fosun said it regarded the development of the insurance business as a premium path in connecting its investment capability to long-term high-quality capital.
February 13. "Reinsurance is struggling with too much capacity," Bermuda-based Lancashire Holdings CEO Alex Maloney said yesterday. "This is driving competition on both price and terms and conditions." He was speaking as the firm released its 2014 last quarter and full year results, which listed after tax profits for the last three months of the year at $86.8 million and $229.3 million for the full year up on the same figures for 2013. Mr Maloney said: "But our focus on employing lead underwriters with the ability to work with clients and brokers to design programmes and supply meaningful capacity protects us from the pressures on the smaller following markets who cannot fulfill these requirements. We did see some pressure on signings throughout the year, but on our core books we maintained, and even in some cases added to, our share of the risks we really like. And so we thank our business partners in broking houses large and small, and the core clients we work with year after year for their support, and pledge our continuing support to them." Mr Maloney added the firm had also built new specialist teams in energy, terrorism and aviation lines. Elaine Wheelan, the group's chief financial officer, said Lancashire's performance meant the firm was offering a 50 cents per share top up dividend to add to the last quarters. She added: "Combined with dividend equivalent payments, that results in a capital return of $103.0 million. Together with the special dividend declared in November, plus the interim and final dividends for this financial year, we have returned 167.8 per cent of comprehensive income for the year. Including all forms of capital returns, from inception we have returned 101.9 per cent of comprehensive income." The firm wrote a total of $120.1 million in gross premiums in the final quarter of 2014 down by around $10 million on the same period the previous year and which took the figure for 2014 to $907.6 million. Mr Maloney said: "We enter 2015 with historically low retained risk levels, without having had to sacrifice any meaningful share of our inwards portfolio, except property retrocession which has been replaced with better margin, less volatile catastrophe business. Of course you only get the credit for doing the right thing and reducing net exposure in a soft market if there are losses to prove it, and the last couple of years have been very quiet in terms of major insured events. But we are committed to underwriting for profit not volume, and we still have plenty of firepower in Lancashire, Cathedral and Kinesis to take advantage of any market dislocation."
February 13. More than 500 Permanent Residence Certificate holders are still in limbo, awaiting approval for Bermudian status as Government struggles to work through a backlog of applications. A judgment last year on the case of Carne and Correia paved the way for PRC holders to gain status under the right circumstances. Home Affairs Minister Michael Fahy said that Government began processing the applications in September but a Government hiring freeze along with a sudden influx of applications after the judgment was announced last May, has led to delays. Mr Fahy said that Government may be able to use existing staff to help manage the extra workload. He told The Royal Gazette: Obviously there is frustration because people would hope that their applications would be processed much faster. The difficulty is that we do have some staffing issues because the numbers of applications are higher than you would see in a regular year. Your normal applications are people who are, say, marrying a Bermudian, or they are a child of a PRC holder who is now eligible. These are the applications we usually deal with. [The PRC judgment] added a significant workload for the department. As we have a freeze on new hires, we are doing some internal mechanisms and we will soon be in a position to get at least one other person on the team to be trained as to what they have to look for and hopefully that will make a difference. That will happen in the next four weeks or so. Another contributory factor was that many applications had been incorrectly submitted." Mr Fahy explained: "We have had a number of instances, and not an insignificant number either, where people simply have not understood the paper work that they are submitting. In order to obtain status under this particular section, you need to become naturalized... so it's important that people remember that they need to submit naturalization application information as well. That is vetted by us and also vetted and confirmed by the deputy governor's office. Status applications cant be approved until they are naturalized so it is a two-step process. A lot of people have just filled in their status applications so we had to return a number of applications on that basis. I urge the lawyers out there who are helping out their clients [to take note of the requirements] they have made mistakes as well, not just the applicants." About 620 applications were received in total out of an estimated 1,400 who are eligible, according to Government estimates. So far, Government has processed around 70 of those applications and 80 have reached the processing stage. He said that the Department of Immigration was prioritizing any applications that may have deadlines looming and encouraged anyone whose time is running out to check in with the Department of Immigration. "People should be rest assured about the fact we are prioritizing those applications where there are time limitations issues. For example where you have an individual whose child is going to be turning 22 years old and their parent doesn't get status in time to be eligible for status they need a parent who had status before their 22nd birthday. We are not talking huge numbers of them where we have prioritized those applications. We have not missed any deadlines but if anyone believes that we have missed someone who may be up against an important deadline then they should bring that to the attention of the Chief Immigration Officer. We are prioritizing those applications but we may miss one or two and we don't want to find ourselves in that position."
February 13. Amendments to legislation controlling municipal elections were approved by the House of Assembly last night, despite coming under fire from the Opposition. The Municipalities Amendment Act 2015 lays the groundwork for the hybrid voting system, in which residents and ratepayers are able to vote. Sylvan Richards, the Junior Minister for Home Affairs, said that of the eight councillors, two would be elected by residents of the municipality, while another two would be elected by rate-paying businesses. The remaining four positions would be determined proportionally, based on the number of ratepayers and residents voting in a municipality. The Act also moved the responsibility of operating municipal elections from the corporation secretaries to the Parliamentary Registrar, starting with the May 2015 municipal election. While Mr Richards argued that the amendments would improve democracy, the Progressive Labour Party took aim at the One Bermuda Alliances move to allow business owners the right to vote, promising the decision would be reversed as soon as the Opposition regained power. During the debate, Shadow Minister for Human Affairs Rolfe Commissiong said returning voting power to business owners was a step away from democratic values. Referring to the passing of municipal legislation in 2013, Mr Commissiong said: "We expressed it then and we express now an opposition to the diminishing of the franchise that was democratically extended to the residents of not just Hamilton, but also St George's." David Burt, Shadow Minister for Finance, questioned what would stop Government from extending the ability for businesses to vote to general elections, and said the OBA was acting because it wanted to further empower its own voter base. "They don't like the results of democracy, so they are changing the rules.. This party stands for democracy. This party stands for one man, one vote." While Attorney-General Trevor Moniz argued that former Premier Dr Ewart Brown had attempted to abolish the Corporation of Hamilton, PLP MP Zane DeSilva said the party had never tabled such legislation. "We were putting the city in the hands of the people it belonged to. All the marching in the streets, the banners, it was the takeover that never was." He called the decision to give business owners the ability to vote a vicious slap in the face to residents of the municipalities. Finance Minister Bob Richards, meanwhile, said that the City of Hamilton was different to the rest of the Bermuda because the bulk of taxpayers there were businesses. "The City of Hamilton is the economic centre of gravity of this country.. Most of Hamilton is business. Most of it is not residential. When the business day ends in Hamilton, the town empties. The new legislation would address an imbalance of representation, which had crippled and lamed the municipality in Hamilton. Our experience with the current structure is a result of an imbalance with who runs the city. There's an imbalance of interest. We are a country where we are trying to get ourselves back on our feet. There's been a lot of talk about the revitalization of Hamilton and the Waterfront. Because of the imbalance in the Corporation of Hamilton today, that is totally off the table because they are embroiled in litigation." Glenn Blakeney, however, denied the suggestion, saying that the corporation had been moving forward with efforts that would bring direct foreign investment in the capital, noting the Par-la-Ville hotel project. Minister for Community, Culture and Sport Patricia Gordon-Pamplin spoke to suggestions by Opposition leader Marc Bean that the practice could extend to other areas in Bermuda such as Warwick or the BLDC: She said: "It's ludicrous to say Warwick could have special votes or the BLDC. These are spurious arguments that do not make sense. If we can't find a way to trigger growth we are doomed. I am the eternal optimist but we can only reach nirvana if we all work together and put all our resources together. Absence is pretty scary. We have seen exodus of businesses. What better way to get them to return than to let them know there is some point of representation in how the city is run." The PLP criticised the OBA over what it described as a loophole in an amendment passed in the House that allows an owner of multiple businesses to be eligible to have a municipality vote for each business owned. While the legislation stipulates that an individual may only cast one vote, they said a provision for that individual to nominate another person to cast a vote on their behalf allows for multiple votes. The privilege does not extend to a business that is spread over multiple properties or to subsidiaries of a single business. Mr Bean requested clarity on the issue multiple times and Government had to mull over its own legislation for quite some time before clarifying the law. He criticised the OBA for not fully understanding the legislation it was trying to pass and called on them to rise and report progress. However, a vote was taken, the Ayes won and the amendment was passed. The Opposition leader said the fact that a City homeowner who did not live in the city could not vote yet a business owner could on multiple occasions amounted to discrimination and the amendment represented a nail in the coffin of the OBA government. "I offer a not-so-subtle warning that the Corporation of Hamilton is one of those hazards that will sink the OBA.. Unfortunately it is one of many hazards that have been self-created, self-induced and self-inflicted by this current government. This debacle sooner rather than later will be another nail in the coffin of the OBA."
February 13. Premier Michael Dunkley has clashed in Parliament with Opposition MP Zane DeSilva over the retention and salary of a lawyer-lobbyist who first appeared on the political landscape in the 1980s. Mr DeSilva accused the Bermuda Government of substantially increasing the pay of Washington consultant Kenneth Levine to $400,000 per year, questioning whether this represented value for money. Earlier, MPs heard that Mr Levine, who has acted in Bermudas interests for more than two decades, attended all 12 of the Capitol Hill meetings held during Mr Dunkley's first official visit there. After the morning session, the Premier provided figures to refute Mr DeSilva's claim. "What Mr DeSilva said is not correct, Mr Levine is on a $100,000 yearly retainer, and if he goes over his hours he receives an hourly rate," Mr Dunkley told The Royal Gazette. "If you note the figures, Mr Levine was in fact paid more under the Progressive Labour Party Government." Numbers provided by the Premier showed that the consultant received $377,979 in the fiscal year of 2009-10; $272,314 for 2010-11; $346,565 for 2011-12; $304,223 for 2012-13; $268,308 for 2013-2014; and $201,363 to date for 2014-15. "If Mr DeSilva has a genuine concern about taxpayers' money, he should not just fling out numbers willy-nilly," Mr Dunkley said. "I don't tolerate political prevarication. Levine also worked under the PLP and thus if they did not support his work they had every opportunity to take action. When I was in Washington, one thing I did was get up to date. Mr Levine worked very well with us."
February 14. It was 125 years ago that Sisters of Charity arrived in Bermuda. The Catholic order of nuns founded Mount St Agnes Academy and provided the Island with spiritual leadership. The milestone will be marked with a solemn mass at St Patrick's Church in Smith's tomorrow. Bishop Robert Kurtz, Father Vladimir Sobolewski and Father Joseph Morley will lead the 11am mass, which will feature a special choir mostly made up of Mount St Agnes alumni. There will also be a reception immediately following in the church. Sister Judith Rollo — one of two Sisters left on the Island — shared a little more about the importance of the anniversary. The Sisters came to Bermuda as the direct result of the persistence of Father Bellord. He was the military Chaplain of the Officers of the Garrison, including the Irish Rifles, who had three times petitioned [Mother Cleophas] to send Sisters to teach the children of the Irish Regiment stationed in Bermuda. All three times Mother Cleophas refused as she had too few Sisters to acquiesce to the request. She also felt Bermuda was too far away. Ironically, when Mother Cleophas left office, her successor, Mother Mary Bonaventure, with the prompting of Archbishop O'Brien, agreed and promptly sent Mother Cleophas and three other Sisters, accompanied by an orphan girl, to establish a school for girls in Bermuda. It was on February 15, 1890, that Mother Cleophas, Sisters Mary Philippa, Mary Blanche, Maria Agnes and an orphan girl, Elizabeth Archibald, boarded the ship Alpha to set sail for Bermuda. Since the ship docked in 1890, the Sisters answered their call to serve God's people here on the Island, which has continued to this day. Throughout the 125-year presence of the Sisters of Charity here in Bermuda, their influence reached far beyond the walls of Mount St Agnes Academy. In the early days, the Sisters walked North Shore gathering the Portuguese children who did not attend school so that they could be taught religion. Among the ministries over the years included teaching women prisoners, developing a structured religious education programme for Government schoolchildren, the giving of retreats and the planning of special liturgies, as well as ministering to the sick and dying. This was very notable when, amid terrible living conditions, the Sisters were quarantined on Nonsuch Island. This happened after the ship they had arrived on had sailors diagnosed as possibly having small pox. The Sisters carefully ministered to all during that time. They themselves experienced many hardships beginning with all four of the Sisters being struck with typhoid fever during their first experience of a Bermuda summer. In 1914, the Sisters were returning from Halifax when they suffered a terrible shipwreck, but were rescued. The mission also continued in spite of bad weather conditions. The 1925 hurricane was so severe that Mother Mary Louise considered closing the mission. However, God's providence has prevailed and Sisters of Charity continue to serve the people of this beautiful Island. "There are now only two Sisters left on the Island — Sister Dolores [Sullivan] and myself, Sister Judith. Since retiring from Mount St Agnes Academy in 2005, we have established our home, Caritas, as a house of prayer with quiet Wednesdays, when anyone may come to our home and spend time in prayer and reflection. We also have monthly evening prayer, retreat days and every two years organize a women's weekend retreat. We minister to the sick and homebound, those in nursing homes and visit King Edward VII Memorial Hospital on Mondays and Thursdays. We occasionally substitute at Mount Saint Agnes and tutor children and teens. Sister Dolores teaches a young man who was deprived of an education and who is making magnificent progress. Having been in Bermuda since 1968, I had a deep desire to be here for the turn of the century, so to have this special anniversary is very significant for me. Sister Dolores and I will stay here as long as our health allows. In religious life people come and go in and out of our lives, so this is an opportunity to hopefully see some of our past students and their parents whom we do not see often and maybe not at all."
February 14. Legislation offering America's Cup-related concessions was approved by the House of Assembly last night, with both parties promising unequivocal support. Minister of Economic Development Grant Gibbons explained that the legislation represented the Government carrying out its promises to the Americas Cup Events Authority (ACEA), made during the bidding process. "What they said is, in order to consider Bermuda, here's what we need, here's what we need to do," Dr Gibbons said. "We were in competition against a number of other jurisdictions and we all know Bermuda is an expensive place to live and do business. When the announcement was made we knew we only had a week or so because we had to put a piece of legislation down and needed to get it passed by February 28. If not, the board can change its mind if they want to. This is all about fulfilling our commitment under the bid document. Under the legislation, ACEA, Team Oracle and various partners would be able to avoid various fees, including Customs Tariff duty on vehicles and the employers portion of payroll tax. The concessions also allow organizers to bring a number of limousine-size vehicles to be used during the event, under the condition that the vehicles be driven by qualified Bermudians. Show cars may also be brought to the Island specifically for marketing purposes, as past Americas Cup events have been sponsored by car companies. As many as five helicopters would be used along with unmanned drones to record the event and capture the Island's beauty. Meanwhile, as there were not enough charter boats on the Island to meet demand, visiting charter boats up to 50ft in length would be brought to Bermuda, with Bermudian charters and companies to be given priority." Opposition Leader Marc Bean warned despite all the glitter, all will not be gold, saying that the distribution of wealth from the America's Cup would not be even. He particularly took issue with the Government for suggesting that Bermudians must not feel entitled to benefit saying: "Don't think those eating at Belagio-style buffet table to tell people who are eating crumbs how to think or act. You tell us not to feel entitled when you are the architect of entitlement. Because its taxpayer funds I hope everybody gets paid if they have a desire to." Shadow Health Minister Kim Wilson said she hoped a provision would be written into legislation for incentives to be exchanged for the concessions and exemptions being offered. In return the person receiving the concession they should contribute something to the social fabric of Bermuda for example youth development and sailing alike. Of more concern to Ms Wilson was the provision to provide equal opportunities for all when it came to reaping the economic benefits the event presents. PLP MP Wayne Furbert said the Opposition unequivocally supported the Americas Cup coming to Bermuda, but criticised what he said was a lack of cooperation with the party. "We have to be sure that the economic benefit is spread wide and deep, and that there's no one not only left out of the Americas Cup activities and not only feel it in their pockets but see it in their bank accounts. I would have thought that with this particular event that the Government who wants everybody on board would have included the opposition in many of the decisions. This event does not belong to the OBA government. It belongs to the people of Bermuda, considering the amount of money they are paying for it, so I would have thought we would be included." While he questioned why the PLP were un-represented in the ACBDA Committee, Dr Gibbons later responded that the body was a working group with no political members, but that the opposition could play a role on advisory groups. Kenneth Become said that he had been proactive in St Georges and had initiated a conversation with the America's Cup officials. He said plans were under way for events in the Olde Towne including a concert that could be aired on CableVision. He encouraged all Bermudians not to wait to be invited to get involved but rather be bold and approach the organizers with ideas. "If you are afraid of being rejected, you will always be a failure," he said. OBA backbencher Leah Scott repeated calls for cooperation between the parties, saying that the Opposition is able to reach people the OBA may not and vice versa, while PLP's Rolfe Commissiong called for diversity to be a focal point in the event noting the Islands little-emphasized history of skilled black mariners. Tourism Minister Shawn Crockwell was pleased to see support, calling the event a once-in-a-generation opportunity for the Island which can redefine Bermuda in terms of tourism. "The marketing and media exposure that we could get for this event, we could never pay for," he said. "Never have we had such exposure. That is the potential that we have for this Island and the event is going to be on our greatest asset the water. We can look forward to thousands of people that will converge on Bermuda. I believe its such an event that if you have an entrepreneurial spirit, its almost impossible not to be able to figure out how to make a good buck when tens of thousands of people are going to be here with needs." Answering criticism that Front Street was a location chosen for special rights to have occasional licenses granted to sell alcohol at closed off events for the likes of team bases, Culture Minister Patricia Gordon-Pamplin said the decision was made because of Front Streets waterfront location. The Liquor licence Authority can grant such licenses to other areas. Dennis Lister asked why you need a waterfront property to benefit and calling Front Street the traditional bastion of the oligarch, while Shadow Transport Minster Lawrence Scott called for Bermudians to be defined in the legislation as more than just laborers but rather designated commercial partners who could receive funding to help start up new companies.
February 14. British Opposition leader and would-be Prime Minister Ed Miliband's threat to blacklist Bermuda as a tax haven was attributed by Premier Michael Dunkley to pre-election ploys. Speaking at yesterdays House of Assembly, the Premier strongly defended Bermuda's record of transparency in the face of the get-tough measures vowed by Mr Miliband this month. "The UK is in the throes of an election campaign," Mr Dunkley said. "In just over three months, UK voters will go to the polls in what, by all accounts, is likely to be a close fought race after five years of coalition government. The battle lines being drawn between the two main parties are increasingly robust, and from time to time statements such as these are likely to be made in the name of winning votes at home. This is not unique to the UK, and Honourable Members may recall that 2008's United States presidential election featured a primary season that named some Overseas Territories in attack ads." Mr Dunkley staunchly backed the Islands commitment to safeguards over the past 70 years, and reiterated his earlier expression of disappointment at the threats, saying he had shared Bermuda's position with Mr Miliband in a February 9 letter. "The Island can boast one of the world's longest standing records of meeting international regulatory standards," he added. "Bermuda's message reaffirming the integrity of the jurisdiction as it relates to our adherence to international standards and tax transparency was well received internationally, and has led the way in the response to Mr Miliband's comments," Mr Dunkley said.
February 16. A Bermudian artist will have a place in the 2015 Pan American Games in Toronto. Games organizers have commissioned photos of work by textile artist Ami Zanders. Ms Zanders's works were selected as part of a Textile Museum of Canada project called Watercolour. It aims to include a piece of art from all 41 competing countries. The images will be printed onto customized sails which will form part of a flotilla along Lake Ontario's shoreline. The sails will highlight the significance of sailing as a sport and a way of life throughout Pan American nations. "It blew me away when I got an e-mail from the curator saying they wanted to use my image," said Ms Zanders. The image is of her entry in the Bermuda National Gallery's 2014 Biennial — colorful woven bowls, and dolls with yarn over their faces. "Having my piece in Watercolour will help me get a lot of exposure," said Ms Zanders. "Every little bit helps." The 37-year-old recently made the news for yarn bombing in the City of Hamilton and St George. This involves weaving colorful textile pieces around trees, shrubs and other unusual locations. "I have always been knitting and playing around with sewing," she said. "When I was little I would take my baby brother's socks, cut them in half and make them into Barbie doll dresses." She didn't really take her interest in textiles seriously until she became an art student at Kean University in New Jersey. "At this school, a textile class is required," she said. "I learned weaving on the loom and how to do a coiled pot. Textile artist Jappie King Black was one of my professors. She was amazing. She thought my colors were wacky and out there and she really encouraged me." Ms Zanders said she loves to add an element of creepiness to her work and has been inspired by artists such as filmmaker Tim Burton. Asked what she thought Bermuda thought of her textile work, she said: "I still don't think they are taking it seriously, but I am fine with that." She would like to be able to go up to Toronto and see her artwork on display during the Games this summer, but she doesn't think it will be possible. "Maybe if someone is up there and sees it they can send me a photo," she said. "I would really like that." In the meantime, she's organizing Art Walk Bermuda in St George on February 27. The event runs from 6pm to 10pm and includes art activities, a march for art education, music and a performance by the Bermuda Roller Derby Association.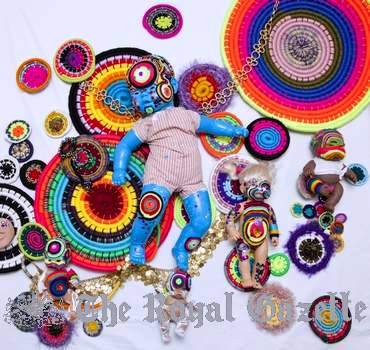 Art by Amy Zanders, see story above
February 16. Reinsurance veteran Don Kramer's latest Bermuda start-up venture has got off to a flying start. In its first full year of operations, ILS Capital Management Ltd generated a 19.7 per cent return for investors in its 1609 Fund. The company invests in insurance-linked securities such as catastrophe bonds and managed to comfortably outperform the Swiss Re Cat Bond Index, which returned 6.4 per cent in 2014. In an interview with The Royal Gazette, Mr Kramer said that while the sector as a whole benefited from a lack of catastrophes, the funds outperformance was driven by selection of both sectors and securities. He also commented on the wave of mergers and acquisitions happening in the Bermuda reinsurance market, suggesting that well managed small survivors might benefit from the consolidation around them. Mr Kramer said his firm's capital was invested in higher risk securities than those reflected by the index, but that the risk was mitigated through diversification and, in some cases, by hedging. "We believe our model should achieve good returns in nine years out of ten, with one year not so great. The firm uses portfolio analytics to ensure its investments are diversified and non-correlated. It may be that I see something with an attractive 15 per cent return, but I don't write it because it correlates with something else in the portfolio.. We diversify by geography and by risk." ILS Capital Management has around $230 million of assets under management. It employs five Bermudians on the Island and four others in the US. Armand Foy, a vice-president with the firm, said investors came from a number of different categories, including pension funds, private equity, wealthy individuals and university endowments. Mr Kramer said the company hoped to grow but hoped that it would not get so big as to lose the advantage of nimbleness. "If we can generate superior returns to cat bonds and to our competitors, we would hope to expand.. But there will be a point at which size will be an issue." Mr Kramer is something of a reinsurance elder statesman in Bermuda, having founded companies including Ariel Re, Tempest Re and NAC Re, and having served as vice-chairman of Ace Ltd. Asked whether he expected the wave of consolidation to continue in the Bermuda reinsurance industry, Mr Kramer said: "There's not that much more to consolidate. The future of smaller, stand-alone companies would depend on how well they were managed,, but they could see opportunities. One of the issues coming out of this consolidation is third-party concentration/". He gave the example of a reinsurance buyer which had previously bought 12 per cent of its reinsurance from Axis and another 12 per cent from PartnerRe. "As a result of the pending merger between the two, the proportion of the programme with one company would rise to nearly one quarter, potentially raising concerns over counterparty risk. The smaller companies could benefit from people deciding they don't want 25 or 30 per cent of their contract with one company."
February 17. The Schubert Ensemble of London, recognized as a chamber group that ranks amongst the very best, was back for the Bermuda Festival after a three-year interval. Those who had heard this fine group of musicians perform during their last visit in 2012 knew that this would be an evening of superb music. The Ensemble, which consisted of violinist Simon Blendis, viola Douglas Paterson, cellist Jane Salmon and pianist William Howard, (the double bass, played for the Ensemble by Peter Buckoke, was not a part of this programme) gave the audience at the Earl Cameron Theatre at City Hall on Tuesday evening more than that — they heard a thorough exploration of a small handful of remarkable piano quartets, and not especially well known ones, either. This was a programme with devoted enthusiasts in mind. The Ensemble's pianist Mr Howard, who played a solo performance earlier in the week, gave extensive and instructive introductions to the pieces — and the sense that these were something of a surreptitious pleasure for the Ensemble which he knew this audience would enjoy. Antonin Dvorak's Piano Quartet No 2 in E flat was the second of just three pieces on the programme. Mr Howard described it as an "exultant work full of song and dance," and explained that the composer was inspired by the folk music of his central European home. Mr Howard explained: "There is wonderful color throughout and a range of textures and effects," and in the hands of the Ensemble, it had those elements in quantities. The interpretation of this piece had to have been the result of a great deal of careful thought in order to create such a precisely drawn, richly-toned topography, the playing of which sounded completely spontaneous. Dvorak's musical ideas here, at times sounding modern and at others from earlier schools, were surely heightened by the musicians' dynamic interplay while expressing the melodies that danced through it, giving rise to a captivating performance. The Ensemble gave another thoughtful and cohesive performance playing Gabriel Faure's Piano Quartet No 1 in C minor. Faure, in his later years, was described as artistically austere, and while this piano quartet was written at an earlier time of his life, one can hear his steps towards modernism and away from the Romantic school. Faure composed part of the piece as his relationship with a girl he hoped to marry had ended. His deep sadness is evident in the third movement, the allegro, where the cello surfaces to provide the temperament of the music, which, as the programme notes describe, expresses strong yet suppressed emotion. The Ensemble imbued this emotionally difficult movement with a dignity and grace through its undulating undercurrent that surges below the dominant sense of painful anguish. However, it opened quite differently, with a sonorous romanticism that built at times to high passion, while the second movement, the scherzo, features a reappearing, impish little melody and is fast-paced and light-spirited. A lively, intense and passionate allegro molto gave the pianist the opportunity to show the audience a thrilling, virtuoso performance with which to end the piece, and the concert. The programme had started in a contemporary way with a work written for the Ensemble by a young composer, Huw Watkins. It was an inspired decision to begin the concert with Piano Quartet, composed in 2012, allowing the audience to absorb extremely fresh musical ideas before hearing the Dvorak and Faure, both of whom were amongst the earliest of modern musical thinkers. Mr Howard said: "We like Huw very much as a composer in that he writes for the instruments. "Before he wrote this piece, he came and heard us play several times." He explained Piano Quartet, in a single movement, provides the audience with some aspects of its construction to listen for. The composer gave each of the string instrumentalists' parts two notes, which evolve into a three note pattern taken up by the whole ensemble. The piece has some dazzling moments, dramatically ranging in mood and tempo from a slow section, imbued with mystery, quite suddenly crashing into several frenetic bars, before resolving into a peaceful segment, and repeating the pattern. As the Schubert Ensemble they are known for their performances of works from the Classical and Romantic periods, but displayed their versatility with this piece by Watkins. They gave the modern composition harsh passion, strong definition — yet nonetheless, as the audience was to hear in the earlier period pieces, it was also, and as always with these musicians, an "ensemble" performance. The Ensemble: from left, in the photo below, are Peter Buckoke, Douglas Paterson, Simon Blendis, Jane Salmon and William Howard.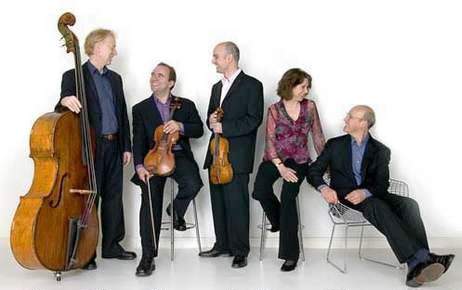 Schubert Ensemble of London, see above story
February 17. The RG reported that more than $609 million in Bermuda-linked money was found in leaked documents about HSBC's controversial Swiss private bank. One Bermuda client alone had $234.9 million stashed in Switzerland — one among around 65 clients connected to Bermuda and 183 separate accounts, with 20 per cent of the holders having Bermuda status. Data leaked by former bank employee and whistleblower Hervé Falciani covered business handled by HSBC Switzerland's private bank up to 2007. According to the leaked information, passed on to the US-based International Consortium of Investigative Journalists (ICIJ), the bulk of the Bermuda-linked business came from individuals, with the next largest group being offshore companies and a small percentage of the accounts were numbered. But the figures showed that Bermuda-related money handled by the Swiss HSBC offshoot was dwarfed by similar jurisdictions, with the Bahamas accounting for $7 billion in cash connected to the bank. The Cayman Islands had $4.3 billion of business with the Swiss HSBC bank, while the British Virgin Islands had $4 billion worth. And the Crown Dependencies of Jersey and Guernsey had around $2 billion each deposited with HSBC in Switzerland. The UK, however, logged a massive $21.7 billion in British-linked money with the Swiss private bank — second only to Swiss-linked customers, with $31.2 billion on deposit. The ICIJ website said: "The Swiss leaks files expose significant systemic failures inside the one of the world's largest banks, HSBC. The records also show how some clients, sometimes aided by bank officers, sought to avoid and evade taxes in their home countries." But the website stressed: "There are legitimate reasons to use Swiss bank accounts and many people declare them to their tax authorities when that is required." HSBC has a Bermuda private banking arm based in the Compass Point building in Hamilton's Bermudiana Road. (Note, on February 17, 2015 HSBC has 15 Bermuda-incorporated companies). HSBC Bermuda was asked what links — if any — the Island private bank had to the Swiss operation, but provided no answer. A spokeswoman for HSBC Bermuda referred The Royal Gazette to a statement made by the Swiss HSBC private bank CEO Franco Morra. It said: "HSBC's Swiss private bank began a radical transformation in 2008 to prevent its services from being used to evade taxes or launder money. New senior management have comprehensively overhauled the business, including closing the accounts of clients who did not meet our high standards and ensuring we have strong compliance controls in place. We have no appetite for business with clients or potential clients who do not meet our financial crime compliance standards. These disclosures about historical business practices are a reminder that the old business model of Swiss private banking is no longer acceptable." HSBC private banking in Bermuda is open to clients with "in excess" of $2 million in investible income. The firm's website said that buys access to "the full range of HSBC private bank's investment management and wealth protection capabilities". The website added: "It's about finding creative solutions to complicated situations to help affluent individuals and their families manage and protect their wealth today and develop new sources of wealth for future generations."
February 18. Government has received 620 applications for Bermudian status by Permanent Residence Certificate holders, according to Senator Michael Fahy. Speaking in the Senate, Sen Fahy said: "Of those who had applied under section 20B of the Bermuda Immigration and Protection Act 1956, 70 had received a decision, with the Department of Immigration considering structural changes to process the overabundance of applications more quickly. The Personal Services Section of the Department of Immigration has remit for all Bermudian status applications. This section also processes travel documents, naturalization as a British Overseas Territory Citizen, PRCs, licenses to purchase land, permissions to reside, to seek employment and to attend school, letters for spouses of Bermudians and landing permits. Being guided by legislation, the vetting process for all these application types, to ensure that the application is complete takes considerable time. The focus was to get the status applications dealt with in the date order that they were submitted and as expeditiously as possible. Fewer than half of those eligible to apply for status under the Act had done so, meaning that suggestions that the legal decision would create thousands of new Bermudians were far fetched." Questioned about how many of the processed applications had been successful and how many have been rejected, Sen Fahy said he did not have the information to hand but that it would be released either in the House of Assembly on Friday or in the Senate next week. Sen Fahy also said that, separately to status applications, Government was working on a policy document to encapsulate formally written guidance on submitting applications. "The Personal Services policy document will carry a similar sentiment to that of the new Work Permit Policies, which will be implemented on March 1, 2015 - the intent being to clearly communicate what is expected of applicants, including a list of personnel in the Personal Services Section and processing timelines."
February 18. Bermuda-based Catco Reinsurance Opportunities Fund Ltd earned a net return of 14 per cent for its shareholders in 2014. That performance was lower than the 21.9 per cent achieved in 2013, a drop which the fund said partly reflects increasing capacity entering the retrocessional market. However, given the market conditions and the downward pressure on pricing due to a lack of natural catastrophe losses, Catco said in a statement that it had delivered a "strong performance" to achieve the 14.08 per cent return for shareholders. The fund is listed on the Bermuda and London stock exchanges and has total net assets of more than $350 million. It invests in reinsurance-related products. Catco has offices on Par-la-Ville Road, Hamilton and makes investments linked to catastrophe reinsurance risks, primarily through collateralized reinsurance contracts. It also operates Catco Re, a Bermuda reinsurance company. In the fund's annual report, published yesterday, it stated: "This result was comfortably within the company's stated target annual gross return of LIBOR plus 12 to 15 per cent per annum, outperforming other ILS indices in what is an increasingly challenging retrocessional market. Including the annual dividend it resulted in a share price total return of 9.2 per cent." Catco said disciplined underwriting, innovative product design and prudent capital management, had all helped it to navigate the tighter ILS market caused by an influx of capacity and absence of catastrophe losses. It said in its statement: "If 2013 was the year of convergence then 2014 was the year when the non-traditional reinsurance and ILS market firmly established itself as an alternative to traditional reinsurance. There was record catastrophe bond issuance of in excess of $8 billion for the year, according to Aon Benfield Securities, with collateralized reinsurance capacity approaching the $40 billion mark. These alternatives are offering reinsurance buyers more choice and greater diversification of counterparties. What is now firmly a buyer's market was evident at the midyear and 1 January renewals, with cedants locking in rates and favorable terms with multi-year structures, as well as buying more protection at the top end of their programmes. In the absence of major losses, these trends will continue into 2015. The most recent renewals at 1 January saw a further depression of reinsurance pricing. US and European property rates declined some 10 per cent to 15 per cent on loss free accounts, according to Willis Re. With differing risk and return profiles to their traditional counterparts, ILS funds are well-placed to compete in this environment. Should this year bring a sizeable loss or series of losses the ILS space could seize the opportunity to further grow its influence in the global catastrophe market." The company has determined a "Return of Value" to shareholders of $35 million, down from the $74 million figure of January 2014. Unlike last year, shareholders have not been offered the opportunity to remain invested for their share of the Return of Value. The annual dividend on ordinary shares was $0.05, which is separate and in addition to the Return of Value.
February 18. A major insurance firm with a Bermuda operation has been bought out in a $1.88 billion swoop, the latest in a series of mergers set to affect Island businesses. Brit Group which opened an office on the Island around 18 months ago has been taken over by Toronto-based Fairfax Financial Holdings. And yesterday economist and consultant Peter Everson predicted that the trend would lead to job losses into the middle of next year as the Island fights to create more employment. Mr Everson said: I would say for the second half of 2015 and the first half of 2016, it would appear there would probably be net losses rather than job gains in that market sector. He explained: "After a merger, the initial consolidation reduces administrative costs and head count through overlap. To the extent that jobs are lost, then that makes it that much harder to get new jobs growth because we have to replace the jobs were losing as well as creating new ones. Combined, larger businesses may be better able to expand into new markets." Brit, based at Lloyds of London, announced in September 2013 it was to open a Bermuda office under former Markel Bermuda executive Joe Bonanno. The move will give Fairfax at a stroke access to Brits major presence in the London market and to its expertise as a global specialty insurer and reinsurer. The merger is the latest in a series of consolidations in the market affecting companies with a Bermuda arm. XL Group, now based in Ireland but which started operations in Bermuda in the 1980s, has announced a $4 billion plus merger with Island-based Catlin, which will create a combined company worth about $12 billion. Axis Capital Holdings is to merge with PartnerRe, which will create a group with market capitalization of nearly $11 billion, which will make it the world's fifth-biggest property and casualty reinsurer. And RenaissanceRe earlier revealed it had struck a deal to acquire fellow Bermuda reinsurer Platinum in a $1.9 million deal. XL said that the merger with Catlin would allow cost cuts of at least $200 million a year and that jobs cuts and the merging of offices around the world were likely. Axis and PartnerRe whose offices are in neighboring buildings on Pitts Bay Road predicted that joining forces would make annual savings of $200 million as well, with job losses across its international operations also likely. Eamonn Flanagan, an analyst at England-based Shore Capital, said: "Another one bites the dust with the recommended cash bid by Fairfax for Brit. The mergers and acquisitions juggernaut amid the Lloyds quoted insurers continues with just five players left." Mr Everson said the rush to merge in difficult market conditions was part of the normal market cycle in business. He added: "There are periods of expansion, periods of creation of new business and companies. The flip side is there also periods of consolidation where companies are merged to create economies of scale and cut costs. If consolidation did not happen, companies would struggle to compete, be taken over anyway or go out of business altogether. The growth of new areas such as insurance-linked securities, which include catastrophe bonds, was an example of new business models and one where Bermuda had carved out a significant share of the market. Sadly, it doesn't provide the same level of jobs per billion dollars of capital as the insurer and reinsurer does." The Brit office in Bermuda, in the Waterfront complex off Pitts Bay Road, Pembroke, is understood to employ very few staff. Brit also has other international offices, including in Chicago, Tokyo and Shanghai. A spokesman for the firm in London said: "Brit will operate as a fairly independent operation under Fairfax. I can't comment on specifics about the offices. Hopefully, it will be a good deal for shareholders, employees and clients."
February 19. The 77th Agricultural Exhibition will go ahead as planned this April and it might have a few surprises in store, according to MP Jeff Sousa. "At this point we really want to get the message out that the show will go on. This is going to be a local show, with local entertainment and a few surprises. I want to emphasize that this is a community event, put on for the community and supported by the community. As a result, the name of the event is being changed to the Ag Show and the Government event will retain the title of Agricultural Exhibition. We can truly come together as one people to put on this event. Its part of our fabric and our culture." Mr Sousa, One Bermuda Alliance MP for Warwick West, reached out to followers on social media this month to urge the community to come together and help to hold the event as planned. His bid came after Government decided to withdraw funding as a cost-cutting measure agreed upon by them and the Bermuda Trade Union Congress after three days of industrial action. "We are really pleased it has come this far and would like to thank all the volunteers who came forward, and encourage more people to do so. A lot of work had been going on behind the scenes over the past couple of weeks, with an executive committee having been put together, as well as a fundraising committee, a grounds committee and an entertainment committee." When asked if the event might have to be scaled back, Mr Sousa said that there will only be local entertainment, but he added that a lot of the work had already been done because many of the associations and federations, such as the Bermuda Equestrian Federation, the Rose Society or the Orchid Society, organise individual events months in advance. He said charities and schools run the concession stands. "Many organizations look to this event as a fundraiser." Chairman of the executive committee, Joanne MacPhee, said Government had agreed to lend them the grounds, as well as prepare the grounds and buildings, but that was where they had drawn the line. "From a spectators or participants perspective you might have an idea what's expected, but its not until you speak to the people behind the scenes that you begin to appreciate the enormity of the task. But we are up to the challenge and its definitely going ahead." Mr Sousa added: "I would like to put out an appeal to businesses, both local and international, to assist with sponsorship." Mr Sousa also said that the $10 admission fee would be retained. The event will be held on April 16, 17 and 18 in the Botanical Gardens.
February 19. Shoppers reacted with dismay yesterday to the news that the 10 per cent grocery discount will end after next week. Lindo's, Supermart and MarketPlace stores agreed to offer the increased discount on Wednesdays beginning in December 2013 as part of an effort to help the public during the present economic challenges. However, Home Affairs Minister Sen Michael Fahy announced in Senate yesterday that the grocers have all suffered financially because of the weekly discount, and could not continue with the initiative. "The success of the initiative far exceeded the projected use anticipated by the participating grocers, who have experienced higher revenue loss over that which was projected. Saturdays had been the grocers busiest day, with a steady flow of customers throughout the week. However, since the introduction of 10 per cent Wednesdays, the weekly flow of customers diminished considerably, which contributed to the grocers bottom-line losses. While the grocers told Bermuda Government in June that the initiative could not be sustained after November 2014, they agreed to continue the scheme through the Christmas period to help families. Since November 2014, we have continued discussions with the grocers, who agreed to extend the initiative until February 25, Sen Fahy said. As such, the last day of the initiative will be one week today. Thereafter, the grocers will revert to the original 5 per cent discount that prior to December 4, 2013 was offered at participating stores. You will note that the grocers are reminding customers of this fact. During the discount period, the Department of Consumer Affairs monitored food prices to allay concerns that the stores might increase prices to counteract the discount, but the Department found no evidence of such actions." Sen Fahy thanked the grocers involved in the scheme for engaging in the spirit of shared sacrifice, saying: "The Government greatly appreciated your agreement to assist the Bermudian public. I would also like to take this opportunity to encourage the public to thank the participating stores for their willingness to assist." Asked about the end of the discount, Zach Moniz of Lindo's Family Foods, said: "Regrettably, a 10 per cent discount is just not sustainable on an ongoing basis." Yesterday afternoon, shoppers at Supermart on Front Street expressed their disappointment in the decision, remarking how the discount had helped them financially over the last year. Tabitha Ross said:"' Its going to hurt. Over the last couple of years my grocery bill has pretty much doubled, so on top of Belco and everything else, that 10 per cent was a life saver." She said that while having the discount drop back to 5 per cent might not sound as if it would make a huge difference, over time the discount added up. James Wardman, meanwhile, said that he could understand the impact the discount might have had on the stores, saying: "I can understand that it might not be good for the stores in the long run. I know I pretty much only shop on Wednesdays now unless its an emergency. I wish it could keep going because its a huge help, but it is what it is." Outside of MarketPlace on Church Street, one shopper who asked not to be named questioned why the decision was made to cut the discount all the way to five per cent, suggesting that the parties could have found a happy medium in the middle. "A lot of people are relying on these discounts to put food on their table. My husband is having trouble finding work right now, and things are tight. Part of the problem is that the bills for everything else seem to be going up as well." Asked if she thought that there might be something coming in the budget to counteract the end of the discount, she said: "That would be nice, but I'll believe that when I see it." Shona Smith, meanwhile, said the end of the discount would make things more difficult, she would rather see it reduced than see people lose their jobs. Asked if she would be back next Wednesday to take advantage of the last day of the discount, she said she would, adding: "I'm going to have to stock up."
February 19. Norway-listed chemical shipper Eitzen Chemical has urged its shareholders to accept an exchange offer that will see the company move to Bermuda. Eitzen established Team Tankers International (TTI) as a vehicle enabling its move to the Island. "This is desirable as the new owners are substantially non-Norwegian and it is important for the group to operate under favorable, stable and predictable legislative and regulatory conditions," Eitzen Chemical said in a letter to shareholders. TTI has proposed an exchange of three Eitzen shares for one share in TTI to satisfy the minimum stock price of ten Norwegian kroner per share for its listing on the Oslo Børs exchange. Jason Shipping and lenders involved in the company's debt conversion have agreed irrevocably to the deal, accounting for 98.7 per cent of the shareholders. For the exchange offer to succeed, the company needs to gain the approval of 99.5 per cent of its shareholders by the February 28 deadline. The exchange is part of restructuring the company after it ran into deep financial problems due to prolonged weakness on its freight markets. Towards the end of last year, its bondholders and creditors decided to convert $776 million of debt to equity, which gave them control of the company. TTI plans an IPO of 3 million Norwegian kroner ($395,533) on the Oslo stock exchange as part of the deal.
February 20. Bermuda-based Maiden Holdings notched up profits of $34.6 million for the last quarter of 2014, the firm reported yesterday. The figure is more than $11 million up on the same period in 2013 and represents 44 cents per diluted common share compared to 30 cents for the last quarter of the previous year. The quarter's figures pushed the annual profit to a record $117.7 million, equivalent to $1.53 per diluted common share, compared to $87.5 million, of $1.18 per diluted common share in 2013. Maiden also saw record quarterly net investment income of $31.7 million — an increase of more than 25 per cent on the last three months of 2013. That pushed the year's investment income figures to a record $117.2 million, an increase of 28.3 per cent compared the last quarter of the year before. Maiden CEO Art Raschbaum said: "In 2014 we continued to make solid progress driving record operating income and improving operating return on equity, while increasing our active client count, expanding existing client relationships and growing our invested asset base. We are confident in our ability to further enhance our operating performance going forward. Importantly, our disciplined specialist focus on developing a low volatility underwriting portfolio while serving the reinsurance capital needs of regional and specialty insurers remains unchanged." The fourth quarter of 2015 also saw net premiums written of nearly $602 million — up 35 per cent on the same time frame in 2013. But the diversified reinsurance segment's premiums levels fell 3.4 per cent to $168.4 million. The financial report said the fall was due to "one-time increases experienced in Europe due to promotional offers in the comparative period in 2013". The AmTrust Reinsurance arm saw net premiums increase by 57.7 per cent to $433.5 million compared to the fourth quarter in 2013. Maiden attributed that to continued rate increases in lines of business like workers' compensation, as well as new business from the Tower Group renewal rights transaction. Net premiums written for the full 2014 year hit $2.5 billion, up 17.3 per cent on the $2.1 billion recorded for 2013. Excluding the cancelled National General Holding Corporation quota share, the firm said the underlying growth rate was 27.3 per cent.
February 20. NEW YORK (Bloomberg) — The biggest investor in Meredith Whitney's hedge fund moved a lawsuit seeking to recoup its $46 million stake to New York from Bermuda, where it was originally filed last year. BlueCrest Capital Opportunities Ltd, a fund connected to billionaire Michael Platt's BlueCrest Capital Management, filed the new complaint against Whitney in state Supreme Court in Manhattan this week. The dispute shows how quickly relations have soured since last year, when Platt helped Whitney, once one of Wall Street's most famous analysts, start her new firm, Kenbelle Capital. The BlueCrest fund invested $50 million in the American Revival Fund, then asked for its money back in October 2014, expecting payment around the end of the following month, according to the New York suit. "Not only have defendants damaged BlueCrest by improperly refusing to redeem BlueCrest's shares at the redemption amount, Ms Whitney continues to invest and trade the fund's assets — including the redemption amount — in an under performing portfolio," according to BlueCrest's New York suit. Whitney's American Revival Fund slid 11 percent last year through November despite a rising stock market. BlueCrest is in the process of discontinuing the Bermuda case, according to its New York suit. Stanley Arkin, an attorney representing Whitney, said BlueCrest was contractually required to file any dispute in New York and that filing the case in Bermuda first "does not reflect well on the probity of the underlying papers. Whitney and Kenbelle haven't done anything to violate terms of their contract with BlueCrest," Arkin said.
February 20. An austere Bermuda Government 2015-16 Budget, heavy on savings measures, can be expected this morning from Finance Minister Bob Richards. Mr Richards told The Royal Gazette that his Budget speech would include material from the Spending and Government Savings (SAGE) Commission, although he declined to specify. Union leaders have conceded spending will need to be cut in the Budget, but have made it clear that they hope cuts will be balanced with ideas to increase revenue. A rise in "sin" taxes is one possibility. Describing himself as a pragmatist, Anthony Santucci of the Centre for Alcohol Abuse and Drug Prevention said he hoped to see "a 10 per cent tax on the sale of alcohol, which would be used to fund both the roadside sobriety testing and the support agencies such as PRIDE and Focus". Bermuda Industrial Union president Chris Furbert said that Government could claw back some cash by abolishing tax concessions in the construction, retail and hotel sector. But business heads have sounded the alarm over rolling back some concessions. According to the Chamber of Commerce, jobs will be the casualty if payroll tax breaks are taken away for retailers and restaurateurs. The Bermuda Hotel Association took a similar line on preserving concessions for an industry that was once a pillar of the Island's economy. For the civil service, the Bermuda Trade Union Congress has proposed a raft of initiatives, including voluntary early retirement incentive plan, restrictions on overtime, hiring freezes and removal of funds for vacant posts. Unions agree that cutbacks in the civil service should be left to natural attrition. Asked for his hopes for today's Budget, David Burt, Shadow Minister for Finance, said his priorities remained much the same as those put forward by the Opposition a year ago. The Progressive Labour Party has repeatedly called for economic diversification, and roundly opposes outsourcing and aggressive cuts. Mr Burt said that pension funds invested overseas could be used to fund the start-up of new businesses, as well as "investing in companies that can bring jobs to our shores in new industries — tech and healthcare, to name a few." Whatever cuts are declared today, the Bermuda Tourism Authority has vowed that 2015 is the make-or-break year, pointing out that tourism's budget is comparatively low. Many who spoke with The Royal Gazette agreed that the Finance Minister's position was an unenviable one. Seniors advocates hold out little hope for a pensions raise, while Becky Ausenda, executive director of the Bermuda Education Network has implored Government to make literacy a priority. The possibly merging of some schools is much anticipated, with the Bermuda Union of Teachers signaling its support for the move, given the drop in the Island's population. In any event, all eyes will be on Mr Richards when he arrives at the House of Assembly at 9.30am with the Budget in his briefcase. The Progressive Labour Party's response is set for February 27.
February 20. Taxes are to increase and spending is to be cut by $33.1 million — and Finance Minister Bob Richards warned that public sector layoffs could come this year. The grim news came in the annual Budget statement, which imposed 3.5 per cent cuts across the board — less than the 5 per cent proposed in the Bermuda Government's three-year savings programme. Payroll tax, customs tax, duty on fuel and the airport departure tax will all go up, and payroll concessions for the struggling retail, restaurant and hotel sectors will be scaled back. The payroll tax standard rate will be set at 14.5 per cent — an increase of 0.5 per cent — while "there will also be a similar increase of 0.5 per cent for most other tax rate categories." The employee share of payroll tax will go up a 0.25 per cent to 5.5 per cent, to share the increase between workers and employers. Mr Richards said that the business payroll tax rate in the retail, restaurant and hospitality trades will be set at 5.5 per cent. He added: "The yield from the revised rate structure and partial rollback for payroll tax concessions is estimated at $353 million in 2015-16." The tax on fuel — an extra five cents a litre — is expected to raise about $9.6 million in extra revenue, while land tax on commercial properties will also increase, from 4.4 per cent to 5.5 per cent to raise an additional $4.1 million. Airport departure tax will jump $15 to $50 per passenger, which is expected to bring in an extra $5.5 million. In addition, the corporate service tax rate will go up 1 per cent to 7 per cent to pull in extra revenue of $1 million. And "various fees" for Marine and Ports services will also be pushed up, raising a further $280,000. Total government revenue for the year is expected to be $931.3 million — $29.6 million (or 3.3 per cent) up on estimates for 2014-15. But expenditure will still outstrip income, with an expected spend of $1.151 billion. "Unlike previous years, this Budget includes significant increases in various taxes," Mr Richards said. "In strategic terms, there are a number of reasons for this departure. First, it has been determined that the deficit will not be broken by spending cuts alone — increased revenues will be necessary." But he said that significant hotel projects, the redevelopment of the airport and the America's Cup were expected to inject $930 million into the economy over the next three years — close to one fifth of the Island's $5 billion gross domestic product. "With the major stimulus measures already outlined, we are confident the economy will be able to withstand the attenuating effect of tax increases on growth," he added. The Government also announced $68.5 million for capital expenditure — bricks and mortar. Mr Richards said most of the expenditure was construction-related and involved projects that are already under way. He also told Members of Parliament that the failure to negotiate an extension to the furlough day scheme for public sector workers had had an effect on budget planning. "The forecast reduction in current spending is estimated at 3.5 per cent of $33.1 million after the savings from the furlough have been allocated back in the budget," he said before giving warning of likely job losses. "We cannot guarantee that the planned reduction in spending can be achieved without layoffs of workers in the public sector for the coming financial year." Mr Richards told the House of Assembly that servicing the Island's debt will cost nearly $170 million — 5.4 per cent up on the last financial year's $161.2 million. That represents $117.6 million in interest payments and a $52.3 million contribution to the government borrowing sinking fund. The Minister of Finance said that the medium-term expenditure framework had set a 5 per cent target for savings for this financial year. "A renewal of the furlough would have enabled us to meet that target and continue our no-redundancy pledge," he said. "This is unfortunate and undermines the credibility of this Government, pertaining to public commitments on cost reductions. This will not play well with the ratings agencies and our creditors." Mr Richards said that at the end of this financial year, gross government debt will stand at more than $2.31 billion, up from $2.185 billion at the end of this financial year. He told the House of Assembly that, owing to Bermuda's small size and dependency on international business, the Island was more at risk than larger countries with multiple sources of revenue. "Lenders, therefore, are much less tolerant about debt levels for us than they are with large, diversified economies. So, in the eyes of global credit markets, there is little margin for error in the management of our economy. Second, a large and rising debt service will crowd out spending in critically important areas such as education, social services and national security. Paying debt service has to be the top priority of any borrower because if you default on your debt service, you are by definition insolvent, regardless of whether you have other assets. So all other types of spending have a lower priority than debt service, an amount that would make it the second largest ministry, even though it is not a ministry at all." David Burt, the Shadow Minister for Finance, said: "In his third Budget Statement, the Minister of Finance has embraced ideas that he once attacked, ignored the fact that jobs are still being lost and increased taxes on paychecks, land, gasoline and tourism. The minister now embraces increasing taxes during a recession, suspending public sector pensions, broadening the tax base, and ending payroll tax concessions; all proposals that he has attacked in the past." Mr Burt, who said he would outline an alternative plan in his reply to the Budget next week, added: "There are tough choices that need to be made, but this Budget once again focuses on cuts and does nothing for growth. The lack of a growth strategy is laid bare by the fact the minister neglected to mention that the National Economic Report released today confirmed that 790 jobs were lost in 2014."
February 21. Taxi drivers have expressed concern at the news that fuel prices will rise by five cents a litre from the beginning of April. Finance Minister Bob Richards announced yesterday in his budget speech that the tax hike is expected to raise about $9.6 million in extra revenue for Government. But drivers fear that after a recent drop in the price of gas, the latest cost cutting measures announced by Government could have a significant impact on their livelihoods. Leopold Kuchler, past president of the Bermuda Taxi Operators Association, said the five cent a litre hike could really hurt taxi drivers. He said: "Its no surprise to know that taxi drivers have the highest fuel consumption on the roads, so this could really hurt us. We are already paying 45 per cent duty on fuel at the pumps. If this is another five cent a litre on top of that, then it is pretty significant. We understand that everyone has to contribute to get rid of this debt and I guess we will have to accept it. But it's still tough for taxi drivers and this is not good news." Taxi driver Leo Simmons added: "Raising the price now is another charge that affects our bottom line in an industry where we rely on others to make our livelihoods. A lot of guys are working 16 to 18 hour days just to make a decent living, and in the off season some are working for as little as $8 an hour. We have seen concessions given to grocery stores and the retail sector, but the taxi industry has not received any concessions. The last rate increase was ten months ago now." Taxi drivers and consumers saw significant benefits from the collapse in world oil prices late in 2014. In December, premium fuel cost almost nine per cent less at the pump than it did a month earlier, according to the Consumer Price Index. Veteran taxi driver Lee Tucker said: "At the moment it is not exactly clear how this increase will work out for us. We recently saw the price of petrol go down, which was very welcome. However, if this latest hike takes us back to somewhere worse than where we were before then it is not good news for taxi drivers at all. It remains to be seen just how significant this could be to taxi drivers in Bermuda."
February 21. Public sector workers could be laid off this fiscal year, Finance Minister Bob Richards warned as he lamented the union leaderships refusal to continue with furlough days. Mr Richards said job losses could no longer be ruled out as Government trims its expenditures to hold on to its financial independence against the growing threat of crippling debt. Accusing the union of changing its mind on furloughs, the Mr Richards stressed Government had a duty to help not just public sector workers, but also the private sector, charities, children, students and seniors. New figures show Government is budgeting for 5,222 full-time employees for 2015-16, costing an average of $75,193 each. This compares with 5,793 full-time employees, at an average of $69,303, five years ago. Mr Richards told the House of Assembly in his Budget statement: "The forecast reduction in current spending is estimated at 3.5 per cent or $33.1 million after the savings from the furlough have been allocated back in the Budget. We cannot guarantee that the planned reduction in spending can be achieved without layoffs of workers in the public sector for the coming fiscal year. He said furloughs were intended as a less painful measure than alternatives such as redundancies. Government understands and regrets the trauma associated with cost cutting and we are endeavoring to enact these adjustments in a way that minimizes the negative fallout for public servants. The furlough arrangement that expires on March 31 was an example of minimizing negative fallout. Government was committed to cutting spending by 7 per cent for the fiscal year 2014-15. The furlough was an important component in helping to reach that goal. No one likes the furlough. It is a pain in the neck for everyone. But it enabled the Government to minimize the negative impact on public service employees by avoiding redundancies. Two years ago, the unions and Government agreed that one furlough day per month would preserve public sector jobs. It was true then and it is true now. The financial stresses behind that decision have not abated. Government has gone more than the extra mile to consult with the union leadership, seeking mutually agreed solutions to Government's financial difficulties. Their participation in the budgeting process has been literally unprecedented. The union leadership has now changed its mind on the furlough; so be it. The arrangement is voluntary, so it cannot be forced. The Government appreciates their cooperation in the two-year MOU that ends next month, and we presume their change of stance is in the interests of their members. However, the Government's responsibilities include the whole of Bermuda: private sector businesses, private sector workers, public sector workers, charities, children, students and seniors. The risks posed by the deficit and the public debt threaten the welfare of all sectors and all people in this Island and everyone should be prepared to be part of the solution." Responding yesterday, Chris Furbert, president of the Bermuda Industrial Union, said: "I think he basically has blamed the Trade Union Congress for not continuing furlough days. The TUC will be making a comment on that. I know how it may affect my members as it relates to what he said and BIU will be taking a look at that. A full statement would be released early next week." Mr Richards also took issue with suggestions that Government is trying to place the financial burden on the public sector pointing out the private sector, including blue collar workers and those in financial services, retail and exempted companies, have already had to withstand thousands of redundancies, reduced hours and reduced days. He said of Bermuda's 3,000 unemployed people: "There's one thing all these people have in common, and it is that none of them have been made redundant from the public service. None! All of Bermuda's unemployed are from the private sector. The question of whether or not that is fair is an open one. Public sector workers have fared much better than their private sector counterparts during this recession." Earlier in his Budget statement, Mr Richards had highlighted the potential consequences if Bermuda does not address the causes of its financial problems, with the International Monetary Fund forcing one Caribbean island to lay off 15 per cent of its public sector workers. Mr Richard's said: "Already, the failure to renew furlough had forced the Government to budget for a series of painful cuts, including a cap on financial assistance and school consolidations."
February 21. "Bermuda cannot have any kind of economic growth without somebody signing some big cheques first," Finance Minister Bob Richards said yesterday afternoon in defence of the 2015-16 Budget statement. The Finance Minister, who noted that jobs creation would come second, was referring to the $930 million that he said would go into the Islands economy over the next three years from hotel investment to Government initiatives such as the airport terminal redevelopment and the hosting of the 2017 America's Cup. Mr Richards said: "Government was confident that, with new economic activity in the offing, we can increase revenue without killing the economy. The eight projects (see table) will bring in many millions of dollars not dollars in suitcases; these are jobs. This is spending in Bermuda. That spending will multiply throughout the economy." Mr Richards also defended the tax increases that were poorly received by the Opposition. "We have raised taxes to raise revenue. We believe that it will be successful because of the inward direct investment that is [imminent]. The failure to drum up sufficient money from customs duties was the biggest reason why we didn't achieve deficit reduction. Quite frankly, I can't explain that we just can't rely on customs duty the way that we used to. We had to give away customs duty in order to get those people to write the big cheques. The Government opted to enlist the Caribbean Regional Technical Assistance Centre (Cartac) to obtain a dispassionate look at our tax system. The people at Cartac have particular expertise in small island jurisdictions.. We don't know what they will come up with, but we promise extensive public consultation. The Island's narrow revenue base meant that new options had to be explored." Asked if Government intended to apply extra pressure on obtaining the millions owed to it, Mr Richards conceded that previous efforts had not borne fruit. "We have a large accounts receivable. We are redoubling our efforts to get that money that is owed to the Government pot." Standing with members of Cabinet and the Senate, Mr Richards was joined by Premier Michael Dunkley, who said: "The One Bermuda Alliances aim was twofold: economic recovery and to right-size the Government, to get it back in line with what we can afford, to make it financially sustainable." Mr Dunkley echoed the Finance Ministers description of the latest Budget as the next step in a multiyear national recovery plan a work in progress.
February 21. Bermuda is likely to emerge from recession this year, according to projections by the Ministry of Finance. Analysts from the Ministry estimate that the economy will grow by up to 1.5 per cent next year. In the outlook section of The National Economic Report of Bermuda 2014, published yesterday, the Ministry pins its growth hopes on hotel developments, the broad impact of the America's Cup, and the efforts of the Bermuda Tourism Authority (BTA) and the Bermuda Business Development Agency (BDA) to bring visitors and international business to the Island. Gross domestic product figures are not yet available for 2014, but the Ministry estimates that the economy contracted by between zero and 1.5 per cent last year, which means the Island endured a sixth successive year of recession in real terms, that is when inflation is taken into account. The report quotes preliminary data from the 2014 Employment Survey, which shows the Island lost 790 jobs last year, representing a 2.3 per cent fall in the number of jobs. Throughout the current recession, the loss of jobs in the economy is one of the chief contributing factors preventing economic recovery, the report states. The Island has lost 6,726 jobs since 2008 when employment levels were at their peak of 40,213. The 33,487 jobs recorded in 2014 were 16.7 per cent less than the 2008 figures. Bucking the trend last year was the international business sector, which added 161 jobs for a total of 3,929 jobs, representing a 4.3 per cent increase over 2013. Bermuda lost 221 construction jobs last year continuing a downward trend that the report expects to be reversed this year leaving the industry with 1,922 jobs, 10.3 per cent fewer than in 2013. The financial intermediation sector, which includes the banking industry, shed 301 jobs, representing a 12.1 per cent decline. The business services segment had 106 fewer positions. The unemployment rate rose to 9 per cent in 2014 from 7 per cent in 2013. "The lower levels of employment and the corresponding loss of expatriate workers who leave the Island when their employment is terminated will continue to weigh heavily on household consumption and retail sales," the report added. The selection of Bermuda as host nation for the 2017 America's Cup is described as one of the most significant economically beneficial events in the history of Bermuda, benefiting the economy from an additional $250 million of spending over three years. New jobs and investment starting this year and during the run-up to the event represent a major stimulus. Practically all sectors of the economy will benefit, including hotels and restaurants, transport services from taxis to ferries, construction, wholesale and retail, small businesses and real estate, telecommunications providers and opportunities for Bermudians to rent their homes and apartments, the report states. To back its case for a return to growth, the report also cites ongoing or pending work at numerous hotel developments, including the Hamilton Princess, South Beach in Southampton, Ariel Sands, Pink Beach, Morgan's Point, Grand Atlantic and St George's. The report also anticipates positive results from the BTA this year. "With the insight of new business intelligence on our target visitors, better marketing strategies and a newly established competitive set, the BTA is well positioned to grow air arrivals in 2015," the report states. In international business, the Ministry mentions the BDA's efforts to boost re/insurance and asset management business. In the Trust and Private Client sector, the top priorities for the BDA are to significantly raise Bermudas profile in the US, UK and Switzerland, and start work on Asia. The reports adds that the BDA will lead efforts to diversify the economy by attracting life science/biotech and Canadian e-commerce business. The latest business and consumer sentiment surveys suggest opportunities for increased employment and rising income, the report states. Also, the global economic environment is favorable, mainly because of the robustness of the US economy, which has re-established itself as the economic growth engine of the world. Taking all the information into account, the prospects for GDP growth look favorable.
February 21. Opinion, by Jonathan Howes, the chief executive officer of Bermuda Press (Holdings) Ltd, a chartered accountant. "Finance Minister Bob Richards spent almost two hours presenting the 2015-16 Budget yesterday. His Budget increased Government revenues derived from taxes ($55.4 million, or 6.3 per cent compared with the revised estimate for 2014-15) and reduced spending ($33.8 million, or 3 per cent compared with the revised estimate for 2014-15). At the end of the presentation, it was hard not feel that we are about to pay more for less. The majority of the revenue increase is derived from Bermudas existing taxpayers and the Budget made no meaningful progress in broadening the tax base. Almost all of the $55.4 million $1,050 per person in Bermuda over the age of 20 in new revenue will be passed on to consumers by business in the price of goods and services. The $1.53 million increase in local telecommunication carrier fees will be passed on to the consumer. That is the equivalent of $24 per year per cell phone customer, assuming that everyone in Bermuda has one, including my six-year-old daughter, who does not. The $15 per passenger departure tax rise represents a 2.5 per cent to 3.3 per cent increase in the cost of airline tickets between $450 and $600. Based on the latest Department of Statistics survey, $2.2 million (40 per cent) of the $5.5 million in revenue from the increased airport departure taxes will be paid by locals. Commercial property taxes will increase by 1.1 per cent and generate $4 million in additional revenue. Local and exempt companies will pay this increase and you can expect that local companies will ultimately pass on this cost to consumers. The lion's share of the increase in revenue comes from the payroll tax and customs duty increases. The 0.5 per cent increase and a partial rollback of concessions will generate $17.6 million in revenue. The increases in customs duty will generate an additional $11.4 million in revenue. These taxes will be passed on to the consumer as the price of goods and services increase. The expenditure side of the Budget has cuts to almost every ministry. It is too early to fully understand the impact of how all of the cuts will be achieved. Without question, services and programmes will be reduced. Of particular note is the $5 million cut to the Department of Education; this is the one of the few departments where spending is an investment in our future success. Additionally, the grant to the Bermuda Tourism Authority has been reduced by $1.4 million. This cut comes as we are trying to grow this pillar of our economy. The elephant in the room, the total cost of the civil service, represents 52 per cent of Governments total budgeted expenditure. With four private sector employees paying for every one civil servant, many will criticize Mr Richards for not reducing this cost. In 2014-15, the Government employed 5,319 full-time equivalent (FTE) civil servants at an average wage of $74,446. In the 2015-16 Budget, Government will employ 5,222 FTE civil servants at an average cost of $75,193. The end of furlough days has increased the wages and salaries expenditure. Few in the private sector have had wage increases and many have taken wage cuts over the past few years. Is this what they mean by shared sacrifice? I do not envy Mr Richards because he has had to make difficult decisions. Tax increases will reduce consumer spending. Justifying a tax-rate increase by comparing Government revenue to GDP is an oversimplified analysis that can lead to poor Government policies. Bermuda must balance its budget and begin to repay debt. Larry Burchall talks about non-negotiable costs (NNC or Nanci, as he refers to them) and Mr Richards is talking about our second largest ministry that isn't even a ministry. Either way, our debt-servicing costs are climbing. In 2015-16, interest payments are budgeted at 12.6 per cent of total Government revenue, down from 13 per cent in 2014-15. It's a good thing we raised taxes, as now our interest payments seem more manageable."
February 21. Opinion, Royal Gazette editorial. One of the weaknesses of democracy is that it encourages our political leaders to shy away from taking politically difficult actions that would serve the interests of their country in the long term, but would cost them popularity with voters in the short term. National budgets are often fine examples, and yesterdays was no exception to this rule. Bermuda's difficult task is very clear. Our Government costs us more than this Island can afford and a monstrous $2 billion debt is evidence that it has done so for some time. Either we address the problem, or it will escalate to the point where one day our financial rescuers will come in and dictate terms. Employment-related costs make up more than half of Government spending and will need to be meaningfully reduced somehow, for Government to ever get its fiscal house in order. Finance Minister Bob Richards knows all of this, of course, and went to great lengths in his speech yesterday to stress the seriousness of our fiscal situation, describing the national debt as the biggest risk to our financial independence, and reiterating his determination to eliminate the deficit within three years. However, yesterdays Budget featured a marked change of approach when compared with Mr Richards's statement a year ago. Then the centerpiece of his Budget was the plan to privatize or outsource a number of Government functions, an idea based on the work of the SAGE Commission and aimed at cutting out waste and giving taxpayers better value for money. It appeared a politically courageous plan, marking out a clear path to reducing the civil service to a more affordable and sustainable size. Yesterday, there was not even a solitary mention of privatization, even in the short reference to SAGE. It seems that political concerns won out over fiscal prudence. While Mr Richards did manage to trim expenditure by 3.5 per cent, his emphasis in this year's Budget switched to raising more revenue through wide-ranging tax increases aimed at raising an extra $55 million. The move will exasperate many in the private sector, who will doubtless feel that their pockets are being picked at a time of struggle to sustain a unjustifiably large and expensive civil service. The removal of the payroll tax relief for hotels, restaurants and retailers could cost jobs, in the case of some hard-pressed businesses hanging on by their fingertips, trying to hold out for better times. The 0.5 per cent increase in payroll tax may not sound like much, but it will add to the cost of employment and make hiring a less attractive proposition the last thing this economy needs right now. Mr Richards himself said that not one Government worker had been made redundant through this painful period and that public sector workers had fared much better than their private sector counterparts during this recession. But his Budget only seems to exacerbate this lopsided shouldering of the recessionary burden. The national debt should be regarded as a national problem. It is a shared debt that will amount to more than $45,000 per Bermudian by March 2016 with shared consequences if we do not bring it under control. The solution cannot lie with Government alone. The unions could have helped by extending the furloughs that had made substantial savings and at the same time helped to preserve public sector jobs. Their refusal to do so narrows Governments options and makes redundancies more likely. Realism is needed. Dogmatism and head-in-the-sand protectionism will only dig us deeper into the hole. There is hope that we can grow our way out of this mess. The Americas Cup, and the accompanying global exposure and slew of new hotel developments, offers us a unique opportunity to kick-start our flatlining economy. Righting our public finances will rely on sustaining the momentum far beyond 2017, however, and that may again depend on politicians making unpopular decisions for the long-term good of the Island.
February 23. Britain would hammer financial services professionals who help clients avoid tax under a new law, a Liberal Democrat Treasury Minister said yesterday. UK Treasury Minister Danny Alexander said there should be a new offence of "corporate failure to avoid preventing an economic crime". And Mr Alexander said he hoped to get the new law on to the statute books in the upcoming UK budget — and if that was not possible, it would be a major plank in campaign in the British general election, due to be held in May. The move would mean that — if corporations and individuals caught avoiding tax were fined, those who advised them would be subject to the same penalties. But economist and consultant Peter Everson said: "At the moment it's only a talking point. Professional advisers always guard their own best interests and they are always careful about the advice they give." And he added that financial services firms and auditors routinely included indemnity clauses in contracts. Mr Everson said: "It might go down as a noble idea in an armchair, but the practicalities are different." Mr Alexander — whose party is the junior member in the coalition government with the Conservatives — outlined his plan on the BBC TV politics programme, the Andrew Marr Show yesterday. The centerpiece of the Lib Dem proposals is a new offence of corporate failure to prevent economic crime, including aiding or abetting tax evasion. But there would also be new penalties for those that help others to commit tax evasion — with the same tough financial penalties as those paid in back tax and fines by the offenders themselves. And codes of practice for tax advisers would also be toughened to make it harder for businesses and individuals to avoid tax. Mr Alexander said: "Organisations, be they accountants, banks or whatever, who help people evade tax will be liable for this new offence and crucially liable for financial penalties. "So, for example, if their customers have to pay back hundreds of millions of pounds in tax then those organizations should have to match that with hundreds of millions of pounds of their own money and I think that's a very tough disincentive to them to get involved in the first place." Mr Alexander likened the problem to someone who helps a burglar break into a home — who is treated in law as an accomplice. He said: "This is taboo. This is something that absolutely mustn't happen in our society and we still have a problem with some people thinking they can get away without paying their fair share of tax. This is a Liberal Democrat idea for our manifesto. We've delivered a lot from our last manifesto tackling avoidance, tackling evasion. But I'm going to seek to pursue this within Government over the next few weeks because I think we do have time potentially in the budget or through other processes that are going to take these ideas forward. But what I can say is if we're not able to do that then we absolutely will be making this one of our key things in the general election." Mr Everson said: "You would have to be a parliamentary draughtsman to say if they get it in the budget — but it's a tall order."
February 23. What do you get when you take five young musicians with a desire to play music glorifying God? A dynamite performance. That is what happened last month when Bermuda Institute band In Time took to the stage at the CableVision Salute to Service Banquet. Due to school commitments, the five-strong band had time to practice only twice before the big gig. But that did not stop them from getting a standing ovation from the influential crowd. Percussionist Micah O'Brien, 15, said he never expected that they would receive such a positive reaction from the audience. "We played at a church once but people just stared at us after the set was over, so we didn't know how to take that," he said. "When it came to the performance for CableVision, I truthfully wasn't sure if we had done well or not. The audience looked like they enjoyed it, but I didn't think they'd give us a standing ovation. When they did, I was really excited. It was a reassurance to me that we could actually play and that we could play well enough to entertain dignitaries." En Harmony have been playing together at their school, church and small community gatherings since 2013. Most of them are self-taught musicians, including 16-year-old organist Rollin Nathan junior. One day five years ago he started fiddling with the piano keys while at his aunt's house. His dad, CableVision sales manager Rollin Nathan, eventually heard him and suggested that he get his own piano. "I started to really like it and decided to stick with it," the teenager said. Bass guitarist Zaren Bennett, 17, also realized he had a natural gift a few years ago. He said: "I came to Bermuda Institute in 2009 and joined the band shortly after that. I just picked up an instrument and then another one and another one and kept going like that. Now I can play the bass and five other instruments — the piano, drums, guitar, trombone and steel band." He considers his talent to be a blessing from God. "It means a lot to me that God could give me this talent, but I realize it's not something I should keep to myself," Mr Bennett said. "He wants me to use it to worship to other people — to show them what God has done for me and the band as a whole." The band started off playing only two Christian songs — He is Able and Come Everyone. Their repertoire has expanded but they are happy to stick to their gospel roots. "Gospel and Christian music is what we grew up with," said saxophone player Aaron Spencer, 15. "We've all been Seventh-day Adventist Christians since we were born, so to play these songs it's just what we're used to. Before we play and sing, we pray that people would be blessed and that people don't see us, but see God through us." Praying before a big performance helps the boys to ease any nervousness and grounds them before going on stage. Keyboard player Aaron Ratteray was the one who picked Break Every Chain for the CableVision banquet. Soon after it started playing, he realized he got it right. "People immediately got to their feet and could relate. They were really into it," he said. "The first time I heard the song at Restoration Ministries I liked it as well. It had a nice flow, plus the lyrics are really powerful and remind you that God can break every chain or whatever's holding you back in your life. We wanted to inspire people with the song."
February 23. Bermuda is exploring ideas on how to broaden its tax base — and is working with an organization which has helped several Caribbean islands to introduce value-added tax (VAT). Finance Minister Bob Richards said in the Budget statement last Friday that Government's revenue as a percentage of gross domestic product (GDP) was lower than that of eight other island economies he cited, according to figures from the International Monetary Fund (IMF). He said Government was working with the Caribbean Regional Technical Assistance Centre (CARTAC), an IMF regional body, to study the feasibility of broadening Bermuda's tax base. A decision on the outcome of this analysis would follow a period of study and public consultation, he added. CARTAC, staffed by experts in a number of areas including revenue administration, was founded to provide technical advice to governments in the region. The organization has helped island nations including the Bahamas, Antigua and Barbuda, St Vincent and the Grenadines and Grenada, to introduce VAT, which is a point-of-sale tax. Bermuda's revenues, when social security contributions are included, total 19 per cent of GDP, less than other small island communities such as Jersey (26 per cent), Cayman (22 per cent), Barbados (25 per cent) and St Maarten (28 per cent). Mr Richards said: "One could say kudos to Bermuda for keeping its taxes low. But that would only be appropriate if we were balancing or nearly balancing the budget; something that is clearly not the case. In view of the inherent and serious risks of running large deficits, this study implies that Bermuda's taxes are not high enough to achieve or maintain long-term fiscal stability. The bottom line is Customs duties are no longer producing the portion of revenue they once did, thus exacerbating the annual deficit." Without ever mentioning VAT, Mr Richards laid out a case that would appear to support its implementation, in that VAT covers all sales, including services, while Customs duties apply only to goods. "Consumption of services constitutes most of our consumption, and much of it is not taxed at all," the Finance Minister said. "For many years this situation was not a problem for Government because revenue levels were sufficient to support its commitments. But it has become a problem now." Government aims to eliminate the annual deficit — estimated at $220 million for the next fiscal year — within three years. With its plans including an estimated net borrowing requirement of $313 million over the next three years, it needs to convince credit ratings agencies of its ability to balance the budget in order to avoid a downgrade that would increase the interest rate it has to pay on newly issued bonds. Economist and consultant Peter Everson, a former head of the Bermuda Chamber of Commerce economics committee, said the Chamber had spent "a lot of time" discussing VAT. He added: "The issues always revolved around the cost of implementation." Mr Everson noted that 20 years ago, only 20 of the 150 top countries had a VAT system — but now only 20 did not, including, at Federal level, the US. "For Bermuda, the problem is a lot of the smaller businesses don't have formal accounting records — essentially the bank balance substitutes. They would be required to spend more money on financial record keeping." Mr Everson explained that the Bermuda taxation system, which dates back decades, concentrated on goods rather than services such as mobile phones and cable TV — which had become an increasingly large part of expenditure. He said: "If we were introducing it in Bermuda, we would pay a lot of attention to the interface with Customs duties. VAT taxes services as well as goods. The difference today is that services are a far higher percentage of disposable income. In theory, some goods would go down in price because you are broadening the base. Some physical goods might go down in price, but that's all in the details." Although there is no tax on services, the Government will rake in $10.73 million in fees from the telecommunications industry in the fiscal year ending next month. In 2015-16, it projects it will take in $12.26 million, representing an increase of 18 per cent. Among those who have implemented VAT after taking advice from CARTAC, both St Vincent and Grenada have a standard rate of 15 per cent, a reduced rate of 10 per cent, applied to hotel accommodation among other things, and a rate of zero per cent applied to some basic food and medical goods, for example. VAT does have its detractors, however, Delisle Worrell, the Governor of the Central Bank of Barbados, where VAT is charged at 17.5 per cent and at reduced rates of 7.5 per cent and zero, has described VAT as "horribly complicated" and as "an inappropriate tax for a tourism-based economy." (Barbados imposes a VAT tax on tourist accommodations and more).
February 23. Morgan's Point developers will hold a public forum on Tuesday to talk about the plans for the site. The public will be fully briefed on the first phase of development, which will include a luxury boutique hotel, rumored to be a Ritz-Carlton Reserve resort, a mega-yacht marina and residences. The presentation will be at Dalton E Tucker school assembly hall on Middle Road, Southampton, from 7.30pm. It will be led by Morgan's Point president and CEO Craig Christensen, a Morgan's Point development manager and construction manager from Southworth Development, along with local and overseas architects. Those attending will be invited to take part in a Q&A session.
February 24. Leaked legal documents relating to a Supreme Court action by the would-be developer of the Hamilton waterfront attack the constitutionality of the legislation that allowed Government to void the development and lease agreements, to which he was a party. Michael MacLean, of Allied Development Partners Ltd (ADPL), filed an action by summons dated February 11, against both Attorney-General Trevor Moniz and Home Affairs Minister Michael Fahy over the annulment of his lease with the Corporation of Hamilton — a matter that gave rise to a claim for compensation that is awaiting the outcome of arbitration proceedings. Mr MacLean sets out his alleged losses in a February 9 affidavit, supplied to this newspaper, which details his claims for compensation. ADPL was the operating company established by Mr Mac- Lean in 2012 to undertake the proposed development of the waterfront land leased to the Allied Trust. The developer's plan, which had been to work on more than 20 acres of City waterfront, stretching from Barr's Bay Park and including the docks, was formalized with the Corporation in December 2012, shortly before the One Bermuda Alliance won the general election. Shortly thereafter, Mr MacLean said, a 262-year ground lease was agreed, beginning December 21, 2012. Mr MacLean said that he met then Premier Craig Cannonier later that day, which was the Friday evening after the election, claiming that the Premier had expressed a desire to meet him as the developer of both the waterfront and the Par-la-Ville hotel. Mr MacLean's affidavit implies a strained relationship with Government, which The Royal Gazette is not at liberty to describe in detail because the case is pending before the Supreme Court. Mr MacLean also alleges a split between some members of Cabinet who were proponents of the waterfront development, and others who opposed it. He further questions strongly the basis upon which Arlene Brock, the Ombudsman, decided to pursue an investigation into the corporation's governance, launched in May 2013. In March 2014, the voiding of the waterfront agreements was approved by the Senate after the move was approved by Parliament, in a session strongly split along party lines. Overall, Mr MacLean claims an entitlement to compensation in an amount of $90 million as a result of the failure to perform the waterfront agreements. After last Friday's presentation of the 2015-16 Budget, Finance Minister Bob Richards was asked if the Government had put money aside to cover potential losses over the legal action. However, Premier Michael Dunkley responded that it was "way too premature" to comment on the issue, adding that it was difficult to budget for the unknown.
February 24. Government will save an estimated $25 million this year by freezing most vacant Government jobs, Finance Minister Bob Richards yesterday told a post-Budget Chamber of Commerce meeting. And he said that Government planned to introduce measures to make the Civil Service more accountable including an oversight body to help control hiring and firing. Chamber of Commerce members said that the size of the Civil Service was still a problem and that the private sector had carried most of the economic pain of the recession. Mr Richards said: "The objective of trying to have an ultimate board or person or set of persons responsible in particular for hiring and firing is something we are working on." Fellow panelist Nathan Kowalski, chief financial officer of Bermuda-based investment firm Anchor Investment Management and a columnist for The Royal Gazette, pointed out that five private sector workers were needed to support each Civil Service job. He added: "It's quite simple the Civil Service is too big ... it's not sustainable, no matter how much revenue you raise, its not solving the problem of accountability. The sheer size of the Civil Service against a backdrop of a 20 per cent decline in the economy makes no sense whatsoever." Panelist Kim White, of law firm Cox Hallett Wilkinson and a member of the SAGE Commission that drew up plans for public sector reform, said: the restaurant trade and retail, in which he is involved as chairman of AS Cooper, had warned that Budget tax increases could cost jobs. "Dealing with the Islands massive $2 billion-plus debt should be shared more by the public sector. The pain has fallen mostly on the private sector ... we should not be continually asked to pay to feed the beast." Mr Kowalski suggested that the top half of the Civil Service, the highest earners, could be targeted for pay cuts, while lower paid workers could be spared cuts. "I think we need to again show this shared sacrifice in some way. Unemployed public sector workers would be a drain on Financial Assistance which would eat into the public purse. But we do need to get really aggressive and somewhat creative about the salaries and perks." Mr Richards said that many top Civil Servants carried a lot of responsibility and could command much higher salaries in the private sector. And he added that unlike the US there was no option in Bermuda to move city or state for a new job if public sector workers were made redundant. "While in theory we could engage in a slash and burn type of strategy, I don't believe that's appropriate for Bermuda. Its not appropriate and its not practical either." But he ruled out a commission similar to SAGE to look at ways of boosting revenue. "We are certainly looking at various options," he said. Areas at present run by Government like the registry of aircraft could be hived off to non-Governmental organizations, he added, although international standards meant that sort of activity could not be privatized. Around 350 people attended the breakfast meeting at Pier 6 in Hamilton, sponsored by financial services firm PwC and moderated by PwC chief Arthur Wightman. Chamber of Commerce executive director Kendaree Burgess said after the meeting: "The general feeling expressed by many members is that the private sector has been contributing its share of the shared sacrifice and would now like to see the public sector contribution increased. As a caveat, no one is looking for the Minister to kick people to the curb, but the private sector are looking for a meaningful contribution. Our panelist Nathan Kowalski summed it up when he said that five private sector employees supported each Civil Servant." Mr Richards said after the meeting that the Budget had not been an austerity one and that a severe financial blueprint for the year would probably have included layoffs in Government. He added: "We haven't raised taxes very much, it's a half a per cent. It's not an austerity Budget, we've included all these prospects for growth."
February 24. Bermuda can no longer rely on growth in international business to boost the economy, Finance Minister Bob Richards said yesterday. And Mr Richards added it was vital to boost tourism to stimulate the Island's economy. Mr Richards paid tribute to the role international business had played in the economy. But he said: "I don't believe the impetus for growth will come from international business like it has in the last decade. It's got to come from somewhere else. We have to revitalize tourism in this country and we will do whatever it takes to get there." Mr Richards was speaking the Chamber of Commerce post-Budget breakfast, held at Pier 6 in Hamilton, sponsored by financial services firm PwC and moderated by PwC chief Arthur Wightman. Mr Richards said that somebody has to write big cheques because an injection of capital was the best route to job creation and that the money would have to come from overseas. Mr Richards explained it was natural for Bermudians to think the Island was special and to love their home. But he said: "These investors do not look at Bermuda as an investor, something which has to provide a rate of return." He noted a planned massive redevelopment of the Islands airport was a major plank in Government strategy. He told the audience of around 350 people that the proposed public private partnership development had not attracted a great deal of positive publicity and that people had made up imaginary facts about the proposal. But Mr Richards said more information would be provided as the project progressed. Mr Richards said that projects of around $930 million over the next three years would provide a boost for Bermuda. He added that inward investment already confirmed may not be enough and we are working on more inward investment. "We are certainly looking at sub-sectors of international business to encourage, to accelerate growth. Although Government had only budgeted for 3.5 per cent in cuts, it was still hoped that the original five per cent could be achieved through initiatives like early retirement at 55 for public sector workers. There are a lot of ways we think we can save more money ... but I'm not in a position to put that in a Budget statement where it's official. You can't do that. Government had tried to spread the increase in taxes as broadly as the system allowed. The shrinking number of pupils in the school system meant there seems to be room to cut expenses in education. The education system gets a lot of money even if the education budget is cut, it's still well-funded, among the best in the world. The problems are not funding its more systemic than that." He added an invitation to the International Monetary Funds Caribbean Regional Technical Assistance Centre to look at broadening the Island's tax base did not necessarily mean the introduction of value added tax (VAT) a tax on goods and services. "They're expert in a lot of things, not just VAT. We haven't had a review of Bermudas taxes since the 1990s. In the 1990s, we did not have the same problems we have now, so it's high time we got some people in who know what they're doing. We have unique problems as small islands, so its important to have people with experience of small islands." And in response to questions from the audience he added that the 60/40 rule to guarantee majority Bermuda ownership of businesses is hurting us overall. But he said: "Whether or not it should be abolished across the board is a much more difficult question. Just think where retail would be if we brought Walmart to Bermuda, they would be annihilated. It's not simple -but we need to move towards more open markets." Mr Richards said a loosening off of the 60/40 rule had been a mixed bag with banks, but in telecommunications it had been a success. Panelist Nathan Kowalski, chief financial officer of Anchor Management and a columnist for The Royal Gazette, added that there was a case that the 60/40 rule should be potentially phased out in certain areas to boost investment in some industries. "I think it could help in a lot of different areas people wont put in a dollar unless they can own that dollar."
February 24. The Bermuda Tourism Authority remains cautiously optimistic about prospects for the next 12 months despite seeing its budget cut by $1.4 million. At $21.7 million, the proposed budget for tourism in 2015-16 is the lowest in more than 30 years. But the authority's CEO, Bill Hanbury, said his team was upbeat and determined to improve the taxpayers return on investment by growing the industry. "The figure for 2015-16 is also half what the government allocated to tourism in 2007, during a period when visitor arrivals peaked," said Mr Hanbury. "Of course, like any other publicly funded entity in the same situation, the BTA wishes it had a larger budget to invest in the tourism economy, especially as the Finance Minister highlighted our industry as the economic engine poised for growth. Above all else though, we understand the financial restraints Government faces. Once the budget is passed in Parliament, our focus remains: improving taxpayers return on investment by growing the tourism economy. Our rally cry is investment and growth. A budget of this size will only stretch so far, but our bottom line is about improving the return on investment on our taxpayer allocation, spending less to generate smarter results and growth in the overall tourism economy. This was true before the presentation of the Budget and its true afterward as well." The 2014 tourism budget of $23.1 million generated $280 million in air visitor spending and contributed to Government tax coffers and tourism industry businesses. Mr Hanbury said the BTA would work to boost air arrivals to Bermuda, increase the amount air and cruise visitors spent on the Island, and attract new off-island investment. "One of the BTA's untold successes is the manner in which it is efficiently managing taxpayers money while simultaneously raising the level of performance. For the recent Pink Sale, an online marketing promotion, the BTA spent the exact same amount that was spent by the Department of Tourism in 2014, but got far better results. Confirmed hotel bookings were up 45 per cent and room nights up 24 per cent. The estimated economic impact for the country is an increase of $813,000. Perhaps most importantly, the return on investment was 16:1. We can and will replicate this performance throughout our marketing efforts and beyond. Meantime, the days of first-class travel, limousines and expensive hotel suites were over for Bermuda tourism officials the moment the BTA moved in. The days of paying outlandish fees to multiple PR firms and ad agencies with little results for it are also over. Now, all the investments are towards supporting and marketing what is truly Bermudian its people, its culture and its heritage."
February 24. Bermuda can only prosper from the 35th America's Cup, according to sailing legend Dennis Conner. The Island will host the prestigious regatta for the oldest trophy in international sport in June 2017, having beaten out several rival bids for the privilege to do so. Mr Conner, a four-time Americas Cup winner (right), said: "It's going to be wonderful for the Island and for the people here. Everybody is going to get a few more dollars in their pocket because the money that comes here for the event will be spread around." Government estimates that the economy will benefit from on-Island spending of approximately $250 million over the next three years. This constitutes a major economic stimulus with new jobs and investment expected to begin this year. "Sam the taxi driver is going to make a bit more and the Little Venice guy is going to have a few more pastas," said Mr Conner, who won the Americas Cup three times as a defender and once as a challenger. "It's going to spread around the Island and is going to be good for everyone." The America's Cup village and team bases will be at the old Royal Naval Dockyard, which is adjacent to the racecourse in the Great Sound. "It [the race village] will raise the game over there in Dockyard and the facilities they will make to have the Cup will be lasting for your children and grandkids so it's just a win situation for Bermuda, "Mr Conner said. The multiple world champion and Olympic medallist said he had always felt that Bermuda had a strong chance after submitting its bid to host the next Americas Cup. "It surprised everyone but the people inside knew that Bermuda always had a strong chance," he said." Larry Ellison [Oracle Team USA owner] is an international guy and the TV will be much closer for Europe here now. It's a four-hour advantage for the people to watch the event live streaming in Europe." Four of the five syndicates that will challenge Oracle Team USA's title are based in Europe. The next America's Cup will see an American syndicate defend the Auld Mug in neutral waters for the first time. It will also be the first time a syndicate has defended in neutral waters by choice rather than force. Mr Conner, who is regarded in sailing circles as Mr America's Cup, has no qualms over Oracles decision to defend their title outside of the United States. "There's a first time for everything," he said. "They had to drive a car across the country instead of riding a horse, so we will keep a good attitude and move on. We have some new boats and new ideas because you have to stay fresh and keep up with the times. Bermuda, I think, is helping to make that work."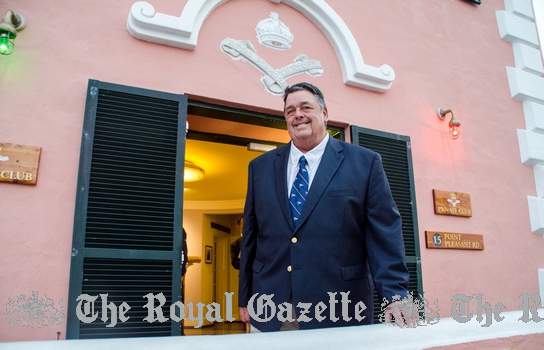 Sailing legend Dennis Connor, see stories above and below
February 24, Sailing legend Dennis Conner said that it would have been an honor to manage a Bermuda team in the 2017 America's Cup. The four-times America's Cup winner had been offered the job of managing a Bermuda team but ultimately declined the offer, admitting that the team would have been at a great disadvantage entering the game at this late stage. "I think it would be great and I would be honored to be a part of a Bermuda challenge. But at this late day, without the funds in place, its impossible to catch up with all of the effort and head-start that the teams have been working for two or three years." An ambitious eleventh-hour proposal that would have seen Bermuda compete in some part of the 35th America's Cup ultimately fell by the wayside after Conner declined the offer to manage the team and help raise funds to finance the campaign. "I was a little nervous they could not come up with the money to make it all work and wasn't ready to make that challenge myself. Bermuda is making a big financial commitment to host the Cup and I am just wondering where will the money come from? Where's another $100 million going to come from to support a Bermuda challenge?" Among the local sailors invited to be a part of the team was Olympic sailor Peter Bromby who narrowly missed out on a medal in the Star Class at the 1992 Olympic Games in Barcelona, Spain. Conner, who is also a multiple world champion and Olympic medallist, visited Bermuda last week to share his wealth of sailing expertise at a fundraiser at The Royal Bermuda Yacht Club. Funds raised during the sold out event will go towards sending a Bermuda team to this summers ISAF Team Racing World Championships in the UK. "Bermuda has produced so many great sailors over the years," Conner said. "I think its good we continue this tradition and to make that work it takes money to fly around and compete at international level. So I am going to try to raise some money so they [youth sailors] can go and compete worldwide and raise their game to be more competitive". The 2015 ISAF Team Racing Championships will be held in Rutland, from July 20 to 24 and will feature as many as 36 teams competing in double handed Firefly type dinghies across open and youth divisions.
February 24." LF Wade International Airport is the place to hang out if you want to find out who's buying whom in the reinsurance industry," said XL Group chief executive officer Mike McGavick. His comments led to the headline For Front-Row Seat in Deal Action, Try Bermuda's Airport in the Wall Street Journal's MoneyBeat, complete with a picture of an Island beach. Mr McGavick, whose company has agreed to buy Bermuda-based Catlin in a $4.1 billion deal, expects more mergers to take place in the industry. "My sense is that we are still at the beginning of the story of consolidation," he said in an interview with the Journal. "With so many insurers basing their operations in Bermuda, the one thing I can tell you is that the Bermuda airport is a useful place to hang out. Everybody is talking to everybody. Traditional players are going to need to bring more resources to bear in order to defend and grow their positions and better serve clients who want to deal with reinsurers with global reach. To me, it's going to be more and more common for there to be a mix of traditional reinsurers and non-traditional capital suppliers coming together in different forms, he said. I think you'll see a remarkable set of changes in the industry over the next decade." In other deals announced over the past three months, RenaissanceRe Holdings has agreed to acquire Platinum Underwriters Holdings in a $1.9 billion deal expected to close next week, while Axis Capital Holdings and PartnerRe will also join forces in a merger of equals that will create a combined $11 billion company. "The merger mania, " so described by Finance Minister Bob Richards in his Budget statement last week, has come about amid fierce competition in the reinsurance space as a result of an influx of new money into the industry in the form of insurance-linked securities such as catastrophe bonds. The resulting decline in rates has been exacerbated by below-normal levels of catastrophe claims.
February 25. The Senate has approved further alterations to municipalities legislation, over strong Opposition misgivings over possibilities for abuse. The effects of the Municipalities Amendment Act will be felt soon, in the upcoming May 2015 elections for Hamilton and St George, which will be administrated by the Parliamentary Registrar and not the secretaries for the relevant Corporations. Home Affairs Minister Michael Fahy maintained that it struck the right balance between residential and business votes in municipal elections. But several around the table disagreed Opposition Senators Diallo Rabain, Renee Ming and Marc Daniels all voted against the Act, as did Independent Senator Joan Dillas-Wright, who said there was widespread public misunderstanding of its implications. "If you have more than one company, and you nominate somebody, we can't say honestly that the business owner will not influence the individual who is going to cast the vote," she told the Upper House. Senator Daniels said the amendments undermined the principle of one man, one vote, with the potential for business owners to tip the vote using proxies. But the legislation passed, with seven votes in favor and four against. Senator Fahy has indicated Government's support for the 2010 reforms under the Progressive Labour Party administration that expanded the right to vote to all residents of municipalities. However, the One Bermuda Alliance Government has also advocated for business ratepayers to have representation. "We are not against businesses being able to exercise the right to vote," Sen Daniels said. "What we are concerned with is the amount of votes that can be abused under this system." Sen Fahy argued that cases of business owners being able to use proxies to tamper with voting were very unlikely. The Act calls for three elections to be held simultaneously: one for mayor, one for municipal residents, one for business ratepayers. Candidates for mayor can be nominated by municipal residents or by business ratepayers, and will be selected by all voters. Candidates for residents Councillors will be nominated by municipal residents, and candidates for business ratepayers councillors will be nominated by ratepayers. A candidate for business ratepayers councilor will not be allowed to also be nominated as a candidate for residents councilor. Only those who are ordinarily resident in the municipality can register as residents, and only owners and occupiers of businesses can sign up as ratepayers. Conceding that there had been apprehensions over the legislation, Sen Fahy said that persons registered as business ratepayers would not be entitled to appear on the register more than once, whether in their own right or as nominees and thus only vote once. "It is conceivable to have one individual person own the controlling interest in multiple companies, which in turn own or occupy valuation units and each may, in turn, appoint different nominees to vote on behalf of those valuation units," Sen Fahy said. "However, this scenario is very unlikely, and has to be balanced against the administrative unworkability of a scheme that pierces the corporate veil. It is certainly unhelpful to talk about hypothetical situations where a single person owns ten different companies. Finally, contrary to what the Opposition may say, there is no ambiguity in the legislation. This Bill simply reflects a policy choice made by the Government."
February 25. Bermuda's Business chiefs are lukewarm on the latest Budget with more than three-quarters saying Government missed revenue-raising opportunities. And an overwhelming number rated the level of debt as their major concern with privatization, public sector staff and salary cuts and implementation of more recommendations by the SAGE Commission singled out as the best way to slash expenditure. More than 60 per cent of those who completed a survey carried out after Mr Richards took part in a Chamber of Commerce breakfast-time panel discussion on the Budget on Monday said it had not been effective in addressing the national debt, compared to 37.5 per cent who thought it was. One business owner who asked not to be named attended the event at Hamilton's Pier 6 said: "The survey accurately reflected the mood at the breakfast and most people I have spoken to about the Budget. There's a strong feeling that the private sector employees and employers are being asked to make yet more sacrifices and shoulder all of the burden while the public sector continues to enjoy the same salaries and job security because the Government is afraid to take on its own employees. The fact that we are being forced to underwrite an under-performing, unaccountable, overstaffed and inert bureaucracy is amazing, and the fact that the tax increases will likely be self-defeating just adds insult to injury. Even so, I think many business owners would have accepted the tax increases in return for some evidence of a genuine effort to downsize Government and balance the budget, but there is none. Apparently, the Government is more afraid of a couple of days of protests than they are of employers closing their businesses." Just over half those surveyed after a post-Budget said they were satisfied with Finance Minister Bob Richards blueprint for the coming year. The top two answers for areas in which the Government should increase expenditure were education and infrastructure.
February 25. The Island's dialect and unique vocabulary keep changing — but even as our speech evolves, it remains Bermudian. A round-table discussion last night on the Island's dialect brought together writers, artists and linguist Britanni Fubler to speak in front of a full house at the Bermuda National Library. The candid look at the way we speak was led by Kim Dismont Robinson, folk life officer at the Department of Community and Cultural Affairs. The gathering included poets Ronald Lightbourne, Chris Astwood and Stephan Johnstone, who shared their experiences and thoughts. As Ms Fubler explained, the history of Bermuda's dialect is "not well documented", but it emerged from a crossroads of African, Caribbean, British, Portuguese, and New England influences Scholars of the dialect believe the nasal quality of many distinctly Bermudian sounds — such as the affirmative "aungh" noise — may have originated with Portuguese and Angolan imports. Ms Fubler, who filled an auditorium with a 2011 lecture on the Island's distinctive speech, said the United States influence had markedly shifted the accent away from its stronger British intonation in recent years, and globalization would likely bring further variance. Asked if we risked losing our distinct way of talking, Ms Fubler replied: "The strength of a dialect is the words we use, that keep us unique." As the dialect changes, Bermudian are "continuing to establish ourselves", she said. Poet Stephan Johnstone added: "It's constantly evolving, shifting, changing. I don't think we are losing it." Calling himself more a mathematician than a poet, Mr Johnstone said he found his Bermudian essence when he began making albums. A fellow poet, Mr Astwood, now pursuing a doctorate in critical and creative writing, described his studies of the spectrum of "Englishes" across island spaces, and recited his poem Language Trees, which posited an ancestral Bermudian tongue derived from the sounds of the trees and the noises of the Island landscape, that "speaks in the dampness, those stories in our bones". For Mr Lightbourne, a veteran musician and poet, it was a chance to discuss the many dialects he spoke during a childhood of Caribbean travels, and the "multi-focused lens" it has given him. With his more detached perspective, Mr Lightbourne provoked laughter by observing that even Bermudian dogs understand the special features of local speech, describing how a pit bull that had eyed him was rebuked by its owner: "Don' even worry wif it." Mr Astwood said he puzzled with rendering the dialect in speech, such as the shift between the V and W sounds — the "V-W slide" that he sometimes represents by joining the letters together. Meanwhile, no consensus could be found on whether the Island's colloquial form of address was spelled "bie" or "bye". Guests also heard that the popular alternative of "dun" was derived from reggae music of the 1980s. Mr Johnstone mused on the tendency of some Bermudians to drop their accent in a business setting, adding: "What gets me is how some people strip themselves of their dialect just to sound what they feel is more appropriate." Ms Fubler shared her regret at lacking a strong Bermudian accent, and Mr Astwood drew nods of assent when he identified an "offensive" use of dialect as one which denigrated or belittled others, adding: "It's painful for everyone when you see our way of speaking devalued." None of the panelists could settle on a standard way to write the Bermudian dialect. Asked how Bermudians could get past self-consciousness about their accent and their ways of speaking it, Mr Astwood said: "By having conversations like this."
February 25. Morgan's Point developer Craig Christensen last night said he could not promise construction jobs for Bermudians once building work on a hotel, multiple residential units and a mega yacht marina project got under way. He was answering questions about the Southampton site during a packed public forum at Dalton E Tucker school. The more than 200 attendees who turned out for the presentation saw aerial view renderings of the proposed development and images of similar projects in the Caribbean. The site plan shows there will be a channel of water between the end of the peninsula and its tip, producing an island. Morgan's Point originally included two islands, Tuckers Island and Morgan's Island, which were merged and joined on to the main Island of Bermuda. Beaches will be enhanced and new ones created along the shore line. Mr Christensen was there to unveil the first phase of the project, along with Roland Bates, executive vice president of Southworth Development, who are project advisers, and architect and planner Lane Pettigrew of LP Architects, who specialize in Caribbean residential and resort architecture. Julia van Beelen of Cooper Gardner architects was also a member of the panel. A second Morgan's Point partner, Nelson Hunt, was in the audience, while the third member was reinsurance executive Brian Duperreault. The audience learned that remedial work required to restore the land after the US military, the former occupant of the site, had left behind oil, sewage and jet fuel, had been a less onerous task than had been expected, and that work was now largely complete. Plans for the first phase of the project, which will include the 84-room boutique hotel and 35 residential units out of a planned total of 147, will begin going to the Planning Department next month, while the construction phase is expected to be mostly completed by the beginning of 2017, in time for the America's Cup. "Our biggest obstacle is time," said Mr Christensen. "We're trying to get this thing moving as rapidly as possible. Developers had initially set aside the western end of the property for a role for in the sailing race, but Government had opted instead for a Dockyard site for the race headquarters. They now hope to have at least a portion of phase two of the project completed in time for the event. The development team also want gaming at the resort. Yes, we are seriously looking at it. Yes, we believe we qualify, and yes, we are going to try to do it." Mr Christensen would not officially reveal the name of the brand that will be operating the hotel, calling it the worst kept secret in Bermuda, explaining that he was bound by a non-disclosure agreement. Finance Minister Bob Richards announced in December in the House of Assembly that Morgan's Point Ltd had secured the Ritz-Carlton Reserve brand to operate the resort, which he called the highest end of the Ritz-Carlton hospitality brand. Answering a question about the troubled Tuckers Point resort and why the Morgan's Point development was different, Mr Christensen said it was in the way the project had been financed. He pointed to support for the project from the international business sector. "We really thank them for that. " There were many questions about the employment of Bermudians on the site. "Morgan's Point will have who can do the job for the best price," he said. "Putting percentages on to things is ultimately dangerous. We're focused on getting this done so we can create opportunities for people. We want to see Bermudians benefit."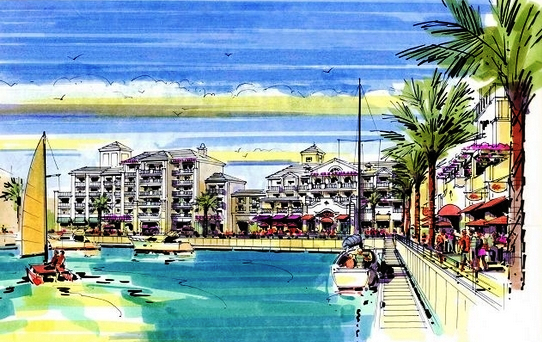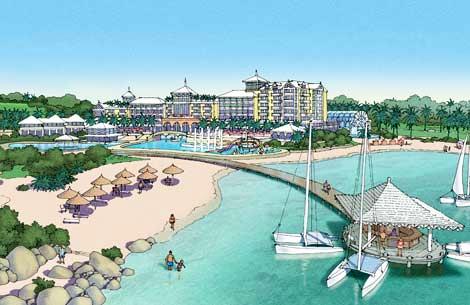 Morgan's Point Development, see above story
February 26. Butterfield Bank today reported net income of $98.3 million for 2014, up by more than 25 per cent from the previous year. The results represented a fourth consecutive year of earnings growth for Butterfield. Chairman and chief executive officer Brendan McDonagh said: "That progress was driven by a continued focus on prudent expansion within our core businesses and markets and diligent management of capital, expenses and risks. As a result of our focused strategy, Butterfield is a much stronger bank, our core earnings are stable and growing, and asset quality is solid." The Butterfield board declared a quarterly dividend of one cent per share, plus a special dividend of one cent per share, payable on March 27 to shareholders of record at March 13. Mr McDonagh added that the acquisitions of the Legis Group trust and corporate business in Guernsey and some deposit and credit business from HSBC in the Cayman Islands had boosted income. Total net revenue was $371.2 million, up $29.5 million, or 8.6 per cent from 2013. The banks core efficiency ratio improved to 67.7 per cent from 71.6 per cent. Butterfield said that headcount on a full-time equivalency basis at year end was 1,164 people, up by 31 from the a year earlier, as a result of the acquisitions. The bank has major operations in Cayman, Guernsey and the UK, as well as Bermuda. Net interest income increased by $14.7 million to $238.5 million, as the bank achieved a higher investment return on investments. Non-interest income rose by $8.8 million to $134.8 million mainly due to trust business from the Legis acquisition. The Bermuda operations saw provisions for credit losses halve to $6.4 million, largely because impairment of non-performing hospitality loans and residential mortgages was greater in 2013. Across the whole group, non-performing loans, which include gross non-accrual loans and accruing loans past due by 90 days or more, totaled $103.5 million as at 31 December 2014, down $13.1 million from year-end 2013.The Bermuda business net income after gains and losses was $60.2 million, up from $37.4 million in 2013. Operating expenses in Bermuda declined by $5.3 million to $145.7 million in 2014, due to operational losses and restructuring initiatives in 2013, all partially offset by higher professional fees and fraud provisions. Butterfield's loan portfolio totaled $4 billion at the end of 2014, down by $69 million from a year earlier. Loan balances in Bermuda ended the year at $2.1 billion, flat from 2013. Finance Minister Bob Richards last week criticised local banks for their lack of lending and their cutting of jobs in the annual Budget statement for the second successive year. Core salaries and benefits costs were $124.2 million in 2014, up $1.6 million from 2013 from a $3.2 million increase in staff costs from the consolidation of the acquisitions, offset by cost savings from a full-year benefit of the early retirement and redundancy programme. The Cayman operation posted net income of $33.5 million, up $7.6 million from 2013. The Guernsey unit made $5.1 million, down $2.3 million from the previous year, while the UK business profit fell to $0.9 million, sliding from $4.2 million in 2013. The bank repurchased 8.6 million of its own shares at a cost $17 million during the year, as well as 560 of its 8 per cent preference shares for $0.7 million. John Maragliano, Butterfield's chief financial officer, said: "By all financial measures, Butterfield has delivered a fourth consecutive year of solid earnings growth and continued balance sheet strength. The growth in deposits of $1 billion in 2014 further improved the loan to deposit ratio to only 46 per cent affording the bank flexibility to capitalize on lending and investment opportunities going into 2015."
February 26. The parent firm of Bermuda Commercial Bank logged a profit of $1.2 million in the last quarter of 2014. Financial investment services holding company Somers Ltd said the figure pushed the profit for the full year to $8.7 million, while the firm also repaid its loans and became debt-free. Somers chairman Warren McLeland said: Somers recorded a profit of $1.2 million for the quarter with dividend income and net valuation gains from the investment portfolio offsetting negative currency movements. This profit along with capital received from the exercise of warrants by Utilico Investments Ltd in October 2014 resulted in a 0.7 per cent increase in total shareholders equity. Somers holdings includes the BCB, property developers West Hamilton Holdings, Waverton Investment Management, the Private & Commercial Finance Group, Westhouse Holdings, Ascot Lloyd Holdings and Merrion Capital Holdings. Mr McLeland added: "There was little transactional activity during the December quarter as the company's capital is currently fully invested. We did, however, repay all our outstanding loans during the quarter, leaving the company fully unleveraged as at December 31, 2014. We remain comfortable with our current portfolio composition and this allows us to look forward to the remainder of the year with a cautious degree of confidence." BCB reported a profit of $1 million for the quarter on revenue of $6.1 million. The bank's capital position went down to just under $105 million at the end of the 2014 fourth quarter from $113.4 million at the end of the previous quarter. The final quarter also the bank end the year with significant liquidity 38 per cent of its balance sheet in cash and cash equivalents. The year-end statement said: "This structure creates a solid base for the bank as it moves in 2015." Waverton which represented 33 per cent of Somers investment portfolio at the end of 2014 recorded a profit of $2.2 million and revenue of $8.5 million for the final quarter of last year. The firm had assets under management of $5.4 billion at the end of 2014. But the statement warned that factors like increased regulatory costs, volatility in the worlds equity markets, the UK general election scheduled for May and potential tightening of US interest rates could have an impact on the Waverton's assets under management and profitability. Subsidiary, West Hamilton Holdings, started a residential development of nine apartments in the Hamilton area after the end of the final quarter of 2014 and is expected to take around 16 months to complete. The financial statement said: "There has been significant interest in the development and we anticipate it will prove to be a profitable venture for the company."
February 26. A Bermuda firm is to expand its business into wealth management. EFG International which specialized in investment research is changing its name to EFG Wealth Management (Bermuda) and moving into asset management with a strong focus on the captive insurance sector. Now Greg Soares who was formerly head of private banking at Capital G has been recruited as EFG's first client relationship officer, working under Keri Wong. Jim Lee, head of investment solutions at EFG International and chairman of the new Bermuda arm, said: "We are excited about the opportunity to expand our business in Bermuda. The government has taken a proactive business stance, making it easier for new players to enter the market and this is something we are responding to". The Swiss-based global private banking group operates from 30 locations worldwide, including the Bahamas and Cayman, and has around 2000 employees. The firm said the Bermuda operation would serve a range of sophisticated investors and institutions and will also have a strong focus on the captive insurance sector. It added: "The latter will exploit synergies with EFG Internationals operations in two other important captive sectors, the Cayman Islands and Guernsey. The business will also provide investment advisory services to hedge funds and funds of funds. We see our global network, combined with the expertise and contacts developed in key international captive insurance locations, as a key differentiator. The intention is to broaden and deepen our services as the business grows much as we have done in the Cayman Islands, where EFG has grown from a small office to an established business offering a comprehensive range of banking, trust and wealth management services."
February 26. A 5,000-strong listing of local businesses is to made available to the public, Home Affairs Minister Michael Fahy said yesterday. Senator Fahy said the move to open up the Bermuda Economic Development Corporation (BEDC) register would make it easier for small- and medium-size Island firms to drum up business and help Government keep accurate records of business activity in a variety of sectors. But he added businesses would now have to pay $100 a year to be listed. Sen Fahy said: "The business register will not only provide a benefit to businesses with regards to access to timely information and data to assist them in making the best decisions for their businesses, hence having a positive knock-on impact to the economy, but it will also allow the BEDC to meet one of its goals of generating revenue a modest $100 per year will be charged." Since the BEDC has existed mainly from a grant from the Government, the launch of the register will allow the Government to realize a cost saving over time and will allow the BEDC to maintain its necessary cash flow in order to continue to deliver its premium programmes and services to the public. The change means the public will get access to the list, including contact information and business details, on all small and medium enterprises and Economic Empowerment Zone (EEZ) firms. Traders will also get a unique ID trader number, while Government will use the register as a research tool to help develop new business. Businesses will also get a quarterly newsletter and advance notice of BEDC seminars and events, invitations to special workshops and networking opportunities, as well as deposit insurance for coverage up to $25,000. A range of discounts on business services and reduced interest rates and terms on loans from the BEDC will also be introduced. Businesses who want to register can do so at www.bedc.bm. Sen. Fahy said that there will be a seven-month period, ending on September 30, for businesses to register free, with a $50 charge for firms who sign up between October 1 and March 31 next year. After that, annual registration will cost the full $100.
February 26. Winning Restaurant Weeks chef Enworth Davis, of Muse, said he was stimulated by the Bermuda-inspired element of the event this year. The culinary event organized by the Bermuda Tourism Authority culminated in the peoples choice award ceremony held in the Bermuda Gas Showroom yesterday morning. In second place was Chad Mitchell of Red Steakhouse and in third was La Trattoria's Angelo D'Amato. The top three were each winners in their own price categories La Trattoria ($29), Muse ($39) and Red Steakhouse ($49). Mr Davis, who is executive chef and part-owner of Muse, said: "This year was particularly a treat from the standpoint of what we were asked to do. The Bermuda inspiration aspect to it was particularly what stimulated me. Usually we create menus that meet the price according to which category we were in but this year, because of the inspiration, we didn't just challenge ourselves to work within the budget but also to display items that would show Bermuda off, show us off as chefs and to emphasize how much you can accomplish with a little." The Bermuda Tourism Authority's chief product and experience development officer Pat Phillip-Fairn said the 2015 event was the best Restaurant Weeks in its four-year history. It was also the largest with 44 participating restaurants, she added. It was decidedly more authentic. "We challenged the participants to have Bermuda-inspired menus and Bermuda-inspired dishes and 31 of them rose to that challenge." The award ceremony marked the official end of Restaurant Weeks 2015, which offered diners special discounts on set menus. Ms Phillip-Fairn said the event was just one of many culinary focused events being organized by the Bermuda Tourism Authority in the year ahead. "Culinary tourism is an untapped opportunity for Bermuda and our local food culture is a rich story waiting to be shared. Every restaurateur we have spoken to thus far has said that this year was an improvement on years past. Some restaurants extended the promotion to take advantage of the momentum they were feeling as word spread." One restaurateur said its sales were up 97 per cent compared to last years Restaurant Weeks during a traditionally low performance period, while free online booking service Table.bm received three times its normal bookings.
February 26. Morgan's Point is a shadow of its old self, but the uprooted tree stumps, leveled buildings and empty pipeline channels point to a new vision for this man-made military base. The future of the old Naval Operating Base (NOB) has already begun to take shape after an extensive remediation project to remove asbestos and other hazardous materials from the site and to prepare the 182-acre property for a luxury hotel resort and residences. Traces of the hustle and bustle of this vital military hub still remain almost exactly 20 years since American forces upped sticks and left Bermuda. The overgrown baseball pitch and broken scoreboard, the old open-air cinema screen and projector room, and the infamous drinking and dancing haunt Bermudoo stand as poignant reminders of the lives of those who once called Morgan's Point home. Today the scarred landscape is awaiting its next transformation, one that its owners hope will lead the resurgence of the Bermuda tourism industry. A lot of the remedial work has already taken place, said Craig Christensen, the president and chief executive officer of Morgan's Point Ltd. There is probably another ten good weeks worth of work to go. So far six 1.5 million-gallon fuel tanks, 28 25,000-gallon tanks and two 500,000-gallon tanks have all been removed. The fuel pipelines that ran from the pier to the tanks have been taken out. Most of the old buildings, which were beyond repair, have also been leveled and materials containing asbestos removed. Developers hope to save some of the old structures: the old bachelor dormitory could make ideal staff quarters for the new resort and one of the existing buildings could provide storage space. The remedial work required was not as bad as had been previously made out, but a great deal needed to be done to prepare the site for redevelopment. The Morgan's Point peninsula a man-made union of two islands, Tucker's and Morgan's Island was set up to serve as a strategic US outpost. It played an essential role during both the Second World War and the Cold War, and famously in 1944 the German submarine U-505 was brought into the Morgan's Point main pier and hidden after its capture. Developers are now looking at the possibility of using the same pier once it is upgraded and brought up to standard to bring construction materials directly on to site by ship. They also hope to take a step back in time by separating the peninsula back into two islands connected by a short causeway. Morgan's Point Ltd is expected to submit the first phase of its proposals, which include an 84-room boutique hotel, spa, restaurant, marina and 35 residences, to the Department of Planning next month. Developers hope to start work in June and complete the first stage of the project by the beginning of 2017 in time for the America's Cup finals. Mr Christensen said: "There is a lot of work already going on behind the scenes. We have geotechnical staff on site at present completing surveys, as well as shoreline experts to make sure that everything we do is up to the highest standard. We are also keen to ensure that we keep the property as green as possible so that it fits in with its surroundings. This is a very exciting new chapter for Morgan's Point."
February 26. Arts patron and flamboyant personality Doreen "Mac" Musson, one of the founders of what is today the Bermuda Society of Arts, has died at the age of 89. A painter in her own right, Ms Musson helped establish the organization, then known as the Society of Arts of Bermuda, with her husband Magnus Musson, who became captain of the iconic vessel the Queen of Bermuda. Artist and reviewer Charles Zuill recalled her as "quite a character — flamboyant, fun". She is survived by son John Musson and her daughter Deborah Hollis. Ms Musson's murals graced the walls of the Forty Thieves Club on Front Street, one of Hamilton's famed nightspots, and she contributed her work to the Bermuda Musical and Dramatic Society's programme covers. "I also knew her as the co-author of the book Bermuda's Favourite Haunts, with John Cox," Mr Zuill added. "She illustrated it as well. For the first volume, they had my house in there as haunted. I told 'Mac' that I had never seen a ghost, although I said I was aware of doors slamming. She said 'there you are!' That was enough. I later realized that it was not coming from my house but the place next door. She was a good sport." He added that Ms Musson had involved herself in every aspect of local arts during a notable time for cultural pursuits. "Looking back at that period, I think of it as a golden age for the arts in Bermuda," Mr Zuill said. Ms Musson later went on to serve as curator at the Bermuda Society of Arts. Her creative flair found its way into her working life for such businesses as AS Cooper's and the Perfume Factory, where she arranged window displays and advertising. She also modeled for fashion designer Elspeth Gibson. Her work with the Bermuda Chamber of Commerce included helping to organise the well-liked winter fixture Rendezvous Season, in which a regular weekly crafts market gave local artists to chance to showcase their wares.
February 27. Major David Curley will be the next commanding officer of the Bermuda Regiment, Government House confirmed today. Governor George Fergusson said that Major Curley will take over when Lieutenant Colonel Mike Foster-Brown completes his term of service in February 2016. Announcing the decision, Mr Fergusson said: "David Curley will make an excellent CO. The Regiment is in very good shape at the moment. Like all organizations, it faces constant change. Major Curley will be well prepared to lead the regiment into the future." Major Curley, who originally joined the Bermuda Regiment in 1989, works at HSBC Bermuda. His appointment follows advice from the Bermuda Regiment Promotions Board.
February 27. Bermuda is quickly earning a reputation for successfully bidding for the right to host major international sailing regattas. In December of last year Bermuda won its bid to host the 35th America's Cup and lightning has struck again little more than two months later with confirmation that our bid to host the 2016 Viper 640 North American Championships has met with equal success. The regatta will be held in November and could feature as many as 40 teams battling for regional supremacy in the one-design sport boat in the Great Sound. Somers Kempe, the Royal Bermuda Yacht Club Commodore, introduced the Viper 640 Class to Bermuda in 2012 and was among those who played an integral role in the successful bid. "Basically, a few friends and myself approached the North American Viper 640 Association and put in a bid to get the event here," he said. "We are expecting this to be a very big event. We are expecting about forty boats and it will be a good return for sponsors and all that jazz." Kempe said one of the main objectives of Bermuda hosting the regatta is to help raise the Viper 640 class profile on the Island. "The opportunity was always out there to host the North Americans which is the biggest regatta for that class at this time," said Kempe, who finished second at the 2010 Viper 640 North American Championships in Miami. "And we wanted to use that hosting opportunity as the catalyst to kick start the fleet in Bermuda, and its working because in a few months time we will have six local boats whereas only a few years ago we only had one. There's a lot of interests in the fleet right now and people are very excited." Kempe will travel to the US East Coast later this week to compete in the three-man Viper 640 at the Bacardi Miami Sailing week to be held in the first week in March. Also representing Bermuda in the Viper 640 fleet is Douglas DeCouto, president of the Bermuda Viper 640 Class Association and a former crew-mate of Kempe. While in Miami, Kempe and DeCouto will promote the 2016 Viper 640 North Americans to be hosted by Bermuda. "We will handing out information packets and update people on planning and the logistics involved with getting all those boats to Bermuda," Kempe said. "We have actually partnered with the shipping companies in helping all the teams get their boats to Bermuda." Chuck Millican, who served as Bermuda's chef de mission at last year's Winter Olympics in Sochi, is also competing at this years Bacardi Miami Sailing Week in the J-70 Class.
February 28. The decision to award the 35th America's Cup to Bermuda was not good for everybody. It has reportedly cost Emirates Team New Zealand some $20 million, and in a team shake-up helmsman Dean Barker has also lost his job. Barker had been at the helm for the 2017 challenger since 2003, during which time he has been on the wrong end of an America's Cup defeat on three occasions, the last of which occurred in 2013 when Emirates squandered an 8-1 lead against Oracle Team USA in San Francisco. Peter Burling, the world Moth champion, and Glenn Ashby, a multiple world champion who served as wing trimmer at the previous America's Cup, will now share helming duties. The decision to hold the event in Bermuda in 2017 has reportedly hit the Emirates team's sponsorship deals, causing a tightening of the purse strings and as a result, the team has had to reduce its remuneration budget and each team member has taken a significant pay cut. Additionally several million dollars has been axed from the operations budget leading to the scrapping of one of the team's foiling AC45 catamarans, and the elimination of one of the planned helmsman positions. If it is of any consolation, Auckland appears to be favorites to host the America's Cup Qualifying regatta in 2017 after rival host Sydney's delayed bid fell through. America's Cup organizers have yet to announce their decision but are expected to do so in the near future. Under America's Cup protocol the venue for the regatta was to be confirmed on February 15. New Zealand are keen to retain Barker's services, however, and want him to serve as performance manager and sailing coach, with a place on the executive committee, and have made a formal offer to the sailor. "We're hoping to retain Dean's 20 years of America's Cup experience in Emirates Team New Zealand but we also acknowledge it is time for new blood to be given the chance at the helm of the country's challenger," Grant Dalton, the Emirates Team New Zealand CEO, said. Barker, however, has lashed out at the manner in which he was sacked. "I am absolutely gutted in the way that I've been treated by Team New Zealand and the management in this whole process," he said. "It's just been incredibly difficult to understand. Through a leak to the media I found out that I'd been dumped as the sailing director of Team New Zealand and today I learned through the media that was in-fact the case."
February 27. The average electricity bill could rise by as much as $8 a month as a result of Governments hike in fuel duty, according to Belco. The company says the fuel increase of five cents a litre announced in the Budget will mean the customs duty it pays on fuel will rise from $15 a barrel to $23. The power provider says this will add approximately $8 to the average monthly electricity bill for householders on the Island. The increase in fuel duty, which is aimed at tackling Bermuda's growing debt, will take effect from the beginning of April. Finance Minister Bob Richards stated during his Budget speech that the tax hike would raise about $9.6 million in extra revenue for Government. A spokeswoman for Belco told The Royal Gazette: "Once passed by the legislature, the five cent per litre increase in customs duty, announced in the Budget, will increase the customs duty Belco pays on fuel oil from $15.10 per barrel to $23.05 per barrel. This will add approximately $8 to the average monthly electricity bill, based on average usage of 600 kilowatts hours per month." The rise in the cost of fuel has already prompted concerns from taxi drivers who fear that the hike will affect their livelihoods. Family charities are concerned that the rise in electricity bills could also have a major impact on families already struggling in tough economic times. Martha Dismont, executive director of support charity Family Centre, told The Royal Gazette: "When I heard of the five cent increase, I considered it inconsequential. If it equates to an $8 increase in electricity costs, that is an added problem for families already struggling to make ends meet. We are at such a critical state in our community that an increase of $8 could make some families having to decide between paying the electricity bill and feeding the family. There is a percentage of our population barely hanging on by a thread as a result of loss of jobs, loss of family support, and/or being in the rear of the line because of having less skills than those more recently made redundant. We have a problem that is not going away any time soon, and we need more creative solutions."
February 27. Joining forces with one of the greatest sailors of all time in a bid to return the America's Cup to British soil was an opportunity Christopher Sharples, Commodore of The Royal Yacht Squadron (RYS) in the United Kingdom, could not pass up. Sir Ben Ainslie, a multiple Olympic medallist, world champion and ISAF Sailor of the Year and America's Cup winner, announced his challenge for the Auld Mug with the prestigious yacht club last summer. It is the first time that the RYS has been involved in an Americas Cup challenge in more than half a century. Mr Sharples, son of late assassinated Bermuda Governor Sir Richard Sharples, said: "We have clearly waited a long time for an opportunity like this and were delighted when Sir Ben, who was already a member of the RYS, wrote to me enquiring whether we would be prepared to challenge for the 35th Americas Cup with a team that he was putting together. When we looked at the quality of the financial backers that he had lined up, the technical experts that he was gathering around him, the competence of his managers both in terms of running a major business and the sailing programme not to mention Ben's own reputation as the best competitive UK sailor for many generations, the decision was straightforward. The Royal Yacht Squadron Racing Ltd, the affiliated organizing company for our regattas, would make the challenge as Sir Ben had requested." Sir Ben is Team Principal and Helmsman of Ben Ainslie Racing, the first British America's Cup challenge since 2003 when White Lightning, skippered by Ian Walker, was eliminated in the semi-final round of the Louis Vuitton Cup. The RYS's ties with the America's Cup date back to 1851 when the club hosted a fleet race around the Isle of Wight. The race was won by the New York Yacht Club schooner, America, that beat the best the British could offer to win the Royal Squadrons 100 Pound Cup. After Americas famous victory, the celebrated schooner was sold and the trophy donated to the New York Yacht Club under a Deed of Gift, which stated that it was to be a perpetual challenge cup for friendly competition between nations. Thus was born the America's Cup, a trophy Britain has never won. "Since 1851 the RYS has made several attempts to win the Auld Mug, as it is affectionately called, but unfortunately none were successful," Mr Sharples said. "There were many reasons but there is no denying that on many occasions we did not have the right combination of yacht design and team of sailors to win that elusive trophy. Over the long period since 1851 until now there have only been six challenges by the RYS. The first was in 1885 by Sir Richard Sutton. The Earl of Dunraven challenged in 1893 and 1895 with Valkyrie II and III. Sir Thomas Sopwith brought his aeronautical expertise and technology into a marine context by challenging with Endeavour and then Endeavour II (1934 and 1937). The last occasion was way back in 1958 when a syndicate headed by Hugh Goodson heading an RYS syndicate challenged with Sceptre. Returning the Auld Mug to Britain would mean so much to so many in the UK. To win the Cup and bring it back to West Cowes Castle, the home of the Royal Yacht Squadron for nearly all its 200 years of existence, would be something that can only be described as cause for the very greatest celebrations by our Members, including Sir Ben, his backers and his team but also a great many people in the United Kingdom as well. The America's Cup is the oldest and the only major international sporting trophy that the UK has never won and for nearly everyone involved in competitive sailing it is the Holy Grail of the ultimate competition between nations."
February 28. Former Hamilton mayor Charles Gosling is an open supporter of the regaining of votes by business ratepayers although he conceded it came loaded with historical baggage. That legislation was approved this week by the Senate, with Independent and Opposition Senators voicing trepidation over a vote that many residents associate with the unfair practices of the past. "Given Bermudas history, I just don't think there is any clarity to the argument right now," Mr Gosling said. "We are going to have to wait generations before we can have a clear argument on this, as this goes back to the plus vote when somebody could be registered in more than one constituency. I wasn't even a teenager when that was taken off the books. Virtually all of the arguments against businesses having the vote are based on that concept." As he prepares to throw his hat in the ring for another mayoral contest, Mr Gosling declared himself satisfied with the latest amendments. "Given the overwhelming proportion of what businesses contribute to the city coffers in taxes, there really has to be some form of representation behind it. If the city had its own police force, hospital, fire department and all that sort of stuff then I would think it more in keeping to limit it to the residents vote, but that's not the case here. "Nomination day for the city elections is expected to be announced by the Parliamentary Registrar next month.
February 28. Charles Gosling, the former Hamilton mayor, has confirmed that he intends to run for the position once again when City Hall is put to the voters in May. Under newly approved legislation, business ratepayers and residents will get their own elections a move that Mr Gosling supports. "It's very important that both sides get representation, and that business representatives are fully aware of residents concerns and vice versa," he told The Royal Gazette. Mr Gosling's return to the political arena finishes a quiet three years after his loss to incumbent mayor Graeme Outerbridge by 109 votes to 88 in 2012. He said the much publicized controversy that has dogged Mr Outerbridge and his Team Hamilton administration had descended into political theatre. "I have great interest in the governance of the city, and I have got to say that has had an impact on my interest in running again. The public has almost made a sport out of their concerns with the current Corporation, there has been much wailing and gnashing of teeth that businesses have had their voting rights taken away. It has been given back to them, and now it's very, very important that businesses participate in this. That requires them to register and appoint a nominee acting on behalf of the company. Issues such an Team Hamilton's internal rifts and Governments seizing of control over Corporation affairs had distracted attention from real issues. I do feel that a lot of the focus on the overall well-being of the city has been lost. I will say in defence of the current administration that they did some good work in North Hamilton, in terms of repaving and things like that, which I hope has made residents feel they are being more included in the city's operation. But there are other areas of the city which are in dire need of repaving, resurfacing and sprucing up. I really like what they have done with Princess Street. For me, though, its only about one-third of the package. The majority of residences at the beginning of Princess, off Dundonald Street, are owned by the Bermuda Housing Corporation, and a number have been vacant for several years now. It seems a shame for what could be an iconic street to be left in an unfinished condition." Mr Gosling said that while Hamilton wasn't the first choice locale for the Americas Cup in 2017, "we need to make sure that at the minimum it is the second choice for ancillary activities. "A couple of positions are still being filled in the business and residents teams for the elections, and the 61-year-old businessman declined to give names. "We really wanted to do a proper unveiling closer to the nomination date." It was the Municipalities Act and fears of a Government takeover that prompted Mr Gosling's first campaign for mayor in 2009. Asked if he found it strange to have fought the winding-up of the Corporation of Hamilton by a Progressive Labour Party Government only to have the One Bermuda Alliance end up wresting control from an administration that had billed itself as populist Mr Gosling responded: "I find it incredibly ironic.". Michael Fahy, Minister of Home Affairs, has been left acting as a de facto mayor up until the election. On the question of taking back the Corporation's affairs if he were to regain City Hall, Mr Gosling said his administration had expressed willingness to work with the PLP government. "We would work with an OBA government in the same manner. This is where we get back to the point of good governance. I would hope that our administration, if elected, would prove by good governance that we would be able to recover a lot of those powers given over to Government." Asked about top priorities if elected, Mr Gosling said: "I don't know what's left in the pot. As another politician has said, we have got to look under the hood." A $1 million Democracy Trust that was put aside to protect the city's assets was dismantled by Team Hamilton, and Mr Gosling said he would be keen to learn what had become of those funds. "There are great concerns about the treatment of Hamilton's sewerage," he said. "We need to work with Government in terms of the reclaiming of the waterfront, so that clear ownership of that is established." He said the complaints over the current administrations conduct could be traced back to the businesses losing their vote in 2011. "Your right has been given back," he said. "If you want to complain then you've got to be willing to participate in fixing it. If not, then don't be surprised if and when it gets taken away sometime in the future. Now is your chance."
February 28. Gitanjali Gutierez has been appointed as Bermuda's first information commissioner. Government House made the announcement of the $180,000-a-year post that has been a work in progress for the past five years. The position of information commissioner was designated under section 50 of the Public Access to Information Act 2010 (PATI). Ms Gutierez, who has previously been senior staff attorney with the Centre for Constitutional Rights in the United States and has acted in a number of significant cases involving freedom of information, will take up her duties with effect on Monday ahead of the Act coming into force on April 1. Ms Gutierez has a distinguished record as a lawyer dealing with issues of public access to information in the US and, to some extent, the UK, Governor George Fergusson said. She has impressive experience of leading a team in complex areas of legal interpretation and public scrutiny. I am very pleased that she will be taking on this important and difficult role. The appointment was made after consultation with the Premier and the Leader of the Opposition. Ms Gutierez, who is married to a Bermudian and has lived on the Island since 2011, is a graduate of Bucknell University and Cornell Law School, where she has also served as an adjunct professor of law. Her legal career has focused particularly on civil rights issues. The PATI legislation allows the public to request information from publicly funded bodies. The information commissioner, who will initially be appointed for five years, is to start by assessing Bermudas readiness for PATI. She will also deal with appeals over requests that are turned down.

History & daily newspaper reports


Authored, researched, compiled and website-managed by Keith A. Forbes.
Multi-national © 2020. All Rights Reserved