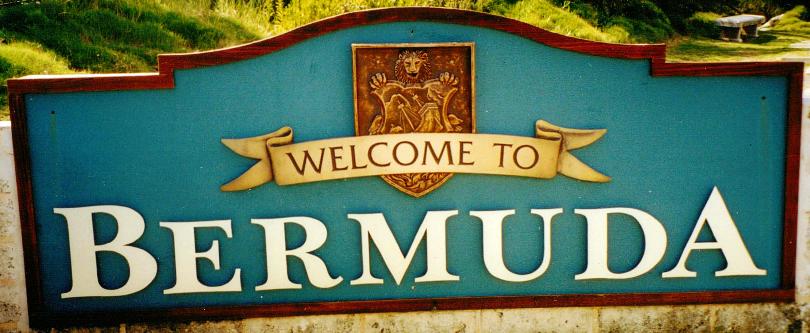 Click on graphic above to navigate the 165+ web files on this website, a regularly updated Gazetteer, an in-depth description of our island's internally self-governing British Overseas Territory 900 miles north of the Caribbean, 600 miles east of North Carolina, USA. With accommodation options, airlines, airport, actors, actresses, aviation, banks, beaches, Bermuda Dollar, Bermuda Government, Bermuda-incorporated businesses and companies including insurers and reinsurers, Bermudians, books and publications, bridges and causeway, charities, churches, citizenship by Status, City of Hamilton, commerce, communities, credit cards, cruise ships, cuisine, currency, disability accessibility, Devonshire Parish, districts, Dockyard, economy, education, employers, employment, environment, executorships, fauna, ferries, flora, former military bases, forts, gardens, geography, getting around, golf, guest houses, highways, history, historic properties, Hamilton, House of Assembly, housing, hotels, immigration, import duties, internet access, islands, laws, legal system and legislators, main roads, marriages, media, members of parliament, money, motor vehicles, municipalities, music and musicians, newcomers, newspaper, media, organizations, parks, parishes, Paget, Pembroke, performing artists, residents, pensions, political parties, postage stamps, public holidays, public transportation, railway trail, real estate, registries of aircraft and ships, religions, Royal Naval Dockyard, Sandys, senior citizens, Smith's, Somerset Village, Southampton, St. David's Island, St George's, Spanish Point, Spittal Pond, sports, taxes, telecommunications, time zone, traditions, tourism, Town of St. George, Tucker's Town, utilities, water sports, Warwick, weather, wildlife, work permits.

Bermuda's 2016 February History and News
Events that made the newspaper headlines in the second month of this current calendar year
By Keith Archibald Forbes (see About Us).

See end of this file for all of our many History files
Bermuda's Royal Gazette newspaper is not published on Sundays. February 2016 Sundays are 7, 14, 21 and 28.
February 29. Community minister Patricia Gordon-Pamplin has tabled draft legislation which would allow the creation of same-sex unions in Bermuda. The consultative legislation comes two weeks after legislation was tabled which would specify marriage being between a man and a woman. Ms Gordon-Pamplin told the House of Assembly that while the issue is an emotive one, recent Supreme Court rulings and the European Convention on Human Rights required that the Bermuda Government to act. "Before any decision was taken as a government, it was necessary to take steps to extensively research how various jurisdictions have sought to approach and reconcile this matter. We committed to sharing this information with our people and we have genuinely sought to hear from all sectors of the community on this issue and incorporate their views as we take the next step. I appreciate that as it relates to same-sex marriage and civil unions, the decisions are complex and difficult for many in our community." However, she said the bill was still in the consultative stage and discussions on the topic would continue, not ruling out the possibility of a referendum. Around an hour later, Premier Michael Dunkley announced that a referendum on the subject would be held. Shadow Minister of Finance David Burt challenged the government's lack of action following an earlier legal case, allowing unmarried and same-sex couples to jointly adopt, but Ms Gordon-Pamplin responded that consultations with stakeholders were made in the wake of that ruling.
February 29. XL Group is proposing to change the parent holding company's place of incorporation from Ireland to Bermuda. The company, which has had a presence in Bermuda since 1986, this morning announced that it proposes to change the parent holding company's place of incorporation to Bermuda. "Establishing our corporate home in Bermuda is a natural step for XL," said Michael McGavick, chief executive officer. "XL has had a presence in Bermuda since 1986, which grew significantly following the transformative transaction with Bermuda-based Catlin last year. A significant portion of XL's business, in fact our largest operating subsidiary, has for decades been located in Bermuda and regulated by the Bermuda Monetary Authority, a premier regulator of global insurance and reinsurance companies. Further the BMA's regulatory regime, and its expertise as an international financial regulator, has recently been acknowledged and endorsed with it being determined fully equivalent to Solvency II by the European Union's Commission, Parliament and Council. Following the Catlin transaction, and with the recent determination of full Solvency II equivalence for Bermuda, it has been concluded that the BMA is best situated to serve as XL's group-wide supervisor and to approve XL's internal capital model. This is a change that we believe will benefit XL's clients, partners, and shareholders alike." XL said it does not expect the re-domestication will have any material impact on its financial results, including the company's global effective tax rate. To effect the re-domestication, a Bermuda exempted company, XL Group Ltd, would replace XL Group plc as the ultimate holding company of the XL group of companies, and the company's ordinary shareholders would receive one common share of the new Bermuda company in exchange for each ordinary share of the Company held by them. XL expects to submit the proposal for re-domestication, along with related proposals, to its shareholders in the next several months and complete the transaction in the third quarter of 2016. The proposed re-domestication will be subject to receipt of necessary regulatory approvals, approval by ordinary shareholders, satisfaction of other conditions and sanctioning by the High Court of Ireland. XL will continue to be registered with the US Securities and Exchange Commission and be subject to SEC reporting requirements applicable to domestic registrants. The company's shares will continue to trade on the New York Stock Exchange under the ticker symbol XL
February 29. A 31-year-old man who broke into a woman's home at night and subjected her to a terrifying sex attack has been jailed for 25 years. Kijon Baker was masked and armed with a weapon when he walked into the victim's home in November 2014 and sexually assaulted her. On Friday, Baker was sentenced by Puisne Judge Carlisle Greaves to 25 years' imprisonment for serious sexual assault and eight years for aggravated burglary, to run concurrently. "A man's home is his castle and a woman's home is her castle," Mr Justice Greaves said. "She should not have to live in fear from ruthless, arrogant and soulless people like this defendant." Addressing Baker directly, he added: "The courts must stand firm at all times and protect our folk from predators like you." Justice Greaves said the victim must have endured unimaginable suffering as a result of the attack, which took place while both of her young children were sleeping in the bedroom. Previously a jury unanimously found Baker guilty of aggravated burglary and serious sexual assault. During a five-day trial in Supreme Court, jurors heard how Baker was arrested after DNA evidence linked him to the crime. When he was interviewed, Baker replied "no comment" to police questions, and although he denied the offences during the trial he did not take the stand to give evidence. At last Friday's sentencing hearing, Baker claimed he had suffered an injustice, and maintained he had done nothing wrong apart from cheat on his fiancée. During a ten-minute speech he told the court he had found a new purpose in life inside prison and was committed to Christ. Prosecutor Loxly Ricketts told the court the victim continued to suffer psychological issues as a result of the attack. He also pointed out that Baker had several previous convictions for burglary. His lawyer, Elizabeth Christopher, added: "This is a man who was at a very, very low point in his life. The year before he had lost his mother, his stepfather and his brother."
February 28. Land Rover BAR won the Louis Vuitton America's Cup World Series in Oman today. The British challenger held a four-point advantage over Oracle Team USA going into the final three races, with the points doubled, and did just enough to protect their lead and clinch a second victory on the 2015-16 World Series circuit. "Incredible comeback in all three races to win the first World Series event of 2016 — well done lads!" Land Rover BAR tweeted. Oracle, the America's Cup defender, finished two points behind in second, followed by overall World Series leaders Emirates Team New Zealand in third. Team New Zealand won today's first race, Oracle the second and Groupama Team France the third — the team's first of the 2015-16 World Series, which resumes in New York on May 7 and 8. Owing to technical difficulties, Bermuda Broadcasting Company was unable to air live television coverage of today's racing for local viewers.
February 28. Lieutenant-Colonel David Curley has taken over as commanding officer of the Royal Bermuda Regiment. He is replacing British Army career soldier Lieutenant-Colonel Michael Foster-Brown, who will return to a post with the Army in the UK. The sword of command was handed over during a ceremony at Warwick Camp on Saturday. Troops and guests in attendance included the Governor, George Fergusson, also the commander-in-chief of the regiment, and the Premier, Michael Dunkley. Colonel Curley told those assembled: "My vision for the Royal Bermuda Regiment is to continue to build and maintain an operationally effective military organization with the present missions and tasks and with the potential of an expanded marine role which will work closely in supporting the Bermuda Police Service." He said it had been a pleasure to take part in the first all-volunteer recruit camp in January and to see the trainee soldiers become the first to train exclusively with the new British Army-issue SA-80 rifles. Colonel Curley, the 16th commanding officer of the regiment, paid tribute to his predecessor for "his hard work and dedication to the Royal Bermuda Regiment for almost three years. He arrived, got stuck in and accomplished many feats during his tenure. I also take this opportunity to publicly thank him for steering me past the company command kingdom and having the utmost confidence and positive influence on me to take over command from him. The regiment is facing some interesting, challenging and busy times going forward, but it is well placed to seize the opportunities that lie ahead. All of us ultimately have a role to play in helping shape that future, whether it be as a currently serving soldier, policy maker, advisor, supportive employer, member of the public or an understanding spouse. I am very proud of all the men and women of all ranks within the Royal Bermuda Regiment." Colonel Foster-Brown, who will take up a post at the Joint Services Command headquarters at Northwood, near London, said the regiment's role in the back-to-back hurricanes of 2014 had underlined its importance to the island.
February 27. The Bermuda Public Service Union has contacted its members warning them it has not endorsed industrial action after receiving a communique from the Bermuda Trade Union Congress. The communique allegedly being disseminated asks workers to engage in work stoppages and sickouts on Monday. In a statement just released, a BPSU spokeswoman said: "The BPSU wishes to make it clear that it has not endorsed any actions which may be contrary to our members' conditions of employment. We have advised our membership that they are expected to report to work on Monday as normally required. In addition, the BPSU requests that persons cease forwarding the alleged communique." President of the Bermuda Industrial Union Chris Furbert said: "Like other unions who are members of the Bermuda Trade Union Congress (BTUC), the Bermuda Industrial Union has also been made aware of information that is circulating that there the BTUC has called for an island-wide work stoppage. As President of the Bermuda Industrial Union and the BTUC, I can assure members of the public that no such call has been made. All members of the BIU are requested to be at their posts on Monday, February 29, 2016 as normal."
February 27. The One Bermuda Alliance's legacy will be "the great Bermudian exodus", Shadow Minister of Finance David Burt told MPs in his Reply to the Budget yesterday. The OBA was accused of adding $1 billion to the island's debt and overseeing the loss of 2,266 jobs instead of delivering its promised 2,000 jobs. Controversial and "unilateral" immigration initiatives featured prominently in Mr Burt's address, in which he maintained that Bermudians had left the island because of a lack of jobs and opportunities. Mr Burt also addressed anxieties over a Progressive Labour Party administration undoing legislation put in place by the OBA, saying that a PLP Government would not reverse the Civil Service cuts put in place by the OBA. Stressing the need for bipartisan collaboration on immigration reform, he told the House that international investors "need to know that they have a stable platform on which to base their investment decisions. Immigration policy can change from government to government; we will not attract the long-term investment that we need if potential investors feel that the rules may change after an election," he said. In keeping with previous addresses, such as the Opposition's Vision 2025, Mr Burt emphasized the party's commitment to diversifying the island's economy to create jobs. Other measures include:
Streamlining the Civil Service through technology, management and measures such as performance-based pay for senior managers
Creating an Economic Diversification Unit, a Bermuda Fund for local investment, a Technology Incubator at Southside and developing high-tech financial services
Using government-owned Crown Corporations instead of privatization to make the Civil Service more efficient and bring in revenue
Investment in a "green economy" with renewable energy on government buildings, and hybrid and electric vehicles added to the government fleet.
The PLP continued to propose greater consumer protection over banking and money lending, while scrapping the middle school system and adding more engineering to the island's curriculum.
February 27. Shadow transport minister Lawrence Scott has blasted the Bermuda Government for "not including a single word about road safety" in its Budget Statement, describing the issue as a "national health crisis." Speaking in the House of Assembly last night as part of the Opposition's Reply to the Budget, Mr Scott said that in allocating $148,000 to road safety, the Government has dedicated $2.25 per person. "That is what our lives are worth to this government." Mr Scott pointed out that Bermudians were three times as likely to die on the roads as they were to die as a result of gang violence, saying it was safer to join a gang than to get where you were going. Last year, the One Bermuda Alliance announced the creation of a Road Safety Working Group to address perilous conditions on our roads. Grant Gibbons, the Minister of Economic Development, described Mr Scott's speech on the value of Bermudian lives as "nonsense", but the issue was not addressed further.
February 27. Two burglars attacked a senior early yesterday morning by beating him with a stick and causing serious leg injuries. Police responded to a report of a burglary in the Friswell's Hill area of Pembroke at about 3.25am. A spokesman said: "On police arrival, it was reported that two male suspects entered the home of the 63-year-old male victim and made demands for money. "A struggle between the victim and one of the suspects ensued, resulting in the victim being beaten with a stick, and the suspects making good their escape on foot." The victim was taken to King Edward VII Memorial Hospital and treated for what were described as serious leg injuries. The spokesman said the first suspect was about 5ft 10in with a slim build, and was wearing a dark hoodie. The second suspect was described only as having had a red hoodie. Police are urging anyone with information to contact them on 295-0011 or to call the confidential Crime Stoppers hotline on 800-8477.
February 27. A businessman has been jailed for trying to smuggle more than $400,000 worth of drugs into Bermuda by hiding heroin, crack and cannabis in a skintight body suit. Antoine Kent was caught red-handed after arriving at LF Wade International on a flight from New York on June 19 last year. Today at Supreme Court, Kent, 50, was jailed for six years after admitting three charges of importing drugs into Bermuda. The court heard that Kent had decided to bring in the drugs because his business was in financial dire straits and he needed the money. In his social inquiry report Kent said: "It happened in June. I had been asked so many times over the years. I had my business for 18 years. They caught me at a time when I was financially strapped and I agreed." He acknowledged he had embarrassed his mother and his family, and disappointed a lot of people. Kent had flown to New York on June 16 last year to collect the drugs. He flew back to Bermuda three days later and was stopped at customs after officers became suspicious that he was hiding something under his clothes. He was searched by customs officers who discovered several packages stuffed into a body suit under his clothes. Questioned, he told officers that the material in the packages were "weed". The drugs seized were later analyzed and found
February 26. The Louis Vuitton America's Cup World Series event held in October generated an estimated $8.6 million — some $6.9 million more than projected — in economic activity according to an impact study. Minister for Economic Development Grant Gibbons said that while he was optimistic the estimated impact for the 35th America's Cup event in 2017 would also produce higher-than- projected revenues, he said the disparity would not be as extreme due to Bermuda's "natural carrying capacity". The Economic Impact Analysis Report for the World Series was produced by a consultant seconded to the ACBDA by a local accounting firm and represents direct investment into the Bermuda economy. Approximately $6.1 million, or 70 per cent of the spend was generated from overseas sources.
February 26. The America's Cup village site will be handed over to the AC Event Authority five months ahead of schedule, MPs heard this morning. The infill in Dockyard's South Basin has taken in 310,000 cubic yards of material in the last few months, Grant Gibbons, the Minister of Economic Development, told the House of Assembly. Dr Gibbons said the reclamation project required a ship larger than any that navigated the South Basin before. The project is now going into its second phase with the installation of sheet pile walls. Twenty local companies were involved in the infill with the main contractor, Cashman Dredging and Marine Contracting. Sixty local workers were employed. "In addition, some 390 Bermudian workers have been gainfully employed in America's Cup related projects in Dockyard, valued at over $4.9 million," Dr Gibbons said. Team members for the event, now less than 500 days away, number roughly 160 on the island at present, with more than 170 family members. Since April 2015, Oracle, Artemis and Softbank Team Japan cumulatively spent more than $10.2 million on their team base operations.
February 26. The Singapore model for casino gaming adopted by the Bermuda Government in the 2014 Act will be amended to suit the island, the House of Assembly heard this morning. The updates came from Shawn Crockwell, the Minister of Tourism Development and Transport. Mr Crockwell said the Casino Gaming Commission is submitting suggestions to make the legislation more appropriate to the "social, cultural and economic realities of Bermuda". The amendments will be tabled "as expeditiously as possible", he said.
February 26. A long day for MPs lies in store at the House of Assembly today as the Progressive Labour Party delivers its Reply to the Budget. David Burt, the Shadow Minister of Finance, will respond to last week's Budget statement delivered by finance minister Bob Richards. Cole Simons, the One Bermuda Alliance whip, said that there was no legislation planned from the Government side, but that the debate could likely run into the small hours.
February 26. Minister of Home Affairs Michael Fahy has described the notion of Bermuda's proposed immigration reform opening the floodgates to foreigners as a "myth". The minister was speaking during a live interview on the government-owned TV station CITV hosted by Charles Webbe. The show, which opened up questions to the general public, focused on Senator Fahy's controversial proposal to grant permanent residency to those ordinarily resident in Bermuda for 15 years, and Bermuda status to those who have PRC status and are here for 20. Senator Fahy said that going by previous census data and other related data, he envisaged about 100 people would gain permanent residency or Bermudian status per year. "If it [the Bill] was to pass today you would have 683 people able to make an application for permanent residency and about 800 for status but that number is likely to be lower. We are talking far less than thousands; we are talking about people who are already here. In terms of numbers going forward, we believe it would be about 100 per year." Senator Fahy was joined by Attorney-General Trevor Moniz during the interview. Sylvan Richards, the Junior Minister of Home Affairs, was absent from the live chat because of family obligations. During the interview, Senator Fahy rubbished the idea communicated to him by race relations group Curb that the aim of the change in policy was merely to whiten the electorate. "That is complete and utter nonsense," Senator Fahy said. "It is sad indeed that anyone would make that allegation without a shred of evidence. We don't ask what race they are. I asked Curb would they accept it if all the applications were black. It shouldn't be on our agenda and it doesn't bother me which way they vote." Mr Moniz added: "We have been elected to stimulate the economy."
February 26. Sir John Swan says Bermuda has an urgent economic need to bring in more people from overseas and failure to lower immigration barriers in a carefully planned way will limit opportunities for the next generation. The former Premier was among an audience of prominent business people yesterday at HSBC's Harbourview building for a presentation of a business confidence survey. During the question-and-answer period, Sir John said that Bermuda had no raw materials or manufacturing to speak of and was a services-dominated, "people-on-people" economy. "The only way we are going to grow is to get people in. Immigration reforms had to go further to meet this need, because Bermuda's demographics pointed to an ageing and shrinking population, which would inevitably reduce demand for the service-providing businesses that drive the economy. We have kept Bermuda closed to Bermudians and we can't keep fighting this battle in the 21st century. We need to open up." After the meeting Sir John suggested that Bermuda needed to survey its own human resources and work out how many people the island needed to bring in and with what skill sets, in order to achieve economic growth.
February 26. The Human Rights Commission has expressed serious concern about a proposed legal amendment which will "undermine the integrity of the Human Rights Act". Community minister Patricia Gordon-Pamplin has pledged to change the law so that the Human Rights Act — which currently has primacy over all other legislation — could be trumped by the section of the Matrimonial Causes Act that says a marriage is void if the parties are not male and female. Responding in a statement today, the HRC said: "The Human Rights Commission is gravely concerned about the Government's Matrimonial Causes Amendment Act 2016, which includes a clause that undermines the integrity of the Human Rights Act 1981. "We remain firmly opposed to all amendments, as proposed by both the Government and members of the Opposition that seek to weaken our national human rights legislation. The proposed amendments serve to enshrine inequality, and in so doing continue to marginalize members of our community who have long been denied legal protections held by the majority. The commission has submitted its concerns to the honourable Members of Parliament. We wish to share our submission and urge members of the public who are opposed to legislating discrimination to contact their constituent representatives and implore them to challenge any and all legislation that serves to uphold inequality. We encourage you to exercise your right to advocate and make your concerns known to your elected representatives."
February 26. A new code for Crown counsel has been created for court prosecutors, the Department of Public Prosecutions (DPP) announced today. Director of the DPP, Rory Field, said the aim of the new code was to serve as an important tool for the Crown counsel in the department, as well as enhance the public's understanding of the job they do. "Prosecutors work for the public and in the public interest," said Mr Field. "Some of their work is done in open court and this often reaches a wider audience through the media. There are many ways in which individual members of the public may encounter prosecutors including as victims, witnesses, defendants or jurors trying the cases that prosecutors present in court. "Before cases reach a courtroom, however, prosecutors are occupied advising the police and making important decisions about whether people should be charged with criminal offences and, if so, what charges they should face. For obvious reasons, these aspects of their work cannot be done under the public gaze, but prosecutors should still try to explain what principles they apply when making these decisions and why. "In many countries around the world prosecutors have published codes that guide their conduct and structure their decision-making. Today Bermuda's own Department of Public Prosecutions does the same." The code is available on the DPP website via www.dpp.gov.bm.
February 26. The hoped-for sale of the defunct Grand Atlantic housing development in Warwick has not materialized, according to Craig Cannonier, the Minister of Public Works. A memorandum of understanding between Bermudiana Beach Resorts and the Bermuda Housing Corporation expired in March last year but was extended by the BHC because it was believed they were "close to closing on the deal", Mr Cannonier told the House of Assembly. The BHC is seeking now to put out a request for interest, the minister said, in response to questions from Progressive Labour Party MP Wayne Furbert. Mr Cannonier added that despite the MOU being extended, it was not easy to secure financing for hotel construction. "It was just another opportunity for us to put some sugar into this lemon situation," Mr Cannonier said.
February 26. The 34-year-old man who crashed his motorcycle into the Birdcage in Hamilton yesterday morning has died. At 1.22am, first responders attended a report of a single-vehicle accident, which occurred as the man was travelling west along Front Street at the junction with Queen Street. The man was taken to King Edward VII Memorial Hospital, where he was listed in very critical condition in the ICU. Police spokesman Dwayne Caines said. "Police are appealing for witnesses to contact them on 295-0011." Subsequent to that incident, the Bermuda Police Service have warned motorists to exercise great care when approaching the junction of The Lane and Harbour Road in Paget owing to a possible oil spill near the offices of the Bermuda Veterinary Service. The Department of Works and Engineering is sending a work crew to the area to assess and assist.
February 25. Canadian construction giant Aecon says it is "too early" to determine whether it will sell its stake in the company running Bermuda's new airport once the project has been completed. The firm spearheading Bermuda's airport redevelopment was due to operate the last airport it built until 2041, but it pulled out of the facility 26 years early after selling its shares. The $700 million Quito International Airport in Ecuador won awards after it was built by Aecon. But after agreeing to a 35-year concession term to first operate the capital city's old airport from 2006 and then the new airport after it opened in 2013, Aecon completed only nine years of the term before cashing in. In December last year, it completed the previously disclosed sale of its 45.5 per cent interest in the Quito International Airport concessionaire Quiport for $232.6 million to two other entities — a Colombian construction company and a Brazilian transportation firm. The deal ended Aecon's involvement with Quito airport and a spokeswoman for the company confirmed yesterday that it was no longer operating the airport. The company said in a statement on December 10 that the "monetisation of [its] investment [in Quiport] generates approximate net cash proceeds (after transaction costs and estimated cash taxes) of $195 million". An article appeared in Canada's National Post newspaper last summer when the sale was first agreed, headlined: "Aecon Group Inc finally sells Quito airport stake, and at a good price". The piece said Aecon had been "looking to dispose of the airport since it opened in 2013" and that the sale was responsible for "bolstering Aecon's balance sheet". Shadow transport minister Lawrence Scott raised the issue of the Quiport sale at a public meeting about Bermuda's airport last September, prompting Aecon Concessions president Steve Nackan to state that it was typical of such arrangements. He said Aecon had financed, built and constructed the new airport and it was now suited to "long-term institutional ownership. It is typical ... at this stage in an infrastructure project's life cycle to see investments transition from the originating project sponsor, developer and builder to long-term institutional investors, and this transition is generally perceived as a further marker of a successful development project," added Mr Nackan. He reiterated that yesterday, saying it was a natural occurrence for the developer to cash in its share in such a project within ten to 12 years. When Bermuda's new $250 million airport opens, projected to be in 2020, it will be run by Project Co, a special-purpose project company similar to Quiport, in which Aecon will have the largest stake. The concession term for Project Co to operate the airport is 30 years. The Aecon spokeswoman said the company's precise stake in Project Co was still to be decided, adding: "Aecon will remain responsible for developing the deal and Project Co leadership. [It's] too early to comment on when or if Aecon might sell and under what circumstances." A Bermuda Government spokesman told The Royal Gazette last September that any sale of Aecon's stake would require the Government's consent and it would give permission if the prospective new owner had the money, experience and expertise. The spokesman said: "Subject to certain very narrow exceptions, the current development agreement requires Aecon Construction Group to be the joint owner and lead shareholder of the company that will be operating the airport throughout the construction of the airport and, thereafter, Aecon Construction Group must control the airport operating company." We asked the Government this week to provide details of the exceptions but it has yet to do so.
NB: The deal between the Bermuda Government, the Canadian Commercial Corporation and Aecon will involve airport revenues going to a company set up to finance and build the facility, then operate it for the next 30 years. This special-purpose company, known as Project Co, will have Canadian construction firm Aecon as its lead investor but Aecon will not directly collect revenues raised by the airport. Such revenues — including departure taxes and a new airport improvement fee — will be ring-fenced so they can only be used for capital costs associated with the airport and for operations and maintenance. The Bermuda Government says Aecon will make its money from construction revenue, payment for management services and any return on its equity investment in the project as the majority shareholder of Project Co. The Royal Gazette asked the Ministry of Finance this week whether Project Co would have the power to raise airport fees over the 30-year concession term or whether that would remain the remit of the Government but we have yet to receive a response. When Aecon built Quito International Airport in Ecuador, the issue of who could profit from airport fees became a bone of contention. Aecon had a 45.5 per cent stake in the city's airport concession, through its stake in Quiport, a company set up to build and run the airport. Quiport had a 35-year concession contract to collect all revenues from airlines, passengers and retail concessions from Quito's airport but a 2009 ruling from Ecuador's constitutional court found that airport revenue belonged to the public and not private-sector companies. The court ruled that fees charged to airport users were taxes that could not be handled by a private company under the constitution, which was introduced in 2008, after Aecon struck its deal with the government. The dispute went to the International Centre for Settlement of Investment Disputes, but was resolved in 2011 without going to arbitration by that body.
February 25. A publicity campaign detailing the myriad problems of long-term Bermuda residents without status has been unveiled by the Ministry of Home Affairs. The flyers aim to put a human face on the Government's "Pathways to Status" initiative, which would allow people who have lived in Bermuda for 15 years to apply for permanent residency, and those who have PRC and have lived on the island for 20 years, to seek Bermudian status. The programme launched by Michael Fahy, Minister of Home Affairs, has proven controversial. Critics have argued that the new rules would further burden an already fiercely competitive job market, thereby making it even harder for native Bermudians to find work. Previous attempts by the One Bermuda Alliance publicly to explain the initiative have been sabotaged by chanting protesters, who have appeared at both the House of Assembly and at a meeting at the Cathedral of the Most Holy Trinity's hall. A protest march to "show dismay" is scheduled to take place today outside the Government Administration Building from noon. Launched yesterday, the Government's campaign features six people who live on the island explaining how their lack of status has affected them and their families.
February 25. A crowd of hundreds demonstrating against One Bermuda Alliance immigration initiatives came out to pack Parliament Street outside the Government Administration Building. However, Michael Fahy, the Minister of Home Affairs, insisted that yesterday's protesters had been mistaken about the policy's intent, saying: "I would march myself, if the campaign was accurate." The protest was called for noon on a Facebook site urging the public to voice their displeasure at the Pathways to Status programme aimed at giving permanent residency and Bermuda status to certain long-term residents. It was the largest and most vocal demonstration on the topic since crowds invaded the Senate in March 2015 demanding bipartisan dialogue on immigration reform. In both cases, Walton Brown of the Progressive Labour Party used social media to call for civil disobedience. Yesterday, Mr Brown said the public anger arose from "a real and genuine concern that what the Government is trying to do is to score votes for the next election". Crowds ranged from a maximum of 350 to 400, with some civil servants complaining they had been ordered to refrain from attending at all. As police looked on, chanting ranged from "Listen to the people", "Fahy must go", "Listen now or suffer later" and "It's time to fight back" to "Shut the country down". Many protesters also came forward to address the crowd. While some called for industrial action or more disruptive protests such as blocking roads, many told this newspaper they were incensed by preferential treatment of foreigners while Bermudians felt the brunt of unemployment. "I've got a daughter that has left with five children and three family members who have picked up and gone to the UK because of jobs," said one protester, Pattie Moore. Russell Richardson, a 69-year-old retired civil servant, said his sister, brother and three nieces had all been driven by employment to emigrate to Britain.
February 25. Bermuda's tax structure needs revamping sooner rather than later, Bermuda Industrial Union president Chris Furbert said in his appraisal of the latest Budget statement. Bob Richards, the Minister of Finance, acknowledged in last Friday's statement that the island's taxation regime placed a heavier burden on lower income employees, and called for a restructured payroll tax system to be implemented for the fiscal year 2017/18. "We always give credit where credit is due," Mr Furbert said in welcoming the changes. However, he pointed out that the union's call for a tax structured "based on one's ability to pay" went back to the days of his predecessor at the BIU, Ottiwell Simmons, who led the union from 1974 to 1996. A full assessment of the latest Budget will come out in a special edition of the BIU's publication Worker's Voice on Friday of next week. Mr Furbert said he found it "interesting" that the Ministry of Education had its budget reduced, in light of increases for the Department of Marine and Ports, the Department of Transport Control, and Public Transport, as well as an extra $1 million allocated to the Bermuda Tourism Authority, which will also receive higher revenues from increased hoteliers' fees. "If that is to pay for incentives, that would be a crime against humanity for the One Bermuda Alliance Government," he said. The union head further queried budgetary allocations for salaries, wages and employer overheads estimated at $465 million for the fiscal year ahead, versus an estimated $460 million for 2015/16 and revised figure of $452 million. Mr Furbert noted that the minister had said the latest Jobs Survey showed 298 fewer jobs reported, 225 of which were in the Government, adding: "Jobs have gone down by 225 but wages have gone up? How does that happen?" Mr Furbert criticised the Government's plans for a redeveloped terminal at LF Wade International Airport. While Mr Richards has praised the deal as bringing value for money, Mr Furbert said it would cost the country $1,000 per square foot to build, which represented an unfavorable deal.
February 25. The Bermuda Olympic Association has been assured that the threat of the Zika virus will not pose a threat to the safety of its athletes at this summer's Olympic Games in Rio. Along with all other National Olympic Committees, the BOA has received reassurances from the International Olympic Committee over health concerns stemming from the outbreak of the virus. The BOA said yesterday it was its intention to have Bermuda's qualifying athletes, which include sprinter Tre Houston, long jumper Tyrone Smith, sailor Cecilia Wollmann and triathlete Flora Duffy, competing at the Olympics. During the lead-up to the Olympics, the BOA also plans to consult with Bermuda's chief medical officer, the Government and the National Sports Governing Bodies for more advice and guidance.
February 25. A bid is being made to bring more jobs to Bermuda by boosting the presence of hedge funds. Island professionals are to combine to form a branch of the Alternative Investment Management Association to attract the hedge-fund sector back to Bermuda. Craig Bridgewater, a managing director at professional services company KPMG, is part of a committee set up to promote the association. He said a cocktail reception to publicize the organization will be held at the Bermuda National Gallery at City Hall on March 3.
February 25. Bermuda's economic recovery will accelerate this year, according to the latest projections by the Ministry of Finance. Gross domestic product, a measure of economic activity, will expand by between 2 and 3 per cent, the ministry estimates in The National Economic Report of Bermuda 2015. Final GDP figures have not been calculated for 2015, but the ministry estimated the economy grew between 1.5 per cent and 2.5 per cent last year. All growth estimates are adjusted for inflation. The ministry pins its hopes for growth on increasing confidence among consumers and investors amid promising developments in international business and tourism, as well as new jobs generated by major hotel projects and the airport redevelopment. And it sees the positive trend for the economy continuing beyond 2016. The report concludes: "Consistent with the above-mentioned broad trends and increased consumer and investor confidence, the Bermuda economy is predicted to have stable to strong growth in the next few years. The key assumption is that the local sectors with strong connections to global economies (tourism and international business) will improve their value propositions, thus increasing external demand for their services. Growth in domestic demand is assumed to be sustained by continued stimulation in local employment, particularly in the construction sector." The report recognizes the consolidation in the insurance industry that has cost jobs, as the sector also faces challenges from low investment returns and a soft reinsurance market. However, it adds that the European Commission's recommendation of Solvency II equivalence should benefit the island in the long term and enhance its financial stability.
February 25. Commissioners investigating how taxpayers' money was handled under the former Progressive Labour Party administration will hold proceedings in public as a "starting point." The appointment of commissioners was welcomed last night by the PLP, which reiterated its call for good governance legislation to be enacted. As the Commission of Inquiry's four-strong team was announced by Michael Dunkley, the Premier, yesterday, its chairman Sir Anthony Evans said he believed evidence should be heard in public. But the Bermuda Court of Appeal judge and former Chief Justice of the Dubai International Financial Centre Courts acknowledged there could be occasions when proceedings would be held in camera. "Having read the Auditor-General's report, which is the starting point for our inquiry, it will be essential to do a lot of preliminary work so we can identify the issues clearly," Sir Anthony said. "Then there will be public hearings, I imagine, of at least some of the evidence. The position on that, the Act and the terms of reference, will say that the inquiry will take place in public unless a special order is made for particular parts of it to be in private. Speaking for myself, the starting point is the proceedings should be in public, but of course one would have to consider very carefully any case where an application is made for the hearing to be held in private and whether there are reasons which make it proper to do that." Sir Anthony will be joined on the commission by former One Bermuda Alliance MP and lawyer John Barritt, businessman Kumi Bradshaw and businesswoman Fiona Luck. Mr Bradshaw, a certified business appraiser and business valuator accredited for litigation, is also the president of Firm Advisory Ltd, which provides clients with advice on making better business value decisions. Ms Luck served as executive vice-president and chief of staff at XL Group and is also a member of the Institute of Chartered Accountants of Scotland.
February 25. School closure plans are still not finalized and the consultation process remains open, the Ministry of Education has told The Royal Gazette. The announcement came after Gilbert Institute parents, teachers, children and supporters participated in a rally on Wednesday morning outside Modern Mart in Paget. They fear for the primary school's future, after it was earmarked for possible closure in the Government's recently released school reorganization (Score) report. During the demonstration, which took place from 8am, PTA secretary Suzanne DeCouto criticised the Government for its opaque decision-making process. "They haven't approached us, and we have no concrete idea exactly why they want to close the school," she said. "We'd like to know — have they found someone to buy the land?" Following the rally, a spokeswoman for the Ministry of Education sympathized with "the concerns expressed by parents and students at the Gilbert Institute School". She said: "It is important that everyone keeps in mind that a decision has not been made regarding school reorganization or school closures. "The Score report provides scenarios for consideration. The Minister of Education (Wayne Scott) appreciates the input, comments and ideas offered by all PTAs and encourages them to submit their concerns, questions and ideas to the Ministry during the consultation process, which ends on March 4." To contact the Ministry, call 278-3300 or visit www.moed.bm.
February 24. The $250 million redevelopment of Bermuda's airport is "not a done deal", according to the president of the Canadian construction firm leading the project. Steve Nackan, from Aecon Concessions, told The Royal Gazette this morning that though it would cost the island to pull out at this stage, it had the option to do so. "It's not a done deal," he said. "What we have agreed with the government is that this is an iterative development process. Iterative meaning we're taking it step by step, [to] various milestones. There was an initial stage of investigation and due diligence and an ability to sort of call it quits at that stage if we found anything that wasn't acceptable. And as we go we progress through a series of milestones where it's possible for the process to end. And of course if we don't reach final agreement on all the commercial terms, the project will not proceed so there are opportunities for both sides along the way to exit if things come up in the deal that are not acceptable. I won't get into the specific numbers but the agreement with Bermuda is that we are taking on the cost of developing the project. It's not insignificant. We're doing all the investigative studies, reports, traffic studies and so on and design, these are all things that are not wasted if the process terminates. They would be available to Bermuda to proceed with the project, or a version of the project, at some other time. And if they decide to walk away they would need to compensate us for having developed the project for their benefit." Mr Nackan declined to reveal how much Aecon has spent so far on the redevelopment scheme. The Bermuda Government struck a deal with the Canadian Commercial Corporation and its subcontractor Aecon in 2014 for them to finance the rebuilding of LF Wade International Airport in return for a contract to run the facility for 30 years and collect any revenue raised. The agreement has come under fire from critics who say the project should have been tendered but Finance Minister Bob Richards insists the sole source deal is the best for Bermuda. Mr Nackan said the idea behind a 2008 master plan drawn up under the previous administration was good but not economically viable. "That's why it's scaled down from the master plan before; it's right-sized, I would call it," he said of the new plan. "We've not cut it down too small. It is the right size for the current and expected passenger demand for the next ten years or more. Public debate is going to happen any time you are building an asset that's so important, strategically and in the national interest. It's very common for these kinds of projects to be used as a political football so we expect it, we are used to it and we have to deal with it through a very broad stakeholder engagement exercise."
February 24. A developer has unveiled plans to build a second executive condominium complex in west Hamilton. The announcement by West Hamilton Limited comes as the construction of Belvedere Residences, which started in March 2015, hit the 60 per cent complete mark. The property on Pitts Bay Road, across from the Waterloo House, is expected to be "substantially completed" in June 2016 "More than 100 persons have been employed since the inception of this project, of which 90 per cent are Bermudians," Harrichand Sukdeo, the CFO of West Hamilton Ltd, said. "At the conclusion of this project, the company has plans to construct a similar building and two additional levels of parking on site, which will provide employment for Bermudians for a longer period." Belvedere Residences is made up of seven two-bedroom and two one-bedroom condominiums, a full-size gymnasium with squash court. The building's large penthouse will accommodate the Offices of Qatar Reinsurance Company LLC, a recently incorporated Cat 4 company, while Courthouse Limited has leased the two lower floors to house the gym and a squash court.
February 24. The price of oil may have fallen worldwide, but for local consumers the cost of electricity will soon rise as a knock-on effect of the latest Budget. While motorists will pay a higher fee at the pumps, Belco's customers will also pay for more for Customs duty paid on fuel. Fuel is to take an extra duty of 5.5 cents per litre, starting in April. According to a spokeswoman for Ascendant Group, this means that a customer using 650 kilowatt hours per month can expect to pay $8.66 more on their monthly bill. The Customs Duty increase contained in the Government's 2016/2017 budget increases the Customs Duty portion of the total cost of fuel from $23.05 per barrel to $31.79 per barrel. This is slightly up from a similar hike added to the Budget last year. The move will be in keeping with the Government's continued need to boost its revenues for deficit elimination, as stated by Bob Richards, the Minister of Finance.
February 24. Funding for some proposed projects at Dockyard has fallen through, leaving Wedco looking for a new way forward. Joanna Cranfield, Wedco's business development manager, said that plans to erect two prefabricated buildings had been placed on hold due to funding issues. Meanwhile, funding to renovate several historical buildings, including the Bungalow, the Star of India and Moresby House, had similarly fallen through. "We are looking at other opportunities. We are looking at the possibility of doing it ourselves or finding funding. We realize the importance of it. We realize that area will be the backdrop of America's Cup, and it will be in every photograph from the event village. We are aware of it and we are doing everything we can to find a solution before the America's Cup." Ms Cranfield said Wedco had hoped to erect two prefabricated buildings near the Bungalow, stating that the materials for the building were imported as part of the plan to replace the ageing Victoria Row. "There were two extra houses that were never erected on the Victoria Park site. The plan was to put them up below the Bungalow on the water's edge," she said. The materials had been stored at the South Basin, but were moved to the former Fleet Club site due to America's Cup preparations. On the plan to renovate the historical buildings in the area, she said: "The plans had gone through planning and they have been approved, but at the end of the day the entity that came forward with the proposal has said they don't have the finances online." Despite the setbacks, Ms Cranfield said Wedco still remains optimistic that the work would be done before the America's Cup.
February 24. Dozens of protesters staged a demonstration against the potential closure of Gilbert Institute before school this morning. Passing motorists honked in support of parents, teachers, children and supporters of the school, who stood outside Modern Mart in Paget with banners carrying slogans such as "Save Our School" and "I Am Bermuda's Future". Gilbert Institute was one of four primary schools identified for possible closure in the recently released school reorganization (Score) report - along with Heron Bay Primary School, Prospect Primary School and St David's Primary School. Suzanne DeCouto, PTA secretary, told The Royal Gazette: "It's been amazing — the number of kids, alumni, community members, teachers and students who have come out to help us get the word out about how important our school is to us and the community." Gilbert Institute student Christopher Pitcher, 11, called the rally "excellent. Our school is the best school I have ever been to, and I love meeting my friends there. I would ask the Government to please think of the children, and all the adults. We've got to leave our schools open."
February 24. Three men have appeared in court after the shooting of a Bermudian-based reinsurance executive in his British home. Timothy Mardon, division president at ACE Tempest Re Bermuda, was seriously injured after men raided his house in Essex on February 6. Today Charlie Simms, 22, of Great Yeldham, Kalebh Shreeve, 23, of Halstead and Christopher Bergin, 27, of Halstead appeared at Colchester Magistrates' Court. According to the East Anglian Daily Times the trio were charged with aggravated burglary, causing grievous bodily harm with intent and possession of a firearm. All three men were remanded in custody to appear at Chelmsford Crown Court on March 23. Mr Mardon remains in hospital after undergoing surgery but may lose his leg.
February 24. A seminar that provided inside information on how to successfully respond to government tenders was attended by more than 30 people. It featured representatives from the Bermuda Housing Corporation, the Ministry of Public Works, and the Department of Public Lands and Buildings. The event was sponsored by the Bermuda Economic Development Corporation. Vicki Medeiros, property officer for the BHC, spoke about opportunities that exist for individuals. She advised that the corporation has more than 300 properties that it manages which require maintenance and that there are many opportunities to submit applications for these maintenance jobs. While Stephen Tucker, of the Ministry of Public Works, encouraged attendees to utilise the BEDC as a resource to assist with responding to tenders. He indicated that it is important to complete the bids correctly to increase chances of success. Sudell Joseph, senior estates surveyor for the Department of Public Lands and Buildings, talked about beach concessions and what is required when responding to a tender. She also discussed the various opportunities that exist for concessions relating to arable land as well as potential property for sale. The seminar was held at the Bermuda Industrial Union last Thursday. Erica Smith, executive director of the BEDC, said that one attendee had later commented: "As a result of attending this seminar I will check the BEDC website regularly for opportunities and would encourage others to do the same." For more information on this event and our upcoming seminars, contact the BEDC at info@BEDC.bm or visit the BEDC website at www.BEDC.bm.
February 24. An unemployed security guard has been left reeling by an "unbelievable" bill of more than $16,000 for three days in hospital. The 28-year-old was left with no choice but to admit himself to the Emergency Department after he was stricken with pneumonia. "I don't have insurance so they would know I am not working, so how do you expect me to pay $16,000? It's not possible," said the former patient, who asked not to be named.
February 23. John Wight, the Bermuda Chamber of Commerce president, yesterday backed a new tax on services unveiled in last week's Budget. Mr Wight said there was " a great deal of alignment" between Chamber members and Government on the Budget plans to tackle the island's debt crisis. He added: "Overall, it's a very sensible Budget and addressed the problems facing Bermuda. Addressing the Budget deficit is job number one for Government." Mr Wight was speaking at the annual Chamber of Commerce Budget breakfast, sponsored by PwC Bermuda, where Bob Richards, the Finance Minister, outlined his financial blueprint, which was unveiled in the House of Assembly last Friday. He said: "It's inconsistent and illogical for goods to be taxed but not services." But he added that Chamber members would want to see more detail on the new tax, but "in theory" the Chamber supported it.
February 23. The price of servicing the Island's debt will outstrip the cost of the country's most expensive ministry within two years unless action is taken, Bob Richards warned yesterday. Mr Richards, the finance minister, said that the debt service costs this year would be $187.4 million — just behind the $194.4 million expected to be spent on the Ministry of Health, Environment and Seniors this year. He told the Chamber of Commerce Budget breakfast: "If we don't do something about debt service, we will be swamped by debt and we won't be able to provide the services people expect Government to provide." Mr Richards said Government had cut both costs and the deficit. He told the audience of business leaders that he believed that the economy had returned to growth and that the recession, in strict economic terms, was over, while major projects like the redevelopment of the airport would also help drive Bermuda back to prosperity. And he said that increases in the payroll tax of 1 per cent for employers and 0.5 per cent for employees and a new general services tax, likely to be around 5 per cent, would be offset by a growing economy. Mr Richards said: "This is the time to do it and we are doing it as expeditiously as we can. We need to broaden the tax base. One thing that was clear during the recession was that relying on customs duty and payroll tax was too narrow. There is a lot more to Bermuda than people working and people consuming goods. We have to include a broader section of our economy in our income stream so we don't have to rely so much on these traditional forms of taxation. Notional tax rates — where some professions paid payroll tax on a notional level far lower than their real earnings — had been abused. The philosophy is to lower the rate and broaden the base. The bottom line is we're looking to do that, correct some of the anomalies with payroll tax, the lack of progressivity in it and the loopholes in it. Some of these notional tax rates haven't been revised for 20 years. We have people in professions who pay tax on $40,000 a year — that's not right." He said that Government had called in the Caribbean Regional Technical Assistance Centre and set up the Fiscal Responsibility Panel to look at ways of dealing with the country's debt problem. Mr Richards added: "Their findings and recommendations have shaped the policy we announced in this Budget cycle." He said that it had been recommended that Government should be "more aggressive" in terms of cutting costs. "The FRP really honed in on this problem and said this is the biggest threat to Bermuda and we need to fix it and fix it now. Government had to tread a line between boosting the economy and cutting debt levels and that the problem needed to be addressed in stages. Now was the time to address the deficit and bring it down to zero, so Government could then concentrate on reducing the country's debt burden. We are borrowing money to pay interest — we are paying interest on interest and it's because of this compounding factor the debt service is going up so quickly. That's got to stop and that only way to stop that is stop running a deficit." Mr Richards told the audience of business leaders that he believed that the economy had returned to growth and that the recession, in strict economic terms, was over, while major projects like the redevelopment of the airport would also help drive Bermuda back to prosperity. The Budget breakfast was sponsored by PwC Bermuda
February 23. A police officer is in line to receive more than $4 million in damages after he suffered chronic health problems from being exposed to toxic mould at Hamilton and Somerset police stations. Emmerson Donald has provisionally been awarded $2.5 million in lost earnings and $1.5 million for future medical expenses as a result of his condition on top of the $450,000 he has already been paid for "pain and suffering." The ruling by Chief Justice Ian Kawaley is believed to be the first case where substantial damages have been awarded in Bermuda for a mould injury case. Last month Mr Donald, 44, and his lawyer, Richard Horseman, took their claim to the Supreme Court after the Ministry of Works and Engineering admitted liability. In the ruling, the Chief Justice makes clear that both parties can still make further submissions about the total damages if they are not agreed on. He said: "The total award for loss of earnings, subject to any adjustments as may be advised by or agreed between counsel is: $97,713 (past earnings), $1,133,594 (Bermuda Police Service future) and $1,495,886 (less two years — second career). These amounts are based on figures calculated by the plaintiff's expert Mr Clingerman applying a discount rate, which was essentially agreed. Subject to the parties hopefully agreeing the adjustment required to give effect to a 13-year rather than a 15-year second career, the total award for loss of earnings is in the region of $2.5 million." The Chief Justice further ruled: "The total future medical expense award, assuming a life expectancy of 21 more years, is accordingly $1,120,000 for (kidney) transplant and dialysis, $346,978 for ongoing medical expenses and $105,000 for risk of additional serious illnesses, that totals $1,571,978." Mr Donald came to Bermuda in 2000 after seven years' experience with the Jamaican police service. The Supreme Court heard he was an "outstanding" officer with an exemplary record until he first fell ill with chronic renal failure in 2003. In a sworn statement Mr Donald said his "body and mind were broken down" and his "life was hijacked" by the illness.
February 23. A Bermudian mother has been hailed a hero after tending to a teenage shooting victim in a Florida hotel. Rebecca Madeiros was staying in the Holiday Inn Express & Suites St Petersburg North with her sons Jacob, nine, and Toby, seven, when gunfire broke out shortly after midnight on Sunday. Multiple families from the island were staying in the hotel that night, as youngsters from the Bermuda Gymnastics Association competed at the Gasparilla Classic event over the weekend. Mrs Madeiros, who works as a nurse, rushed into the hotel corridor to find victims Octavius Brown, 19, and Demetrius Crawford, 17, who had been shot in the upper body and hand respectively. A Royal Gazette source, who asked to remain anonymous, commended Mrs Maderios's calm thinking and quick actions amid the chaos — as she used her training to tend to one of the injured teens. "Rebecca heard the gunshots and then she heard screams for help. She jumped straight into action and pretty much saved this guy's life," the source said. "She administered first aid, stopped the bleeding and stayed there until paramedics came. It was pretty traumatic." It is understood that the shooting took place after an argument broke out at a birthday party. Police arrived at approximately 12.30am and are continuing their search for the suspect. Mr Brown was taken to the city's Bayfront Medical Centre, where police yesterday described his condition as critical but stable, while Mr Crawford was being treated for his hand injury at Northside Hospital. It is believed that one family from the island was staying in the room next door to where the violence broke out. Joann Lee, whose six-year-old son competes on the Bermuda Gymnastics Association, told local television network Bay News 9 that she initially believed the incident was children playing a prank. "There was lots of noise. You could hear kids running across the hallway and up and down the stairwell. It's a little scary, a little shocking coming from a foreign country and not getting used to this type of gun violence in the US." Competing at the Gasparilla Classic over the weekend, Bermuda's young gymnasts puts on an impressive show. The team of approximately 16 contestants, all aged 11 and under, recorded a number of first places in their individual division events, including Tristan Robinson (parallel bars), Toby Madeiros (vault), Christian Hanwell (vault) and Arman Newton (rings). Multiple medallists included Jordan Trimaichi and Jacon Madeiros.
February 22. Bermuda-incorporated Teekay Corporation swung to fourth-quarter net income of $38.2 million from the loss it reported in the same period a year earlier. The Bermuda-based company said it had net income of 52 cents per share. Earnings, adjusted for one-time gains and costs, came to 41 cents per share. The oil and gas shipper posted revenue of $663.8 million in the period. For the year, the company reported net income of $82.2 million, or $1.12 per share, swinging to a profit in the period. Revenue was reported as $2.33 billion. Teekay shares surged in response to the results, and closed the week at $7.58, up from $5.87 at the start of the trading week.
February 22. Rosewood Tucker's Point Hotel has been awarded the 2016 Forbes Travel Guide four-star award for the first time, the hotel reported this afternoon. Paul Telford, the managing director, called it a "great achievement" for the Island as well, as Rosewood Tucker's Point is the only property in Bermuda to get the accolade. "I am extremely proud of our team here at Rosewood Tucker's Point for winning this coveted award.
February 22. A pair of believed Bulgarian nationals have been charged with stealing from local banks. Chavda Bachev, 42, and Georgi Todorov, 41, both from Sofia, Bulgaria, appeared in Magistrate's Court this morning to face multiple theft charges. Both men were charged with stealing $4,500 from HSBC Bermuda, $4,100 from the Bank of Butterfield and $11,300 from Clarien Bank in incidents which occurred between February 11 and February 14. They are further charged with attempting to steal $12,000, $13,060 and $12,000 from the same respective banks during the same period. Mr Bachev and Mr Todorov were charged with possessing $10,331 and $9,500 representing the proceeds of criminal activity respectively, while they were charged separately with attempting to conceal or transfer $900 of illegally obtained funds. Neither man was required to enter a plea as the charges must be heard by the Supreme Court. Magistrate Khamisi Tokunbo remanded both men into custody pending trial. They are expected to appear before the Supreme Court for the matter in April.
February 22. The future of the Salvation Army is in doubt after its government funding was slashed by $50,000. Divisional commander Major Frank Pittman told The Royal Gazette that another cut meant the organization would have to make some changes to how it was run. "We have to evaluate where we are and seriously consider how we go forward," Major Pittman said. "I'm not sure where this takes our future. Right now I'm spending more money than I'm bringing in — I can't keep doing that. We have to make some changes in how we run." The Salvation Army is given two grants in the Budget: the first, a contribution from the Department of Financial Assistance towards its shelters, has been cut from $450,000 to $400,000. A second grant of $100,000 from the Department of National Drug Control goes toward the rehabilitation and addiction programmes run by the Salvation Army. This was cut last year but later reinstated and the figure has remained the same this year.
February 22. A new marble gravestone was unveiled on Saturday at the annual commemorative service for Midshipman Richard Sutherland Dale. The ceremony marked the continuation of an 80-year tradition and the 201st anniversary of the death of Midshipman Dale — the last victim of the War of 1812. "This year was extra special as the new marble gravestone was unveiled," Gillian Outerbridge, secretary of The Friends of St Peter's Church, said. "The original is preserved beneath the new stone, which was created by Island Memorials." Ms Outerbridge explained that retired United States Navy Captain John Rodgaard saw the deterioration of Midshipman Dale's tombstone on a recent visit to Bermuda. He enlisted the support of retired US Navy Captain Vance Morrison, and the US Naval Order, of which both men are members, made a generous donation to The Friends of St Peter's for a replica of the gravestone. "TS Admiral Somers Sea Cadets played an integral part of the unveiling ceremony, having been instructed in the traditional manner of folding a ceremonial US flag," Ms Outerbridge added. Wreaths were laid by Governor George Fergusson, Linda Rosalik, who represented the US Consul, and Reverend Erskine Simmons, the chairman of The Friends of St Peter's Church. A special wreath was also sent by Louise Hall Reider, descendant of Scarritt Adams, the originator of the ceremony. Midshipman Dale died in St George's from wounds incurred in a marine battle during the War of 1812 on February 23, 1815. Eighty-one years ago this month, US Navy Ensign Scarritt Adams arranged for flowers to be placed on the grave and for many years the US Military commemorated Midshipman Dale on the anniversary of his death. This ended when the US Marines left their Bermuda base. However, the tradition was adopted by The Friends of St Peter's Church, who now gather every year at Midshipman Dale's gravestone.
February 22. A cut in the budget for the Bermuda Health Council means it will have to juggle priorities, the new CEO said at the weekend. Tawanna Wedderburn said "creative solutions" were needed so the BHeC can continue to manage growing demands with tighter resources. The BHeC budget has been cut by $42,000 to $800,000 for the new financial year. "The Health Council's budget has been cut by 5 per cent like other entities funded by Government," said Ms Wedderburn. "However, health spending continues to grow, now representing 12 per cent of gross domestic product. The Health Council's ability to meet demands that a growing health system requires is now impacted by a reduction in the resources needed to adequately address these issues. This demands more creative solutions while protecting each resident's right to health." The BHeC, which is funded by a Ministry of Health grant and a Mutual Reinsurance Fund Transfer, has seen its government funding cut by $42,000.
February 22. A group opposed to same-sex marriage has removed an online appeal for campaign funds after a request from the Charities Commission. Preserve Marriage was seeking donations on its website to "succeed" in its "mandate to preserve marriage in our country". The group, which registered as a limited liability company on December 29 last year, gave a Butterfield bank account number into which people could deposit funds. The appeal was brought to the attention of the Charity Commissioners, as well as Registrar General Aubrey Pennyman, by members of the public concerned it was in breach of the Charities Act 2014, which limits fundraising activities to registered charities. A spokeswoman for the Ministry of Home Affairs said: "The Charities Commission considered the matter of Preserve Marriage soliciting funds from the public. It was the commissioners' view that, as Preserve Marriage was neither a registered charity nor did it have a temporary fundraising licence, the group could not solicit funds from the public. The Charities Commission communicated this view to the principals who accepted the concerns raised and have acted accordingly." Preserve Marriage chairman Melvyn Bassett told this newspaper: "It was pulled and it has been corrected." He said some money was raised internally among members, but he did not think any donations were received via the website. Dr Bassett said the majority of the group's funding came from churches, along with individual donations from members. The online appeal said any donations would be an investment towards:
preserving marriage between men and women "because children need both a mom and dad";
ensuring a few do not decide for the many; and
ensuring the public knows the truth about this debate.
This newspaper has obtained a list of Preserve Marriage's board of directors and officers, as well as its limited members register. Former school principal Dr Bassett is a director, along with deputy chairman Gary Simons, from Cornerstone Bible Fellowship, and treasurer Mark Hall, from Word of Life Fellowship. Lawyer Kyle Masters is the secretary. The register of members lists two others: Joseph Furbert, also from Cornerstone, and Noel Pearman.
February 20. Fuel prices have been raised in the Budget for the second year, meaning that come April the price of gasoline will have been hiked 13 cents per litre in just over a year. The duty on fuel, which went up by five cents in last year's Budget, acquired an additional eight cents per litre, with 5.5 cents for fuel imported by Belco. Bob Richards, the Minister of Finance, said the increases stood to yield an extra Customs revenue of $11.7 million, which will boost deficit reductions and support government services. But the news was poorly received by taxi operators, some of whom said it effectively cancelled out any gains from the fares increase approved by Parliament for May 2014. "That's going to take its toll," said Calvin Dill of the Triple D taxi service. "I see this having a serious impact on our business." Mr Dill said he had been able to maintain steady business through the last year but had not seen the taxi industry pick up much. "Anything going up for taxis is too much," said operator Roger Vanderpool, who was prepared to wait for the implementation of the higher duty before assessing its impact. One Hamilton driver said that even with the many taxis using diesel, which lowered fuel costs, the increase stood to override any benefits of the rate increase. "This is just going to eat it up," he said. "That's going to hurt when it comes into effect. For me, last summer was a little better than the previous and I'm anticipating this summer to be better. There's been an opportunity to recoup some money and now we get this additional expense." Another driver nearby said that the industry "might be picking up, but not for me" and said the hike stood to "hurt my pockets even more. A third taxi operator said: "It's not picking up. If gas is going up then your pockets are getting that much lower. That rate increase was absorbed within that same year. It's two steps forward, three steps back."
February 20. More than $1.8 billion will be spent from public and private funds in infrastructure projects over the next five years, according to the 2016-17 Budget statement. Among the items listed in the statement are the controversial $250 million airport redevelopment, $100 million for the Causeway and $1 billion for the Morgan's Point resort project. Bob Richards, the Minister of Finance, said: "Government's two-track strategy not only requires the controlling of government spending, but also the stimulation of economic activity. It would be easy for Government to simply borrow money to fund infrastructure projects, as in the past. "However, under the present debt conditions, such a strategy would not be prudent. Most of these items would not be financed from public debt. As these projects become reality they will provide the local economy, and the local job market in particular, with the stimulus needed to expand jobs and income." A host of other projects were listed in the statement, including $40 million for the America's Cup village and $50 million for other America's Cup infrastructure. In addition to Morgan's Point, several hotel projects were listed, including the $40 million redevelopment of the Ariel Sands Hotel, the $50 million Pink Beach Hotel redevelopment, $100 million for further work at the Hamilton Princess and $150 million for the new St George's hotel project. Smaller figures were included for the restoration of the Swing Bridge in St George's ($20 million), casino build-outs ($10 million) and work on King's Wharf ($3 million). A solar farm, which has been proposed for an unused finger of land at the LF Wade International Airport, was listed with a cost of $20 million, while the Belco LNG build-out will cost $50 million. Several projects were listed without value, including the redevelopment of the Grand Atlantic complex as a tourism site, the redevelopment of the Hamilton waterfront and the development of Marginal Wharf in St David's. "They represent ideas that have not been sufficiently fleshed out, so they have been assigned a value of zero," Mr Richards said. "However, once further developed, they could be very significant in value."
February 20. Update of piece re payroll tax and more published February 19. Salaries and wages will be hit after an increase in payroll tax and motorists will have to fork out more at the pumps after Bob Richards, the Minister of Finance, unveiled his Budget statement in the House of Assembly yesterday.
February 20. Bermuda Chamber of Commerce businesses said they welcomed the Budget yesterday, but warned that Bermuda's finances will take time to improve. John Wight, president of the Chamber of Commerce, singled out continued effort to reduce the deficit and advance warning of changes to the tax system to ease the burden on lower earners as significant. Mr Wight said: "The business community appreciates the approach of giving a long notice period regarding tax reform changes that businesses will need to plan for. We also strongly encourage Government to engage stakeholders as part of a collaborative and consultative process before these changes are implemented." Payroll tax, scheduled for major reform in the next year, went up 1 per cent to 15.5 per cent, with the employee contribution going up 0.5 per cent to 6 per cent. Mr Richards also announced a new general services tax, set at 5 per cent. But Mr Richards said that the entire payroll tax system would be overhauled for the next financial year and structured in a more progressive way to benefit lower-income earners. Mr Richards added that the goods-based tax system was also due an overhaul, with changes to customs duties structures and the inclusion of a services sales tax, which could be implemented as early as the start of the 2017-18 tax year and raise $50 million a year. He explained: "In order to broaden the tax base, a new services sales tax, the General Services Tax, will be levied on turnover from the provision of most services by service to the public." But Mr Richards said that the new tax would exclude banking, insurance and healthcare, as well as small service providers.
February 20. Bermuda's international business chiefs said they would swallow increased taxes if the Government continued to cut its costs and pushed ahead with reforms in the public service. Insiders added that the sector wanted to see the Government live up to its pledges to make the Civil Service more accountable, close loopholes in the payroll tax system and ensure better collection. The Budget increased payroll tax by 1 per cent to 15.5 per cent and imposed a new 5 per cent services tax, the General Services Tax, to take effect as early as next year. The employee part of payroll tax will rise by 0.5 per cent to 6 per cent as a result of the increase. Mr Richards said the payroll tax hikes were temporary as the entire system was under review to make it more progressive and ease the burden on lower-income workers.
February 20. Government spending figures for the fiscal year ahead show a $7.3 million drop, reflecting the shift of the Department of Civil Aviation into a quango. The move had been announced last month by Shawn Crockwell, the Minister of Tourism Development and Transport, to make the organization more adaptable and "nimble" in response to market changes. It was budgeted $9 million for the 2015-16 fiscal year, revised to $7.2 million, with no spending allocated for the coming financial year. A similar move occurred for the Department of Maritime Administration, also made into a quango. Both are hoped to grow their respective registries of aircraft and shipping. Further details on changes entailed in the conversation are to emerge during the coming Budget debates in the House of Assembly, according to Thomas Dunstan, the department's director.
February 20. After a $6 million overspend on last year's financial assistance allocation, the Bermuda Government has significantly upped its initial estimate for 2016-17. Finance minister Bob Richards unveiled his Budget yesterday, setting aside $50.1 million towards financial assistance for the coming fiscal year. This is a large increase on the 2015-16 figure of $46.1 million, which was revised to $52.1 million owing to Bermuda's widespread financial difficulties. It represents the continuation of an escalation of spending on financial assistance, with the figure consistently growing since $22.6 million was spent in 2008-09 (see graphic). Charity figureheads tentatively applauded the Government's acknowledgement that more Bermudians needed monetary support than it first realized.
February 20. The budget for the Bermuda Police Service has been increased marginally by Bob Richards, the finance minister, for the next financial year. For 2015-16, the police budget was initially set at $64,423,000, but that forecast has been revised to $64,487,000. Expenditure has been increased by $172,000 to $64,595,000. The small increase in government funding comes after a year of upheaval in the force when the Commissioner of Police, Michael DeSilva, announced a handful of redundancies. Mr DeSilva has not ruled out the possibility of more officers not having their contract renewed in the coming financial year. Police have also cut their overtime spending by more than a half over the past five years to reach budget targets. Meanwhile, the Bermuda Government and the Bermuda Police Association have been at loggerheads over budget negotiations since last year, with matters coming to a head in December, when about 100 police officers amassed on Cabinet grounds to present complaints to the Premier. According to the Government's budget booklet over $46 million of the $64.5 million is expected to be paid out in salaries in 2016-17 financial year. Employee numbers within the force in all departments is expected to go from 535 in 2015-16 to 529 in 2016-17, including an increase of two from 442 to 444 in the Commissioner's Office.
February 20. The budget for the Ministry of Education has been reduced by $2.23 million for the financial year ahead. Projected spending on education for 2016 to 2017 is $124.9 million, less than the forecast for the previous year according to the 2016 budget delivered yesterday morning by finance minister Bob Richards. This year's forecast is much closer to last year's actual expenditure of $124,827,000. Bermuda College saw its forecast dip by close to half a million dollars from $16,008,000 to $15,528,000. Expenses on school consolidation went from zero in 2014-15 to $1.22 million last year. The forecast for this is close to double that figure at $2,287,000 as the ministry seeks to close and consolidate public primary schools as part of its school reorganization plan. Mike Charles, the general secretary of the Bermuda Union of Teachers, said cutting the education budget further "is not getting us anywhere".
February 20. The Bermuda Government's move to hike up payroll tax has been branded "baffling" by the Bermuda Public Services Union, as the tax regime is already tilted against lower income workers. Bob Richards, the Minister of Finance, conceded the imbalance during his Budget statement, noting that the island's tax arrangements did not vary in accordance with workers' ability to pay. Mr Richards said reforms were being considered, with the aim of having a restructured payroll tax system implemented in the 2017-18 fiscal year. "The current structure takes little or no account of the ability to pay of employers or their employees," the minister told MPs, saying that the payroll tax system has changed little in 20 years. It therefore puts a heavier relative tax burden on lower income employees." Jason Hayward, the BPSU president and treasurer, said the union welcomed reforms that would render the tax structure more progressive. We support the minister's view that the current structure takes little or no account of an employee's ability to pay placing a heavier tax burden on lower income employees. As a result, it is baffling how the minister can acknowledge that the current tax structure places a heavier tax burden on lower-income employees and then turn around and increase payroll tax on those very same individuals. There's no doubt that the wages and salaries of workers are continuously eroded by increases in taxes and the prices of goods and services." At present, payroll taxes are paid by employers at rates of up to 14.5 per cent of the remuneration paid to staff. Up to 5.5 per cent of that tax can be recovered by the employer from workers. The rise will mean that the average payroll tax revenue per employed person will be $10,651, up from $10,121 last year. The corresponding figure for 2005 was $6,350, and it has risen steadily since, except for a brief jump to $11,312 in 2011, reflecting a 2 per cent rise from Paula Cox, then the finance minister, which was reversed after one year. Yesterday, Mr Richards cited the immediate requirement for the Government to reduce the island's deficit, telling Parliament that the standard rate would rise by 1 per cent to 15.5 per cent, with a similar 1 per cent increase for "most other tax rate categories". The rate of tax recoverable from employees will consequently be set at 6 per cent. In addition, the Budget came with a continued removal of payroll tax concessions — begun in last year's Budget, and said by Mr Richards to continue for the next two years. The news would have been unwelcome to hotels, restaurants and retailers who were bailed out during the tough years of the recession. However, Mr Hayward said that taking back the payroll tax breaks should target companies according to their ability to pay instead of using "an across the board approach." The BPSU, he said, "would have also liked to have seen retailers, hotels and restaurants that have the ability to pay the full payroll tax rates returned to paying the same levels as everyone else". The union will "continually" call for a fair tax system, he added. "It seems like rich Bermudians, who inherit wealth or receive a large amount of the income from investments continually get a pass. Generally, the Government's fiscal position is heading in the right direction. However, the average person may feel it is at their expense."
February 20. The message in the Budget with regards to Bermuda's dwindling population was clear — "we need growth to grow opportunity." During his Budget speech, Minister of Finance Bob Richards said that the island's immigration "doctrine" dates back to when Bermuda was "bursting at the seams" with baby boomers. "Fast forward to today," he continued, "the demographics have reversed, but the doctrine hasn't. Today, we need to encourage people to come here to live, to grow the population, to grow consumer spending, to grow earnings of foreign capital, to grow the tax base, to live in our vacant houses, and thereby grow opportunities for Bermudians. The more people who are resident on the island, the greater those aggregates will be and the greater the scope for personal opportunity." The minister's remarks pointed to the One Bermuda Alliance's controversial Pathways to Status initiative that has sparked outrage from sections of the community. If the policy is adopted, those who have lived in Bermuda for 15 years could apply for permanent residency, and those who have a permanent residency certificate, having lived on the island for 20 years, could seek Bermudian status. This week, protesters chanting "no, no, no" and "no to OBA immigration reform", shut down home affairs minister Michael Fahy's meeting on immigration reform on Wednesday evening. Protesters also staged a demonstration at the first sitting of the House of Assembly of the year, on February 12. The demonstrations followed a call for "civil disobedience" by former shadow immigration minister Walton Brown in face of the announcement of the OBA's proposals. Many believe granting permanent residency and Bermudian status to long-term residents could create unfair competition for born Bermudians in the job market. The OBA has also been criticised for its lack of a bipartisan approach to drawing up policy. Mr Richards likened the need to update immigration policy, as well as any laws and policies, to the need to update the ios (operating systems) on your iPhone saying: "They need to be updated or else they will no longer serve the purpose of today's users. We need to update our immigration policy to better serve Bermudians today and tomorrow. This is the reality and logic behind the Government's new Pathways to Status initiative."
February 20. Bob Richards yesterday spelt out the danger to the country of failing to tackle the Government's debt mountain, while announcing an annual budget that will add to it. The finance minister said the debt burden "undermines our ability to support the needs of the Bermudian people", as he revealed that debt-servicing costs alone in the year ahead would total more than $187 million — not far short of the total spent on health, seniors and the environment, the largest ministry. The gross debt outstanding at March 31, 2017 is projected to be $2.44 billion — equivalent to about $49,000 per Bermudian. "There is no doubt that the biggest threat to the future prospects of the way of life we enjoy in Bermuda today is the problem of the government deficit and public debt," Mr Richards told MPs in the House of Assembly yesterday. If left unchecked, it threatens the job security of Bermudians in both the public and private sectors. It threatens seniors, whose pension incomes come from the Government. It threatens the quality of healthcare received by Bermuda residents, as very substantial government subsidies support the hospital. It threatens those on financial assistance, a government-funded support service. And finally it threatens our children who depend on public education." Mr Richards's budget lays out plans for spending exceeding revenue by $199 million. This deficit is lower than the $212 million shortfall in the current fiscal year, which ends on March 31. However, it makes limited progress towards the stated aim of eliminating the deficit by 2019. Increases in payroll tax, fuel duty and fees for many government services will boost revenue by 7 per cent to $996.3 million. However, spending will increase by 1 per cent, fuelled by rising debt-servicing costs. Before debt servicing and capital spending, Government's current account will have a surplus of $75.2 million. The Government will need to borrow an additional $150 million in the 2016-17 fiscal year to fund itself. "Debt service has become the second-largest 'ministry' in Government," Mr Richards said.
February 20. Finance minister Bob Richards warned yesterday that an international crackdown on offshore jurisdictions could wreck the economies of the developed world. The stark warning came in the Budget speech as Mr Richards said that an attempt spearheaded by the Organisation for Economic Development and Co-operation to increase its tax revenues by clawing back offshore money could backfire. He told the House of Assembly: "The irony of all this is that if the OECD eventually gets what it wants, the consequences will likely be catastrophic to the very same economies they represent. If these trillions of dollars of allegedly unpaid taxes are actually collected, multinationals — the very engines that create all these jobs and wealth across the globe — will be severely damaged. Corporate earnings will plunge, stock prices will collapse, unemployment will soar and pension funds that depend on those stock prices will become impaired." And he predicted, if companies are forced out of legal schemes to avoid tax, the world would face a global recession that would dwarf the crash of 2008. Mr Richards said: "Bermuda will be sucked down that vortex. This is a classic case of having to be careful what you wish for." He added that Bermuda continued to remain in the sights of leading OECD nations, with an increasingly hostile regulatory and tax environment. And he said: "High-tax European nations, seeking even higher tax revenues, have targeted multinational corporations doing business in their respective countries. This initiative has been spearheaded by the OECD. Their principal targets are large US multinationals that have historically used the international network of double taxation treaties to minimize their overall tax burden." Mr Richards explained that the OECD had launched the base erosion profit-shifting drive to implement a new arrangement tied to transfer pricing practice through country-by-country reporting. He said the new model would require multinational businesses to report to every country it does business in to show how much business it has in that and other countries.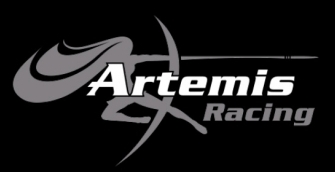 February 20. Bermuda's Flora Duffy started the season in style by winning her third straight Xterra South African Championship in Grabouw, Western Cape, today. The two-times Xterra World Champion, who has all but qualified for this summer's Olympic Games in Rio, finished the 1.5km swim, 28km mountain bike and 12.5km trail run in a time of 2hr 39min 8sec.
February 20. Bertram Guishard, a prominent educator who was influential in the founding of the Bermuda College, has died at the age of 87. Mr Guishard, a former dean of the college's Faculty of Arts and Science, taught at every level of the island's school system over the course of his 49-year career. The son of Alwyn Guishard and Ina Lennon, who were from St Kitts, Mr Guishard followed family tradition with his career in education. His father served as principal at East End School, followed by Southampton Glebe. Mr Guishard went into teaching after graduating from the Berkeley Institute, where he also took a school prize for maths. He won a scholarship to attend McGill University in 1945 and supported his studies through odd jobs that included beekeeping and jewellery. Mr Guishard was awarded a teacher training scholarship in 1951, earning further qualifications at London University and the University of Ottawa. He taught at East End School and became principal of St David's School in 1953, followed by Harrington Sound School from 1955 to 1963. He married Juanita Furbert in 1955. Mr Guishard maintained a lifelong interest in Bermudian education, later recalling his advocacy for getting training programmes in place when the college was first established. Previously he had taught at the Bermuda Technical Institute, starting in 1963 and bearing witness to the racial integration of the island's educational system. He became head of business studies at "Tech" and later served as deputy head and then head of the Bermuda College's Department of Commerce and Technology, followed by head of the general studies department, before he was appointed dean. He retired in 1993. In addition, Mr Guishard served as secretary and then vice-chairman of the Berkeley Education Society. Mr Guishard was a life member of the Bermuda Union of Teachers, having joined its predecessor organization in 1944. He was also a life member of the Royal Society of Arts and, since 2003, an elder of the Presbyterian Church of Scotland, Christ Church, Warwick. He was also a frequent letter writer to The Royal Gazette. His final letter is featured today. Funeral arrangements will be announced.
February 19. David Burt, the Shadow Minister of Finance, has said that local businesses will end up closing as a result of the tax increases contained in the latest Budget. Mr Burt spoke shortly after the conclusion of the 2016/17 Budget statement by Bob Richards, the Minister of Finance. "We are going to see some businesses that will go out of business because they cannot afford the tax burden," Mr Burt said. "We are going to see increased strain on families as all families will now be taking home less money in an environment where the cost of living is increasing. We have also seen the minister increase the price of gasoline in the country. These are things that are adversely affecting the people of this country. With the lack of attention paid to economic diversification, with the continued loss of jobs that the Minister of Finance has presided over, the people are being made to pay for his poor management of the economy and his lack of attention to economic growth." Mr Burt also noted the topic of economic diversification was not mentioned once in the statement given by Mr Richards despite years of urging by the Progressive Labour Party. "For going on three years now the OBA has refused to diversify the economy, shown a lack of vision for the future of this country, and now the people of this country are going to be made to pay for their lack of action on economic diversification and economic growth with increased taxes, which will cause increased pain," he said. "We agree with the Minister of Finance that the budget has to be balanced, but the lack of attention to the growth of the economy, the lack of investment that has been given to tourism and the ineffective use that given to the Bermuda Tourism Authority has resulted in the lowest air arrivals in 49 years and employment falling again this year. The PLP will present an alternative vision for this country. As we saw in the bye-election that happened in constituency 13, the people of this country have grown tired of the One Bermuda Alliance and they deserve an alternative vision that they can believe in, that they can understand will provide the security and the pathways to Bermudian success that the Bermudians of this country deserve."
February 19. David Burt, as Leader of the Opposition, referred to Charles Dickens's A Tale of Two Cities to present a parallel to his "A Tale of Two Bermudas" in his Reply to the Throne Speech. He said: "While one Bermuda enjoys wealth, privilege and security, the other Bermuda is living from paycheque to paycheque — if they are fortunate enough even to be collecting a paycheque. In one Bermuda, jobs for non-Bermudians are growing, while in the other Bermuda, Bermudian jobs continue to be lost and Bermudian businesses continue to close their doors. In one Bermuda, permanent residents enjoy full employment, while in the other Bermuda, Bermudian unemployment continues at unacceptable levels. In one Bermuda, the quality of our children's education is determined by how much money their parents have, while in the other Bermuda, students attend schools without wireless internet and where the infrastructure is substandard. In one Bermuda, the elite and the privileged enjoy their golden years, secure in the knowledge that their children's future is itself secure, while in the other Bermuda, the senior citizen needs to go back to work to help support her children and grandchildren."
The leader of the Progressive Labour Party was speaking as he unveiled Vision 2025: Our Plan For A Better Bermuda. Mr Burt said: "These are the facts that confront Bermudians every day — diminishing opportunities, an ever-increasing cost of living and shrinking paycheques. This is the Bermuda that has driven so many of our families and friends away and that causes so many of our young people to view anywhere but Bermuda as a land of opportunity. This is the Bermuda that most of our voters live in." He added: "The One Bermuda Alliance sees only one Bermuda, while we in the PLP see what our people see and experience everyday — two Bermudas, separate and far from equal. In the PLP, we seek an end to the two Bermudas and we believe:
Quality and higher education should not be limited to only those who can pay for it
When it comes to opportunities, what you know should be more important than who you know
Seniors should be able to enjoy their golden years in peace and dignity
Healthcare should be affordable and universal
We must reduce crime by upholding the law and reducing the key contributing social factors
We need to develop a tax structure that is fair and just
An immigration policy that puts Bermudians first, while recognizing the legitimate needs of businesses to ensure growth and stability is essential
It is important to broaden our reach for global investors and actively promote new economic opportunities.
February 19. Payroll tax is set to go up 1 per cent to 15.5 per cent, with the employee share up 0.5 per cent to 6 per cent. The Bermuda Government also signaled that most other tax-rate categories would also go up by 1 per cent as part of this fiscal year's financial blueprint for 2016-17. And the price of gas is set to rise — up eight cents a litre from April, while 5.5 per cent extra tax will be added to fuel oil imported by power firm Belco, moves expected to raise an extra $11.7 million a year. The limit of taxable wages for the payroll tax will remain at $750,000. Bob Richards, the Minister of Finance, told the House of Assembly today: "Payroll concessions in place for the hospitality, restaurant and retail sectors will be partially rolled back in 2016-17, with businesses in these sectors paying a rate of 8 per cent. "The yield from payroll tax following the revised rate structure and partial rollback for payroll tax concessions is estimated at $390 million in 2016-17." But Mr Richards said that the entire payroll tax system would be overhauled for the next financial year and structured in a more progressive way to benefit lower income earners. Sin taxes will also be hiked, with duty on tobacco and alcohol raised to generate an extra $4 million a year. In addition, a sell-off of surplus government property is expected to raise about $3 million. "Government fees for an array of services provided to the public will be increased by about 4 per cent for most fees and the anticipated increased yield should be $1 million to $2 million," Mr Richards said. "Nobody likes tax increases: not the Ministry of Finance, not the rest of the Government, not the business community, not the man in the street. Some of the measures outlined in this Budget statement will not be popular. But debt service has become the second-largest 'ministry' in Government. It is stealing from the future of our children and their children. It is constricting our ability to respond to people's needs. It is weakening our ability to maintain the infrastructure that supports everyday life. It is threatening our solvency and, with that, our financial independence. So we must get to grips with the deficit and debt problem because they stand between us and a secure future." The finance minister also signaled a "restructuring and broadening" of the tax base alongside "modest increases" over the next three years. "Government is considering reforms to the payroll tax structure to make it more progressive and to yield additional revenue. The current structure takes little or no account of the ability to pay of employers or their employees. It therefore places a heavier, relative tax burden on lower-income employees."
February 19. Minister of Finance Bob Richards has defended his proposed introduction of a 5 per cent services tax next year. In his 2016-17 Budget statement this morning, the Deputy Premier briefly detailed his plan for a 'General Services Tax', which is scheduled to take effect on April 1, 2017, at the earliest. "In order to broaden the tax base, the GST will be levied on turnover from the provision of most services by service providers to the public," he said. The new tax is expected to raise $50 million a year for the Government's coffers, as it attempts to balance Bermuda's budget while tackling the island's $2 billion-plus debt. Mr Richards added that the delay in implementing the tax is due to "significant adjustments" faced by both service providers and the Government to ensure its enforceability. Banking, insurance and healthcare sectors will be exempt from the tax, as will small businesses. At lunchtime, Mr Richards addressed the media at the Cabinet Office, where he expanded on his intentions for the tax.
February 19. Bermuda National Budget Statement Day. Minister of Finance delivered his Annual Budget Speech - see http://www.royalgazette.com/assets/pdf/RG347452219.pdf on next financial year's government income, expenditure, taxes and more. Tax increases in almost every area of Bermuda were announced, affecting every resident, business visitor, tourist and Bermuda-based company with employees. The present fiscal year ends on March 31. The Budget must be passed in Parliament prior to the end of the first quarter of the current financial year. Once MPs have approved the statement and passed the Appropriation Act, the Senate debates the Budget, with a maximum of 22 hours allowed for their detailed discussion on the different headings. Senators have no power to alter the Budget but need to have it approved so it can pass into law by March 31.
February 19. Banks, including those in Bermuda, are suffering the biggest pressures since the recession hit in 2008, a report from professional services firm PwC said yesterday. A still struggling global economy, poor business performance and risk from cyber attacks as well as increased regulatory red tape are among the major problems cited by the industry. In addition, the rapid development of technology means banks will have to change their methods to remain competitive. Scott Watson-Brown, asset management leader at PwC Bermuda, said: "For CEOs, driving delivery of technology and innovation will be critical in delivering the choice, service and pricing bank customers want. "The winners will be those organisations that move their businesses with purpose, speed and focus." The news came in a PwC report on the state of banking worldwide, part of its annual global survey, which saw 176 banking and capital markets CEOs from 62 countries quizzed on their views. Eighty per cent of bank chiefs said that customer relations management systems would be a crucial area for the future. And 75 per cent said that data analytics offered the potential for the best returns in terms of customer engagement, while 56 per cent said that social media communications and engagement was another major factor that had come into play. More than 66 per cent of those surveyed said that they planned further cost-cutting over the next year, with 10 per cent predicting they would sell off a majority interest in a business or exit a major market.
February 19. Insurance and reinsurance company Lancashire Holdings yesterday posted after-tax profits of $54.4 million for the last quarter of 2015. The figure takes the profits for the full year to more than $181 million. The quarterly profit is down $32.4 million on the same period the previous year, while the annual earnings are $48.2 million less than 2014.
February 19. Opposition MP Walton Brown has urged Government to "listen to a voice of reason", after chanting protesters shut down Wednesday's meeting on immigration reform. Michael Fahy, Minister of Home Affairs, accused Mr Brown of instigating the disturbance in Hamilton, calling the move "completely and utterly undemocratic". However, Mr Brown, who had earlier called for an act of "civil disobedience" on Facebook in response to the "b******t" new proposals, denied being a ringleader for the unrest.
February 19. The size of classrooms and a lack of funding for public primary schools are among the Bermuda Government's most serious concerns, according to the school reorganization (Score) report. The report, commissioned by Wayne Scott, the Minister for Education, has set in motion a strategic financial review that will attempt to remedy some of the failings in the island's primary schools. Also on the top of the priority list was the condition of school buildings and range of programmes. The financial viability of a school for reorganization, considered a priority, was not evaluated due to "lack of data". All of the island's 18 primary schools were scored in 14 study-factor criteria — school utilization (optimum school populations); classroom capacity (adequate space per child per classroom); financial resources (that are provided by the Ministry of Education); financial viability (the option for reorganization is viable); building condition; safety and accessibility; recreational space; range of programmes; student/teacher ratio; IT infrastructure (access to high-quality technology); special services (for children with special needs); transportation (reasonable access to transport to and from school); school as a community partner; and flexibility (flexible in how space can be used to accommodate changing needs). Each criteria was scored on a scale of 1 to 5 with 5 being the best score. Any school scoring under 4 was described as "in need of review".
February 18. Chanting protesters shut down a meeting yesterday to discuss changes to immigration policy. Last night, home affairs minister Michael Fahy condemned "bully tactics" and slammed the protest as undemocratic. Senator Fahy said he called the meeting off on the advice of the Bermuda Police Service — but vowed to find further opportunities to explain the reasons for the changes, which would make it easier for long-term residents to gain Bermuda status or become permanent residents. Senator Fahy cut the meeting short after a group of protesters shouted him down as he started to speak on present immigration laws. The protest came in the wake of Opposition MP Walton Brown's call for a campaign of "civil disobedience" against the proposals. Senator Fahy said: "That opportunity for Bermudians to hear what we are saying was sabotaged. And it would appear to me and certainly the Attorney-General and other colleagues that a minority of people have taken notice of Walton Brown's call for civil disobedience. And that is completely and utterly the wrong way to go about things and in itself is a bully tactic and is completely and utterly undemocratic and one should expect better from our elected and appointed representatives."
February 18. Uprooted trees, overgrown fairways and neglected greens; the St George's golf course has barely been touched for more than a year. According to local MP Kenneth Bascome, the present condition of the course illustrates exactly why the proposed Desarrollos development was so vital to the rejuvenation of the old town. He urged local residents to get behind the project that will see a luxury hotel resort as well as a new golf course built on and around the old Club Med site. "Now that the developer has reached agreement on all its financing arrangements I would hope people really support this project," said Mr Bascome. "You only need to look at the state of the golf course now to see how badly this development is needed. The golf course itself is representative of how important this project is to the town. It does not appear to have been touched in about 18 months and the trees uprooted by Fay and Gonzalo still litter the course. It is really an eyesore to the town." Just last month Shawn Crockwell, the Minister of Transport and Tourism Development, revealed that the hotel development would break ground no later than June. Mr Crockwell said that the developers intended to meet with the residents of St George's and lay out their plans and address any concerns they may have.
February 18. Education minister Wayne Scott has announced three public consultation meetings over the Bermuda Government's school reorganization (Score) plan. All stakeholders, including parents, educators and community members, are invited to attend to attend with the aim of learning more about the Score report and to share their views. The meetings will take place at Sandys Middle School Auditorium on Monday, February 22 from 6pm to 8pm; at Clearwater Middle School auditorium on Tuesday, February 23 from 6pm to 8pm; and at CedarBridge Academy café on Wednesday, February 23 from 6pm to 8pm. Stakeholders are encouraged to review the Score report and the School Reorganization Consultation Document which are available on the Ministry of Education's website at www.moed.bm. Members of the public are reminded that all consultation submissions are due by Friday, March 4.
February 18. A suspected drug dealer was caught counting out large quantities of cash as he sat in his car outside a supermarket, a court has heard. Dwayne Gilbert was arrested on the evening of August 12, 2014, after a policeman spotted him sitting in a green Renault convertible outside Arnold's on St John's Road, Pembroke. Officers later attended Mr Gilbert's Southampton home and discovered zip lock bags containing heroin and cocaine, jurors were told yesterday. Opening the case for the prosecution Kenlyn Swan said: "This case is about greed. It centres around making vast money through the selling and distribution of illicit drugs."
February 18. A funeral will be held today for Grace Smith, a "matriarch" of St George's known to many for her generosity. Ms Smith, who died on February 10 at the age of 98, "believed in charity more than anything else", her daughter Rose Douglas recalled. "She taught us that if we want society to be better then we would have to give back. It was what we did. We didn't plan to do it, just flowed into it." Ms Smith acquired her belief in caring through her mother Minnie Drew, Ms Douglas added, who came from the tight-knit Tucker's Town community where looking after one another was "an automatic way of life. You didn't go to bed with your stomach full while your neighbor was hungry. That was how she lived. It was amazing." When her son Phillip played football, Ms Smith volunteered to clean all the team's uniforms on her old-fashioned clothes wringer. Ms Smith's legendary cooking was dear to many in the East End community who were in need of a meal, or just wanted to drop in for a chat. Ms Douglas recalled her mother studying cosmetology to open her beautician's business by Shinbone Alley, where demand for her hair styling brought many in the community together over more than 20 years. She also ran a guesthouse from a few spare rooms of her residence on Kent Street. A long-term supporter of the Committee of 25, Ms Smith also worked for the St John's Ambulance Brigade and the Red Cross during the Second World War. She was a church girls' brigade leader and honored at Government House for her long support of the girl guides. She also supported the Sunshine League, and regularly marched on Remembrance Day for her brother Alfred, lost in the war when his ship was sunk. A mother of five known for her strictness but also her deep love of children, Ms Smith was devoted to St Peter's Church, where she will be laid to rest today at 2pm.
February 18. The executive chef at Muse has been announced as the winner of the 2016 Restaurant Weeks People's Choice Award. Enworth Davis was presented with the award by the Bermuda Tourism Authority today. According to a public online vote and the opinion of food reviewers, Muse was the most popular at providing a Bermuda-inspired menu and dining experience during Restaurant Weeks this year. Muse also won the title last year. Runners-up for 2016 included executive chef Chad Mitchell of Red, who was a finalist last year, and chef Zaid Khan of Pickled Onion. This year, a record 45 restaurants participated in the initiative that encourages visitors and residents to explore the food options available across the island.
February 18. The demand for mental health services in Bermuda has spiraled in recent months, while the Mid-Atlantic Wellness Institute continues to face inflationary rises and government funding cuts. In 2015 711 patients were seen by the MWI Acute Care Clinic; a rise of more than 100 from 2014 and more than 400 from 2000. In the last five years the facility's government grant has been cut twice and reduced by more than $2 million.
February 17. Preferred shareholders of PartnerRe are to receive a total cash payment of about $42.7 million in connection with the company's acquisition by Exor. The payment equals $1.25 per preferred share, and is expected to be made in the current financial quarter subject and subsequent to the closing of the deal. As part of the $6.9 billion merger agreement made last year, Exor had previously announced enhanced terms for PartnerRe's preferred shares, to be effected through an exchange offer, amounting to a 100 basis point increase in the current dividend rate and an extended redemption date. This was contingent upon the receipt by PartnerRe of a private letter ruling from the United States Internal Revenue Service as to the tax shelter reporting obligations of such enhanced preferred shares. However, on Tuesday the IRS indicated that it would not grant such a ruling. As a result Exor will, in lieu of a 100 basis point increase in the current dividend rate, make the cash payments to PartnerRe preferred shareholders of record on the closing date. In a statement the company said it will, following the closing of the deal, "use commercially reasonable efforts to launch an exchange offer, referred to as the Alternate Exchange Offer in the merger agreement, whereby existing preferred shares could be exchanged for new preferred shares with an extended redemption date."
February 17. A reduction of staffing levels at schools and within the civil service cannot be ruled out as efficiencies are sought within the Department of Education. This is according to education Minister Wayne Scott who said he was confident any such reductions could be made through natural attrition. He also highlighted that there could be further review of the public middle schools once work is under way with the primary schools. During an interview with The Royal Gazette in light of the damning school re-organization (Score) report, Mr Scott said the Ministry had begun making headway with overdue repairs to buildings that have contributed to a raft of health and safety issues across Bermuda's public primary schools. The Score report was designed to set out plans for "improving the quality and consistency of programming across primary schools" with the additional goal of "achieving cost savings and efficiency" and outlined several scenarios including the possible closure of three schools. The report did not include information regarding job losses nor did it take into account teacher performance or student achievement. Speaking on the possible reduction of the workforce across the ministry, Mr Scott said that close to $1 million had already been saved through early retirement. He added: "All along I have said even if we get to the point of closure or consolidation, I believe it would be possible to do that without any job losses [layoffs]. We will have to look at things but if there are any reductions necessary we would try to do that through natural attrition. We are looking at the entire process and again we recognise we have to put together a full strategic plan that addresses all the issues. I cannot forecast anything without the information in front of me." Mr Scott cited curriculum changes over the years as one reason that teacher performance was not factored into the Score report. "Teacher performance, we know, is a very important part of ensuring that you have quality in the classroom. Now that we have had a stable curriculum for five or six years with the Cambridge Curriculum, we have focused a lot on professional development. Yes, now we do need to focus on ensuring that all of that reaches the child and my view is that everything that we do, the public should be aware of."
February 17. Sources within the One Bermuda Alliance fear that the party is on the brink of "political suicide" over its apparent disconnect with ordinary Bermudians. Longstanding frustrations after the party's sizeable defeat in the Devonshire North Central by-election were vented in an internal communication, in which prominent OBA members warned of the political cost of inept public relations. The margin in the February 4 by-election was "so large compared to 2012", one member told colleagues, that "what should be very clear is that the One Bermuda Alliance has lost the swing vote". The OBA campaigned on helping average Bermudians, the e-mail continued, but "most Bermudians don't feel as if we represent them or their needs right now. I have no doubt that we are the best party for the job, but we cannot continue to be disconnected." Voters in Constituency 13 turned out in greater numbers than they did for the General Election in 2012, with the Progressive Labour Party candidate Diallo Rabain securing a win with 461 votes to the 351 that went to Andrew Simons, the OBA contender. Launching the controversial Pathways to Status immigration initiative the next day was branded "very poor optics", the e-mail continued. "It's things like this going forward that cannot be allowed to happen. It is committing political suicide. There should have been a contingency plan in place. We did a great job engaging the community in 2012, and I believe we need to get back there."
February 17. The Vasco da Gama Club and Portuguese Cultural Association have expressed their support for new pathways to Bermudian status. In a statement released today, club president Miguel Pereria wrote that the controversial changes would give many residents a "basic human right. Not only is this a human rights issue but it is also fair," he wrote. "The Portuguese community and other long-term residents have strong roots in Bermuda and these changes will definitely strengthen our Bermuda community and in many cases allow people to call Bermuda 'home' for the first time. Persons living in Bermuda, who contribute to the financial and social well-being of Bermuda and who are valuable members of our society can finally plan for their future and their children's future. We look to the government to promote collaboration and to find the best solution to this important issue." The statement comes after Michael Fahy, the Minister of Home Affairs, announced that Government was seeking to introduce new pathways to both permanent residence certificates and Bermudian status. The proposed changes would allow those who have lived in Bermuda for 15 years to apply for permanent residency and those who have the permanent residency certificate and have lived on the island for 20 years to seek Bermudian status. While Sen Fahy said the changes were necessary to bring immigration rules in line with international standards and to deal with the shrinking population, opponents have labeled the move a desperate effort by the One Bermuda Alliance to gain votes noting the historical use of immigration for political gain. In response to the announcement, a number of members of the public briefly disrupted a sitting of the House of Assembly on Friday, chanting: "No to the OBA immigration reform."
February 17. An increase in tax revenue to help tackle the national debt could be included in the upcoming Budget, according to economist and lecturer Craig Simmons. While Mr Simmons said that the island's economic recovery does appear to be gaining momentum in spite of "chinks in the armor" of the government's strategy, tax revenues will need to increase. "Foreign direct investment is the government's principal method of economic stimulus," he said.
February 17. The Bermuda Environmental Sustainability Taskforce has provided this Budget wish list. "We would like to see funds set aside for search and exploration into a reformed governance system more suitable for our small and diverse community; one that:"
focuses on how we can collaborate rather than how we can oppose
accords stature to those who contribute versus to those most adept at tearing down
provides a mechanism for removing those who abuse their governance privileges
provided education and training (especially in ethics and benevolence) for future governance candidates.
February 17. The local office of international architecture firm OBMI has been hired to work on the first phase of the controversial $250 million airport redevelopment project. The appointment was made by Canadian contractors Aecon Construction Group, after an "extensive competitive selection process", according to a press release. The process included a request for qualifications (RQF), request for proposals (RPF), presentation and interview stages. OBMI will work with Scott Associates Architects, Aecon's lead architectural firm specializing in airport design, on aesthetics, interior design and local building code compliance for the proposed new airport terminal. The office will also provide guidance on Bermudian building methods and materials and support for the permitting and planning approval processes. Aecon Concessions president Steve Nackan said: "We want to ensure that the design for the proposed new airport terminal effectively captures and communicates the image that Bermuda aspires to project to the world, including the uniqueness of its culture, the warmth and friendliness of its people and the natural beauty of its island setting. Clearly, the contribution of local architects and designers is critical to this process and we look forward to working with OBMI, whose impressive contributions to the Bermudian architectural landscape and familiarity with public private partnerships bode especially well for the success of this project." Colin Campbell, regional director of OBMI, said: "Our Bermuda airport provides the initial and concluding impressions of our island experience to every air traveller. This critical redevelopment of our core transportation infrastructure has the potential to become an iconic symbol of Bermudians resourcefulness and preparedness to meet the challenges of the future. Our business and tourism economy requires a facility that embraces 21st century standards. We are excited with the unique opportunity to participate in creating a new modern air terminal with a fundamentally unique Bermudian context." The selection of OBMI as local architects for the project follows the engagement by Aecon of Bermuda-based Atlantic Well Drillers, Onsite Engineering and Bermuda-Caribbean Engineering Consultants for the airport geotechnical survey work completed in the final quarter of 2015. Building work is due to start on the new airport later this year in the face of critics who say the entire project should have been tendered. The redevelopment involves a sole source agreement between the Bermuda Government and the Canadian Commercial Corporation, a Canadian Government-owned entity, which appointed Aecon.
February 17. Tawanna Wedderburn wants to put general practitioners at the centre of care as she works to improve the island's health. As the new chief executive officer of the Bermuda Health Council, Ms Wedderburn outlined her vision for the future of healthcare in Bermuda to The Royal Gazette. "We have to promote the GP, or the primary care physician, as the centre of care," she said. "The primary care physician has a lot of information about the patients that they see and most patients, the vast majority of patients, have good relationships with their primary care physician. "It's really within the context of the office that good changes can be made towards improving health outcomes, ensuring the population's health. It comes from that one-on-one contact." But this is only one part of Ms Wedderburn's vision, which also includes educating people about making wise choices regarding their health. "We are at a time when we cannot have everything, so we have to make some decisions about what is important to health and what's important to the population's health," she said. According to Ms Wedderburn, total health expenditure in Bermuda has dropped from $705 million in 2014 to $693 million in 2015 and the level of compliance for employers obtaining health insurance has increased, although there were still gaps for the uninsured. According to the Steps Survey 2014 and the Department of Statistics, about 8 per cent of the population are uninsured, Ms Wedderburn said. And since 2012, the number of people insured through the Standard Health Benefit has declined from 50,129 in 2012 to 47,854 in 2015. But she stressed that Bermuda's population is also ageing, with estimates suggesting that 20 per cent of the population will be over 65 by 2020, up from 14 per cent in 2012.
February 17. Approximately 9,000 people (12 per cent) living in Bermuda have asthma. It is the number one reason children take medication whilst at school, and the number one reason they miss school. It's also the leading reason adults miss days from work. Respiratory disease is repeatedly one of the top causes of admission to King Edward VII Memorial Hospital. People suffering from asthma were the most frequent visitors to the Emergency Department and Urgent Care Centre last year. Chronic Obstructive Pulmonary Disease is strongly associated with smoking, factory work and mining. It is a smaller problem in Bermuda than elsewhere, as these factors are less common. Approximately one in seven adults (14 per cent) of people in Bermuda are smokers, according to the STEPS survey 2014.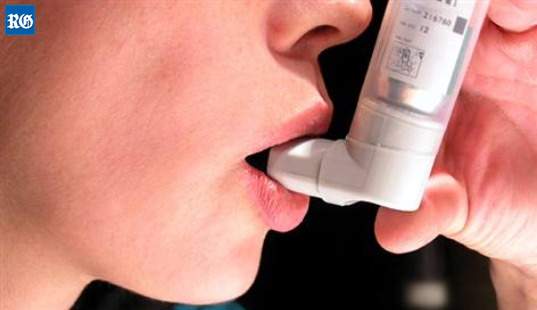 Asthma relief. See above article
February 16. Business leaders will get an opportunity to learn more about the government's Budget for the coming year at the Bermuda Chamber of Commerce's annual Budget Breakfast on Monday. Bob Richards, the finance minister, will be at the event to talk about the Budget and to answer questions. Mr Richards is due to reveal the Budget in the House of Assembly on Friday. The breakfast will be at the Hamilton Princess and is being held in association with sponsors PwC, the professional services firm. It will feature a panel discussion format moderated by Arthur Wightman, head and insurance leader of PwC Bermuda. "The moderator will introduce our panelists and each one will have ten minutes to provide the audience with their analysis of the numbers," said Kendaree Burgess, Chamber executive director. Our guests will be invited to submit questions in advance and on the morning of the breakfast, and it is expected that the moderator will then lead a very lively question and answer session." Meanwhile, Mr Wightman said: "A larger than usual turnout is anticipated for the annual event as the business community looks forward to hearing more from the minister. We expect to have an informative and engaging discussion with our panelists." The breakfast will start at 8am, and the panel discussion will begin at 8.30am. Anyone interested in attending should contact Stephanie Lee slee@bcc.bm.
February 16. Kim Wilkerson was unveiled this morning as the Progressive Labour Party's replacement in the Senate for new MP Diallo Rabain. Marc Daniels will take over as the Opposition Leader in the Senate. Announcing Senator Wilkerson's appointment, Marc Bean, the Opposition Leader, called her "a lawyer and business executive with over 30 years of experience, and strong community ties". Noting the PLP's recent win in the Devonshire North Central by-election, Mr Bean said Mr Rabain's success presented an opportunity for "another outstanding citizen to begin fulfilling their civic duty at the highest level. Senator Wilkerson brings the experience to the Progressive Labour Party team that is necessary as we hold the Government accountable, while we prepare ourselves as the Government-in-waiting. Senator Wilkerson brings a wealth of knowledge and experience through her professional and philanthropic work, that will prove to be an asset as she analyses and scrutinizes legislation that comes before the Senate." Sen Wilkerson said she looked forward to working with Sen Daniels and fellow Opposition Senator Renee Ming. "Bermuda is at a crossroad, and it is my belief that we must do things differently to get the results we so desperately need as a country," she said. "No longer will the status quo do." Sen Wilkerson is a senior vice president, regional head of claims for XL Catlin's Insurance operations in Bermuda. She also served as general counsel of XL Insurance (Bermuda) Ltd before transitioning into the claims role in 2015. She was appointed to the Bermuda Board of Education in 2011, and served as its deputy chairwoman until 2015.
February 16. Economic benefits played no role on introducing civil unions for same-sex partners, according to Patricia Gordon-Pamplin, the Minister for Community, Cultural Affairs and Sports. At last night's second town hall meeting on the topic, the minister acknowledged that many had argued that the island would reap profits from overseas by embracing marriage equality. However, she told those gathered at the Berkeley Institute auditorium: "We cannot make a decision that might turn Bermuda on its head and base that decision on dollars and cents." The Government will bring legislation on civil unions before Parliament later this month in an effort to "meet our international obligations while moving forward in a moderately reasonable fashion that the population can accept", Attorney-General Trevor Moniz said. While many who spoke at the meeting voiced unhappiness with the terms of the civil unions legislation, which applies only to same-sex couples and sets an age of 18 instead of 16, Mr Moniz said that compromise had been unavoidable and ultimately pragmatic. "You can have all the idealism you want, but if you can't get your agenda through the House of Assembly, it avails you nothing," the Attorney-General said, recalling the "long and tempestuous" debate in 1994 over the Stubbs Bill that struck down Bermuda's anti-sodomy laws. At the end of the day, I put forward an amendment setting the age at 18," Mr Moniz said. "It would not have passed without my amendment." He acknowledged that some would see civil unions as falling short while others would feel the Government was going too fast, but added: "Don't let the perfect be the enemy of the good." Michael Fahy, the Minister of Home Affairs, told the crowd of about 100 people that no one has yet come up with an alternative that could effectively take into account the views of the many. The audience heard that with other legal challenges coming on the matter of same-sex marriage, the Government had been tasked with coming up with legislation that would address the matter comprehensively. While many feared that civil unions would inevitably lead to same-sex marriage becoming legal, the Attorney-General said it was a matter for future governments and the people of the time. "Ten years in the future, who knows where Bermuda will be?" Mr Moniz said. "All we can say is we know that Bermuda is not there now.
February 16. A huge cargo of steel piles has been unloaded in Dockyard as part of the South Basin project. The piles will be drilled into the seabed to secure the reclaimed land that will form the foundations of the America's Cup village. The steelwork arrived in the West End last week on board the BBC Tennessee from Baltimore in the United States. Project managers expect to start driving the piles into the earth within the next couple of weeks. Andrew Dias, the general manager of the West End Development Corporation, told The Royal Gazette that the project was "progressing well" and remained on time and on budget. "The steel as well as the other infrastructure is now on site, although obviously not on the reclaimed land as the aggregate is still being spread out," he said. "We have taken delivery of 2.15 tonnes of steel piles, 1,726 sheet piles, 37 Y-shaped piles and 39 anchor piles. The steel work to create the perimeter is expected to take around eight weeks to complete, at which time a concrete cap will be added to the steel structure."
February 16. Fourteen college and high school rugby teams will travel to the island next month for the Ariel Re Bermuda Rugby 7s Tournament. Ivy League colleges, including Yale University, Columbia University and Dartmouth College, are among those sending athletes for the tournament while their schools are on spring break. Two squads from Dartmouth will extend their stay in Bermuda to have a spring training camp immediately after the tournament. Two teams from Yale will extend their stay for rest and relaxation. Two teams of Bermuda High School students and one team of college-aged players will participate in the tournament next month, competing against the visiting teams.
February 16. New legislation designed to improve healthcare standards and protect patients has been passed by the House of Assembly. Jeanne Atherden, the Minister of Health, said the Medical Practitioner's Amendment Bill would "strengthen and regularize" the governance of the physician sector, registration standards and the complaints-handling procedures. Ms Atherden described the 1950 Medical Practitioners Act as "outdated" saying: "It requires substantial amendment to ensure it is relevant to the current practice of medicine in Bermuda." The new Bill requires members of the Bermuda Medical Council to declare conflicts of interest, while practitioners must make up over half of the council's membership. Members can serve for two consecutive terms of three years, and may only be reappointed after a break. The legislation requires that the BMC establishes a code of conduct for medical practitioners. Under the new Bill physicians have to be "actively practising" to register and possess malpractice insurance so patients can seek redress for medical errors or misconduct. The amendment removes disparities in registration fees and exam requirements that arose depending on where a physician worked. At present fees are waived for practitioners employed at the hospital and in the Bermuda Government, and the exam is waived for those employed in Government. Ms Atherden said: "The removal of the fee and the exam waiver by place of employment provides equity of registration requirements and formally establishes a single standard across Bermuda." The new legislation amends the definition of misconduct to include failing to discharge a duty prescribed under any other statute such as the Public Health Act 1949 that requires physicians to report communicable diseases. It also provides that all reports of impaired practitioners end up with the Chief Medical Officer who then informs the Professional Conduct Committee. Previously reports against hospital medical practitioners were just referred to the Chief of Staff, who must now inform the Chief Medical Officer. Furthermore members on the adjudicating body; the council, cannot be on the investigation body; the committee. The Chief Medical Officer has also been removed from the investigation process with all complaints going to the committee to investigate, while appeals concerning registration will be to the Supreme Court instead of Cabinet. The amendment gives the council power to impose an immediate suspension of practice on a practitioner, if there is significant and demonstrable risk to the public, pending an investigation. During Friday's debate in the House of Assembly Opposition MPs Kim Wilson and Michael Weeks questioned Ms Atherden on the level of consultation that had taken place with medical practitioners over the changes. While PLP Michael Scott queried whether the legislation was a reaction to recent Supreme Court cases involving the Bermuda Hospitals Board and claimed the Bill simply created barriers within the profession. But Ms Atherden maintained that consultation within the profession had taken place and the legislation had "nothing to do" with any recent court case. "This is designed to improve the standards of the physician community and increase the level of expertise," she said.
February 16. Members of the St David's community rallied together last night to object to the potential closure of their primary school. Parents, staff, former and current students attended St David's Primary School to discuss the school re-organization (Score) report and its implications. The report, released by education minister Wayne Scott last week, contained a scenario that identified the school as a possible candidate for closure along with Heron Bay Primary School, Gilbert Institute and Prospect Primary School. Addressing the crowd, school principal Gladstone Thompson said: "The Score process has inherent good in that it can actually assist all the primary schools to become better. But when it comes to what I think schools are about, and that is instruction and that are results, St David's Primary meets the standards. I need you to look carefully at these scenarios and then compare it to what is, what we actually have. And I think that what we have is something that our ministry should be proud of," Mr Thompson highlighted some of the school's academic achievements and went over the 14 areas considered by the report, which he said did not include academic ability but instead focused on infrastructure. He said that while some problems, such as rusty picnic tables, had already been addressed, others, such as classroom utilization and the school buildings' financial viability, called for a more robust conversation. "Can we improve? Absolutely," he said. "Do we think things are so bad that we can't improve? Absolutely not." But Mr Thompson also pointed out some inaccuracies in the report, stating that the school has more than ten community partners even though the reports lists none. PTA president Patrice Minors questioned whether any of the points raised in the report warranted the closure of the school, which was met with a resounding "no" from the crowd. "They seem insignificant in my opinion, and it seems so in the opinion of others, to warrant the closure," she said, adding that "there's a wealth of things we can do to prevent the closure of this school."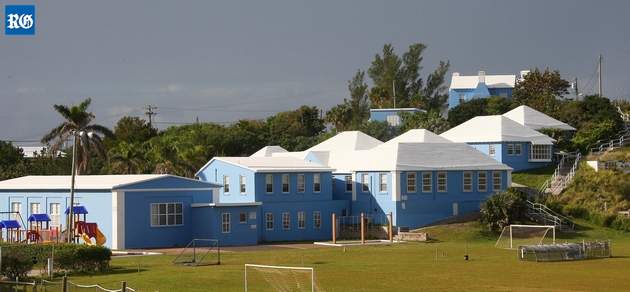 St. David's Primary School. See above story
February 16. Exposed live electrical wires, rodents climbing into classrooms, discarded condoms, and play structures that are "an accident waiting to happen". These are some of the damning health and safety failings across Bermuda's public primary schools exposed through the recently released school re-organization (Score) report. The Bermuda Government-commissioned report released to the public earlier this month, was designed to set out plans for "improving the quality and consistency of programming across primary schools" with the additional goal of "achieving cost savings and efficiency". Guided by 14 "study factor criteria" the report identified four primary schools for possible closure — Heron Bay Primary School, Prospect Primary School, Gilbert Institute and St David's Primary School. These criteria included safety and accessibility, building condition, school utilization, classroom capacity and financial resources. The criteria for each school was scored on a scale of 1 to 5 with five being the best score. Any school scoring under 4 was identified as being "in need of review". Each of the island's 18 primary schools scored less than 4 when with regards to safety and accessibility with 8 scoring below 2. The lowest scoring schools (a score of 1) in terms of safety, listed as being in need of "immediate attention", are: Northlands Primary School, Paget Primary School, Prospect, Victor Scott Primary School, West Pembroke, Elliot, Harrington Sound and St David's Primary Schools.
February 15. Bermuda was among offshore jurisdictions that came under the spotlight in an undercover probe by a charity into the movement of suspect funds into the US. An investigator from charity Global Witness, backed by Christian Aid, posed as the representative of a foreign government minister to visit more than a dozen law firms in New York to ask how to anonymously move large sums of money. The investigation, aired on the 60 Minutes programme, found that in many cases, lawyers suggested using Bermuda or another British Overseas Territory to set up a company or a trust. One lawyer and a colleague were filmed suggesting that the made-up government minister use a Cayman Islands firm or a Bermuda trust company and that he set up a bank account in Gibraltar. The charity's investigation came ahead of a scheduled anti-corruption summit that Britain is to hold this year. Rosie Sharpe, of Global Witness, said the programme showed that public registers should be established to show beneficial owners.
February 15. The Bank of Butterfield is to close its London private bank. The bank said that the British-based Butterfield Private Bank's "scale and scope were not consistent with Butterfield Group's growth strategy". A spokesman for the firm said that it would maintain its mortgage-lending business in the UK if approved by regulators. The bank added: "The Butterfield Group's growth strategy is focused on markets where it has a substantial presence and can achieve economies of scale. As evidenced by recent acquisitions in Guernsey, the Cayman Islands and Bermuda, the group will deploy its resources to invest in community banking and wealth management in high-quality offshore jurisdictions." The group operated deposit taking and investment management in Britain and said it was fully funded to return all investments and cash balances to clients. The spokesman added: "Clients will be contacted directly by Butterfield Private Bank with respect to the transfer of their deposits and investments to other financial institutions or other entities within the Butterfield Group as appropriate
February 15. The Government has spent more than $14 million on the America's Cup as of the end of 2015, according to recently released figures. In response to questions by the Progressive Labour Party, economic development minister Grant Gibbons said the total operational and capital development costs for the event totaled $14,145,973 as of December 23, 2015. The largest listed expense was Capital Development Grants, which were estimated at $7,011,605, followed by $5 million in ACEA sponsorship payments. ACBDA Ltd received $1.77 million in operating grants, while $170,466 was spent on consultant services and $120,947 on salaries. Other listed expenses included $51,310 in insurance for the event and $20,327 spent on event management. Dr Gibbons also released a list of contractors and consultants who were paid by ACBDA Ltd last year. A total of 18 companies were contracted, including Correia Construction, East End Asphalt, BCM McAlpine and Dynamite Excavating. Meanwhile, 15 persons and companies were paid as consultants. Of those, Total Marketing and Communications Ltd received the most, being paid $255,753 for their work. Other listed consultants included the Bermuda Tourism Authority, Bermuda Environmental Consultants, KPMG and Q-Ship Enterprises.
February 15. Tourism stakeholders have been given an insider's view of some of the activities, projects and benefits that the Louis Vuitton America's Cup is bringing to Bermuda. Peter Rusch, the America's Cup Event Authority and Oracle Team USA public relations and communications director, expressed excitement, commitment and enthusiasm for Bermuda as the event's destination to SKAL Bermuda members at their February meeting. "There has been overwhelming satisfaction by the America's Cup teams and support staff for Bermuda as the headquarters of the event. The synergy with Bermuda and the America's Cup has led to the development of programmes to leave a sporting legacy in Bermuda. The best examples of this are AC Endeavour and Team BDA, which is preparing to compete in the Red Bull Youth America's Cup." Mr Rusch highlighted the America's Cup Endeavour programme, which recently gifted five of 15 restored Optimist dinghies to local youth sailors in Bermuda and aims to provide unique sporting and educational opportunities for youths across all socioeconomic backgrounds. Team BDA, meanwhile, is in the team development stage with a programme to attract the best local sailors and athletes who will be equipped to compete in 2017 at the Red Bull Youth America's Cup with the world's best young sailors in foiling high-performance catamarans. According to Mr Rusch, the America's Cup has also generated a number of other sailing events for Bermuda, including the first RC44 regatta and World Match Racing Tour qualifying regattas. President of SKAL Bermuda, Barbara O'Shaughnessy, said: "As stakeholders of the tourism community, our Skal members were excited to hear from someone who has the inside track regarding both the America's Cup and the Oracle team and hear of the wonderful activities, projects and benefits for Bermuda during the next 18 months. The global scope of the America's Cup events means that Bermuda is being promoted around the world as the teams compete in the 'Race to Bermuda' around the world in 2015 and 2016, leading to tremendous awareness and exposure for Bermuda." SKAL Bermuda was established in 1962 as part of a global organization, Skal International, which brings together all branches of the travel and tourism industry.
February 15. The number of students transferring out of public schools is increasing year-on-year, according to recently released figures. Transfers of both primary and middle school students have been rising since 2012, said Minister of Education Wayne Scott, in response to questions from PLP backbencher Walton Brown. The number of senior students leaving the public system, however, fell last year, bucking the trend. In 2012, a total of 13 students transferred from public primary and secondary schools, but that figure increased to 63 in 2013, 108 in 2014 and 153 last year. Of the 337 students who transferred during that period, 247 went overseas while 31 went to private schools and 12 to home schools. Meanwhile, a total of 22 students transferred from public senior schools in 2012. That number rose to 26 in 2013 and 76 in 2014, but fell to 30 last year. As with the younger students, the majority of the transferred students found themselves enrolled in schools overseas. A total of 23 students went to home schools, while ten switched to private schools. Mr Scott denied a suggestion that the increasing transfer numbers were an indictment of the public education system, telling the House that in many cases the transfers were due to families leaving the island and noting occasions when multiple siblings are transferred overseas at the same time. In other cases, he said the students were seeking placement in speciality programmes, such as those that focus on athletics. "I think it's important to note that this is a trend that we started to see in 2011-2012 and has continued," he said.
February 15. Bermuda's uniformly high grocery prices are placing overwhelming strain on lower income residents, community leaders have warned. Nesi Armstrong, founder of Facebook donation group Free Food Bermuda, said that she had "an ever-growing list" of families in need, owing to people being priced out of supermarket shopping. "Every year, more people are coming forward," she said, criticizing those who have failed to drop their prices to an affordable level. "I understand that the prices are greater in the Bermudian market because of importation costs, but they do have more room to go down. Not everyone can afford to shop in bulk. They just want to go into the grocery store and buy general things like fresh produce." Major Frank Pittman, divisional commander of The Salvation Army, said that the lack of options available for grocery shopping on the island placed customers in a bind. "Bermuda has a high cost of living, and that causes a problem for people struggling with a low income, as they don't have options like Wal-Mart. There's not enough competition to drive the market. The wealthy can afford it, but the poor people get caught because they have no ways and means of being able to cope with the prices. Some of them have to make a choice — do they buy food for their family or do they pay the utility bill? The Salvation Army's feeding programme, offering free hot meals five days a week on North Street, now welcomed more people than ever before. This increase has caused the programme to run at a deficit of $10,000, which in turn has contributed to a shortfall in The Salvation Army's coffers. It has been growing to the point where we now get 80 to 100 people a day. It used to be mostly homeless men. Now some of the people we see have homes, they just can't afford food, so they come to us for their evening meal." In Britain, the economic malaise of recent years has led to the boom of low-cost supermarkets. Aldi and Lidl continue to make enormous inroads — doubling their market share since 2012, while the nation's traditional supermarkets have floundered. Martha Dismont, executive director at community charity Family Centre, said that the demand existed for Bermuda to introduce a budget supermarket. "Families are struggling with their basic needs. The conditions in this community warrant us to go places we haven't gone before." Mrs Dismont suggested that a low-budget supermarket in Bermuda could sustain itself by specializing in locally sourced produce such as fruit, vegetables and fish. "It would certainly would help families afford their basic food needs," she said. On Thursday, The Royal Gazette conducted a price comparison check at four major supermarket branches — The MarketPlace, Miles Market, Supermart and Lindo's — as well as bulk discount stores Price Rite and Hunt's.
February 13. Police commissioner Michael DeSilva outlined a three-pronged approach being implemented by the Bermuda Police Service to combat the rise in robberies. Speaking at a press conference where he unveiled Bermuda's end-of-year crime statistics yesterday morning, Mr DeSilva said there was about one extra crime for every day of 2015 compared with 2014. Of note was an increase in robberies up by 13 offences on last year to 46 equating to 36 per cent. While this is the highest rate since 2012, the figure has nearly halved since 2011, when there were 88 robberies. Mr DeSilva said: "The police are monitoring this trend closely which has continued into 2016, with ten robberies occurring in the first six weeks of the year [2016]." He said these robberies fell into two categories: crimes of opportunity by criminals with a propensity for violence or violent acts arising out of gang and respect issues. He added: "We went through a spate of chain snatchers last year; they are about feuding tensions between gangs. Once we understand what is driving it, we look at preventive measures and will be stepping up our work with our community action teams and businesses, particularly late-night businesses and high-cash businesses, to look at security features that can make them tougher targets. "The other prevention is around how we deploy our resources, so if we look at when and where and on whom robberies are occurring, then that really focuses us on where our officers need to be. The other one is about bringing these violent offenders to justice. If we can hold people to account, we often find that they are responsible for more than one violent crime." Mr DeSilva said the police were well placed to tackle the problem. "In terms of being able to respond to violence, we have demonstrated that we are well positioned," he said. "We are hoping that the body-worn cameras that we rolled out a few months ago will have an impact. It removes all doubt when we review the tape and it is an opportunity to diffuse the situation because we are training our officers to inform the public that they are being recorded. When you know you are being recorded, it gives you the opportunity for pause."
February 12. NEW YORK (Bloomberg) — Bermuda-registered and domiciled American International Group (AIG) posted its second-straight quarterly loss, adding to pressure on chief executive officer Peter Hancock, who lifted the dividend and announced a $5 billion share buyback as he fights demands from activist investor Carl Icahn for a management shake-up. And the group agreed to nominate one of the activist's allies to the board of directors along with hedge fund manager John Paulson, as the board is expanded to 16 directors from 14, the New York-based insurer said yesterday. Joining Paulson is Samuel Merksamer, a managing director at Icahn Capital. Icahn faulted the insurer in October for failing to meet profitability targets, and he and Paulson pressured AIG to focus primarily on property-casualty coverage. Icahn has said the plan announced in January by the insurer to exit smaller assets, including the mortgage guaranty business and a broker-dealer network, is not enough of a drastic change.
February 12. The 50th anniversary history book of the Royal Bermuda Regiment is to have its official launch this weekend. The author, Tony McWilliam, will be on hand at Brown and Co from noon to 2pm on Saturday to sign copies of Royal Bermuda Regiment — 50 Years Strong. The 160-page book features interviews with former and serving soldiers and charts the history of the RBR since it was formed in 1965 through the amalgamation of the Bermuda Militia Artillery and the Bermuda Rifles, formerly the Bermuda Volunteer Rifle Corps. Regiment Commanding Officer Lieutenant Colonel Michael Foster-Brown said: "We're thrilled to have such a professional and comprehensive publication which reflects 50 years of history and the service of what is now the Royal Bermuda Regiment. "The author has done a great job in putting together the story of the Regiment, its roles and its significance to Bermuda." Col Foster-Brown, who will hand over command to Major David Curley and return to the British Army next month, added: "To have been in command during for the 50th anniversary period, including the award of the Royal title, and to have a chance to help shape the events has been very special and humbling." The book, published by the National Museum of Bermuda Press under the auspices of the Bermuda Regiment Charitable Trust, costs $50.
February 12. The first cruise ship of the new season is due to arrive at Dockyard on Monday morning, bringing 1,765 passengers and 936 crew to our shores. The P&O liner MV Oriana will berth at King's Wharf. She is arriving from Charleston, South Carolina, and is travelling to Funchal, Madeira. MV Oriana, which last sailed here in April, will spend eight hours in port before departing. Meyer Agencies is the port agent for the occasional caller, which is owned by Carnival Corporation. The 2016 Cruise Ship Schedule can be downloaded from www.marineandports.bm.
February 12. Premier Michael Dunkley paid a visit this week to the Morgan's Point site, which is also the home of the Artemis Racing base, to view the progress of both development projects. Mr Dunkley, who was joined by Sen. Vic Ball, Junior Minister for Tourism and Transport, was provided a full update regarding the Morgan's Point construction progress as well an update on the building of the Artemis Racing base by Craig Christensen, president and CEO of Morgan's Point. The Premier said he was "very pleased and encouraged" with the current progress, which includes engineering, electrical, painting, marine, dock, plumbing, landscaping, crane and heavy equipment operating work on both the Artemis and Morgan's Point development. Last year Morgan's Point completed its remediation process in which numerous local contractors were used for the project. Meanwhile, at the Artemis base, which the Premier called an "impressive facility", Bermudians are playing a major role in supporting the team's efforts, with six full time Bermudians being employed directly with the team. Ultimately the West End site will see the building of 157 waterfront residences, a 79 room ultra-luxury branded hotel and amenities that include world-class restaurants and spa, and a marina that can host 77 boats along with 21 mega-yachts.
February 12. Protesters chanted their opposition to immigration reform as the House of Assembly reopened yesterday after the Christmas break. Moments after new Progressive Labour Party MP Diallo Rabain was sworn in, a crowd of people in the viewing gallery stood and began shouting "No to the OBA immigration reform" before leaving of their own accord. PLP MPs stomped their feet in apparent support of the action as those involved left the chamber. The incident comes a week after Minister of Home Affairs Michael Fahy unveiled new pathways for those seeking Bermuda status and Permanent Resident's Certificates. The changes would allow those who live in Bermuda for 15 years to apply for permanent residency and those who have held permanent residency for 20 years to seek Bermudian status. While Senator Fahy said the changes are necessary to bring immigration rules in line with international standards and to deal with the shrinking population, opponents have labeled the move a desperate effort by the One Bermuda Alliance to gain votes. PLP backbencher Walton Brown called for civil disobedience in the wake of the announcement. "The Government clearly has no intention on having a collaborative approach on one of the most contentious issues," he said. "If the minister seeks to throw the gauntlets down to the Bermuda public, he will get an appropriate response." Lynne Winfield, of anti-racism group Citizens Uprooting Racism in Bermuda, said the move would further disenfranchise struggling black Bermudians, noting the history of using immigration as a means of boosting the white voting population. Senator Fahy, however, told The Royal Gazette that it was "absurd" to suggest that the Government knew how those who would be entitled to apply for status under the changes would vote.
February 12. The Bermuda Government has unveiled plans to table legislation allowing civil unions between same-sex couples. But Trevor Moniz, the Attorney-General, told a public meeting last night that the One Bermuda Alliance had no intention of same-sex marriage becoming law. About 100 people attended the presentation at CedarBridge Academy, during which many praised and welcomed the Government's new stance, while others expressed opposition to the proposals. Mr Moniz told the meeting that the move would bring Bermuda in line with the European Convention of Human Rights and recent legal precedent set in both Bermuda and Europe. "There is nothing to be afraid of," he said. "We are putting our cards on the table and recognizing that it is a compromise but it is the best thing to do for everyone. All we are talking about is giving people their rights required by law." Mr Moniz said the Government planned to table legislation in the House of Assembly before February 29; a deadline set by Chief Justice Ian Kawaley in the landmark Bermuda Bred Company decision at which time the ruling will take effect. In that case Dr Justice Kawaley ruled that those in same-sex partnerships with Bermudians should have the same rights to reside and seek employment as spouses of Bermudians Mr Moniz said: "We will protect marriage for a man and a woman but we will also propose the idea of civil unions. If the legislation comes through the House of Assembly that will be a conscious vote. Whether it passes or fails is a question of the individual. If it does not pass, the Chief Justice's ruling is still in place and he will act accordingly." Under the proposed legislation, same-sex couples will obtain the right to work in Bermuda without a work permit upon registering their relationship as a civil union with the Registry General department. Mr Moniz maintained that putting the issue to a referendum was not appropriate adding: "This Government has no intention of same-sex marriage becoming law. The Matrimonial Causes Act will have primacy over the Human Rights Act in that regard." The proposed civil union legislation will only apply to same-sex couples. Under the proposals couples will have to be 18 to undertake a civil union and they will have to issue a notice to the Registrar General of the intended union that will be "publicly notified." The new laws stipulate that civil unions can take place before the registrar by signing the necessary documentation in the presence of two witnesses. They may also be formalized before a civil union "celebrant" by making a declaration of commitment to each other in the presence of two witnesses. Clergy that want to be registered as a "celebrant" have to register with the Registrar General. Under the new regime, objections could be lodged against a civil union if parties are underage or already married and the objections would be heard by a judge to determine whether the union was lawful. Patricia Gordon-Pamplin, the Minister of Community, Cultural Affairs and Sports, said: "The Matrimonial Causes Act will remain in place. There will be legislation tabled so that section 15 will continue to define marriage between a man and a woman and there will be a clause in that segment to have supremacy over the Human Rights Act. We don't want to see people in our community becoming alienated and we don't want to see them leave the country." Under the proposed Civil Union Act, same-sex marriage performed in another jurisdictions will only be recognized in Bermuda as a civil union. Furthermore, it will only be recognized after it has been registered with the Registrar General.
February 12. Junior Minister for Education Leah Scott says the One Bermuda Alliance should consider a "staggered approach" to the granting of Bermudian and permanent resident status in the current climate. The proposal, announced this month, would allow residents who have lived on the island for 20 years to gain status, while those resident for 15 years would be entitled to permanent residency. Ms Scott said while she supported Minister of Home Affairs Michael Fahy's proposal to make such provisions for long-term residents, she was concerned with the timing. The announcement sparked an angry backlash from members of the community, not least former shadow immigration minister Walton Brown, who described the move as "reminiscent of the racist policies of the 1960s". Speaking with The Royal Gazette, Ms Scott said: "It is important to regularize the positions of families where you have parents that are Bermudian but the children aren't, or vice versa. People who have been here a long time and have contributed to the country should have a right to be citizens of the country — they are a part of our family. I agree with that and I do support the minister. However, if this were ten or 15 years ago when the economy was awash with cash and people had jobs, the things we are doing now would not be a concern. The critical thing for me is the timing of it in terms of the economy not being ready for it and the people not being ready for it. There is a very real and palpable fear about having a PRC [permanent residents certificate holder] or an expat get their job. The reality is that most of the people here are already working and would not be doing jobs that Bermudians are doing in any event but there is a perception. We could be a bit more measured in our approach. There is a fear there will be a voting base for the OBA granted in mass. I don't think that it is true, it is misguided but again, it is the perception." Asked to elaborate on how the government could take a staggered approach to the immigration proposals, Ms Scott said: "Before there was a moratorium on status there were 40 grants given per year. I don't think that is an unreasonable approach, even if it was the approach we took for the next five years. That would be moderated and would provide a greater level of comfort to the community. I shared with the minister that this was maybe one of the things we could temper to make people more comfortable with it." Ms Scott said that her party needed to better communicate its intentions as a government. Part of the challenge we have had as a government is effectively being able to communicate. Part of the challenge for us is we have been trying to get things done and turn the ship around — build up the economy and create jobs. Right now anything and everything we do is going to be under the microscope and people are not going to be happy about everything we do. I think that we just have to be more communicative and educate people more about the things that we are doing because there is nothing we are doing that is intended to cause harm to anybody. Our intention is to build up our country so that people do have jobs, so that our children have jobs and something to look forward to. If the proposals go ahead they will give people a level of security and a home knowing they are not going to be asked to leave. If they get Bermudian status, they have a right to participate in the decisions of the country by voting. They will be able to buy property and there are a lot of homeowners trying to offload properties and have not been able to do so. Overall it is a good thing but like anything it is about how you approach it and how you present it." Facing criticism following the announcement, Mr Fahy defended the move by highlighting potential economic benefits including revenue from applications and greater incentive for investment by foreign workers. He also spoke to a human rights element: Bermuda is one of the only places in the world that does not have a pathway to status that isn't through marriage. The unfortunate reality is that Bermuda's immigration policy has allowed substantial numbers of people to live in Bermuda with no real hope or expectation that they can ever achieve the full rights associated with being Bermudian. The status quo is totally unacceptable."
February 12. The 2016 Census is scheduled to begin in May, with a greater emphasis on online surveys. Speaking in the House of Assembly today, Michael Dunkley, the Premier, said the census will be run from May 21 to December 31, collecting information about the island's population and housing stock. "Census data is used to devise effective strategies relating to infrastructure, education, health, employment and other economic and social issues," he said. Mr Dunkley said the survey will cost the Bermuda Government an estimated $1.7 million, which is $1.2 million less than the 2010 Census.
February 12. Retail sales in Bermuda dropped last November for the first month in a year, the latest Government figures have revealed. Sales were down $3.6 million, or 0.6 per cent, to $85.5 million on the $89.1 million recorded for October. Returning residents declared overseas purchases of $6.5 million, up 8.3 per cent year on year, giving a combined island and foreign spend of $92 million. After adjustment for inflation, measured at 0.3 per cent last November, the volume of retail sales decreased 0.9 per cent. A total of four of the seven sectors experienced declines in sales revenue. The all other store types category took the biggest hit as sales dropped 6.2 per cent, while individual segments like furniture, appliances and electronic sales dropped 17.5 per cent. Pharmacies saw a 0.1 per cent decline, although gross receipts for marine and boat supplies tripled as a result of higher boat sales. Receipts for tourist-related stores went up by one per cent. After adjustment for inflation, the all other store types saw a drop of six per cent. Sales revenue in clothing stores fell by 1.3 per cent, reflecting a 2.7 per cent drop in sales volume — attributed partly to reduced tourist sales as well as lower Black Friday sales compared to 2014. Motor-vehicle sales continued their mini-boom, with sales up 20.7 per cent in November last year compared to the same month a year before. The Department of Statistics said: "The increase in sales was due to a 22.6 per cent rise in the number of vehicles sold as well as an increase in the average price of vehicles." Receipts from food and liquor stores fell by 0.4 per cent, while sales revenue for liquor stores fell by 2.7 per cent in November. Sales volume for food fell 2.2 per cent, while sales volume for liquor dropped 3.6 per cent. But building materials-sales revenue went up 1.2 per cent last November, with the increase put down to more activity in residential construction, although, after inflation was taken into account, sales volume fell 1.3 per cent. Service-station sales receipts were flat, with a 0.1 per cent increase last November. The marginal increase of 0.5 per cent in fuel sales volume was offset by a 0.4 per cent decrease in the price of fuel.
February 12. The downgrading of Bermuda Commercial Bank by a ratings agency was yesterday criticised by Peter Horton, the bank's chief executive officer. Mr Horton said that the decision by Moody's to lower the credit rating of BCB after it bought up 75 per cent of British-based finance house Private & Commercial Finance Group was unwarranted. He added: "We do not share Moody's view that our acquisition of a majority stake in PCFG warrants a downgrade of BCB. On the contrary, our well-researched assessment is that this acquisition significantly strengthens and diversifies BCB's asset base and revenue activities." Moody's reported earlier this week that it had set BCB's long-term deposit and issuer ratings at Ba3, down from Ba2, while its stand-alone baseline credit assessment dropped from ba2 to ba3 and the counterparty risk was lowered from Ba1 to Ba2. The review came after a review launched last September in the wake of the investment in PCFG. Moody's said that BCB had taken on increased asset risk which reflected PCFG's loan portfolio, consisting of high yield, high loan-to-value consumer auto finance and small and medium-sized enterprise business and leasing finance. The ratings agency said these loans carried a much higher level of delinquent and impaired loans and a higher-loss content that BCB's commercial loans in Bermuda. But Mr Horton said that PCFG had weathered two decades in business and banks in Britain had been confident to lend it cash. The PCFG share price on the London Stock Exchange has gone up by 20 per cent since BCB took a majority stake. Mr Horton, due to stand down at the end of next month, added: "It is a profitable business having grown by a combination of acquisitions and organic growth. The company commands a small market share, allowing the scope for very material growth, especially now that PCFG has the support of a bank." He said that BCB holding company Somers Group had also had a longstanding investment in the British firm and it was well known to BCB, which also carried out extensive due diligence and got the consent of British and Bermudian regulators before it bought the stake. Mr Horton added that the Basel III rules on bank solvency and stability had been "a fundamental challenge" to the industry and sparked a move by banks to review their asset and capital allocation policies. He said: "The five-year strategic plan we adopted in February 2015 identified the need for us to diversify earnings and our balance sheet ahead of the Basel III implementation. "Acquiring PCFG was a major step towards balance sheet diversification. It allowed us to reduce our reliance on relatively capital-expensive assets, including some in our bond portfolio, which was timely ahead of the current turbulence in world investment markets."
February 11. BBC News. By Kamal Ahmed, economics editor. Google's UK chief has defended the search giant's tax arrangements in a hearing before MPs on the Commons Public Accounts Committee. Matt Brittin said he understood public anger about the amount of tax it paid. However, he said (Bermuda-registered) Google was paying 20% tax on its UK profits, not the 3% figure cited in some reports. The £130m in UK tax it paid for the 10 years from 2005 was reached following a "six-year rigorous, independent tax audit" by HMRC, Mr Brittin said. Tom Hutchinson, Google's global tax chief, told MPs that the company did not negotiate its tax settlement with HMRC. He told the committee that the tax authorities did not "throw out a number - it's not a negotiation", adding: "There was no top-line figure; that's not how the process works." The £130m payment included £18m in interest, Mr Hutchinson told MPs, but no penalties or payments under the government's diverted profits tax - also known as the "Google tax." Today's UK Parliament's Public Accounts Committee hearing was interesting less for Google's explanation of its tax arrangements - we've heard much of that detail before - and more for HMRC's defence of the settlement. There Dame Lin Homer, the head of HMRC, made two significant points. First, she said that under the law HMRC could not have demanded more from Google, pointing out that the £130m settlement was the largest the technology giant had signed outside the US. Dame Lin said it would not have helped if HMRC had gone to court. Certainly, proving that the company had acted "unreasonably" is difficult. Second, Dame Lin said that HMRC applied the same tax laws to Google as it did to any business and that at any one time up to two-thirds of large businesses are under-going some form of tax audit process. HMRC says it is constrained by the complicated tax laws. If they are to change, it is politicians who need to act. MPs also questioned HMRC officials about their settlement with Google. Jim Harra, its head of business taxation, said the company was not fined, despite underpaying tax, because proving "insufficient care" was "very difficult". Dame Lin Homer, HMRC chief executive, admitted that the six-year investigation into Google's tax affairs took a long time to complete, but said that similar inquiries into far smaller firms could be just as lengthy. Mr Brittin said there had been no co-ordination with the Treasury about the timing of Google's announcement about the tax settlement late last month. The Chancellor, George Osborne, described it as a victory for the government. The timing was determined by the fact that the figure was due to be made public when the company's UK accounts were filed, Mr Brittin said. Dame Lin told MPs that HMRC informed the relevant minister that a big company was to make a tax announcement the following day, but did not name the firm. "What we don't, and never, do is share taxpayer information with ministers and Treasury colleagues," she said. In a statement released after the hearing, Google said that it had 2,329 staff in the UK last year compared with 156 in 2005. In an article for the Telegraph published on Thursday, Mr Brittin said Google wanted the international tax system to be reformed. He said the company paid $3.3bn in corporation tax last year, mostly in the US, where most of Google's products were designed and created. "We have long been in favour of simpler, clearer rules, because it is important not only to pay the right amount of tax, but to be seen to be paying the right amount," Mr Brittin wrote. "But changes to the tax system are not Google's call. Reform must come from governments, not from the companies who are subject to their rules." He was asked four times by Meg Hillier, chair of the Public Accounts Committee, how much he was paid. Mr Brittin said: "I don't have the figure, but I will happily provide it." "You don't know what you get paid?" responded Ms Hillier. "Out there, taxpayers, our constituents, are very angry, they live in a different world clearly to the world you live in, if you can't even tell us what you are paid."
February 11. Two new insurers, two brokers and one manager had their registrations confirmed by the Bermuda Monetary Authority during January. Capri Re Ltd, a special purpose insurer, and Nomura Americas US Re Ltd, a class D insurer, had their registrations approved, as did brokers Tokio Solution Management Ltd and Intrepidus Insurance Services (Bermuda) Limited, and manager Old Mutual (Bermuda) Holdings Ltd.
February 11. Bermuda is to host an international tall ships festival next year, according to the group Tall Ships Bermuda. It has been hailed as a historic event, given that the Island will be hosting the America's Cup at the same time. The organization issued a statement this afternoon confirming that Bermuda would serve as the host port for the Rendez-Vous 2017 Tall Ships Regatta, RDV2017, The RDV2017 is a transatlantic race covering 7,000 nautical miles, including a circumnavigation of the North Atlantic Ocean that includes six countries. Bermuda will become the centre of maritime attraction during early June 2017 with the 35th America's Cup Races, J-Class yacht regatta and the Tall Ships festival and races occurring at the same time. "The world's Tall Ship Fleet has never before graced the same port at the same time as an America's Cup event," said John Wadson, chairman of Tall Ships Bermuda. "Bermuda will be making history by playing host to a combined maritime event of epic proportions." Shawn Crockwell, the Minister of Tourism Development and Transport, said the Bermuda Government was pleased to support an event that would in particular give young adults a chance to sail in "life-changing voyages on various legs of the race. The Bermuda Tall Ships Festival will provide an amazing backdrop for the America's Cup events." The statement continues: "RDV2017 will mark the 150th Anniversary of the Canadian Confederation. The event is being organized by Sail Training International and expects to attract a fleet of 40 Tall Ships and provide opportunities for 3,000 trainees — including trainees from Bermuda — to sail across the Atlantic or perhaps a shorter leg of the race." The regatta will begin on April 13 with the fleet racing from Royal Greenwich, UK to Sines, Portugal. In early May, the fleet will race to Bermuda and the Bermuda Tall Ships Festival will take place on Front Street, Hamilton from 1 — 5 June. The fleet stops over in Bermuda for four days before they race to Boston and on to Quebec City. The fleet will then race back across the Atlantic to Le Havre, France." Mr Wadson commented that Bermuda had long enjoyed a warm cultural, historical, educational and maritime relationship with Canada, so it was fitting that Bermuda pay homage to Canada as it celebrated its historic milestone. "This is going to be an enormous initiative for Tall Ships Bermuda and it just would not be possible without the upfront support of the Bermuda Government, the Bermuda Tourism Authority, the Corporation of Hamilton, and of course, The America's Cup organizers. We are indeed grateful for their support and encouragement." Tall Ships Bermuda expects representation from European, American and Canadian vessels. In addition, it expects that some of the South and Central American vessels will join the fleet in Bermuda on route to Boston and the Quebec celebrations. Bermuda has successfully hosted several Tall Ships Festivals, from the very first transatlantic Tall Ships Race in 1964 and with subsequent festivals here in 1976, 1984, 2000 and the Tall Ships Atlantic Challenge in 2009 which was a celebration of Bermuda's 400th Anniversary of permanent settlement. Tall Ships Bermuda noted that there will be opportunities for corporate sponsorship and entertainment. They will also be looking for sponsors to nominate trainees and involve their staff in volunteering for the Tall Ships Festival.
February 11. There was a 2.4 per cent increase in holidaying visitor arrivals for the Island in 2015, according to the Bermuda Tourism Authority. That increase was driven by a 4.2 per cent rise in cruise arrivals. Tourism air arrivals fell by 1.2 per cent, moderately offset by the decrease of 51,090 commercial airline seats. Canada's weak dollar and the poor economy pushed down arrivals from that country by 17 per cent over the previous year's figures, which also drove air arrivals into the negative figures. United States visitors were up by 0.5 per cent, and British visitors rose by 9 per cent, which Bill Hanbury, CEO of the BTA, said positioned the Island well for 2016. Meanwhile, cruise visitor spending rose 29 per cent over 2014, while air visitor spending fell 6 per cent. A 10 per cent cruise visitor increase is forecast for this year, which will include more small cruise calls on Hamilton and St George's. The authority also reports a positive impact on visitor numbers from the 2015 Louis Vuitton America's Cup World Series, and the upcoming America's Cup 2017.
February 11. New rights for long-term residents have been defended after Citizens Uprooting Racism in Bermuda decried the move as one that would inevitably discriminate against black Bermudians. Lynne Woolridge, the chairwoman of the One Bermuda Alliance, responded last night in support of the "pathways to status", announced last Friday by Michael Fahy, the Minister of Home Affairs. In previous remarks, Senator Fahy had "unequivocally" stated that the OBA Government "is not in the business of encouraging immigration from the UK or anywhere else", she said. Senator Woolridge branded it "ridiculous" to link today's immigration policy with past attempts to economically and politically discriminate against black Bermudians. She described present immigration policy as "a hodgepodge of stopgap measures" that had fallen afoul of international legal and human rights obligations. "Additionally, in Bermuda, we have been overtaken by events," Senator Woolridge added. "The Chief Justice's decision in The Minister of Home Affairs v Carne and Correia, a case made possible by a mistake of the previous administration, made it clear that part of our immigration policy was not only unfair, but unlawful, and needed to be altered." That 2014 ruling, which allowed for certain holders of Permanent Resident's Certificates to apply for Bermudian status, could not possibly be undone retroactively, she said. Senator Woolridge said that Curb had ended up on "the wrong side" of the argument over the island's international human rights obligations. "We must never forget our history, but in today's context, while the world is watching, we must understand that the minister is doing the right thing," she said. "That will be obvious to those who are able to make a clear and unprejudiced judgment."
February 11. Lingerie stores and barbershops are giving out male and female condoms ahead of Valentine's Day this week. The initiative was organized by the Department of Health to mark Sexual and Reproductive Health Awareness Day on Friday. "It's an annual event, focusing on increasing attention on the importance of sexual and reproductive health issues, recognizing that sexual and reproductive health is a core aspect of our identity and an important part of health and well-being throughout the life cycle," Dy-Juan DeRoza, the assessment officer of the Epidemiology and Surveillance Unit, told The Royal Gazette . "The goal is to encourage people in Bermuda to consider the importance of maintaining reproductive health and talking about healthy decision-making with the people they care about." According to Kim Ball, the HIV coordinator, more than 400 bags containing two female and two male condoms were distributed to seven local shops. "We put them in really nice Valentine-themed bags and have a little bit of information about how to have a sexual health conversation for persons to have their conversation with their partner or with their child or with their doctor," Ms DeRoza added. Educational cards supplied with the condoms promote safe sex through five points: partners, pregnancy and prevention, practices, past sexually transmitted infections (STIs) and prevention of STIs. According to Ms DeRoza and Ms Ball, there were 356 reported cases of chlamydia in Bermuda last year, 27 cases of gonorrhoea, 92 of genital herpes, and eight cases of syphilis. Seven new cases of HIV/AIDS were also reported. But Ms Ball stressed that safe sex is not just about preventing STIs. "Sexual health is not just the absence of disease," she said. "Sex is to be discussed, sex is to be enjoyed and to be had in a very safe and caring environment." Because part of having healthy sexual relationships involves being able to talk about sex, the initiative encourages people to have a conversation about the topic with their partners, children or physicians. Sexual health requires a positive, respectful approach to sexuality and sexual relationships," Ms DeRoza said. "We need to create a sexually healthy generation full of individuals and communities that are comfortable discussing their sexual health. It is also an opportunity to promote services and support available in Bermuda for sexual and reproductive health issues such as the Communicable Disease Control Clinic, Bermuda Cancer and Health Centre, the Women's Resource Centre, and the Maternal Health and Family Planning clinic." The Department of Health provides a number of STI-related services, focusing on education, testing, treatment and investigation of outbreaks. For more information, contact the Communicable Disease Control Clinic on 278-6442.
February 11. A father told yesterday how his eight-year-old son ran home alone "bloodied" and "terrified" after he was bitten repeatedly by an illegal pit bull that broke free from its tethering in a friend's garden. The man said witnesses who claimed to have seen the attack on his little boy in the Rangers area of Southampton on Sunday should be ashamed for not stepping in to help him get home safely. "It was an unfortunate incident because the dog actually broke loose," said the 46-year-old, who asked not to be named.
February 11. The call for a national vote to settle the contentious issue of same-sex marriage has a familiar ring to John Kane, Bermuda's honorary Irish consul. Last year, the Republic of Ireland made history after becoming the first country in the world to approve same-sex marriage through the popular vote. While many were surprised at the move by an overwhelmingly Catholic and traditionally conservative nation, Mr Kane points out that Ireland has undergone great social change. "With the big younger population there, you could understand it," Mr Kane said, adding that he had been more surprised by Ireland's decision to ban smoking in 2004. Support in Bermuda for a referendum on same-sex unions remained divided along ideological lines during this week's demonstrations. Preserve Marriage, the group opposing same-sex marriage, supports a vote, while the Rainbow Alliance disagrees with putting the question to "the shifting passions of the majority". Ireland only decriminalized homosexuality in 1993, but in May 2015, 62 per cent of the two million who voted did so in favour of same-sex marriage. Mr Kane said many young people returned home specifically to vote, and that "getting back at the Catholic Church" may have helped sway votes. They already had civil partnerships that were protected by law but not protected by the constitution," Mr Kane added, pointing out why referendums are common in Ireland compared with Bermuda. Any amendment to the Irish constitution must go to the popular vote. Bermudians, by contrast, hold referendums sparingly.
February 11. The Pink Cafe at King Edward VII Memorial Hospital will close at the end of the week for major refurbishment work to be completed. The café will shut on Friday and the project is expected to completed in March. "We are very excited about our refurbishment," Liz Titterton, the Hospitals Auxiliary of Bermuda president said. "We will be incorporating the space previously used by the gift shop in the general wing, which has been empty since the shop moved to the Acute Care Wing in September 2014. This has given us the opportunity to improve the experience for customers and we look forward to opening again next month." The HAB gift shop in the Acute Care Wing lobby will be open Monday to Friday from 9am to 4pm and will continue to sell tea and coffee and snacks. There are 24/7 vending machines available in the Emergency Department in the Acute Care Wing and on the first floor of the General Wing in the KEMH Cafeteria, selling cold drinks and snacks. The KEMH Cafeteria is open between 7am and 11am, 12pm and 2pm and 5pm to 7pm on Monday to Friday.
February 11. For decades the dulcet tones and eclectic tunes of Lee Harvey were the soundtrack to island life in Bermuda. The renowned deejay and radio personality had listeners running for the on switch on their radios to hear his trademark "I'm back" catchphrase, slick wit and wide-ranging record collection. He was also known for his snappy dress sense and a tireless as well as meticulous work ethic in the studio. Mr Harvey, a father of two, passed away at the weekend in Bermuda at the age of 71 prompting friends and colleagues to pay tribute to a popular and respected radio stalwart who was also a member of the Bermuda Industrial Union. Friend and union colleague Molly Burgess hailed Mr Harvey as a man who "knew his community. He understood music and he could draw people in," Ms Burgess said. "He could make a show about any kind of music. Lee worked with some great personalities and everything he ended up doing turned to gold. He was not just a deejay but a real radio personality. On behalf of the BIU I would like send our condolences to his family and thank them for sharing him with us." Winston JR Jones, who worked with Mr Harvey for more than a decade at ZFB, told The Royal Gazette Mr Harvey was an "exceptional talent. He was a complete natural at what he did. He had a memory like an elephant and was extremely personable. He loved people and he knew how to please them with the music he put together.
February 11. The Ministry of Public Works is looking for a company to remove asbestos from the Warwick Camp dining hall. A ministry spokesman said the roof's corrugated asbestos sheets had been earmarked for replacement for years, but the job increased in priority after the roof sprang several leaks. The asbestos is to be removed, or abated, and retrofitted with a new covering. A new design is being developed with a local engineer. "All work will be scheduled to keep to a minimum the disruption to the operations at Warwick Camp with full consideration to safety and health of all occupants," the spokesman added. An invitation to tender, appearing on page 30 of yesterday's edition of The Royal Gazette , seeks submissions from companies who specialize in asbestos abatement. While the notice stated that further details and tender documents would be available on the Bermuda Government website, the information had not appeared as of yesterday afternoon. The deadline for completed tenders is 3pm on February 24, and interested parties can contact Dennis Reid at ddreid@gov.bm. Asbestos was widely used internationally as building insulation due to its resistance to fire and ability to absorb sound, often mixed with cement or woven into fabric or mats. However, studies have linked prolonged exposure to asbestos fiber to mesothelioma and lung cancer, leading it to be banned as a building material in several countries. The material usually becomes a threat only when airborne owing to deterioration or damage and is inhaled. To prevent inhalation, anyone handling asbestos should wear protective gear, including masks, and the materials should be kept wet to prevent the fibres from becoming airborne. A 2003 report on asbestos in Bermuda noted that the material had been used in several "military type" buildings, including the Bermuda Police Service headquarters and Warwick Camp buildings.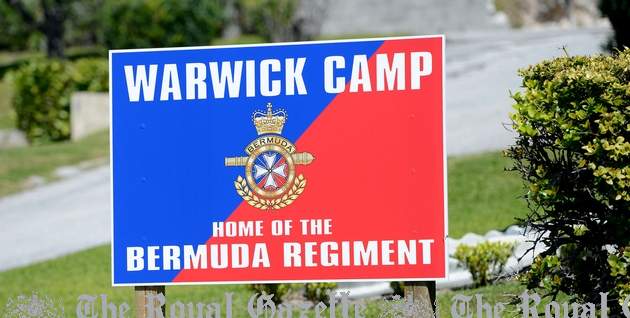 Warwick Camp. See above story
February 11. A public meeting has been called in St David's to rally opposition to the potential closure of the primary school. The event, in the school's assembly hall on Monday at 6.30pm, is in response to an announcement from education minister Wayne Scott that St David's Primary School, as well as Heron Bay Primary School, Prospect Primary School and Gilbert Institute, could be shut as part of the Bermuda Government's school reorganization plan. A flyer for the event states: "If you do not wish our beloved St David's Primary School become a casualty of the recently released Score report, you are encouraged to attend an important community meeting."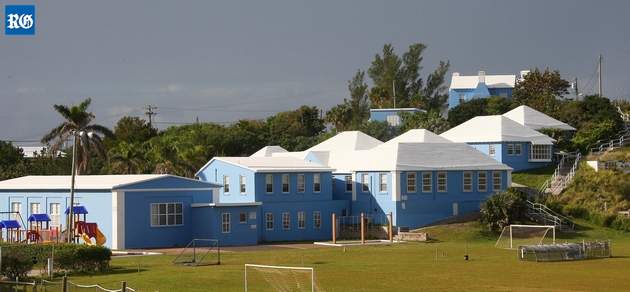 St David's Primary School. See above story
February 10. American President Barack Obama yesterday put forward a plan in his final national budget proposal that would raise the US tax burden on some Bermuda reinsurers. It was the seventh year in succession that President Obama included the measure in his budget and it has never yet come close to being passed into law by the US Congress. The proposal would impose a tax on reinsurance premiums paid to non-US affiliates of a US insurer. It would impact several groups that have insurance companies based in the US and a reinsurer based in Bermuda. Several such groups, including XL Catlin, Arch Capital Argo Group and Chubb, formerly known as Ace, as well as the Association of Bermuda Insurers and Reinsurers, were among the 31 insurance firms, industry bodies and consumer groups that were signatories to a letter sent yesterday to leading members of the House of Representatives Ways and Means Committee and the US Senate Finance Committee from the Coalition for Competitive Insurance Rates. Mr Obama's forecast sees the measure raising $411 million in 2017 and nearly $7.7 billion over the next ten years. It is a very small part of the president's plan to raise $2.6 trillion over the next decade through tax changes. However, the administration's proposal is all but certain of being rejected by the Republican-controlled Congress. The CCIR letter described Mr Obama's proposal as "isolationist", highlighted the importance of foreign reinsurance capital to the US and added that measure's implementation would result in US consumers paying more for insurance coverage. "A robust insurance market open to as many competitors as possible is essential to consumers," the letter states. "Global reinsurers are financially strong and have substantial capacity to support US insurance companies. For example: losses from Hurricane Sandy reached nearly $19 billion; international insurance companies covered close to 50 per cent of the losses. A tax on foreign affiliate reinsurance would only serve to limit US insurance capacity and drive up the cost of insurance, a major threat to homeowners and businesses. The only potential winners are the select few firms that stand to profit from decreased market competition. The tariff would fall foul several US trade agreements and international tax treaties and would also violate World Trade Organisation commitments that require that a country cannot treat a foreign company worse than its own. We ask you to weigh the unintended consequences of a tax on foreign reinsurers," the letter concludes. "These proposals are isolationist measures aimed at benefiting some competitors in the market at the expense of American consumers and business owners."
February 10. American Airlines will begin a second service to Bermuda tomorrow from New York's JFK Airport. That will push up to 18 per cent the increase in commercial airline seats flying to Bermuda in the first quarter of 2016 when compared to the first quarter of 2015. "Our ongoing dialogues with airline partners are showing results," said Shawn Crockwell, the Tourism Minister. "Not only do we have the added airlift from New York on American Airlines, we've seen other airlines fly more often this winter than they did last winter. This is good news for residents and business people who rely on air travel, but also presents an opportunity to the Bermuda Tourism Authority to attract more visitors." In the second quarter, a six per cent increase in seats is forecast, making for two consecutive quarters of additional airlift, which represents 24,222 more commercial airline seats available to Bermuda, according to a Ministry statement released this morning. In 2015, every quarter of the year experienced a decrease in airlift — down 9.2 per cent or 51,090 fewer commercial airline seats. Typically an increase in the supply of commercial airline seats brings more competitive prices for travelers, added the statement. Bermuda Tourism Authority CEO Bill Hanbury said: "Airline seats to Bermuda are down 30 per cent in the past decade. That's why we're working hard to grow demand and assist our partners in government who negotiate with airlines. The first two quarters of this year are encouraging and with promotions like the Pink Sale we are making strides to fill those seats." Through the third quarter of 2015, vacation air arrivals were the best performing type of traveller. Vacationer travel was down 0.8 per cent, business travel was off 4.5 per cent and visiting friends and family was down nine per cent. Fewer Bermuda-based employees in the international business sector and fewer visiting friends and family of expats are partly responsible for the lagging performance in the non-vacationer categories. American Airlines flight 1428, its second from New York's JFK, is scheduled to depart at noon eastern time and arrive in Bermuda at 3.05pm local time. It will return to JFK same day with a departure at 4.00pm, arriving at JFK at 5.30pm eastern time. The additional flight will operate every day of the week except on Tuesdays. The inaugural AA flight will be greeted tomorrow with the ceremonial water cannon salute on the taxiway at L.F. Wade International Airport.
February 10. The Bermuda Tourism Authority has urged the Bermuda Government to boost its funding in the upcoming Budget. Bill Hanbury, the chief executive of the Bermuda Tourism Authority, told The Royal Gazette that an increased budget figure was vital and would go towards advertising and marketing the island. He said that 2016 was a "very important year" for the authority and he believed it had the makings of a "decent year. We have asked for a significant increase in our budget because we desperately need it. The vast majority would go on advertising and marketing. We think we have made a compelling case to Government for additional funding, but we will see. In 2015, the BTA's grant from Government totalled $21.7 million; the lowest in more than a decade. Despite the cut in funding the tourism industry generated more than $50 million in taxes as well as $300 million economic impact. We are the best investment that the country is making and one of the few things that Government can invest in and generate an economic impact. We have built a good machine. It does not have all the fuel it needs but it has the capacity to do very well." Mr Hanbury revealed that the America's Cup had already increased global awareness of the island as a potential for sporting events. He also maintained that convention travel in 2016 looked set to increase with an accompanying rise in cruise calls. "We are going to have a decent year," Mr Hanbury said. "I'm optimistic things will be better than 2015, but there are still a lot of headwinds out there. The Canadian economy and exchange rates are big issues and we have seen a pretty significant decline in visitors coming from Canada, which is traditionally our second-biggest market. Unfortunately, we have no control over exchange rates and with these kind of numbers it is difficult to be completely successful. There is going to be more airlift in the first quarter, which is really good news, but we still need to fill that capacity. It's a really important year for us, I'm not thinking about the America's Cup at the moment, I'm concerned about getting the numbers up for 2016. The America's Cup has obviously helped and taken us to places we could not have gone otherwise and given us strong affiliations with big names. It has also raised awareness about us as a sailing venue and as well as a sports venue and we have seen some results on that already."
February 10. Ratings agency Moody's yesterday downgraded Bermuda Commercial Bank's long term deposit and issuer ratings. The agency set BCB at Ba3, down from of the previous Ba2 rating, while its stand-alone baseline credit assessment dropped from ba2 to ba3 and set its counterparty risk at Ba2 from Ba1. The move came after a review launched last September following BCB's acquisition of 75 per cent of British finance house Private and Commercial Finance Group. In a statement Moody's said: "The ratings downgrade reflects Moody's view that BCB has taken on increased asset risk through its acquisition of PCFG that has raised the bank's overall risk profile despite its strong capitalization. Moody's notes that the increased asset risk reflects the nature of PCFG's loan portfolio, consisting of high yield, high loan-to-value consumer auto finance and small and medium-sized enterprise business and leasing finance. These loans carry a much higher level of delinquent and impaired loans and a higher loss content than do BCB's commercial loans in Bermuda." The bank's short term ratings and counterparty risk assessment of Not Prime and Not Prime (counterparty risk) respectively were affirmed and the outlook for the ratings was assessed as stable.
February 10. The virtues of traditional marriage versus equal rights for all prompted plenty of discussion as pressure group Preserve Marriage held its "peaceful demonstration" yesterday lunchtime. Hundreds packed the grounds of the Cabinet Building as the group submitted its objectives against civil unions and same-sex marriage to members of the Bermuda Government. It was not just members of Preserve Marriage who showed up — there was a sea of rainbow-colored flags, a symbol of the LGBT community, flying towards the back of the crowd with placards calling for "love and equality." The messages on the placards of Preserve Marriage included: "Redefining marriage will make moms and dads optional" and, "We do not hate anyone", likely a response to suggestions that supporters of "traditional marriage" are bigoted and spout hate speech. Theresa Harney-Zuill says she is dedicated to the Preserve Marriage cause. "I can see it from all sides — this isn't against anyone because of who they choose to love," she said. "I know there are single mothers; I have been a single mother, but the influence of that male on the child is needed. I have friends who love the same sex and that is fine. But when it comes to redefining what marriage means, I believe that totally now changes the whole of society. I became a Christian a few years ago — it is part of it but it is also my own true belief." Jordon Ess, a member of the LGBT community, turned up to the grounds with rainbow-colored tape across his mouth. "I am for every human being having human rights. I found the Preserve Marriage campaign hurtful. It was important for me to be here today to show that rights are for everyone. This [the tape] is to signify being silenced by people who want to say, 'We don't hate you but we don't think you deserve to live as an equal citizen in our country either'." There were many young members of the community who came out to let their beliefs be known. Aminah Simmons, 17, said the issue strongly affected her generation. "I firmly believe that marriage should stay between a man and a woman. It is crucial to how we raise our children and how children perform in school. I am here to make a stand for my generation and for those that are afraid to stand up. A child should have the experience of a mother and a father. They bring two different things to the table — a mother brings nurture and love, and father brings protection and guidance." Jessie Powell, 16, a member of the LGBT community, wanted to stand up for the rights of herself and her friends. She said: "You often hear Bermudians talking about how they want to move forward and give Bermuda a better image but then they don't want to allow people to love each other. I don't belong sometimes. They say they want people to be treated as equal but they are being judged on their sexual orientation and they are being very hypocritical in my opinion." Maria Mcleod Smith said she believed Bermuda was on the cusp of change. "It [same-sex marriage] will happen in Bermuda quickly and it will be very good for the economy," she said. Husband and wife Jason and Cindy Samuels have two children and believe the best for any child is to be nurtured by a "traditional" married couple. Ms Samuels said: "Marriage should be a union ordained by God. I raised my children with Christian beliefs. If you give same-sex marriage the same definition, it will reorder society. You can call it something else — a civil union."
February 10. The Bermuda Government came under pressure to fortify marriage laws as demonstrators for and against same-sex unions filled the grounds of Cabinet yesterday. Two town-hall meetings on civil unions have been pledged, with the first to be held tomorrow. The rally was peaceful, but vocal in its outright stand against same-sex marriage, with the biggest cheers going to an organizer who told the gathering that "a few do not decide for the many". "If the Bermuda Government is unwilling to stand strong for our society by upholding marriage as between a man and a woman, as previous governments have done for hundreds of years, then the voting population of Bermuda must decide about marriage equality — through a referendum, and not by unelected judges." The Government was also chided for failing to bring an appeal against a ruling by Ian Kawaley, the Chief Justice, that granted the foreign same-sex partners of Bermudians the same right as spouses to live and work in Bermuda. Demonstrators were addressed by Michael Dunkley, the Premier, as well as Patricia Gordon-Pamplin, the Minister for Community, Culture and Sports, who reminded them that the Government had made no move to redefine marriage. Michael Weeks, the Shadow Minister of Health and Community Affairs, joined with the group Preserve Marriage, telling The Royal Gazette that he considered it a moral issue. "An issue like same-sex marriage, which can radically change our society, if anything should go to the people as a referendum," Mr Weeks said. Despite the placards denying any position of bigotry, campaigner Tony Brannon said he was at a loss to understand why "people from churches who claim they believe in God want to discriminate against marriage equality. These are people who had to fight hard for their rights in the past; I find it weird that they are trying to deny rights to others." Allan and Mildred Hunt of Heart-to-Heart Ministries were among those outside Cabinet, with Mr Hunt saying he believes "wholly and solely in the traditional stand on marriage. I'm glad the Rainbow Coalition are here today. We need to share. But nobody is trying to take their rights away. Every right I have, they should have. Marriage should be between man and woman, but they should never be discriminated against. I know what it's like. I came up in this country during hard days. But at the same time, I am here today." According to Preserve Marriage, the group has a task force of 400 people, and 9,000 signatures backing its petition for marriage to stay "a special union ordained by God between a man and a woman." However, Pastor Gary Simons, an official spokesman for the group, said it was "not just for those who believe in faith but also those of non-faith. Most persons, even not persons of faith meaning they don't go to a church or practise a particular religion, still would believe there is a higher power. There are many in that category that still have signed the petition because they strongly believe that marriage should be between a man and a woman. Most of the world, and most religions of the world, would say that marriage was started by Him." The group opposes civil unions and is urging the Government to add supremacy clauses to legislation backing traditional marriage. Such clauses would give laws such as the Marriage Act 1944 and the Matrimonial Clauses Act 1976 superiority over the Human Rights Act. One demonstrator, Pattie Jones-Moore, said she felt the One Bermuda Alliance had done "a disgrace to Bermuda", adding: "I'm a baby of the 1950s; I don't believe in this stuff. It's a disgrace to my people." Meanwhile, Dallas Bowers, with the group Love Wins, was out in support for her daughter Nikki Bowers, who said she and her same-sex partner co-parented an eight-year-old child whose father remained "very much involved" in his care. About 750 people, the majority of whom were Preserve Marriage supporters, turned out for yesterday's demonstration, handing their petition to Ms Gordon-Pamplin. Thanking them, the Premier said that "with a foundation based on respect, understanding and tolerance, together we will find the best way forward". Ms Gordon-Pamplin said the people's views would be deliberated upon. The minister is to attend both town-hall meetings along with Trevor Moniz, the Attorney-General, and Michael Fahy, the Minister of Home Affairs. Tomorrow's meeting is from 6pm to 7.30pm at the Ruth Seaton James Auditorium in CedarBridge Academy, while Monday's meeting is at the same time in the Berkeley Institute auditorium.
February 10. Shadow health minister Lovitta Foggo has branded the Bermuda Government's plan to potentially close schools as "foolhardy, reckless and irresponsible. " Ms Foggo was responding to the release this Monday of the full, 196-page school reorganization (Score) report which highlighted four possible closures — St David's Primary School, Heron Bay Primary School, Gilbert Institute and Prospect Primary School. Meanwhile the deadline for school registration falls begins today and ends on Friday. Ms Foggo urged parents to register their children at their first choice of school regardless of whether it is in the firing line warning them not to "fall prey" to possible motives of the government. Ms Foggo said in a statement this morning: "In view of the fact that no definitive decisions have been made, this announcement has caused anxiety and stress for parents of current students, prospective students, principals and teachers alike. This is unacceptable. With school registration beginning today, I strongly encourage parents to register their young ones in the school of their choice, within their zones. Do not be deterred from registering your young ones from those schools highlighted as possibly closing. The scenarios provided by the Score team and shared by the minister were not endorsements of closure. In fact, 'closure' was not a recommendation. If the careless comments made by the minister were designed to dissuade parents from registering their children at the named schools, please do not fall prey to that possible motive. Make certain that you do indeed register your children there, to avoid any low enrolment numbers which might in future become part of arguments for certain closure. The Progressive Labour Party is acutely aware that some tough decisions will have to be made surrounding education, however to put out a statement with no definitive information in it only serves to muddy the waters and cause confusion."
February 10. New legislation allowing long-term residents to obtain Bermuda status will inevitably prove discriminatory towards black Bermudians, according to Lynne Winfield of the anti-racism group Curb. Ms Winfield said the announcement last week by Michael Fahy, the Minister of Home Affairs, had caused instant upset, especially for black residents already taking the brunt of the recession. "There is concern for immigrants but there does not seem to be a balancing concern for Bermudians here who are suffering or leaving the country," she said. "Everybody is suffering from the recession, but I don't know of one single white person who has left. I am sure there must be some, but all I can tell you is from my own experience. Bringing in pathways to status for residents who have lived here for 20 years, and permanent resident's certification for 15-year residents, was potentially "destabilising for the country." Asked if the island could see unrest, she said: "People I have met outside of Curb are very, very frustrated and very, very angry. There is rising anger in our community, and this kind of push without a consultative process of reform is piecemeal." She said some form of quota system should be in place without "opening the floodgates", adding that while Curb was sympathetic to immigrants, the latest move mirrored the discriminatory practices of the past aimed at boosting the white voting population. She added that with black workers getting "fired first and hired last", Friday's announcement by Senator Fahy was "irresponsible".
February 9. A rise in group bookings and the success of the Pink Sale has prompted "cautious optimism" within the tourism sector for 2016. The recent Pink Sale is expected to bring $8.8 million into the local economy in direct visitor spending this year after netting 4,428 bookings. The figures equate to 19,900 room nights for local hotels, an 189 per cent year-over-year increase. The sale is a partnership promotion between the Bermuda Tourism Authority and the Bermuda Hotel Association." Our members are very appreciative of the ongoing efforts on the part of the BTA to increase overall visitors to the island," BHA CEO Stephen Todd said. "We are starting to see the anticipated positive growth in future visitor arrivals and we applaud the ongoing efforts of the BTA in creating the overall awareness of the island in our key international markets, which will provide a much needed revenue boost to the overall economy." The Pink Sale, which offers visitors 50 per cent discount on hotel rates, was originally planned to run from January 8 to January 25, but was extended to February 1 to leverage a Northeast snowstorm and encourage further bookings. Fifteen local hotels participated in the promotion this year, the same number as in 2015. Meanwhile the latest Hotel Pace Report shows group travel up 10 per cent over the next twelve months compared to a year ago. In 2015, the BTA team's group sales effort booked 59 meetings that will take place in Bermuda, representing another $10.6 million in estimated spending on-island. "Group travel is critical to the profitability of hotels and tourism sector employment levels so having positive signs in this area is very important," said Bill Hanbury, Bermuda Tourism Authority CEO. "We are cautiously optimistic because we're climbing out of a big hole on the group travel side of the business and we have a long way to go."
February 9. Bermuda's coordinator of the Department of Court Services is heading to the United States to help further disability rights. Kelly Madeiros, who helped develop the Mental Health Treatment Court pilot initiative, was selected by the US Consulate and the US Embassy in London to attend the International Visitor Leadership Program (IVLP). the Department of State's flagship exchange programme, which celebrated its 75th anniversary last year. Mrs. Madeiros' three-week exchange, "Access for All: Enhancing the Lives of People with Disabilities," will take place from March 28 to April 15. Participants from around the world will convene in Washington DC and then travel onto three or four states. During their trip, the IVLP group will meet with state and municipal officials who implement programmes aimed at access for the disabled, NGO workers who advocate for disability rights, community service providers who work in the field, and more. Consul General Mary Ellen Koenig called Mrs. Madeiros "a staunch advocate for human rights, especially those with cognitive, intellectual or mental disabilities. This programme will allow her to share what Bermuda is doing in the area of disability rights, as well as learn about the challenges and successes of other countries in this field, including the United States. We hope the connections that Kelly makes and the experiences that she has will serve her and Bermuda well over the long term."
February 9. Four vehicles have been destroyed as a result of a fire that occurred in Sandys in the early hours of yesterday. At about 3.30am, the Bermuda Fire and Rescue Service responded with three vehicles and nine personnel to a report of a vehicle on fire on Spring Benny Road. Upon arrival, it was discovered that three motorcycles and a car were "engulfed with flames." Fire service spokeswoman Sergeant Russann Francis added: "The extension of the fire resulted in damage to the exterior of a nearby residence." There were no injuries found as a result of the incident, but an investigation into the cause of the fire is under way.
February 9. The Bermuda Police Service have warned protesters they must abide by the law when they take part in a planned demonstration and a counterdemonstration over marriage equality. Campaign group Preserve Marriage will hold a demonstration opposing same-sex marriage at the Cabinet Grounds today, while a second group has announced a simultaneous event to "embrace the beauty of diversity". A police spokesman said: "The Bermuda Police Service supports the rights of all Bermuda residents to free speech and the right to gather and peacefully protest. These rights do, of course, come with some responsibilities and the Police Service would like to encourage all groups wishing to form public processions to abide by the Bermuda laws that govern such activities." He noted that the Public Order Act requires those who intend to march on a public street to apply for a permit from the Deputy Governor three days in advance. "Where a permit has been granted, all directions or instructions therein must be adhered to by persons taking part in the parade/procession," the spokesman explained. "This will include all directions given by a police officer. Where persons are gathered in furtherance of exercising their free speech, they are cautioned that should do so in a manner that does not impinge on the free speech or freedom of movement of others nor constitute behavior likely to cause a breach of the peace. An early application to the Deputy Governor's office is encouraged in order that proper arrangements can be made for both the security of those taking part as well as traffic control. All applicants are also encouraged to make contact with the Bermuda Police Service operational planning officer who can assist in making a successful application to the Deputy Governor's office." The BPS operational planning officer can be reached at 247-1362 or via the switchboard at 295-0011. Meanwhile, the Ministry of Community, Culture and Sports and Ministry of Home Affairs announced the dates for the public information sessions on civil unions. The two public meetings are scheduled for Thursday at the Ruth Seaton James Centre for Performing Arts and Monday at the Berkeley Institute. Patricia Gordon-Pamplin, the Minister of Community, Culture and Sports, said: "You will recall last year we hosted public meetings on the subject of same sex marriages to present international legislation and to engage the community in the discussion. We received considerable input and written submissions from advocacy groups on both sides of the discussion. At the next round of meetings we will share what we've learned and how we plan on proceeding." Both meetings will begin at 6pm.
February 9. The Bermuda Poultry Fanciers Society is to hold its annual competition this month and the deadline for entrants is today. The event is due to take place at the Jack King Building in the Botanical Gardens on February 19, 20 and 21 and will include turkeys, chicken and ducks as well as rabbits, guinea pigs, cavies and quail. BPFS president Leo Simmons said: "Families will enjoy the day. There are many new birds that have arrived on the island over the course of the last seven months and some are new breeds that have never been here in previous years. They will get to see new breeds. We have everything from old English game to Spanish game standard and a variety of bantams. "It will be a good family day out. A lot of people are inquiring about chickens to use for eggs." There will be two overseas judges this year — Don Melson from Rhode Island and Steve Jones from Texas. To enter, call Mr Simmons on 335-3258 or visit the Bermuda Poultry Fanciers Society Facebook page. Entry forms can be collected from Noah's Ark, Pet Care, CB Wholesale and Dive. The event runs from 9am to 5pm on February 19 and 20, and from 9am to 3pm on February 21.
February 8. Michael Fahy, the Minister for Home Affairs, has dismissed claims that a new immigration policy is designed to increase the One Bermuda Alliance's voting base. Last Friday, Senator Fahy announced new measures to allow residents who have lived on the island for 20 years to gain status, while those resident for 15 years will be entitled to permanent residency. He told The Royal Gazette it was "absurd" to suggest that the Bermuda Government knew how those that would be entitled to apply for status under the changes would vote. "I fully accept that in the Sixties and Seventies that Government manipulated immigration law to maximize votes, but that is not happening here," Mr Fahy said. "The people who will benefit from obtaining status are from across racial, ethnic, class and gender divides. If you take this ridiculous view of the PLP to the next level and assume the people benefiting from this policy are white and would vote OBA, you need to look at where these people probably live and the most likely situation is that they live in safe OBA seats. So this serves no political purpose even if you look at it from their perspective. However, I dismiss the idea altogether. It is not relevant to the discussion. What is relevant is doing the right thing." Mr Fahy said the new rules, which will also allow adoptive children of Bermudians in Bermuda to obtain status under certain conditions, would prevent the island from falling foul of family rights enshrined in the European Convention on Human Rights. He also outlined plans to highlight a string of immigration cases that showed that the present system needed replacing. "Over the last three years I have spoken with so many people that have fallen foul of the present system," Mr Fahy added. "These are sad stories of people being here all their life but missing the opportunity of status because they were out of the country for two years due to illness or a 34-year-old nurse who came to Bermuda from Jamaica at 7 who is on a work permit with no rights despite being here 27 years." Mr Fahy revealed that the Government anticipated less than 1,000 will benefit from the changes initially, with about 200 a year after that. The latest move to overhaul immigration policy prompted an angry response from the Progressive Labour Party as well as Opposition MP Walton Brown, who condemned the move by saying the time had come for "direct action." Walter Roban, Shadow Minister of Home Affairs, described the policy as a knee-jerk reaction to the OBA's recent by-election defeat. He said: "It shows that the OBA is not a party that learns from their mistakes but rather one that seems intent on repeating their mistakes with the goal of securing long-term power. The PLP continues to call for joint comprehensive immigration reform rather than this piecemeal approach being employed by the OBA. The constituents of Devonshire North Central voted solidly for Diallo Rabain, in repudiation of the OBA's Bermudians-last policies. Premier Dunkley, Minister Fahy, and the OBA government would do well to listen to the people when they speak." Last night, Mr Fahy responded to the Opposition's criticism saying: "The responses from Mr Roban and Mr Brown are not at all surprising and are absolutely typical of what the public have come to expect from the Opposition when it comes to immigration. In true fashion, their rhetoric and misleading statements are what they lead with. It is absolutely laughable to say these changes are a knee-jerk reaction to anything, which makes it clear that Mr Roban did not read our comprehensive statement from Friday. Rather than using stock phrases like 'comprehensive immigration reform', which after all this is, Mr Roban might share his party's vision. The further outlandish remarks he and Mr Brown make, which certainly demonstrate their contempt for the right thing to do and their dismissal of human rights and those who are likely friends and neighbors, show they are the ones out of touch with what Bermuda needs to be sustainable. Calling for civil disobedience or similar cries do nothing more than show the world we are not welcoming. It beggars belief that anyone would have a problem with giving rights to people who have spent 20 years in a country."
February 8. A Bermuda-based reinsurance executive has suffered "life-changing" injuries after being shot in the leg during a robbery at his home in the British suburbs. Timothy Mardon, division president at ACE Tempest Re Bermuda, was at his home in the village of Sible Hedingham, Essex, when two men broke in the early hours of Saturday. Police were called to the property at 4.40am and arrived to find Mr Mardon had suffered a serious gunshot wound to the leg. The suspects had escaped by the time officers arrived. He is in hospital receiving treatment while police carry out forensic searches and house-to-house enquiries. Investigating officer Detective Sergeant Mark Cadd said that the burglars had threatened Mr Mardon after forcing entry into the house. He added: "He locked himself in a bedroom, and it is believed a gun was then fired through the door injuring him. The two men have then fled from the property and at this time it is not believed that anything has been taken. The two suspects are both white, aged in their 20s, of slim build and wearing dark clothing. One of them is described as bald. This was an extremely distressing incident for the victim and he has suffered life-changing injuries which have left him in great pain." According to his biography on the ACE Tempest Re Bermuda website, Mr Mardon moved to Bermuda from London in 1996. He is married to Sarah, board director for the Eliza DoLittle Society charity in Hamilton.
February 8. The Bermuda Tourism Authority will financially support new culinary, heritage and water sport activities for visitors as part of its 2016 tourism experiences investment process. Meanwhile, a spokesman said events such as the Bermuda Fly-fishing Invitational, Bermuda Yoga Festival and Bermuda Heroes' Weekend are being renewed for funding. In total, the spokesman said around $607,000 will be allocated to 38 tourism experiences, including more than a dozen new experiences. Among the additions is an intimate dinner theatre performance of Reminiscences and Other Lies, starring local actor Gavin Wilson as Mark Twain, and a new water sport experience by Kinezumi Water Sports. Entrepreneur Antwan Albouy said: "Our original idea was land based, but from the lunch and learn sessions we learnt visitors wanted more of a thrill from their water sport activities. This summer we plan to introduce the hydro-powered Jetovator, among other water-based products, which will bring plenty of excitement for thrill-seeking visitors." Meanwhile the spokesman said the Bermuda Heroes' Weekend is hoped to be bigger and better than last year with BHW Ltd representatives promoting the Bermuda Carnival to revelers in Trinidad. Jason Sudeko of BHW said: "The carnival-chaser is a new visitor market for Bermuda. We saw the potential and went after it, but we remained true to the BTA strategy of being unique and authentic. That's where the raft-up part of Bermuda Carnival came from. For June 2016 we already have tour operators and travel agents who want to package the experience which is an important new element for attracting carnival-chasers." Since April 2014, the BTA has allocated about $2.3 million to home-grown ideas that help revive the island's collection of visitor experiences. The BTA opens the application process to the public with a series of free lunch and learn sessions to share consumer research and offer advice from tourism industry entrepreneurs.
February 8. Bermuda Press (Holdings) Ltd (BPHL) plans to reinstate a quarterly dividend and buy back up to $1 million of its own shares. The company, which owns this newspaper, as well as retail, real estate and commercial printing interests, has suspended the dividend for six consecutive quarters. But its board of directors has announced a payout of five cents for shareholders of record at March 15, payable on March 31. The Bermuda Stock Exchange-listed company's shares closed at $6.50 on Friday — their lowest level in 16 years — giving the company a market capitalization of $9.1 million. The share repurchase programme, approved by the BPHL board of directors and which becomes effective on March 1, authorizes the buying back of up to $1 million of shares. At Friday's closing price, that would equate to 153,846 common shares, or 11 per cent of the total outstanding shares, the company stated. "The BPHL board believes the repurchase is the best strategic way to add value to shareholders, as the shares are currently trading below their book value on the BSX," a BPHL statement explained. The group's last annual report stated that shareholders' equity per share was $19.25, as of September 30, 2014 — more than three times the listed share price on the BSX. In 2014, Stephen Thomson, chairman of BPHL, said dividend payouts had been suspended to allow cash flows to be used in the consolidation of businesses acquired from MediaHouse, which BPHL bought in 2014, and to minimize borrowings. Mr Thomson said BPHL had fought hard during a difficult economic period in Bermuda, while "both staff and management have worked tirelessly to integrate the MediaHouse operations, increase efficiency in our businesses, and preserve the role of the independent media in Bermuda." The BPHL companies have been operating on the island for 188 years and BPHL has been listed on the Bermuda Stock Exchange since it opened in 1971. The company added: "BPHL shares are widely held, with more than 600 shareholders across the Bermuda community. At present, the BPHL companies employ more than 200 Bermudians who make a significant contribution to the local economy as Bermuda's most trusted source for news and information, the largest commercial printers, and a leading vendor of office equipment and supplies."
February 8. The chief executive officer of the Bermuda Commercial Bank (BCB) is to stand down, The Royal Gazette can reveal. Peter Horton is to leave the bank at the end of March. Alan Gilbertson, chairman of the bank, one of four in Bermuda and the only specialist in corporate and private wealth clients, said: "On behalf of the board and staff of BCB, we say a fond farewell to Peter Horton, who will leave us at the end of March." He added: "Peter was instrumental in the successful implementation of the bank's new core banking platform, T24, and internet bank application NetTeller." Mr Horton is also credited with spearheading the acquisition of the Private and Commercial Finance Group last September and strengthened the bank's management team. Mr Gilbertson said: "We are appreciative of his efforts and wish him well in his future endeavors. "Mr Horton said he wanted to return to the UK to spend more time with his young family. "I am appreciative of the board's comments and am grateful for the opportunity to have worked with the team here at BCB." Mr Gilbertson said the bank had launched "a global search" for a replacement CEO and said he was "confident that a successor will be found in due course." Mr Horton took over the top management job at the bank in late 2013 on a five-year contract, which means he was due to leave the job at the end of 2018. Mr Horton said after he took up the BCB job: "It is a contract I am really happy to make because of the potential of BCB — and it might be a longer commitment." He joined BCB after a globe-trotting banking career working across Africa, also ran a bank in the Caribbean and took up his first CEO position at the Bank of Maldives, in the Indian Ocean island chain. For the financial year ended September 2015, BCB recorded net income of $8 million, down 13 per cent from the year before.
February 8. Land Tax Demand Notices for the first six months of 2016 will be distributed over the next few weeks, according to the Office of the Tax Commissioner. Payment dates are as follows:
Section A: Public Utilities, City of Hamilton, Sandys, St George's Parish, St George's Corporation, Paget, due date is March 30.
Section B: Devonshire, Hamilton Parish, Southampton, Smith's, due date is April 6.
Section C: Warwick, Pembroke, due date is April 13.
A statement from the Office of the Tax Commissioner states: "If you are the owner or deemed owner of a property and do not receive a demand notice within four weeks of the payment due date for your section, please contact the Office of the Tax Commissioner promptly so that your contact information can be verified and amended if necessary." For more information, call 298-6351, e-mail taxenquiry@gov.bm or visit www.taxbermuda.gov.bm.
February 8. Four primary schools could face closure as part of the Bermuda Government's School Reorganization (Score) Plan but no decisions have yet been made. According to Wayne Scott, the Minister of Education, Gilbert Institute, Prospect Primary School, St David's Primary School and Heron Bay Primary School are all listed in the Government's Score report as potential candidates for closure. At a press conference, the minister this morning outlined some of the findings of the full Score report which is now available to the public via www.moed.bm. He also told The Royal Gazette that he could not rule out school closures taking place this academic year. He outlined three scenario per "zone" — the central zone, eastern zone and western zone. The scenarios are as follows:
• Central zone:
Resolve overutilisation at West Pembroke Primary School;
Close Gilbert Institute and transition staff and students to Prospect Primary School;
Close Prospect Primary School and transition staff and students to Victor Scott Primary School and Paget Primary School.
• Eastern zone:
Close St David's Primary School and transition staff and students to East End Primary School and St George's Preparatory School;
Resolve over-utilization at Harrington Sound Primary School and Francis Patton Primary School;
Keep all schools open and resolve over-utilization at Harrington Sound Primary School and Francis Patton Primary School by transitioning students to East End Primary.
• Western zone:
Resolve over-utilization at Port Royal Primary School and Purvis Primary School by transitioning students to West End Primary School;
Close Heron Bay Primary School and transition staff and students to West End Primary School;
Resolve over-utilization at Port Royal Primary School and Purvis Primary School and transition students to Paget Primary School; no schools closing and reorganizing.
Mr Scott said that further consultation will be needed before any firm decisions are made. "Let me emphasise that the Score Advisory Committee was mandated to collect and present the data, not to make decisions. " Mr Scott also touched on some of the other findings in the report including health and safety issues arising at some of the schools. He encouraged all parents and the general public to read the 192-page Score report, and the deadlines for school registration are this Wednesday, Thursday and Friday. The open consultation starts today and will continue for four weeks ending on March 4. The details will be released later. The public can send feedback on the report to educationconsultation@moed.bm. Mr Scott added: "The data findings detailed in the Score report and any other feedback I receive from stakeholders will be used as a foundation to lay the building blocks necessary to move the public school system toward improving the quality of our students' educational experience."
February 8. The selling of overseas lottery tickets by local bookmakers is to come under scrutiny at two meetings to be held this month. The special sessions of the Betting Licensing Authority will be much more "extensive" than usual, according to chairman Juan Wolffe. He told The Royal Gazette the authority had only recently become aware of betting shops selling tickets in foreign lotteries and needed to find out more. "We probably wouldn't have raised it if the issue of the lotteries hadn't come up," he said. "What we would have raised would be questions being asked of the betting establishments as to what exactly they do. We didn't know this was going on until it was brought to our attention. We have been discussing it since. At the hearings, we are intending on canvassing all these issues with all the relevant applicants."
February 8. The Rainbow Alliance of Bermuda has hit back at the Preserve Marriage group, branding its media campaign against same sex marriage as offensive and riddled with skewed statistics. In a statement released this evening the Rainbow Alliance rejected the idea that the question of same sex marriage should be resolved by a referendum The statement comes on the eve of a planned public demonstration by Preserve Marriage and a counterdemonstration by another group called "Love Wins" over marriage equality. "For the many non-heterosexual young people and adults in Bermuda, Preserve Marriage's homophobia is further entrenching the daily exclusion and alienation already faced," said the Rainbow Alliance statement. "It is unfortunate that with the multiple serious issues Bermuda is currently facing, a group of individuals would use such a significant amount of resources to advocate to prevent a recognized segment of the population from being able to benefit from rights and freedoms afforded to the majority." The statement added: "The Rainbow Alliance supports the rights of all people in Bermuda to have their consensual, loving relationships between two individuals recognized and protected — regardless of gender identity or sexual orientation. The Bermuda courts have already supported this position, ruling that refusing to recognise same-sex partnerships amounts to discrimination — a stance which we wholeheartedly stand by. A referendum on this issue disregards the struggle of minority groups in human rights issues. Why should an unaffected majority decide the extent to which an oppressed minority can access their rights? Fundamental rights and freedoms are in place to protect minorities against the shifting passions of the majority. Referendums pose a danger to the protections afforded to minority groups through legislative and judicial means. Preserve Marriage's rhetoric shows a need for a better understanding on how to be accepting of all persons, regardless of sexual orientation or gender identity."
February 7. Fred Olsen Cruise Lines announced to its UK clients a June 2017 cruise to the Azores and Bermuda on the mid-size chip Boudicca with a three-day stay in Bermuda specifically for the 17 final races of the America's Cup. See https://www.youtube.com/watch?feature=player_embedded&v=DeWBBAnQB_E. It leaves the UK on June 9, 2016 for a 26 night cruise and while in Bermuda will dock in the City of Hamilton.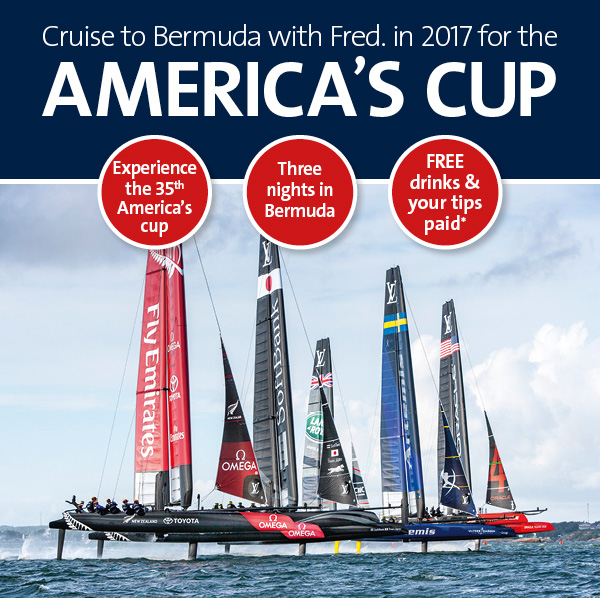 See above story
February 6. Long-term residents will be given increased rights to apply for permanent residency and Bermudian status under new proposals outlined by the Bermuda Government. The move will allow residents who have lived on the island for 20 years to gain status, while those resident for 15 years will be entitled to permanent residency. Michael Fahy, the Minister for Home Affairs, described the policy as "the right thing to do", dismissing suggestions that the changes were "anti-Bermudian" or would take jobs away from Bermudians. But the announcement prompted an angry response from Progressive Labour Party MP Walton Brown, who took to Facebook to accuse the One Bermuda Alliance of "losing its mind", and claimed it had shown contempt for Bermudians "reminiscent of the racist policies of the 1960s." Senator Fahy said amending the Bermuda Immigration and Protection Act 1956 to incorporate the new provisions would bring Bermuda in line with the European Convention on Human Rights, generate revenue and help to address the decreasing work population. "There is nothing anti-Bermudian about helping our family, friends and our neighbor," Mr Fahy said. "The people we are talking about represent every class, race, ethnicity and national origin." Under the proposed changes, residents who have lived in Bermuda for 20 years will also need to be Commonwealth citizens, of good character and not convicted of criminal offences to apply for status. Meanwhile, those applying for permanent residency need to be resident in Bermuda for two years immediately prior to their application and of good character throughout their time on the island. Mr Brown branded the new policy as "b******t" saying: "There is no longer space to discuss and negotiate. This is the time for direct action. Civil disobedience. I will consult with other like-minded people and we will act ... as early as next week. Are you in?" He later reiterated his comments to The Royal Gazette, saying: "The time for discussions is over. The Government clearly has no intention on having a collaborative approach on one of the most contentious issues. If the minister seeks to throw the gauntlets down to the Bermuda public he will get an appropriate response." Mr Fahy said yesterday that the number of residents who would qualify under the new pathways for residency and status was "very small" and maintained the strategy would create "pragmatic, immediate benefits. New applications will represent a revenue-enhancing opportunity as applicants pay the substantial fees involved under the legislation. New Bermudians, with their new-found security, could seek to purchase real estate or inject capital into Bermuda companies. Assets which will be earmarked to leave Bermuda will be more readily available for investments in the local economy. The 2010 Census data revealed a total work-permit population of 6,421. Of that, 5,738 had been in Bermuda for less than 15 years. 511 have been in Bermuda for 15 years or more. Assuming that the 172 who did not report were in the latter category, we are dealing with at most 683 possible applicants likely to be able to make applications upon this legislation coming into operation." The raft of changes will also allow adoptive children of Bermudians in Bermuda to automatically obtain Bermudian status if they meet certain conditions. A person who was born in Bermuda or arrived before their 16th birthday will be eligible for permanent residency after ten years of ordinary residency in Bermuda upon reaching their 18th birthday. Anyone who has a Bermuda immediate family connection will be eligible for permanent residency after ten years of ordinary residency in Bermuda upon reaching their 18th birthday. Meanwhile, people in Bermuda for 20 years when the new rules begin will have special transitional provision made for them. Mr Fahy said: "Bermuda is one of the only places in the world that does not have a pathway to status that isn't through marriage. The unfortunate reality is that Bermuda's immigration policy has allowed substantial numbers of people to live in Bermuda with no real hope or expectation that they can ever achieve the full rights associated with being Bermudian. The status quo is totally unacceptable. This is especially the case in a jurisdiction as modern and progressive as Bermuda. It has led Bermuda to fall afoul of its international legal and human rights obligations."
February 6. Police are appealing for witnesses after gunshots were fired at the Bermuda Athletic Association Field in Pembroke. At approximately 10.50pm on Saturday, Bermuda Police Service (BPS) officers attended a report of what appeared to be firearm shots at the sports ground. BPS spokesman Dwayne Caines told The Royal Gazette: "Upon police arrival, it was ascertained that an unknown male shot over the southern wall of the field at the end of the game between Ireland Rangers and BAA. "No one was injured and the man made good his escape. The area has now been cordoned off and the investigation has commenced. Police are appealing for witnesses or anyone who has any information on what took place, and we're especially interested in talking to anyone who may have seen suspicious people in the area." Anyone with information can call 295-0011 or the confidential Crime Stoppers hotline on 800-8477.
February 6. The Argo Group Gold Cup's status on the World Match Racing Tour remains uncertain, with organizers of the prestigious regatta still engaged in discussions with tour officials. The tour announced last year that the M32 high-performance catamaran will be the featured class on this year's truncated WMRT circuit to run from March to July. It still remains to be seen if the Gold Cup will be included in the next tour cycle to run from July 2016 to July 2017. In order to retain its tour status, Gold Cup organizers will have to amend the class rule from the existing classic International One Design sloop to the M32, which made its debut in local waters during the previous Gold Cup. The first official racing involving the catamaran took place during last month's first stage of the M32 North American Winter Series being held in Bermuda for the first time this year. It has been suggested that the M32 has already been confirmed for the next Gold Cup. However, Andy Cox, chairman of the Gold Cup, has dismissed the claim." We have not yet agreed on the format or dates for this year's Argo Group Gold Cup," Cox said. "The Royal Bermuda Yacht Club are continuing to work with the World Match Racing Tour and our sponsors to finalise the details for this year's regatta." Adam Minoprio, helmsman of 35th America's Cup Challenger Groupama Team France, won last year's Gold Cup with his BlackMatch team-mates after besting Australian rival Keith Swinton and Black Swan Racing in the final. Meanwhile, Nicolai Sehested, a World Match Racing Tour card holder, has returned to Bermuda with his Trefor Match Racing team-mates to prepare for the upcoming season, which gets under way next month in Perth, Australia. Sehested has made several appearances in the Argo Group Gold Cup and also competed in the RenaissanceRe Junior Gold Cup. "It's been a great experience growing up sailing in Bermuda every year, and it's always been the place where you see and meet the best sailors in the world," the Danish sailor said. "We always enjoyed the monohull boats like the Bermudian IOD, but we have to accept and adapt the new changes quick, and that's why we choose Bermuda as our training base, like the America's Cup teams."
February 6. Healthy and able seniors should be allowed to continue working without discrimination, a Human Rights Commission representative declared at a meeting in Hamilton last night. Sarah Clifford, education officer at the Commission, spoke out at a forum on ageing hosted by the Peace and Social Justice Committee of the Roman Catholic Church of Bermuda. Also on the panel were Bishop Wesley Spiewak, head of the Roman Catholic Church of Bermuda; Claudette Fleming, director of Age Concern; and Craig Simmons, an economist and Bermuda College lecturer. "Approximately 9,000 Bermudians are 65 or older — that's 17 per cent of the population," Ms Clifford told the audience at St Theresa's Church Hall." We want to consider the emotional impact that being gainfully employed provides. The sense of community, security, well-being and independence. The complexity of the problem cannot negate the commitment to the principle of non-discrimination." Ms Fleming said the number of elderly people globally was set to skyrocket in years to come. "It's not just Bermuda that's ageing, the world is ageing," she said. She suggested that opening up jobs to senior citizens could serve to help Bermuda's economy, as well as preventing the elderly from suffering financially. "Human rights and economic development go hand in hand," Ms Fleming said. "The average senior receives a pension of $783 a month after healthcare insurance payments. Many are just surviving." Mr Simmons warned, however, that laws had limits. "I'm a bit skeptical about legislation in general," he said. "As Martin Luther King said, it's about changing the hearts of people, not what's written in law. That's the major challenge — changing the hearts of men and women." Bishop Spiewak said that, despite the problems associated with old age, a person's autumn years should be viewed with optimism. "It seems that in contemporary western culture, age is seen as a necessary inconvenience — a process to try to cover up. But, from a Christian perspective, age is a blessing. Life is a gift, and those who have lived many years are greatly gifted." (NB: In the UK, mandatory retirement at age 65 is no longer required, unlike in Bermuda),
February 6. Businessman Ian Bickley will be recognized at The Bermuda Fashion Festival in July for his success in the fashion industry. Mr Bickley, a Bermudian, is president of the international group, Coach Inc, and is responsible for taking its luxury line of men's and women's leather goods to Japan, East Asia, Australia, Britain, Europe, Africa and South America. Mayor of Hamilton, Charles Gosling, has presented him with a nomination for a Bermuda Fashion Achievement Award in Manhattan, in front of his peers, other Coach Inc senior executives, at the newly renovated Coach store at Columbus Circle, New York. Mr Bickley, a Saltus alumni, will receive his award during Bermuda Fashion Festival, which runs from July 10 to 16. Bermuda's premier fashion week event is organized by the City of Hamilton, funded mostly through corporate sponsors and partnerships. For information about the Bermuda Fashion Festival 2016, visit bermudafashionfestival.com. Tickets are on sale from March 1.
February 6. The Progressive Labour Party's by-election victory dealt good press to its leader along with a stinging rebuke to the Bermuda Government over the state of the economy, according to a PLP source. Meanwhile Glenn Blakeney, the former MP for Devonshire North Central, attributed Thursday's high voter turnout to the One Bermuda Alliance's "trust deficit on anything it touches". Diallo Rabain's win over Andrew Simons drew the biggest voter attendance for a PLP by-election win since Derrick Burgess took Hamilton East in 1998. With 827 ballots for a constituency of 1,300, the by-election mustered a 64 per cent turnout — the highest for a PLP victory since 65 per cent showed at Hamilton East, and comparing favorably with the turnouts for past victories by Jamahl Simmons (59 per cent), Marc Bean (40 per cent) and Michael Weeks (39 per cent). "The present economic conditions in the country are driving all of this; I don't think Marc Bean entered the minds of the voters," the party insider said, adding: "He needed this to put himself in a good light. But the voters' concerns was a desperate attempt to do anything to see their economic woes turned around. At this point, what would be interesting would be if the OBA does not turn the economy around and make good on its promises, and if the PLP continues to have infighting or dissension among its parliamentary group. Then it would be interesting to see what happens at the next election. I've been hearing from a number of people who are getting turned off by politics: the allegations, the suspicions of corruption and kickbacks, and now the PLP's apparent infighting. If it's true that the Opposition leader has banned six or seven members from the caucus, that does not say much for the PLP as a cohesive unit." The PLP source said: "More than the PLP rallying, it was the Government's failure to produce the jobs that they promised. Peoples' expectations are not being met. That pushed people to come out. At the end of the day, it's a PLP stronghold and we would have expected them to hold the seat. Maintaining a seat that you've held forever is nothing to get excited about." The OBA's electoral vow to create 2,000 jobs was deemed a case of "a political party making promises that it can't keep." Mr Blakeney laid the blame on an accumulation of OBA failings, saying: "We have the gaming referendum, the airport issue still front and centre, a lot of unemployment and no significant jobs delivered, and no shovels in the ground. There is the revocation, by the Government, of the contract for the waterfront, and the intervention of the minister into the running of the corporation. Then they have egg on their face by having a premier and a party that removed a former premier over 'Jetgate' but yet kept virtually the same Cabinet," Mr Blakeney added, referring to the resignation of former Premier Craig Cannonier, who was appointed Minister of Public Works eight months later without substantiating what earned him that right. "Concerns over that affair have never been addressed publicly, even though there was a former chairman of the party who promised that the report on it would be shared. The OBA talks the talk and doesn't walk the walk on being transparent." Mr Blakeney held on to Constituency 13 by just 19 votes in the 2012 General Election. However, he said he had been limited in his ability to canvass properly due to his heavy workload of a minister and business owner, as well as issues in his personal life. Mr Rabain, he said, had strong party support behind him during his relatively brief canvassing. "There has been a continuity of strong workers in that branch, which is responsible for every single election victory since I was there in 2003 — the first time Bermuda went through an electoral process that saw single seats."
February 6. Channel 82's future hangs in the balance, after service provider Logic Communications demanded a $2,000 monthly fee to broadcast its shows. Lamone Woods, the channel's managing partner, pulled his Bermuda-centric programming from the cable company's airwaves and posted the "upsetting" news on Facebook. He also urged viewers to contact Logic (formerly CableVision) to request the return of Channel 82, which would only be available to World On Wireless (WOW) customers should the split be finalized. The Facebook post, which sparked a lengthy debate, said: "For seven years we have provided content to CableVision at no cost to them, positively showcasing our community, and now they want us to pay to continue providing local programming to you. They do not see the value in what we provide for the community and we are making a stand. We want to continue to provide you with local content. Thank you for your continued support." However, the two sides are set to return to the negotiating table to try to resolve the issue, and Channel 82 is back on air for the time being. It was off the air for at least 24 hours starting on Thursday. "We're not asking for any hand-out, we're saying that our content has value," Mr Woods told The Royal Gazette. There are so many things on television these days, but we don't see local people. We have talent to showcase, which was our mandate from the very beginning. It gives Bermudians a reflection of themselves." Antoine Jones, who hosts teen lifestyle show In the Know on the channel, said that it would "crush my dreams" if the standoff was not resolved. "Channel 82 has always provided the island with good content that people want to see," said the 15-year-old, a student at the Berkeley Institute. "I love making my own TV show. It gets me motivated and that's what keeps me going every day. I never thought something like this would happen." Logic CEO Lloyd Fray said Channel 82 would continue to air for the next 60 days, as the companies tried to reach an agreement. "While we are unable to discuss the specifics of commercial contracts due to confidentiality, we would like to reiterate our support of local content," he said. "This is demonstrated by the five local leased channels that we carry and are provided as part of our channel line-up, the live Cup Match feed as well as the inclusion of ZBM and ZFB. Local content showcases the Bermudian culture, spirit and artistic expressions and it is something we are proud to air."
February 5. HSBC Bermuda and Clarien both said yesterday they do not charge fees of the type introduced at the start of the year by rival Butterfield Bank. Butterfield imposed a "statement imaging fee" of $2 a month from the start of this year for making personal account statements available at Butterfield Online. The bank has also introduced an a 25 cent per transaction charge for online bill payments and an "account monitoring" fee of $8 a month for commercial accounts. However, information on the three banks' websites show that overall, monthly fees on customers' chequing and savings accounts are broadly comparable (see accompanying table). An HSBC spokeswoman said: "With respect to HSBC Bermuda's personal accounts, we do not currently apply statement imaging fees, transaction fees for online bill payments or fees when making transfers between HSBC Bermuda accounts. Our pricing is reviewed annually and may be subject to change, with pricing changes generally taking effect on July 1 of each year. Clients are advised either via their relationship manager, through in-branch signage and/or on the public website." A spokesman for Clarien Bank said: "Clarien Bank does not charge these fees." An angry customer on Wednesday protested after Butterfield imposed new fees "by stealth." A Butterfield spokesman said that Butterfield had placed prominent notices in banking centres and on its website. "Butterfield continually reviews and adjusts fees for services based on a variety of factors, including changes for customers' channel usage preferences and associated transaction volumes, as well as changes in the cost of providing services. Butterfield is pleased to provide a wide range of secure and convenient financial services to Bermuda residents at prices that are competitive and provide good value."
February 5. Diallo Rabain stormed to victory by a decisive margin for the Progressive Labour Party last night in Devonshire North Central, where he took 56 per cent of the vote. Mr Rabain hailed his win over the One Bermuda Alliance's Andrew Simons, at 461 votes to 351, as "a referendum on the OBA", and a harbinger of the General Election soon to come. "It's a message to the OBA," he told jubilant supporters outside the by-election's polling station shortly after 11pm. The policies implemented since the OBA won in 2012 had been "solidly rejected by the constituents. There is a trust deficit that is growing; there is a Bermuda being generated where Bermudians feel they have no say, and no way to make a living. Bermudians were saying "no more" on issues ranging from the airport redevelopment plan to "unfair" immigration policies." Thanking his support team, Mr Rabain told the elated crowd: "It's the result we expected; it's the result we deserve." Mr Simons offered his congratulations, saying Mr Rabain had "clearly worked hard, and won the support of a large majority of voters". The campaign since the retirement in early December of the previous MP, Glenn Blakeney, had left both with "a lot of ground to cover", Mr Simons said, commending his own support team. Asked if he would continue to campaign, Mr Simons said he would soon be living in the constituency, allowing him to connect with its communities. He added: "When you're running in a campaign that has a definite time frame it's easier to focus your political energy. I will continue to be involved in public service." It was a significant turnout for a by-election: with 827 ballots cast, there were more votes than in the General Election. There were 1,300 registered voters in total. Last night's result was commended as a "checkmate" by Marc Bean, the Leader of the Opposition, as he celebrated outside the polling station at the National Sports Centre. It was a much bigger PLP majority than in the 2012 General Election.
February 5. Stevedoring Services Ltd (SSL) will continue to operate the Hamilton docks for the next five years after today signing a new lease with the Corporation of Hamilton. However, the Corporation intends to encourage competition for the right to operate the dock in future by inviting any business to bid for the job at the end of the new lease. The company, a subsidiary of Polaris Holding Company Ltd, has been responsible for dock operations for more than 15 years. Charles Gosling, the Mayor of Hamilton, said: "The atmosphere on the docks has changed very positively under the management of Warren Jones, Polaris CEO and Cheryl Hayward-Chew, Polaris chairman. In the spirit of transparency and fair business practice, this will be the last rollover lease for Stevedoring Services. Within the term of this five-year lease, City of Hamilton will conduct a full independent review and evaluation process which will then form the basis of an RFP [request for proposal], an open invitation to any business to bid for the contract." This RFP will be published and awarded a year before this lease expires. Around 40,000 containers move through the six-acre docks on Hamilton waterfront.
February 5. The total amount of wages and salaries earned in Bermuda in the third quarter of 2015 rose 3.4 per cent from the same period the year before, government statistics show. More than four-fifths of the increase was attributable to one sector — international business. Employment income in the July-through-September period of last year was $761.1 million, the Department of Statistics revealed this week, using data from the Tax Commissioner's office. That marked an increase of nearly $25 million from the same period last year. Employment income for the international business sector was $232.9 million, up $20.8 million, or nearly 10 per cent. The data illustrate the importance of the sector to the island's labour market and its resilience as an income generator despite a soft reinsurance market that has led to a wave of consolidation. The business services sector provided $75.2 million in third-quarter employment income, up 3 per cent from a year earlier, while the banking, insurance and real estate segment generated $71.3 million, up about 0.2 per cent. The wholesale and retail sector, which has been buoyed by a year-long uptick in retail sales, paid out $52.1 million in employment income in the third quarter, representing an increase of $1.7 million, or 3.4 per cent from the year before. The public sector generated 13.7 per cent of all the employment income earned in the third quarter. The public administration and defence sector paid out $104 million to employees during the period, up nearly $1 million from a year earlier. Hotels and restaurants paid out $44.5 million in wages and salaries over the three months, up 1.7 per cent from a year earlier. The only sectors to see employment income declines were construction and transport and communication. Construction workers took home a combined $26.4 million, down from $27.1 million a year earlier. The construction industry appears to be somewhere near the bottom of a boom-and-bust cycle and recorded $17.6 million worth of work put in place during the third quarter, 4.1 per cent less than a year earlier. During the first three quarters of last year, value of work put in place was $57.5 million — putting 2015 on course to be the weakest year for the industry in at least 14 years, according to the data. The industry is suffering from a clampdown on government capital spending as well as falling private-sector demand. The prospect of a new hotel project breaking ground in St George's this year may help the industry bounce back. Transport and telecommunications trimmed its payroll by 4.4 per cent, down to $19.2 million in the third quarter of 2015, compared to $20.1 million in the same period of 2014. Government cautioned that employment data for the third quarter is subject to later revisions to account for late returns. The third-quarter data suggest an acceleration in employment-income growth. For the first three quarters of last year employment income totaled $2.4583 billion, up $37.86 million, or 1.6 per cent, compared to the first nine months of 2014.
February 5. A redeveloped airport could sustain Bermuda for the next 100 years, a spokesman for the site's proposed construction firm claimed last night. Residents attended the Anglican Cathedral Hall in Hamilton for the third of three meetings on the $249 million LF Wade International Airport project. As with the previous events, the public were asked for their feedback on issues to consider in the Environmental and Social Impact Assessment being compiled by LAS Consulting and Bermuda Environmental Consulting (BEC). Again, though, attendees were more eager to vent their distaste at the contract agreed between the Bermuda Government and Canadian construction firm Aecon. In response to a PowerPoint presentation explaining the benefits of a new airport, one 88-year-old resident said: "I've been selling for 60-odd years, so I'm familiar with sales talk. You are looking for some validation of your project and for what you have to offer, but I cannot give it to you tonight. From what I've been hearing, we've put the cart way ahead of the horses. This Government has made the mistake of taking Bermudians for fools." As with previous nights, common complaints at the meeting included the high cost of the project, whether it was actually needed, the lack of a transparent tendering process and whether it would generate Bermudian jobs as promised. Ken Hassard, commercial lead of airport developments at Aecon, pointed to his company's previous successes with projects such as the CN Tower in Toronto and the $700 million Quito International Airport, which opened in Ecuador in 2013. He said: "Parts of your existing airport are 70 years old. They've outlived their life span. But you have to believe that with 21st century technology and materials, and the experience of the developer, that the next airport could last a century. It's important to understand that if you're going to build an airport maybe once in a century, you should have a supplier with a proven track record of building airports." Jack Ward from BEC added that any further questions could be posted on the official "Bermuda Airport Redevelopment Project" Facebook page, where the appropriate technical experts could provide answers.
February 5. Pressure group Preserve Marriage Bermuda (PMB) has urged the Bermuda Government to call a referendum on same-sex marriage. About 70 representatives of the "active task force" held a press conference in the Office Suite Solutions building in Mill Creek yesterday, where they also called for relevant changes in legislation to ensure that the definition of marriage as a union between a man and a woman is not deemed discriminatory under the Human Rights Act. The Human Rights Commission responded by saying it had not received any correspondence from PMB on the matter so far, but stressed that the opinion of the majority should not impinge on the right of equal treatment for minorities. PMB also announced it would be holding a "peaceful demonstration" on the grounds of Cabinet next Tuesday at 12pm. During the press conference, the group shared the group's three objectives, which were printed in The Royal Gazette yesterday. Its first aim is to inform the public about "the truth" of the "failed experiment" of civil unions in other countries. Group member Ray Madeiros said: "In the debate about traditional marriage versus same-sex marriage, a compromise introduced by some governments is the implementation of the civil union. However, the public must be fully informed that in almost every country that has redefined marriage, civil unions were introduced as the answer to this alleged discrimination. The public and our government was led to believe that this was the end of the matter. However, it inevitably leads to a legal fight for the separate and unequal argument that results in the redefinition of marriage. In light of the statistics, governments that introduce civil unions by default start the countdown to same-sex marriage. However, internationally, all countries that have legalized same-sex marriage, in all but one case, were preceded by introducing civil unions." The second objective is to pressure the Government to amend legislation. Group member Jock Stewart said: "We seek to ensure that the Marriage Act 1944, the Interpretation Act 1951, the Matrimonial Clauses Act 1976, and the Human Rights Act 1981 are fortified to preserve marriage in Bermuda to remain between a man and woman for the benefits of our society because a father and a mother are irreplaceable. Government is involved in a personal promise of a male and a female married couple because it is of upward benefit to society as a whole." Finally, the group called for a referendum over the issue of marriage policy in Bermuda. Pastor Gary Simons said: "We want to ensure that the few do not decide for the many. The Government should, first and foremost, uphold the ideal for the benefit of society hence we are requesting that the supremacy clauses be placed in the acts to ensure that marriage remains defined as being between a man and a woman and to do so expeditiously. If Government is unwilling to stand strong for the society of Bermuda then the voting population of Bermuda and their elective representatives must be free to deliberate and vote about marriage policy through a referendum and not by unelected judges." PMB said that the group represented people of all backgrounds and races including those from the faith and non-faith communities. Group member Henry Dowling later said: "We [PMB] exist to provide knowledge, direction and action to over 8,000 residents of Bermuda who have signed the petition for marriage to remain defined and upheld as a special union ordained by God between a man and a woman." While there was a mix of young and old, black and white members of the 70-strong group addressing the press yesterday, when asked, none attached themselves to the non-faith community. Responding to the PMB announcement, president of the Human Rights Commission Tawana Tannock said: "The PMB group has not reached out to the HRC regarding their latest recommendation and we would like to take this opportunity to remind them that we are always available to address any questions that they may have about the mechanics and spirit of the Human Rights Act 1981. As stated numerous times previously, we remain committed to equality and respect for all. Additionally, we specifically reject the notion that the opinion of the majority should impinge on the right of equal treatment for minorities." PMB will attend a proclamation for Marriage Week today.
February 5. Treating patients at home rather than in hospital has saved the island's healthcare system almost half-a-million dollars, according to the Bermuda Health Council (BHeC). Home Medical Services coverage is also benefiting Bermuda Hospitals Board (BHB) patients and freeing up emergency department services, a BHB spokeswoman said. Ricky Brathwaite, health economist at BHeC, told The Royal Gazette that $437,520 had been saved through the Home Medical Services benefit between April 2014 and March 2015. "What we do to calculate cost savings, is take the amount it would have cost in the hospital minus the amount of money it actually cost through the units of service done in the community," he said. "When we've looked at the numbers over the full year, the full fiscal year from the time it started in April 2014 through the end of March 2015, we have estimated savings of $437,520." However, Dr Brathwaite added that this figure did not include peritoneal dialysis, which was added in October last year, and is expected to save the system $255,000 per five patients on a yearly basis. The Home Medical Services benefit was launched in October 2013 by BHeC and its stakeholders as part of the Standard Health Benefit; the basic package of care that every employed person and their non-employed spouse is required to have. It was made permanent after a successful six-month pilot programme that saved an estimated $100,000. The benefit allows patients to receive specific medical procedures such as IV antibiotic therapy, wound care, catheter changes, infusion therapy and peritoneal dialysis at home. Health insurers cover the full cost as long as patients are insured and BHeC determines the procedures and fees. "A lot of it is improving outcomes and the hope of individuals," Dr Brathwaite said. "We're trying to improve the ability of people to be comfortable and get the care they need, and at the same time allow for some of the resources that are being spent to be diverted to some things like prevention and other ways that we can spend our money more efficiently." According to Dr Brathwaite, dialysis in the hospital costs $15,801 per month, per person. At home, the cost falls to $11,545. "That's over $4,000 in difference," he said. "When you talk about peritoneal dialysis, it represents really what home medical services across the board have been able to do: provide convenience within the home, within a more convenient setting and provide the same quality of care." According to the BHB spokeswoman, their patients now "regularly benefit from Home Medical Services coverage, which is provided by community nurses and now extends access to home IV medication therapy. This means that stable patients can receive their therapy at home and do not necessarily utilise costly acute inpatient beds," she said. "It also dramatically reduces the burden on the emergency department services, where patients would regularly come into the ED several times a day while receiving these medications." In some cases patients can avoid the inpatient or emergency setting altogether by having their IV medications co-ordinated in the outpatient setting, she added. For more information on the Home Medical Services benefit visit www.bhec.bm or call BHeC on 292-6420.
February 5. The Bermuda Government is looking to cultivate new varieties of banana — in case the fungus decimating the fruit's global population reaches the island. The new strain of Panama disease, a resilient and incurable soil fungus also known as fusarium wilt, has already torn through crops in Australia, the Middle East, Asia and Africa. The BBC News has already declared the "imminent death" of the Cavendish, which became the world's preferred banana variety after a previous outbreak of the Panama disease wiped out the Gros Michel in the 1950s. A spokesman for the Ministry of Health, Seniors and Environment told The Royal Gazette that, should the new fungus arrive in Bermuda, it could have a "devastating impact" on the local banana culture. He added: "Fusarium wilt is a serious threat to banana production worldwide. Locally, the department is currently investigating other varieties of bananas in order to diversify should something happen to our Cavendish stock. It is not likely that new varieties will be able to match the productivity of the Cavendish, unless they are genetically modified. However, the Plant Protection Lab has already identified sources for new and alternative banana varieties." Carlos Amaral, owner and manager of Amaral Farms, said that the department's strict importation measures would help keep Bermuda safe from Panama disease. However, he added that rogue individuals could provide the biggest threat to the island's ecosystem. "There are stringent guidelines in place to prevent accidental importation. The Pandora's box, so to speak, is when a traveller sneaks something like a banana tree in, without knowing what's on that particular plant. It gets done on a regular basis, and once something gets accidentally introduced into an environment, it takes a foothold and can decimate an agricultural commodity really quickly. It's the individuals who think they're being coy and trying to bring in something that's unique, and unbeknown to them they introduce something that has a totally negative effect on the industry." Zach Moniz, manager of the Lindo's Group of Companies, said that any potential threat to the international banana industry would affect the supermarket chain. "There are always pockets of threat with certain produce items — asparagus was under threat one year because of floods — but they always tend to recover after a period of lean supply. Bananas are among our top items. It is a concern, but there's not a whole lot we can do locally until we're faced with the problem." If you see wilting or dying banana plants, call 236-4201 or visit www.conservation.bm/observation-form.
February 4. By Lawyer Stacy-Ann Maharaj, an Associate in the Corporate department at Appleby. A copy of Ms Maharaj's column can be obtained on the Appleby website at applebyglobal.com. Commercial insurers registered under the Insurance Act 1978 (the Act) are now required to establish and maintain a head office in Bermuda in accordance with changes to the Act that came into effect on January 1, 2016. This requirement means that the insurance business of commercial insurers (Classes 3A, 3B, 4, C, D and E insurers) must be directed and managed from Bermuda. At the time of licensing, the Bermuda Monetary Authority (the "BMA") assesses the nature, scale and complexity of an insurer's business to be conducted in accordance with the provisions of the Act, the Insurance Code of Conduct and the Insurance Statement of Principles (the insurance framework). In relation to commercial insurers, the BMA further measures compliance with the insurance framework by taking into consideration various factors to ensure that it can exercise sufficient regulatory oversight over the business to be carried on in Bermuda. In this regard, the BMA has effected the requirement for commercial insurers licensed in Bermuda to establish their head office in Bermuda. In determining whether an insurer has complied with the head office requirement, the BMA will consider, among other things, the following factors in order to ascertain whether the insurance business of the insurer is directed and managed from Bermuda:
• Where the underwriting, risk management and operational decision making of the insurer occurs.
• Whether senior executives who are responsible for and involved in the decision making related to the insurance business of the insurer are located in Bermuda.
• Where meetings of the board of directors of the insurer occur.
• The location where management of the insurer meets to effect policy decisions of the insurer.
• The residence of the officers, insurance managers or employees of the insurer.
• The residence of one or more directors of the insurer in Bermuda.
The BMA will apply the proportionality principle when it considers the above factors in determining whether the insurer, based on the nature, scale and complexity of its business, has met the head office requirement. The head office requirement does not apply to a commercial insurer that has a permit under section three of the Non-Resident Insurance Undertakings Act 1967 or a permit under section 134 of the Companies Act 1981. These provisions cover branch operations in Bermuda for foreign insurers. In addition, Bermuda captives and limited purpose insurers (Classes 1, 2, 3, A and B insurers), as well as special purpose insurers, are not required to establish a head office in Bermuda. The requirement for a head office in Bermuda has been effected as part of the BMA's overall enhancements to its current insurance supervisory and regulatory framework in an effort to achieve Solvency II equivalence. Solvency II is a harmonised framework aimed at ensuring that there is a single market, utilising a single set of rules for insurance services. Solvency II equivalence for Bermuda means that Bermuda's commercial insurers will not be disadvantaged when competing for, and writing, business in the European Union. Currently, insurers licensed in Bermuda are required to have a registered office and principal office here and to appoint a principal representative resident in Bermuda. Some have queried whether an insurer's principal office, which is already a requirement under the Act, could be regarded as its head office. The BMA has confirmed that, where the insurer's principal office meets the standards required for the establishment of a head office, then the BMA will regard the principal office as the head office. Commercial insurers are applying the proportionality principle as they consider the above factors in order to comply with the head office requirement. The general understanding at this time is that the factors are not necessarily prescriptive and that the BMA will take a holistic approach to deciding whether the insurer has a sufficient nexus to Bermuda to allow the BMA to exercise the requisite regulatory influence over the insurer. Commercial insurers are encouraged to meet with BMA representatives if they have specific questions relating to their plans to implement the head office requirement."
February 4. An open meeting on the island's airport redevelopment plan featured a skeptical and often heated crowd for a second night. Craig Looby, a developer with the Urban Maximum Industries, Inc (UMI), rose at last night's forum at Penno's Wharf, St George's, to declare his company's ability to build a better airport for Bermuda. Maintaining that UMI had the capacity, experience and access to capital to deliver the job, Mr Looby said his firm could also cover the penalties for the Bermuda Government to withdraw from the deal. The proposal on the table at present has Canadian contractors Aecon to build the new terminal, which Mr Looby said the majority of Bermudians were against. "The longer this community takes to stop this development, the higher the cost will be to compensate," Mr Looby told the gathering, adding that his overtures to the Government had thus far gone unanswered. Reflecting much of the mood at the forum, Mr Looby said he felt that Bermudians were being excluded from access to the project, which is slated to finish construction by 2020 under a public-private partnership with the Canadian Commercial Corporation. Anxieties over foreigners being hired over locals topped the concerns, with Bermuda Environmental Consulting (BEC), the local company involved in the environmental and social impact assessment, questioned not only on its Bermudian membership but its racial make-up. BEC representatives, asked repeatedly who had paid them to carry out the assessment, assured the audience that Aecon had commissioned it, and that the Government had not paid for it. The forum briefly became a shouting match, shortly after Ken Hassard of Aecon opened the night. Mr Hassard said he had heard that the island's lack of covered walkways to aircraft out on the runways deterred elderly and disabled visitors, prompting several people to denounce the remarks as untrue. "If anybody has a stack of Bibles, I will swear on them," Mr Hassard replied. A third meeting is set for 5.30pm today at the Anglican Cathedral in Hamilton.
February 4. New travel requirements for Bermudians going to Canada will come into effect next month. The Electronic Travel Authorization, or eTA, which is a mirror of the electronic system for travel authorization for the United States, becomes mandatory on March 15. The number will be required for almost all visa-exempt travelers coming to or through Canada by air, as well as all British passport holders. There are no group applications for the eTA, which must be used when travelling. An eTA costs C$7 per traveller and lasts five years, or until the expiry of the passport to which it is linked. Canadian and US citizens are exempt and the requirement does not apply to travelers coming by land or sea. Students with a valid study permit issued on or after August 1, 2015 should check their approval letter, as they may already have the eTA. Applications can be made online, with most finished within minutes and the great majority processed within three days. For details on the requirement, check the website www.canada.ca/eta.
February 4. A special delegates' conference to determine the leadership of the Progressive Labour Party could be on the cards as the required minimum number of branches have signed up in support. It is also understood that 11 African Methodist Episcopal churches sent correspondence to the PLP indicating that they would not support the party with Marc Bean at its helm. According to sources close to the PLP, 12 branches have now signed up to support a delegates' conference, which could either see Mr Bean ousted or kept in place as Leader of the Opposition. One source said that more branches could still give their backing to the conference, with a central committee meeting slated for Monday potentially crucial in gaining further support. A special delegates' conference is permitted to take place at least seven days after it is called.
February 4. Voter turnout is tipped to be the decisive factor today, as the 1,300 voters of Devonshire North Central choose either a Bermuda Government or Opposition candidate to represent them. Diallo Rabain, the Progressive Labour Party's contender, is up against Andrew Simons of the One Bermuda Alliance, in a district that both have had less than two months to canvass. Speaking at the polling station this morning, both candidates were encouraged by the fair weather and "steady stream" of voters through the early part of the day. Mr Rabain told The Royal Gazette: "One of the things I can say I'm very pleased with his how many young people we've counted. A special moment was I got a picture with a family with two first-time voters, a son and a daughter. We often hear about young people not being engaged and not being a part of the process. It's just a matter of talking to them and getting them to understand their role and their responsibility in voting and how their voice can be heard through this process. I think we're going to see the fruits of those labours come out today when we see these young people come out and express their opinion." Mr Simons said: "It's been nice to have a brief chat. There's some people I hadn't seen before, but I've spoken to on the phone, so it's been nice to put a face to a name. People are by and large quite encouraging. It's humbling because you knock on a door sometimes three or four times. When you finally reach someone they let you into their house. They could be in a nightgown, they could just have walked in with groceries and people give you time. They know that the vote is important." Three quarters of constituency 13's voters went to the polls in the 2012 General Election that kept PLP incumbent Glenn Blakeney as MP after a close battle with OBA challenger Anthony Francis. Mr Francis has said that he maintained a presence in Devonshire North Central in the three years since. Mr Blakeney, with work and family commitments, stepped down in December 2015. Asked for his prediction, political observer Charles Jeffers felt the by-election was most likely to go to Mr Rabain, but said the Opposition's recent internal struggles over leadership could hurt the PLP's chances. "If there's a good turnout, I would say it's because of the candidates, not the party," the former leader of the National Liberal Party said. "Of course, the PLP are going to push as hard as they can to retain that seat. The problem is that if they win, especially with a sizeable majority of the voters, it could make the leadership think they are on the right track and that people support them." The demoting of rebel PLP MPs opposed to the leadership of Marc Bean, which this week included the removal of Walton Brown and Wayne Furbert from the Boundaries Commission, might leave voters feeling as if they had "no real say", he suggested. Saying he sensed that many voters felt that "the party thing is not working", Mr Jeffers added: "That means you might as well vote for whatever person can best lift their voice inside the party on behalf of your constituency. "There has always been this problem within the PLP of a small group who has control and power at the time and have little regard for the opinions of other people. The party has its position and you dare not object. I'm not saying the OBA does not have the same problem, but for some reason they are able to keep things under wraps. If the OBA wins, and even only by a slim majority, they could say it means people think they're doing a pretty good job. And it might not be so. In 2012, PLP voters stayed at home." Fourteen people, mainly voters who would be travelling, have already cast their ballots at the January 28 advanced polls. Attendance today is likely to play a crucial role in whether Opposition expectations are borne out at the ballot box in National Stadium pavilion, where voting will take place from 8am to 8pm. Mr Jeffers said an upset victory for the OBA could come to pass if PLP supporters were of a mindset that "I'm not going to vote for the other guy, but I'm vexed at the party. If I were to take a guess, I'd say we would be lucky to get 50 per cent of the people out," he said. "A bigger turnout would cement it for the PLP, but a small turnout would favour OBA more."
February 4. An international track event will take place in Bermuda this April, according to the Bermuda Tourism Authority and the Bermuda National Athletics Association. BNNA president Donna Raynor said the event, the Bermuda Invitational Permit Meet, will "be like the America's Cup of athletics" potentially featuring Olympians and former Olympians competing. The BNAA made a submission to its international governing bodies to become eligible to host the event and approached the BTA for support through its Tourism Experiences investment process. Pat Phillip-Fairn, chief product and experiences development officer at the BTA, said: "In the same way the Danish national swim team is here in Bermuda using our national pool to train for the Olympics, we will have some of the brightest stars in athletics competing on our track in about three months. The BTA is proud to be a key sponsor of this event because it helps position Bermuda for the next level of sports tourism." Officials are reportedly in talks with agents and coaches to attract some of the top names in athletics, while the BNNA will showcase local elite athletes during the invitational including Tre Houston, Tyrone Smith and Aaron Evans. The schedule of events will consist of 100m, 400m, 400m hurdles, 800m, 1500m, men's long jump and females' high jump. The athletes will compete for prize money. The Bermuda Invitational is one of a series of permit meets held in the Caribbean region – starting in the Bahamas, then Bermuda, Cayman and Jamaica. While events are conducted separately, a BTA statement said they may become a circuit. "A series of meets in the same geographic region is particularly attractive during an Olympic year when athletes are looking for venues that are close by to compete in," the statement said. "Bermuda would be well-positioned to play an important role in that kind of circuit because geographically it is close to North America and the Caribbean." Mrs Phillip-Fairn said: "If we can make this meet an annual staple, and part of a circuit that includes stops in the Caribbean, we then have the potential to be a part of something truly ground breaking, elevating Bermuda to a level of sports tourism even higher than the one we are speaking of today." The Bermuda Invitational Permit Meet will take place at the National Sports Centre on April 22 from 6.30pm to 8.30pm. Tickets will be made available to the public starting February 29.
February 4. The Department of E-Commerce is set host Safer Internet Day next week, reminding seniors how to stay secure online. The second annual free event will take place on Tuesday at Somersfield Academy from 10am to 1pm. Visitors can learn about scams aimed specifically at senior citizens, as well as talking with representatives from the Cyber tips team, the Bermuda Police Service, Ageing and Disability Services and Bermuda Executive Services Ltd. Sean Lee, from event sponsor Butterfield Bank, said: "As online criminals become more sophisticated, it is important that we are aware of how to keep our information secure on the internet." John Wight, from sponsor BF&M, added: "Safer Internet Day ensures that the Island's seniors feel comfortable with general web use, and avoid being targeted by fraud." A light lunch will be served and a free shuttle service will be provided by Project Action, departing from City Hall. To register, e-mail e-commerce@gov.bm.
February 4. The Regulatory Authority of Bermuda is inviting comments on the proposed acquisition of control of CellOne and KeyTech by US telecommunications company Atlantic Tele-Network (ATN). Interested parties who wish to submit comments and observations on the proposed transaction have until February 12 to send responses to the authority. In a series of related transactions, ATN is seeking to become the majority shareholder of KeyTech Limited, and its subsidiaries, including Cable Co and Logic (which includes the merged Bermuda CableVision). KeyTech currently has a non-controlling interest in CellOne, the mobile services provider. Last October it signed an agreement to buy ATN's shareholding in CellOne for $42 million, plus KeyTech shares. KeyTech would become the sole shareholder of CellOne on completion of the deal. ATN is a trading company that invests in the communications and renewable-energy industries. It is based in Massachusetts and has a connection with Bermuda that stretches back to 1998 when it was the primary investor in CellOne, which was merged with KeyTech as an affiliate in 2011. ATN is listed on the Nasdaq stock exchange and has a market capitalization of $1.2 billion. Among ATN's subsidiaries is Commnet, which provides telecommunications to much of the central and western US states. ATN also has telecoms subsidiaries in the US Virgin Islands, Aruba, and Guyana. If the proposed transaction gains all the necessary regulatory approvals, ATN will become the majority shareholder (51 per cent) of KeyTech. Last October, KeyTech shareholders voted in favour of the deal. Comments can be sent to the Regulatory Authority of Bermuda via e-mail to kmasters@rab.bm, or by post or hand to Kyle Masters, c/o The Regulatory Authority, Cumberland House, 3 Victoria Street, Hamilton, HM 11.
February 3. NEW YORK (Bloomberg) — Lazard Ltd, the investment bank domiciled in Bermuda, said fourth-quarter profit fell 8.1 per cent as currency fluctuations and market turmoil pushed asset-management and financial-advisory revenue lower. Earnings beat analysts' estimates. Net income dropped to $158 million, or $1.18 a share, from $172 million, or $1.29, a year earlier, Lazard said yesterday in a statement. Earnings adjusted for one-time items were 92 cents a share, compared with the 87-cent estimate of 11 analysts surveyed by Bloomberg. Lazard, which derives about half its revenue from overseeing funds, said assets under management slipped 5 per cent last year to $186 billion as of December 31. The investment bank was also the No 7 merger adviser last year as the volume of deals climbed to a record globally, according to data compiled by Bloomberg. That fuelled the firm's highest-ever operating revenue for that business. "Asset management, it really is reflective of the lower AUM and turmoil in the markets more than anything else," chief executive officer Ken Jacobs said in an interview. "We've already seen some dramatic moves in currency and valuations. So hopefully we've seen the worst of that." More than a fifth of Lazard's assets under management were allocated to emerging-markets equity as of the end of September, according to the firm's website. The MSCI Emerging Markets Index has tumbled 22 per cent in the past 12 months. Lazard dropped 20 per cent this year through Monday, adding to the 10 per cent decline in 2015. For the full year, Lazard had record operating revenue of $2.38 billion, and its highest-ever net income of $480 million, or $3.60 per share, on an adjusted basis. Lazard advised on six of the ten largest deals last year, Jacobs said. Just one of those transactions have been completed, he said. The firm worked with Anheuser-Busch InBev SA on its more than $100 billion agreement to buy SABMiller Plc and Royal Dutch Shell Plc's on its deal to purchase BG Group Plc. Operating revenue for financial advisory slipped 7.8 per cent to $331 million in the fourth quarter, while asset-management fees declined 8.1 per cent to $261 million.
February 3. RenaissanceRe Holdings Ltd made a profit of $92.2 million in the fourth quarter, bringing the total net income available to common shareholders for the year to $408.8 million. Year-on-year the quarterly figure was down from $170.8 million, and the full year total was about $101 million lower than in 2014. Last year the Bermuda company bought out Platinum Specialty Underwriters Holdings Ltd. Kevin O'Donnell, Renre's chief executive officer, was upbeat with the company's performance. "I am pleased to report $135 million of operating income, an annualized operating ROE [return on equity] of 12.5 per cent and 2.3 per cent growth in tangible book value per share plus accumulated dividends for the quarter. In a year in which we acquired and fully integrated Platinum, we generated solid operating income of $477.7 million for the year and delivered an operating ROE of 11.4 per cent," he said. "Our underwriting team executed well during the most recent renewal period, as pressure on pricing from abundant capacity persisted. We maintained discipline, coming off business that did not meet our return hurdles, buying more reinsurance protection, while also building an attractive portfolio of risks. We are a bigger, stronger company today, than a year ago, and have the management team, global operating platforms and risk management expertise to serve our clients, third party capital providers and shareholders well in the years ahead." During the fourth quarter RenRe's gross written premiums increased 153 per cent to $336.1 million, for the full year gross written premiums totaled $2 billion, up $460.7 million. The company has a market capitalization of $4.92 billion. On the New York Stock Exchange yesterday its shares closed down 2.5 per cent at $112.16. RenRe's annual net income, expressed per diluted share, was $9.28.
February 3. Insurance and reinsurance company Axis Capital Holdings yesterday posted profits of $135 million for the final quarter of last year. The figure was down $29 million on the same time period in 2014. For the full year, the firm made a profit of $602 million — $6.04 per share — down $169 million on the $771 million, or $7.29 per common share, reported for 2014. The latest quarterly figures are equal to income per common share of $1.39 compared with $1.60 per share for the last quarter of 2014. Operating income for the fourth quarter of last year totaled $120 million — $1.23 per common share — compared with the same figure, but $1.18 per share for the last quarter of the previous year. Axis beat the $1.13 per share forecast of analysts tracked by Yahoo Finance. Albert Benchimol, president and CEO of Axis Capital, said the firm was pleased to report growth in diluted book value per share of 9 per cent, after adjustment for dividends. He added: "While 2015 was a challenging year on many fronts, it was also a year of powerful maturation across our organization, resulting in a stronger more focused Axis. Over the year we steered the company towards a future of enhanced profitability and stability. Importantly, we are executing on the right actions for the current challenging market conditions — improving the quality of our book of business, growing the scale and profitability of recent initiatives and tightening expense control and capital efficiency. Normalizing for the unusual frequency of mid-sized energy losses this year, our results for the quarter and for the year demonstrated progress on all these fronts." Gross premiums written for the final quarter of last year were up 5 per cent, 6 per cent on a constant currency basis, to $800 million. Estimated catastrophe and weather-related pre-tax net losses of $10 million were recorded for the last quarter — mostly related to US weather events — compared to $21 million for the same period last year.
February 3. Community leaders are planning a series of events to mark the 400th anniversary of the first people of colour to arrive and remain in Bermuda. They want to recognise their great contributions to the island since the first "Indian and Negro" arrived as indentured servants seven years after settlement began in 1609. The Department of Community and Cultural Affairs is to screen a documentary, Freedom Quest by James Ziral, which examines the history of blacks in Bermuda until emancipation in 1834. Meanwhile, George Cook, a board member of the St George's Foundation, hopes to collaborate with historical agencies on the island to mark the anniversary. The director of the Department of Community and Cultural Affairs, Heather Whalen, said that the Emancipation Committee was also working on other ways to recognise the milestone. She told The Royal Gazette: "The committee is considering what we can do to commemorate the 400th anniversary of the arrival of the first blacks in Bermuda because so many people of African descent have made such significant contributions to the livelihood of the country. It is a singularly important anniversary that shouldn't be overlooked. People of African descent, despite the harshness and cruelty of slavery, have made, and continue to make, significant contributions to this community to help it become what it is today. That is what we would give focus to in recognizing the first blacks to Bermuda in 1616." According to primary-source documents in the memorials of the former Governor, John Henry Lefroy, "one Indian [Nicholas Gabriel] and a Negro [Symon]" arrived on these shores at the behest of Governor Daniel Tucker, the first resident Governor of Bermuda. While they were believed to have been brought as indentured servants to dive for pearls, many argue that their arrival represented a precursor to slavery on the island. Freedom Quest includes interviews and discussions with figures such as historian Clarence Maxwell, who has done considerable research into the slave trade, and Dr Pauulu Kamarakafego, who played a pivotal role in universal adult suffrage. Dr Cook said he hoped the Bermudian Heritage Museum, the African Diaspora Trail and other agencies would collaborate on anniversary projects. "It marks the beginning of Bermuda's cultural diversity and it needs to be celebrated," he said. "People could write essays, stage plays and tell stories to each other. It doesn't need the government to initiate it, it needs to come from many different organisations and on many different levels." The former college lecturer, historian and author said that the occasion should be recognized in a way that educated the community about the root causes and issues surrounding slavery. "A lot of these anniversary celebrations can be superficial," he said. "We need to make an attempt to understand what happened. To understand slavery, you have to understand notions of racial superiority, the role of religion in helping to sustain it and support it; you have to understand the power relations and the need for a cheap labour supply. For our younger people I don't think there is enough understanding of the dynamics that are involved. Everyone can recite facts but those facts have to be put into a framework that lends itself to greater understanding." Author James Smith said: "It is important to mark the event. Many came in as independents and were used to do certain work but by the 1630s it had moved towards slavery and that was accentuated in the 1640s." Freedom Quest is screening at the World Heritage Centre on February 11 at 6pm. It is free, but anyone interested should book for a space by calling 292-1681.
February 3. Bermudians angry at the $249 million airport redevelopment agreement descended on St David's last night to voice their numerous concerns. The meeting at Clearwater Middle School was intended to seek feedback on issues to consider in the Environmental and Social Impact Assessment, being compiled by LAS Consulting and Bermuda Environmental Consulting (BEC). However, it quickly turned into a heated forum in which residents expressed their fury and dismay at the Government and its chosen construction firm Aecon. As revealed in The Royal Gazette last month, the contract for the LF Wade International Airport redevelopment offers assorted perks for Aecon. These include an exemption from the employer's share of payroll tax and customs duties on capital items such as construction materials, plus a minimum revenue guarantee which means that if annual income does not reach projections over the 30-year contract, the Government will make up the difference. Former Opposition leader Kim Swan criticised the One Bermuda Alliance for failing to send any of its members to the meeting, which was hosted by members of Aecon, LAS and BEC. "You have business objectives; we are residents of this country who have very serious concerns," he told Ken Hassard, commercial lead of airport developments at Aecon. "It's unacceptable for politicians to use businesspeople as a human shield in a very serious political issue. You have been put in an untenable position tonight," he added. Dorita Rogers said that she did not trust the contract's promise of employing Bermudians at the redeveloped airport. "I keep hearing you say 'jobs for Bermudians'," she said. "I do not believe it and will not believe it until the Government can show it." She also dismissed Mr Hassard's claim that the airport provided an unsatisfactory first and last impression for tourists coming to Bermuda. "I've done a lot of travelling around the world. I have yet to go to anywhere and say, 'I'm going back to that country because I love their airport'," Ms Rogers said. Further concerns were raised about the high costs involved, the project's impact on St David's residents, the perceived lack of advertising for the meeting and the excessive foreign input on a very localized issue. In response to the concerns, Mr Hassard said: "There are three things Bermuda needs: a new airport, direct foreign investment and jobs. This project delivers all three. It's literally something Bermuda needs for its survival at this point. This is about Bermuda turning around and not being a ghost town in 20 years." Two more consultation events will take place tonight from 6.30pm at the Penno's Wharf cruise ship terminal in St George's, and tomorrow from 5.30pm at the Anglican Cathedral Hall in Hamilton.
February 3. The Progressive Labour Party has continued to challenge the proposed airport redevelopment project, questioning the long-term job security of staff and the status of contracts. However Bob Richards, the Minister of Finance, this afternoon described the comments as "total nonsense". Lawrence Scott, the Shadow Minister of Transport, said that while the One Bermuda Alliance had talked about job security for those who are working at the Department of Airport Operations, there were still questions about their benefits and long-term job security given the contracts. "Section J introduces a grey area that permits the new employer to provide them jobs, but their job security lay at the hands of project co-management, who I have been made to understand are looking at starting a corporate restructuring phase months after the project co-management officially takes over," he told a press conference at Alaska Hall. In the larger scheme of things, those on the ground at the airport have the sense that without the Government's assurance to the contrary, the day-to-day administration of the LF Wade International Airport stands in danger of being compromised." He also said that he understood that several contracts related to the $249 million plan had stalled at the negotiation phase. "Reportedly, the Canadian Commercial Corporation did not intend to be the primary source of financing," Mr Scott said. "From what can be determined, they planned on coming on board as a co-signer in the unlikely event that Aecon was unable to raise the funds themselves. Meanwhile, we believe that the rationale of Aecon selling off its controlling stake in Ecuador was to raise the funds for the Bermuda project. However, it is our understanding that the reason the OBA are remaining silent at this time is the crucial financial package is not yet in place. Consequently, neither the Minister of Finance, nor the Premier have been prepared to update this country about the real progress that has been made." Shadow finance minister David Burt, meanwhile, said the Bermuda Government had ignored the Good Governance Act in its handling of the project, which he claimed 75 per cent of Bermudians were against. "This deal contains every single element the Minister of Finance and the OBA have railed against for years," he said. "There is no open tender, no proof or surety of value for money. This deal sacrifices the single most important physical asset, transferring it to the control of a Canadian company while stripping the government of potential revenue. What will be the largest capital project in this country's history has no involvement from the Ministry of Public Works and no oversight from the Office of Project Management and Procurement as required by the Good Governance Act." Responding to the comments this afternoon, Mr Richards reiterated that jobs will be protected, reiterating that those who are employed at the airport will have jobs in either the new airport or the airport quango. "I have stated repeatedly that the jobs of people who work at the airport are protected. I said it to them eyeball to eyeball," he said. "We are trying to organise that their benefits, particularly those with government pensions, will be brought over as well. We are going the extra mile." He widely dismissed the suggestion that any contracts have stalled, and that CCC was never intended to finance the project. "CCC provide guarantees for performance, on time delivery and cost delivery. These are not financial guarantees," he said. Mr Richards said that the financing plan was to get the project its own credit rating, independent to that of the Government, based on the projected revenues and costs. The project will then be put out on international financial markets by Aecon and others. "We are still working on the financial cost and projected revenue," he said. "Once we do that, it will be put out to the international markets. If we get a good rating, it will affect the cost of financing." The minister also rejected the suggestion that increasing fees for airlines would negatively affect air service to the Island, saying the important thing for the airlines was the number of travelers coming to Bermuda, and a small increase on the cost of travel would not deter tourists. He said: "If you raise the cost of travel by $5, is that going to make a difference to someone that it paying $500 a night for a hotel? The business people are going to come no matter what the price costs and the tourists already know that Bermuda is expensive." Questioned about the repeated complaint that the project would give the airport to a foreign company, Mr Richards said the airport had been controlled by the United States for 50 years. "Nobody seemed to be bother by that," he said. "They built it and they ran it up until the 1990s, but nobody was bothered by that."
February 3. Sources with connections to the Progressive Labour Party expressed disappointment after rebel Opposition MPs, Wayne Furbert and Walton Brown, had their posts on the Boundaries Commission revoked at the behest of the Leader of the Opposition. Government House announced yesterday that Michael Scott and Jamahl Simmons had been nominated in their place. Both the MPs removed from the commission are linked to recent challenges within the party against Marc Bean's leadership. In response, Mr Brown said: "This is a decision by PLP Leader Mr Bean, which is fully within his remit. Any rationale he has for making that decision can be provided only by him." Mr Furbert said that it was "the prerogative of the leader as to who serves on the commission", adding: "I am looking forward to giving my contribution if the party needs it." A source linked to the party said that "what Mr Bean has done appears to be spiteful", adding: "Here you have two qualified individuals — MP Brown is a qualified researcher who understands the political terrain and MP Furbert who has experience working with constituencies and understands the dynamics of politics. The action Mr Bean has taken is a great loss for the party."
February 3. A furious customer yesterday blasted Butterfield Bank for introducing new charges "by stealth." The bank, from the start of this year, introduced a new "statement imaging fee" of $2 a month for online personal customers and a fee for "account monitoring" of $8 a month for commercial accounts. It has also introduced a 25 cent per transaction charge for online bill payments. Butterfield client Jason Benevides said the new charges showed "a lack of customer focus" by Bermuda banks and "sheer disrespect" of its customers by Butterfield. Mr Benevides, of Paget, added: "The statement imaging fee appears to merely cancel out the savings the bank promised customers by selecting online instead of paper statements." In a Letter to the Editor (see page four) he added that a Butterfield call centre representative had told him the statement imaging fee was to cover uploading a PDF statement retrieved online. Mr Benevides added that he had been told that the changes had been posted in bank branches and were available on its website. But he said that many customers never visited a branch and banked online. He added: "I'm not sure who frequently visits the bank's website randomly to search for fees which may be changing in the future. However, I would wager that the list of people who do that is quite short. It seems that advance notice of new fees was not posted either on the bank's Butterfield Online electronic banking portal — where a large number of customers would interact with the bank on a regular basis — or as a notice on bank account statements. In short, it seems that notices were posted only in the locations least likely for them to be seen by a great many customers. Logic states that one would only take such an approach if trying to avoid a customer's notice." A spokesman for the bank said yesterday the statement imaging fee was for making account statements available to customers at Butterfield Online. He added: "Butterfield confirms that adjustments to our schedule of fees for banking services took effect on January 1, 2016. At that time, the bank introduced statement imaging fees and corporate account monitoring fees. Per applicable protocols, Butterfield placed prominent, advance notices of the changes to the schedule of fees in our banking centres and on our website, butterfieldgroup.com, for the information of our valued customers." The spokesman said: "Butterfield continually reviews and adjusts fees for services based on a variety of factors, including changes in customers' channel usage preferences and associated transaction volumes, as well as changes in the costs of providing services. Butterfield is pleased to provide a wide range of secure and convenient financial services to Bermuda residents at prices that are competitive and which provide good value." But Mr Benevides said: "Nobody likes fee increases, but sometimes they are necessary. However, any organization that truly cares about customer services and transparency would make a serious effort to notify its customers of necessary fee changes and offer some explanation to customers as to why fee increases are necessary or how the customer may be receiving additional value in return. It does not appear to me that Butterfield bank has chosen to take that approach. That's not how a company wins business and certainly not how it generates customer goodwill or retains customers."
February 3. A man who was arrested last week on suspicion of theft in relation to the "misappropriation" of $18 million in connection with the Par-la-Ville hotel development deal has been released from custody. According to a police spokesman, the 41-year-old is on bail while the investigation continues. The Bermuda Police Service announced last week that the suspect had been assisting police with the inquiry, which is being led by Detective Chief Inspector Nicholas Pedro. It relates to a loan made to Par-la-Ville Hotel and Residences Ltd by Mexico Infrastructure Finance that was intended to help to secure funding to build a hotel and residences at the Par-la-Ville car park in Hamilton. The loan amount was guaranteed by the Corporation of Hamilton after legislative amendments by the Bermuda Government that allowed the municipality to use the parking lot property as collateral. The funds were placed in a New York escrow account and subsequently withdrawn in 2014, but the developers defaulted on the loan, sparking legal action between MIF and the developers. Michael Fahy, Minister of Home Affairs, said last year that a criminal complaint had been made to the police, and that efforts had been launched to attempt to locate the funds, much of which were reportedly sent to Gibraltar-based Argyle Ltd. Meanwhile, the Corporation of Hamilton has been working to secure a loan to repay MIF, which has threatened to claim several corporation properties, including the Hamilton Fire Station, the Chamber of Commerce building and the Custom House, if the loan was not repaid with the interest.
February 2. BBC. Dave Lee, BBC London technology reporter. Alphabet- Bermuda-registered Google's parent company- has surpassed Apple as the world's most valuable company after its latest earnings report. The company made a profit of $4.9bn (£3.4bn) for the fourth quarter, an increase from $4.7bn a year ago. The announcement sent its share price up as much as 9% in after-hours trading. That means that Alphabet is now worth around $568bn, compared with Apple, which has a value of $535bn. It is the first time that Alphabet has separated out the results of its Google business - which includes the search engine and YouTube - from its "Other Bets" business, which includes more experimental ventures such as self-driving cars and internet balloon programs. On an annual basis, Alphabet made $16.3bn but the figures show that the "Other Bets" business lost $3.6bn during the period, while Google's operating income rose to $23.4bn, as online advertising increased. "It looks like Google continues to execute on mobile [advertising]," said Neil Doshi managing director of research at Mizuho Securities. "Two or three years ago mobile was a big head wind for Google. There were concerns that it [had] a negative impact on its desktop business, but as mobile takes over for more searches, mobile ads are becoming closer in value to the desktop ads." If last week Apple was punished for not sharing enough big ideas for the future, Alphabet is being rewarded for spending big on its many technology gambles. The company was under a lot of pressure to be more transparent over how much cash it was splashing on things like driverless cars, internet-enabled helium balloons and Google Glass. Turns out it was a lot - $3.6bn last year. But with the Google side of Alphabet doing so very well, it doesn't really matter. As long as things stay like that, Alphabet will continue to be an attractive proposition for investors. The big gain for the company was advertising. All important paid-for clicks - where advertisers pay per person who clicks on the ad - were up 31% across the entire internet, and 40% on Google-owned sites. Alphabet's claiming of the most valuable company title has been seen by some as a passing of the technology baton. Apple became the United States' most valuable company in 2010, when it dislodged Microsoft. Microsoft in turn overtook IBM two decades earlier. Meanwhile, in the UK, revenue rose 16% to $1.92bn in the fourth quarter. It is the only territory outside the US for which the company breaks down its figures because it is such a large part of the business. The company is currently at the centre of a tax row in the UK after it agreed to pay £130m in back taxes that stretch back to 2005. The agreement was seen by some as too lenient for the internet giant.
February 2. An XL Group subsidiary has bought two US insurance companies. XL Reinsurance America, an indirect wholly-owned arm of the Ireland-based firm, has acquired Allied International Holdings and THE Insurance. Allied is the holding company of Allied Specialty Insurance and THE Insurance, a leading insurer of the outdoor entertainment industry in the US. Mike McGavick, chief executive officer of XL Group, said he was pleased to welcome the Allied stable to the XL Catlin brand. He added: "Their underwriting experience in this niche specialty risk business, along with their exceptional client service, further enhances our ability as a leading provider of specialty insurance and reinsurance to meet the ever-evolving needs of clients in the entertainment industry." THE Insurance had about $70 million of gross written premiums in 2014 and provides a range of coverage, including general liability, workers' compensation and some property insurance to amusement and entertainment industry clients. Allied is a major provider of property and casualty insurance in the entertainment industry through its specialty arm THE Insurance.
February 2. Bermuda-based drinks giant Bacardi has demanded documents from US President Barack Obama in a row over a US decision to grant a licence to the Cuban government to use a trade name. Bacardi has filed a freedom of information request asking for documents relating to the decision two weeks ago to grant the renewal of the Havana Club trademark to Cuba from President Obama and a range of US government departments. Bacardi has always maintained it owns the Havana Club name and logo and that it has been illegally used by the Cuban government. Eduardo Sanchez, senior vice-president and general counsel for Bacardi, said: "We are filing this freedom of information act request because the American people have the right to know the truth of how and why this unprecedented, sudden and silent action was taken by the United States government to reverse longstanding US and international public policy and law that protects against the recognition or acceptance of confiscations by foreign governments." The request asks for documents, communications and files from the US Patent and Trademark Office, which approved the January U-turn, the Office of Foreign Assets Control and the US Department of State, as well as the executive office of the President. Mr Sanchez said: "When the highest and most-powerful government agencies are not transparent about critical changes in policy, the public has the right and the responsibility to use freedom of information act requests and other tools at their disposal to hold the government accountable for its actions." The US government granted a renewal of the Havana Club trademark to the Cuban government and its partner, French-based drinks multinational Pernod Ricard — a move Bacardi says breaches an Act of Congress dating from 1998, which protected trademarks related to trademarks taken over by the Cuban government after the 1959 revolution that propelled Fidel Castro's Communist regime to power in Cuba. Bacardi said the Patent and Trademark Office granted the renewal of the registration of the trademark "after years of inactivity" and within 48 hours. The trademark originally belonged to Cuban rum-makers Jose Arechabala, whose family company was nationalized after Castro took over. The family left Cuba, stopped producing rum and allowed the US trademark registration to lapse in 1973. The Cuban government registered the trademark in the US in 1976 and it was assigned to Pernod Ricard in 1993. Since 1994, Cuban Havana Club has been sold around the world by the 50/50 joint venture between the Cuban government and Pernod Ricard, but not in the US. Bacardi obtained the Arechabala family's remaining rights in the brand in 1994 and began selling limited amounts of Havana Club rum in the US, which sparked a legal battle with Pernod Ricard, which was successful in two of the first three court decisions in the matter. After numerous legal battles, the Cuban government's US registration of the trademark expired in 2006. Mr Sanchez said that the US government was ignoring its own laws in granting the trademark again to Cuba. A Bacardi statement said: "Bacardi has been a long-time supporter of trademark rights for legitimate trademark holders and remains committed to defending the fundamental rights against confiscations without compensation. The company supports both legislation and legal action to uphold the principle of protection of trademarks and ensuring trademarks that have been confiscated by the Cuban government without consent of their rightful owners not be recognized by the international community. Bacardi has and will continue to pursue all the necessary legal and other actions to defend its position surrounding the legitimacy of its rights and ownership of Havana Club rum. As the company has maintained all along, Bacardi is the legitimate owner of the brand."
February 2. Concerns that customers are not getting the internet speeds they are paying for is one of the items to be reviewed by the Regulatory Authority of Bermuda (RAB) during the coming fiscal year. The Consumer Affairs Board has discussed the matter with the authority and believes customers are not getting the speeds they are paying for, in breach of the Consumer Protection Act. In a submission to the authority the board said there is "no justification for broadband prices to remain high for what is being sold to consumers when compared to other like jurisdictions." In its proposed work plan for 2016/17, the RAB said it has been actively seeking to address the issue of pricing through competition between providers. It will conduct a review of advertised broadband speeds to determine to what extent customers get what they are paying for, and consider what the authority can do to address any issues uncovered. Kyle Masters, the interim chief executive officer of the RAB, told The Royal Gazette the authority shared the concern that customers are potentially not getting the speeds they are paying for. "The authority started work on this issue in 2015. It has set aside resources to build on that work in the upcoming year," he said, explaining that the RAB plans to commence this further work as soon as possible after April 1, the start of its next fiscal year. The public will be updated with more details closer to the start of the project." The watchdog organization will also review the number of companies providing telecommunication services in Bermuda, and how competitive the market is, and then consider whether or not there needs to be an increase or decrease in the number of licensed operators. Mr Masters said the key question is whether or not there is currently good competition in Bermuda. "After the authority has reached some conclusions on this question, it will go on to consider the issue of the number of ICOLs [integrated communication operator licences] in the market and whether, or to what extent, this should be modified in some way." The RAB has proposed a budget of $3,375,000 for 2016/17, which is $182,000 lower than its budget for the current fiscal year. A large portion of the savings will achieved by curbing expenditure on consulting services, office space, and provision of mediation and litigation. The authority is proposing a near $300,000 increase in employee costs to ensure it can "recruit and retain the necessary staff to enable some key regulatory functions to be carried out in-house." These details are outlined in the RAB's preliminary report to Bob Richards, the Minister of Finance, and Grant Gibbons, the Minister of Economic Development. The plan has been prepared based on the assumption that the authority will continue to only have oversight for the telecommunications sector. However, at some point in the near future it is set to take over responsibility for regulating the energy sector. The Electricity Act 2015, which will make this happen, has been tabled in Parliament. In preparation for the added responsibilities, the authority appointed Robert Watson as CEO at the beginning of 2015. Mr Watson had previous experience heading up telecoms and electricity companies in Canada. However, he resigned in September, citing personal reasons. The authority has yet to appoint a permanent replacement. When asked how the RAB would deal with budgeting for energy-sector responsibilities, should circumstances change during the forthcoming financial year, Mr Masters said: "The authority anticipates that the transition of the electricity sector out of the various government organisations into the authority will be developed and managed as a joint effort between the Ministry of Economic Development and the authority. Budgeting, which is a part of that process, will be a part of that joint effort." The RAB's budget is covered by fees paid to it by companies that hold an ICOL. The authority is anticipating that the taxable turnover of those companies will be lower during the coming year, and consequently is requesting that the fees be increased from 1.5 per cent to 1.75 per cent of taxable income to ensure its budget requirement is met. Mr Masters said the authority had made its financial projection of ICOL holders' incomes by assessing revenue trends and projecting them forward. Should those projections prove to be off target, the interim CEO said: "If we spend less than what we take in we are required by statute to deal with the surplus by paying some to government, some into our reserve fund and some into our paid-up capital. "The authority can adjust its fee for the following year to correct a large surplus. It did this in the current financial year. I cannot say with certainty if this will happen again, but it is an option open to the authority." Beyond the proposed 0.25 of a percentage point increase in the fees paid to it by ICOL holders, the authority has recommended there be no increase in the government authorizations fees imposed on electronic communications companies. During the coming fiscal year it is projected that government will receive $11.5 million in revenue from the sector through licences and fees.
February 2. A forum has been called today on the toll taken on the island's women by unemployment, with many said to have been forced to seek jobs overseas. "Women Hearing Women", a gathering to share the challenges facing women, was set by Kim Wilson, the Progressive Labour Party MP for Sandys South Central. "It's incredibly important to start a dialogue," Ms Wilson told The Royal Gazette. "I am hearing more and more stories of distress and concern." She highlighted disturbing instances of middle-aged women hit by the wave of consolidations and redundancies in the international business and banking sector. "These are women who may have little postsecondary education who have worked their way up through a hard work ethic and determination, who are now being made redundant. Women in their 40s, 50s or 60s, who have managed to reach middle management positions, have lost their jobs through downsizing and redundancy and are having to enter an already distressed job market. A lot of these people have mortgages obtained when they were receiving beneficial rates, such as through employment at a bank. You can imagine how difficult it would be for them, especially with children." Ms Wilson pointed out that the 2015 Labour Force Survey, issued last month, showed there were 42 per cent fewer woman seeking jobs last year than in 2014. "That means they have either given up, or they have relocated to other jurisdictions in search of a job. Neither is acceptable. The phrase 'economic emigration' has been coined for persons who are highly skilled but leave because they can't find a job. I really wish there were better statistics to keep track of how many people are still leaving — someone in my own family has moved to the UK with their children for better opportunities. I think some of the men who are leaving do so for different reasons than the women." Today's forum from noon until 1.30pm is being held in the Anglican Cathedral's meeting room, aimed at starting a conversation among women, sharing their concerns and supporting each other. "I'd like to see this grow and draw these issues to a national level," Ms Wilson said. "There are similar issues affecting male unemployment, but for women it is different." The Labour Force Survey shows higher unemployment for men, at 8 per cent, versus 5 per cent for women, but Ms Wilson warned of the impact on families where the primary breadwinner is female. She also pointed out that construction jobs through the airport redevelopment and hotel projects stood to employ more men than women. "At the end of the day, we are all impacted." Consolidations and the accompanying redundancies were likely to continue, Ms Wilson said, adding: "Unfortunately, this is part of the new world order. Organisations are concerned about their bottom line. If they are able to provide the same service and degree of productivity on reduced staffing levels, I think we're going to see more amalgamations of this nature." Expressing hope that the forum would "grow legs and move in other directions", Ms Wilson said women could collaborate to help one another. "However it looks, help is what's needed," she said. "Obviously I will be taking copious notes." She said she would raise concerns in the House of Assembly with a view to ensuring that "appropriate action will be taken to address the daunting challenges women in our community are facing on a daily basis."
February 2. An inquest has been opened into the death of a Bermudian who died in England last year. Tahira Baker's body was found in a flat in Sheffield last September after emergency services were alerted to a blaze at the property. Last week a short hearing was held at the Sheffield Coroner's Court during which a brief outline of the facts surrounding the 24-year-old's death were provided before the inquest was adjourned. The summary stated: "On September 23, 2015, the emergency services were contacted to reports of a property on fire at Carwood Green, Sheffield. "They attended and fire officers gained entry into the flat. After formalities at the scene where paramedic Youngson pronounced her dead at 8am, she was taken to the Medico Legal Centre, Sheffield." The death was initially investigated by the police and also reported in the local newspaper, The Star.
February 2. A gas station worker is in hospital after a robbery tonight at the Esso Tiger Market in Hamilton Parish. A man wearing dark clothing and riding a dark-coloured motorcycle pulled up at the site, on the corner of Radnor Road and North Shore Road, at approximately 8pm. He demanded money from the female cashier inside a service kiosk, who gave him an undisclosed sum of cash then retreated from the booth. Bermuda Police Service spokesman Dwayne Caines said: "The suspect, as he was leaving, ran over the woman, resulting in the attendant being taken to the hospital, where she is being treated for injuries which are not believed to be life-threatening. The suspect left the area travelling east on North Shore Road." Mr Caines added that an investigation is under way and that the area is now cordoned off. Police are appealing for witnesses, or anyone who may have seen anyone in the area acting suspiciously, to call 295-0011 or the confidential Crime Stoppers hotline on 800-8477.
February 1. Britain's biggest circulation Sunday newspaper has put Bermuda under the spotlight regarding billions of dollars that are sent to the island by internet giant Google. The Sun on Sunday yesterday published a story about Google directing an estimated $8 billion of profits a year to the island, and noted the company's only physical presence in Bermuda is a post office box, numbered 666, located at the General Post Office in Hamilton. The newspaper explained how Google moves money through Ireland and the Netherlands before it reaches Bermuda, where Google Bermuda Unlimited and Google Ireland Holdings are registered at the address of law firm Conyers Dill and Pearman, on Church Street. A postal delivery worker and a receptionist at the law office were quoted in the article as saying Google did not have an office at that location. Financial arrangements used by the technology heavyweight to minimize its tax bills have been widely known for many years. Bermuda earns no tax revenue from the billions sent to the island as it has a zero per cent tax rate on corporate profits. However, the international media attention focused on Google's use of Bermuda has done no good to the island's reputation. The Sun on Sunday has an average circulation of about 1.5 million. Details from its story were yesterday also featured by the Mail Online, the internet site of British newspaper the Daily Mail , which is the country's largest national newspaper website with an average of 14.6 million unique daily users. Meanwhile, a story in another British newspaper, The Observer , said Britain is lobbying the European Union to remove Bermuda from a blacklist of tax havens. Google has come under renewed scrutiny in Britain after its parent, Alphabet Inc, last week reached a £130 million ($185 million) settlement with the country's tax authorities. The deal covers tax payments going back to 2005. In a Bloomberg report, Sajid Javid, Britain's business secretary, said the agreement "wasn't a glorious moment" and he shared "the sense of unfairness" felt by small businesses that are unable to use the tools available to multinational corporations to keep their taxes low. "Work needs to be done" to ensure they pay the correct share, he said. Peter Barron, Google UK's head of communications, said it was not a "sweetheart deal", as some have portrayed it, and added: "Government puts the laws in place, HMRC [HM Revenue and Customs] enforces the laws and we follow the laws. If the laws change, of course we would follow them." Mr Javis said Britain has closed more than 40 tax loopholes, signed information exchange deals with other countries and pressed for changes in international rules, and that work needs to continue. He added that the Google deal would help in the drive to change companies' attitude to taxation. Last June, Bob Richards, Bermuda's finance minister, expressed hope that the EU would soon remove the island from its list of uncooperative tax jurisdictions after two of the 11 European nations that had nominated Bermuda for the list, Poland and Latvia, said they no longer tagged the island with a negative rating. This view was echoed by Ross Webber, the chief executive officer of the Bermuda Business Development Agency, who pointed out that the island has 83 treaty partners, including 41 tax information and exchange agreements, and Model 2 agreements with the US and Britain under the Foreign Account Tax Compliance Act.
February 1. A clone company using the name of a legitimate Bermuda-based firm is suspected to be operating. Kuva Limited, found at kuvaltd.com, promotes an investment firm which falsely claims to be regulated by the Bermuda Monetary Authority (BMA). An investigation by The Royal Gazette found that the website, created using the free blogging tool WordPress, was created in Germany, but is based in Italy. It was registered by Guiseppe Martino, who lists an address in Genoa, Italy, but his e-mail address is given as giuseppe.ditullio@mail.com — the same name listed on the fake site as the chief investment officer. The site claims the company is licensed by the "Central Bank of Bermuda", an entity that does not exist, and claims the general manager Ivan Erak has "a professional advanced brokering certificate issued by the Bermuda Ministry of Finance." However, in reference to the alleged certificate, a spokesman for the Ministry of Finance stated: "No such thing exists from the Ministry of Finance." The bogus firm also claims to have an investment portfolio of more than $433 million. An e-mail to Mr Martino, listed as the registrant of the website complete with e-mail address on WordPress, bounced back as undeliverable. The same e-mail was forwarded to the Kuva Ltd e-mail address for Mr DiTullio on the fake website, but there was no reply. The BMA said that there is a company called Kuva Ltd, which operates an authorised investment fund and is listed with the authority, but it is not connected to the company using its name or the fake website. The real Kuva Ltd is listed at Cumberland House on Hamilton's Victoria Street. A spokesman for the BMA said that clone company uses the details of a genuine firm to convince potential investors they work for that entity when they do not. He added: "Not everyone is a financial expert. If you're not sure about something, ask. Before you invest in a product, research it first and read the prospectus. If the information you have been given is not clear, ask for clarification to ensure you're aware of both the benefits and potential risks of a transaction or investment. Also make sure that the investment company has a license and that the salesperson has the adequate credentials and experience." The spokesman said red flags should also be raised if potential investors are asked for "unnecessary or inappropriate" details, if the offer sounds as if it may be illegal or simply too good to be true. "If the answer to any of these questions is 'yes', think carefully before you act If the deal on offer feels unofficial then consider why that is. Remember that institutions should never e-mail you looking for account details or personal information. E-mails requesting such information should be ignored and deleted." He added the BMA has added the bogus Kuva Ltd to its warning list of unauthorised firms and individuals.
February 1. The Peace and Social Justice Committee of the Roman Catholic Church of Bermuda will host a forum focusing on ageing on the Island this week. The forum is set to be the first in a series, and will feature Bishop Wesley Spiewak, Age Concern's Claudette Fleming, Bermuda College's Craig Simmons and Sara Clifford of the Human Rights Commission as expert panelists. A spokeswoman for the committee said: "With 35 per cent of seniors 65 years and older living below the poverty line, this first forum will explore the topic of ageing and employment, retirement at 65 and whether or not it is in the best interest of the community to raise this retirement age. "The intention of these events, which will include think tank discussions, is to draw the spotlight on the intricate dilemma of ageing in Bermuda and to come up with action plans of how best to address this social concern through community activism." The forum is scheduled to begin at 7.30pm this Friday at St Theresa's Church Hall. Other forums in the series are scheduled to take place on March 11, April 8, May 20 and June 17 tackling matters of health, legal issues, eldercare and end of life respectively, all through the lens of ageing.
February 1. Inmates at Westgate Correctional Facility are "relentless" in their pursuit of illegal drugs and other forms of contraband, according to Commissioner of Corrections Edward Lamb. Colonel Lamb spoke after the Department of Corrections revealed that the seizure of suspected drugs increased significantly at the Sandys jail last year — with 83 items taken between January and June, more than the entire hauls of both 2013 (42 items) and 2014 (71 items). Russ Ford, who worked as a nurse in Bermuda's prison system for 23 years, suggested that boredom and a desire to escape reality propelled inmates towards drugs. The ten-year list of contraband statistics — obtained by The Royal Gazette via a Public Access to Information Act (Pati) request — showed that mobile phone smuggling also remained a problem, with 496 handsets captured by officers between 2012 and last June. Other common items found included alcohol, jewellery, tobacco and assorted electronics. Colonel Lamb told this newspaper that intercepting unlawful items was "a constant battle that we fight within a corrections environment". "Inmates are relentless in their schemes to smuggle contraband into prison facilities," said Colonel Lamb, while praising his staff members for their diligence in tackling the problem. He added that officers had caught inmates' family members trying to sneak in assorted materials on multiple occasions. "That, sadly, is a reality. Most of the suspected drugs confiscated are in relatively small quantities. However, any amount of contraband in a prison setting is a security risk, and therefore we apportion the necessary attention to this matter," he added. Mr Ford, who now works as a senior probation officer, said that drug use in prison — and, conversely, their lack of availability — could turn inmates erratic and violent. "The bottom line is that many of these people are bored, so they're going to find all different ways to occupy their time," he said. "People will go to any degree to feel better or escape their current reality. Idle hands are the devil's workshop. That's why we have to keep these guys very busy and involved in positive activities that help them grow and improve their lives." Mr Ford acknowledged the difficulty that officers faced when inmates were intent on smuggling contraband items into prison. "They must always be vigilant and help protect the prison population," he said. "It can be quite a challenge. Drug use in jail was a problem prevalent throughout the world.. Bermuda does a very good job in terms of curtailing the number of drugs going into prison." NB. No recorded inmate-on-inmate or inmate-on-officer assaults took place between April 2013 and March 2015, The Royal Gazette has learnt after a Public Access to Information request. In contrast, 58 violent incidents were recorded between April 2006 and March 2013. Commissioner of Corrections Edward Lamb was keen to praise employees for minimizing assaults at the correctional facility. "These incidents are relatively very low. This is a testament to the diligence of our staff, as well as the strict regimes we run in our facilities."
February 1. Campaigners fighting to stop construction of a maintenance yard in Botanical Gardens have delivered a petition with 3,750 signatures to the Bermuda Government. While Government has said the area has been used as a maintenance yard for yard since the 1960s with a minimal impact and that there were no other suitable sites, members of the public have objected to the proposal, describing it as an industrial site in the middle of a national park. Work on the site was halted last year as a result of a temporary injunction, put in place by Chief Justice Ian Kawaley as part of a civil case against the project. Jennifer Flood, a spokeswoman for campaign group Take Back Our Park, said: "A lot of people do not realize the magnitude of what Government is planning to put there. To give you an idea of the scale, the largest building will be ten feet higher than the water tank and the other will sit at the same height as the tank. People are already upset about the size of the water tank." Group member Claire Smith said the petition was formally delivered to the office of Craig Cannonier, the Minister of Public Works, after waiting unsuccessfully to deliver it to him in person. Mrs Flood added: "TBOP has consistently opposed this development and we sympathize greatly with the parks staff, but the truth of the matter is their own management did nothing to resolve this situation for almost six years. It should be noted that it was actually nine years before the final plans were eventually submitted for approval. We are appalled that parks management have left these workers in unsuitable conditions for so many years when alternative locations could have been found. We are adamant that other sites are available that are far more suited to the industrial purposes being proposed at the Botanical Gardens. It makes no sense to put this large scale development in the centre of our most important park, especially when we are trying to revitalize both the park and tourism. The petition contains 3,750 names, or 10 per cent of the voting population, and Government should listen to that number of people and agree, regardless of the court case, to stop work now and turn it into gardens for use by members of the public."
February 1. A petition against the creation of a new parking lot near the Shelly Bay playground has garnered about 1,000 signatures, according to organizers. The proposed parking lot is one part of the Shelly Bay Beach House plan to create a new restaurant and provide additional public amenities at the existing Shelly Bay concessions area. Developer Tom Steinhoff has stated the parking lot would remain shut during the day in summer months unless the existing parking area was full, but give customers easier access in the winter months and during the evenings. However, members of the public have expressed reservations about the parking lot, both for safety reasons and the project's use of public land. More than 200 people attended a public meeting on the subject at Francis Patton Primary School and a petition against the proposal was circulated. Area resident Cheryl-Ann Griffin, representing those who are against the creation of the parking lot, said the proposed location would pose a risk to children at the playground and the viability of a nearby mangrove swamp. She said that on Friday, representatives of the community met with Craig Cannonier, the Minister of Public Works, along with Mr Steinhoff and government staff. "Both sides shared their perceptions of the impact of this plan. Mr Steinhoff was asked to withdraw his application on the basis that community objection was very strong and that he was encroaching on the public free use of public land for a private enterprise. Mr Steinhoff's main argument was that he does not want his patrons to have to walk to the restaurant in the rain. The rebuttal suggested that every popular waterside restaurant in Bermuda has as long of a walk, even in the rain, and it has been proven that it is the product, not the parking, which is of utmost concern to patrons. Another argument considered the fact that Mr Steinhoff wants this parking area to be exclusive to his patrons. This is not possible and would prove illegal because it is on public property. Therefore, anyone can park there for the beach or the playground which would nullify the reason for its existence. Community representatives presented workable alternative solutions to this current impasse, to which consideration was promised by both Mr Steinhoff and the minister." Members of the community have also made it known that Mr Steinhoff's suggested "help" to the community by providing amenities for "picnickers and beach goers, school and camp groups" is not needed or wanted. While Mr Steinhoff has said the project would help to create jobs for Bermudians, Ms Griffin said the suggestion was merely a distraction from the matter of erecting a parking lot on a popular public picnic ground.
February 1. The Phoenix Stores group has bought up photographic firm Kodak Express. George Grundmuller, president and CEO of Phoenix Stores, said the acquisition gave his firm the chance to expand on its range of products and services. He added: "We are happy to confirm there were no job losses with this purchase." The buy-up means that the Phoenix group's existing photo lab at P-Tech on Reid Street will move to the Kodak Express store on Church Street and will operate under the P-Tech Photo Solutions brand. Mr Grundmuller said: "By combining our services and resources P-Tech Photo Solutions is well positioned for growth in the future. We are now Bermuda's largest, full-service photo development lab with a knowledgeable team of professionals committed to delivering the highest-quality photo finishing and express printing services. " The company develops photographs, provides passport and visa photos, photo restoration, large format printing, canvas printing, custom framing, greeting cards, calendars, magazine covers and photo books. P-Tech Photo Solutions will also offer commercial printing services, with pick-up and delivery available. To celebrate the new brand, the company is offering 25 per cent off all ready-made frames and enlargements ordered up to Saturday, February 13 — just in time for St Valentine's Day. The Phoenix Stores group includes six pharmacies across the island and seven stores, including Brown & Co, Annex Toys and Phoenix Kidz.
February 1. The Williamsburg Symphony String Quartet consists of Irina Muresanu and Alana Carithers on violin, Kimberley Sparr on viola and Schuyler Slack on cello. Addressing a packed St Peter's Church in St George's on Saturday night, Alana welcomed us to the concert and said how much they loved Bermuda and St George. The first set consisted of three 1904 compositions by Frank Bridge. The first, Andante Moderato, was a languid, late romantic piece which made occasional forays into the modern. It felt like a mixture of Elgar, Wolf and Richard Strauss with a slow, driving bassline. Next a Presto allegretto with pizzicato work from all the instruments overlaid with a sweet, romantic melody. Finally, an allegro vivo with great, declamatory, Mussorgsky-like chords creating a powerful fanfare effect. This quartet has complete technical mastery, energy, youth, soul and disciplined teamwork. What's more, their choice of St Peter's was inspired. I later found out that the musicians had specifically chosen this iconic church as their venue. How right they were. Behind them was a wall of solid cedar from floor to pulpit to ceiling which acted as a superb sound projector. Our early Bermudian builders were audio engineers since every nuance was audible and the sound was generous, rich and warm. Next, Mendelssohn's String Quartet Op 12, introduced by Irina, who reminded us of Mendelssohn's huge historical importance as re-discoverer of JS Bach and that he had written this quartet at age 20. The work has a highly emotive effect, ranging from hints of Jewish folklore through to cascading triplets to at least three false endings leading back to the opening theme. A superb Haydn's Quartet in D major, Op 76 No 5 finished the evening. The quartet comes from the last years of Haydn's life but is packed with exuberant energy and playfulness. The Finale Presto with its hints of hunting, the chase and flight, was dizzying in its effect.
February 1. A proposal has been submitted for a $3 million renovation at Horseshoe Bay that could create as many as 50 hospitality jobs for Bermudians in the run-up to the Louis Vuitton America's Cup. Beach Boys Ltd, which runs the "beach experience" out of Tobacco Bay, is up against 15 other contenders for the world-class location, including Fun Tyme, Ice Queen, Speciality Inn and Fantasea Bermuda. Beach Boys hopes to expand upon the Tobacco Bay experience at the South Shore beach by ploughing $3 million into the existing facility and building "family friendly" programming, day and evening, and throughout the shoulder months. As with Tobacco Bay, the submission includes food and beverages, non-motorized water sports, live local entertainment, transportation, tourism ambassadors, technology and the enhancement of the beach rental vacation market. When approached by The Royal Gazette, Beach Boys creative director Belcario Thomas said: "From Tobacco Bay we have learnt that there is a high demand for responsibly enhanced beach activities from residents of Bermuda and even more so from visitors. Our revenues doubled this year. We [Beach Boys] are coming in to this with ten years of acute observation. We have first-hand experience visiting some of the top beach locations around the world, from Colombia, to Brazil, to South Beach, to Cannes. We are hoping we can bring some of that, tailored to Bermuda. We want to celebrate, authentically, Bermudian culture that the island can be proud of." Mr Thomas believes that if the bid is successful, the business could create 30 jobs during the first phase this summer and an extra 20 in 2017. As with Tobacco Bay, the business would hire an all-Bermudian staff including Bermuda Tourism Authority-certified tourism ambassadors. Tobacco Bay currently employs 30 full- and part-time Bermudian staff but Mr Thomas also highlighted the "economic multiplier effect. That is just direct jobs. The fun part is the economic impact that comes out of it — for example, transport — there is now increased demand to multiple area attractions and businesses. Transportation was in demand so much after year one of our operations at Tobacco Bay that there was a hop-on-hop-off beach shuttle that our team created. Area businesses start getting a boost. A Bermudian company was created in a collaboration with the Beach Boys and Just Add Water, a vacations rental company. You can have local entertainment. Tobacco Bay gets up to 500 people a day so it can provide an enhanced busking experience and exposure for our artists." Mr Thomas came into hot water from environmentalists in 2010 when he proposed a beach bar on Warwick Long Bay — a pristine public beach. The Development Applications Board listed several reasons for the rejection including the "potential detrimental impact on the natural and visual quality of the area." Mr Thomas highlighted that the company's proposal only called for "minimal enhanced infrastructure" in order to provide year-round offerings both day and evening. He added: "Beach Boys' vision for Horseshoe Bay is highly supported at the top level. Horseshoe Bay is not a part of the Parks designated pristine network like Warwick Long Bay is and part of the designated active network, which promotes minimal commercial activity. We want this to be a bespoke, all-inclusive package promoted directly to our contacts in New York, Boston, Canada and Europe that also include the Unesco St George's East End beach experience as well.

History & daily newspaper reports


Authored, researched, compiled and website-managed by Keith A. Forbes.
Multi-national © 2020. All Rights Reserved