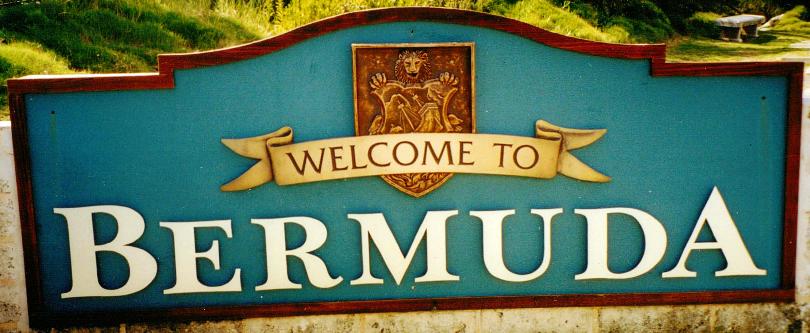 Click on graphic above to navigate the 165+ web files on this website, a regularly updated Gazetteer, an in-depth description of our island's internally self-governing British Overseas Territory 900 miles north of the Caribbean, 600 miles east of North Carolina, USA. With accommodation options, airlines, airport, actors, actresses, aviation, banks, beaches, Bermuda Dollar, Bermuda Government, Bermuda-incorporated businesses and companies including insurers and reinsurers, Bermudians, books and publications, bridges and causeway, charities, churches, citizenship by Status, City of Hamilton, commerce, communities, credit cards, cruise ships, cuisine, currency, disability accessibility, Devonshire Parish, districts, Dockyard, economy, education, employers, employment, environment, executorships, fauna, ferries, flora, former military bases, forts, gardens, geography, getting around, golf, guest houses, highways, history, historic properties, Hamilton, House of Assembly, housing, hotels, immigration, import duties, internet access, islands, laws, legal system and legislators, main roads, marriages, media, members of parliament, money, motor vehicles, municipalities, music and musicians, newcomers, newspaper, media, organizations, parks, parishes, Paget, Pembroke, performing artists, residents, pensions, political parties, postage stamps, public holidays, public transportation, railway trail, real estate, registries of aircraft and ships, religions, Royal Naval Dockyard, Sandys, senior citizens, Smith's, Somerset Village, Southampton, St. David's Island, St George's, Spanish Point, Spittal Pond, sports, taxes, telecommunications, time zone, traditions, tourism, Town of St. George, Tucker's Town, utilities, water sports, Warwick, weather, wildlife, work permits.

Bermuda's 2017 April History and Newspaper Reports
Events that made headlines in the fourth month of this calendar year
By Keith Archibald Forbes (see About Us).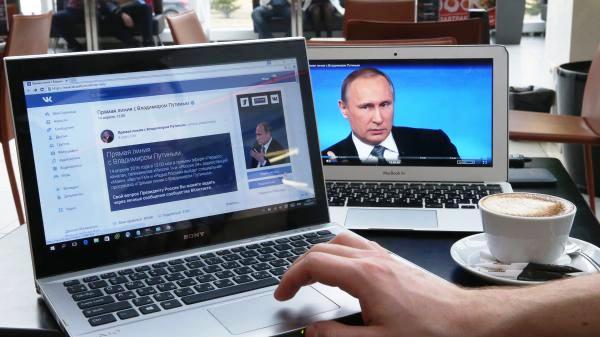 Benefits of website linkage to Bermuda Online
See end of this file for all of our many History files
Bermuda's Royal Gazette newspaper is not published on Sundays or Public Holidays.
April 29. America's Cup chief executive officer Sir Russell Coutts expects racing in Bermuda to be even better than in San Francisco four years ago. Coutts was interacting with fans on Twitter yesterday morning and said that Swedish challenger Artemis Racing had been "dominant" on the Great Sound, while outlining some of the changes that he hopes will come about for the America's Cup after Bermuda. Responding to a fan who asked whether America's Cup 35 would be "even better" than AC34 in San Francisco, Coutts tweeted: "Final match in SF was brilliant. Now, nearly all the teams are competitive, so race [should] be closer and more competitive overall." And while praising Artemis's strong showing on the Great Sound, Coutts intimated that does not mean that their dominance will continue when the real racing starts. "Artemis Racing has been dominant in high winds," Coutts tweeted. "Still need to see light wind performance from all teams. Variable wind is a feature of BDA." Coutts also was confident that racing would not need to pushed back into July because of the weather. "If delays happen, regatta director Iain Murray will need to schedule more races during each day," Coutts said. "The races are 22 minutes so we should be able to make up time. So we should be OK." When another fan asked Coutts "if you could create one boat design related rule, effective immediately, what would it be?", he responded: "Next version of ACC should have gennakers for very light winds — for both upwind and downwind. And a smaller wing for stronger winds." Coutts was not convinced that the challengers would "band together" against defender Oracle Team USA. "No doubt they'll be more worried about beating each other at this point," he tweeted. "There's not much time to co-operate after teams have been eliminated." He is also not expecting a repeat of the thrilling comeback in 2013, when Oracle overturned an 8-1 deficit to Emirates Team New Zealand to win 9-8. "That was an amazing comeback," Kiwi Coutts tweeted. "Hard to imagine we will see that again in our lifetimes."
April 29. Ground looks set to be broken at the St Regis hotel resort in St George's next week. The Royal Gazette understands that invitations have been sent out stating the official ground breaking ceremony will take place at St Catherine's Beach on Thursday afternoon. The beginning of construction work would signal an end to nearly a decade of dashed hopes and false dawns for the East End community since the Club Med property was destroyed in August 2008. Mayor of St George's, Quinell Francis, told The Royal Gazette she was very confident that progress would be made on the development in the coming week. "I have spoken with the general manager and the project engineer and it seems that the revised road alignment has been set out. I understand that the permit should be coming in the next couple of days. I am very confident that we will be moving ahead with this project in the new week and progress will be made. There is a genuine feeling of optimism in the community; we have been through this process before but now we are seeing this project move forward. The general manager and project manager have now relocated to the island and this shows again commitment to this project. We are feeling very positive that it will go ahead." Plans to build the new St Regis hotel were approved by planners back in January The development, which will overlook Gates Bay, will feature a 122-key resort with 97 hotel rooms and 25 suites, as well as a casino, restaurant, bar, golf clubhouse and other amenities. The first phase of the project would also include two residential buildings, containing 28 condominiums. Later phases would include another three residential complexes. In March, Michael Dunkley told MPs that he had been assured by a principal of the St Regis development that the hotel would be built before the residences. The Premier was responding to repeated claims by Progressive Labour Party MP Zane DeSilva that he had heard the residences would be built first. St George's MP Kenneth Bascome would not comment on reports that ground would be broken on the project next week. "There are a lot of rumours whirling around that something significant is going to be announced in St George's next week. At this stage I am not in a position to make any official comment on that or verify those rumours."
April 29. The Bermuda Casino Gaming Commission has defended the controversial appointment of One Bermuda Alliance MP Wayne Scott. The Progressive Labour Party had called for Mr Scott to resign, saying he could not hold a post in the civil service due to his position in the House of Assembly. But Alan Dunch, chairman of the Bermuda Casino Gaming Commission, said that the Casino Gaming Act 2016 did not prevent former or sitting ministers or members of Parliament from being employed by the commission. "Just like every other employee of the commission, Mr Scott is neither the holder of a casino licence nor is he affiliated with anyone that is in the process of applying for one," Mr Dunch said. "The former education minister has not solicited or accepted any complimentary service from any entity applying for a casino licence under the Act, nor has he provided any goods or services to an applicant for any licence under the Act, other than in the ordinary course of his duties as an employee of the commission. The Act does not prohibit former or sitting ministers or members of Parliament from being employed by the commission. It also does not prohibit such persons from any involvement in the gaming industry for a specified or any period of time." Mr Dunch said that a review panel established to interview for the position the chief technical officer unanimously ranked Mr Scott as the best candidate for the job in both rounds of interviews. He added: "While none of the candidates had gaming experience, the Bermuda Casino Gaming Commission was committed to hiring a Bermudian for the role of CTO and Mr Scott had virtually all of the technical skills and qualifications required for the job. The commissioners unanimously accepted the recommendation of the review panel that Mr Scott be appointed to the role of CTO and we look forward to working with him in our quest to create a viable, regulated casino gaming industry in Bermuda." In a statement, an OBA spokesman said: "The Opposition's method is always to look for the worst in everything. The OBA, however, will continue to serve the people with openness, transparency and accountability."
April 29. Monday marks the opening of the Bermuda International Film Festival — but award-winning films are getting a complimentary screening tomorrow as well. The showing at 7pm in the Earl Cameron Theatre is courtesy of the Austria Cultural Institute and the Honorary Austrian Consulate in Bermuda, and features a selecting from the touring series, including Exomoon and Vantage Point. The festival's 20th anniversary is being celebrated with a show of spatial art created by Biff's art director and event manager, Nicky Gurret, along with fellow organisers, which adorns both the lawn and interior of City Hall. Biff kicks off on Monday with five short films commencing at 5pm, followed by an opening reception of 6.30pm — and the world premier of My Letter to the World. A film shows at 9.30pm on the life of the 19th century American poet Emily Dickinson. The programmes for the week of films is available at City Hall reception, as well as the visitor centre next to the Hamilton ferry terminal, and the site biff.bm Tickets are available online at the BIFF site, as well as prix.bm. — and one half-hour before each show at the City Hall box.
April 29. In July 2015 when the call went out for the island's best young athletes to try out for Bermuda's Red Bull Youth America's Cup team, some of the members who are on that team today were at a crossroads in their lives. For them, TeamBDA was the right opportunity at the right time. Mustafa Ingham had bounced around to practically every sport offered on island and admits he was feeling "complacent". Philip Hagen had reached a rough patch in his competitive swimming career; while Dimitri Stevens was almost at the point of giving up with sailing entirely. These were some of the powerful stories that emerged from a public meet and greet event at Liberty Theatre on Wednesday evening. Moderated by Glenn Jones, the sailors answered questions that highlighted the highs and lows of their journey so far. When asked about the sacrifices they make to compete at this level, Ingham admitted he's had to drop "life as [he] knew it". He, like many on the team, has put his education on hold as the team trains full-time for the June regatta. "None of us work; we don't do anything other than sail. It takes a lot of time and dedication. [I'm training so much] I don't spend as much time with my family as I'd hope to. I wake up early in the morning and get back home late at night. But what I've learnt about myself is I can actually be disciplined. Sailing has become a passion for me. Waking up and learning something new every day is great. It's exciting doing 40mph going downwind. Plus, I like working out and I like the food." Philip Hagen says TeamBDA has also given him a new lease on life. Asked what he'll remember most about the TeamBDA experience, he said the friendships he's made with his team-mates, which he hopes will last a lifetime; and the thrill that's come from learning a new sport. Hagen said: "I was a swimmer from the age of nine and went away to university to swim. I was having a rough time in my swimming career when I left Bermuda and when this opportunity came up I had no desire to try out, but my physio kind of egged me on to go and just have fun. Now I absolutely love it — being with these guys and every aspect about what we're doing." For Stevens it was more about rediscovering the hunger for a sport he loves. Sailing since the age of ten, Dimitri competed in Optimist regattas in North and South America, as well as World Championships. "After that we did a Youth Olympic Campaign, however, with that I sort of got burnt out with the amount of time I was spending on sailing," he said. "I did a little bit of fun sailing after that and then I quit. I didn't sail that much two years before this, but with this opportunity I decided to get back into sailing and try my best at it again and I think it was a good decision." Some attendees said they had a better understanding of what it takes to compete at this international level and left the event with even greater admiration for TeamBDA. Jess Meredith, an Alumni Development Manager at Warwick Academy, came out to support some of the school's graduates. "It's great to see people in Bermuda who you went through the education system with and they are representing their country in an event of this magnitude. Tonight I've seen the passion of the team and the community support that's behind TeamBDA and America's Cup in general. Zina Edwards Malcolm admitted she loved a good story and "the tale of Bermuda's selection as host of the America's Cup and the assembling of TeamBDA has really captured my imagination". She found it fascinating to hear how a mix of non-sailors, and accomplished amateur sailors, including an Olympian, Ceci Wollmann, were assembled to compete against the world's best. "I got more than I could have imagined with the fab video production telling the story of the women of TeamBDA, as well as [some of the black Bermudian sailors] Shomari [Warner] and Mustafa [Ingham]. I can't wait to support them all in June."
April 28. Britain's imminent departure from the European Union should not impact Bermuda's ability to successfully negotiate with the EU on matters of regulation and securing fair access to the EU market for the island's insurance and financial services sector. That is the view of Jeremy Cox, chief executive officer of the Bermuda Monetary Authority. A year ago, Bermuda achieved Solvency II equivalence, with the EU recognizing that the island's insurance regulation is at the same level as the EU's new and enhanced insurance rules. It was the culmination of many years of effort and negotiation, led by the BMA, to ensure that commercial insurers and reinsurers based in Bermuda are not competitively disadvantaged when they do business in the EU. Mr Cox said that while Britain was not insignificant in the process of Bermuda gaining Solvency II equivalence, it was primarily Bermuda that negotiated the arrangements. Last month, Britain triggered a two-year process to leave the 28-nation EU. Mr Cox is confident that even when Britain no longer has a presence in the bloc's decision-making mechanism, Bermuda will continue its negotiating and relationship channels with the EU. "We have never had questions about our linkage to the UK. People have always treated us as a third country, independently seeking to get equivalence," said Mr Cox. "I don't want to say that the UK were insignificant in the process. Every trip that I made to the UK, I always made a point of touching base with the Foreign and Commonwealth Office, and with Treasury, to give them an update on what we were doing and our progress, to pick their brain, to see if there was any intelligence they were gathering to suggest that we were not on the right track. So it was a useful process. But I believe the efforts of the BMA, the Bermuda Government, and certainly the significant efforts of organisations like Abir, won equivalence for Bermuda as opposed to anything else. They had to trust us. All along the way it was the face of Bermuda, and primarily the face of the BMA, that was needed to build trust and provide a technical overview of what we were doing in Bermuda and whether or not it was considered equivalent with Solvency II." Mr Cox paid tribute to the team effort that secured the success, noting key roles played by the BMA's Craig Swan, managing director of insurance supervision, and Shauna MacKenzie, director of legal policy enforcement. And Mr Cox recalled the former Governor, Sir Richard Gozney, attending a conference in 2011 with the then-Premier Paula Cox, "making it clear to the European Commission and other European regulators, that Bermuda has the ability to negotiate these type of arrangements independent of the UK". He added that Sir Richard and Ms Cox met with "key influential people" within the EU Commission and members of the European parliament to spread that message, and had done "a very good job". Late last year Bermuda avoided being placed on an EU blacklist after Britain blocked a French-led proposal that would have automatically branded the island a tax haven. Jurisdictions with zero per cent corporate tax rate, such as Bermuda, would have been denounced as potentially "non-co-operative" under the proposed change. While the BMA does not deal with tax policy, Mr Cox offered a personal view on how the island can stand its ground by showing its value to the EU. He said Bermuda has established its relevance to the EU through its insurance market. "We are supplying a significant contribution to Europe in the form of reinsurance coverage that has aided the European insurance market by helping them to lower costs for their consumers, and also spread and diversify risk." As examples, Bermuda insurers and reinsurers covered half the insured losses from the sinking of the Costa Concordia cruise ship off the coast of Italy in 2012, and covered about 20 per cent of the estimated $1 billion market loss for the 2009 Air France crash in the Atlantic. Mr Cox said Bermuda would not have been able to get through even the first stage of the Solvency II equivalency assessment if it had not been able to show its relevance to Europe. "The fact that we were one of three jurisdictions that were assessed, signifies that they understood and connected with that, and recognized how important Bermuda is." Mr Cox said that a week ago, while he was in London, an individual in Brussels mentioned to him that Bermuda has been able to distance itself from many other third-county jurisdictions because of the equivalence exercise. "People look at us very differently because of that and we will be judged favorably because of that. We are a partner and contributor to Europe's success, not detracting from it," Mr Cox said. And regarding possible tax changes in the US, he said it was a similar argument, with Bermuda, through the detailed work of the Association of Bermuda Insurers and Reinsurers, able to demonstrate the contribution and benefits the island's market makes to the US. Mr Cox spoke to The Royal Gazette at the Risk and Insurance Management Society's annual conference in Philadelphia this week. For many years the BMA has been part of the Bermuda delegation at Rims, which attracts 10,000 insurance leaders from across North America and elsewhere. Explaining why it was important for the BMA to be present, Mr Cox said: "Regulation is always going to be a critical issue to someone making decisions about whether or not to come into Bermuda. If we were to disconnect from this, there are too many questions that wouldn't get answered. Being part of it is what we have always said about Bermuda being a one-stop shop. You have everybody here, you can touch the industry, you can touch the Government and you can touch the regulator — and that gives you a good sense of what you would expect in Bermuda. You get the questions answered as opposed to having some questions answered and some unanswered. So the decision-making process is much faster. People always get a better feeling towards a jurisdiction if they can leave something like this with their questions answered. It would be foolhardy for BMA to pull away from 'Team Bermuda' and decide it is not going to attend this kind of event. It's the partnership and the team approach that has really benefited Bermuda for so long, so let's continue and enhance it."
April 28. Bermuda-based Reinsurance firm Validus reported profits of $94.6 million for the first quarter of the year. The figure, equal to $1.17 per common share, was $72.2 million down on the $166.8 million recorded for the same period last year, equivalent to $1.98 per share. Gross premiums written for the quarter amounted to $1.19 billion compared to $1.17 billion for the first quarter of 2016. Ed Noonan, CEO of Validus, said: "This was another good quarter for the Validus Group, We had $94.6 million in net income and an annualized return on average equity of 10.2 per cent in the quarter. Our combined ratio of 83.2 per cent reflects our continued commitment to underwriting profits and most importantly we grew our book value per diluted common share, including dividends, by 2.9 per cent during the quarter." The $18.1 million increase in gross premiums written was put down an increase in the western world segment of Validus Group's business, offset by decreases in Validus Re and Talbot segments. The company report said: "The decrease in the Validus Re segment was driven by a decline in agriculture premiums of $76.3 million due to lower crop premiums available for insurers as result of recent mergers and acquisitions in the primary insurance space, including the company announced acquisition of Crop Risk Services." The decrease, however, was offset by an increase in agricultural premiums of $84.3 million in the western world segment, which resulted from a new quota share arrangement between CRS and Validus Re Switzerland. Managed net investment income for the quarter was up $8.3 million at $36.2 million, compared to $27.9 for the same quarter in 2016. The report said: "The increase was primarily driven by returns on the company's portfolio of structured securities, of which $3.9 million was generated from a single fixed income fund during the three months ended March, 31, 2017, compared to a loss of $2.4 million from the same fund during the three months ended March 31, 2016, compared to a loss of $2.4 million from the same fund during the three months ended March 31, 2016."
April 28. Investors looking at Watlington Waterworks Ltd will find a company with a long and steady history.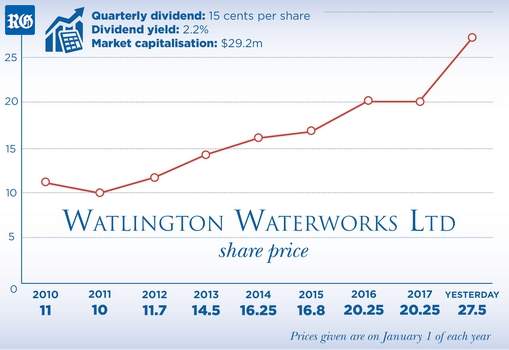 It was founded in 1932 by Sir Henry Watlington to support the island's growing tourism sector. When it was set up, it extracted and processed brackish water from wells at Parsons Lane, Devonshire, and then piped the water to Hamilton, as far as the Hamilton Princess. Piped water also went out to Elbow Beach Hotel on South Shore. During the past 85 years, the company has expanded in terms of its reach and the services it provides. Today, the company has a market capitalisation of $29.1 million, assets of $28.7 million, and liabilities of $740,000. During the past four years, Watlington Waterworks's quarterly dividend has steadily risen from 11 cents per share to 15 cents. Between 2012 and the end of 2016, the company's share price rose from $11 to $20.28. The shares are currently trading at $27.50 on the Bermuda Stock Exchange. The stock saw unusual trading activity on April 5 this year when 75,000 of its shares — worth more than $2 million — changed hands. The trading spike was accompanied by a 34.1 per cent rise in Watlington's share price that day. It appeared that someone had spotted great value in the steady earnings and reliable free cash-flow generation of this venerable company and was prepared to put their money behind their bullishness. Two years ago, the company made a change to its dividend policy. In a letter to shareholders at the time, it explained the change, saying it would "benefit shareholders more equitably by moving from basing dividends on net earnings to basing dividends on net cash generated". Last year the company paid out 12 cents per quarter in regular dividends, plus a 14.5-cent special dividend in May, totaling 62.5 cents per share for the year, or about 2.2 per cent on yesterday's share price. In the first quarter of 2017, Watlington raised its quarterly dividend by 25 per cent to 15 cents. Watlington Waterworks's wholly-owned subsidiary Bermuda Waterworks is primarily involved in the production and distribution of water and purification of drinking water at retail and wholesale level. The company has pipelines supplying water across central and western parishes, and in 2010 entered a memorandum of understanding with the Bermuda Government to extend its pipeline in Southampton towards Somerset and the West End. At the end of June 2016, the expenditure on that project had reached $4.5 million. It also operates a complex on North Shore, Devonshire, that houses six reverse osmosis plants. The technology at the complex removes impurities from seawater wells to provide drinking water. Pure Water (Bermuda) was the island's first manufacturer and distributor of bottled water. It was acquired by Watlington in the mid-1990s. The water is bottled in three- and five-gallon containers. In November, the company opened a drive-through facility at its headquarters on Parsons Road, allowing customers to collect five-gallon water bottles with assistance from staff. The company also operates The Water Depot, a retail plumbing store selling specialist products. In its most recent full-year results, to the end of 2015, the company recorded a gross profit of $7.6 million, with profit attributable to owners of $2.2 million, or $2.06 per share. In its interim financials, released in September, the company reported gross half-year profit of $3.5 million, with profit attributable to owners of $853,797, or 80 cents per share.
April 28. Internet and phone service company Fort Knox is on the move and is set to expand from a largely business-based clientele into the domestic market. And it will be offering new high-speed internet packages under the LiveNet Brand. The company, which also specializes in document management, is moving from the Rosebank Centre on Bermudiana Road to the former Link Bermuda store at the corner of Hamilton's Burnaby Street and Church Street. Troy Symonds, chief executive officer, said: "We are excited about the relocation of our offices, which is being done to make our sales and customer support team more accessible to our clients." He added that, in addition to traditional telecoms services, LiveNet would offer internet speeds of up to 100 Mbps to residential clients. Mr Symonds said the firm had provided corporate internet services for many years, with guaranteed service levels. He explained that the new fibre networks being laid around the island would be used to provide high-speed services to the domestic market. Mr Symonds added: "We do have some residential customers already — some have come through the corporate side." He said the company had provided domestic services in partnership with World on Wireless, but no longer did so. "Now we're going directly to the market and it's the next natural stage of growth for us. We also do the telephone service. We've been a licensed provider for some time now." Mr Symonds, however, declined to discuss pricing in advance of the move, which will be available to clients from Monday. The official grand opening of the new storefront premises is will be May 12. "Everybody is trying to be competitive on their prices — we will be competitive and we will have some special packages and promotions from May 12," said Mr Symonds. "Everybody is trying to get the pricing as aggressive as possible without going out of business." Fort Knox, originally founded in 1999, also offers cloud phone systems, business continuity and cloud hosting among other ICT services.
April 28. A bid by the UK's House of Lords to force Bermuda and other overseas territories to introduce a public record of company ownership has been dropped. Bermuda, which already has a register of beneficial owners accessible on request by overseas governments, was in line to be hit by Amendment 14 to the UK Criminal Finance Bill, aimed at clamping down on crime and money-laundering. But the proposal has been withdrawn in favour of a an amendment requiring UK authorities to report on the effectiveness of beneficial ownership sharing between the UK and its Overseas Territories by July 2019. During the Lords debate, the Scottish Earl of Kinnoull, formerly Charles Dupplin, who headed reinsurer Hiscox in Bermuda, spoke out against the move. He said: "People often do not understand how big a jurisdiction Bermuda is. Bermuda overtook London as a centre of reinsurance in 2004. London remains number two in the world. No major insurer in this country would be able to trade without the reinsurance that it purchases from Bermuda. The amount of money, capital and sophistication in Bermuda is enormous. The BMA, the chief regulator there, of which more in a second, is an extremely professional and very tough regulator. Bermuda was not responsible for even one of the revelations in the Panama papers and is a very clean jurisdiction, and it is particularly unfair that it is named in this amendment." The Earl added that it would be wrong for Britain and Westminster to interfere in the affairs of self-governing territories. He said: "The second is a general point about shifting the problem to another jurisdiction. I agree that shifting a bad thing is a good thing in many ways, but shifting a good company is a bad thing because you are simply damaging the jurisdiction. There are many good companies, and I will explain in a second why this amendment would have the effect of shifting good companies. It would be very wrong for us to impose damage on our loyal overseas territories and possessions." The Earl added that tax authorities, the police and regulators all looked for irregularity in financial services, with regulators wielding the most power. He said: "A person running the support business in a high-integrity environment such as Bermuda would not allow someone — one bad client — to come in and kill off their whole business. They would be very careful to make sure that that does not happen. You are scared of regulators. You are, of course, scared of tax and police authorities, and you are more than willing to give up any information that will protect your business because no one client is worth it. Your business is your business; your staff are your staff. That is how everyone feels — I hope noble Lords can hear a level of emotion in my voice. A sub point is that in our society we rely on the forces of law enforcement to deal with naughtiness on our behalf. We do not have vigilante posses running around trying to do things. I worry that if everything were publicly available people would suddenly see themselves as being promoted into some sort of enforcement environment. That is wrong. We should leave these things to the professionals — the tax authorities, the police authorities and the regulators — and trust. If they do not do a good enough job, we should bash them. We should not allow vigilante posses." The decision to drop the amendment was welcomed by the Bermuda Government. Bob Richards, the Minister of Finance, said: "This is a good day for Bermuda. I am pleased that we have won this battle, although I expect that this issue will return again." He added: "While the UK has indicated that it will implement its own beneficial ownership list of British companies and make it public, they are at the beginning of the process that we've had in place for several decades. It would have been detrimental to Bermuda's international business to be the only country with a complete register and be forced to make it public. Few other countries have registers of any kind. Bermuda is a leader in the issue of beneficial ownership and continues to comply with global standards. The Ministry of Finance team and our office in London have been successful over several years informing UK legislators and others of the true facts related to issues that threaten our business. The Bermuda Monetary Authority and the National Anti-Money Laundering Committee have also been integral to our cross-border outreach."
April 28. Haemodialysis prices will drop by $353 per session on June 1, reducing yearly spending by an average of $55,000.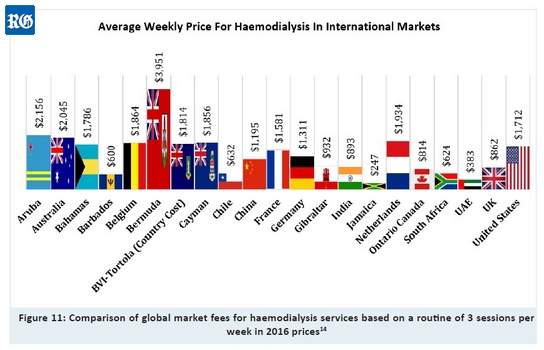 It comes as the Ministry of Health seeks to ensure transparency and consistency in healthcare costs by basing more pricing on the relative value unit methodology. "The new dialysis fee is progressing towards RVU's with a Bermuda conversion factor and ensures pricing that more accurately reflects the cost of providing a service," a spokeswoman said. "This has resulted in a proposed change in haemodialysis fee from $1,317 per session to $964 per session, reducing the spend by an average $55,068 per year." The spokeswoman said the Bermuda Health Council started using the RVU method in 2013 to price diagnostic imaging services in the community, and that it is now being applied to more services. She added: "The ministry is seeking to have more healthcare pricing based on the RVU methodology to ensure transparency and consistent pricing." According to the Health Council's Overseas Care: A Synopsis of Trends for the Islands of Bermuda report, 2016 haemodialysis fees for three sessions in Bermuda were more than double that of the United States and more than four-and-a-half times that of the United Kingdom. A spokeswoman for the Health Council told The Royal Gazette: "In the US, providers receive an average of $230 per session for haemodialysis, peritoneal dialysis, and in-centre in Bermuda the per-session cost of haemodialysis is $1,317. The average person requires about three sessions of haemodialysis weekly." While she calculated that supply costs should total $126.50 per session, this does not include costs based on the supplier used, cost of the drugs, cost of shipping, duty, relevant surcharges, and costs associated with care delivery including staffing and overheads for location. She also noted that dialysis pricing on the island was historical, with no major review conducted until recently. A Bermuda Hospitals Board spokeswoman told this newspaper that the hospital's dialysis fees also cover the purchase, upgrading and maintenance of equipment, as well as staffing and on-call coverage costs. "The fee also covers the cost of hospital space and maintenance, utilities, housekeeping, etc. Additionally, these fees help cover other services and costs associated with keeping the community's hospital running around the clock, including the cost of providing services to those people who are uninsured and cannot pay their bills, and whom Government cannot afford to pay for through subsidy." She stressed that any surplus was "entirely reinvested in care" and said this is increasingly being used to "cover the growing shortfall from bills charged to Government for vulnerable populations covered by subsidy (seniors, indigent populations and youth), as well as subsidizing other services for which fees are set well below the true cost, but are needed by the community. The additional cuts to the Government subsidy and fee schedule BHB faces this fiscal year will only intensify the pressure." She added that BHB does not set or add new fees and that it cannot charge co-pays to supplement the fees covered by insurance and subsidy. In providing an update on the Bermuda Health Strategy and Action Plan to the Association of Bermuda International Companies, health minister Jeanne Atherden said strides had been made to reorganize payment systems to focus on value and outcomes, improve benefit design to reduce unnecessary trips to hospital, and to develop a healthcare workforce plan to address the needs of 21st -century Bermuda. For the "first time on record", health spending went down by 1.1 per cent in 2015, she said. "We finally bent the cost-curve — and we're the first country to do so, compared to the OECD." However, she added that spending $11,102 per capita on health is still too much and there is "some way to go to achieve sustainability. Currently, there are approximately 170 patients on dialysis at the cost of $200,000 a year, each — this $34 million expenditure has been targeted in our reforms. For example, coverage is to be increased for kidney transplants, which can cost $130,000, thus helping more patients to come off dialysis. Such measures, combined with a drop in diagnostic imaging fees and the cost of long-stay hospital beds, are expected to deliver more than $20 million in savings in one year. This would represent the single, largest reduction in health costs our system has ever seen", Ms Atherden said. Other ongoing programmes include a review of the Mental Health Act, with more details on caregivers given on the government website — while the personal home care benefit has been taken up by one private insurer, with others hoped to follow suit. With a "crisis" in bed capacity affecting the hospital, the private sector is now being courted for long-term care investment, from facilities to workforce. And while the minister said there had been "headway" in the regulation of healthcare professionals, legislation overseeing healthcare businesses had yet to be approved. "However, I remain committed to introducing the necessary regulatory controls, and hopeful that the Bermuda Health Council Amendment Act will ultimately be passed," Ms Atherden said.
April 28. The Bermuda Underwater Exploration Institute celebrated its 20th anniversary Saturday as well as its 4th annual Underwater Extravaganza. Invited guests enjoyed watching a grind-off competition between Team BDA and 35th America's Cup members of Artemis, Land Rover BAR and Team Japan with Artemis and Land Rover BAR tying for first place. The event on Saturday evening, under the patronage of Governor John Rankin, featured a laser Hula-Hoop performance by Ishrat Yakub, courtesy of Rockfire Productions. Della Valle Sandals was on site with a pop-up boutique creating custom handmade sandals, with part of the proceeds donated to BUEI's education programmes.
April 28. Universal, unique numbers for anyone who enters the health system will be trialed this year. A Unique Patient Identifier database is being created to reduce concerns of patient confidentiality, mistaken identity and unnecessary duplication, a Bermuda Health Council spokeswoman said. "The UPI is an alphanumeric identifier that will be assigned to each individual resident and will identify a person when they utilise healthcare services in Bermuda," she told The Royal Gazette. "This number will only be accessed by healthcare professionals, insurers and the Bermuda Health Council and will not contain any health-related information." The spokeswoman added that the Health Council, through partnerships with health-system stakeholders, is always looking at ways to make the health system more efficient and enhance the quality of care. "The Unique Patient Identifier database is being created to alleviate concerns of patient confidentiality, mistaken identity and unnecessary duplication." She added that the project was a collaborative effort between the Health Council and numerous stakeholders. "The Health Council is in the process of completing the database; thereafter, there will be a period of piloting and testing. We anticipate engaging the public in early summer." According to health minister Jeanne Atherden, this will enable providers to better co-ordinate care as part of the push to improve the island's "poorly integrated" health-information system. Addressing the Association of Bermuda International Companies last week, she said: "For example, a Unique Patient Identifier can assist in prescribing and managing medications, monitoring and using diagnostic tests, which can help prevent hospitalization. Importantly, this Unique Patient Identifier is a necessary foundation for an integrated electronic health system, so it is a fundamental step towards this larger health-reform goal."
April 28. A show of support is anticipated for defendants headed to court on Monday and Wednesday, in connection with the protests at the House of Assembly on December 2, 2016. In a move similar to statements issued ahead of April 4, the Bermuda Police Service outlined security measures to accommodate a peaceful gathering, and gave an advisory on court conduct. The two sessions, which will take place at the Dame Lois Browne-Evans building, are expected to be brief, a spokesman said, but "plans are in place to cater to large numbers of people attending on the days mentioned". Entries to the building must remain clear, and a heightened police presence can be expected outside. While there are no plans for street closures, "this may change if the need arises", the spokesman added. Standing is not allowed in the courtroom, where access will halt once seats are taken, and banners are not permitted, along with mobile phones or recording devices. Quiet must be observed. Visitors are subject to search, and helmets and other bulky items are not allowed inside. Police are available to field questions at the Operational Planning Unit, 247-1362.
April 28. Bermuda stands to reap "golden" tourism and travel opportunities via the opening of closer links with Mexico, according to consultant Leon O'Brien. Courting direct flights and Mexican tourism, along with learning directly from Mexico's model of hospitality, are a few "win-win" ways to capitalize on the island's agreement of co-operation with Mexico, signed last month. "As a hotelier and a person who visits Mexico tremendously, I believe the minister made a phenomenal decision," Mr O'Brien said of the memorandum of understanding signed by Senator Michael Fahy, the Minister of Tourism, Transport and Municipalities. The forging of deeper ties between two vastly different markets caught modest attention when it was announced. but Mr O'Brien, a champion of Bermudians looking to Central America for business, said the island could learn much from the giant to its southwest. "I would encourage fostering relationships between our hoteliers, to send Bermudians to that region in the off season for further training, in areas such as the all inclusive market and residential market." Fresh products in the region from the sprawling company AMResorts warrant a closer look, he said. Mr O'Brien, whose background in hospitality stretches to the island's heydays, also expressed hope in the opening of direct flights between the two countries. "It would be of great benefit to our new airport, especially with our United States customs pre-clearance," he told The Royal Gazette — suggesting the island could court the Mexican middle class for tourism, while locals used links for travel in the region. Long a proponent of Belize as a business and educational destination, Mr O'Brien pointed out that Mexico adjoins it — and "doesn't require us to have a visa, because we have British passports. Building this relationship would be the kind of revenue generator that we need to offset the costs of our new airport terminal," he said.
April 28. Sharing and listening in an atmosphere of mutual trust, the diverse groups in a first round of truth and reconciliation talks have found a rapport on Bermuda's notoriously enduring and difficult subject: race. "Bermuda is a small place — we can do this if we have the will to do it," said Cordell Riley, an activist with the group Citizens Uprooting Racism in Bermuda — and a facilitator in one of the four groups that have met over the past three months. This was very beneficial. If it can be replicated on a country basis, it would be ideal. We found it very worthwhile." Establishing a safe space for the circles of participants to discuss race brought an "encouraging" dialogue, he said — and diverse attendance. The start this spring got an "amazing" and rapid buy-in, so much so that another round is to be held in September. Curb has its share of critics, but Mr Riley said that "whatever negative criticism people have, if they had been in the room with us, they would have a different view". Lynne Winfield, president of Curb, has planned the community conversations over many years, but felt that the island's time had come — especially with last year's protests over immigration reform laying bare the racial differences. "However you categorize it, there was clearly tension in the air," Mr Riley said, describing the upset as reminiscent of the labour standoffs that racked the island in 1981. Organised around restorative justice, with facilitators trained in its principles, the talks helped members "get into their stories without worrying about being attacked" — and there was no shortage of white participants. "One white male felt that we didn't delve enough into racial inequality, but we were building that relationship first," Mr Riley said. "When we got into those topics, we didn't want people to withdraw." Asked what the group hoped to accomplish, Mr Riley said the goal was to "continue the educational process", with an appraisal at the close of the six-week conversation that would "determine what the next phase of it will look like". The Royal Gazette aims to explore the stories that emerge: to begin with, we spoke with Stratton Hatfield, a member of the group that was led by Mr Riley with Suzanne Mayall as assistant facilitator. Well acquainted with restorative justice, Mr Hatfield said he felt a strong pull to "understand my position in this world as a white male — to come to terms with what that means. In order to learn, I would need to feel uncomfortable. There are so many people out there that feel uncomfortable on a daily basis. It's not just race. Females are constantly made to feel uncomfortable. It also applies with sexual orientation." Born in 1986, he shares the millennial view of race, where the problems and pain are less overt. "It's unfortunate in a way that it's being pushed on to the younger generations, but I also think our generation could be more open to these concepts, and better read. It's like there's more hope." As with other groups, his circle represented a surprising variety of racial and socioeconomic backgrounds, Mr Hatfield said. Discussions stretched beyond race or the black-white dynamic. "The opening session was crucial. It set the parameters and the need to listen. Listening, especially. "Setting the safe space was what made it so good. By the second or third time, we all felt comfortable with each other." Mr Hatfield came away reflecting on the need to "get beyond the idea of the single story" in recognition of the multiple stories that lie within. "In order for us to move forward collectively, as a community, we need to not only understand our past, but to recognise its impact. We need to be prepared to learn more, to understand other perspectives. It's the only way we can get together and make Bermuda a better place." He added: "People need to be reminded that they will feel uncomfortable. That's the only way we learn. But it should never be overlooked that knowledge is power."
April 28. "Crazy and unforgivable" — that was the damning indictment of the level of drink-driving in Bermuda yesterday by Police Commissioner Michael DeSilva as he provided the crime statistics for 2016. Lamenting that 11 people lost their lives on the island's road last year, Mr DeSilva said that police would back an initiative to provide officers with handheld breathalyzers provided they are used as a "deterrent. When it comes to the level of impaired driving, we are in the top half of the global numbers; that is crazy and unforgivable," he added as he spoke of the "severe limitations" that present legislation presented to officers. It is time to take a real hard look at all the measures." Meanwhile, Mr DeSilva announced that total crime for 2016 was down, while serious offences — including murder, assaults, and robberies — were up. Notably, last year's 31 confirmed firearms incidents — up from 12 in 2015 — represented the highest subtotal for the last five years. Similarly, the 14 firearms fatalities and injuries recorded in 2016 make it the highest year since 2011. Mr DeSilva acknowledged that an increase in the police's budget and the hiring of 30 new officers this year would help put more boots on the ground and increase the police footprint in the community. But he maintained: "I do not want us to ever think that simply throwing more police resources at a problem is the answer. Tackling crimes, gangs and antisocial behaviour requires law enforcement and that is our job but it also requires the community to keep their foot on the gas. We need more joined up solutions that continue through Government and the community." According to the report the total number of crimes recorded was 3,587 in 2016, down from 3,751 in 2015. The report classified offences into three categories: crimes against the person, crimes against property, and crimes against the community. While property and community crimes were down, crimes against the person — including murder, assaults, sexual assaults, robbery, and offences against children — were all up. Discussing the rise in robberies, Mr DeSilva said that while it was worrying, he cautioned against being "alarmist. Almost all robberies are crimes of opportunity to acquire money or other property, or they result from tensions and clashes between rival gang members. In all cases, we continue to advocate crime prevention tactics to reduce the opportunities for robberies to occur, and we encourage anyone to call in with information about suspicious activity to help catch and convict the offenders." Previously, crime statics reports were published on a quarterly basis, and included drug seizure information. The 2016 report, and future reports, will be produced annually, with a separate report on drug seizures and enforcement likewise produced annually. Release of the data was delayed by "technical issues" created by moving from one system of crime recording to another, the Commissioner said. "The exercise of migrating data from one system to another was a lengthy one, and we took care to ensure that the numbers in this report are completely accurate," Mr DeSilva said.
April 28. Government House Gardens will be open on Sunday afternoons throughout the next four months. Governor John Rankin said of the initiative, which begins on Sunday for the fourth summer: "I am looking forward to seeing families — particularly those living near Government House — make use of this wonderful area and have a chance to enjoy the grounds, the historic trees and wonderful views." Entry and exit will be via the North Gate on North Shore Road. Visitors are encouraged to come on foot, by pedal bike or use the No 11 bus, which stops near the gate. Parking will not be available in the grounds. The gardens will be open from noon to 5pm each Sunday until September 3, but will not be open over the Cup Match weekend. Families are encouraged to come, relax and enjoy the grounds and to picnic. Visitors are asked to respect the grounds, especially the vegetable gardens being run by students from the three Victor Scott, West Pembroke and Northlands primary schools. They are also asked not to bring dogs.
April 28. The Bermuda Karting Club will serve up a high-speed appetizer for the America's Cup when the Dockyard Grand Prix roars into action tomorrow. International drivers will compete in a Bermuda street race for the first time as the club sets up in the West End for the fourth time in four years. A total of 31 karts and eight bikes will race around the Clocktower, with around 2,000 spectators expected over the course of the two-day event. "We are only three weeks out from the America's Cup," club president Scott "Skitchy" Barnes said. "There's some mega yachts here and some tourists as well, so we're hoping we pull some of them in too. I think the biggest thing, though, is we have international people involved in the racing. It's the first time we've had a street race with international drivers. That's a huge deal. We also have international announcers and an international race co-director too. Marco Oldhafer, he runs the F Series, from New Jersey — he's coming down for the first time so it will be cool to show him what we'll all about. Canadian Rob Howden, from eKartingNews.com, will be announcing and racing in the LO206 class. And there's Austin Riley, also from Canada, who is bringing his motoring with him. He's got a nice chassis so has some good equipment. He's racing in the Shifter class, and will be one of the favorites for that." Riley, 17, who is autistic, is also scheduled to visit schools to raise awareness of the condition, something he has done before in Bermuda. A growing star and poster boy for autism, Barnes expects him to be quick. "He's had a whole year of practice time in the Shifter, so he's definitely going to be fast. I'm not sure if he's done any street races but he's definitely going to be a favourite and it's cool to have him back on island. We like to show him a good time and help get the word out there for autism." He added: "In that class I guess the favorites will be myself, Shannon Caisey is fast, while Austin, who has a modified ICC, will have one of the fastest engines out there. Him and Caisey have a little more horsepower than me but we'll see." Elsewhere, there will be full-throttle action in the Cadet class, TAG Senior and TAG Junior, as well the masters LO206 closed-engine class. In the Cadets, Jamie Newton, son of Oracle Team USA sailor Joey Newton, is the one to watch as he tackles a street race for the first time. "It will be interesting to see how he adapts to the street," Barnes said. "Jacob Hines has been coming on strong, while Nile Bean has been going away with Jamie to race. So those will be the three to look out for." He added: "In the TAG Senior, myself, David Barbosa and David Selley will be the front-runners, while the LO206s is up for grabs — that's anyone's race. You've got 12 in that class and any 12 can win. There's no weak links so it will interesting to watch, and with this track and how tight it is, that class is going to be fun to watch. It should be bumper to bumper." For the kart classes, points from three heat races will decide starting positions for the trophy final on the Sunday. The schedule also features Super Mini Bikes and rental kart races, with America's Cup sailors, politicians and big-name Bermudians getting behind the wheel. There will be five rental races on Sunday with five drivers competing in each. The winner of each race goes through to a final. All drivers and riders will have to embrace the thrill and difficulty of the tight Dockyard track. "It requires patience," Barnes said. "You have to decide when you're going to make a pass and how you're going to do it. You have got to plan it, set it up. But you have to be aggressive too, which is the opposite of being patient. They kind of go together when you're racing. When you make a pass you have to decide to do it. You can't hesitate. The margin for error in a street race, there is none. If you make one little mistake you're into the curb, bending stuff up. And when you have a couple of thousand people watching you and you see them, they're only 20 feet off the track, that adds to the adrenalin and the excitement. Plus, like with any street race, the roads are different from a normal track so with Dockyard, between turns three and four, there's a little hump in the road, which gets you some air, which is interesting and fun as you have to control the kart. Every time we do one of these races, we always get people coming up to us saying, 'I never knew go-karts were like this on the island'. When people think of go-karts, people think of the fun things you go on at Disney; they don't think of what we do. So it's pretty cool to showcase this to Bermuda and show everyone what we're all about." The family friendly event features food vendors, bake sales stalls and a fun castle. Ferries and buses are running. The action takes place from 9.10am tomorrow and 9.45am Sunday. Dockyard Grand Prix schedule. Tomorrow 8.45am: Mandatory drivers' meeting. 9.10: Practice session 1. 10.10: Practice session 2. 11.10: Practice session 3. Heat Race 1. 1.20: Cadet. 1.40: TAG Senior and Junior. 2.00: Super Mini Bikes. 2.20: LO206. 2.40: 125cc Shifter. Heat Race 2. 3.10: Cadet. 3.30: Tag Senior and Junior. 3.50: Super Mini Bikes 4.10: LO206. 4.30: 125cc Shifter. Sunday. 9.15: Mandatory drivers' meeting. 9.45: Practice session. 10.35 - 11.50: Rental races. Heat 3. 1.10: Cadet. 1.25: TAG Senior and Junior. 1.40: Super Mini Bikes. 1.55: LO206. 2.10: 125cc Shifters. Finals. 2.35: Opening ceremony. 2.55: Rental race. 3.15: Cadet. 3.40: TAG Senior and Junior. 4.05: Super Mini Bikes. 4.30: LO206. 4.55: 125cc Shifters.
April 27. A judge has partially denied an attempt by the Lahey Clinic to stop the disclosure of evidence in the civil case brought against it by the Bermuda Government. The Massachusetts-based hospital filed a motion for a "brief stay of discovery" in the matter, arguing that it would ensure time and resources were not "needlessly expended" while the court considered a separate motion for the entire suit to be dismissed. "The court's ruling on the motion [to dismiss] may well dispose of the matter in its entirety," lawyers for the hospital said. But after an initial scheduling conference on Monday at the United States District Court in Massachusetts, Judge Indira Talwani denied Lahey's motion to stay discovery in relation to initial disclosures, and imposed a May 24 deadline for both parties to complete those disclosures. That means Lahey and the Bermuda Government will have to share information on individuals likely to have discoverable information — and the nature of that information — that could be used to support their claim or defence. They will also have to disclose copies of relevant documents they have in their possession. The order released after Monday's conference said the judge was still considering whether to halt written discovery, the formal investigation which takes place in the United States before a civil trial and which allows each side to obtain evidence from the other party. But she granted the motion in relation to halting the taking of depositions, where witnesses are questioned by attorneys. The Bermuda Government filed its suit against Lahey on February 14, alleging that the hospital conspired with Ewart Brown, the former premier, on a "wildly successful" and "unlawful" enterprise that profited both "at the expense of the Bermudian government and people". One of the main thrusts of the claim is that Lahey paid elected official Dr Brown as a consultant to promote its interests on the island in breach of the United States's Racketeer Influence and Corrupt Organisations Act. Lahey has disclosed to the court the contract it had with Dr Brown, which prohibited him from taking any action on behalf of Lahey's competitors for the provision of healthcare services to Bermuda's residents. The hospital says the civil suit attempts to "transform this consulting relationship into a bribery scheme, without alleging what, if any, official acts Dr Brown performed in his official capacity for the benefit of Lahey". Dr Brown is not a party to the lawsuit and has said it contains "countless lies and ridiculous allegations". Lahey is defending the action. In recent weeks, the hospital has taken out full-page adverts in The Royal Gazette, signed by 19 of its specialists doctors, to reassure patients that it will continue to work in Bermuda. "Our mission isn't political, economic or social," say the adverts. "It's medical." Hospital spokesman Chris Murphy said last night: "Lahey Hospital & Medical Center continues to provide the care and support our patients in Bermuda need and deserve. The allegations against LHMC are baseless and disappointing and we are committed to defending this lawsuit through every step of the legal process."
April 27. Allied World made a total of profit of $80.3 million in the first three months of this year. The figure was up $6.2 million on the $74.1 million recorded in the first quarter of last year and equal to 90 cents per share, compared to 81 cents per share for the same period in 2016. Scott Carmilani, president and CEO of Allied World, said: "Despite a challenging market environment, I am pleased with our ability to produce an annualized net income return on average shareholders' equity of 8.9 per cent this quarter, while growing diluted book value per share by 2.8 per cent from year end 2016. "Additionally, we have made great strides within the global markets insurance segment which generated a 14.4 percentage point improvement over the prior year period as we are beginning to reap the benefits of the strategic re-underwriting of this segment. "Looking ahead, I feel that we are well-positioned for continued growth in our core specialty business." The company, in line to be taken over by Fairfax Financial Holdings, notched up gross premiums written of $860.9 million, a decrease of 0.3 per cent on the $863.5 million for the first quarter of 2016. The company report said that was driven by growth in the North American insurance segment, partially offset by decline in the reinsurance segment, which saw a 5.6 per cent decrease, caused mostly by the reduction in property casualty risk, as well as the non-renewal of some property and casualty treaties. The quarter saw $11 million in catastrophe losses related to Cyclone Debbie, compared to no major catastrophe losses in the same period of 2016. The $11 million total represented $7.5 million in the reinsurance segment and $3.5 million in the global markets insurance segment. The firm recorded net investment income of $52.3 million, $1 million down on quarter one last year.
April 27. Global insurer and reinsurer XL Catlin last night posted profits of $152.8 million for the first quarter of the year. The figure is nearly $140 million up on the same period last year and equal to 57 cents per share, compared to 7 cents in the first quarter of 2016. Mike McGavick, XL's chief executive officer, said: "We are pleased to start off 2017 with solid performance, focused growth and the continuation of lower operating expenses. "As we approach the two-year anniversary of the Catlin acquisition, we see the benefits of our increased market presence, or focus on underwriting discipline, our strong culture of innovation and continuous improvement and a more efficient operating platform. Additionally, our realigned operating model seamlessly went live at the beginning of the year and with it we remained steadfast on superior client experience. As a result, our performance included an accident year combined ratio, excluding catastrophes, of 89.5 per cent — an improvement of 2.6 points compared to the first quarter of 2016. 2017 is all about delivering on what we have built." Net income from company affiliates totaled $51.9 million for the year, compared to $8.1 million in the prior year quarter. XL Catlin said the increase was driven mostly by its hedge fund affiliates, as well as strong performance by its strategic operating affiliates and "investments within our value investing strategy." Net investment income for the quarter was $200.5 million, compared to $205.9 million in the first quarter of last year. The company posted natural catastrophe pre-tax losses net of reinsurance and reinstatement premiums in the quarter of $96.1 million, compared to $52.8 million in the prior year quarter. Integration costs related to the combination of XL and Catlin totaled $33.9 million for the first quarter, compared to $55 million in the first quarter of last year. Gross premiums written in property and casualty in the first three months of the year amounted to $4.62 million, 6 per cent up on the first quarter of 2016. Property and casualty net premiums earned were $2.5 billion, made up of $1.6 billion from the insurance segment and $0.9 billion from the reinsurance segment.
April 27. Bermuda's impact at this year's Risk and Insurance Management Society's conference in Philadelphia has been hailed a success by Michael Dunkley, the Premier. The four-day conference concluded yesterday with a closing keynote speech from Michael J. Fox, star of the film The Secret of My Success. The evening before, Mr Dunkley summed up the secret of Bermuda's success as the combined efforts and energy of "Team Bermuda". He made the observation at the Bermuda reception, an annual networking event hosted by the island during Rims. The reception attracts industry leaders winding down at the end of the day, and offers them a taste of Bermudian hospitality. The reception was held on board the historic, four-masted windjammer Moshulu, which appeared in a number of films, including Rocky. As rain lashed the sides of the 114-year-old ship, and grey clouds filled the skies, Mr Dunkley welcomed guests and joked that the "dark and stormy weather" had been specially arranged to complement the Dark 'n' Stormies being served at the bar by Gosling's Rum. The reception was hosted by the Bermuda Business Development Agency, in partnership with Gosling's Rum and the Bermuda Tourism Authority. Rims 2017 attracted 10,000 insurance industry leaders, and more than 400 exhibitors. Bermuda maintained its prominent position at the event with its two-storey exhibit hall booth, and a large delegation who met with clients, appeared on discussion panels, and networked for future business for the island. "Rims has gone well. It's a critical part of the calendar," Mr Dunkley told The Royal Gazette. "We continue to fly the Bermuda flag and answer any questions that people might have." During a busy four days, Mr Dunkley and other members of the Bermuda group were interviewed by media, including Bloomberg News, The Philadelphia Inquirer, reinsurance magazine Reactions, AM Best TV, and Rims TV. They also held side meetings with other groups, including members of the Philadelphia Chamber of Commerce and business leaders. "As the Premier, I take on a very aggressive schedule. We have also been well served by ministers Grant Gibbons and Bob Richards, by Jeremy Cox and the Bermuda Monetary Authority, the BDA, the BTA, and industry representatives. They know that it is a team that works well." David Burt, leader of the Progressive Labour Party, also visited the Bermuda booth and attended the reception event. Mr Dunkley said: "I'm glad that the opposition leader came, because it shows that when we leave Bermuda's shores we put politics aside and we work together for the island." Senator Kim Wilkerson, the shadow economic development minister also attended Rims. In a statement, the PLP said the opposition wanted to present "a unified front to promote Bermuda business in what is sure to be an election year". Mr Burt said: "It is important that lawmakers join together to advance Bermuda's interests within the international investment community. While we may spar here at home, when we are abroad our priority must be to promote Bermuda as economic growth is important for the prosperity of our country." Senator Wilkerson said the PLP had "always advocated for bipartisan approaches to major issues of the day such as immigration and tax reform", an approach that would continue if the party wins power at the election. Mr Dunkley was officially welcomed to the event by Mary Roth, chief executive officer of Rims. In a speech at the conference on Monday, the first by a Bermuda Premier at Rims, Mr Dunkley gave an overview of the island's history, its links with the US, and its ability to innovate and have a "supersized" impact in the world of insurance and reinsurance. He also highlighted the island's hosting of the America's Cup, something that together with Brexit and possible US tax changes, was a big talking point for Bermuda at Rims. Mr Dunkley's executive leadership speech was recorded and is expected to be used in the future on "many channels". Regarding the meeting with the marketing and business arm of the Philadelphia Chamber of Commerce and business leaders from the area, the Premier said it had gone well, adding: "The potential there is significant." He and Mr Richards, the finance minister, also visited Temple University's Fox School of Business, which currently has two students from Bermuda in its risk management and insurance programme. Lady Carmela Robinson and Quaejah Cox will graduate next year. The ministers toured the school and met its insurance students. Temple has a long association with Bermuda. Moshe Porat, dean of the school of risk management, played a role in drafting the legislative and financial framework for setting up captive companies in Bermuda. The university has two captive insurance companies in Bermuda, one was formed in 1989, the other in 1998. Now the students want to create their own captive in Bermuda, which would make them only the second-known student-run captive industry company. It was announced at the start of the week that risk management and insurance programme students at Butler University's Lacy School of Business, in Indianapolis, have been granted licensing approval from the Bermuda Monetary Authority to launch a captive that will insure a variety of risks for the university, including its fine art collection. The students visited Bermuda this month and met service providers Aon, KPMG and Conyers. This week at Rims, representatives of Butler University dropped by at the Bermuda booth.
April 27. Bermuda's A+ credit rating and stable outlook have been affirmed by ratings agency Standard & Poor's. The island report said: "The ratings reflect our view of Bermuda's effective and predictable policymaking, very high gross domestic product per capita, small and improving fiscal deficits, moderate debt burden, net external creditor status, and lack of monetary flexibility. The stable outlook reflects our expectations that fiscal deficits will continue to improve, resulting in no significant increase in debt. Real GDP annual growth will be about one per cent in 2017 and the territory will remain a net external creditor in the next two years. We expect broad continuity in economic policies following elections in 2017." The report also contained projections based on best and worst-case scenarios. It said: "A sustained return to more robust real GDP growth and greater economic diversification, balanced fiscal results that persist leading to declining debt and interest burdens, or an improvement in our external assessment could lead to a positive rating action." But the report warned: "A return to economic contraction that leads to a resumption of large Government deficits and increasing debt and interest burdens or negative banking-sector outcomes could cause us to lower our ratings." News of the maintained ratings was welcomed by Bob Richards, the Minister of Finance. Mr Richards said: "Key drivers stated as the reasons for the affirmation are effective and predictable policymaking and a high gross domestic product per capita. The Ministry of Finance and the Government as a whole has been working diligently to communicate and implement credible fiscal plans and it is pleasing that S&P has recognized this and affirmed Bermuda's ratings. It is rewarding to see our sovereign rating affirmed at A+, especially when ratings agencies have been extremely cautious, as evidenced by the ongoing downgrades of several countries." Mr Richards said the stable outlook reflected the agency's expectation that the island's economy would grow over the next two years and help to reduce the deficit, in line with the 2016/17 Budget projections. He added "The S&P affirmation reflects its confidence in the Government to grow Bermuda's economy and put us back on the road to success. The S&P ratings update report is very positive news as the Government remains on track to eliminate the deficit by 2019/20. This report is further evidence that our policies are bearing fruit. With our practical and measured approach, the future of Bermuda is looking much brighter for all."
April 27. Three Bermudian Supreme Court judges are now eligible to sit part-time in the Cayman Islands. Chief Justice Ian Kawaley has been appointed as a judge of the Grand Court Financial Services Division, and Puisne Judges Carlisle Greaves and Stephen Hellman have been appointed to the Grand Court General Division Panel of Acting Judges. The manner of the announcement sparked controversy as Mr Justice Kawaley's salary information and other personal details were accidentally released to Cayman media, leading to an editorial in the Cayman Compass. Commenting on his appointment, Mr Kawaley said in a Bermuda Supreme Court press release: "I am honored to have been afforded the opportunity to assist the Financial Services Division of the Cayman Islands Grand Court in an acting capacity from time to time and insofar as my other judicial commitments permit. The legal system in the Cayman Islands has much in common with Bermuda's legal system. It is not inconceivable that we may in the future need to supplement our own judicial ranks and may in turn seek assistance from the Caymanian Bench." The controversy in the Caymans happened after commissions secretariat manager Deborah Bodden disseminated an e-mail announcing the appointment of Mr Justice Kawaley and British attorney Raj Parker in the Financial Services Division. Her message also included confidential employment applications filled out by the two judges, sharing their home, cell and work phone numbers, e-mail addresses, home addresses, work history, academic records and other key personal details. The Cayman Compass wrote in an editorial: "We at the Compass won't be publishing any of the above information because it has limited value to the public interest, not nearly enough to justify the concomitant invasion of privacy of the two men. But if we wanted to publish the details, we certainly could. The government sent us the information, so we are under no legal obligation not to use it. We are voluntarily refraining from publishing the judges' personal information, but that's just us. We presume the e-mail was also sent to other media organisations (perhaps not just in Cayman), who may not adhere to the same ethical and news standards as the Compass. We have no idea, and no control over, what they might do." The editorial described its government's history of accidental leaks as a "huge problem in a country whose financial services sector (and the greater economy) is predicated on the assumption that we understand how to maintain appropriate levels of confidentiality".
April 27. Opinion. By Stephanie P. Sanderson, a Corporate Attorney at BeesMont Law Limited (beesmont.bm). Government has now issued the much anticipated Common Reporting Standard (CRS) regulations setting out the CRS obligations that Bermuda reporting financial institutions must comply with. The Ministry of Finance is also planning to issue CRS guidance in the coming weeks to ensure proper implementation and assist institutions with understanding their CRS obligations. The aim of this article is to highlight key changes introduced by the CRS Regulations that Bermuda reporting financial institutions should take note of. Reporting financial institutions (i.e. custodial institutions, depository institutions, investment entities and specified insurance companies that are caught under the CRS) will have to notify the Ministry of their status as a reporting entity (by registering with the Ministry on the Bermuda Electronic Reporting Portal) by July 14, 2017, including the submission of contact details of a principal point of contact for CRS purposes. Reporting financial institutions must establish, implement and comply with written policies and procedures to cover all of their obligations under the CRS. This requirement remains even if the CRS compliance or reporting role has been delegated to a third party service provider. The CRS Regulations contain new provisions which state that dormant depository accounts are excluded accounts if they meet certain criteria. These include where the account has a balance of less than $1,000, is treated as dormant under the reporting Financial Institution's typical operating procedures, the account holder has not initiated a transaction for the previous three years and has not communicated with the Reporting Financial Institution for the previous six years. The CRS Regulations include a provision to allow UK Fatca/CDOT reporting on the Electronic Reporting Portal and allow the Ministry of Finance to exchange information received on UK Persons with the UK this year. This should ease the administrative burden on institutions during this transitional year. Offences and penalties: the CRS Regulations introduce anti-avoidance measures, various offences and penalties, including for contravention of the regulations, providing materially inaccurate self-certifications, tampering with information and hindering the Ministry of Finance in its functions, with fines or penalties of up to $10,000. The regulations include a reasonable excuse defence but insufficient funds or reliance on an agent are not considered reasonable excuses. Nil returns: financial institutions are not required to file nil returns but can file nil returns if they wish. Filing a nil return is a good idea as it is a way for an institution to confirm that it does not have anything to report for that period. Institutions with no reportable accounts will still need to complete the notification/registration requirement via the Electronic Reporting Portal. Bermuda opted to take the 'wider approach' to the due diligence required under the CRS, details of which are found in Appendix 5 of the OECD's CRS book (often referred to as the 'Purple Book'). Under the CRS, there is a distinction between a 'participating jurisdiction' (which the Ministry of Finance has indicated will be all of the jurisdictions that have committed to implement the CRS) and a 'reportable jurisdiction' for which CRS reporting will be required according to a list the Ministry of Finance must publish on an annual basis. The first Reportable Jurisdictions list is due to be published around the end of April 2017 and thereafter it will be published around the end of January of each year. Bermuda Reporting Financial Institutions should ensure that they identify the tax status of all Account Holders or relevant Controlling Persons irrespective of whether they are in Reportable Jurisdictions. This effectively allows Reporting Financial Institutions to 'future proof' their processes so that when new jurisdictions are added to the list of Reportable Jurisdictions the work in identifying where existing customers or clients are resident has already been carried out. Next steps. Become familiar with regulations and guidance. Ensure written policies and procedures are in place and ensure their on-boarding procedures are CRS-compliant. Review third-party contracts: if institutions are delegating their CRS due diligence obligations, they should ensure that the relevant service agreement sufficiently states the scope of services and provides for liability for failure to comply with CRS obligations. Notify/register on the Electronic Reporting Portal: financial institutions should register with the Ministry of Finance via the Electronic Reporting Portal once registration becomes available this summer as the deadline for registration or notification is 14 July, 2017. File CRS reports or nil returns (if applicable): the first CRS reporting by institutions is due by 30 August, 2017 and the Ministry of Finance is expected to be exchanging information with its CRS partner jurisdictions by the end of September 2017. In subsequent years, the annual CRS reporting deadline for financial institutions will be May 31. Complete due diligence on pre-existing entity and low value individual accounts: institutions should complete due diligence on relevant pre-existing entity and low value (less than $1 million) individual accounts by December 31, 2017. Bermuda Reporting Financial Institutions should speak with their tax and legal advisers if they are uncertain about any of their obligations under the CRS."
April 27. International gaming experts will speak next week at a forum on safe and responsible gambling organised by the Progressive Labour Party. The town hall meeting is at 6.30pm on Wednesday, May 3, in the Bermuda Room at Elbow Beach. A flyer for the event says it will look at the best way for Bermuda to introduce a gaming industry amid "major concerns" about progress so far.
April 26. The opening hours of the America's Cup Village for the 35th America's Cup were announced this afternoon.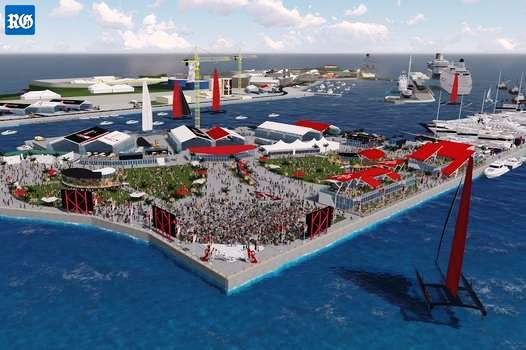 The village on Cross Island will open at 11.30am daily, except for May 26 when it will open at 3pm for the first day of racing from 5pm. The official opening ceremony start at 8.30pm and the village will close at 10.30pm. The closing time of the America's Cup Village will vary throughout the event schedule. On May 27; June 10, 18, 25, 26, and 27 the village will close at 7pm. On May 28, 29, 30, 31; June 2, 3, 4, 6, 7, 11, 20 and 21 the village will close at 5.30pm. On June 12 and 13 the village will close at 8pm. On June 17 and 24 it will close at 10pm. On June 8 it will close at 6pm On most days, when the racing schedule ends at either 3.30pm or 4pm, there will be a range of activities for guests to take part in at the village. These activities include poster signing sessions, a chance to meet the competitors and see them answer questions in the mixed media zone and also live entertainment on the main stage.
April 26. Safety officials have warned about potentially "catastrophic" consequences with Great Sound boaters getting too close to the America's Cup teams. With more inexperienced boaters expected to hit the waters as the weather gets warmer, the Bermuda Water Safety Council urged them to stay near shorelines and give room to the foiling boats. The Bermuda boating public is "getting too close for safety both to themselves and the AC teams", the council said. The ACBDA added that America's Cup yachts — now in high-gear training in the Sound, with the showpiece event less than a month away — travel at up to 50 knots and can change direction very quickly. Paul Doughty, a member of the safety council, told The Royal Gazette: "When there's a good weekend, some occasional boaters come out who might have less experience, and we want them to be looking out. "When a sailboat is sailing, they are not simply going in a straight line. They go about up wind and down with the wind. And with the speed of these boats, even more experienced people say they look around and see the boat a mile away and then they are on top of them. It's hard to gauge because they are so fast. We are not saying that people can't or shouldn't use the Sound, only that they should remain vigilant." In a post on the council's Facebook page, the group stated: "The ACBDA have just informed that the AC boats are now in high-gear training in the Sound. It has been noted that the Bermuda boating public are getting too close for safety both to themselves and the AC teams. Please give the AC boats as much room as you are able and try to stay near shorelines when you are out on the water. The consequences of a collision with one of these foiling boats could be catastrophic. You or anyone involved could also ruin a team's chances of being in the Cup." The post urged the public to spread the message, adding: "The ACBDA understand that the Great Sound is for everyone to enjoy, and not just for the America's Cup teams, but do advise that extra care and caution should be taken at this time. Safety first." Mr Doughty said that he had received comments questioning why America's Cup spotter boats couldn't ask boats to keep a distance. But he argued the spotter boats need to be focused on reacting to emergencies rather than asking spectators to move. "They can't just stop and tell people to move," he said. "It's up to us to be vigilant on the water." An ACBDA spokeswoman said: "America's Cup Class boats can travel up to 50 knots, are much more maneuverable than the AC45Fs and they can and will change course very quickly. The teams may lay temporary marks for their own practice sessions, or they may not — there is no set pattern to this — but the key point is for the general public to give the boats as wide a berth as possible. While it may be tempting to try and take a closer look, please do not do so as proximity dramatically increases the risk of an incident." The spokeswoman also warned that there are no set times for teams to practice in the Sound, saying: "They may choose to go out on the water whenever they can and want to practice, and the advice to stay close to shore to avoid incidents applies whenever one or more America's Cup teams are on the Great Sound."
April 26. Going into this week's America's Cup match-up practice racing session, Artemis Racing skipper Nathan Outteridge spoke about how match racing skills have always been a big part of a successful campaign and how Artemis are now working hard at improving their "dogfighting" tactics. With just over four weeks left until the start of the Louis Vuitton America's Cup Challenger Qualifying races, a double round-robin series that will eliminate one challenger, speculations around how the racing in Bermuda will look run rampant. Bermuda's World Series event last year, sailed in the smaller AC45F, was all fleet racing, six boats on the course at once with points for all places. Now the focus has shifted completely to match-racing tactics. Only two boats race on the course at a time. It will really be a cat fight. "For most people it probably doesn't mean a lot, but it is a completely different game now," Outteridge said. "Now you can't just go around the course sailing conservatively, trying to get seconds and thirds [in a series of races within a regatta] and hoping that's going to be enough to win. Now you are either going to win or lose a race." The boat that wins a round-robin match gets a point. Losers get none. After the teams have each raced against all others twice, the four highest-scoring challengers move into multiple matches against a single competitor in the play-off semi-finals, the finals and the ultimate America's Cup Match against Oracle Team USA. According to Outteridge, the start is the most important part of a match race. He describes the pre-start as a "dogfight" where you are trying to get the best position when the gun goes off, trying to put your opponent in a tricky spot or working hard just to get an even start. "We have been working hard on that and with a couple more weeks to the America's Cup, the pre-start is the biggest area where we need to improve. Usually when we get around the first mark first, we feel pretty confident", Outteridge said of his team, who made it through the last race week undefeated. With the America's Cup course, the start is an off wind "reaching" sprint to a midcourse turning mark where the boats make a hard left turn to head downwind to the leeward gate. Top speed to and around that first mark is essential. Looking ahead at this week, and to the event itself, the Swedish team's Australian skipper said the racing will become more intense and exciting as the stakes get higher. "You will see higher risk sailing, because when you are behind you have to throw in the more difficult maneuvers to get back into the race," Outteridge said. "Match racing is a very different type of racing but we are looking forward to that challenge and we feel like we are making good progress." Yesterday was the second day of the present America's Cup practice session. Land Rover BAR and Emirates Team New Zealand both took to the water early and returned to their bases by midday. BAR have said that they only plan to practice race tomorrow and Friday this week. Artemis, SoftBank Team Japan and Oracle stayed out into the afternoon making the best of their possible practice time. Oracle said Monday's results were mixed after trading wins with Artemis. Three teams that were out for Monday's practice won at least one race — Artemis, Oracle and Team Japan. Groupama Team France were winless. There is a lot of testing going on, more than racing. All the teams are focused on winning in May. Of course, that is when winning will mean you go on or you go home. It is more like a practice scrimmages where the coach blows the whistle and has everybody try something different. This is a chance for testing and training probably even more than it is for "racing". The same teams each went racing again yesterday, but also spent time on several line-ups to test different configurations that will help them mode their boats to increase speed. New Zealand have only been sailing in Bermuda since Saturday and have yet to match-up in a race situation with any of the other competitors. They have been caught on video by Jason Smith of myislandhomebda, a YouTube channel that has gone AC-viral with his complete coverage. In those clips the Kiwi boat has shown remarkable maneuverability. She looks dry and fast in practice tacks and gybes. They look fast in a straight line, too, but then all of these boats do when they are running alone. Actual racing, not practice, will be the real deal. When Team New Zealand skipper Glenn Ashby was questioned about his team's participation in this practice session, match racing against the other teams, he said: "We will see how we go. We need to take our time to make sure we are happy with where we are at before starting any racing. "But it will be good to get into some action with another boat as amazingly it is something we have not done at all yet."
April 26. St George's will see a stepped up police presence for the America's Cup and summer season. Mayor Quinell Francis said corporation leadership was working with the Bermuda Police Service to "ensure we have a safe town". "Recent meetings with BPS senior personnel have assured us that the BPS will provide additional resources during this upcoming season," she said. A string of crimes in the East End this month has renewed questions about safety in the community, as well as renewed calls by some for a larger law enforcement contingent. The mayor described the recent "frequent incidents of crime" as "quite disappointing". The main policing issue in the town was enforcement, Ms Francis said. "Local businesses and residents are constantly noting that there need to be more foot patrols in the historic town, and more patrols throughout the neighborhoods," she said. "Some community members have also pointed to the promised expansion of the island's CCTV system as a possible deterrent to crime. We have been told that the CCTV coverage is coming and that patrols are done as often as possible as resources are low," the mayor said. Senator Renee Ming, Shadow Minister of Municipalities, said last Friday's incident — when a man was attacked while using a cash machine — represented a "frightening escalation of lawlessness". The recent crimes, she said in a statement released yesterday, were a "clear sign" that the current approach to law enforcement was not working, and that "criminals are getting bolder". Ms Ming pointed to a constituent who she said had to call the Somerset station after being unable to reach anyone at the Southside station, only to then be transferred back to Southside, where the call ultimately went unanswered. The non-emergency call, she said, was to report suspicious activity in the East End. "This is unacceptable and is symbolic of the neglect of St George's," she said. The senator called for "visible, regular and consistent" police foot patrols, and the full implementation of the promised CCTV system in the parish. Ms Francis said that despite the spate of recent incidents, St George's was a safe place. "However, we need to continue to work with the BPS to ensure that all feel safe. BPS being more visible would be a start." A police spokesman stressed that police had responded quickly to reports of an incident on Water Street last Friday, when a man was attacked while using an ATM. "Contrary to statements made today, the Bermuda Police Service can report that the first call about the disturbance on Water Street was received at 1.06pm," he said. "The call was dispatched at 1.08pm and the first police unit arrived three minutes later at 1.11pm. On arrival, the officers found that the combatants had left the area. After conducting further inquiries we believe that two male family members, who have since been identified, were involved in a physical dispute. It now appears the other men who got involved were attempting to stop the scuffle. There were no serious injuries reported and police continue making inquiries." Witnesses are asked to contact the Criminal Investigations Department on 247-1744.
April 26. Insurance company Chubb yesterday reported profits of more than $1 billion for the first quarter of the year — a 149.2 per cent increase on the same period last year. The $1.09 billion figure compared to the $439 million recorded in the same period of 2016. The first quarter figure breaks down to $2.31 per share, compared with 97 cents a share in quarter one 2016. The firm, formed from a takeover of Chubb by Ace last January, also reported net premiums written of $6.7 billion and $6.2 billion for consolidated and property and casualty business respectively. Evan G Greenberg, chairman and chief executive officer of Chubb, said: "Chubb had a very good quarter. After-tax operating income increased 10 per cent driven by both strong property and casualty underwriting income, up 28 per cent, and adjusted net investment income, which was up 9 per cent. Comparing our results as if we were one company for the full quarter last year, operating income per share was up 8 per cent while underwriting and investment income were up 9 per cent and 3 per cent respectively. Our strong earnings led to very good book value and tangible book value growth." Mr Greenberg added that underwriting income growth was driven by "simply excellent" combined ratios for the quarter, on both a calendar and accident-year basis, in spite of higher natural catastrophe losses and a one-time reserve charge related to changes in the Ogden discount rate in the UK. He said: "Our underwriting margins are benefiting in particular from expense efficiencies generated from the merger." Operating income totaled $1.17 billion, or $2.48 per share, compared to $1.01 billion or $2.26 per share for the same quarter last year. Mr Greenberg added that the market was still soft, with companies chasing volume even in a tough underwriting environment. And he said: "Our premium revenue growth was in line with our expectations and benefited from strong business retentions and growth in new business over prior year, which was constrained nonetheless due to competitive property and casualty conditions globally."
April 26. A new shopping centre could be constructed on land earmarked for development in St David's.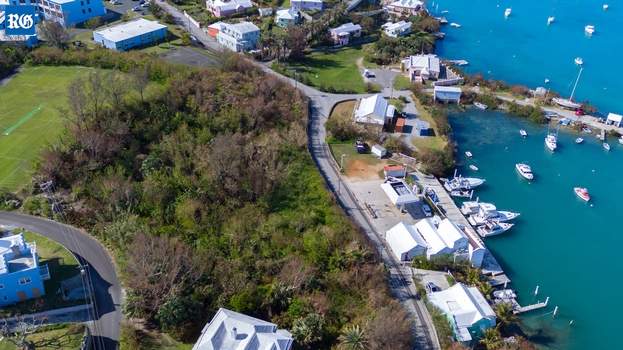 The Bermuda Land Development Company is hosting a public meeting tomorrow to invite input from locals on a vacant lot opposite the former St David's Post Office. Among the options being considered for the land are a shopping centre or a memorial, with the meeting viewed as an opportunity to receive input and suggestions from the public. Francis Mussenden, BLDC CEO, said the body are excited to discuss potential development opportunities with the public. "We look forward to hearing any ideas and receiving input that may benefit BLDC, the St David's community and Bermuda, in general," he said. The BLDC said the quango was confident in the future of St David's and Southside, saying that a number of opportunities are coming that could provide a boost for the community. "Several upcoming construction projects will certainly bring a boost to St David's, with workers requiring amenities and services in the area," a statement said. "Additionally, with the uptick in tourism, increased cruise ship calls in St George's and the BTA's vision, more visitors are coming to the East End. Likewise, Clearwater Beach is primed for this uptick in visitor traffic, with the BLDC increasing its service offerings there. The BLDC sees great opportunities and positive signs of good things to come with imminent events like America's Cup next month and the Heroes' Weekend in June, as well as the increased number of cruise ships coming to St George's this year, the Airport Redevelopment Project currently under way and the new hotel to be built in St George's." In total, more than 20 displays will be organised highlighting a series of options and possibilities for development across the island, including Daniel's Head, Tudor Hill in Southampton and properties in Southside. "Visuals will be displayed during the meeting to illustrate these proposals, as well as other business, industrial, tourism and transportation opportunities in Southside," a press statement said. "In attendance will be representatives from BLDC and OBMI who will be happy to answer your questions about the various proposals and opportunities. A survey will be available for your feedback and suggestions. Your comments are welcome and important, as it will help the BLDC determine the right types of development for the Southside, St David's community." The survey, along with the visuals, are set to be placed on the BLDC website on April 28 for the benefit of those who are not able to attend the meeting. According to the BLDC, there are only a few vacant BLDC buildings in Southside, including warehouse and yard space at Waller's Point Road 10A and 10B in Commercial Park and the former Southside Cinema. Meanwhile, there are two residential units being renovated, which are set to be put out for lease once work is complete. The public meeting is scheduled to begin at 6.15pm tomorrow at the Clearwater Middle School gymnasium.
April 26. Police could be armed with handheld breathalyzers as part of an initiative being explored by the Bermuda Government to curb drink-driving. Senator Michael Fahy also revealed that a draft Bill for consultation paving the way for a graduated licensing programme for young motorcyclists would be prepared for July. The Minister for Transport's comments follow the first screenings of a groundbreaking new documentary probing the "unspoken epidemic" on the island's roads. Speaking about graduated licensing, Mr Fahy, who was part of a panel that was formed after last Saturday's showing of the video A Piece of the Rock, told The Royal Gazette: "We got the information we were looking for from the Road Safety Council and we are working with them to get it approved and then put into legislative provisions. "It is not just about saying you have to go and complete this programme; you have to have certain things in place to make it legislatively effective." Meanwhile, he confirmed that the introduction of handheld breathalyzers for officers was being looked at as part of a cross-ministry initiative with the Ministry of National Security and the Bermuda Police Service. "This would only be used as an evidence-based piece to arrest someone rather than as something that would be available in court," Mr Fahy added. One of the major solutions raised during a panel discussion following the screening, which included Senior Magistrate Juan Wolffe, Mr Fahy, Argus CEO Alison Hill, surgeon and road safety expert Joseph Froncioni and EMT Veronica DeSilva, was the introduction of random roadside sobriety testing. Mr Fahy said that sobriety check points were still being looked at, but acknowledged there had been some constitutional issues. "We are working through those; there are a number of issues that have arisen on a legal basis. We are working through what we can to try and mitigate that and hope to make some progress on this issue very soon. We have had continuous discussions with the Attorney- General's Chambers, the police service and our ministry to try and navigate a way through what are believed to be constitutional issues with random breath checks. Arguments have been made that there has to be probable cause to be able to prevent someone from their freedom of movement. On many occasions people have said that happens in other jurisdictions. The difficulty is that other jurisdictions don't have a written constitution, that is ours — the UK doesn't have a written constitution at all and the US has different rules in place for how they manage random breath testing." Mr Fahy said that one avenue being explored currently and by the previous government is a system where the location of the police checks is announced publicly with notice that every seventh car or so will be stopped. "That is something that we may be able to explore further." Mr Fahy maintained that Government was continuing to push ahead with plans for speed cameras to be installed across the island. He said: "We are working feverishly to implement speed cameras. In the Throne Speech [2016] we said we would get speed cameras installed and that will help tremendously. We are developing the internal policies and the Request for Proposals right now. I am of the view that if we can get these speed cameras put in place, get the police to have the ability to have the breath before the arrest and we get a graduated licensing programme in place with continued education about drunk driving then that would have a very fast effect on changing people's mindsets of it. There is also potential where we could look at what they have done in other jurisdictions to add a civil liability to bars and clubs that continue to serve people who are absolutely drunk."
April 26. Predatory fish once common in our waters including groupers and snappers are at "critically low numbers", causing a threat to Bermuda's coral reefs, according to a new report. Scientists Thaddeus and Jessie Murdoch released the report through the Bermuda Reef Ecosystem Assessment and Mapping (Bream) Programme. The report — Baseline Condition of the Coral Reefs and Fishes Across Three Depth Zones of the Forereef of Bermuda — also revealed that hard corals are in "good to very good" levels across most of the deep reefs and protected parrotfish appear to have recovered from the overfishing in the 1980s. Bermuda also enjoys high numbers of plant-eating fish across the lagoon, forereef and rim, which contribute to healthy reefs by preventing marine plants from overgrowing hard corals. The report covers information collected from 2004 to 2011 by the Murdochs and their team of local and international scientists and graduate students. During that time, the Bream crew measured the amount of corals, marine plants, plant-eating fish and predatory fish at more than 180 reefs located across all of Bermuda's reef habitats. Thaddeus Murdoch believes that the loss of predatory fish is cause for alarm. "Large predators like black grouper carry out important work by managing the numbers of small and large parrotfish that live on the reef," Dr Murdoch said. "Smaller predatory fish such as red hind, cony and grey snappers are also needed, as they keep coral-killing damselfish from spreading across lagoonal patch reefs. Bermuda's coral reefs protect the island, give us food, and provide exciting experiences for locals and tourists alike. However, our reefs, along with those across the world, face destruction from an increasingly acidic ocean and increasingly violent storms. Our reefs can face these serious threats, but only when predatory fish like grouper and snapper, as well as plant-eating fish like parrotfish and surgeonfish, are abundant, marine seaweeds are sparse, and hard corals are healthy. Commercial and recreational fishing annually constitute only a very small portion of economic value generated by the services provided by Bermuda's coral reefs to our society. However, we oversee the condition of our reefs as if they are primarily a fisheries concern. Reef condition is really a tourism and coastal protection issue, and should be managed accordingly," Dr Murdoch continued. According to Dr Murdoch, Bermuda can restore predatory fish populations by restricting the rate at which commercial and recreational fishers catch groupers and snappers, limiting the sale of key predatory fishes during their spawning season, expanding the seasonal prohibition and extent of protected spawning areas where necessary, and enhancing marine resource enforcement. "Our centuries-old Bermuda reef fishery, and the multigenerational livelihoods that it provides, can only persist if we maintain the numbers of our breeding groupers and snappers. Marine-protected areas are one way to invest in our reefs, and they provide a valuable return in the form of a constant supply of fish that leave the protected areas and which we can eat." Dr Murdoch pointed out that if we ignore the loss of predatory fish on our reefs, it is likely that our coral reefs will erode. In an era of rising sea level, loss of reef structure will allow higher levels of storm waves to damage and remove our coastal properties and beaches, while also reducing the visual appeal of Bermuda's waters to both visitors and locals," he said. The forereef of Bermuda surrounds both the island and its lagoon and encompasses an area of about 400 square kilometers. The coral-rich forereef protects Bermuda from storms, enhances tourism experiences, generates sand for our beaches, and provides habitats for the fishes we like to eat. A spokesman for Bream said: "The Bream report provides clear evidence that the cover of corals remains high at forereef locations, but is lower at deeper depths within the lagoon and particularly at near shore reefs where marine plants are overly abundant and plant-eating fishes are scarce. Predatory and plant-eating fishes are critical to maintaining healthy reefs." The report is available at bermudabream.org.
April 26. Police are investigating whether criminal offences were committed in connection with the Front Street fire from last July. The Bermuda Police Service said it has received an official report from the Bermuda Fire and Rescue Service regarding the incident. According to a spokesman, police are now "conducting inquiries to determine if any criminal offences may have been committed". The blaze, which took place on July 21 at 77-81 Front Street in July, destroyed the building that used to house Onion Jacks and seriously damaged surrounding businesses. Police said in November that they were working with the fire service to determine the cause of the fire, noting that arson had not been ruled out at that stage. Anyone with any information should contact Acting Detective Chief Inspector Dave Greenidge at the Criminal Investigation Department on 247-1744 or the independent and confidential Crime Stoppers hotline 800-8477.
April 26. A 27-year-old Pembroke woman has been charged with importing more than 5½ kilograms of cannabis. Appearing in Magistrates' Court this morning, Greta Lightbourne was also charged with possessing the drugs, which were intended for supply, in St George's. The offences allegedly happened on November 13 last year and involved 5,588.4 grams of the drug, which would have had a street value of $268,325, according to prosecutor Nicole Smith. Ms Lightbourne was not required to enter pleas because the charges are indictable and must be heard in Supreme Court. Magistrate Tyrone Chin granted $20,000 with a like surety on the condition that Ms Lightbourne surrender her travel documents, not leave the jurisdiction and report to police three times a week. The matter was adjourned to the June arraignments session. In a separate matter, 29-year-old Jahmarley Gardiner denied importing 219.7g of cannabis and possessing those drugs with intent to supply in St George's on November 14 last year. The court heard that the drugs would have had a street value of $10,975. Mr Gardiner, of Hamilton Parish, elected to be tried in Magistrates' Court and was granted $5,000 bail with a like surety. Conditions of the bail include surrendering his travel documents, not leaving the jurisdiction and reporting to police three times a week. The matter was adjourned to May 17.
April 26. Bermuda's under-17 rugby team joined forces with Parks workers and the Friends of the Bermuda Railway Trail this week to repair a section of the trail near Francis Patton School. The crew, which also included volunteers from Hamilton Parish Council, used a new technique developed with Hinson Hall Stables and Sousa's Landscaping to reduce the erosion on the trail. The work was led by Richard Gaglio of Hinson Hall Stables and Claudette Baisden of the parks department. It involved positioning geo-webbing on the vulnerable areas of the trail and filling it with a mixture of screenings, dry cement and dirt. The structure was then framed with discarded telephone poles to control the runoff. The preservation measure has been successfully used on other sections of the Railway Trail where the hillsides are steep or rainfall and horse use has created deep ruts. Mike Murphy, who together with his son, Tucker, has been at the forefront of the scheme to regenerate the trail, praised the volunteers for their efforts. "The under-17 rugby team has assisted the Friends of Bermuda Railway Trail in conjunction with the Department of Parks on other occasions in improving the trail for the benefit of tourists and locals alike and is to be highly commended for their dedicated service as are the many other volunteers that helped," Mr Murphy said. "It is hoped that this geo-cell application and co-operative community effort will become a most useful model to improve several other locations on the trail particularly the west side running from Ord Road to Somerset Bridge. Without large numbers of volunteers assisting with the parks department in undertaking these efforts, it would be difficult to cost-effectively service, improve and maintain the 19 miles of the railway trail, which has had a recent rise in popularity, among walkers, bikers and our more active island visitors."
April 26. Thirsty locals were eyeing yesterday's grey skies in hope of relief, with the island now "across the threshold into drought", according to the Bermuda Weather Service. "Things out there are just terrible," farmer Roger Pacheco said, after harvesting parched potatoes and carrots from soils toughened by the lack of water. Although this newspaper reported record rains in January, pickings have been slim over the past 90 or so days. Mr Pacheco recalled the last decent downfall was around three weeks ago. Lettuces and corn are "suffering", he said, while lawns are turning brown and tanks are running low. Fair weather has dominated the spring, and the BWS forecaster told The Royal Gazette the present cloudy interval was likely to give way soon enough to "probably at least a week" of fine skies. "May is the driest month, and April is the second-driest," he said. "So, we have come into a dry time a bit drier than the norm." Up to yesterday, only 0.69 inches of rain had fallen in April. "We've had little to speak of in 90 days," the forecaster said. "Right now our rainfall index is at 59 per cent — 100 per cent is considered normal and anything below 60 per cent is considered an extended dry spell. Hopefully this unsettled weather will at least give us something to wet the ground."
April 26. Bermuda-based First Atlantic Commerce (FAC) has launched a new online billing system in partnership with a firm from Costa Rica. FAC teamed up with Trambia, a Costa Rican tech firm, to introduce Fygaro — invoicing software with built-in security aimed at smaller businesses which can be used on any mobile device. Chris Burns, FAC CEO, said: "There is a real need for this kind of product in the small-to-medium enterprise market. This new tool provides customers with a way to automate functions, eliminate paper processes and get paid quicker. We are proud to be working with Trambia on this exciting new launch." Fygaro is integrated with FAC's payment platform to allow its customers to accept online payment in the Latin America/Caribbean region, including Panama and Bermuda, as well as in the US, Europe and Mauritius in the Indian Ocean. Trambia clients will have to open an online merchant account with one of FAC's partner banks to take advantage of Fygaro, but do not need to have direct merchant integration with FAC, which allows for a simpler, more streamlined process. Ariel Rochwerger, CEO of Trambia, said: "Current invoicing software and other market solutions still rely heavily on user input and memory — they are complicated and require high technical knowledge. We have developed a smart, yet simple product so that users can get to their data in as little time and with as little interaction as possible. Fygaro allows clients to automate tasks like recurring billings, payment reminders and even manage inventory so they can focus on their business. We are proud to launch this product together with First Atlantic Commerce as our payment gateway platform."
April 26. American mortgage insurer NMI Holdings is taking advantage of Bermuda's insurance-linked securities framework to acquire more than $200 million worth of reinsurance cover. NMI said in a regulatory filing with the Securities and Exchange Commission yesterday that its subsidiary National Mortgage Insurance Corporation was buying $211.3 million of excess of loss protection through a Bermudian special purpose insurer, which will simultaneously sell ILS securities of an equal value to third-party capital-market investors. The reinsurance would cover an existing portfolio of mortgage insurance policies, the filing stated. "The mortgage insurance-linked note offering launched today and is expected to close in the first week of May 2017, subject to market and other customary conditions," the filing stated. ILS market watcher Artemis.bm said NMI will be only the second firm to use an ILS structure to transfer mortgage insurance risk. The first was United Guaranty, when it was a subsidiary of American International Group, through the Bellemeade Re special purpose insurer, in 2015 and 2016. National Mortgage Insurance Corporation provides private mortgage guaranty insurance services in the US. The company is based in Emeryville, California.
April 25. Bermuda-based insurance giant XL Catlin is to take part in a hi-tech project to run a fleet of driverless cars between London and Oxford in England. Now it plans to trial six autonomous vehicles around 60 miles between the two cities by 2019. Richard Jinks, of XL Catlin, the only insurance company taking part in the Driven project, said: "Working on this project gives us the opportunity to work with leading external parties to create a risk profiling tool and insurance pricing mechanism which is truly revolutionary." A spokesman for XL Catlin said it had been working with Oxbotica, an award-winning artificial intelligence company based in Oxford, for more than a year as part of a consortium of companies working on the programme. He added: "XL Catlin sees this project as a significant step for the insurance industry on a global level. The current model of car insurance is going to change. The new technologies and the many different component parts necessary to enable autonomous mobility create new challenges and evolving new risks. Insurers best placed to provide the relevant cover in the future are those which today insure software companies, vehicle and parts manufacturers as well as cyber-risks. It is those who have the knowledge and expertise in respect of product liabilities and errors and omissions insurance and associated risks who will be key to enabling the adoption of these new technologies across many applications, not just cars."
April 25. Island-based insurer and reinsurer Everest Re Group yesterday reported profits of $291.6 million for the first quarter of the year — up $119.9 million on the same period last year. The profit for the first three months of 2017 breaks down to $7.07 per common share, compared to $4 for the same period in 2016. Dominic Addesso, Everest's chief executive officer, said: "We are starting out 2017 with a very strong quarter — providing a 13 per cent operating return on equity and a 77 per cent increase in net income earnings per share. We continue to see strong momentum across our underwriting operations, with opportunities in both reinsurance and insurance. This growth is not coming at the expense of margin as we hold fast to our underwriting principles, which are focused on sustained profitability regardless of the market cycle. This strategy, coupled with the returns we are achieving on our growing investment portfolio are providing for the strong results we saw in the quarter." Gross written premiums for the period amounted to $1.6 billion, an increase of 18 per cent year on year. Worldwide reinsurance premiums rose 19 per cent to $1.2 billion, while direct insurance premiums went up 15 per cent to $434 million. Net investment income for the period went up by 19 per cent for the quarter to $122.3 million.
April 25. Bermuda's biggest superyacht marina yesterday launched. And the 110-berth marina was hailed as a key step in the development of Caroline Bay, a five-star luxury hotel, residences and marina project at the former Morgan's Point military base in the West End. Craig Christensen, president and chief executive officer of Morgan's Point Ltd, said: "The completion of the Caroline Bay Marina Docks is a significant milestone for us considering the aggressive schedule and challenges faced since November 2016. "I am delighted that we have reached this stage and am confident that we will be ready for the America's Cup." Ralph Richardson, CEO of Caroline Bay Marina Ltd, added that the first visiting yacht would arrive in the middle of next month. He added: "Structural completion of the docks today brings confidence that we will be able to provide the service that is expected of a facility of this type. We have assembled a team of professionals that is looking forward to serving our clients, some already en route to Bermuda." When complete, the site will also feature restaurants and upmarket retail. The completion of phase one of the marina development included the construction of the berths and mooring spaces. Structural completion includes installation of the all the docks, including piles, pontoons, fingers and electrical components. Completion was celebrated with a dock wetting yesterday, attended by Cabinet Minister Craig Cannonier.
April 25. Electronic speed detection, breathalyzers and a "huge cultural change" are the key to tackling Bermuda's alarming rate of road deaths, according to the new chairman of the Road Safety Council. Ali Bardgett said Electronic Vehicle Registration stickers, already in place on the island's vehicles, could be used in conjunction with automatic licence plate recognition technology to deter speeding motorists without the need for greater police presence. Ms Bardgett added that breathalyzers had made a serious impact on drink-driving habits in other countries. In its Throne Speech last year, the One Bermuda Alliance pledged to bring in roadside breath testing as well as installing speed cameras around the island. But Ms Bardgett said that the real way to force a much needed culture change could only come through education, personal responsibility and accountability, in addition to police enforcement. Ms Bardgett reflected on "shocking" statistics that showed more than four people a day were injured as a result of road collisions in 2016. In the decade up to the end of 2016, 114 people died on Bermuda's roads. According to the Bermuda Health Council's 2011 Health in Review report, the age-standardized rate of traffic fatalities per 100,000 population was 28.2 in Bermuda, compared with 9.2 in countries belonging to the Organisation for Economic Co-operation. For males, the rate was 59 in Bermuda compared to 14.9 for OECD countries. Ms Bardgett said while the road council would like to see speed cameras installed, EVR systems could prove a viable alternative. "We already have the EVR sticker in our cars. This system was implemented in Bermuda by TCD in 2008. "The technology has improved since then and probably is not as expensive now. EVR can be used with CCTV and automatic licence plate recognition technology. This technology has been around since the 1980s. Bangkok implemented this for speed detection two years ago via public and private partnerships. So far it has proven very successful, having a positive impact on the number of road deaths. This level of success is attributed to what experts agree is one of the most successful methods of ensuring safe driving: heightening the driving public's perceived risk of apprehension by increasing the overall level of traffic surveillance. Using EVR in this way is less costly than increasing physical police presence, yet achieves the same goal." During last year's Throne Speech, the OBA pledged that roadside breath testing would be brought in during 2017. Ms Bardgett said when the breathalyzer came into force in Britain in 1967, it brought a significant decline within two years, with the impact continuing for decades. "A huge cultural change was taking place through education and enforcement. Many of the local bars either closed or became gastro pubs. The same happened when smoking was banned in public places. Thirty years on, nobody would dream of lighting up a cigarette in a bar or restaurant. Let's hope it doesn't take us another 30 years in Bermuda to tackle this problem and reduce the current, consistent rate of at least one road fatality per month. The culture of drinking and driving in Bermuda is still behind the times. We hear the argument that taxis aren't available or we don't have night buses. Our Junior Road Safety Council members tell us that it is normal for them to go to a party and throw their keys in to a bowl to be locked away if alcohol is present. They don't let their friends have the keys to their bikes if they have been drinking. Sadly this thinking hasn't reached everyone yet. Some of the older generations, for example, still think nothing to leaving a dinner party in their car after a few glasses of wine, beers or other alcoholic beverages. We need targeted effort by all areas of responsibility, not just the police using enforcement. It starts with education, personal responsibility and accountability, and enforcement. If you have never been taught how to ride a bike on a road and navigate traffic, it is a reasonable assumption that riders are going to copy what they see other riders doing — it is a self-perpetuating problem. We have to change the culture with this next generation being the change agents, leading the mission to save lives. We need to raise awareness of bad driving behaviour and the consequences of such bad behaviour that leads to the loss of life and severe injury." The transport ministry has said it was working on the introduction of speed cameras, and has asked Road Safety Council to develop a Graduated Licensing Programme for legislation. "The GLP is for 16 to 18-year-olds and will be accredited by a recognized international standard," Ms Bardgett said. "It will include on-road training with an instructor using helmets with a two-way radio and mic for constant communication while under instruction on the roads. We currently do not have any bike training on the road. Project Ride is confined to the car park at TCD and our 225km of paved roads now have over 47,000 vehicles for our newly licensed riders to navigate. We believe the lack of education of this standard is the result of the many of the problems we see daily on our roads. This comprehensive training, which has been standard for over 30 years in many other countries, will set the groundwork for changing riding behaviour." The council would also like to see better training for tourists renting bikes, she added. "The training should be tailored and offered to tourists including on-road training with a test required, for their own safety and that of other road users."
April 25. Business and tourism representatives in St George's are worried about the impact on visitors after a spate of violent incidents. A string of crimes in the East End this month — including a man being attacked while using an ATM last Friday — have prompted more questions about the police presence in the Olde Towne. Isabelle Ramsay-Brackstone, from the Bermuda Perfumery, said recent events highlighted calls by politicians and the public for more protection. "We've been screaming for the return of an active police station in St George's," she said. Ms Ramsay-Brackstone said that as well as a police station, she wanted to see more police engagement and interaction with the community. "It's not just about a guy behind a desk," she said. "We are a community of people who work and live here, and we need to have that relationship with police officers who walk around, who know us, and understand our issues." Since the start of April, there have been several incidents in the parish. The latest happened on Friday afternoon when a man was attacked by another man while using the cash machine in Water Street at about 1pm. Other men reportedly joined in the attack before someone intervened. Last week, two men were assaulted during a burglary at a St George's guest property. There has been a series of attacks on taxi drivers in April, with two robberies and an attempted robbery. Two men were injured as a result. There have been no arrests reported in connection with any of the incidents. Danny Gogoi, manager of The White Horse Pub and Restaurant on Kings Square, said that the incident had a detrimental effect. "It's obviously not good for the town, or the image, or tourism." The closure of the police station has also had an impact within the parish. "The response time is perhaps not the best," he said of the time it took for officers to attend calls. "In the restaurant, if we have an incident, if we have to call someone, chances are it's going to take a little while for someone to respond — and the situation might have gotten out of hand by then." Mr Gogoi said he had discussed concerns about these types of incidents with other business owners, but that there had never been a forum where business figureheads sat down to address the issue in detail. He said not much was needed for incidents to damage the reputation of St George's — and Bermuda — as a safe destination for visitors. "Bad news travels fast." Phillip Anderson, manager of the Visitor Information Centre, said that while he did not feel the town necessarily needed its own police station, he believed a stronger law enforcement presence was warranted. "I think what we have got to have is more boots on the ground," he said. "We need community police to deal with prevention, not trying to fix something that's already been done." Promised upgrades and expansion to St George's CCTV cameras must also happen, he said. Mr Anderson described the recent incidents as disturbing and concerning but was not worried about visitors being dissuaded from St George's. "This could happen in any parish," he said. Police said: "Inquiries regarding recent reported incidents in St George's continue, with detectives following all leads — including the possibility that some of the offences may be linked. These matters are taken seriously by the Bermuda Police Service and we urge members of the public with information to contact the Criminal Investigations Department on 247-1744." Responding in a statement today, Senator Renee Ming, Shadow Minister of Municipalities, said Friday's incident represented a "frightening escalation of lawlessness". The recent crimes, she said, are a "clear sign" that the current approach to law enforcement is not working, and that "criminals are getting bolder". Ms Ming pointed to a constituent who she said had to call the Somerset station after being unable to reach anyone at the Southside station, only to then be transferred back to Southside, where the call ultimately went unanswered. The non-emergency call, she said, was to report suspicious activity in the East End. "This is unacceptable and is symbolic of the neglect of St George's," she said. The senator called for "visible, regular and consistent" police foot patrols, and the full implementation of the promised CCTV system in the parish. A police spokesman later responded to Ms Ming's claim: "Contrary to statements made today, the Bermuda Police Service can report that the first call about the disturbance on Water Street was received at 1.06pm. The call was dispatched at 1.08pm and the first police unit arrived three minutes later at 1.11pm. On arrival the officers found that the combatants had left the area. After conducting further enquiries we believe that two male family members, who have since been identified, were involved in a physical dispute. It now appears that the other men that got involved were attempting to stop the scuffle. There were no serious injuries reported and police continue making enquiries into the matter."
April 25. A man who stole a bank card and used it to buy alcohol has been sentenced to 30 months in prison after being turned away from Drug Treatment Court. Ernest Smith, 40, of no fixed abode, pleaded guilty to stealing items from a Warwick home in an incident on March 10 and dishonestly obtaining $355.54 of goods on the same date. The court heard he broke into the home through a sliding door and stole a wallet, a helmet and mobile phone, before using a card in the wallet to make purchases at Warwick Pharmacy and Hayward's Liquor Store. Officers recognized Smith on CCTV footage from the stores, and he admitted the offences at the first opportunity. While Smith was initially remanded to Drug Treatment Court, Magistrates' Court heard that he was not accepted into the programme. Addressing the court, Smith said he had been told there were concerns about violence, but he told the court he was not a violent man. "I think it was a plot to exclude me from treatment," he said. "I'm difficult. They say it's a simple programme with complicated people, and I'm complicated, but by no means am I violent." However magistrate Maxanne Anderson noted that Smith does have a previous conviction for assaulting a police officer, and that the courts could not force treatment centres to take in someone they don't want. "We approve you going, but they have to accept you in," she said. She sentenced Smith to 30 months in prison with time already served taken into account, ordering that he serve at least half of that sentence before being eligible for parole. She further called on him to avail himself on any available drug treatment programme while on remand.
April 25. Rehabilitation work on the Swing Bridge in St George's is nearing completion, according to the Ministry of Public Works. The bridge can now safely carry one lane of vehicles with loads of 10 tonnes per axle and a 29-tonne gross vehicle weight, the ministry advised. It is expected to open to two-lane traffic immediately after the contractor removes the remaining scaffolding, which is estimated to take seven days.
April 24. Emirates Team New Zealand sailed their America's Cup Class race boat on the Great Sound for the first time over the weekend — and yesterday the Kiwis' boat showed no ill effects from having a rudder missing when it was hauled out of the water on Saturday evening. The boat, New Zealand Aotearoa, arrived in Bermuda on March 10 and was reassembled in just 12 days. When New Zealand Aotearoa was being hauled out after the Saturday session, spectators noticed that the port side rudder was missing. Crew members had been in the back of each hull working on something down inside where the rudders are installed. A diver went in the water, apparently to find the missing port side rudder in the slip under where the boat had been, but the rope he took down to haul it up to the chase boat came up empty on the first try. Team New Zealand have not commented on the incident, but they must have successfully found the rudder in the 40-foot deep basin and yesterday had two rudders installed when they launched. Of Saturday's sail, Team New Zealand said: "The evening sail was more about a recommissioning of the systems and components to make sure everything was working properly before getting back into the mindset of pushing the development hard, day after day." Obviously pleased, Grant Dalton, the team's chief executive office, said: "It was a huge effort by the shore crew and the whole team to get us out again. "We've been off the water for about three weeks, part of that was at least a week's refit of all the new components that have just gone into the boat. The water was dead smooth and that makes it a lot easier for the guys to sail and maneuver. We could see that in the very short sail we did today." On Saturday for the first sail, a fleet of Team New Zealand chase boats, about a half dozen chase boats representing the other challengers' teams and many curious spectators trailed everywhere New Zealand Aotearoa went. Not missing a beat, Team New Zealand were back on the water yesterday with a 2.15pm departure from their Cross Island base in Dockyard. They were up and foiling as the headed out the channel and turned south into the Great Sound. The breeze was from the West Southwest at about eight to ten kts and the seas had a slight chop, under two feet. These are conditions similar to what the racers should face in late May and June The next racing practice period, an approved time when competitors can match race against each other, starts today. With just 34 days to go until the first race of the Louis Vuitton America's Cup Qualifiers, the urgency for continued improvement by all the teams puts tension in the air. "We will see how we go," Ashby said regarding facing their opponents on Bermudian waters for the first time. We need to take our time to make sure we are happy with where we are at before starting any racing. But it will be good to get into some action with another boat as amazingly it is something we have not done at all yet." Team New Zealand reported they re-launched their race boat with their "replacement" daggerboards while the finishing repairs to their race boards. "We would have preferred to have our race boards back in the boat, but we need to be sure the repairs are 100 per cent right so we don't want to rush the repair. Hopefully we will have them come back online very shortly." Ashby said. One of New Zealand's racing daggerboards was damaged in training back home in Auckland. "When you look at the calendar it actually hasn't been too long since we last sailed in Auckland, but everything that has happened between times, packing up, flying the boat here and rebuilding it has made it seem a lot longer, the team has done a huge push to get us on the water as soon as possible," Ashby added. "It was really fantastic to get back out there [on the Great Sound] and get a taste of the racecourse first hand for the first time [in the America's Cup Class yacht]. It is pretty apparent already that this is going to be a really great regatta up here. As a team it is important we remain totally focused and flexible to learning as much as we can from ourselves but also our competitors. From what we have seen in the past few days, the other teams all look to have strengths as well as some weaknesses. We will be no different so the race effectively has started as to who can make the most of these next five weeks to maximize all the speed they can in preparation for racing on the May 26."
April 24. Members of the Association of Bermuda Insurers and Reinsurers wrote more than $92 billion in global gross premiums last year. The business was done on a capital and surplus base of $123.6 billion and Abir members reported net income of $10.2 billion in their global business. Bradley Kading, president and executive director of Abir, said: "While soft market conditions prevail, the resilience of the members is demonstrated by their robust underwriting results. "Members continue to seek new markets in the developed and developing world to put risk capital to work. Abir members continue to be focused on reducing expenses and exploring new product opportunities." The 2016 report was made of responses from 21 of the 23 insurers and reinsurers who make up Abir. Mr Kading said that comparison should not be made between the 2016 underwriting report and the previous one. He explained the association had added three members, while several existing members had made major acquisitions during the reporting period, with growth in premium and surplus between the two years largely attributable to these factors. Mr Kading added: "As a representative of global risk underwriters, in its public policy work Abir focuses on the consumer benefits of increased capacity and reduced price that result from the ability to diversify global risk on to a flagship balance sheet. Protectionism in regulatory or tax public policies harms the ability of these global reinsurers and insurers to diversify risk and thus makes insurance markets less competitive."
April 24. Most major financial companies plan to increase partnerships with technology specialists over the next few years, a new report has revealed. Professional services firm PwC found that 82 per cent of global banks, insurers and investment managers expected to work more with financial technology companies over the next three to five years. And business chiefs expect to see a 20 per cent average return on investment on their technology projects. The report also found that funding in blockchain companies by financial services companies increased by a massive 79 per cent year on year in 2016 to $450 million worldwide. And PwC said that regulators in the sector would have an important role to play in encouraging the financial services industry "over the starting line in implementing blockchain". Arthur Wightman, PwC Bermuda territory and insurance leader, said: "Fintech collaboration, and innovation more widely, is not about jumping on the latest bandwagon — it's about finding the best, most efficient way to carry out your business strategy and ultimately better serve your customers. PwC's report finds that the growing sophistication of models and analytics to better identify and quantify risk is seen as the most important trend and the one to which the market is the most likely to respond. For this reason, insurers are embracing innovation with a focus on data analytics and 84 per cent are planning to invest in it this year." The survey, which talked to 1,300 respondents around the world, said that a driving factor in the rush to adopt new technology was a fear that revenue was at risk from stand-alone fintech companies, with 88 per cent seeing that as a real threat. On average, up to 24 per cent of revenue is thought to be at risk. Blockchain — a computer file underlying a mutual distributed ledger where blocks of information added in sequence cannot be changed or deleted — is regarded as having huge potential in financial services. Banking is expected to be the "epicentre of disruption" over the next five years, according to 80 per cent of the respondents. Bankers see personal loans and personal finance most at risk of moving to a fintech company. Matthew Clarke, PwC Bermuda partner in banking, said: "The focus on innovative product design, ease of use, 24/7 accessibility and faster services are seen as important initiatives to address customer retention. Bankers also see the rise of fintech as an opportunity to expand products and services and are increasingly turning to fintech companies to engage in partnerships and buy their services."
April 24. Local and international buyers have expressed interest in seven new villas at The Loren at Pink Beach development, the selling agent said. And Rego Sotheby's International Realty released more details on ownership of the three-bedroom properties. Penny MacIntyre, partner in RSIR, said: "Initial feedback from prospective local and international purchasers has been remarkable. "The market has been awaiting newly constructed product that has a contemporary feel reflective of today's luxury lifestyle." The villas, which cost $4.2 million completed and $3.8 million presale are part of The Loren's condominium ownership programme. Buyers get access to the hotel's private club, with a 10 per cent discount on food and beverage services, as well as access to all hotel amenities, including the spa, fitness centre and pools. The condominiums are designed with "lock-off" potential, so they can be subdivided into three separate units. All three units can be placed in the hotel inventory, or owners can opt to occupy one half of a villa, with hotel guests in the other to generate income, while owners can also opt to maintain the properties as private residences. The villas can be bought with The Loren's furniture package or unfurnished, although properties which go into the hotel inventory are required to use the in-house furniture. Built on the site of the former Pink Beach Club, the hotel and villas stand on the waterfront and near the Mid Ocean and Tucker's Point golf clubs.
April 24. A quick conversation about organ donation can save lives while reducing healthcare costs for everyone. Speaking at the launch of Organ Donor Week, the health minister Jeanne Atherden urged all residents to take the time to make their wishes known to their loved ones. "Organ donation is something that many people feel uncomfortable talking about but it's a conversation that everyone should have," Ms Atherden said. "When a tragedy happens, it's the wrong time to decide what a loved one might want. Have the conversation before the event occurs. Take five minutes and ask the person you love if they want to be an organ donor and also tell someone what your wishes are." According to the Ms Atherden, in the "past several years", six Bermudians have received organs through the New England Organ Bank, but there have been no donors from Bermuda. Some people have questions about the cost to their family, Ms Atherden said, adding that there is none. Others are concerned it will cause their relatives stress. Bermuda Organ Donor Association president Jean Van der Merwe added: "Some people are scared that they are going to be left to die, that if they are an organ donor the medical teams are not going to work to save them and this is entirely untrue." And Kerry Brislane, the group's treasurer, said often family members have not considered the possibility of their loved one dying, especially if they are a young person. "They're already trying to come to terms that they are losing their dear child. These circumstances are always out of the blue — donation in Bermuda is only in the context of brain death and that's a sudden and catastrophic brain event, whether it be a large stroke or an accident. Given some time, you will find that people think that was just the shock and they regret not doing it at the time." Dr Brislane added: "But when we have approached people that have had the conversation, they are immediately very enthusiastic that something good can come out of this." Ms Atherden also stressed that organ donation is important locally because Bermuda has a very high rate of non-communicable diseases that can lead to organ failure, such as diabetes and kidney disease. "There are over 150 people on dialysis. A donated kidney can get a person off hundreds of hours of dialysis and get them back to a normal life." But she also pointed out that "organ transplants can not only save a life but also reduce the cost of insurance premiums for all of us. We have high insurance premium costs. Dialysis costs $200,000 per year per person. A kidney transplant costs $130,000 and the person is off dialysis forever." Ms Atherden furthermore noted that people in good health can be living donors. "Organ donation is really the gift that keeps on giving — one organ donation can help multiple people. I urge everyone to consider becoming an organ donor. You can have it written on your driver's licence, you can tell people your wishes. Just have the conversation." Ms Van der Merwe added that because there is no official donor registry in Bermuda, "all you can do is have it on your licence. But the most important thing is to have the conversation with your family because if you're gone and they say no, it is no. Then your wishes would not be carried out. So we really urge people to have the conversation. That really is the most important thing going forward." As part of Organ Donor Week, the BODA organised two talks for healthcare professionals and more events are being planned for later in the year.
April 24. Fewer than 30 deceased organ donations have been orchestrated in Bermuda in the past 16 years, according to a hospital anesthesiologist. Kerry Brislane said demand for replacement organs in Bermuda was rising at a "frightening" rate and appealed for more people to sign up as organ donors. As the island prepares to mark Organ Donor Week, the Bermuda Organ Donor Association is urging people to have that conversation with their families so that, if it comes to the worst, next of kin can find solace in knowing what their loved ones wanted. "Less than half of families approached about donation agree to donate a relative's organs if they are unaware of their relative's decision to be a donor," Dr Brislane, the group's treasurer, told The Royal Gazette. "Many people believe that all you need is to have it marked on their driver's licence. However, if a person dies in circumstances where they could become an organ donor the family would be approached by specialist nurses and asked to support the decision to donate." Dr Brislane said there had been 25 deceased organ donations in Bermuda in the past 16 years with their organs given to 82 recipients, "whose lives were changed for ever. I've seen the difference that it's made in the recipient's life — it really is the gift of life," she said. But she added that only about six patients in Bermuda receive transplants every year. I think people underestimate the need," Dr Brislane said. "We've got over 150 patients on dialysis now. That number will be double in five years, I can guarantee it. It's frightening." Many people on the waiting list for an organ in Bermuda could die before they get them, Dr Brislane warned. She explained that organ donations are carried out with the assistance of the New England Organ Bank and Bermudian patients are placed on the United States waiting list. A number of factors determine who is at the top of the waiting list, although she said children were more likely to be first in line. Dr Brislane was speaking as Bermuda prepares to mark Organ Donor Week, which will be launched at King Edward VII Memorial Hospital today. This will be followed by two talks aimed largely at health professionals but Dr Brislane said the BODA would also be launching an education programme later this year. The group is trying to get the younger generations in particular to talk about organ donation so that they can then hopefully take that home to their families. They have also reached out to the churches. "It's getting that conversation out there. Organ transplantation is a real and necessary part of even this small community. What we are trying to do is get the population talking about the general concept of organ donation so that it's not something that's new." There are two main types of organ donation: live donations, where the donor is still living, and deceased donations. The latter, in Bermuda, is only conducted when the patient is brain-dead. "It's always upsetting and usually in these instances quite traumatic," Dr Brislane said. "That is always going to be unexpected and a shock and a very stressful situation and you are not going to have any say because you are going to be dead. It's going to be your family that have that voice." She said it can be a big burden for families to make such an important decision at such a difficult time. If the family are going to gain some solace in the whole thing by being confident about the concept of organ donation, that would be great. In a time of great stress, that can be at least some positive outcome from that." But Dr Brislane said an official register was not a high priority in Bermuda and the only way to sign up is through the Transport Control Department. However, she said that if applicants forget to tick the box on the form or are not sure, staff tick "no" by default. "What we really want is that if the person is unsure, it is left blank. If it's a yes, it's a yes. We want them to really think about it rather than just say 'nah, I don't feel like it'." The group have also approached insurance companies about including the question, but "again, it's on their priority list which is a shame because they are the ones paying out for high insurance costs. Without an official organ donor register where people can actively express a definite 'yes' or a definite 'no', and because we have this thing with TCD where we are not really sure if they said 'no' or whether they just didn't tick the box, it just comes down to the next of kin." Organ donation — How it works. While some organs can be donated by live donors, others are taken from patients who are brain-dead. Their age and the extent of injuries determines which organs are viable. "When a patient comes they would generally be in the intensive care and we know that they've got a catastrophic brain injury, whether it is a severe stroke or an accident, a trauma," Kerry Brislane, treasurer of the Bermuda Organ Donor Association, explained. While the aim is always to save them, if there is no improvement or a deterioration, a test to check for any response from the brain can be done 24 to 48 hours after the injury. Dr Brislane, who works as an anesthesiologist at the hospital, added: "At that point we usually inform the family whether we are doing the testing to determine whether they are brain-dead because obviously continuing on then would be futile. "It's usually at that time that I open up the conversation about donation so they have some time to think about it because they still have to wait for the test." The New England Organ Bank is informed when the testing is going to be done. They send specialist nurses to talk to the family "because they know it is a difficult decision and they might have a lot of questions". If the patient is brain-dead, the family are asked for consent and if the family agree, then the surgeons will fly out from America to collect the organs. The organs are then flown back to the US and are given to those who are at the top of the organ donor registry. "Usually children will get to the top of the list sooner but it also depends on your other illnesses," Dr Brislane said. The New England Organ Bank can then provide general information about who the organs went to, if the family wishes. "Obviously nothing specific," Dr Brislane added. "And then it's up to the donor family and the recipient as to whether there is any formal contact made."
April 24. Universal, unique numbers for anyone who touches the health system will be introduced by the Ministry of Health. This Unique Patient Identifier will enable providers to better coordinate care as part of the ministry's push to improve the island's "poorly integrated" health information system, Jeanne Atherden said. The health minister, who was providing an update on the Bermuda Health Strategy and Action Plan, also revealed that the cost of dialysis will be reduced on June 1 and that, combined with a reduction in the cost of diagnostic imaging fees and long-stay beds at the hospital, this is estimated to result in savings of more than $20 million in one year. "If successful, it will represent the single, largest reduction in health costs our system has ever seen," Ms Atherden told the Association of Bermuda International Companies. "In addition, we have been working to improve our health information system, which is currently poorly integrated. This prevents the communication necessary to reduce health costs and improve outcomes. We are on the cusp of introducing a Unique Patient Identifier to be used across all healthcare settings," she said. "This will be a universal, unique number assigned to anyone who touches the health system and will enable providers to better coordinate care. For example, a Unique Patient Identifier can assist in prescribing and managing medications, monitoring and using diagnostic tests, which can help prevent hospitalization. Importantly, this Unique Patient Identifier is a necessary foundation for an integrated electronic health system, so it is a fundamental step towards this larger health reform goal." The Bermuda Health Strategy was launched in January last year to present a vision for health system reform over a five-year period. This is supported by the Bermuda Health Action Plan, which details specific actions to achieve this vision. A further Action Plan has also been put in place to also address key long-term care issues. According to Ms Atherden, strides have been made to reorganize payment systems to focus on value and outcomes, improve benefit design to reduce unnecessary hospitalization, and to develop a healthcare workforce plan to address the needs of 21st century Bermuda. "What is clear to Bermuda is that we could not afford the trajectory it had been on for 20 years." But she added that for the "first time on record" health spending went down by 1.1 per cent in 2015, adding: "We finally bent the cost-curve — and we're the first country to do so, compared to the OECD." However, she said that spending $11,102 per capita on health is still too much and there is "some way to go to achieve sustainability. Currently there are approximately 170 patients on dialysis at the cost of $200,000 a year, each. This $34 million expenditure has been targeted in our reforms". Coverage for kidney transplants, which can cost $130,000 a year, will increase, she said, making transplant more accessible so that patients can come off dialysis. In addition to reducing the cost of dialysis treatment, Ms Atherden said the price of diagnostic imaging fees at the hospital will be brought down to the level charged in the community, and the price of long-stay beds at the hospital will be reduced for eligible patients. Ms Atherden also revealed that more than 100 people are enrolled in the Patient-centred Medical Home and the Enhanced Care pilot programme for under and uninsured patients with chronic conditions. Legislation is also being drafted to improve care quality in residential and nursing homes as part of the Long Term Care Strategy introduced last year, she said. Furthermore, the mental health act is under review and more information for care givers and developers is available on the Government website. "And we introduced a 'Personal Home Care' benefit that has enabled persons to be cared for at home safely and more cost-effectively. This new benefit has been especially successful and one private insurer has already incorporated it to its own policies. We are working with other insurers to follow suit as it is great for patients and much less costly." The Ministry has also started a project to simulate private sector investment in long term care, saying the need for additional capacity is great. She added that this was evidenced by the "current bed crisis affection the hospital", with about 120 long-stay patients who do not need hospitalization, but have no other place to be cared for. "The Government cannot build this capacity, so we are looking to the private sector and are in active discussions with developers and potential financiers to mobilize this sector." But long term care is not just about bricks and mortar. It's also about support for caregivers and workforce capacity. As such, health workforce planning has been a key initiative and is under active consultation at present. Better regulation of the health sector has also been a priority to improve quality and reduce costs." Ms Atherden noted that headway has been made in the regulation of healthcare professionals. However, she added that legislation for the regulation of healthcare businesses has not yet been passed. "This is naturally frustrating as this regulation is paramount to control the unrestrained utilization of healthcare resources which has contributed so much to the increase in health spending. However, I remain committed to introducing the necessary regulatory controls, and hopeful that the Bermuda Health Council Amendment Act will ultimately be passed." Ms Atherden also reiterated that the standard premium rate and HIP and FutureCare premiums will go down "for the first time ever" by $4.07 per month as of June 1.
April 24. A new fence could soon be erected to limit access to a private beach after the owners have become frustrated by waste and noise. Jeremy and Helen Wright, the owners of Gibbet's Beach — also known as Police Beach — have sought planning permission to erect a fence separating their property from the Railway Trail. According to their application, while their family have been mostly tolerant of people accessing the beach through their property, a number of issues have arisen over the years. A report included in the application stated: "It has been extremely difficult to secure the area and at times some trespassers have used threatening language and behaviour towards family members due to their misunderstanding about the status of the property. There have also been instances where people trespassed and let their dogs on the property without regard for the safety of others. Occasionally the property owners have contacted the police for enforcement of their rights due to the aggressive nature of the trespassers." The property, off North Shore Road in Smith's, has been privately owned for several generations. However, it was bisected in the 1920s due to the acquisition of a strip of land in the middle for the Bermuda Railway Trail, leaving the land as two separate lots. In subsequent years, the bisecting strip of land became the property of the Bermuda Government, while in 1970 the owners began to rent the western side of the property, containing Gibbet's Beach, to the Police Recreation Club for a peppercorn of $1 — an agreement that earned the beach the nickname Police Beach. That agreement concluded in 1992. In 1988, the Ministry of Works and Housing approached the owners about public access to the Railway Trail itself. While the trail can be accessed from North Shore Road, a secondary access point to the property was gated off by the owners in 2008. A report included in the planning application said that the owners have continued to allow public to use their property to access the beach, some beachgoers have failed to be "respectful" of the property, illegally erecting bonfires and abandoning waste. While the application states that the proposed fence would clearly mark the separation between public and private land, the owners still intend to allow "small groups" access to use the beach, adding that larger groups would be able to contact the owners about potentially using the beach. A proposed draft of a sign to be placed on the face states that use of the property is at the sole discretion of the owners, that the owners reserve the right to close or restrict use of the property, and that the property owners reserve the right to clear the property of any people or belongings "at any time for any reason". A spokeswoman for the Ministry of Environment confirmed that Gibbet's Beach is private property. "The owners have fenced their property but have graciously created a pedestrian access route to their private beach. Any private beach in Bermuda may be accessed by marine craft, and the area up to the high tide mark may be used by the public."
April 24. Ag Show organisers have hailed the success of another exhibition that attracted tens of thousands of residents — both young and old — from across the island. They praised the tireless work of the many volunteers and the contributions of several corporate sponsors that ensured the Botanical Gardens became a hive of activity for three days. The Ag Show Limited, which now runs the event as part of a public-private partnership, is already turning its attention to next year and planning on making further improvements. "All in all this was an extremely successful show," David Lopes, the Ag Show Ltd's chairman, said. "We did have a few glitches along the way and we'll work on them to make sure they don't happen again next year. We don't have the exact numbers yet, but it certainly appeared to be well attended, with around 25,000 people coming down. There's a few things we'll look to improve for next year; we need to put a bit more excitement back into the main ring and we'll be looking at that. For me the whole event shows that more people want to be together than apart."
April 24. The annual Devil's Isle Paddle Board Challenge is coming back to Bermuda with the aim of helping highlight plastic pollution in the ocean. In a test of endurance, participants will paddleboard 40 miles around the island, launching from Snorkel Park. It is anticipated that the race could take between six and 13 hours. The event aims to raise funds for the educational component, the SUP'r Kids Paddling Programme, which is also making a return, giving schoolchildren the chance to learn the sport while gaining an understanding of the importance of ocean conservation. Christian Shaw and Gordon Middleton of Plastic Tides, which organizes the event, spoke about the hope of expanding paddleboarding to all public schoolchildren in Bermuda within the next five years. Dalton E Tucker Primary School was the first school to benefit from the paddleboard scheme, fitting the environmental bill as a member of one of Greenrock's Eco Schools. The school's deputy principal, Shanda Smith said her students were "ecstatic" to take part in the paddleboard sessions that took place at 9 Beaches and more recently in Hungry Bay. Mr Middleton told The Royal Gazette: "Getting the children programme up and running was really rewarding and the energy was all going in the right direction. We are planning to run some sessions in advance of the Devil's Isle's Challenge and the goal for this year's fundraising is to hire a full-time programme manager so that we can start to get a much more consistent flow of children to the programme, co-ordinating with the different schools. We will have someone on the island who is 100 per cent dedicated to the children programme." Mr Shaw added: "Kids should be excited about this programme because paddleboarding is a really amazing way to engage with the ocean environment and it is very accessible — 20 per cent of the children that we work with cannot swim. So they can enjoy more comfortable access and transition into the water. You can stand up on a board, you can see turtles and tons of fish and so it is a really good way to engage in that environment in a fun and safe way. Environmental education and stewardship is the underlying theme throughout. We are out there in the mangroves doing trash clean-ups, talking about plastic. It is not just to come and paddleboard but it is paddling with a purpose and connecting through water sports and the environmental component." Ms Smith said that after introducing students to Plastic Tides and the work that they do, Mr Shaw and Mr Middleton took them on a paddleboarding expedition that taught them about keeping the ocean and water ways clean. She recalled: "The children loved it, everybody wanted to do paddleboarding. This school year they took them to Hungry Bay into the mangroves and tried to get debris that wasn't supposed to be in the water. They talked about how the tide washes in the debris and how people throw their rubbish into the sea. The children were ecstatic and really took to the paddleboarding. They were intrigued to learn how to balance, how to row properly and it was wonderful exercise — it was an activity that they would not probably under normal circumstances get to do." Ms Smith said they also enjoyed learning about conservation. "I have two P4 students, Isaiah Williams and Akira Woods. Isaiah really enjoyed learning how to paddleboard and learning that if they want to have fun in the water they need to take care of it. Keeping plastics and other waste out of the water will make it a better place for humans and animal life. Akira picked up the paddleboarding almost instantaneously and said it was lots of fun. She said she learnt the importance of keeping chemicals and other poisons and pollutants out of the water. It is not just for us to have fun in but very important for the animal life to have a clean place to live. They got a greater appreciation of the ocean and we have to be able to sustain that." The Devil's Isle Challenge, taking place from May 4 to 7, will attract local and overseas paddleboarders who can form teams of up to eight to paddle around Bermuda, vying for the top spot. Every paddleboarder is asked to raise a minimum of $500 which will go towards the children' programme.
April 24. A new coffee shop and café has brought a taste of Italy to the heart of Hamilton. BruMae Caffe, on the site of the former Bella Caffe in Burnaby Street, is owned by husband and wife team Bruno and Ashly Cucinotta. Mr Cucinotta said: "We have a fresh product — everything here is home made. We make our own pastry and we make different foods and we have different kinds of bread." Ms Cucinotta added that the duo took over the business last month and installed a new coffee machine from Lavazza, a family-owned firm founded in Turin, Italy, in 1895 and now the biggest seller of coffee in Italy and one of the biggest in the world. She said: "There is a big difference here — it's completely different to what it was. My husband is Sicilian and I studied and spent many years in Europe. Our flair is European. All our sandwiches are fresh and made here — that's how we believe we will succeed." Among the treats on offer are a choice of sandwiches featuring breads like authentic Italian-style panini, baguettes and ciabatta. Ms Cucinotta said: "The emphasis is on fresh and we try to do things that are different from everything else. It's a Mediterranean flair." Lavazza imports coffee from around the world to Italy. The producing countries include Brazil and Colombia in South America, Guatemala, Costa Rica, and Honduras in Central America, Uganda in Africa, Indonesia and Vietnam in Asia and the United States and Mexico in North America. Branded as "Italy's Favourite Coffee," the company claims that 16 million out of the 20 million coffee-purchasing families in Italy choose Lavazza. Ms Cucinotta said: "We're both trained to make coffee, which helps." She added both had long experience in the service industry, with Ms Cucinotta, who spent six months in Italy studying culinary arts, working for years on luxury private yachts, while her husband has worked in the hospitality industry internationally as well as in Bermuda. Ms Cucinotta said: "Hospitality is what we do and what we know. Our product is our product and we have a passion for it." She added: "Coming here is an experience — it's not just somewhere to go, it's a good experience, down to the way we serve people and the food they get." The café is open Mondays to Fridays from 7.30am to 4pm, but Ms Cucinotta said that opening hours may be extended in the future.
April 23. Bermuda's Hamilton Re has bought the renewal rights to Canopius Underwriting Bermuda's excess casualty book of business. And Sompo Canopius underwriters Stephen Hartwig and Jeremy Wright are set to join Hamilton Re. Mr Hartwig will be chief underwriting officer for casualty insurance while Mr Wright will be senior vice-president casualty insurance. Kathleen Reardon, chief executive officer of Hamilton Re, said: "Bermuda has long been recognized as a strong excess casualty market, so we're pleased to be able to establish an important presence with underwriters of Steve and Jeremy's calibre and with the esteemed roster of clients they have developed." She added: "It's also been a real pleasure to work with the management team at Sompo Canopius as we've developed the terms of this transaction. The agreement includes ongoing collaboration designed to ensure a smooth transition of the business so that the needs of longstanding Sompo Canopius clients and brokers are met efficiently and effectively." The transaction is expected to be closed by the middle of the year. Ms Reardon said: "From a strategic perspective, the acquisition of the these renewal rights continues the diversification of Hamilton Re's portfolio. This new initiative will run in parallel with our joint venture with Iron-Starr, which was established shortly after our market launch in 2014, a partnership that remains strong." Ms Reardon added that the property-related team added in 2016 had made "significant inroads" into the market. She added: "Taken together, this expanded offering gives Hamilton Re the ability to provide tailored solutions and exceptional service which are part of our core values." Mike Duffy, Sompo Canopius group chief underwriting officer, said: "We are pleased to have reached this agreement with Hamilton Re, which provides a great long-term home for the business, especially taking on the knowledge, expertise and relationships of Stephen Hartwig and Jeremy Wright. "We remain committed to our property catastrophe business that is also written out of our Bermuda office and look forward to continuing to work with our partners in Bermuda, particularly Hamilton." Mr Hartwig has nearly 25 years of insurance industry experience, which includes underwriting and management roles based in the US, Europe and Bermuda. Mr Wright, who has notched up 16 years in the industry, worked in senior roles at Ace, now Chubb, before joining Sompo Canopius. Hamilton Re is the island-based platform for Hamilton Insurance Group, the Bermuda-based holding company for insurance and reinsurance operations in Bermuda, the US and at Lloyd's of London.
April 23, 2017. St. George's Day - see https://uk.news.yahoo.com/st-georges-day-everything-know-164812108.html a day of celebration both in UK and Town of St. George and St. George's Parish (see the flag of St. George flying) in Bermuda. The latter two were named after Admiral Sir George Somers who was wrecked by a tempest (hurricane) off and founded Bermuda, also known as the Somers Isles, in 1609. Today, above St. Peter's Church in the old town, the flag of St. George flies, as it first did from St. Peter's in the old town in 1612 to celebrate this day. Also, today is the anniversary of the death in 1616 of William Shakespeare - see https://en.wikipedia.org/wiki/William_Shakespeare. In his The Tempest, based on what he had been told in London by wealthy patrons about the discovery in 1609 and the stupendous news of the survival of the colonists previously thought to have perished at sea off Bermuda, he wrote about a mystical island, based on Bermuda.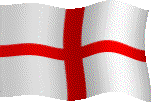 St. George's flag, see above article.
April 22. Emirates Team New Zealand finally sailed their America's Cup Class yacht on the Great Sound for the first time today. Skipper Glenn Ashby has been like "a cat on a hot tin roof" waiting to get back out on the boat named New Zealand Aotearoa. "When you look at the calendar it actually hasn't been too long since we last sailed in Auckland, but everything that has happened between times, packing up, flying the boat here and rebuilding it has made it seem a lot longer, the team has done a huge push to get us on the water as soon as possible," he said "But it was really fantastic to get back out there and get a taste of the race course first hand for the first time. It is pretty apparent already that this is going to be a really great regatta up here." Emirates Team New Zealand re-launched their race boat with their replacement daggerboards while the finishing repairs continue to be made to their race boards which were damaged in Auckland. "We would have preferred to have our race boards back in the boat, but we need to be sure the repairs are 100% right so we don't want to rush the repair. Hopefully we will have them come back online very shortly." Ashby said. "As a team it is important we remain totally focused and flexible to learning as much as we can from ourselves but also our competitors. From what we have seen in the past few days, the other teams all look to have strengths as well as some weaknesses. We will be no different so the race effectively has started as to who can make the most of these next five weeks to maximize all the speed they can in preparation for racing on the 26th May." Another official race training period begins on Monday. "We will see how we go," Ashby said. "We need to take our time to make sure we are happy with where we are at before starting any racing. But it will be good to get into some action with another boat as amazingly it is something we have not done at all yet."
April 22. A simple eye test can help diagnose Alzheimer's Disease years before memory problems start, according to a visiting ophthalmologist. Clement Trempe, who spoke at Bermuda's first Alzheimer's and Dementia summit, revealed that the eye and the brain are affected by the same neurodegenerative diseases. "People think the eye is not part of the brain but they are wrong," Dr Trempe told a packed audience at the Earl Cameron Theatre. "The eye is an integral part of the brain and is affected by the same neurodegenerative diseases but much sooner." Dr Trempe said that by looking at the eyes of his patients he was able to detect warning signs up to 15 years before their memory problems start. He explained that the same abnormal protein that accumulates in the brains of Alzheimer's patients also accumulates in the eye. "Ageing is when you start to accumulate misfolded protein," he explained. "The plaques that form in the brain also form in the eye. There is no question that cortical cataract is Alzheimer's of the eye." But he stressed that these can be detected by an eye doctor before they fully form and he urged people to go for regular exams and ask their opticians to check for signs of early neurodegenerative change. "Any eye doctor in any country, any eye doctor in Bermuda, has a slit lamp. You don't need a brain biopsy, you don't need an MRI, you don't need expensive stuff," he said at the seminar on Thursday night. "Just look in the eye. And the resolution we have is a thousand times better than any MRI. If patients have early indicators of neurodegenerative diseases they should go see their GP, who should then check for inflammation because diseases of the eye do not happen in isolation." Medical scientist Thomas Lewis, who also presented at the summit, added: "Alzheimer's is not a brain-only disease. It's a multifactorial inflammatory disease we see in the eye. The brain governs everything but neurons in the brain are fixed. The blood carries everything, the circulatory system, so really most of these diseases precipitate through the circulatory system. Your neurologist has to go beyond the brain. If they're just testing the brain, they will never figure out why you are sick and they'll never be able to come up with a solution." But Dr Lewis also stressed that there would never be a pill developed to cure Alzheimer's disease. "We're all waiting for that one pill, waiting and waiting and in the meantime five million people, 25 million worldwide have Alzheimer's Disease. What I'm here to tell you is that one silver bullet pill will never come. It's a multifactorial disease," he said, adding that no one pill would ever be able to address all the factors involved. He pointed to one study that concluded that heart disease is Alzheimer's disease of the heart. "Glaucoma is Alzheimer's disease of the eye and Alzheimer's is glaucoma of the brain. They are all interconnected." He said the question is why the disease happens in one place in one person and in another place in the next person. "That's the conundrum we may never solve. But organically it's all happening, it's just a question of where it expresses first and the brain is actually much more resilient than the eye and the eye is obviously transparent so we see it in the eye first but it is happening in the brain too and its happening in the vasculature." For people worried about Alzheimer's, Dr Lewis recommended five steps: a baseline memory test, a living profile, blood tests, eye tests and advanced tests. Dr Lewis, who also spoke about some of the changes that have taken place in areas such as farming that impact people's health, furthermore outlined preventive measures, including taking supplements such as cod liver oil or vitamin D, eating organic food and exercising. Dr Lewis and Dr Trempe, who co-authored the book The End of Alzheimer's: A Differential Diagnosis Toward a Cure and work together at the RealHealth Clinics, were invited to speak at the summit by local physician Jo-Ann Cousins-Simpson. Dr Cousins-Simpson has teamed up with Maxine Simmons, clinical nurse co-ordinator at the hospital, to found the Bermuda Alzheimer's and Memory Services. This new company aims to provide educational and medical services, as well as a specialized dementia care facility. As part of their services, they also plan to introduce routine cognitive assessment to seniors over the age of 65.
April 22. Introducing a living wage in Bermuda could be a vital step in addressing economic disparity, according to presentations made to a Parliamentary Joint Select Committee. At a public meeting at St Paul's Centennial Church Hall on Thursday, a series of speakers called the establishment of a living wage an ethical move as much as an economic one. Economist Craig Simmons told attendees: "It's unfortunate that economics and ethics have been separated for a couple of hundred years." He said that economists had sidestepped the concept that economic winners have a duty to help support those who lose out and that not everyone has benefited from globalization. "100 years ago we planted all of our own food," he said. "We gave a lot of that up. We went down a one-way street. There's no return from globalization." While he said that the majority of Bermudians born in the 1940s made more money then their parents, the same is not true of those born in the 1980s. Turning his attention to the concept of a living wage, he said there were three options, including establishing a guaranteed income, creating a wage subsidy, or a cash transfer scheme. Statistician Cordell Riley, reading a presentation prepared by Sheila Cooper of the Family Centre, said the rise in those on financial assistance was "disturbing". She added that many in Bermuda were earning only $5 to $7 an hour while many businesses continue to turn a profit. The statement said that there was no real evidence that instituting a living wage would increase unemployment, suggesting that it could actually help create jobs. "A living wage of $20 per hour would make it impractical to bring in foreign workers for unskilled or semi-skilled work that Bermudians could do," Mr Riley read. Mr Riley explained that a minimum wage is set at a level where it is estimated there would be no job losses or cost increases, while a living wage takes into account the actual cost of living. Due to economic disparity betweens the races, he said that in 2015 a living wage for a black Bermudian was around $18.75, while that of a white Bermudian was around $30 given higher salaries and standard of living. Lynn Winfield of anti-racism charity CURB noted that three years after a living wage was introduced in San Jose, employment continued to rise, encouraging further economic activity through a multiplier effect. "A living wage should be mandatory," she said. "It shouldn't be done by policy, but legislation, with fines fixed to the gross profits of the company." Ms Winfield also called for all job positions to be advertised, for wage ranges to be published in advertisements and that all qualified Bermudians be guaranteed an interview for advertised posts. Chris Furbert, president of the Bermuda Industrial Union, noted the sharp increase in cost-of-living expenses in the past 40 years, along with the wage freeze instituted for government staff in 2013. He said that action must be taken. "It's going to be an uncomfortable conversation. If you open Pandora's box, you are not going to be able to close it and it is only a matter of time before it has to be opened," he said. Both he and Phil Perinchief reiterated that those who have benefited from the island's economy need to "share some of the winnings" with those who are struggling. "We don't expect those individuals to give up all their winnings, but we do expect them to give up some," Mr Perinchief said. He argued that some have treated international business as a "sacred cow" that must not be touched but the time had come to introduce some level of taxation. Mr Perinchief added that in other jurisdictions companies face taxes of between 8 and 72 per cent and if Bermuda introduced a tax rate of two per cent, it would garner almost $1 billion in annual revenue. "We could lower the cost of living in this country and make things less expensive. Double that and we are still charging less than Ireland."
NB: Several US States have recently legislated that their minimum wage is $15 an hour.
April 22. Refitting the old Bishop Spencer School as a fully equipped centre for Bermuda's homeless would require $4 million, according to Major Frank Pittman, Bermuda's Salvation Army divisional commander. But the replacement for the charity's dilapidated facility "will not be, by any stretch of the imagination, just a shelter", Major Pittman told a forum on homelessness. The existing shelter, built in 1982 as a temporary fix, falls far short of expected standards. Walls are "falling apart" in one section, which forced the Salvation Army to find space for eight residents. Bishop Spencer School was given to the charity for an annual $1 peppercorn rent in February. A new facility would fulfil the vision of a "pathway to hope", with transitional housing, life-skills training and basic health services. It would have at least 55 emergency beds and 12 individual one-room transitional apartments for those without homes to help them eventually move back into the community. Major Pittman's remarks came as Dale Butler, the former Minister of Culture and Rehabilitation, told The Royal Gazette that Bermuda could not avoid having to "bite that bullet". Some balked at the new shelter's $4 million price tag as Major Pittman addressed the audience for Mr Butler's documentary on homeless. But Mr Butler said the cost was not as high as it seemed. The Chamber of Commerce has offered its services in an effort to help, he said. "There is a discussion of closing one or two of our schools that are underused," he added. "If we could make that difficult decision and convince the country to repurpose them, the buildings could be used for the transitional housing that the Salvation Army needs. We as a society have got to find somewhere." The inability to meet rents was a significant contributor to homelessness, the audience heard at the screening of Out among the Ins, a 2009 film investigation of homelessness. "There was a time when we had room houses where the costs were reasonable, which assisted the owner of the house — the bedrooms of these young men were immaculate," Mr Butler recalled. As minister, Mr Butler said he had been challenged by former premier Ewart Brown to develop "a comprehensive strategy" for Bermuda's homeless. "Dr Brown did not want a facility were people were going to be there for life. People would graduate into one-bedroom accommodation, which the Government at the time was looking at building." At present, the shelter off Marsh Lane in Pembroke houses 37 people, four of whom are women, with ages ranging from 21 to 77. "A high number of individuals have not held traditional jobs in quite some time," said Calvin Ming, the Salvation Army's director of public relations and development. "We also have clients who collect pensions or who are on disability support." Times spent at the shelter range from "just under a month, up until four years. Why are they there? for various reasons. Their families could say there's no more room for them, or there is not enough money to pay the rent. There are endless reasons." Before attending the documentary, Mr Ming said he had asked shelter residents how they wished to be represented to the people of Bermuda. "They said, 'remind them never to forget about the less fortunate — we are people too'."
April 22. An ROV robot developed by Warwick Academy students has earned high praise from leading engineers and scientists. The team that developed the lionfish catching Guardian LF1 submersible — unveiled at Ariel Sands this week — paid a visit to the school on Thursday morning to talk to students in the after school robotics club and drew comparisons with their own invention. Five students in the club are planning to enter it into the Bermuda Institute of Ocean Sciences ROV Competition which takes place at the National Stadium today. Their ROV is designed to complete five tasks that have been set as part of the contest and has features including lasers, a camera and an arm with a pincher. The club's supervisor Eric Totten told The Royal Gazette: "Having those guys come in today, they were saying how much some of the stuff on ours is similar to what they have done. Ours is built with the intention of completing the tasks in the challenge rather than catching lionfish. This year we had Geoff Gardner, who is an engineer, come and help us — that has taken us to a new level with this and given us new ideas. There's a lot more sophisticated computer controls and programming and a lot more Stem-type course work in it than the introductory ROVs we designed last year. That was made out of PVC piping but this year the students used acrylic as well as a bilge pump and electrical wiring. There are four motors to it, an arm, servos to help move the joints and pincers, lasers to measure distance but they don't work. That is OK — our motto is the quicker you fail, the quicker you succeed because you have to make mistakes to do it right." Mr Totten said that learning the skills to build robots has wide-ranging benefits for his students due to its interdisciplinary approach. "There are so many different elements of school that come into it — not only is it science and maths, it is computer science, engineering. You also need artists and people who have ideas that are outside of the box and bring a different perspective to it. Anyone with an interest in it can become involved. The skills you get out of working on these projects will translate to many different fields and types of job." School principal Dave Horan said the robotics club reflected the school's push towards the sciences. We are trying to build that side of what we offer — it is very trendy and the children enjoy it. But it is also about growing science practically — not just classroom-based science. The tangent point is that science is a massive part of what we offer. We have experienced huge growth in science in the last five years and we want to get children doing more. Robotics is just one area. We are also developing our dock into a wet classroom environment so they can get down and do practical activities in the sea. We can offer it to the community as well. The other point with science is we have introduced an accelerated science pathway in Year 10 at age 14 for the GCSEs, so we now offer all three sciences in an accelerated time. We can offer this to students at any school." Students at Warwick Academy were brimming with pride after completing their robotics project. They described the work they had been doing and how they found the task in hand. Rachael Betschart, Year 7, said: "We have been working on tasks for the robot to complete so we can pick things up, turn things, move things around." An Mei Daniels, Year 9, explained the four categories in the competition: "We had to maintain a fountain light show, we had to examine containers that have fallen off a ship, and construct a hyper loop [a high-speed transport system] and we have to clean up the environment." Jayson Outerbridge, Year 8, said: "I enjoyed making the whole ROV and I really enjoyed seeing the RSE robot. Driving it was really cool as well." Liam Flannery, Year 9, explained that the ROV was controlled with a PS2 controller. "This year we have variable speeds we can control — the harder you push, the faster the motors move. We have also got an arm that we can use with servos to pick up things." Candela Mataix, Year 7, enjoyed seeing how the design had improved over time. "We had the idea of a PVC pipe but then we evolved to acrylic frame — it looks so cool. It looks like it could be a high-level robot now. We did some things that didn't work so it would be nice next year to look back at those things and improve them so next year it would be so much better."
April 21. Another milestone is celebrated today with just 35 days to go before the start of the 35th America's Cup. And the occasion will be marked with a fireworks display over Hamilton Harbour, starting at 8.30 tonight. Also throughout the today America's Cup Village Grandstand tickets for Monday, May 29 and Tuesday, May 30 will be sold at half price, which can be bought on the www.americascup.com/tickets website. The official Opening Ceremony of the big event is scheduled for May 26, after which the boats begin their quest for the most prestigious trophy in sailing. From 5.00pm until 8.30pm tonight, the America's Cup store on Front Street near the Hamilton Ferry Terminal, will also celebrate its official opening with a happy hour. All six America's Cup teams are now in Bermuda and into their final preparations. Practice racing in the America's Cup Class (ACC) boats is scheduled to continue from April 24 to 28 which should see the Kiwi team, Emirates Team New Zealand, on the water at the same time as their competitors As they fine-tune their preparations, work continues on the America's Cup Village in Dockyard. According to organisers, the work is on schedule. Tickets for the Grandstand have sold out for June 17, 18, 24 and 25. Competition for the oldest trophy in international sport starts on the Great Sound at 5.00pm on Friday, May 26. The first day of racing in the Louis Vuitton America's Cup Qualifiers and the official Opening Ceremony will take place that day from 8.30pm in the America's Cup Village. Defender Oracle Team USA, led by Jimmy Spithill who is chasing the 'threepeat' — three America's Cup victories in a row — take on Franck Cammas and Groupama Team France in the first match. Following them, Nathan Outteridge's Artemis Racing will race the experienced Dean Barker and SoftBank Team Japan, and Groupama Team France will be in action against young gun Peter Burling who will take the helm for Emirates Team New Zealand. Wrapping up day one on the water will be Olympic legend Sir Ben Ainslie's Land Rover BAR team who will go head to head with Artemis Racing, looking to build on the two point advantage the British team gained from winning the Louis Vuitton America's Cup World Series. That will be followed by the official Opening Ceremony and another fireworks display. The range of spectator experiences available for day one of racing and the Opening Ceremony and throughout the America's Cup are available from www.americascup.com/tickets.
April 21. The upcoming America's Cup has sparked a boom at Bermuda's docks — but turnaround times have slowed as containers and other goods pile up on the wharf. Warren Jones, chief executive officer of Stevedoring Services' parent company Polaris Holding, said: "This is unusual based on recent years, definitely. "It's related to the America's Cup — we've seen a lot of cargo coming in." He was speaking a day after Stevedoring Services appealed to importers, forwarders and truckers to collect their goods quickly as the six-acre dock site was filled to capacity. Mr Jones said: "The containers are not an issue, but we've seen an incredible amount of boats coming in and break-bulk. That's anything not containerized — toilets, lifting equipment, tractors, anything other than containers. The containers you can stack, but you can't stack cars and boats." Mr Jones added that the extra cargo was a safety hazard for dock staff. "It's not only a potential hazard for staff, there is potential for damage the longer things are there. The average turnaround time for trucks is around nine to 11 minutes, but that had now stretched to 20 to 30 minutes, with some collectors experiencing even longer waits. We anticipate this going on until the America's Cup — Bermuda would like to see it go on a lot longer. Hopefully, there will be some sort of sustainability afterwards, but realistically I think we will see some fall-off after the America's Cup. We are handling whatever comes in, but people can expect some delays on the docks." Mr Jones explained that prompt pick-up was needed as three boats come in a week, with early containers at the bottom of stacks, which meant more work and time to move later shipments to get at the cargos."
April 21. The French America's Cup team are putting ten minicars on the road after new regulations allowing the vehicles — which faced a tough reception last year in Parliament — came into effect. Initially, taxi drivers protested against the new vehicles and the Progressive Labour Party mistrusted the move to allow what Minister of Tourism, Transport and Municipalities Senator Michael Fahy called a "viable and safe" rental alternative for visitors. Last week The Royal Gazette reported the arrival of Renault Twizys imported by Eurocar, now up for use by Groupama Team France. It is understood that the miniature vehicles will ultimately go to hotels for use by visitors after the sailing is over. The legislation, announced last July, initially proved a difficult sell, with taxi drivers protesting that the move posed unwelcome competition for their industry. But their modest engine size and limited capacity for luggage made them unlikely rivals for cabbies, Mr Fahy said. A "long period of consideration and consultation" led to the regulations, covering licensing and running of minicar liveries, to become law. The 2016 Bill prompted a weekend work stoppage, as well as a demonstration outside Parliament by about 30 taxi drivers, followed by a series of meetings before the regulations were agreed upon in November of last year, with the Motor Car Act 1951 subsequently amended. It was ultimately approved by the Senate on December 12, 2016. The vehicles allowed are covered two-seaters, no more than 60 inches wide and no more than 115 inches in length. While many visitors rent vehicles, Mr Fahy said not all were comfortable taking to the roads on an auxiliary cycle or moped. The regulations set the terms to apply for livery licences, and set standards, including the requirement for public liability insurance. The vehicles will be subject to Transport Control Department inspection, with a yearly check between January 1 and March 31. Similar to rental cycles, minicar licence plates will bear red lettering on a white background, at both the front and back of the car — with stickers warning drivers to keep left. "At present a minicar can only be on the road for five years but, as minister, I have the discretion to extend that period provided the vehicle continues to be in good shape," Mr Fahy said. "Every livery operator must have a qualified driving instructor on staff to demonstrate the use of the minicar and that person will sit in the minicar when the renter takes it for a 'test drive. TCD will qualify the instructors to ensure they provide the driving instruction that you need for the minicar." Safety instructions will include the basic rules of Bermuda's roads, the speed limit of 35kph, and the strong penalties for impaired driving.
April 21. An English company which specializes on water safety has been appointed as the official America's Cup safety provider. Based in Gosport, Hampshire, the firm Crewsaver will be bringing all of the safety equipment needed for their chase boats including life jackets, helmets, first aid kits, knives, pyrotechnics and man-overboard rescue equipment, along with a number of marker buoys to help with shepherding boats to the racecourse. The company supplies life jackets to the UK government's Environment Agency as well as the Royal National Lifeboat Institution. They are part of the Survitec Group. Dan Barnett, Chief Commercial Officer of the America's Cup, said: "We are very pleased to welcome Crewsaver into the America's Cup family and are all excited about working with their world class products. Safety is obviously a core focus area for the America's Cup, so having a company of the calibre of Crewsaver as our Official Safety Provider is the perfect fit for us in this incredibly important area." Brian Stringer, Survitec Group Chief Executive Officer, added: We are delighted to have been selected as official safety provider to the America's Cup. It is very clear that our two organisations share many of the same values as far as safety on the water is concerned, making this the ideal partnership opportunity. We look forward to working together to help share these messages to a wider audience through our #LifejacketSafe campaign." With help from Crewsaver, the America's Cup will soon launch a series of safety videos, providing viewers with a number of top tips to help them stay safe when out on the water. In addition, the partnership will provide America's Cup viewers with the opportunity to win a limited edition, and not on general sale (and not available to the public), America's Cup branded Crewfit 180N Pro life jacket through a competition being run by Crewsaver. More details will be announced soon.
April 21. NEW YORK (Bloomberg) — American International Group is weighing a plan to hire Bermudian Brian Duperreault as the company's seventh chief executive officer since 2005, according to people familiar with the board's deliberations. Other candidates are still being considered as the board seeks a replacement for outgoing CEO Peter Hancock, said one of the people, who asked not to be identified discussing private deliberations. Duperreault, 69, is a former deputy to longtime AIG leader Maurice "Hank" Greenberg and went on to lead one of the company's biggest rivals, Ace Ltd. He later became CEO of the biggest insurance broker, Marsh & McLennan Cos, and then Hamilton Insurance Group, a Bermuda-based carrier backed by principals of hedge fund firm Two Sigma Investments. Representatives for AIG and Hamilton said the companies don't comment on speculation. Two Sigma declined to comment. Duperreault's Hamilton has already been working with AIG to improve the use of analytics in underwriting. The two insurers partnered last year with Two Sigma to form a venture focusing on the $80 billion market for small and medium-sized businesses. And in 2016 he hired Seraina Macia, a former AIG executive, to run Hamilton's US operation. AIG has also weighed making an offer to purchase Hamilton, one of the people said. AIG is seeking a replacement for Hancock, who announced March 9 that he was stepping down after losing the support of investors including activist billionaire Carl Icahn. The company has become increasingly reliant on commercial property-and-casualty insurance after divesting life operations in many nations and exiting businesses like plane leasing. Hancock, who has a background in banking, was stung by higher-than-expected claims costs on policies covering against environment liabilities and worker injuries. The new CEO will have to restore the confidence of Wall Street, which has been frustrated by four losses in six quarters. The job will also involve efforts to retain commercial clients after New York-based AIG endured the departure of many top executives and a downgrade by S&P Global Ratings.
April 21. The Bermuda Government has accused the Lahey Clinic of hatching a "secret pact" with Ewart Brown, the former premier, for "a calculated fraud on the people of Bermuda" in its latest court submission. The publicly available documents were filed today to counter Lahey's request for the court to halt divulging extensive evidence spanning its 20-year relationship with Dr Brown, in the latest round of the Government's racketeering lawsuit against the Massachusetts medical clinic. Lahey responded with a statement attesting its 25-year record of providing "high-quality care to the people of Bermuda", and expressing dismay at what it called a politically motivated misrepresentation. Lahey has already called for the Massachusetts district court to dismiss the case, as well as requesting a stay of discovery. But the Government maintains that in calling for the suit to be thrown out, Lahey admitted to a "pact", dated January 1, 2001, that not only held Dr Brown to assist in securing the Bermuda market, but prohibited him from acting in the interests of its competitors. That agreement, along with a second with Dr Brown's medical clinic, "more than doubled his government salary as Premier. Simply put, Lahey is free to hire consultants to help it develop business in Bermuda, but not if those consultants are foreign government officials retained to secure an improper advantage over its competitors." Dr Brown himself has roundly dismissed all allegation of impropriety. Speaking last Sunday night during a lengthy radio interview on Kim Swan's "Orders of the Day", Dr Brown readily admitted his working relationship with Lahey. "I would introduce them to whoever they would want to be introduced to," Dr Brown told a caller. "But I never put them in a position of advantage." Dr Brown also dismissed any suggestion that Lahey might settle the case, telling Hott 105.7FM: "I would be totally shocked if Lahey Clinic settled on a suit where they are being accused of racketeering. They are going to fight like my wife and I are going to fight — to the last cent and the last breath." The Government has argued that the deal, disclosed "only in response to Bermuda's allegations", shows 20 years of concealed payments of "millions of dollars in bribes". The agreement started with $125,000 a year, according to the Government's case, but rose substantially to more than double the salary of $200,000 that he received when he assumed office as Premier in 2006. It is claimed that Lahey subsequently merged its deals with Dr Brown and with Bermuda Healthcare Services — with the non-disclosure stipulations called "a clear act to conceal the form and extent of the Lahey-Brown relationship from public view". Lahey's statement emphasised the clinic's history as the first to bring highly-trained specialists to Bermuda to provide care "where it is more convenient and lower cost". Saying the clinic had improved the health of thousands on the island, the statement said its agreements and business practices had complied with all regulations and were "beyond reproach. It is disappointing to see a commitment of 25 years dramatically misrepresented for what appears to be political reasons. We are committed to defending this lawsuit through every step of the process and we will continue to provide the care and support our patients in Bermuda need and deserve."
April 21. Retail sales dropped 2.7 per cent to $80 million for February compared to the same month last year. After adjustment for inflation, which stood at 2.1 per cent in February, the volume of retail sales fell by 4.6 per cent. Four of the seven sectors checked in the Retail Sales Index showed decreases in sales revenue, with the motor trade experiencing the biggest fall for the third month in a row. But building material stores notched up the largest gain in sales for the fourth consecutive month. Receipts from the sale of building materials increased by 9 per cent year on year. More building projects starting up helped boost sales receipts in the sector. The real sales volume increase was 8.6 per cent after inflation was taken into account. Returning residents declared $3.1 million in foreign-bought goods for the month, down 3.1 per cent on the previous February. Sales receipts in the motors sector went down 19.1 per cent compared to the same period in 2016, attributed to a decline in sales volume. Clothing stores saw an 11.6 per cent drop in sales revenue, up to 12.9 per when inflation is taken into account. The all other store types sector weakened by 2.3 per cent, with "other miscellaneous sales" dropping 22.9 per cent due to fewer sales events and lower demand over the year. Pharmacies saw a decline of 3.4 per cent, but receipts for marine and boat supplies jumped 35.7 per cent due to bigger sales figures for boats. Receipts for furniture, appliances and electronics went up 2.7 per cent. After factoring in inflation, the sales volume in the whole category saw a 3.2 per cent decrease. Sales receipts for liquor went up by 2.6 per cent, but sales of food fell by 0.9 per cent. The sales volume of food and liquor stores were 2.1 per cent and 1.8 per lower respectively. But the value of fuel sales at service stations went up by 4.6 per cent, attributed to a 14.8 per cent increase in the price of fuel. After adjusting for inflation, the sales volume of fuel went down by 8.9 per cent.
April 21. Front Street restaurants have pledged to up their game after the Liquor Licensing Authority warned that they could be operating outside of their licence. The watchdog raised concerns that the Bermuda Bistro, Pickled Onion, Docksiders and Café Cairo appeared to morph into nightclubs after 10pm in contravention of their restaurant licences. During Wednesday's hearing, Rick Olson, owner of the Bermuda Bistro, and Reed Young, owner of Docksiders, both said they would be applying for the more expensive and onerous nightclub licence in light of concerns raised by the LLA. Phillip Barnett, who runs the Pickled Onion, maintained that under the current legislation his establishment was not a "nightclub" and would seek further legal advice on the issue. "We are going to do what is required and what is right in order to be compliant," Mr Barnett told The Royal Gazette. Meanwhile, lawyer Richard Horseman, acting for Café Cairo, told the LLA that food was served at the establishment until 2.30am and also suggested that the existing legislation needed to be looked at closely. Addressing Mr Olson, LLA chairman Juan Wolffe said: "We have a very real concern as to whether or not the Bermuda Bistro after 10pm transforms into a nightclub effectively. We have seen pictures of various events taken from Facebook that suggests you are not running a bona fide restaurant after 10pm." Mr Olson responded that his establishment served a full menu until 2am and had made a host of improvements — which drew praise from LLA members — in the last year. However, he confirmed that he would be applying for a nightclub licence in light of the concerns. Referring to pictures and flyers of events held at Docksiders, Mr Wolffe said: "It does not look like a restaurant; you need to have the right licences in place and you can have two licences at the same time. Should we be expecting an application for a nightclub licence?" Mr Young replied: "Absolutely". In response to similar questions from the LLA, Mr Barnett acknowledged that six tables were moved to make a dance floor at the Pickled Onion, but maintained that venue did not fall within the definition of nightclub as set out in the Act because it did not play music for more than four hours every day of the week. He also suggested that the current legislation governing the granting of liquor licences needed to be clarified. Mr Wolffe responded: "We are open to suggestions; we can be the voice of businesses to make amendments to the Act." The chairman of the LLA also urged Mr Barnett to see if an "amicable resolution" could be reached in a long-running dispute between Victoria Grill and Rum Bar and residents in a neighboring block of flats over late-night noise and music. The residents of the Dundonald Street property were represented before the LLA hearing by lawyer Gretchen Tucker who said the residents' board had filed an objection to the renewal of the restaurant's liquor licence. "We do not want to see their licence revoked," she said. "We would like to see conditions preventing them serving alcohol after midnight, playing music after midnight and having a DJ after midnight." Mr Barnett maintained that the complaints had been made by just a handful of residents and his business had tried to work with them and introduce noise-reducing measures at the premises. Mr Wolffe said: "We would like to see there be some amicable resolution; we don't want to stifle business but the residents need the quiet enjoyment of their premises." A hearing has been scheduled for 1pm on May 7.
April 21. A new ferry dock in St George's is nearing completion, but ferry service to Hunter's Wharf will not begin until Wednesday. The construction of a new ferry dock began last year in advance of increased cruise ship service to the town this summer. While the summer ferry schedule is set to come into effect on Monday, summer service to St George's will begin two days late. A government spokesman said: "The new ferry dock at Hunter's Wharf was required because the cruise ships will be using the renovated Penno's Wharf, which was previously used by the Bermuda Ferry Service. "The Orange Route Service from Dockyard to Hunter's Wharf will not commence until Wednesday 26 April."
April 21. The Governor entertained local residents from a wide-cross section of the community to mark the Queen's 91st actual birthday today. John Rankin welcomed guests at Government House for what become has become an annual tradition. Among those present were first-time attendees who had applied for an invitation to attend through an online ballot as well as volunteers who were nominated to receive an invitation by their respective charities. In his speech, the Governor commented on Her Majesty's "sense of duty and her dedication to public service". He observed that this year the Royal Bermuda Regiment together with five local charities had been invited to have an information stand at the party to raise awareness of their work. These included The Bermuda National Trust, The Bermuda Red Cross, SCARS, PALS and The Duke of Edinburgh's International Award. "I know that each of these charities, and indeed many others in their own areas of speciality, make a real difference in support of the people of this Island and its communities," he said. "And if they have inspired you to volunteer yourselves — all the better."
April 21. For many Bermuda families, the annual Ag Show is a multi-generational affair. For more than 35 years, Warwick resident Anne Cherry has been involved with the show — both professionally and personally. In 1981, she marked her first visit to the show as then exhibition secretary, working at the event for the 20 years that followed. Since 2001, she has volunteered with the equestrian events after her retirement. Many of the faces at the show over the years have remained the same, she said. "It's a community thing," Ms Cherry said of the show. "It brings a lot of people together." The equestrian events, and the show in general, are multi-generational, she said. "You have grandparents riding, and you've got grandchildren riding," Ms Cherry said. Dennis Cherry, Anne's son, said he competed in equestrian events at the show as a child, from the age of "probably seven to 17". At this year's show, he is helping to fundraise for Beyond Rugby, a programme with which he volunteers. The group is currently raising money to send youth players on tours to the United Kingdom and the Bahamas. The father-of-three said his children would be coming to the event with their school classes today. "They've drawn some pictures, and they're hanging up to be judged," he said. He said he planned to stay involved with the show in the coming year. "I think it's a brilliant event." OBA MP Jeff Sousa, member of the event's executive committee, pointed to the Truran family as another example of successive generations of island families contributing to the show, with current course designer Ian Truran's father, Peter, serving in the same capacity before him. "This is stuff that's generational, and it's really great to see that," Mr Sousa said. "You have to keep that tradition alive, because if you don't, it's lost." The Warwick West MP said he had personally been "intimately involved" with the show for more than four decades. Like Cup Match, the event is part of Bermuda's cultural fabric, he said. "I truly do personally believe that agriculture has been significant in the progression of Bermuda," the MP said. "And we never can forget that, because it has an important part in our history." Ms Cherry said her favourite part of the show takes place on Friday, when possible future equestrian event participants — some as young as two — are led into the arena atop horses. "They're just so tiny," she said. "Their legs hardly go over the side of the horse. It's really cute." This year's event, on through Saturday at the Botanical Gardens, is the second organised by Ag Show Ltd, formed through a public-private partnership between show supporters and the Government of Bermuda
April 21. "Critical" guidelines to ensure civil servants deal properly with public access to information requests have yet to be released, more than two years after the law came into effect. The absence of the "practice codes" was flagged up by information commissioner Gita Gutierrez in her office's first annual report last year, when she warned that without them the public could not have faith that their confidentiality would be safeguarded. Ms Gutierrez told The Royal Gazette this week: "I look forward this year to the ongoing consultation process for the codes. My hope is that the end result will be a significant contribution to the infrastructure to support good Pati practices for public authorities." The Public Access to Information Act 2010 allows citizens to request publicly held records from more than 220 public authorities and was enacted on April 1, 2015. Information officers have since received more than 240 requests. Section 60 of the Act requires the relevant Minister — in this case, Michael Dunkley, as Premier — to release codes of practice for public authorities regarding the administration of the new law and the "maintenance and management of records of public authorities in a manner that facilitates ready access to the records". The new Policy and Strategy Section within the Cabinet Office is the department responsible for Pati and for producing the guidelines, in consultation with the commissioner, as well as, in the case of management of records, the government archivist. Ms Gutierrez said: "The Minister's practice code on the administration of the Pati Act and the practice code on records management are critical how-to guides for the people who have to make the Pati Act work. Like Financial Instructions, the two Pati practice codes will guide the public authorities' day-to-day management of their information assets and responsibilities under the Act." The Cabinet Office said at the start of last year it was "on target" to release the codes by the end of March 2016. But it is understood that a decision to merge the Central Policy Unit and the Sustainable Development Department into one entity — the Policy and Strategy Section — has slowed down progress. A spokeswoman said yesterday: "Pati is relatively new legislation and quite comprehensive and, like any large, all-encompassing organisation, there have been some challenges. However, we do believe that it is being appropriately managed. Information officers have been trained and there is more training slated for later this year; refresher for existing staff and training for those new to the information officer role. The information officers are able to respond to requests in a timely manner. We are working with the information commissioner's office to finalise the codes." In January, the Cabinet Office told this newspaper that information officers were receiving ongoing training "to ensure confidentiality remains paramount". In May 2015, six weeks after the Pati Act was enacted, Public Works Minister Craig Cannonier named Walton Brown as a Pati requester in Parliament, in breach of the law's confidentiality requirement. And earlier this month, Mr Dunkley was accused online of potentially identifying a Pati requester. In a Facebook thread, an individual posting under the name Sam Smith shared an e-mail he had obtained about an opinion piece purportedly written by One Bermuda Alliance MP Nandi Outerbridge but actually authored by the Premier's adviser Don Grearson. Mr Dunkley responded: "In full disclosure, you perhaps should mention that you obtained the e-mail through a Pati request. In addition, [Mr Grearson] works as a writer. Not sure what your story is here." Sam Smith then alleged that the Premier had appeared to "flirt with a breach of confidentiality under Section 57 of the Pati Act" prompting Mr Dunkley to respond: "I am assuming, as I don't know who asks any Pati question and I don't wish to know. How else could you get an e-mail?" This newspaper understands complaints have been made about Mr Dunkley's remarks to the information commissioner's office. Ms Gutierrez declined to comment on the matter.
April 21. Workers at a major island car dealership yesterday downed tools in a dispute over pay. Staff in the service area and paint shop at Hamilton's Bermuda Motors stopped work around 1pm after management refused to reinstate a 2 per cent backdated pay rise, according to a source. The source said that a pay rise of 2 per cent for both 2015 and 2016 had been rescinded — with only a single 2 per cent increase left on the table. The source added: "They withdrew one of them and that's what caused the dispute. They have been fighting this for a long time now." The staff involved in the dispute are all unionized. Krishna King, Bermuda Motors' general manager, said yesterday he was hopeful the dispute would be resolved. He added: "Bermuda Motors can confirm there was a work stoppage by some staff just after midday today. And he insisted: "Management has not refused to reinstate any back pay. All relevant employees received a backdated pay increase of 2 per cent last year and a further increase of 2 per cent this year which was also backdated. We are pleased to say no customers were inconvenienced by the stoppage." Mr King said management and union representatives will meet this morning to "resolve any outstanding issues". Bermuda Motors sells and services a range of top-selling marques including BMW, Ford, Kia, Lexus, Mini and Toyota, as well as commercial vehicles and motorbikes.
April 21. A government department dedicated to ensuring the island's sustainability has been dismantled, leading green campaigners to fear that environmental issues are not a priority. The Sustainable Development Department was formed to put into action the Sustainable Development Implementation Plan, a voluminous report released by the Cabinet Office's Central Policy Unit a decade ago, after four years of information gathering and public consultation. Sustainable development has been defined as development that meets the needs of the present without compromising the ability of future generations to meet their own needs. The mandate of the department was not confined to the environment — it was supposed to promote sustainability in all public and private sector policymaking — but much of its work considered how to manage natural resources and environmental impacts, including climate change. Now the department and the CPU no longer exist as separate entities, having been merged to become the new Policy and Strategy Section within the Cabinet Office. An advisory body appointed by the Premier, the Sustainable Development Round Table, has disappeared too, holding its last meeting in May 2016 and leaving little trace behind. In response to questions, a Cabinet Office spokeswoman insisted this week that the Government had not "abandoned the concept of sustainable development", saying its principles were "expected to be at the heart of the work being done" by the new section. But environmentalists questioned if that was the case. Jonathan Starling, executive director of Greenrock, told The Royal Gazette: "We have rather grave concerns that the Sustainable Development Department no longer exists as an entity. While we had hoped that it was just a name change and that wouldn't necessarily change the essence of the department/unit, we were also aware that language is powerful — by eliminating the name 'sustainable development' one also eliminates the focus on sustainable development. We saw it as a potentially backwards step. Unfortunately, I think that our concerns have largely been borne out. Not only has the reference to sustainable development been dropped from the new unit, but also the emphasis and focus on sustainability. We believe this is a retrograde step." Bill Zuill, executive director of the Bermuda National Trust, said: "The Bermuda National Trust is disappointed to learn that the Sustainable Development Unit is no longer a stand-alone government entity, because this decision sends a message, fairly or not, that sustainable development is not a priority of the Government. It is also regrettable because, since the mid-2000s, a great many people, including but not limited to members of the Sustainable Development Round Table, dedicated a huge amount of time and effort to fashioning the Sustainable Development Plan and the policies surrounding it. The Trust sincerely hopes that this work will not go to waste." Michael Dunkley told the House of Assembly earlier this year that the Policy and Strategy Section was an "amalgamation of the former Central Policy Unit and the Sustainable Development Department". The Premier's comments didn't touch on how the section would incorporate SD aims but said "one of the principle goals of the merger was to realize a more centralized approach to policy and strategy development, while strengthening decision-making and improving effectiveness". Mr Starling said: "As far as I can tell, the new unit has no mandate to push sustainability issues. I'm sure that the staff moved from SD into the new unit will still try and work sustainability into its work, but with no clear mandate to do so, and no independent watchdog holding the Government to account like the SD Round Table was supposed to, I have very little confidence regarding this. I find it very disappointing, to be honest. The SD initiative was quite groundbreaking and had a lot of potential. The SD Plan itself was due for an update; a lot has changed in the decade since it was first initiated and, just like the Bermuda Plan, it needs regular updates." Mr Zuill said the problems that led to the need for a sustainable development policy, such as pressure on open space, congestion and "runaway housing costs", all connected to strong economic growth, had diminished as the economy had contracted. But he added: "The National Trust believes that that is, in fact, the ideal time for the creation of a coherent, principled sustainable development policy that will be in place ahead of a time when the island sees a return to stronger growth. In this way, the principles of sustainable development will already be in place and will be well understood when development pressures increase." In the only annual report it ever released, in December 2013, the Sustainable Development Department gave information on its ongoing projects, which involved public health, agriculture, the marine environment, a children's agenda and recycling. It also revealed an ad hoc working group on climate change had been set up within the Cabinet Office, noting that Bermuda ranked 15th in the world for highest per capita greenhouse gas emissions so had a "moral obligation to the global community to implement mitigation measures and reduce the emissions". The working group has "paused" its meetings, according to the Cabinet spokeswoman. Meanwhile, it is unclear if Bermuda is meeting the obligations it committed to when it signed up to the Kyoto Protocol in 2007. The Cabinet spokeswoman said: "Climate change policy work is still required and is expected to feature in [the] Policy and Strategy Section during this year." Alex Scott brought the idea of sustainable development to Bermuda, later describing it as one of his most important achievements as Premier. His successor Ewart Brown released the final plan, after encouraging MPs to come up with a less abstract term than "sustainable development" to capture the public's attention. An alternative phrase was never found. In 2013, civil servant Magnus Henagulph recommended the SD Department be axed, in his prize-winning submission to the Sage Commission, a body tasked with assessing government efficiency. He wrote: "This department needs to be closed. Salaries and rent cost more than half-a-million dollars a year and nothing to show for it." Mr Starling said he believed the department was a success "for the most part" and achieved a lot of the tangible objectives of the SD Plan, though those achievements weren't necessarily "communicated enough" to the public.
April 20. RG report. Sir Richard Branson's Necker Island head chef Chris Kenny snagged the top prize on April 19 at the celebrity chef 11th Hour Racing Lionfish Throwdown with a trio of sustainable dishes. He beat competition from five top chefs from the 35th America's Cup team nations: Annabel Langbein (New Zealand), Gael Orieux (France), Taichi Kitamura (Japan), Christopher Ekman (Sweden) and Rob Ruiz (United States). The event at the National Museum of Bermuda in the Royal Naval Dockyard was designed to raise awareness of the problem of invasive lionfish in Bermuda's waters. With no natural predators in Bermuda, they eat local species and compete with them for food. Speaking to The Royal Gazette about his lionfish trio — ceviche, lionfish coconut curry and fish and chips — Mr Kenny said that he hoped to see a greater supply of lionfish to cook with in the future as methods improved in capturing them in deep water. The Guardian LF1 submersible robot, developed by Robots in Service of the Environment using technology by iRobot, was "christened" with Gosling's rum at the event. The robot can catch lionfish remotely at depths up to 400 feet using a controller. It is hoped it will enable more of the invasive fish, which are able to produce some 40,000 eggs in five days, to be caught in Bermuda's waters. All the chefs were chosen to participate not only for their skills but also their dedication to using and promoting sustainable food sources. Even the emcee — Rick Moonen of RM Seafood and RX Boiler Room in Las Vegas — is known as the "Godfather of Sustainability". Mr Kenny said that Virgin chief Sir Richard was a "big supporter" of the battle against lionfish and was happy to lend the services of his chef to the cook-off, organised by Land Rover BAR's exclusive sustainability partner 11th Hour Racing. Mr Kenny, whose prize was $10,000 for his team Land Rover BAR and $10,000 for the charity of his choice Unite BVI, said: "Lionfish is amazing. I have used it before in the BVI [British Virgin Islands] — all we need is more supply. We need someone to build more robots that can catch them and we can produce it. More availability is going to be key." Speaking on the quality of the lionfish, Mr Kenny added: "It has the texture similar to flounder but the taste is really good for raw dishes — ceviche is my favourite way to eat it because it is a light flavour but it works well with lots of different dishes." The menu from the six chefs was adventurous, including ingredients such as black squid ink, phytoplankton and an array of edible flowers. Land Rover BAR skipper Sir Ben Ainslie had all the America's Cup teams sign on to a sustainability charter with commitments ranging from avoiding single-use plastics to protecting marine habitats. He said: "This evening was a way to get all of the America's Cup teams together, with their representing chefs coming up with different dishes and ways to cook lionfish, which as we know is an invasive species here in Bermuda and the Caribbean. It was a fun night. As one of the judges, it was great to try many different approaches to cooking lionfish. All the chefs prepared some fantastic dishes and of course we were delighted that Chris Kenny, representing Necker Island and Land Rover BAR, managed to come out on top with some very traditional British fish and chips." Ms Langbein of Emirates Team New Zealand produced a dish well loved in Bermuda — fishcakes — which was served with a lime ceviche with avocado and radish. Artemis's Christopher Ekman who uses the "zero waste model" served up lionfish on baked cabbage, cilantro with brown butter hollandaise and phytoplankton. Rob Ruiz of Oracle Team USA, cured, smoked and grilled the fish and served it in a rich tomato sauce, while Gael Orieux of Groupama Team France made it with a carrot purée, pickled vegetables and black squid ink. Finally, Softbank Team Japan's Taichi Kitamura gave the lionfish the typical Japanese treatment with soy, ginger, green onion and sizzling peanut oil. About 100 lionfish were caught by William Gillett and a team of divers to serve the 200 guests at the event. Mr Gillett said that they hunted the fish in the early morning and late evening because they tend to hide in the reefs during the day. At the end of the evening, the Bermuda College culinary teacher Shawn Ming introduced a team of Bermudian students who he selected to support the professional chefs in their preparation of the evening's food, which he said they did "with enthusiasm and love". Wendy Schmidt, who helped fund the Guardian LF1 robot through the Schmidt Marine Technology Partners, thanked everyone involved saying the efforts would help to open up a new market for lionfish in Bermuda.
April 20. Another report. Necker Island Head Chef Chris Kenny representing Land Rover BAR wins the April 19 #EatLionFish Chefs' Throwdown with his Trio of ​Lionfish​ dishes. Organised by 11th Hour Racing, the Chefs' Throwdown promotes Bermuda's position as a leader in sustainable fishing practices and brings together all the teams competing in the 35th America's Cup. UK environmental cuisine television celebrity chef Hugh Fearnley-Whittingstall also supported Land Rover BAR with a unique lionfish recipe created from his famous River Cottage HQ. He commented: commented "Invasive species such as the lionfish are causing huge issues in the world's oceans; it's a problem we can't ignore and turning to these species as a sustainable food source is one way to tackle it. I'm delighted to support the Lionfish Chefs' Throwdown with this River Cottage recipe." Lionfish are rapidly expanding their range in the Caribbean and Atlantic and have recently been found in Italy getting ever closer to British shores. Lionfish have no natural predators with a single lionfish spawning approx 30-40k eggs every 5 days and consuming 20 fish in 30 minutes. Celebrity chefs committed to sustainability competed to see who has the tastiest solution to the problem of invasive lionfish. Each of the six nations participating in the competition for the oldest trophy in international sport were represented by a top chef vying to create the best lionfish dish. Judges of the contest were the skippers and representatives of the six America's Cup teams. After a great night of culinary excitement, the winning chef was announced as Chris Kenny, above, who was awarded a prize of $10,000, to be donated to the 1851 Trust, Official Charity of Land Rover BAR. Kenny said: "It was great to see that everyone enjoyed all the different Lionfish dishes that all the chefs cooked up. Hopefully everyone will go away and spread the word that lionfish is really tasty! I wanted to showcase what you could do with lionfish in as many dishes as possible so I chose three, a coconut curry, Lionfish ceviche and as we were representing Land Rover BAR, we did a fish and chips option too. Once the RSE robot gets launched hopefully we will see Lionfish will go up in popularity and made more available for everyone to eat whilst at the same time helping to manage the issue of them destroying the coral reefs. It's always nerve wracking to find out who has won, but it feels great to come out on top as and there was a lot of talent and everyone has put a lot of effort in."
Competing chefs were
Gael Orieux (France, Groupama Team France), whose Restaurant Auguste boasts a Michelin star.
Taichi Kitamura (Japan, SoftBank Team Japan), award-winning chef/owner of Seattle's Sushi Kappo Tamura and a winner of Beat Bobby Flay.
Annabel Langbein (New Zealand, Emirates Team New Zealand), host of The Free Range Cook TV series.
Christofer Ekman (Sweden, Artemis Racing), executive chef at Fotografiska in Stockholm.
Chris Kenny (UK, Land Rover BAR), head chef on Richard Branson's Necker Island.
Rob Ruiz (USA, ORACLE TEAM USA), winner of the 2016 Ocean Award, owner of The Land & Water Co. in Carlsbad, and San Diego Union-Tribune "2016 Chef of the Year".
Sir Ben Ainslie, Team Principal and Skipper of Land Rover BAR, said: It was a fun night as one of the judges it was great to try many different approaches to cooking Lionfish. All the chefs prepared some fantastic dishes and of course we were delighted that Chris Kenney, representing Necker Island and Land Rover BAR, managed to come out on top with some very traditional British fish and chips!"
April 20. Materials destined for the new airport project are set to be unloaded at Penno's Wharf this weekend and next week in advance of groundbreaking. According to an Aecon spokeswoman, unloading work is set to begin on Saturday and continue until Wednesday, with 15 trucks moving materials from 7am to 10pm. "We expect this to affect traffic flow and we encourage people travelling to and from St George's to allow extra time for travel," the spokeswoman said. "This may also impact noise levels. We apologise in advance for any inconvenience caused."
April 20. Construction starts next week at the site of the new terminal for LF Wade International Airport, while the long awaited St George's resort will also break ground next month. Michael Dunkley, the Premier, told The Royal Gazette that a starting date for the airport work would be announced "very shortly". The updates came as he prepared to head back from addressing the World Economic Forum in Miami. Mr Dunkley said the event was "an opportunity to promote Bermuda, sell Bermuda and build relationships". Meetings included a chat with Arnold Donald, president and CEO of Carnival Corporation, which has "a small footprint in Bermuda that we are keen to enlarge" — and with Mark Lunt, principal of real estate and hospitality at Ernst and Young. Mr Dunkley's address to a panel on "cultivating an ecosystem of entrepreneurship" focused on the island's financial services sector and the benefits of the imminent America's Cup. Last year, the six teams associated with the event spent more than $22 million in the island, and Mr Dunkley said the Cup had brought a "local business boom". Some 300 participants have relocated to the island. Wedco estimated that about 500 jobs had been created in the extensive restorations at Dockyard, he said. While 50 per cent of America's Cup contracts went to "small or medium-sized businesses", assisted by short-term loans from the Bermuda Economic Development Corporation.
April 20. George Rover, the former deputy director of the New Jersey Division of Gaming Enforcement, has been engaged as a consultant by the Bermuda Casino Gaming Commission. Mr Rover will visit the island on a monthly basis to advise on "all gaming-related matters, including the drafting of regulations, assistance with background and suitability investigations and with respect to the Request for Proposal process", according to a statement issued by the commission. Mr Rover stepped down last year from the New Jersey State Attorney-General's Office after 26 years of government service. He had been appointed Assistant Attorney-General in 1999 and assigned to gaming enforcement, and served as deputy director from 2011 until November 2016. Calling the Division of Gaming Enforcement "tough but fair", Mr Rover stressed the rigorous vetting required for a viable gaming industry on the island, including anti-money laundering protocols. Mr Rover acknowledged his five-year relationship with Richard Schuetz, the executive director of the Bermuda commission. He went on to call Mr Schuetz "an invaluable resource" for launching the local industry.
April 20. The start of the Ace story in Bermuda has been marked with a special plaque at the Hamilton Princess. The founding chairman of the firm John Cox wrote the company's first insurance policy in room 348 at the hotel in 1985. Ace, now Chubb, has since grown to be the largest publicly traded property and casualty insurance company in the world. Executives from the hotel and Chubb unveiled the plaque on Wednesday. Guests included Eric Dibkin, director of insurance and risk management at Merck & Co, a US pharmaceutical company, which held Ace's first policy, which was numbered 348 after the room number. Joseph Clabby, division president of Chubb Bermuda, said: "Room 348 of the Hamilton Princess has always held a special place in our company's history as our first, albeit temporary, headquarters. "We are honored to be joined here again by our first policyholder, many of our earliest employees and colleagues from the broking community to commemorate John Cox, his vision and achievements." Mr Cox died in February aged 84 and is regarded as a giant in the property and casualty insurance industry. A company spokeswoman said: "Not only did he shape Ace in its formative years, he also helped to establish Bermuda's leading role in the international insurance and reinsurance industry." Allan Federer, general manager of the Hamilton Princess, said: "We are pleased to commemorate the room where Ace wrote its first policy, a legacy that will always be an important part of Bermuda's history."
April 20. A forum on the potential of blockchain in the reinsurance industry is to be held tomorrow. Claus Walter, of insurance firm Zurich and a member of the blockchain insurance industry initiative B3i, will lead a presentation on distributed ledger technology in the reinsurance marketplace. Mr Walter will appear alongside Ujjval Patel, head of strategy at Acord, a global non-profit association working to improve data quality and information exchange for the insurance industry, and Gavin Woods, counsel at law firm Appleby, in a discussion on the challenges and opportunities of distributed ledger technology. Blockchain — a computer file underlying a mutual distributed ledger where blocks of information added in sequence cannot be changed or deleted — is regarded as having huge potential to transform the reinsurance industry. A report last year by professional services company PwC said that reinsurers in line to build some of the biggest blockchain applications outside the payments sector could save between $5 billion and $10 billion a year. The report added that reinsurers able to build, assess and refine blockchain applications would steal a march over the rest of the industry and "raise the bar" for competitors. PwC estimated that, by simplifying reconciliation and multiple data entries, blockchain methods could slash expenses by 15 to 20 per cent. And the report said that blockchain technology could speed up claims-processing verification and also allow primary insurers to cede or retrocede risk using an application specially designed to process treaties, notify all parties and process premium and commission payments. The conference, organised by the Institute of Risk Management's Bermuda arm and professional services firm EY Bermuda, will be held tomorrow (Friday) at XL Catlin in Hamilton's Bermudiana Road between 8.30am and 11.30am.
April 20. Telecommunications have developed at a phenomenal speed in the last two decades, and that rate of change has been mirrored by the evolution of One Communications Ltd. Founded in 1998 as KeyTech Ltd, this diverse company is involved in mobile phone, internet, subscription television and data solutions. The last three years have been particularly busy for the company in terms of mergers and acquisitions. It has become a "quad-play" service provider, offering mobile, landline, cable television, and internet under one roof. It has a market capitalisation of $116 million, with assets of $248.1 million. During 2016, the company rebranded its operating subsidiaries Logic Communications and CellOne, as One Communications. Shortly afterwards KeyTech's legal name was changed to One Communications Ltd. The company's other subsidiaries are Cable Co Ltd, and WestTel Ltd in the Cayman Islands. Between 2012 and 2016, the company's share price fluctuated from a high of $6.49 in 2012 and a low of $1.95 last year. This week the stock has been trading at $2.75 on the Bermuda Stock Exchange. In its most recent interim financial report, released in December, Frank Amaral, chief executive officer, said the company's name change streamlined its positioning of fixed and mobile services to customers. He spoke of planned improvements to its customer care and product offerings, and upgrades to its core networks, such as providing islandwide 4G LTE coverage by the end of this year. Last month a multimillion-dollar upgrade of the Challenger subsea cable system, operated by Cable Co, was completed. It can now handle vastly more data traffic between the island and the US. And hundreds of miles of new fibre-optic cabling and support equipment is being installed on the island by the company, which is promising speeds of up to 200 Mbps with its FireWire internet. It is almost a year since the company completed a deal with US-based ATN International, whereby ATN acquired a controlling 51 per cent. One Communications benefited from a $41 million equity injection that was part of the deal, and by acquiring ATN's part-ownership stake in CellOne. Since completing the transaction with ATN, the company's financial position has strengthened. It has retired $24.7 million of subordinated debt and repaid $3.2 million of its bank borrowing. For the six months to the end of September, its consolidated unaudited profit was $24.1 million, up from $0.5 million in the prior year. This was mostly the result of the $22 million gain, a preliminary estimate of fair value after it acquired full ownership of CellOne. Earnings per share for the six-month period were 64 cents, compared to three cents for the same period in 2015, based on restated earnings. In past years a quarterly dividend was paid, however the last regular dividend was in July 2014. A special dividend of 75 cents was paid to shareholders last May as the deal with ATN closed. The company, which acquired CableVision in 2015, has reported a drop in television revenue as customers "cord cut" and source video content through other internet-based options, however its data revenues have risen through a combination of more subscribers in Bermuda and Cayman, and increasing demand for higher bandwidth products. In last year's annual report, chairman Gary Phillips was upbeat about the future trajectory of the company. He said: "As an integrated group in Bermuda, and with the benefit of the new capital our investments will accelerate and lead to expanded services for residential and business customers in Bermuda and Cayman."
April 20. Taxi drivers arming themselves against would-be assailants would be a step too far, transport minister Senator Michael Fahy said — but other safety measures could be up for discussion. Mr Fahy spoke in the wake of hard-hitting remarks from a cabbie injured earlier this month in an attack that occurred in his own driveway. The senior suggested that taxi operators be allowed to arm themselves, among other security measures, but the minister said he did not support the notion of drivers carrying weapons. However, Mr Fahy added: "In discussions with taxi industry representatives during the last year or so, the issue of protective screens has been raised both by me and the industry — although sporadically — and the consensus appeared to be that screens would take away from the ability for drivers to interact with passengers and share information with our visitors." Partitioning drivers from passengers has been suggested in the past when drivers have come under threat, and Mr Fahy said that if it turned out to be something that the industry really wants, he would be prepared to back the idea, given the different designs and intercom systems available. "It does not necessarily need to be mandatory," he told The Royal Gazette. "Let's face it, Bermuda seems to be one of the last places where protective screens are not the standard. So it may very well be time to have that open conversation. In my view, safety for drivers is paramount, and I will consider this carefully if the industry wants to have that discussion." Equipping cabs with miniature security cameras was another option available to drivers, Mr Fahy said. "It is always concerning when drivers are attacked and again I urge our taxi drivers to be vigilant and share information about incidents with the authorities."
April 20. The expected growth in the vacation rental property market in Bermuda could bring many more spin-off benefits, even for those who are not renting out accommodation. Examples were described at an information session, one of four this week, presented by the Bermuda Tourism Authority and Airbnb. Meanwhile, the BTA is looking to invite other vacation rental platform companies to the island as it explores ways of expanding the market. At present there are about 300 vacation rental properties in Bermuda, and the average annual income generated for a rental property owner is $15,000. Growing the sector is the aim of the BTA, which sees the potential for to boost visitor spending and experience, and nurture an environment for job creation. At one of the sessions in Hamilton, Carlos Muñoz, who deals with public policy and government affairs for Airbnb in the Latin America and Caribbean, described the platform as a way of helping "the little man" to participate and benefit from the tourism industry. He said it was a way for holidaymakers to experience a destination beyond staying at a regular vacation resort. And he mentioned Airbnb's Experiences, which is a programme where people can promote and sell a unique vacation experience — which might be a tour of a little known part of a community, a hike, or meeting interesting professionals. One example is available in Cuba where visitors can spend a day with an Olympic athlete, seeing how they train, what they eat and talking to them. Another is in South Africa, with a personal walking tour of the prison where Nelson Mandela was held. Airbnb Experiences could be offered in Bermuda in the future. Regarding the feedback from the information sessions, held from Monday to yesterday across the island and attracting current and potential vacation property owners, Mr Muñoz said they had been positive and well-received. "There is an interest from the BTA to promote this type of vacation property. My job is engaging the stakeholders," he added. He spoke of the island's tradition of inviting guests into their homes, and how Airbnb was bringing a platform and technology to re-energize that tradition. And he sees many reasons why Bermuda could do well by boosting its vacation rental sector, not least the outgoing friendliness of the island's people. "Bermuda is one of my favourite places. Just walking to the grocery store this morning, in the space of two blocks, nine people said 'good morning' to me," he said. "The island is impeccably kept. People are proud of the island, and this platform allows for people to share their customs and history. I love the people. It's the people that make the difference." This week, the BTA revealed there are 3,381 residences categorized as vacant and habitable in Bermuda, a figure that shows the potential for vacation rental opportunity expansion. Mr Muñoz said: "The sky is the limit. Certainly the main goal for us is to get word out to Bermudians. There's a huge potential for growth." At the information sessions Mr Muñoz and Josh Zulli, Airbnb's Caribbean market manager, have been sharing information and tips and answering questions. A primary hope for them is to see the creation of a community of Airbnb vacation rental property owners on the island who will hold their own meetings and drive forward developments. Mr Zulli said: "It was good to see the community come out and express themselves. We want to set up a community, because the community best knows what they need. It has been a great experience. The big outcome of this trip was meeting with people and opening a dialogue." An estimated 200 people attended the sessions, which were held in St George, Somerset and Hamilton. The sessions were part of a memorandum of understanding between the BTA and Airbnb, designed to build on the island's hospitality, grow the number of vacation rentals and attract more Bermudians into the tourism economy. Kevin Dallas, CEO of the BTA, attended the sessions. He said: "People have shown real enthusiasm and asked many questions. The turnout has been better than expected. Josh has been very keen to meet hosts and hear their questions or problems. Carlos is from the policy department and works to make the regulatory environment more welcoming." Mr Dallas said the BTA was speaking with other rental platforms and looking to also bring them to the island.
April 20. Bermuda Cancer and Health's plan to bring radiation therapy to the island could help save 100 lives in Bermuda a year, according to clinical oncologist Chris Fosker. Dr Fosker, who has been speaking at a series of public town hall meetings this week, said that around 300 new cases of cancer were reported in Bermuda every year and radiation therapy plays a role in the treatment of two-thirds of cancer patients. However, he said that only around 100 cancer patients in Bermuda are referred to radiation therapy programmes overseas, leaving as many as 100 people without a potential cure for those who have the disease. "I have certainly seen patients through the hospital who could be cured of their cancer if they could receive radiation therapy if they could afford it, but they cannot," he said. While financial concerns are a major factor preventing people from receiving treatment, he said others decline radiation due to the need to spend as much as eight weeks overseas. By providing radiation locally, he said patients would be able to remain on the island and receive the same standard of treatment for less, meaning that more people would receive treatment. He said most cases of cancer were treated with a combination of surgery, chemotherapy and radiation therapy, with radiation therapy resulting in 40 per cent of successful treatment cases. "Our hope is that most people would choose to have their treatment here, which means we would treat somewhere in the region of 150 and upwards every year," he said. "The model of care means we should be able to treat 95 per cent of cases on the island." Radiation therapy uses a beam of photons to attack cancer cells in the body, potentially killing off cancer if it is limited to one area of the body, or preventing tumor recurrence after surgery. Dr Fosker explained that one of the reasons radiation therapy had not been brought to the island previously was that equipment has been limited to treating only some forms of cancer, meaning that in order to treat a wider range several different machines would be required. "Now, one can do it all," he said. "We hope we can treat everyone who wants radiation, but there will be a few examples where we will still recommend people receive treatment overseas, such as in pediatric cases." While he said the radiation therapy equipment was already on the island, he was unable to specify when local treatment would begin as they first must ensure that technical and safety standards are met, adding they are working closely with Dana-Farber/ Brigham and Women's Cancer Centre to ensure the highest possible standard. Under the partnership, the Boston-based centre will help design and oversee treatments on the island. In addition to explaining what radiation therapy is, Dr Fosker said one reason for the meetings was to help ease any public concerns, noting that the term "radiation" carries a negative public perception. "The word strikes fear," he said. "When you hear it in the news, the radiation they are referring to is usually not good, so we are talking about how safe what we are doing here is." The first meeting was on Tuesday night in Hamilton, with another at the Sandys Middle School yesterday and today's meeting will be at the World Heritage Centre in St George, beginning at 6pm and concluding at around 7.30pm.
April 20. A charity born almost a century ago to help "needy little ones" announced yesterday that it would close and, in doing so, would give its headquarters to another organisation which works to strengthen Bermuda's families. The Sunshine League said it was donating its "greatest asset" — a seven-bedroom, seven-bathroom house on King Street in Hamilton, which served as a children's home for many years — to Family Centre, which will move into the property before the end of 2017. Sunshine League chairman Annemarie Tobin, choking back tears during an emotionally charged press conference, said the decision to wind down the charity and hand over the property was not an easy one. "The house has been the home of the Sunshine League for more than 50 years," she said. "It was established as a place for children, to get their basic needs met and ensure that they had a fair chance at a happy and productive life. The decision to terminate the Sunshine League as a Bermuda charity is not one that was made lightly or without much thought or deliberation." She said since the organisation lost its government funding in 2011, it had struggled to raise the $1 million it needed annually to run its programmes, relying on about $300,000 in donations. The trend for helping children in need was also now much more focused on fostering, Ms Tobin explained, rather than on residential care. "After stringent review of the Sunshine League's viability in its present form within the community, together with multiple discussions between the boards of both the Sunshine League and Family Centre, the board of the Sunshine League made the decision to convey this house ... as a gift to Family Centre," she said. Ms Tobin said the seven-strong board of the Sunshine League was of the view that giving its headquarters to Family Centre was the "right thing to do" for both charities and for Bermuda. She said the property would be named Sunshine League House, as a lasting tribute to the charity founded by Agnes May Robinson and Etta Jones on January 28, 1919. Family Centre chairman Justin Freisenbruch thanked the Sunshine League for choosing Family Centre to "carry their legacy forward" by giving "this amazing gift. At Family Centre, our mission is to strengthen families and support systems to create a healthier Bermuda for our children. Having Sunshine League House as our base, will allow us to deliver even more effective services for our families and today we are further inspired to fulfil our mission. We will ensure that this property becomes a place where our specialized programmes and prevention initiatives provide children and families with the skills they need to be successful and to sustain that success for future generations." The Sunshine League's first home was in Middletown in a rented property, moving several times before settling at 27 King Street in 1950, after it received the house as a gift. The charity was the idea of Miss Robinson, who was horrified by the conditions in which she saw children living in Bermuda. A book, Rays of Hope, by Miss Robinson's relative Carol Hill, details the early years of the charity, describing how her aunt visited various institutions in America, including a children's nursery, and returned to the island with a burning desire to have a similar facility here. Miss Hill wrote that her aunt told members of her Bible class she had "more and more a definite call from God to minister to His needy little ones." Ms Tobin told the press conference: "The original concept came from the fact that Agnes May had seen children diving into the harbour, where tourists were throwing in pennies, trying to make enough money to support their families in a very hard time. Between the kids not having an education or a place to be cared for, they started doing after-school programmes, Sunday schools, just to get the kids together and bring them out of that environment. Eventually, they started a nursery." The charity began offering overnight care to children in 1931 and became a registered charity in 1974. It operated a children's home until 2011, when financial restraints meant that was no longer possible. It continued offering other programmes for young people, including a transitional living programme. One Bermuda Alliance MP Leah Scott serves as legal counsel to the board. She said she did not know if there had ever been discussion within the current Government about reinstating the charity's funding, after it was axed by the Progressive Labour Party administration in 2011. Former Sunshine League residents include karate champion Skipper Ingham, football coach Andrew Bascome and Dexter Smith, editor of The Royal Gazette.
April 20. The Opposition has defended its proposal for a lottery to benefit the island's young athletes, after Nandi Outerbridge, Minister of Social Development and Sport, branded the idea "misguided". The remarks came from Michael Weeks, the shadow minister, who said the Progressive Labour Party's proposal would help young people develop their potential. The lottery concept came before the House of Assembly in the March 3 Reply to the Budget, as a programme that would be directed towards sports funding. "Our lottery idea is not a panacea but is an innovative way for our people to invest in one of our most critical resources: our youth," Mr Weeks said. Mr Weeks also criticised the MP for St George's West for being "silent" on other issues, such as the plan to close the Lamb-Foggo Urgent Care Centre — and the One Bermuda Alliance's draft proposal, which was dropped, to allow summer jobs for non-Bermudian teenagers. "The PLP's position is that we must develop innovative ways to help our youth reach their potential and help them understand that every Bermudian who has a gift should be supported and have an opportunity to succeed," Mr Weeks added. A national lottery has been discussed over the course of roughly 20 years, but earlier this week Ms Outerbridge said that its "cons far outweigh the pros. A lottery is widely accepted as a tax on the poor in that people less able to afford tickets will buy them in the false hope that they will win against incredible odds." Her comments were contained in a press release which praised the efforts of Bermudian athletes at the Carifta Games in Curaçao and the Carifta Swimming Championships in Nassau, Bahamas. "With a population as small as Bermuda's, the costs of establishing, regulating and running a lottery would leave a limited pool to be paid out in winnings," added Ms Outerbridge. "Any money dedicated to funding sports teams would be very limited. The Opposition's statement is nothing more than political posturing — putting forward a carelessly conceived idea that will have a negative impact on the Bermudians who can least afford it. Through the recent Cash Back for Communities programme, the OBA Government took the proceeds from crime and directed those funds towards empowering our athletes, enabling them to compete against the best in the Caribbean. By working to improve government finances and eliminate the deficit, we will be in a better position to assist our athletes in the near future." With ten medals added on the final day of the swimming championships on Tuesday, the Bermuda team collected a total of 39 medals, including nine gold. In track and field, high jumper Sakari Famous won her fifth-straight medal — a bronze — at the Games and Tiara DeRosa won the other bronze in the under-20 discus. "Our young Bermudian athletes have truly shown that they punch above their weight in international competitions. Competing against much larger countries, our athletes have performed at the highest level and secured an impressive haul of gold, silver and bronze medals," noted the minister. "I look forward to welcoming the team back home and celebrating their achievements and encourage the public to come out and support our young athletes. They have made Bermuda proud. I also look forward to working with the Bermuda National Athletics Association on Bermuda's bid to host the 2020 Carifta Games."
April 19. The Bermuda Tourism Authority has launched an initiative to help visitors find accommodation during the busy America's Cup period. Under the "Clearing House" scheme, BTA staff will serve as "matchmakers" for visitors who can't find accommodation between May and June, whether they are planning to travel to the island for sailing, Heroes' Weekend or business reasons unrelated to the America's Cup. "We hate the idea of missing out on even one visitor," BTA CEO Kevin Dallas said. "We have found that there is the perception out there at the moment that Bermuda is full for the America's Cup. That's not strictly true; we are well up on last year's occupation figures for June — about 32 per cent at the moment — and on some days like June 17 we are down to our last 100 rooms. However, there are other days, especially non-race days when there are still rooms available. We know exactly what is available and where, so the idea is for people to contact us directly and then we try and match them with accommodation that is available." Under the initiative, which went live last week, visitors or locals e-mail the BTA directly, setting out the dates they would like to come to Bermuda. BTA staff will then search availability and provide potential guests with the options open to them. Mr Dallas said: "We have been hearing from local businesses that they can't find accommodation for clients because everywhere is full, and that has driven this initiative. It's very similar to what goes on at ski resorts in Switzerland and France, and also peak season in Cape Cod. We provide a level of human intervention to increase the chances of getting people to Bermuda. We are able to find potential visitors availability that is not showing up on Expedia or other online travel agencies. The solutions may mean being adaptable with dates or even staying across two different types of property during their stay; but that will also allow them to see more of Bermuda. The BTA will be deploying our own staff to do this work and ensure we get as many rooms filled across the island as possible." To make use of the clearing house initiative, e-mail hotels@bermudatourism.com.
April 19. Non-wage employment costs are about one fifth higher than they were when the number of jobs on the island peaked in 2008. Soaring health insurance and payroll tax contributions are the main reason for the increase, while social insurance and pension contributions add to employers' mandatory burden. After the payroll tax increase that took effect on April 1 this year, estimated non-wage costs make up a minimum of 21.2 per cent on top of a typical salary, compared to 17.5 per cent in 2008. That means to employ a staff member earning the median gross annual income of $63,657, an employer would have to fork out an annual minimum of $13,504, up from $11,139 in 2008. In practice, many employers will pay more than this, since our figures are based on employers paying half of the Standard Health Benefit, the value of the absolute minimum required health insurance coverage. Some employers also pay more than their share of the payroll tax. In 2008, the annual employment survey found there were 40,213 jobs in Bermuda. That number has declined by 17 per cent to 33,375 jobs in 2016. Last year was the island's first year of employment growth after seven successive years of net job losses. Even as the economy has started to grow after a six-year recession, job growth has proved elusive. Rising non-wage employment costs make it less attractive for businesses to hire and provide an incentive for them to outsource and not replace staff who leave. Pay increases also become more difficult for an employer to justify. In many countries, the tax burden for businesses is based heavily on the profits they earn. But the burden of employment-based taxes is the same whether profits rise or fall, sometimes giving managers difficult decisions to make on human resources and pricing of products and services. In February, after Bob Richards, the Minister of Finance, announced an increase in the employer's share of payroll tax and a decrease in the rate levied on most employees, the Bermuda Chamber of Commerce voiced its views on the impact on jobs. "One issue that was not addressed in this Budget, and which is critical to Chamber members, is the need for a national discussion on how to create more jobs in Bermuda, the need to adopt laws that make it more attractive to start or bring business on island," John Wight, the Chamber's president, said. "We are concerned about facing a growing tax burden with limited prospect of real growth for many Chamber members, which can only come if there are more people in Bermuda to whom they can sell our products and services and the current residents have greater disposable income." Payroll tax has become government's favourite tool for increasing revenues — and is by far the largest single contributor to the public coffers. In 2017-18, the Ministry of Finance projects payroll tax will generate $439 million, or 42 per cent of total revenue. The employer's share of payroll tax — for those with a total annual payroll of more than $1 million — has risen to a rate of 10.25 per cent, up from 8.25 per cent in 2008, representing a rate increase of more than 24 per cent for employers over that period. The Chamber has voiced support for a more progressive tax system in which higher earners pay a higher rate of taxation and backs the government's goal of eliminating the government deficit by 2019. But it believes the burden continues to fall too heavily on employers. "The Chamber is disappointed that 2016-2017 Budget objectives to broaden the tax base, such as adopting a Goods and Services Tax and addressing the self-employed $40,000 notional tax base, were not addressed during the past year and were only introduced in the 2017-2018 budget," Mr Wight said. "In addition, Chamber members would find their sacrifice more palatable if the Government were seen to have done more to share in this sacrifice, by reducing the cost of the civil service." The Fiscal Responsibility Panel's second annual assessment, published in December last year also warned of the impact of an over-reliance on payroll tax to generate more revenue, stating that "there are clearly limits to how much additional revenue can be raised from this source without doing damage to Bermuda's businesses and employment". Health insurance costs have been the sharpest-rising of the non-wage employment costs, having rocketed by 78 per cent since 2008, based on the Standard Health Benefit. There are signs that efforts by the Bermuda Health Council and the Government to curb healthcare cost increases are bearing fruit. Last year, the Standard Health Benefit was held unchanged and this year, the cost was reduced slightly. Paying half of this minimum requirement would amount to just over $2,000 a year at the 2017 rate, compared to just over $1,120 in 2008. However, in reality most employers pay considerably more, given that they buy plans with broader coverage than the minimum required. The mandatory Social Insurance levy of $68.94 per week — of which the employer's share is $34.47 — has risen by about 13 per cent since 2008. Employers also make contributions to employees' pension plans worth 5 per cent of salary, matching the 5 per cent that is deducted from the employee's pay packet. That rate has remained unchanged since 2008, but the dollar amount paid will rise in line with salary increases. The Bermuda Employers Council did not respond to a request for comment by press time.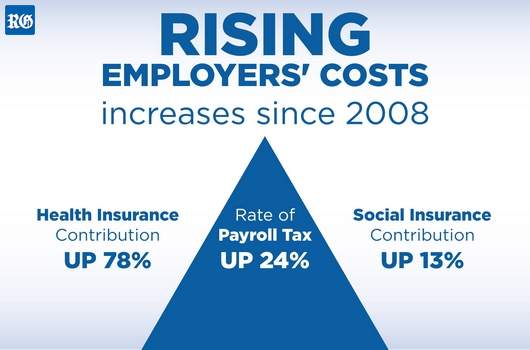 See above article
April 19. Direct family descendants of the first mayor of St George's have visited his old home and walked in his footsteps more than 200 years after he died in the Olde Towne. Kim Durnford Worrall, together with her husband, Chris, their three daughters and four grandchildren travelled to Bermuda for Easter to learn more about Mrs Worrall's great- great-great-great-grandfather Andrew Durnford. Since they arrived last Thursday, the 12-strong family group has been shown around the house that Major Durnford built in 1795, called Durnford House, Dockyard and town of St George's by local historical experts Dr Edward Harris, Peter Frith and Lynne Winfield. Mrs Worrall, who lives in California, told The Royal Gazette her family had enjoyed a fantastic stay on the island and had gained a new appreciation of their ancestor's part in Bermuda's history. "It was a very surreal experience coming to Bermuda and visiting his home," she said. "To stand where he would have stood all those years is one of those feelings that sends tingles down your spine. The most exciting thing that I really wanted to do was stand on the stairs of his home and get a picture of the whole family. Even though the grandchildren are still so young, when they get older they will see this picture and it will give them an insight into their family history. Coming back here again knowing of my family link to the island has given me a real insight into the island's history. Walking around his home and hearing about the town's history has also helped me to understand where I came from." Mr and Mrs Worrall visited Bermuda on business around 20 years ago, but Mrs Worrall had no idea of her family's links to the island. In the last decade she began to delve deeper into her ancestors and as a result of a chance meeting with Ms Winfield in California in 2009 discovered even more about her Bermudian roots. Ms Winfield then helped put Mrs Worrall in contact with Dr Harris from the National Museum and Mr Frith from the St George's Foundation. Together they were able to help Mrs Worrall piece together the family tree and establish the direct link with Major Durnford. "It has been a fantastic trip," Mrs Worrall said. "We are very appreciative of all the efforts that Lynne Winfield, Edward Harris and Peter Frith have gone to before our visit but also once we had arrived. We had a tour of Dockyard with Dr Harris and a guided walk around Durnford House and St George's with Mr Frith. One of the reasons I had planned this trip was to coincide with my 60th birthday later this week, and my mother's 90th birthday, and although my mother was unable to travel we have all learnt so much about Major Durnford and our family's links to Bermuda." Dr Harris noted that Major Andrew Durnford was the first royal engineer to begin work on the refortification of Bermuda after the American War of Independence. He built several new forts and modernized others, said Dr Harris, as well as becoming the first mayor of the historic Town of St George. "It is wonderful to see that some of his direct descendants are now visiting Bermuda and I hope they enjoy viewing many of the sites that their four-times great-grandfather would have been familiar with in his day in the 1790s." Major Durnford was born in England in 1744 and served in the Royal Engineers. He came to Bermuda to look after the construction work of the forts in St George's and died in the town in 1798.
April 19. The underwater war being waged on Bermuda's lionfish took a giant leap forward yesterday morning as a prototype submersible robot caught one of the invasive predators via remote access. A hefty team of scientists, conservationists and roboticists gathered at Michael Douglas's Ariel Sands hotel where the Guardian LF1, controlled by two men on a beach with an Xbox controller and computer screen, stunned and snagged one of the venomous fish that was swimming in a nearby shallow pool. It is hoped that with the prototype perfected, coupled with buy-in from the community, many more robots will be deployed into Bermuda's waters with the dual benefit of creating a new fishery and helping to all but eliminate their impact on the island's native species. Robots in Service of the Environment — a non-profit founded by specialists in Bermuda — enlisted the expertise of iRobot, which develops robots to solve crises including bomb disarmament. RSE was launched to use the technology to focus on environmental causes including lionfish, which compete for the same food as some of Bermuda's most commercially viable fish. The robot is able to plunge to depths of 400 feet where the lionfish aggregate in larger numbers — beyond where most scuba divers or free divers can safely go. The project was launched about a year ago when iRobot cofounder Colin Angle was diving in Bermuda and met local businessman Geoffrey Gardner, who is now director of operations for RSE. Graham Maddocks, of the Ocean Support Foundation, challenged Mr Angle to develop the technology specific to Bermuda's needs. With funding from the Schmidt Marine Technology Partners and the support of the Department of Environment and Natural Resources that challenge has been met with the prototype. The Royal Gazette attended Ariel Sands yesterday where two controllers watched on computer screens as they remotely powered the Guardian LF1 towards a medium-sized lionfish in the pool. It looked as though they were playing a video game but one with a very real purpose. Lining the relatively docile fish up between two probes sticking out the front of the robot, the controllers then delivered an immobilizing charge to stun the fish before the robot sucked it into its chamber. The atmosphere on the beach appeared jubilant and triumphant. Executive director of RSE John Rizzi told The Royal Gazette right after the feat: "The issue of lionfish in Bermuda is terrible — we all know they aggregate down deep. We need to make these robots inexpensive and easy to operate — it is the only way we will get a lot of fish. If it is cheap, easy and economically interesting it will motivate people to take part and create that industry and really do damage to the lionfish population." Chief marketing officer for RSE Rise Matt Lloyd added: "The robot is in prototype form, so this is the initial testing and debut of the robot — it is science in the making. This robot will essentially enable fishermen or ecotourists to purchase a robot — they will be able to go out and capture lionfish — about ten at a time — and then bring them up to put on ice before going off to catch the next fish. We are looking at creating a robot that is below $1,000. Right now lionfish is on sale at Whole Foods at about $10 to $12 a pound so there is a great opportunity here to develop a tool set that will take an environmental challenge and make it a mainstay for local businesses. On April 19 we are going to start a Kickstarter campaign because it is as much about getting the public aware of the lionfish problem as it is about creating innovation to stop it so we will offer the community across Bermuda a way to actually get involved." The America's Cup has helped to spur the project into action with the involvement of Land Rover BAR's exclusive sustainability partner, 11th Hour Racing, which intends on leaving a legacy in Bermuda long after the sailing event is over. 11th Hour Racing is hosting a celebrity cook-off this evening where top chefs from all six of the America's Cup team countries, including Virgin chief Richard Branson's head chef Chris Kenny, will compete to cook the best lionfish dish. Todd McGuire, programme director for 11th Hour Racing, told us: "Land Rover BAR wanted to have a legacy project to leave behind in Bermuda and the lionfish seemed like a great opportunity to use the platform of sport and the America's Cup to raise awareness. You have the culling and harvesting with products like RSE, Guardians of the Reef and Groundswell and now we have to increase demand for lionfish. What better way to do that than bringing celebrity chefs from the six competing countries of the America's Cup and trying the different cuisine? Lionfish is a nice, light, white flaky fish and the chefs are excited to try it. It is not a difficult fish to cook and is delicious." Wendy Schmidt, a cofounder of 11th Hour Racing, provided initial funding for RSE through Schmidt Marine Technology Partners. Funding also came from Anthropocene Institute and the Angle Family, while Land Rover BAR, under skipper Sir Ben Ainslie, has helped to promote it. The Bermuda Government has also been heavily behind the project since its inception and Michael Dunkley was on site earlier this week in support. The Premier said: "It is important to support this project as the lionfish invasion impacts the sustainability of our marine ecosystem and this new technology will tremendously assist with their control and management. With the help from Bermuda Government, RSE Guardian LF1 represents a promising step forward." Philippe Rouja, curator of historic wrecks under the Department of Conservation Services, said: "Government has been involved from day one — the moment the concept came up we were there taking Colin [Angle] to dive some of the lesser known shipwrecks when the idea came up for the robot. Chris Flook [fish behaviouralist at RSE] was working for government as well at the time and we both got permission to dedicate some of our time to advancing this project. The marine resources board is aware of every step we take and the Fisheries Department is fully on board. The project arrives on a body of knowledge that has been pulled together by the likes of the Ocean Support Foundation and Lionfish Taskforce and the Government." Assistant scientist at the Bermuda Institute of Ocean Science Gretchen Goodbody-Gringley, who was on site during the deployment yesterday, reiterated the importance of thinning out lionfish from Bermuda's reefs. "It is about maintaining the biodiversity of our fish as they are competing for food with our commercially important fish species like the grouper and conies," Dr Gringley said. "They are inhibiting our fish stocks and that can affect the economy of our island. They are also a threat to the health of our coral reef which encourages tourism and protects the island. The densest population happens to be really deep so if we have something else to tackle them there, it will help us get a handle on the population."
April 19. A Devonshire man is behind bars today after trying to smuggle more than $250,000 worth of cannabis into Bermuda. Andre Richardson was found guilty of importing the drugs into Bermuda hidden in his suitcases and also possessing the drugs with intent to supply by a jury yesterday. The 36-year-old was remanded in custody after the verdict at the end of a trial at Supreme Court. During the trial, jurors heard that Richardson was stopped at LF Wade International Airport on June 5, last year after arriving from Toronto on Air Canada. Richardson declared more than $1,800 worth of new clothes and other items when he reached immigration and paid more than $400 in duty. However, his suitcases were searched as he went through the goods-to-declare aisle and customs officers found six blocks of cannabis hidden in the lining of two of his suitcases. Richardson was detained and arrested at the airport and later denied charges relating to the drugs haul found in his bags at court. At trial, he took the stand and claimed that he was bringing in the cannabis for his uncle, who was suffering with cancer. However, jurors found him guilty of importation and possessing the drugs with intent to supply. Richardson will reappear at the next arraignments session at the beginning of May when a sentencing date will be set.
April 18. UK Prime Minister Theresa May, whose government exercises external affairs jurisdiction over Bermuda as a British Overseas Territory, announced her intention to hold a general election in Britain on 8 June 2017. In order for the election to take place at least two-thirds of MPs had to agree to a motion in the House of Commons. MPs approved the motion for an early general election by 522 to 13. Thus the support of two-thirds of all MPs required for this motion to pass was reached.
April 18. Bermuda's hosting of the America's Cup is to be highlighted by business leaders and Premier Michael Dunkley, at the Risk Insurance Management Society conference in Philadelphia next week. Mr Dunkley will join representatives of the Bermuda Business Development agency, the Bermuda Monetary Authority, fellow ministers and representatives from the island's insurance and reinsurance industry. The Bermuda booth at the conference will have an America's Cup theme. Ross Webber, CEO of the BDA, said: "The America's Cup has a natural synergy with Bermuda's brand of global business and tourism. "It's about quality and longevity and our insurance industry embodies both these characteristics. We're proud to represent the island at RIMS and celebrate Bermuda's economic contribution worldwide." Mr Dunkley will be the first Bermuda Premier to address the conference. He will join four other island-based or related speakers at the conference, namely Brian Quinn, founding director of Granite Management, Al Gier, president of the Bermuda Captive Owners Association and global director of corporate risk management and insurance at General Motors, Brad Kading, president and director of the Association of Bermuda Insurers and Reinsurers and Stephen Catlin, executive deputy chairman of XL Catlin and also chairman of the Insurance Development Forum. Bob Richards, the Finance Minister and Grant Gibbons, Minister for Economic Development, will also attend the event. The Bermuda booth is a two-storey structure with island architectural styling and will feature nautical additions, as well as America's Cup videos and promotions to encourage delegates to visit the island. The BDA will partner with the BTA and Gosling's Rum to host a special Bermuda reception on board the Moshulu, the largest original windjammer still afloat, which has featured in Hollywood movies, including the classic Godfather II. Mr Dunkley said: "We are honored to be part of the new executive leadership track debuting at RIMS and I'm looking forward to telling the Bermuda story. RIMS is such a highlight for us — from the Bermuda booth being featured in the Exhibition Hall to our hosting of the Bermuda reception. It's an important opportunity to showcase why Bermuda is such a unique and resilient financial centre."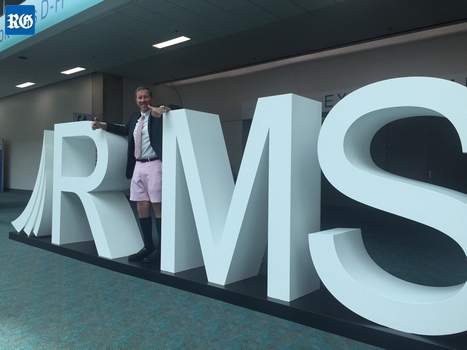 Premier at RIMS, see above article
April 18. As many as 3,300 unoccupied residences in Bermuda could be primed for the vacation rental market. The figure was revealed at the first of four Airbnb-Bermuda Tourism Authority vacation rental information sessions last night. There are 3,381 residences categorized as vacant dwellings in Bermuda, which means they are unoccupied and habitable. The number of vacant dwellings is estimated to be 9 per cent of the total number of dwellings across the island. "This is the first piece of raw data that helps quantify the size and scope of the vacation rental opportunity in Bermuda and the opportunity is bigger than first thought," said Kevin Dallas, CEO of the Bermuda Tourism Authority. To attract new homeowners into the tourism economy, the BTA and Airbnb presented an information session to potential vacation property owners in St George yesterday. Two other sessions will take place. There is one in the west end this evening, at the Dalton E Tucker primary school from 5pm to 7pm. Tomorrow evening there is a central session at the Cathedral Church Hall, Hamilton, from 5pm to 7pm. A fourth session for current vacation rental property owners will also take place tomorrow from 8.30am to 10.30am at the Cathedral Church Hall. The information sessions, part of a memorandum of understanding between the Bermuda Tourism Authority and Airbnb, are designed to build on the island's hospitality, grow the number of vacation rentals and attract more Bermudians into the tourism economy.
April 18. Sweeping fraud has been alleged against Stemedica, a stem cell medical research company courted for Bermuda by former premier Ewart Brown. Meanwhile, the company, which dismissed the accusation as "completely false, without merit, baseless and without evidence", remained optimistic about bringing its clinical trials to the island. The complaint, filed on April 6 by investors Tiara Holdings LLC, accuses the company and Stemedica's founders of hoodwinking investors out of millions over nearly ten years, using cash raised for experimental treatment of Alzheimer's disease as well as other clinical trials. Tiara claims that Stemedica's founders exploited financing to the tune of $110 million through "excessive compensation and lavish personal expenses", instead of developing the commercial stem cell operation promised to investors. The case, with Clark County district court, Nevada, seeks compensation and damages after "oppression, fraud and malice" by Stemedica's founders and partners, who the plaintiffs say engaged in "a chronic and systematic pattern of self-dealing, fraud, misappropriation of assets and business opportunities to enhance their personal and financial positions". In a statement last night, the company said it intended to "vigorously defend itself against this complaint". The suit is leveled at Stemedica's top three figures: Roger Howe, executive chairman, and his brother Maynard Howe, CEO and vice-chairman, along with its president and chief medical officer, Nikolai Tankovich. Prominent in the complaint is Anthony Marlon, a Las Vegas doctor, businessman and Tiara shareholder who is also a member of Stemedica's board of directors. News broke in June 2007 of plans for adult stem cell research in Bermuda through a partnership between Dr Brown and his wife Wanda Brown, and Stemedica. Bermuda's proximity to the United States was one of the factors making the island favorable as a site, according to Maynard Howe. But the choice of location also drew queries from local and overseas medical sources sceptical of the island's capabilities for supporting research. Doctors also voiced concern at Bermuda's lack of appropriate regulations — with the opening of a local clinic ultimately going on indefinite hold. In August 2016, Dr Brown told The Royal Gazette that Stemedica had continued to pitch its case with the Bermuda Government. The plan for a facility at the Brown-Darrell Clinic was being stonewalled for "purely political reasons", Dr Brown said, after he had continually lobbied Michael Dunkley, the Premier, and his Cabinet. At the time, the former premier said he had thrown substantial investments of his own into the venture — more than $400,000, to meet local approval for the clinic. David McGuigan, Stemedica's vice-president of marking and business development, said the company had maintained a "positive, interactive relationship with Dr & Mrs Brown for a decade. On occasion, working closely with Dr & Mrs Brown, we have collaboratively approached government leadership within Bermuda to see if the climate was right to allow for the importation of Stemedica product to advance government-approved clinical trials. When we first began this process back in 2007, Stemedica had yet to receive USFDA [Food and Drug Administration] permission for similar trials proposed for Bermuda. Since our original efforts on island, Stemedica has received six IND (Investigative New Drug) permissions from the USFDA to conduct clinical trials in the United States. To date, our efforts to secure government approval in Bermuda to conduct a similar type of clinical trial have not been successful." But Stemedica remains "extremely enthusiastic about the positive role stem cells may play in the future of medicine", Mr McGuigan said, adding that the company looked forward to "working closely with Dr & Mrs Brown in our efforts to bring highly-disciplined, government-approved clinical trials to Bermuda someday".
April 18. Bermuda has bid to host the 2020 Carifta Games after finishing with two bronze medals at this year's event, which finished yesterday at the Ergilio Hato Stadium in Willemstad, Curaçao. Sakari Famous won the Island's first medal on Saturday in the high jump before Tiara DeRosa won another bronze in the discus. On yesterday's final day of competition, Bermuda recorded three personal bests, with Elisha Darrell just failing to win a bronze in the under-20 boys high jump when he placed fourth with a personal best leap of 2.11 metres. Darrell had a PB of 2.05 metres going into the Games and pressed hard to win a medal after recording his best jump, a fantastic achievement. The winning jump was 2.22 metres, a new Carifta record by Jermaine Francis of St Kitts and Nevis. Bahamians Kyle Alcine and Jyles Etienne took the silver and bronze with jumps of 2.18 and 2.16 metres. Darrell failed in three attempts at 2.14 metres. In the boys under-18 4x400 metres relay, the team of Deneo Brangman, Suresh Black, Clevonte Lodge and Lejuan Matthews ran a fantastic time of 3:22.51 to qualify for the finals where they placed fifth overall. Aaron Evans, who had already run a PB to get into the 800 metres final, ran another personal best time of 1:58.60 to place sixth overall. "For me, we might have come out with two medals but we had nine personal bests," said Donna Raynor, president of the Bermuda National Athletic Association. "These athletes fought hard but as usual at these games Jamaica stole the show. We took a young team but as I stated they will give 100 per cent and they did. I am very proud of them and the effort they gave. All in all this was a good Carifta Games for us and I am very proud of our team. Bermuda has bid for the 2020 Games and is up against Curaçao who have also bid. We will find out later this year who will win the bid. Also next year the age groups will be moved back to U17 and U20. This for various reasons, but the most important is the numbers with the current system in the U20 where the numbers were beginning to dwindle, especially the females." Jamaica continued their dominance of the Carifta Games, winning 86 medals during the three-day event, 39 gold, 28 silver and 19 bronze as they claimed a 33rd straight title. They landed their 41st win overall at the Games which began back in 1972. Jamaica won 86 medals for the third-straight year, finishing with 39 gold, 28 silver and 19 bronze but failed to equal the 42 gold medals won last year. Last year Jamaica won 42 gold, 25 silver and 19 bronze medals in St Kitts. Trinidad and Tobago finished second this year with seven gold, five silver and ten bronze, followed by Bahamas who won six gold, 15 silver and ten bronze; Barbados (four gold, four silver and four bronze) and Guyana (four gold, a silver and three bronze). Bermuda last hosted the Carifta Games in 2012, winning six medals, including a first gold in eight years when Justin Donawa won the triple jump. The Bahamas will host the 2018 Games.
April 18. Bermuda's swimmers collected another ten medals on the final night of competition at the Carifta Swimming Championships in the Bahamas last night to take the team's haul to 39, a Carifta record for the island, with three more gold medals. Prior to last night's finals Bermuda had already bettered their 2016 achievement of 21 medals with 29 medals already won before yesterday's competition at the Betty Kelly-Kenning Aquatic Centre in Nassau. Payton Zelkin got the ball rolling with a gold in the opening final, the 11-12 girls 400 metres freestyle, which she won in 4mins 43.68 secs. Elan Daley finished seventh in the same event in 4:58.20. However, she was soon on the podium again when she added to her medal haul with victory in the 50 metres freestyle in a time of 27.50. Zelkin was third in that same event, taking the bronze after touching the wall in 28.66. Bermuda picked up a total of six medals in the freestyle finals with Sam Williamson winning the silver in the boys 11-12 50 free with a time of 26.68. Jesse Washington and Madelyn Moore won bronze in their 15-17 50 metre events, Moore clocking 26.97 and Washington 23.91. Earlier, Jesse Washington and Ethan Daley were fifth and sixth respectively in the 15-17 400 metres freestyle race, Washington clocking 4:26.43 and Daley 4:27.81. Logan Watson-Brown was fifth in the girls 13-14 50 metres in 28.00 seconds. Williamson won Bermuda's third gold medal for the night when he placed first in the 100 metres breaststroke in 1:13.04. Elan Daley picked up another medal in the girls 11-12 100 metres breaststroke final, finishing second in 1:22.30 to win the silver. Taylor White took the team's medal haul to 37 with a strong second place finish in the 11-12 girls 200 metres backstroke, clocking 2:35.09. White and Daley were then part of a 4x50 metres freestyle relay team that placed second in one of the final events of the evening. Zelkin and Jessica Bruton were the other members of the team that clocked a time of 1:57.06 to finish second behind Jamaica who had a winning time of 1:55.77.
April 18. The medals and records continued to pile up for Team Bermuda at the Carifta Swimming Championships in Nassau, Bahamas yesterday. Day three of the four-day competition at the Betty Kelly-Kenning Aquatic Centre saw the island's contingent capture ten medals, including six gold, to take their overall tally to 29. The team's remarkable haul has exceeded the 21 medals won at last year's championships in Martinique. The 13 gold medals they have won have also eclipsed last year's haul of nine. "I am very pleased with the performance of the team," Ben Smith, the national swimming coach, said on the eve of last night's finals. "The competition has been very strong but our swimmers continue to rise to the challenge. Watching Sam Williamson fight to catch his competitor and take the gold was a sight to see. Sam so far has set age-group records in the 200 breast and 50 breast. Jesse Washington set records in the 200 free, 50 fly and 100 fly. His time in the 200 free also qualifies him for the Arena Pro series in the US. The 4x100 free relay broke the Carifta record while Payton Zelkin broke the 200 free Carifta record." Going into yesterday's schedule the island's swimmers had achieved a staggering 73 personal bests. Leading the medal assault in the long course pool yesterday were Elan Daley and Williamson, who bagged five of the island's six gold medals. Daley won gold in the girls 11-12 50 metre breaststroke, 200 metre individual medley and 100 metre freestyle to take her individual medal tally to seven. Williamson won gold in the boys 11-12 200 metre individual medley and 50 metre breaststroke and silver 100 metre freestyle to extend his personal medal haul to five. His time of 32.42 in the 50 metre breaststroke is a Carifta and Bermuda age group record. Also adding to an already impressive medal haul was Payton Zelkin who won silver in the girls 11-12 200 metre individual medley and bronze in the 100 metre freestyle. Zelkin now has a team-high eight medals, including three gold, to go along with her new Carifta record. Jesse Washington won gold in the boys 15-17 100 metre freestyle in a Bermuda record time of 52.40 after eclipsing Nick Thompson's eight-year old mark. Washington has bagged three medals, four age-group records and a Carifta record at this year's championships. Logan Watson-Brown won bronze in the girls 13-14 100 metre freestyle to go with the silver she won in the 200 metre freestyle. "Amazing performances by this young group of swimmers," Smith said after last night's finals. "We are pleased with the way they have handled themselves and look forward to a good finish tomorrow. I hope that Bermuda is proud of this team and that this may lead to funding so we can build further on this success."
April 18. The sheer walls of Blackwatch Pass are getting a makeover, with visiting contractors scaling the cliffs to remove loose rock and vegetation. The link from North Shore Road to Hamilton, with the dramatic overpass leading to Government House, opened in 1934, and has been occasionally subject to falling rocks, such as in 2015. Plants can bring down rubble, along with gradual weathering of the exposed stone. The road has closed during the daytime for remedial work conducted by a team from Cimota Inc in Canada, who rappel the slopes of the pass on high-strength ropes with pry-bars and picks to dispatch trees and rocks. According to a Public Works spokeswoman, the method is known as rock scaling, and is closely supervised by ministry staff, plus a rock slope expert. After the work, masonry walls, anchors or "shotcrete", where concrete is hosed onto a surface, will be deployed as needed. Work began on April 3, and is expected to be completed by April 28.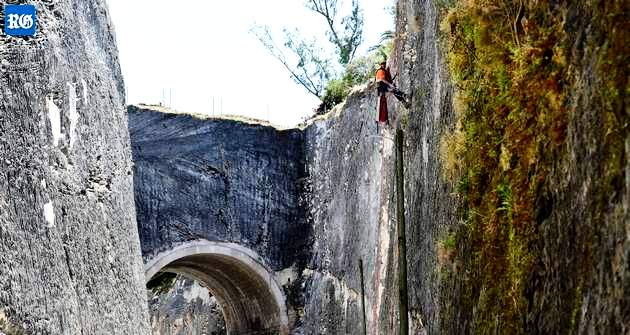 Blackwatch Pass renovations, see above article
April 18. Twelve surgeries had to be postponed in March owing to the bed shortage at King Edward VII Memorial Hospital. The Bermuda Healthcare Advocacy Group expressed its dismay over the impact on patients, with one of its members claiming his own health problems deteriorated as a result of delayed surgery. A Bermuda Hospitals Board spokesman said knee replacements, cosmetic breast surgery, skin grafting, hernia repairs, and a gall bladder removal were subject to waits last month. "Out of 849 completed surgeries in March 2017, 12 surgeries did not take place on the day they were originally scheduled at King Edward VII Hospital — 1.4 per cent of the total number of surgeries in March — due to bed availability," she said. "Of those 12, six were hip replacements that were rescheduled and completed within the same week. Eighteen hip replacements surgeries took place in total in March." BHAG member Allan DeSilva told The Royal Gazette that his prostate surgery, postponed on December 8, took two months to proceed. "Had this surgery gone off without a hitch, I would not be in the trouble that I am now," Mr DeSilva said. "I have to go overseas for my kidney stones. Hopefully that's going to happen soon. If my prostate had been treated before Christmas, my kidney stones could have been resolved early. I'm not blaming my doctor for it. The blame has to go to the hospital." BHB announced in March that availability of beds stood at "crisis" level, with every space filled. The spokeswoman said a bed capacity meeting was held each morning, with discharges and emergency admissions changing capacity each day. "Surgery" is a broad term, covering procedures requiring anesthetic, particularly operations in surgical suites. Procedures using local anesthetic or stitching take place in outpatient offices and the Emergency Department — in hospital and in the community offices. The procedures may be inpatient, requiring a stay in hospital afterwards, or outpatient, with patients leaves after going through post-anesthetic care. Elective or planned surgeries are not by their nature emergencies, but they can be critical to a patient, the spokeswoman explained. "For that reason, we take the decision to reschedule any surgery very seriously and open special overflow beds to allow as many surgeries to take place on time as possible. For example, a hip replacement is not life-threatening, but we know there is a patient who is pain whose life is impacted by the delay. Rescheduled procedures are discussed with surgeons, whose advice enables BHB to jointly prioritize surgeries based on clinical need first. We work with patients a few days prior to surgery and discussion is held during their pre-admission testing and the day before surgery regarding the possibility of the need to reschedule their surgery. We understand their frustration, and we are always honest with our patients when it is a bed issue." Data provided for the fiscal year 2016/17 showed "patient no show" as the biggest cause of surgery delay, at 178 cases. No shows cover scenarios such as "the patient cancelled, forgot to call, didn't turn up, or went overseas", the spokeswoman said. The second-highest factor, at 110 cases, was patients deemed unfit for surgery, based on assessments by the surgeon, anesthetist or patient themselves. Reasons ranged from laboratory or X-ray results, to pregnancy or incomplete screening. Third, at 89 cases, was cancellation due to the procedure being "too late to continue". Scenarios ranged from patients not being able to wait longer, or a lack of time to complete the surgery. For 2016/17, 32 surgeries could not proceed on their scheduled day due to a lack of beds. Asked for the figures for the first three months of 2017, a spokeswoman said that 20 had been cancelled because beds were not available, accounting for 0.8 per cent of the 2,273 total surgeries. "In the period April 2016 to December 2016, only 18 surgeries (0.2 per cent of all surgeries) did not take place at their scheduled time due to bed availability. It's worth noting that during this period, 7,211 surgeries were booked and 391 were cancelled." All hospital wards are being used to accommodate patients, with some adults placed in maternity or the children's ward. The Royal Gazette also requested specific locations where patients would be placed, in the event that they had to be moved to make room for acute patients. While details were not forthcoming, the spokeswoman told us: "BHB will never turn away a patient or deny them treatment. The time in which patients are attended to in the Emergency Department depends on the acuity of their conditions. Those with the highest acuity are treated first. This has not changed." Pressed on the issue, she responded: "BHB's mission is to provide the public with safe, high-quality care. This mandate remains in place despite the current shortage of beds. Each case is managed with careful consideration. On the wards, if patient transfers are necessary, they will take place. In the Emergency Department patients will always be seen in the order of the acuity of their condition. The more severe or acute their condition, the faster they will be seen by a physician. No matter what the injury is, the public can be assured every decision made will provide our patients the ability to undergo treatment, heal and recuperate, safely."
April 18. Bermuda's signature sherry peppers sauce might have hit 50 — but it's lost none of its spice. And in the five decades Outerbridge Peppers' sauce has been on sale, the product range has extended to include a range of other sauces and drink mixes. Norma Cross, managing director of Outerbridge Peppers, said: "We're looking for bigger and better things and we're very proud of the fact we're 50 years old." Ms Cross, involved in the business for 12 years, added that the recession had taken its toll on the business, along with many others. She said: "What I'm really proud of is we've made it through the last seven years, which have been difficult." But Ms Cross added that the product was key to keeping the firm on an even keel during the economic storm that hit globally in 2008. She said: "The product is superb — we also have a website and we supply orders internationally through that. It's amazing. We have people contact us and say we've found you, that's wonderful. It's word of mouth and anyone introduced to it is impressed and we build on that. We have built on our good service and good product." Over the years, the firm has expanded from Outerbridge's Original Sherry Peppers Sauce with a full range of sauces, including Royal Full Hot Rum Peppers Sauce, a Bloody Mary Fix, Full Hot Mustard, and Devilishly Hot Barbecue Sauce, as well as Outerbridge's Rum Swizzle Mix and gourmet rubs for meat and poultry. But Ms Cross said: "The flagship product is Outerbridge's Original — from there, everything else started. The mother lode is used in every product and it's what we call the WONF — with only natural ingredients. I would have to say the flagship product is our biggest seller, but our swizzle and our taffy, which is only a couple of years old, we can't keep them on the shelves and the rum swizzle is really popular with the tourist sector." She added that the firm's Swashbuckling Steak Sauce had also proved a hit, at home and overseas. Ms Cross said: "That's the best steak sauce known to man — a lot of people have told me that." The firm was founded by the late Yeaton Outerbridge with his cousin Robbie, a restaurateur. It was introduced at Robbie Outerbridge's Harbourfront Restaurant and took off from there. Yeaton Outerbridge, who died in 2006, remained active in the firm before selling up in 2003-04. It started out in Mr Outerbridge's home before moving to Laffan Street in Hamilton, then to its current home in Shelly Bay around four years ago. Sherry Peppers sauce originated in the days of sailing ships, where it was used to disguise rotten and poor-quality food before refrigeration helped preserve meat and other basics on long voyages. As a maritime centre, it came to Bermuda and hundreds of years later, it was refined and popularized by Mr Outerbridge. And Ms Cross said that, despite the milestone, the firm was firmly fixed on the future. She added: "I'm hoping that, for the next 50 years, we will continue to evolve and as time goes on we will introduce other products which will benefit all of us."
April 18. A social worker aiming to break Bermuda's gang cycle is calling on employers to take a chance on young men with troubled histories. Kimberley Jackson, managing director of Team Street Safe, said giving "proven risk individuals" secure training and employment would be one of the most effective solutions to the island's gang violence problem. The charity, which infiltrates Bermuda's gangs and provides counseling for family members, successfully found employment for 12 individuals involved in antisocial behaviour and gang activity in the last year and a half. Ms Jackson believes, that given the chance, many more would follow suit. However, they are facing roadblocks when it comes to finding willing employers. But she feels that employment for those who might otherwise turn to the streets for their income is key to turning the problem of gang violence in Bermuda on its head. Employers are going to have to take a chance on some of these predominantly young men in order for it to come to fruition, she said, but they will have the full backing of Team Street Safe. "We are going to eradicate guns and violence by giving them jobs," Ms Jackson told The Royal Gazette. "All around the world we see the example of gun violence and gang violence reducing when these young men are given opportunities and jobs. Working with these young men, there are two things I see that they want — they want education. They realize that when they dropped out of education it impacted them from moving forward. Secondly, they want jobs so even going down the education route at this point it becomes very difficult for them because they have to live, they have to house themselves, some of them have children and so there is a real need to make money. That sacrifice of going to school is not a high priority because they need to live. I have heard the community say these guys don't want to work for $500 a week because they can make more money on the street — I am going to tell you this and I want this message to be clear — these young men will work for $500 a week. They want that because they want the legal way of earning money and the lifestyle versus having to look over their shoulder." Team Street Safe, which Minister of National Security Jeff Baron described as a "phenomenal" charity that is helping to rebuild communities affected by gang and gun violence, has about 30 clients who are proven risk individuals, and was allocated $200,000 in the 2017 budget. As the charity reassigns its funds, it is looking to hire a second support worker whose job will be to ensure these individuals remain on track at work once employed. Ms Jackson said that there was a reluctance by employers to take on anyone with a known history of violence but with the new budget at hand she hopes to implement a programme where certain employers in the West, East and central parts of the island become dedicated to the cause. "There are some good employers already — like BGA and Jim Butterfield [Butterfield and Vallis] — who will take people on. Let me just say, we need more of them. I would love to introduce a '21/2-2' programme where 21 companies take on two guys for two years. There is a similar programme in San Francisco. We would have seven companies in the East, seven in the West, and seven centrally who give the young men two years of an opportunity to build a work ethic that will put them on a path of sustainability for the rest of their lives. Also, doing it locally in their neighborhood reduces the challenges if they are being sought after from other groups. Two years of building a positive work ethic and you are on the path to success. Employers will have to take a chance on them — I get that they have a business to run but they have our support. Our community outreach workers will work with the young men to keep them consistent while building their work skills. I have seen guys come out of prison looking for jobs and we have been consistent in getting them interviews and getting them over to the Department of Workforce Development and they are consistent in looking but it gets to a point where they don't get a break and yes, they fall back." However, when the men do get a break it has worked out well, Ms Jackson added. "We had an individual who was on the revolving door path in prison who is out now and doing very well. We have had some feedback from the courts and probation services that when they found work it is the first time they have seen them go so long without offending or re-offending. Clearly, for me, it is the relationships that they have built with their worker and then see their esteem grow. More can be done in the community as a whole to bring this into fruition. We need more job shadowing as well as more formalized work readiness training. There are some other initiatives focusing on education and training — the Adult Education School — but it needs funding. I can see where Job Corps could work for this target group because they could get a stipend for being in school working towards certification with part of their time being in a vocational work placement while building their skill set — we need that here. They dropped out of school, they don't have a work ethic so you are starting from scratch. Team Street Safe is piecing it together but if we had the other support then we could reach out to them and build the relationships, be a case worker for them and send them to those programmes. We are considering whether we can then offer work skills development ourselves. We could look at opening up an agency that we can send these guys through a process to give them an assessment for entry into work but it requires resources and it requires some funding to get there. We have had men going into construction, warehouses, hospitality, painting and even entrepreneurship. We also did a couple of workshops with the Bermuda Economic Development Corporation so these guys could learn vendoring. Every company should be open to establishing and giving an opportunity to these young men. Bermuda is going to have a unique way of getting out of gangs."
April 18. Taxi drivers are "under siege", according to a senior driver stabbed on his own property during a spate of robberies. The St David's resident, who asked not to be named, is on the mend, but voiced outrage at the attack on the night of April 9. "Taxi drivers need to arm themselves," he said. "These guys are vicious. I got attacked in my yard after knocking off at the end of a long day." Struck on the head, he was also stabbed in the shoulder, and is still off work, awaiting tests and the removal of stitches. Dressed in "dark clothes and sun visors", the two assailants demanded cash, and grabbed an appointment book from the vehicle before running off. The man said taxi operators should be extended special protection, such as the right to carry mace spray. He also suggested protective partitioning of cabs, and measures such as installing a silent alarm to alert authorities. "You don't really worry about it until you're a victim," he said. Two other cabbies were targeted in separate incidents on April 7, with one struck on the head and robbed while another driver left the scene. Both cases involved what appeared to be a firearm. The driver expressed concern for women and elderly taxi operators. "Bermuda's changed a lot. It's not the Bermuda of ten years ago, 20 years, even five years." Drivers might grow reluctant to pick up groups of young men, he added, or to drive into remote areas after dark — while visitors, especially during the America's Cup, could be left with negative impressions of an island that banks on its reputation for safety. In an earlier statement, transport minister Senator Michael Fahy called the attacks "deplorable. These robberies not only affect the drivers and the taxi industry, but tarnish Bermuda's reputation. It is very regrettable that these important ambassadors for Bermuda, have to put up with this reprehensible behaviour. I can see how drivers will take further precautions to protect themselves, including avoiding some areas and more frequently going offline to deposit cash fares for safekeeping. It would be unfortunate if it materially impacts our taxi service. This is the kind of crime that could hurt our tourism product as a whole. I urge anyone who can help the police bring the perpetrators before the courts, to do so."
April 17. Large numbers of Bermuda residents would have to give sworn evidence, and 20 years of records divulged, if the Bermuda Government's lawsuit against the Lahey Clinic goes ahead, the Massachusetts-based hospital has argued. Lahey has already filed a motion for the United States courts to dismiss the Government's sweeping complaint, which alleges that the clinic colluded with Ewart Brown, the former premier, in decades of bribery and medical fraud. In the meantime, the motion for a stay of discovery, filed on Friday at the Massachusetts district court, would suspend delving into Lahey's "20-year relationship with Dr Brown, which will be very time-consuming and expensive" — noting that the request for a dismissal "may well dispose of the entire case". It also argues that the Government's complaint, filed in February, came well after the expiry of a four-year statute of limitations, as Dr Brown has not held public office since he stepped down as premier in October 2010. Complying with discovery would entail delving into e-mails between Lahey and Dr Brown, his clinics, as well as others in Bermuda. Since the complaint alleges fraud through unnecessary MRI and CT scans at Dr Brown's local medical practices, the clinic would also have to retrieve "thousands of very old medical records", the motion argues. "Lahey will need to take depositions in Bermuda of many local residents, including the doctors there who ordered the scans, and Bermuda healthcare officials, insurance company employees and government employees who have any knowledge regarding the allegations in the complaint. In addition, such an exercise would require Lahey to engage Bermuda counsel. The motion argues that discovery should be suspended during the "relatively short time" required for the court to rule whether the case itself can proceed. If the motion to dismiss is granted, there will be no need for discovery. Plaintiff should not be permitted to file a broad but factually deficient complaint and then take discovery in an effort to shore up its allegations."
April 17. Direct threats were made to officers involved in policing the December 2 protest outside Parliament and so their identities must be kept secret, according to Michael DeSilva. The Commissioner of Police said that was one reason an operational order for managing the demonstration had to be redacted before being made public under the Public Access to Information Act. "I am aware that subsequent to the events of December 2, direct threats were made to police officers because of their involvement in policing the event," Mr DeSilva wrote in a letter to The Royal Gazette about a Pati request made by this newspaper for the "op order". He added: "We are able to demonstrate that to release the identity and responsibilities of each officer appearing in the operational order would likely endanger their safety. Accordingly, I cannot find fault with the decision to redact this information from the order in accordance with the exemptions provided for in the [Pati] Act." Asked to provide further details of the threats, Mr DeSilva said through a Bermuda Police Service spokesman that he had no further comment. On December 2, protesters prevented MPs from entering the House of Assembly to debate legislation on the airport redevelopment project, and police officers in riot helmets used pepper spray on the crowd, prompting critics to decry their actions as heavy-handed. The operational order, a restricted document written in advance of the protest by the island's most senior police commanders, was released under Pati in January, but the identity of its authors was not disclosed. Blank spaces appeared in place of their signatures and they were referred to only as the Silver and Gold commanders. Police information officer Inspector David Geraghty said the order was redacted because there were sections that, if released, could "endanger the physical or mental health or the safety of an individual". He said there were portions that could disclose policing methods and prejudice their effectiveness. The Royal Gazette asked Mr DeSilva to conduct an internal review of Mr Geraghty's response, as is the right of any Pati requester, and he wrote back on April 4, upholding the officer's decision. The commissioner wrote that he could not find fault with either of Mr Geraghty's reasons for redacting information. "It is apparent that there were pre-planned and organised actions that led to the protests on December 2, some of which were deemed to be unlawful and have [been] reported to the Director of Public Prosecutions for criminal prosecution," he said. Mr DeSilva continued, quoting from the Pati Act: "If information about our 'methods or procedures for preventing, detecting, investigating or dealing with matters arising out of breaches or evasions of the law' was to be revealed in greater detail, then that information would likely be used for future breaches of the law and would 'prejudice, or could reasonably be expected to prejudice, the effectiveness of those methods or procedures'." As well as the operational order, The Royal Gazette requested any correspondence between the BPS and anyone outside the police regarding the decision to deploy officers in riot helmets to the scene, before the decision being enacted, and any correspondence dated December 2, 2016 between the BPS and the Speaker of the House. Mr Geraghty said no such records were held; Mr DeSilva confirmed that was the case. The December 2 protest led to 26 complaints about police behavior being referred to the independent Police Complaints Authority, which has yet to reveal its findings. There were 14 complaints of assaults on officers and 15 people have since been charged in court with various criminal offences alleged to have been committed on the day. A death threat against Michael Dunkley, the Premier, was posted on Instagram on December 3 and later removed, prompting police to launch an investigation. On December 7, The Royal Gazette asked the BPS if any officers involved in the protest had been flown off the island for safety reasons — the response was no. A recently released review of the police's response to the December 2 protest, written by a British officer from the National Police Co-ordination Centre, concluded that officers were not adequately trained and that the tactics adopted were doomed to fail. Mr DeSilva said last month that he would not resign in light of the critical peer review.
April 17. The Bank of Bermuda Foundation is shifting its funding approach to help tackle the ripple effects of Bermuda being "a historically overtly racially segregated and fundamentally unfair society". A comprehensive review — driven by a change in membership, lower investment returns, and the challenges experienced since the 2008 economic upheaval — concluded that two Bermudas still exist: "one where access to opportunity, financial security and general well-being is very difficult to achieve, and another Bermuda where, for some, there appear to be few obstacles in their path. Prior to 1962, Bermuda was clearly a racially segregated society and not just because that's just culturally the way it worked because there were laws that actually supported that," chairman Tom Conyers told The Royal Gazette. "That changed in the late sixties and early seventies. But what is clear when you look at the statistics, although a lot of progress has been made in terms of equalizing outcomes between various sectors of society and between the two largest racial groups, we haven't got there, even almost 50 years later. The question is, why haven't we and what do we need to do in terms of changing our thinking, in changing what we do and how we do it, that will help narrow that gap more quickly." The foundation's "Theory of Change", which emerged after more than two years of consultation, examination and deliberation of the needs of Bermuda's community, also highlighted the importance of relationships and collaboration, as well as the need to make funding decisions based on "sound rationale, solid evidence and a strong understanding of the issues in the face of a complex and fast-changing world". It furthermore determined that the time was right to shift from addressing short-term, immediate needs as a charitable organisation, to having a longer term, more collaborative and sustainable approach to solving problems and addressing the root causes of social issues. "Based upon our Theory of Change it became evident that our community would benefit most from projects or organisations that emphasise people working together and taking shared responsibility for outcomes," Mr Conyers added. "Our areas of funding, consistent with our vision, represent a focus on economic equity; education for independent thinking and productive engagement; health and well-being for all age groups and an inclusive and welcoming community. To help "heal, improve, inspire and rebalance the island's community to be a dynamic and fair-minded place to live and grow", the organisation aspires to outcomes in the areas of economic participation, education, healthy families and connected communities. When you look at our various outcome statements in each of the four areas we've selected to focus on, they're framed in the universal," Mr Conyers said. "But the simple truth is that not everybody starts from the same place — some people face greater challenges or obstacles in being able to fully participate in Bermuda's society and achieve those outcomes that we would all like to get to." Mr Conyers explained that the organisation wants a better analysis of the issues so it can "better understand the underlying issues that are creating the problems that people come to us and ask for money to help to solve. We want to work with our partners in the not-for-profit community, who are the people who typically we are funding and are actually doing the real work, to better define what their programmes are trying to achieve and to try to measure whether we are actually getting the results we collectively set out to achieve. We want to think a little bit about how we would develop some broad measures at a community level of how we would measure success or know when we've arrived at success in each of the areas, the outcomes we've articulated and to measure those on a regular basis." He added that the organisation also wants "to be a little more rigorous, clear and objective in our decision making", and is seeking "some more transparency generally. We want to work much more closely with our partners in the process so they are clearer on what we are trying to achieve, they are clearer on the criteria we are trying to use when we make decisions and that when there is a result, they understand how we got there. So just open things up, have a really good look and hopefully, a good honest frank dialogue with our partners in the community and the community generally on what are the issues that Bermuda has and what we can do to help solve them." According to the foundation, feedback from many of Bermuda's non-profit organisations has been very positive. A new website is also being developed to better reflect the foundation's strategic goals and work, while also featuring a grants management system for online applications and to streamline the review process. The foundation, which operates independently and provides more than $750,000 in scholarships and $2.5 million in grants or donations annually, will be launching its new grant-giving strategy next January. Aims and aspirations for a better community. The Bank of Bermuda Foundation aspires to the following outcomes to help "heal, improve, inspire and rebalance the Bermuda community to be a dynamic and fair-minded place to live and grow":
Economic participation: all Bermudians have equitable employment opportunities, work satisfaction and financial security. This includes a career and lifelong learning focus and an employment and entrepreneurs focus
Education: people lead purposeful lives with equitable opportunities, as independent thinkers who are socially aware and productively engaged. This includes a public education focus and an experiential learning focus
Healthy families: people in Bermuda have complete physical, mental, social and material well-being. This includes an early childhood focus, a health and wellness focus and a resilient communities focus
Connected communities: the entire Bermuda community participates in activities that create a sense of belonging. This includes a focus on connecting communities
April 17. Telecoms firm Digicel's major mobile network upgrade is set to be complete by next month. The company said the final phases of its multimillion-dollar, high-speed LTE mobile data provision would be finished during April and May. Julian Burton, Digicel chief commercial officer, said: "An island-wide LTE network is one of two major technology investments we have committed to in Bermuda for 2017, the second being a full fibre to the home roll-out also under way. "Once we switch the LTE network on, the only thing our customers will need to enjoy the benefits are a compatible SIM card, phone and data plan." He added Digicel had provided customers with compatible SIM cards for more than two years and that no one would be forced to pay to change if required. The final phase of network deployment and testing will see limited locations "experiencing some disruption to existing services" for limited periods. Mr Burton said: "We are always sensitive to any instance of disruption to service for our customers. "That's why we are taking steps to provide clear information on our social channels, the most effective way to keep people informed in real time. We are confident that people will appreciate this is a short-term inconvenience necessary for the long-term benefits of faster data, better video streaming, higher quality service and faster file sharing to name but a few advantages."
April 17. The island's largest dairy herd got its first taste of a happier and healthier life yesterday as a state-of-the-art shelter officially opened. The huge shed, which is fitted with fans, misting equipment and spongy flooring, will help reduce heat stress on the 120-strong milking herd on Store Hill during the summer months. Its completion signals the end of a two-year long project for dairy farmer Valter Medeiros that will help milk production levels remain constant throughout the year. "I'm very pleased with how it looks and very happy to see it finished," Mr Medeiros told The Royal Gazette. "It's been a long time coming but has come in time for the summer which is very important and will allow the cows to get some shade during the day. They will have access to the shelter all year around and it should boost productivity considerably. Our next project will be to improve the milking parlor." His wife Lidia added: "It's a vast improvement for the herd. We are so excited it has finished and it looks great. We are extremely grateful to everyone who has helped and supported us along the way." Mr Medeiros embarked on the major construction project shortly after taking over the Smith's dairy operation in 2014 when it went into liquidation. Yesterday he was joined by Michael Dunkley, his brother Stephen, the general manager of Dunkley's, and a host of other stakeholders including contractor Bermuda Built Construction, as the structure received a traditional blessing with Goslings Rum. "It's refreshing to see someone investing in the dairy industry," Stephen Dunkley said. "This construction will mean happier and healthier cows, which in turn means more productivity. This provides stability to the dairy industry in Bermuda and a great product on the shelves." Meanwhile, the Premier praised Mr Medeiros for his "commitment, vision and passion" in driving the project forward. David Lopes, himself a dairy farmer for more than 50 years, added: "Valter deserves so much credit for what he has done up here. In my opinion if he had not taken on this farm that would have been the end of the dairy industry in Bermuda." The shed, which measures 75ft wide by 150ft long, is topped by a metal roof and includes a deep manure pit at the western end of the structure. Meanwhile, inside the shed fans and misting equipment have been installed to keep the cows cool in their specially adapted bedding areas that are modeled on waterbeds.
April 17. The Government's Health Insurance Department (HID) has announced changes to the Personal Home Care Benefit which will make it easier to process claims. Providers will now only need to register with Ageing and Disability Services (ADS) in order to be registered with both ADS and HID, and the revised Personal Home Care Claim form is now the only requirement needed to claim for Personal Home Care Benefits for home care agencies and caregiving providers. The Personal Home Care Benefit (PHC) was introduced in 2015 as a HIP and FutureCare benefit under the Health Insurance Act 1970, said a Department statement. The Benefit assists FutureCare and HIP policyholders with the costs of personal care services in their home. Information on the Government website has been changed to make it easier for individuals to obtain information on the Personal Homecare Benefit. The website link is: https://www.gov.bm/personal-home-care-benefit In addition, several internal processes have been changed to ensure that HID can better service Personal Homecare Benefit applicants as well as adjudicate and pay claims on timely basis, added the statement. "The old processes required providers to register at both ADS and HID separately," explained Director of the Health Insurance Department Laquita Burrows. "This caused delay in the provider being set up for payment. The provider also was required to complete two separate claim forms each time they were claiming on the benefit. Information required from the two forms has been combined into one form for providers to complete." HID has recently created The Personal Homecare Guide which contains information on individual needs in regards to the Personal Homecare Benefit, whether they are a policyholder, family member and/or provider. "HID felt that due to the number of inquiries on this product, it would be best to have one guide that contained as much of the information as possible," said Ms Burrows. "Many providers were submitting incorrect information which was resulting in claim payment delays so HID was looking to reduce providers' discontent and frustration by putting all they need to know in one place."
April 17. Hurricane storm shutters are to be custom manufactured on the island, reducing the time it takes for orders to be fulfilled and shutters installed. When it starts the service next month, Jeffrey & Sons believes it will be the first company in Bermuda to manufacture, sell and install storm shutters. The business is on Cemetery Road, Pembroke, next to the former Bate's showroom. It has been importing and installing shutters for more than 20 years. "Now we are going to do the shutters here," said Sabrina Franks, who handles marketing and customer service. "The turnaround will be faster. Customers used to have to wait four to eight weeks for shutters to arrive. Now they will be able to get them in two weeks." Component parts of the aluminium shutters will be stocked by the business, ready to be cut to size and assembled to meet the requirements of customers. To begin with the company will custom produce shutters for windows and doors up to 8ft. Larger sizes will continue to be imported ready-made. "We are doing up to 8ft, which covers most bases. We will still bring in the bigger shutters." Manufacturing the larger shutter sizes on-island might happen in the future, depending on how things go and the level of demand. Speed to market is a key benefit of custom-producing shutters in Bermuda. Ms Franks explained that while some customers plan ahead many wait until hurricane season starts, or news that a storm is heading Bermuda's way, before scrambling to have shutters fitted. Being able to complete orders and installations in a week or two, rather than a month or more, will help meet the demands of last minute buyers. "People will still get the good-quality shutters, and they will be supporting a Bermudian company and Bermudian jobs," said Ms Franks. "Jeffery & Sons has always tried to manufacture here as much as possible. We do window blinds and roller blinds for commercial and residential and we try to keep production here in Bermuda." Jeffrey & Sons was established in 1950, in Dockyard, by Frederick Jeffrey Snr. Initially it was a mill shop, later becoming a hardware business on Front Street, and then a custom blind manufacturing retail store near Shelly Bay, in Hamilton Parish. For many years it was run by the late David Jeffrey, who introduced custom roll shades and exterior storm shutters. "He started a lot of the local production and bringing in the storm shutters," said Ms Franks. The company also offers servicing and maintenance of its shutters and those installed by other businesses. The business, which moved to Pembroke five years ago, is now run by Jonathan Gaugain, stepson of David Jeffrey.
Monday, April 17. After leaving London yesterday afternoon at 5 pm UK time, the Rendez-vous Tall Ships Regatta 2017 berth at Sines in Portugal (birthplace of the famous Portuguese explorer Vasco da Gama, first to circumnavigate the world by ship), then head for Bermuda (initially St. George's, then Hamilton), Canada and Boston. The Regatta, organised by Sail Training International, sailed from Greenwich to mark the 150th anniversary of the Canadian Confederation. The fleet of over 30 large Class A and B Tall Ships gathered for four days on the River Thames at Greenwich and Woolwich before setting sail for Canada via Sines in Portugal, Bermuda and Boston. Vessels include those from Portugal, Spain, Holland, Germany and the UK. The three largest are the Santa Maria Manuela and the internationally famous Norwegian Christian Radich that richly earned its claim to fame in the gorgeous Windjammer musical voyage - (see http://www.wittkowsky.net/windjammer/wjamm2.htm and hear its superb overture by the American composer Merton Gould at https://www.youtube.com/watch?v=f9u1sEU5DVc) and one of the home-sick songs by the Norwegian sailors at https://www.youtube.com/watch?v=KOsn8X3HZRA and another at https://www.youtube.com/watch?v=9DRRePKIPG4).
Easter Sunday, April 16. Parade of Sail. Spectacular finale in London, England, of the Rendez-vous Tall Ships Regatta 2017 organised by Sail Training International, The Parade will start at 5.00 pm UK time in London, with the vessels following line astern downriver, past Maritime Greenwich and the Cutty Sark, the O2 Arena, passing through the Thames Barrier and Woolwich Arsenal. There will be harbour launches at the head and tail of the fleet of ships. The navigational control centre at the Thames Barrier will support the afloat crews with overall co-ordination of river traffic. The Tall Ships will be leaving their moorings and getting in position for the Parade of Sail from 3.00 pm, so for those on the Greenwich/Woolwich waterfront that afternoon, there will be plenty to see. The more than 30 Tall Ships will visit Portugal first, before heading out into the Atlantic bound for Bermuda, Canada and Boston.
April 15. Lahey Hospital and Medical Centre has urged a federal judge to dismiss the Bermuda Government's "frivolous" lawsuit, claiming its arrangement with the island is legal and routine. The Massachusetts clinic has filed its response to a civil complaint which alleges it conspired with Ewart Brown, the former premier, on a scheme of "bribery and greed" to profit at the expense of Bermudians. According to The Boston Globe, Lahey has argued the lawsuit is baseless and politically motivated, and it attempts to smear the name of Dr Brown. "The complaint attempts to transform a routine consulting arrangement between a hospital and a doctor into a fraudulent bribery scheme without providing any particulars of official acts by Dr Brown constituting the fraud," Lahey stated in its court filing. In the lawsuit filed two months ago, Government alleged that Lahey and Dr Brown's scheme involved money laundering, mail fraud and corruption. It accused Lahey of paying Dr Brown with bribes disguised as consulting fees, with the former premier directing a huge share of the island's healthcare business to Lahey, enabling it to make millions of dollars interpreting thousands of MRI and CT images. The Globe reports that, in its reply filed today, Lahey claims it is not unusual for hospitals to hire consultants to help them navigate and gain business in new markets. Lahey spokesman Chris Murphy is quoted: "We are committed to defending this frivolous lawsuit and will do so throughout every step of the legal process. Lahey Hospital and Medical Centre's business practices and commitment to patients in Bermuda are beyond reproach and our business contracts and consulting agreements are fully compliant with all applicable laws and regulations." Dr Brown, who is named in the suit as a "non-party co-conspirator", has dismissed the allegations as politically and racially motivated. Responding to the Lahey statement, Dr Brown said: "I support Lahey in their effort to maintain their well-earned reputation as a first-class healthcare provider. I am confident that Lahey, and our relationship and our business, which have helped save the lives of countless Bermudians, will be vindicated in due course. It is unfortunate that their reputation should be questioned based on a politically motivated witch hunt in Bermuda, that has stretched to Boston. This baseless suit against Lahey is nothing more than a thinly veiled defamation of me and therefore diminution of my party and me in advance of the upcoming election. The US justice system should not become a pawn of the Attorney-General of Bermuda, nor his political party."
April 15. Spirits soared as locals and visitors alike came together yesterday to celebrate the much loved Good Friday holiday in Bermuda. Huge crowds gathered at Horseshoe Bay Beach to take full advantage of the perfect kite-flying weather, while hundreds of people descended on St David's Cricket Club for the annual Good Friday Gilbert Lamb Fun Day, which featured the popular Mohawk Grand Prix. Celebrations in St David's took a sour turn when a teenager was injured in a disturbance at 8.30pm, although police say the 18-year-old St George's man refused medical treatment for his injuries. However the islandwide theme for the day remained upbeat, with kites flying high above numerous beaches, fields and parks from St George's to Somerset, family fun days hosted in the East and West, and residents packing out the "Jesus's Walk to Calvary" in St George. For one set of visitors, the kite-flying tradition at Horseshoe Bay Beach marked a trio of special occasions. John Keayes and his wife Helen, from Sussex in England, lived in Bermuda more than 30 years ago and are back on the island as Mrs Keayes celebrated a special birthday yesterday. They were travelling with Mr Keayes's sister, Sue Hughes and her husband Rob, who will be turning 60 next week. And their friends, Peter Thom and his wife Suzanne Thom, from Montreal in Canada, are celebrating their 30th anniversary. "We decided to all come on the same week," Mrs Hughes explained, and Mr Thom added: "It's wonderful — it's my first visit. I don't want to go home." Mr Keayes used to work as a road engineer until they left the island in 1985 and he said: "It was just a great place." Horseshoe Bay Beach holds particularly fond memories for the 71-year-old, who was one of the co-founders of the Bermuda Sharks Swim Club, which is still active today. "We're just reminiscing," he said, adding that they have already stopped by the houses they used to live in. Val and Peter Horrobin, from Toronto in Canada, were celebrating their fifth Good Friday on the beach. "It's almost like the start of summer," Mrs Horrobin said. "It's the first time in the ocean for the children. It's just so fun to see how exciting it is for the children." And Mr Horrobin said: "The kites make it such a unique event. Nowhere else in the world has such a cool tradition." The couple from Smith's brought their sons, Liam, 2, and Nolan, 1, and Mrs Horrobin's sister, who visited last year and enjoyed it so much she came back for more. For Jared Hollis and his ten-year-old daughter Amelia Petty, spending Good Friday on the beach is also an annual tradition. "It's time to be with the family, have fun, be with friends and fly kites," Mr Hollis, 32, said. The pair, from Southampton, made traditional Bermuda kites the day before. Amelia picked pink, green and blue colours and said her favourite part was "decorating it". Peter Matcham has been making his own kites since he was 6 — a skill he has taken with him on his travels. "I've made kites in France and New York," he said, explaining that he got heavily involved with the kite competition when he attended Warwick Academy. Mr Matcham was at the beach with his wife, Katie Matcham, their daughter Lilia, 7, and visiting friends. He had made their traditional kite for Lilia's kite-flying day at school, and "it survived so I brought it down here". As the wind picked up and the sun shone, crowds began to swell around noon and Mark O'Connor, bar manager of Rum Bum beach bar, said the day had been going well. "This is the first day that we are open for the season," he said. "The kitchen is open. We've got the traditional food and the bar is open." The day marked the "soft opening" of the main access to the beach, which has been under construction. Rick Olson, president of Chops Ltd, which operates the concession, remarked that even though the establishment was only open for the one day, it had been extremely busy. Mr Olson, who was at the centre of a social-media controversy earlier this week,, previously voiced concerns that the renovation project would adversely affect visitor experience as well as his business. "It's just been a waiting game," he said, adding that the establishment is ready to open full-time but they are waiting for the construction to finish. He said they hope to open fully at the start of May. To allow access to the beach, the main entrance was opened at 7.30am for one day only. For one group of eager beachgoers, this meant a brief wait at the gates. Karla Aitken and a group of friends arrived early to create their extravagant seating area in the sand. A tradition since about 2011, the group spent 2½ hours digging a circular bench complete with table. The impressive structure was adorned with flags that proved popular with tourists. At the other end of the island, young people also got involved with kite flying and informal football games at the annual Good Friday Gilbert Lamb Fun Day, with numerous families setting up camp around the field, the stage was set for a day of community-driven fun. Bouncy castles, traditional food stalls and giveaways including free kites and candy contributed to an upbeat atmosphere. St David's Islanders spoke of their pride in their local spirit and made it clear they intended to enjoy one of the area's most important days of the year. Raykeisha Burgess, who was at the cricket club with her son Jyus and godson Daion, both aged 10, said: "It's always good fun out here. Everyone from St David's has always come along to fly their kites but we see people from all over the island as well so it makes for a good day." Carlo Douglas, also from St David's, said: "I've been down here since I was 10 or 12 years old. I guess the highlight for many people is the go-karting but for me the most important thing is the community spirit." Another St David's Islander, Tyrone Butterfield, said: "It's great to see everyone getting together and having fun. That's what this day is all about."
April 15. Easter message from Premier Michael Dunkley. "I am pleased to extend best wishes to all Bermuda as we prepare to observe Easter Day. It is a time to celebrate our heritage and the special cultural touches that are uniquely Bermudian — hot cross buns, fishcakes and homemade kites. It is also a time to reflect on the spirit of forgiveness, hope and renewal that Easter represents through the Crucifixion and Resurrection. It is a time to reflect on the meaning of Jesus's life and the promise of salvation that he embodied for every person and every community. In recent times, our community has experienced its share of discord and disagreement, but we carry on, working to make things better; and we do so because we carry in our hearts the same faith in others that others have in us. That faith drives us forward to expand opportunity wherever possible and to support those who need support, strengthening the fabric of community life wherever we can. We have much to live for, and Easter reminds us why that is. Let us use this holiday to be thankful for life, for each other and for the good fortune that we share it together on this beautiful island. Let's embrace the compassion, acceptance and love that lies within the spirit of Easter. On behalf of the Government, as you celebrate this holiday weekend, please accept our wish for a safe and happy time, surrounded by family and friends."
April 15. Easter message from David Burt, Leader of the Opposition. " The Progressive Labour Party extends its best wishes to the people of Bermuda on this Easter weekend. For we of the Christian faith, Easter signifies a time for renewal and rebirth. At this time, it is our hope that Bermuda, which has suffered much in the great recession, and Bermudians, who have lost so much in terms of jobs, wages, opportunities and even hope, will have cause to emerge from this holiday renewed. Kite-flying and sharing fishcakes and hot cross buns with our neighbors and families are timeless Bermudian traditions; ones that remind us that our closeness as a community is our greatest asset. We further hope that there will a rebirth of the belief that each of us are our brother's keeper and that Bermuda at its best works for every Bermudian. On behalf of my wife, Kristin, my family and the PLP, I wish you a safe and happy Easter."
April 15. Easter message from Right Reverend Nicholas Dill, Anglican Bishop of Bermuda. " In a world where there seems more negative news than good, where dreams are quickly quashed, where sometimes it feels like the bad guys are always getting the upper hand, it can be hard to have hope. In the face of our own fragility and mortality, we can wonder what is the point? In our own lives, where we wrestle with inner feelings of guilt and carry the weight of our own failures, it is sometimes hard to see the way forward. In our community, it feels like we are on a powder keg of mixed emotions and tensions. In this world, the Easter story stands as a reminder that over and against injustice, sin, darkness, evil and death itself is the possibility of both forgiveness and resurrection, a cleansing of the old and a new beginning. From the earliest days of the Church, the cry was and is "Christ is risen!" — to which the answer is "He is risen indeed!" These were words first spoken by those who saw and touched the risen Jesus for themselves and went to their own martyrdom professing this creed with an unwavering faith. It gave them peace, joy, courage and boldness This week, I spoke with my friend and fellow bishop, Daniel Abot, who on April 25 returns home to South Sudan, where he was sent to minister in the heartland of the tensions between government and rebel forces — drawn largely on tribal lines — between the Dinka and Nuer peoples. He himself is a Dinka and grew up in a refugee camp. But working with him is Bishop Thomas, a Nuer. Bishop Daniel is often the first to be called to the site of a massacre. He goes there to bring the message of reconciliation and to pray for the people. I asked him if he was at peace as he leaves his seven children and wife in Australia, where they have been offered a home. He laughed. He explained that he is going to a place where there is no security — where he will have to pass along a 400-kilometre stretch of road stopped by government and then rebel checkpoints, and vigilante groups. He has no salary and there is no food, as the country is on the brink of famine. "If I did not believe that God is my protector, that He is my guide, I would not go," he said. "But I know my savior lives and I rejoice to share in His suffering." Bishop Daniel went on: "The only hope we have for changing people's hearts is in the powerful gospel of Jesus Christ that breaks down the barriers." Easter is about forgiveness and new life, breaking barriers. For those who lay down their burdens at the foot of the Cross, it is about restoration and transformation. There are many ways that people try to get what they want. When He was arrested, Jesus warned His disciples: "Those who live by the sword, perish by the sword." By comparison, His way was the way of service and sacrifice; the way of love and forgiveness. His way ushered in a new era where divisions of nationality, culture and religious background, race and gender where swept away. Sadly, we seem determined to build walls, where He sought to break them down. The message of Easter and the power that Jesus brings are as urgently needed and are as relevant and available today as they were then. May God bless each of you this Easter time and restore your hope for a new day. May He shine His love and forgiveness into your hearts and homes, and bring you, your family and this community peace. Christ is risen; He is risen indeed!"
April 15. Businessman Rick Olson said he has learnt his lesson after receiving a "pretty vicious reaction" to a post on social media. It comes after a government spokesman revealed that the Premier, Michael Dunkley, had urged Mr Olson to remove a post on Facebook and to apologise publicly. On Tuesday, Mr Olson had published a link to a Wikipedia page titled "Hanged, drawn and quartered" with the accompanying caption "This might be a deterrent for blocking Parliament?". It was heavily criticised by other social-media users, with some vowing to boycott Mr Olson's business properties. "I regret saying and I think I've learnt my lesson," Mr Olson, president of Chops Ltd, told The Royal Gazette. "I won't be making that mistake again." Describing the reaction as "pretty vicious", he argued there was "certainly no malice or mal-intent behind it". Mr Olson added that his comment was a "yes" or "no" question, and said: "It is just disappointing — the whole scenario. I think it was misunderstood." He also voiced concern about how his Bermudian employees could potentially be affected by the backlash. The post was deleted by the administrator of the group. However, screenshots were reposted elsewhere. In a post the next day, Mr Olson, whose company operates Red Steakhouse and Bar, Bermuda Bistro at the Beach and the Horseshoe Bay Beach concession, "sincerely apologise to all Bermudians for the insensitive post". He added: "I fully understand the social/political precarious situation and now realize my sarcastic personality is not welcome. This situation will not reoccur, lesson learnt, and again sorry for my insulting post, it certainly wasn't intended that way." In a statement issued yesterday, a government spokeswoman said: "The Government of Bermuda has zero tolerance for any form of racism, bigotry or discrimination. The Premier yesterday reached out to the individual concerned, registered his great displeasure about the post and urged him to remove it and apologise publicly." She added that any member of the public "who has a grievance in this regard is encouraged to file a complaint with the Human Rights Commission for a determination on the matter". The statement continued: "Part of the commission's remit is to use its good office to settle any complaints or grievances arising out acts of unlawful discrimination' and, where warranted, institute prosecutions. Discrimination, racism and bigotry have no place in our society." The statement came after the Progressive Labour Party called on the Government "to declare exactly where it stands when society is confronted with this bigotry". The PLP said: "The disclosure on social media by Rick Olson that black Bermudians who protested on December 2 should be 'hanged, drawn and quartered' has appalled thousands of Bermudians. This blatant form of racial bigotry has no place in Bermuda and we call upon the One Bermuda Alliance government to declare exactly where it stands when society is confronted with this bigotry. Olson, as president of Chops Ltd, has the concession, approved by the OBA government, to operate at Bermuda's most popular public beach, Horseshoe Bay. This is the type of individual the OBA government is content to do business with. We are outraged. It is unacceptable and we call on the OBA government to act rather than remain silent as they have been for years, when confronted with the issue of race."
April 13-16. Over the 2017 Easter weekend, the Royal Borough of Greenwich hosts the Rendez-vous Tall Ships Regatta 2017 that will also feature Portugal, Bermuda and Canada. The Regatta, organised by Sail Training International, will sail from Greenwich to Quebec in Canada, to mark the 150th anniversary of the Canadian Confederation. The fleet of over 30 large Class A and B Tall Ships gathers for four days on the River Thames at Greenwich and Woolwich before setting sail for Canada via Sines in Portugal, Bermuda and Boston. The ships are presently anchored at two festival sites in the Royal Borough - at the Maritime Greenwich UNESCO World Heritage Site in Greenwich town centre, and the Royal Arsenal Riverside in Woolwich. The 30 Tall Ships are moored on the river at Greenwich and Woolwich. Alongside UK based ships will be vessels from countries including Portugal, Spain, Holland and Germany. The three largest participating ships – Santa Maria Manuela and the internationally famous Norwegian Christian Radich that richly earned its claim to fame in the gorgeous Windjammer musical voyage - (see http://www.wittkowsky.net/windjammer/wjamm2.htm and hear its superb overture by the American composer Merton Gould at https://www.youtube.com/watch?v=f9u1sEU5DVc) and one of the home-sick songs by the Norwegian sailors at https://www.youtube.com/watch?v=KOsn8X3HZRA and another at https://www.youtube.com/watch?v=9DRRePKIPG4) are at and will leave from Greenwich Pier, while other Tall Ships are at and will leave from Woolwich Pier. The names and locations of the more than 30 tall ships moored on the river at Greenwich and Woolwich can be seen in the illustrations below, which can be downloaded by clicking the images.
Also see them in more detail here:
See above story
April 13. America's Cup organizers are urging people to buy tickets for the Grandstand as soon as possible to avoid missing out. The facility is described as one of the prime positions in the America's Cup Village, offering views straight over the racecourse finish line and a dedicated large screen showing the races live. It will have a roof to provide shade, and its own exclusive bar at the base of its structure, with drinks and snacks service for guests in their seats. A press release from the ACBDA says demand has already been very high for Grandstand seats and tickets are already sold out on June 17, 18, 24 and 25. Book your place in the Grandstand via www.americascup.com/tickets.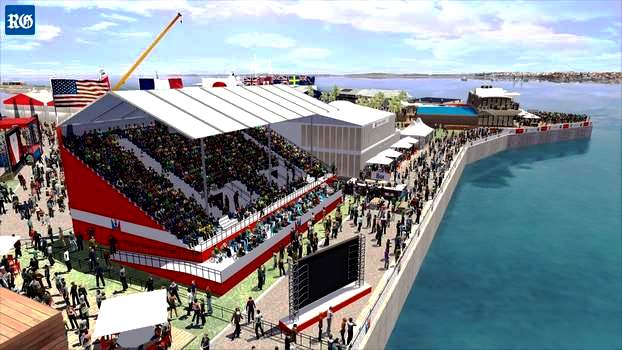 Bermuda's America's Cup Grandstand on Cross Island, see above story
April 13. Artemis Racing blew away the competition during this week's America's Cup practice racing on the Great Sound. The Swedish challenger was unflappable in steady and heavy air conditions as Artemis piled up an unblemished 9-0 record in their AC50 foiling catamaran, four of the victories coming against American defender, Oracle Team USA. "We've had a really good race period here in Bermuda, all five teams on the island have been racing hard," Nathan Outteridge, the Artemis skipper and 2012 Olympic gold medallist for Australia, said. "We've had some really close battles, really close starting and tacking duels around the course forcing umpires to make decisions, it's everything we expect it's going to be come May and June. It's going to be close and we're just working on getting better and better each day." Artemis also produced a solid showing during the first practice racing period late last month, posting a 7-3 record to finish second behind top boat Oracle. They are now 16-3 overall. Iain Percy, the Artemis team manager and tactician, said the practice races against cup rivals Oracle, SoftBank Team Japan, Groupama Team France and Land Rover BAR have proven "very useful. Six weeks to go now until the beginning of the competition, and we're now at the business end of our campaign," Percy, the Olympic gold medallist in 2000 and 2008 for Great Britain, said. "These race weeks continue to prove very useful. We've come away again with lots of lessons, lots of things we need to improve." None of the AC Class 50s raced on the Great Sound yesterday as the wind built into the upper limits allowed for the America's Cup events in May. The boats were out on the sound but the first race that actually started between Oracle and Team Japan was cancelled because the downwind leeward marks were not set up. On Tuesday, the second day of racing in the third practice session allowed in Bermuda, Groupama Team France team manager Bruno Dubois told The Royal Gazette that although he was pleased with the straight-line speed of his young team, he said they really needed more time to practice and come up to speed. "We were late coming into the game," he said. He felt that given another six months the team would be competitively even with the others. "Oracle and Artemis Racing have been training in Bermuda the longest and they are clearly on top." Dubois said that Artemis clearly has got speed. "They are very smooth at foiling through tacks and gybes," he said. Oracle are neck-and-neck with them overall, but the smoothness of Artemis boat handling is the difference. In the first race on Tuesday, Oracle started ahead with Artemis to leeward. The Cup defender lost their lead after going off-foil for a splashdown allowing Artemis through to leeward. Oracle stopped racing on the second leg, because of reported daggerboard issues. As they go through this very important training period, most teams are experiencing situations that require adjustment. Artemis defeated France by almost a leg. And in their race with BAR they copped a penalty at the start but were able to comeback for the win in a close race. The next practice race period is April 24-28. Emirates Team New Zealand should be ready to join the fray bringing all six teams together for the first time.
April 13. Plans to build a floating dock for the America's Cup close to the Causeway have been given the green light. The Development Applications Board approved proposals to build a T-shaped floating dock, which would extend from the existing bus lay-by northeast of the Causeway roundabout. The ACBDA development, which has to be removed by the end of the year, will allow superyacht owners to go straight from the airport to their boats during the sailing spectacle. According to the application: "This dock is an important part of the event transportation plan to deal with the high volume of private aircraft passengers who wish to travel directly to their superyachts via water. The dock will also serve members of the public who wish to pick up and drop off air passengers by boat. "It is proposed that the dock be installed in April 2017 and removed following the event in August 2017. It is proposed that the dock is installed with a minimum of work due to the temporary nature of the structure." The application states that the dock has been designed to be supported using two piles driven into the seabed with an access ramp supported on the shore with an "easily removed concrete abutment". The floating dock was described as being 110ft long, connected to the shoreline via a 55ft gangway.
April 13. By Steve Nackan, president of Aecon Concessions, builder of the new airport approved by the Bermuda Government. "After 2½ years of hard work, by Aecon, Canadian Commercial Corporation, the Bermuda Government and by the team that now forms the new airport company, Skyport, we are looking forward to building Bermuda's new airport terminal. This project is an opportunity not only to replace an outdated yet crucial piece of infrastructure, but also for many Bermudians and Bermudian businesses. Contracts are now beginning to be awarded, jobs have already been created and many additional jobs are being advertised as the project moves forward. Last month, we were pleased to launch the new special-purpose company responsible for LF Wade International Airport's operations, maintenance and commercial functions: Bermuda Skyport Corporation Ltd. Skyport is a Bermudian company, comprising primarily of former Department of Airport Operations staff, who will be bringing the Bermuda air travel experience into a new era. As part of this mission, Skyport is looking to significantly expand its employee numbers. At Aecon, we have a commitment to not only build well but to build conscientiously. We are committed to putting safety and environmental and social sustainability at the heart of all we do — to make a positive impact on Bermuda. We are invested not just in the island's infrastructure, but also in Bermuda's people and its future. There will be a range of opportunities for Bermudians who want to help to better Bermuda's air travel experience, with jobs available in fields such as construction — from materials and equipment supply — to architecture and engineering, administration, technical services support, logistics, stevedoring and shipping. As part of our commitment, to ensure that qualified and available Bermudians are able to work on the airport project, we have worked closely with the Government of Bermuda's Department of Workforce Development and the Construction Association of Bermuda. The DWD has been identifying the labour capacity available in Bermuda and is launching a talent pool drive to assist subcontractors for the project in finding and hiring qualified Bermudians in their fields. Those who are interested in working for an airport subcontractor should collect an application form, available from the DWD at the old Magistrates' Building, 23 Parliament Street, Hamilton, download one from www.dwd.bm or call 297-7714 for information. Competed applications need to be submitted to the DWD with résumés and certified, colour copies of qualifications or certifications. The DWD will help any Bermudians who do not have a résumé in creating one. The DWD is also putting together training programmes that will benefit Bermudian employees and employers alike. To ensure that the new airport meets industry standards, Aecon and the DWD will be using National Centre for Construction Education and Research for construction standards. As the general contractor for the Airport Redevelopment Project, Aecon Construction is looking for businesses wanting to work on the project as subcontractors. Interested businesses must pre-qualify to be considered for contracts. This can be done by registering at www.subconprequal.aecon.com. The CAOB has offered to assist its members in completing their pre-qualification documents, if they have any difficulty. They can be contacted by calling 292-0633. Aecon will also be hiring directly for particular positions, and these can be found by checking The Royal Gazette, the DWD or the Bermuda Job Board (www.bermudajobboard.bm). To find out more, contact aeconbermudacareers@aecon.com. While the construction of the new airport gets under way, Skyport is also looking to hire new team members. Those interested in working for Skyport should submit a résumé and cover letter to careers@skyport.bm for airport-related jobs. We are just weeks away from breaking ground at Stone Crusher Corner and can't wait to get started. We look forward to building a lasting relationship between Aecon and Bermuda."
April 13. BF&M Ltd took a $10 million hit from hurricanes in 2016, the most active storm year the insurer has ever experienced. However, the island-based firm was still able to post full-year net income of $14.4 million — down from the $23.9 million profit in 2015. Some of the storm claims were related to Hurricane Nicole, which battered Bermuda last October, causing an estimated $15 million in total insured losses on the island. Just days before, Hurricane Matthew had ravaged the Bahamas, one of 15 Caribbean islands where BF&M operates. John Wight, BF&M's chief executive officer, said the combined financial impact of the two hurricanes on the group was $10.1 million. "BF&M's results were particularly pleasing given that 2016 was the most active hurricane season that the group has ever seen collectively," Mr Wight said in a statement. "Our performance in 2016 is a testament to the group's consistent strategy of diversification, both geographically and by line of business, and of careful preparation. We are in the business of paying claims and we plan for years like this." BF&M said gross premiums written totaled $347.8 million, up 3 per cent on 2015. Shareholders' equity at the end of last year was $264.5 million. General fund assets totaled $1.1 billion of which $108.9 million was held in cash and cash equivalents. Investment income for the year reflected a $0.7 million decrease (2015 — $6.5 million decrease) in the value of investments for the period. The firm said that as a result of its asset-liability matching policy, which looks to limit volatility of reported earnings as a result of interest rate swings, BF&M reported a $1.5 million net gain — compared to $0.3 million loss in 2015 — on the difference between the fair value of investments and reserves. Commission and other income declined from the prior year by 13 per cent to $41 million due to the impact of 2016 hurricanes on reinsurance profit commissions. Short-term claims and adjustment expenses increased 37 per cent to $31 million primarily due to the 2016 hurricanes as well as claims arising from the Front Street fire in July. BF&M added that life and health policy benefits, which are recorded at fair value, increased by 20 per cent to $117.1 million, attributed to higher local health claims reported in Bermuda and an increase to reserves on new annuity business written. Operating expenses increased by 3 per cent to $64.3 million. Three of BF&M's insurance operating companies have an A financial strength rating from AM Best, while the fourth, the Insurance Corporation of Barbados Ltd, has an A- rating. Mr Wight said: "There is no domestic insurance group in Bermuda or the Caribbean with stronger ratings. Our financial strength means we can be there for our customers when they need us most and 2016 was certainly a year in which this was demonstrated."
April 13. The former home of a Canadian tycoon once listed among the richest people in the world is up for sale with a price tag of $1.9 million. Skyline Cottage, near the Fairmont Southampton, was bought by billionaire businessman Kenneth Colin Irving, known as K. C., in 1971 after a row with the Canadian government over taxes and death duties. The Bermuda residence was a vital link in the controversial creation of a island-based trust designed to avoid high taxes in Canada. Mr Irving, who died in 1992 aged 93 and was in 1989 listed as the eleventh wealthiest man in the world, was born in New Brunswick and built a business empire spanning oil and gas, timber and vehicle sales from a single Ford franchise opened in the 1920s. K. C. Irving Ltd owns around 300 private companies, mostly in New Brunswick and Quebec provinces, with interests in oil, timber, mining, shipbuilding, construction, real estate, the media and transportation. The company is a major employer in New Brunswick and a huge landowner. Mr Irving's widow Winifred continued to live at Skyline Cottage, on South Road, Warwick, after Mr Irving's death. She was one of the three trustees of the Bermudian-based trust established by Mr Irving's will, which required the trustees to live outside Canada. The trust, which controlled island-based Irving holding companies, was dissolved around ten years ago after Mr Irving's three sons decided to divide up the family conglomerate. Mr Irving's son, J. K., 89, said in a letter to Atlantic Business magazine that his father was forced to move outside Canada to avoid proposed death taxes and duties, which were expected to be as high as 80 per cent. J. K.. Irving wrote: "This would have been devastating to the businesses as they would have had to have been sold to pay the anticipated death duties and taxes." He added that the "collapse of a life's work of growing jobs and enterprises" was "not acceptable" to his father. J. K. Irving said: "He would move to Bermuda to ensure the survival of the companies and the related jobs. We would much rather have had him around." But he added the move allowed the Irving empire to stay in the Maritime region of Canada and "sustained thousands of jobs". The Irving empire is now owned and controlled by businesses and citizens resident in Canada. The three-bedroom, two-and-a-half bathroom home is an extension of an original much older two-bedroom cottage on the site and sits in 1.6 acres of land with stunning views over Jew's Bay and the Great Sound. The listing by The Property Group describes the house as having "great bones" but in need of "some cosmetic updating". Real estate agent Sally Ann Smith said: "In its day, I'm sure it was a lovely house." But she added the property, including the kitchen, would need "a complete remodeling". Ms Smith said: "You've got a lot of much bigger and more luxurious houses than this one. But it has quite a lot of potential to some people. The golf course is just across the road and it has the facilities of the hotel right next door to it." The price of the property, on the market for six months, has been lowered because it has fallen out of the available to non-Bermudian buyers category, which has reduced the potential market. The current owner is said to be Canadian, but it is not known if the Irving trust or a family member continued to own the property after Mrs Irving's death.
April 13. Argo Group, the Bermuda-based insurer and reinsurer, has warned that its first quarter profits will be adversely impacted by about $16.5 million. The four non-recurring charges include $5 million in late claims reported from Hurricane Matthew, and $4 million in relation to the transfer of some infrastructure and information technology functions to third party service providers. The others are $2.5 million relating to the recent acquisition of Ariel Re and an estimated $5 million to incorporate the recent change in the UK Ogden discount rate. Argo will announce earnings for the first quarter on May 3.
April 13. Former island insurance and reinsurance leader Mark Byrne is to be buried in New Hampshire on Tuesday. A service for Mr Byrne, who died in Montreal last Thursday, will be held in St Denis' Catholic Church in Hanover before a private family burial. He is survived by wife Rebecca and children Sophie, Jacqueline, Matthew and Christopher. An obituary published in the New York Times spoke of the businessman's love of flying, sailing and his philanthropic work. It said: "Mark held a pilot's licence since he was a teenager and was an avid recreational pilot, flying all types of aircraft and travelling the world. Mark and Rebecca initiated the establishment of the Byrne Charitable Trust in 2002 and over the years have supported many charitable causes close to their hearts. Mark personally flew medical doctors and supplies in 2010 to Haiti to provide relief for aircraft victims, as well as numerous other relief flights to the Caribbean over the years. Sailing was a huge part of Mark's life and he actively participated in many sailing regattas over the years with much enjoyment and success. Such was his love of sailing, Mark, Rebecca and their four children spent a year sailing around the world on their family yacht. Mark, his family and crew were well-known and highly regarded in the yachting world. Mark was much loved and admired by all his family and friends and his charitable nature and influencing presence left a lasting impact on all who had the pleasure of knowing him. His enthusiasm for business was matched by his ardor for flying, sailing, cooking, as well as golfing, scuba diving and skiing which ensured he led a full and adventurous life. However, his overriding passion was as a husband and a father. He also served on the advisory board of LeapFrog Investments, which grew its assets nearly tenfold in the seven years he served and now reaches 91 million people with healthcare or financial tools — of whom 74 million are low income. Mark felt strongly about bringing microinsurance to the developing world." Mr Byrne cofounded Flagstone Re with David Brown in 2005 and stepped down as executive chairman in 2010, shortly after the firm redomiciled to Luxembourg, although it maintained its presence on the island. Mr Byrne remained a board member for a number of years afterwards. Flagstone Re was acquired by Validus Holdings in 2012. In 1993, he became chairman of Haverford, a holding company for insurance interests in Bermuda and internationally, a position he held until his death. He also set up Longtail Aviation in 1999. In lieu of flowers, the family asked that donations be made to the Jack Byrne Centre for Palliative Care in Lebanon, New Hampshire.
April 13. Anyone wishing to participate in Good Friday celebrations will have regular access to Horseshoe Bay Beach via the main entrance off South Road. Car parking and cycle parking will be available, as well as minibus, shuttle and drop-off areas, according to a press release from the Ministry of Public Works. As in previous years, there will be no parking permitted along the access road leading down to the parking areas. Main access to the beach has been closed since improvement works began in late January. The Ministry stressed that the "soft opening" of this entrance is for Good Friday only, from 7.30am until 10pm. After that, the gates will be closed to both vehicles and pedestrians and remain closed to allow improvement works to continue until the grand opening during the first week of May. Any vehicles that are left in the parking lot Saturday morning will be towed at the owners' expense. Once Good Friday concludes, the public are reminded of the two alternative access locations, both just east of the main access point:
A pedestrian access point is located across the street from the Southampton Rangers Sports Club field. This access has a large lay by and some parking for cars. Beach-goers using this access must exercise some caution due to the steep grade of the path to the beach.
A second point is located at Chaplin Bay which is directly across the street from the Warwick Camp entrance. This access location provides entry for cars, cycles, and pedestrians. Once at this location, the beach visitor must walk in a westerly direction to reach Horseshoe Bay Beach.
Works minister Craig Cannonier stated: "It was of great importance to me to have the main beach access open for Good Friday. Going to Horseshoe Bay Beach on Good Friday has become a longstanding tradition for many people and my team worked feverishly to ensure that the area could safely accommodate beachgoers." Department of Parks and TCD staff will be on site assisting with traffic coordination and to ensure the safety of pedestrians on the newly-constructed boardwalk. The concession at Horseshoe Bay Beach will be open for refreshments. The bathrooms at the beach, which have been undergoing renovations, will be open for Good Friday and will remain open.
April 13. Politicians will discuss introducing a living wage for Bermuda at a public meeting next Thursday. Income inequality and the impact of low-cost foreign labour will also be on the agenda when the Parliamentary Joint Select Committee on the Living Wage meets at St Paul's Centennial Church Hall in Hamilton. Former Attorney-General Phil Perinchief, Bermuda Industrial Union president Chris Furbert and Coalition for the Protection of Children chairman Sheelagh Cooper have been invited to speak, while guest presenters will be Bermuda College lecturer and Pernal Grant. A press release from the group stated: "There will be an extensive examination of the unparalleled growth of income inequality in Bermuda, the impact of the over two-decade long reliance on low-cost foreign labour and the various employment practices facing Bermudians in the workplace and the impact that is having on households." The committee, chaired by Progressive Labour Party MP Rolfe Commissiong, will ultimately produce findings and recommendations for Parliament during the upcoming session. Other committee members are Independent MPs Shawn Crockwell and Mark Pettingill, PLP Senator Kim Wilkerson, PLP MP Lawrence Scott, One Bermuda Alliance Senator Vic Ball and OBA MP Leah Scott. The meeting starts at 8pm. Written submissions may also be forwarded for the attention of Mr Commissiong at blackstar@northrock.bm and krscott@gov.bm.
April 13. The growing tide of politically driven divisive rhetoric and constant negativity has prompted Ray Charlton to step down as chairman of West End Development Corporation. Mr Charlton, who informed Michael Dunkley of his decision on Tuesday, will leave the post once Wedco has fulfilled its America's Cup commitments later this summer. He told The Royal Gazette that he was "tired of the constant negativity" from parts of the community despite "incredible progress" in Dockyard. And he warned that "political nastiness" from supporters of both parties in the lead-up to a General Election threatened to destroy the social fabric of the country. "Unless we find a way to work together we are all doomed," Mr Charlton said. Mr Charlton, who became chairman of Wedco in February 2013, paid tribute to the tremendous Wedco team who he said had achieved more in the last four years than in the previous 40. He said he was proud and honored to have worked with them and hailed their work ethic and accomplishments improving local infrastructure, preserving the West End's heritage and preparing for the America's Cup. But the outgoing chairman revealed he had become demoralized and frustrated by the "constant chipping away" of Dockyard's progress by those who always focused on the negativity. "There is a lot of negativity out there in the run-up to the next General Election and it is all for political gain," Mr Charlton said. "It's from both sides; supporters of the Progressive Labour Party and also the One Bermuda Alliance, and it is doing no one any good, least of all our country." This week The Royal Gazette reported that the last of the naval crests were being painted over in Dockyard — a project that goes back to before Mr Charlton's tenure — which prompted scores of negative comments online. "The thing that really hurts from the comments posted about this story is the accusation that I don't care or that Wedco does not care," Mr Charlton said. "Dockyard is the reason I am alive; I would not be here if my great-great-great-grandfather had not come to Bermuda from Scotland all those years ago to build the dockyard. So I care about this area very deeply. The decision to remove the crests was made more than four years ago and it has now just become another issue to be used as a political football to divide our people more and detract from the huge progress that has been made. I have always said I would be more than happy to see an artist take on a project to reinstate the crests in the future. It's important to remember that none of these crests are originals as they have been painted over so many times by volunteers and photos of the crests and the crests themselves have been archived for people to see in perpetuity. I just could not believe some of the things I was reading in the online comments. They were nasty, hurtful and politically driven. It highlights the problems we have and the political division that exists in this silly season. I have worked really hard during my time as chair but this made me feel that maybe I am not cut out for public service any more." Mr Charlton says he has not set an exact date when he will step down from the post of chairman, but imagines it will be in July or August. "After the America's Cup I feel it will be time to give someone else a chance and let them take the helm," he added. "I feel I have played a part in renaissance of Dockyard as well as the progress that has been made in Bermuda and in the West End. For some reason the negativity out there keeps chipping away at my psyche; I am going to gracefully step down from public life and work on my health and my fitness and enjoy my latter years."
April 13. Riddick Bowe is one of five former world boxing champions lined up as special guests for a business conference in Bermuda in October. The former undisputed world heavyweight champion, who gained the title in 1992 by defeating Evander Holyfield, will add a touch of star appeal to the World Alternative Investment Summit. The three-day event is being held at Fairmont Southampton from October 11 to 13. The other former world champion boxers attending as guests are Chris Byrd, Lamon Brewster, Ray Mercer and James Toney. The event brings together investment officers, managers, administrators, prime brokers, lawyers, and others linked to the alternative investment space. The special guest at last year's WAIS summit in Bermuda was former NBA all-star and Hall of Famer, and entrepreneur Earl "The Pearl" Monro. Details of the summit agenda, guest speakers and activities are expected to be released in the coming weeks. WAIS 2007 Bermuda is produced by Toronto-based Radius Financial Education. For registration and sponsorship enquiries, contact info@Radiusfinancialeducation.com, or visit the website at waisc.com.
April 13. A "passionate but productive" meeting at CedarBridge Academy brought stakeholders to brainstorm stopgap measures for students left stranded by repeatedly cancelled buses. The school is often the worst hit when public transport falls short, with representatives telling Tuesday night's gathering that student safety and academic performance were hurt with attendance. One student described failing two classes at S2 level due to bus no-shows, at the meetings between representatives from the Ministry of Education and the Public Transportation Board, and parents, teachers and pupils. While minibuses have helped, PTB representatives Stephen Outerbridge and Rodney Grimes conceded that increasing their numbers or capacity might serve best for an ageing fleet plagued by vehicles being abruptly withdrawn from service. Another student told of being left behind after her minibus was full, waiting at the school for another vehicle that never came. She got home after 6pm. "Other bus drivers will also be encouraged to stop for students and tell them when they know that a bus is not coming," a public relations officers for the school told The Royal Gazette. Specific routes are often cancelled at short notice, and students were recommended to seek alternative buses and connect through Hamilton when their assigned buses were not running. Students are expected to arrive at CedarBridge by 8.15am, and must attend 97 per cent of classes in order to graduate. "Let's say you arrive at 9am and get to your class just after that," the public relations officer added. "It has a ripple effect because you interrupt whatever is taking place. The teacher has to stop their work to give you the instructions you need." School policy has adjusted so late students are not penalized when CedarBridge is advised of cancellations, although they must get a form signed when they arrive at their class. One parent told the meeting that, though reluctant to equip his daughter with a bike, felt he was left with no choice. Other suggestions mooted at the meeting included providing school buses with part-time drivers, having phone companies send out a text warning of cancellations, and increasing the island's overall fleet.
April 13. A local landscaping company will provide free services to assist in the management of the nature reserve in Paget. The Bermuda Audubon Society said that Horsfield Landscaping & Design Ltd will be assisting in the upkeep of the Alfred Blackburn Smith Nature Reserve. The 8.7-acre costal reserve, located on the South Shore, is open to both members of the society as well as the Coral Beach Club, located just to the east. "For some years Kevin Horsfield and his team have given a 'day of service' on the reserve to maintain the paths and tackle invasive casuarinas trees," Andrew Dobson, president of the Bermuda Audubon Society, said. "Now they are taking this a step further by maintaining the pathways on an ongoing basis." As an entirely volunteer-based organisation, the society was very grateful for the assistance, Mr Dobson said.
April 13. Charity commissioners are still deciding whether to recommend the renewal of Preserve Marriage's charitable status, which ran out on April 5. The Royal Gazette understands that the committee failed to reach a decision at its last meeting and will look again at the application when it next meets, probably on April 18. Preserve Marriage, which is against same-sex marriage and civil partnerships in Bermuda, was first granted charitable status last year, after 31 people submitted letters of objection to the Charity Commissioners. Preserve Marriage chairman Melvyn Bassett declined to comment on the renewal-of-status application last month but the group took out a half-page advert in this newspaper on March 30 in which it encouraged people to e-mail the commissioners to "share why you support Preserve Marriage's charity application". The advert said: "Refusal by the Charities Commission to allow Preserve Marriage to re-register as a charity could be considered discriminatory if the decision is based on, or influenced, by the obviously biased reporting on this matter, or any pressure from other charities which uphold an opposing cause." OutBermuda, a group which promotes equality for the island's LGBT community, was also given charitable status last year and applied successfully for renewal last month. Its current status expires on April 4, 2018, according to information shared by its deputy chairman Adrian Hartnett-Beasley. This newspaper has asked Registrar-General Aubrey Pennyman, via the Department of Communications, whether the two charities have had their status renewed and whether any letters of objection were received in relation to either renewal application. No response has been forthcoming after three e-mailed requests. Richard Ambrosio, chairman of the Charity Commissioners, declined to comment. Preserve Marriage did not respond to an e-mail. The Registrar-General refused a gay couple's bid to wed here last year. The couple subsequently brought a civil suit against him, the Attorney-General and the Minister of Home Affairs in the Supreme Court and a judgment is expected soon. Preserve Marriage was an intervener in the case, arguing in support of the Government's defence that the Registrar cannot post marriage banns for gay couples because such unions are null and void under Bermuda's current laws. The charity's lawyer, Delroy Duncan, also claimed that same-sex marriage could open the door for "multiple partner marriages" on the island. The law allows charities who apply for renewal at least one month before their status expires to continue operating as a charity until their application is decided by the Registrar.
April 13. Those looking to send kites soaring on Good Friday will have favorable conditions, according to one weather forecaster. James Dodgson, deputy director with the Bermuda Weather Service, said a moderate northeasterly breeze would make for good kite flying. "The reason for this breeze and wind direction is that we will be under a pressure squeeze between high pressure just to our north and weak low pressure to our south," Mr Dodgson said. "Current forecast projections suggest quite a lot of cloud cover, although there should be some sunny periods." According to Mr Dodgson, a weak cold front is expected to approach from the north later on Friday, bringing a few showers towards the evening. Conditions at Horseshoe Beach will not be ideal for all beach-based activities, however. "It will likely be rather cool for a swim with a sea-surface temperature around 68 to 70F," Mr Dodgson said. "There will also be a bit of an east-southeasterly swell." A high of around 70F to 71F is expected.
April 12. With seven weeks to go until Bermuda hosts the 35th America's Cup, the Premier visited the Event Village and surrounding areas in Dockyard for an update on the progress and preparation. Michael Dunkley was joined by Jeanne Atherden, the Minister of Health and Seniors, as well as Nandi Outerbridge, the Minister of Social Development and Sports, for Friday's tour of the facilities. "It's incredible to believe that in just over a month, we will be welcoming tens of thousands of people to Bermuda for the 35th America's Cup," Mr Dunkley stated. "Dockyard will be the focal point for so many activities, both on land and water, so it was important for us to view the progress and preparation taking place in the AC Event Village and Dockyard." He added that the Bermuda Government "with the support of many partners, has worked very hard to ensure that Bermudian construction companies, contractors and workers were involved in bringing the Event Village and Dockyard to life. So it was impressive to see all aspects of this area taking shape — from the Moresby House refurbishments to the transformation of Cross Island." And he added: "Bermuda will be on full display to millions around the world when the America's Cup gets under way and hosting this event will be a proud moment for our country. It was heartening to see the level of professionalism, commitment and determination from all involved in Dockyard." The visit was facilitated by West End Development Company's general manager Andrew Dias and chairman Ray Charlton. ACBDA and Peter Durhager, the chairman, led the walk around of the Event Village.
April 12. A founder and former chairman of Bermuda reinsurer Flagstone Re has died in Canada. Mark Byrne, who cofounded Flagstone with David Brown, died in Montreal last Thursday. He was 55. Mr Byrne was involved in the island's insurance and reinsurance business as an owner, investor and board member for many years. Mr Byrne stepped down as executive chairman of Flagstone Reinsurance Holdings in 2010, shortly after Flagstone announced it had completed a redomicile from Bermuda to Luxembourg, although the company maintained its presence on the island. He helped found Flagstone in 2005, and after stepping down as executive chairman remained a board member for a number of years. Steve Coley, Flagstone's governance committee chairman, said at the time: "Mark and David founded Flagstone together as partners and as the company has reached a certain level of maturity. Mark recommended and the board agreed that the executive leadership of only one of the founding partners is required to take the business forward." Flagstone Re was acquired by Validus Holdings in 2012. Mr Byrne, originally from County Wexford, Ireland, was a qualified jet pilot and flew his own private plane around the world. He also headed Bermuda Government's Education Board for a short time in 2009, standing down after six months due to what he said was a "a lack of political will" to improve the system. In 1993 he became chairman of Haverford, a holding company for insurance interests in Bermuda and internationally. Mr Byrne also set up Longtail Aviation in 1999. A self-confessed aviation fanatic, who started out learning how to fly gliders at age of 13, Mr Byrne said in 2008: "I love to fly whenever I get the chance. I fly helicopters, light planes, gliders, everything." Longtail Aviation has offices in Martigny, Switzerland, and Halifax, Nova Scotia, as well as its headquarters at the Longtail Hangar in Southside, St David's. Mr Byrne is survived by his wife Rebecca, four children, Sophie, Jacqueline, Matthew and Christopher, as well as his mother, Dorothy Byrne and brothers John and Patrick.
April 12. Bermuda-based reinsurer RenaissanceRe Holdings Ltd is to bolster its reserves by $30 million to take account of the discount rate used to calculate lump sum awards in UK bodily injury cases. From March 20, the Ogden rate changed from plus 2.5 per cent to minus 0.75 per cent, a decrease of 325 basis points. The company said it will recognise the impact on its reserves in its first-quarter results. "The majority of the reserve increase relates to a limited number of UK medical malpractice contracts within the company's casualty and specialty segment," RenRe stated.
April 12. Bermuda-based hedge fund manager Revelation Capital Management has been cleared of wrongdoing in a New York court. Revelation and company chief Christopher Kuchanny were accused three years ago by the US Securities and Exchange Commission of making more than $1.3 million in an alleged illegal short-selling share trade. But last month, Judge Valerie Caproni of the US District Court, southern district of New York, ruled that the transactions were not domestic and failed to meet the bar set by a US Supreme Court ruling limiting the reach of federal securities laws to trades taking place inside the US or in securities listed on a US exchange. The SEC accused Revelation and Mr Kuchanny of breaking Rule 105 in connection with Central Fund of Canada's November 2009 offering by short-selling Central Fund securities during the restricted period and then buying the same shares in the offering. But Judge Caproni said that Rule 105 involved two transactions — the short sale and the purchase in the offering, with neither leg prohibited without the inclusion of the other. The ruling said that, under previous court decisions, at a minimum, the purchase most be domestic for Rule 105 to apply. But it said that the SEC had failed to show that any activities related to the Revelation transaction took place in the US. Rule 105 was designed to ban short selling an equity security during a restricted period and purchasing the same security during the offering. Short sale transactions are where an investor sells stock he or she does not own in the hope that the security's price will decline. Rule 105 violations were an enforcement priority at the time the complaint was filed in 2014. When the charges were filed, Mr Kuchanny said he and the firm would vigorously defend itself" against the allegation. No one at Revelation could be contacted for comment yesterday. The listed phone number for the company was not operational and e-mails were bounced back. Mr Kuchanny, originally from the UK and a graduate of the London School of Economics, ran Osmium Capital Management, which changed its name to Revelation in 2011. The firm made a name for itself as an innovator in asset management in January 2009 after it announced it would allow investors in its Osmium Special Situations Fund to denominate their holdings in gold.
April 12. The island's Chamber of Commerce has formed a new division aimed at boosting the telecoms industry. Kyle Masters, legal and regulatory counsel with Digicel and BTC is chairman of the electronic communications division, with Edgar Dill, general manager of Link Bermuda as deputy chairman. Mr Masters said: "While individual businesses within a sector will always maintain healthy competition between each other, there are times when collaboration and unified action are better for the country and end users as a whole. For example, the electronic communications division provides a forum for unified response to detrimental customer moves such as large licence fee increases and for co-operation on planning and infrastructure development with clear benefits across cost efficiencies and the environment." The majority of telecoms licence holders have already signed up for the new division and any others are invited to become members as well. Kendaree Burgess, executive director at the chamber, said: "Telecommunications is a competitive and growing industry in Bermuda, delivering services that affect almost every resident and all businesses across the country. We are confident that Kyle Masters and the expert team comprising the electronic communications division will be very effective in securing progress for the benefit of all."
April 12. Questions remain over security at the St George's bus depot, where ten vehicles were ransacked in the early hours of Monday. A source who contacted The Royal Gazette claimed that surveillance had lapsed at the facility because of budgetary constraints, while Lawrence Scott, the Shadow Minister of Transport, said it appeared that the perpetrators "had time, and knew that they had time" in breaking into the vehicles. While queries on the depot's security elicited no details, a ministry spokesman said that some of the damaged buses had gone back into service yesterday owing to "the hard work and perseverance" of staff, who worked on them overnight. Money vaults had been smashed in several buses, with replacement parts required. Two bus runs were cancelled yesterday morning, but officials hope to avoid further cancellations, and will survey the fleet this morning before making a decision. Five buses that had vaults stolen went back on the roads on Monday, with two more added the next day. The remaining three are expected to be fit for duty today. The source who contacted this newspaper suggested that 51 buses had been off service on Friday — a figure which, if correct, would imply close to half the fleet being off the road, Mr Scott said. The ministry did not respond when asked how many were out of service at present. That number has typically fluctuated according to daily assessments, but Mr Scott said he had been especially concerned by the high numbers of cancellations and their effect on schoolchildren. "I will use CedarBridge Academy," Mr Scott said. "Between September 12, 2016 and March 14, 2017, 44 per cent of buses were not available coming from the East End and 88 per cent were not available coming from the west." Students risked missing important tests when routes were cancelled, and Mr Scott said in some subjects CedarBridge pupils might miss "a quarter of a year's courses, just because of buses not being available". Security at the St George's depot was queried on Monday by Walter Roban, the Shadow Minister of National Security, and Mr Scott said that as of yesterday the Opposition had received "no updates or corrections — we assume that the information we have been given is correct, but we will defer to an official statement".
April 12. Members' clubs and restaurants that flout the terms of their liquor licence will be stripped of their ability to sell alcoholic beverages, the Liquor Licensing Authority has warned. The caution from LLA chairman Juan Wolffe comes as the authority prepares to hold a series of hearings next week to determine whether clubs and other businesses should have their licences renewed. Mr Wolffe told The Royal Gazette that some membership clubs had morphed into "hangouts for gang members" that were rife with lewd and antisocial behavior. He said the LLA was also determined to crack down on restaurants — operating under restaurant liquor licences — but transforming into nightclubs and dance halls after 10pm. "Members' clubs licences are the least expensive to obtain, but have the widest privileges. This is all the more reason why they should comply with the conditions of the law and of their licences, such as providing to the Liquor Licence Authority minutes of their meetings, subscription books, accounts, and memberships books. The authority does not receive documentation from certain establishments, he said, leaving it unable to determine whether these members' clubs are, in fact, bona fide members' clubs. In fact, what we have found is that some of them are simply watering holes for any member of the public. It also appears that the entrance requirements of some of the members' clubs are lax or non-existent and often attract individuals who engage in violent or sexual activity on club premises. This has caused the LLA a great deal of concern — and so whereas, in the past when we have been flexible with members' clubs, which may not have been compliant, this year we will be applying the law much more strictly." Mr Wolffe maintained that the LLA would work with establishments to ensure they were not in contravention of the law, but it was determined to send out a strong message that contempt for the regulations would not be tolerated. This month, the LLA will also be focusing its attention on preventing establishments from serving alcohol to minors and putting the brakes on establishments that hold restaurant liquor licences, but effectively "morph into nightclubs" after 10pm. "Basically, the dining room tables are pushed aside, a dancing floor is created, a DJ starts playing music, and dancing occurs up to 3am in the morning," Mr Wolffe said. "Restaurant licences do not allow for such activity to take place and therefore restaurants must apply for a nightclub licence if they wish for such activity to occur. We suspect that the reason why some restaurants do not apply for a nightclub licence is because it attracts a $4,000 application fee and it has certain conditions attached as to layout, security staff and CCTV. However, it is unfair for establishments which have followed the law and applied for a proper nightclub licence and paid the requisite fee to compete with establishments who flout the law by turning their restaurants into nightclubs after 10pm. Therefore, in this licensing period, we will be looking more closely at these restaurants and, if necessary, setting strict conditions upon them in the absence of them applying for a proper nightclub licence. It has always been our desire to assist licensed premises. However, it is increasingly difficult to do so when some licensed premises blatantly break the law. We are not a moral authority telling people not to consume alcohol. However, as the LLA, it is our responsibility to ensure that there is responsible sale and consumption of alcohol in licensed premises."
April 12. A consignment of hi-tech electric microcars has arrived in Bermuda. The Renault Twizy cars were delivered to Hamilton Docks yesterday for importers Eurocars for onward transfer to a rental company. Eurocar yesterday declined to comment on the final destination of the vehicles. The Twizy, first unveiled in 2012, was designed as a city car, with a tandem two seat configuration. It became the top-selling plug-in electric vehicle of 2012 and by the end of last year more than 19,300 had sold, with Europe its biggest market. The Spanish-built cars are 7ft 7in long, with a width of 3ft 1in and stand 4ft 6in tall. The frame and body are designed with a deformable structure to protect occupants, while the outboard position of the four wheels and lateral beams either side of the chassis provide protection against side impacts. Twizy drivers have an airbag and seatbelts are fitted on both seats. The range includes two models, the Urban 45, powered by a five horsepower engine and a top speed of 45km or 28mph. The more powerful Urban 80 has a 17 horsepower engine and can reach 80kph or 50mph. The batteries have a range of 100 kilometers, or 62 miles, although Renault drivers in real world conditions could expect a maximum range of around 50 miles. The car was certified by Transport Canada last March for use on the country's roads.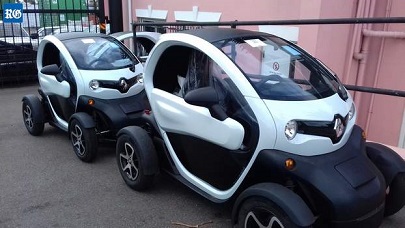 Renault Twizy in Bermuda. See above article
April 12. A further four men have appeared in court to face criminal charges in connection with the December 2 protests outside Parliament. Dornielle Farrel, Ernest Trott, Antoine Minors and Sherman Hill are all accused of obstructing police officers in the execution of their duty. Mr Farrel, 27, of Southampton, Mr Trott, 51, of Devonshire, Mr Minors, 34, of Devonshire and Mr Hill, 58, of Hamilton Parish all denied the charges at Magistrates' Court yesterday. All four men were released on bail and will reappear before the court on May 3 for a further hearing. There was a light police presence as a small group of supporters gathered outside the Dame Lois Browne-Evans building. Meanwhile, the courtroom was full to capacity with union heads Jason Hayward and Chris Furbert in attendance as well as the Reverend Nicholas Tweed of the People's Campaign and Progressive Labour Party MP Derrick Burgess. Yesterday's appearance of four men at Magistrates' Court brings the total number of people charged with offences relating to the December 2 protests to 15.
April 11. Mergers and acquisitions in the Bermuda and US insurance markets this year are predicted to maintain the momentum seen in the latter half of 2016, when among the deals struck were seven valued at more than $1 billion. But there is uncertainty about the speed of further consolidation. Some planned deals may be put on hold until the implications of the new Trump administration in the US, including potential tax and regulatory changes, become clearer. Those are among the considerations highlighted in a review by Deloitte. The company anticipates eight to ten highly strategic "$1 billion plus" deals this year. Deloitte's 2017 Insurance M&A Outlook report identifies economic tailwinds and headwinds that could affect M&A activity for insurers. Deloitte believes the low level of M&A activity in the first half of last year "was a pause, not an inflection point". John Johnston, Bermuda partner, said: "New merger activity in the Bermuda market in 2017 has been slow, possibly due in part to uncertainty around US tax reform and the relatively full valuations of Bermuda companies. It isn't clear if the tax uncertainty will be resolved quickly or will get bogged down in the political process, but companies and their owners still need to deal with the underlying reality that the current pricing and investment climates remain unfavorable. So, barring a significant improvement in industry fundamentals, further consolidation in Bermuda seems to be a matter of when, not if." There were no deals above $1 billion in the first six months of 2016, however in the US and Bermuda markets there were seven in the second half of the year. Those deals included Sompo Holdings' purchase of Endurance for $6.3 billion, Arch Capital's $3.4 billion purchase of United Guaranty from AIG, and Liberty Mutual's $3 billion acquisition of Ironshore. The aggregate deal value in 2016 was $27.6 billion, a drop of 61 per cent on the $70 billion in 2015. However, the 2015 total was significantly boosted by the near $30 billion deal involving Ace and Chubb. There were 522 deals last year, roughly in line with the 571 of 2015. There were 19 Bermuda deals, up from 17 in 2015. The aggregate deal value fell from $16.5 billion to $14.2 billion year-on-year, while the average transaction price to book value multiple decreased 13 per cent from 1.18 to 1.04. Looking ahead, Deloitte said likely macro-level tailwinds for M&A activity this year include the continuation of an environment of slower economic growth, and Federal Reserve interest rate increases that could help companies "model a favorable economic scenario in their deal pricing and make it easier to justify paying more". Deloitte also sees evidence suggesting a pick-up in activity of European insurers in the US in the latter part of 2017 and next year, due to "seemingly favorable trajectories for economic growth, taxes, regulation, and interest rates". On the downside, Deloitte expects four major headwinds for M&A in the insurance industry. One factor is the lack of targets, with few company boards and executives eager to sell. Also, valuations are considered full, potentially hindering any deals that would pay "notably over book value". The other two headwinds are short-term uncertainty around policy and regulatory actions of the new US administration, and whether demand from Asian buyers will remain as strong as it was in 2014 and 2015. In its report, Deloitte said it expects tailwinds to prevail against headwinds this year, and while there is unlikely to be megadeals of the scale seen in 2015, it anticipates around eight to ten deals above $1 billion in value. Deloitte expects the stagnant life and health sub-sector to remain that way, however it sees a strong likelihood of deals in the middle-market of P&C and reinsurance sub-sectors due to all-time high capital levels and exceptional difficulty achieving organic growth.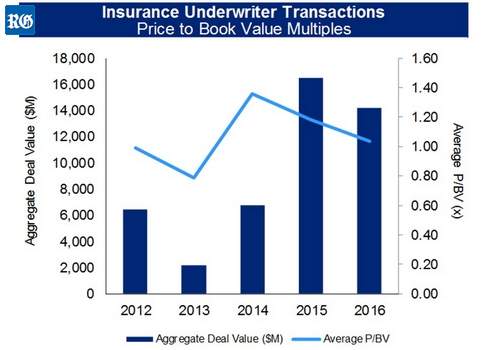 See above article
April 11. Island-based global drinks firm Bacardi has clamped down on a brand scam run by a fraudster who billed himself "the baron of spirits". Mystery man Tofikuddin Ovaysi registered nearly 100 shell businesses in the UK using clone names of drinks producers — including Bermuda's Bacardi. But now the real Bacardi has taken action in England to have Mr Ovaysi's Bacardi Ltd axed. A spokeswoman for Bacardi, which operates in Britain as Bacardi UK Ltd, said: "We took action on this matter as soon as we became aware of it and we won. Bacardi is diligent in protecting its corporate and brand names and addresses any infringement on our intellectual property." The UK Company Names Adjudicator last November ordered that the bogus Bacardi change its name within a month — or it would be done for them. Mr Ovaysi was also ordered not to use any company names that could be confused with existing companies. Among the other drinks company names registered in the UK by Mr Ovaysi, said to be a Russian who lived in the Ukraine, were linked to reputable companies like Diageo, Pernod Ricard and whisky maker William Grant & Sons. Most of the firms were registered last summer while he was living and working in the Ukraine, where he was wrongly reported to be the son of millionaire Vijay Mallya of India's United Breweries. known as UB Group and the makers of Kingfisher Beer. Mr Ovaysi opened what was thought to be the Ukrainian HQ of United Breweries in the provincial city of Ternopil last February, promising major investment and hundreds of jobs. But he fled the city last September when his Ukrainian business, UB Groupe rather than UB Group, was declared bankrupt. He built his fake drinks empire using £10 registrations of 96 clone companies at the British public registry, Companies House, using a mailbox address in London. Some of his cloned companies, including United Breweries Group Ltd and Kingfisher Beer Ltd, remain on the UK register of companies. The news has prompted calls by UK politicians to tighten up Britain's company registration system. Roger Mullin, an MP from Scotland, the home of Scotch whisky, said the Ovaysi case underlined the need for urgent reform of the company registration system. Companies House has four million recorded firms as well as millions of directors, many of whom are thought to be falsely or inaccurately recorded. Mr Mullin said: "Companies House simply doesn't have the resource to properly investigate and administer registrations. This is making it much easier than it should be for rogue registrations and for dubious practices to go undetected." Companies House said it did not check new registrations for name infringements, but that it urged those applying for businesses to do so. The organisation added that companies who believed their names had been stolen to appeal to Companies House to have the problem fixed.
April 11. Bermuda has been waiting for the Emirates Team New Zealand America's Cup challenger to arrive to see just how their boat matches up against the other five teams. In a few short weeks, all the questions will be answered. New Zealand arrived yesterday and should be on the Great Sound within two weeks. Peter Burling, who will be driving the 50ft America's Cup Class flyer, threw down the gauntlet: "We are pretty fired up to bring the cup back to New Zealand — where it belongs." Before leaving for Bermuda last week, Team New Zealand's helmsman Peter Burling and trimmer Blaire Tuke sat for an interview with Mike Hoskin of Newstalk ZB in New Zealand. The pair, who made names for themselves first in winning the 2013 Red Bull Youth America's Cup and then in winning their discipline at the Rio de Janeiro Olympic Games last year spoke on a broad range of topics. "Do you feel it?" they were asked. "Feel the pressure?" Burling said: "We look forward to getting up there [Bermuda] and getting into it." The team have been comfortable training in New Zealand while the other teams were already in Bermuda. Tuke explained that sailing at home through the Kiwi summer had been a way to be more efficient. "We had a great New Zealand summer and made the most of it," he said. "Conditions in Bermuda have not been the best through their winter — December, January, February and even on through March. They had lots of days 'blown out' because of winter storms coming down from the north. We haven't had as much time in the waters [of Bermuda]. Come race day you just have to play what's in front of you, look up the course and make the most of it." Oracle Team USA and Artemis Racing have been based in Bermuda for almost two years. The other three teams — Land Rover BAR, SoftBank Team Japan and Groupama Team France — arrived before mid-March. Since late March the teams who were already training in Bermuda have been match-racing against each other in two race periods under the newly modified race protocol. Burling commented on the Qualifying and Playoff format where all the competitors sail against each other, even the defender. "It is what it is. It is a moving target and we have to make the most of it, play the hand we're dealt. It is an advantage to see Oracle racing and to match up with SoftBank Japan, too, in the World Series and the qualifying rounds. They have the Oracle design package and are under the Oracle umbrella. It will be nice when we can line up against those blokes and see where we are weak and where we are strong." Foiling has been a big topic. Some people think that foil design will win the race. The New Zealand helmsman and trimmer both believe that the boats will be up on foils in almost all conditions and probably in all the conditions within the upper and lower wind limits, an approximate average true wind speed between 6kts and 25kts, measured as defined in the race protocol. Tuke explained that the AC Class boats will be up on foils from start to finish because of improved technology. "The 72-footers sailed in San Francisco were designed as boats 'in the water' hoping to foil, The AC 50-footers have been designed to foil everywhere from the start. We will come in the [starting] box on foils and be foiling at the start, although we may drop of if it [the pre-start] gets close." And what about pedal power, the radical shift from arms to legs for grinders? "We are happy with the decision." Burling said. "Every day we get better." As for crew placement, he said: "We will be putting all the crew on the windward side. that is the fastest. The pictures of two peddlers per hull was 'fake news', just a picture someone took when the crew were in that position. Transfer times from side to side are just about seven seconds, maybe a second or two slower than for the traditional arm grinders. Transfer times depend on how much risk you want to take," Burling added, referring to their high G-forced experienced in sharp turns at race speed. Tuke was asked who is "up" but hedged his bet in reply. "We have a good feel of who's going well and how we slot into that, what wind conditions we do well in and what mode we'll be sailing in," he said. "We've got a good platform now and we've just got to get up to Bermuda and put the final touches in it. We will keep developing right on through the challenger series."
April 11. Sam Bell, the Emirates Team New Zealand grinder, cannot wait to get his hands back on the team's America's Cup Class yacht, which arrived on island yesterday. "It's really exciting and I can't wait to get out there on the water," said Bell, as he anxiously waited for the precious cargo to be unloaded from the Emirates SkyCargo 747 aircraft. "It's been a few weeks here now watching the other teams race on the water and it's been hard to watch." The arrival of the team's AC50 foiling catamaran coincided with the start of a three-day practice racing window for the teams involved in the 35th America's Cup. Bell hopes that the team's boat will be reassembled before the next practice racing period commences on April 24-28. "I think we will definitely be pushing for that," he said. "Hopefully we can get the boat together in time. It looks pretty similar, the conditions out there to what we have trained in in Auckland, so it shouldn't be too big an adjustment for us." Perhaps the most fascinating aspect of Team New Zealand's racing yacht is the radical pedal grinders the team have opted for over traditional arm-powered grinding stations. "I come from a grinding background and it's been a big adjustment for a lot of the guys to change their bodies and turn them upside down," Bell said. "Countless hours have gone into research and development to get us where we are today, and a lot of credit has to be given to the shore team who don't get home till well after dark. It's good to be here, the people of Bermuda are pretty awesome. You can't walk down the street without someone saying hello and asking how your day is." The arrival of Team New Zealand's 50ft catamaran proved to be a spectacle for the hundreds of spectators that lined the road along Ferry Reach to see the plane touch down at LF Wade International Airport yesterday at 5.20pm. The operation had been months in the planning from modelling the contents and loading of the aircraft, to getting custom racking system produced, to physically packing everything on to the huge aircraft. The load that arrived in the big plane's belly included two hulls of the 50ft Team New Zealand AC Class race boat, two wing sails, a chase boat, multiple daggerboards, gym equipment, electrics, hydraulics and a huge amount of supplementary equipment which equates to around 42 tonnes of cargo. "We have a four-hour window to unload," Kevin Shoebridge, the Team New Zealand chief operations officer, said. "Loading took 3½ hours so we should be finished unloading in three. Tonight we hope to truck the boat and all the gear to our base in Dockyard. Every day counts now. We need everything to go [according] to plan so that we are back testing and sailing on the Great Sound in Bermuda in as little time as possible." Among the dignitaries on hand were Premier Michael Dunkley and Economic development minister Grant Gibbons. "We are excited to have the New Zealand boat and the rest of the Team New Zealand here in Bermuda," Gibbons said. "We can't wait to see them out on the water." A host of Team New Zealand team members were also on hand to greet their boat and their team-mates who made the 21-hour flight from Down Under via Los Angeles.
April 11. Bermuda's vital contribution to a Canadian victory at the Battle of Vimy Ridge 100 years ago (9-12 April 1917, see https://en.wikipedia.org/wiki/Battle_of_Vimy_Ridge) was commemorated on Sunday by island historian Dr Edward Harris. The Bermuda Militia Artillery played a key role in supporting artillery, which cut through German barbed wire, bombarded enemy trenches and allowed Canadian troops to capture the strategic ridge. "A century is a long time and in the case of the battle of Vimy Ridge in April 1917, three generations have now passed or are passing since the Bermuda Militia Artillery, a corps of some 240 black Bermuda volunteers set sail to fight on the Western Front in France as the Bermuda Contingent of the Royal Garrison Artillery," Dr Harris, director of the Bermuda National Museum, said. "Not many will recall their sacrifices through three years of war, but part of the purpose of marking anniversaries is to remind the present generation of the debt to those who went before us, particularly volunteers, soldiers who put their lives on the line so we can be living in freedom today." The Bermuda contingent served primarily in ammunition supply, at dumps, and in delivering ammunition to batteries in the field. The island troops served at the Somme from June to December 1916. They were then moved away from the Front, serving on docks until April, 1917, when they were attached to the Canadian Corps, serving in the Battle of Vimy Ridge. Dr Harris added: "All the men had served in exemplary fashion, as indicated in Field Marshal Sir Douglas Haig's report, issued just after the war." Field Marshal Haig, the British commander in France, gave the Bermuda artillery men a unit commendation for their courage under fire. He wrote: "This contingent [BMA] served with the Canadian Corps during the operation in May and June, subsequent to the capture of Vimy Ridge. "They were employed on heavy ammunition dumps, and great satisfaction was expressed with their work. Though called upon to perform labour of the most arduous and exacting nature at all times of the day and night, they were not only willing and efficient but conspicuous for their cheeriness under all conditions. Their officers rendered valuable services in the management of the dumps. The unit also worked on ammunition dumps from end of June to the beginning of September in another corps. On more than one occasion the dumps at which they were employed were ignited by hostile shell fire, and much of their work was done under shell fire. Their behavior on all these occasions was excellent, and commanded the admiration of those with whom they were serving. In fact, the manner in which they carried out their work under all conditions was strikingly good." Dr Harris added that, even in the horror of war, love blossomed. He said: "Two of the BMA men returned to France after the war and married their French sweethearts and I recently had the honour of meeting one of their granddaughters. The Bermuda Militia Artillery was the largely black part of the island's defence forces in a still-segregated island. White Bermudians served in the Bermuda Volunteer Rifle Corps, which also saw service in the First World War. The Battle of Vimy Ridge, which saw the deaths of 3,598 Canadian soldiers over three days, is regarded in Canada as one of the events that forged the nation and is commemorated at home and at the Vimy Ridge Memorial, part of a park permanently ceded to Canada by France to honour their courage in liberating the country. The centenary was marked on the site of the battlefield on Sunday, with thousands of Canadians gathering to reflect on its legacy. Prime Minister Justin Trudeau paid tribute to those who fought and he attended a commemorative ceremony with French President François Hollande, the Prince of Wales, the Duke of Cambridge and Prince Harry. The Queen also sent a message to Canadians in French and English commending their soldiers for the sacrifice they made.
April 11. A Bermuda golf store has expanded into a new and bigger location. Island Kaddy, formerly on Front Street, now boasts three high-tech golf simulators, programmed with some of the world's top courses like Gleneagles in Scotland and Canada's Banff Springs, among the 40 different challenges on offer. The new shop and golf entertainment complex also features a bar, food and luxurious seating, as well as virtual reality golf games using special goggles. Anne Marie Forbes, co-owner of Island Kaddy with keen golfer husband Ian Forbes and golf professional Scott Roy, said: "The simulators work using sensors — players hit the ball and sensors measure the club's head speed and the angle to work out where it would have gone." Ms Forbes — a keen golfer and member at Port Royal — added: "If they slice the ball, it will slice the ball on the screen. It's amazing technology." She added the new store, at 94 Reid Street in the former headquarters of broadcasters VSB, was ideal for corporate events or individuals looking to brush up on their techniques or who are new to the sport. Mr Roy, former director of golf at the now-closed Riddell's Bay Golf Club, said: "It's for average golfers to more seasoned golfers and people can use their own clubs on the simulators or use our ones. "The simulators can be used for teaching and fitting for clubs as well. Golf is a great game — everybody can play it and we wanted to make it more accessible. People can come here and play for an hour or an hour and a half. Players can pop in for lunch and play for an hour for stress relief. We have food service and beer — we want to create a fun, social atmosphere in golf. Mr Forbes added: "It's very important to send the message that we want to work in co-operation with golf courses. We're not in competition, we want to create a synergy. Non-golfers can come here, get trained up and get sent out to courses on the island. We're here to help the entire industry." The virtual reality goggles feature mini-golf, as well a rollercoaster ride and hiking and nature walks. Mr Roy said: "We're open for corporate events and parties. People don't have to be golfers but swinging a golf club for an hour is a good workout." Island Kaddy opened on Front Street two years ago and the new store features the same top brands, including electronic gadgets like GolfBuddy and GPS, as well a top clothing brands and kit for men, women and children from designers like J Lineberg, Greg Norman and Nike, as well as electric Powakaddy golf trolleys. The new store is open from 10am to 10pm Monday to Saturday and from noon to 6pm on Sunday. More information at islandkaddy.com.
April 11. A gift of Easter lilies has been sent to the Queen, picked by Governor John Rankin. The flowers were grown by Manuel DeSilva Jr on fields that his family has farmed for more than 40 years. The bouquet is to be sent courtesy of British Airways, and should reach Windsor Castle tomorrow.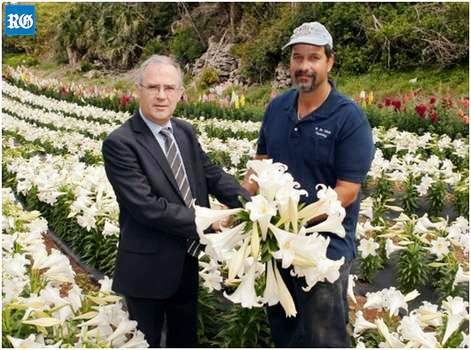 See above story
April 11. Two men yesterday pleaded not guilty to offences related to the protest of December 2. Chris Furbert Jr, the son of Bermuda Industrial Union president Chris Furbert, and Anthony Burgess denied preventing entry to the House of Assembly. At a packed Magistrates' Court, they also pleaded not guilty to interfering with the duties of the Minister of Finance under the Criminal Code Act and not guilty to obstructing officers as they carried out their duties under the Summary Offences Act. Mr Furbert, 38, of Southampton, and Mr Burgess, 52, of Hamilton, declined to be tried in Magistrates' Court and will appear at the Supreme Court arraignments session on May 1, before the matter goes to trial. They were released on $1,000 bail. Those in attendance included the Reverend Nicholas Tweed of the People's Campaign, Mr Furbert Sr, Bermuda Public Services Union president Jason Hayward and Shadow Attorney-General Michael Scott. A small gathering of people outside the building included BIU organizer Glenn Simmons, although numbers were significantly down from the 200 who gathered last Friday when six people were charged in connection with December 2. A police presence remained in place. Last Friday, Mr Furbert Sr, Mr Hayward, Mr Tweed, Mr Simmons, Neville Goddard and Lilymay Bulford all denied charges of blocking access to the House of Assembly and obstructing police. In total, 11 people have now been charged in connection with the protests. Others who received summonses are expected to be formally charged tomorrow.
April 10. The first two blocks of a luxury development at the former Morgan's Point military base are rising from the ground. The Cove, a Ritz-Carlton Reserve Residence, is in the first stage of the redevelopment of what is now Caroline Bay and the first block of seven homes is expected to be completed by the end of the year. Sandra Christensen, sales and marketing manager at selling agents Coldwell Banker, said: "The residences are branded at Ritz-Carlton Reserve, only the third development with Reserve branded residences in the world, so this is very exciting for Bermuda. Owners will benefit from the services of the world-renowned Ritz-Carlton brand." A 79-room hotel on the site is also under construction nearby. When complete, the Cove will offer buyers a choice of two- and three-bedroom homes, as well as four-bedroom penthouse apartments, with a starting price tag of $2.5 million. The development was showcased overseas in November at the Art Basel Miami event, hosted by tennis star Venus Williams and supermodel Heidi Klum.
April 10. Five local companies will be providing the food and drinks at the America's Cup Village. Rosa's Cantina, Bermuda Pie Company, JB's Woodfired Pizza and Smokin Barrel have been selected for their food specialties, while Docksiders Pub has been awarded the public bar concession. Chris Garland, America's Cup Public Food & Beverage Concessions Manager, said: "These businesses bid on a tender for this opportunity and were chosen on their business strength and their ability to provide continuous quality service to a high volume of people daily, for a 5-week period. "This will be a demanding time on their business and their staff and they have demonstrated that they are up for the task. It was important for us to also provide a wide selection of food choices for fans attending the America's Cup Village, and even more variety will be available, with the snack and festival food vendors to be announced soon. These vendors will do us proud, rising to the challenge and ramping up from Bermuda's local daily demand to an international standard, serving thousands of ticket holders on any given day at peak times." America's Cup Village ticket holders will enjoy a range of varied activities and interesting interactive things to do, before and after racing. Tickets online can be bought through www.americascup.com/tickets
April 10. The last of Dockyard's historic naval emblems have been painted over as part of the major renovation project on the South Basin. For decades navy crews proudly painted their ships' crest on the concrete walls surrounding the South Yard where the vessels berthed. Between 1951 and 1995 scores of vessels from across the world passed through Bermuda and left their mark in the West End. Over the years the crests have faded away and many of the emblems have been repainted by volunteers. However, last week the last of the crests were whitewashed as part of the upgrade. Edward Harris, director of the National Museum, revealed that all the crests had been photographed and were available on the museum's website (since 2009, available on our website at www.bermuda-online.org/rndshipscrestswalls.htm). "Some dockyard heritage has been lost in the clearing of the South Yard of the old Royal Naval Dockyard for the erection of buildings for the teams competing in the America's Cup and the last of the unique ships' crests have now been painted over," Dr Harris said. "However, all of the crests have been professionally photographed and will eventually be available for viewing on the National Museum website. In addition, Moresby House, the old headquarters of HMS Malabar of the North American and West Indies Station is being saved and renovated and will soon overlook the South Yard and all the America's Cup activities in considerable splendor, thanks to a grant from the Government. "It is hoped that other legacy projects in Bermuda will result as part of the America's Cup events at Bermuda." The South Yard was built in Dockyard between 1901 and 1910 to accommodate the larger ships that were becoming more commonplace across the world. Between the 1920s and the 1940s the yard was used for basic repairs on passing naval ships. This continued throughout the Second World War while Bermuda was used as a base for the Allied forces. The South Yard remained the Royal Navy's base in Bermuda for the next four decades. In 1985 the South Basin was dredged to allow nuclear submarines to come into the South Yard and ten years later the Royal Navy left Bermuda and the South Yard was handed over to the Bermuda Government. Scores of naval ships left their mark in the South Yard between 1951 and 1995 including well known vessels such as HMS Brilliant and HMS Londonderry that have since been decommissioned. And even before then in April 1943 HMS Argonaut famously called into the South Yard for repairs after having her entire stern and part of her bow blown off by an Italian submarine.
April 10. More than 2,000 people turned out yesterday to participate in the Palm Sunday Walk through Paget and Warwick. Walkers were able to explore areas of the parishes that are usually closed to the public as part of the annual five-mile walk organised by the National Trust. This year's event, which was sponsored by Sompo International, began and ended at the Bermuda College — with participants guided along a course that passed Elbow Beach, Coral Beach and Tennis Club, Alfred Blackburn Nature Reserve, Billy Goat Hill, the Poorhouse on Spring Road, Warwick Academy, Ship's Inn, Salt Kettle, and the historic buildings of Bamboo Gate, Beverley and Horizons. "I really liked it," said 51-year-old Hamilton Parish resident Catherine Hollingsworth, who takes part in the event every year. "It was somewhere very different." Kathryn Davis, also from Hamilton Parish, added: "You got everything from the views to the houses you don't normally get to visit." Ms Davis, 55, said her favourite part of the walk was the Alfred Blackburn Nature Reserve, which she had not seen before. Rochelle Smith, 52, and Lachelle Swann Foggo, 55, have been taking part in the event for several years. "It was hard but it was nice — we enjoyed it," Ms Smith, from St George's, told The Royal Gazette. "You would be amazed at what was back there." "It gives us the exercise that we need," Ms Swann Foggo, of Devonshire, added, although she said there were a few too many hills on this year's route. The event has also become a tradition for 69-year-old Veronica Hollis, who said: "I didn't realize Bermuda had so many hills. But I've enjoyed it." Ms Hollis, of Hamilton Parish, was accompanied by 36-year-old Bianca Marshall, who is originally from Trinidad. Noting that it is that time of year where the weather is starting to warm up, she said the walk was a great opportunity to get out and about and see more of the island. Ms Hollis, who also remarked that the event is a great way to meet people, added that some of the views were the best part. "The views were really amazing," Ms Marshall agreed. The views also stood out as a favourite part for Michael Fox, of Warwick. Mr Fox, 65, said that although he doesn't take part every year, he does "when I can get out here because I get to see Bermuda and what it's like now. "Some of the places I've seen now that I haven't seen since I was five years old." He particularly enjoyed the walk along Elbow Beach, through Coral Beach onto Cobbs Hill Road and up Billy Goat Hill, although the latter "was a challenge". Lawrence Doughty, conservation officer with the National Trust, said they were very pleased with the turnout, with a total of 2,060 people taking part. "That's a great number," he said. "It went really well. It has gone smoothly."
April 10. The loss of family and friends to gang violence has spurred one man to launch an anti-violence magazine promoting peace in Bermuda. Desmond Crockwell has realized his dream of a quarterly publication giving voice to those harmed by gang activity. It was launched with a non-political event at the Bermuda Public Service Union on Saturday evening. Mothers of murdered men, gunshot victims, former convicts turned community workers, and many endangered by gangs crowded the room for Mr Crockwell's message. Supported by the Ministry of National Security, the magazine will appear in schools and shops around the island on May 1. Attendees gave moving testimonies of the violence that has ravaged pockets of the island in recent years. A gun victim extended an invitation to anyone mixed up in violence to reach out to him, while a grieving sister shared the moment she heard that her brother was dead. An ex-convict shed a beacon of hope as he described how he managed to turn his life around. Mr Crockwell Sr — chief editor — has lost no less than six cousins and "countless" friends to violence, and now works with at-risk children. Introducing the evening, he noted the dignitaries present, including Minister of National Security Senator Jeff Baron — but paused, telling the room: "Everyone here is a dignitary. We are here to celebrate courage and appreciate everyone's story. We are here because you care about somebody. It is not easy to listen — emotions get in the way. I want you to know you are not alone. I feel you and I want to promote that unity. This all started with a conversation with my uncle who lost his son. He said to me 'something good has got to come out of it. I want to thank you — it takes a lot of courage to come up here and speak. Young people want to be listened to, and we want you to know that someone is here to listen to you." The event opened with two songs by artist Ronae Burgess, aka Slanger, who was himself incarcerated for killing a man, but turned his life around in prison. His music carries an overriding message of peace, directly addressing those involved in crime. Ceble Crockwell, who lost her brother Fiqre Crockwell on Father's Day 2016, described the moment she found out. "That day changed our lives for ever," she said. "He was gunned down, shot five times. I got the call at five in the morning that we would never see him again. It plays in my mind every single day. When I am speaking to my niece and she asks me 'auntie, why?' I have no answers. My message this evening is to everyone to look within yourselves and ask, who do you affect?" She stressed the value of role models in children's lives, explaining that her brother had been active in cricket and football training with young people. "Try to be that person. Can you look in the mirror and say that you will have your phone on 24/7 to be there for a young person? If not, change it. There are a lot of broken, fatherless homes and we need to get a grip on the rift in Bermuda." Hip-hop artist J'Silva spoke of having purpose and responsibility to others before singing Nothing But Love, dedicated to his family and community. Michael Doucet, an ex-convict turned community worker, offered his own message of hope, saying that even after bad decisions, life could be turned to the better. He said the title of his story was From Selling Drugs to Selling Snowballs. Now the owner of a small business, Mr Doucet's record was marred by drugs and violence. Although his history follows him, he aims to "direct the youth of today in a different direction". Youth pastor Aaron Lugo told the gathering that "we all have a past", but added: "You have got to have hope. Our young people don't feel like they have any hope. "They need positive role models — someone to look up to." Mirrors co-ordinator Kim Jackson congratulated Mr Crockwell for "staying committed to his vision", highlighting five contributors to social ills: substance abuse, teenage pregnancy, violence, dropping out of school and delinquency. Saying that Bermuda had "relaxed our standards", Ms Jackson continued: "The community needs to stand up. This magazine is the voice of the community; it is the voice of the people; it is the voice of those who have been hurt; it is the voice of those who say it won't happen in my community". Greashena Spence spoke of the murder of her husband, saying she had witnessed gang life from both sides, and relating how people she had known as closely as family had become consumed by violence. While her husband had no gang links, she said false rumours had spread, prompting her to leave the island. But before he could follow her back to his native Jamaica, she received a call saying he had been shot nine times. Each new killing left her sick to her stomach, she said. Watching its effects on her son, she decided with her mother, Gina Spence, to work with the children mourning the loss of their fathers. "My son never went back to his jovial self," she said. "And he kept crying in the middle of the class". She recalled finding some closure by visiting the men charged but never convicted of killing her husband — an initiative she hoped would spread. Ms Spence told of standing up to men in the street to tell them of their wrongdoing, saying a room where crime was being discussed would fall silent when she came in. Ralph Burrows, shot in 2010, spoke via video link, appealing to anyone affected by negativity to reach out. Pointing to Mr Crockwell, Mr Baron told the room: "I am here for one reason — because I believe in that man." Mr Crockwell had approached the ministry with his idea for the magazine, which Mr Baron agreed to support, saying he was "honoured" to be associated. The minister read stark statistics, including that 125 men shot and injured in the past decade. Mr Crockwell hopes that distributing his magazine in schools will bring an early message out to young people. Many of the night's testimonies can be found in its pages.
April 10. East End residents were warned to expect bus delays yesterday morning after ten vehicles had to be taken off the roads due to damage in thefts at the St George's depot. Police announced yesterday that the facility on Old Military Road had been targeted overnight, with cash removed — and the Department of Public Transportation confirmed it was assisting the investigation. Commuters were hit with delays that morning, for which the department apologized, saying the buses had to be repaired. Walter Roban, the Shadow Minister of National Security, said last night that the incident raised "serious questions" about security. "This senseless act of theft and vandalism of our public buses has ramifications beyond the money stolen and damage suffered; it impacts those who can least afford delays or disruptions — our bus riders. This situation will further hamper a public transportation system that is being continuously challenged by bus shortages and breakdowns as we enter the busy tourism season." Mr Roban questioned whether reliable security and surveillance was in place at the depot — saying that the police's $6 million CCTV system ought to be extended if the facility was not covered. He pointed to break-ins at five public schools in February as indicative of other security shortfalls. and said bus expansion plan to Dockyard and St George's must be modified to address the situation. Mr Roban recommended that police consult with the department for a review of security at public transport facilities, so that suggestions could be implemented.
April 10. Two films about 19th-century American poet Emily Dickinson will open the 20th anniversary edition of the Bermuda International Film Festival. Documentary My Letter to the World will share the opening night slot on May 1 with Terence Davies' A Quiet Passion, starring Cynthia Nixon as the reclusive poet and Emma Bell as a young Dickinson. Other feature films to be screened in Bermuda include German street-smart movie Tiger Girl, indie genre flick Super Dark Times, UK rural drama The Levelling; Belgian festival hit Flemish Heaven; Mexican film Everything Else, Swedish Oscar-nominee A Man Called Øve, and Bermuda-produced abduction drama By Any Means. The first part of the 20th Bermuda International Film Festival will close with the UK film The Hippopotamus, based on the novel by Stephen Fry. "We're very proud of the diverse line-up we have been able to assemble for the 20th anniversary of BIFF, one of the world's most distinctive film festivals," guest artistic director Nick Roddick said, "and especially pleased to have had so many high-quality shorts from which to make our final selection." The list of short films that have been selected to be judged as part the Short Film Oscar® — Live Action Category by the Academy of Motion Picture Arts and Sciences will be announced later this week.
April 10. Irish citizens in Bermuda can now avail themselves of online passport applications, according to John Kane, the Irish Consul. Current passport holders over 18 can reach the service with mobile phones, computers and tablets via the Department of Foreign Affairs at dfa.ie/passportonline. The applicant's name must be the same as on their previous Irish passport, which must have expired less than five years ago, with passport numbers beginning with the letter P or L. First-time applicants and children must continue with the present application system using a form. Mr Kane said the new system would deliver a quicker turnaround and allow credit cards to be used. Standard passports cost €80 euros; larger passports cost €100 euros. The new standardization of children's passports sees the extension of the five-year passport to children aged 17 and younger. The three-year infant passport is no longer available, and all children's passports now cost €30. Applicants are "strongly advised" to apply at least six weeks before their intended date of travel.
April 10. Rats will always be with us, but enough is enough for one Crawl resident: "They're not even afraid when you see them," the woman told The Royal Gazette, of the rodents around Sleepy Hollow Drive. Charging that the rat population has soared in recent months, she reported seeing well-fed rats "waddling" around the area in daylight, eschewing poisoned bait to climb into the neighbor's trash. "Whatever they're doing, it's not working," she said. "It sounds crazy, but it looks like it's gotten worse since the number of feral cats went down." She queried whether shooting was an option, as is occasionally used to dispose of feral chickens. Earlier this month, a short video circulating on social media, showing a rat enjoying a meal of loquats, got mixed reactions from locals — largely less than enamored. While rats find their share of natural food, a government spokeswoman advised residents to contact waste management for tips on lidded waste bins, and to put out trash only on collection days. Contrary to popular belief, she said, the presence of feral cats can lead to a greater rat population, as cat food attracts rats. The inspector for Hamilton Parish reported weekly monitoring of the area of Sleepy Hollow and Rocky Lane, where "no abnormal rat activity" has been found. Poison is the method of choice for Vector Control, and a property owner can call to reopen a job, submit a new complaint or gets tips on keeping the rats away.
April 10. The annual service commemorating the life and achievements of Bermudian pilot James "Jemmy" Darrell took place on Saturday. Mr Darrell piloted the 74-gun HMS Resolution safely to its moorings near Tobacco Bay in 1795 while still a slave and the ship's admiral was so impressed with his piloting skills that he recommended he be freed. He became one of the first to be made King's Pilot and was the first free man of colour to own his own house in Bermuda. Once freed, Mr Darrell challenged laws that imposed restrictions on free blacks and slaves. He also petitioned against plans that would see a drop in income for King's Pilots. He died aged 66 in 1815 and his property, located on Aunt Peggy's Lane, still remains in family hands. A small crowd gathered for the service at St Peter's Graveyard, which was organised by the Vestry and The Friends of St Peter's Church, the Pilot Warden and the Branch of Pilots of Bermuda. As part of this year's service, two local gigs, the Jemmy Darrell and the Harry Fox, raced in St George's Harbour after the ceremony. Harry Fox won, despite calls from the crowd to encourage Jemmy Darrell.
April 9. With seven weeks to go until Bermuda hosts the 35th America's Cup, the Premier visited the Event Village and surrounding areas in Dockyard for an update on the progress and preparation. Michael Dunkley was joined by Jeanne Atherden, the Minister of Health and Seniors, as well as Nandi Outerbridge, the Minister of Social Development and Sports, for Friday's tour of the facilities. "It's incredible to believe that in just over a month, we will be welcoming tens of thousands of people to Bermuda for the 35th America's Cup," Mr Dunkley stated. "Dockyard will be the focal point for so many activities, both on land and water, so it was important for us to view the progress and preparation taking place in the AC Event Village and Dockyard." He added that the Bermuda Government "with the support of many partners, has worked very hard to ensure that Bermudian construction companies, contractors and workers were involved in bringing the Event Village and Dockyard to life. So it was impressive to see all aspects of this area taking shape — from the Moresby House refurbishments to the transformation of Cross Island." And he added: "Bermuda will be on full display to millions around the world when the America's Cup gets under way and hosting this event will be a proud moment for our country. It was heartening to see the level of professionalism, commitment and determination from all involved in Dockyard." The visit was facilitated by West End Development Company's general manager Andrew Dias and chairman Ray Charlton. ACBDA and Peter Durhager, the chairman, led the walk around of the Event Village.
April 9. Opposition Leader David Burt visited New York this week for a series of meetings aimed at boosting investment in Bermuda. Mr Burt shared the Progressive Labour Party's Vision 2025 plans at a lunch with officers of the New York Society of Security Analysts, with CEO Harumi Urata-Thompson expressing an interest in "seeing how Bermuda develops in the next few months and how we can work together". He met with past and potential Bermuda business partners to discuss the PLP's plans for a technology park at Southside, as well as attracting inward investment to the island. In addition, the Opposition Leader was invited to the Nasdaq bell closing ceremony on Tuesday, and visited the set of CNBC's Fast Money.
April 8. Jimmy Spithill, the Oracle Team USA skipper, shrugged off his team capsizing at the weekend as another "learning experience". Oracle's America's Cup Class catamaran wiped out during a training run in the Great Sound on Saturday. There were no injuries to the crew while Oracle's AC50 suffered "minimal damage" in the mishap. "Good lessons learnt," Spithill said. "Shame to go over, but it's part of the game now." The mishap occurred off the shores of Lefroy House while the crew were practicing starts. "We were doing starting practice and bailed out of a bear away and unfortunately went over," Spithill, the youngest skipper to win the "Auld Mug", said. "When we started to go and I knew we couldn't recover; I just said 'hold on boys, we're going over. It was a really soft landing. The big sail just captures the air between the sail and the water like a pillow." This was the first full wipeout for an AC50. After the catamaran, 17, was righted, she was towed back to Oracle's base in Dockyard and hauled out of the water. There was no apparent damage to the hulls, rudders or daggerboards. However, the boat's hard-wing mainsail did not go unscathed. "The top of the wing has some flap damage," Spithill added. "The hull that was in the water had saltwater in it, so some of the electrical systems may need to be replaced. But our legendary shore team will have us back racing Monday." Oracle issued a statement on Saturday's mishap. It read: "We flipped over our new America's Cup Class boat. All the guys are good. We went straight into our righting procedure, pulled the boat up, and brought it back to the dock. Now, we have to go through the process of checking the boat out. The top of the wing has some flap damage, but we have the team to get us back out on the water and we'll be back out to finish off this race period with the rest of the teams. It is frustrating but the fact is, this is a real possibility in these boats. We have to go back through and figure out what led to it. But that's all part of the learning process. It's usually from these sorts of incidents where you learn the most." Earlier in the week the American defender barely avoided a violent high-speed crash. A YouTube video of the incident has since gone viral. It shows the windward hull going airborne and the leeward hull digging into the water and the hard-wing sail quickly being inverted to relieve pressure. Despite Saturday's accident, Oracle's boat is expected to be back on the water for today's start of a three-day practice racing period. The defender stood out among the crowd during the previous practice racing period after compiling an overall 9-2 record. The original rules prohibited practice match racing in the AC Class 50 footers. However, the majority of the teams voted in favour of changing the rules. Emirates Team New Zealand, who are due to arrive in Bermuda this week, were the only team that opposed the latest amendment to the rules.
April 8. A burglar who bound and gagged his victim and threatened to "put a hole in your head" has been jailed for 12 years. Robert Green subjected Jeremy Lodge to a terrifying seven-hour hostage ordeal during which he held a knife to his throat and demanded he tell him his pin numbers. Green was high on drugs and alcohol as he tied Mr Lodge up and told him that he was HIV positive. The 38-year-old addict targeted Mr Lodge's Paget home on January 30, this year; just a day after he had broken into the same property and stole $1,500 while Mr Lodge was out. At about 11.30am on January 30 he confronted Mr Lodge at his front door, forced him back into the property and down the stairs and held him in a headlock until he passed out. When Mr Lodge woke up he found that Green had his knees in his back and was tying his hands together with duct tape and wires. In a victim impact statement read out during yesterday's sentencing Mr Lodge said: "During the hostage situation he made numerous threats. "He told me I would probably be all right if I did what I was told. He told me I looked like the kind of person who would want to save someone. He was smoking a rocklike substance and at the time I believed there were other accomplices en route. This ordeal has had a lasting impact in a variety of ways. I have many of the symptoms of post-traumatic stress syndrome and I find it difficult getting to sleep. I have nightmares and for the first time in my life I need sleeping tablets to sleep." Mr Lodge managed to escape from his confines later in the day on January 30 and ran to a neighbor's home for help. Green was arrested shortly afterwards at his home in St George's in possession of Mr Lodge's stolen motorbike. The court heard that he had a long history of previous convictions including violence and assault. When asked if there was anything he wanted to say before being sentenced Green acknowledged that he was addicted to heroin and cocaine, but did not make any comments about the break-in or the ordeal he put Mr Lodge through. Noting his long list of previous convictions Puisne Judge Carlisle Greaves branded Mr Lodge's ordeal as a "quite horrific experience. These are serious offences, and there are very serious aggravating factors. You tied him up, you put a sock in his mouth and you left him." As Green left the court to begin his sentence Mr Justice Greaves added: "You need some serious help Mr Green. I would like you to get some serious help. If not, it is going to get worse." At last month's Supreme Court arraignments session Green pleaded guilty to two offences of burglary, one count of robbery, and depriving Mr Lodge of his liberty. He also admitted taking a motorcycle without consent on the same date and stealing $3,000 in cash belonging to the victim from ATMs in Pembroke, Paget and Warwick.
April 8. "You can't have a one-size-fits-all school system" is one of the lessons Jeremiah Newell learnt when turning around failing schools in the US. The American-based educator hired by the Department of Education to develop a strategic plan for public education in Bermuda was speaking at an information session on Thursday evening at CedarBridge Academy, attended by education stakeholders. A graduate of the Harvard Graduate School of Education and the CEO of Jeremiah Newell and Associates, Dr Newell specializes in transforming public education systems into high-performing, learning-focused organisations. He has opened charter schools in the US — independent schools that are funded by governments but are given greater flexibility on the condition they are accountable for academic results promised in their charters. Education commissioner Dr Freddie Evans introduced the evening as a means to establish "the vision for the strategic plan". He said that Dr Newell would be "laying the framework for us so we can follow the process with integrity". Dr Newell first provided some background on the work he has been involved with in the States, which included improving a failing school system in Mobile, Alabama, and then described what work will be done to move Bermuda forward. He opened his speech telling the audience how he received a "high-quality education purely by chance that is not accessible to many. It felt wrong to me that the opportunity I had was not open to everyone." Dr Newell went on to become a teacher, a principal and then chief of staff for Rhode Island Department of Education. He shared his experiences working to improve the public education system in Mobile, Alabama where students were not getting access to "high-flying, well-paid jobs" that were available in the district because they were not qualified. People were brought in from elsewhere to do the work. Speaking on the process he said: "You can't have a one-size-fits-all school system and we had to bring our entire community together to make it possible." He said he wanted to ensure that public schools were not the second option and went on to outline a robust, four-month process to develop and implement a solid plan. The three stages leading up to the plan, as reported in this newspaper previously, will involve authentic community engagement through small-group, community-held conversations; a survey to gather island-wide community input on public education; and the establishment of an Ambassador Design Team: a diverse group of strategic planning writers. The timeline is as follows: April — Develop a vision, mission and values; May — Draft priorities and key outcomes; June — Refine priorities, outcomes and begin strategies; July — Refine priorities, outcomes and strategies; August — Final adoption of the plan. Dr Newell asked the question "what is public engagement?" which he described as "a committed and interrelated citizenry rather than a persuaded populace". He said "kitchen-table" type conversations were needed, made up of small groups discussing what type of community we want to live in. He said all dialogue must be "transparent, engaging, empowering and respectful". With the development of the ambassador design team, the teams will meet every two weeks for about two hours between now and August. In total there will be about 40 hours' commitment. The next step will entail the creation of multiple drafts and prototypes which will receive feedback before being revisited. This will allow "real data and real results" which will lead to a "multiyear strategy that is developed by Bermudians, for Bermudians". There will also be research into best practices globally. After that the prototypes would be released and feedback would be gathered on each draft until they get better over time. There will be a community conversation next Tuesday at TN Tatem Middle School at 5.45pm and an advertisement will be published in the media the following Monday, calling for applications for those wanting to join the ambassador design teams. Community conversations will be advertised in the media, via various partners including the Bermuda Chamber of Commerce, and via social media. The Board of Education invites the public to visit www.moed.bm to complete a strategic planning survey on public education in Bermuda.
April 8. City Hall was alive with movement yesterday as members of the public came together for a "Move-a-thon" to mark World Health Day. Throughout the day, a small crowd danced and performed aerobics as part of the international One Billion Steps Challenge. By 2pm, around 175,000 steps had been recorded with participants straining towards their 200,000 goal. A spokeswoman said Bermuda's Move More team has found its way to 73rd out of the more than 650 teams participating in the competition.
April 7. Another six people, including two union chiefs, were charged yesterday morning with offences relating to the December 2 protests. Bermuda Industrial Union president Chris Furbert, Bermuda Public Services Union leader Jason Hayward, Reverend Nicholas Tweed from the People's Campaign, Neville Goddard, BIU vice-president Glen Simmons and Lilymay Bulford all denied charges of blocking access to the House of Assembly and obstructing police. Obstructing police can carry a maximum sentence of 12 months in prison, while blocking access to the House of Assembly carries a maximum sentence of six months in prison and a $1,680 fine. While five of the defendants refused to consent to have the matter heard in Magistrates' Court, Mr Hayward, represented by lawyer Charles Richardson, did consent to have his matter heard in the lower court. Mr Hayward is expected to return to court on May 3 so that the Crown can provide disclosure, while the other defendants will appear before the Supreme Court during the May arraignments session. All six were released on $1,000 bail. Mr Furbert emerged from the court with his fist raised to loud applause from the crowd which had numbered more than 200 before the charges were read in court. Earlier, the court gallery was almost full with Opposition leader David Burt, PLP MPs Wayne Furbert, Derrick Burgess and Michael Scott, along with former premier Dame Jennifer Smith among those in attendance. With a large police contingent outside the court, demonstrators appeared calm with some carrying placards — "They will not be silenced", "OBA one big act", "Peer review committee no comment", "(Police) Commissioner DeSilva, who will protect the people from the police", and "Unions are the protectors of workers" were among their messages. A small group marched behind Bermuda Public Service Union banners, reading "Why is our president being attacked" and "This is an attack on union leadership". Shortly before 11am the crowd dispersed with the majority of protesters walking back to the BIU headquarters. Police then reopened the section of road where the demonstrators were standing. On Wednesday, three people appeared in court regarding the same December 2 protests. Arnold Smith, 57, from Southampton, David Saltus, 57, from Sandys, and Alafia Henry, 41, from Devonshire, pleaded not guilty to charges of preventing entry to the House of Assembly. All elected to be tried in Supreme Court and will appear in court again on May 1. Mr Saltus was been charged with assaulting a police officer. He was released on $2,000 bail, and Mr Smith and Mr Henry were released on $1,000 bail. Mr Saltus is represented by Mr Scott and both Mr Smith and Mr Henry are represented by Delroy Duncan. Next Monday and Wednesday, others who received summonses following the same protest, will be formally charged.
April 7. A new fee to pay for power industry regulation came into force this month. The charge, of $0.00475 per kilowatt-hour sold, amounts to around $34 a year on the bills of middle-tier customers and less than $10 a year for the lowest tier. The money will be used to fund the Regulatory Authority of Bermuda, which took over regulation of the power industry as well as the telecoms industry at the start of the month. Power firm Belco said that bills with meter readings from April 1 had been delayed so the new charge could be incorporated into bills. A spokeswoman for Belco said: "We recognise that our customers depend on receiving bills on a regular schedule and are working diligently to get them sent out as soon as possible. It should be noted that payment discount dates are based on the billing date, not the meter-reading date. Therefore, when bills are ultimately produced and sent out, a new discount date will be assigned." Customers who have any questions or concerns should contact Belco's customer experience team on 299-2800.
April 7. Bermuda-based life reinsurer Athene Holding Ltd is on the lookout to expand in Europe, according to a report out of New York. Private-equity firm Apollo Global Management, a major investor in Athene and the manager of about a fifth of its $70 billion-plus investment portfolio, is seeking to raise 2 billion euros ($2.1 billion) to help fund acquisitions for the life reinsurer, Bloomberg reported. Athene, whose shares debuted on the New York Stock Exchange in a successful initial public offering last December, has expanded rapidly to become one of the biggest sellers of fixed annuities in the US market. It also has operations in Europe, through acquiring German firm Delta Lloyd Deutschland in January 2015. Athene's investment strategy is distinctive. It seeks to make higher returns than competitors by investing more in credit funds and middle-market lending, and less in lower-yielding bonds. Fitch Ratings has described the strategy as "somewhat aggressive" and other analysts have noted the different way Athene is run from others in the same industry. Investors have so far given the company the thumbs-up. Yesterday lunchtime, shares of Athene were trading at $51.59 — up almost 29 per cent from its IPO target price of four months ago. In a regulatory filing last month, Athene flagged up its European expansion intentions. In Europe, "we have come to realize that the opportunity over the next several years is larger than we initially anticipated," Athene said. "In order to fully capitalize on this opportunity, we would need to commit capital to the European market at a level in excess of our targeted investment size, creating the need for third-party capital to support growth." Bloomberg, citing a source with knowledge of the plans, said Apollo may complete the fundraising as early as this year. With leverage and co-investments by Apollo clients, the insurer could have flexibility to pursue deals larger than 2 billion euros.
April 7. The insurance-linked securities market has hit a new high with of nearly $27.19 billion in the first quarter of the year. The figure for catastrophe bonds and ILS features in a report by industry news website Artemis.bm and beat the previous 2016 record by $377 million. The first quarter of this year was also the strongest opening period in terms of new risk capital issued since the cat bond and ILS markets' inception around 20 years ago. It is the fourth first quarter in a row that issuance records have been broken, with $2.76 billion of new risk capital coming to market. Bermuda is the epicentre of the industry and about 70 per cent of global issuance is listed on the Bermuda Stock Exchange. Artemis said: "For the first time in the market's history, Latin American property catastrophe risk featured in the first quarter — a $5 million transaction from first time sponsor Terra Brasis Re. "US and unknown property catastrophe risks also featured in quarter one bringing a combined $406 million of new risk capital to the market." Around 25 per cent of issuance in the first three months of the year, which amounted to around $620 million, covered US risks, including named storms, earthquakes, severe thunderstorms, volcanic eruption and meteorite impact risks. The report said: "US earthquake and US named storms protection also featured in separate stand-alone deals in quarter one, as did $200 million of medical benefit claims protection from Aetna. "The remaining $525 million, or 19 per cent of quarter one issuance, covered multiple international perils." A record $1.07 billion of issuance in January came from six deals, making it the busiest month of the quarter in terms of transaction numbers. February saw the lowest issuance of the quarter with $248 million coming to market from three deals. The Artemis report said: "In terms of risk capital issued, March was the most active month, seeing a record $1.45 billion of issuance from five deals." The report added: "Record levels of new risk capital issued in both January and March more than offset a slow February in 2017 resulting in first quarter catastrophe bond and ILS issuance being roughly $1.4 billion above the ten-year average." Artemis said February is traditionally the quietest month of the quarter — but that the $248 million new risk capital recorded was abound $52 million below the ten-year average. The average transaction size for the quarter was about $197 million across 14 deals, above the ten-year average of $178 million and six above the average number of transactions completed. The quarter was a mix of private and traditional catastrophe bond transactions and the 14 deals amounted to the second most active first quarter in terms of deal numbers in the last ten years.
April 7. The Bermuda Stock Exchange has this year launched its "Own Your Share of Bermuda" campaign to raise awareness of opportunities to invest in the island's public companies. The Royal Gazette is supporting the effort by publishing weekly features on each of the 13 domestic companies listed on the BSX. In the fifth of the series, Jonathan Kent looks at Butterfield Bank. Butterfield Bank may be in its 160th year in business, but in 2017 it is effectively embarking on a new era. Having been brought to its knees by the impact of the US subprime mortgage crisis nearly a decade ago, Butterfield can claim to have finally put that painful episode behind it after a pivotal last 12 months. It was a year when the rescuers of the bank — those who invested in $200 million of preference shares issued in 2009 and the institutions that ploughed $550 million into the bank a year later — got their money back with a tidy profit. And on a momentous day in September, the bank launched a successful initial public offering of shares on the New York Stock Exchange, with chairman Barclay Simmons, chief executive officer Michael Collins and Michael Dunkley, the Premier, on hand to ring the opening bell on Wall Street — not to mention a troupe of Gombeys on the trading floor. "With these events behind us, I believe Butterfield has emerged fully from the impact of the global financial crisis and is well placed to benefit from economic growth in our key markets," Mr Simmons stated in Butterfield's 2016 annual report. From an investor's viewpoint, there are many promising signs to note in recent years, including increasing earnings, a rising share price and acquisitions that will boost future earnings capacity. Full-year net income in 2016 was $115.9 million, up $38.2 million on the year before. Both interest and non-interest income rose last year and the prospects for further gains look good in an rising interest-rate environment. Twice in the last four months, Butterfield has raised its base rate for residential and commercial lending in line with quarter-point hikes by the US Federal Reserve. And with the Fed signalling two or three more increases this year alone, that should translate into improving margins for the bank. While that will not be popular with borrowers, it's certainly good news for shareholders. The bank declared a quarterly dividend of 32 cents per share for the fourth quarter of last year — tripling the payout to shareholders from the same period a year before. Going forward, that translates into an attractive 4.1 per cent yield on the current share price of $31.50. Since the crisis, the bank has cleaned up its loan portfolio — of which non-performing loans made up just 1.6 per cent as of the end of last year — and has made strides towards its strategic aim of becoming "the leading independent offshore bank and trust company". Acquisitions over the past three years have included a trust business in Guernsey, banking operations in Cayman and last year, the private banking investment management and trust businesses of HSBC in Bermuda. While retail banking remains a key part of its business and a generator of the deposits that make up much of Butterfield's $4.4 billion investment portfolio, Mr Collins sees the greatest opportunities ahead in catering to wealthier types. As the CEO stated in the annual report: "Our mission is to build relationships and wealth as a trusted adviser to generations of mobile, high-net-worth families moving capital around the world." And he made no secret that the bank is on the lookout for further acquisitions that will fit with its growth objectives. "We continue to see opportunities to acquire offshore trust companies, with large international banks exiting certain jurisdictions and smaller firms sensing their vulnerability as the industry consolidates," Mr Collins said. While investors who have bought into the bank in recent years have done very well, longer-term shareholders still have a long way to go to recover the paper value they once had. Ten years ago today, Butterfield shares were trading at $59 on the BSX. Taking into account the stock splits since then, today's share price is down by about 84 per cent from that day. Hundreds of millions of dollars were lost on the bank's investments tied to US subprime mortgages that soured dramatically, sparking what was hopefully a once-in-a-generation global financial crisis. But today's Butterfield appears more focused in its purpose, more conservative in its management and all the wiser for the painful lessons of the past. It is by far the biggest constituent of the BSX — with its $1.68 billion market capitalisation more than nine times bigger than second-largest BF&M — and the only domestic-board stock on the BSX trading above book value. What is evident from the share price, at more than 2.3 times book value, is that the slew of institutions that have ploughed millions into the bank since its shares launched on the NYSE are bullish about its prospects for the future.
April 7. An early forecast for the 2017 hurricane season has predicted a slightly below-average number of named storms this year. The forecast, released yesterday by Colorado State University, estimates that the Atlantic will experience around 11 named storms in 2017, based on present conditions and trends from over the past three decades. Of those storms, four are expected to reach hurricane strength and two are expected to become major hurricanes, reaching Category 3 strength or stronger. The estimates are slightly below the 30-year average of 12 named storms, six hurricanes and two major hurricanes. However, the report noted that it was impossible to "precisely predict" the season this early in the year, adding: "We issue these forecasts to satisfy the curiosity of the general public and to bring attention to the hurricane problem. There is a general interest in knowing what the odds are for an active or inactive season. One must remember that our forecasts are based on the premise that those global oceanic and atmospheric conditions which preceded comparatively active or inactive hurricane seasons in the past provide meaningful information about similar trends in future seasons." One factor cited for the estimates is the potential return of El Niño, a weather phenomenon that causes high wind shear in the Atlantic that can inhibit the development of tropical storms. Meanwhile, the waters in the North Atlantic are reportedly colder than average, which is unfavorable for the growth of hurricanes. "The tropical Atlantic has anomalously cooled over the past month and the far North Atlantic is relatively cold, potentially indicative of a negative phase of the Atlantic Multi-Decadal Oscillation. We anticipate a below-average probability for major hurricanes making landfall along the United States coastline and in the Caribbean." Despite the estimate of a quieter-than-average hurricane season, the report cautioned that even a single storm can be devastating. "As is the case with all hurricane seasons, coastal residents are reminded that it only takes one hurricane making landfall to make it an active season for them," the report warned. "They should prepare the same for every season, regardless of how much activity is predicted." The 2017 Hurricane Season officially begins on June 1.
April 7. Bermudians will continue to enjoy an "enhanced" ferry service even after the last of the America's Cup crowds have left. Acting minister of tourism Cole Simons announced, during a press conference this afternoon, the summer ferry schedule would begin on April 24. Ten ferries — not the usual five — would be running, he said. According to Mr Simons, "seven or eight" ferries had been dedicated to the America's Cup, with "three or possibly four" ferries for the regular commuter services. "Convenience for locals, as well as those attending America's Cup," he said of the increased service. Upgrades to the ferries have totaled $2.5 million. We're getting the fleet up to scratch so that we can have a first-class public service on the ferry system for the people of Bermuda and our guests that come to America's Cup." A number of new staff members have also been brought on board to support the increased service. "We've hired an additional 15 people," Mr Simons said. He encouraged Bermudians to use the ferries during the sailing event. "It's going to be easier to get to Dockyard, and it will be easier and more convenient for them as well as us," he said. Following the sailing event, the island will continue to enjoy an "enhanced" ferry fleet, he said . "We're not just doing this for the America's Cup — we're doing it for all Bermudians." Staff at the Department of Marine & Port Services, said Mr Simons, were to "be commended for working beyond the call of duty to get all the available ferries ready for the summer." The dates and times for the America's Cup Village ferry will soon be released with the AC35 online booking system. On weekends, the schedule includes five trips to the America's Cup Village during the three hours in the morning before racing begins and an equal number for the return to Hamilton. It also provides direct ferries from St. George's to the America's Cup Village on weekends. It's expected that some 2,500 people will be ferried to the America's Cup Village from Hamilton on weekends, and 500 people from St. George's. "We committed more than $3 million to bolster the department and we found that mechanics and other staff rose to the challenge. Many worked long hours to get these vessels ready."
April 7. A 40-year-old woman said she was kicked off a ferry at the Hamilton terminal on Tuesday to make way for tourists. The woman, who asked that her name not be published, told The Royal Gazette that she decided to take the ferry as a way to relax and unwind while taking care of some personal work. Using her bus pass, she boarded the ferry in Hamilton with the intention of staying on as she completed her work, which she estimated would take two or three hours. "They knew I was doing this," the woman said of ferry staff. "They didn't say anything was a problem from the start." When the ferry later arrived back in Hamilton, the woman said that a ferry staff member came up to her, told her that she had been "joyriding", and that she would have to get off the boat. "The guy had such a nasty attitude about it. I was shocked. I thought he was joking at first." The man, she said, told her she needed to get off so that tourists could come on. "Now, I understand that — but I'm one person. One Bermudian sitting on the ferry — one spot does not make a difference if you've got 1,000 tourists out there." The woman, who said she was the only passenger on the boat at the time, said it was the first time this had happened to her. She said that she did not believe that the employee was told by a superior to ask her to leave, but instead made a decision on his own. The woman went into the ferry terminal directly afterwards to report the incident to a supervisor. "He didn't know what to say — he couldn't even comment," the woman said. She subsequently telephoned a manager and left a message. "I was crying on the phone because I was so embarrassed, so hurt, to be treated like that unnecessarily," she said. "And it hurt me more because I am a Bermudian and you are treating me like I don't matter any more because these tourists are here." Reached by phone yesterday, the manager identified by the woman said he was unable to answer questions about the alleged incident and directed all queries to the Department of Communications. He did confirm, however, that he had spoken with the woman, and that the matter had "been resolved". Requests for comment sent to the department were not responded to by press time yesterday. The woman, who said she had already been warned by bus drivers about the coming influx of tourists and the limited supply of buses, said she thought similar incidents would occur with coming summer events, including the America's Cup. "This is going to get worse." She said she shared her story in an effort to prevent a similar incident from happening to someone else. "I would never want someone to go through what I went through. It was horrible. It's really hurt my spirit."
April 7. American Tall Ship SSV Oliver Hazard Perry is expected to make its maiden voyage to Bermuda this weekend, arriving in port on Sunday. The 200ft sailing school vessel, named after US Navy Commodore Oliver Hazard Perry who defeated the British in the battle of Lake Eire, is Rhode Island's Official Sailing Education Vessel and the largest of its kind built in the US in more than 100 years. The three-masted ship is sailing to Hamilton as part of a partnership with Ocean Navigation magazine, teaching those on board about offshore celestial navigation and marine meteorology. Oliver Hazard Perry is set to remain in port for four days.
April 7. The Department of Community and Cultural Affairs has advised the public that the Hamilton Community Education and Development Office, located at 81 Court Street, is temporarily closed. The public will be advised when the office reopens. In the meantime, for all queries regarding the Community Education Development Programme (CEDP), contact the Warwick CEDP office at 236 0829 or the Department of Community and Cultural Affairs at 292 1681.
April 7. Renowned malacologist John "Jack" Lightbourn has officially opened a new exhibition featuring some of the smallest sea shells on the planet. The Micromollusc Shell Collection can be seen at the Bermuda Underwater Exploration Institute of which Mr Lightbourn, 91, is a life trustee. The collection of about 700 tiny shells from Mr Lightbourn's personal collection and that of fellow specialist Arthur Guest, joins the ranks of the rest of Mr Lightbourn's 1,200 strong collection at BUEI representing "the best quarter" of what he has found over the course of his lifetime. Mr Lightbourn began scouring the beaches of Bermuda with his grandfather at the age of six spurring a lifelong hobby that has seen him traverse the globe. His collection is acknowledged as one of the largest and finest, rivaling even the Smithsonian's archives. Mr Lightbourn has become one of the foremost collectors and experts in the field. "I was never keen to concentrate on the small shells — you don't see many people looking at them at museums," he told The Royal Gazette. "But for me, as long as they have a bit of colour in them, I like them, regardless of what size they are. To find them, you get a bunch of sand and when you get home you spread it out. Some of them you can find anywhere in Bermuda. Others, you pick a spot and that is it. We never had any small ones here at BUEI so when they started talking about it, I told them I had a bunch at home and here they are." BUEI curated the new exhibit with the assistance of Camara's Carpentry to showcase the shells in a purpose-built mahogany cabinet, complete with sliding magnifying glasses so that you can clearly view many of the minuscule shells.
April 6. OSLO (Bloomberg) — Bermuda-domiciled Seadrill Ltd, once the crown jewel of billionaire John Fredriksen's business empire, is now at the mercy of short-term speculators as the biggest funds avoid the offshore driller amid a struggle to avoid bankruptcy." It's trading at option value and day traders are the ones pushing the price up and down," Anders Bergland, an analyst at Clarksons Platou Securities AS, said, after the company again warned shareholders and bond investors they were facing steep losses in any restructuring deal. "There are no funds buying this right now, it's trading." Seadrill fell 28 per cent on Wednesday to 6.275 kroner, after sliding 38 per cent the day before, already to a record low. The company has been working on a restructuring of the offshore-drilling industry's biggest debt load for more than a year. With net interest-bearing debt of $8.9 billion at the end of 2016, Seadrill has been particularly exposed as oil companies slashed spending following the collapse of crude prices in 2014. The risks of equity dilution and bankruptcy had been voiced by the company earlier and should in any case have been "obvious", said Alex Brooks, an analyst in London at Canaccord Genuity Group, who stopped covering Seadrill last month after following the stock on and off for nearly eight years. "We seem to see this over and over again: shareholders are willing to trade stocks on hope value right up until the moment the train wreck becomes obvious," he said in an e-mail. "It's astonishing, and probably reflects rather badly on people like me who are unable to get our message out." Seadrill has lost 97 per cent of its value since the middle of 2014, contributing to a more than 40 per cent drop in Fredriksen's net worth, which is currently estimated by the Bloomberg Billionaire Index at about $9.7 billion. The biggest sellers of the shares last year included Barclays, JPMorgan Chase, Goldman Sachs Group and Deutsche Bank, according to data compiled by Bloomberg. The company said on Tuesday it got further extensions on bank loans totaling $2.9 billion, allowing it to again postpone the deadline for a restructuring deal by three months to the end of July. Warning shareholders they faced "minimal recovery" of their positions, Seadrill said a comprehensive agreement with creditors would "likely involve schemes of arrangement or Chapter 11 proceedings," eventualities that had previously been mentioned by the company in case a deal was not reached. The announcement was "largely expected," even if Seadrill shares rallied more than 20 per cent in the week that preceded it, said Sondre Stormyr of Danske Bank AB. "The most surprising thing to us recently is that the stock bounced back a bit, implying a flawed representation of the restructuring power between equity, bondholders and potential new money investors," he said in an e-mail. "This is now sharply correcting, which is fair." Fredriksen, a Norwegian-born Cypriot who acts as Seadrill's chairman and owns about 24 per cent of the company, said last week the company was getting closer to a restructuring agreement, though it was a "big job". He repeated that in an interview with Dagens Naeringsliv on Tuesday, adding Chapter 11 bankruptcy protection was only one option among others and that how much capital he puts into the company will depend on the solution.
April 6. The Corporation of Hamilton has failed to overturn a court judgment that declared rules governing vehicle clamping in the city were invalid because they had never been properly published. The Court of Appeal ruled that the Municipalities (Hamilton Pay and Display Parking Vehicle Clamping) Ordinance 2007 never came into force because it was never published and was never laid before Parliament. The judgment brings to an end a four-year saga over the corporation's right to fine clamped drivers and still leaves the door open to potential refund claims from those who paid for their vehicles to be freed. Mayor of Hamilton Charles Gosling told The Royal Gazette that the council had met with Michael Dunkley and Trevor Moniz, the Attorney-General, this week to look at how the ordinance process could be made more efficient. "One positive coming out of the appeal was the opposing counsel's statement recognizing that the corporation is entitled to enforce parking regulations through clamping, it is just the means by which we take that action," Mr Gosling said. "The ordinances under question did not go through the prescribed process. The corporation has recently approved a Traffic Ordinance 2017 and is before the Minister for Municipalities and the AG for their approval, which we hope presents the proper means. If this is indeed the case, then we could expect the Ordinance to be presented to Parliament in the next session. We had a very productive meeting with the Premier and the Attorney-General on Monday outlining what needs to be achieved through the ordinance procedure and are looking at possible changes or even new legislation to help speed up this process without losing oversight or notice to the public." In November 2014 Chief Justice Ian Kawaley ruled the corporation did not have the power to clamp vehicles illegally parked in the city because the 2007 Ordinance had never been properly published, as required by law. The effect of this failure, which was first highlighted by the Centre for Justice, meant members of the public were never made aware of the scope of the wheel clamping policy or how it could affect them. The corporation appealed against the Chief Justice's ruling, but last week that appeal was dismissed. The Court of Appeal judges stated: "The Municipalities Act 1923 by section 38 provides for the corporation a clear procedure for the making and amendment of Ordinances for the regulation and control of off-street and on-street parking. Ordinances are statutory instruments within the meaning of the Statutory Instruments Act 1977 and accordingly the procedure for making statutory instruments applies. Where the Ordinance involves the levying of a charge, the affirmative resolution procedures applies. The 2007 Ordinance never came into force because it was never published and was never laid before Parliament. The same is true of the 2010 Ordinance. The position was put beyond doubt by the 2013 Act but in truth neither Ordinance was ever effective. It was not open to the corporation to proceed by Resolution as the corporation has no statutory power to regulate or control parking by section 20 of the 1923 Act or otherwise apart from by the Ordinance procedure under section 38. I would dismiss the corporation's appeal." During the appeal the corporation's legal team maintained that a notice appearing in the Bermuda Sun in 2007 amounted to sufficient publication to meet the requirements of both Acts. But the Attorney-General chambers said the notice was not publication of the 2007 Ordinance itself, of which it made no mention. Furthermore they contended that it did not notify the public where the full text of the Ordinance could be seen.
April 6. With 50 days remaining before the opening of the 35th America's Cup, organizers have officially given a name to the band of Bermudians set to entertain the crowds. 4-Forty-1, an eight-piece band of local musicians formally referred to only as "the band", was formed through a public vote with a range of local artists stepping forward for a chance to take part. Explaining the name, a spokeswoman said: "To Bermudians, 4-Forty-1 is instantly recognizable as the three-digit area code of Bermuda, so picking such a uniquely Bermuda-related name for the band was a simple, instantly memorable choice." The group is now rehearsing for their debut, which is set to take place on May 26 at the official opening ceremony in the America's Cup Village. Among the band members are guitarist and saxophonist Dave Pitman, singer Jesse Seymour, bassist Torrey Tacklyn, drummer Troy Washington Sr, singer and guitarist Raven Baksh, keyboardist Leroy Francis, guitarist Tony Hay and musical director Robert Edwards. Other acts are expected to join 4-Forty-1 on the stage for the celebration, but have yet to be announced. May 26 will also feature the first official day of racing, with defending champions Oracle Team USA taking on Groupma Team France. Tickets for the opening ceremony and the first day of racing are still available at www.americascup.com/tickets.
April 6. Hidden beneath the grass, soil and layers of sand dredged from the Flatts Inlet lies the remnants of Eve's Pond. The Hamilton Parish pond was filled in the 1920s with dredged material that was pumped to the site by pipeline and few of the residents living in the surrounding Blink Bonny Estate neighborhood would have any idea it ever existed. But after years of research and preparatory work, David Wingate and a team of conservationists are looking to restore the old pond site back to its former glory as a haven for birds and other wildlife. Dr Wingate, who has been involved in nine pond restoration projects in the past half-century, told The Royal Gazette that he hoped the Buy Back Bermuda scheme would be submitting plans in the coming weeks. "No one would have known this pond ever existed if you were to look at it today," he said. "It was a tidal pond that rose and fell with the tide through a cave system that came out in Harrington Sound." The land where the pond once stood was donated to the National Trust and the Audubon Society as part of the Buy Back Bermuda scheme in 2013. But an additional hillside lot behind the pond had to be purchased in order to make the reserve large enough to incorporate an interpretative nature trail. Over the last few years extensive research has been done on the cave system leading to Eve's Pond to ensure any restoration project would cause no damage. "The cave system leading to the Eve's Pond site is the longest cave that has been mapped in Bermuda so it's obviously important that we look after that," Mr Wingate said. "We had a team of specialists in about two years ago who used state-of-the-art equipment to detect voids under the surface so we can map exactly what we will come across during the restoration. It has been a slow process and we will have to raise more funds to get the job done, but we are ready to push ahead with this project and will be submitting plans to the planning department for approval soon."
April 6. Bus services tomorrow morning may be disrupted due to an expected court matter (see below). According to a spokeswoman for the Department of Public Transportation, there is the "potential" for service disruption between 9am and 11.30am. "Some union members will be supporting a Department of Public Transportation union member who is due to be in court this Friday morning," the spokeswoman said.
April 6. Cases relating to the December 2 protests outside the House of Assembly went ahead without incident yesterday, despite a small demonstration outside Magistrates' Court. Between 30 and 40 people, some with placards, gathered outside the building, showing their support for those who have received summonses. Close by was a large police contingent that monitored what was a relatively calm and quiet situation. Among the protesters were Bermuda Industrial Union president Chris Furbert, the Reverend Nicholas Tweed from the People's Campaign, Progressive Labour Party MP and lawyer Michael Scott, and Jason Hayward, president of the Bermuda Public Services Union. Mr Furbert and Mr Hayward will appear in court tomorrow, also as a result of the events on December 2. Inside court yesterday, Arnold Smith, 57, from Southampton, David Saltus, 57, from Sandys, and Alafia Henry, 41, from Devonshire, pleaded not guilty to charges of preventing entry to the House of Assembly. All three have elected to be tried in Supreme Court. They will appear in court again on May 1. Mr Saltus has also been charged with assaulting a police officer. He has been released on $2,000 bail, and Mr Smith and Mr Henry were released on $1,000 bail. Mr Saltus is represented by Mr Scott and both Mr Smith and Mr Henry are represented by Delroy Duncan. After the defendants left the court, the crowd quickly dispersed and police officers returned to the nearby Hamilton Police Station. Yesterday's protest followed a lengthy BIU meeting on Tuesday night, with union officials declining to say what actions might be taken. On Tuesday afternoon, police issued a statement, warning that Court Street must remain "clear and unobstructed at all times". Further court cases regarding the incidents in December are scheduled for tomorrow, Monday and Wednesday.
April 5. Oracle Team USA skipper Jimmy Spithill said his team are ready to build on their recent practice race successes on the Great Sound while also addressing the recent controversy over the America's Cup protocol changes. The Cup defender came out of the initial team-on-team practice session last month sporting the best win-loss record of all five teams now in Bermuda. They stand at nine wins and two losses, just a victory ahead of Artemis Racing who won seven with three losses. Spithill, who won Bermuda's King Edward VII Gold Cup in 2005, and the crew of 17 looked almost flawless. Spithill spoke to The Royal Gazette about the matter of foils — daggerboards with 'L' shaped tips to lift the two hulls above the water — that has been in the Cup news headlines for the past week. Asked if Team USA now had their actual AC Class racing foils to test, Spithill explained: "Yes, you are allowed a total of four foils, every team has their first two and I'd expect to see the next two sometime soon amongst the teams." Spithill commented on that recent Facebook debate over protocol changes and repair of damaged foils. The issues have stirred up the simmering discord between Emirates Team New Zealand, tucked away in Auckland, and some of the teams in Bermuda as voiced by Russell Coutts, chief executive of the America's Cup Event Authority and Oracle. Asked if this debate over the protocol change and foil repair was just a distraction, Spithill said: "It's the America's Cup. "There's always a bit of controversy and a bit of white noise around. But underlying that are some important issues. We have to set the record straight when there is misinformation about the way the sport is governed. The America's Cup is different to most other sports. It always changes. No single team or person can change the rules and to suggest otherwise, as happened recently, is simply wrong. So I think it was important for that information to come out. The defender has less power over the sport on the water than ever before — we've given that up in favour of a system where each team has one vote and is an equal shareholder. That's never happened before and I think it's a big step for the sport. At the end of the day people can talk as much as they want on shore, but ultimately the America's Cup will be handed to the team that wins on the water." That real racing starts May 26. The next training period begins tomorrow and Friday, followed by more racing next Monday through to Wednesday. The five America's Cup class catamarans will once again match-up on the Great Sound in duels of discovery. They will be sparring with rivals to learn their opponent's strengths and weaknesses and to learn a little more about their own potential. Spithill talked about how Team USA planned to build on their success and what their goals are going into this week's practice racing. "We had a good first session in the new ACC boat a couple of weeks ago," Spithill said. "But you never stop developing. We know there are things we can do better as a team on board. And we've made some improvements to the boat as well. We know we can't stop improving and we assume that's the same for all of the teams. As a team, we focus on the process of improving each day and learning. The team that outlearns the others will likely win. Our coach, Philippe Presti, has been working very hard with the sailors, and our boat building and design teams have been putting in long hours. This process will continue right up until the last day of the Cup." Forecast for the Great sound this week look like winds will be 9-10kts tomorrow and building to over 25 by early afternoon on Friday. Teams will try to squeeze in as much sailing as they can before winds go over the upper race limits on Friday afternoon. "The long range forecast at this time of year isn't that reliable," Spithill said. "We run a very flexible schedule in the team which allows us to react and maximize the time on the water." We mode the boat a little bit differently for these changing conditions. The biggest mode change people would make in May and June would be in daggerboard selection but most of us only have one of the two pairs of boards we're allowed, so we can't make that change yet.
April 5. The mast of Artemis Racing's America's Cup test boat came crashing down in the Great Sound yesterday. No one was hurt after the mast of the Swedish challenger's AC45T2 test boat came down across the starboard hull of their catamaran. "We were following Artemis Racing as they went flying along, foiling up on a daggerboard in a building breeze," said Chris Burville, who was out photographing practice action. "They were going quite fast downwind, heading from the Fort Scaur area North into Cavello Bay. Suddenly the boat seemed to turn, most likely in a gybe maneuver [crossing with the wind swapping sides behind the boat] and the mast came down in a jumble of wreckage. It was all very sudden." Spectators on shore reported hearing a loud bang and turned to see the hard-wing mainsail already over the side. Reports from an Artemis team member were that no one aboard was injured, but the boat suffered serious damage. Luckily for the team, it was the turbo test platform used to develop systems and foil designs that was damaged and not the America's Cup Class 50-footer that Artemis will race, beginning May 26. "As the team chase boats approached," Burville said. "Sailors were standing on the decks of the sailless catamaran. "The wing sail had fallen forward across the starboard hull. There was no panic when the chase boats came alongside. Some of the sailors got off on to the powerboat, and other crew got aboard. They fastened floats to parts of the catamaran to keep everything afloat. The sail was flat in the water at a weird angle. One of the hulls also seemed to be on its side." Artemis posted a brief statement on Facebook. "During a practice session Artemis Racing's development boat (T2) sustained beam damage whilst training," it read. "There were no injuries."
April 5. Bermuda-based insurance-linked securities group Horseshoe has yesterday sponsored at $20 million insurance-linked security, listed on the Bermuda Stock Exchange. The listing is issued by Eclipse Re, a new company designed to bring turnkey reinsurance ILS market services to investors and sponsors. Eclipse Re, set up by Horseshoe with boutique insurance investment banking specialists Rewire Securities, will be used to provide collateralised reinsurance participation in a listed note format. Horseshoe subsidiary Horseshoe Corporate Services, which recently became a Bermuda Stock Exchange listing sponsor, acted as sponsor for a $20 million security issued by Eclipse on the BSX yesterday. Andre Perez, the CEO of Horseshoe Group, said at the launch of Eclipse in February: "As the leading full-service ILS service provider, Horseshoe continues its commitment to being responsive to clients' needs and providing the highest level of innovative and efficient professional services. Eclipse Re will provide a vehicle for investors to participate in the collateralised reinsurance market with the benefit of liquidity not previously available through traditional platforms. We are excited to support the BSX as a listing sponsor and launching this product to expand our broad capabilities in the ILS marketplace." Eclipse Re is expected to attract sponsors such as insurers, reinsurers, corporates and funds, working with investors on the other side of the deal, all of whom who will benefit from an ILS issuance structured by Rewire and administered by Horseshoe. ILS and reinsurance notes issued by Eclipse Re can be structured in as short a timeframe as two to three weeks, the pair said, offering provide sponsors am efficient and low-cost way to access the ILS and capital markets in reinsurance. The new platform will allow sponsors and investors to more easily transform and securitise reinsurance risks into an investable and transferable note form.
April 5. The rusting remains of the Niobe Corinthian have finally been sunk offshore, transforming it from an embarrassing eyesore at the doorway to St David's to an artificial reef that will attract marine life and divers alike. After years of planning and preparing, the old notorious casino ship now sits 12 miles off-shore at 70 feet some 2.5 kilometers northwest of North Rock Beacon. A crew that included members of Marine and Ports, the Bermuda Intact Wreck Initiative, the police, Blue Water Divers, the Bermuda Underwater Exploration Institute and the Ministry of Environment and Natural Resources headed out yesterday morning from the Corinthian's moorings at Marginal Wharf to undertake the operation. According to Neil Stempel of the Bermuda Intact Wreck Initiative everything went to plan although there was a point the ship could have tipped and sunk either on its side or upside down. Mr Stempel told The Royal Gazette: "It was underwater at 3.35pm. It took about two-and-a- half hours getting it to flood. It went down by the starboard bow initially then started to turn into port because there was a lot of wind on it. It looked like it was going to roll but ended up settling correctly on the bottom. It gave everybody a bit of a scare as it was tilting 60 degrees or more. "The chaps at Blue Water Divers ended up picking up the buoys and were diving on it this afternoon as we left so it is now on the mooring programme. The Bermuda Dive Association and all the dive shops are promoting it as the new dive site." Asked how he felt now the project was over, Mr Stempel added: "It's a big sigh of relief — the most important thing is that it has settled straight up on its keel at the bottom. It's been a lot of work and I'm glad it's over." Originally built by Shell Oil, the refitted Niobe Corinthian first came to Bermuda waters in 2005 as a floating casino but it was dogged by controversy from the beginning. Its operators sidestepped the island's anti-gaming laws and the 175ft ship operated 12 miles offshore in international waters, where gambling became legal. But the ship still had to use Bermuda as its home port, and police raided it in August 2006, seizing 100 gaming machines. Then captain, Fermin Reyes, was arrested along with manager George Kezas, and later convicted of illegally importing the machines into Bermuda. The ship was later damaged by fire in 2007 the day before it prepared to set sail and was raided again by police in 2008. Legal actions abounded as the ship sat moored in St David's, including a lengthy suit to pay back wages and repatriation costs for its crew. Government took ownership of the derelict ship in 2014. It remained at Marginal Wharf, owned by the Bermuda Land Development Company, and work has since been going on, preparing it to be safely installed on the sea floor. The Department of Marine of Ports enlisted the Biwi to help clean and prepare the vessel, making it safe for divers. It was a laborious task that included the cleaning of the engine room, demolishing structures and removal of hazardous materials. The Department of Environmental Services carried out inspections before signing off on the clean-up operation. The Biwi, which has also sunk the Sea Venture and Faithful in Bermuda, spent $355,000 on its part of the clean-up of the Corinthian with funds generated by the Stempel Foundation in the US, which gives funding to the National Museum of Bermuda. Mr Stempel estimates that the wreck could sit on the seabed at North Rock for some 30 or 40 years before it disintegrates. "It had extremely thick beams on it because it was built as a service tender for the Gulf of Mexico oil rigs — it is a very well-constructed vessel." Resting at 70ft underwater, the top point of the vessel will be about 16ft from the surface at low tide making it accessible to scuba divers and even free divers. According to Mr Stempel, the wreck is mainly an empty shell, but divers may spot a mirror with a palm tree painted on it as a reminder of its time as a gambling ship in our shores.
April 5. The Bermuda Police Service is appealing for kite flyers to be considerate of their neighbors. According to a statement, there has been a sharp increase in complaints about "noisy and annoying" kite flying in several areas. "Easter in Bermuda is warmly associated with the flying of kites, both the traditional and 'artificial' variety," it said. "The season this year, however, has been punctuated by a sharp increase in public complaints about noisy and annoying kite flying. There are a small number of people who constantly disturb and frustrate their neighbors by flying extremely loud kites in several neighborhoods throughout Bermuda." Complaints have included the persistent nature, the unsociable hours, and the piercing noise "that disturbs the peace", the statement added. And several complaints have associated the noisy kites "with the supposed sale of illegal drugs in the neighborhood, causing unnecessary anxiety to residents". Pointing to Section 18 (a) of the Summary Offences Act 1926, which makes it an offence for any person to fly a kite over a public place "to the annoyance or danger of any passenger or frequenter", the statement added that the BPS "would rather not use law enforcement to tackle this problem, and this is not an attack on a long standing Bermudian tradition. Rather, it is an appeal for a common sense solution: for kite flyers to be reasonable and to be considerate of their neighbors."
April 5. The annual Bermuda National Trust's Palm Sunday Walk will wind its way through Paget and Warwick this year. The walk, which is due to take place this Sunday, begins from The Bermuda College at 2pm or no later 3pm. It is about five miles and will take about two to two and a half hours to complete. The route will lead walkers to places that members of the public do not regularly get to explore including points of cultural and natural interest. A spokesperson for the Trust said: "While providing breathtaking views throughout, this year's walk will visit spectacular sites of national significance, historic neighborhoods, a secluded nature reserve and pass several historic houses and buildings. "The Trust encourages all locals and visitors to come and participate in this great community event. All are welcome and there is no charge for participation, although donations would be greatly appreciated." Road users in Paget and Warwick are asked to use care, as walkers will be on the road for most of the afternoon. Walkers should ideally wear sensible shoes as well as taking bottles of water. John Barritt & Son has agreed to provide the refreshments. This year's event has been sponsored by Sompo International which, according to the Trust "looks forward to the annual spring walk as a way to promote both environmental awareness and physical and mental health." There will be hilly parts and the route is not suitable for strollers or dogs. Overspill parking will be at the Evangelical Church. Details on how people can sponsor the walk in support of the Trust are available at bnt.bm. For more information visit the Bermuda National Trust Facebook page or call 236-6483.
April 5. Controversial statements by an American speaker were compared to those by Adolf Hitler as the legal case over his placement on the stop list continued in the Supreme Court. Ayo Kimathi was banned from entering the island because of comments made during a presentation in September 2015 in which he attacked homosexuality and interracial relations as "sexual deviance", blaming white Europeans for introducing both to African people. During the hearing, Chief Justice Ian Kawaley said elements in Mr Kimathi's speech were "a mirror image, in many respects, of Hitler's ideology in black face", questioning the legal limits of free speech. Mr Kimathi, who refers to himself as the "Irritated Genie", was one of two presenters brought to the island by David Tucker for a presentation on African culture. However, his speech drew harsh criticism for describing homosexuality as a cancer that originated from white Europeans along with other forms of "sexual deviance" including child molestation, bestiality, rape and interracial sex. Mr Kimathi also came under fire for comments made on his website, War On The Horizon, on which he has endorsed the killing of whites and "black traitors". Senator Michael Fahy, then Minister for Home Affairs, subsequently placed Mr Kimathi on the stop list and the Human Rights Commission announced that they would investigate the event. However, Mr Kimathi and Mr Tucker launched a legal action against the minister and the commission, attacking the constitutionality of their actions given the protection of free speech. Speaking on Monday, lawyer Eugene Johnston, representing the applicants, said the presentation was on African culture and fell short of hate speech, arguing that words alone are not enough. He also argued that the commission had performed a "procedural misstep" by launching an investigation without setting terms of reference. As the hearing continued yesterday, Lauren Sadler-Best, representing the Government, opened her arguments by reading an excerpt from a speech by Hitler, following it by reading a section of Mr Kimathi's presentation with "white" and "black" reversed. "I would suggest that if that had been the statement made by some kind of a white supremacist, we wouldn't be here today," she said, describing the presentation as an incitement to hatred rising to the level of hate speech. She told the court that during the speech Mr Kimathi vilified interracial relations and homosexuals, alleging they were bringing about the "genocide" of black people and comparing them to bestiality and pedophilia. While the presentation was advertised as being an educational speech about African history, she said Mr Kimathi repeatedly turned his attention to making remarks about the "effeminisation of black men" by white Europeans. "If it was one or two throwaway comments, by the time the shock had worn off, people may have forgotten it," she said. "In this case, it was replete." She argued that hate speech did not need to incite or result in violence to be classified as such, only to spread or justify hatred or intolerance. While Mr Johnston had suggested that some of the comments were political due to the contested issue of same-sex marriage on the island, Ms Sadler-Best said that Mr Kimathi did not mention that subject once in his presentation. "The term same-sex marriage was never used in the speech," she said. "Homosexual relationships were mentioned. Interracial sex was mentioned. You would have to stretch your mind to suggest that by extension he was referring to same-sex marriage, but in this context it doesn't fit." She further argued that Mr Fahy had enough information to place Mr Kimathi on the stop list, saying that he had received complaints and read reports in this newspaper. Ms Sadler-Best also added that Mr Fahy was able to view Mr Kimathi's website, which she suggested should be viewed as a "credible source" on Mr Kimathi himself. While she said there was no evidence Mr Fahy sought a legal opinion before making the decision, she said that Mr Fahy was an attorney and was the Minister of Home Affairs, adding: "It's not unreasonable that he may have known what is considered or could be considered hate speech." She rejected the suggestion that Mr Fahy had acted to promote European culture over African culture, noting that other speakers had made presentations on the subject of African culture without incident including Professor James Small, who spoke at the same event as Mr Kimathi.
April 5. The Bermuda Industrial Union is expected to show strong support for the first protesters summoned to Magistrates' Court today. Last night, BIU members settled in for a lengthy debate about the issue and their course of action. A full house turned out for the urgent meeting, which was called on Monday over the summonses served on union executives and members. Reverend Nicholas Tweed of the People's Campaign was on hand prior to the meeting to speak with some of the attendees. But a definitive statement was not forthcoming on whether they would stage a protest, as police issued plans of their own to accommodate any demonstrations. Police said that while authorities planned to leave the streets clear, they reserved the option of blocking traffic "if the need arises". Court appearances are set to run from today and Friday, as well as next Monday and Wednesday, on charges including preventing legislators from accessing Parliament on December 2, and obstructing police officers. Demonstrators opposing the airport redevelopment face charges for blocking the gates to Sessions House, and clashing with police. The People's Campaign this week called for the community to show up at Magistrates' Court in a show of support, as well as to offer defendants financial assistance with their cases. At the least, according to a police spokesman, an "increased presence" of officers can be expected around the building, although policing will revert to normal in the event of a quiet day. The spokesman said police had reached out to community leaders, and anticipated that any activity would be conducted with "peaceful intentions and lawful conduct". Police aim to "accommodate peaceful protest, should it occur, while continuing the normal proceedings of the Magistrates' Court and other functions in the building". The main doors to the Dame Lois Browne-Evans building on Court Street must remain "clear and unobstructed, at all times". Plea court sessions are typically brief, and the spokesman said today's proceedings were not expected to last long. The statement came with a reminder of court conduct, along with heeding instructions from the senior magistrate detailing that:
Standing is not allowed, and no further access will be granted once all seats are taken. The room has a listed maximum capacity of 116.
Banners and signs are prohibited, as are mobile phones, cameras and recording. Persons entering the building are subject to search, and helmets and other heavy items are not permitted.
Persons in the public gallery must abide by court rules, including silence once proceedings commence.
April 4. A top Swiss cybersecurity firm has completed its acquisition of Bermuda's QuoVadis Holdings. WISeKey, a specialist in the "internet of things" as well as security, said the takeover will reinforce its position as a market leader. Carlos Moreira, chairman and CEO of WISeKey, said: "We are excited to announce that this strategic acquisition of QuoVadis has now been completed. "This acquisition will immediately give WISeKey access to a large clientele in the financial, industrial and media sectors and expand our geographic footprint in Europe." He added: "WISeKey started 2017 on a strong note and will continue to expand its business globally in the months to come, in particular in the US." Roman Brunner, CEO of QuoVadis, said the acquisition would help QuoVadis to expand its multinational corporate markets, as well as the "fast evolving" eIDAS market for cross-border services and the internet of things. eIDAS is an EU regulation on electronic identification and trust services for electronic transactions. Mr Brunner added: "QuoVadis was founded in Bermuda and the island's vibrant international community and well-grounded regulations for electronic transactions provided a springboard for QuoVadis' international expansion. Our Bermuda-based public key infrastructure operations group and our separate QuoVadis Services secure hosting business will remain key ingredients of QuoVadis' growth strategy." The deal means WISeKey will take an 85 per cent share of the equity in QuoVadis with existing shareholders in line for a cash payment plus equity in WISeKey, while current QuoVadis debt will be extinguished. QuoVadis management shareholders will retain a 15 per cent minority stake, which WISeKey has an option to later acquire. QuoVadis will continue to operate as a stand-alone company, expanding its business from centres in the UK, Switzerland, the Netherlands, and Belgium, as well as in Bermuda. Earlier this year, WISeKey predicted the deal would add more than $20 million in revenues to its top line. QuoVadis provides collocation, managed data centre, infrastructure as a service and cloud hosting, as well as disaster recovery services. Its services also include acting as an international certificate authority and digital signature solutions. QuoVadis was founded in 2000 by Anthony Nagel and Stephen Davidson. It now works with 3,000 customers worldwide, including more than 300 large capitalisation companies, with around $17 million in revenue predicted for this year alone and $20 million for 2017. Mr Davidson is a director of Quo Vadis and vice-president of product development and also deputy chairman of Bermuda Press (Holdings), the parent company of The Royal Gazette.
April 4. Reinsurance company PartnerRe has completed its takeover of North American life reinsurance firm Aurigen Capital in a $286 million deal. PartnerRe, first announced the acquisition last year. PartnerRe chief executive officer Emmanuel Clarke said: "We are very pleased to announce the addition of this well-established franchise and welcome the Aurigen management team and employees to PartnerRe." Mr Clarke added: "This acquisition is consistent with PartnerRe's strategy to grow our life and health business and expands our life reinsurance footprint in North America with minimal overlap in market coverage. The partnership enables us to provide a wider range of life reinsurance solutions to both existing and future clients who will benefit from Aurigen's technical expertise, longstanding relationships and local knowledge supported by PartnerRe's strong balance sheet, excellent ratings and global franchise." The Aurigen management team and employees will join PartnerRe's existing Life and Health segment as a newly formed business unit called North America Life. It will be led by Alan Ryder, reporting to Marc Archambault, CEO of life & health. Aurigen, set up in 2007, has provided risk and capital management solutions tailored to specific customer needs, with its core business being the reinsurance of life insurance policies of North American residents. The company has also provided mortality risk solutions in the US since 2013. Aurigen is a top-five life reinsurer in Canada based on recurring new reinsurance business. Gross premiums in 2016 were $126 million.
April 4. Lloyd's of London has fined Amlin Underwriting Ltd £630,000 ($786,600) for breaches of the Lloyd's Premium Trust Deed (PTD) and for failings in its response to those breaches. Following a restructure of the Amlin group in 2014, which AUL is part of along with two non-Lloyd's insurance companies, it was found that premiums for certain outward reinsurance contracts were paid from the premium trust fund on behalf of multiple group entities including the non-Lloyd's insurance companies, according to Lloyd's. Intelligent Insurer reported that the payments made on behalf of the non-Lloyd's entities did not relate to the underwriting of AUL's Syndicate 2001. This constituted a breach of the terms of the Premium Trust Deed, under which assets are held in trust for the benefit of members and ultimately policyholders and therefore cannot be used to pay for liabilities of non-Lloyd's entities. AUL then failed to ensure that this matter was investigated in a fully effective and timely manner and it failed to ensure that the board and Lloyd's were notified of the breach promptly. There was no allegation this breach was intentional and AUL acknowledged the breach. AUL also fully repaid all amounts incorrectly taken (with interest). In addition, at no point was the solvency of the trust fund at risk. "The fine reflects the importance that Lloyd's places on the terms of the PTD being followed," said Jon Hancock, director, performance management. "The reputation of the market depends on our syndicates and policyholders knowing that assets held on their behalf are used appropriately. When an error is discovered it is incumbent on our firms to respond quickly and effectively." AUL accepted the errors and co-operated fully with the Lloyd's investigation. The fine of £630,000 includes a 30 per cent discount for early settlement and AUL will pay £90,500 towards the cost of proceedings. This has been approved by the Enforcement Board of Lloyd's. This is the first fine to be issued against a firm under the framework for the imposition of sanctions that was adopted by Lloyd's in 2014 and which establishes the appropriate level of sanctions when prosecuting enforcement cases. Amlin has offices in Hamilton at 141 Front Street.
April 4. Government healthcare premiums are set for a modest drop for "the first time in many years", health minister Jeanne Atherden has announced. Opening Public Health Week yesterday, Ms Atherden said that the decline in premiums, just over $4, would come into effect on June 1. She attributed it to an overall drop in health costs per person. The Standard Premium, mandated for all insurance packages, is to drop by $4.07 — as will Hip and FutureCare, which at present stand at $433.31 and $504.21 each month. Premiums did not rise last year, Ms Atherden added. Running until Friday, which marks World Health Day, the week includes pop-up stands at the Shelly Bay and Somerset MarketPlace, with free fruit given out for finishing a short survey. A variety of exercise classes will run from 10am to 2pm at City Hall on Friday to add to the Billion Steps Bermuda Campaign, where Bermuda ranks 75 out of 600 international teams. In addition, stickers promoting simple health awareness steps will appear around the island for "This is Public Health", highlighting issues such as avoiding smoking to mosquito trapping and clean water. The initiative can be followed online at #healthbermuda, while the acronym Heal, signifying "healthy eating and active living", is being promoted — with a particular aim at reducing the chronic, non-communicable diseases emerging from poor lifestyle choices. "As pleased as I am to announce the drop in the standard premium rate, it would be very beneficial to all of us if we could work on our population's levels of non-communicable diseases to drop our premiums even further," Ms Atherden said. The minister's full statement follows: "Public health is everything a community does to ensure the population can be healthy. This includes not only immunization, prevention, and healthy environments that are free of disease-spreading animals; but also ensuring access to healthcare. April 3 to 7 is public health week. Too often, all the services that government provides quietly behind the scenes are not recognized, and I wish to shine a spotlight on the people who provide travel shots, test seawater, approve plumbing designs, place rat bait, provide documentation to import prescription drugs, monitor communicable and non communicable diseases, check the health of schoolchildren, and many other important services. These people get on with what keeps our community healthy and safe. All this week there will be events celebrating Public Health, including pop-up stands at Shelley Bay and Somerset MarketPlace, where those who complete a short survey will get free fruit, and, on World Health Day this Friday, a Move-a-thon that will have a variety of people leading exercise classes from 10am to 2pm at City Hall. The Move-a-thon will be a great chance for anyone to participate. We are hoping many people will come for anywhere from 20 minutes to four hours, so we can get many more steps in our Billion Steps Bermuda campaign. The Move More Bermuda team is part of an international competition to clock our steps and we are currently ranked an impressive 75th out of 600 international teams, and we really would like to move up in the ranks, so come out and join us. There are 20 minute sessions back to back so there is something for everyone from kick-boxing to old style aerobics. In addition, we've launched a new campaign called 'This is Public Health'. You will soon see stickers like this popping up all over the island highlighting the many actions Bermuda takes to keep our community safe and healthy. The campaign will highlight the broad range of things that public health is, such as:
no-smoking signs, to remind us that Bermuda limits where people can smoke to reduce take-up and prevent second-hand smoking;
safe restaurants, to remind everyone that regulation is in place to assure hygiene standards and prevent the spread of disease;
mosquito traps, which have been so important with the recent Zika outbreak throughout the regions;
clean water, which we all need to stay well hydrated and healthy;
walking trails, to ensure open, free access to places where we can enjoy physical activity and family time;
as well as other basics like community nurses and immunization.
Follow us on #healthbermuda for photos of 'This is Public Health' stickers in position, so you can see public health in action. Prevention and wellness are, as we all know, essential to ensure the public's health. A helpful acronym to remind us all of this during public health week is 'HEAL' which stands for: Healthy Eating and Active Living. This is what will reduce our incidence of obesity and overweight and the chronic non-communicable diseases that can result from poor diet and lack of exercise: things like diabetes, kidney disease and heart disease. The more fit we are as a population, the less we will need to spend on healthcare, and that means lower healthcare premiums. Insurance coverage is an important part of securing our population's health. We are starting to see an improvement there, and we need to keep going. This year, I'm very pleased to announce that the mandated, basic package of insurance is intended to decrease by $4.07. This Standard Premium Rate pays for the basic standard health benefits, and is embedded in every package of insurance by law. Last year, we did not increase premiums, and thanks to the collective efforts of everyone involved in providing healthcare, we have been able to reduce the premium for the first time in many years. In addition, the HIP and FutureCare premiums will be reduced by the same amount, in an effort to make these low-cost health insurance options more accessible. The new premiums have been tabled in the House of Assembly and are intended to take effect on June 1. There are other Public Health initiatives that are focusing on the health and fitness of our young people so that we end up with a more fit and healthy population that will have health habits learnt at school. In particular, the Premier's Youth Fitness Programme and also the healthy schools competition are improving our schoolchildren's overall nutrition and activity. In fact, the Ministry of Health and Seniors does a tremendous amount to ensure the population is healthy. Our team works daily behind the scenes and at the front line to make sure Bermuda thrives. I'm pleased to share with you the Ministry's "Roadmap", which gives an easy-to-read snapshot of everything we do, and the things we're working on. It is also available on our Government web portal at: https://www.gov.bm/headquarters, under Resources. I'd like to leave you with this thought. We are working quietly and consistently behind the scenes to ensure 'Healthy People in Healthy Communities", but we cannot do it alone. Consider your own diet and exercise programme. Again the healthier we are as a population, the less we need to spend on insurance premiums. As pleased as I am pleased to announce the drop in the standard premium rate, it would be very beneficial to all of us if we could work on our population's levels of non-communicable diseases to drop our premiums even further. But this week is a time to celebrate! We are excited about Friday's Move-a-thon and we hope to see as many people as possible using the opportunity to try out new exercise options in celebration of public health week and World Health Day."
April 4. The lack of information regarding the recent gas spill at the Rubis facility in St George's is "very troubling", according to the Shadow Minister of the Environment. In a release issued yesterday afternoon, PLP MP Diallo Rabain described last week's leak as a "great concern". "With an ecological system as fragile as ours and our natural beauty being a huge selling point for our tourism product, the lack of information from both Rubis and the Government is very troubling," he said. "It seems sugar-coated reports have taken precedence over the release of potential outcomes that would allow for real solutions to be considered." Daily updates, Mr Rabain said, should be provided by Rubis to both the Government and the public. "Eighty-five thousand liters is a considerable amount of gasoline and, with two caves already identified in this area, the potential fallout increases," the Shadow Minister said. He called for the release of "critical details", including the cause of the leak, as well as the timeframe between the discovery of the leak and its reporting. The Government's role must also be "identified", Mr Rabain said. "It seems as if Rubis is instructing the Government on how to respond, whereas the Government should be taking the lead in advising Rubis as to the appropriate corrective measures." On Sunday, a release issued by Rubis said that an initial assessment had determined that approximately 19,200 gallons (72,678 liters) of gas had been leaked. Last week, a well-placed source said the size of the spill was more than 22,000 gallons (83,279 liters). The source, who spoke with The Royal Gazette on Thursday afternoon on the condition of anonymity, also said several hours passed from the time when the leak was first detected by the company until the Government was notified. The leak, Rubis said, was caused by the failure of a gasket connecting a valve to a fuel pipeline at the Ferry Road facility on the night of Monday, March 27. "The faulty gasket was removed and replaced as soon as the leak was discovered and all other tanks, pipes, valves and equipment have subsequently been checked for continued safe operation and use," the company said in a release issued yesterday. Rubis said that "good progress" was being made in gas recovery efforts. The spill, the company said, was contained within the Rubis property. "Gasoline was found in just one monitoring well which is now being used to recover the fuel as quickly as possible." Three additional monitoring wells have been installed for monitoring soil, groundwater and air quality around the facility, the company said. "Air monitoring devices used to test for odors and flammable vapors confirmed there is no current health risk for workers at the terminal or for neighbors nearby. Additional extraction wells will be installed in the coming days to help with fuel recovery. The coastline, seawater, and neighboring properties adjacent to our St George's depot have not been impacted and there has been no presence of hydrocarbons detected in the soil, air or the sea in these areas adjacent to our depot," Rubis said. Jonathan Starling, executive director at Greenrock, said the organisation remained concerned about the spill and whether more could have been done in the immediate aftermath. "While we welcome the news that the spill currently remains contained within the Rubis property, although deep underground, we are aware that there are caves in the area, including likely unknown caves, as well as upwelling of groundwater in the near-shore area. As such we remain concerned about the risk of this spill rapidly migrating outside of the current area, including offshore." Mr Starling said he would like to see an investigation conducted to examine the response following detection of the leak, including the communication strategy. "Transparency and proactive communication should always be the way to go with incidents like this."
April 4. A lawyer representing controversial American speaker Ayo Kimathi has said his placement on the stop list was unlawful. While Mr Kimathi attacked homosexuality and interracial relations in a presentation at the Liberty Theatre, lawyer Eugene Johnston told the Supreme Court the comments fell short of hate speech. Mr Johnston further argued the decision to place Mr Kimathi on the stop list based on his comments was unconstitutional, and that the Human Rights Commission had not carried out the necessary steps to launch an investigation. Mr Kimathi, who refers to himself as the "Irritated Genie", was one of two speakers brought to the island in September 26, 2015 by Bermudian David Tucker to give a presentation on African history and culture. During his presentation, Mr Kimathi described homosexuality as a cancer that originated from white Europeans along with other forms of "sexual deviance" including child molestation, bestiality, rape and interracial sex. Mr Kimathi also came under scrutiny for comments made on his website, War On The Horizon, on which he has endorsed the killing of whites and "black traitors". A section of the website stated: "In order for black people to survive the 21st century, we are going to have to kill a lot of whites — more than our Christian hearts can possibly count." Days after the presentation, Michael Fahy, then Minister of Home Affairs, placed Mr Kimathi on the stop list, describing the speech as "entirely offensive, propagating hatred and messages of intolerance and discrimination" and accused Mr Kimathi of unlawfully selling promotional materials at the event. Meanwhile, the Human Rights Commission announced it was investigating the matter after receiving a series of complaints about the presentation. However, Mr Kimathi and Mr Tucker launched a legal action against the minister and the commission, challenging both the investigation and Mr Kimathi's placement on the stop list. Discussing the presentation, Mr Johnston said that the lecture was aimed at presenting information about African culture, and that there was a factual debate as to whether traditional African culture embraced homosexuality. "History is nothing unless it is conceptualized," he said. "The lesson is the opinion of the presenter. That is the democratic tussle that took place. That's where the public interest debate is." After telling the court the story of the Boukman Rebellion in Saint-Domingue — now Haiti — in which Dutty Boukman called for the killing of Europeans on the island, Mr Johnston asked: "Is the mere raising of this story in the way I raise it, and is the ideas enshrined in them incitement of hatred and violence? Do they prove ill will against people?" Mr Johnston said that while there is a limit to free speech, the question is where the line is drawn. "No matter what approach you adopt in this country, this doesn't cross the line of hate speech," he said. "I'm not arguing that it's correct or not offensive. I'm not saying it's not abusive. The question the court has to decide is whether it constitutes hate speech." He also took aim at the decision-making process, saying that there is only limited information about what facts the minister had at the time of his decision. Other than a statement made by the minister to the media, Mr Johnston said the only other document made available to that point was a memo from the chief immigration officer sent three days after the decision was made and postdated. "These are fundamental rights, and the public demands more so decisions are not seen to be arbitrary," he added. Mr Johnston argued the minister should not have been able to place Mr Kimathi on the stop list because the comments made in his speech were protected by the Bermuda Constitution, even though he was no longer on the island when he was placed on the stop list. And while the minister was able to place persons on a stop list based on information received prior to their coming to the island under a separate clause, he argued that websites and newspapers were not sufficient, saying: "It's my submission that refers to other diplomatic sources." Regarding the Human Rights Commission, he said the terms of reference for any investigation need to be determined before an investigation can begin, and no such terms of reference have been made available in evidence. Mr Johnston also noted that the commission announced publicly that they would be conducting an investigation, which he said "pointed a finger" of racial bias at the complainants, risking relationships with employees and others.
April 4. With calls to show support for defendants summoned to Magistrates' Court after the December 2 protests, police have issued a statement on their plans to accommodate peaceful protests. Defendants are expected at Hamilton Magistrates' Court on the 5th, 7th, 10th and 12th, a police spokesman said. An increased presence of officers around the court can be expected to assist with any large numbers, but there are no plans at present to block off any streets — although it will be considered "if the need arises". In the event that there are no extra persons in attendance, policing at the building will revert to normal. The spokesman said police had reached out to community leaders, and anticipated that any activity would be conducted with "peaceful intentions and lawful conduct". The statement continues: "The overall aim of the plan is to accommodate peaceful protest, should it occur, while continuing the normal proceedings of the Magistrates' Court and other functions in the building. Accordingly, the doors to the Dame Lois Browne Evans building on Court Street must remain clear and unobstructed, at all times, to allow free access and exit. It should be noted that these are only plea court sessions and are not expected to last very long. The public is reminded that the rules of the court, along with any instructions issued by the senior magistrate, are strictly enforced in order to maintain proper security and order in the court. The general rules include:
No standing in the courtroom. No further access will be granted once all seating is taken;
No banners or signs of any kind are permitted in the courtroom;
No mobile phones or recording devices are permitted;
All persons in the public gallery are expected to follow the rules of the Court which includes silence and no interruptions of any kind once proceedings have commenced;
All persons entering the court are subject to security search. Motorcycle helmets and other bulky items are not permitted to be carried.
April 4. Norwegian Epic, the largest Norwegian Cruise Line ship by tonnage to visit Bermuda, came along side Heritage Wharf this morning on its inaugural visit. Captain Frank Juliussen welcomed a Bermuda delegation on board, led by acting minister of tourism, transport and municipalities Cole Simons, who was joined by junior tourism minister Kenneth Bascome. The deep draft ship took advantage of last year's dredging of the North Channel to put into Bermuda. It was scheduled to leave port last evening, bound for Madeira in Portugal. Mr Simons engaged in a customary plaque exchange with the captain. The Norwegian Epic arrived with 4,020 passengers and a crew of 1,696. Built in 2010, the 329 metre vessel is expected to spend six months out of its home port of Barcelona, including the summer season, before deploying to the Caribbean for the winter. The 155,873 gross ton vessel has been offshore in Bermuda waters on two previous occasions, transferring individuals to the island for medical emergencies. But today was its first official day in port.
April 4. Fishing in Seasonally Protected Areas, also known as "Hind Grounds" and "Grouper Grounds", will be prohibited from April 15 to protect spawning red hinds, the Ministry of Environment has announced. According to a statement, the decision to bring the closure period forward by two weeks comes after consultation with stakeholders determined that red hind aggregation sites need more protection. "In recent years, there appears to have been a shift in when red hind first aggregate for the season, and large catches of red hind were taken from the Hind Grounds last April, and also in April 2014," the Ministry said. "Technical officers of the Department of Environment and Natural Resources think that red hind are gathering to spawn earlier because of increased seawater temperatures." The statement added that legislation will be proposed to open these areas on August 15 and make the early closure date permanent so that fishing will not be allowed in the Hind Grounds between April 15 to August 14 each year. According to the Ministry, the early closure of the Seasonally Protected Areas will also afford greater protection to black grouper spawning aggregations, and the public is reminded that there was a bag limit of one black grouper per boat per day year round for all fishermen. And while the bag limit of ten red hind per boat per day from May 1 through August 31 will remain in place for commercial fishermen, this limit will now apply to recreational fishers throughout the year. Additionally, a bag limit of 50 red hind per boat per day in April will be implemented for commercial fishermen. Fishermen are also reminded that Marine Resources officers are conducting tagging studies on red hind and black grouper to better understand their movements around the Bermuda Platform, particularly at spawning aggregations sites. All fishermen are encouraged to contact the Marine Resources Section at 293-5600 or fisheries@gov.bm if they catch a tagged red hind or black grouper. All tags taken from examined fish will be entered into a draw. A $500 Masters Ltd gift certificate will be awarded on each of the following draw dates: June 1, 2017; December 1, 2017; June 1, 2018; and December 1, 2018. Furthermore, the Ministry urged the public to familiarize themselves with the Seasonally Protected Areas and abide by the Fisheries Regulations in order to help conserve red hind and black grouper populations. The exact boundaries of the Seasonally Protected Areas are shown in the images above, which also include the GPS co-ordinates for the four corners of each area. For more information contact the Marine Resources Section at 293-5600 or fisheries@gov.bm.
April 3. Another two hotels have applied for casino site designation, with the Casino Gaming Commission maintaining that a casino could open its doors in early 2018. According to Alan Dunch, chairman of the commission, the owners of Fairmont Southampton and the Morgan's Point hotel have both applied for their properties to be deemed designated sites, which if approved would allow them to seek provisional casino licences. "Both of those applications have been reviewed and recommendations made by the commission," he said. "As we speak, they are with the minister for approval or otherwise. I am not aware if he has made any decision as of yet." And Richard Schuetz, executive director for the commission, said the launching of the RFP process through which provisional licences could be granted was imminent. "We are excited about that," he said. "We feel that we will have people presenting their projects to us by the late third quarter of this year and we will be granting provisional licences this year. We think that is within reach. Given that, depending on their state of preparedness, we may have a casino by the end of the first quarter. Obviously with someone like [St George's hotel developer] Desarrollos, they are not going to open too quickly because they have a 36-month build out, but if an existing facility is awarded a provisional licence, that might happen fairly quickly. We still hold by the second quarter of 2018, we could have an operating facility." Detailing elements of the application process, they said the licence application process should be gazetted this week, with an RFP and details about the application process going out in April. Mr Dunch said: "The following week we will make the announcement and hopefully we will have someone in here pretty quickly picking up the forms. There will be 90 days before the RFP is due, then we expect a 60-day review period and then public hearings in which a presentation is made. Hopeful that will be in September." Mr Dunch described the RFP application forms as "pretty onerous", with Mr Schuetz explaining that they demand details about numerous aspects of the proposed casino. "You are going to have to tell us what you are going to build, who is doing it. You are going to have to tell us about your emergency procedures, what's your hiring plan, what's your marketing plan. How are you going to get this building financed and what is your training programme going to look like. What's your responsible gaming programme going to look like. On and on and on," he said. "They are going to have to tell us what they are doing and make a lot of commitments. If they win a provisional licence, they will be required to do what they said they were going to do. If not, they will be given 60 days to correct it and if they don't, they will be subject to disciplinary action, including losing their licence, so we have a big hammer." Mr Schuetz also stated that the commission had been making progress in both ensuring training opportunities were available for Bermudians, and establishing a Problem Gaming Council. "We are working on naming a director very soon. I think we will be naming a counsel in accordance to the Act very shortly and we are pleased with how that is moving forward. We are developing this system for Bermuda, and we are working with the National Council of Problem Gambling. We are working with a great many other stakeholders in this country to develop the accreditation standard for people who are going to be certified at different levels. We are developing a hotline system — we need to make sure that is not done on the island, but with the US. Anonymity is of critical importance." And, noting the criticism of the delay in bringing casino gaming to the island, Mr Dunch defended the commission, saying the body had moved extremely quickly. "One of the things that I find extraordinarily irritating is the criticism the commission has got for taking too long," he said. "I appreciate and understand that the working public in Bermuda have no real understanding of what is involved in developing this industry, but we have actually achieved one hell of a lot in a very short space and time with fairly minimal staff and budget. "If we get our first casino by March of next year, that means we started this industry from the ground up and got it operational in three years. On a budget of less than $10 million and a staff of less than ten people. I think that's a pretty formidable achievement. It bothers me that our critics, not one single one of them, have ever come into this room and sat down with Richard and I and discussed why we are where we are. If they did that, they might stop mouthing off about things they don't know anything about."
April 3. The application process has begun for those interested in opening Bermuda's first casinos. In a statement released this afternoon, the Bermuda Casino Gaming Commission announced that the period for filing an application for a casino licence will begin on Monday, April 17. It will remain open until Friday, July 21. Applications can be obtained from the Commission's office, located at Crawford House on Church Street. Richard Schuetz, executive director of the Commission, described the move as an "exciting step" in the regulatory process. "A robust regulatory regime is being put in place to safeguard the integrity of the gaming experience, oversee those operating casinos on the island in the future, and to ensure the industry is sustainable," Mr Schuetz said in the release. Under the Bermuda Casino Gaming Act 2014, the Commission can approve up to three provisional casino licences, in addition to the provisional licence granted to the developer of the St George's hotel project. "In total, there is the potential for four licensed integrated resort casinos to operate on the island," the release said. The Commission, however, is not obligated to issue all three licences. A $600,000 application fee must accompany all applications. A $1.4 million Provisional Licence Issue Fee is payable by applicants awarded a provisional licence. Those making it through to the final stage will then be subjected to a further $1 million Casino Licence Issue Fee. "For each provisional licence awarded, $150,000 from the Provisional Licence Issue Fee will be provided to the Problem Gaming Council to offer training in the problem gambling to treatment professionals, provide marketing and community outreach programmes to educate relevant stakeholders on the treatment programmes, and other activities specified by the Commission," the release added. Additionally, $250,000 from each Provincial Licence Issue Fee will be earmarked for Bermuda schools to provide educational and vocational training related to gaming-related employment.
April 3. Bill Shields has been appointed chief financial officer of the Bermuda Hospitals Board after "an extensive local and international recruitment process", BHB announced today. Mr Shields' designation comes at a time of "major challenges" for BHB to rein in healthcare costs and improve its financial condition, according to Venetta Symonds, its CEO. A high priority for the new fiscal year will be the creation of a clinical services plan to help in "critical decisions" about hospital services, Ms Symonds said. "BHB needs a financial executive who understands hospital finances and how they connect to the health system, and has experience in optimizing financial and operational performance to support clinical quality on the front line of patient care. Mr Shields comes with an impressive record within the UK's National Health Service and we look forward to him bringing this expertise and experience to the team." Coming from the UK, Mr Shields joins BHB after over a year working as executive director of EY, a health advisory practice that focuses on performance improvement and optimization. In this role he worked with numerous NHS hospitals to transform and improve financial and operational performance. Prior to this position, he worked in the NHS for almost 29 years, most recently with the Imperial College NHS Trust, where he led a recovery of the trust's financial and operational performance, and subsequently served as CFO and CEO. Mr Shields said that BHB had worked "very hard over the last few years to improve their financial stability", adding that "together we will be able address the current challenges to support BHB's stated triple aim goals of improving the patient experience, improving population health and reducing the per capita cost of care". Having gained his professional qualification from the Chartered Institute of Public Finance and Accountancy, Mr Shields also has an MA in Social Sciences from the University of Glasgow. He has won numerous awards, including the HFMA Finance Director of the Year, 2013, HFMA Governance Award, 2013, and Health Service Journal Finance Team of the Year 2013.
April 3. Clarien Bank Ltd's net profit more than doubled last year to $1.2 million as new lending grew strongly and operating expenses fell. However, non-performing and impaired loans made up 15 per cent of the bank's loan portfolio — up from 14 per cent in 2015 — evidence that some borrowers are still struggling to keep up with repayments. Revenues fell 3 per cent to $55.1 million, year over year, while Clarien cut operating expenses by $2.4 million, or 5 per cent, to $44.7 million. The bank is owned by the Gibbons family through Edmund Gibbons Ltd. EGL and Portland Private Equity invested $12.6 million in the Clarien Group a year ago, a capital injection which enabled the bank to strengthen its total capital ratio — a key measure of financial strength — to 17.5 per cent as of the end of 2016. The $1.2 million profit was up 133 per cent from the $0.5 million earned in 2015. Clarien's loan portfolio fell by $53.3 million to close the year at $809.7 million. The bank said this was due to a continuing trend of "clients using cash to pay down mortgages in order to avoid continued debt". The shrinkage in the loan book led to a 4 per cent decrease in interest income from loans, mortgages and credit cards, to a total of $52 million. However, the accelerated payments trend was offset by strong growth in new lending, which more than doubled from 2015, climbing to $52.6 million — up by $30 million. Around 9 per cent of the loan portfolio — around $79 million — is made up of "impaired loans", the bank said, while a further 6 per cent of loans were "non-performing", or past due by 90 days or more. Ian Truran, Clarien Bank's chief executive officer, said: "Although the continued general increase in Bermuda property prices is encouraging, the continued high level of non-performing loans is an indication that the island's economy still faces challenges. "Clarien's approach is to continue to work with borrowers facing challenges and therefore the improvement in non-performing levels will take time while we conservatively increase our reserves against troubled assets." Clarien increased its provisions against bad loans to $26.1 million in 2016, up from $20.7 million a year earlier. More than a third of the cut in expenses was achieved through a $0.9 million reduction in salaries and benefits, while the remainder came from savings on IT expenses through completion of debit and credit card initiatives, improved office efficiencies and disciplined budgeting, the bank said. In the second quarter of last year, the bank launched a new electronic banking system called Clarien iBank, as well as Visa credit cards. Clarien Merchant Services was launched in the fourth quarter aimed at improving services for commercial clients. "The successful launch of these projects resulted in a substantial reduction in technology costs that contributed to a $2.4 million reduction in our operating expenses," Mr Truran said. "It should be noted that the reduction was achieved at the same time as incurring $0.7 million in costs associated with the introduction of the Bermuda Deposit Insurance Scheme." Mr Truran added that last year's capital injection had left the bank "well-positioned for strategic growth and we look forward to the coming 12 months with increased confidence and energy".
April 3. Environmental group BEST has expressed serious concern over President Donald Trump's decision to roll back Obama rules aimed at curbing climate change. Stuart Hayward, president of the Bermuda Environmental and Sustainability Taskforce, said his feelings ranged from trepidation to mild surprise at news of the latest executive order. He told The Royal Gazette that the move signalled a worrying shift from the United States being the "good guy" in leading global efforts towards sustainable energy solutions to the "bad guy". "The changes that are occurring in some ways are unfathomable," said Mr Hayward. "We always assumed that the US was going to be a responsible global partner. Whether they went to the left or the right there was still a policy of good global citizenship. It appears that is changing rapidly and decisively. There are feelings that range from trepidation to mild surprise." President Trump said last week that the move to roll back his predecessors' attempts to tackle climate change would put an end to the "war on coal" and "job-killing regulations". The Energy Independence Executive Order suspended more than half a dozen measures enacted by President Obama and boosts fossil fuels. Business groups have praised the Trump administration's move but environmental campaigners have condemned it. Mr Hayward said: "The US was at the leading edge of climate change awareness even though there were internal conflicts, and there was promise that, like they did in Kyoto, they could take a leading role in this move towards globally sustainable solutions. But this new policy seems to take the US away from being the good guys to being the bad guys. We are kind of caught in the middle; we can not have a big impact but we can not complain too loudly because our per capita impact is right up there with the leading offenders." In implementing his green strategy, President Obama argued that climate change was "real and cannot be ignored". However, among the initiatives now being rescinded by President Trump is the Clean Power Plan, which required states to slash carbon emissions to meet US commitments under the Paris accord. Mr Hayward added: "Climate change has the potential to affect many segments of Bermuda life. We are not a low-lying island so we are not going to see a huge percentage of our land area submerged due to ocean rise. The big effects could be other changes like rainfall. We depend on rainfall for our water. If there is not enough we have to pay for more; if there is too much we lose crops. Climate change is not an exact science but a more acidic ocean could affect our fishing industry, while significant change in the temperature could also affect our tourism industry as well."
April 3. Nearly 20,000 gallons of gasoline was spilt in a leak at the Rubis terminal in St George's last week, the company has confirmed. Three government ministers and Michael Dunkley have been briefed by Rubis officials on site. In a statement issued yesterday, Rubis said that the initial assessment conducted determined the quantity to be "approximately 19,200 gallons". "Rubis and Arcadis have also completed an initial assessment of the direction of the flow of the product released and have identified the areas in our depot where the product seeped into the ground and where free product is located underground," the company said. Gas had been detected in one of eight monitoring wells at the depot. The effort to recover the gas located underground began on Friday, Rubis said. "We are confident that this recovery effort will lead to the complete recovery of the product located underground." According to Rubis, evidence collected to date indicated that the spill was contained within the St George's depot. "The coast line, seawater, and neighboring properties adjacent to our St George's depot, have not been impacted and there has been no presence of hydrocarbons detected in the soil, air or the sea in these areas adjacent to our depot," the company said. While evidence suggested the spill had been contained, the company asked residents to inform them if they smelt or detected gas on their property. "Out of an abundance of caution, we are contacting each nearby property owner that have water wells and asking them to temporarily refrain from pumping from their underground wells." The company said its main focus was on the safety of employees, Neighbours and the community. "Rubis has deployed and will continue to deploy all necessary resources to remove hydrocarbons from the soil and groundwater wherever detected as per international standards," the company said. The leak, Rubis said, was caused by the failure of a gasket connecting a valve to a fuel pipeline at the Ferry Road facility on Monday night. St George's MPs Nandi Outerbridge and Kenneth Bascome, the Premier and environment minister Sylvan Richards met with Rubis officials on Saturday at the site of last week's oil leak. They were briefed on the situation by Rubis managing director Graham Redford and a geologist and field engineer from Arcadis US, an environmental and engineering services company that specializes in environmental remediation. Mr Richards, who had visited the Ferry Road site earlier this week, said: "The cleanup work is continuing. The findings are not yet definitive, but it appears the leaked fuel is contained within the bounds of the Rubis property. Rubis has said it will be providing the public with regular updates, and the environment ministry will continue to monitor the cleanup to make sure area residents are fully protected." Following the briefing, the Premier and Mrs Outerbridge visited area residents to answer their questions and provide them with contact information for further updates and questions. "Residents need to be given the clearest information on the situation, and that's what we've been trying to achieve since becoming aware of the leak," Mrs Outerbridge said. "Although the assessment by Rubis indicates there is no pollution threat to area residents, I would advise them to follow whatever advisories Rubis issues, just to be safe." Any area resident with concerns should contact Mr Redford at Rubis at 299-7028, the environment ministry's Pollution Control Section at 239-2356, or Ms Outerbridge's cell at 294-3203.
April 3. People's Campaign activist LaVerne Furbert has called on the community to donate funds to support defendants issued with court summonses in relation to the protests on December 2. Ms Furbert, who is an administrative assistant for the Bermuda Industrial Union, also urged the community to turn up to Magistrates' Court on four dates to show support for those facing charges. It is uncertain whether the call for the "December 2nd Legal Defence Fund" and support at the court during working hours is an official call from the Bermuda Industrial Union, from the People's Campaign or elsewhere, although one of the contact phone numbers provided by Ms Furbert for those wishing to donate funds was that of the BIU's headquarters. Asked whether the call was union-related and to what entity or individual the fund was registered, Ms Furbert told The Royal Gazette: "I cannot answer any of your questions until I've sought legal opinion". Some 15 people received summonses to appear in court relating to a range of offences during protests outside of the House of Assembly against the Bermuda Government's airport deal. Posting on her Facebook page on Friday, Ms Furbert said she had already received donations, writing: "Almost everywhere I went today, people were stopping me to give donations for the 'December 2nd Legal Defence Fund. Some gave $10, others gave $200. It all adds up. We need all we can to fight the OBA Government. By the way, Bermudians will be paying twice. We will be paying for the defence lawyers and we will be paying for the prosecution team with our taxes. Remember, it is our taxes that pay for the judges, police and the DPP staff. Pay attention Bermudians!" Ms Furbert also wrote that "we" are "requesting the presence of those who believe in equal rights and justice to assemble at Magistrates' Court on the following dates at times to show support for our brothers and sisters who will be brought before the courts for exercising their democratic right of freedom of peaceful assembly and association." The dates she listed were Wednesday, April 5 at 10am; Friday, April 7 at 10am; Monday, April 10 at 10am; and Wednesday, April 12 at 10am. When calling for donations, Ms Furbert posted the phone number of the BIU and a cell number for calls out of hours. Meanwhile, the Bermuda Police Service issued a press release highlighting that the BPS investigation into the protest was complete while reporting that 15 people had been summoned to court. They outlined that there were "three separate issues" relating to the events of December 2: the independent peer review report prepared by a senior UK police officer; the BPS investigation into allegations of criminal conduct by some protesters; and the investigation into complaints by members of the public against police officers. The police said that the use of pepper spray by officers on the day of the protests was subject to an investigation by the Police Complaints Authority which is yet to be released.
April 3. The Bermuda Industrial Union has called an "urgent meeting" for all of its members regarding the court summonses served on "union members and executives". The meeting, at the BIU headquarters at Union Square, has been called for 4pm today. BIU administrative assistant LaVerne Furbert, who yesterday distributed the press release, said that no disruption to public services were anticipated as a result of the meeting taking place. The request to meet, sent out yesterday with this newspaper copied in, has been made by Louise Somner, second vice-president. Last week, Ms Furbert called on the community to donate funds to support defendants issued with court summonses in relation to the protests on December 2. When asked by this newspaper which entity the fund was registered to, Ms Furbert responded that she could not answer our questions until she had sought legal advice. However, one of the contact phone numbers provided by Ms Furbert for those wishing to donate funds was that of the BIU's headquarters. Funds for non-charities can only be solicited with a temporary fundraising licence. Ms Furbert also called on the community to head to Magistrates' Court on the dates the defendants are due to appear as a show of support for them, starting on Wednesday at 10am.
April 1. Government notices limiting the use of drones, helicopters and kites during the America's Cup have been gazetted in advance of the sailing event. The notices, gazetted by the Bermuda Civil Aviation Authority, warns that the flying of aircraft, drones, helicopters, kites equipped to undertake any form of photography, micro lights, gliders and balloons are not permitted in two separate areas of Bermuda airspace, which covers all of Bermuda, between the hours of 10.30am and 10pm on various dates between May 22 to June 30. An ACBDA spokeswoman said: "The new regulations will be of interest to commercial and recreational drone operators, who should pay attention to the No-Fly Zone regulations. "Should any person or business wish to operate in the Restricted Air Space they will require special exemption from these restrictions and they should apply early, citing their reasons. Application for special exception does not guarantee approval and each application will be considered on its merit. The regulations are in place primarily for safety reasons and fines apply for those who do not comply." Approval to operate in the Restricted Air Space is granted only by the Governor of Bermuda through the office of Bermuda Civil Aviation Authority. These requests must first be approved by America's Cup Event Authority (ACEA). All drone operators must first apply for permission from ACEA by emailing airspacerestrictions@americascup.com. International commercial air transport, including scheduled and non-scheduled passenger aircraft, international general aviation and emergency services such as medevac are permitted under these regulations. The full notices — along with a list of all approved operators — will be made available at www.bcaa.bm.
April 1. Randy Horton, the Speaker of the House, said that the decision for Parliament to go ahead after he initially postponed it because of protests on December 2 was entirely his own. "I was not pressured in any way," Mr Horton said. "But certainly it was unfortunate how it ended." The standoff, with protesters blocking legislators from entering the House of Assembly, ended after police struggled to force them off the gates, with some officers assaulted and several people pepper-sprayed. Mr Horton spoke with The Royal Gazette after David Burt, the Leader of the Opposition, suggested the Speaker's change of heart had been influenced from outside, and called for Michael Dunkley, the Premier, to set the record straight. Mr Dunkley responded that neither he nor his colleagues were at all involved in the police operations. The Speaker's original decision to call off Parliament emerged this week in the independent review of the police response, prompting Mr Burt to query whether Mr Horton had been swayed. "Nobody was in Parliament at 10am," Mr Horton recalled. "I said I'd wait it out for a while. At around 10.15am I spoke with the Premier and said, look, nobody's here; I am minded to adjourn — it does not look like anybody's going to get in. I also informed the Commissioner of Police." MPs had been scheduled to debate key legislation for the airport redevelopment, opposed by the Progressive Labour Party and the People's Campaign activist group. Mr Horton described the Premier as disappointed with the cancellation: "There was no question they would have preferred to have carried on with Parliament that day," he said. Their conversation was "not long", Mr Horton added. "But soon after, I had a conversation with [Acting Governor Ginny Ferson]. We talked about democracy; I mentioned the right of people to protest, and also on the other hand the right of the Parliamentarians to come in and do their work. It was a long discussion, about 20 minutes." Afterwards, Mr Horton said he reflected that "in an hour or two, maybe those people at the gates would work it out between them, and people would be able to come in. That was when I said we would have Parliament start at 1pm. That was me. Nobody told me." If cooler heads had not prevailed, "at that time, I would stop it. As you know, it didn't work out. It was after 1pm when I looked down and saw the police come and march among the crowd. When I saw there were people scrambling against each other I called the commissioner and the Premier and told them that it's definitely off. And I called the Opposition leader at that time." The release on Tuesday of the peer review also prompted queries from Mr Burt and others in the community on its scant reference to the use of pepper spray. According to a police spokesman, the deploying of "incapacitant" was not part of the remit of the senior officer who prepared the report for the National Police Co-ordination Centre in London. However, "multiple" complaints have been referred to the independent Police Complaints Authority. Its review is yet to be announced. A third strand of the inquiry is the Bermuda Police Service's investigation of alleged criminal conduct by some of the protesters. The spokesman said yesterday that "a number of files" had been sent to the Director of Public Prosecutions for consideration, with 15 people issued with court summonses "relating to a range of offences".
April 1. Representatives from numerous Caribbean forces have come together this week in Bermuda to discuss information operations. The fourth meeting of the Caribbean Region Information Operations Council brought together representatives from the US, UK, Canada and throughout the Caribbean to share information and tactics to better achieve their goals. Captain Duncan Simons, Adjutant of the Royal Bermuda Regiment, said yesterday: "The focus is on information operations, how do media relations and media products support operations and the various objectives we might have. "In the regiment's case, that could be recruiting, but in other jurisdictions they have other issues. In the Bahamas, for example, they have smuggling, illegal fishing and migration. They have an operation, Marlin Spike, to address that and in their case they got new ships, new capabilities and new personnel, but they need to tell their story to achieve their objectives." Captain Simons said that the meeting gives the member organisations an opportunity to pool resources, brainstorm and help make each other aware of opportunities and challenges. "For the Bermuda Regiment, the tangible rewards have been some training," he said. For other partner nations, like the Bahamas, they have had operational support and training with Marlin Spike and Marlin Shield." Senior Lieutenant Shawn Adderley, Operations Officer with the Royal Bahamas Defence Force, described Marlin Spike as an information awareness campaign that targeted mariners and marina operators. "We have a lot of marine traffic and when people come to the Bahamas, we make them aware of what they have to do in port, what they can bring in," he said. "These are the offences, these are the endangered species and so forth. We have boaters who are coming in who would have known about the RBDF but not how to get in touch with us, who are now aware of us via social media and we now have people who are hitting us up on Facebook, WhatsApp-ing us and also reaching us by more conventional means." Lieutenant-Colonel Roderick Williams of the Jamaica Defence Force said that for Jamaica, the meetings were all about sharing knowledge and experience. "We are still very much in our capability development stage," he said. "We are still trying to get smarter and better at doing this. There are a number of areas we need to get stronger in. Meetings like this allow us to get insight into what opportunities are available to help achieve certain goals. Already we have had a number of interactions with the various partners, both big and small. Where the work really gets done is when we implement the ideas discussed here and pursue the insights we gained through training activities and exercises." Meanwhile, Lieutenant Sherron Manswell, of the Trinidad and Tobago Defence Force, said the meeting had already provided him with information he could bring with him to advance the TTDF. "What they have shared with us so far has been very fruitful, and we already have a few take always," he said.
April 1. A Canadian drug trafficker caught trying to smuggle more than $200,000 of cannabis into Bermuda has been jailed for 22 months. Marcus Snow was stopped after arriving at LF Wade International last July when a sniffer dog alerted authorities to his suitcase. When the Canadian national's bag was searched customs officers found a Nike shoebox wrapped in grey duct tape containing nine smaller packages of cannabis. Yesterday, at Supreme Court, Snow apologized for his action and said his own stupidity had cost him his job, his house and his car. "Most importantly my own stupidity has cost me my family," he added. "They mean everything to me and I have not seen them for nine months which has really taken its toll on me." The court heard that Snow arrived in Bermuda on an Air Canada flight on July 8, 2016. After being stopped he told customs officers he had come to Bermuda to visit a friend called "Mark". He insisted he had packed his own bag and said he expected to remain on the island for three days. After officers discovered the drugs haul in his suitcase he admitted that the bags contained weed. Snow later told police that he had been asked by a man in Canada called "Screwhead" to bring the drugs into Bermuda and expected to be paid $3,000. He maintained that he did not realize it was illegal to bring cannabis into Bermuda. Prosecutor Alan Richards said that the Crown did not accept Snow's claim that he was doing nothing illegal. Snow's lawyer Mark Pettingill told the court that his client had been "duped" and that he had no previous record of convictions. Puisne Judge Charles-Etta Simmons said: "The court takes a dim view of drug traffickers — and that is what you are — and there is a high premium placed on deterrence. I find that the appropriate sentence is three years, and will give you a 30 per cent discount for your guilty plea." The judge also imposed a further five per cent discount in the sentence for reasons that were not disclosed in court. Snow admitted importing cannabis and possession of cannabis with intent to supply.
April 1. A boat sent to the bottom five months ago by Hurricane Nicole is afloat once more, although the cost of the exercise is yet to be tallied. "Getting the engines running is my next mission," Jepheth Newton said after his vessel, the Esperanza, settled at anchor in St George's Harbour. The 92ft trawler was ordered removed in time for the start of the month, with Marginal Wharf in St David's to clear its docks for the importation of airport redevelopment materials. Mr Newton had contacted The Royal Gazette after he was informed by the Harbourmaster a few weeks ago that the boat had to be moved at his expense. Authorities had planned to dump the boat if it proved unsalvageable. But Mr Newton had already dived at the site where the boat sank off Marginal Wharf. "There were no holes — I was on the boat when it went down," he said. Caught when the hurricane shifted in its approach, the Esperanza was pushed up against another relic housed at the wharf, the Niobe Corinthian, which is due to be sunk deliberately when a good enough stretch of weather permits. Mr Newton's vessel took on water and sank. Determined not to give up, Mr Newton must move quickly to flush out his boat with fresh water and revive the engines before they freeze up. He is also seeking dock space. Having her ready for the America's Cup is out of the question, but he plans "most definitely" to outfit the Esperanza as a charter vessel. In the meantime, Mr Newton awaits the bill. The intervention was unfortunately timed, as he had invested $8,000 in airbags to raise the boat, before the deadline of the month's end came up. "I haven't had any price details — I'd asked for some type of quote," he said. "I even asked if they'd be willing to share the bill because I wasn't able to use the airbags. Whatever it is, I guess I'll find out."
April 1. Government was alerted to a gasoline leak at the Rubis terminal in St George's on Tuesday, a representative now says. In a statement sent to The Royal Gazette yesterday, a spokeswoman for the Ministry of Environment confirmed that Government was told of the leak "on Tuesday". A time was not provided. Jonathan Starling, executive director of the environmental group Greenrock, said that Rubis was being "cautiously defensive" about the scale of the spill. "I'm sure they could issue a ballpark," he said. "They would know how much gasoline they had, and be able to estimate how much is left, and the sum of that would give them a reliable figure." He echoed comments made by Stuart Hayward, of the Bermuda Environmental and Sustainability Taskforce, to The Royal Gazette about the need for greater transparency. "Leaving it open for speculation is a recipe for disaster. I can understand being worried about liability issues and all that. However, the public have a right to know about pollution incidents, from both a public health aspect and an environmental aspect," Mr Starling said. "The longer it's left to speculation, the harder it will be to contain the story." On Thursday night, Rubis said the leak was detected in piping to a storage tank at the Ferry Road facility on Monday night. "We immediately put into action our spill response plan to stop the leak and work with authorities to begin clean up," an issued statement said. The company said the tank was contained within a "protective berm". The company said that an "accurate estimate" of how much gasoline was released and a timeline for the clean up was "not available", but that the leak posed "no immediate threat to workers or neighboring properties". The statement from Rubis came after a well-placed source said the size of the spill was more than 22,000 gallons. The source — who spoke with The Royal Gazette on Thursday afternoon on the condition of anonymity — also said several hours passed from the time when the leak was first detected by the company until the Government was notified. "Rubis and their remediation team are best placed to answer questions about volume," the Ministry of the Environment spokeswoman said when asked about the size of the leak. "The Ministry of the Environment has been actively monitoring public health and safety since being informed of the leak at the Rubis fuel storage facility, and will continue to closely monitor the remediation work to safeguard the public." In a statement released earlier this week, environment minister Sylvan Richards said he had visited the site on Tuesday. "There appears to be no immediate health and safety risk," he said on Wednesday. Mr Richards said that Rubis had a team of environmental specialists arriving to deal with any damage caused by the spill. Government environment experts were also assisting with "pollution-control efforts".
April 1. A Filipino mechanic has been recommended for deportation after he was caught working on the island illegally after five years. Ernesto Bandong, 54, pleaded guilty to a charge of being on the island unlawfully between March of 2012 and this Thursday, during which time he unlawfully engaged in gainful employment. The court heard that last November, acting on information, the Department of Immigration began to investigate the Filipino national's record and noticed that while he reportedly left the island in December 2011 after his work permit expired, he returned early the following year and there was no record of him departing the island after that. On Wednesday, police attended an auto shop in Ship's Wharf, St David's in unmarked police cars. As they approached the business, they saw Bandong working on a car. He was subsequently arrested, and in a subsequent interview he admitted being on the island illegally and working during that period. The court heard that the maximum penalty for the offence was a fine of $10,000 and three months in prison on the first occasion, and the court would also be allowed to recommend deportation. Magistrate Khamisi Tokunbo remanded Bandong into custody with the recommendation that he be deported.
April 1. New laws that come into force in the United Kingdom today. Some affect or may one day affect Bermuda indirectly. The new legislation covers a number of areas including pensions, employment and TV licences. The National Wage for workers aged over 25 is increasing from £7.20 to £7.50 per hour. There will also be an increase from 18-20 year-olds and 21-14 year-olds, increasing to £5.60 and £7.05 respectively. OFGEM is introducing a limit to the amount of money energy suppliers can charge a domestic prepayment meter customer. The cap will be updated in April and October each year until 2020. Almost all councils (local authorities) are increasing the their council taxes (domestic property taxes) by 5% and many have raised their business property taxes, especially in London and south east counties. The rate for maternity, paternity shared parental and adoption pay is increasing to £140.98 per week. The rate for statutory sick pay is increasing to £89.35 per week. A new £2,000 tax-free childcare scheme is being introduced, which will mean that the government contributes 20p for every 80p that parents spend on care costs, up to a maximum of £2,000 a year per child aged under 12. This rises to £4,000 for a child with a disability under 17. Statutory redundancy pay rates are increasing to £489 per week. This applies to employees with two years' service and is based on pay and length of employment. Water bills will be increasing by an average of 2%. The charge for a medical prescription will be going up by 20p. The price of a TV licence is going up to £147. Housing benefits for 18-21 year-olds will be scrapped entirely. New claimants for employment support allowance will now receive a lower rate of £73 per week. Only 100% electric cars will now be exempt from road tax, with some low-emission cars being removed from the exemption bracket.

History & daily newspaper reports

Authored, researched, compiled and website-managed by Keith A. Forbes.
Multi-national © 2020. All Rights Reserved